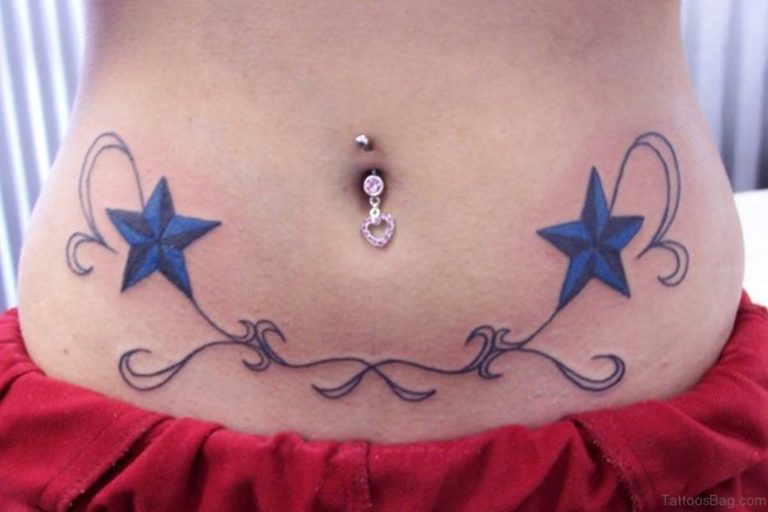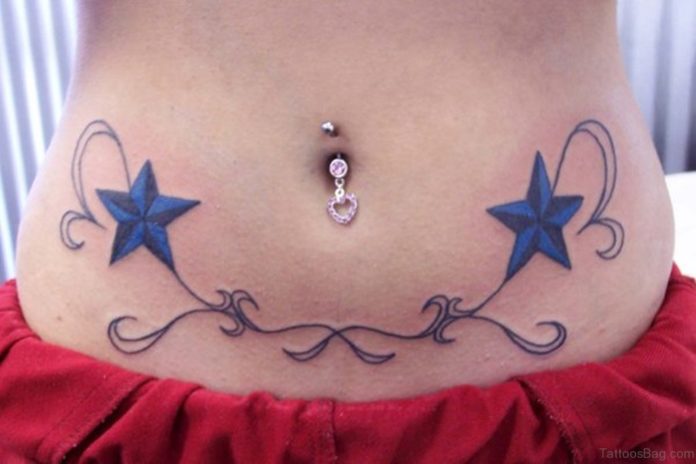 Looking for something to raise your fashion game? If yes, then nothing can be better than sexy waist tattoos. A tattoo on the waist is something really beautiful and is sought after by many women. Getting a hip wait tattoo is like getting a permanent accessory. Tattoos not only enhance your beauty but also boosts your confidence. Here is an article with some amazing waist tattoos and hip tattoos for women to help you find out the best one. 
Waist Tattoos for Women
For some people, tattoos are a medium to hide scars, while for others, they are best to add something beautiful to their body. No matter what your reason is to get waist or hip waist tattoos, we have rounded up a list of the best ones for you to make you feel more confident and beautiful. Below mentioned are some best waist tattoos for women.
Butterflies Waist Tattoos
If you want something really cute on your waist, then butterfly waist tattoos are the best pick for you. Trust me, a cute butterfly tattoo on the waist is the best one to show off to your friends. Get a hip wait tattoo with three colorful butterflies for a more appealing look.
Butterfly tattoo makes not only amazing design tattoos but also has a deep meaning associated with it. A butterfly is a sign of good luck, salvation, and purity. One best thing about a butterfly tattoo is that it represents beauty, change, and freedom. It symbolizes the period of transformation in a woman's life. So, if you want something really bubbly and cute, a butterfly on the waist is something you should get. Do not forget to flaunt your butterflies with a sexy dress.
Flowers Hip Waist Tattoo
Flower tattoos have always been a popular choice in the tattoo world. So, why not get an attractive flower as a hip waist tattoo. Do not get a single flower tattoo; get a bunch of flowers inked on your hip waist, and trust me, you will look amazing with it. These tattoos are not only beautiful but also meaningful at the same time.
Flowers are the perfect source of inspiration that inspires you to stay vibrant, happy, and humble. A flower hip waist tattoo is perfect to create an appealing look. You can add different flowers to the tattoo design, including jasmine, cherry, or sunflower. A bold floral tattoo would cover a large part of your hip and waist. Ask the tattoo artists to include bold colors to make the flowers look alive.
Zodiac Sign Waist Tattoo
Astrology and zodiac tattoos are becoming a popular trend nowadays. They are best to show your personality and nature to everyone without speaking a single word. So why not get a zodiac sign waist tattoo to create an outstanding look?
One best thing about zodiac sign waist tattoos is that they illustrate your character traits and provide a fashionable look at the same time. Moreover, they also help you to pay respect to the amazing wonders of the constellation. For instance, if you are an Aries, you can get an Aries tattoo. The design includes an Aries ram design with proper shading and bold outlines. It represents fiery nature, bold confidence, and an assertive disposition.
Rose Tattoo
What can be better than a beautiful rose with waist tattoos? A rose is considered a symbol of love and is one of the most popular tattoo choices among both men and women. Get a rose surrounded by some beautiful black designs. You can get the design on your lower back so that it can be properly created.
You can also get a big rose tattoo with leaves on it on your side waist. Include some attractive colors like red and green for shading to create an excellent piece of art. This design will make you stand out from the crowd. Do not forget to flaunt it with sexy crop tops.
Sunflower Waist Tattoo
Sunflowers are considered a symbol of hope and everlasting love. A sunflower tattoo represents romance. They make the best waist tattoos and symbolize loyalty. Due to their association with the sun, they are popularly known as happy flowers. For a more appealing twist, get a 3D sunflower tattoo.
Get a beautiful yellow sunflower tattoo on your waist for a more attractive look. If you are looking for something that represents faith and hope, then a sunflower tattoo is the right pick for you. Get it on your lower waist in beautiful yellow color to raise your fashion game.
Lotus Tattoo
Lotus flower tattoos are gaining remarkable popularity and especially among women. Young ladies have always been attracted to lotus tattoos not only because of their beautiful design but also the deep meaning associated with them. It has various meanings and significance across different cultures.
If you want something that symbolizes passion and purity, then lotus is one of the best waist-hip tattoos for girls and women. The charming beauty and appeal of lotus tattoos are related to the intrinsic symmetry and charm of the flower. Get a lotus tattoo on your waist with small designs and details in it. Include bold black lines and shading to create a perfect piece of art.
Tiger Waist Tattoo
If you have a strong and courageous personality, then flaunt it with a tiger hip waist tattoo. It is among the popular waist tattoos for women. Animal tattoo designs are a popular choice in the world of body art.
A tiger tattoo represents courage and power. Get an entire tiger in motion on your wait for the tattoo design. It would look outstanding in black and grey ink. Power and strength are the most common meaning associated with a tiger tattoo. A tiger as a waist tattoo represents independence and free spirit. In addition to the positive connotations, a tiger tattoo can also symbolize punishment, vengeance, and danger.
Dotwork Waist Tattoo
In recent years, dotwork tattoos have gained remarkable popularity. Get a piece of beautiful dotwork on your waist, and you will never need any waist accessory. Trust me; the tattoo will definitely be a conversation starter, and for a good reason. In the tattoo, the design is created using a multitude of dots and not full lines or fill. Make sure to choose skilled tattoo artists that include multiple dots to create visual effects or images.
One Word Waist Tattoo
If you are looking for ways to express yourself in a better way, then nothing can be better than one-word waist tattoos. So let ink speak for you with the right word tattoo. You can either get a single word tattoo to show or your personality or can also get an entire quote inked on your waist.
Word or quotes tattoos make the best self-love tattoos. These tattoos will make you fall in love with every inch of your body. Some popular inspirations for one waist tattoos include Faith, Love, Hope, and Om. You can also get the name of your loved person inked on your waist.
If you want something big, then get a quotation inked on your waist. You can also get your favorite movie dialogue or song lyrics inked. Trust me; this is the best way to show what you believe.
Beautiful Leaves
Leaves are associated with the beautiful cycle of life. The fresh green leaves symbolize the youth part of life, whereas brown leaves symbolize old age. In the same way, a beautiful leaves tattoo represents a process of change and growth. So, think no further and get leaves inked as hip waist tattoos. It is one of the most popular waist tattoos for women as it represents hope, renewal, fertility, and growth.
Snake Waist Tattoo
If you want some sexy waist tattoos, then nothing is better than a snake tattoo. Get a sexy snake inked on your waist for an appealing and sexy look. A snake tattoo has various meanings associated with it. As snakes shed skin, they are often related to transformation and rebirth, which makes them an excellent choice for hip waist tattoos.
Compass Waist Tattoo
Compass tattoos are a perfect choice for people who love traveling. A compass waist tattoo is the best way to show your true love for wanderlust. This tattoo design holds a positive vibe while carrying a deeper meaning. A compass tattoo on the waist is perfect for reminding yourself that no matter what, you can always find the right way in your life.
Get a classic black and grey compass inked on your waist. Ask the artist to include a bold outline and shading for a more amazing impact. Trust me; this is the best tattoo to flaunt your independent streak.
Flying Birds Tattoo
When we see birds, we always wish to fly high in the sky. As birds can fly, they represent freedom of soul, spirit, and body. Bird tattoos are best for people who hold higher dreams in life. Get bird tattoos inked on your waist to show your carefree spirit. It is the best tattoo design to show higher understanding, freedom, and connection with the universe.
Final Words
If you are bored of your everyday styling, then waist tattoos are a perfect way to raise your fashion game. Get a sexy tattoo inked on your waist from an experienced tattoo artist. Make sure to opt for the tattoo that best suits your personality. Tell us about your favorite waist tattoo by dropping a comment.