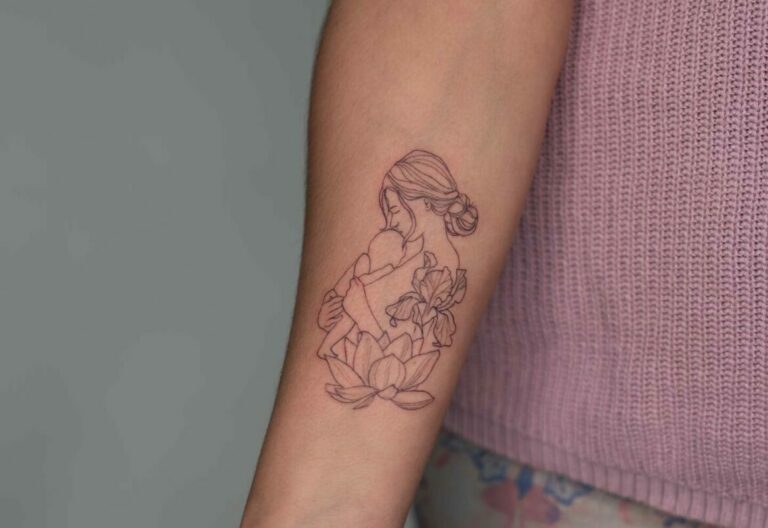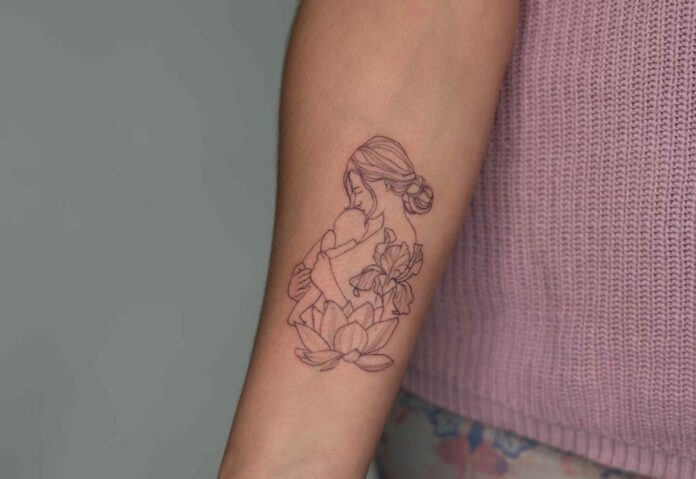 Ready to celebrate the awesome connection between a mom and her kids? Well, guess what? We've got a bunch of cool Mother of Two tattoo designs just for you.
These tattoos come in lots of different styles. You'll find symbols, numbers, words, and more, all showing the deep bond between a mom and her kids.
And here's the cool part – you can even get matching tattoos with your mom or daughter to show off your special relationship.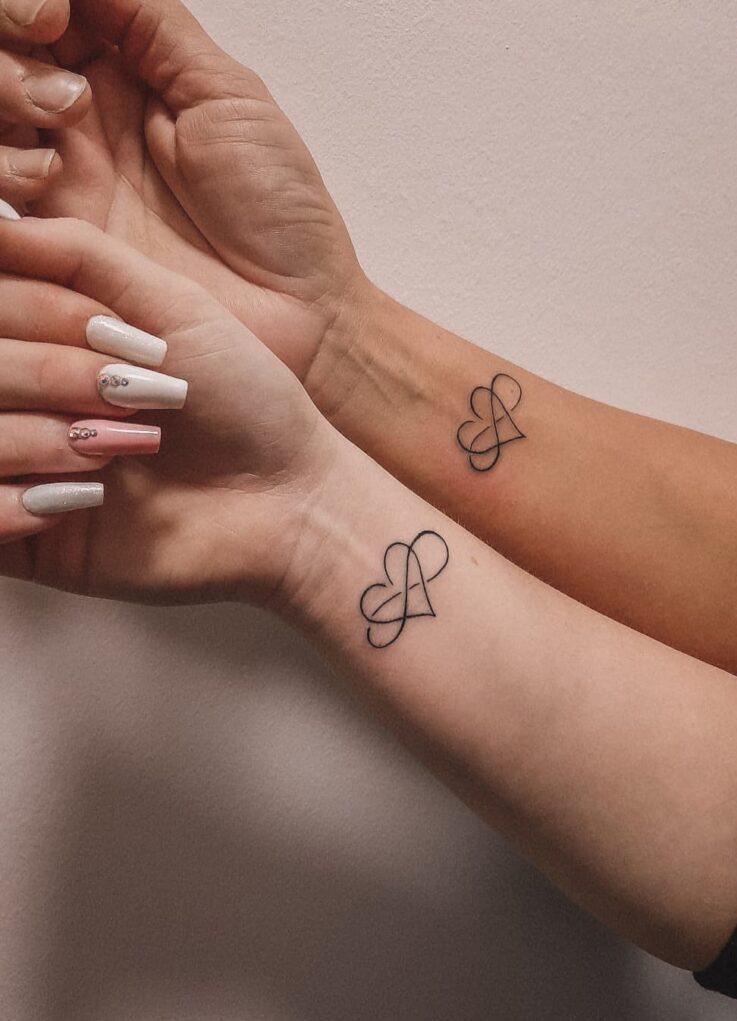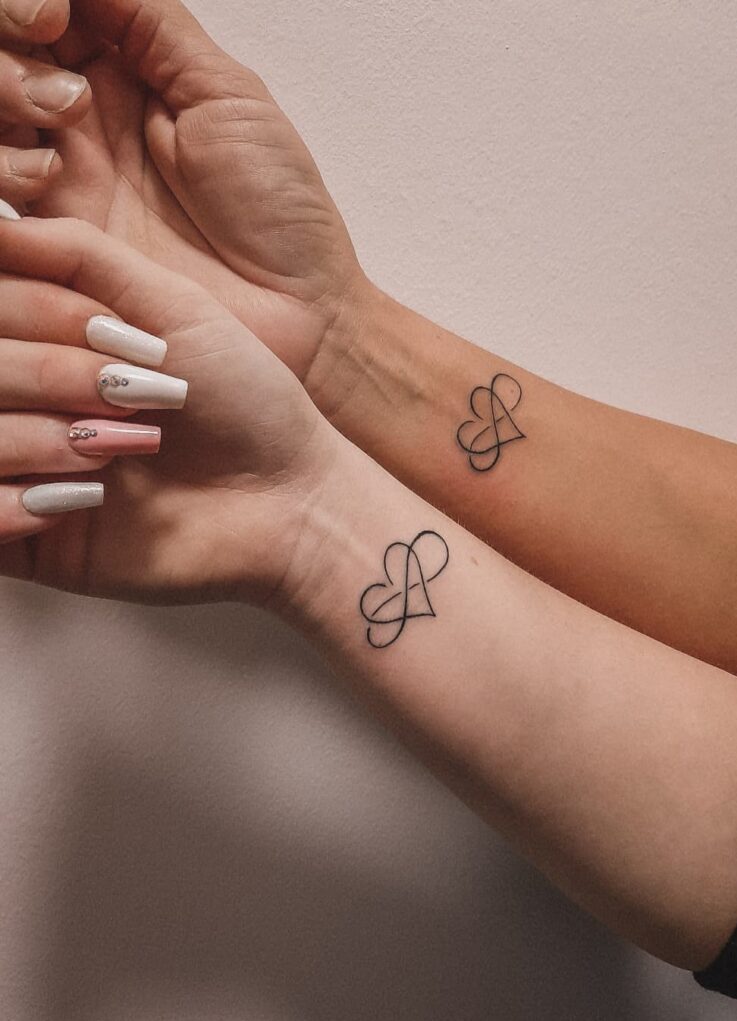 You know that super strong love between a mom and her child? Well, these Mother of Two tattoos totally capture that feeling. They're like a way to show off that love to everyone.
Whether you want to make your mom extra happy or show your own mom-like love with a really awesome design, these tattoos are the way to go.
So why not go for it and pick a Mother of Two tattoo that you really love? It's not just about looking cool; it's also a reminder of all the love and happiness that come with being a mom.
Let's check out some of the most creative and heartwarming designs – get ready for an exciting tattoo session.
Infinity Mother of Two Tattoo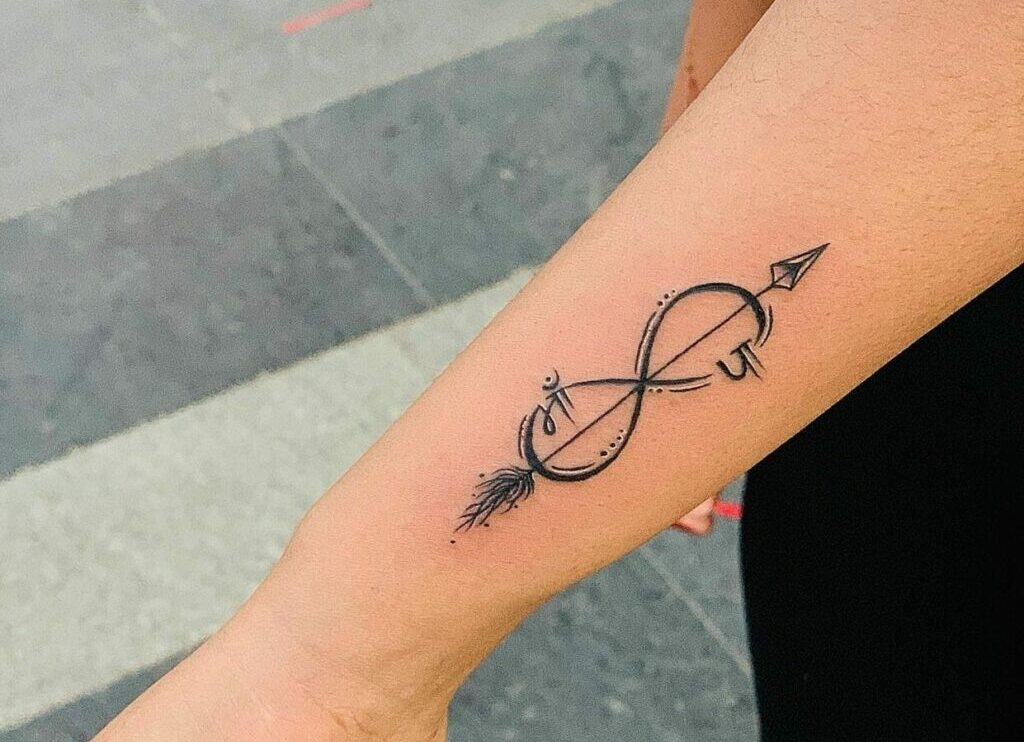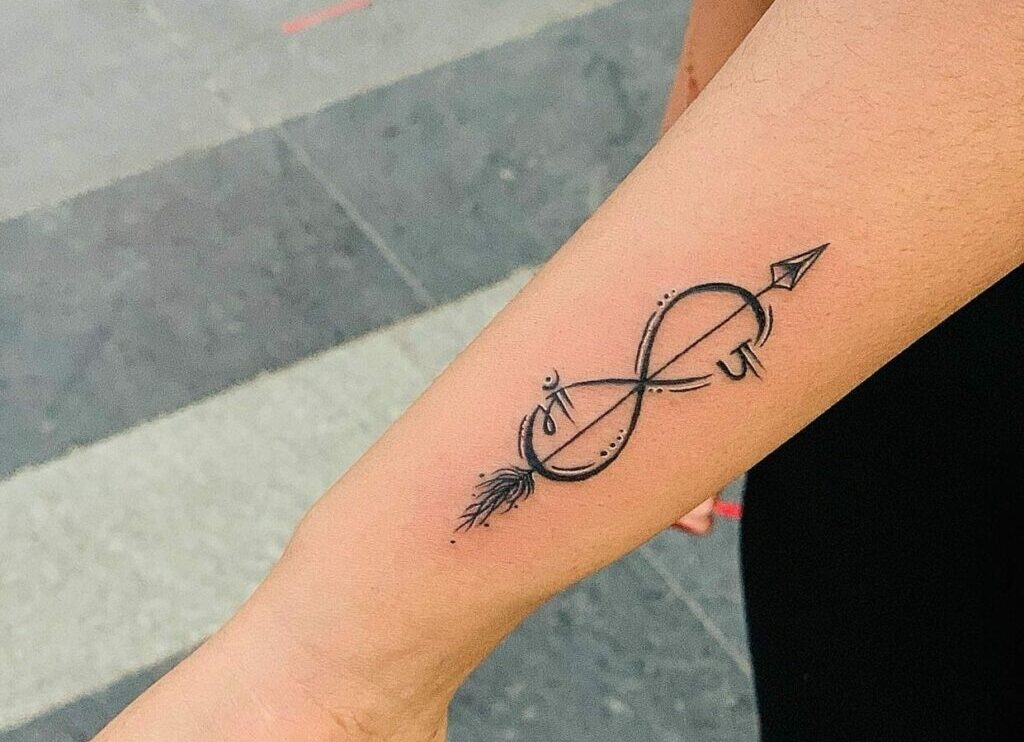 Infinity tattoos have gained immense popularity recently, holding deep meanings within their elegant designs.
They serve as a stunning representation of an unending bond, particularly between a mother and her child. This dainty yet impactful tattoo stands as a constant reminder of the limitless love shared between a mother and her child.
Within the infinity loop, there's room for personalization – incorporating the child's name, initials, or even a cherished symbol. Adding elements like flowers, hearts, or stars can enhance the design's grace and charm.
Placing these tattoos on the wrist not only makes for a stylish adornment but also serves as a constant connection to the realm of motherhood.
Beyond being a work of body art, these tattoos carry a profound significance, encapsulating the inseparable tie that exists between a mother and her child.
Small Mother-Daughter Tattoos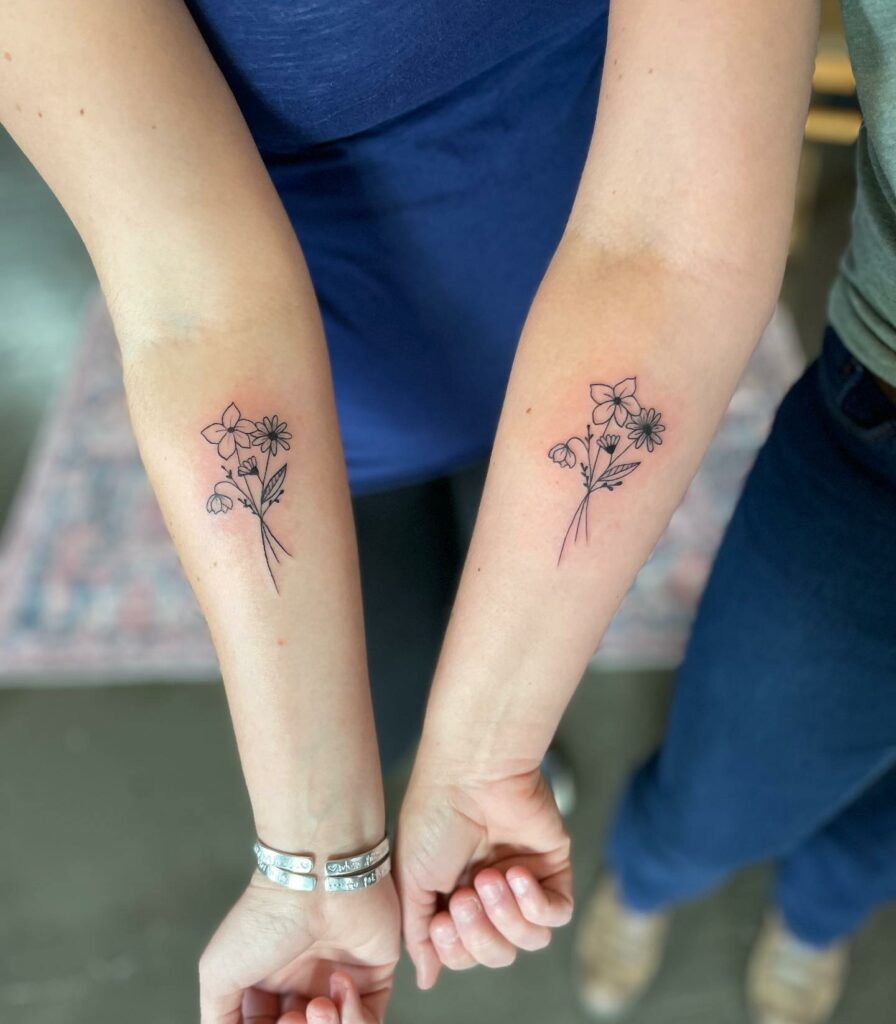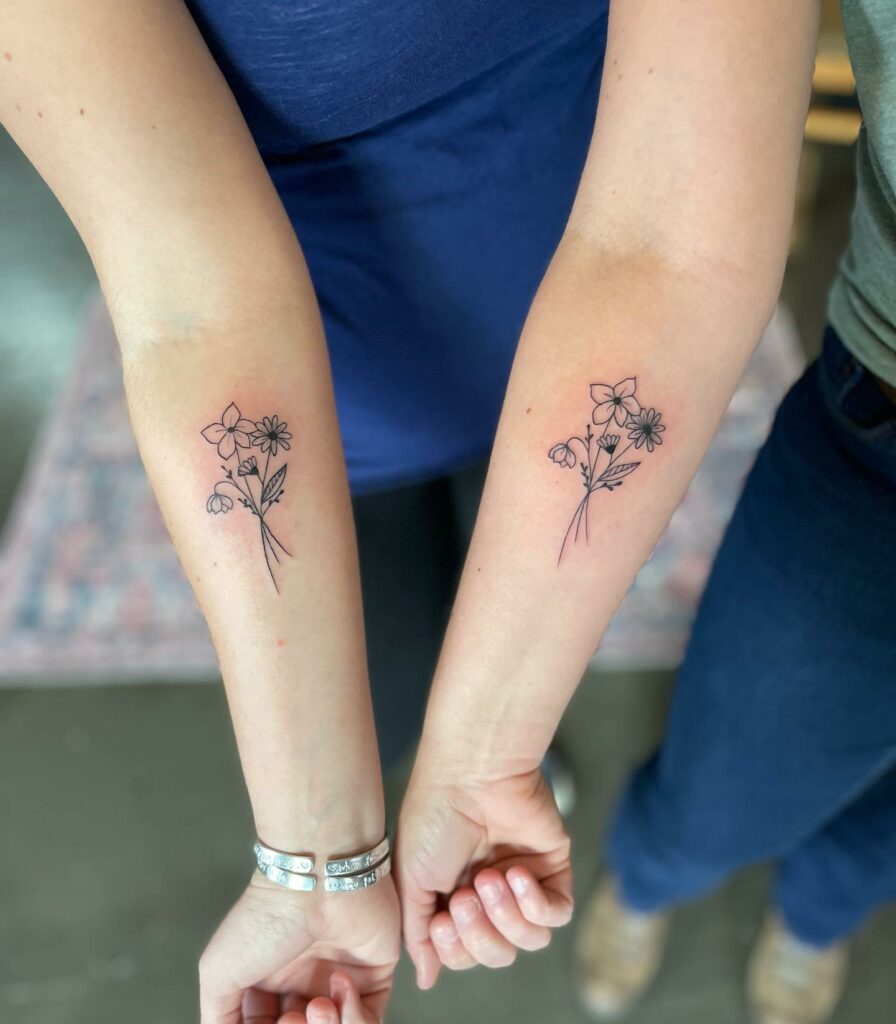 Opting for a small yet significant tattoo design with your mom or daughter is a beautiful testament to your unique connection.
These matching tattoos may be small in size, but they hold immense meaning. Imagine a delicate heartbeat symbol on your index finger or a pair of tiny birds adorning your ankle – simple yet captivating.
For those who prefer words, mother-daughter quotes can add a touch of creativity to your matching ink.
Join forces with your tattoo artist to craft a one-of-a-kind design that beautifully captures the essence of your relationship. These petite, harmonized tattoos are an everlasting tribute to your enduring love.
Mother of Two Boys Tattoo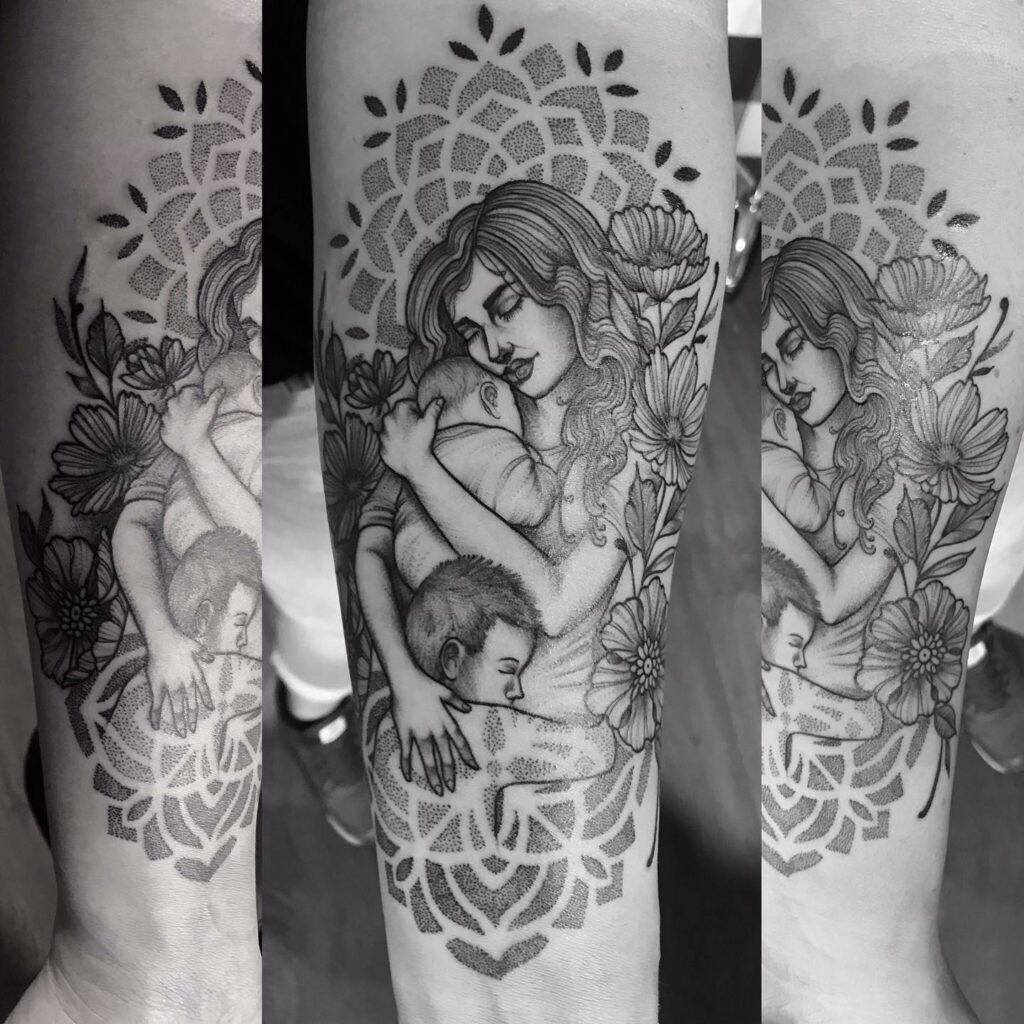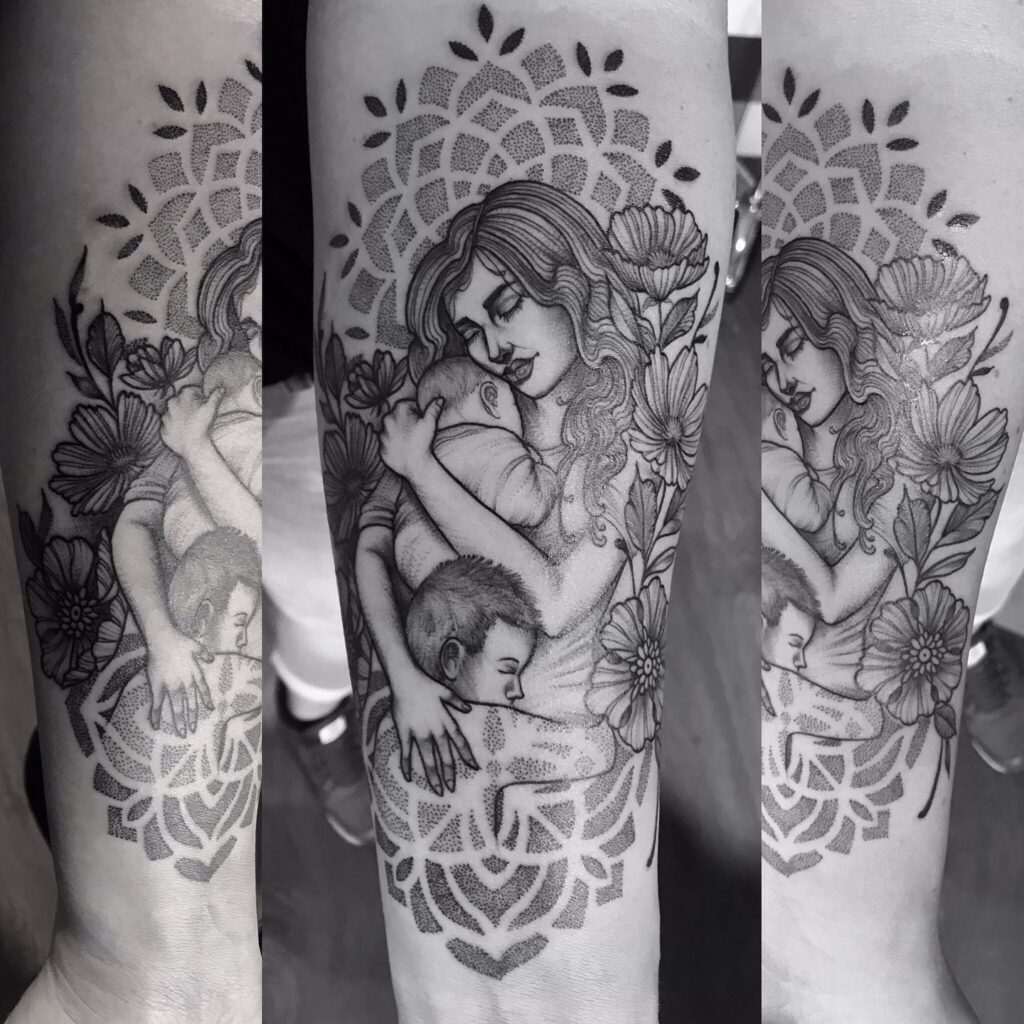 Mothers blessed with two sons can also express their profound connection through meaningful tattoos. The journey of nurturing and guiding two boys with boundless love holds a special place in a mother's heart.
These tattoos serve as enduring reminders of the shield her sons have become as they journey through life.
Consider adding the birth dates of your boys to the design, infusing it with a personal touch that makes it even more special.
Mother of two tattoo becomes a symbol of the love and fortitude a mother derives from her sons.
Its presence has the power to uplift a mom's spirits during challenging times, a constant affirmation of her strength and unwavering love for her children.
Lioness and her Cubs Tattoos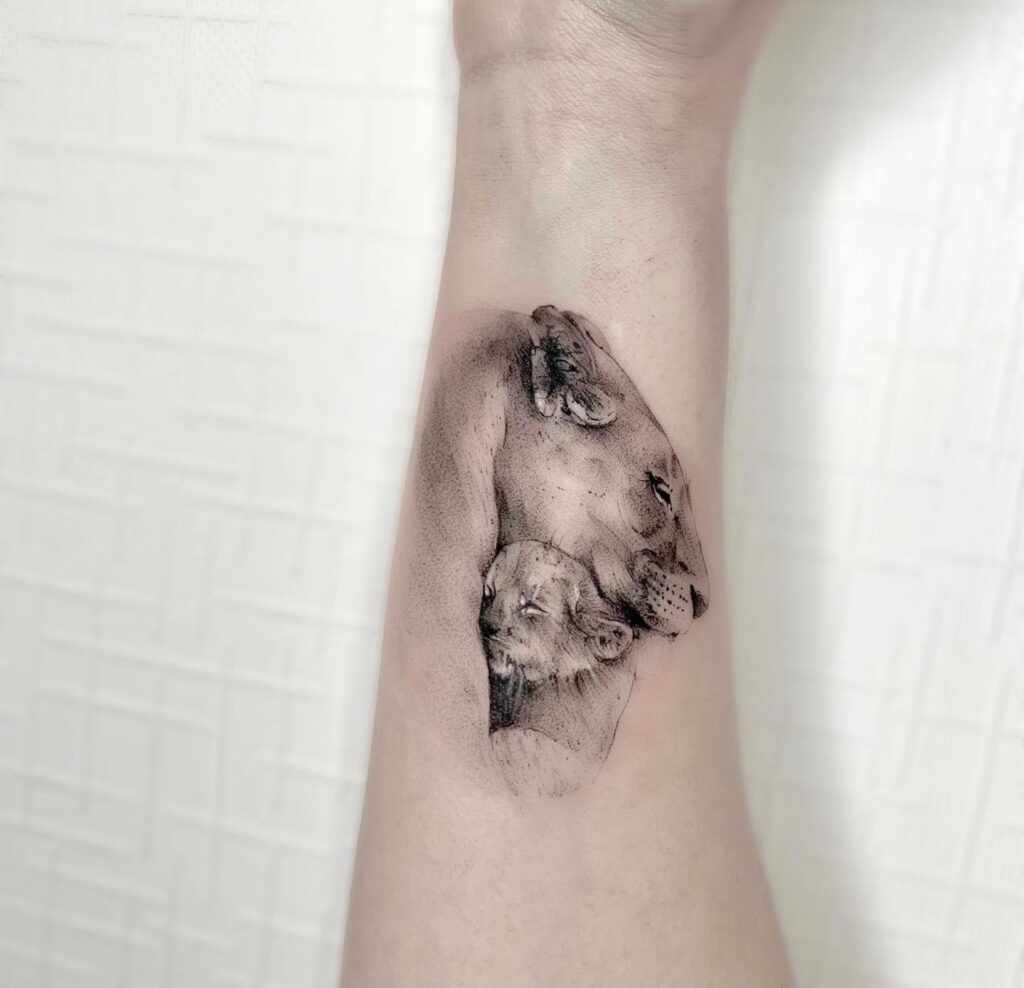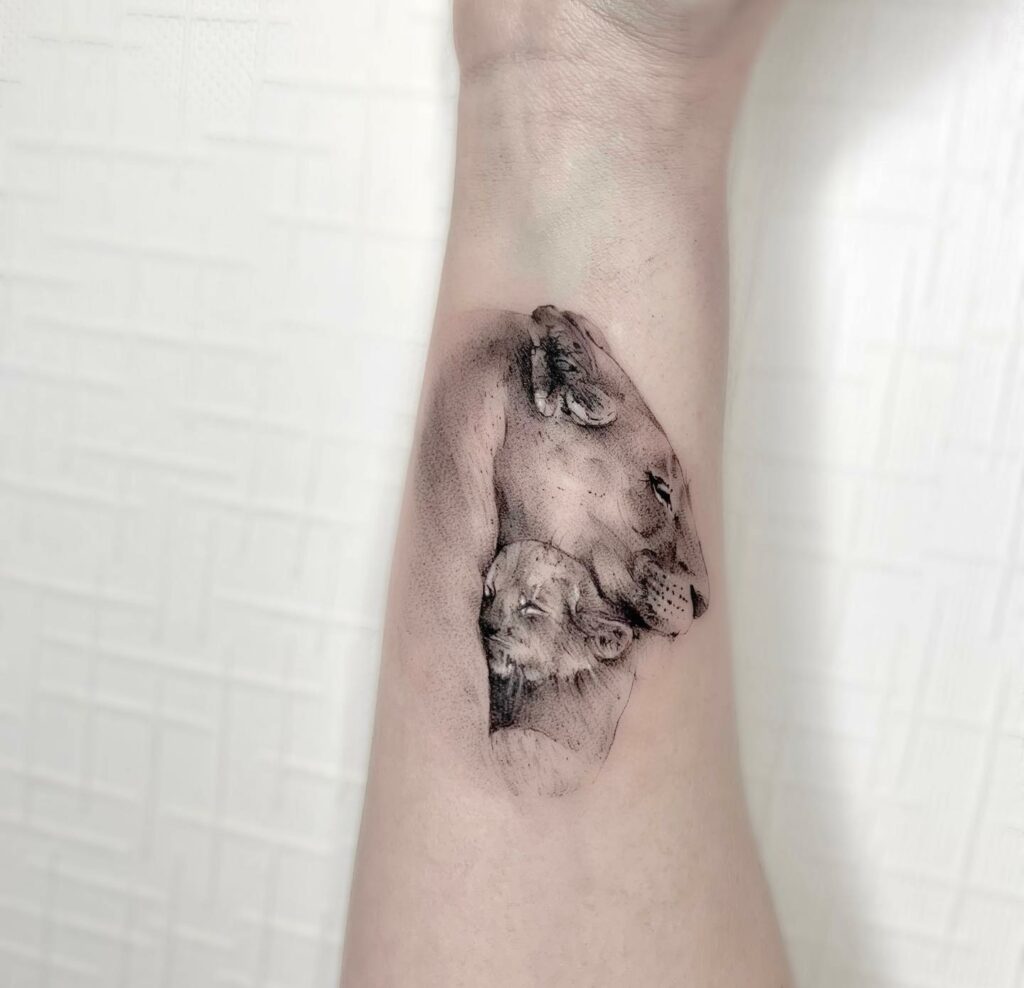 The canvas of tattoos for mothers of two sons is rich with options to convey your love and devotion to your children.
The depiction of a lioness and her cubs stands as an enduring emblem of your maternal strength and bravery. However, the choices aren't limited – you can opt for other animals that align with your family's unique traits.
Mother of two tattoo design encapsulates the lineage you've nurtured, portraying an unbreakable connection with your children. It's a constant reminder of the love and security you provide.
These tattoos find beauty on the shoulder blade or arm, a stunning adornment for any mother seeking to honour the extraordinary bond shared with her sons.
In Mother's Arms Tattoo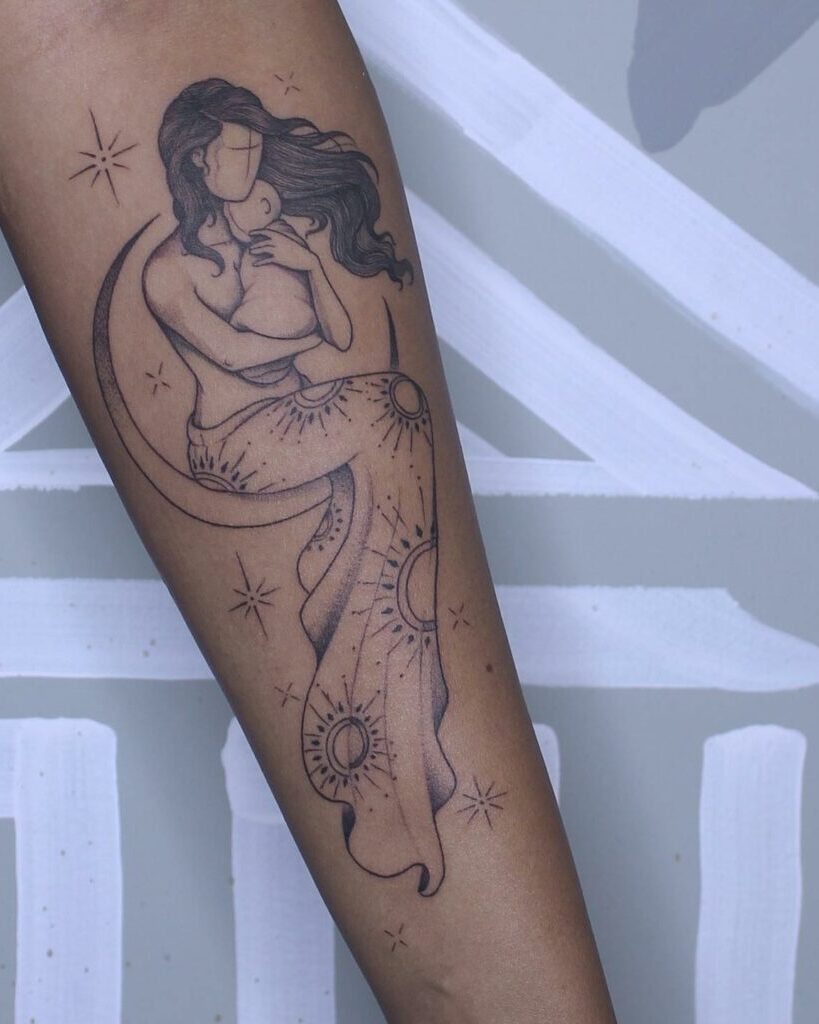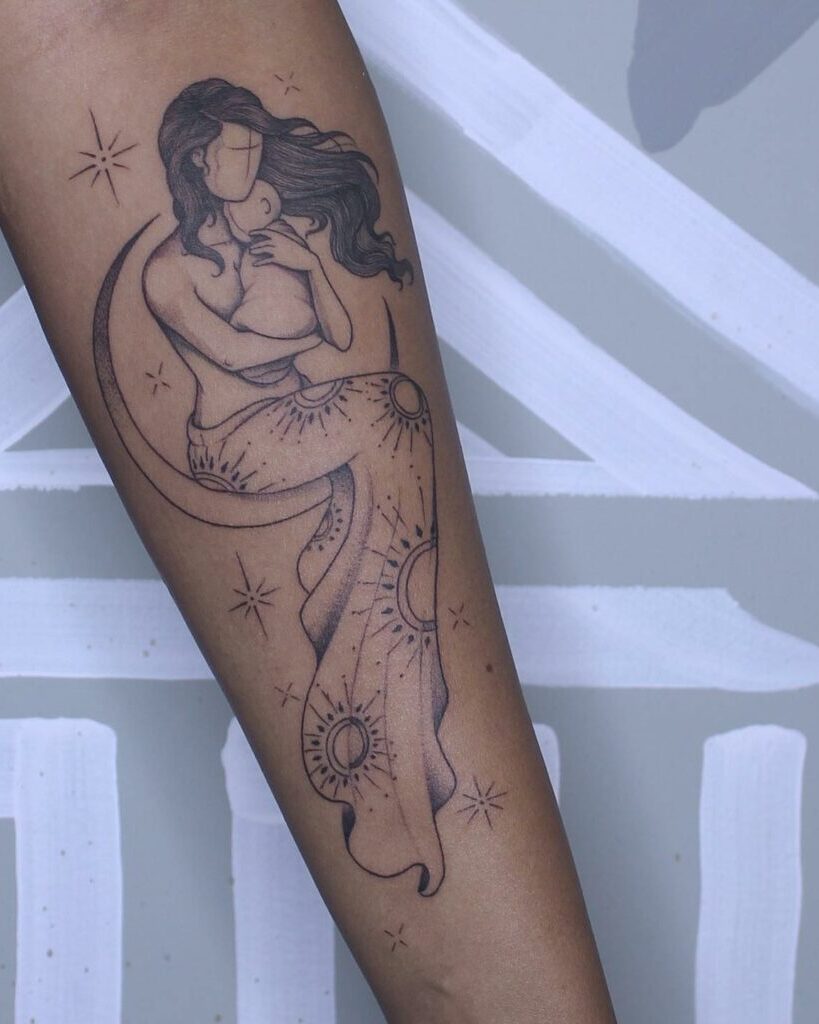 There's a timeless truth in the words, "The best place in the world is a mother's arms." Capturing this profound love in a small yet impactful tattoo is a beautiful tribute.
Whether you opt for a delicate outline or an intricate masterpiece, the symbolism of a mother's embrace resonates with deep emotion.
The image of a mother cradling her child evokes a feeling of security and warmth that only a mother's affection can provide.
It transports you to the carefree days of childhood, even bridging the distance if you're far from your mom. Mother of two tattoo becomes a cherished keepsake of those precious memories.
While its design is simple, its significance is profound. Selecting a skilled tattoo artist is crucial to ensure your vision is perfectly brought to life.
Best suited for the right chest, shoulder, or arm, let this tattoo stand as a perpetual reminder of the ever-present love that envelops you.
Mother of Two Butterfly Tattoos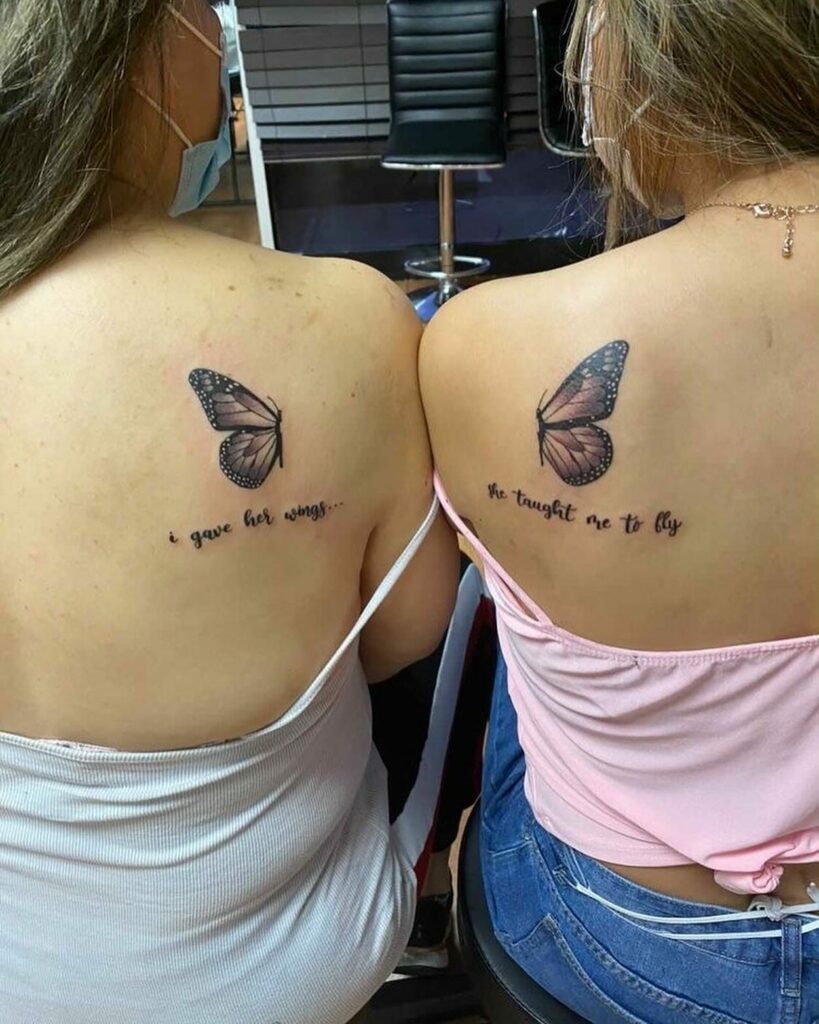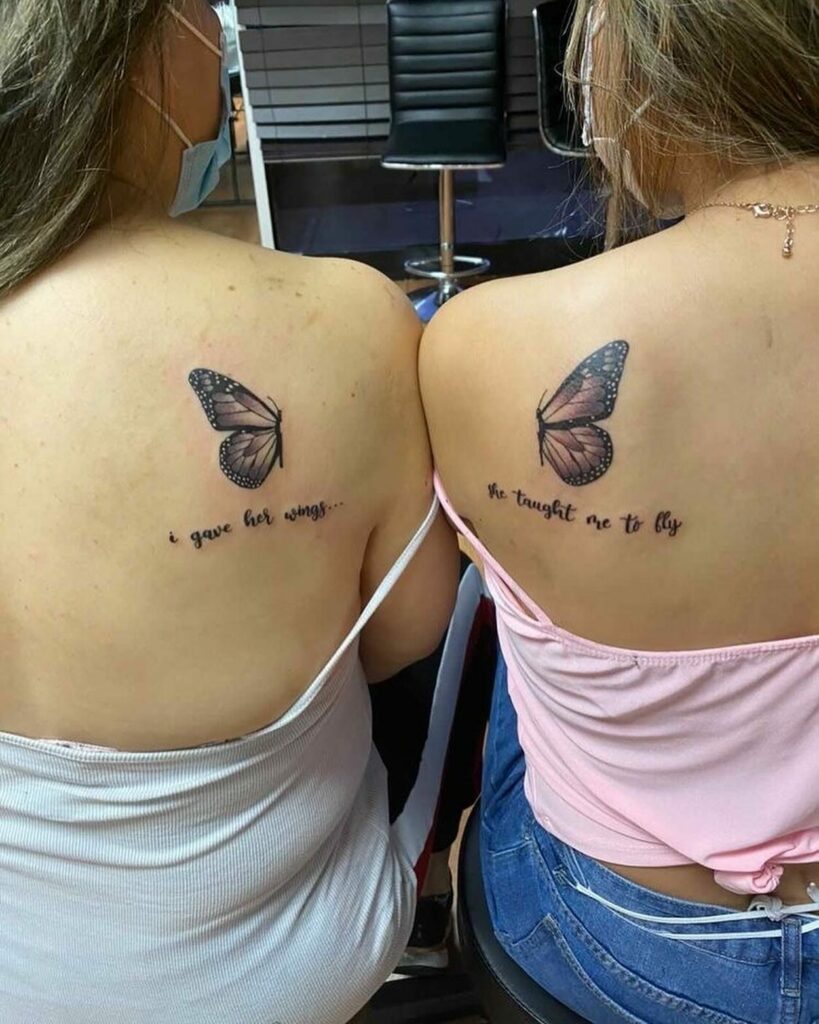 The butterfly, a symbol of transformation and freedom, holds a unique charm.
If you're seeking a matching tattoo with your daughter, the butterfly is an ideal choice, embodying hope, renewal, and the world's inherent beauty. Its allure lies not only in its elegance but also in its profound meaning.
Mother of two tattoo design can be elevated by incorporating elements like flowers, enhancing the tattoo's grace and aesthetic appeal. Infusing vibrant colours into the butterfly's wings can enhance its visual impact.
This choice is particularly fitting for mothers and daughters separated by distance, serving as a reminder of cherished moments shared together.
Choose a skilled tattoo artist to manifest your vision into reality, crafting a design that encapsulates the essence of your bond.
The versatility of its placement makes this tattoo a canvas for creativity, often finding its home on the wrist or ankle, radiating its beauty with every glance.
Mother's Hand Tattoo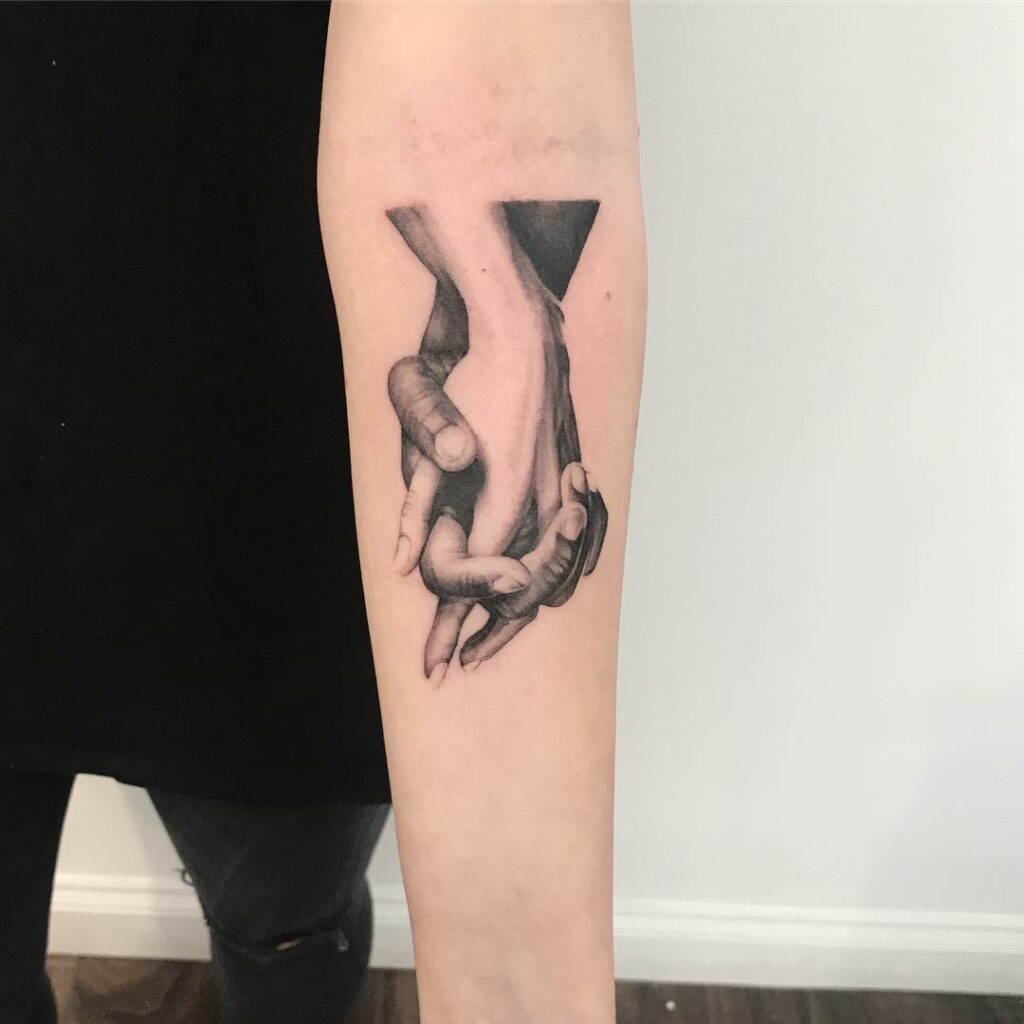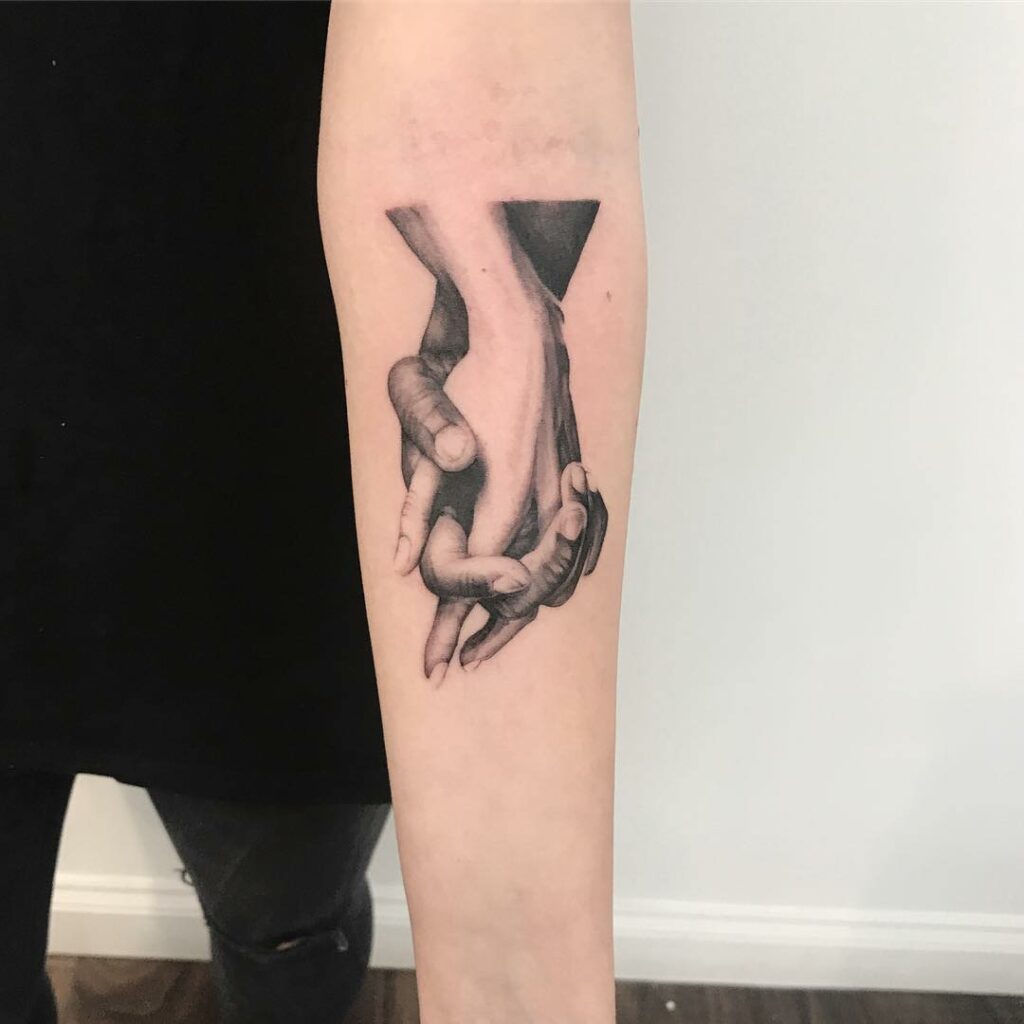 A mother's hand embodies a haven of solace and protection sought during moments of turmoil.
In our younger days, clasping our mother's hand was our refuge – whether braving exams or navigating busy streets. The gentle touch provided a reassuring tether, a silent promise of safety.
Why not immortalize these cherished moments with a tattoo? The image of your mother's hands holding yours pays homage to a treasured past.
Even if physical distance separates you, this tattoo serves as a perpetual embrace, a comforting touch during life's trials.
This ink etching isn't just skin deep; it carries the weight of shared memories. It becomes a talisman, offering solace in moments of stress, a visual hymn of the love and bolstering guidance your mother bestowed.
Beyond the surface, the tattoo mirrors the formidable bond and camaraderie between mother and child. It's a tribute to unwavering support, a call to stand by your mother's side, offering strength when she requires it most.
Connecting Tattoos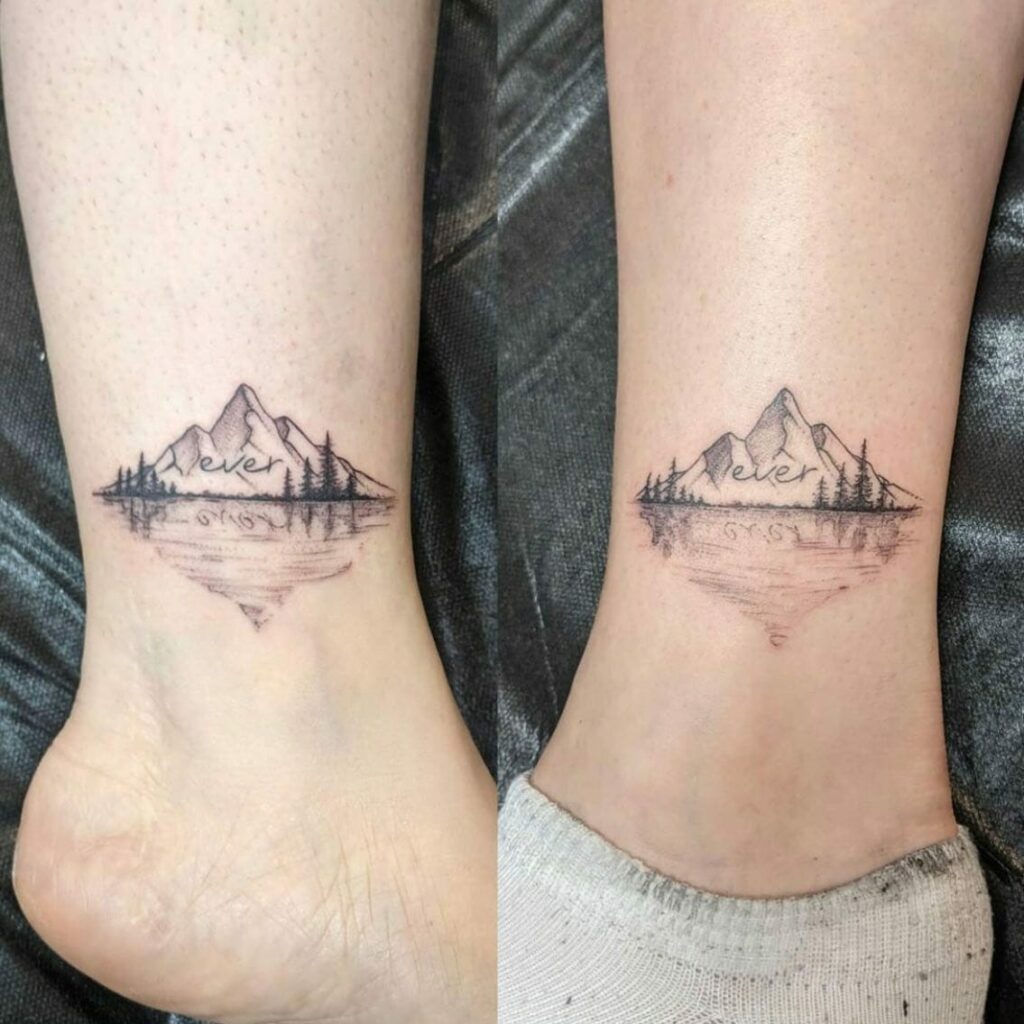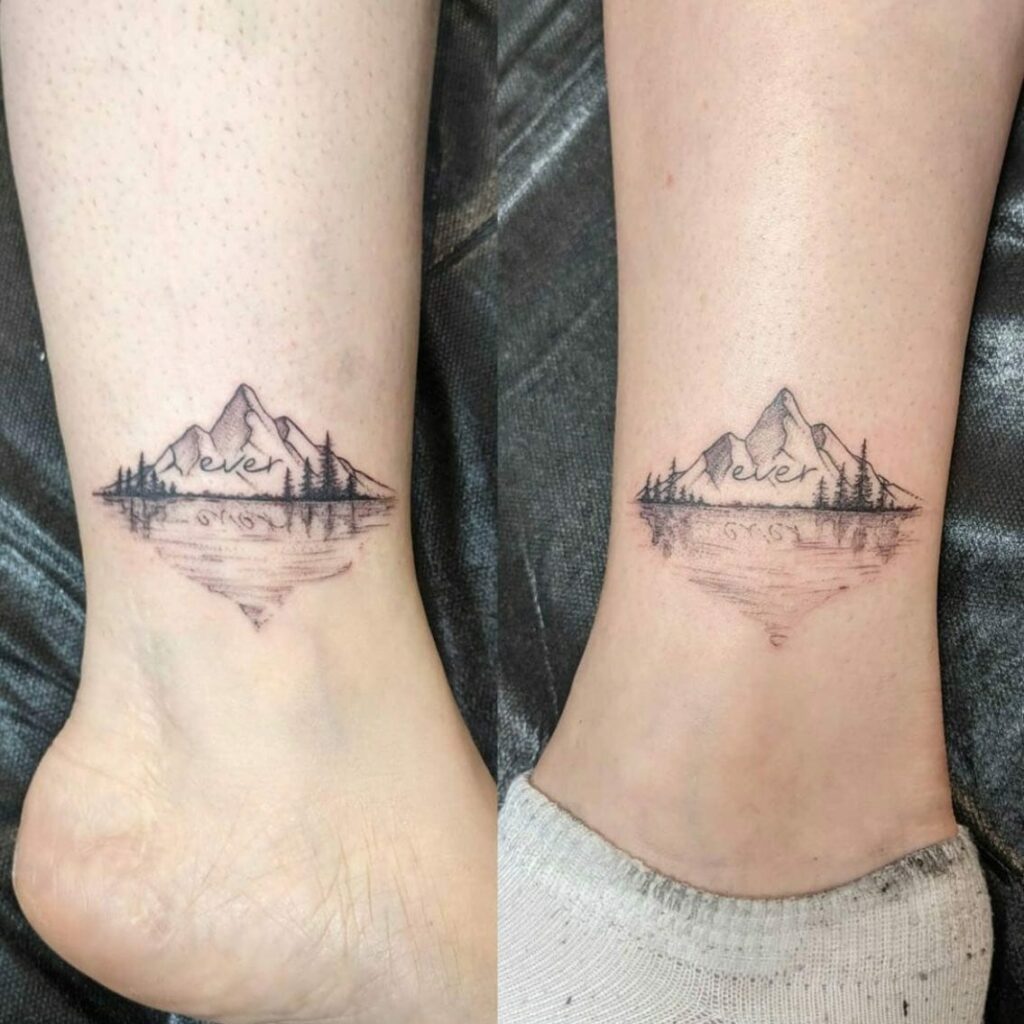 Matching tattoos hold the power to commemorate the profound connection between a mother and daughter.
Designs that interlace mirroring your family ties and unbreakable closeness, become artistic expressions and meaningful reminders of your special relationship.
From dainty heart tattoos to meaningful symbols, even depictions of cherished locations, the options are as diverse as your unique bond. Each element woven into the design crafts a personalized narrative, a testament to your love.
For those yearning to keep their loved ones close, these tattoos are a testament to that desire.
They find a perfect canvas on wrists or arms, with intricate details and delicate outlines unfurling the captivating beauty of the shared love between a mother and daughter.
Sun and Moon Tattoos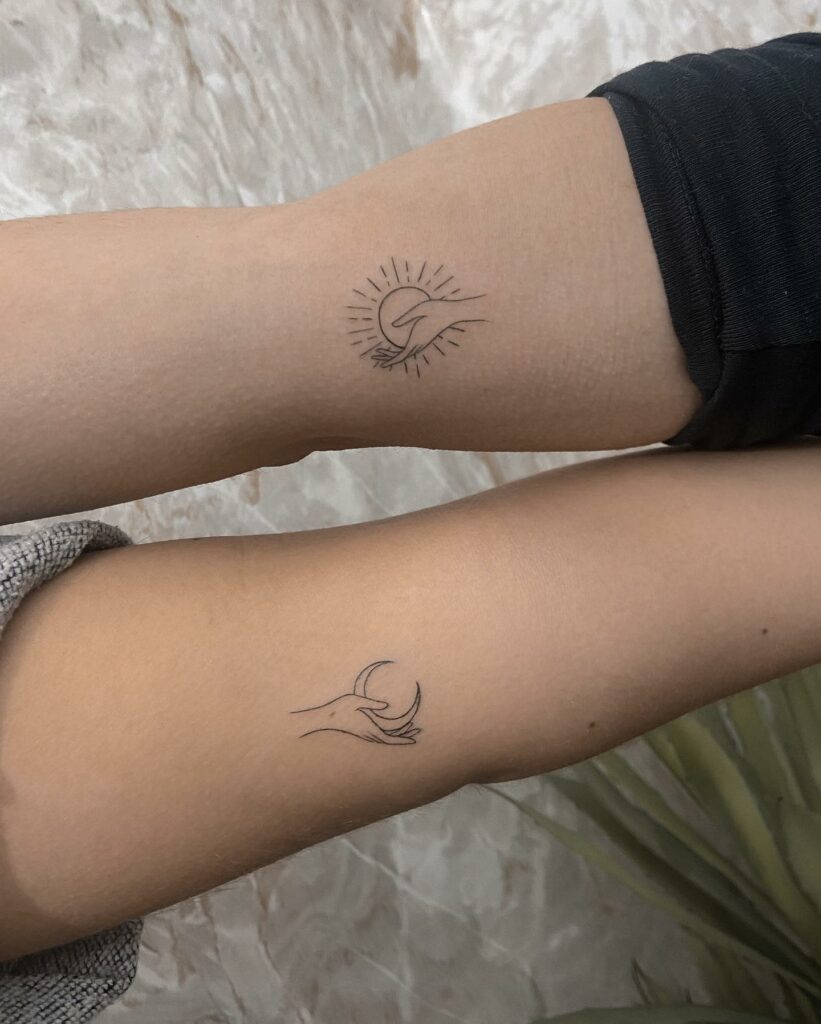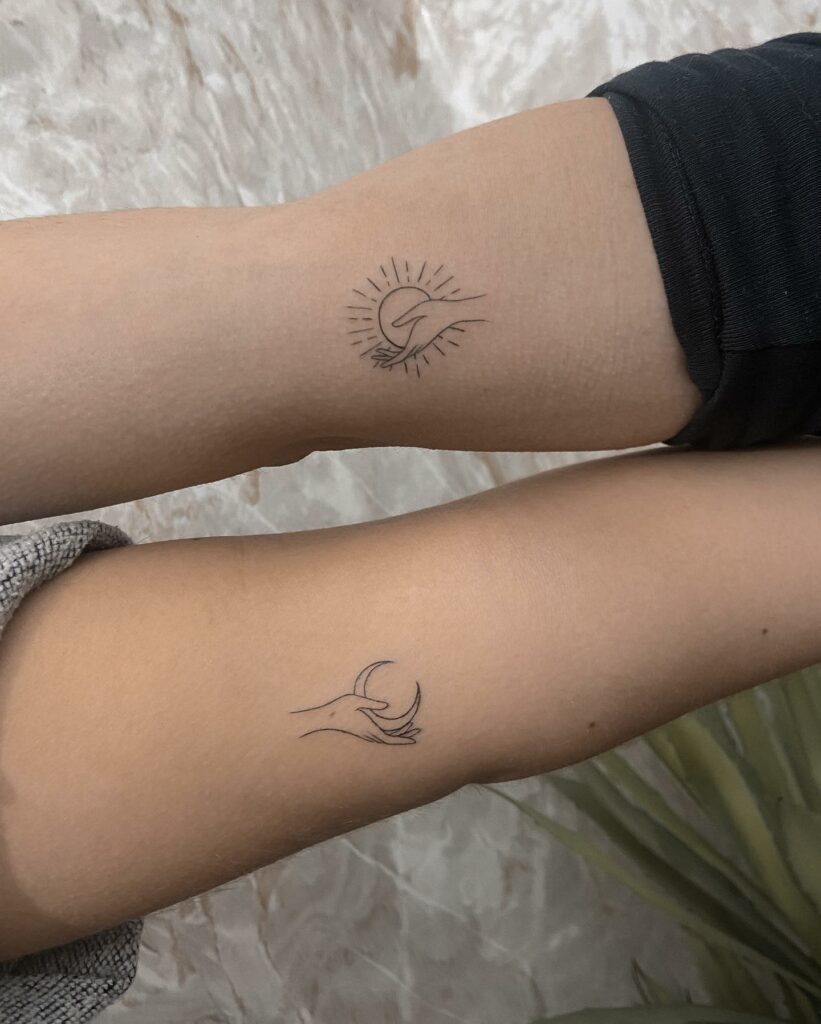 The sun and moon tattoos encapsulate the mother-child connection flawlessly. Just as day seamlessly turns into night, the moon mirrors the sun's radiance during its quiet watch.
This mirrors the unceasing influence of a mother's guidance and wisdom, nurturing her child's growth even into adulthood.
The sun and moon's symbiosis weaves a profound tale enriched with a deep significance.
These tattoos not only hold layers of meaning but also accentuate feminine grace. Rooted in the elements of nature, this choice never fails to shine.
Adorning the wrist, shoulder blade, or neck, this matching tattoo stands as a permanent reminder of the timeless bond shared with your mom.
Mother-Daughter Tattoo for Shoulder Blades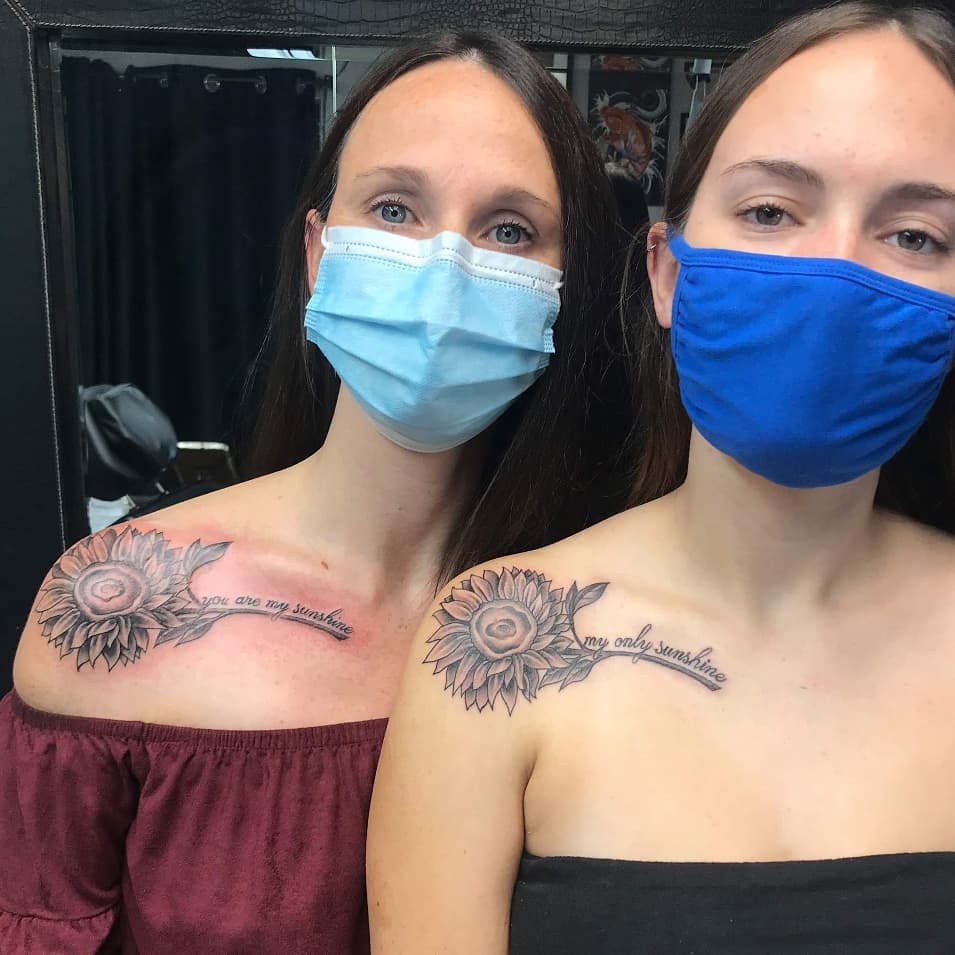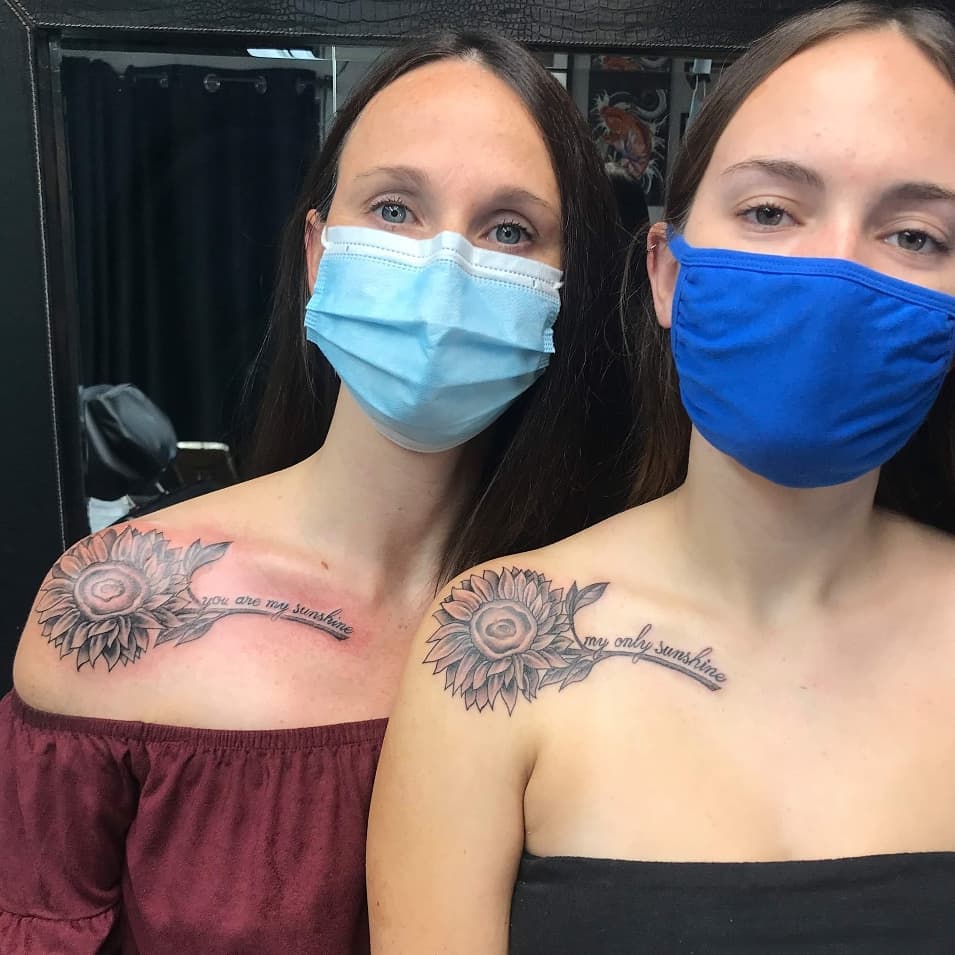 Shoulder blade tattoos stand as a favoured canvas for expressing love towards mothers.
Tattoo artists embrace the chance to craft distinctive designs, whether they're elegantly minimal or coordinated matching tattoos for mothers and daughters.
An elegant option features a simple yet evocative portrayal of a mother's face with the outlines of her two children.
Alternatively, a Mother of two tattoo embellished with the names of her kids or a solo child tattoo for a personalized touch.
Animal motifs like elephants with their young or a nurturing doe and fawn are also popular, radiating tenderness.
Adding heart tattoos or meaningful quotes infuses ingenuity and flair into shoulder blade tattoos.
These tattoos, laden with significance, make for perfect gestures on occasions like Mother's Day and are undoubtedly worthy of a spot on your Instagram feed. Display your affection for your mother with a stunning shoulder blade tattoo.
FAQs
Q1: What does the mother symbol tattoo mean?
A1: The mother symbol tattoo, often portrayed as a Celtic knot, signifies maternal love and the unbreakable connection between a mother and her child. It embodies the enduring bond that starts at birth and remains constant.
Q2: Which tattoo is commonly associated with losing a loved one?
A2: Memorial tattoos are a common choice after losing a loved one. These tattoos are personalized with names, dates, hearts, initials, or even symbols like a rose, each holding a unique meaning related to the individual being remembered.
Q3: What does the mother and son symbol represent?
A3: Celtic tradition often derives the mother and son symbol from the Trinity knot. It symbolizes the deep and everlasting love between a mother and her son or daughter, emphasizing their profound bond.
Q4: What's the meaning of Mother of two tattoo?
A4: Saying "I am a mother of two children" simply means you have two kids. On the other hand, "the mother of two children" specifically identifies you as the mother of those two children, setting you apart from any other mothers.
Conclusion
In conclusion, the Mother of two tattoo offers a heartfelt tribute to the unwavering connection between mothers and their children.
Each design tells a unique story of love and unity, from intricate infinity symbols to powerful lioness depictions. "In Mother's Arms" brings comfort across distances, while butterflies symbolize enduring hope.
Sun and moon tattoos reflect maternal guidance, while shoulder blade designs capture cherished faces or animal spirits.
These tattoos encapsulate the extraordinary mother-child relationship, preserving moments of love and connection through art.
MORE MOTHER OF TWO TATTOO IDEAS