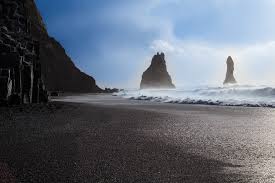 Let's begin with knowing how is black sand formed? So, black sand beaches come into existence when the fragments of lava and eroded volcanic minerals are further broken into smaller grains by the ocean's tide. It could also happen if water flows from beneath the volcano where the molten lava hits the cold ocean water quickly.
These beaches, because of their contrasting hues of black sand along with the beautiful waves of the turquoise water overlapping it, create a spectacular picturesque destination. These rare beaches serve as one of the perfect photogenic locations on earth.
These black beaches seldom take birth near icy glaciers and tropical forests, which makes them even more photogenic. Enough of you spending weekends or vacations getting tanned on a regular beach, it's high time you visited these natural beauties.
Hence, we are enlisting some of the best black sand beaches –
Playa de Roque Bermejo, Tenerife, Spanish Canary Islands
All of you might have visited a busy beach at least once in their lifetimes, but have you ever visited a quiet and uncrowded black sand beach which is hidden away from the man and his civilization?
You can access this black sand beach either by boat or foot. If you choose to walk to the beach from the nearby village of Chamorga, it will take almost two hours each way. In case the beach is experiencing a low tide, then you could try snorkeling in the crystal clear water and later on, walk up to the Anaga Lighthouse nearby.
ALSO READ: Check the Best Campgrounds in US for This Weekend Getaway.
Honokalani Beach, Hawai, US
If you are intending to drive to the Hana Highway on Maui, then you might wanna hitch your RV or car to enjoy the sea breeze flowing on this small black beach.
You can find it inside the Waianapanapa State Park, and if you are visiting the 120-acre state park, then you must stop for the black sand beach Hana road trip has to offer.
You and your family could get memorable pictures at this beautiful destination. And if you are adventurous, then you might even like to take a stroll around the beach and find some volcanic sea caves or tunnels carved out in the past. Or else you could just sit along the beach and enjoy the sunset.
You might not want to dip in the waters for a swim as the waves and tides are quite unpredictable.
Maori Bay, Muriwai, New Zealand
If you are wandering for a great surf spot in New Zealand, then drive away to the North Island's Maori Bay, which is on the west coast of Auckland. It is one of the most famous surf spots in New Zealand.
The waves are powerful here; hence, if you are just a beginner at surfing, then you might want to hire a surf instructor. But for intermediates and advanced surfers, it is one of the best spots.
This black sand beach is also known as "Maukatia Beach." If you don't surf, you could look forward to seeing pillow lava structures, which are a result of the Waitakere Volcanic eruption a million years ago.
READ MORE: Visit These Top Nude Beaches
Reynisfjara Beach, Vik, Iceland
If you're in search of the best black sand beaches and the most beautiful ones in that as well, then Reynisfjara is the one. Located on the South Coast of Iceland, also known as Vik Beach, is also one of the most famous black beaches.
You would find this beach, the distant Reynisdrangar sea stacks and its epic shoreline in Star Wars, Game of Thrones, many other movies, and television shows.
It is even one of the most beautiful places in the country where people go to enjoy the imagery of the dark sand and powerful waves drawn by nature.
Stokksnes Beach, Stokksnes, Iceland
The beach lies in a ruggedly isolated location amid high icy mountains ranging up to 1,500 feet in height. The view of the beach from a far off place would make you believe that Stokksnes Beach in southeastern Iceland is one of the epic locations on earth.
This beach does not get much visited by tourists even though it is just an hour's drive from the popular glacial lagoon,  Jökulsárlón and falls close to Europe's largest glacier, Vatnajökull.
The land is owned by someone, and a nominal fee is charged for access to the land in order to maintain the upkeep of the road. As we have mentioned earlier, the view of this place is just so marvelous with its isolation and amazing landscape that professional photographers visit it.
ALSO READ: Planning to Visit India? Add Pangong Lake in Ladakh to Visit.
El Bollullo Beach, Tenerife, Spanish Canary Islands
To visit this beautiful beach, you would have to trek and cover a long way as it is secluded in the La Orotava Valley of northern Tenerife. All the trekking and treading would be worth it when you see the El Bollullo Beach resting in the lap of nature separated from the world by the steep steps.
It is engulfed by towering sea cliffs and large strips of sand, which only add to its natural enchantment.
There is a cafe overlooking the beach, which would give you a safe spot to enjoy it from far because the beach lacks a protective reef that could expose you to the rough hits of high tide Santa Cruz.
Ficogrande Beach, Aeolian Islands, Italy
Ficogrande Beach, which lies on the northeastern tip of Stromboli, is the most famous and gorgeous amongst the several other black sand beaches on the Italian Aeolian Islands. Its waters are calm hence, apt for swimming.
One of the reasons for being famous is because the beach has some basic amenities like refreshments, a beach volleyball court, umbrellas, and beach chairs.
You could have a typical beach picnic at Ficogrande. You would have to carry either sandals or water shoes as the beach is made up of black sand mixed with black rocks in it.
Punalu'u Beach, Hawaii, US
If you stay in the US, you might like to visit the Hawaii black sand beaches during holidays or weekends. This beach in Hawaii island is a result of the dramatic volcanic eruption near the Hawaii Volcanoes National Park.
You could access this picturesque beach by foot, and what adds to people's amazing experience is the chance to see the Hawaiian Monk Seals and the Hawaiian Green Sea Turtles who come out to bask in the sun.
The beach has things for people to enjoy as much as it has to explore like the island's rich wildlife and numerous tide pools, which could be best explored during low tides.
READ MORE: Visit These Haunted Places in California for Adrenaline Rush.
Playa Jardin, Tenerife, Spanish Canary Islands
Playa Jardin is decorated with landscaped gardens and palm trees along the shore hence the name, "Garden Beach." If you have planned a typical day out on the beach then, this is one of the best black sand beach locations for you and your family.
Spend a typical beach day at this black sand beach with plenty of lifeguards along the coastline, beach chairs, and even umbrellas renting shacks. You could also take a dip into the waters and go for a swim when it faces a low tide, Santa Cruz.
Miho no Matsubara, Shizuoka, Japan
While you are at the Miho no Matsubara, you get a view of the famous impeccable Mount Fuji from the shore. This black sand beach is included as a part of Mount Fuji's World Heritage Site.
This beautiful beach is spread up to more than 4 miles and embeds a grove of more than 30,000 pine trees. After you have had a stroll on the beach, you could also take a walk on the nicely paved pathway through the forest and spend the rest of the day there in nature's shade.
There's another one of UNESCO's World Heritage Site nearby if you'd like to visit, which is the Miho shrine and the visitor's center.
Waimea Beach, Kauai
Though Kauai beaches are quite famous, Waimea beach has its own specialties. This Kauai black sand beach, which lies off Kauai's west side, has a spectacular vantage point, offers sunsets over Niihau and the Forbidden Isle.
This charming stretch of waterfront has an array of greenery on its shore built by the coconut palms, banyan trees, and grassy lawns. This beach will give you a nostalgic trip to the plantation era with its cottages lined along the beach.
The Waimea beach is one of the perfect spots for enjoying sunsets, vacation treats, romantic strolls, and destination weddings.
Lovina Beach, Bali, Indonesia
If you intend to spend a day out somewhere around calm waters, tranquil vibes, and soothing breeze, then you would have to drive to the northwestern side of Bali to reach the Lovina Beach.
While some people might find this beach with not many features captivating the mind, it sure could captivate one's eyes with the Dolphins who frequently visit. Hence, people who love to watch Dolphins or who want to see one for the first time often visit Lovina Beach.
After spending some of the time on the beach and spotting Dolphins, you could visit Bali's largest Buddhist monastery and the Brahmavihara Arama in the Banjar district, which is merely 6 miles away.
Shelter Cove Black Sands Beach, California, US
Not all black sand beaches have to be a faraway exotic location for one to ease out during a weekend. Shelter Cove in California avails the Americans a chance to experience such exotic getaways in the continental US itself.
While on the way to Mattole River Campground, one could reach this beautiful black sand beach, on foot, on the south end by taking the 20 miles long walkable coastline.
Swimming in its waters can be dangerous as it gets deep very quickly and has a rugged shoreline. It is also known as "Black Sands Beach" and often experiences unpredictable tides.
Karekare Beach, Karekare, New Zealand
Just drive 21 miles from downtown Auckland, and you'll reach the Karekare Beach at Karekare Regional Park near the popular Piha Beach. Karekare Beach is situated near towering rocky cliffs and thundering surf. Have you ever seen black sand dunes?
You will find a few pretty amusing black sand dunes made of the black volcanic sand standing on the beach. Take a 15-minute long walk from the beach along the La Trobe Track to reach the beautiful Karekare falls, which also are a part of the regional park.
Perissa Beach, Santorini, Greece
Right at the base of Mesa Vouno Mountain, you would find the largest and the most famous beach Perissa made of black sand, the island of Santorini.
If you want to take your family, kids, cousins, or friends to a perfect beach day out then, Perissa Beach could be the best option. It has anything and everything to make your beach day out the best with its beach chairs, umbrellas, lifeguards, beach volleyball court, and restroom facilities.
If you intend to spend your day in peace and enjoy it with optimum solitude, then you might want to visit the beach on an off-season duration. Because during busier tourist seasons, the beach tends to get overcrowded as it is in an easily accessible destination.
Playa Negra, Vieques, Puerto Rico
It accounts for one of the unique beaches in Puerto Rico with a tropical green background.
Before getting washed on the shore of Playa Negra, volcanic material runs down the other more volcanic parts of the island. This eventually means that the particularly fine sand particles get mixed with the normal tan-colored sand.
The spectacular blend of both the colored sands stands in perfect contrast for the waters of the ocean. This whole mesmerizing view is beguiling, for the visitors, with the lush greenery in the backdrop.
Ureki Beach, Georgia
Ureki beach is considered one of the most pleasant and best black sand beaches in Georgia, both by locals and tourists. It is especially preferred by families with kids as the waters are quite shallow.
The beautiful black sand is a pull for a lot of tourists; hence, you might want to visit it during the off-season to be able to find a relaxing spot on the beach.
Final Words
Try to visit these lovely black sand beaches at least once in your lifetime. Make sure you pack the essentials for your trip and enjoy these lovely beaches.