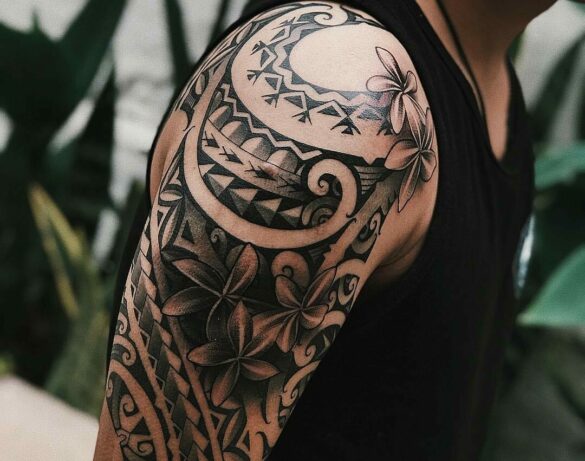 Greetings to all tattoo enthusiasts and those who hold their Filipino heritage close. Are you searching for a meaningful avenue to honour your cultural roots through ink?
Look no further, for we present captivating Filipino tribal tattoo designs bound to ignite your creativity for your next ink endeavour.
Filipino tribal tattoos bear deep cultural significance, embodying themes like societal standing, protection, and spiritual guidance.
These designs draw heavily from the natural world, incorporating mountains, streams, and fauna.
Meticulously intricate and thoughtfully positioned on the body, they give rise to a visually arresting monochromatic artistic spectacle.
However, these tattoos encompass more than mere visual allure – they encapsulate the narratives and traditions of indigenous tribal communities that have indelibly shaped the Philippines across generations.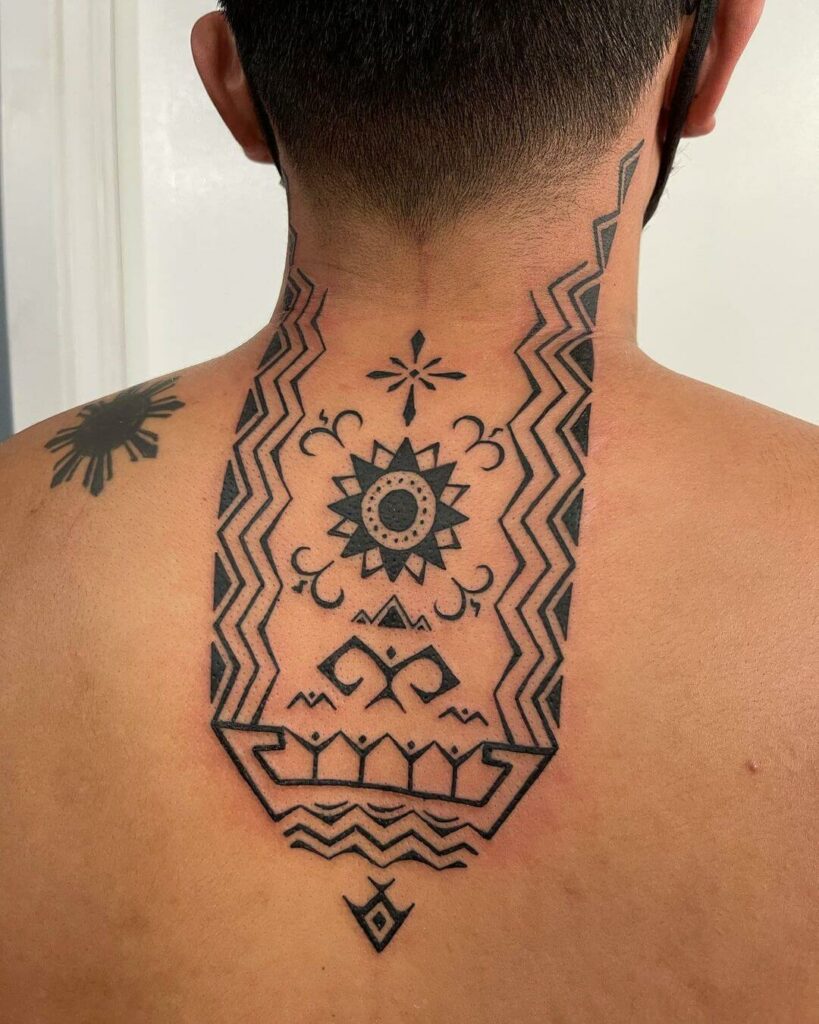 Each design operates as a visual storyteller, reflecting profound meanings and forging a tangible link between the wearer and their ancestral legacy.
Should you be curious to delve into the universe of Filipino tribal tattoo designs, consider this your guiding light.
Embark with us on a journey delving into the ancient symbols and narratives underpinning these exceptional creations, all while seeking inspiration for your forthcoming tattoo voyage.
Irrespective of whether you aspire for a bold proclamation or a subtle tribute to your heritage, rest assured these tattoos promise an enduring impact.
Traditional Filipino Tattoo In Fine Lines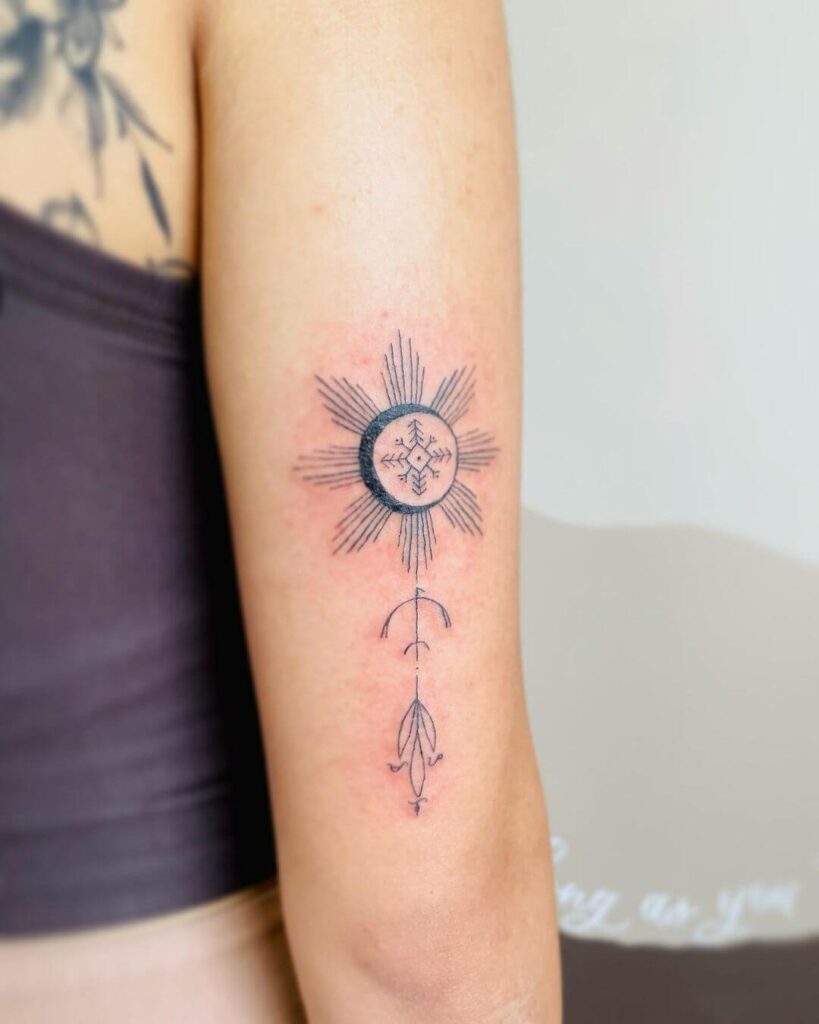 Are you searching for a tattoo that blends tribal art's elegance with a contemporary twist? This could be just what you're looking for.
Crafted with detailed fine lines, the artist has fashioned a delicate and impactful design. Among the intricate elements are tribal symbols, each carrying a unique spiritual significance.
The central circle emitting rays embodies a compass, guiding your spiritual path. Beneath, the semicircular lines called 'ginawang' signify freedom, while leaves stand for personal growth.
It's a striking way to showcase your spiritual facet and make a statement with your body art.
Ornamental Kalinga Filipino Tribal Tattoo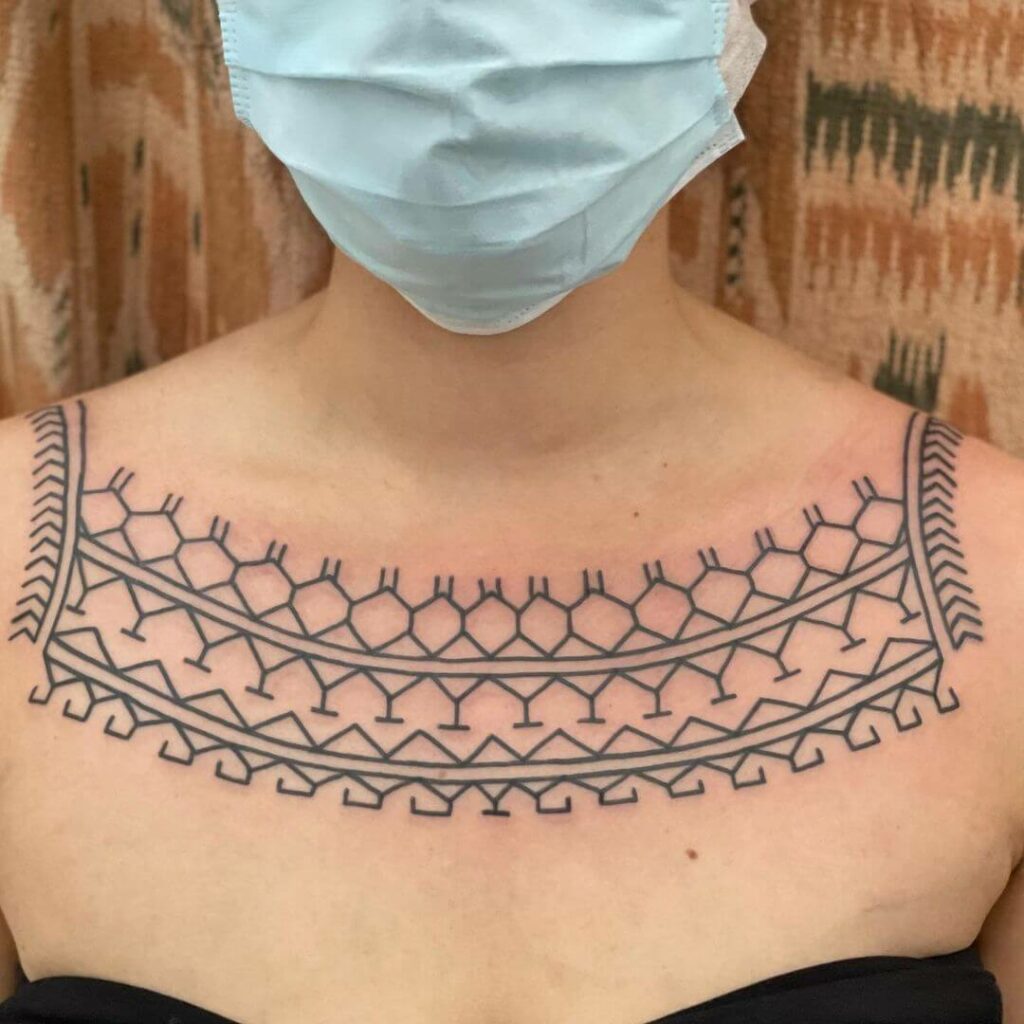 If you're on the lookout for a tribal tattoo that's got a touch of class, you might want to check out the Kalinga tribal tattoo designed for women.
This one comes from the Kalinga province in the Philippines, and it's all about intricate patterns and fancy decorations inked in bold black.
Each pattern actually means something special in Kalinga culture – as those triangles stand for unity and faith. But it's not just about looks; this tattoo is also a shout-out to being feminine, beautiful, and fertile.
And guess what? It's usually placed on the neck, giving your neck a graceful look and putting your features in the spotlight. So, if you're all about making a stylish statement, this could be the tattoo for you.
Filipino Tribal Tattoo On Ankle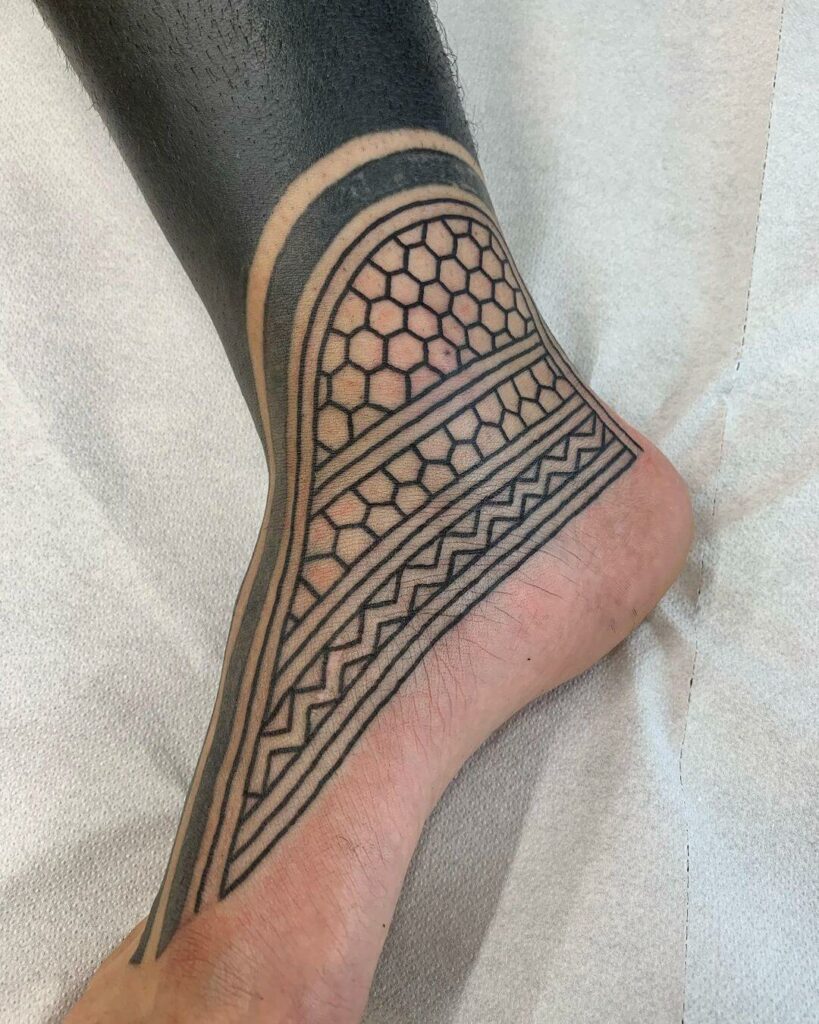 Embodying the skin of a python, the hexagonal shapes intertwine gracefully while a gentle stream flows at the base, evoking a rural landscape.
This intricate tattoo draws inspiration from nature, capturing its essence authentically. The play of negative space is skillfully filled with bold black ink, crafting a striking contrast.
A captivating choice for both men and women, this foot tattoo holds an artistic allure that's bound to turn heads and become a captivating statement piece.
Enticing Circular Igorot Tribal Tattoo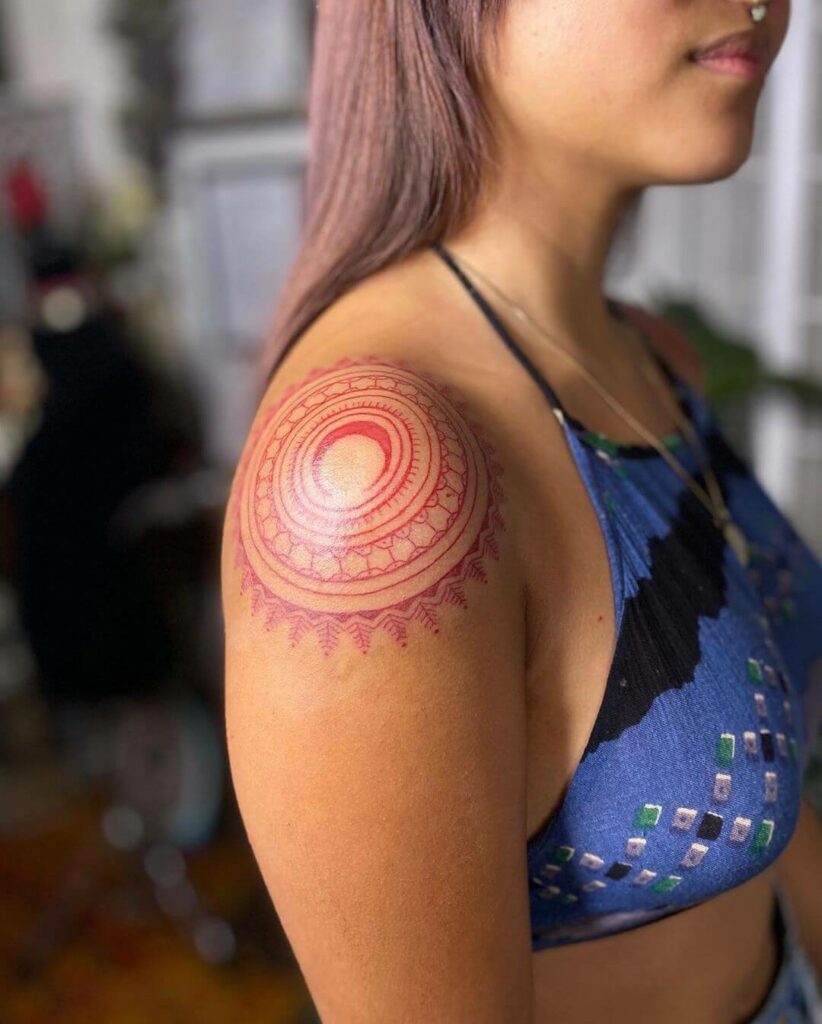 If you're seeking a tribal tattoo design that's both unique and infused with a touch of mandala art, look no further Its monochromatic layout, meticulously etched in vivid red ink, makes this captivating design even more striking.
The centrepiece of the design, a crescent moon, commands attention and holds historical significance as it once represented the count of human heads taken during hunting expeditions by the Igorot tribe.
Whether you choose to place this enticing tribal artwork on your shoulder or stomach, it's bound to spark conversations. The boldness of the red ink adds flair and accentuates the intricate details, making this tattoo stand out.
Filipino Tribal Tattoos On Shoulder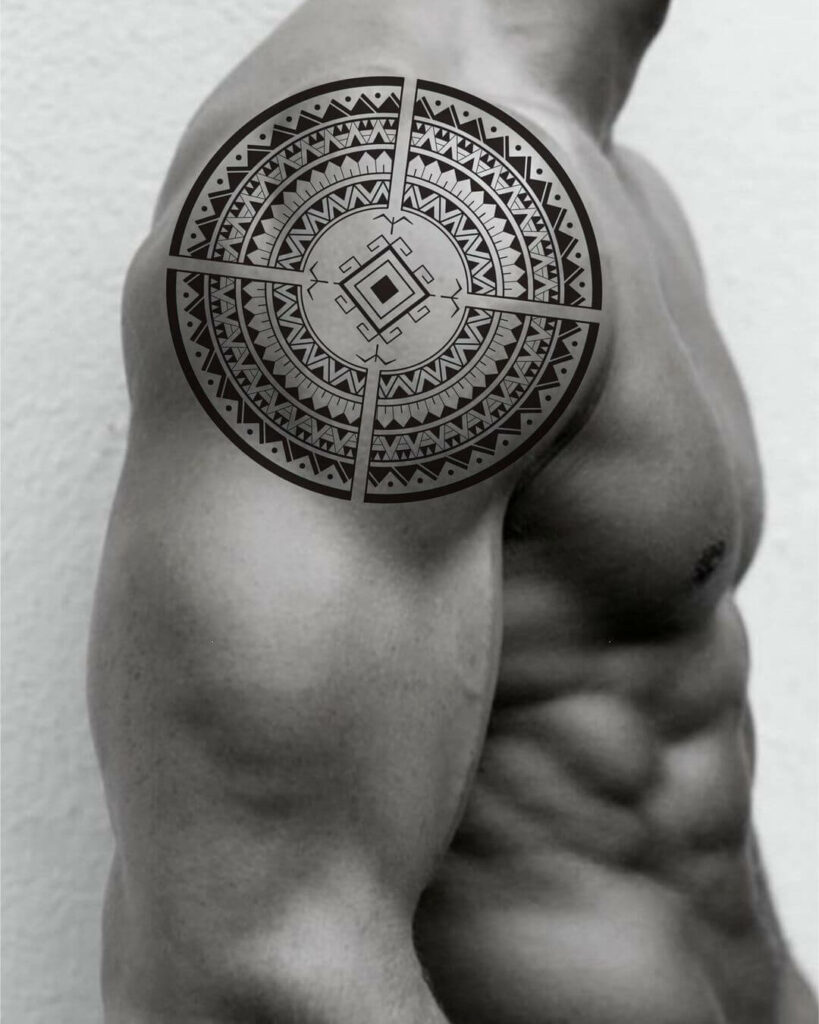 If you're a fan of intricate tribal tattoos that come with a special twist, you're in for a treat with this design. The artist has expertly fashioned a circular frame around a crab, all within the captivating mandala art style.
In tribal culture, crabs are often linked with migration and embarking on journeys across oceans and forests, reflecting the adventurous spirit of the wearer.
The meticulous artwork showcases patterns and symbols that hold profound meanings within the tribe's culture.
The circular frame symbolizes harmony and equilibrium, while the crab represents qualities like strength, resilience, and endurance.
Ideal for the forearm, this design can also find its place in other body areas. Opt for this tattoo to showcase your passion for exploration and your strong connection to the tribe's rich heritage.
Filipino Tribal Tattoo As Armband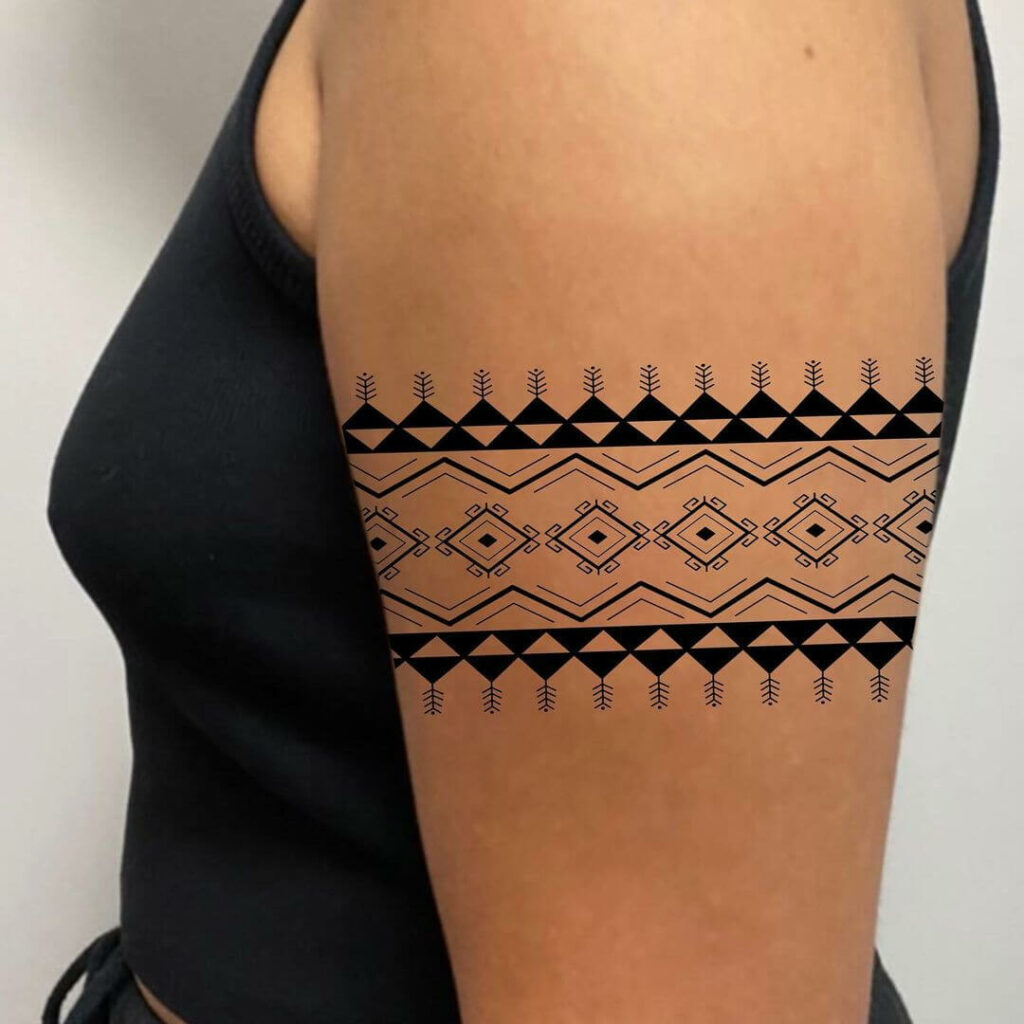 Elevate your style with an armband tattoo that merges fashion with tribal symbols.
At the heart of this armband design lies diamond-shaped signs depicting crabs that hold significance as guides, protectors, and symbols of the world.
The triangles adorning the edges signify ferns, emblematic of fertility and strength.
The union of crabs and ferns might even hint at the realm of the departed. To enhance the allure of your tribal armband tattoo, consider adding a splash of colour.
Alternatively, you can amplify the impact by extending the armband design into a full-sleeve tattoo for an even more intricate look.
Sacred Filipino Tribal Tattoo On the Back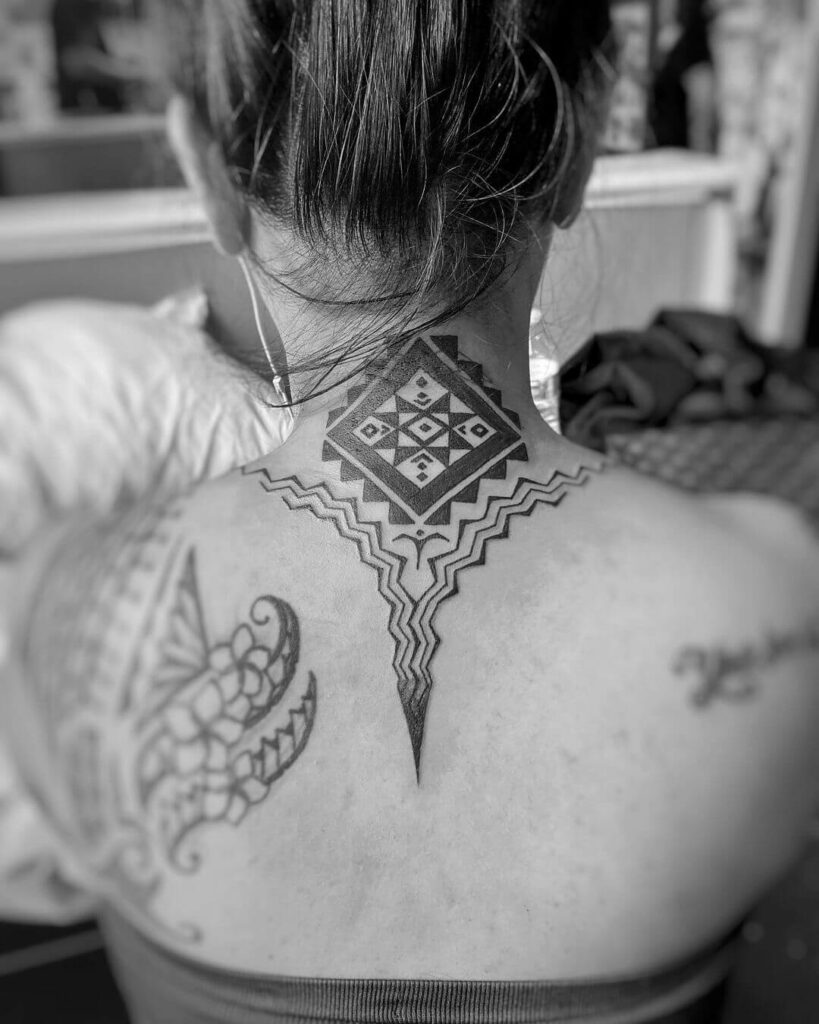 Uncover the essence of nature's beauty through this captivating back tattoo design.
Crafted with precision, the intricate artwork captures the flowing stream of water, embodying the vitality of life and the liberation it brings.
At the heart of the design, a soaring bird represents freedom and joy, while the intricately adorned star symbol atop signifies orientation and counsel.
Drawing inspiration from diverse tribal symbols, the tattoo artist has woven them into a masterpiece that's not only rich in meaning but also visually breathtaking.
Tailored for those who value forging their unique life journey, this back tattoo encapsulates the harmony of nature's elements.
Full Back Filipino Tribal Tattoo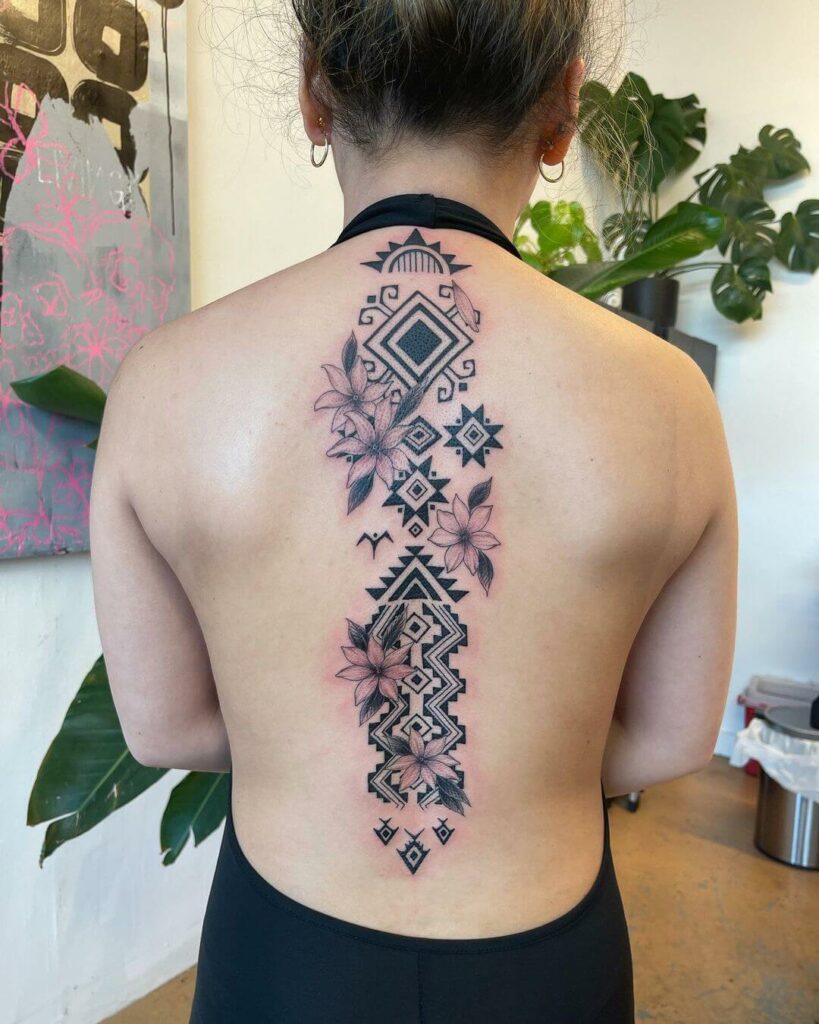 On the quest for an enchanting and intricately detailed back tattoo? Look no further than this mesmerizing floral tribal design that graces the entire expanse of your back.
Anchored by a rising sun atop the vertical composition, this intricate masterpiece weaves together an array of symbols with precision, forming a harmonious and visually captivating work of body art.
Rooted in the traditions of Filipino tattooing, celestial bodies such as the sun and stars take centre stage, accompanied by nature's beauty in the form of flowers and foliage.
The interplay of these elements infuses the design with both beauty and depth, rendering it a truly distinctive and remarkable addition to your tattoo collection.
Lion With Filipino Tribal Tattoos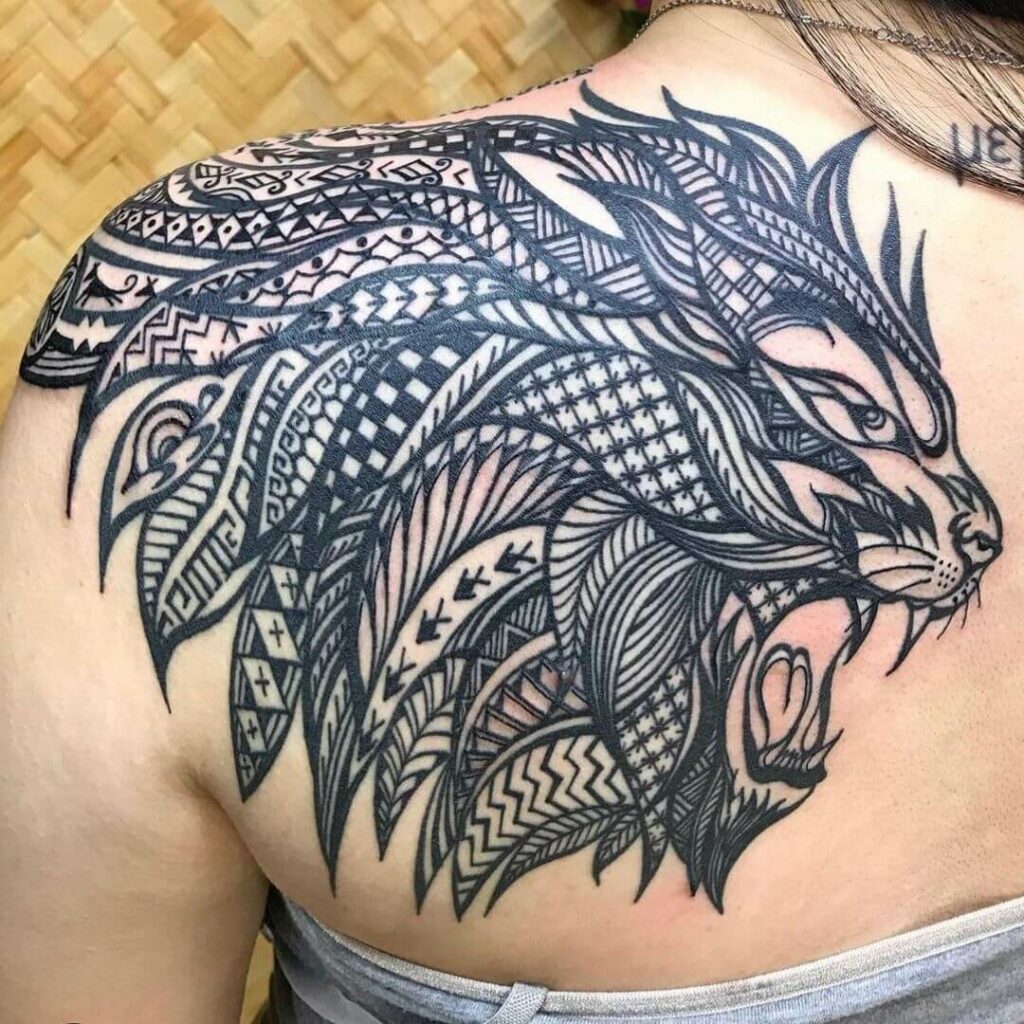 Searching for a tattoo that fuses the might of a lion with the allure of tribal art? Look at this striking design. The lion's majestic mane is embellished with elaborate tribal patterns, crafting a distinctive and enchanting look.
Within each of these intricate patterns lies its own symbolic significance – often denoting traits like royalty, cultural heritage, and affiliations with particular tribes.
This Filipino tribal lion tattoo is tailor-made for those seeking to make a daring statement. Its remarkable detailing can be showcased on various body parts that offer ample space to highlight its breathtaking intricacy.
Simple Filipino Tribal Tattoo On Hand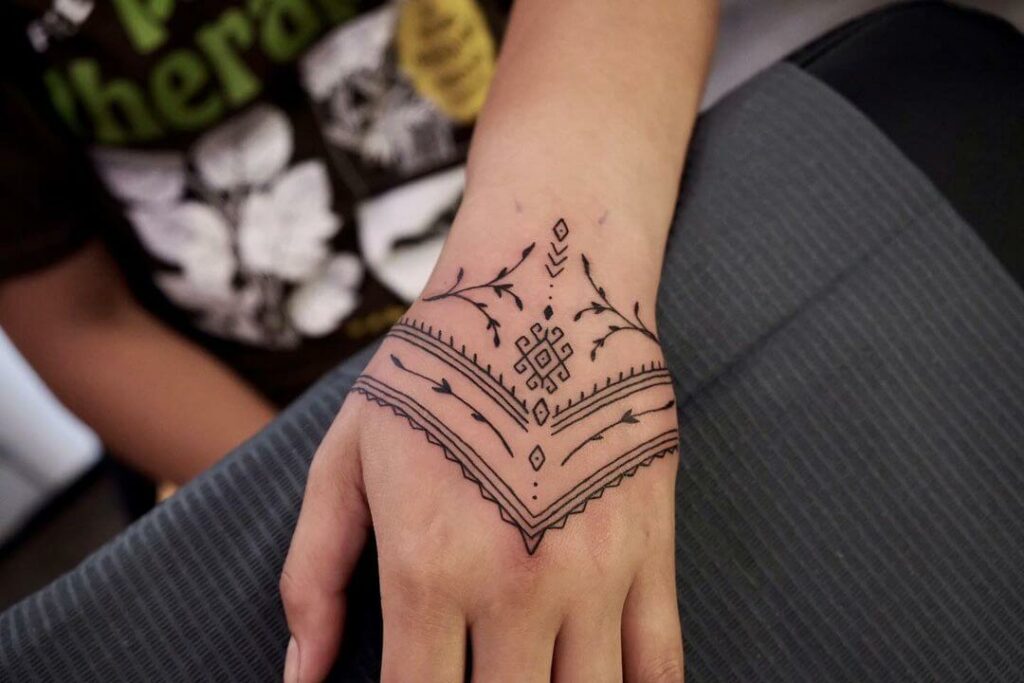 Are you in search of a straightforward yet significant Filipino tribal tattoo design for your hand? Your quest ends here, The hand in the above image showcases an intricate tribal artwork that carries a distinct meaning.
Enhanced by intricately detailed leaves, the design gains added beauty. Notably, the arrowheads converging towards the central crab hold symbolic weight, representing direction and momentum within the tribal culture.
The crisp, straight lines encasing the leaves lend the design a refined and uncluttered aesthetic, making it a perfect pick for those who favour simplicity in their tattoos.
Filipino Talisman Tribal Tattoo Ideas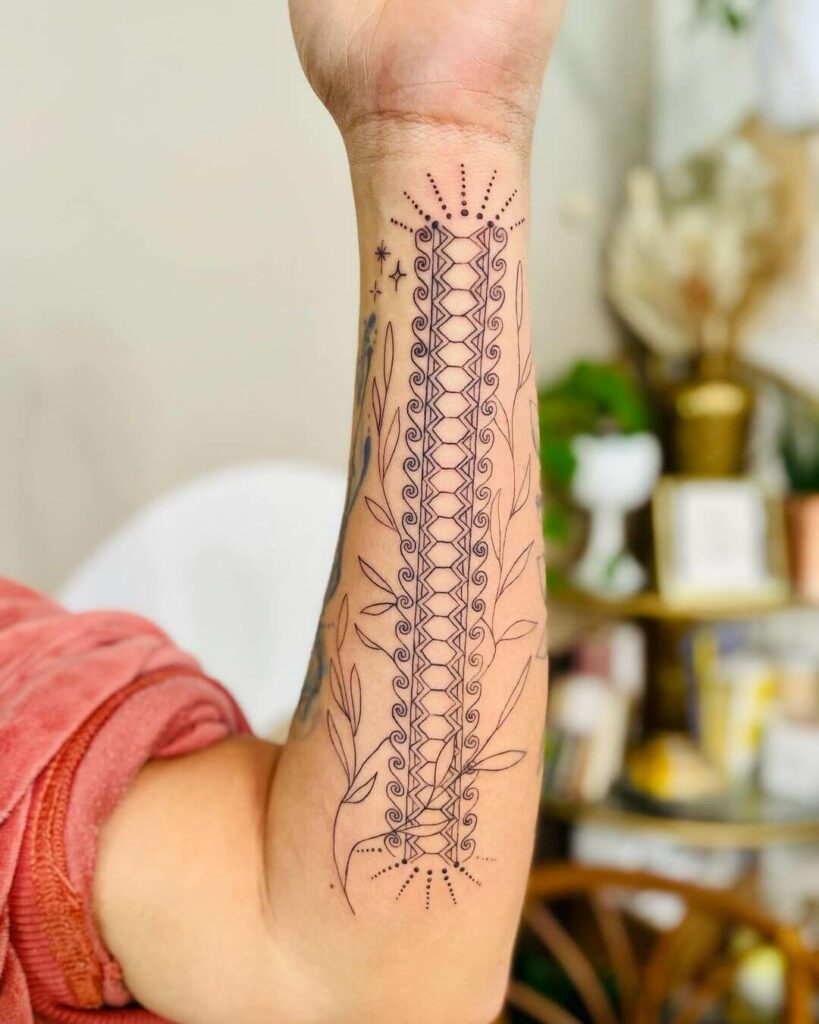 Discover the world of Filipino talismanic tribal tattoos with this unique design. The ascendant sun at the heart of the design embodies renewal and fresh starts.
Embracing a minimalist tribal aesthetic, the addition of an arrow at the base enhances the visual allure. Together, the sun and arrow compose a potent symbol of spiritual guidance, steering you toward your aspirations.
If you're seeking a blend of tribal art and a touch of spirituality, this design could be your ideal choice.
Half-Sleeve Filipino Tribal Tattoo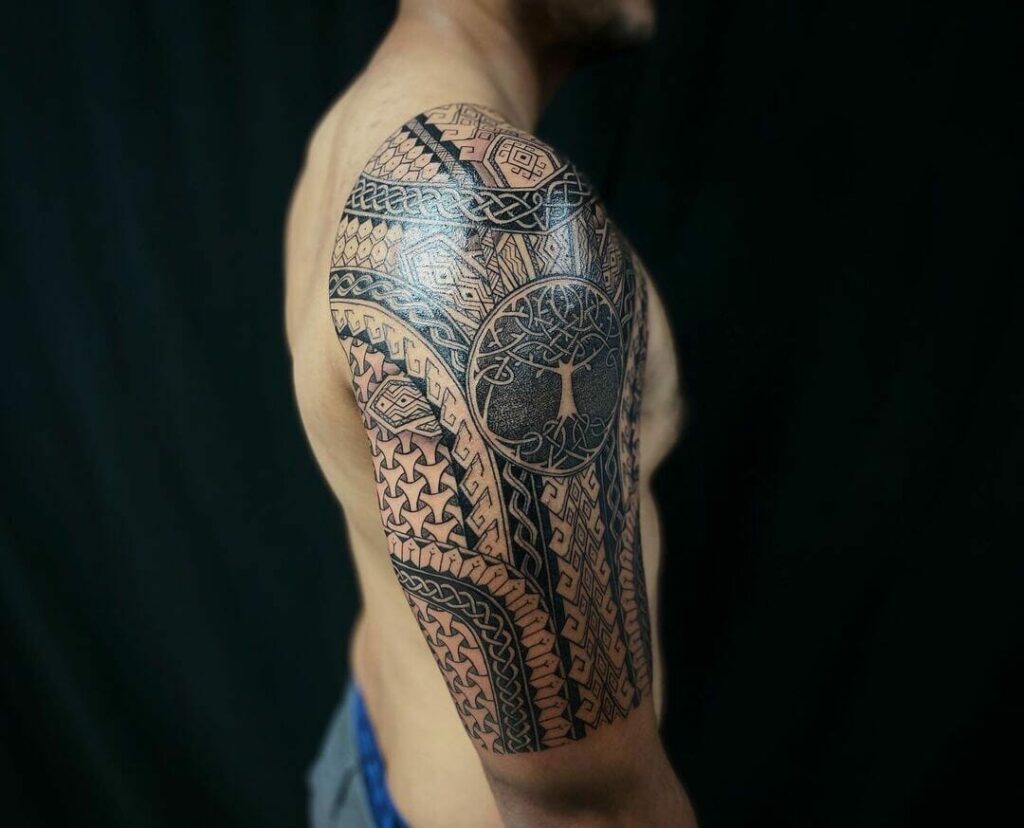 Embarking on tattooing can be a remarkable avenue to honour your heritage, and this half-sleeve Filipino-Celtic tribal masterpiece exemplifies this sentiment.
Meticulously etched, every inch of this tattoo is adorned with intricate patterns and stark black ink to evoke striking contrast.
The marriage of Celtic and Filipino tribal symbols births an exceptional and profound design, a testament to your ancestral lineage.
With this tattoo, you can boldly showcase your roots and articulate a statement through your body art.
Winged Cicada Talisman Filipino Tribal Tattoo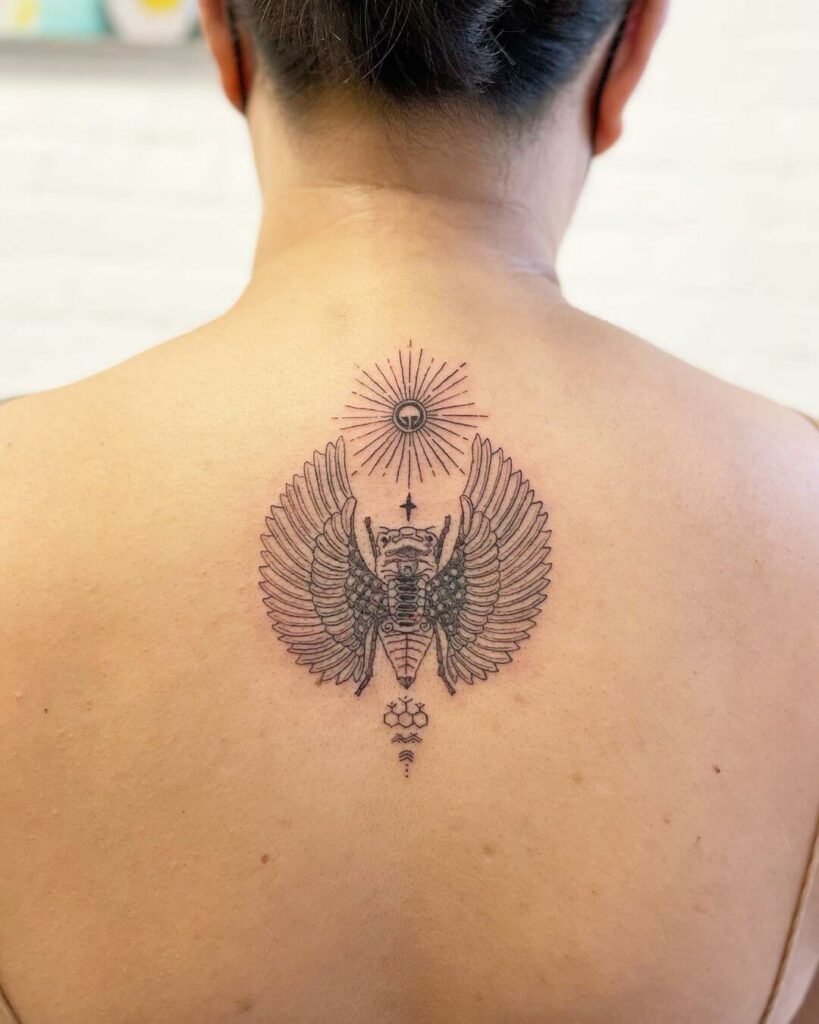 Introducing the captivating Winged Cicada Talisman Filipino Tribal Tattoo – an exquisite blend of tradition and symbolism.
This tattoo, meticulously crafted with intricate patterns and bold black ink, delivers a mesmerizing contrast.
With the fusion of Celtic and Filipino tribal symbols, it weaves a tapestry of uniqueness and significance, offering homage to your ancestral legacy.
A visual embodiment of heritage, this tattoo becomes a powerful medium to express your lineage and create a bold statement through the art of body ink.
Filipino Sun Tattoo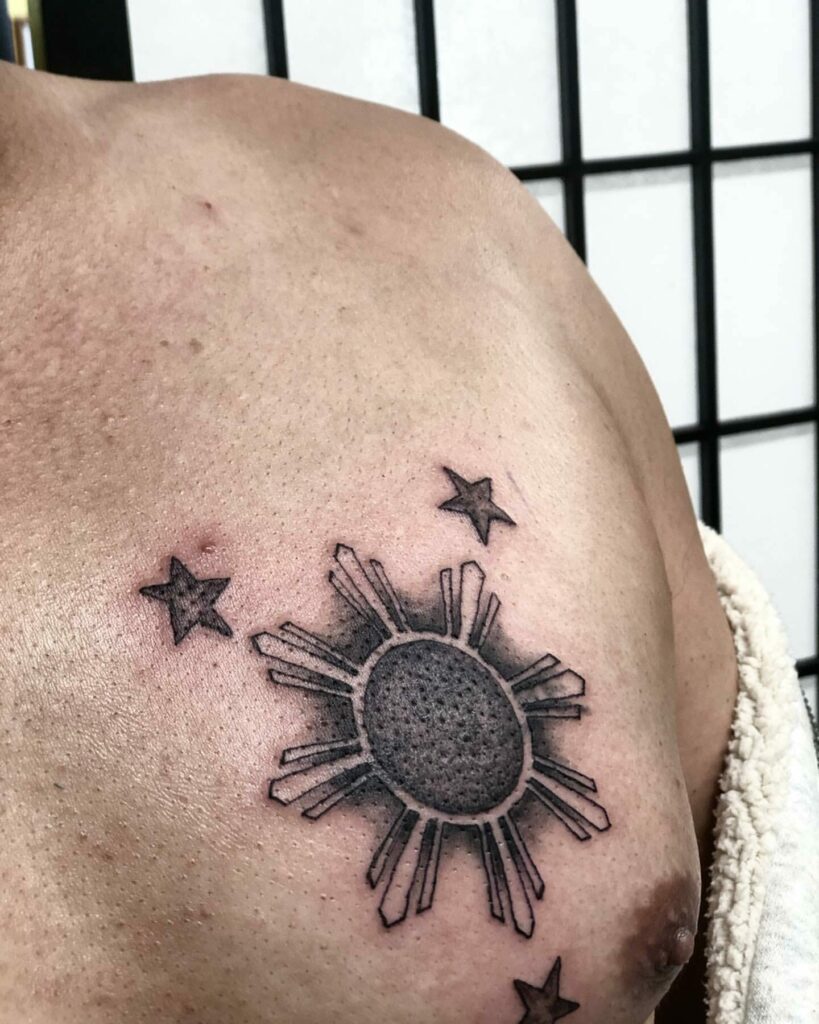 The Filipino Sun Tattoo captures the radiant essence of the sun, a powerful symbol in Filipino culture.
With its bold rays and intricate details, this tattoo design reflects vitality, positivity, and a connection to the rich heritage of the Philippines.
It's a vibrant and timeless choice, celebrating the warmth and energy of the sun that has always held deep cultural significance.
Tribal Tattoo Filipino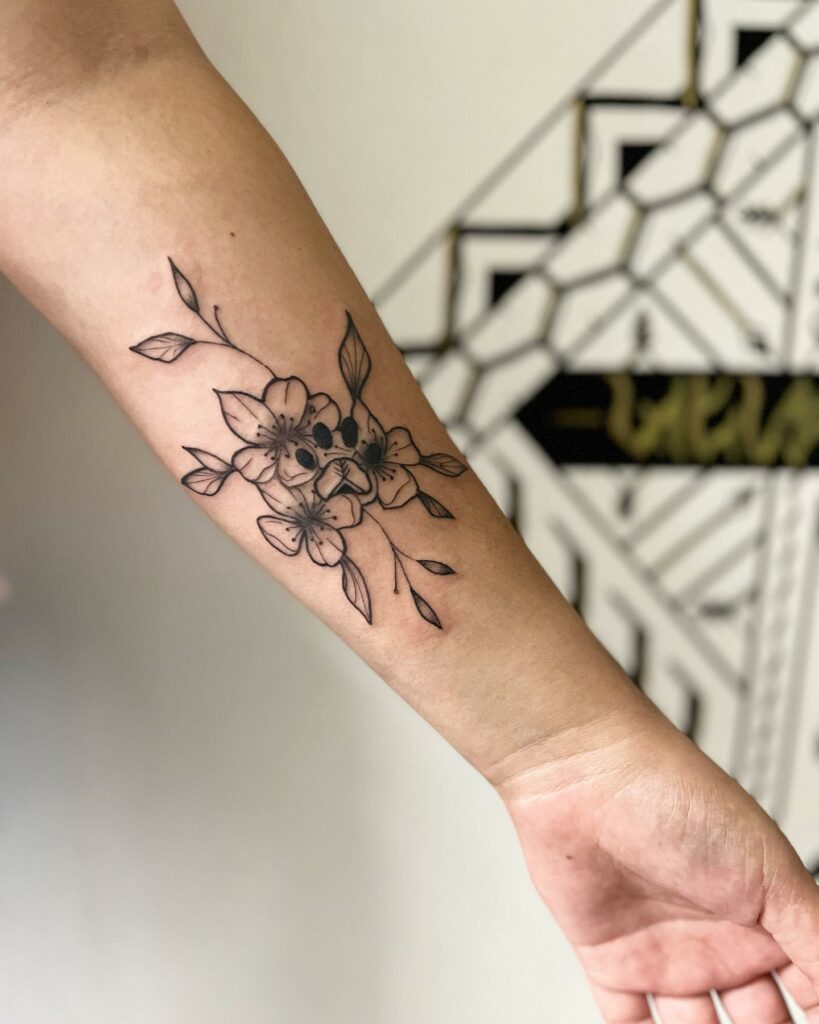 Embrace the captivating allure of Tribal Tattoo Filipino, a fusion of art and culture. These designs, rooted in indigenous traditions, bear intricate patterns and symbols that hold deep meanings.
These tattoos are a visual narrative of Filipino heritage, from ancestral lineage to spiritual connections. With each stroke, they encapsulate a story, making them body art and a vibrant tribute to a rich cultural tapestry.
Tattoo Filipino Sun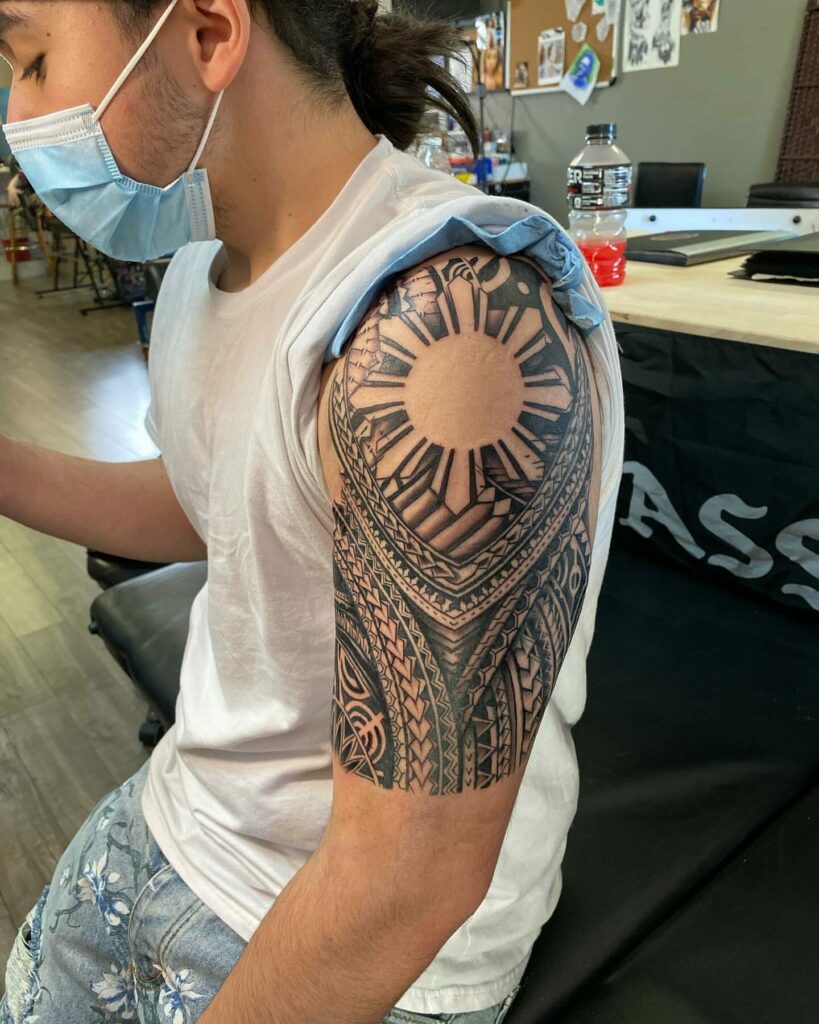 The Tattoo Filipino Sun encapsulates the radiant spirit of the sun, a cherished symbol in Filipino culture. This design, often with intricate rays and patterns, embodies positivity, vitality, and a strong tie to the Philippines' heritage.
With its timeless and vibrant charm, this tattoo serves as a reminder of the sun's cultural significance and the energy it imparts to life.
Tattoo Filipino Tribal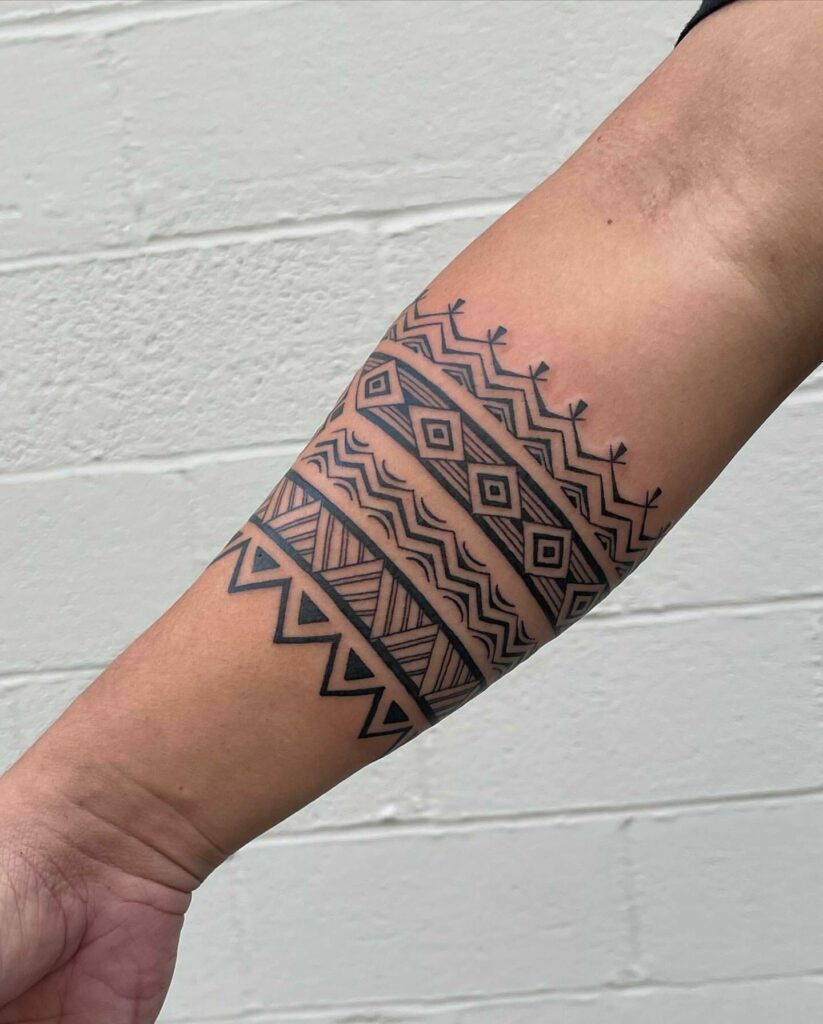 Immerse yourself in the captivating world of Tattoo Filipino Tribal – a blend of artistry and tradition. These designs, drawn from indigenous roots, feature intricate patterns and symbols that hold deep cultural meanings.
Each stroke tells a story, connecting to ancestral narratives and spiritual dimensions.
These tattoos are more than body art; they are living expressions of the Philippines' cultural richness, showcasing its visually compelling and meaningful heritage.
FAQs
Q: Why do Filipinos have Polynesian tattoos?
A: Polynesian tattoos symbolize identity and cultural narratives. In both the Philippines and Polynesia, traditional tattooing is an artistic rite of passage, preserving ancient history and practices.
Q: Did Filipinos have tribal tattoos?
A: Indigenous tattoos were common among almost all ethnic groups in the pre-colonial Philippines. Terms like batok, batek, patik, or batik were used to describe these tattoos practised on both men and women.
Q: Are Filipino and Polynesian tattoos the same?
A: Yes, Filipino and Polynesian tattoos share significant similarities. They encompass comparable application methods, serve as rites of passage, and utilize similar motifs in their designs.
Q: What does a Filipino tribal tattoo symbolize?
A: A Filipino tribal tattoo often carries significance unique to the wearer's tribe. It may denote tribal status or allegiance or even serve as protection against malevolent forces.
Q: How far back does the history of Filipino tribal tattoos go?
A: Filipino tribal tattoos boast a rich history dating back to ancient tribes in the Philippines. These tattoos were used as markers of tribal standing and as safeguards against negative energies.
Q: How are traditional Filipino tribal tattoos crafted?
A: Traditional Filipino tribal tattoos are manually created by puncturing the skin using a sharp implement. This technique, still practised, is noted for its higher pain levels than contemporary tattooing methods.
Q: What are some of the most favoured designs for Filipino tribal tattoos?
A: The array of favoured Filipino tribal tattoo designs encompasses animals like tigers, eagles, and dragons. Popular motifs include flowers, geometric shapes, and tribal symbols.
Conclusion
In tattoos, where artistry and cultural heritage converge, these captivating Filipino tribal designs are a testament to the richness of history and creativity.
As we bid farewell to this exploration of ink and tradition, we've ventured through intricate patterns, profound symbolism, and the art of storytelling etched onto skin.
Each tattoo, a homage to lineage, spirit, and nature, represents more than mere body art – it encapsulates the legacy of indigenous communities and the enduring connection to roots.
As you embark on your tattoo journey, remember that every stroke tells a tale, weaving the tapestry of Filipino identity onto the canvas of skin.
MORE FILIPINO TRIBAL TATTOO IDEAS