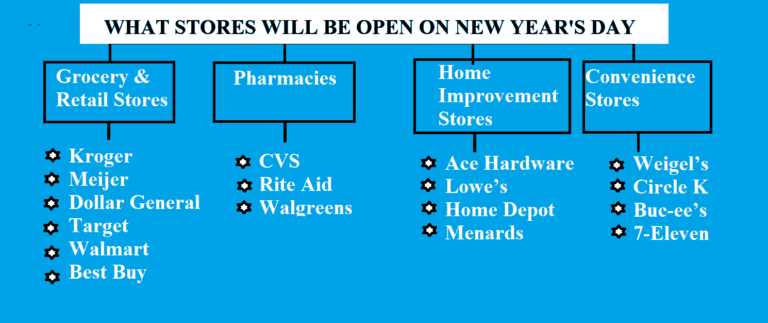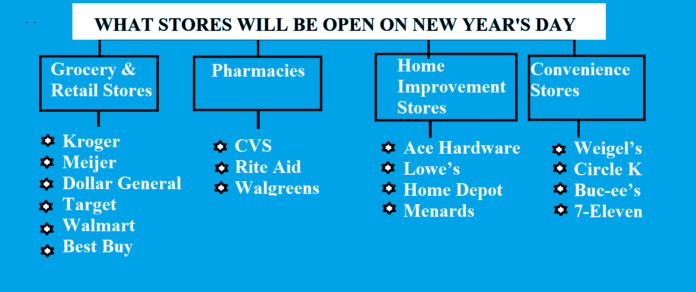 What Stores Will Be Open on New Year's Day? On New Year's Day, 18 convenient stores will be available to serve your needs and start 2023 off right.
As the holiday season closes, one can anticipate needing much-needed rest and relaxation. But don't worry – plenty of places are open on New Year's Day. Our list displays 18 different stores that would be available for your convenience at the start of 2023.
As the year winds down and holiday preparations wrap up, take advantage of New Year's Day to kick off 2023 with some well-deserved rest. Don't worry; our list displays 18 convenient places open for your enjoyment on January 1st. Start this new journey with a revitalizing pick-me-up – you earned it.
Ring in the new year with a shopping spree. With 18 stores open on New Year's Day, get all your resolutions off to an exciting start. Remember to call ahead and check local store hours – you would want to avoid surprises interfering with your plans.
Grocery & Retail Stores Open on New Year's Day 2023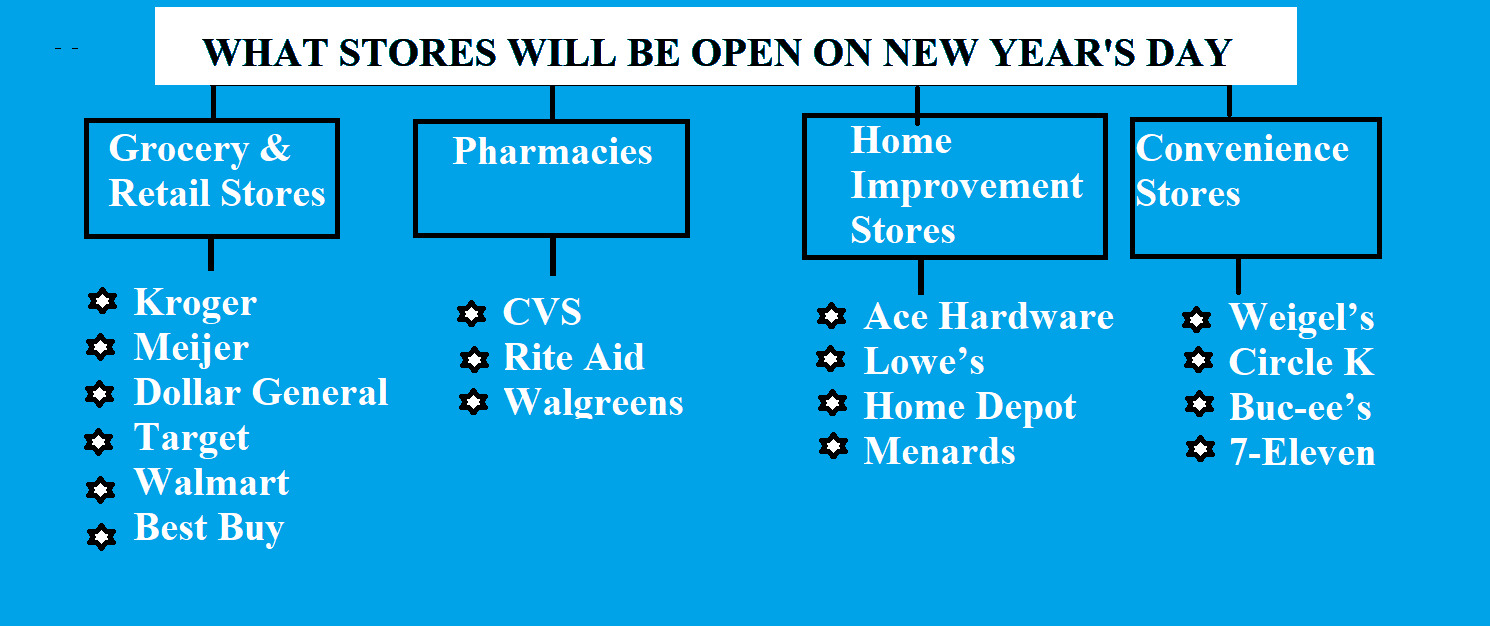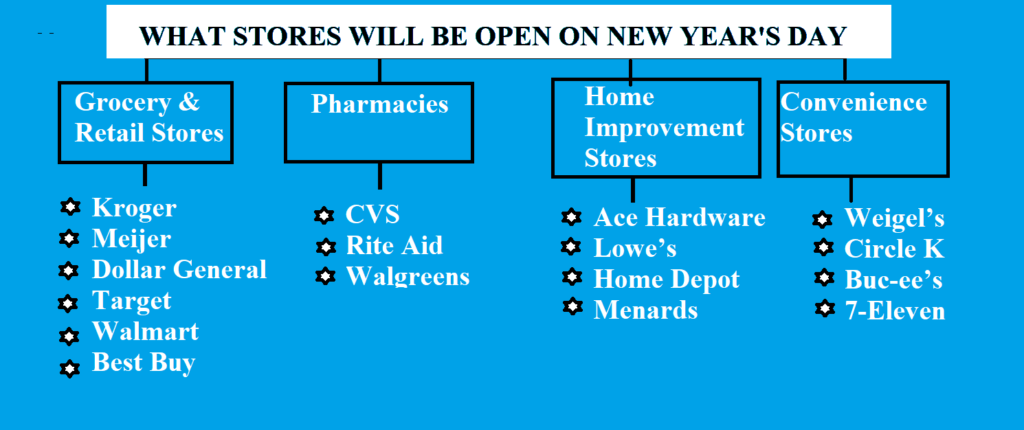 Kroger
Start 2023 right with a visit to Kroger on New Year's Day. Be sure to check ahead of time for reduced hours, as the store opens at 6 AM and closes at 11 PM, while the pharmacy will be open from 9 AM-5 PM. Get all your groceries in one trip.
Celebrate the New Year at your favorite location. Publix will be open on New year's Day but with limited hours so, make sure to check their operating hours before heading out on January 1st, as they will have reduced availability.
ALSO READ: How late is the closest grocery store open
Meijer
If you still need to get your shopping fix this holiday season, or if those New Year's Day sales have left you wanting more – no worries. Meijer is open on New year's Day 1st January and stocked full of groceries, clothing, and much more.
Plus, their normal hours are still in effect- 6 AM-12 AM; offering an easy way to kick off the new year with all your favorite items under one roof: Meijer.
RELATED: RESTAURANTS THAT ARE OPEN ON NEW YEAR'S DAY.
Dollar General
Jump-start the New Year with Dollar General and ensure you have all of your "little unpredictable necessities" for 2023. Shop during normal business hours on 1/1 to get what you need for a successful year ahead.
Target
Target may close an hour earlier than their normal 9 PM, so take advantage of this. Beat the clock and get your shopping in before they close up at 8 PM.
Walmart is gearing up for a festive New Year's Day, maintaining the same hours as last year to ensure customers can ring in 2023 with all their shopping needs met.
Best Buy
Kick off the New Year equipped with shiny new electronics from Best Buy. Before making your shopping trip, give them a call and check their hours for this special holiday. With flexible normal opening times of 10 AM-9 PM, start 2023 in style – don't miss out.
Pharmacies Open on New Year's Day 2023
Make sure to plan this New Year's Day and note the reduced holiday hours at CVS, Rite Aid, and Walgreens. All three pharmacies have your must-have items so that you can take advantage of them.
Although they are open on New Year's Day but give them a call beforehand – they'll be delighted to help make those last-minute necessities stress-free.
Home Improvement Stores Open on New Year's Day 2023
Ace Hardware
At Ace, Monday through Friday are the days to take advantage of extended hours, with 8 AM – 7 PM being their store's regular business time.
Shoppers can still shop up until 6 PM on Saturdays and 5pmin Sundays as these two days follow an earlier closing schedule for this particular retailer.
Ace Hardware is open on New year's Day; however, it would be prudent to double-check before heading out since even New Year's Day has unique operating times.
Lowe's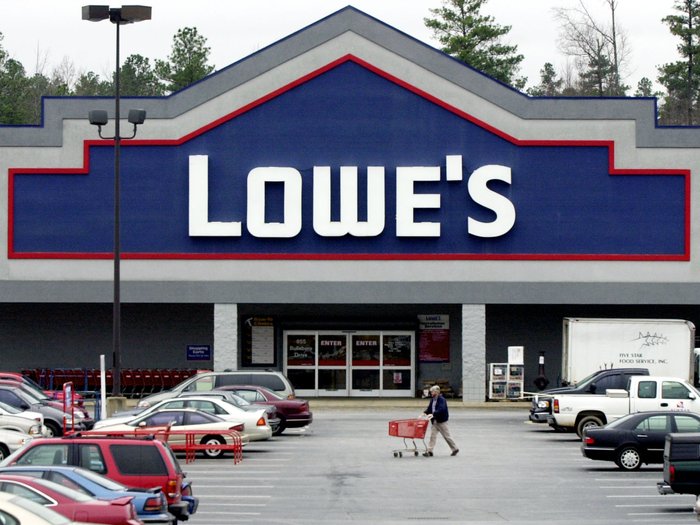 Murphy's Law always seems to be in full effect; equipment is sure to malfunction when you least expect it.
Lowe's will be open on New Year's Day from 9 AM-6 PM and ready for any last-minute holiday needs.
Home Depot is your go-to source for home improvement projects. They are open Mon-Sat, 9 AM-7 PM, so discover all the possibilities to spruce up your space today.
Menards
On New Year's Day, Menards is the place to go if you need supplies for your home, whether it be something fun like cheese balls or practical necessities such as toilets – and everything in between. – no other store provides the convenience of one-stop shopping on this special day quite like them.
ALSO READ: BEST BARS THAT ARE OPEN ON NEW YEAR'S DAY.
Convenience Stores Open on New Year's Day 2023
7-Eleven
Start your New Year's Day with a delicious and icy Slurpee from 7-Eleven. The 7-Eleven is going to be open on New Year's Day but remember to call ahead, as store hours may have changed since last year.
Buc-ee's
Enjoy the convenience of Buc-ee's all year round, with stores open 24/7. Their famous slogan, "The Cleanest Bathrooms in America," is sure to bring you back time and again.
Whether it's popcorn or a grill you're after, they've got just about everything – making them an ideal destination for that much-needed New Year pick me up.
Circle K
Get your midnight munchies and celebratory refreshments at Circle K. Open 24 hours a day, you can drop in any time on New Year's Day for everything from gas to milk. Celebrate the holiday with relaxation, knowing that Circle K will be open on New Year's Day.
Weigel's
Looking for a 24-hour truck stop on New Year's Day? Weigel's has you covered. Enjoy all the comforts and amenities of this full-service oasis – no matter what time.
Final Words
So these are some of the stores that are open on New year's Day. Kick off start 2023 with these stores on January 1st.
RELATED: OTHER PLACES THAT ARE OPEN ON CHRISTMAS AND NEW YEAR'S DAY.