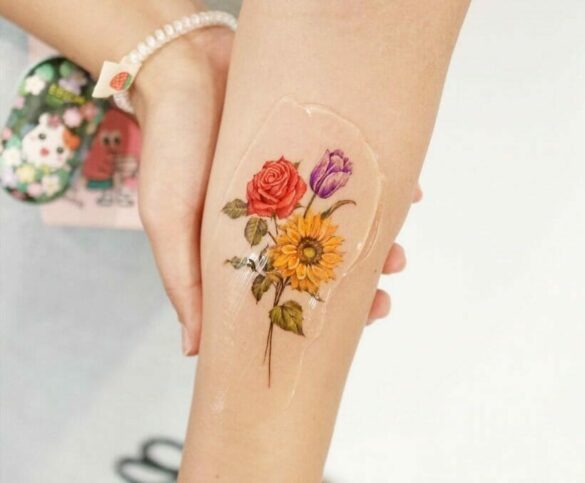 Are you interested in finding really cool designs with Sunflower and roses tattoo? Well, you're in the right place.
Roses and sunflowers are two of the most popular choices for tattoos because they have awesome and detailed designs. You can make them look small and delicate or big and bold – there are lots of ways to do it.
But there's more to these flowers than just looks. A sunflower tattoo can show happiness, luck, and faith, while a rose tattoo can stand for beauty and grace.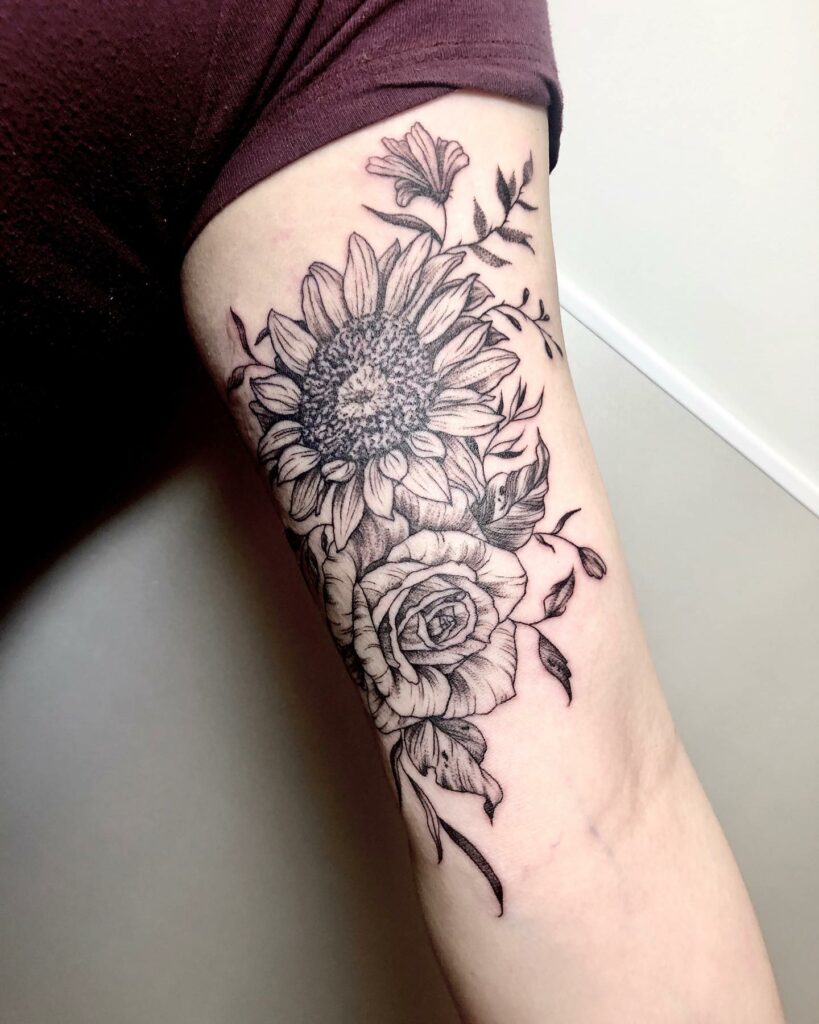 When you put these flowers together in a tattoo, you can create something super special that shows off your style and who you are.
If you're curious about exploring rose and sunflower tattoo ideas, we've put together a bunch of really cool ones to help you get started.
Whether you like simple and classy designs or more detailed ones, we've got lots of options for you to check out.
Hand Sunflower Tattoo With Rose And Tulip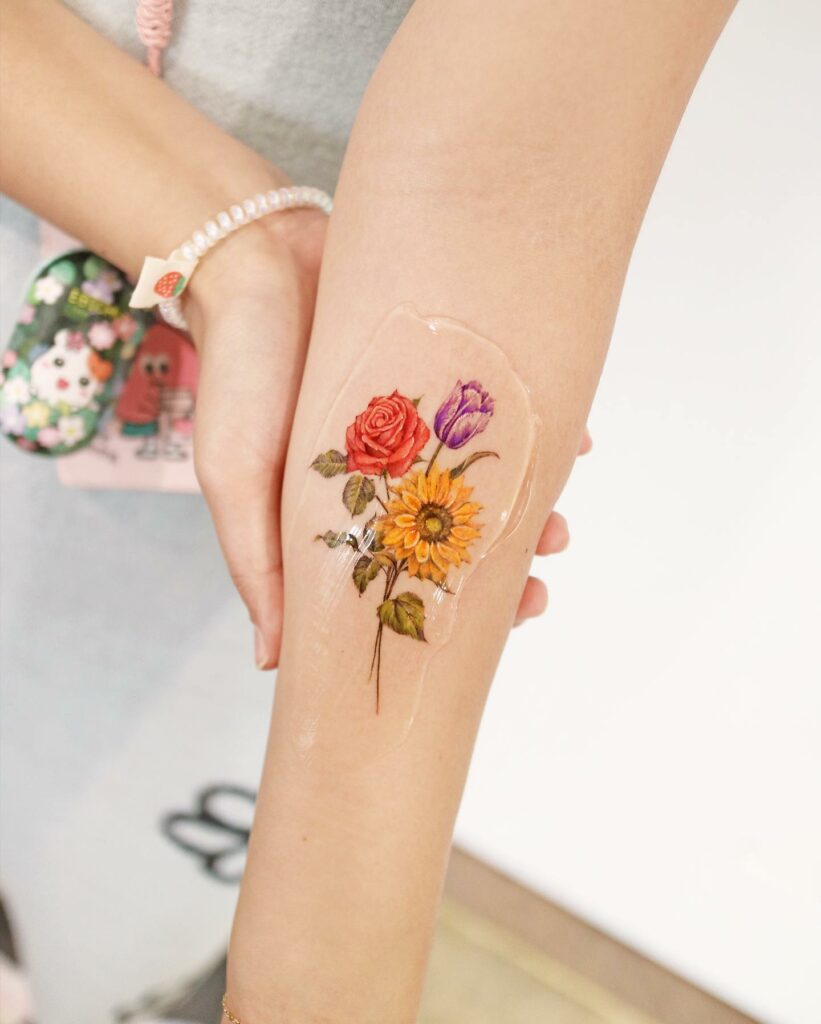 This tattoo concept is truly enchanting, showcasing a blend of beautiful colours. Alongside the sunflower and rose, there's also a tulip incorporated into the design, elevating its charm.
The overall style of the tattoo features watercolour techniques, resulting in a hyper-realistic look.
Let's delve into the specifics of each element within the tattoo. The sunflower has been skillfully crafted with varying shades of yellow, adding dimension and a lifelike quality.
The rose is depicted using diverse shades of red, employing deep tones to create a sense of depth and shading. As for the tulip, it's brought to life through an array of purple shades, introducing a captivating spectrum of colours to the artwork.
The shading applied to each element of the tattoo is truly exquisite, lending an air of realism that's utterly captivating. And let's not overlook the leaves accompanying the bouquet of flowers, enhancing the overall natural appeal of the tattoo.
Suppose you're searching for a tattoo that effortlessly marries realism with vibrancy. In that case, this combination of a rose, sunflower, and tulip tattoo stands as an exceptional choice bound to win your heart.
Bee With Rose And Watercolor Sunflower Tattoo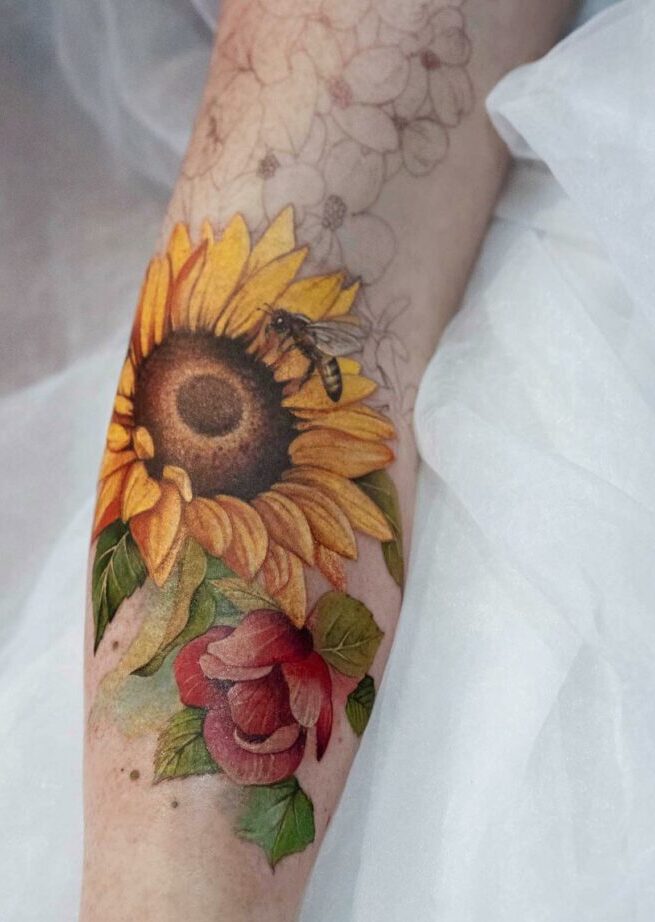 This tattoo featuring a bee rose and watercolour sunflower is an absolute showstopper that's bound to catch everyone's attention.
The intricate details woven into the design contribute to its overall splendour, creating a truly mesmerizing piece of body art.
The colour arrangement within the tattoo is masterfully executed, playing with light and dark shades on the flowers to produce a remarkably lifelike effect.
The sunflower and roses are crafted with remarkable intricacy, resulting in a breathtakingly realistic appearance that's hard to ignore.
Adding to the charm of the tattoo, a bee rests delicately on the sunflower. The bee is skillfully created using shades of brown and black, achieving a lifelike and natural look.
And here's the exciting part – you have the flexibility to place this incredibly realistic sunflower and roses tattoo anywhere on your body.
Whether it graces your sleeve or adorns a different spot, this tattoo promises to be a captivating and stunning addition to your collection of ink.
Butterfly Rose X Ankle Sunflower Tattoo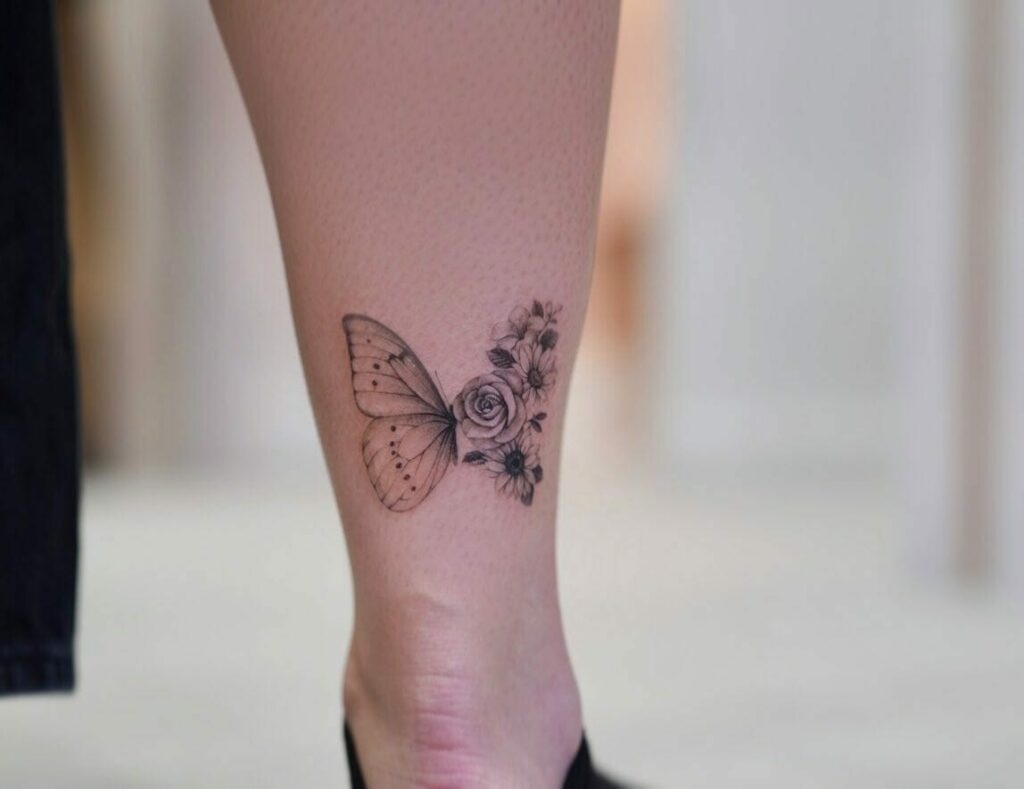 This unique ankle tattoo combines the elegance of a butterfly with the beauty of flowers, creating a striking half-and-half design in bold black ink.
The butterfly itself is divided into two distinct parts: one wing showcases intricate details, giving it a transparent appearance, while the other wing is adorned with a delightful assortment of lovely flowers.
Despite its monochromatic palette, the tattoo retains a remarkably realistic quality.
The intricacies of the butterfly wing grant it a delicate translucence, while the other part displays an array of charming blooms, including dainty sunflowers and a prominent rose.
The use of high-quality ink elevates the overall allure of this tattoo. For those seeking a burst of colour, introducing yellow or red ink to the sunflower and rose offers a vibrant touch.
This tattoo design beautifully captures your affection for both butterflies and flowers, serving as a captivating addition to any ink collection. Its artistic charm is destined to resonate for years to come.
Realistic Roses And Sunflower Tattoo Drawing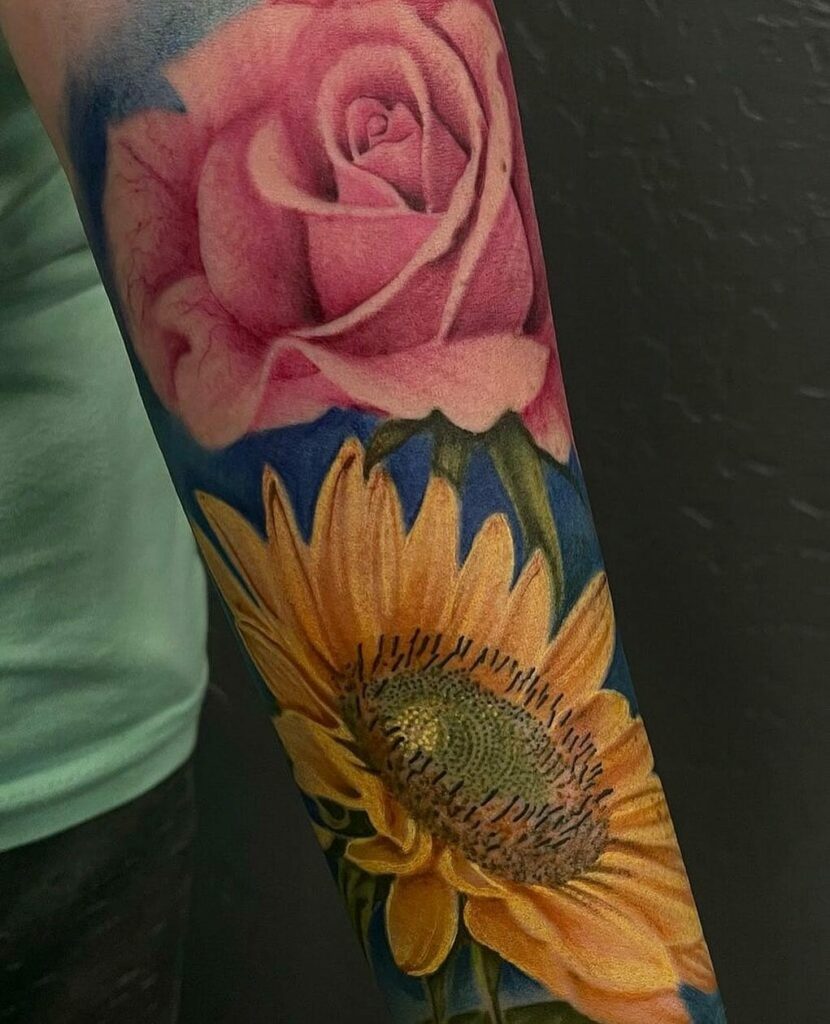 Looking for a tattoo that grabs attention? Look no further than this remarkable sunflower and rose-sleeve design. It's grand scale and watercolor style combine to produce an arresting and sophisticated visual.
Notably, this tattoo can even serve as an excellent choice for covering up outdated or unwanted ink.
The colour play within this design is particularly striking, boasting remarkable shading that lends a breathtakingly lifelike quality.
To achieve the finest outcome, seeking a proficient and seasoned tattoo artist who can skillfully translate this concept into reality is imperative.
Gorgeous Design Sunflower And Roses Tattoo Drawing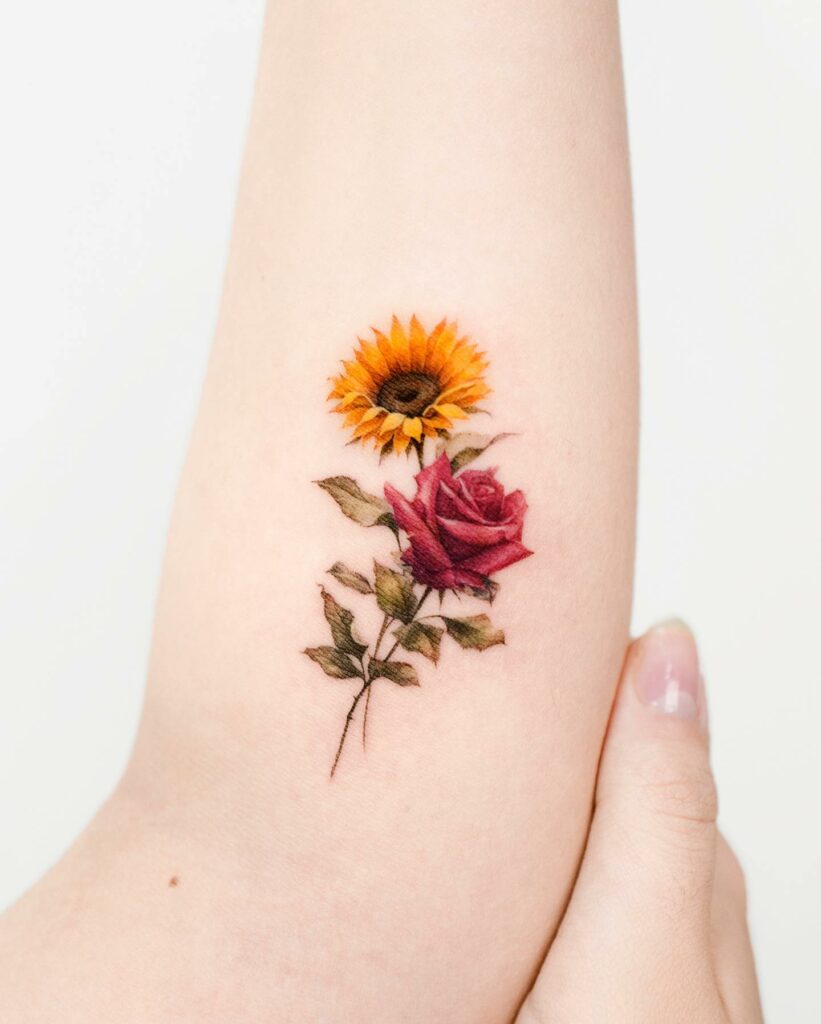 If you're into subtle yet exquisite tattoos, a sunflower and rose fusion might be your perfect match. Feast your eyes on this intricate 3D sunflower with roses tattoo, a delicate masterpiece exploding with vibrant hues.
The artful shading of yellow ink on the sunflower creates an almost lifelike illusion, while the red hue on the rose introduces dimension to the design.
The addition of leaves by the tattoo artist seamlessly complements the blossoms, culminating in a harmonious tattoo portrayal.
This dainty artwork can gracefully find a home on various body parts – be it your back, shoulder, or any preferred spot.
The standout feature is the tattoo's captivating 3D effect, setting it apart and making it an undeniable showstopper. If you're seeking an exquisitely crafted sunflower and roses tattoo, look no further than this captivating 3D ink creation.
Monochromatic Sunflower, Roses, And Butterfly Tattoo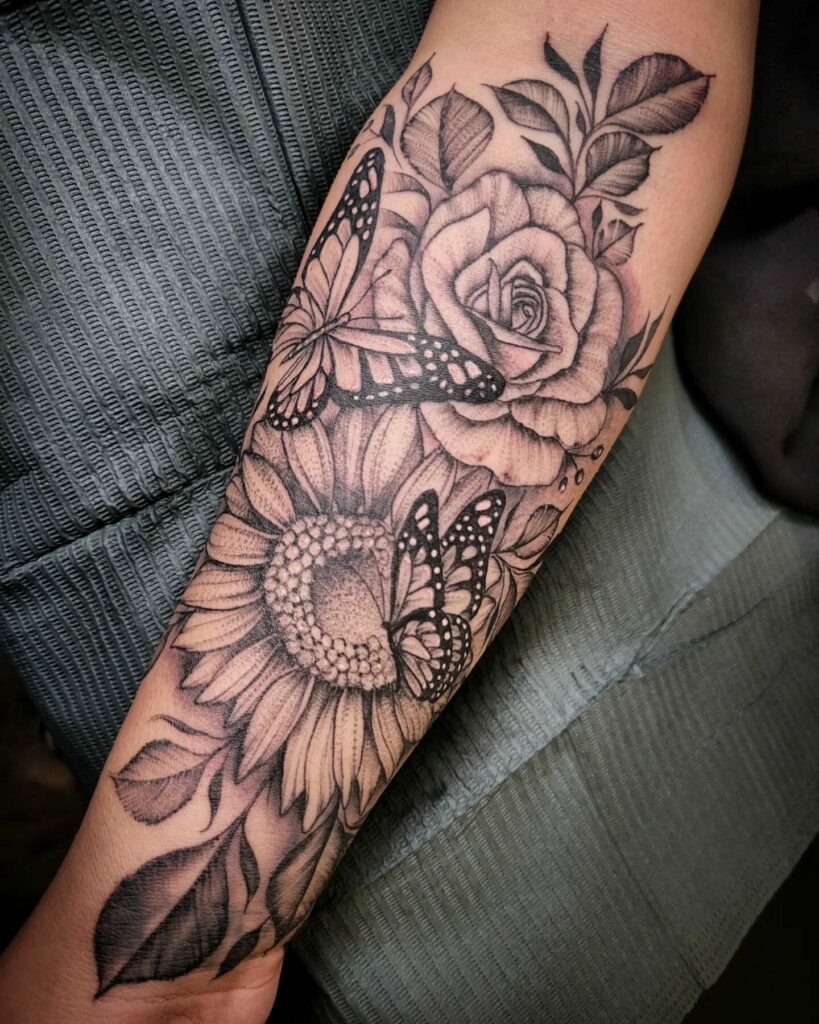 For those seeking a blend of grace and subtlety in their tattoo, the monochromatic forearm design featuring sunflowers, roses, and butterflies is captivating.
The black and grey colour scheme infuses a sleek and edgy vibe, while the delicate butterfly outlines introduce a touch of whimsical charm. This sunflower and rose tattoo adorning the forearm is ideal for aficionados of minimalist design.
The versatility of this sunflower, rose, and butterfly tattoo knows no bounds; it can elegantly grace any body part you choose.
Scaling it up to encompass your entire back or arm is also an option, offering a larger canvas for this intricately detailed masterpiece.
Should you desire an infusion of colour, contemplate incorporating pops of yellow or red ink into the rose.
Entrusting a skilled tattoo artist is paramount in achieving the perfect rendition of your sunflower, rose, and butterfly tattoo, capturing attention with its meticulous detailing and composition.
Realistic Sunflower Tattoo With Roses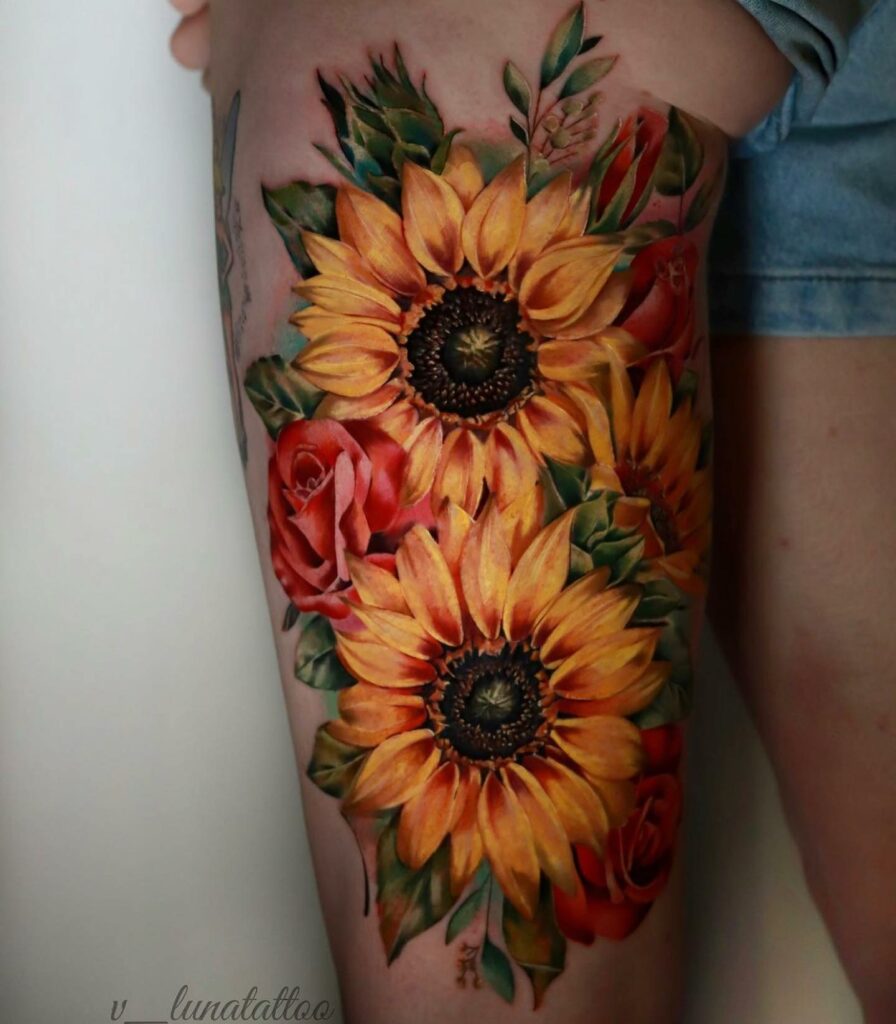 Behold this captivating masterpiece – a realistic sunflower tattoo accompanied by radiant red roses and crisp green leaves. The artful shading on each component is a testament to the skill behind this stunning tattoo creation.
The allure of this tattoo lies in its stunning colour palette. It has the flexibility to grace different body parts – be it the leg, chest, back, or arm.
To ensure optimal results, entrust a tattoo artist skilled in using vibrant hues and adept shading techniques.
While it might demand a bit more time to complete, the final result promises to be a testament to the artistry and dedication poured into it.
Small Roses And Realistic Sunflower Tattoo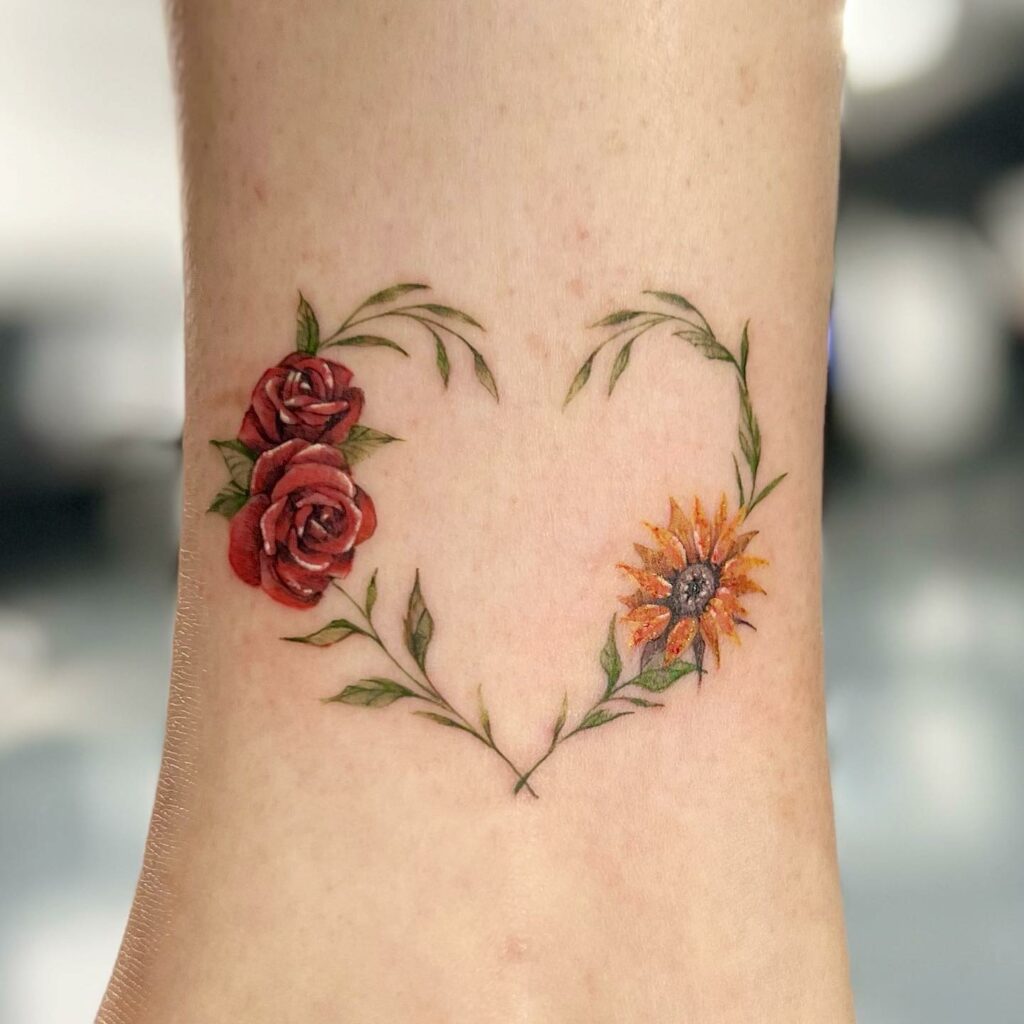 Looking for a unique tattoo? Consider a sunflower tattoo Yellow sunflowers symbolize hope, happiness, and positivity.
Sunflower tattoo designs are versatile, ranging from colourful to black and white, and can be small or large, placed on various body areas.
Pairing a sunflower with a red rose adds depth to the design. Red roses signify love, passion, beauty, and courage. A rosebud tattoo symbolizes innocence, while the vibrant rose colours open doors to creative possibilities.
A heart-shaped sunflower and roses tattoo is perfect for showcasing everlasting love. This design suits arms, legs, and other body parts.
Beyond being visually stunning, this tattoo carries deep meaning, a timeless representation of affection. To make your vision a reality, engage a skilled artist.
This sunflower and roses tattoo is a fusion of artistry and sentiment that endures.
Lifelike Sunflower And Rose Tattoo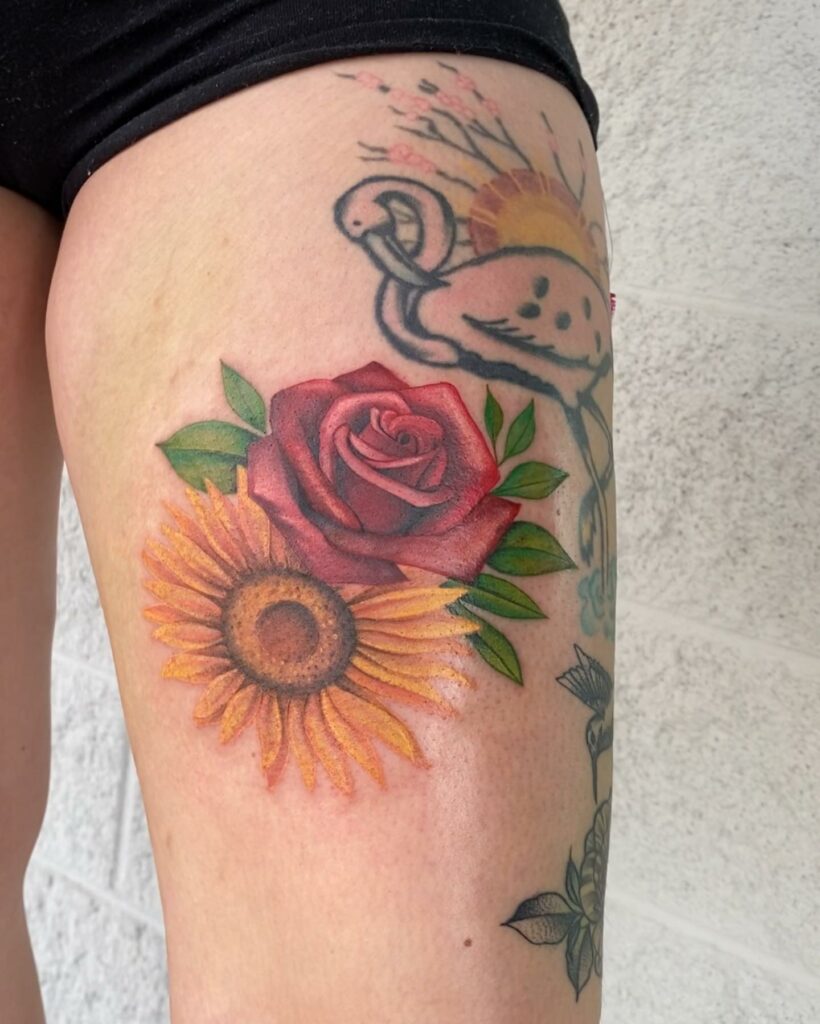 Enhancing sunflower tattoos with a touch of roses can infuse added femininity into the design. Opting for a black-and-white palette ensures a harmonious blend of colours.
Collaborating with your tattoo artist to review a mock-up offers a chance to refine the design. Injecting vibrant hues into the petals and leaves enhances the tattoo's lifelike quality.
Sunflower thigh tattoos are a striking choice, exuding boldness and beauty, perfect for those eager to flaunt their ink. The advantage lies in their concealability, offering the freedom to reveal or cover the tattoo as desired.
Whether it's shorts or a charming dress, your tattoo can be proudly displayed. The complexity of your sunflower thigh tattoo design will be met with enthusiasm by your tattoo artist as they bring it to life.
Embrace your imagination and forge a one-of-a-kind, captivating sunflower tattoo design.
Outlined Different Flowers Half Sleeve Tattoo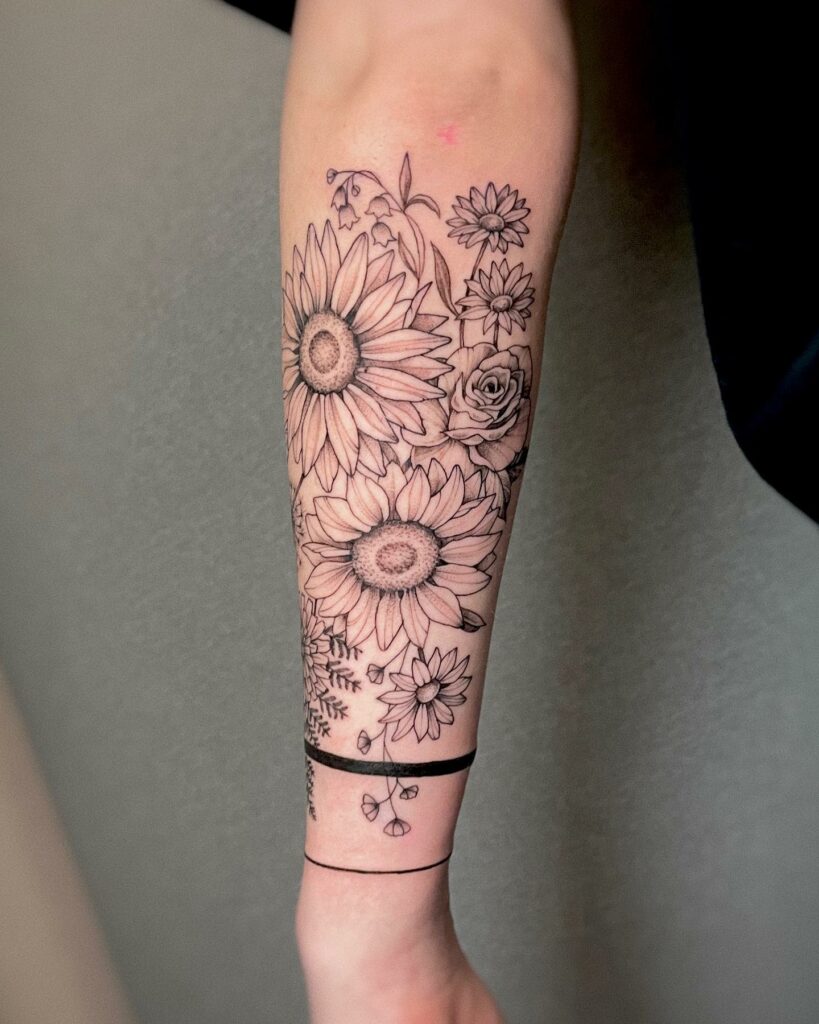 A sunflower tattoo need not always be intricate; a smaller, simpler design can be perfect for those favouring a subtle aesthetic. When seeking such a design, finding artists skilled in precise line work is key.
Opting for a black-and-white version can offer an airy, lighter appearance, ideal for those who prefer a softer look.
Alternatively, a sunflower sleeve tattoo is an option for a bolder statement. Yet, remember that such a tattoo is a significant commitment, involving time and cost.
Floral tattoos, especially those featuring roses and sunflowers, are a favoured choice for their representation of beauty and delicacy. The fusion of these elements yields an extraordinary design sure to make a lasting impression.
FAQs
Q: What does a sunflower tattoo symbolize?
A: Sunflowers in tattoos represent joy and hope across cultures. They can also embody qualities like faith, loyalty, and happiness. In some traditions, sunflowers were even used as offerings to gods, reflecting gratitude and respect.
Q: What does a rose or flower tattoo symbolize?
A: A rose tattoo carries a deep meaning of love achieved or lost, signifying a pinnacle of passion. The beauty of roses harmonizes with emotions, making it an emblem of historical significance and emotional connection.
Q: What do roses and sunflowers symbolize when combined?
A: When roses and sunflowers come together, they convey a profound message of loyal love. Roses symbolize love and passion, while sunflowers epitomize loyalty and vitality. This unique combination of flowers communicates emotions memorably and distinctively.
Q: What does the rose emoji signify from a girl?
A: The rose emoji represents love. Roses are timeless symbols of beauty and romance, and the 🌹 emoji aligns with this sentiment. If someone you like sends you a 🌹, they likely have feelings for you too. However, this emoji isn't exclusive to romantic love; it can also be used platonically.
Conclusion
In the realm of tattoos, sunflowers and roses stand out as captivating choices, each offering a unique avenue of expression.
Whether it's the subtle charm of an outlined sunflower and rose combination, the ethereal allure of a black-and-white design, or the bold statement of a sunflower sleeve tattoo.
These blooms symbolize beauty and delicacy, leaving an indelible mark on those who choose to adorn their bodies with their timeless elegance.
MORE SUNFLOWER AND ROSES TATTOO