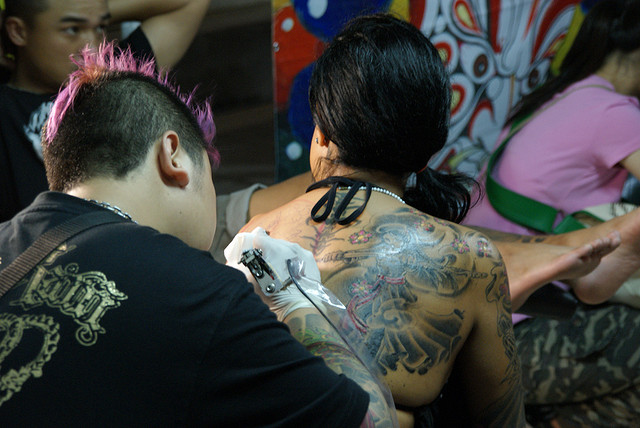 The trend of getting inked is at the peak. Tattoos are remarkably popular these days, and they are the best way to express yourself. However, if you are new to the world of tattoos, then you may have various questions like how to prepare for a tattoo? What is the process of getting a tattoo? What to expect from a tattoo? How to do tattoos?
The process of getting a tattoo is no mystery. It is a simple process of inserting ink into the skin with the help of a sharp tool such as a needle.
Skill is involved in choosing the tool, inserting the ink, and drawing the tattoo design.
Here is an article with all you need to know about the process of getting a tattoo. 
Getting a Permanent Tattoo
The first thing that you need to understand about a permanent tattoo is that they are actually permanent. Once the ink is inserted into the layers of the skin, the pigment stays there forever.
There are tattoo removal processes also like laser treatment, but they are really uncomfortable, and you do not completely get rid of the tattoo completely. 
So, before you read about the process of getting a tattoo and see a tattoo artist, be totally sure that you really want one. If the tattoo is going to be permanent for your entire life, make sure that it is exactly what you want.
Getting a Temporary Tattoo
If you are not sure about getting a permanent tattoo, then you can try a temporary tattoo or a jagua tattoo. It is normal for a first-timer to be worried about whether they will like the tattoo or not. 
So what happens if you are not sure about getting a tattoo. If you have a thought like what is the tattoo does not suit you? Or what if you do not like the tattoo design?
In such cases, it is not a bad idea to get a temporary tattoo. A temporary tattoo can help you in having an idea about how the tattoo will finally look.
A jagua tattoo looks like a traditional black and blue permanent tattoo. A temporary tattoo design can help you in deciding whether you want a permanent tattoo. 
How to Prepare for Getting a Tattoo?
Getting a permanent tattoo can be an exciting and nerve-wracking process. It is a serious commitment for a lifetime. Here are the steps for preparing for a tattoo.
Choose a Tattoo Design
Sometimes, you may have a strong idea about your tattoo design. Other times, you are not sure until you talk to an artist. As you are getting a permanent tattoo, you should make sure to do the research first.
There are various popular tattoo designs like tribal tattoos, dragon tattoos, or buddha tattoo. The problem is that all the tattoos have a deep meaning.
Make sure to research the meaning of a tattoo design before getting it. If you want to show your respect to someone, you can opt for word tattoos also. To succinctly describe, opt for a tattoo design with deep meaning and the one you love. 
Determine the Right Tattoo Style
There is a world full of tattoo styles to choose from. Everything from minimal tattoos to big ones is available. Proficient tattoo artists are skilled in all styles. Therefore, if you have a tattoo design in mind, make sure to choose a professional tattoo artist who is skilled in all the styles. 
Decide the Placement
If you are planning to get a tattoo, then make sure to get it placed right. There is a wide range of tattoo placement ideas available to choose from. Some tattoos look amazing on the back, while others look perfect on the fingers. The placement of a tattoo plays an essential role in making a style statement and expressing yourself in the best possible way. Unless you have a strong preference for the tattoo placement, it is better to listen to your tattoo artist. 
Choose the Right Tattoo Artist
Even if you have an amazing tattoo design, you are sure about the tattoo placement; the next step is to choose the right tattoo artist. Always remember that all the tattoo artists are not the same. Anyone with little skill can call themselves a tattoo artist, but that does not mean they will do a perfect job.
Make sure to do proper research on the tattoo artist. Never think about the money when it comes to getting a permanent tattoo.
Some people get attracted by low prices, but lower prices do not ensure a good design. Remember that you will be having a permanent piece of art on your body, so it is better to get it right. 
How the Process of Getting a Tattoo Works?
The process of getting a tattoo is not a scary process as long as you know exactly what you want. Below mentioned are the steps of getting a tattoo.
Get Comfortable
Depending on the tattoo placement and setup, you will get a private room or a seat in an open area. The chair on which you will sit mostly looks like a dentist's chair.
The most important thing is that you should be comfortable. An experienced tattoo artist will always ask if you are comfortable with the process of getting a tattoo. 
Preparing the Skin
Before getting inked, it is important to prepare the skin. First of all, the tattoo artist will rub the skin with alcohol in order to clean it. Then the hairs are shaved off. It may take some time, but it is important to clean the skin and remove the hair first.
Thermal Stencil
Once you are comfortable and ready, the tattoo artist will take a thermal stencil of your chosen design. After this, they place the stencil on the area where you want it to be inked. The design is transferred from thermal paper to the skin.
It helps in saving a lot of time and also helps to get an idea of what the final tattoo design will look like. It gives you a chance to finalize the design and placement before proceeding further. A good tattoo artist will always take your permission before proceeding.
Preparing the Machine
Once you are comfortable and ready, the tattoo artists will prepare the machine. They put the required inks in small cups. They also take out the needles and tubes from sterile pouches to prepare them for the inking process.
Inking the Outlines
If you are getting a tattoo for the first time and a little bit scared about the pain, then take a deep breath during the process and try to stay still as possible.
The tattoo artists try their best to make you comfortable so that you stay calm during the tattooing process. It is most painful for the first few minutes, but once your skin gets used to the sensation and discomforts, it all seems fine. 
Shading
After completing the linework, the artists start the process of shading that is required to be done. They may use a special machine for shading. Moreover, they may also use different colored inks according to the design.
Follow Aftercare Advice
Once the process of getting a tattoo is done, you can finally see your tattoo. Now you can breathe easier and talk with the tattoo artist. They may even ask you for a photo for their portfolio, but it is completely up to you.
After completing the tattoo, the tattooist will dress the tattoo in ointment and bandages. It is crucial as it will help to heal the tattoo better and more quickly.
The tattoo artist will also give after-care instructions, which you need to follow. The after-care instructions are mandatory to make your tattoo heal faster.
Final Words
Getting a tattoo is an exciting process, but it requires a lot of personal preparation and research. From choosing the right tattoo design to finalizing the right tattoo artist, you need to follow various steps to make sure that you get a perfect tattoo. Make sure to share your experience with us by dropping a comment.