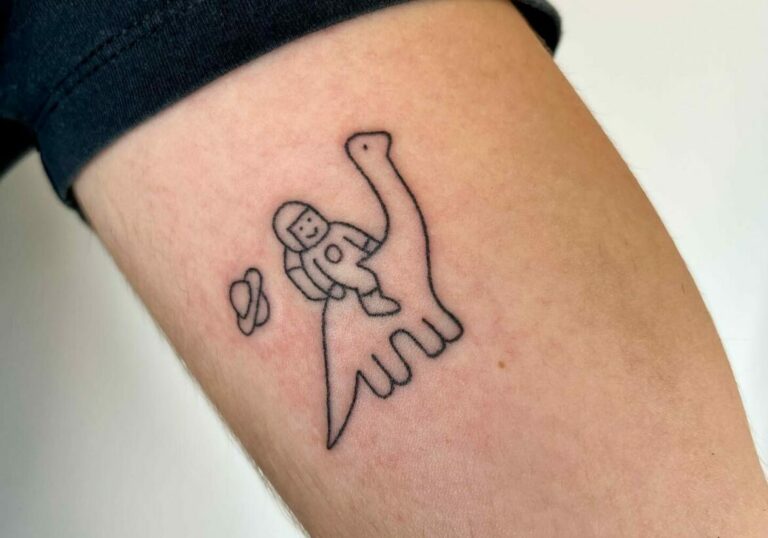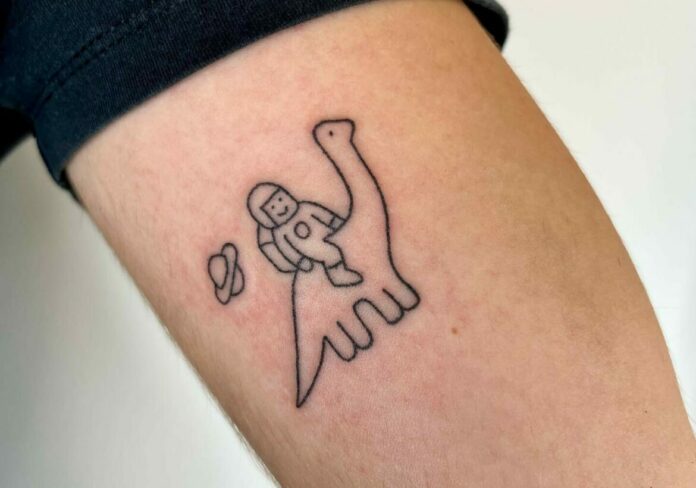 Are you still fascinated by dinosaurs even though they disappeared ages ago? A minimalist dinosaur tattoo could be ideal if your love for these prehistoric creatures endures.
Although dinosaurs roamed the Earth millions of years ago, they continue to captivate our imagination today. You can rekindle the awe and fascination these remarkable beings evoke through a minimalist dinosaur tattoo.
Whether you lean towards permanent ink or temporary art, dinosaur tattoos hold the potential for excitement From the mighty T-Rex to the swift Velociraptor, a wide array of dinosaur designs awaits your selection.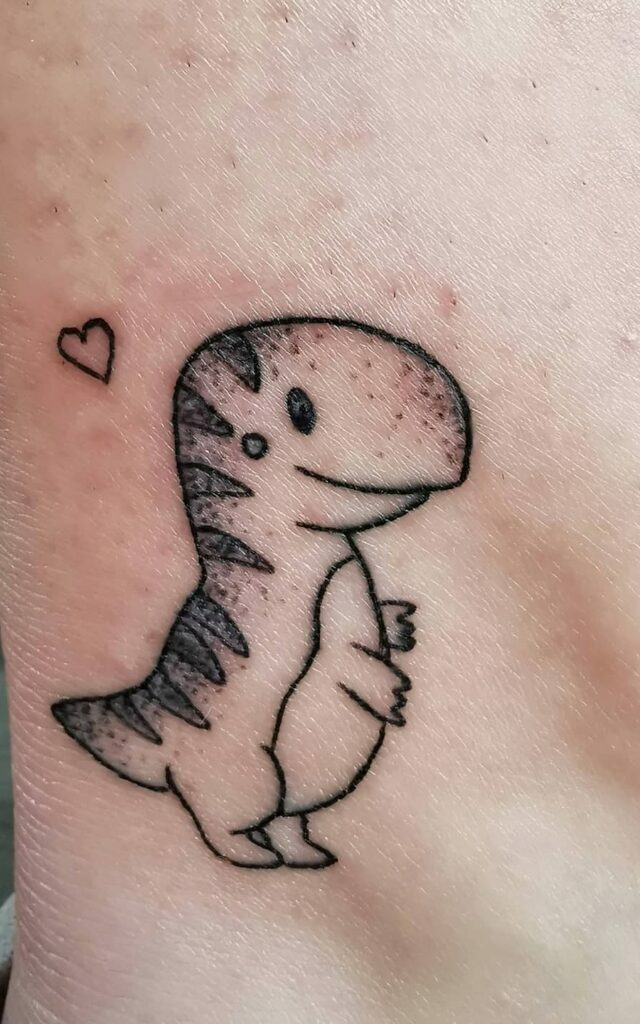 A small dinosaur tattoo offers an excellent option for those seeking a tattoo that signifies power and resilience.
If subtlety is more your style, a simple dinosaur outline or a skull depiction can create a trendy and understated minimalist dinosaur tattoo.
Remember, the essence of a tattoo lies in its personal significance to you. To assist you in finding the perfect match, we've curated a diverse collection of dinosaur tattoo designs.
Brace yourself to breathe life into these ancient creatures through an awe-inspiring small dinosaur tattoo.
Cute Single-Line Minimalist Dinosaur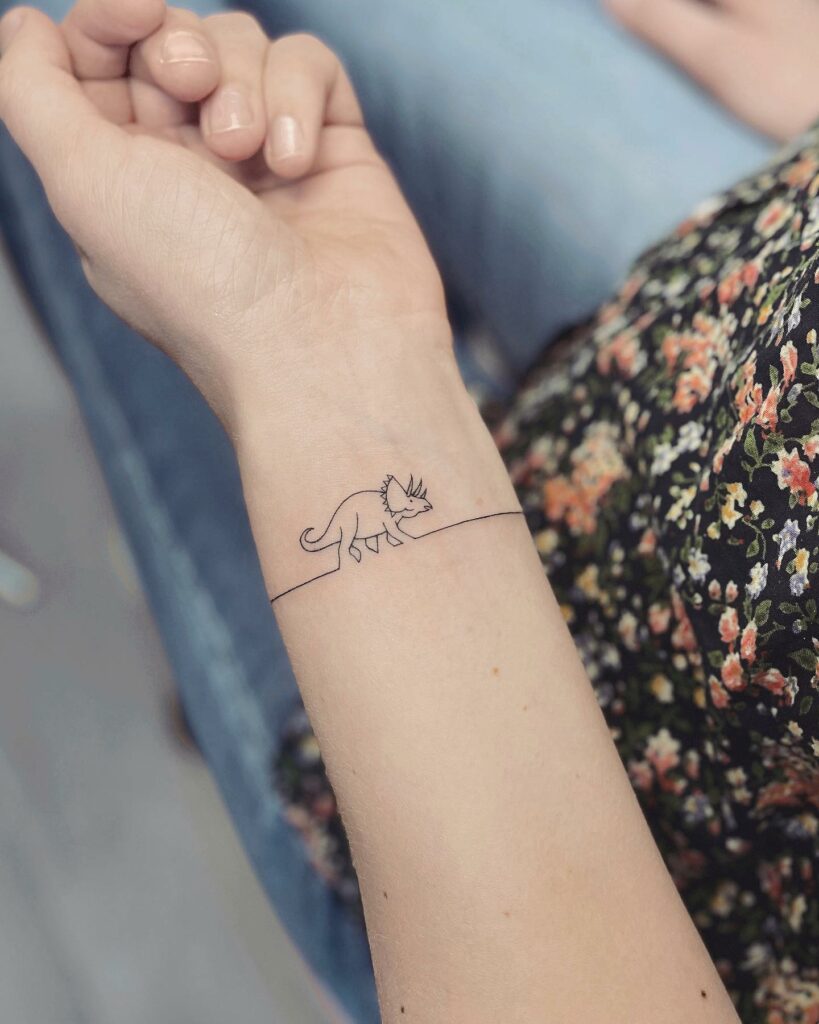 If you're seeking a tattoo that combines trendiness and uniqueness, a minimalist dinosaur tattoo could be an excellent choice.
Even a large creature like the Triceratops can be transformed into a stylish and captivating tattoo, perfect for proudly displaying.
This minimalist dinosaur tattoo works well on areas like the wrist or ankle, featuring sleek and uncomplicated line work for an elegant touch.
Despite the Triceratops' distinctive horns trio, this design captures an adorable and appealing appearance.
For those interested in exploring alternative options for minimalist dinosaur tattoos, consider looking into T-Rex or other designs.
You'll find a variety of similar choices, each offering an endearing and subtle tattoo that you'll treasure over the years.
Dinosaur Skull Shoulder Tattoo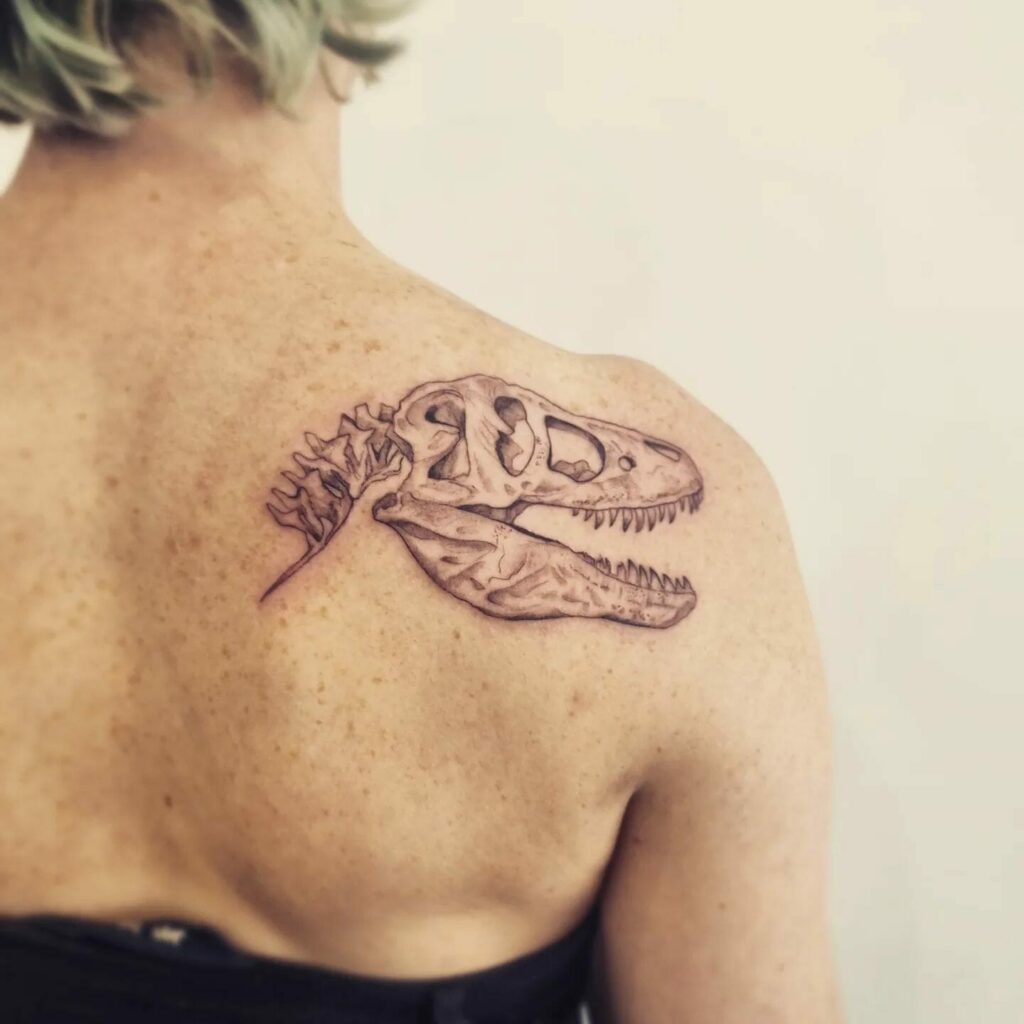 Are you in search of a unique tattoo design to adorn your shoulder? If you're a skull tattoo fan, why not consider getting a dinosaur skull tattoo?
Dinosaur skulls symbolize power, grandeur, and strength, making them a striking choice for your shoulder.
This small dinosaur tattoo design's intricate details and shading will impress your friends and spark interesting conversations.
An idea like a Tyrannosaurus Rex skull tattoo on your shoulder is bound to make a strong impact. You can proudly flaunt this magnificent tattoo wearing a halter-neck dress or top.
If you're unsure about shoulder placement, you can experiment with different areas to find what suits you best.
And if you're not ready for a permanent tattoo, you can also explore temporary options for dinosaur skull tattoos. So, go ahead, unleash your creativity, and embrace your own distinctive dinosaur skull tattoo today.
Happy Dinosaur Orange Tattoo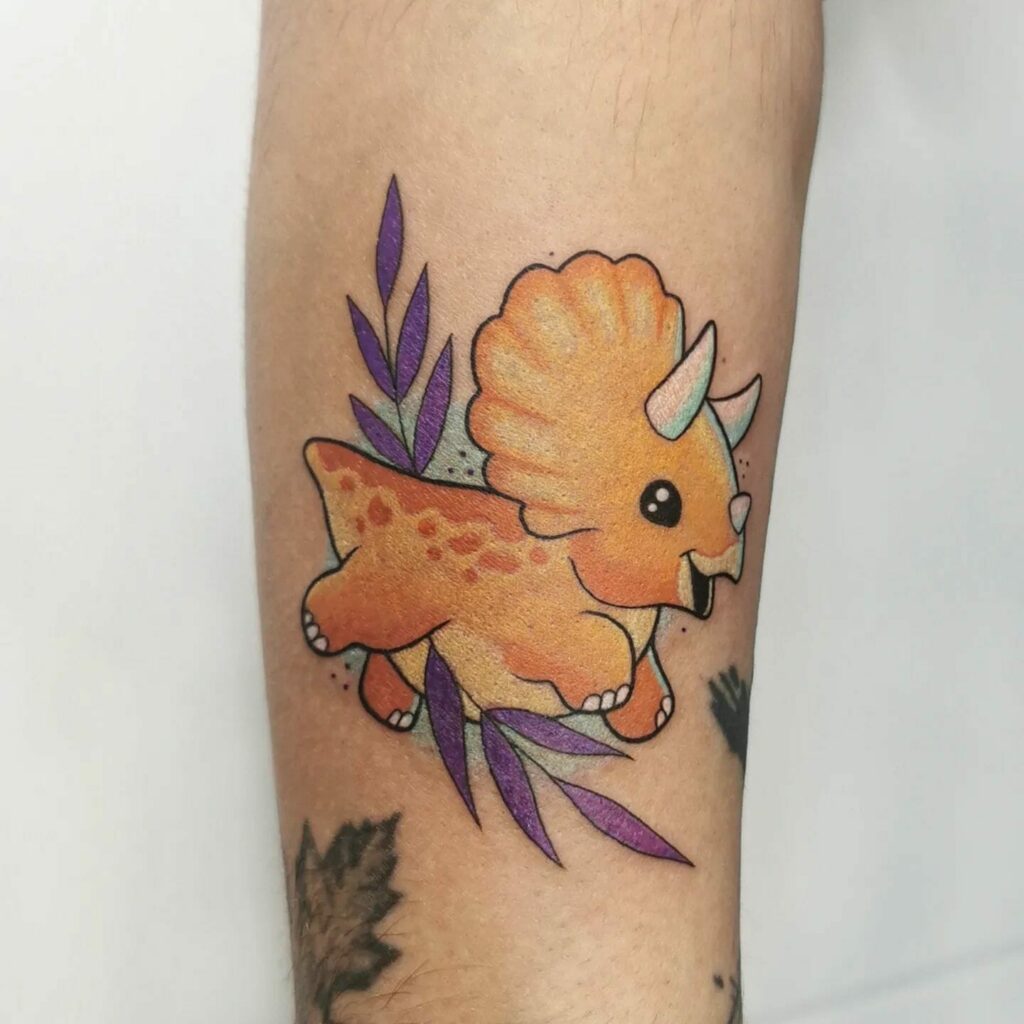 Are you searching for an enjoyable and spirited dinosaur tattoo? Your search ends here, This particular design is bound to bring a joyful expression to your face.
Although dinosaurs are often associated with being fierce and intimidating creatures, this cartoon-style Triceratops defies that expectation. Its vibrant orange hue and cheerful expression make it a lively addition to any collection of tattoos.
If you're contemplating surprising a friend or a loved one with a deep affection for dinosaurs, you might consider this design a temporary tattoo.
It's practically a guarantee to bring a grin to their countenance and serve as an excellent conversation starter.
The design is uncomplicated yet captivating, with its daring colour and animated expression setting it apart.
This choice is ideal for individuals seeking a delightful and carefree tattoo that also pays homage to the remarkable beings that once inhabited our planet.
Dinosaur And Asteroid Minimalist Tattoo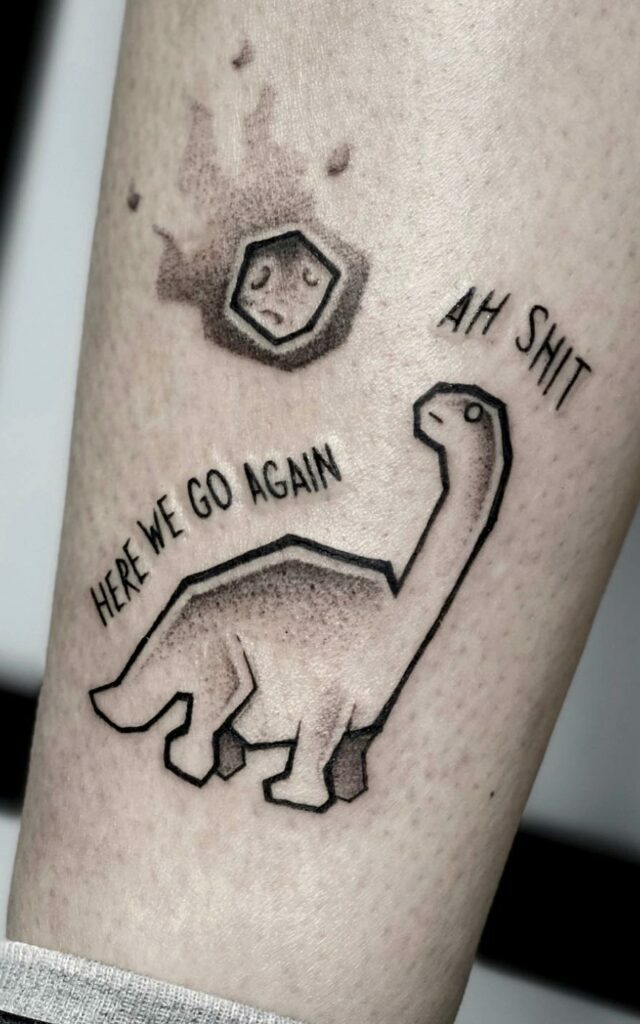 Are you searching for a dinosaur-themed tattoo that's witty and uncomplicated? Look no further, Take a look at this design that offers a fresh perspective on the Cretaceous period's history.
The tattoo showcases a dinosaur casting a concerned gaze upwards at an approaching asteroid, accompanied by the phrase "Ah Shit, Here we go again" positioned above it.
This minimalist tattoo choice is perfect for those seeking a humorous twist on prehistoric themes. The design boasts simplicity while effectively playing with light and shadow for an impactful visual.
Despite the dinosaur's minimal intricate details, the skilful shading techniques contribute to an endearing and wholesome outcome.
You can consider placing this tattoo on various body parts, such as your calf, and feel free to consult your tattoo artist for expert advice on placement.
Dinosaur Trio 3D Tattoo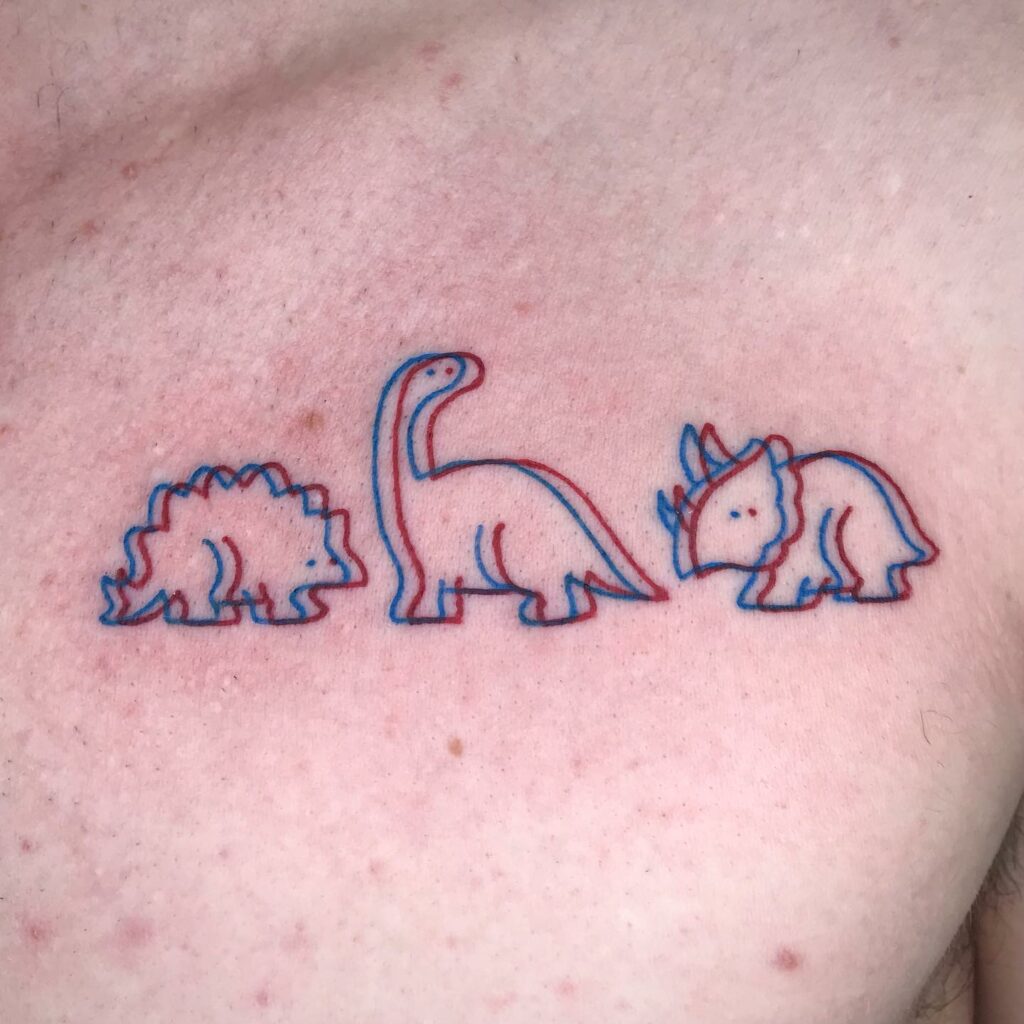 Prepare to be amazed by this incredible set of small dinosaur tattoos. This collection showcases three charming dinosaurs – a Stegosaurus, a Triceratops, and a Diplodocus.
The way these designs are crafted creates a striking 3D effect that will undoubtedly make your friends do a double-take. Additionally, if you're into minimalist dinosaur tattoos, these designs make a subtle yet impactful statement.
The standout feature of these designs is the clever utilization of a red and blue double outline, producing a distinct blurry effect that captures attention.
The meticulous attention to detail and precision put into crafting these tattoos is truly remarkable.
And the exciting part is that you can experiment with them as temporary tattoos first, allowing you to visualize how they'll look on your skin before committing to a permanent piece.
When discovering the ideal small dinosaur tattoo, take your time to explore the myriad options available online. Navigate through different designs until you discover the one that resonates with your personal style.
Remember, a thoughtfully chosen dinosaur tattoo will become a unique and cherished addition to your collection of body art.
Dino Tribe Set Of Six Tattoo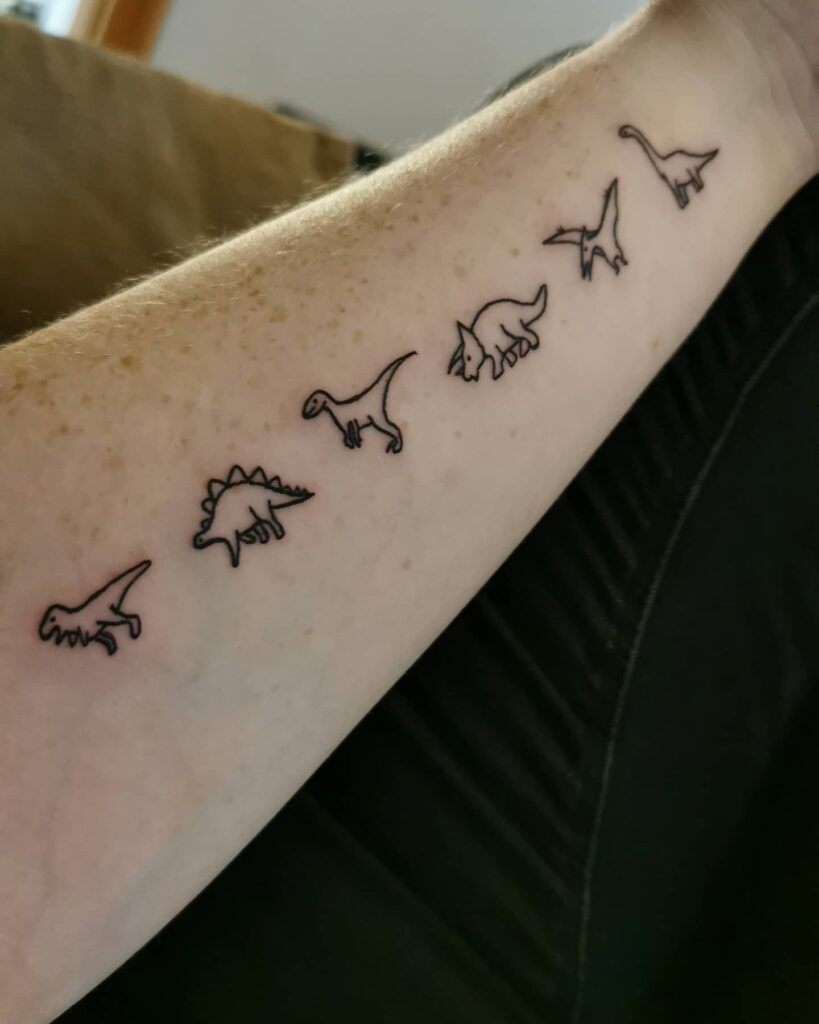 If you enjoy Jurassic Park, you'll like this small dinosaur tattoo idea. The design shows five dinosaurs – T Rex, Stegosaurus, Triceratops, Diplodocus, and Pterodactyl – happily moving together.
It's a playful design for anyone who loves these ancient creatures.
The best part? This tattoo comes as a set of six, meaning you get six tattoos for the price of one. Not sure? Try a temporary tattoo first.
Make sure the temporary tattoos are eco-friendly, and check their packaging, shipping, and returns.
For placement, it's great on your arm. The simple outline and bright colours make it stand out. If unsure, your tattoo artist can help. Ready to add some prehistoric fun to your look.
Dino On The Go Minimalist Tattoo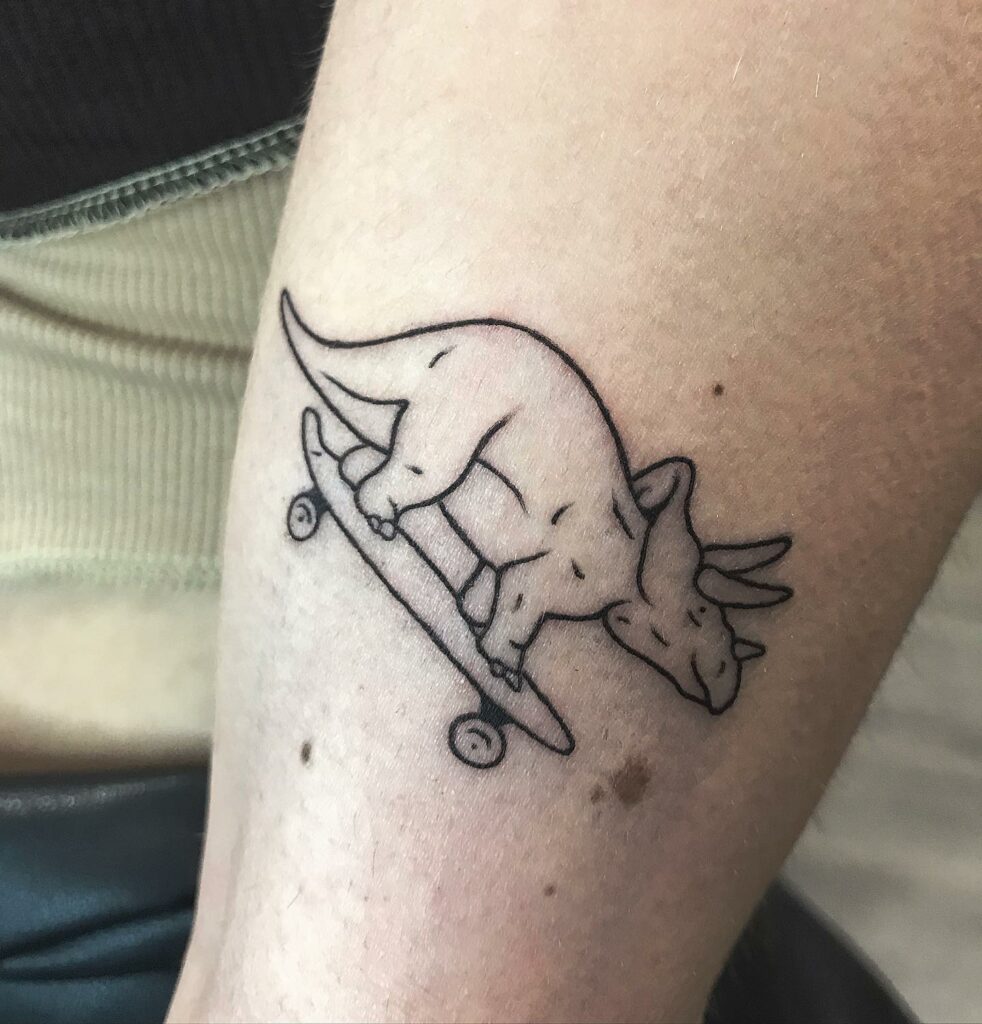 This specific tattoo showcases a Triceratops character riding a skateboard, emitting a lively and fun-loving vibe.
Despite its minimalist structure, the tattoo brims with uniqueness and imaginative flair, making it an excellent choice for those seeking something distinct.
The dinosaur-themed tattoo holds versatility and can be positioned on any visible body area, catering to individuals keen on displaying their body art.
Furthermore, its smaller size ensures it won't occupy excessive space on your skin.
The most intriguing aspect? The character's demeanour and actions leave room for diverse interpretations, encouraging personalization and creative envisioning.
If a dinosaur tattoo intrigues you, seek inspiration from online sources. Various other unconventional dinosaur tattoo concepts exist, providing potential matches for your preferences.
Additionally, tattoo artists possess the ability to infuse their distinct artistic approach into this design, so don't hesitate to bring forth your own suggestions.
Allosaurus Leg Tattoo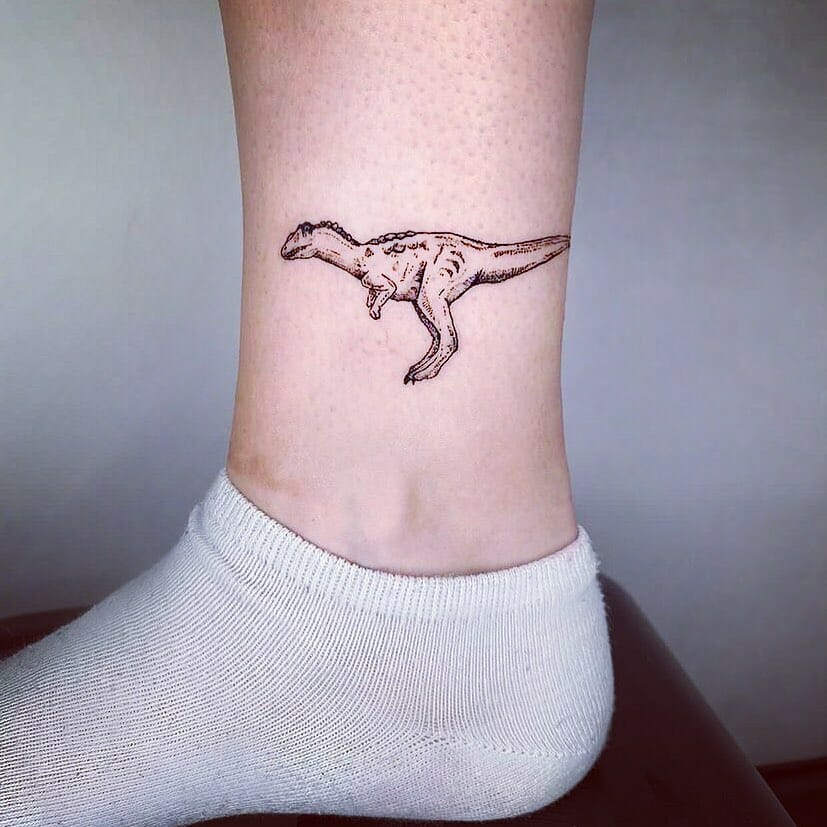 Are you in search of a distinctive and compact design for your small dinosaur tattoo? Look no further than a mini allosaurus tattoo.
Despite its small size, this tattoo design is intricately crafted and detailed, making it a delightful addition to your skin.
Although opting for an ankle placement might involve some discomfort, the result is a captivating and thrilling enhancement to your body art.
An experienced tattoo artist will skillfully highlight the intricate textures and elements of the dinosaur tattoo, ensuring your admiration for the final outcome.
Furthermore, the tattoo's small dimensions offer versatility in terms of placement, allowing you to explore various body parts for its display.
Dinosaur Outline Tattoo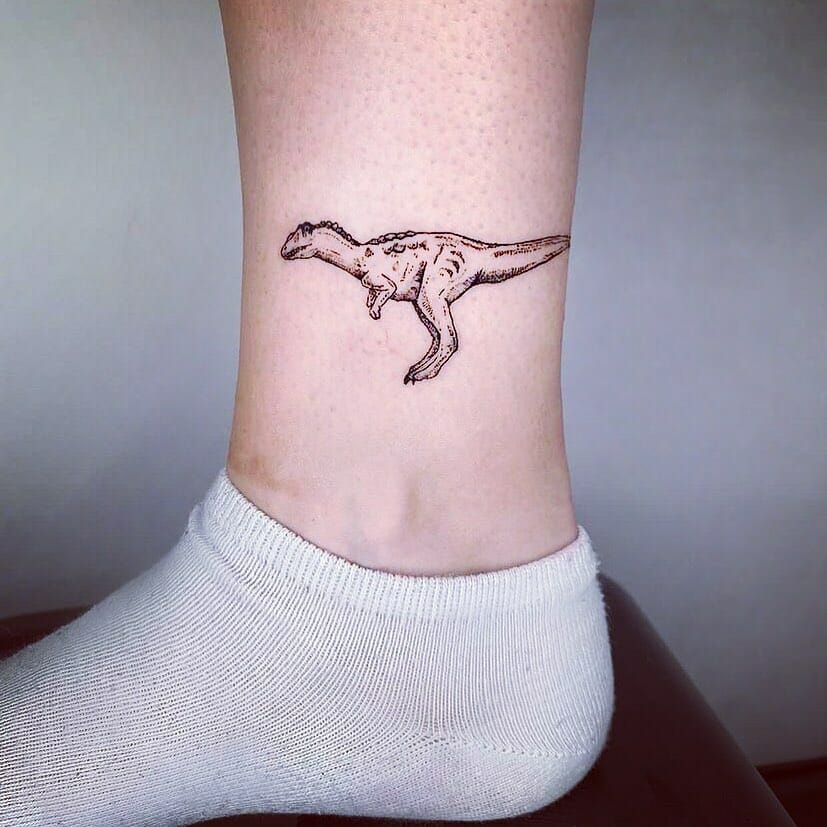 Dinosaurs remain a timeless option for tattoos, and utilizing an outline technique provides an excellent way to make a bold statement with simplicity.
This specific design focuses on being straightforward and chic, catering to those who appreciate minimalist dinosaur tattoos.
For enthusiasts of various dinosaur species, this outline style can be applied to options like velociraptors, tyrannosaurs, Triceratops, or any preferred species.
The intentional absence of intricate details results in a clean and sleek tattoo aesthetic. The subtle, slightly wavering outline adds a touch of individuality and character to the overall concept.
The beauty of this dinosaur tattoo lies in its ease of execution while still delivering a notable impact.
Moreover, the added advantage is that you can personalize the design according to your preferences and swiftly transform it into ink art.
Floating Dinosaur With A Balloon Tattoo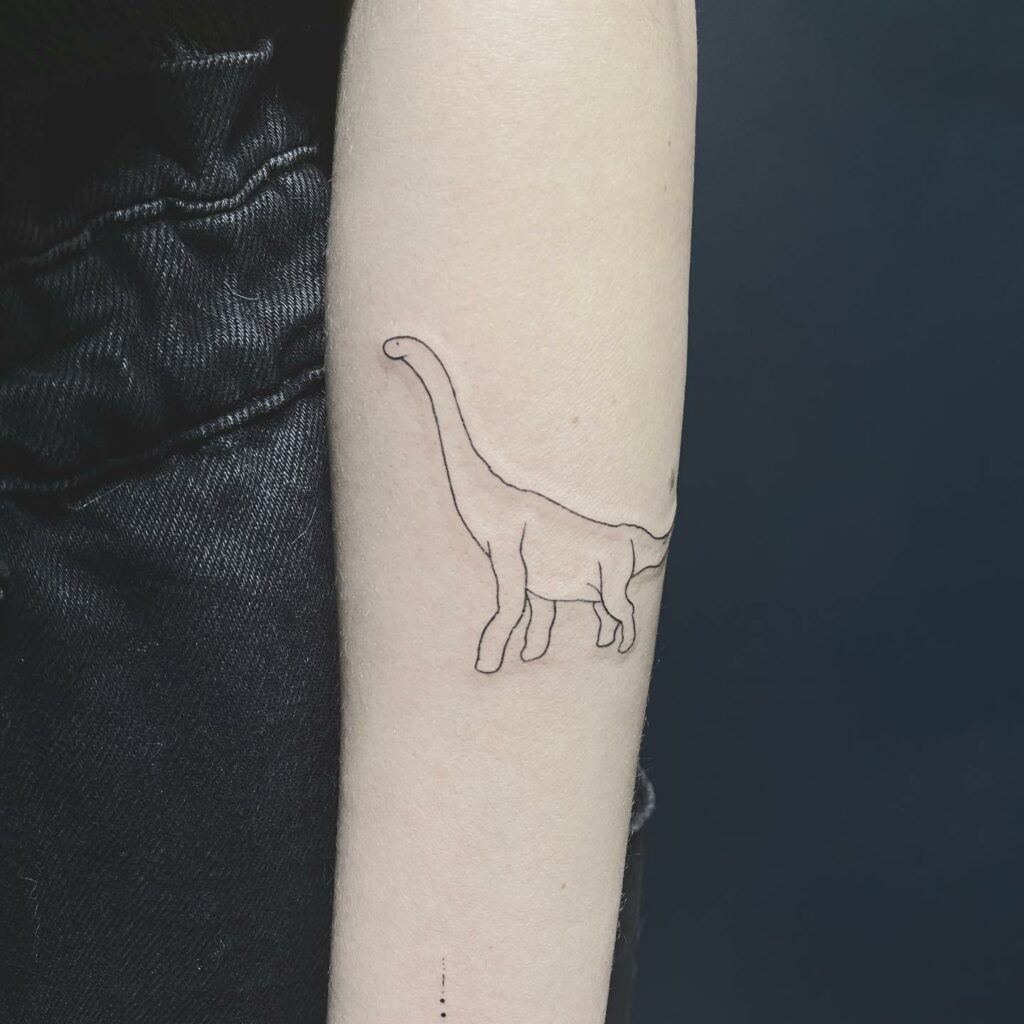 This cute and small dinosaur tattoo design features a strong T Rex with a balloon tied to its belly, lifting it off the ground. You can also explore this concept with other dinosaurs, such as Triceratops.
This offers your favourite prehistoric creature a break from its usual activities, letting it enjoy a hot air balloon ride.
If you're uncertain about committing to a permanent tattoo, you can consider trying a temporary one for a playful twist.
In the UK, you can find these minimalist outline dinosaur tattoos at local shops, and you might even acquire them at a discounted price using a referral code.
Whether deeply interested in dinosaurs or simply enjoying fun and unique tattoos, this floating dinosaur tattoo symbolizes your admiration for these magnificent creatures.
Unleash your creativity and have a blast with this imaginative tattoo concept.
Conclusion
Still, fascinated by dinosaurs? A minimalist dinosaur tattoo could be ideal. Despite their ancient history, these creatures continue to captivate. Choose from T-Rex to Velociraptor designs for a powerful statement or sleek outline.
A mini allosaurus offers intricate detail on a smaller scale. For a playful twist, consider dinosaurs in hot air balloons. Explore temporary options before committing.
These tattoos symbolize admiration for magnificent creatures that once roamed the Earth.
FAQs
Q: What is the symbolism of a dinosaur tattoo?
A: A dinosaur tattoo symbolizes a fondness for these creatures and the concepts of strength and power.
These tattoos come in various sizes and styles, ranging from adorable to fiercely striking, appealing to dinosaur enthusiasts and individuals seeking tattoos with empowering significance.
Q: What does a T Rex dinosaur tattoo signify?
A: A T Rex dinosaur tattoo can signify qualities like power and strength.
Different species of dinosaurs can hold distinct meanings; for instance, a Stegosaurus might represent safety. It's important to grasp the meanings of chosen tattoo designs before getting inked.
Q: What's the typical size of a minimalist dinosaur tattoo?
A: A minimalist dinosaur tattoo size can vary based on artistic style and preferences, usually spanning from a moderately detailed 2 inches to a larger yet extremely minimalistic 5-6 inch design.
The skill of the tattoo artist can also influence the final size.
Q: Which animal tattoo is often chosen to represent strength?
A: The lion is a popular choice for an animal tattoo symbolizing strength. Lions are not only viewed as fearless and majestic but also embody traits of power, leadership, and masculinity.
MORE MINIMALIST DINOSAUR TATTOO IDEAS