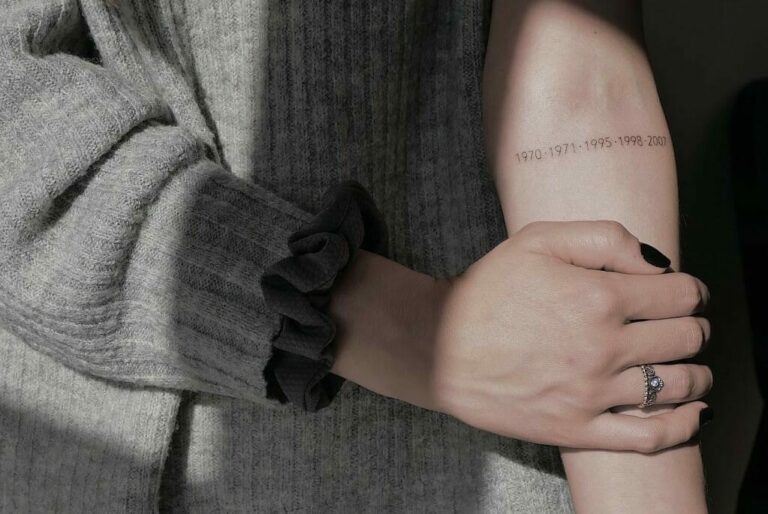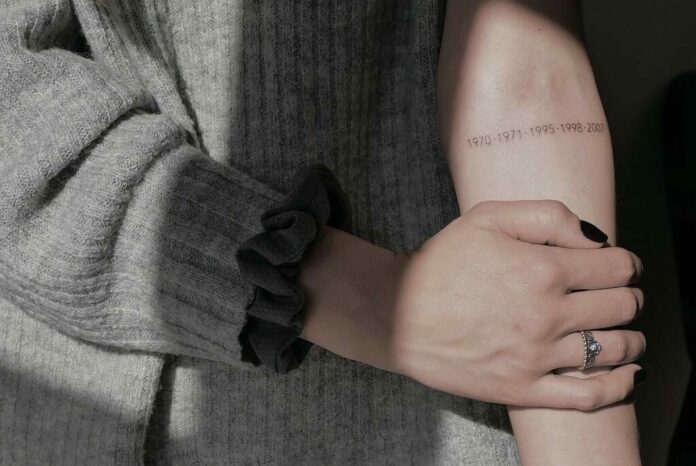 Are you searching for fantastic ideas for your next pelvic tattoo, specifically a birth year tattoo? You've come to the right place. Our tattoo expert is ready to guide you in finding the perfect design.
The concept of birth years carries deep meaning, making them an ideal choice for commemorating through tattoos.
Whether it's your own birth year or that of a loved one, a birth year tattoo provides a distinct and personal avenue to pay tribute to their significance.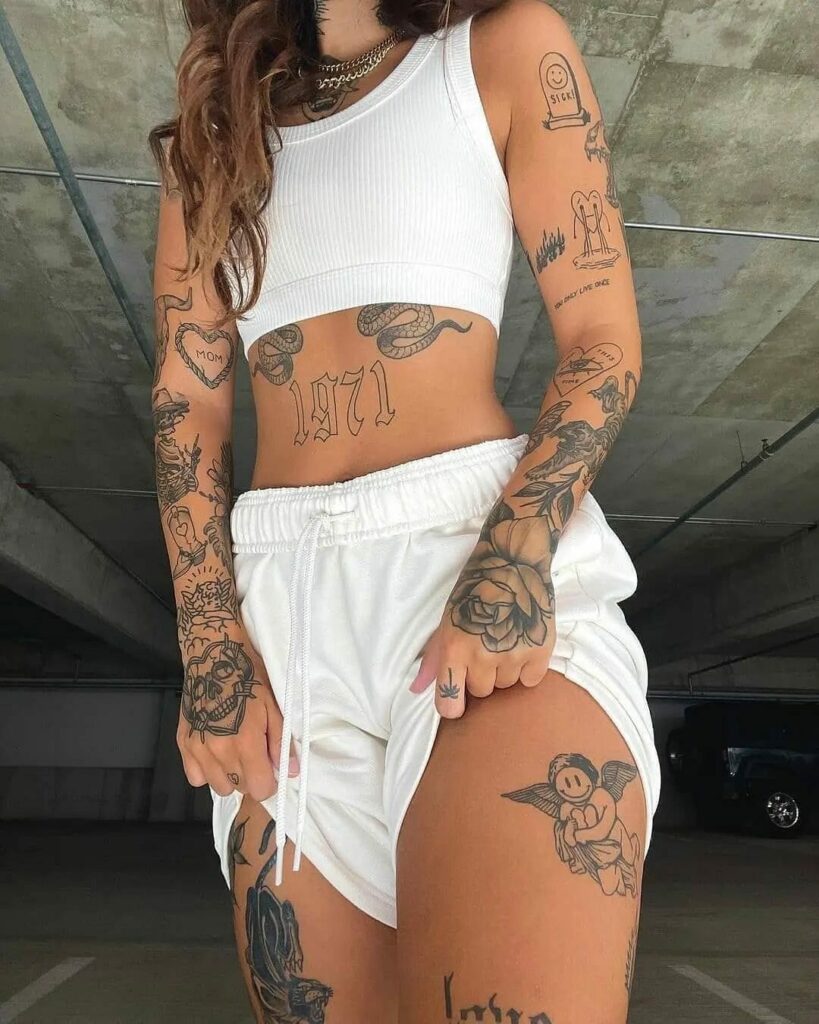 The meaning of birth year tattoos varies, reflecting individual connections. It might mark your birth year, a family member's, a dear friend's, a cherished pet's, or even a significant celebrity's that influenced your life.
It's a tribute to the special moment that welcomed someone into the world.
What's great about birth year tattoos is their adaptability to match your style. From size to design, you can tailor it to reflect your personality.
Whether you need inspiration or want to embrace this tattoo trend, this compilation of birth year tattoo designs will help you find your perfect match.
Thigh 1999 Tattoo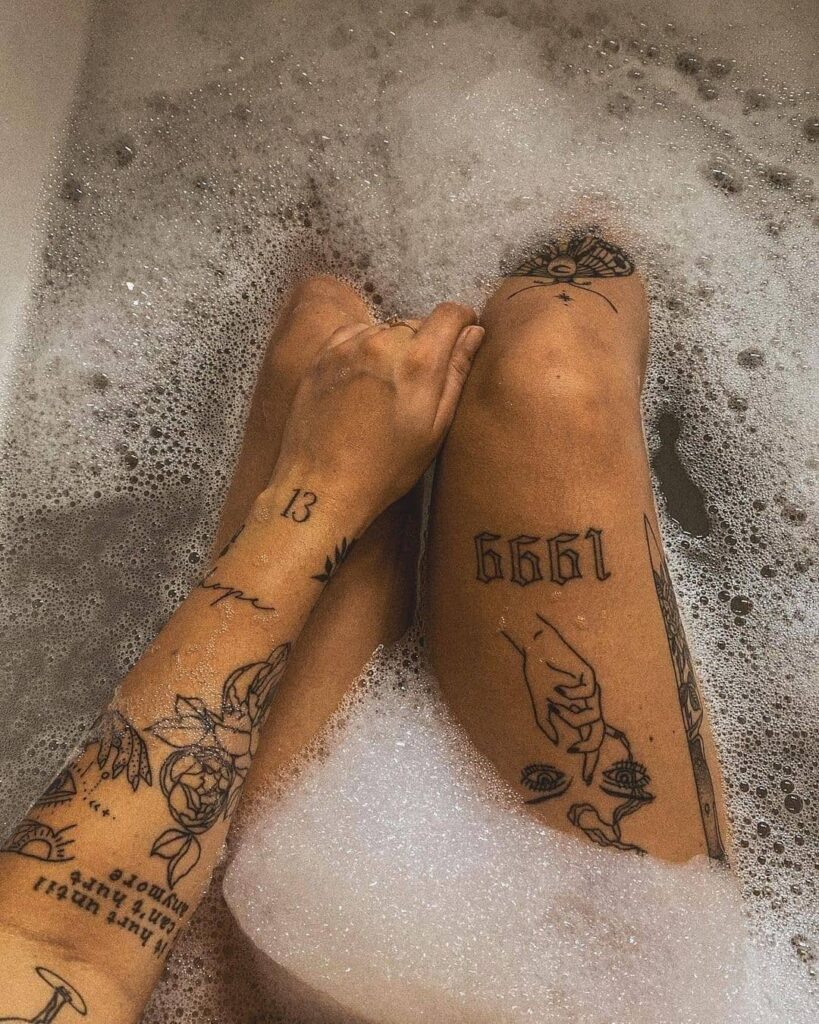 Consider the "Thigh 1999 Tattoo" as an alternative to the wrist tattoo idea for commemorating significant life moments.
While wrist tattoos might not always offer the most visually pleasing result with both birth year and birth date, placing them on your thigh provides an attractive option.
This design allows you to emphasize the birth year while still showcasing personal creativity and style.
Following the footsteps of celebrities like Liam Payne and Bella Thorne, who use tattoos to express self-love and meaningful experiences, could inspire you to embrace this meaningful tattoo trend.
Rest assured, this choice is likely to leave you with a lasting sense of satisfaction.
Small Birth Year Tattoo Set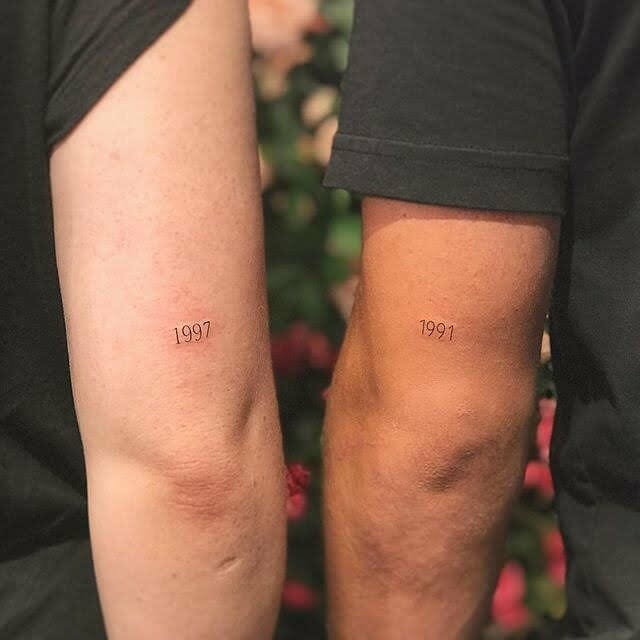 The meaning behind birth year tattoos can be shaped according to the wearer's intentions. For instance, this uncomplicated tattoo set can represent a couple, friendship, or even sibling bond.
Tattoos are a lifelong commitment, preserving something significant under your skin forever. To symbolize those special years, having both your birth years tattooed holds a personal significance.
This minimalistic birth year tattoo set is an excellent starting point for your tattoo journey.
Despite its small size, it radiates simplicity and is suitable not just for those who prefer subtlety, but also for newcomers exploring the world of tattoos.
Leo Birth Year Tattoo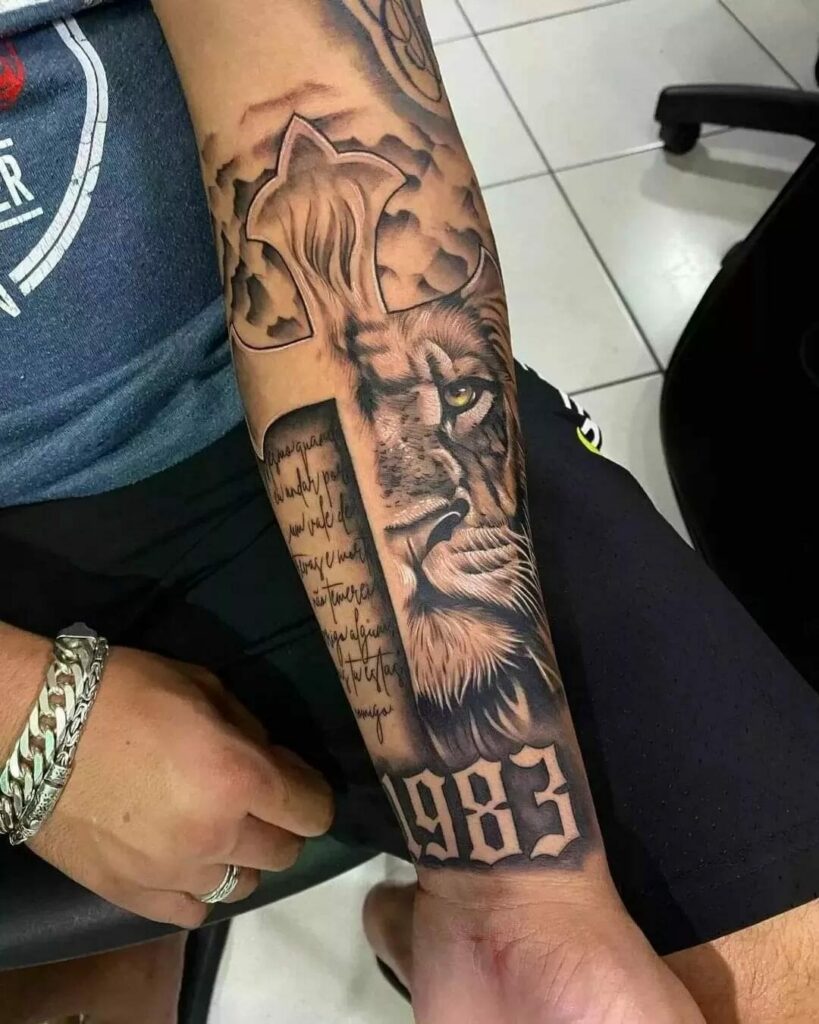 If you're in search of a tattoo that mirrors your strength, courage, and regal persona, a lion tattoo coupled with your birth year could be an excellent choice. Lions symbolize power and bravery, making them a popular motif for tattoos.
For individuals born under the Leo zodiac tattoo sign, this concept aligns perfectly. Astrology characterizes Leos as robust and formidable, akin to lions.
Whether you identify strongly with being a Leo or simply resonate with lion-like attributes, this tattoo design holds considerable appeal.
Selecting a skilled tattoo artist is crucial to bring your vision to life, particularly for intricate elements like a lion's depiction.
Ensuring that the majestic creature's features are captured with precision and beauty demands an artist with exceptional skills. Rest assured, the outcome will be truly rewarding.
Hand Birth Year Tattoo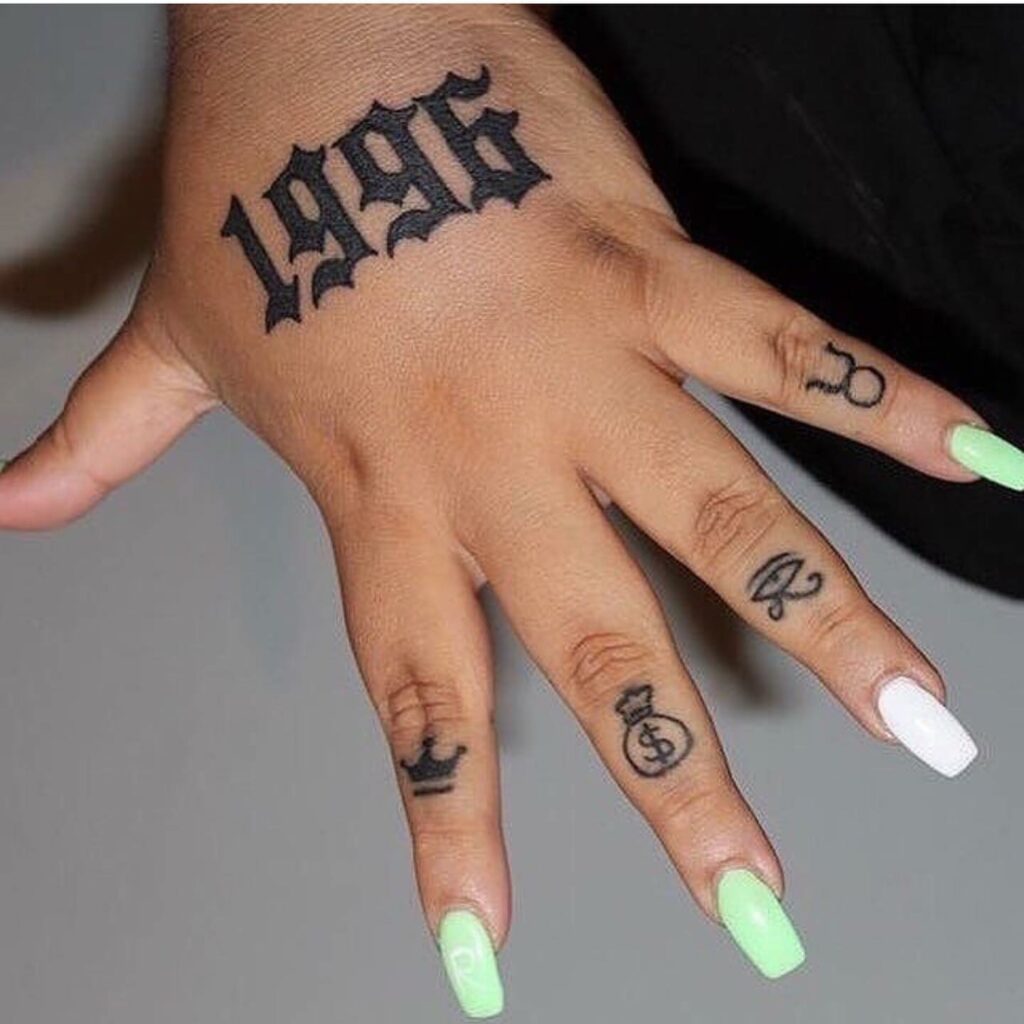 If you're in search of a tattoo that demands attention while reflecting your personality and gratitude for life, consider opting for a birth year tattoo on the top of your hand.
The chosen font for this kind of tattoo is bold and lively, making a confident statement. The use of deep black ink to fill the numbers enhances their visibility and impact.
You can even enhance your design's uniqueness by incorporating personal elements like your birth date or zodiac sign.
This tattoo can also serve as a perpetual reminder to be thankful for your existence.
Whether you're expressing gratitude to a higher power or acknowledging your parents for the gift of life, this tattoo holds a profound significance.
Ribcage Birth Year Tattoo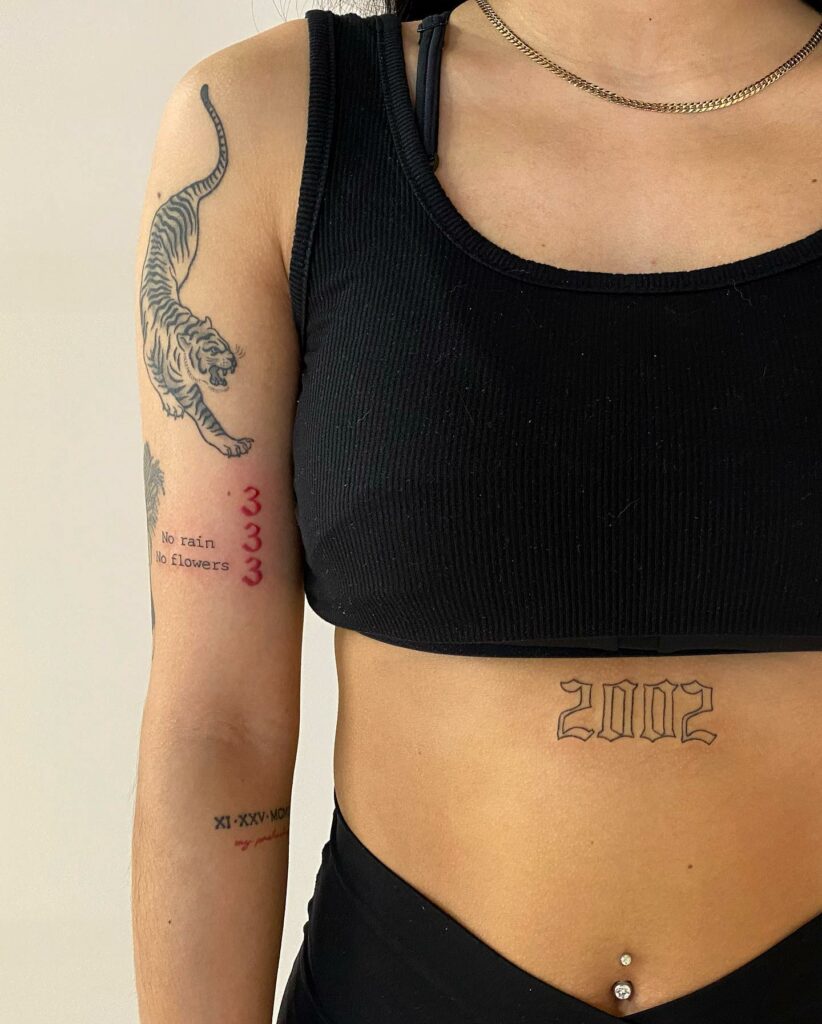 Considering a ribcage birth year tattoo? Get ready for an adventurous choice, While it's notorious for being a more painful spot to ink, the payoff is remarkable.
The simple yet refined design will grace you with an elegant touch that's sure to captivate attention.
But the excitement doesn't end there – this tattoo offers boundless customization. Incorporate the birth year of a loved one, whether it's a friend, family member, or even a cherished pet.
For a distinctive twist, go beyond and add their complete birthdate or tiny charms representing them. The result will beautifully express love and camaraderie. If you're ready to embrace the challenge, let's create some enchantment.
Floral Birth Year Tattoo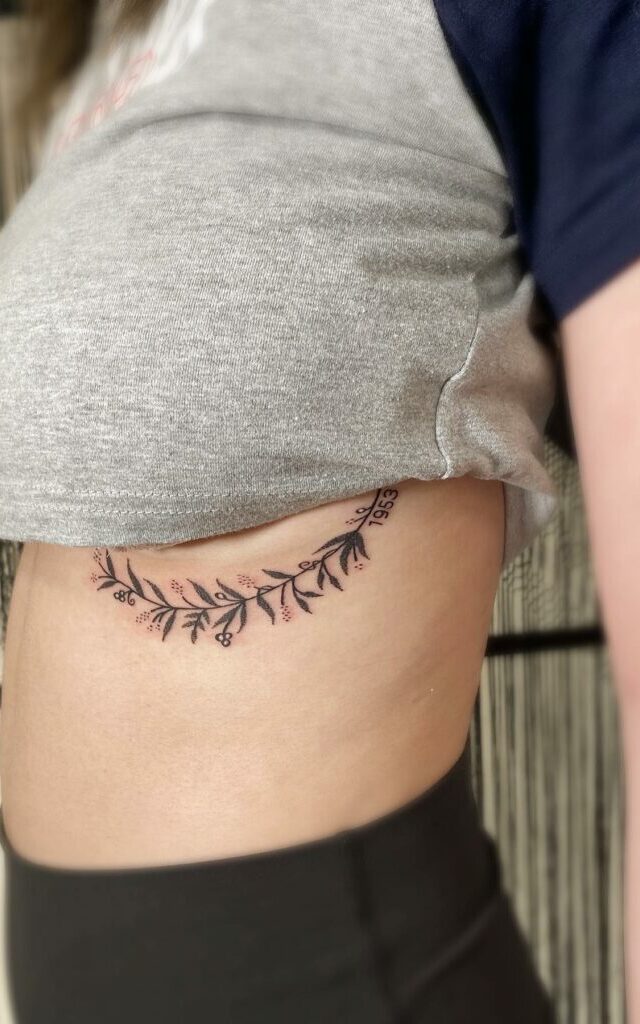 Embodying the beauty of growth and life's voyage, the floral birth year tattoo is your perfect emblem. This design encapsulates your essence and values, seamlessly merging your journey's commencement with the positivity of blooming florals.
A true masterpiece, this floral tattoo exhibits the artist's skillful fusion of diverse patterns and techniques. The flowers' delicate dot-work and the leaves' intricate detailing showcase the artist's expertise in bringing this unique design to life.
If floral aesthetics resonate with you and you seek to celebrate your personal growth and journey, this tattoo is your ideal choice.
Prepared to captivate attention and radiate your distinct style with this meaningful masterpiece that beautifully integrates with your body art.
Wrist Birth Year Small Tattoo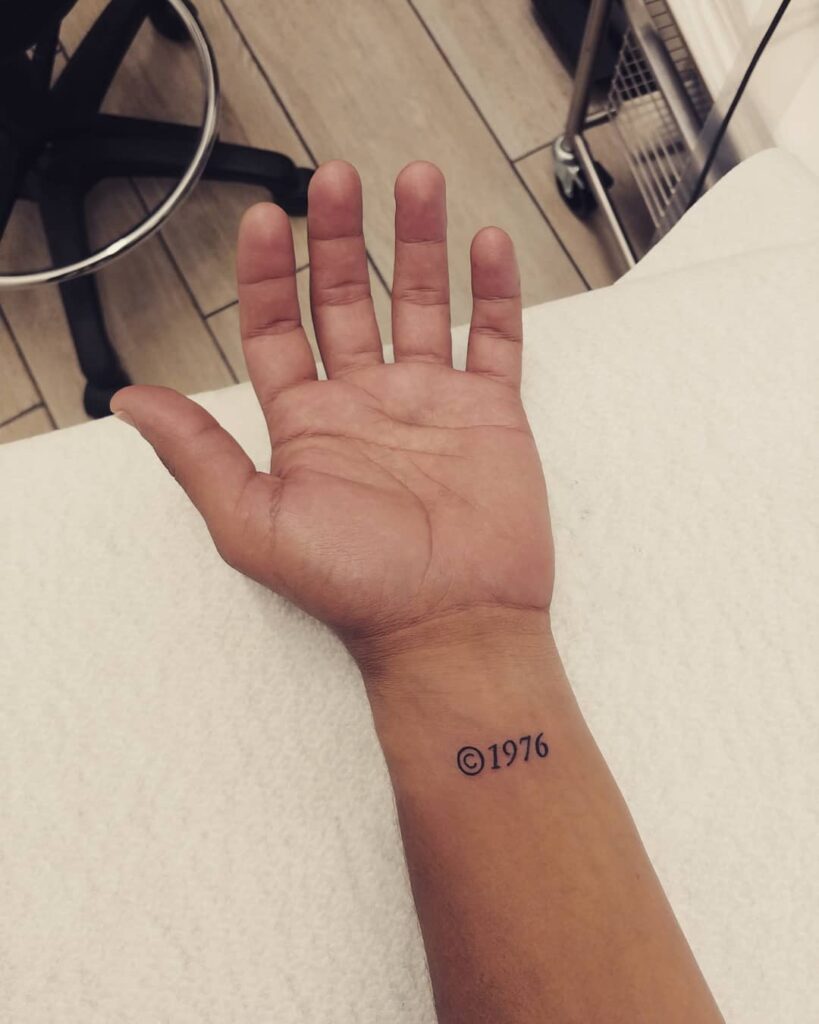 Seeking a blend of trendiness and simplicity? Look no further than the wrist for your perfect canvas, Among the most popular tattoo locations, the wrist offers a subtle yet stylish way to flaunt your ink.
For enthusiasts of minimalistic art, this design is an excellent option. The "c" enclosed in a circle presents versatility, open to diverse interpretations.
Whether your birth year, "Est," or another personal word, this design adapts effortlessly. The limitless possibilities ensure your tattoo is truly a reflection of you.
In search of a tattoo that's both enjoyable and profound? Your quest ends here, This wrist tattoo marries simplicity and style, promising a meaningful addition to your ink collection.
Birth Year Ankle Tattoo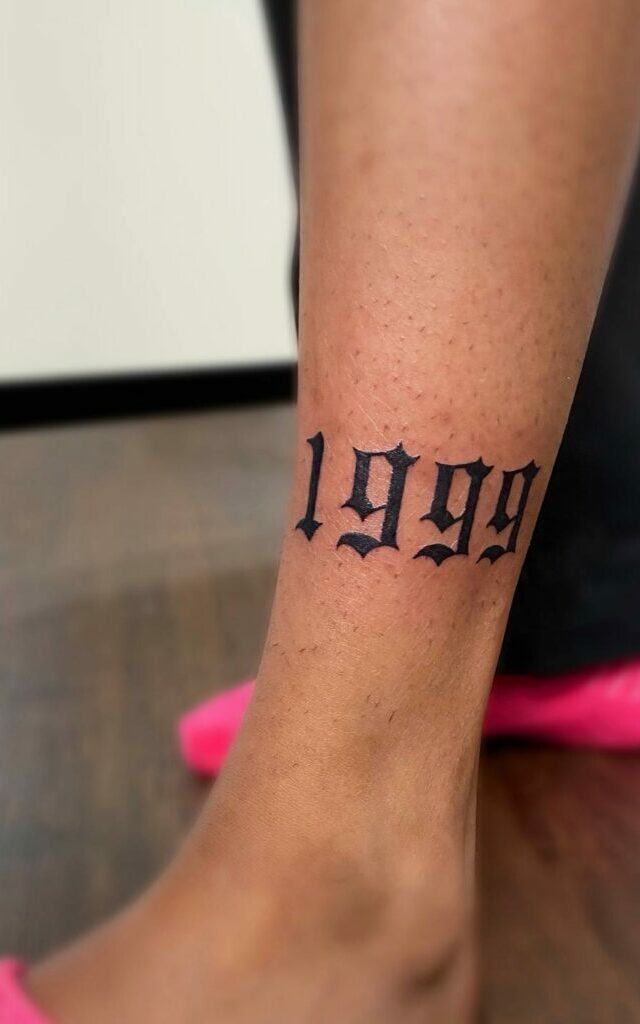 If you're seeking a distinctive and captivating tattoo to commemorate your birth year, your quest ends here. Ankle tattoo design stands as an impeccable choice, characterized by its bold and unique font that is bound to make a statement.
But it's not solely about marking the year you were born – this design can also encapsulate the elements that hold significance in your life.
Want to add a personal twist? Consider incorporating your birth flower, favorite colors, or even your Chinese zodiac sign to make it genuinely your own.
So, if you're aiming for a timeless and meaningful tattoo, this design is tailor-made for you Feel free to infuse it with your personal style and details. Prepare to confidently exhibit your unique flair and share your narrative with the world.
Butterfly Birth Year Tattoo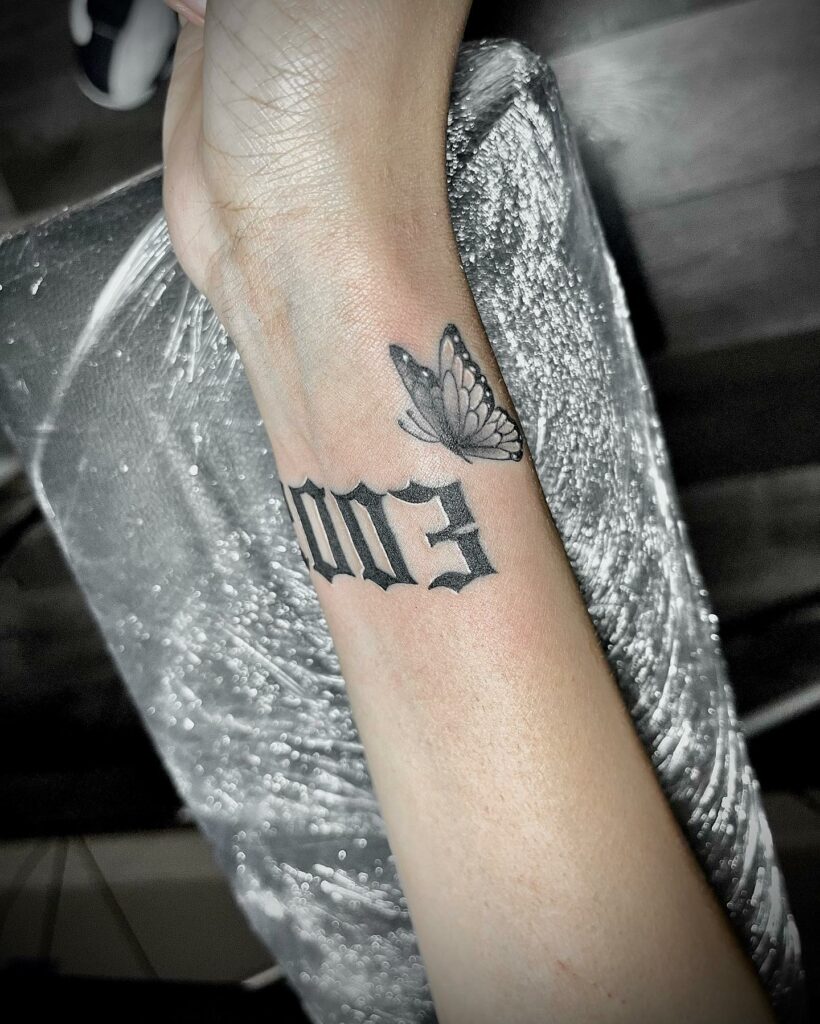 Are you in search of a tattoo that signifies positivity and fresh beginnings? If so, a butterfly tattoo featuring your birth year might just be the perfect choice.
Butterflies hold special meanings across cultures and are often associated with concepts like change, hope, comfort, and optimism.
This tattoo design beautifully captures the positive aura you radiate into the world.
Whether you're a parent commemorating your child's birth or simply wish to mark a significant year in your life, this tattoo offers a meaningful avenue to do so.
And if you're inclined towards adding a burst of color to your tattoo, consider infusing the butterfly with vibrant hues. This touch will enhance the natural beauty and lend an extra touch of liveliness to your tattoo.
Family Birth Year Tattoos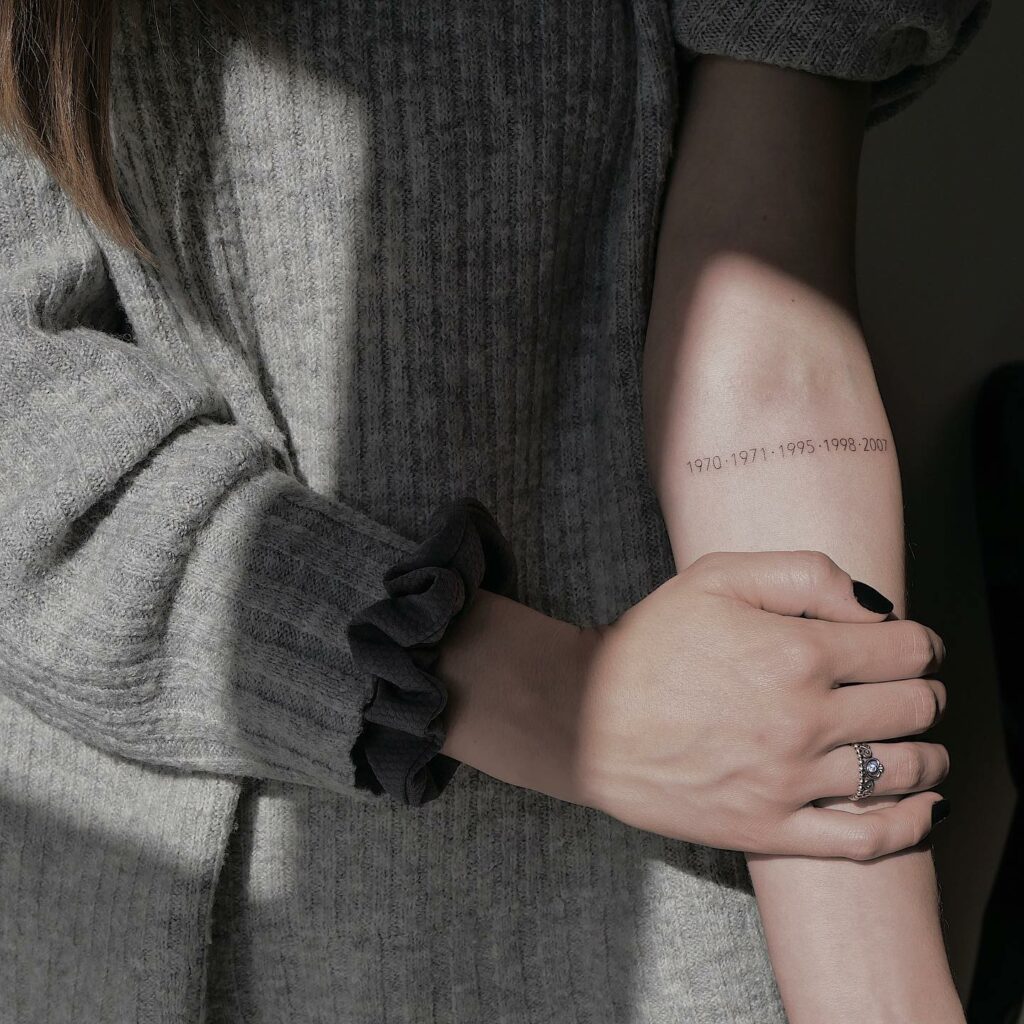 Are you seeking a special way to commemorate the birth years of your loved ones? How about considering getting their birth years tattooed? It's a beautiful and meaningful method to pay tribute to their existence and express your gratitude for them.
The best part is, Family birth year tattoo is also a unique gesture can become a lasting memory through a timeless piece of ink.
This design showcases the birth years written side by side and separated by dots, creating an aesthetically pleasing arrangement.
You also have the option to include symbols or elements that hold significance for each year, adding a personal touch. If you're looking for a single tattoo that celebrates multiple individuals, this concept could be exactly what you're looking for.
Interestingly, birth year tattoos have gained popularity worldwide. Even celebrities like Bella Thorne and Liam Payne have embraced this trend.
So, why not embrace the trend yourself and get inked with a birth year tattoo that holds deep meaning.
Know More About Birth Year Tattoo
What Is a Birth Year Tattoo?
A birth year tattoo involves incorporating the wearer's birth year into the tattoo design. This can be done using Roman or Arabic numerals, or even symbolic representations of the year.
Birth year tattoos are often used to commemorate significant life events or milestones, serving as reminders of personal journeys and experiences.
They can also be chosen for their aesthetic appeal, providing a unique form of self-expression. Whether celebrating achievements or honoring loved ones, birth year tattoos hold deep meaning.
What Are The Benefits Of Getting a Birth Year Tattoo?
Birth year tattoos offer several advantages. They serve as reminders of personal progress and age, inspiring reflection on accomplishments and future goals.
Additionally, they can celebrate special moments or people, acting as memorials or commemorations. Their simplicity and subtlety make them versatile additions to existing tattoo collections.
Moreover, birth year tattoos provide a canvas for creativity, with each symbol representing something unique to the individual.
How Do I Choose The Right Design For My Birth Year Tattoo?
Selecting a birth year tattoo design entails considering its representation and how you want to convey that meaning. You can choose symbols reflecting events or people, or opt for aesthetically pleasing designs. Online sources offer inspiration, customizable to your needs. Consulting a tattoo artist is also valuable, enabling exploration of diverse options and ensuring a perfect design.
What Is The Best Placement For a Birth Year Tattoo?
Birth year tattoo placement depends on personal preference and comfort. Common choices include the wrist, forearm, or rib cage, allowing visibility without excessive attention.
However, any skin area is suitable, determined by design complexity and size. Ultimately, the placement should provide easy visibility and appreciation.
How Much Does a Birth Year Tattoo Cost?
The cost of a birth year tattoo varies based on design complexity, size, artist experience, and location.
Generally, small tattoos start around $50, while larger designs may reach approximately $200. However, prices differ due to multiple factors. Consult a tattoo artist for an accurate cost estimation.
Conclusion
In conclusion, this collection of birth year tattoo designs offers a range of meaningful options to express your individuality.
From the symbolic Butterfly Birth Year Tattoo to the personal touch of a Wrist Birth Year Tattoo, each design carries its charm.
Whether embracing the challenge of a Ribcage Tattoo or celebrating family with Family Birth Year Tattoos, these designs capture life's moments beautifully.
Choose a tattoo that resonates with your essence, becoming a timeless reminder of your journey and loved ones.
FAQs
Q – What does the 1999 tattoo mean?
A – The 1999 tattoo typically symbolizes the wearer's birth year. It often represents gratitude for one's life and can serve as a reminder of their life's purpose and mission.
Q – Why do people have 1997 tattoos?
A – People often get tattoos with years like 1996, 1997, or 1998 to commemorate special events. These tattoos can mark the birth of a child, cherished memories, or historic events from that year.
Q – Why do people tattoo dates?
A – Tattooing dates can have various meanings. It often signifies a significant day in a person's life, such as important milestones, tributes to loved ones, or memorable events.
These tattoos outwardly express emotions and serve as a permanent reminder of meaningful moments.
More Birth Year Tattoo Ideas