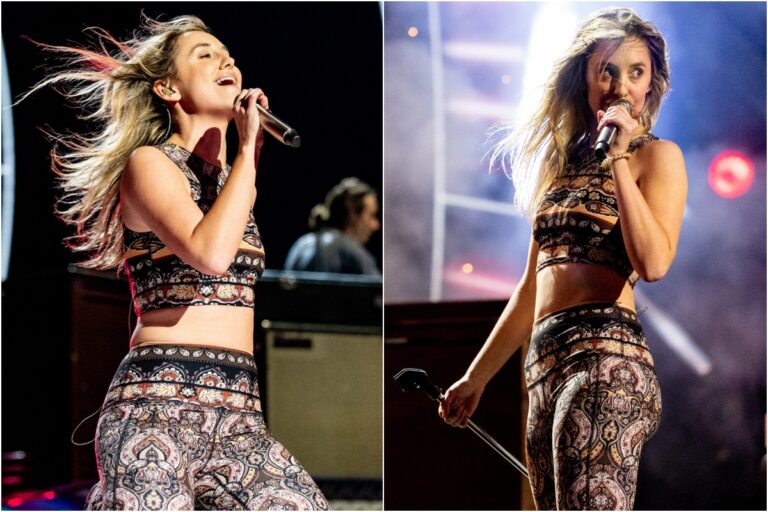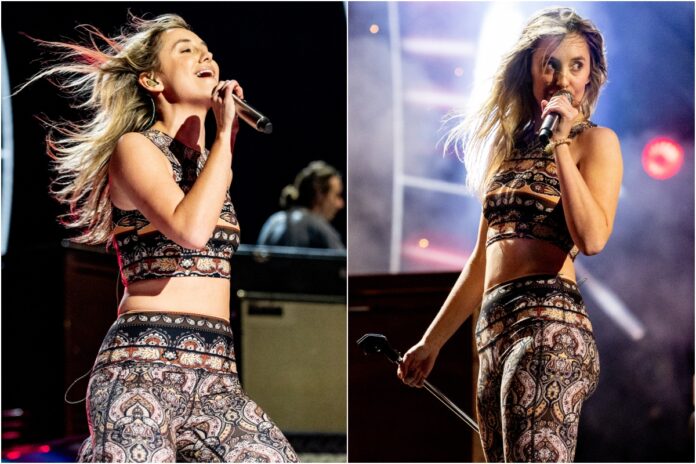 Lainey Wilson, the country singer, gained unexpected popularity in surprising ways. It was astonishing for her to discover that a TikTok video featuring her backside had gone viral. As a result, her rear end has become a trend of its own! In response to the mega-viral video featuring Lainey Wilson's backside, she cleverly used the "Lainey Wilson Dump Truck" meme.
In case you need to be made aware, Lainey Wilson kicked off her career in 2011 when she relocated to Nashville. She's worked with well-known artists such as Jason Aldean, Morgan Wallen, and Cole Swindell. Plus, her music has made its way onto the hit series Yellowstone.
But it's not just her music making her famous these days. Fans have noticed something else getting her a ton of attention online.
A video of Lainey Wilson performing at a concert has gone viral on social media. In the video, she's wearing these cool cheetah-print bell-bottom pants, and many people couldn't help but notice how great she looks in those pants.
I keep seeing this country singer named Lainey Wilson on TikTok and whew buddy pic.twitter.com/54pAHSSVSj

— Rusty Shackleford (@zmullis) December 19, 2022
Folks on the internet haven't stopped talking about Lainey Wilson's backside ever since!
The 30-year-old singer found it amusing that people online were excited about her behind. She went on Instagram to chat about this fantastic new trend. In a video, she mentioned that whenever she checks her TikTok feed, she notices her "curvy booty everywhere." However, she's genuinely happy that this has introduced people to her and her music career. This is what she shared:
"Whatever brings the people in, whatever brings the people in, but I'm just lettin' you all know, go check out my record Bell Bottom County. Happy to have you either way. However, you found me, and I'm happy. I'm happy you're here. And you all see what I did there with the bell "bottom" country see what I did? We didn't even plan that, but you know what? The Lord has a way of working things out."
The singer headed over to her official Twitter and posted a hilarious picture where she's riding a dump truck, but it's all been digitally edited. She even created a fake driver's license with details like her height, weight, hair colour, eye colour, and birthdate. It's all meant to be fun, and she made this meme because a dump truck can also be used as a playful way to talk about someone's rear end. As per Urban Dictionary, "Dumptruck" has this meaning:
A trending metaphorical term to describe a specific type of significant "booty." Dumptruck refers to a booty that typically exceeds the measurement of 40."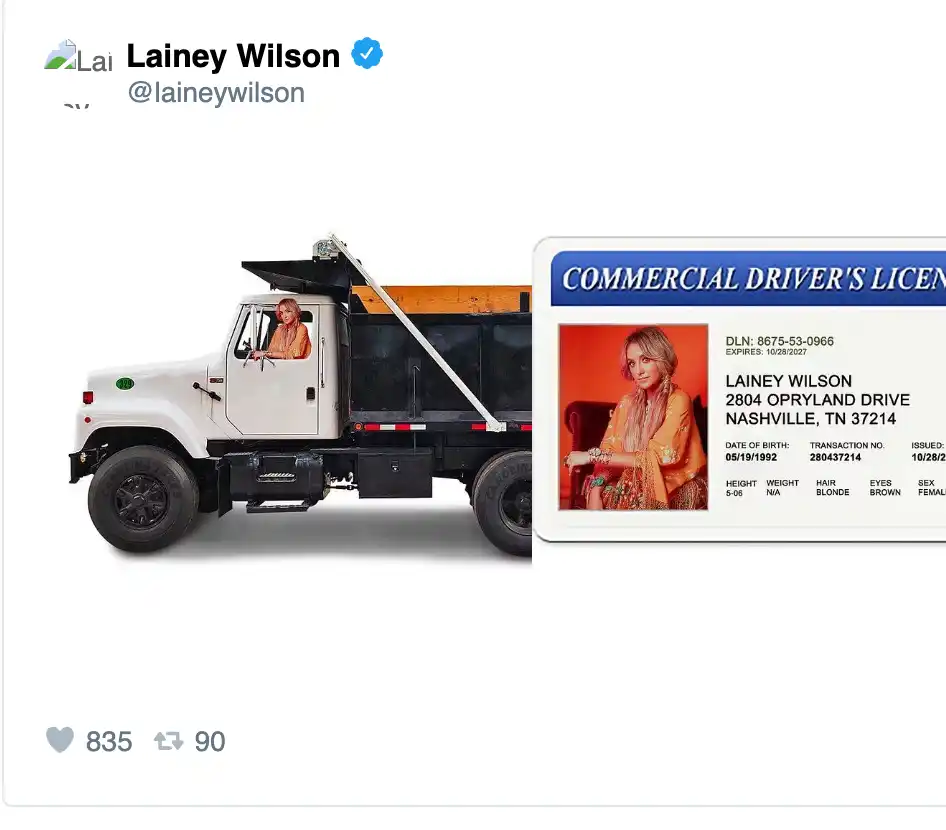 Folks online couldn't stop showering the singer with compliments about her great qualities and found the trend hilarious. Here are a few reactions from people:
As the singer gains attention online for some quirky reasons, Wilson appears to be having a fantastic year in her career. Not only did she release a new album, but she also scored the CMA awards for New Artist of the Year and Female Vocalist of the Year. And guess what? She even made her acting debut in Yellowstone, playing the role of Abby. She's rapidly becoming a big deal on the internet, excelling as both a singer and a budding actor.
Read More: Lainey Wilson Ass: Lainey Wilson Shares the Secret Behind Her Iconic Butts
FAQs
Who is Lainey Wilson's ex-husband?
To start, let's have a chat about Lainey Wilson's husband. You might have heard many people talking and sharing stories that hint she might have gotten married. But here's the real deal: Lainey Wilson has never tied the knot. She's still living a single life.
What is Lainey Wilson's age?
Lainey Wilson was born on May 19, 1992. Today, July 26, 2023, she has turned 31 years old.
Where is Lainey Wilson from?
Lainey Wilson was born in the small town of Baskin, Louisiana.
What is Lainey Wilson's height and weight?
Lainey Wilson stands 5 feet 6 inches, equivalent to approximately 167.5 centimetres. Her weight is about 61 kilograms, roughly translating to 134.5 pounds.
What is Lainey Wilson's net worth?
Lainey Wilson is known for singing and songwriting in the country music world. Based on what I've found on the internet, it's said that by 2023, she will have earned approximately $5 million from her music and songwriting, which is a sign of her significant success.
How much money does Lainey Wilson make annually?
Lainey Wilson earns approximately $500,000 annually, and this income comes from her music sales, touring, and endorsements.
What are some of Lainey Wilson's biggest hits?
Lainey Wilson's music has been an enormous success, with some of her most popular songs being "Redneck Woman," "Better than You Left Me," and "Things a Man Oughta Know." Due to their immense popularity, these songs have received gold or platinum certification from the Recording Industry Association of America (RIAA).
How old is Lainey Wilson?
Lainey Wilson was born on May 19, 1992; today, on July 26, 2023, she's celebrating her 31st birthday.