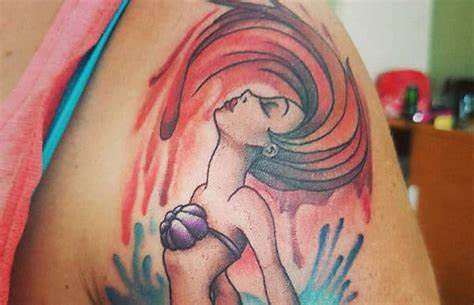 Mermaid tattoo is a profoundly popular choice in the tattoo world. They symbolize freedom and sexiness. The freedom to swim the beautiful, mysterious, and vast ocean without obstacles of the land-dwelling creatures. 
If you are someone who respects freedom and self-direction, then a mermaid tattoo is a perfect choice for you. Here is an article with all you need to know about mermaid tattoo meaning, history, and some popular mermaid tattoo designs.
History of Mermaid Tattoos
Understanding the history of mermaid tattoos will help you better understand the symbolism of mermaid tattoos. Mermaids are a popular ancient figure. You may have heard of mermaids in various folklores, stories, and legends. In legends, mermaids are often associated with open waters and sailors. Moreover, in most stories, mermaids are often imagined luring sailors with their appearance and beautiful singing.
Mermaids are remarkably mentioned in two ancient civilizations, Greeks and Romans. In Greece and Rome, mermaids were considered a big influence on the coastal empires. People in the Greek culture believed that the mermaids were created by the union of sea creatures and gods. Moreover, they believed that mermaids waited on rocks to try to lure the sailors to death.
The goddess Venus and Romans are related to mermaids. Moreover, it is believed that mermaids can only be seen in the full moonlight. Therefore, they only appear at dusk and disappear at dawn.
Mermaid Tattoo Meaning
Getting a tattoo on your body is a big commitment. Therefore, it is better to get a unique tattoo design with deep meaning as you never get bored of them. Some popular tattoo ideas with fascinating meanings are wolf tattoos, feather tattoos, and owl tattoos.
Now, if you are looking for a tattoo with amazing meaning, then a mermaid tattoo is the one for you. Mermaid tattoo meaning is deep and often associated with freedom and self-direction.
A mermaid is often considered a strong, independent, and self-directed female. Due to the relation of mermaids with the sea, a mermaid tattoo symbolizes creation, birth or rebirth, and nature also.
Moreover, in many folklores, mermaids are depicted as luring sailors, so a mermaid tattoo also represents seduction, danger, and sexuality. A mermaid is a magical and mysterious creature, so a small mermaid tattoo or mermaid tail tattoo might also represent mystery, freedom, and independence.
Mermaid tattoos with a mermaid and mirror in hand may represent self-worth and self-value. It is one of the popular self-love tattoos. 
Below mentioned are some common mermaid tattoo meanings. 
Independence
Freedom
Sexuality
Seduction
Self-Love
Mystery
Wildness
Intuition
Creation
Persuasion
Emotion
Mermaid Tattoo Designs
At the present time, tattoos related to the mysterious sea are in trend. Various tattoos like octopus tattoos, sea creature tattoos, and traditional ship tattoos are attaining remarkable attention among tattoo lovers.
Mermaid On the Rock Tattoo
In ancient times and civilizations, mermaids were compared to 'sirens.' This term is used to describe a beautiful creature with a beautiful and melodious voice that was used to lure sailors to death. An intriguing mermaid tattoo with a beautiful mermaid sitting on a rock in the middle of a vast ocean represents sirens.
In this tattoo design, a mermaid sits on a rock in the ocean, so it represents nature and intuition. Moreover, it also represents sexuality and seduction. Therefore, if you want something sensual, then this mermaid tattoo is for you.
Cartoon Mermaid Tattoo
If you love animations and cartoons, then adding an animated twist to your mermaid tattoo is a perfect choice. If you do not want a big tattoo, then you can have a small mermaid tattoo with an animated twist in it. In order to make the tattoo more unique and creative, add jewel-tone colors to it.
Get a slim, long-haired mermaid tattoo if you want to go with the flow. However, if you want to create something unique, then get a mermaid tattoo with a mermaid of any shape, size, or color. You can also get a mermaid tattoo with a beautiful mermaid swimming through the water.
Mermaid Tail Tattoo
In many cultures, mermaids symbolize the sacred feminine. They embody insight and awareness. A mermaid also symbolizes fertility and life in the ocean. Moreover, mermaids also embody the mysterious and destructive nature of water. They serve as an omen for unruly seas, storms, and disasters in many myths and legends.
A mermaid tail tattoo looks amazing when it is created with fine details and a unique design. It symbolizes freedom, beauty, and fertility. In order to make it more interesting, you can get a colorful mermaid tail tattoo.
Small Mermaid Tattoo
Minimalist tattoos are a popular trend at the present time. They look classy, stylish, and beautiful. It shows the enthusiasm of getting a beautiful tattoo on your body. Small mermaid tattoos are a popular choice when it comes to pretty finger tattoos.
You can get a little mermaid tattoo on your finger, wrist, and ankle. If you like small floral tattoos, then you can get a mermaid tattoo with a flower. Ask the tattoo artist to add fine details and beautiful curves to the small mermaid tattoo as it will help to create a stylish look.
Tribal Mermaid Tattoo
The primary feature of tribal tattoos is their antiquity. These tattoos are a unique choice and are usually found on the body of tribal people. If you are adventurous and love traveling, then tribal mermaid tattoos are something you should get.
Mermaid symbolizes freedom and independence as they freely roam in the ocean without any fear and obstacles. If you love freedom and uniqueness, then a tribal mermaid tattoo is a combination of both of them.
A tribal mermaid tattoo in black color will look amazing. You can get it inked on the lower back, arm, or thighs.
Ariel Tattoo
Ariel is one of my favorite Disney characters. The brave nature, free-spirit, and hairs were amazing characteristics of the little mermaid. Ariel is a character from 'The Little Mermaid' movie. This movie was released in 1989, and it was based on a fairy tale. The movie was a great hit, and due to this, Ariel became a famous animated Disney figure.
If you want a colorful mermaid tattoo, then Ariel tattoo is a perfect choice. Trust me, A beautiful mermaid with red hair, green tail, and blue eyes will look amazing.
Ariel is a free-spirit mermaid. A mermaid tattoo of Ariel symbolizes beauty, sensuality, dual nature, and young power with amazing powers. Some popular variations of Ariel tattoo include Ariel and Prince Eric, Ariel with her father, and Ariel and Ursula tattoo.
Black and White Mermaid Tattoo
Simple black and white tattoos look amazing when created precisely. One best thing about black ink tattoos is that they do not fade easily, as black ink lasts longer. A black and white mermaid scale tattoo will look simple and artistic at the same time.
You can get this tattoo of any size. However, when getting a big mermaid tattoo, ask the artist to introduce fine details to the tattoo. A black and white mermaid tattoo symbolizes beauty in simplicity. It also represents freedom and uniqueness.
Watercolor Mermaid Tattoo
At the present time, watercolor tattoos are a great trend. They are the best way to self-expression. Watercolor tattoos provide a cool and vibrant look. A watercolor mermaid tattoo is an amazing choice.
You can get a watercolor tattoo of a mermaid holding a fishbone comb or seashell jewelry. It looks not only beautiful but also symbolizes feminine strength and power. You can also get a mermaid scale tattoo with a mermaid holding mirrors. It represents self-love and strong self-esteem. If you want something unique, ask the tattoo artist to show moving sea waves with a mermaid's breath. It will show the natural powers of mermaids.
Make sure to visit a skilled and experienced tattoo artist to get a watercolor mermaid tattoo. Watercolor tattoos require perfection and preciseness, so the person making them should be skilled enough.
Abstract Mermaid Tattoo
If you are someone who loves art pieces with deep meanings, then an abstract mermaid tattoo is the one for you. One best thing about abstract art is that it is not confined to boundaries. It symbolizes creativity and artistic freedom. Getting an abstract mermaid tattoo will allow you to capture the beauty of this tattoo perfectly.
This mermaid tattoo meaning is deep as the abstract art form is full of symbolism and meaning. An abstract mermaid tattoo represents freedom, sensuality, and self-direction.
Anchor Mermaid Tattoo
If you are someone who loves the sea, then a mermaid holding an anchor is the right tattoo for you. An anchor symbolizes peace, strength, passion, and determination. On the other hand, a mermaid symbolizes wildness, sensuality, and mystery. Anchor mermaid tattoos is an amazing choice if you want something unique and mysterious.
Mermaid Quotes Tattoos
Word tattoos are one of the most popular tattoo trends. A word tattoo with the correct word or quotes looks amazing. It not only allows you to make a strong style statement but also helps to express yourself in a better manner. You can get a mermaid quote inked on your body to better express your thoughts and feelings.
Word tattoos are perfect for reminding how a single quote can help to spread a powerful message. Make sure to choose the right tattoo placement idea as a placement plays an essential role in word tattoos. For instance, a word tattoo on your chest means writing something closer to you. Below mentioned are some popular mermaid quotes that you can get inked on your body.
Be a mermaid and make waves.
I have a mermaid soul.
There are millions of fish in the sea, but I'm a mermaid. 
Soul of a mermaid
I don't want to be a princess.. I want to be a mermaid.
Final Words
Mermaids have a dual nature. They are considered spiritual and beautiful. On the other hand, they also contribute waves and deadly storms, so they also symbolize destruction. Mermaid tattoos look amazing when created with details and precision. These tattoos symbolize freedom, sensuality, wilderness, and self-love. Now, get a mermaid tattoo, and do share your experience with us by dropping a comment.