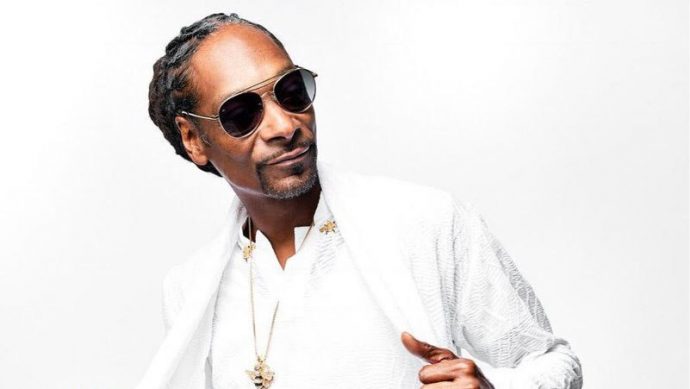 Snoop Dogg net worth- $150 million
Age- 48 years
Native- U.S.A.
Born- October 20, 1971
Profession- Rapper
Snoop Dogg is a professional rapper, songwriter, singer, media personality, producer, actor, and entrepreneur with a net worth of $150 million. Snoop Dogg started his music career in 1992 when Dr. Dre discovered him. Today, he is one of the wealthiest and successful rappers to come out of the 1990 s rap scenario and is one of the few who is still recording songs.
The Early Life of Snoop Dog
Snoop Dogg was born as Cordozar Calvin Broadus on October 20, 1971, in California. His parents Beverly and Vernall, split three months after his birth. He was nicknamed Snoopy by his mother and stepfather due to his love for cartoon characters from peanuts.
Snoop started singing and playing piano at a very young age in Golgotha Trinity Baptist Church. He started rapping when he was in sixth grade. Snoop used to sell candies, bagged groceries, and delivered newspapers as a child to help his family in finances. His mother made the best efforts to keep him indulged in singing, playing football so that he does not take part in gang banging and street feuds. However, he started all the alleged activities in his teenage years.
Snoop was one of the members of the Rollin' 20s Crips gang from the Eastside of Long Beach. He was once arrested for possession of cocaine after graduating high school. He was frequently in and out of jail for the next three years.
Snoop Dogg, along with his cousins Lil ½ Dead, Nate Dogg, and friend Warren G used to record some homemade tapes and identified themselves as 213. One of the early solo freestyle songs of Snoop Dogg is "Hold On," which eventually wound in the hands of Dr. Dre.
He was super impressed and invited Snoop to an audition and welcomed him to N.W.A. affiliate The D.O.C. he taught him to build verses, chorus, hooks, and structure lyrics.
Snoop Dogg Career
Dr. Dre produced the first album of Snoop Dogg in 1993 named "Doggystyle" by Death Row Records. The album was at number one position on Billboard 200 and Billboard Top R&B/ Hip-Hop Albums charts. This album produced many hit singles, including "Gin & Juice" and "What's My Name?". Snoop's second album came out in 1996, and it also debuted at number one position on both Billboard charts.
For the next three albums, Snoop signed with No Limit Records and left Death Row. He released "Da Game Is To Be Sold, Not To Be To Be Told" in 1998 and "No Limit Top Dogg" in 1999, and "Tha Last Meal" 2000s.
Later he signed with Capitol/Priority/E.M.I. records in 2002 and released a new album, Paid Tha Cost To Be Da Boss. In 2004 he signed with Geffen Records and released R&G (Rhythm & Gangsta: The Masterpiece, Ego Trippin, That Blue Carpet Treatment, Doggumentary, Malice' n Wonderland.)
Snoop Dogg also coaches a high school football team and youth football league. In 2009 Snoop was hired as the Chairman of Priority Records by E.M.I. In 2012. After returning from a trip to Jamaica, Snoop announced that he had converted to Rastafarianism and was to be addressed as Snoop Lion. He came out with a reggae album named "Reincarnated" and released a documentary about Jamaica's experience.
In 2015, Snoop Dogg released Bush, and in 1028 he again announced that he was born again Christian right before the release of his album "Bible of Love." In 2019 he released his seventeenth solo album, "I wanna Thank Me."
Snoop Dog has also directed several adult films and appeared on films and television, both as real and fictional. He was also a host of many T.V. shows like Snoop Dogg's Father Hood, Doggy Fizzle Televizzle, WrestleMania, Dogg After Dark, and Snoop and Martha's Potluck Dinner Party.
He has several commercial endorsements, including Chrysler 200, Boost Mobile, St. Ides, and Orbit Gum; he also lends his name to his own malt liquor along with the Snoop Dogg Board Company, Snoop Dogg's footlong Hot dogs, and many clothing lines. All this combined make a major contribution in Snoop Dogg net worth.
Read More:- Check Out The Net Worth Of Eminem, The Rap God.
Sneak Peak of Personal Life:
Snoop married his high school sweetheart on June 12, 1997, Shante Taylor. The couple got a divorce in May 2004 and reunited again to renew their wedding vows in January 2008.
The couple has three children: two sons (Corde -1994, Cordell – 1997) and a daughter (cori- 1999). Snoop Dogg also has a son from his relationship with Laurie Helmond in 1998 named Julain Corrie Broadus. He became a grandfather in 2015 when his son Corde had a baby with his girlfriend.
Snoop Dogg's first cousin Brandy and Ray J are R&B singers as well as professional wrestlers at Sasha Banks. Since the beginning of his career, he has been a chain smoker and made it a trademark of his public image.
In 2006, Snoop claimed in an interview that he was a professional pimp from 2003 to 2004, saying, "That shit was my natural calling, and once I got involved with it, it became fun. It was like shootin' layups for me. I was makin' 'em every time." He eventually gave it up to spend more time with his family.
Snoop partners with city officials and gives away turkey annually to the less fortunate in Inglewood, California, at Thanksgiving. In 2016 he gave away 3000 turkeys.
Salary Highlights:
Below is a breakdown of Snoop Dogg's earnings from 2007 to 2018. This is a big contributor in Snoop Dogg net worth.
2007 – $17 million
2008 – $16 million
2009 – $11 million
2010 – $15 million
2011 – $14 million
2012 – $9 million
2013 – $10 million
2014 – $10 million
2015 – $10 million
2016 – $13 million
2017 – $17 million
2018 – $15 million
2019 – $15 million
Total: $157 million
Real Estate:
Snoop Dogg sold his 6,527 square foot, eight-bedroom Mediterranean style home in California for $1.83 million in 2007. He bought this house in 1994 for $660,000 and moved out in 2000. He also owns a house in a diamond bar spread in 3,808 square feet with four bedrooms, which he bought for $720,000.
Snoop Dogg Famous Quotes:
Take a look at some of the classic Snoop Dogg quotes.
 "When I'm no longer rapping, I want to open up an ice cream parlor and call myself Scoop Dogg." 
"If the ride is more fly, then you must buy." 
"If it's flipping hamburgers at McDonald's, be the best hamburger flipper in the world. Whatever it is you do, you have to master your craft."
"It's so easy for a kid to join a gang, to do drugs… we should make it that easy to be involved in football and academics."
"Well, hip-hop is what makes the world go around." 
"I love making music, and I'm falling in love with making records, so it's like having two girlfriends. But I can handle it." 
"That's how we do it in the black community; we give back to the people who made us who we are. We never forget that." 
 "You've got to always go back in time if you want to move forward." 
"I just change with the times. I really don't have a say in what's going on. Music was here before me." 
"I like going to areas where the murder rate is high and dropping it."