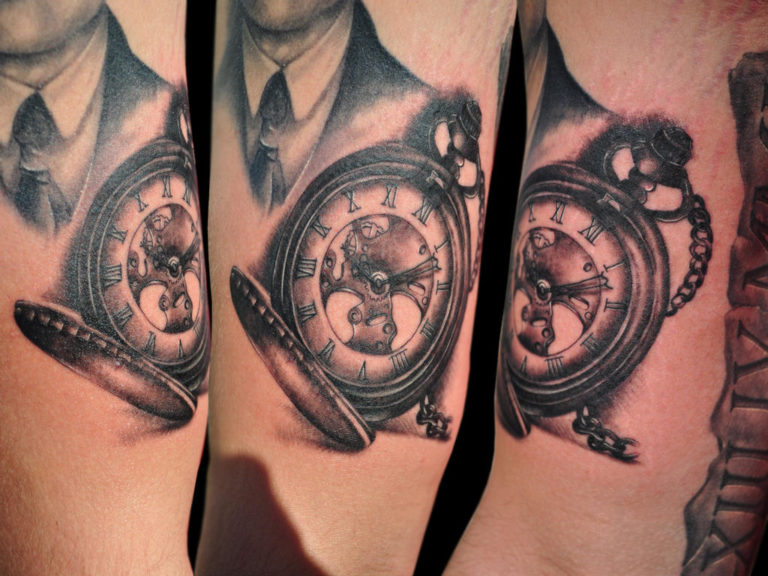 Are you looking for a tattoo design that is fascinating both symbolically and visually? If yes, then the clock tattoo design is the best choice for you. With the increasing trend of time tattoos, clock tattoo ideas are gaining remarkable popularity.
Time is an exceptional tribute that we can obtain and provide. We never get the time back; it is essential to spend time doing things you love. Clock tattoo is the best way to remind yourself of the importance of time. Here is an article with the best clock tattoo design ideas to help you find the best one for you.
Clock Tattoo Meaning
A clock tattoo design can represent a wide range of meanings. Though they represent time, they also symbolize much more. Always keep in mind that your tattoo always symbolizes what you want from it. There are various clock tattoo meanings, below mentioned are some meanings associated with a time tattoo or clock tattoo.
Time
A special moment
Incarceration
Stability
Life or mortality
Existence
Death
Structure
Infinity
Endless love
Time
What is the meaning of a clock for you? The clock symbolizes a wide range of meanings, but the most important one is time. A clock tattoo reminds us that time is limited, and we should live life adequately with each passing moment. It symbolizes that time never stops for anyone.
Endless Love
If you are thinking about clock tattoo meaning, then endless love is one of them. Yes, you read it tight. A clock tattoo design also represents endless love for someone. It could be the love for your partner or the love that parents have for their children. Some common symbols included with clock tattoo design are heart, angels, stars, dove, and flowers. All these collectively represent endless love.
Life and Death
Generally, time clock tattoo ideas symbolize life and death. Time is something that never stops, and people often forget this fact. Some day, our short time here will come to an end. Clock tattoo ideas can be designed to represent this understanding.
A clock tattoo design that represents life can incorporate several liming elements like roses or flowers. The time tattoos that represent death can include fires, skulls, or the grim reaper.
Inspiration
One of the most valuable meanings of clock tattoo design is an inspiration. A clock tattoo inspires to stay motivated and understand the importance of valuable time. You can make the tattoo design more meaningful by including motivational quotes such as "Make every second count."
Seize the Day
All of us live our everyday lives without thinking that time is not endless. We often look at the clock to check the time, but how often do we think about the actual meaning of time for us?
The clock is one of the most beautiful symbols of life and death. Countless lives have come and gone while the arrow of time marches continuously. This time will continue to pass even when our species have disappeared, and all our works will be nothing more than dust.
Therefore, we should try our best to seize the time. It does not mean stopping the clock you are wearing. The notion means that we should try to make the most of our time as it is limited.
Personal Freedom
We all are trapped within the time as well by the time. A clock tattoo also represents freedom. We all understand very well that we can never escape time boundaries, but we should experience personal liberation and a sense of freedom.
Breaking a little bit of the busy everyday routine and enjoying it can lead to personal liberation, which means a better life.
We all know about the limited time of life. All the things in this world, including our life, will come to an end someday. If we understand this, it allows us to rise above the everyday life march. A clock tattoo design is the best reminder of this fact.
Timeless Clock Tattoo Design and Ideas
You can get a clock tattoo to incorporate a wide range of symbolic and meaningful elements. There are different types of clocks that provide different tattoo designs. This makes it easy to create personal and unique tattoo designs.
Time has an amazing and extraordinary message, and the notion is one of the best components of life. If you are looking for a tattoo design that never loses its deep meaning and strength, then a time tattoo is a perfect choice. We have rounded up a list of the best clock tattoo ideas to help you find the best one for you.
Black and Grey Clock Tattoo Design
Black and grey tattoos are one of the most popular and classic tattoo choices. A time tattoo or clock tattoo design makes an excellent choice, and they look highly amazing in black and grey ink. This clock tattoo design is an amazing choice to create a classic appeal and fine elegance. The best thing about the black and grey clock tattoo design is the deep symbolism associated with it. This tattoo design is best to remind you of the importance of time with each passing moment. It represents inner strength and desire to live every moment happily.
You can add various attractive symbols to this tattoo design, like some important date. Name of your favorite person. Moreover, you can also add the things you love like music notes or flowers.
Melting Clock
It is one of the classic images that appear in paintings of Salvador Dali. It represents a dynamic and delusional experience of time. A melting clock tattoo design can represent a surrealist moment.
If you are looking for some amazing time-clock tattoo ideas with surrealism, then this is the one for you. It can also represent the time passed with every passing moment.
Butterfly Clock Tattoo
Colorful, delicate, and bold butterfly tattoos look highly appealing. It is a fascinating tattoo design for both men and women. Adding a clock to a butterfly tattoo design can make it more attractive.
A butterfly tattoo represents endurance, hope, resilience, and change. It can converse with the emotions of everyone effortlessly. No matter where we are, time passes the same way; the clock signifies this exceptional meaning.
We can include various elements in a clock tattoo design, but combining it with a butterfly tattoo is the best way to create a timeless and classic piece. This tattoo is the best to express deep-felt emotions without the use of any words. Moreover, it also represents the freedom to fly without the foundations of time.
Broken Clock Tattoo
A broken clock is one of the popular clock tattoo ideas. It symbolizes a delusion sense of time and disregard for a structured time passage. A broken clock also represents freedom. It is one of the symbolically powerful designs of all time tattoos. It upholds a deeper meaning.
A clock tattoo represents an understanding of the finite nature of existence. However, a broken clock tattoo symbolizes the indifference of the wearer towards this aspect of life. It represents that the wearer believes in living the moment and values the experience. Moreover, it casts the importance of counting time to the wayside.
Wrist Watch
When it comes to a person's life, time is one of the most requisite elements, and a clock is used to estimate time, so it is an essential element. Pictures of a clock tattoo speak one's exemptions and temperament.
A wristwatch tattoo is one of the most popular clock tattoo designs. This miniature tattoo is highly appreciated due to its amazing significance. It has a unique significance that helps to partner it with the importance of valuable time.
Skull Clock Tattoos
If you are looking for a unique clock tattoo design, then you should try the skull clock tattoo design. Skulls are the ultimate representation of mortality and are a common element in tattoo designs. Skull tattoos are a popular choice among people, and they represent a wide range of meanings.
A skull tattoo represents rebellion, mortality, equality, courage, and victory. When skull tattoos are incorporated in a clock tattoo design, they get an amazing significance. Everyone is racing against time; a skull clock tattoo design is the perfect way to show that you are aware of the limited time in this world.
Abstract Clock Tattoos
Abstract art is not only amazing but also one of the fascinating art forms. It is one of the most profound aspects of humanity, and it shows that we are able to observe things and meanings in a creative way. Abstract art is the best to provide the meaning and creation of complex ideas in a better manner.
Applying abstract art to clock and time tattoo can lead to the creation of the most beautiful art with deep meaning. In order to get an abstract clock tattoo, you can combine the clock tattoo with animal designs, bird tattoos, owl tattoo designs, or other meaningful symbols. A clock tattoo combined with an owl tattoo represents mystery, secrecy, wisdom, and insight.
Pocket Watch Tattoo
Pocket watches were once considered a symbol of wealth and luxury. Most of the bespoken gentlemen used to carry and display this beautiful and ornate timepiece as a type of functional jewelry. People who skill manage a connection between time and luxury carry these beautiful timepieces.
Getting a pocket watch tattoo is an amazing idea. It allows the creation of a fascinating tattoo design with deep meaning and symbolism. This tattoo design shows one's love and respect for classic and antique things. Moreover, it also represents unique situations in a person's life.
This time clock tattoo design also conveys the importance of time, a person, or a specific event. It also signifies love for a particular moment and defiance.
Antique Clock Design
Old trends are returning and becoming the latest trends. The antique clock tattoo design is the best way to show your love for antique things. It is a timeless tattoo design with deep meaning and symbolism. Trust me; you will never regret this tattoo design.
In order to get an antique clock tattoo, you can get a grandfather clock design. This vintage design is best to represent ties to a person's past or nostalgia for the good old days.
Rose and Clock Tattoo
Nothing can match the beauty and symbolism of a rose tattoo design. Roses are considered a symbol of love, hope, happiness, and prosperity. They are timeless beauty that never fails to delight. Combining a rose tattoo with a clock tattoo design can help to create an amazing tattoo design.
Roses are often associated with fidelity and romance. Adding a rose to a clock will not increase the beauty of the design but also the significance associated with it. This tattoo design represents everlasting love. It shows that nothing can end your love.
Clocks and Geography Tattoos
Though clocks are used to interpret time. Incorporating clock tattoo design with geography can create a beautiful tattoo design. It represents the quest of the wearer for knowledge. Combining maps and clocks is best to show your passion for travel and knowledge. Either get this design in black or grey ink or in colorful ink; it creates an amazing art piece.
Final Words
If you are looking for a classic time tattoo, then you should get a clock tattoo. It is an amazing design with deep meaning. A clock tattoo design is the best reminder to give yourself the valuable gift of time. It is also a reminder that time is limited, so we should use it wisely. Other popular meanings associated with a clock tattoo include incarceration, life and death, existence, stability, and endless love. What does a time tattoo represent for you? Tell us about it by dropping a comment.