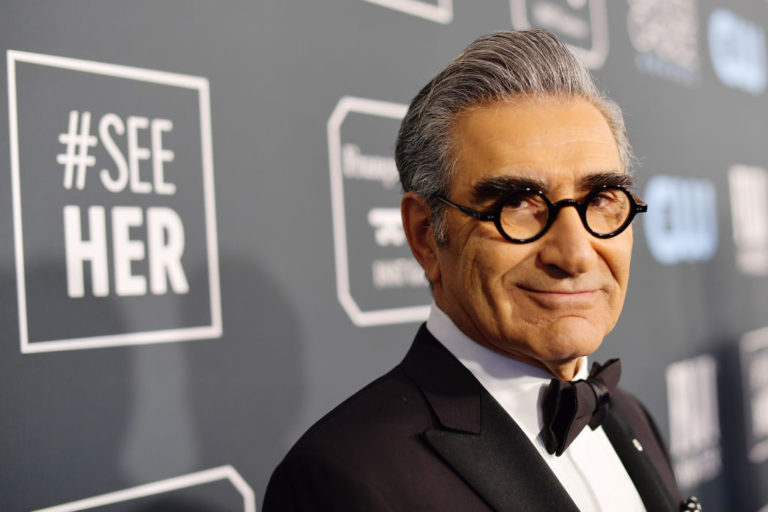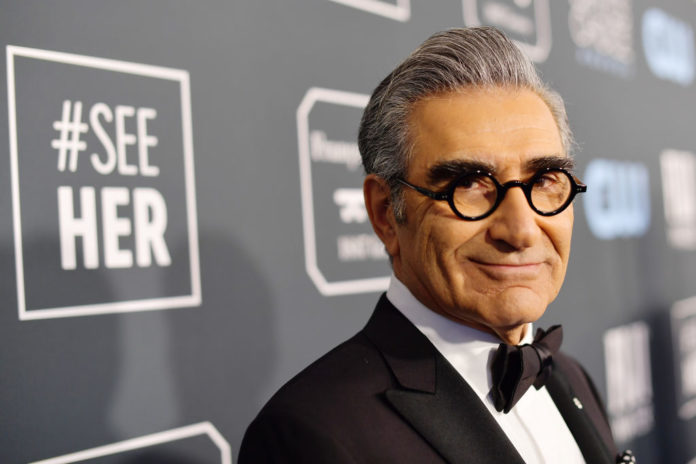 Eugene Levy net worth 4.4k
Eugene Levy Net Worth- $20 Million
Gender- Male
Date of Birth- December 17, 1946
Profession- Television, Actor, Screenwriter, Director, Musician, Comedian, Songwriter, Voice Actor, Film director, Film Producer
Nationality- Canada
We all know Eugene Levy as Johnny Rose from an epic show "Schitt's Creek". The 74-year old actor is now bigger and wealthier than ever before. If you want to know about Eugene Levy net worth, his early life, and his success story, then keep reading this article.
Eugene Levy Net Worth:
Eugene Levy is a Canadian comedian, actor, writer, and singer with a net worth of $20 million. He is popularly known for his appearance in "American Pie" and "Schitt's Creek." He co-created the tv series Schitt's Creek with his son Dan Levy who is also in the starring role.
Early Life Of Eugene Levy
Eugene was born on December 17, 1946, in Hamilton, Ontario, Canada, to parents David Levy and Rebecca Kudlatz. His mother was from Scotland who later emigrated to Canada, and his father worked as an automobile plant foreman. Eugene attended McMaster University, where he was a member of the student film group McMaster Film Board. In the same film group, he met Ivan Reitman, the future movie collaborator.
Early Career:
From 1972-1973 Eugene worked in Toronto musical production "Godspell" at the Royal Alexandra Theatre. This is the same production company that launched many actors and performers, including Martin Short, Gilda Radner, Andrea Martin, Paul Shaffer, and many others.
After the production became extremely popular, the show moved to the Bayview playhouse in Leaside. This popular show has run more than 488 performances. After graduating from college, Eugene joined "The Second City" sketch group and television. One of his popular roles on SCTV is nerdish and dimwitted Early Camembert, as a news anchor for SCTV News. This character was an actual parody of the real-life Canadian news anchor Earl Cameron. Some other celebrities impersonated by Eugene are Alex Trebek, Perry Como, Howard Cosell, Sean Connery, Henry Kissinger, Howard Cosell, Gene Shalit, Milton Berle, John Charles, Tony Dow, Judd Hirsch, Janes Caan, rex Reed, Lorne Greene, Earnest Borgnine, and many others.
Eugene also played a few original characters like Woody Tobias Jr., Bobby Bittman, Al Peck, Stan Schmenge, and others. He has featured in various films but has been the star actor in only two films, "The Man" 2005 and "Armed and Dangerous" 1986. Eugene's first film was playing a small role of Coffee Boy in "Foxy Lady" in 1971. From 1980 to 1990, he has appeared as a guest actor in various comedy classics like "Splash," "National Lampoon's Vacation," "Stay Tuned," "Club Paradise," "Father of the Bride," "Serendipity," and "Father of the Bride II."
Eugene also appeared in "Waiting For Guffman" in 1996. He was also a writer on the "Guffman," directed by Christopher Guest. He has also made various memorable appearances on many other Guest films like "A Mighty Wind" 2003 and "Best in Show" 2000. In the former movie, he played Mitch Cohen's role, a folk singer who is emotionally unstable. This role won him several recognitions and awards, including Satellite Award for Best Supporting Actor in Comedy or Musical and also New York Film Critics Circle Award for the best supporting actor. Eugene was the creator of a popular Tv sitcom, "Maniac Mansion," based on the LucasArts video game with the same name.
Read More:- Scarlett Johansson AKA The Black Widow's Net Worth
Success Measure:
Eugene Levy became a popular household name in 1999 after making an appearance in "American pie" as Jason Bigg's father. He appeared in all the installments of the "American Pie" franchise, including several Direct-to-DVD. Eugene is the only actor who has worked in all the American Pie series.
For the first part of American, Pie Eugene earned $1 million, for the second part $3 million, and for the third $5 million. His earnings for American Pie 4-8 are not known.
Eugene played roles in "Bringing Down the House", "Cheaper by the Dozen 2, "Night at the Museum: Battle of the Smithsonian", "Like Mike," "She's Funny That Way," and "Goon". He was the voice actor for Charlie in "Finding Dory" in 2016. In 2015 he co-created a hit Tv series along with his son Dan named "Schitt's Creek." Eugene plays the role of Johnny Rose, the head of the Rose family. The show has a total of six seasons with 82 episodes between 2015- 2020. Dand and Eugene also served as stars, writers, and executive producers for the show. Eugene's brother Fred Levy is the producer on the show.
Schitt's Creek is a major contributor to the career success of Eugene Levy and also his net worth.
Awards & Accolades
Eugene Levy has been nominated for various awards; like Grammy for the "Best song written for a motion picture, television, and other visual media," song's name is "A Mighty Wind." He has one star on Canada's Walk of Fame and received five Canadian Comedy Awards till now. Eugene Levy has won Emmy Awards two times for Outstanding Writing in Music Programs for SCTV Network 90.
The sixth and final season of "Schitt's Creek" was nominated for 15 Primetime Emmy Awards in 2020. This is the first show to break the record for the most number of nods given to a comedy series in the final season. Schitt's Creek the first-ever comedy series to sweep all other acting genres and got both father and son awards for Outstanding Lead Actor and Outstanding Supporting Actor. The show has also been awarded the prize of "Best Comedy Series."
Personal Life:
Eugene levy married Deborah Divine, a writer, in 1997. They kept moving between Los Angeles, Canada, and Florida. The couple has two kids, a son named Dan and daughter Sarah, who is playing the character of Twyla on Schitt's Creek.
Levy and late actor John Candy were very close friends. Catherine O'Hara, the actress playing the role of Eugene's wife on Schitt's Creek, is also a close friend to the Levy Family. Catherine and Eugene have been co-stars on various projects for numerous years.
Eugene is very active in spreading awareness about autism and its treatment. He is also a member of the Canadian charity Artists Against Racism.
Real Estate:
Deborah and Eugene bought a home in the LA Pacific Palisades neighborhood for $2.4 million. The couple also owns a home in Toronto, Canada. After all, Eugene Levy has earned enough net worth by working in several successful Tv series and movies.
Read more : What Is Marilyn Manson Net Worth?
Eugene Levy Quotes:
I am the common man. I'm polite, I love my family and I play by the rules. And sometimes I get pushed around. That's my lifestyle, and that's what I try to bring to characters.
I think I'm the only actor in the history of film who got to slap Sam Jackson on the face and butt and lived to tell about it
At the end of the day, even if my part is a bit goofy, the key thing is that I'm doing what I love to do, and that's to make people laugh.
I don't believe I've ever played a hip dude. I don't think I would have the wherewithal to do that.
At the end of the day, the numbers that we're hearing are not going to be totally correct or not correct at all.
I can't do comedy that is cutting and vicious. If I knew I'd said something that was going to make someone feel bad, well, that supersedes everything.
One of the biggest misconceptions about me is that I'm a comedian, which I'm not. A comedian is someone who can stand up in front of an audience and make you laugh. I've never done stand-up and I never will. I'm a comic actor. My comedy comes through my characters.
I'm not a joke guy; I'm not a stand-up comic.
I like to have a regimen. I don't like to be fancy free.