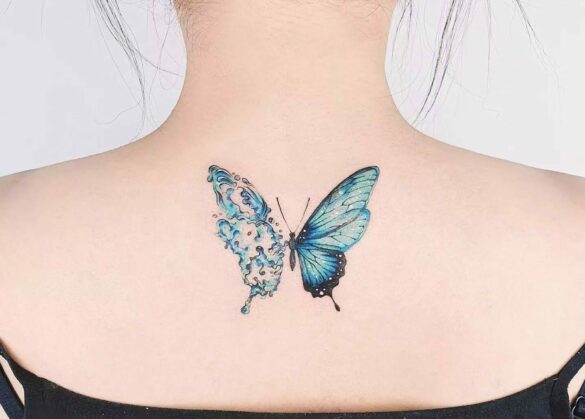 Are you searching for a tattoo design that's wonderfully feminine and truly beautiful? Well, your quest might just find its answer with butterfly back tattoos.
These designs are incredibly popular and adored by those who want them and the skilled tattoo artists who create them.
Butterflies are renowned for their vibrant colours, captivating appearance, and profound symbolism throughout history.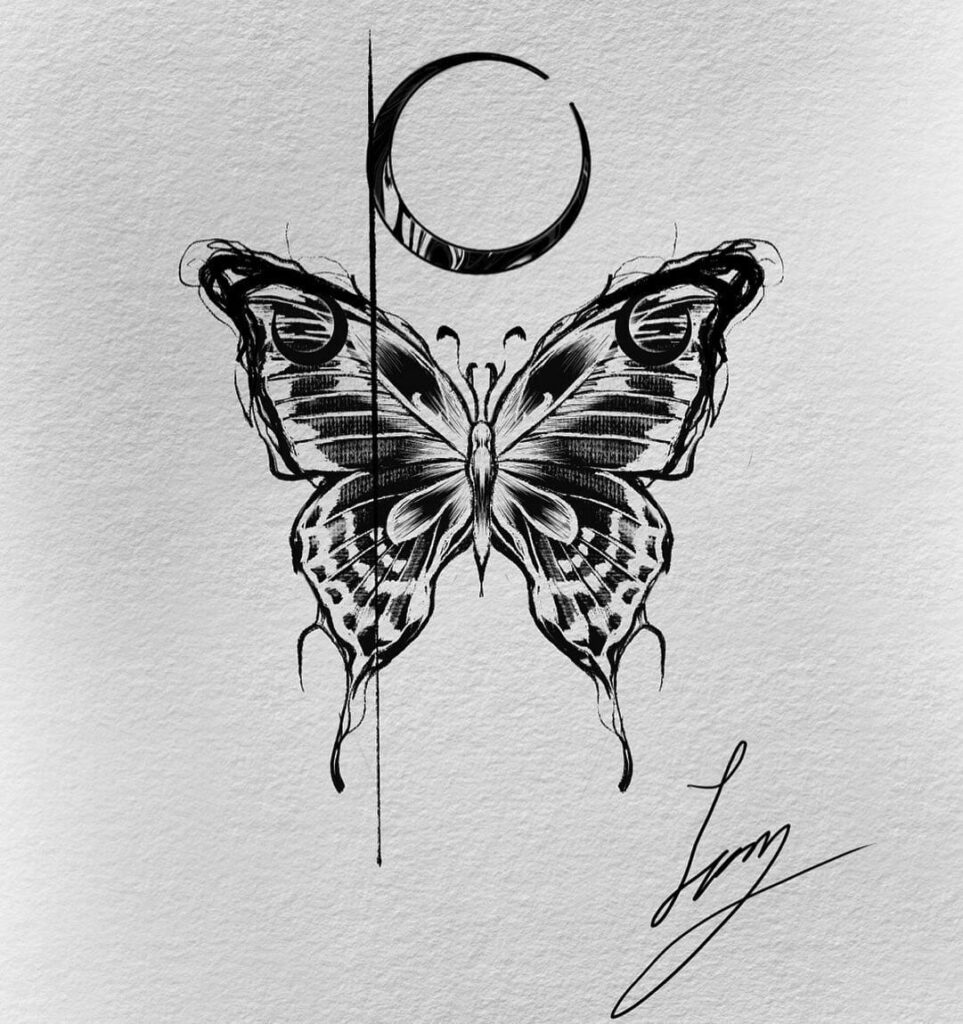 Were you aware that butterflies undergo an extraordinary transformation from being caterpillars? This process serves as a potent symbol for an individual's journey from difficult times to brighter ones.
Distinct cultures hold varying interpretations of butterfly tattoos – for example, in China, they signify joy and grace, while in Japan, they're associated with weddings.
Given the multitude of meanings and design options available, we've compiled a selection of the finest butterfly back tattoos designed to spark your imagination. So, let's explore the captivating world of butterfly tattoos together.
Cute Butterfly Tattoo In Black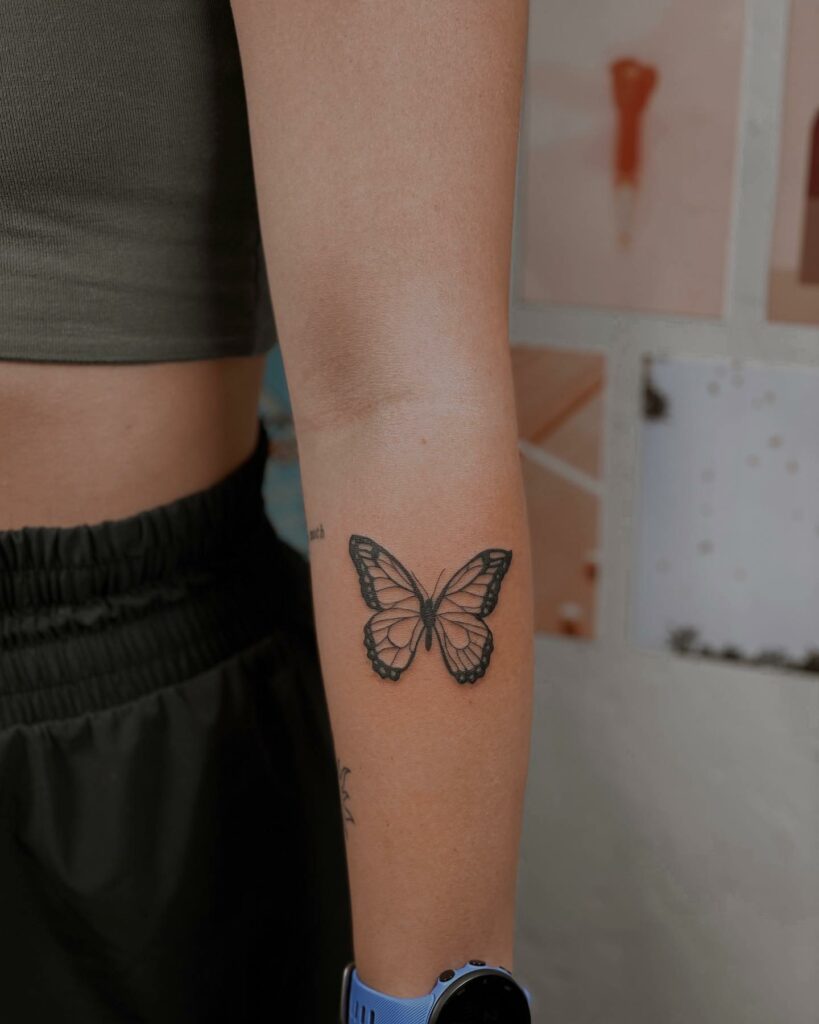 Embracing the allure of simplicity, the Cute Butterfly Tattoo In Black captivates with its understated elegance. Classic black ink serves as a backdrop, allowing the delicate intricacies of the butterfly's wings to stand out prominently.
Although typically associated with hand placement, this design transcends boundaries, making it an equally enchanting option for a back tattoo suitable for both men and women.
If you're in search of a timeless and classic tattoo, this exquisite butterfly design holds undeniable appeal.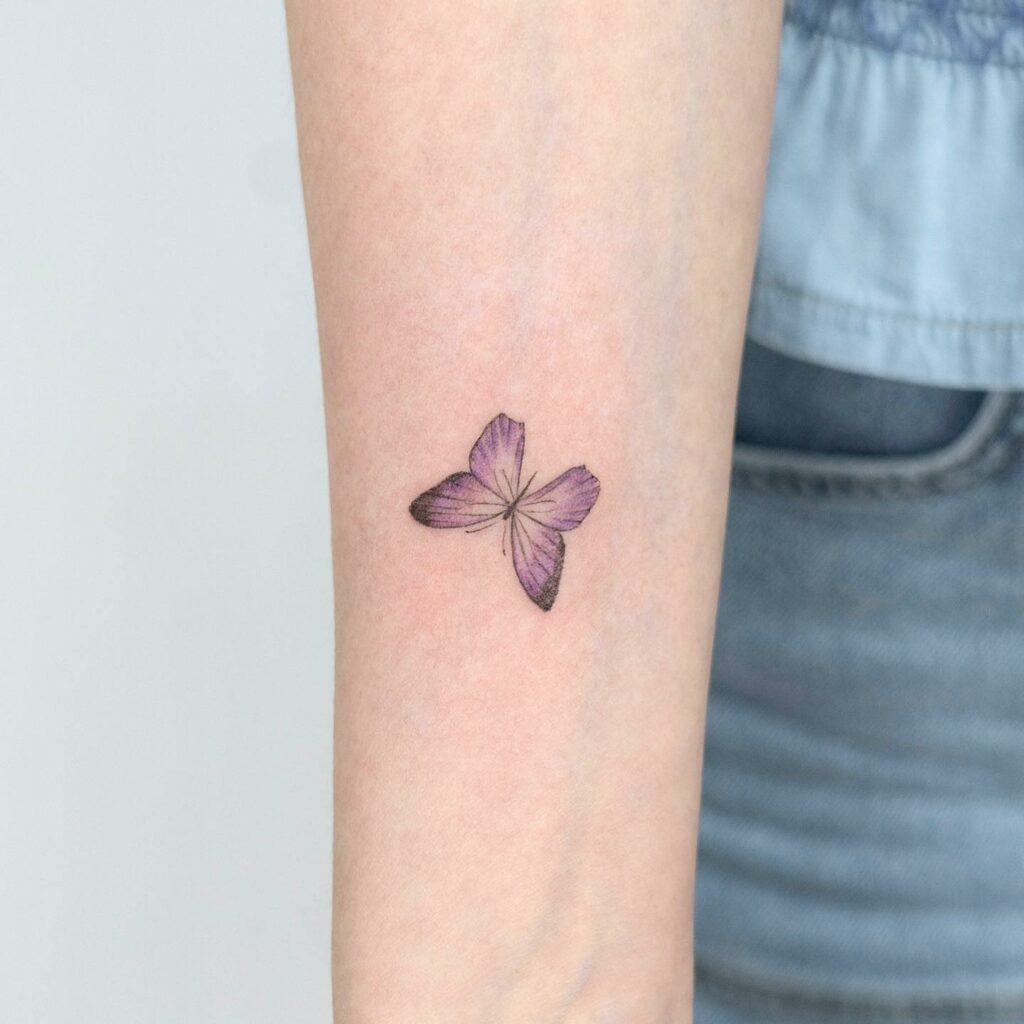 With the butterfly's outline meticulously executed in black ink, its wings come to life through a captivating infusion of purple watercolour.
This imaginative technique enhances the tattoo's aesthetic beauty and imparts a feminine charm.
Whether you seek to make a bold statement or add a touch of refined elegance to your appearance, this butterfly tattoo presents an alluring choice.
Shading Butterfly Tattoo With Quotes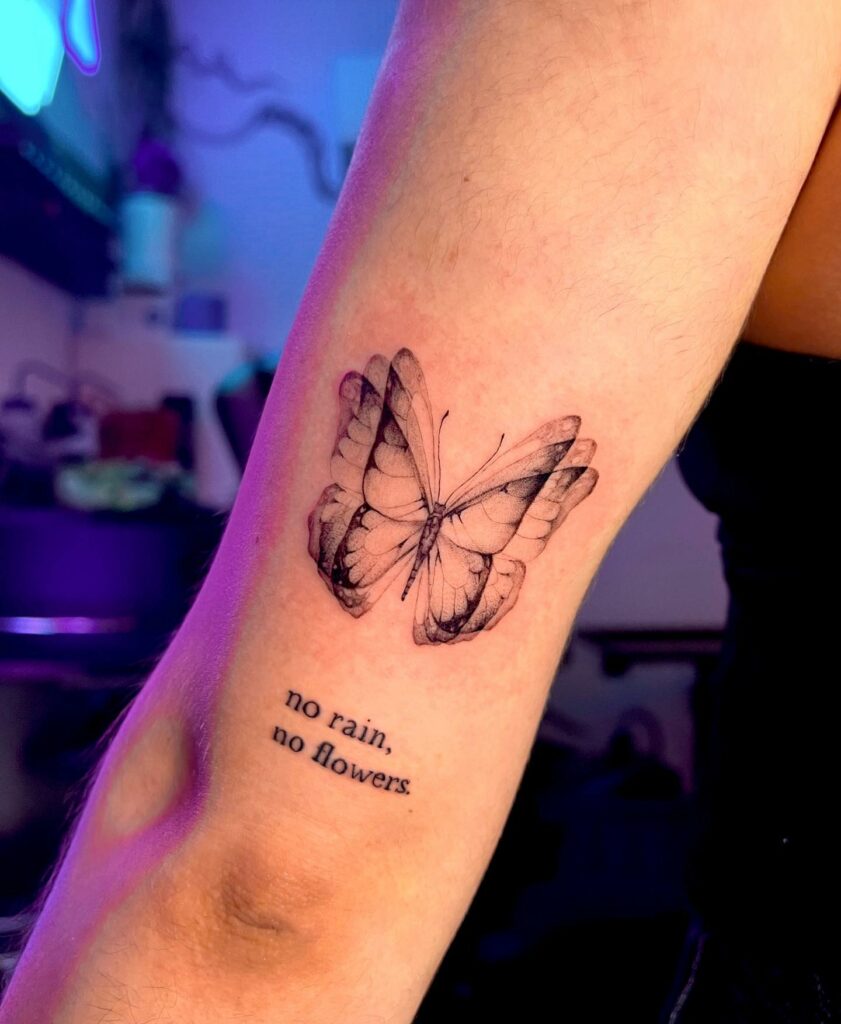 Discover the enchantment of the Shading Butterfly Tattoo With Quotes – a petite yet impactful design that finds its place on any part of your body, promising an exquisite appearance.
The secret behind its captivating allure lies within the skilled shading techniques employed by the artist.
Through the meticulous layering of ink shades, a captivating 3D illusion comes to life, imbuing the butterfly with the illusion of imminent flight.
Whether seeking to infuse a touch of playfulness to your wrist or make a bold statement on your back, this shading tattoo offers the ideal avenue for self-expression.
Why wait? Step right in and allow us to collaborate in crafting a timeless piece of art that will hold a cherished place in your heart.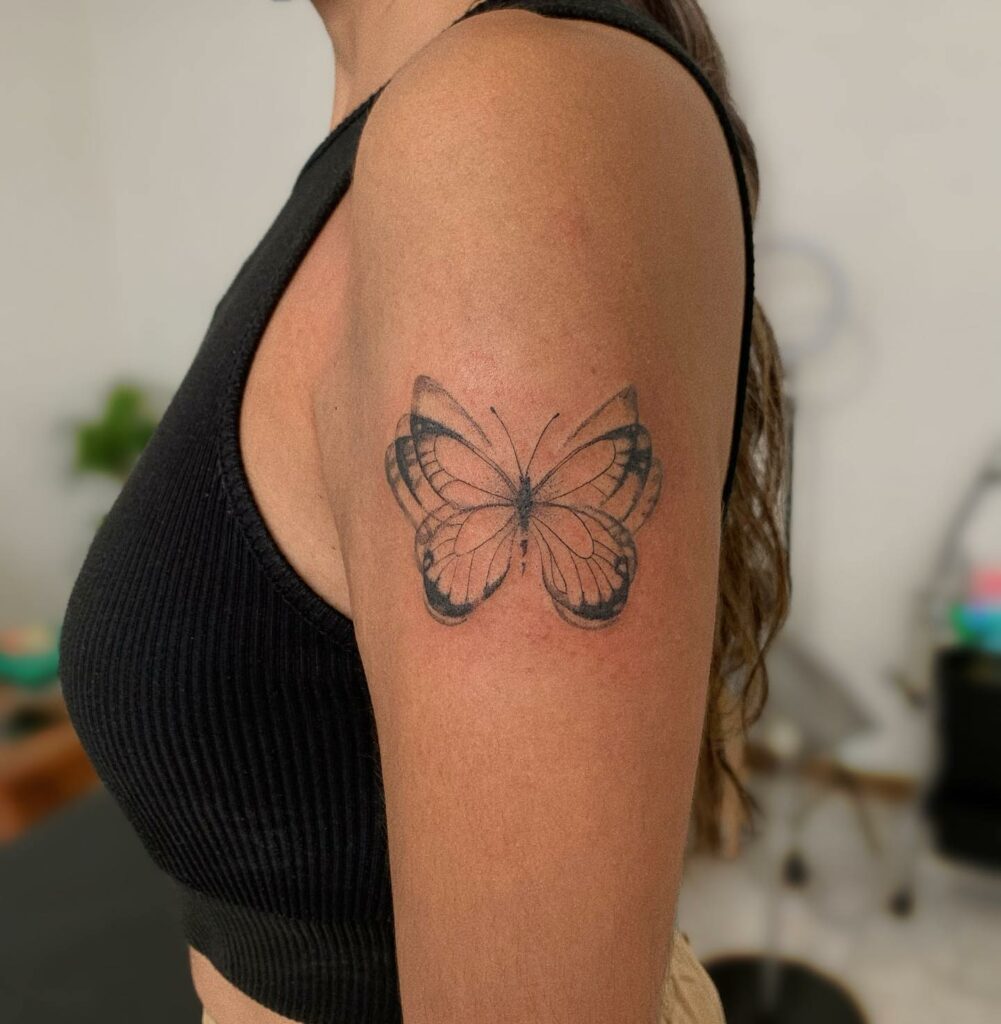 Indulge in the mesmerizing wonder of the watercolour butterfly back tattoo that transports you to another realm.
With masterful artistry, the artist has etched a monarch butterfly using a shading technique similar to our previous discussion, thereby bestowing the butterfly with a breathtaking 3D impression, evoking the sensation of taking flight.
Monarch butterflies, known for their vivid orange and black hues, are a favoured choice due to their striking appearance and symbolism.
Some associate them with themes of transformation, renewal, and hope. This small yet significant butterfly tattoo expresses your affinity for nature and introduces a playful element to your body art.
Melting Butterfly Tattoo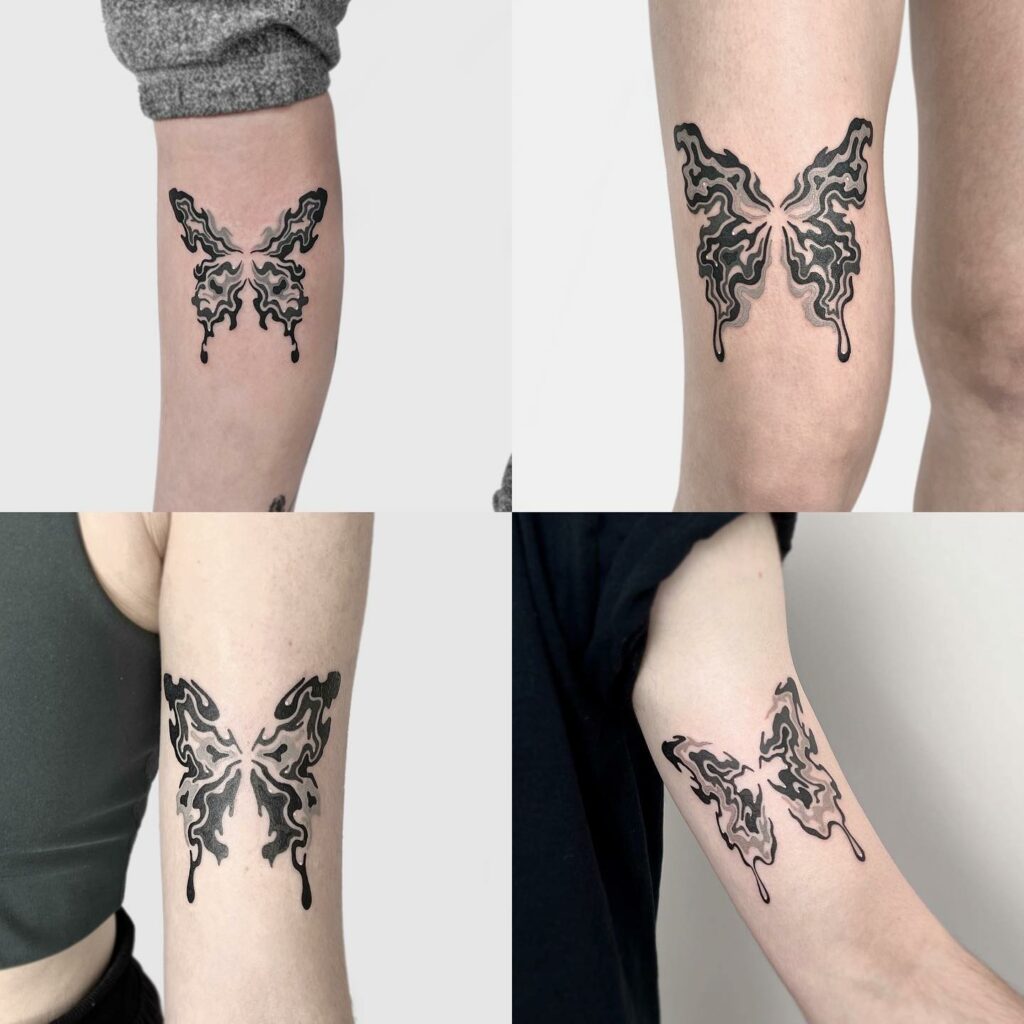 Unconventional and distinct, the Melting Butterfly Tattoo offers a fresh take for those seeking uniqueness in their ink choices. This design diverges from the norm, capturing attention with its intriguing concept.
The essence of its appeal lies within the illusion that the butterfly is melting into your skin, a testament to its artistic ingenuity. Primarily suited for a back tattoo, this design adds an unexpected touch of allure.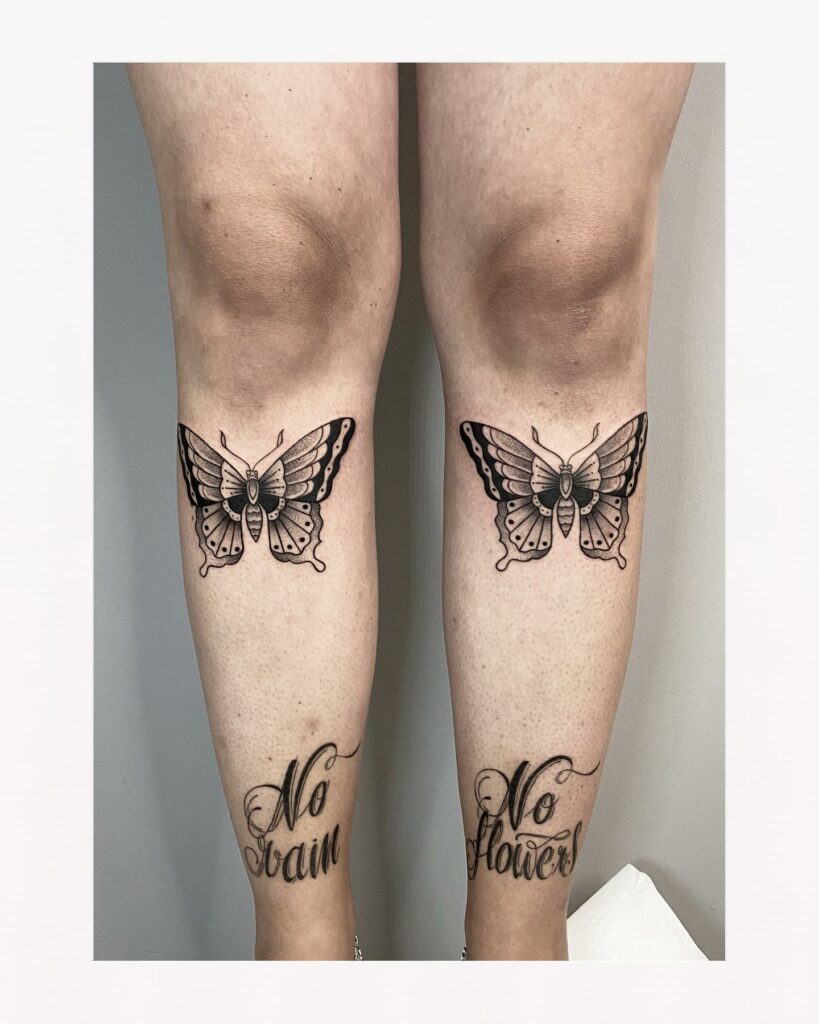 Elevating its charm, the addition of two butterflies creates a mesmerizing composition that stands apart from the crowd.
If your quest is for a delicate yet captivating butterfly tattoo to grace a small space on your body, look no further.
This butterfly tattoo embodies visual splendour, embodying a melting butterfly motif that symbolizes beauty and inspiration.
The butterfly's intricate wings make it an ideal choice for individuals considering a back tattoo. Don't be deceived by its size – this small butterfly tattoo carries a substantial impact and promises to leave a lasting impression.
Half Butterfly And Flower Tattoo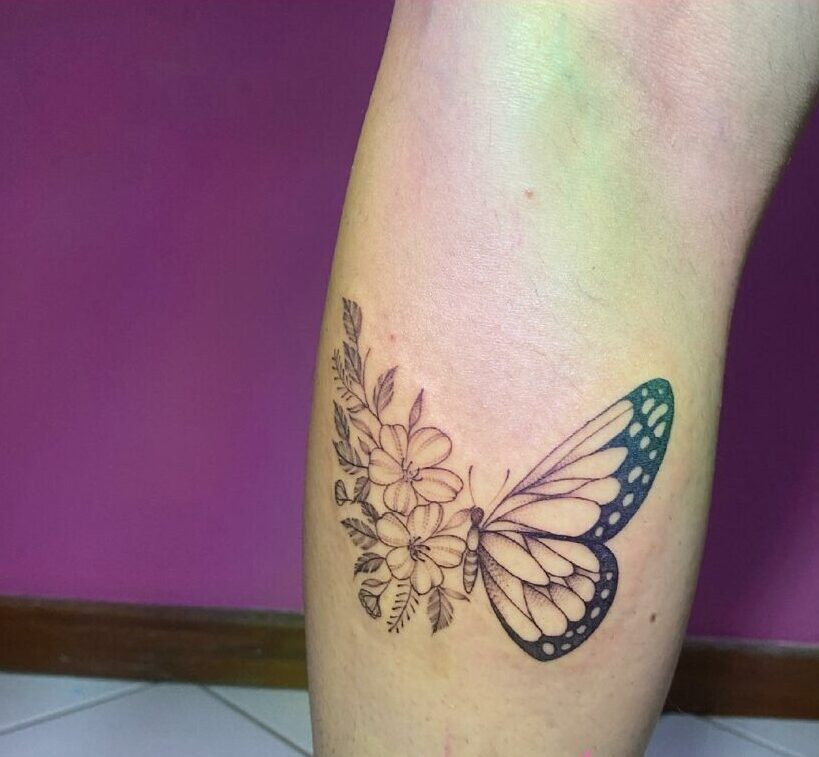 A true masterpiece in ink, the Half Butterfly and Flower Tattoo showcases wings of unparalleled artistry.
One wing is adorned with a captivating floral motif, meticulously crafted to mirror the intricate design of a butterfly's wing.
This distinctive and delicate concept finds its perfect canvas on a woman's shoulder or arm, where its vibrant hues promise to make a striking impression.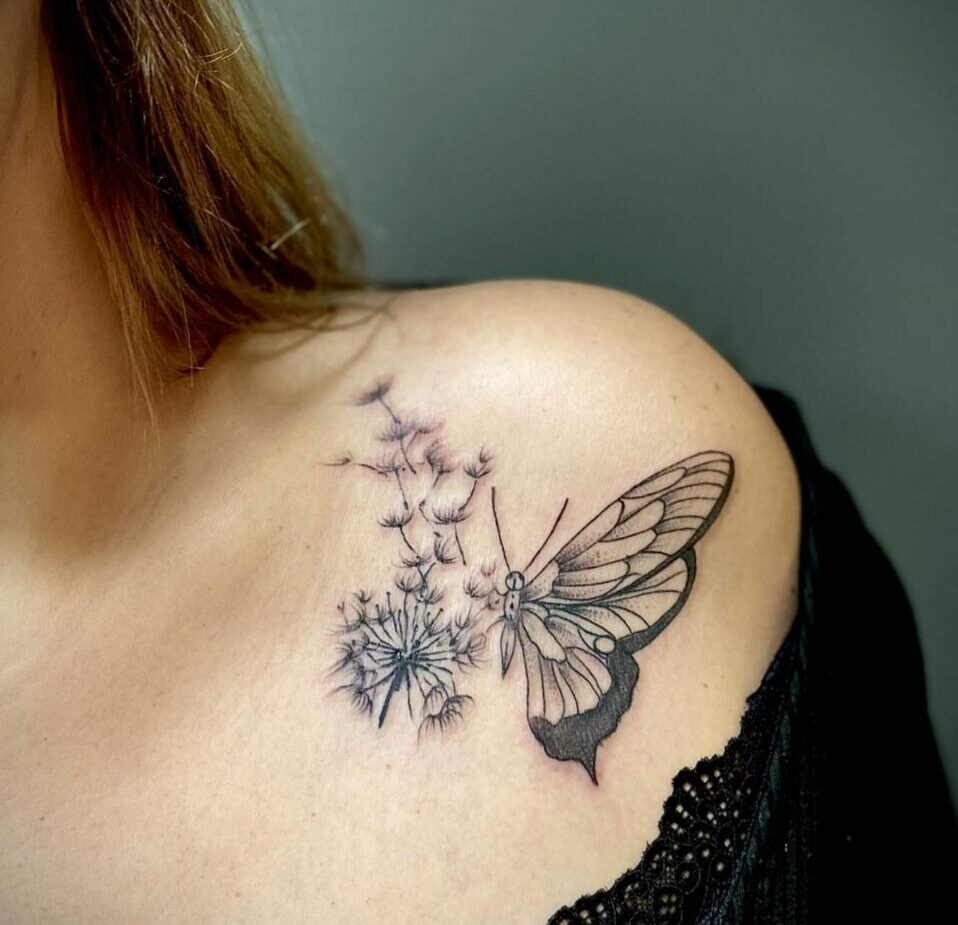 Upon closer inspection, the tattoo reveals astonishing artistry and attention to detail that will leave you spellbound.
Presenting a stunning butterfly with one wing elegantly embellished by a flower pattern mirroring its counterpart, this design takes on an extra layer of sophistication through watercolour ink.
These vibrant shades amplify the beauty and grace of the artwork, capturing attention with their vivid allure. This tattoo is an exceptional choice for women searching for a distinctive and breathtaking butterfly design bound to turn heads.
Multiple Butterfly Tattoos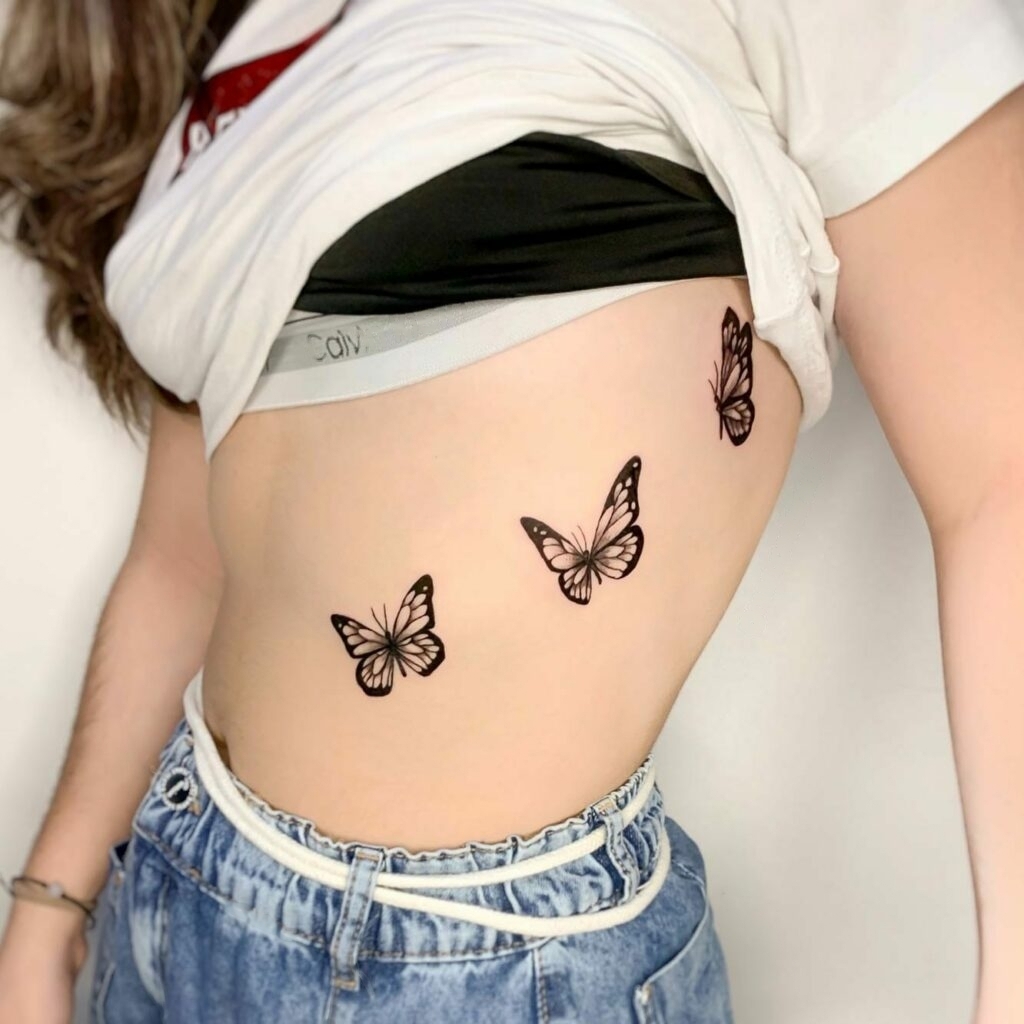 Contemplating the idea of adorning your skin with multiple butterfly tattoos? This trio of delicate watercolour butterflies could be an ideal choice if the thought appeals to you.
Crafting such a design necessitates the expertise of a skilled artist who adeptly employs various tattooing needles to achieve the desired effect.
The heart of this tattoo's inspiration lies in the themes of love, energy, passion, and new beginnings. These profound concepts hold universal significance, making the tattoo both beautiful and symbolic.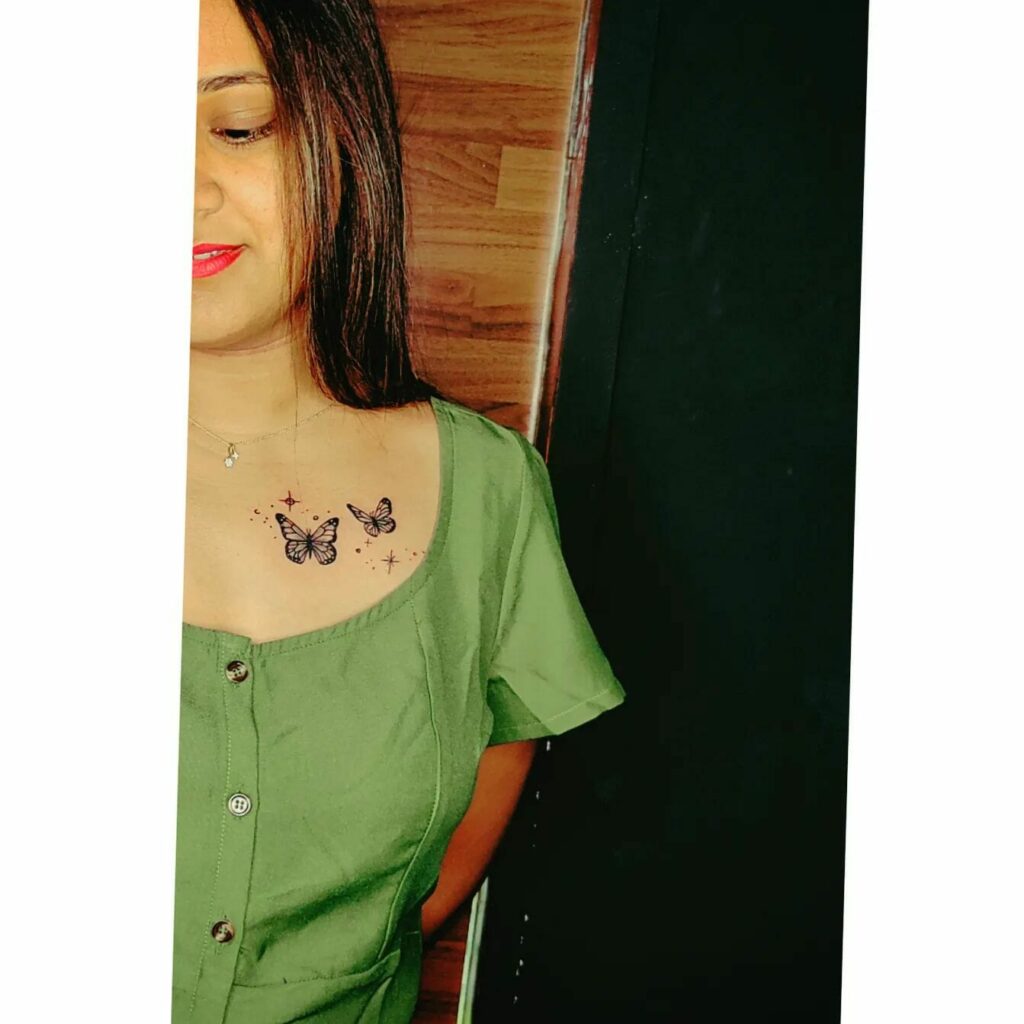 Often found on the back, this canvas allows the trio of butterflies to flourish, creating a stunning display.
Yearning for a vibrant and spirited butterfly tattoo to grace your back? Look no further than this captivating design adorned with glistening stars.
The constellation of stars surrounding the butterfly infuses a sense of celebration, rendering it a splendid choice for commemorating special occasions or achievements.
This design is tailor-made for individuals seeking a distinctive and festive tattoo that promises to capture attention and spark conversations.
Butterfly Tattoos With Quotes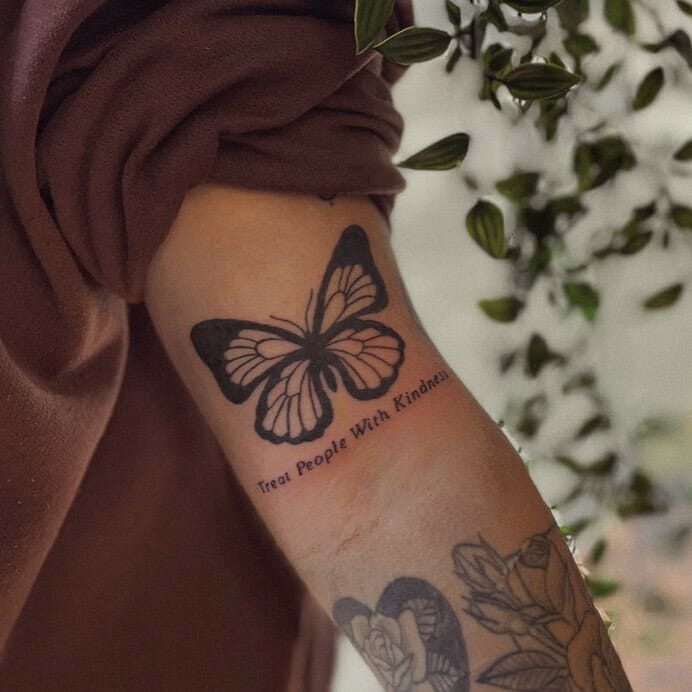 Why not immortalize your cherished quote with a meaningful tattoo? Take it further by intertwining your chosen words with a butterfly tattoo for a truly exceptional and captivating design.
This fusion introduces an aura of elegance, transformation, and positivity to your tattoo, embodying the essence of your beliefs.
Collaborate with us to craft a design that resonates with your soul, allowing your ink to make a statement and reflect your unique perspective.
Let's unite to create a personalized masterpiece that will hold a special place in your heart for years to come.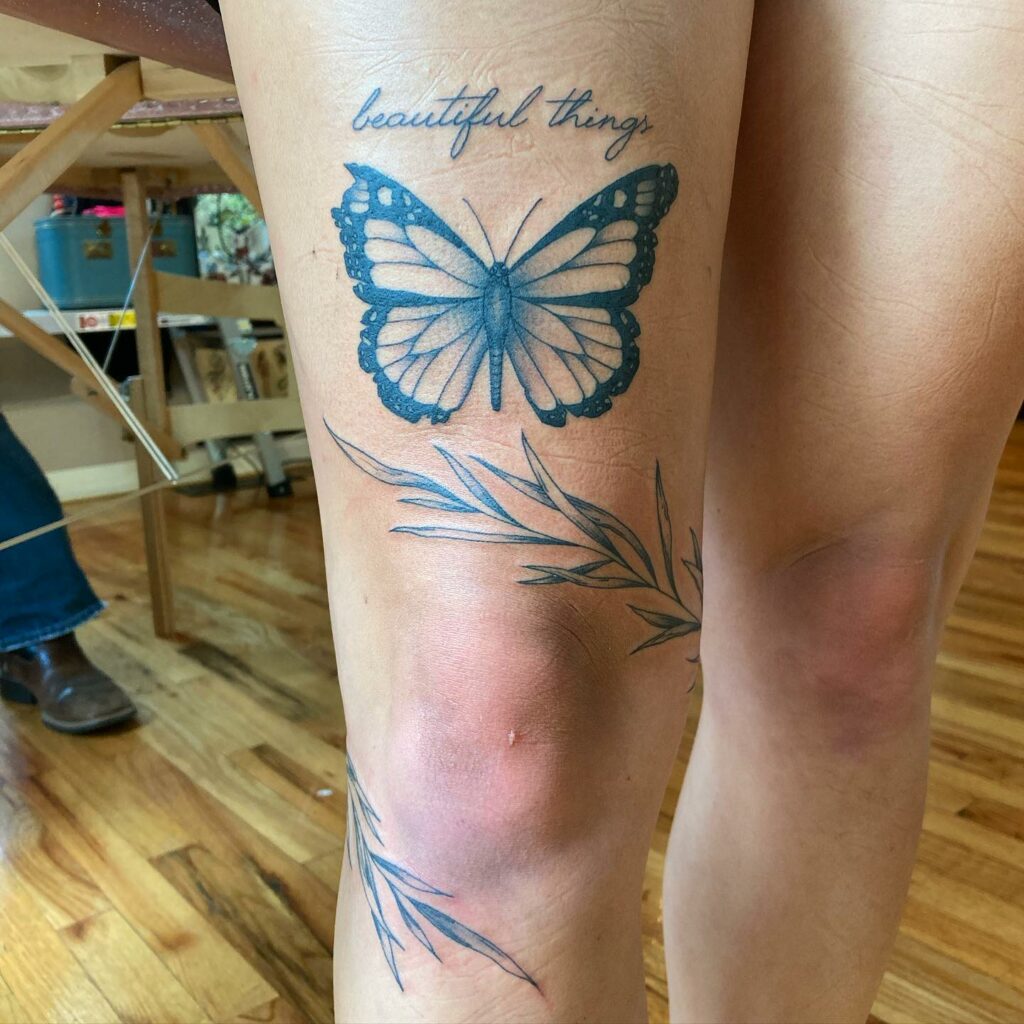 Expressing yourself through a favourite quote etched into your skin is a powerful form of self-expression. Now, envision merging this sentiment with the timeless beauty of a butterfly tattoo.
The result is distinctive and imparts a sense of grace, transformation, and optimism to your body art.
Our studio is committed to working alongside you to fashion a design that authentically captures your beliefs and delivers a resounding statement.
Let's collaborate on crafting a one-of-a-kind tattoo, ensuring it becomes an enduring symbol cherished throughout your lifetime.
3D Blue Butterfly Tattoo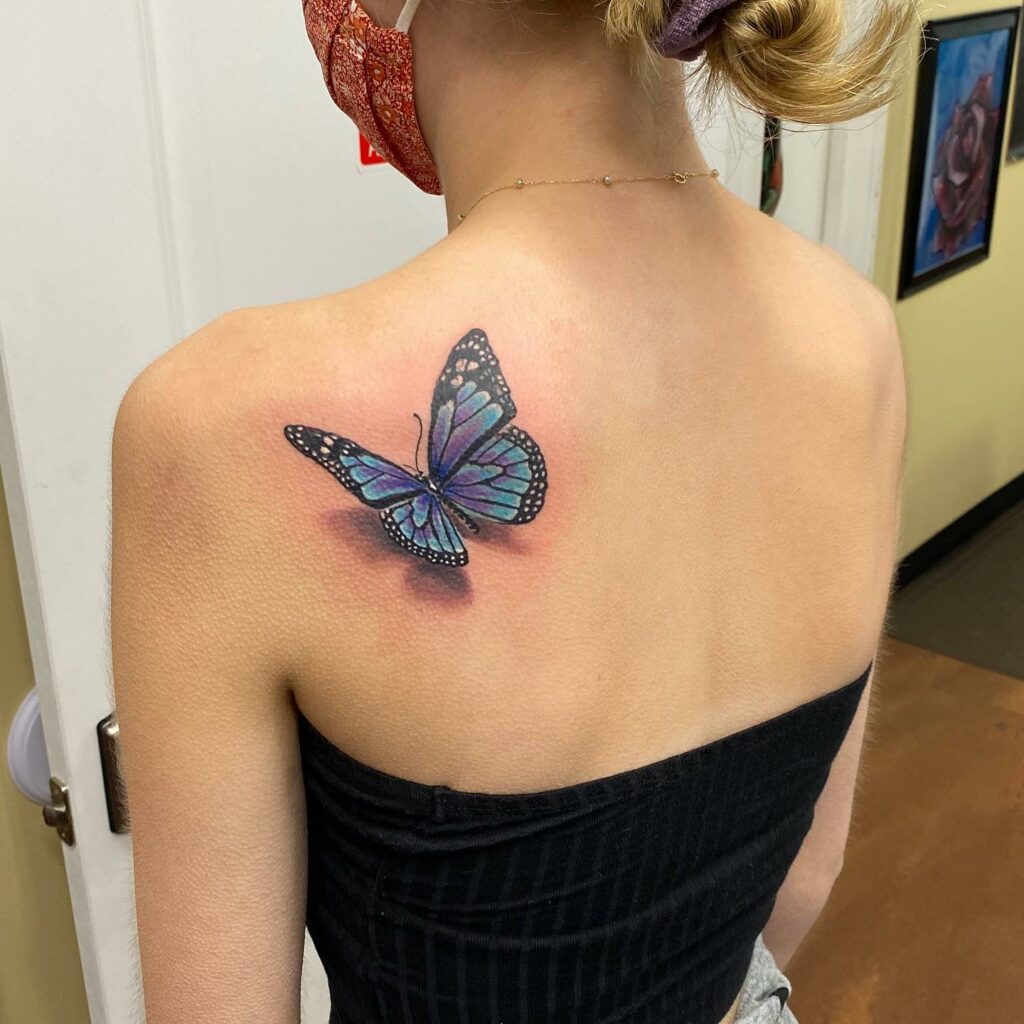 If you're captivated by the allure of delicate and exquisite blue butterflies, prepare to be enamoured by this tattoo design.
The butterfly's meticulous rendering gives rise to a mesmerizing watercolour effect, promising an exquisite display on your back.
Beyond aesthetics, the butterfly's wings carry profound symbolism, reflecting life's transformative journey. When inked in blue, this design commands attention, infusing your skin with a vibrant burst of colour.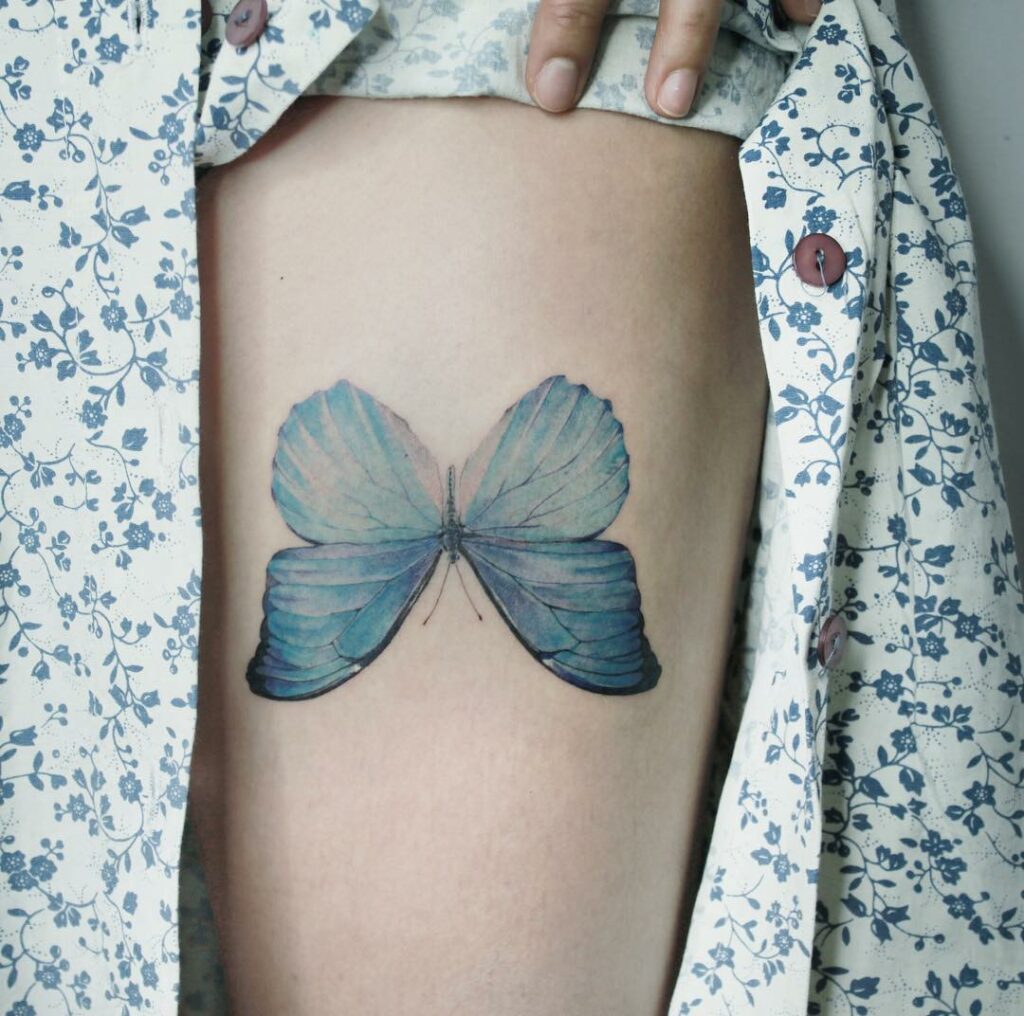 Embark on a unique and meaningful tribute to life's beauty and the wondrous world that surrounds us.
For those who find themselves enchanted by the grace and symbolism of blue butterflies, a captivating tattoo awaits.
Representing good luck and bliss, the blue butterfly holds immense significance for individuals who hold these values dear.
The intricate design is brought to life with blue ink, magnificently emphasizing the butterfly's form and ensuring it captures everyone's gaze.
This tattoo serves as an eloquent expression of serenity and the significance of positive fortune in one's life. Let's join forces to transform your tattoo aspirations into a tangible reality.
Red Butterfly Tattoo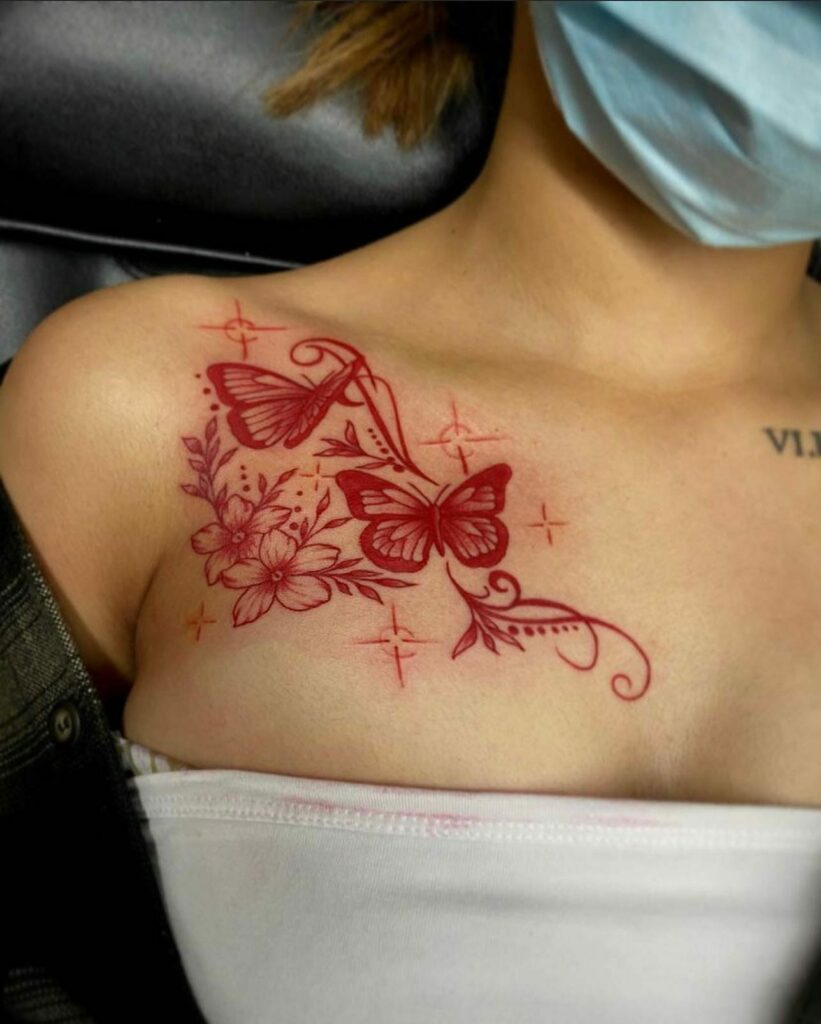 For those enchanted by the allure and symbolism of blue butterflies, a tailor-made tattoo design awaits. Symbolizing good luck and bliss, the blue butterfly is an impeccable choice for individuals who hold these virtues dear.
The design, etched in blue ink, accentuates the butterfly's form, capturing attention and inviting admiration. This tattoo serves as a poignant reminder of tranquillity and the significance of positive fortune in one's life.
Allow us to transform your tattoo aspirations into a vibrant reality, bringing your dreams to life.
Are you in search of a dainty tattoo design featuring a cluster of butterflies? Look no further, for you've arrived at the perfect destination.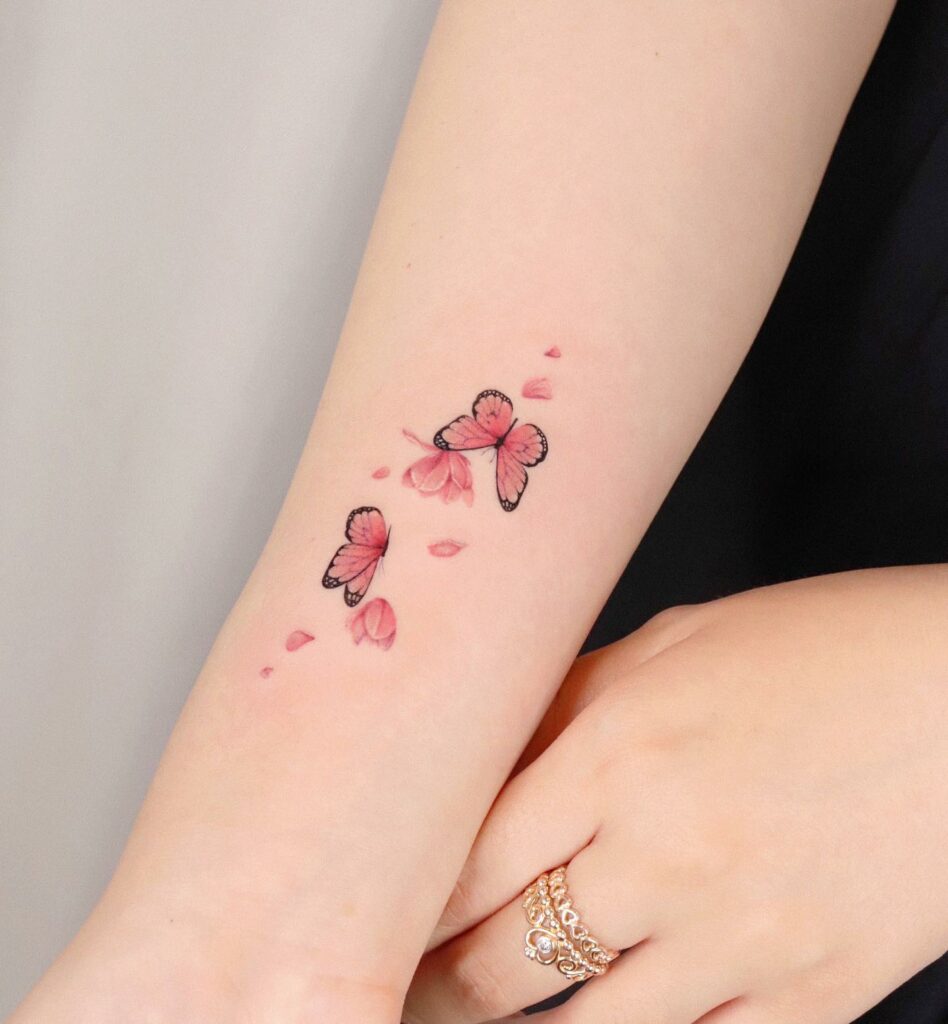 Did you know that red butterflies hold a special significance in Native American culture, symbolizing the impending arrival of good luck and charm?
Introducing this meaningful symbol into your tattoo design can infuse a personal touch that resonates with your personality and beliefs.
With tiny butterfly tattoos, the creative possibilities are boundless, resulting in an aesthetically pleasing and deeply meaningful outcome. Collaborate with us to craft a distinctive, intimate design that perfectly captures your essence.
Minimal Butterfly Tattoo in Black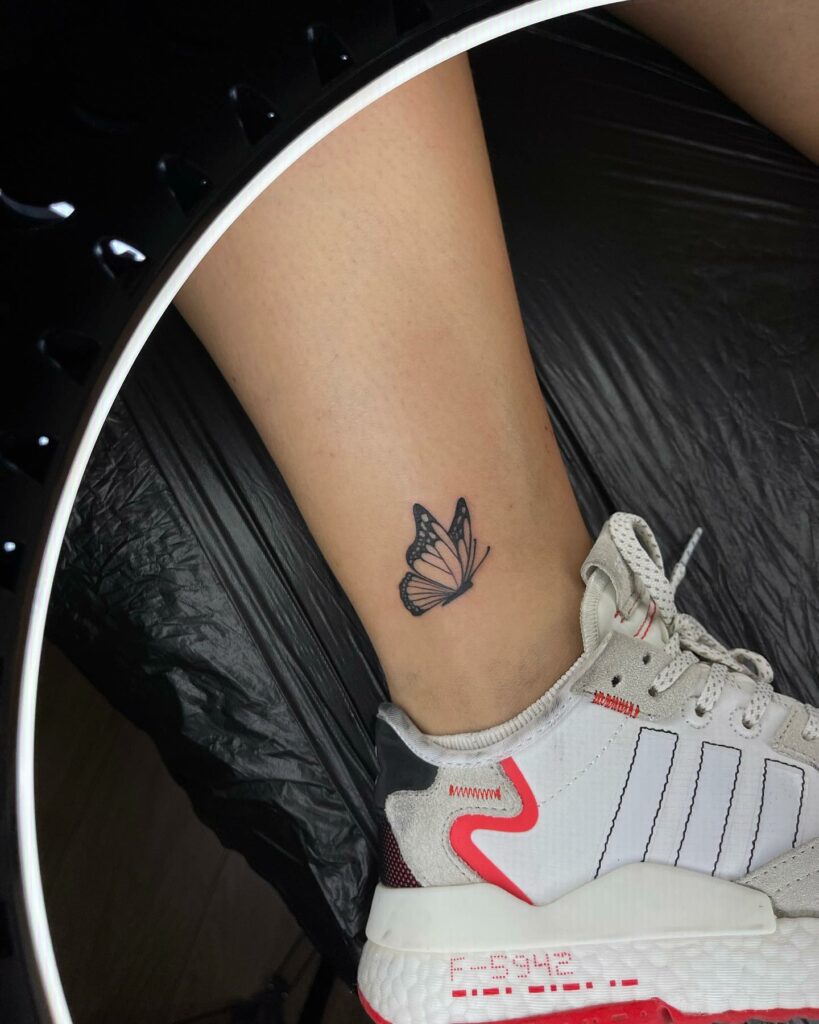 I have an excellent butterfly tattoo concept to share with those who admire the elegance of simple and minimal tattoo designs.
This design employs exclusively black ink, lending the tattoo a timeless and classic allure that never goes out of fashion. Embracing a clean and uncluttered design ensures precision and accuracy in the tattoo's execution.
A minimalist approach allows you to make a statement without overwhelming flashiness. Let's collaborate to materialize your tattoo vision, crafting a design that flawlessly captures your individual style and essence.
If you hold an affinity for monarch butterflies, you're in for a treat as I present a graceful and uncomplicated tattoo design that might captivate your heart.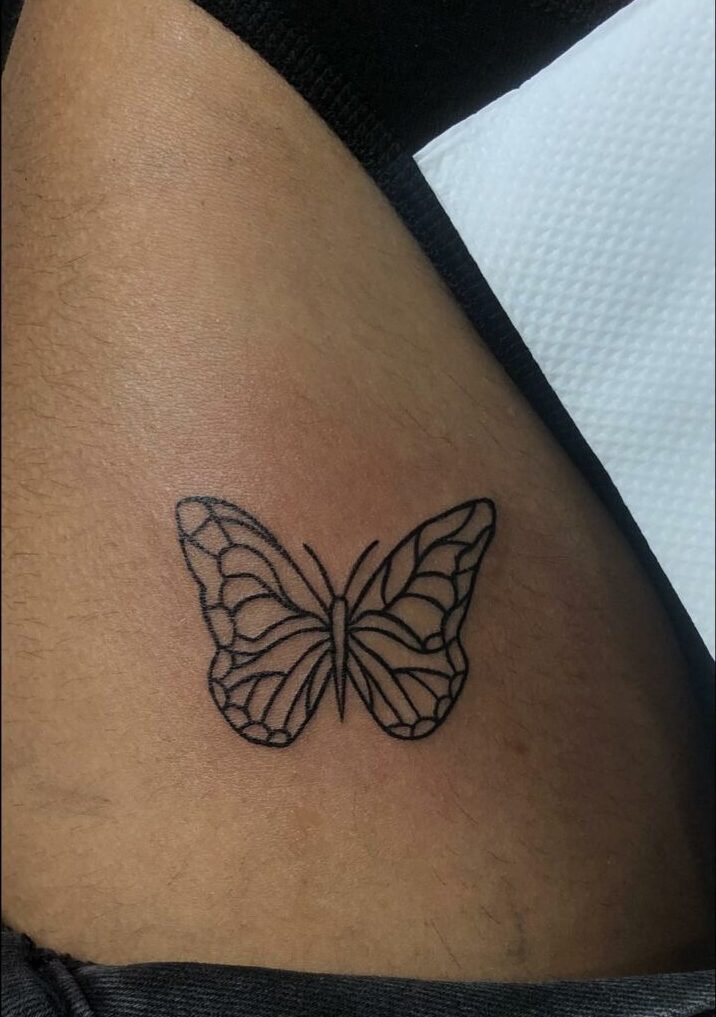 Monarch butterfly tattoos hinge on the artist's skilful application of lines to achieve their signature style.
Whether you're inclined to showcase the tattoo on your back or wrist, this versatile design can accentuate any part of your body.
Don't fret over design intricacies; often, the simplest tattoos possess the greatest impact and efficacy. Let's join forces to create a tattoo you'll proudly display to the world.
White Butterfly Tattoo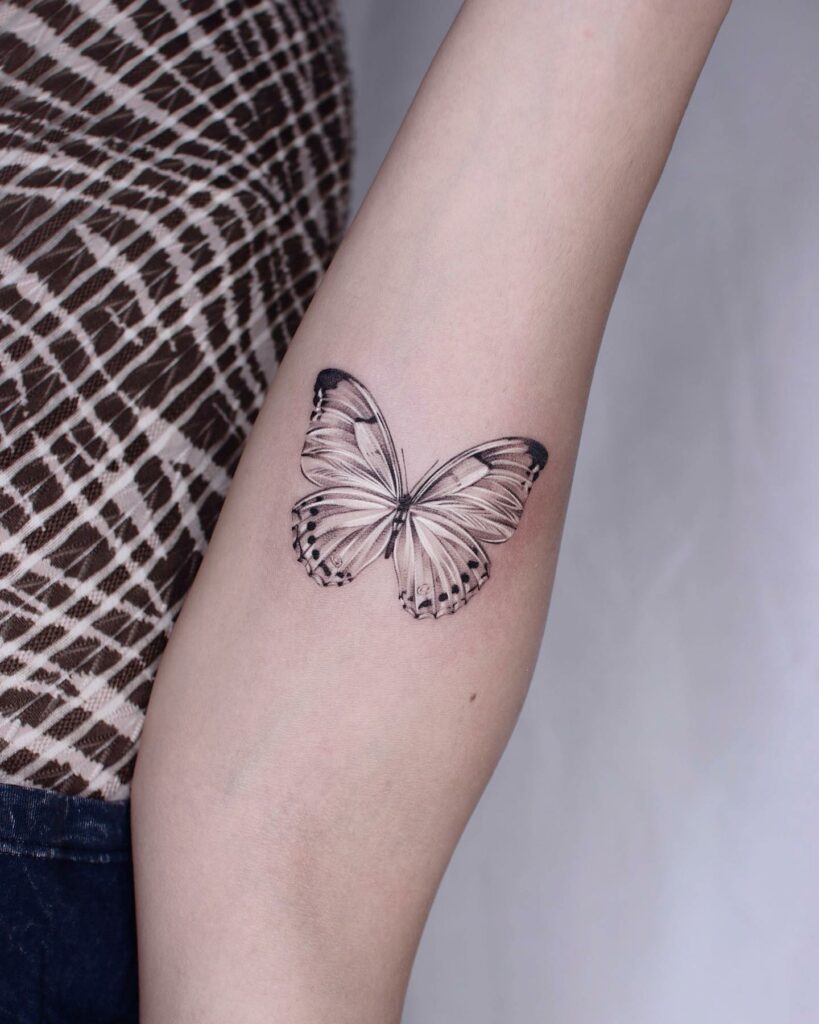 Seeking a butterfly tattoo that embodies purity and honesty? Consider a stunning white ink design for your back. White ink tattoos exude subtlety and elegance, offering a unique allure.
When applied to butterfly tattoos, white ink signifies purity and salvation, enriching the design with profound meaning.
Whether you're drawn by symbolism or the aesthetic of white ink, this butterfly design is a splendid choice for those seeking a distinctive and beautiful piece of body art.
Let's collaborate to transform your vision into a captivating tattoo that you'll treasure for years to come.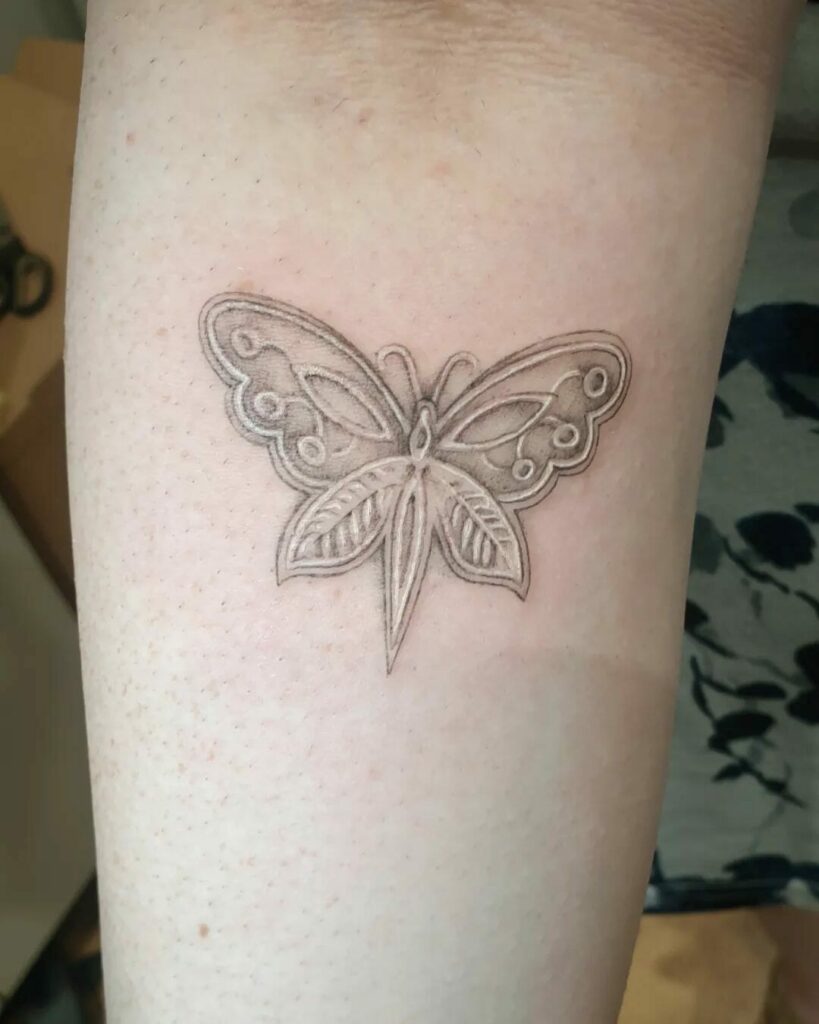 Discover the delicate and exquisite beauty of a white butterfly tattoo. The impeccable shading work adds a touch of exclusivity to this design.
For those craving an extra touch of flair, this design even incorporates a vibrant pop of color that elevates its visual impact.
Feeling overwhelmed by the array of designs? Selecting the perfect butterfly tattoo doesn't have to be daunting. Seek guidance from your tattoo artist, whose expertise will navigate you through the decision-making process.
Remember, getting a tattoo is a commitment. Follow your artist's aftercare instructions to ensure proper healing.
Once your tattoo is ready, showcase it to the world! Highlight your back with suitable attire, and consider styling your hair to accentuate your stunning new ink.
FAQs
Q: What is the meaning behind butterfly tattoos?
A: Butterfly tattoos carry symbolism reminiscent of their brief existence.
They can signify the memory of a departed loved one, mirroring the butterfly's life cycle. Much like personal growth, these tattoos embody profound change and development.
Q: What does it mean when a girl has a butterfly tattoo on her lower back?
A: Sporting a butterfly tattoo on the lower back goes beyond aesthetics.
This emblem, evoking faith, transformation, and freedom, strongly links femininity and romantic love. A popular choice, it often reflects notions of beauty and transformation.
Q: What does it mean if a girl has a back tattoo?
A: A girl's choice of a back tattoo can hold diverse meanings. Some may view it as an erotic symbol due to cultural perceptions of the lower back's sensuality.
However, interpretations vary widely, as tattoos serve as a unique means of self-expression, carrying a spectrum of sentiments.
Q: What tattoo signifies a life change?
A: Tattoos often symbolize life's transitions. For instance, the phoenix, a butterfly, the ouroboros serpent, or even a robin can represent change and growth, encapsulating the concept of transformation and fresh beginnings.
Conclusion
In conclusion, butterfly tattoos emerge as a timeless embodiment of beauty and femininity, intertwining personal significance with cultural motifs.
From the understated allure of Cute Butterfly Tattoos in Black to the intricate charm of Shading Butterfly Tattoos With Quotes, each design becomes a canvas for artistic expression.
Melting Butterfly Tattoos offer a unique twist, while Half Butterfly and Flower Tattoos meld delicate patterns.
Multiple Butterfly Tattoos symbolize love and energy, and Butterfly Tattoos With Quotes fuse words and imagery seamlessly.
The 3D Blue Butterfly Tattoo adds vibrancy, while the Red Butterfly Tattoo carries Native American charm.
Minimal and White Butterfly Tattoos encapsulate elegance and purity, offering a profound avenue for personal expression on the skin.
MORE BUTTERFLY BACK TATTOO IDEAS