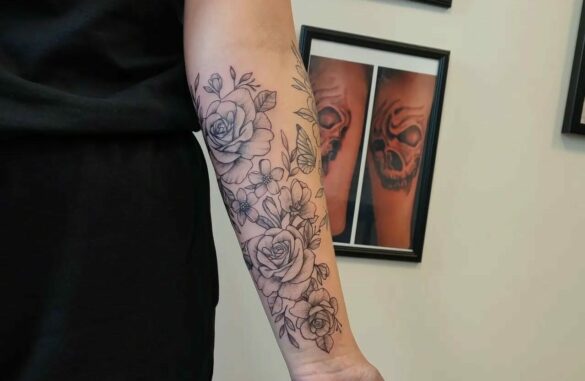 Are you on the lookout for some awesome female flower sleeve tattoo ideas? Well, your quest ends here. Take a look at these incredible female flower sleeve tattoo inspirations provided below.
Female flower sleeve tattoos involve the use of flower designs inked on a woman's whole arm or hand. Flower sleeve tattoos are a bold choice for women, showcasing intricate art covering the arm like a sleeve.
These flower sleeve tattoos can be done on the full arm or hand. You can opt for classic black ink or experiment with various colours for the tattoo design.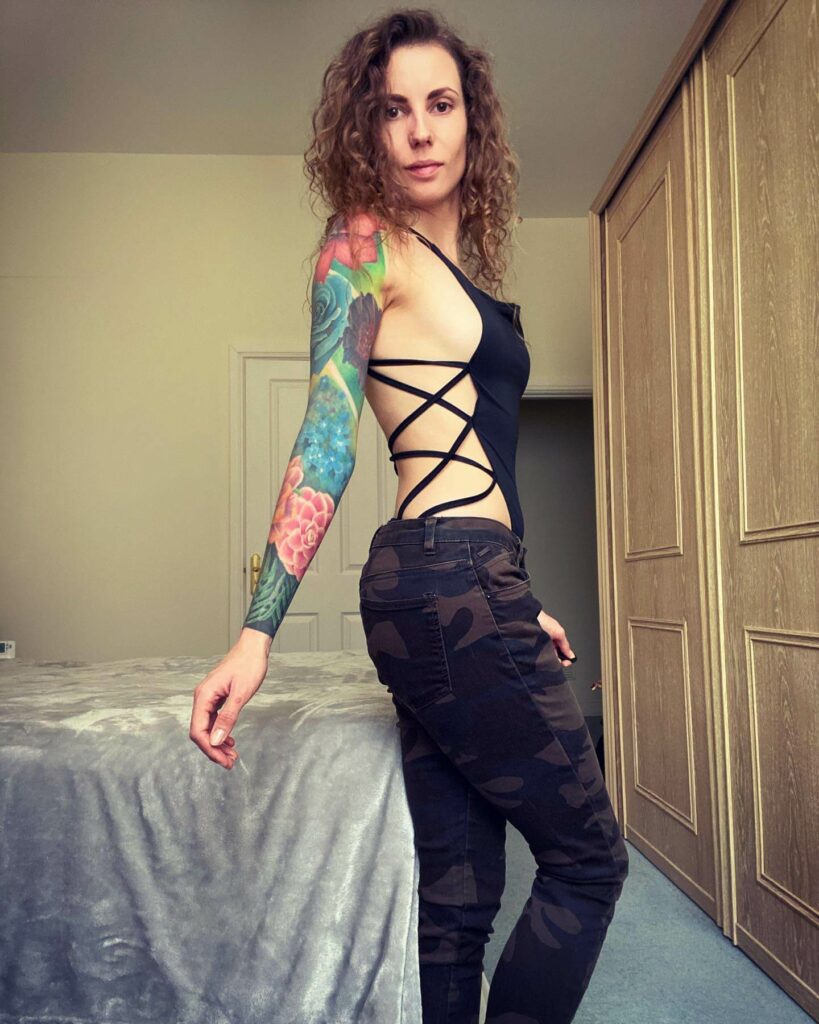 These tattoos look stunning on women, adding a strong and daring style element. The sleeve tattoos are specifically meant for the arm or hand, leaving no room for other placement options.
The concept behind a flower sleeve tattoo is akin to wearing a shirt sleeve, where the design covers your arm. Some individuals also select these tattoos to convey their cultural beliefs.
However, it's important to remember that choosing a flower sleeve tattoo is a significant decision as it's a permanent artistic addition to your skin.
Lion Flower Sleeve Tattoo Design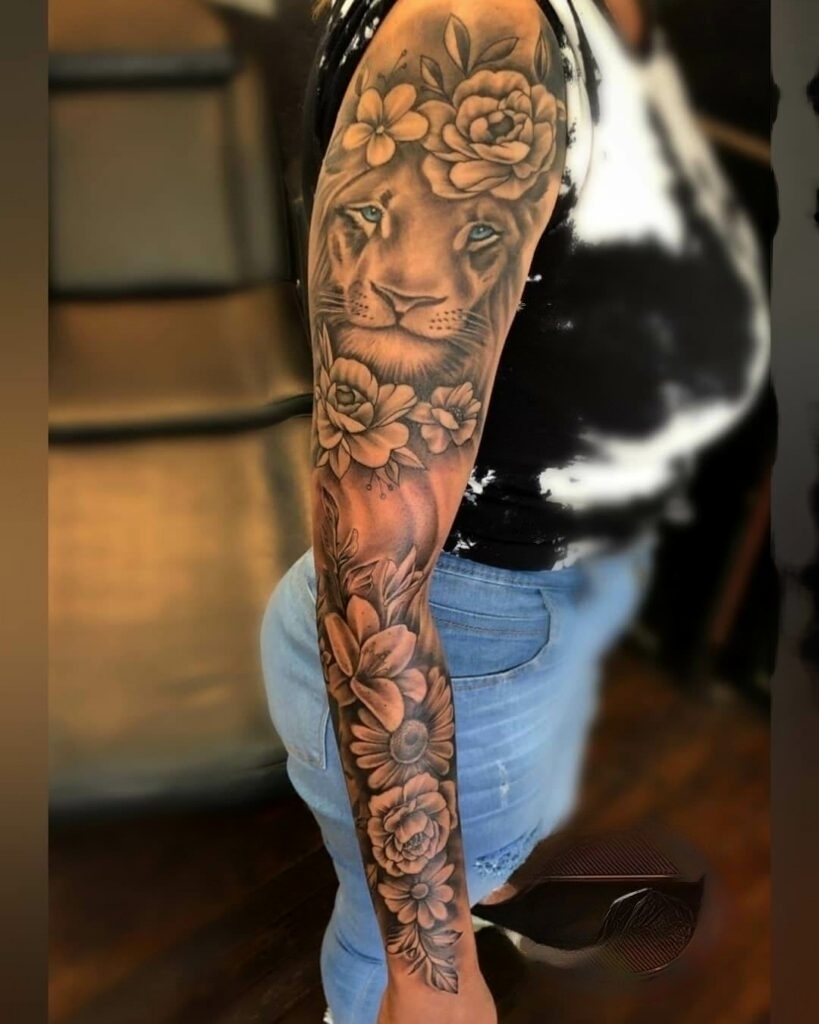 A woman has adorned her full hand with this captivating flower sleeve tattoo. The predominantly black ink is highlighted with subtle touches of blue, creating an engaging contrast.
This sleeve tattoo is a stunning piece of body art that truly catches the eye. The tattoo artist's skilful use of black shading gives the floral sleeve design a remarkable depth.
Notably, the lion's eyes are rendered in blue ink, adding a distinct touch. The lion is profoundly significant in this design, symbolizing bravery and audacity.
Stretching from the top of the hand to the wrist, this tattoo represents the wearer's courageous spirit.
To enhance the vibrancy of this tattoo sleeve design, the addition of red or green hues to some of the flowers could provide a striking visual contrast.
Butterfly Flower Sleeve Tattoo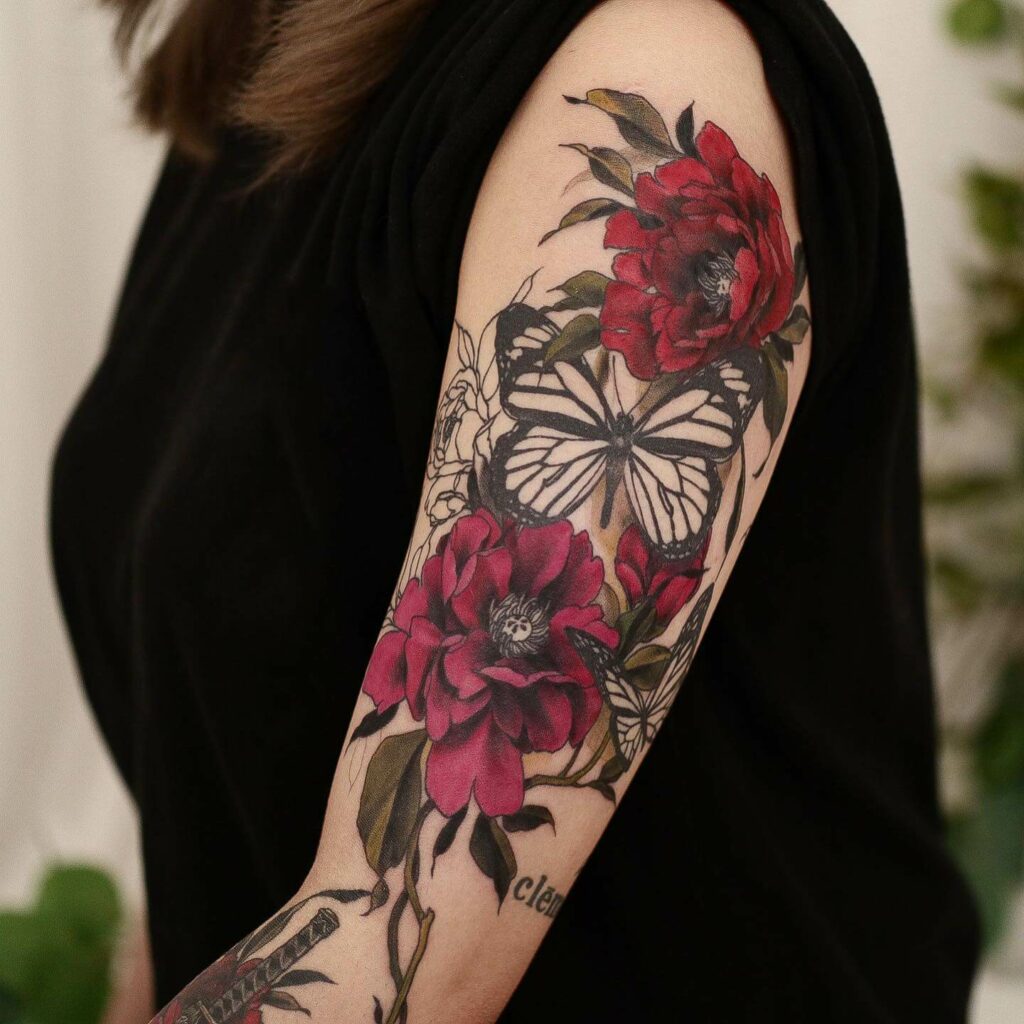 This flower sleeve tattoo boasts a distinct style and catches the eye with its captivating combination of black and red ink.
The pairing of these colours is often considered potent, and this arm sleeve tattoo effectively demonstrates their striking synergy.
The red blooms depicted are roses, standing out vividly against the backdrop of black and green hues. The leaves are adorned in green, while the butterflies are exclusively rendered in black ink.
This tattoo occupies a half-sleeve, covering the entire arm and a portion of the forearm. While the tattoo showcases roses, the option of lotus flowers could have been chosen as well.
A pink lotus would have delivered a delightful yet bold design. Furthermore, adding a touch of green or orange ink to the butterfly could enhance the tattoo's overall appeal.
Japanese Flower Sleeve Tattoo Idea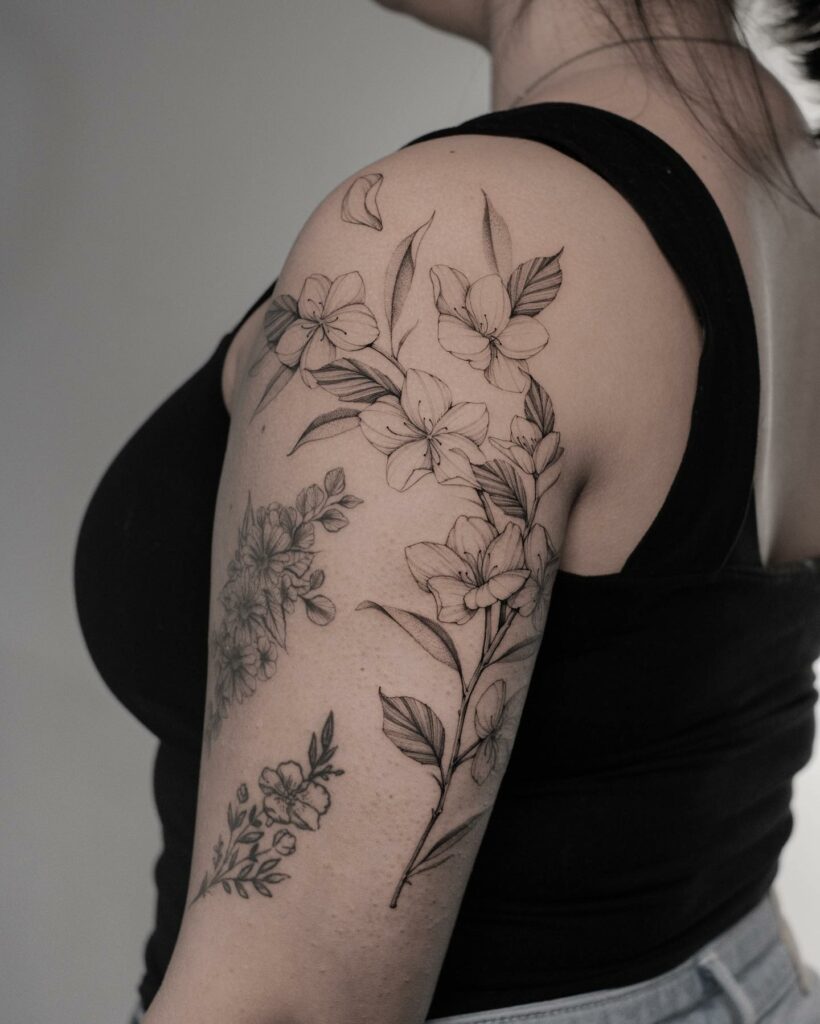 This woman's Japanese-inspired flower sleeve tattoo was masterfully created using black ink. The result is a remarkable body art that exudes beauty and style.
Spanning the entire sleeve, this tattoo covers even the reverse side of the palm, showcasing a commitment to the design's comprehensive coverage.
The tattoo artist skillfully employed various shades of black, adding depth and complexity to the floral theme. Additionally, strategic geometric patterns near the wrist introduce a unique visual dimension to the design.
The tattoo's potential for vibrancy could be realized through the inclusion of bright colours such as red, green, or pink.
This intricately detailed floral tattoo concept presents a cool and sophisticated option for women seeking standout ink.
Crafting such a detailed design requires a significant investment of time and patience, showcasing the dedication to its creation.
Flower Sleeve Tattoo Ideas Using Minimal Shading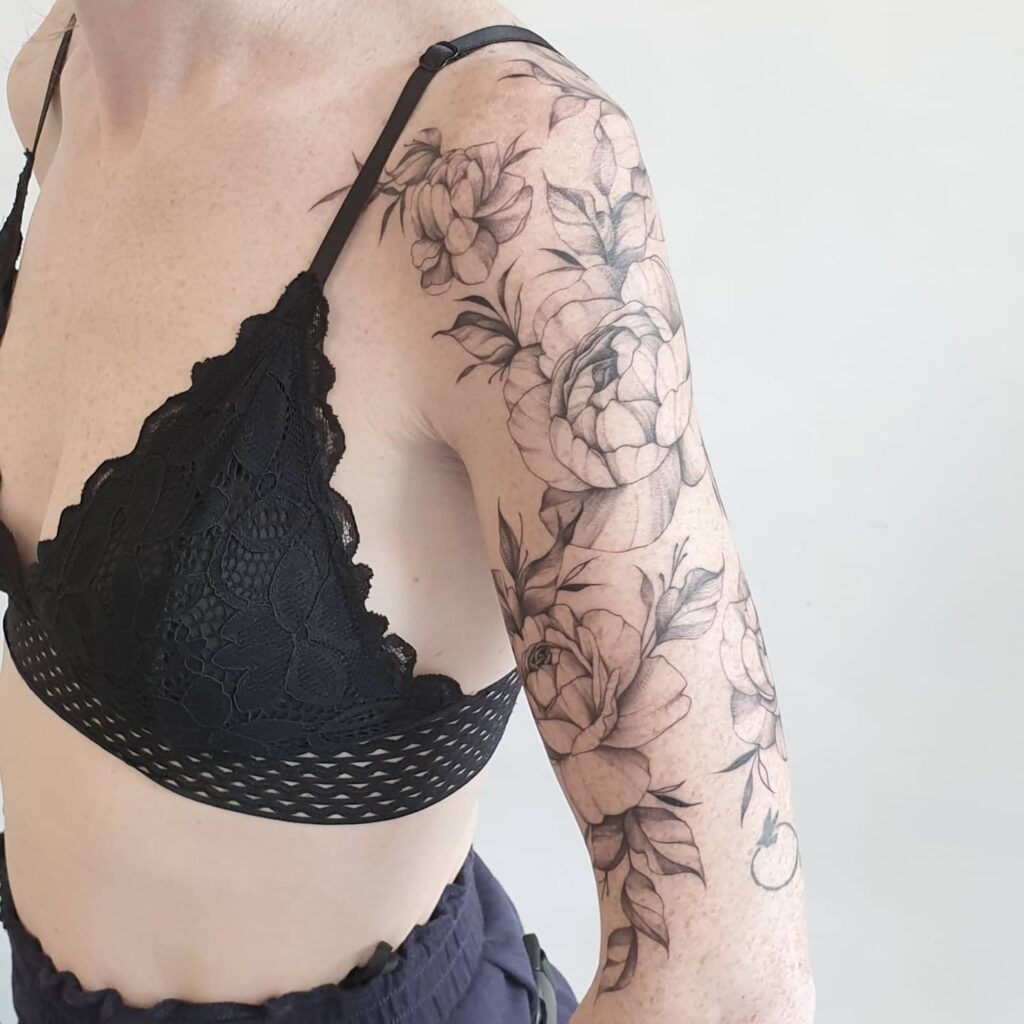 Embracing a delicate approach, this feminine tattoo showcases a graceful display of black ink. This subtle yet impactful concept finds its place as an impressive choice for women.
Encompassing the arm and a portion of the shoulder, this arm sleeve tattoo emphasizes the upper arm region, resulting in a charming monochromatic aesthetic.
The use of minimal shading, executed through black ink, contributes to a clean and uncomplicated appearance.
In today's trends, such refined and chic half-sleeve tattoo designs have become increasingly popular among women. Despite their seemingly uncomplicated nature, these tattoos effortlessly infuse a stylish allure into the hand.
Blackout Flower Sleeve Tattoo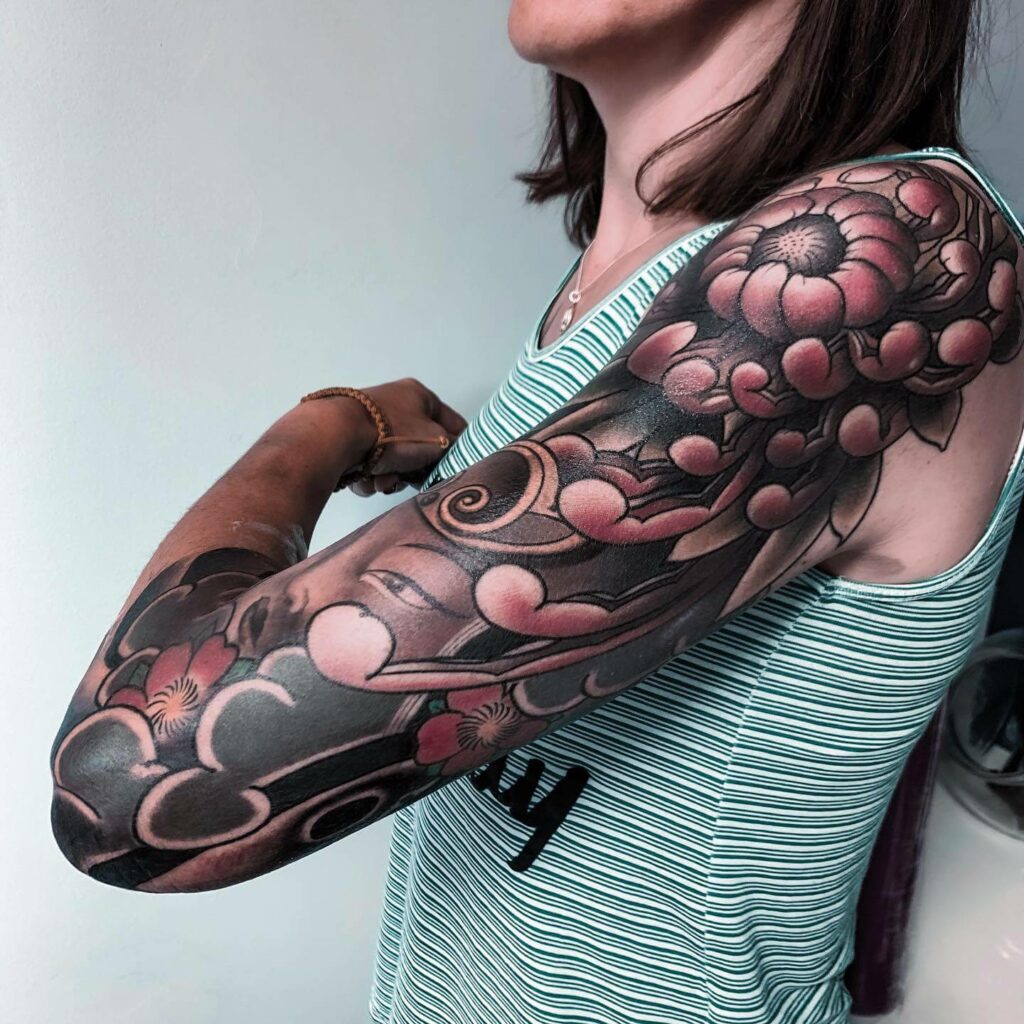 Among the realm of blackout sleeves tattoo designs, this particular artwork stands out. Encompassing the full expanse of the upper arm and extending over a significant stretch of the forearm, it's a remarkable example of this style.
Creating a blackout sleeve tattoo can be quite an intense experience due to the extensive coverage of the skin. However, the result is undeniably striking, transforming the skin into a canvas of distinct beauty.
Notably, a portion of the face is ingeniously incorporated amidst the flower tattoos, adding an intriguing dimension. The fusion of black and brown hues adds depth and richness to the design.
This floral design is a shining example for those seeking inspiration in the realm of blackout sleeve tattoos. Exuding elegance and allure, this sleeve flower tattoo is a stunning form of artistic expression.
Sunflower Flower Sleeve Tattoo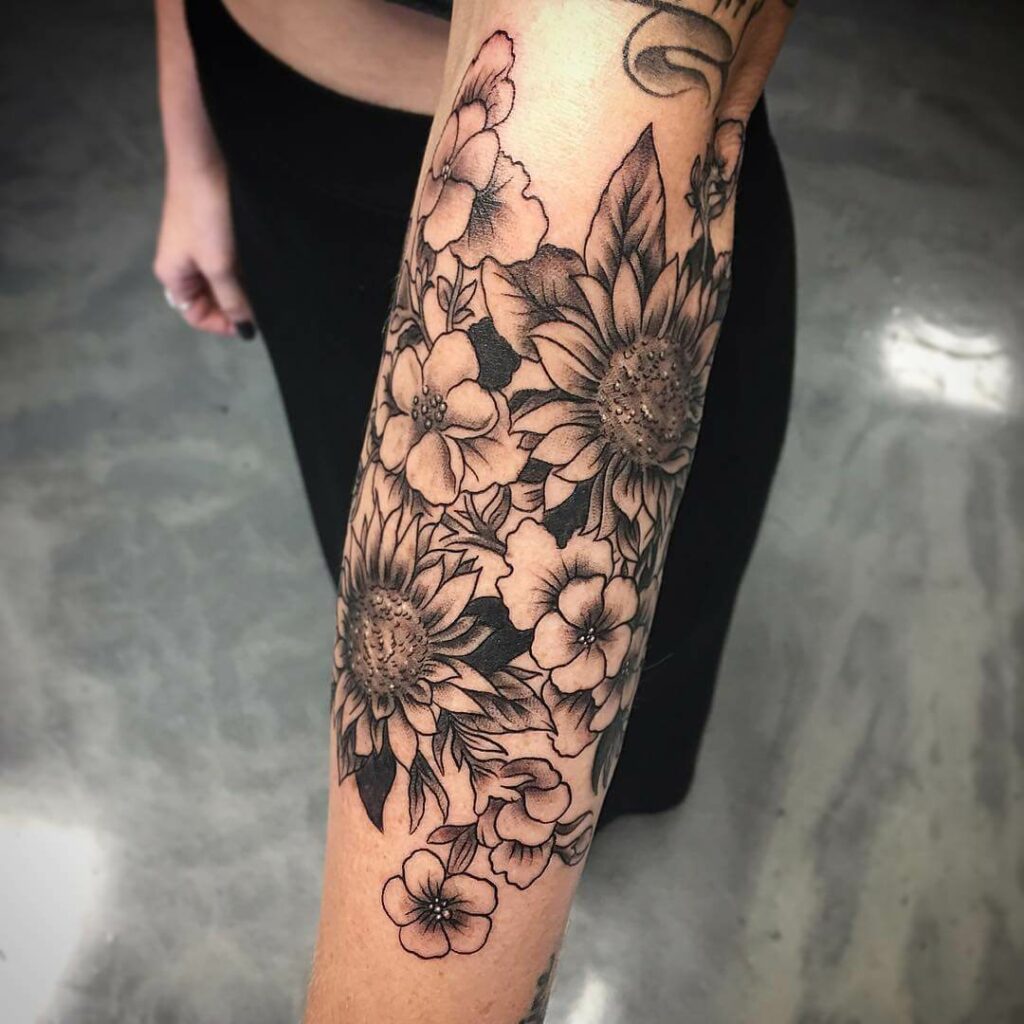 A captivating floral sleeve tattoo adorned primarily with sunflowers alongside a selection of other blossoms skillfully rendered in black ink.
Sunflowers hold a symbolic significance, representing faith and belief. This sleeve tattoo covers a significant portion of the forearm, strikingly displaying these meaningful flowers.
To infuse an extra pop of vibrancy, the addition of yellow ink to the sunflowers could illuminate the design.
Radiating a captivating charm, these sleeve tattoos hold a special allure when worn by women. This particular design exemplifies a half-sleeve floral tattoo concept, offering a blend of grace and botanical beauty.
Peach Fruit Flower Sleeve Tattoo Idea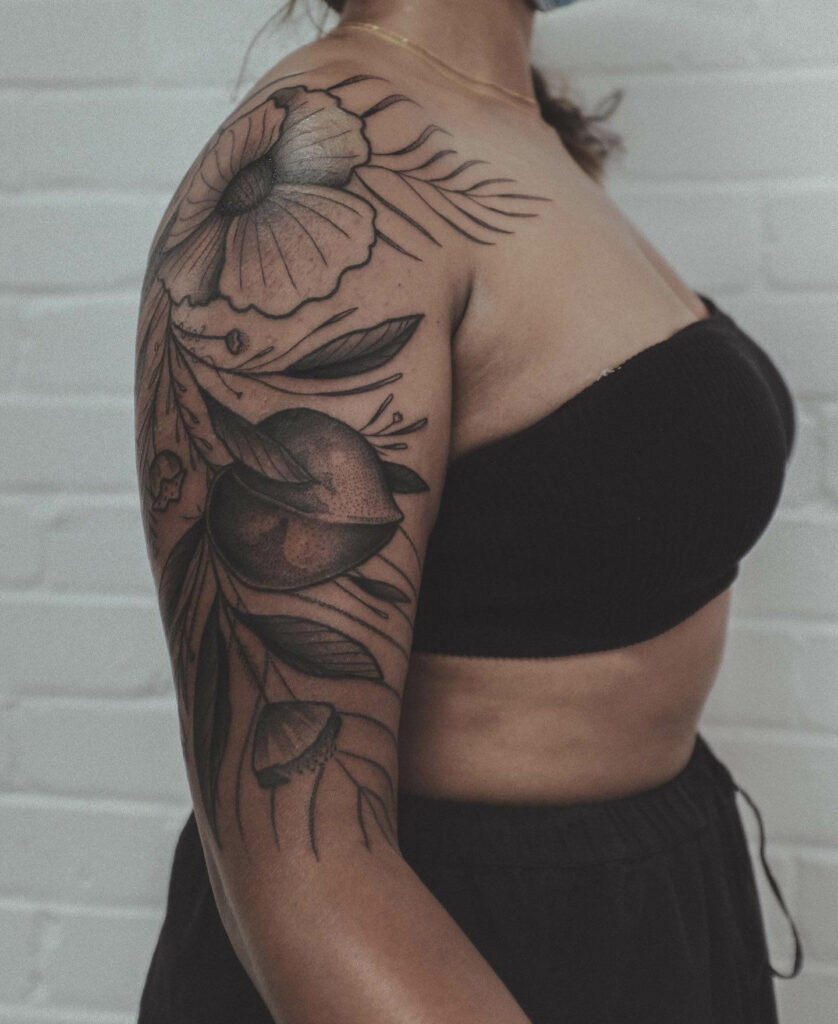 An intriguing combination of a floral sleeve tattoo and a peach fruit tattoo seamlessly intertwines in this design. The tattoo encompasses a half-sleeve, focusing solely on the arm.
The tattoo features a monochromatic approach, employing varying shades of black to achieve a cohesive and harmonious look.
A portion of the shoulder is also artfully adorned in this composition. For an added touch of dynamism, envision infusing the fruit with vibrant orange hues and the flower with lively green shades.
This contrasting palette promises to create a visually captivating and harmonious interplay of colours.
Peony Flower Sleeve Tattoo Style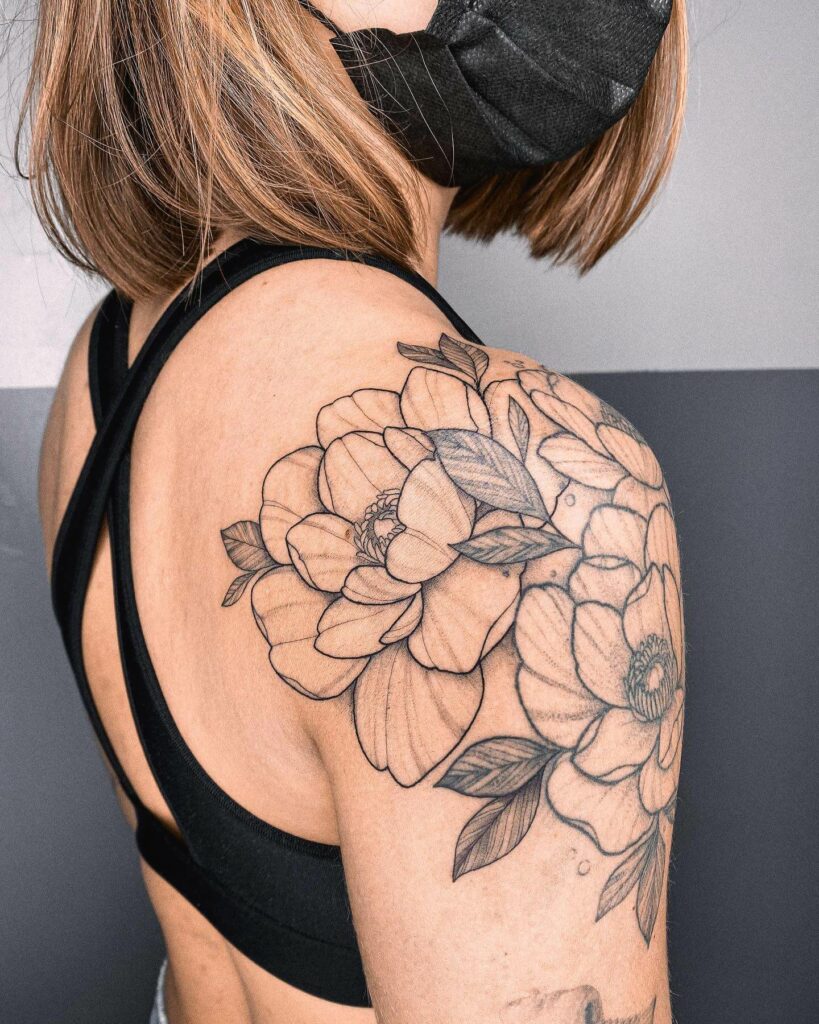 Elegantly showcased in a half-sleeve tattoo, the peony flowers take centre stage, brought to life with meticulous strokes of black ink.
This exquisite work highlights the tattoo artist's exceptional craftsmanship, spanning from the upper arm and gracefully extending to the shoulder.
The intricate detailing nestled amidst the leaves stands as a testament to the artist's skill.
While presented in black, the option to infuse the design with a soft pink hue holds the promise of creating an equally captivating and beautiful rendition.
Tribal Flower Sleeve Tattoo Idea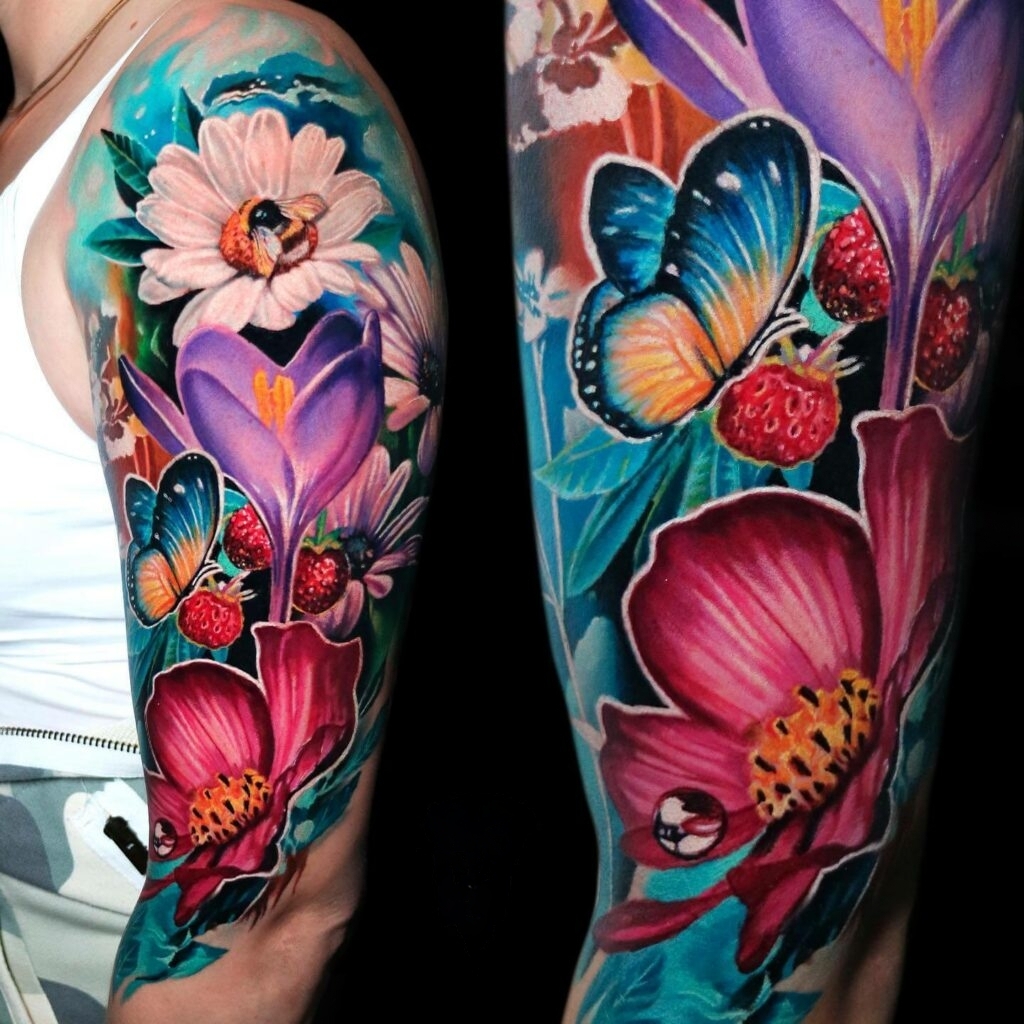 A captivating representation of tribal artistry, this design takes place among the impressive tribal tattoos. Adorning a woman's arm, this half-sleeve tattoo is a visual masterpiece.
Exuding vibrancy and allure, this tattoo design incorporates a rich blend of colours that catch the eye. The intricate detailing imparts a lifelike quality to the design as a whole.
Renowned for its captivating beauty, this half-sleeve tattoo emerges as one of the most enchanting tattoo sleeve concepts.
The meticulous use of shades within the flowers, the butterfly, and the fruit adds to the overall appeal. The creation of this intricate design demands patience and a deep understanding of artistry.
Serving as a stunning form of body art, even the white flower showcases a remarkable use of nuanced shading. If you're seeking a radiant and luminous tattoo, this design stands as a shining example.
Lily Female Flower Sleeve Tattoo Idea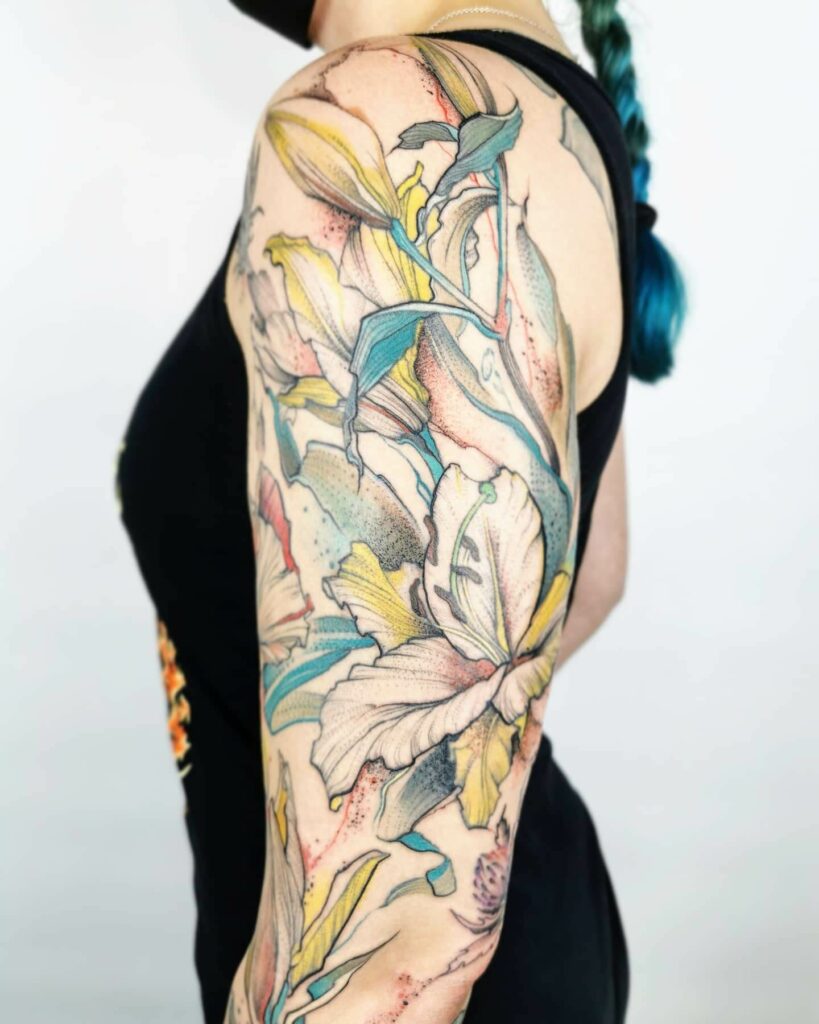 Featuring an array of lilies, this floral sleeve tattoo showcases a palette of yellow, ocean green, brown, and black hues, creating a captivating composition.
Adorning the upper arm, this half-sleeve tattoo draws upon the symbolism of lilies, often associated with purity and faithfulness.
The border, inked in black, offers a striking contrast against the varied colours employed within the design. The outcome is a tattoo that's charmingly cute yet elegantly sophisticated.
The concept of a female flower sleeve tattoo remains one of the most captivating and daring tattoo ideas. It can take the form of a half-arm sleeve, extend onto the forearm, or even transform into a full-sleeve tattoo.
The options for women's sleeve tattoos are diverse, spanning various designs from names to fruits and delicate flowers, each contributing to the enhancement of the overall tattoo aesthetics.
FAQs
Q: How much does a floral sleeve tattoo cost?
A: The cost of a floral sleeve tattoo can vary widely, ranging from $1000 to $6000. It depends on factors like the artist's hourly rate and the time required to complete the intricate design.
For full-colour designs, expect to invest at least two full days for the tattoo or multiple sessions.
Q: What does a sleeve tattoo say about a woman?
A: A sleeve tattoo on a woman often signifies confidence and a fearless display of her devotion to body art.
It exudes an attractive, confident, and even sexy vibe. Beyond that, a woman with a tattoo sleeve may be perceived as strong and resilient.
Q: What is the most popular flower tattoo?
A: The rose takes the lead as the most popular flower tattoo. Roses hold a deep symbolism of love, making them a common choice for couples. Additionally, roses with thorns can symbolize pain and the experience of loss.
Q: How long does a flower sleeve tattoo take?
A: Creating a sleeve tattoo is a substantial commitment. A full sleeve can demand at least 12 hours of work, approximately two days.
However, more intricate designs may require up to 80 hours to complete. To plan and design a sleeve tattoo, consider whether you prefer one large design or a collection of smaller pieces.
Conclusion
A harmonious blend of artistry and symbolism emerges in the realm of female flower sleeve tattoo ideas.
From the graceful allure of lilies to the intricate beauty of peonies, each design narrates a unique story of personal expression.
Whether embracing the vivid vibrancy of sunflowers or the refined elegance of Japanese motifs, these tattoos empower women to communicate their narratives through captivating body art.
By fusing colours, meaning, and craftsmanship, these floral masterpieces become more than mere designs – they transform into personalized canvases that resonate with individual significance.
In this world of creativity, female flower sleeve tattoos provide a means of self-expression, a testament to skilful artists and the distinctive spirits of wearers.
MORE FEMALE FLOWER SLEEVE TATTOO IDEAS