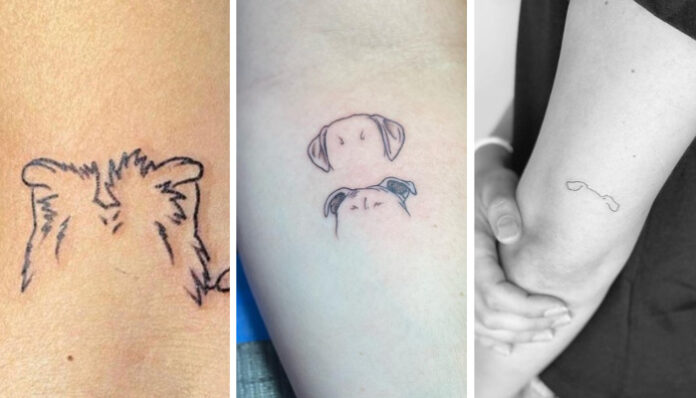 Are you searching for a unique and meaningful way to honour your beloved pet? Dog ear tattoo present a wonderful choice. These tattoos offer a range of designs and provide a lasting method to cherish your furry companion in your heart.
Bidding farewell to a pet is always a challenging experience, but a dog ear tattoo can serve as a perpetual reminder of the joyful memories you shared. Commonly placed on the wrist, forearm, or midriff, these tattoos hold sentimental significance.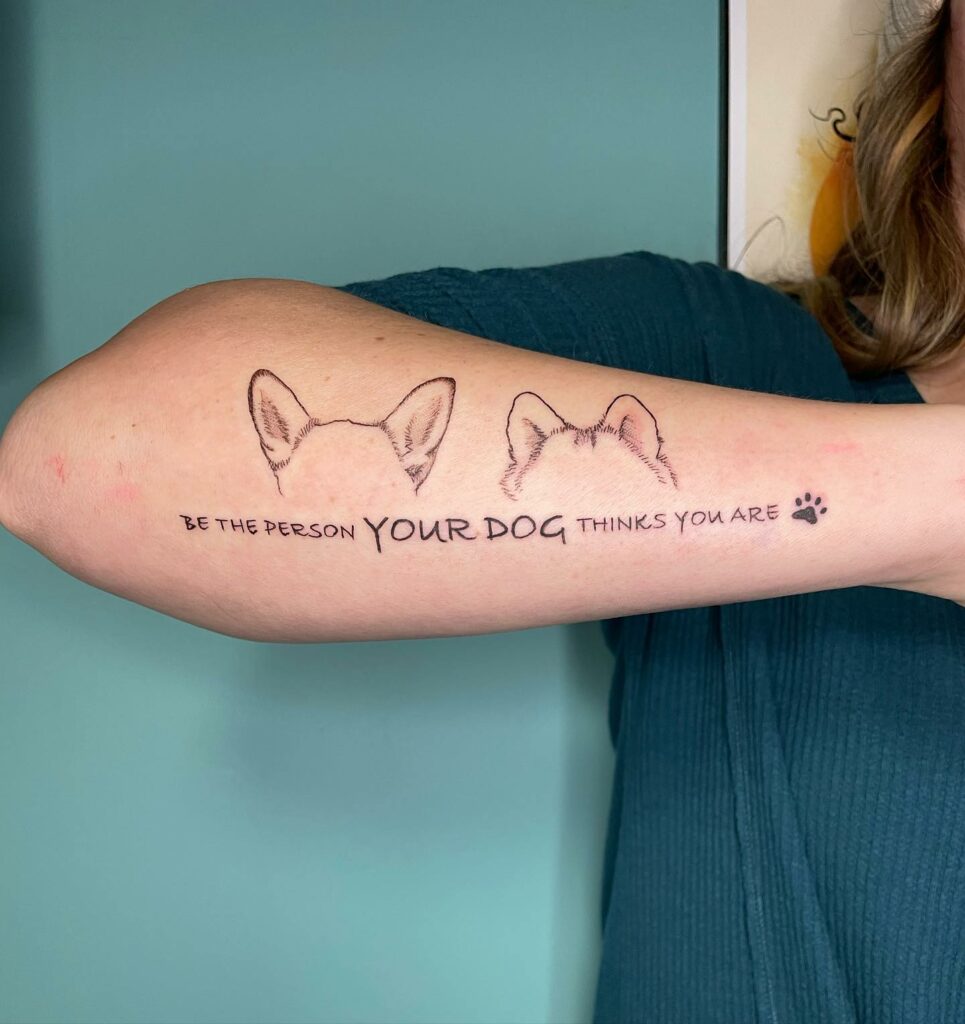 This article has compiled a selection of outstanding dog ear tattoo ideas to ignite your creativity. Keep reading to discover inspiration for your upcoming tattoo.
Outline Dog Ear Tattoo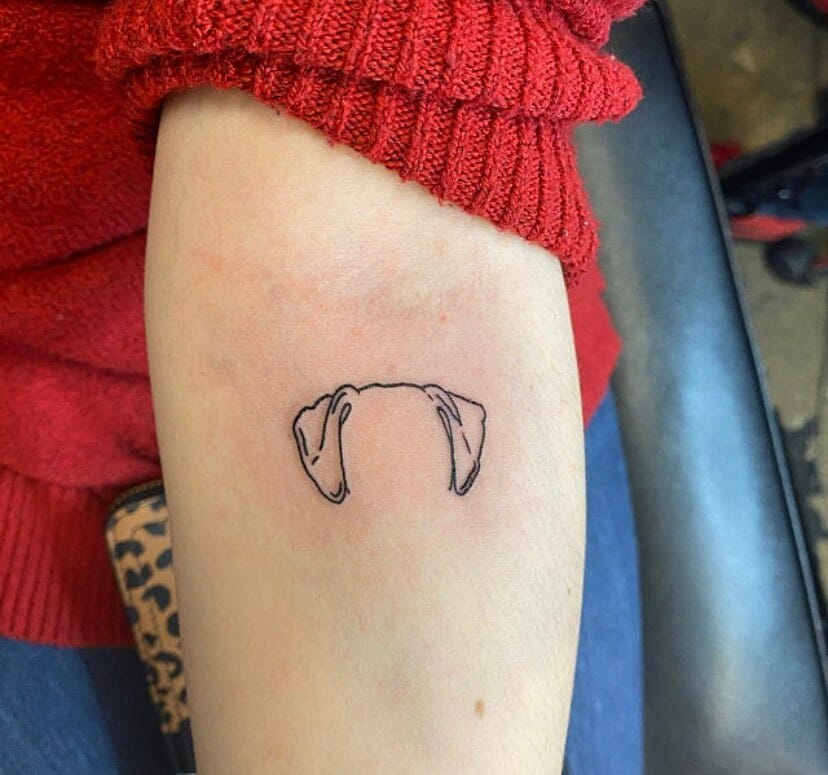 Explore this adorable and understated dog ear tattoo outline, carefully crafted on the forearm of the individual. This contemporary style of tattooing has gained popularity for its minimalist and fashionable allure.
The artist has masterfully brought this body art to life using precise black ink, exuding allure and sophistication. This choice holds great promise if you're seeking a personalized tattoo design.
Yet, as you prepare for the tattooing experience, remember to bring a high-quality photo of your furry companion. This invaluable reference will aid the artist in faithfully reproducing the design on your skin, guaranteeing a flawless and personalized tattoo.
Dog Ears Tattoo With Flowers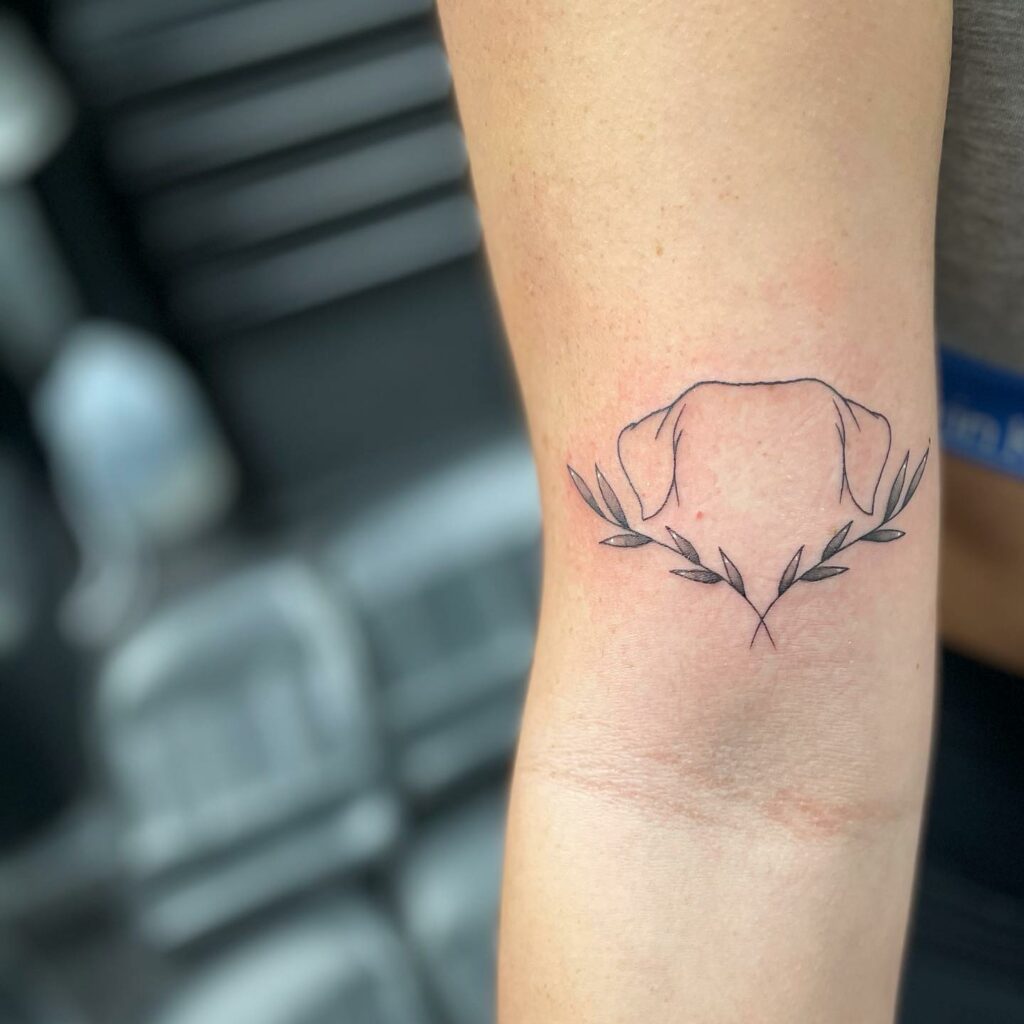 Embrace the profound connection between humans and their loyal canine companions with a Dog Ears Tattoo With Flowers. Dogs hold a cherished place in our hearts, earning the title of "man's best friend" through their unwavering devotion and unconditional love.
The popularity of dog ear tattoos among pet owners is a testament to this special bond. These tattoos encompass more than just memorializing a beloved pet; they symbolize loyalty and safeguarding.
The captivating image above portrays a dog's ear artfully adorned with delicate flowers.
Flowers symbolize love, fragility, and tenderness in the realm of tattoos. When intertwined with a dog's ear, they eloquently convey the profound connection shared between a pet and its owner.
This heartfelt design often resonates particularly well with women, epitomizing the bond of affection.
If the idea of a dog ear tattoo resonates with you, ensure you carry a clear photo of your furry companion to the tattoo studio.
This valuable visual reference empowers the tattoo artist to craft a personalized design impeccably captures your pet's distinctive traits. Celebrate the unbreakable bond with your four-legged friend through this beautiful and meaningful tattoo.
Quirky Dog Ear Tattoo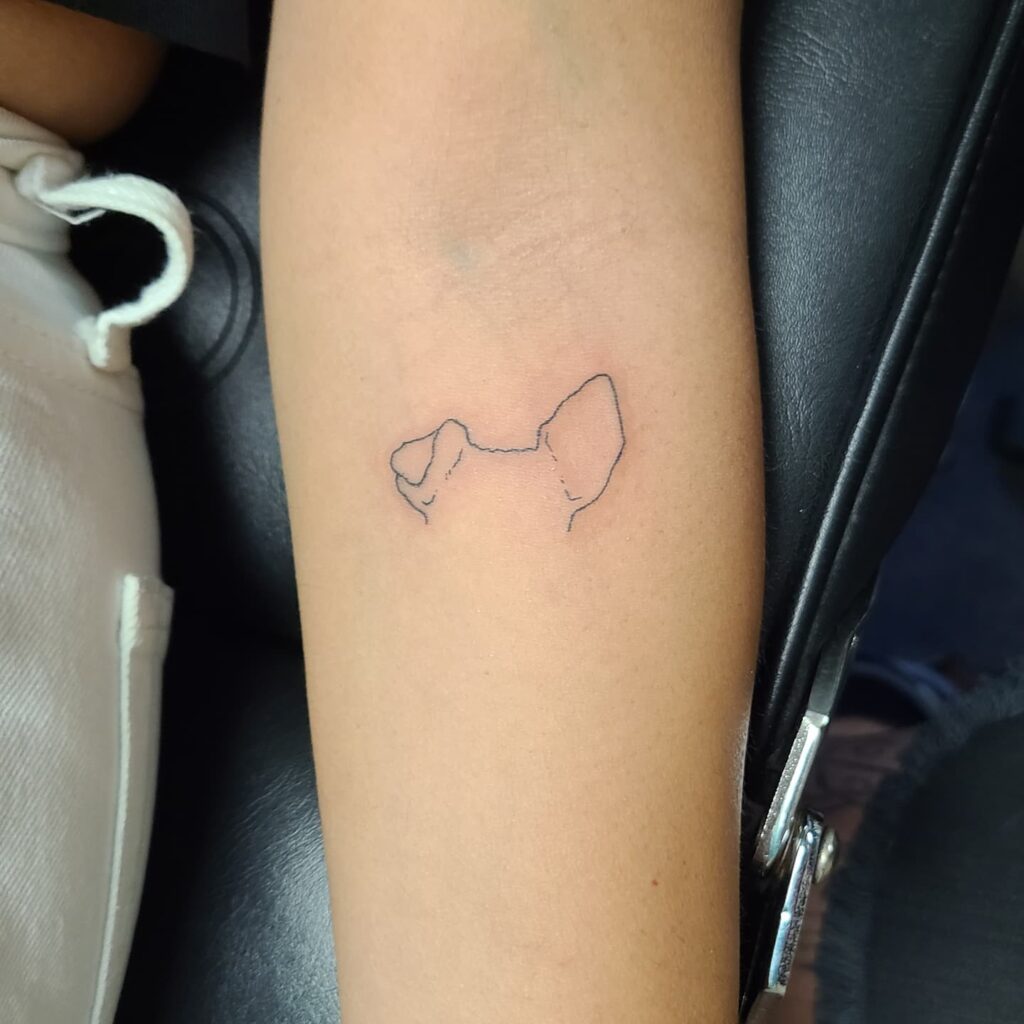 For all dog enthusiasts, the Quirky Dog Ear Tattoo captures the endearing image of a dog with its ears playfully perked up and alert.
This pose clearly indicates the dog's attentiveness and curiosity, always on the lookout for something intriguing. Dogs, often chosen for their protective nature, symbolize guidance and security.
In this creative design, the tattoo artist skillfully translates this concept into a delicate arrangement of lines using black ink. The result is a delightful and whimsical tattoo that finds its perfect place on the forearm.
Despite its minimalist appearance, this design skillfully conveys the unwavering loyalty and protective instincts that dogs graciously offer their human companions.
So, if you have a special place in your heart for dogs and their unique expressions, consider celebrating their adorable curiosity and protective nature with the Quirky Dog Ear Tattoo.
Lettered Dog Ear Tattoo
Looking for a touch of personalization in your dog-ear tattoo design? Feast your eyes on this inspiring example.
The showcased tattoo portrays a meticulously crafted rendition of a dog's ear, thoughtfully accompanied by the name 'Ayla.' This exquisite tattoo serves as a heartfelt tribute to the profound bond of love and companionship shared with your furry companion.
The font chosen for this design is artfully curated, elevating the visual allure of the piece. The flexibility to customize the font style ensures the tattoo resonates with your individual preferences.
When embarking on the creation of your unique design, it's pivotal to select a high-resolution image of your dog to ensure the utmost precision in tattoo replication.
For an added burst of vibrancy and lifelike vibrancy, contemplate the incorporation of lively hues such as pink or red.
The Lettered Dog Ear Tattoo offers a splendid canvas to honour your four-legged friend while infusing a personal touch that truly captures the essence of your bond.
Dog Ear and Paws Tattoo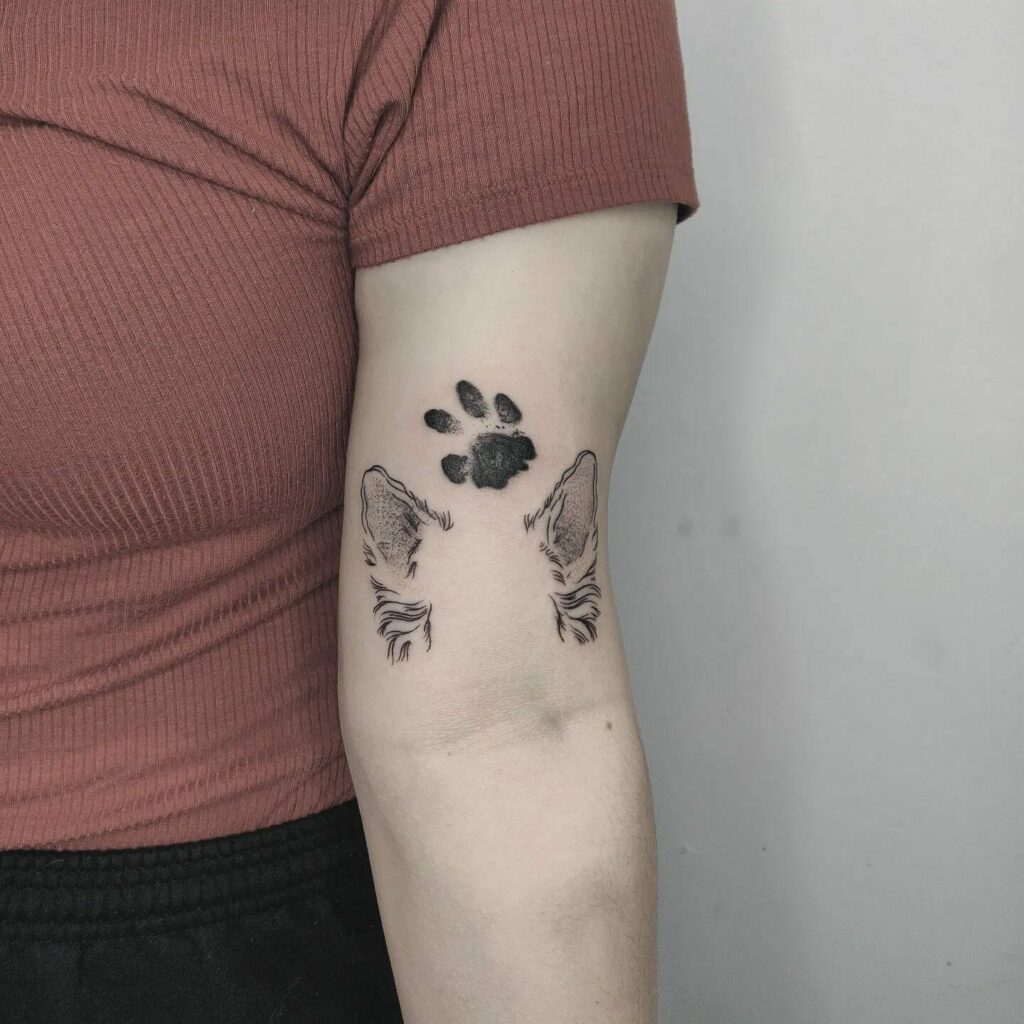 Capturing the essence of affection and devotion towards your beloved canine companion, dog paw tattoos stand as a pure and eloquent expression.
Revered by dog enthusiasts, these tattoos offer a canvas for personalization, allowing various shapes and symbols to be seamlessly integrated.
They forge a potent emblem of the unbreakable connection between humans and their animal counterparts when interwoven with dog ear tattoos.
The showcased image exemplifies this synergy impeccably. Departing from the conventional, the design extends beyond a mere depiction of dog ears, incorporating intricately shaded paws that emulate the texture of fur.
The interplay of dark and light black ink lends dimension to the composition, underscoring its visual impact.
In their simplicity, Dog Ear and Paws Tattoos wield an undeniable charm, appealing to dog lovers of all kinds. These designs, harmoniously blending ear and paw elements, are a poignant tribute to humans' profound relationship with their faithful companions.
Dog Ear Finger Tattoo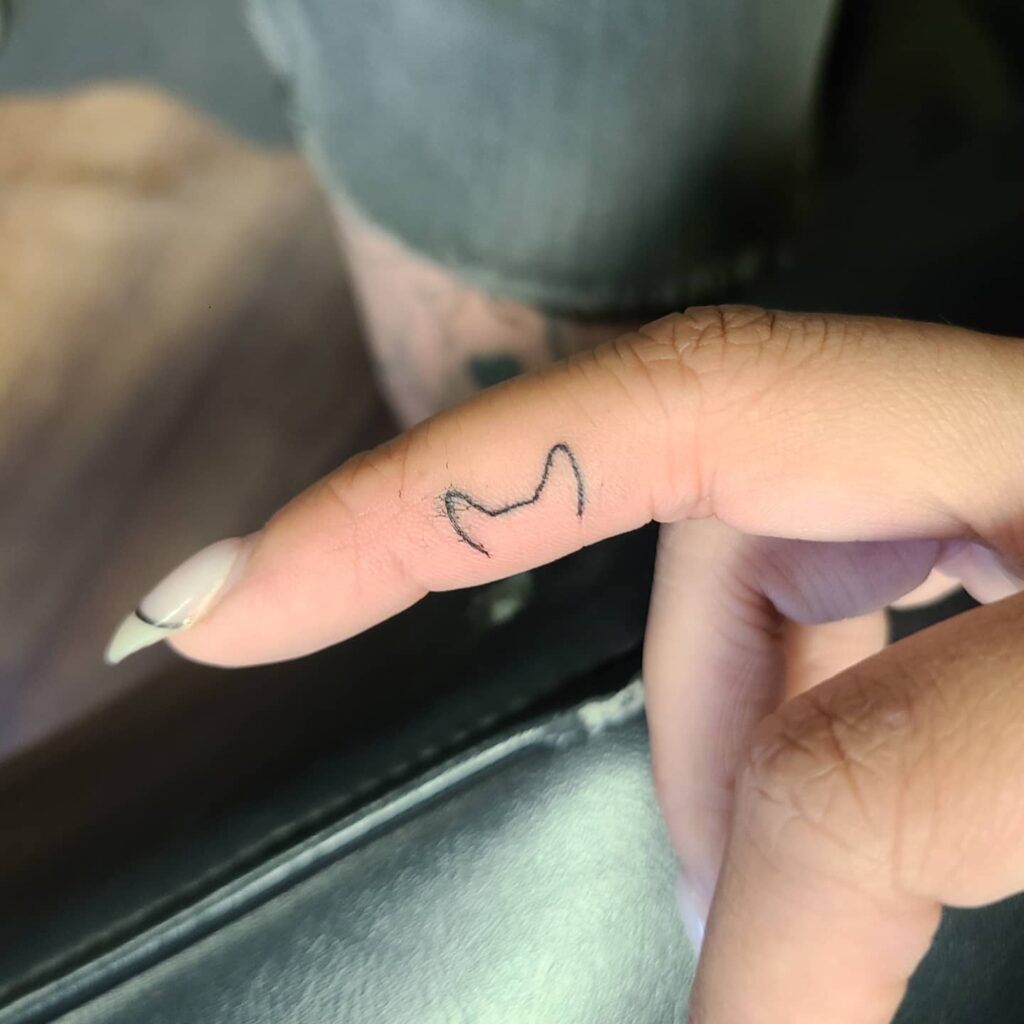 Dog-inspired designs offer a heartwarming choice if you're looking for a tattoo that encapsulates communication, playfulness, loyalty, and boundless love.
In this captivating depiction, a minimalist dog ear tattoo graces the individual's finger. This subtle yet poignant design captures the essence of canine companionship.
The allure of minimalist tattoos lies in their ability to grace various body parts, such as fingers, necks, ankles, and wrists.
The canvas may be modest, but the sentiment is profound. Exploring different ink styles, including the vibrant strokes of watercolour, can infuse your design with personality and flair.
Yet, it's essential to acknowledge that finger tattoos may involve more discomfort than other areas due to the thin skin.
Additionally, they may require periodic touch-ups, given the hands' daily use. Thus, it's prudent to deliberate on your design and placement choice, ensuring a lasting tribute to your treasured pet's memory.
Dog Ear With Initials Tattoo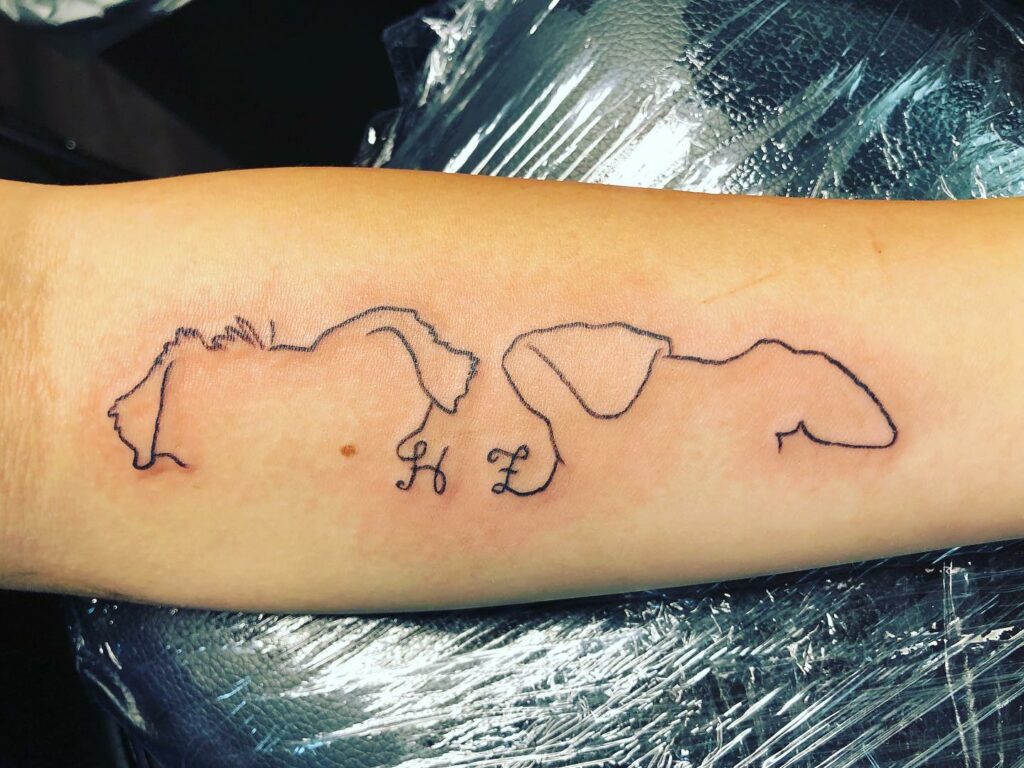 In this endearing image, we're presented with a delightful arrangement of two pairs of dog ears, accompanied by the charming addition of the dogs' initials neatly inscribed in the corner.
This style of tattoo holds immense appeal, particularly for newcomers to the realm of body art who seek to celebrate their beloved pets.
The inclusion of initials carries a personal touch that speaks volumes about the special connection shared with these furry companions.
To make the tattoo even more distinctive, consider incorporating your dog's birth date—an intimate detail that elevates the design's sentimental value.
Embracing the realm of line work tattoos, these designs offer affordability and elegance in equal measure.
Perfect for enthusiasts of minimalistic aesthetics, these dog ear tattoos prove that size isn't everything; their simplicity exudes an understated charm that profoundly impacts all who lay eyes upon them.
Colored Dog Ear Tattoo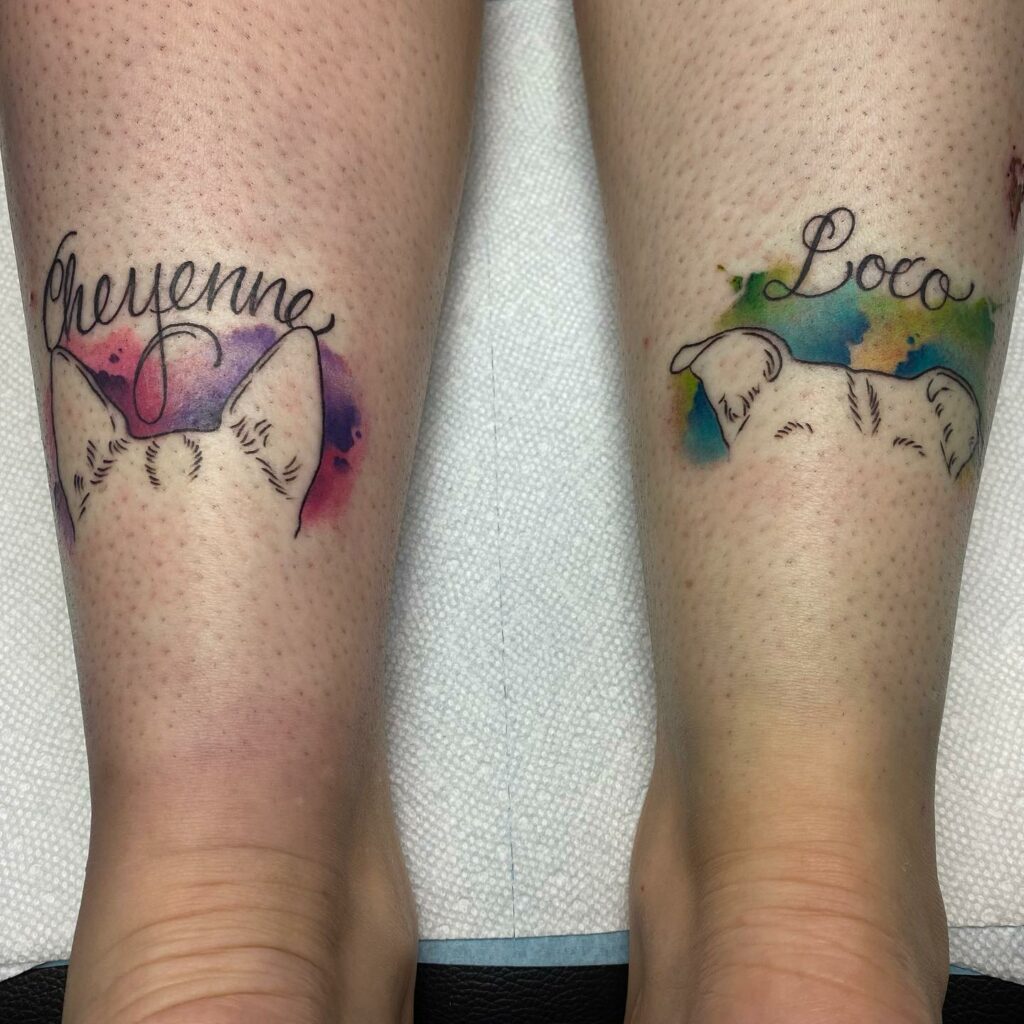 Indulge your love for vibrant and imaginative tattoo art with this captivating portrayal—a remarkable image featuring a pair of dog-ear tattoos elegantly adorning the wearer's leg.
Diverging from the norm of conventional black ink, the artist has opted for a mesmerizing array of vivid, lively colours to accentuate the dogs' names.
The infusion of bright hues imparts an enchanting quality to the design, drawing immediate attention to the names of the beloved pets.
With one design gracefully merging pink and purple shades while the other effortlessly intertwines green, yellow, and blue, these colours harmonize seamlessly to create a visually striking and attention-grabbing tattoo.
This imaginative creation offers a fantastic avenue for those seeking a tattoo that radiates joy, vibrancy, and character.
It's a testament to the transformative power of colour in tattoos—breathing life into the artistry and encapsulating the spirit of the subjects it portrays.
If you're searching for inspiration for your next ink venture, this design promises to leave an indelible impression that will captivate and delight you.
Realistic Dog Ear Tattoo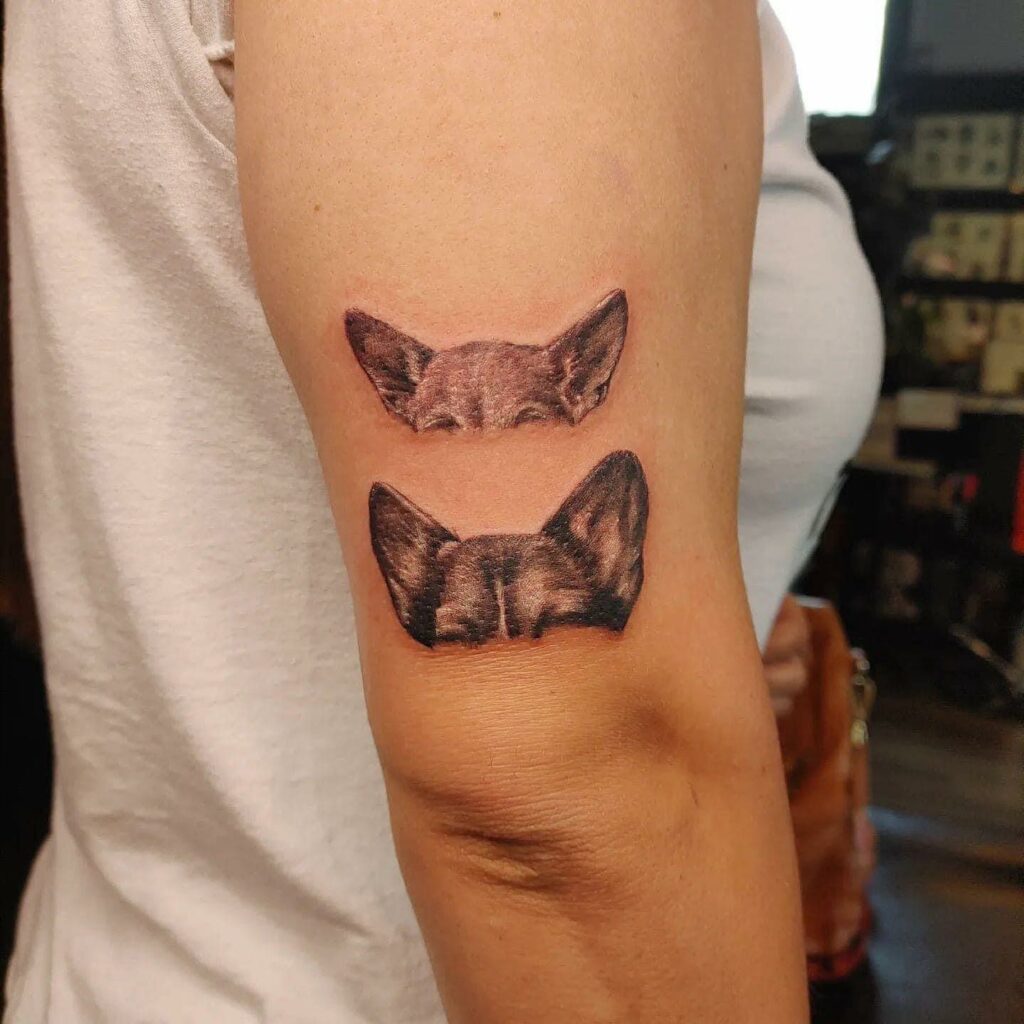 Capture the essence of your deep bond with your four-legged companion through the artistry of dog-ear tattoos. If you're seeking a design that transcends simplicity and embraces intricate realism, this exquisite option is poised to captivate your heart.
In this masterful creation, the tattoo artist skillfully weaves a tapestry of shades of black and grey ink, breathing life into a stunningly detailed and lifelike portrayal of the dog's fur.
The meticulous shading technique adds depth and dimension to the design, elevating it to a level of realism that sets it apart from more straightforward outline tattoos.
The deliberate use of shading results in a nuanced and intricate design, mirroring the unique texture and appearance of the dog's ear. This level of detail creates a remarkable visual impact, celebrating the dog's essence and individuality.
What's more, the tattoo's moderate size ensures its visibility from a distance, allowing your furry friend's presence to be felt even when they're not by your side.
The harmonious black and grey ink blend imbues the tattoo with a timeless charm, evoking a sense of classic elegance that will stand the test of time.
So, suppose you're in search of a tattoo that speaks volumes about your affection and admiration for your canine companion. In that case, this realistic dog-ear tattoo is a testament to the power of art to honour the bond between human and pet.
Dog Ear And Heart Tattoo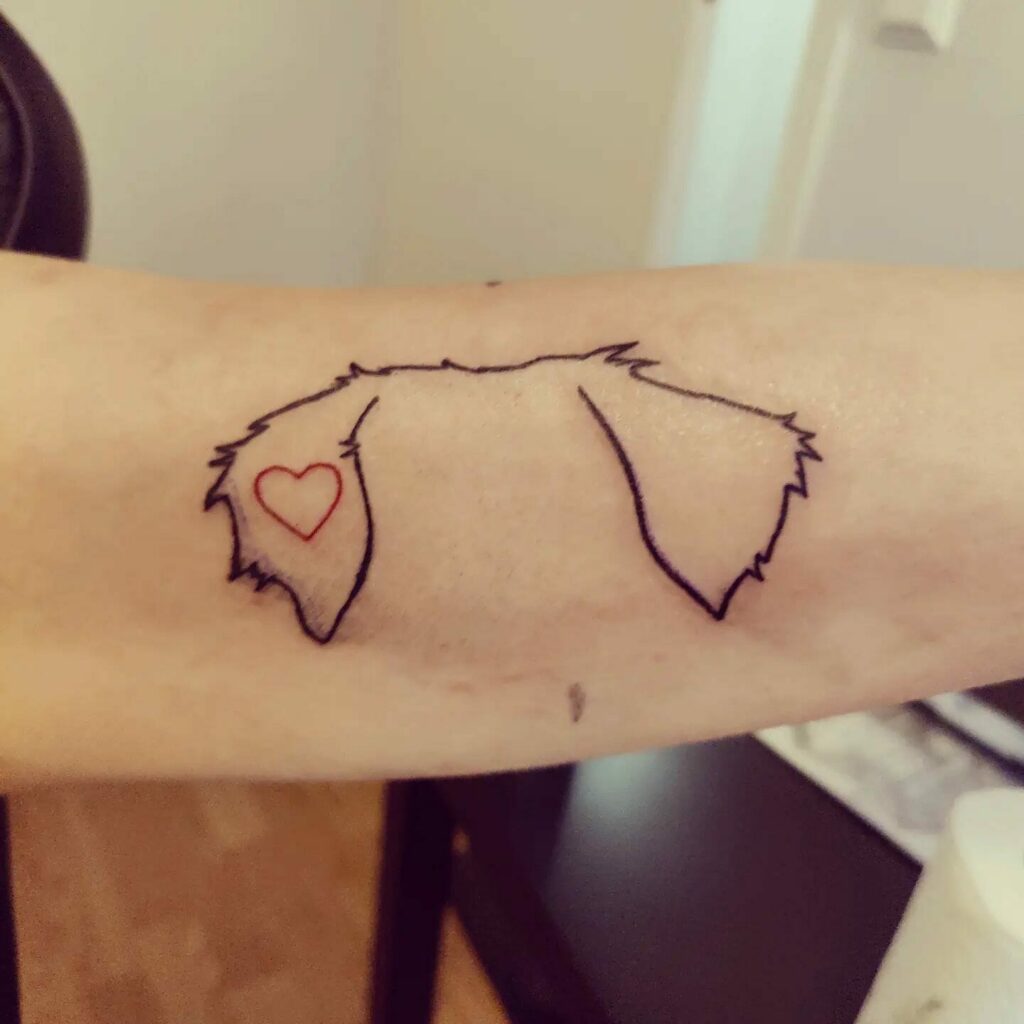 The Dog Ear and Heart Tattoo design ingeniously blends the universal symbols of love and companionship into a striking visual representation.
The tattoo artist's creative fusion of a heart symbol with adorable dog ears results in a design that exudes sentiments of affection, camaraderie, and fervour.
The dynamic contrast between the vibrant red ink of the heart and the elegant black hue of the ears further elevates the aesthetics of this tattoo.
Notably favoured, particularly among female tattoo enthusiasts, this design encapsulates a plethora of emotions and meanings.
It captures the essence of the profound bond between humans and their canine companions, encapsulating the genuine love, loyalty, and playfulness that define this unique relationship.
Beyond its emotional resonance, the Dog Ear and Heart Tattoo stands as a captivating work of art that speaks to the heart.
The charm of these tattoos lies not only in their meaningful symbolism but also in their accessibility. With their straightforward yet visually captivating composition, these tattoos are an excellent starting point for those embarking on their tattoo journey.
Their simplicity facilitates easy design and affordability, making them a favourable choice, especially for beginners seeking a sentimental and aesthetically pleasing expression of their affection for their furry friends.
FAQs
Q: Why does my dog have a tattoo on her ear?
A: Tattoos are often used for animal identification purposes. After a desexing procedure, dogs and cats can receive a desexing tattoo on their left ear, which is a circle with a diagonal line. Additionally, a microchip tattoo might be placed in the right ear.
Q: Do dog ear tattoos fade?
A: Yes, dog ear tattoos can fade over time. If your dog has received a tattoo, it might scab over and gradually peel off. It's important not to disturb the scab, as disrupting it could lead to the tattoo fading and becoming unreadable.
If your pet appears uncomfortable or the tattoo is itchy, applying a small amount of unscented creams, such as Lubriderm, can help. Keep in mind that tattoos may naturally fade or blur as time goes on.
Q: Is it normal to get a tattoo of your dog?
A: It's standard for pet owners to find unique ways to honour and remember their cherished companions. According to a recent survey by Figo, more than 75% of participants from Generation Z expressed their willingness to get a tattoo of their beloved pets.
This trend highlights the deep emotional connection that many people have with their pets, leading them to commemorate that bond in creative and lasting ways.
Conclusion
In conclusion, dog ear tattoos provide a meaningful and lasting tribute to the cherished bond between humans and their furry companions. From minimalist outlines to vibrant colours, each design captures the essence of love, loyalty, and joy.
Whether you opt for a heart symbol or your pet's initials, these tattoos serve as heartfelt reminders of your special connection. Let your skin become a canvas of celebration, honouring the enduring companionship that enriches your life.
MORE DOG EAR TATTOO IDEAS