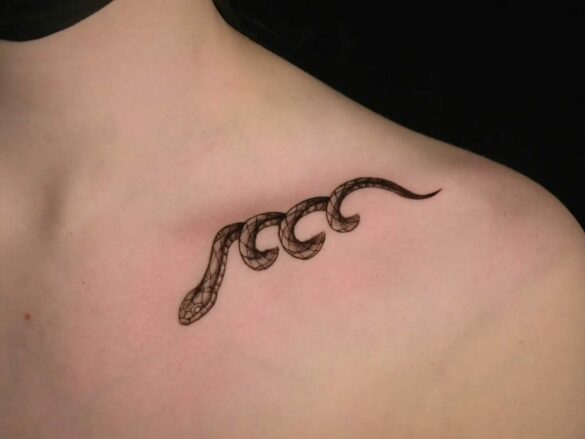 Are you thinking about getting a tattoo that's both stylish and on-trend? Well, you're in luck. Snake Collarbone tattoos have become incredibly popular, and they look absolutely stunning when placed on the collarbone.
This area is sometimes overlooked for tattoos, but it's a fantastic spot to showcase your body art. The collarbone provides flexibility, allowing you to choose whether to display your tattoo prominently or keep it more discreet.
And by the way, collarbone tattoos aren't limited to just women – more and more men are also embracing this area for their tattoos, making a bold artistic statement.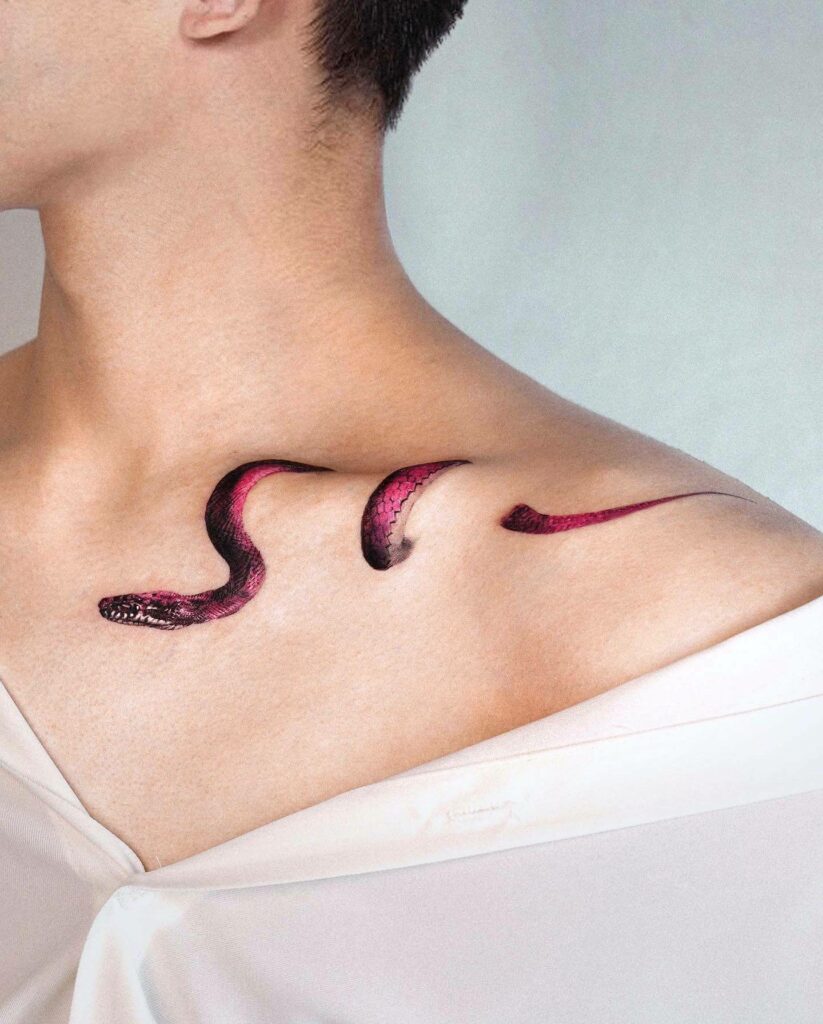 Snake tattoos carry a range of meanings, from power and allure to fertility and rebirth. They're symbols that have a timeless appeal, and when placed on the collarbone, they create a captivating look.
Whether you're interested in a small and minimalist design or something larger and more intricate, we've got you covered with a selection of unique snake collarbone tattoo ideas.
Feel free to explore our list, discover the design that resonates with you, and get ready to sport an eye-catching tattoo that truly makes a statement.
Collarbone Snake Tattoo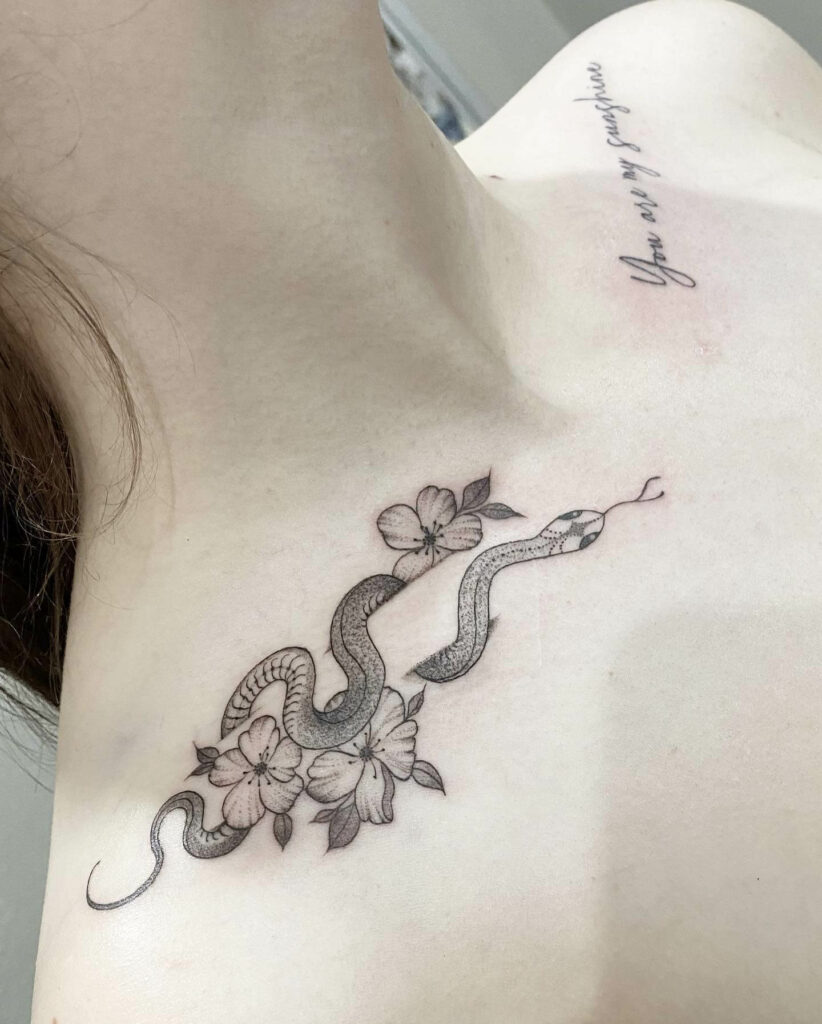 The Collarbone Snake Tattoo is a striking combination that holds significant cultural meaning.
In certain cultures, the pairing of a snake and a flower symbolizes temptation – where the snake embodies destruction, and the flowers signify innocence.
This tattoo concept represents the transition from purity to temptation within an individual.
If you've opted for this tattoo, you're in for a treat. Your tattoo artist has skillfully brought this design to life. The snake is masterfully coiled around your limb, accompanied by delicately placed flowers.
The artist employed a blend of fine line and dot-work techniques to craft the design, adhering to a timeless black and grey colour scheme.
However, if you're feeling bold, you could even consider adding a splash of colour to enhance its visual appeal.
Dragon And Snake Tattoo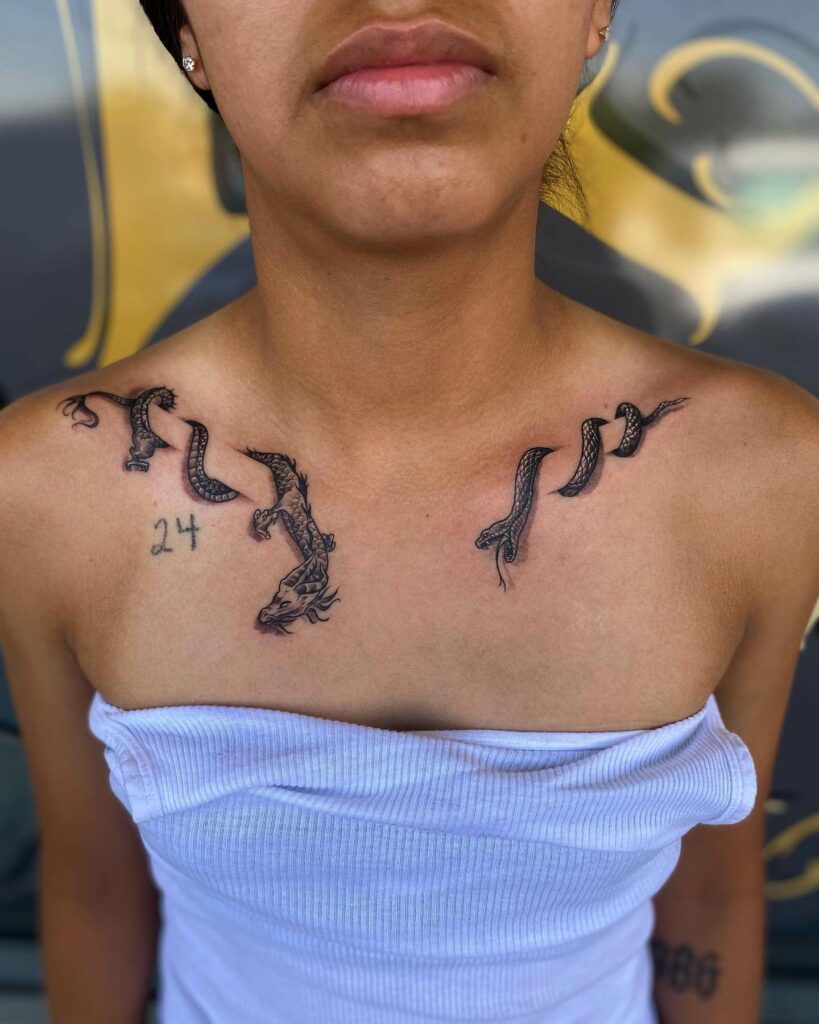 The Snake and Dragon Tattoo design is a captivating fusion that embodies a harmonious balance between contrasting qualities.
The dragon embodies the fiery passion and untamed spirit, while the snake portrays nature's shrewdness and composed demeanour.
This image displays dual tattoos, each adorning a collarbone. Your tattoo artist's expertise is evident in the intricate detailing of this design.
The meticulous strokes and shading in black ink lend a lifelike quality to the dragon and snake as they gracefully entwine around the clavicle area.
This artwork seamlessly blends elegance and untamed energy, creating a truly unique and captivating piece.
Twin Snake Tattoo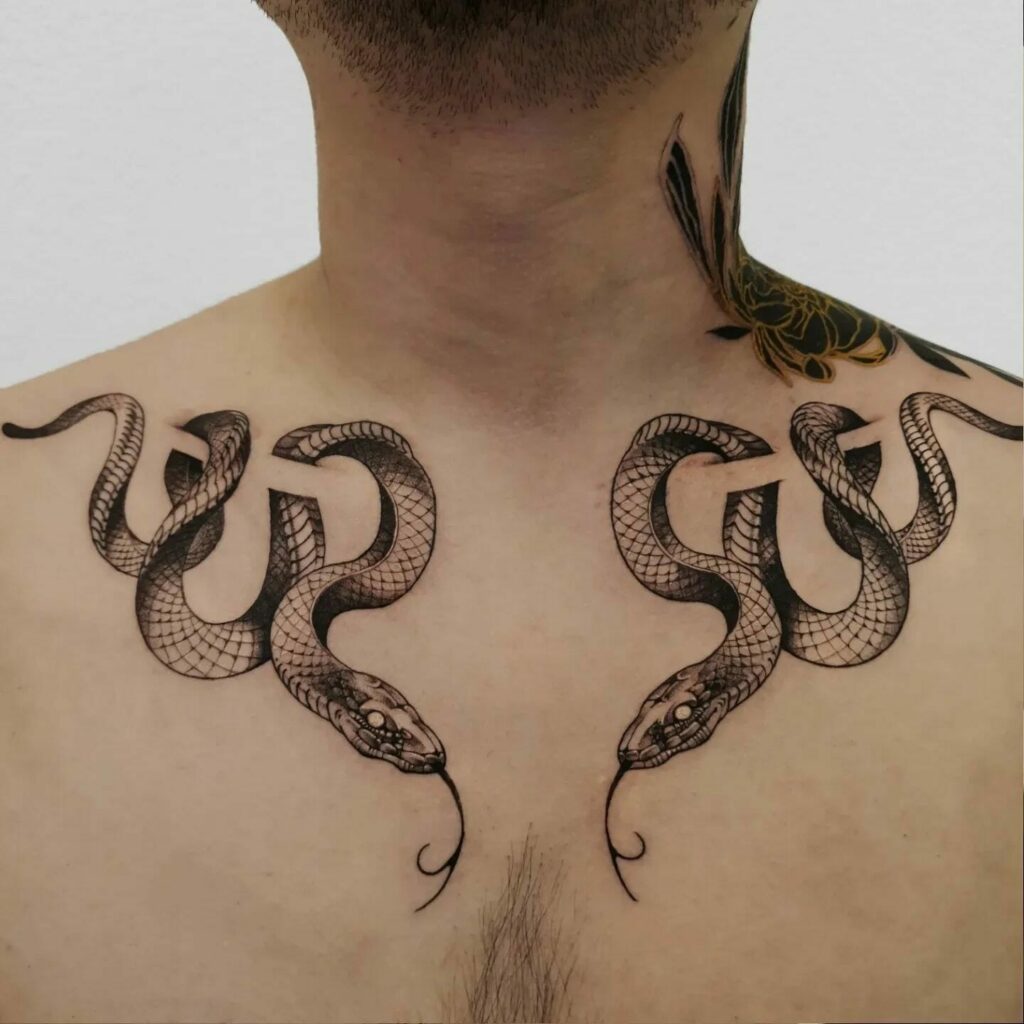 The Twin Snake Tattoo design offers a distinctive take on collarbone tattoos by showcasing two entwined snakes on each collarbone.
Snakes have held significant reverence in diverse cultures throughout history, with the Aztecs attributing wisdom, power, and energy to this creature.
The belief that having twin snake tattoos bestows the trinity of these qualities adds depth to this design.
This striking design features the snakes elegantly coiling around the collarbone, akin to other collarbone tattoos.
The meticulous craftsmanship of your tattoo artist is evident in the intricate details, highlighted by black and grey shading that lends the snakes a three-dimensional appearance.
The closely resembling twin snakes create a captivating and dynamic design that's bound to draw attention. If you're in search of a distinctive and attention-grabbing tattoo, this option might be the perfect fit for you.
Snake Tattoo On Collarbone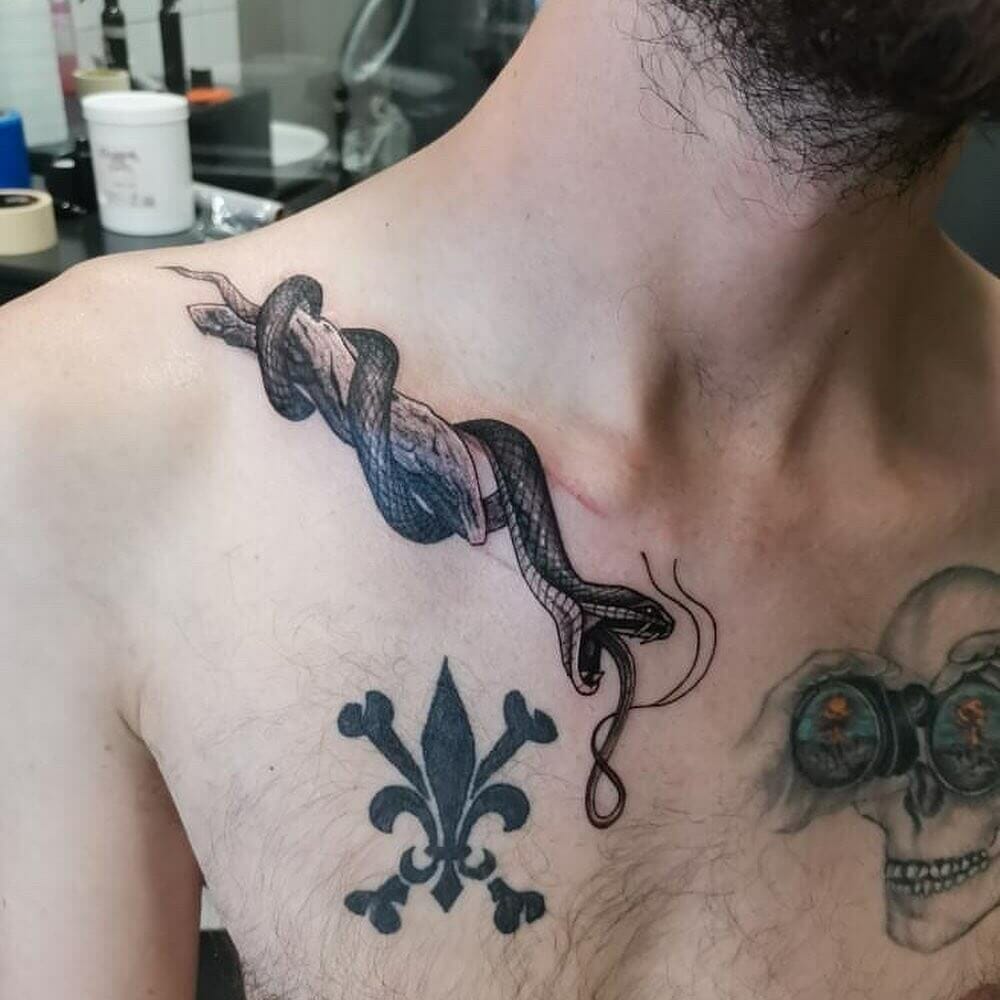 The Snake Tattoo on Collarbone design offers a creative twist to the classic snake coiling around the clavicle concept I previously discussed.
In this rendition, the snake's coil is enhanced with a tree bark effect, giving the impression that the snake is elegantly entwined around a tree.
The attention to detail in this design is truly remarkable, and the use of deep black and grey hues for the snake adds a touch of sophistication to the overall aesthetic.
The placement of this tattoo on the collarbone is strategic, allowing you the option to showcase it proudly or keep it concealed beneath clothing, based on your preferences.
This design is versatile and suitable for both men and women, boasting an appeal that transcends gender boundaries.
So, whether you're seeking a bold and adventurous tattoo or one that exudes subtlety and refinement, this particular design could be the perfect choice for your body art journey.
Coiled Snake Tattoo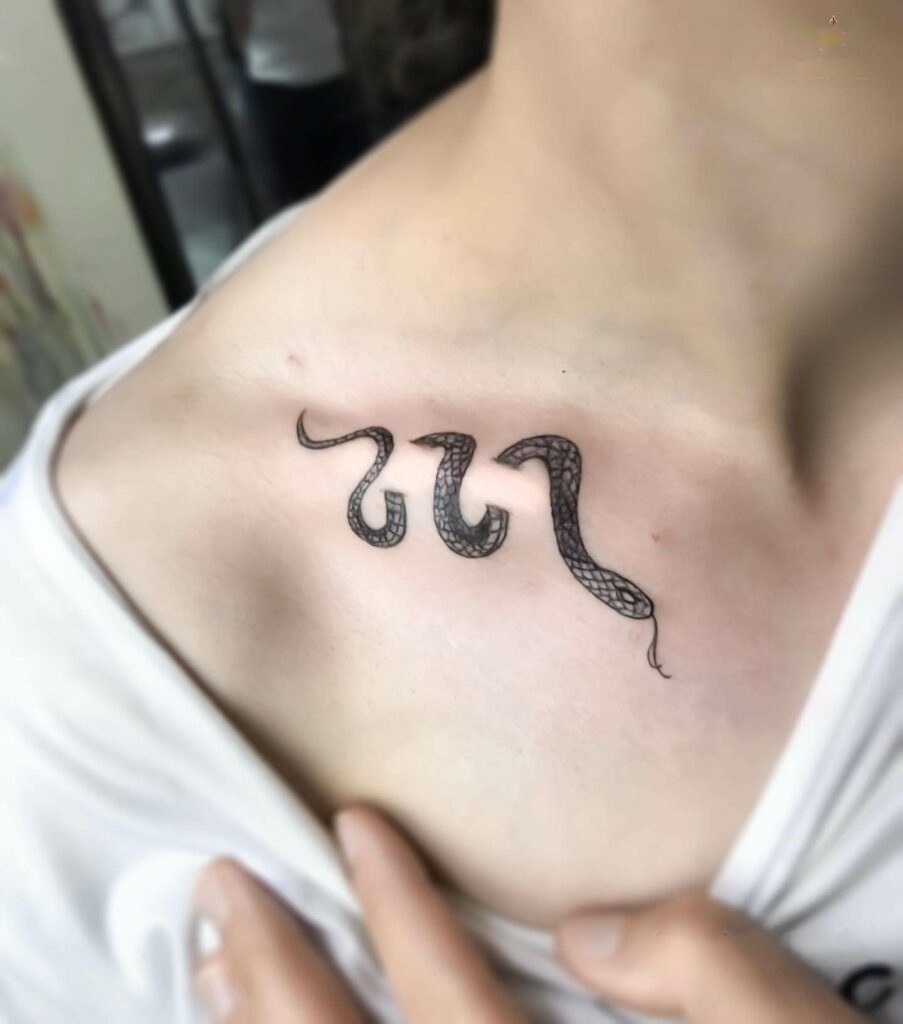 The Coiled Snake Tattoo is a captivating design that showcases a small yet impactful snake rendered with bold black ink. The craftsmanship of your tattoo artist is evident in the intricate detailing of the snake, creating a lifelike appearance.
This realism is further enhanced by the skilful shading applied to certain areas along the snake's curves, producing a three-dimensional effect.
The utilization of a fine line style contributes to the tattoo's overall crisp and precise appearance.
Despite its modest size, this design carries a strong visual presence that appeals to both men and women. While the tattoo's size may be small, its significance remains profound, representing notions of fertility and power.
If you're in search of a minimalist tattoo that encapsulates meaningful symbolism, the Coiled Snake Tattoo offers an ideal choice that exudes both subtlety and impact.
Flash Snake Tattoo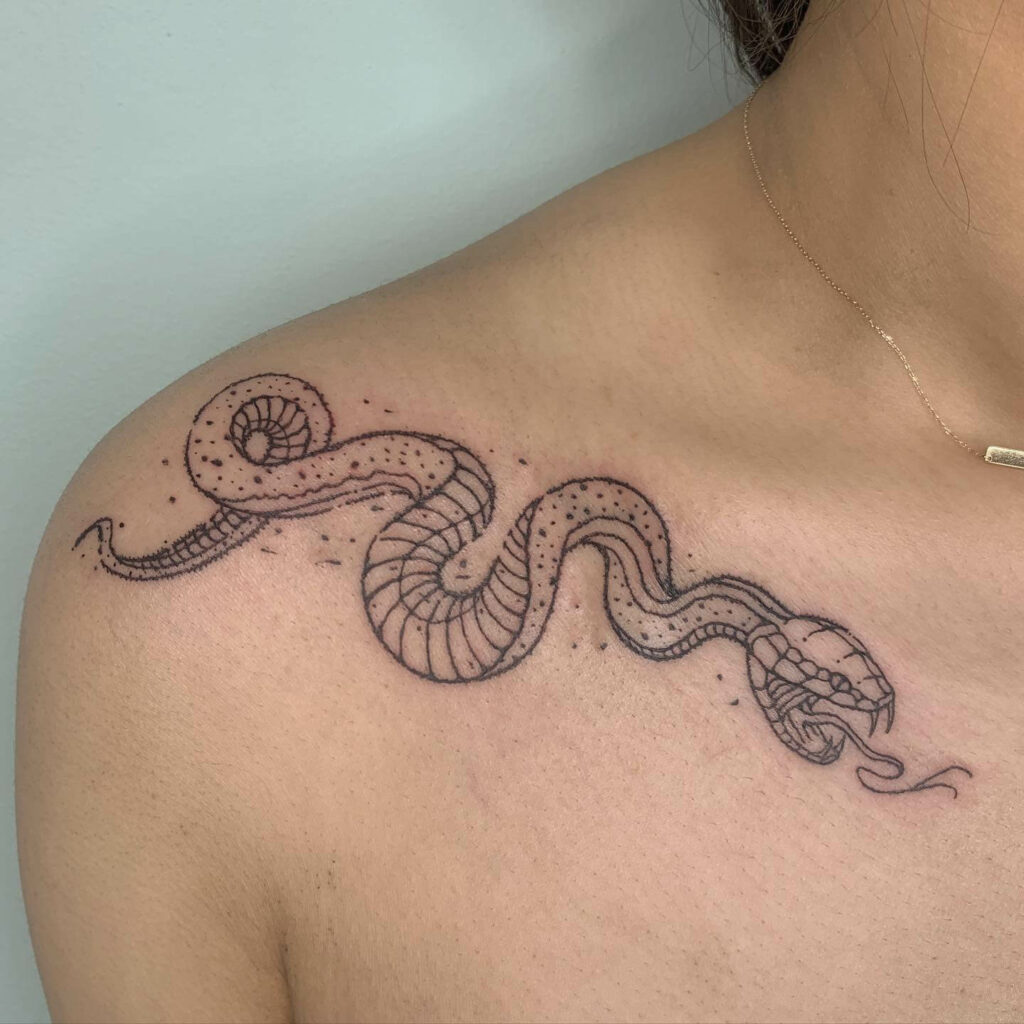 The Flash Snake Tattoo design is a must-see if you're seeking a fresh and distinctive take on snake tattoos.
This particular design seamlessly merges two distinct artistic styles – dot work and fine-line work – resulting in a truly unique and unparalleled masterpiece.
The top section of the snake exudes a playful, polka-dot-inspired aesthetic, while the lower portion boasts intricate detailing characterized by a captivating crisscross pattern.
Adding to the artistry, the snake's head features geometric shapes that infuse an extra layer of creativity into the design.
The tattoo artist's decision to stick with a monochromatic approach using black ink contributes to the design's minimalist allure.
The masterful blend of these two styles culminates in a tattoo that effortlessly captures attention and sparks conversations.
With its minimalist charm and intricate composition, the Flash Snake Tattoo showcases artistic innovation that's bound to make a lasting impression.
Realistic Snake Tattoo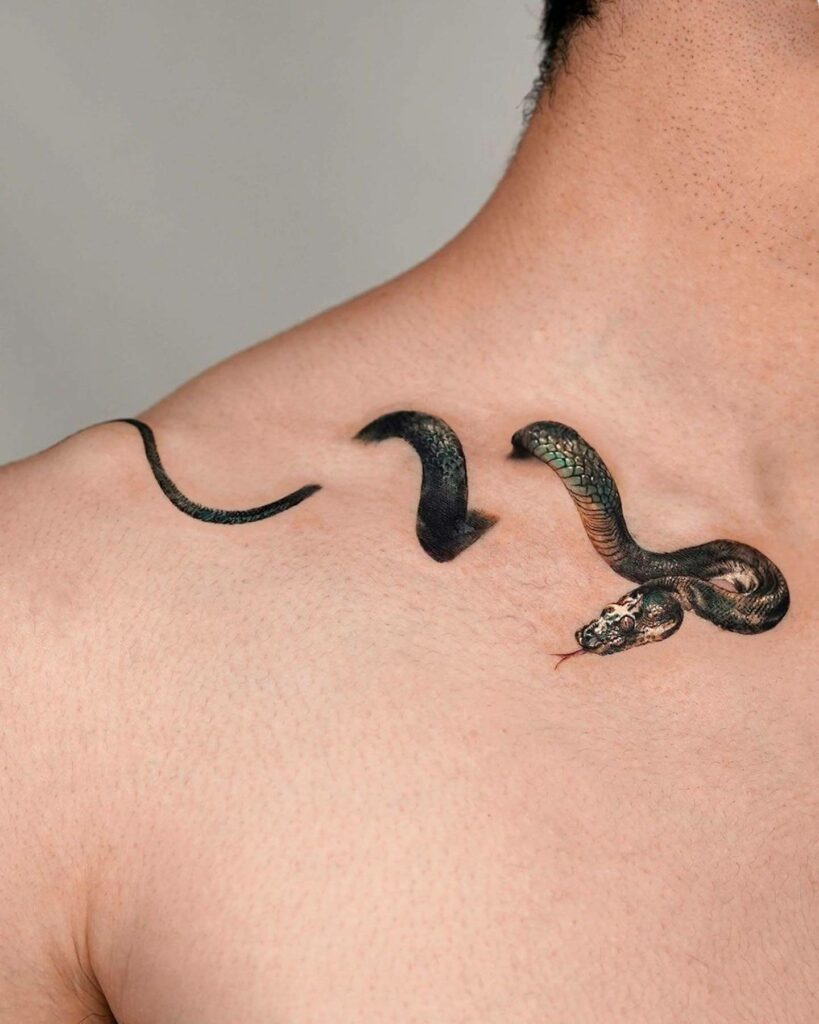 Your search ends here for those seeking a snake tattoo that exudes an uncanny realism. This design aims to replicate the sensation of having an actual serpent coiled around your collarbone – a feat that not all tattoo artists can accomplish.
The creator of this design has demonstrated exceptional skill by capturing the essence of a snake's movement and texture, pushing the boundaries of artistic representation.
The intricate artistry involved in this tattoo is truly remarkable. Various shades of green, ochre, and white have been meticulously employed to imbue the snake with lifelike vibrancy, closely mirroring the appearance of an actual serpent.
What truly sets this tattoo apart is the staggering level of detail.
The scales are intricately defined, inviting the viewer to count them individually, while the meticulously crafted eye and fang add a lifelike quality that evokes a sense of imminent motion.
Achieving this level of realism requires the deft touch of a highly skilled artist. The intricate rendering demands both precision and an astute understanding of snake anatomy.
If you aspire to own a realistic snake tattoo of this calibre, your foremost task is to seek out an artist capable of mastering such exquisite detail and accuracy.
The result, undoubtedly, is an awe-inspiring masterpiece that brings a lifelike snake to life upon your skin.
Black And Grey Snake Tattoo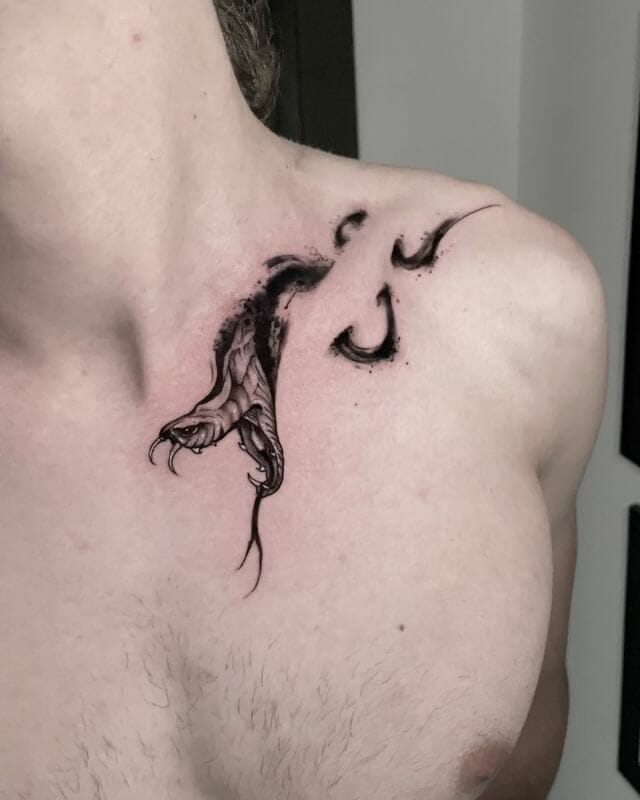 Introducing a dynamic and captivating snake head tattoo design that has been meticulously crafted with intricate attention to detail.
The skilled tattoo artist has masterfully captured the snake's inherent movement, resulting in a realistic portrayal that appears poised to strike its prey at any instant.
What sets this design apart is its substantial size, spanning from the central neck region down to the shoulder area, making it a true focal point.
The snake's body is executed in bold, solid black ink, creating a striking contrast against the skin.
Meanwhile, the head is artfully brought to life through a skilful interplay of White, black and grey highlights, adding a multi-dimensional aspect to the artwork.
This unique design certainly warrants careful consideration if you're seeking a distinctive and innovative interpretation of the classic snake tattoo.
Skeleton Snake Tattoo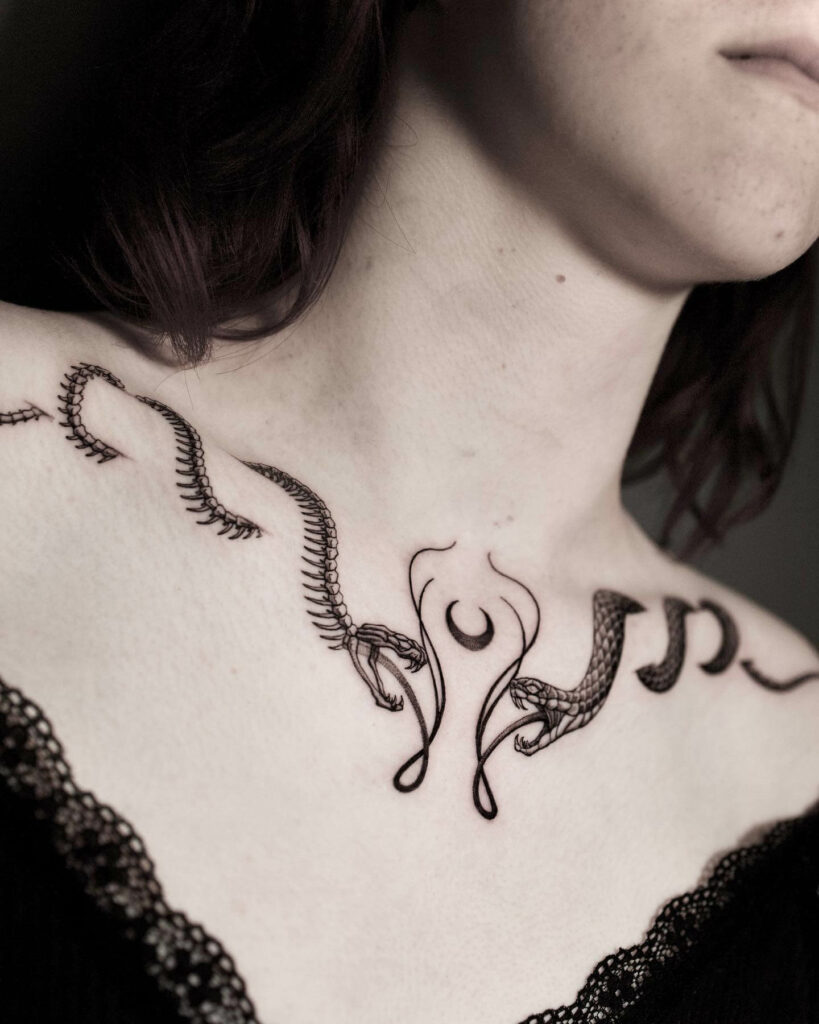 Embrace the allure of transformation with the captivating Skeleton Snake Tattoo design. This distinctive arrangement features two snakes flanking your collarbone, each embodying a distinct essence.
On one side, a meticulously crafted snake skeleton offers a glimpse into the intricacies of life's structures, while the opposing side showcases the vitality of a living snake.
The level of detail in each element is astounding, with particular emphasis on the fangs, which stand out as a defining feature.
To maintain equilibrium, a Crescent moon design is strategically positioned between the two serpents, symbolizing both guidance and purity in this journey of contrasts.
Rendered entirely in shades of black and grey, the design exudes a bold and edgy aesthetic. If you're searching for a tattoo that seamlessly merges the unique and the understated, the Skeleton Snake Tattoo is a compelling option.
With the expertise of a skilled tattoo artist, this design becomes an emblematic representation of life's intricate dance between change and continuity.
Simple Snake Tattoo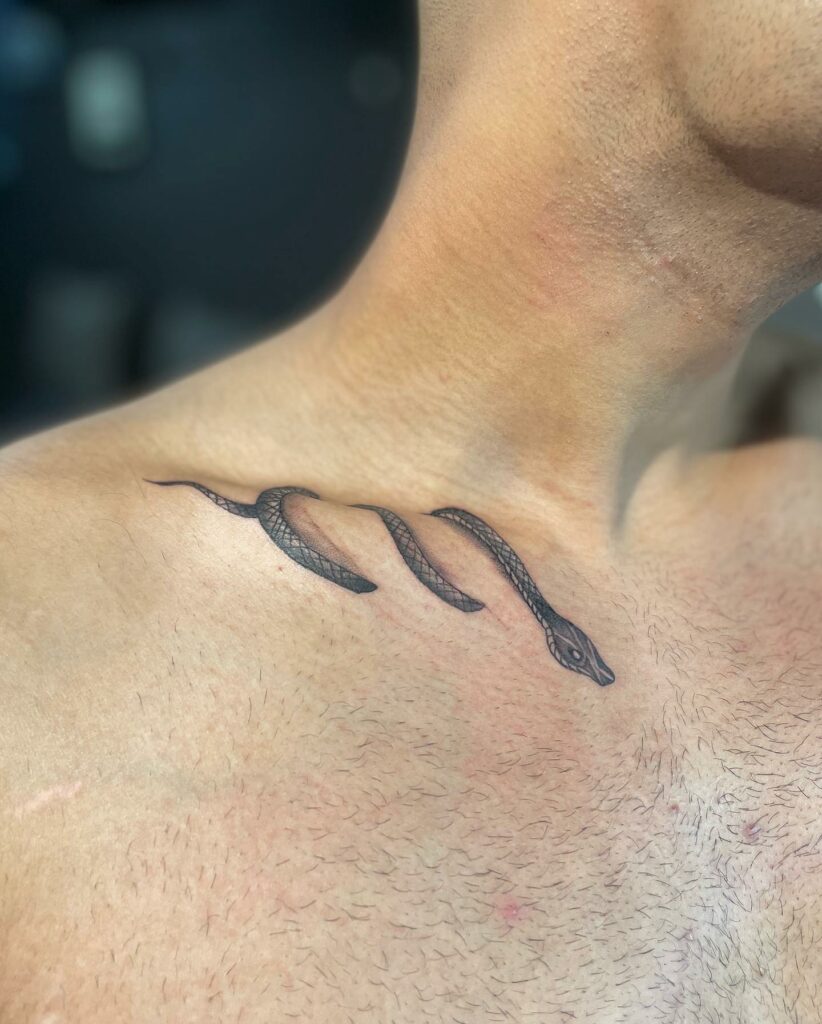 For those drawn to the elegance of minimalistic tattoos, the Simple Snake Tattoo offers a charming option. This design delicately coils around the collarbone, showcasing the beauty of understated body art.
Despite its simplicity, this tattoo captivates with its attention to detail. The carefully executed shading techniques imbue the snake with a three-dimensional appearance, while the interplay of black and grey shades brings the design to life.
While the collarbone area can be sensitive during the tattooing process, the end result is a rewarding visual masterpiece that's well worth any temporary discomfort.
If you're considering this design but still feel uncertain, you can explore the option of a temporary snake tattoo to get a feel for the design before making a permanent commitment.
It's important to remember that a snake tattoo might not resonate with everyone, so take the time to ensure that it aligns with your personal style and preferences.
Conclusion
In conclusion, collarbone snake tattoos offer body art enthusiasts a stylish and contemporary choice. With a range of designs, each carrying its own symbolism and artistic flair, these tattoos are a unique expression of individual identity.
From the symbolic Collarbone Snake Tattoo to the harmonious Dragon and Snake Tattoo, every preference has a design. Realistic depictions, minimalist elegance, and creative twists further enrich the options.
Choose a design that resonates with you and embark on a journey of personal expression through captivating collarbone snake tattoos.
FAQs
Q: What is the meaning of a snake tattoo on the collarbone?
A: A snake tattoo on the collarbone can hold various meanings, including the symbolism of rebirth, transformation, healing, or serving as a tribute to a person or significant life event.
Q: What symbolism does a snake tattoo carry?
A: Snake tattoos symbolize a range of concepts, such as wisdom, power, strength, and transformation. They also represent renewal and change, often linked to the shedding of snakeskin.
Q: Are collarbone tattoos painful?
A: Yes, collarbone tattoos are quite painful, ranking high on the pain scale (9-10/10) due to their proximity to the bone and minimal fat. Pain can radiate to the neck area. Numbing creams like Zensa can provide relief.
Q: How does a snake tattoo relate to mental health?
A: Snake tattoos, with their association with transformation and rebirth, can be meaningful symbols for mental health. They embody the idea of leaving the past behind and embracing a fresh start, reflecting healing and renewal.
Q: What defines a collarbone tattoo?
A: Collarbone tattoos for women are elegant and captivating designs. Positioned on, above, or below the collarbone, they often extend across the shoulder, chest, and neck areas, creating a graceful and interconnected visual composition.
MORE SNAKE COLLARBONE TATTOO IDEAS