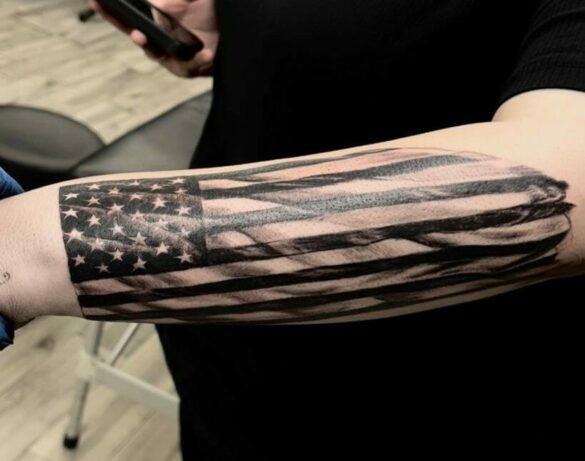 Are you a patriotic individual in search of fantastic American flag tattoo designs for your forearm? Look no further because I've curated some amazing designs just for you.
The American flag holds a special place in the hearts of all Americans, making an American flag tattoo a meaningful way to express your love for your country.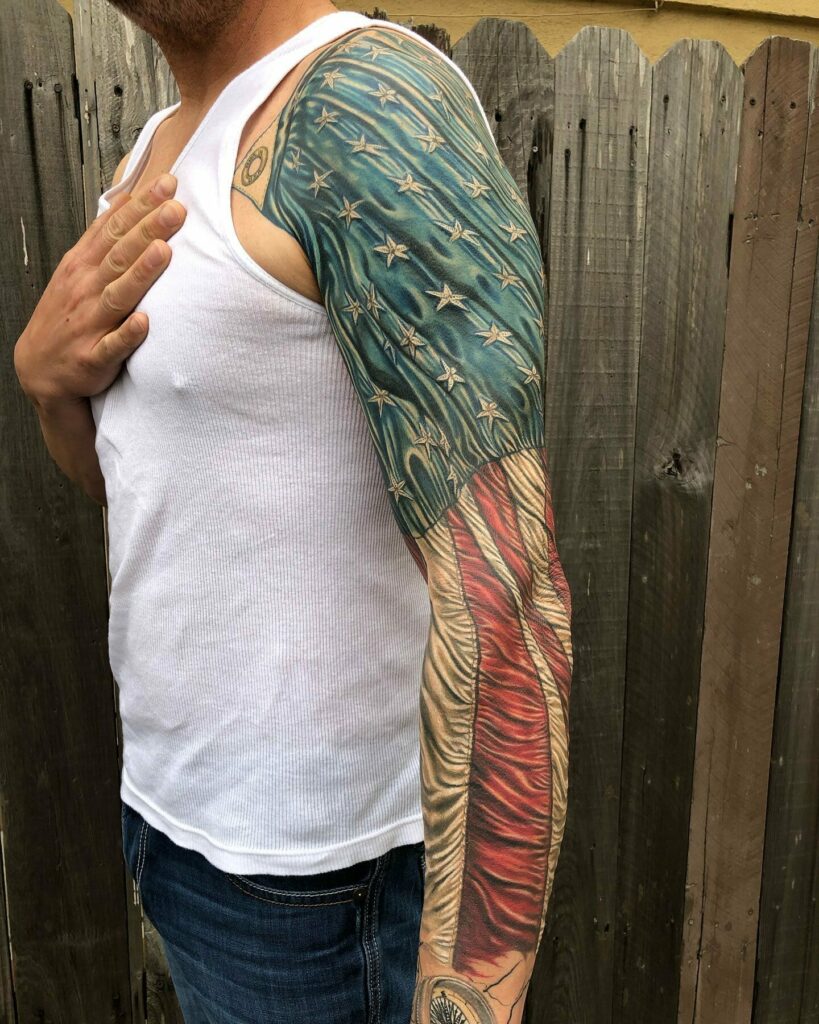 Whether you're male or female, opting for a forearm American flag tattoo is a timeless choice that never goes out of style.
For many people, an American flag tattoo is a tribute to the courageous men and women who have served and made sacrifices for the nation.
It's also a symbol of respect for the core values that the United States represents. So, if you're ready to proudly display your patriotism, explore these remarkable American flag tattoo ideas tailored for your forearm.
Forearm American Flag Tattoo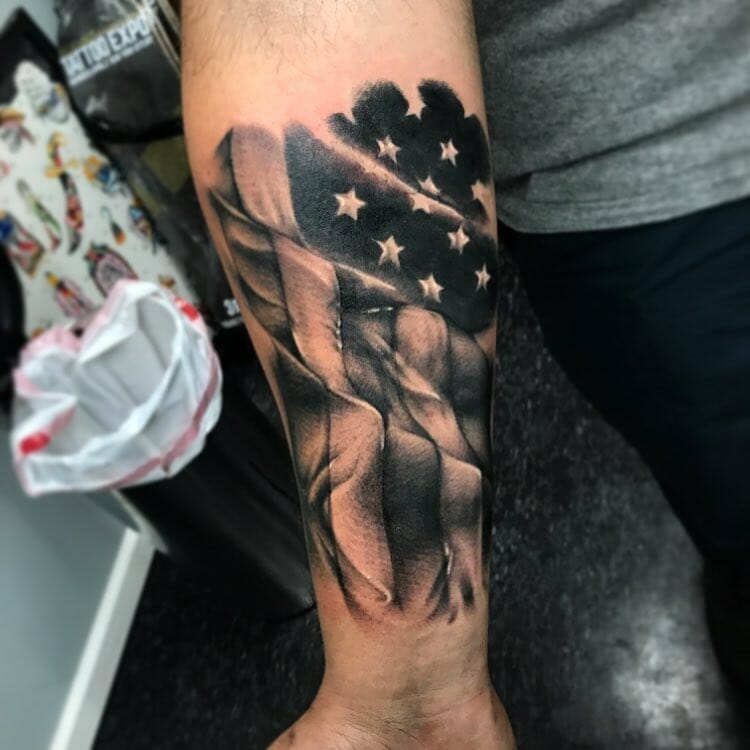 Looking to honour the sacrifices of our brave soldiers and display your respect for the nation's freedom? An American flag tattoo on your forearm is a powerful choice.
This design elegantly captures the flag's iconic black and white colours, expertly shaded to form a striking representation. It's a heartfelt way to express your patriotism and appreciation for the United States.
If you feel a strong connection to your country, this tattoo is a meaningful and impressive option.
Statue Of Liberty American Flag Tattoo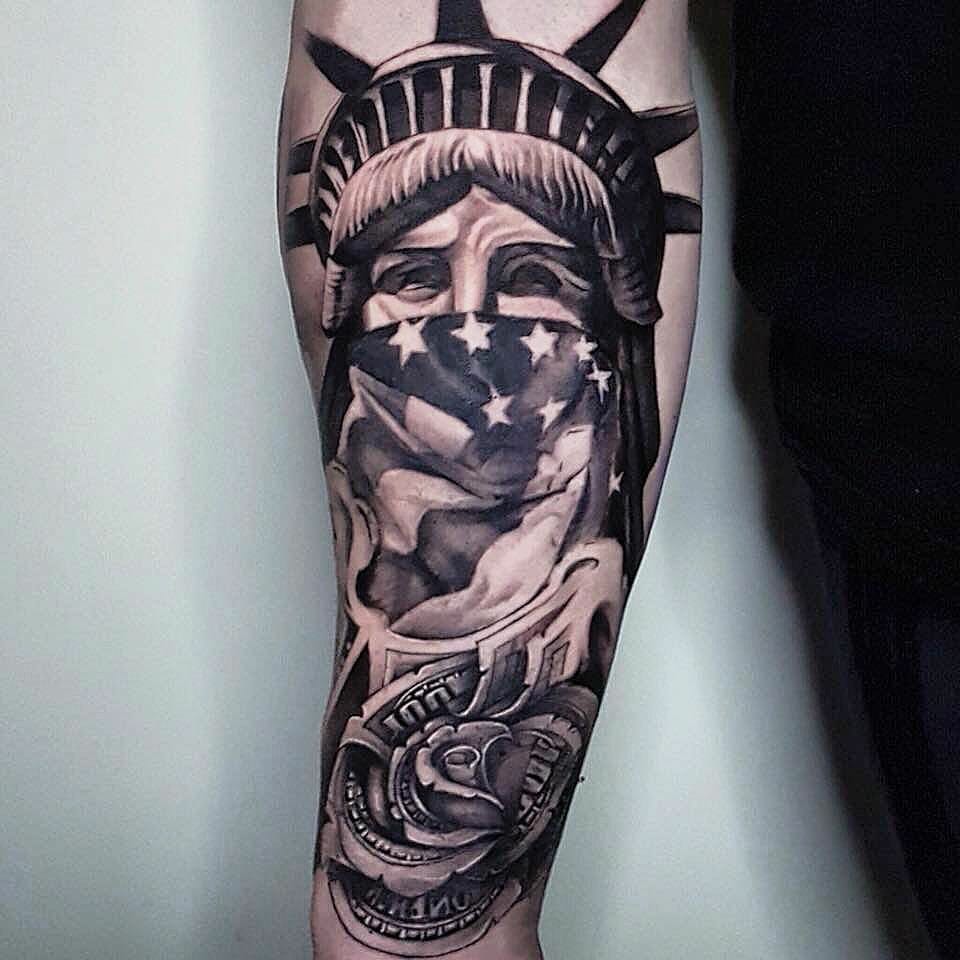 If you're eager to showcase your love and patriotism for the "land of the free," the Statue of Liberty American flag tattoo is a striking choice.
This design beautifully captures the core essence of being an American, embodying concepts like freedom, liberty, and justice.
The iconic statue, gifted by France as a symbol of amity, has long represented these values since America's independence in 1776. The uplifted torch in her hand symbolizes the global spread of liberty.
This meticulously shaded black and white tattoo, designed to wrap around the forearm, makes a bold statement.
The deep black hues give the design prominence, establishing it as a proud emblem of patriotism. So, don't hesitate Commemorate your devotion to America with this remarkable piece of body art.
Black American Flag Tattoo forearm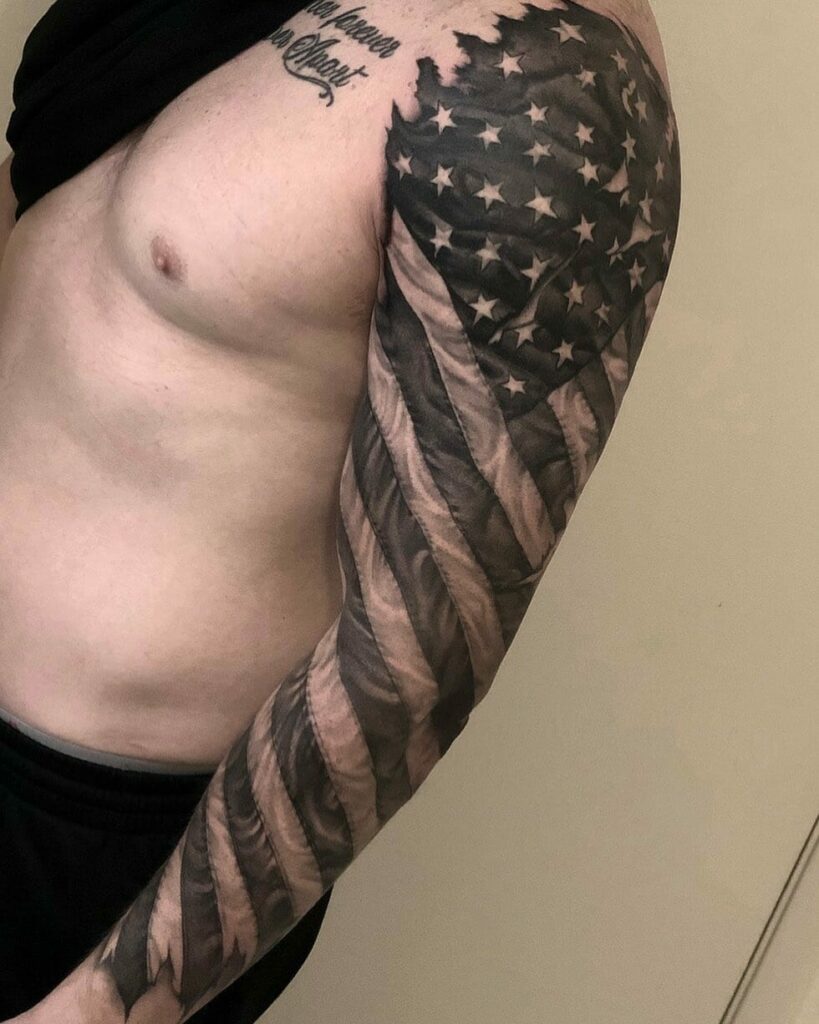 You might wonder about the right orientation when pondering an American flag tattoo.
To maintain respect, it's advisable to position the Stars, symbolizing the States, on the upper right-hand side of the arm tattoo – this places them on the viewer's left. This arrangement presents the flag boldly, ready to lead the way.
As for placement, American flag tattoos suit various body areas. However, the forearm is a favoured choice among both genders.
For those seeking a bolder expression, contemplate an American flag sleeve tattoo covering your entire arm from shoulder to wrist. This design is more than ink; it's a resounding proclamation of patriotism.
Black And Blue Half Sleeve American Flag Tattoo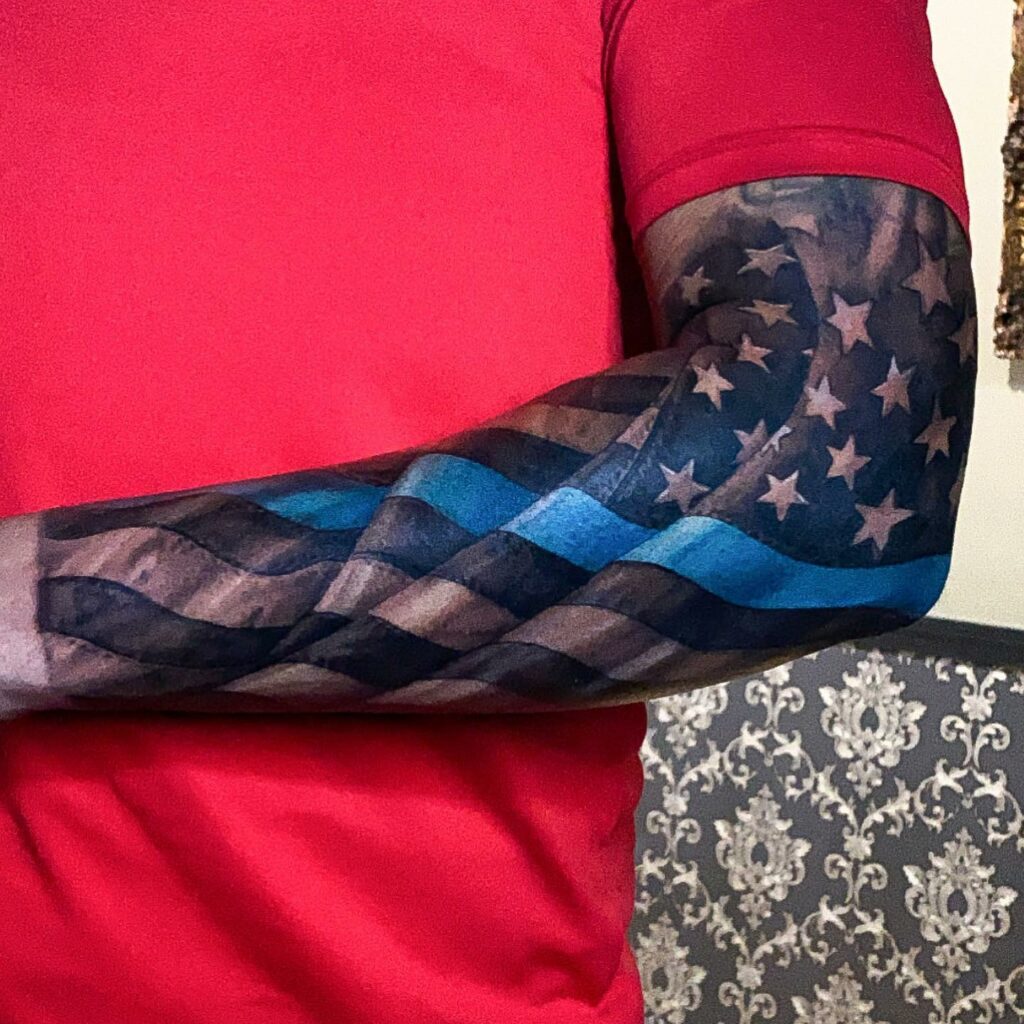 Displaying your admiration for the military and your nation is easily achieved with an American flag tattoo – a choice deeply resonating with many due to its popularity and significance.
For a truly remarkable and distinctive option, I highly recommend considering a half-sleeve American flag billowing in the wind tattoo.
This design is a powerful embodiment of patriotism that captures attention effortlessly. Crafted with a blend of black and blue ink, accentuated by expert shading techniques, this tattoo is a masterpiece that will undoubtedly leave you in awe.
Investing time in selecting a skilled tattoo artist capable of bringing this design to life is crucial. With every glimpse of your tattoo, you'll feel an enduring pride, honouring those who have devoted their lives to safeguarding our country.
We The People American Flag Tattoo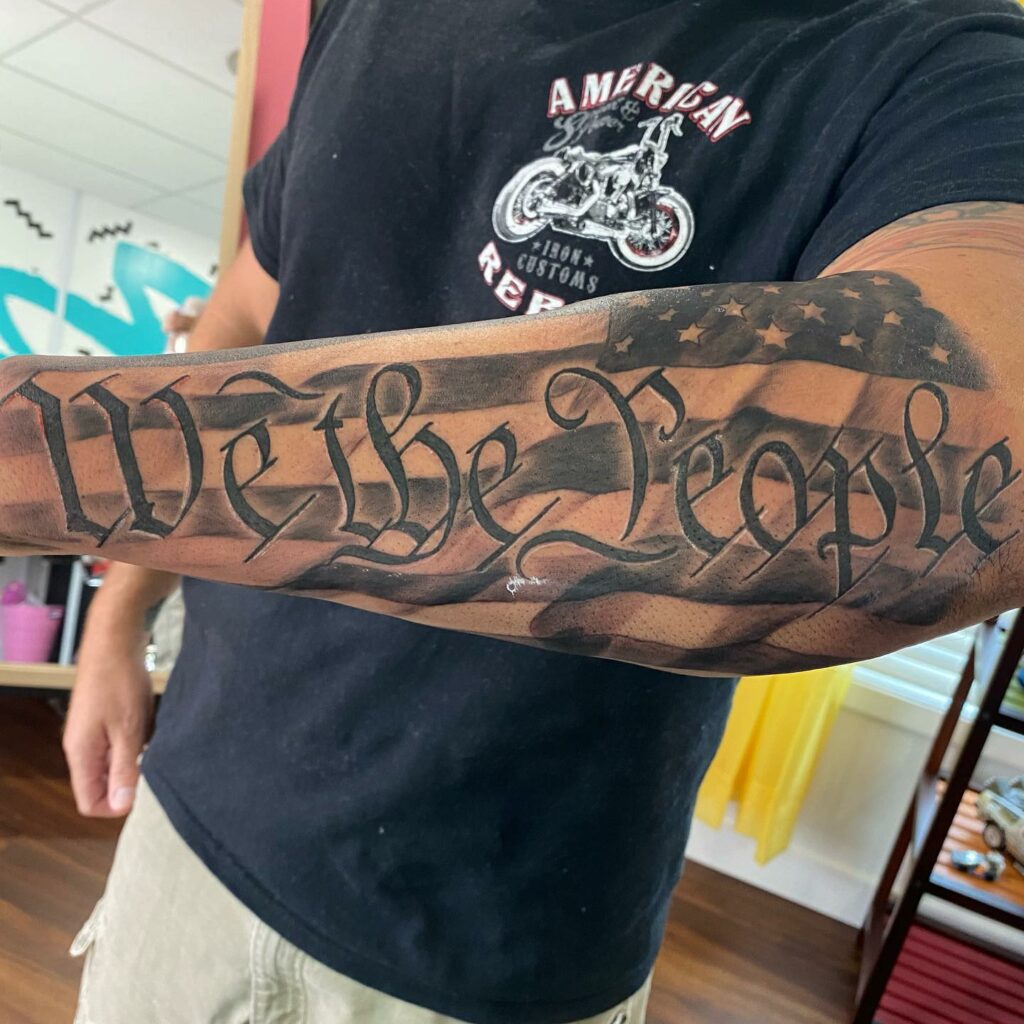 If you deeply appreciate the American Constitution and its principles, a "We The People" tattoo coupled with the American flag could be the perfect choice for you.
These three impactful words within the Constitution underline that the true source of the nation's authority lies in its citizens, not in any governing body or monarchy.
But this tattoo goes beyond just expressing patriotism; it can also serve as a silent declaration against any ruling authority or imposed regulations.
Picture these potent words intertwined with the American flag permanently etched onto your arm, chest, or back. It's a courageous affirmation of your convictions and principles.
So, don't hesitate – let this meaningful tattoo inspire you to make a resounding statement that echoes your beliefs.
Bald Eagle Head On American Flag Forearm Tattoo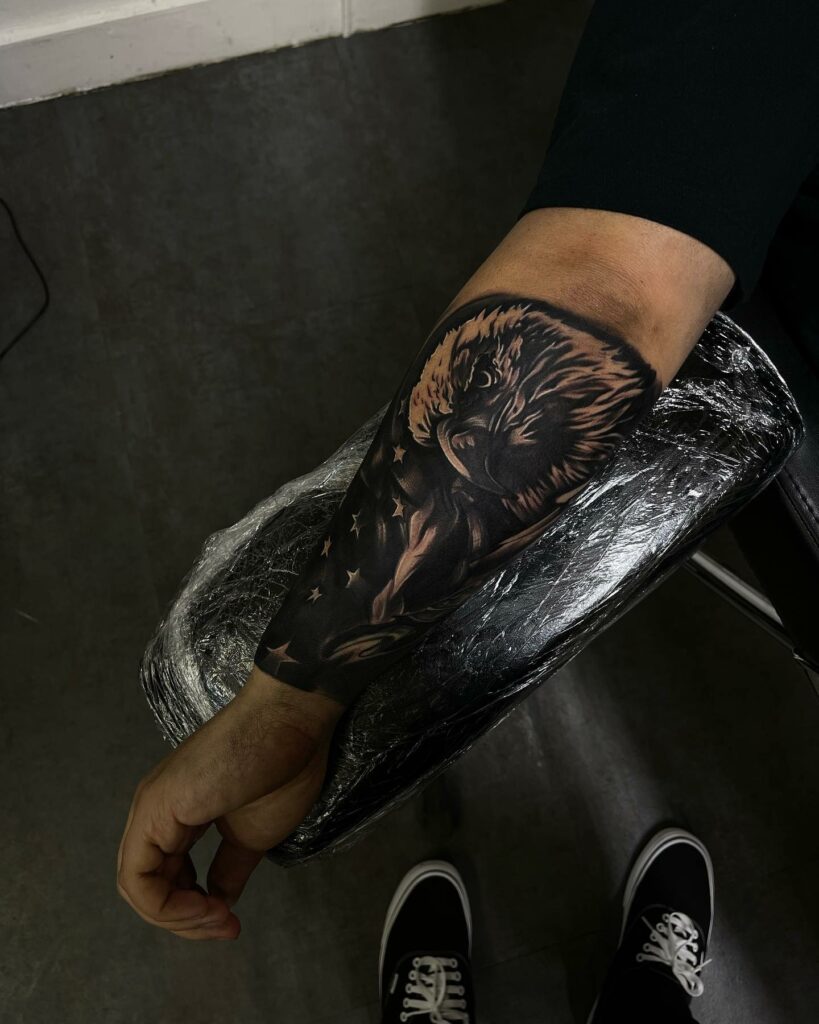 If you're on the hunt for a tattoo that embodies traits like courage, fearlessness, power, and strength, the eagle design might be the perfect fit for you.
While eagles are a popular choice globally, the bald eagle holds a distinct significance in the United States as the national emblem.
When paired with the American flag, this tattoo featuring the head of a bald eagle becomes a striking emblem of patriotism and independence.
If you're seeking a personal touch, you could incorporate a cross or other symbols linked to the American military as a tribute to a beloved individual who served.
Remember, this American flag forearm tattoo is intricate and demands the expertise of a skilled tattoo artist. Yet, the final outcome is truly rewarding.
Every time you roll up your sleeves, you'll take pride in displaying your tribute to the nation and those who've devoted themselves to its service.
Tattered American Flag Tattoo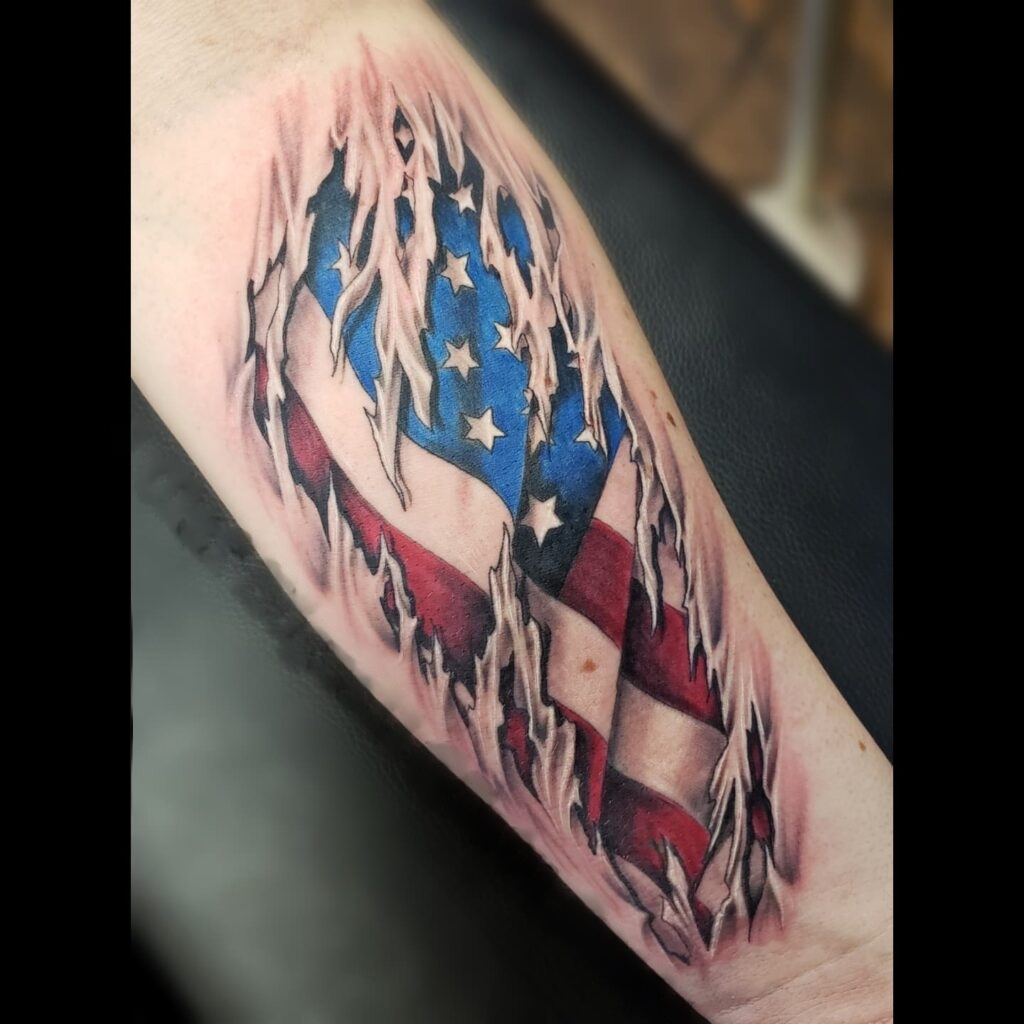 Are you seeking a meaningful way to honour America's journey through struggles and sacrifices for its freedom? If so, a tattered American flag tattoo could be your ideal choice.
This design embodies the countless wars and battles the nation has endured, serving as a powerful tribute to America and its military.
Through a tattered American flag tattoo, you also pay homage to the flag's 50 stars representing the states and the 13 red stripes symbolizing the original colonies. This design holds deep significance that you'll wear with pride.
If you're in search of a means to express your love and respect for America and its values, why not contemplate a tattered American flag tattoo?
Its design marries patriotism and potency, guaranteed to spark engaging conversations and showcase your appreciation for the nation's journey.
Entire Arm American Flag Sleeve Tattoo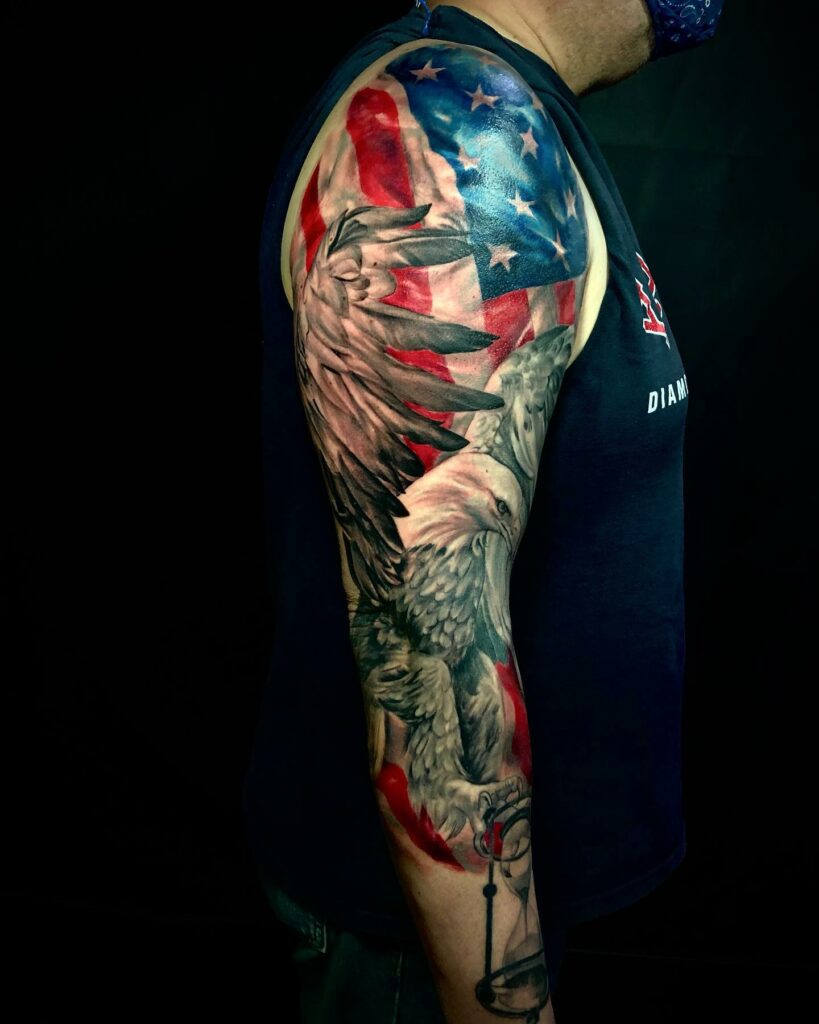 Are you contemplating a patriotic tattoo that showcases your love for your country? An American flag tattoo is undoubtedly a classic choice for such an expression.
Whether you opt for a full sleeve, a tattered flag, a white American flag, an eagle, a half sleeve, or even a placement on your chest or back, there's a myriad of options to suit your preference.
What's fascinating about an American flag tattoo is that each colour holds significant meaning. Red symbolizes strength and courage, blue represents honesty and innocence, while white signifies determination and focus.
The chest or back can provide a respectful canvas to display the flag when deciding where to place your patriotic tattoo. However, the ultimate choice rests with you.
So, don't hesitate to infuse your patriotic spirit into your skin with an American flag tattoo that truly resonates with you.
American Flag Skull Tattoo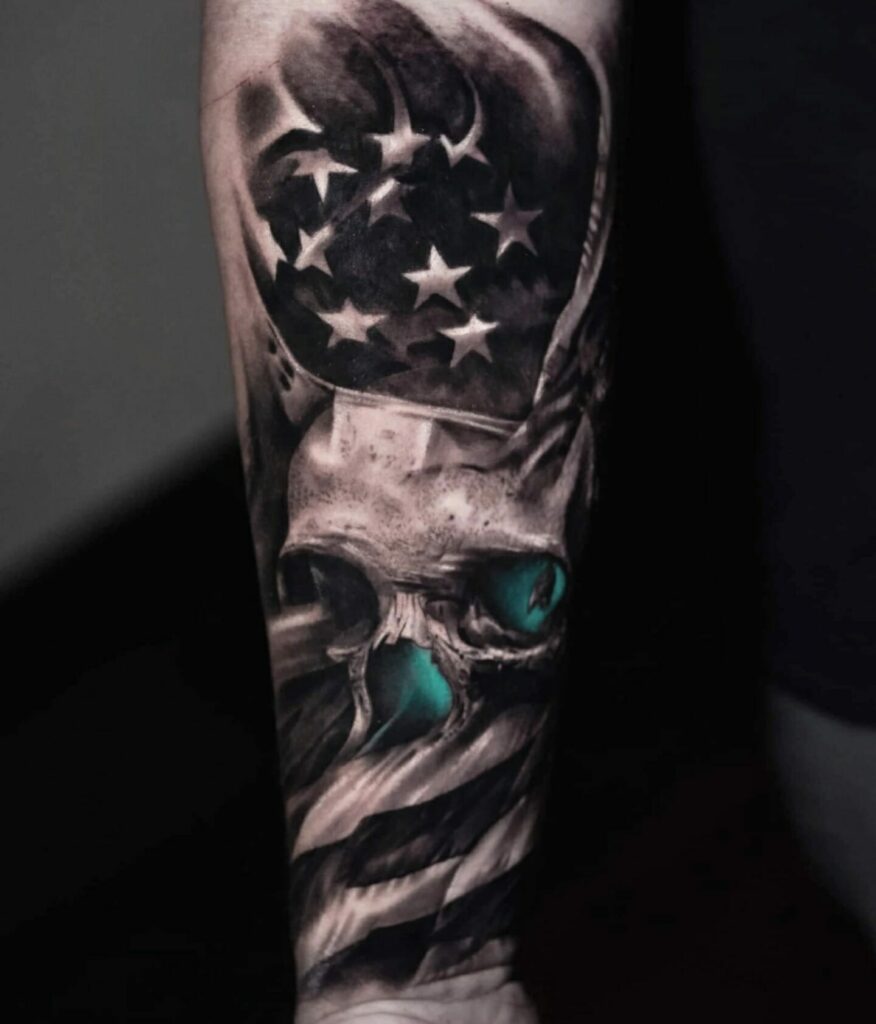 An American flag skull tattoo carries a powerful meaning. The juxtaposition of the skull against the backdrop of the flag conveys a deep message.
It symbolizes the sombre remembrance and spiritual reverence for lost lives, resonating beneath the emblematic trio of the flag's red, white, and blue.
If you're considering a skull American flag tattoo that holds such profound significance, this design could be an intriguing option to explore.
Black American Flag Forearm Tattoo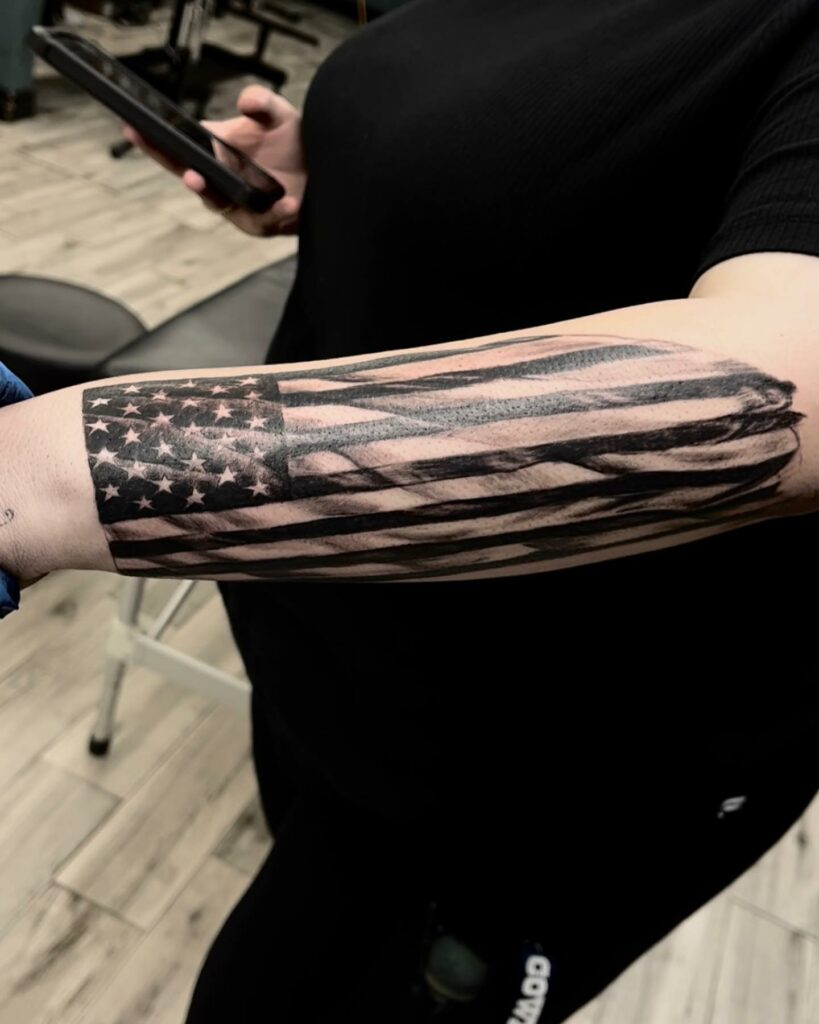 A black American flag forearm tattoo is a stylish way to display patriotism. The use of glossy black ink lends a distinct and captivating appearance to the flag, making it truly eye-catching.
The shading technique employed in this design creates the illusion of the flag rippling in the wind, adding depth and dynamism to the tattoo.
If you're seeking a balanced option in terms of size, this American flag forearm tattoo strikes the perfect middle ground – not overly large, yet substantial enough to make a statement.
American Flag Shoulder Tattoo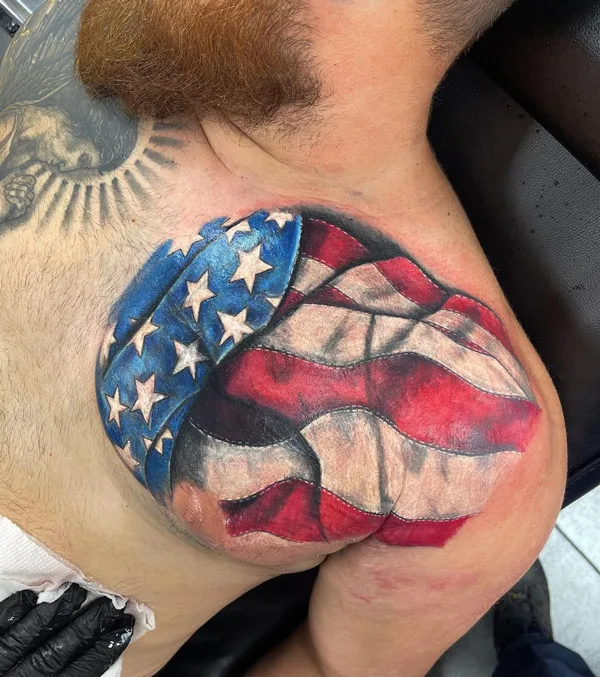 An American Flag tattoo placed on your shoulder is a wonderful option to explore. This choice allows for a larger canvas to showcase the design and even opens up the possibility of extending the tattoo onto your chest or back if desired.
Regarding the American Flag depiction on the shoulder, you can take numerous creative directions.
For instance, you might choose a realistic approach where the upper part of the shoulder features the stars while the lower portion or arm showcases the blue stripes.
This kind of tattoo conveys a sense of pride and resilience in a significant area of your body.
What makes this tattoo idea even more intriguing is the opportunity for personalization.
You have the freedom to incorporate elements that align with your chosen theme – eagles, stars, a meaningful quote, a reference to a beloved passage, or perhaps even a cross integrated with the flag.
This design approach empowers you to express your individuality in a truly distinctive manner.
Black and White American Flag Tattoo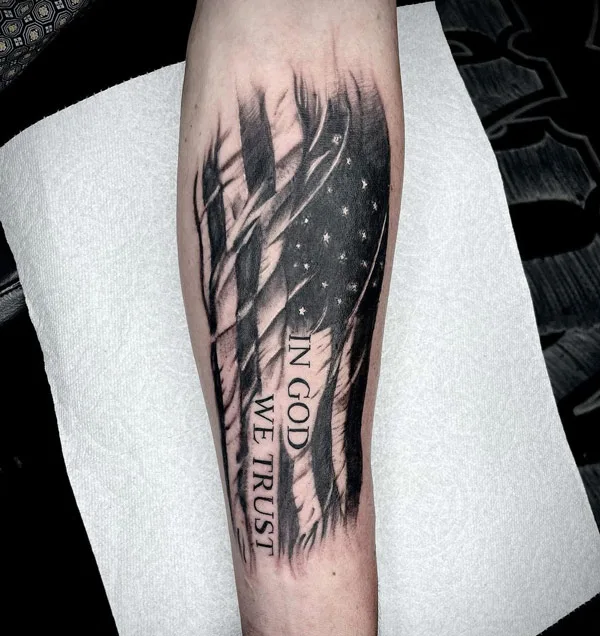 The black-and-white American Flag tattoo is a sought-after design that elegantly showcases the American flag in a minimalist colour palette. This choice holds the essence of American values within a simple yet impactful design.
The monochromatic nature of this tattoo allows for subtle customization, with variations of black and grey tones adding a touch of sophistication. This approach compels the observer to appreciate the intricate details embedded in the tattoo.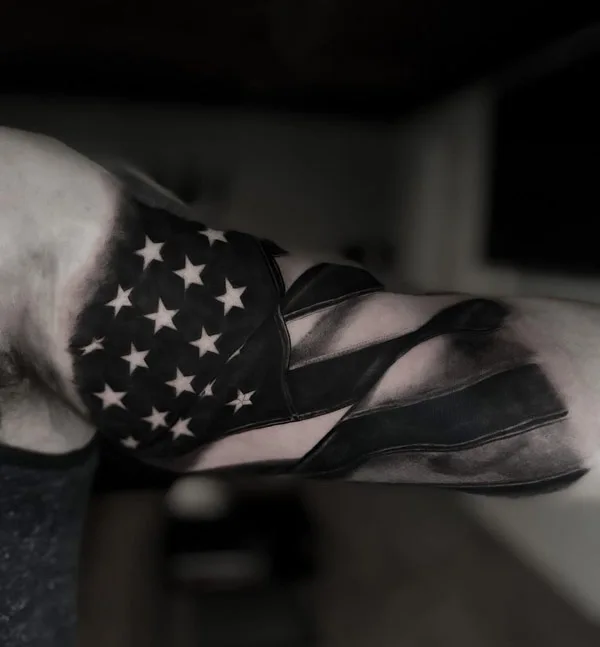 For an added touch of character, you can pair the tattoo with complementary elements that embody American culture. Consider incorporating a lightning strike, an eagle, or a snake to infuse the design with a unique flair.
Beyond its visual appeal, this tattoo resonates with meaning and significance.
Cross with American Flag Tattoo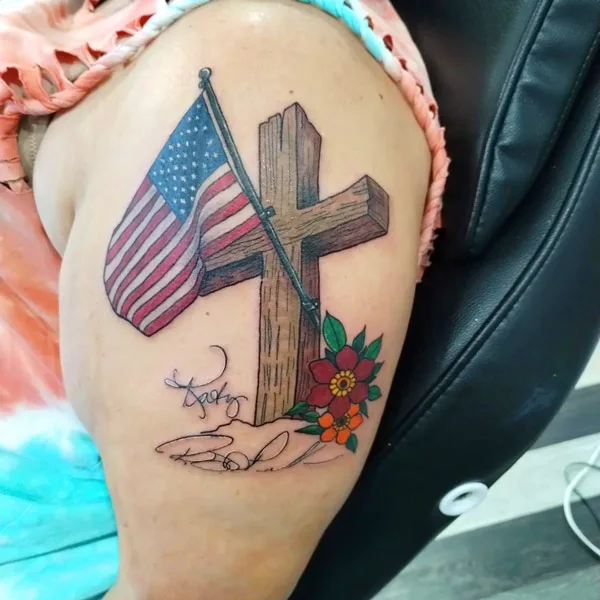 The Cross with American Flag Tattoo is a highly popular design that seamlessly merges the American flag with a cross.
This tattoo can take different forms, featuring a single cross placed amidst the American flag or incorporating the cross within the flag itself. The design's specifics often vary based on personal preferences and the desired size of the tattoo.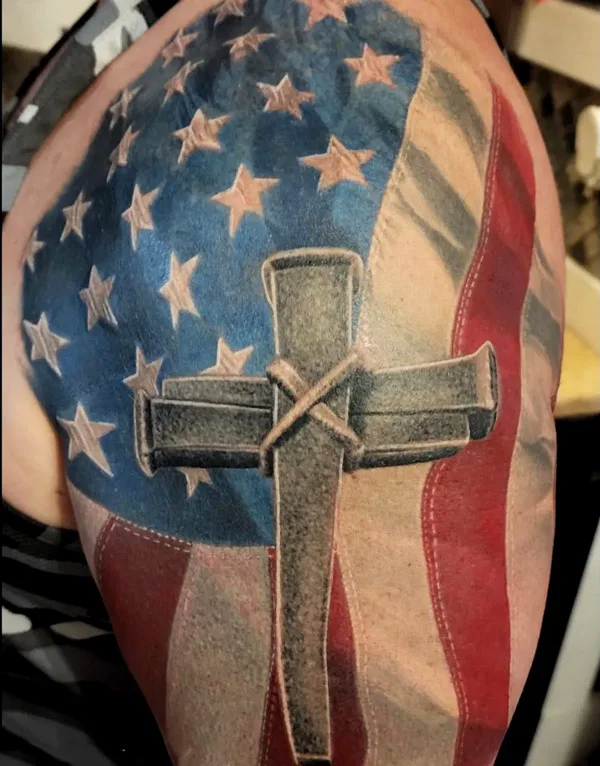 This tattoo holds the profound synergy of two potent symbols – faith and patriotism. The cross embodies unwavering faith in God and serves as a guiding force, while the American flag symbolizes a deep-rooted love for the country.
Given America's motto embracing Christianity and belief in a higher power, the amalgamation of these two symbols is both meaningful and harmonious. The design offers room for creative exploration.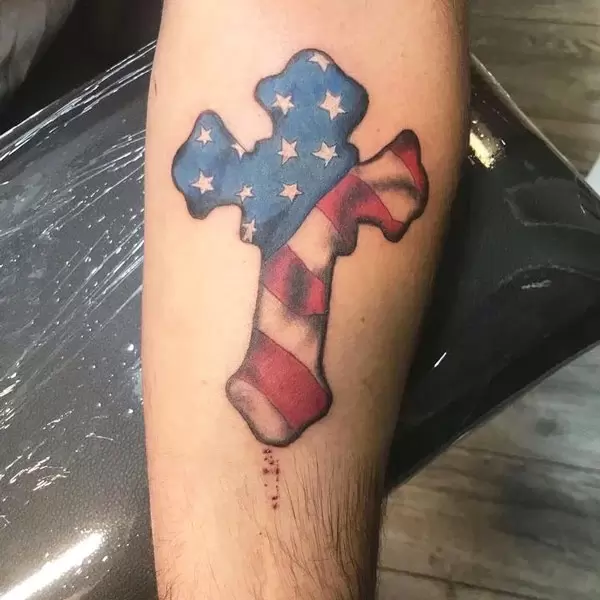 Whether opting for a single cross or a triad of crosses, the choice between monochrome and coloured ink, and the potential inclusion of other elements of faith, this tattoo design can be tailored to one's individual spirituality.
The forearm or chest are ideal placements for this tattoo, with suitability determined by the tattoo's size and intricacy.
American Mexican Flag Tattoo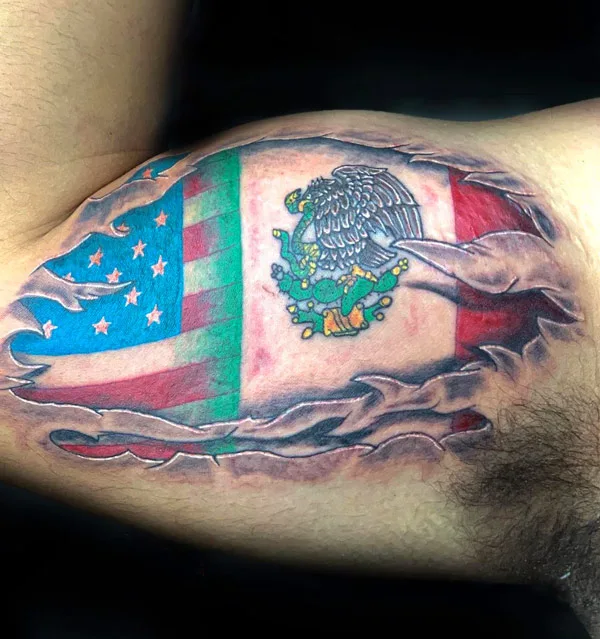 The American Mexican flag tattoo beautifully fuses the attributes of both national flags into a single design. This tattoo represents the interconnectedness between the American and Mexican cultures, reflecting their shared history and close ties.
This tattoo design provides ample room for personalization, allowing you to incorporate distinct elements from both cultures. The addition of symbols like a cactus or an eagle can enhance the design's significance.
One popular approach is to create a tattoo with half of the design showcasing the American flag and the other half featuring the Mexican flag. This creative juxtaposition emphasizes the two nations' common history and cultural exchange.
The choice between black and white or coloured ink for the tattoo design can be tailored to your preferences.
The American Mexican flag tattoo celebrates cultural diversity and serves as a powerful reminder of the harmonious blend of these two distinct yet interconnected identities.
Small American Flag Tattoo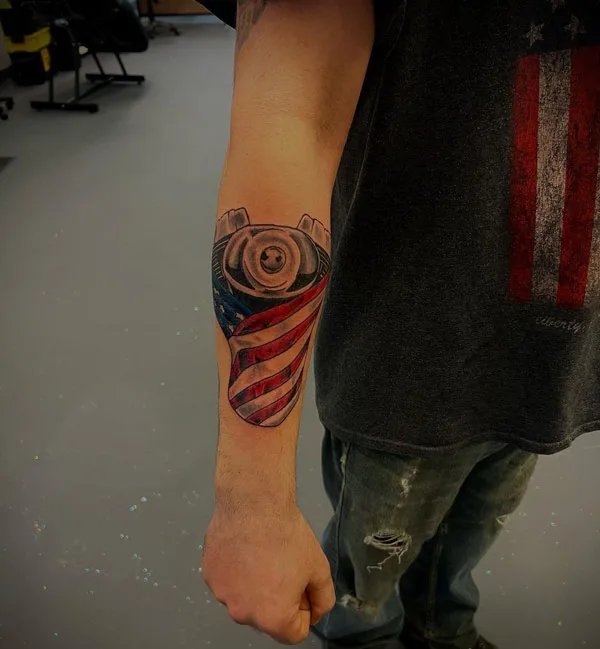 The small American Flag tattoo is perfect for individuals who appreciate understated elegance and simplicity in their body art. This tattoo design portrays the American flag in a compact size, capturing its essence in a minimalist manner.
For those who favour clean lines and a sleek aesthetic, this tattoo can also be created in a single-line or fine-line style, further embracing the concept of minimalism.
If you opt for a coloured version of this tattoo, it can be strategically placed on the forearm or armband to showcase the design.
On the other hand, if you're intrigued by the idea of a single-line or fine-line approach, you have the flexibility to position the tattoo on the wrist, ankle, or even behind the ear.
This small American Flag tattoo embraces subtlety while retaining its symbolic significance, offering a tasteful way to display your patriotism.
Traditional American Flag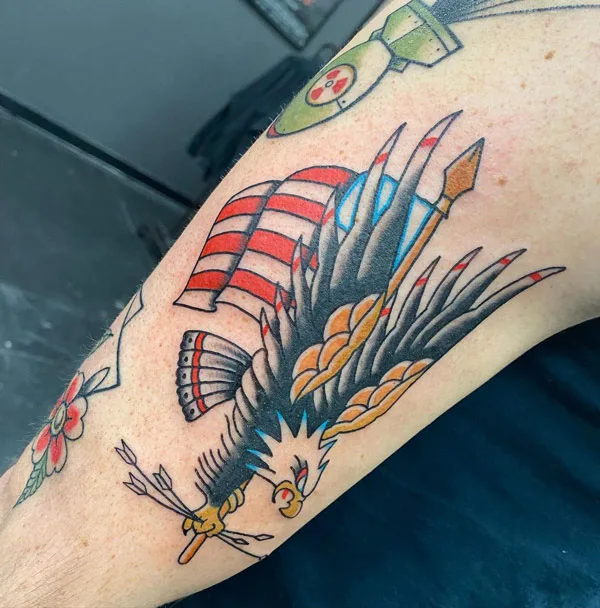 The traditional American Flag tattoo is a classic choice that speaks volumes about one's patriotic devotion.
With its distinctive muted colours and strong black outlines, this tattoo style carries a timeless charm that beautifully embodies the essence of American heritage.
Adding elements of the traditional American style to the tattoo design enhances its authenticity and cultural significance. It's not just a tattoo; it's a heartfelt representation of love for the nation and its values.
Wavy American Flag Tattoo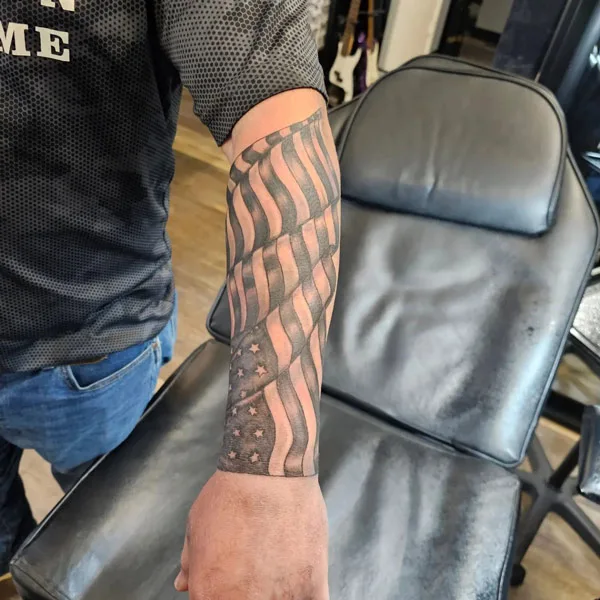 The wavy American Flag tattoo is a popular choice, adding a dynamic and fluid touch to the traditional flag design.
This style beautifully captures the flag as if it's gently rippling in the wind, symbolizing the constant motion and evolution of the nation.
Whether in vibrant colours or classic black and white, this tattoo option offers room for personalization by incorporating additional elements that hold meaning in American culture.
Placing the tattoo on the chest or forearm allows for easy visibility and a powerful statement of patriotism.
American Flag Leg Tattoo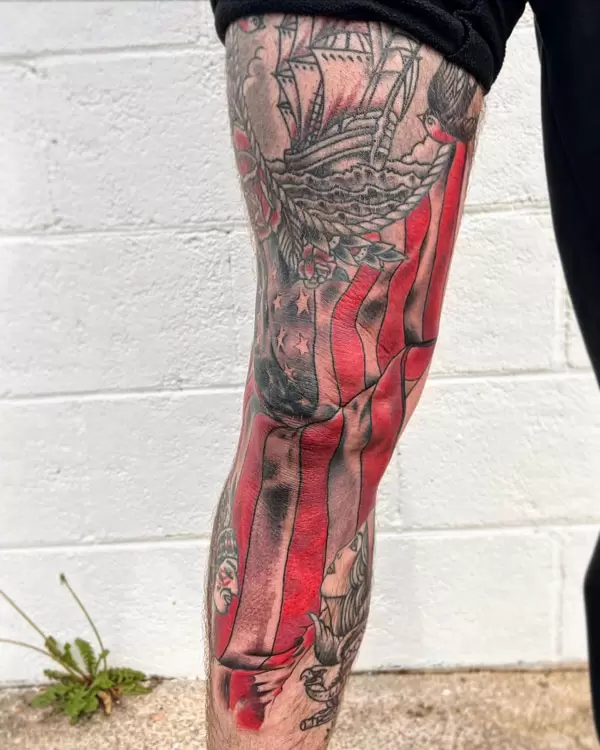 If you're considering an American flag tattoo on your leg, you'll have a sizable canvas to work with. This placement offers ample space, and you can even expand the design to include your ankle area.
This tattoo is easily concealable, making it suitable for incorporating private elements and personal details if desired.
American Flag Rose Tattoo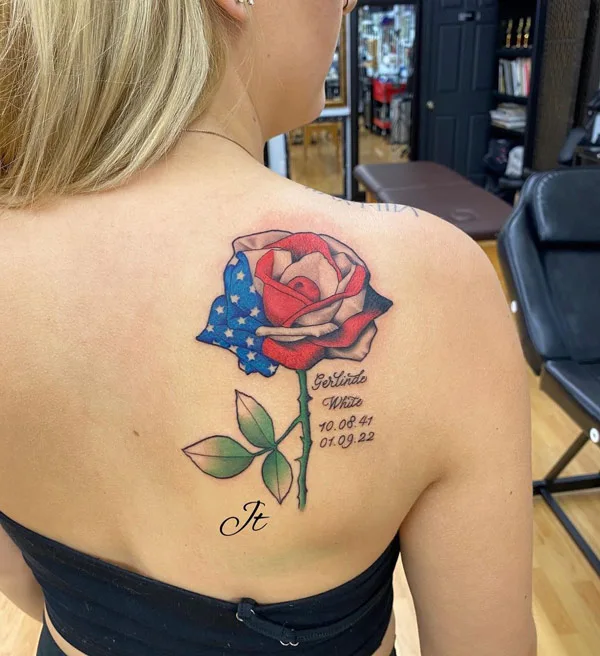 For a representation of the gentler facets of American values, such as love and equality, the American Flag rose tattoo stands out as a wonderful choice.
This design seamlessly melds the iconic American flag with the timeless beauty of roses, resulting in a harmonious and profound composition.
Whether you opt for a single rose or a bouquet, this tattoo often comes to life in a burst of colours, forming a captivating portrayal of the fusion between two influential symbols.
The Process Of Doing A Simple American Flag Tattoo
Conclusion
In conclusion, exploring the world of American flag tattoos unveils a rich tapestry of designs that capture the essence of patriotism, history, and cultural values.
Each tattoo choice provides a unique avenue to express one's love for the nation, from the traditional and bold designs to the more intricate and symbolic options.
Whether on the forearm, shoulder, leg, or any other preferred location, these tattoos serve as powerful statements of identity and devotion.
With diverse styles and combinations, individuals can find a design that resonates with their personal beliefs, values, and emotions, allowing them to wear their love for the United States proudly and meaningfully.
FAQs
Q: What does the flag tattoo symbolize?
A: The flag tattoo symbolizes the enduring values of freedom, liberty, and justice that the American flag represents. It's a way for individuals to express their love and pride for their country.
Q: What is the significance of the colours in the American flag tattoo?
A: The colours in the American flag tattoo hold symbolic meanings. White represents purity and innocence, blue stands for vigilance and perseverance, and red symbolizes valour and bravery.
Q: Why do some people choose to get a black American flag tattoo?
A: A black American flag tattoo often symbolizes a refusal to surrender and a commitment to relentless battle. It harkens back to the historical practice of raising a black flag in times of conflict.
Q: What drives people to get American flag tattoos?
A: People get American flag tattoos for various reasons. Some want to honour the sacrifices made by veterans and service members, while others use it as a way to express their strong sense of national identity and pride.
Q: Why is the placement of the American flag patch on the left sleeve significant?
A: The placement of the American flag patch on the left sleeve is not strictly defined by regulations. It can be worn on either sleeve. However, when on the left sleeve, the union (blue field with stars) faces forward, in line with the wearer's movement.
MORE FOREARM AMERICAN FLAG TATTOO IDEAS