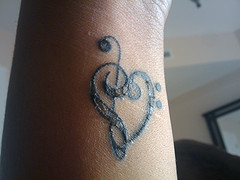 If tattoos excite you and you want to get inked, there are a few things that you should be aware of. Yes, tattoos look really cool ,however, sometimes the process of getting a tattoo goes wrong and you start getting tattoo bubbling issues. Make sure that you read the following points carefully to avoid tattoo bubbling issue:
A permanent tattoo includes three steps: first, get ink on the body, second, let it heal for a few weeks, and third, you can check your tattoo. To get a perfect tattoo, make sure that you follow the first two steps very carefully.
When you get a tattoo, sometimes, your skin starts to swell up and become soft & sticky. This problem destroys the tattoo and even gives pain to the body.
To know more about tattoo bubbling, read the following point:
Read more- Mesmerizing Arabic Tattoos Ideas To Get Inked In Style
What is ink bubbling?
You are facing an ink bubbling issue but have no idea about what this problem is, then read the following points:
When you get a tattoo, the ink gets inserted into your body. However, you do not protect this ink from getting moisture, your tattoo gets scabs and becomes soft, fluffy, sticky, and it also destroys the tattoo.
After taking a bath or washing your body, if you do not let the body dry, the "tattoo bubbling" problem starts. Also, when you apply too much lotion to the body, your tattoo starts getting bubbles on it. Make sure when the tattoo healing process is going on, you do not do these things. Otherwise, you will get "tattoo bubbling."
Does Water damage tattoos?
Yes, while the tattoo is in the healing stage, water damages it.
At the second stage, if you wash your tattoo with water, it causes the problem of "tattoo bubbling." water gives hydration and nourishment to the body, which is good. However, when you use water on your tattoo, it makes the tattoo swollen up, sticky, itching, and mainly damages the skin.
You can avoid using water on the tattoo area till the second stage ends by using the following tricks:
Apply waterproof dressing
Cover your tattoo with a plastic sticker
Use a cloth to clean the tattoo
Read more- Attractive And Meaningful Chinese Tattoos To Get Inked
Does tattoo bubbling go away?
Many people face tattoo bubbling issues and get stressed. Remember that tattoo bubbling is not a major issue, and yes, it goes away.
If you get the tattoo bubbling issue, you need to wait for around 6-7 months to get your tattoo normal. Also,share your concern about this problem with your tattoo artist, he will suggest you some good lotions and a good treatment.
If all these things are not helping you, then check with your skin doctor immediately and get good treatment.
How to solve the tattoo bubbling issue?
Avoid touching the scab because it can cause parts of the scabs to come off
dry the area and let the scab getting hard
Use lotion once a day only
Use medicines suggested by the doctor
Do not use water
Use a soft cloth to clean it
Read more- Semi-Permanent Tattoo: All About The New Body Art Trend
Summary:
If after getting a tattoo, you are getting "tattoo bubbling" issues, the main causes of this problem are water and excess use of lotion. Tattoo bubbling causes the tattoo area scabs to become sticky, swollen up. To treat it to avoid touching the area, clean it with a soft clean cloth only. If all these tricks are not working, go to your tattoo artist or to your skin doctor and concern yourself with them.
Remember, if you are getting a new tattoo, you follow all three steps after getting the tattoo.
Comment about your tattoo experience in the comment section below. Hope this post helped you to know about do's and don'ts of tattoo aftercare.