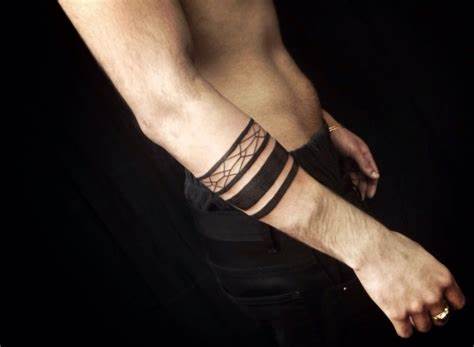 Also referred to as armlets, wristband tattoos, or bracelet tattoos, armbands are among the most popular tattoo choices among youngsters. Here is an article with all you need to know about black armband tattoos and meaning. We have also included some fascinating armband tattoo designs to help you find the best one.
Armband tattoos are a popular choice for both men and women. There are different ways you can wear a black armband tattoo, and you can design them in different ways. The armband tattoos can never get out of trend; they are the best design for life.
Some people get an armband tattoo for fashion, while others get it due to associated spiritual significance and meaning. Their edgy and sexy look never seems to go out of trend.
Effectiveness of Solid Black Armband Tattoo Ideas
The black armband tattoo is simple and eye-catching, which makes it highly effective and attractive. The color black is widely associated with death. The color absorbs all the things in its finality. Moreover, it represents the passing of an individual from life into death.
The tattoo looks powerful and is a perfect choice for someone who understands the profound meaning hidden behind.
Usually, the black armband tattoo is placed somewhere near the shoulder, but you can also get it inked on the wrist or ankle. If you want to mesmerize the death of a friend or family member, then having a permanent band tattoo on your ankle or wrist is the best way to express it.
Black Armband Tattoo Meaning
You might have seen black armband tattoos in various sports. Many different teams wear black tape of black cloth armbands as a sign of respect for anyone who was close to the club and is no more. It might be a symbol of respect for an administrator, a retired player, a volunteer, or a valuable club member who has passed away.
Black armband tattoos also symbolize the love and respect for a loved friend or family member. The black color is often related to death, and it has eye-catching simplicity, which symbolizes loss. In this regard, the black armband tattoos indicate respect, preservation of memory, and mourning.
Other Meanings of Black Armband Tattoo
When it comes to black armband tattoos, they are usually made up of tribal armband or Celtic knot armband. Some people consider that armband is associated with strength or luck, but they are so much more than that.
Moreover, the traditional black armband tattoos are connected to the idea of death and remembrance, below mentioned are some of their other meanings.
A Sign of Strength
Although the black armband tattoo is associated with death, it does not have to be so grim. When one or two armband tattoos for men are placed around the bicep, they symbolize courage and strength. They are perfect for highlighting the bicep muscle and physical strength.
Women also opt for black armband tattoos. They are ideal for highlighting their musculature. Moreover, the armband tattoo design also expresses their courage and strength. In this regard, for both women and men, the black armband tattoo expresses physicality. If you are into health and fitness, then armband tattoo designs are perfect for you.
Cultural and Spiritual
Black color has been popularly used for thousands of years across various cultures in tribal designs and tattooing. It often features geometric lines and shapes. Many tribal cultures in Polynesia believe in duality. They believe that every aspect of our life has something opposite, like life and death, good and evil.
Many societies across the globe have practiced the art of traditional tattooing and used solid black lines to represent the dual nature of life and associated spiritual belief system. Additional black armband tattoos are the foundation of different types of traditional tribal tattoos.
Coverage for Old Tattoos
Black armband tattoos are also used to cover older scars and tattoos that do not have any meaning anymore. So practically, black arm tattoos are perfect for covering old tattoo design and are an ideal choice for a tribal design or full arm sleeve design.
Different Armband Tattoo Ideas and their Significance
Solid Black Bands
Traditionally, solid armband tattoos are used to represent the loss of a loved person. Black is the color of mourning and death. The shape symbolizes the act of wearing the tattoo in the memory of a deceased on your sleeve.
If you want to create more effective, it would be better to get a solid armband tattoo on your sleeve. It allows one to carry the honoring memory of the person for life.
It is not uncommon to get an armband tattoo for each loss.
The solid armband tattoos are also used to symbolize luck and strength. The design is bold and can, therefore, be used to motivate wearers to stay healthy and fit.
Celtic Armbands
The Celtic armband tattoo style is featured by intricately interwoven knots and lines. People get Celtic tattoos for celebrating the beauty of their heritage. Many people also get this tattoo to appreciate this beautiful art form.
People who do not have any connection to Celtic culture also draw this famous and unique style for inspiration. The geometric angles and shapes are an intriguing characteristic of this universally appealing style. Celtic armband tattoos are a perfect choice for ring-shaped tattoos on the arm. These armband tattoos are proven to be highly popular due to their arresting look.
Tribal Armbands
The tribal style is highly popular among modern armband tattoo ideas. For some people, armband tattoos serve as a strong personal connection to their indigenous roots. Many native Americans honor their ancestry with the traditional armband tattoos, including conventional symbols like dreamcatchers, feathers, or arrows.
For some people, tribal tattoos do not have any cultural meaning as they have become so popular that everyone wants to get them inked on their bodies.
Hawaiian Armband Tattoos
In this type of armband tattoos, many things are inked within the band. There are different meanings of these tattoos. They are popularly associated with humanity and life. Many people think that the triangles present in these tattoos are simple, but they actually are symbols of stability.
There are many other things that are put inside these tattoos, including animals, turtles, tiki faces, fish teeth, and spread heads. Hawaiian designs make interesting armbands, the ones that can make you stand out in the crowd.
Placement of Armband Tattoo
The placement of tattoos is a highly essential factor as wrong placement can damage your tattoo's aura. In the case of armbands, it all depends on the type of band you are planning to get.
If you are planning to have a wrist band, then the design would be obviously smaller. In the case of an armband tattoo, you need to have it on the upper arm. Moreover, if you want to have it more accurately, then you should have it on your upper bicep.
If you are a muscular person, then the tattoo on your upper bicep will certainly look sexy. The best thing about an upper armband tattoo is that you can cover it easily in case you need to cover it for work. Keep the placement of the tattoo in mind in order to get the perfect armband tattoo.
Popular Armband Tattoo Designs
The solid black ink design wrapped around the arm is an essential part of the foundational design of different tribal tattoos. Below mentioned are some popular armband tattoo designs that you can get inked.
Religious Design
The armband tattoo is an amazing way to display your religious preferences. The cross in the tattoo has been a popular choice among people for many years. It holds a lot of meaning for people who are religious. You can get a cross embedded in the armband tattoo. It will not only make the tattoo look unique but will also make you stand out in the crowd. It is the best way to show your belief.
If you are looking for a unique couple tattoo, then why not get the armband tattoos. It is a simple design, but you and your partner can enjoy it together.
Superhero Armbands
If you love superheroes, then you can get a superhero armband. The superhero armbands look authentic way around the arm. If you want to encourage your inner superhero, then this one's for you.
Wilderness Design
If you love outdoors, then why not get them inked in your armbands. You will surely love this style. It would be highly creative and peaceful. For instance, if you are a beach lover, get the waves inked in the middle of the black armband.
Triangle Black Armband
Multiple small triangles in the armband would look amazing. The design looks highly eye-catching, and this one is perfect for a unique design.
Floral Designs
If you are looking for something to give a feminine touch to your armband, then include floral designs in the armband.
Painted Armband Strips
If you want to make your armband tattoo creative, then put them like they are painted with brush strokes. This creativity is worth giving a try.
Final Words
Armband tattoos have greater cultural significance, and they are highly versatile. Solid black armband tattoos, Celtic, and tribal armband tattoos are the most popular styles among the youth.
You can make these tattoos creative by incorporating animals, words, and landscapes in the designs.
If you want to get a black armband tattoo, but are looking for something unique, think outside the box and try to incorporate meaningful symbols in the tattoo designs.