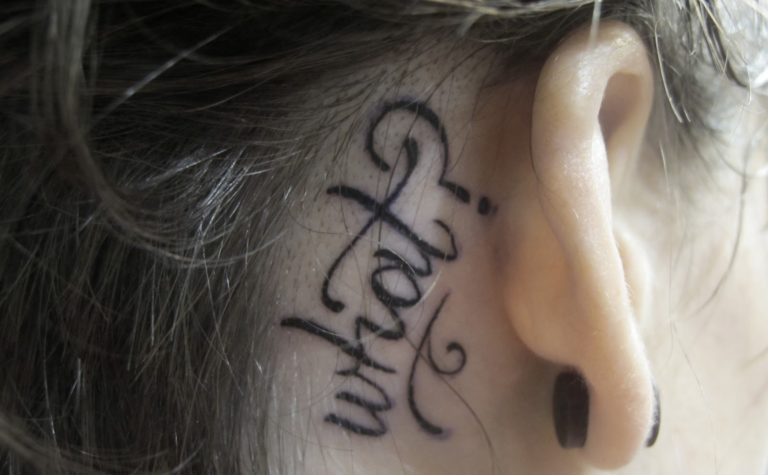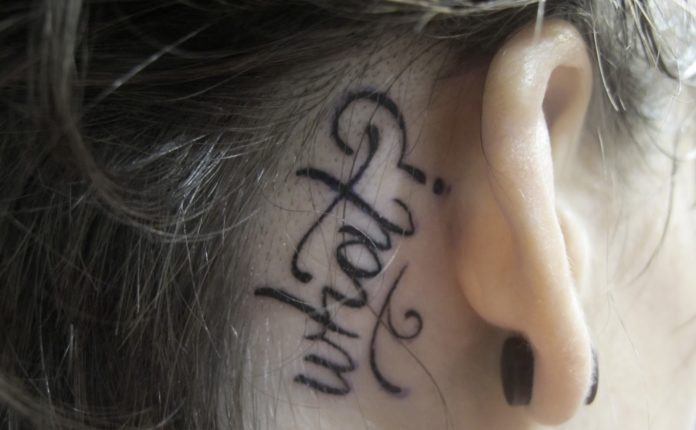 Getting yourself a tattoo with an inspirational quote never gets out of the trend. Word Tattoos are the silent way to express yourself as they say a picture speaks more than a thousand words. The word tattoos are one of the minimalist tattoo designs which people love. Word tattoos are a reminder of how powerful a single word can be to get the message across.
Having a tattoo to express your feeling is one of the concise ways which speaks a lot about you. Word tattoos are one of the bravest and confident ways to stand out and express yourself.
Word tattoo is something which you will love for all these reasons if you are thinking of getting yourself a new tattoo.
To help you select the best word tattoo for you, we have selected some of the best tattoos which you choose from. These tattoos are something that you can get on your shoulder, hand, neck, and nearly any part of the body. This makes the word tattoo an all-time favorite of all people.
Some eye-catching Word tattoo ideas which you can get to stand out of the crowd are:
Hope
It is one of the most trendy word tattoos which you can get for yourself. It is something which you will love to get inked with. The Hope tattoo drives you to continue believing in your future, keep on going, and show that you are a fighter.
The hope tattoo is also a silent way to express your message of being a person with a positive aura. It is something which acts as a constant reminder of being hopeful and never stop believing and moving in life.
It is one of the best tattoos you can get on your wrist or neck to be more expressive. This is a unisex tattoo for both the gender.
Adventure
This is one of the most favored ideas for word tattoos by those who crave for adventure. It is something that you are going to love if you want to get your message across to an adventurous person across.
This tattoo shows that you are a person who craves for moments of excitement and is not afraid to try new things. It shows that you are hopeful and craving for new things that can get your adrenaline rushing and a person who loves to have fun.
This tattoo is the one that you can get on your forearm or back of your neck to make it more visible. This tattoo is popular among men, but women can also get inked with this design.
Create
A sense of creativity is one of the greatest gifts to humanity from god. This tattoo is perfect for you if you are someone who is always trying to be creative and productive.
It is the best tattoo you can get on your fingers, hand, or wrist, as it is what we use to create. It is a great tattoo idea for men to show their right to mind. 
Strength
You can get this tattoo on your wrist, forearm, or Chest. This is one of the word tattoos ideas, which will be a constant reminder for you. As we never know what truly we are capable of until we are put through things.
This tattoo is a popular word tattoo design among men to show off their masculine side.
Saudade
It is a Portuguese word, which will be a great idea for your first word tattoos like a broken heart tattoo if you miss someone. This word expresses profound feelings of loss or emotional nostalgia for someone or something which may have been lost and never return again.
You can get this tattoo inked on your forearm to be expressive.
Meraki
This greek word means that a person has left behind a piece of himself in your work. It is like you love doing work so much that you leave a part of yourself like soul into it.
It is a great idea for word tattoos as you can get it on the Chest, forearm, and neck with different tattoo fonts.
Love
If you want a finger tattoo with a sense of love and promote the idea of love, this tattoo is perfect for you.
Imagine
It is a tattoo which women will love. This tattoo expresses the feeling of women being capable of things that a man can just imagine. It tells about the power and capability of a woman.
Woman
This is one of the best ideas for word tattoos if you are a woman. This tattoo says that you are proud of who you are. It has been in trend with the rise of feminism.
Wild Flower
This is a fascinating tattoo idea for women. It says that no matter the condition, you keep on growing and look beautiful.
It expresses your sense of being a person with hopes and a fighter spirit. This tattoo idea will look great on your forearm.
Cheeky
This is a fun and playful tattoo to get yourself inked with. This is one of the lovely word tattoo ideas for women.
Chinese Word tattoos
Chinese language tattoos have been in trend for a long time now. You can get a Chinese letter with various meanings like enlightenment, wisdom, and more. These are one of the most popular single word tattoo ideas among people.
The Chinese tattoos are a go-to for both the genders, which symbolizes the harmony in words for women and men alike.
The Chinese tattoo designs are generally done using jet black ink and are suitable for every skin tone, making them a popular word tattoo idea for all.
You can get some of the most popular one-word tattoos from the Chinese language, which are a silent expression for emotions. 
Chinese Animal Name Word Tattoos
To show love towards a particular animal, people love to get one-word Chinese tattoos. People also prefer them to show their spirit like being brave and courageous like a lion.
Zodiac Sign Word Tattoos
This trend of getting oneself inked with their zodiac signs in Chinese is also something which people like. It is one of the most popular one-word Chinese tattoos.
Music Tattoos
If one is fond of music, then in Chinese, these word tattoos are something which you will love to get yourself inked with. These music symbol word tattoos can be a single word or multi-word tattoos according to preference.
Chinese Tiger word Tattoos
This Chinese tattoo is perfect for expressing one being courageous, hopeful, self-reliant, and carefree like a tiger,t. It is one of the most popular Chinese tattoo ideas which people prefer. These word tattoos are generally done on the forearms, biceps, and even back of the neck and Chest. It is specifically popular among men for its masculine side.
Roman Numerals Word Tattoos On Chest
It is one of the eye-catching word tattoos which you can get on your Chest. These tattoos are generally used to remind oneself of date or number, which have significance in their lives.
This tattoo design is clean and timeless, an all-time favorite and something you will love to show off. You can choose various small or large fonts for these tattoos to make them more expressive.
Name Tattoos For Chest
These tattoos are one of the most popular and trending as people get them to express the various aspects of their life. People generally get the name of someone they love or have lost on their Chest to show how close they are to their hearts.
 The name tattoos can be inked in various font types and styles to show the person's significance to you. 
Religious Chest Tattoos
Religious word tattoos have been popular for centuries. They are one of the most inked types of tattoos with various calligraphy and other fonts. One can get a quote or word inked on their Chest to express the devotion towards religion. 
Japanese Word Tattoos
Japanese word tattoos are very popular among folks in America and Europe. These tattoos are generally in three fonts and scripts, namely, Kanji, Katakana, and Hiragana.
The Japanese word tattoos are one of the most trendy designs when it comes to word tattoos as they are expressive and eye-catching.
Some of the popular Japanese tattoos include symbols for words like nirvana, mother, and more.
Nirvana Japanese Word Tattoo
It is one of the most loved tattoos from Japanese word tattoos. It signifies one's desire for nirvana and the love of some divine being.
Freedom Japanese Word Tattoos
It is another popular design from Japanese tattoos. It is a single word tattoo that expresses that one is free-spirited.
Earth Tattoo
This single word tattoo from the Japanese tattoo design is popular among people who love nature. It signifies that they value mother nature and earth.
Conclusion
These are some of the most trendy and popular designs of word tattoos, which you can try. Word tattoos, which we have included in the article, are something that can be inked by anyone to express the feeling.
We have also listed some gender-specific tattoos in the article, which will make it easy for you to select word tattoos for you. We have also listed some popular tattoo designs from other cultures also from which you can choose to show off among your friends.