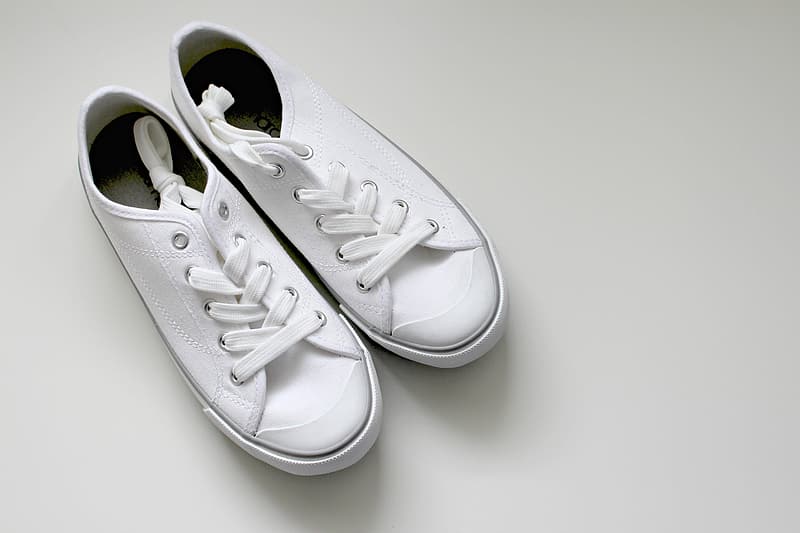 One of the biggest shoe mysteries is how to clean white shoes? White shoes are a raving trend in the fashion world. Stylish and comfortable as they are, but cleaning white sneakers can be a tough task.
If you are searching for the best ways to clean white shoes, then the below-mentioned tips are all you need to master. From baking soda to toothpaste to bleaching shoes, here are some of the most effective methods of keeping your white shoes clean.
Remember, although it is possible to figure out how to clean white sneakers or canvas shoes, it takes commitment and extra time to make it happen.
Let's not waste any more time and learn how to clean white shoes.
How to Clean White Shoes
Prevention is key. Before you wear your new white shoes for the first time, treat them with Spray-in-stain-and-water repellent. Keep repeating the process after every few weeks to keep them protected no matter where you go wearing them and in what weather conditions.
Another wise tip to follow is spot cleaning. Make it a habit to spot clean. You may be lazy to follow a regular spot cleaning routine, but it will be a big help while you learn how to completely clean your white vans shoes.
The best way to spot cleaning the shoe is wiping off the stains using a wet wipe or a gentle cleaning agent.by using a cleaning wipe of gentle cleaning agent to wipe off the scuffs and stains.
If you do not take care of the stains timely, they will penetrate deep into the shoe fabric, and it will be more challenging to make them white again.
ALSO READ: What are The Most Comfortable Work Boots?
What to Use to Clean White Shoes
One must have a white shoe cleaning object is an old toothbrush- it can clean hard to reach surface areas. You can use it to scrub the white shoes using soap and warm water, and you will notice a huge difference in the first use only.
However, if this does not work well enough for you, you can try a variety of household items- bleach, baking soda, toothpaste, and even baby powder.
Warning- you should never put your white sneakers or canvas into the washing machine to clean.
This can make the stain even worse and also cause permanent damage to the shoes. You may notice loose threads, tears, breakdown in the leather fabric of the shoes. Your shoes will look ragged and old.
How to clean white Vans or canvas shoes?
Bleaching shoes can be your answer for cleaning white canvas shoes. Using bleach may not be the most gentle choice for your shoes, but it will definitely get rid of the stains.
Supplies
Oxygen-based bleach
Heavy-duty laundry detergent
Warm water
Mesh laundry bag (optional)
Melamine sponge (optional)
Disinfectant (optional)
Tools
Sink or washing machine
Small bowl
Soft-bristled brush
Microfiber cloth
Instructions
Remove Laces and Decorations
Always remove insoles, shoelaces, and all the shoe decoration before you clean your shoes. You can clean shoelaces using hot water and detergent.let them soak for some time before washing. Insoles can be washed in similar ways; however, you can also replace them with new ones.
Machine Washing White Canvas Shoes
If you plan on washing your white canvas shoes in the washing machine, then follow these steps. Use a hose to rinse off the mud from the shoe. Use oxygen-based bleach or chlorine to remove stains. Wash the shoes with warm water on the normal cycle with low spin.
Spot Cleaning White Canvas Shoes
White shoes or espadrilles that cannot be washed in the washing machine should be spot cleaned. Mix one teaspoon laundry detergent in a quarter warm water. Dip microfiber cloth in this detergent solution and gently scrub the soil on the outside and inside the shoes. To complete the procedure, dip another clean cloth in plain water and wipe the soap residues.

Drying White Canvas Shoes
Laces and shoes should always be air-dried and away from direct sunlight, do not tumble dry on high heat. It can melt the glues used in shoe construction.
ALSO READ: THE BEST SHOES OUT THERE IN THE MARKET
How to Clean White Leather Shoes
Baking soda is a useful ingredient when it comes to cleaning white leather shoes. Baking soda is everyone's favorite DIY cleaning ingredient. Let's see how to use it to clean your shoes.
Supplies
Castile, saddle, or mild soap
Melamine sponge
Water
Baking soda
Tools
Soft cotton or microfiber cloths
Instructions
Wipe With Plain Water
After removing the insoles and laces, dip a microfiber cloth or cotton in plain water and wring excess water. Wipe the shoe to clean any trapped dirt or dust. Let the shoes dry for 15 minutes.
Clean the Sole
Dampen the sponge and clean the sole edges properly. Avoid using a sponge on the leather part of teh shoe; it can remove the top leather layer.
Soap Up
Dampen a cloth and run over soap to create a soapy lather. Work in a circular motion in small sections, to clean the leather part. Start working from the toe side and move over to the heel and sides. Sprinkle baking soda on tough-to-remove stains and gently scrub using a cloth. Baking soda works as a gentle but abrasive cleaner.
Rinse and Dry
Wipe the soapy residues using plain water and clean cloth. Allow the shoes to air dry.
How To Clean White Patent Leather or Vinyl Shoes
Patent leather has a glossier finish. Follow this cleaning procedure to get rid of stains.
Supplies
Water
Dishwashing liquid
Cotton ball or swab
Acetone-based nail polish remover
Baking soda
Petroleum jelly
Tools
Soft cleaning cloth
Old toothbrush
Instructions
Wipe Down With Water
Dip a cloth in plain water and wipe the shoes properly to remove the surface dirt.
Remove Scuffs and Stains
Dip cotton in acetone nail paint remover and rub the discolored or stained areas. Make a paste of one tablespoon baking soda and ½ teaspoon water and rub it gently to remove the stains. Gove a final rinse with plain water and a damp cloth.
Clean Fabric Edges
These shoes usually have grosgrain ribbon finish on the edges, which can get stained really fast. To clean these edges, mix one teaspoon dishwashing liquid and one cup warm water, dip an old toothbrush into this mixture, and gently scrub the edges. To finish, wipe it with a damp cloth and plain water.
Restore the Shine
If your shoes have a dull finish, then wipe the shoes using a bit of petroleum jelly and clean cloth. Finish off by buffing with a soft dry cloth.
How to Clean White Shoes With Toothpaste
Toothpaste not only whitens the teeth but also does the same for shoes. The only thing to take care of when doing this hack is using colorless or white toothpaste. Toothpaste works as a gentle cleaning agent.
To clean white shoes with toothpaste:
Use an old toothbrush and non-gel toothpaste. Apply a bit of toothpaste on the shoe as you do for your teeth and start working the toothbrush in circular motions and run for a longer time on Extra dirty areas. Once you have worked on the shoe surface, let it sit for 10 minutes.
Use a damp cloth or towel to wipe the toothpaste off the shoes. If you still find some areas stained, repeat the process again.
How Often to Clean White Shoes
Ideally, white shoes need to be cleaned after every time you wear them—just a quick wipe down using clean damp cloth or toothbrush to remove stains.
It is easier to take care of stains when they are fresh than cleaning the accumulated soil later. Do deep cleaning when the shoes become soiled.
How to Clean White Shoes During the Winter
You might be wondering why white shoes during winter are not a big issue; after all, the color of the ice is white, and it will become clear after melting. However, did you think about the road salt that people use to minimize snow piles on the road? You might know what havoc can road salt do on the shoes.
Fortunately, we have a quick hack to get rid of salt stains from the shoes. All you need white vinegar and water mixture- dip a clean cloth into the mixture and rub off the peaky stains.
Final Words:
We know numerous ways to style our white sneakers, but when it comes to how to clean white shoes, we run out of ideas. Cleaning white sneakers can be a little tedious task, but if done right, you can make your shoes shine like they are new.
We have mentioned some of the best ways to clean white shoes in this article. And of course, to get the best results, you have to be consistent with the method you chose to clean your sneakers. Clean the stains as soon as you notice them and storing them properly in a clean place when not in use.