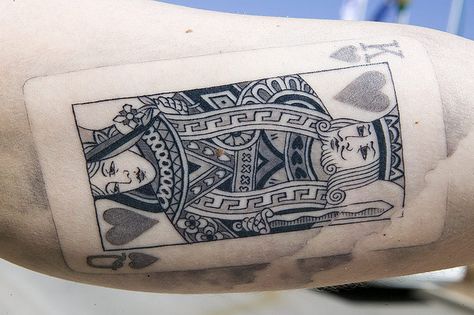 It's widely acknowledged that many of us are irresistibly drawn to the exhilaration of gambling – that heart-pounding sensation of placing bets and chasing after those exhilarating wins.
This is precisely why gambling tattoos have gained such immense popularity – they serve as a bold and personalized way to proudly showcase our passion for the game.
Whether you're a seasoned pro in the gambling world or simply revel in the excitement it offers, a gambling tattoo can become an artful expression of your individuality.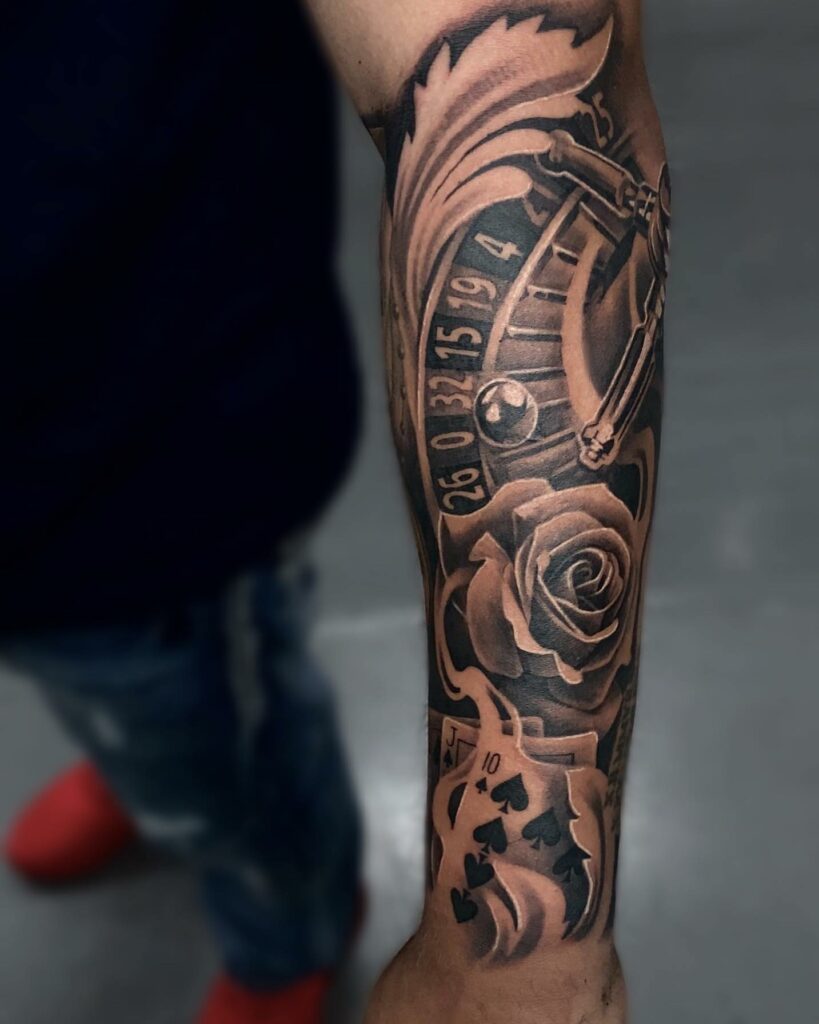 The design options are virtually limitless, ranging from classic card and dice motifs to iconic images like roulette wheels and even the beloved Monopoly board.
Our dedicated tattoo studio is committed to collaborating with you in order to discover the gambling tattoo ideas that uniquely encapsulates your enthusiasm for the game.
Feel free to explore our diverse collection of tattoo concepts, and let's join forces to create a truly exceptional piece of body art. For those seeking a captivating gambling tattoo idea, this rush of excitement becomes a bold and personalized statement of passion for the game.
Cool Gambling Tattoo Ideas On Legs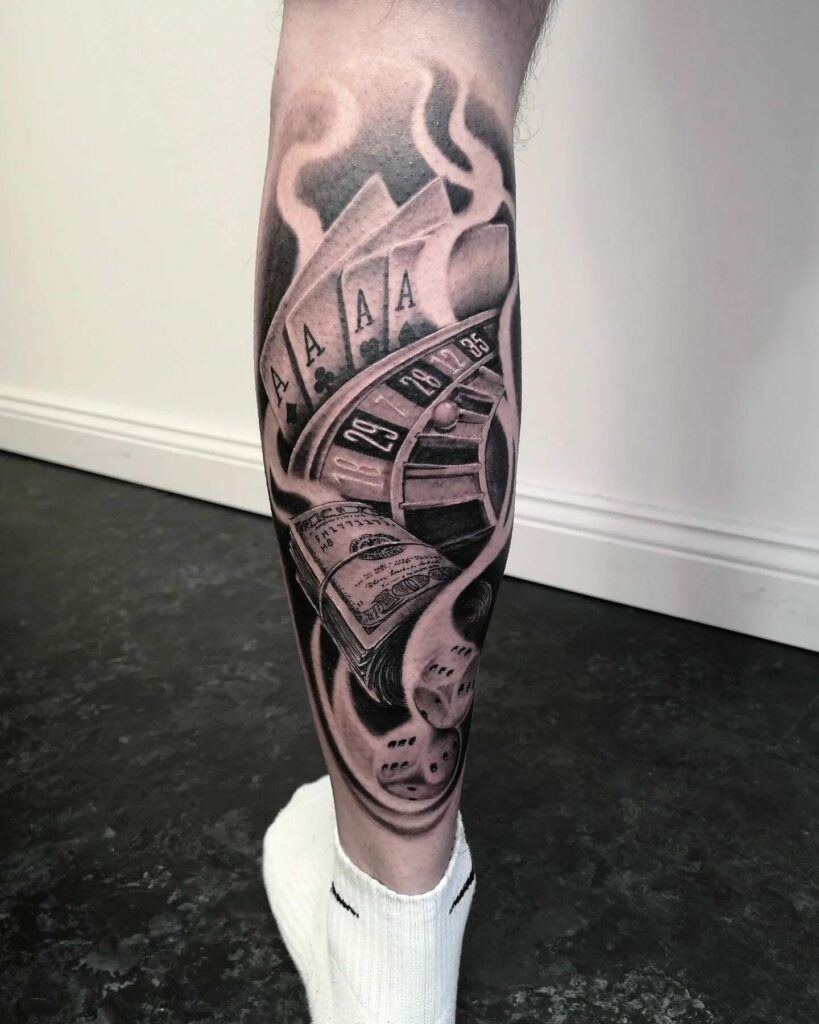 When diving into the world of tattoos, there's more than meets the eye – it's about the design and the story it tells. Tattoos can mark important moments or serve as a memory capsule.
In the realm of gambling tattoos, they carry a dual message – a reminder of both the allure and risks of bold choices.
Take a look at the tattoo above, where a true gambler is surrounded by the tools of their trade: cards, dice, a roulette wheel, and money, all set ablaze with vibrant colours.
This piece isn't just art; it's a reflection of the highs and lows of gambling. It showcases the potential for triumph and thrill and the danger of spiralling into financial turmoil and addiction.
This tattoo speaks volumes about the consequences of gambling, serving as a personal reminder for those who've experienced its rollercoaster. It's a declaration of lessons learned and a commitment to a better future.
Not everyone sporting a gambling tattoo is deeply connected to gambling; some admire its aesthetics and history. For them, it's a nod to the symbols and stories that gambling carries, especially in the context of American history.
Choosing a gambling tattoo means choosing an enduring piece of art that reflects your story.
Whether you've felt the rush of the game firsthand or are captivated by its imagery, make sure your design and artist resonate with you, capturing a slice of your journey to stand the test of time.
Gamble Tattoo Ideas With Dice, Playing Cards, And Dollar Bill Roses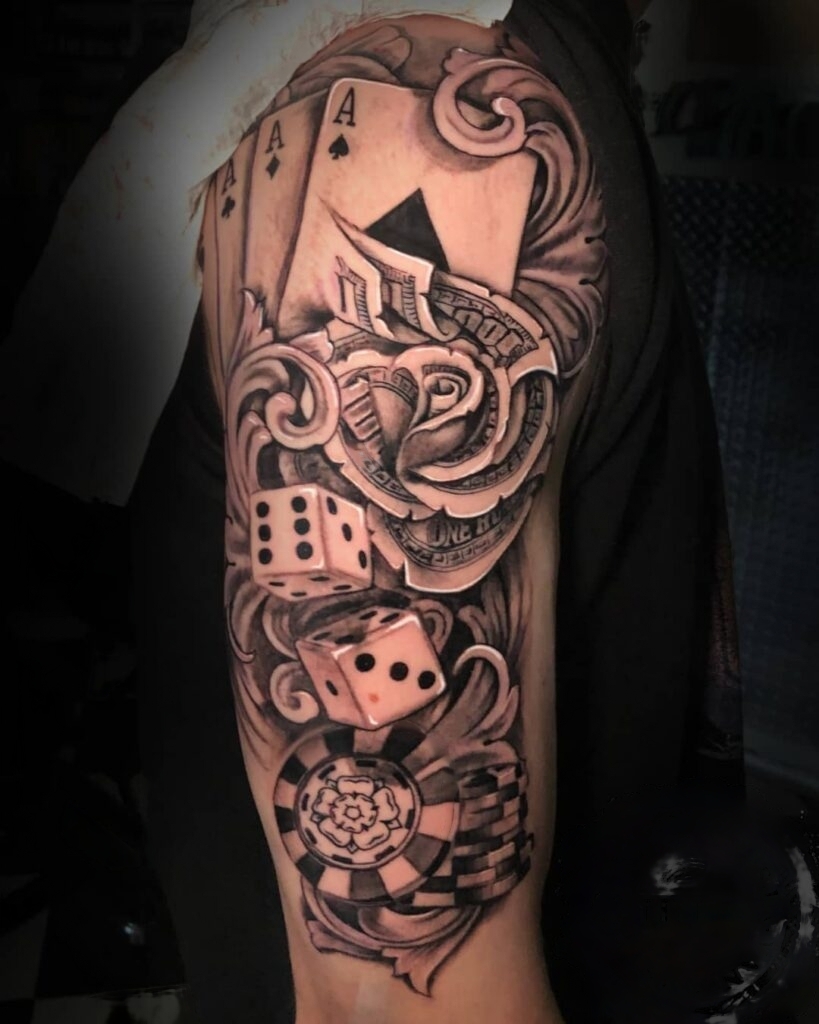 If poker is your game and you're seeking a way to wear your passion on your sleeve, the ace trio tattoo is your winning hand. This design isn't just a stroke of luck – it's a statement of your biggest triumphs.
The ace trio tattoo is tailor-made for poker enthusiasts who want to display their love for the game proudly.
It's a fusion of good fortune and a homage to the dynamic visuals of the gambling world. Within the design, you'll find poker chips, roulette wheels, money rolls, and dice – all iconic emblems of the gambling arena.
The shading technique used in this artwork evokes a sense of nostalgia, lending it a classic charm that captures the essence of the gambling scene.
This sleeve tattoo doesn't just celebrate poker; it invites the luck of the draw for your future games.
So, why not dive into our collection of incredible tattoo ideas? Let's make this ink journey together, finding the design that resonates perfectly with you. We're excited to help you uncover the artwork that truly tells your story.
Detailed Gambling Tattoo Categories For Full Back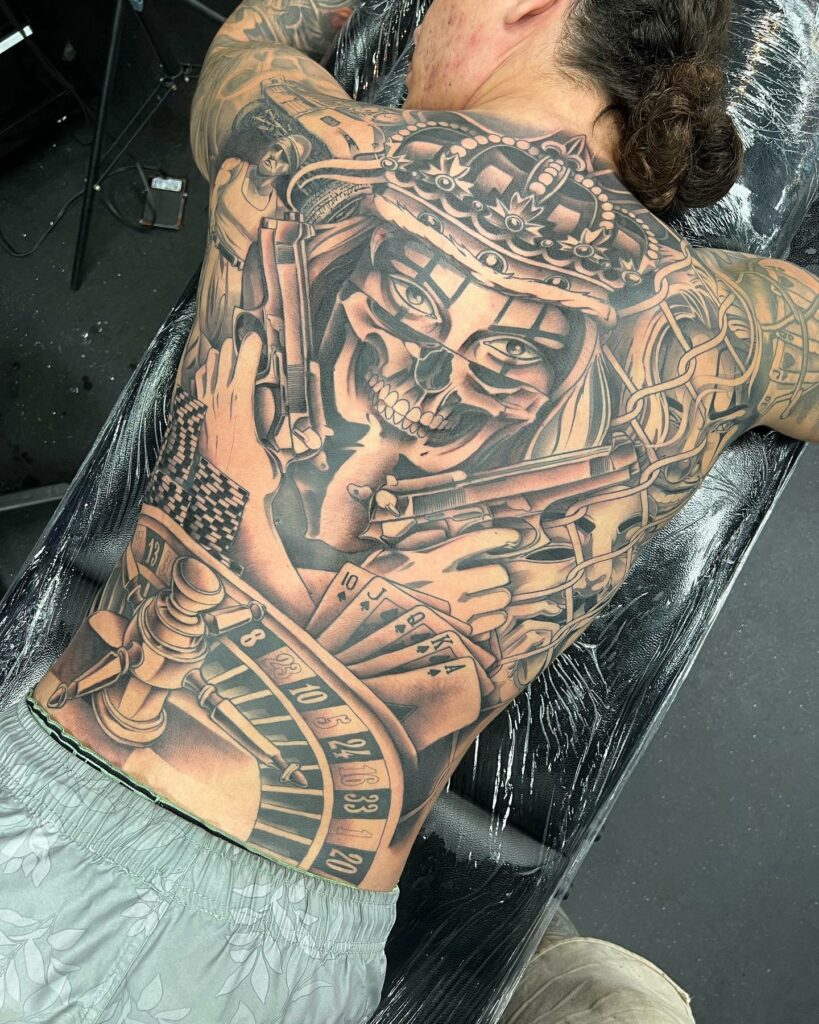 If you're aiming to display your passion for gambling on a grander scale, a full-back gambling tattoo is your ultimate canvas. This masterpiece encapsulates every facet of the gambling world and casino culture.
From regal spade royal flushes to poker chips, alluring victory-crowned women to roulette wheels, this tattoo design is a comprehensive homage to the realm of chance.
Crafting a tattoo as intricate as this demands the expertise of a seasoned and skilled tattoo artist. The design delves into the intricacies of the casino universe, necessitating finesse and meticulous attention to detail.
Selecting the right artist for your full-back gambling tattoo is crucial. Seek someone with a track record in handling complex designs, capable of bringing your vision to life.
Our compilation of tattoo inspirations can guide you in achieving the perfect artwork for your full-back gambling tattoo.
A full-back gambling tattoo isn't just ink; it's a remarkable piece of art that animates your adoration for both gambling and tattoos.
The choice of artist is pivotal – they will weave a design that's visually appealing and resonates deeply with you.
With the convergence of the right artist and inspiration, your full-back gambling tattoo will transform into an enduring masterpiece, a source of pride for years to come.
Full Sleeve Portrait Gambling Tattoo Ideas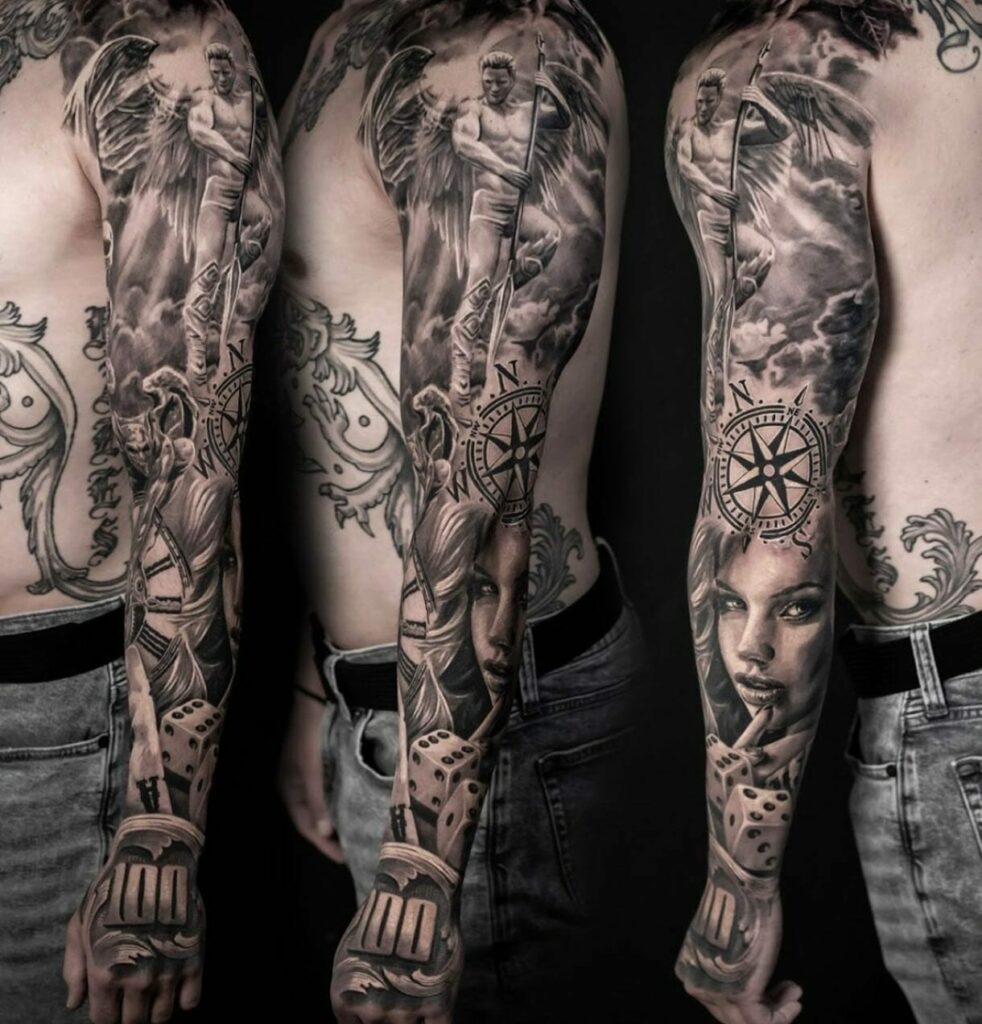 If you're a devoted gambling enthusiast keen on flaunting your casino love, why not embrace the idea of a casino tattoo?
A full-sleeve gambling tattoo is the ultimate platform to display your gaming passion, destined to capture the gaze of those around you.
In this particular design, you'll find timeless casino elements – a pair of dice, an ace card, and a hundred-dollar sign – positioned prominently on the back of your hand.
Of course, personalization is key; feel free to incorporate other games or symbols close to your heart to elevate the significance of your tattoo.
The artist's choice of a classic black and grey style preserves the tattoo's authenticity, providing it with an ageless appeal that never fades.
Placing it on your hand ensures it's always visible, sparking conversations and catching eyes wherever you venture.
For the dedicated gambler within, why not let your body express your love for the game through a casino tattoo?
It's a bold and captivating method to put your gaming passion on display, destined to initiate discussions and turn heads at every turn.
Shoulder And Chest Roulette Wheel Gambling Tattoos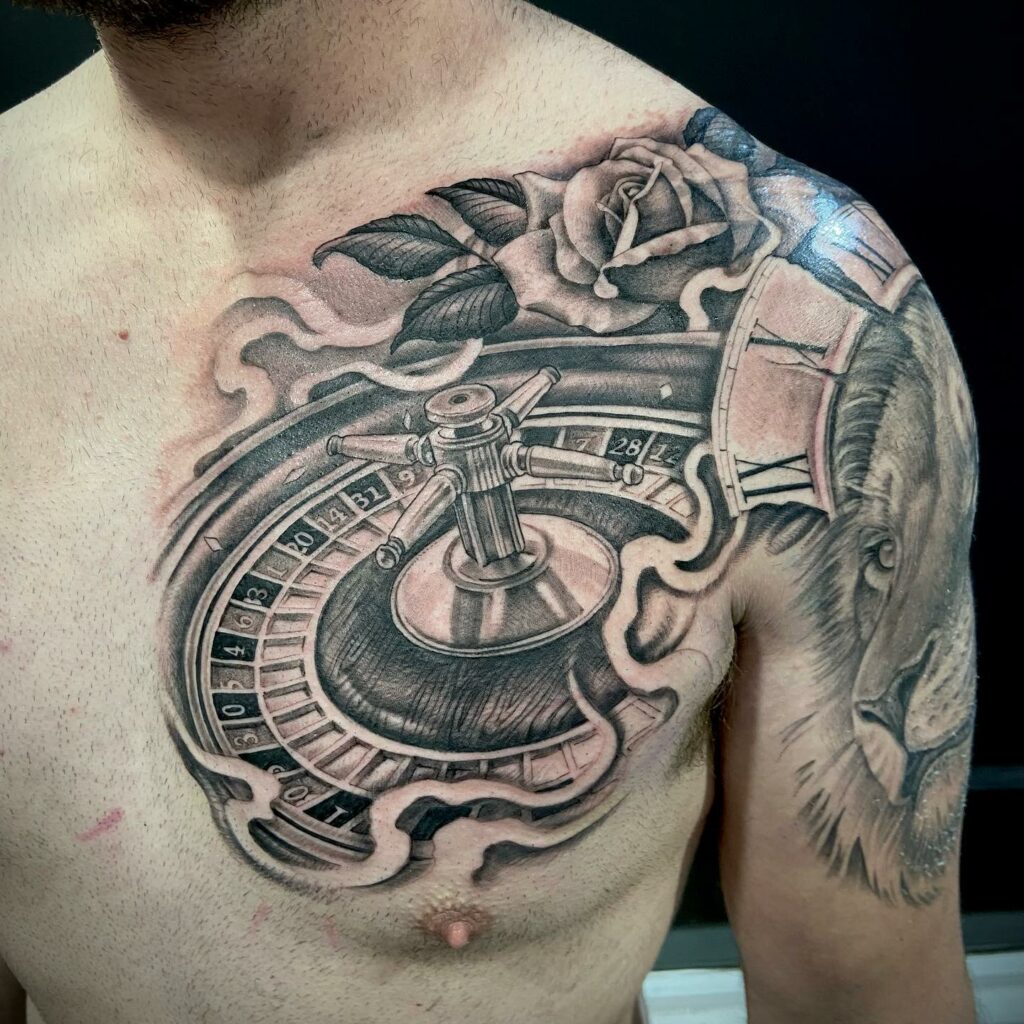 The intricate artistry displayed on this expansive canvas is truly exceptional, featuring an exquisitely detailed depiction of a roulette wheel that seamlessly merges with the rest of the sleeve tattoo's elements.
The artist's remarkable talent shines through in every aspect, from the nuanced shading and highlights to the tiniest intricacies of the design.
Selecting a gambling tattoo is a deeply personal choice; it should resonate with your interests and preferences.
The allure of this tattoo style lies in its versatility – it can be tailored in countless ways, offering the freedom to infuse your favourite games and symbols.
Whether you're a devoted fan of slots or a skilled card player, the potential for crafting a distinctive and meaningful gambling tattoo is boundless.
Consider embracing a gambling tattoo if you're ready to elevate your passion for casino games.
With the perfect design and a skilled artist, you can create a captivating piece of art that showcases your dedication and leaves an indelible mark on those who see it.
Playing Cards Surrounded Gambling Tattoo Designs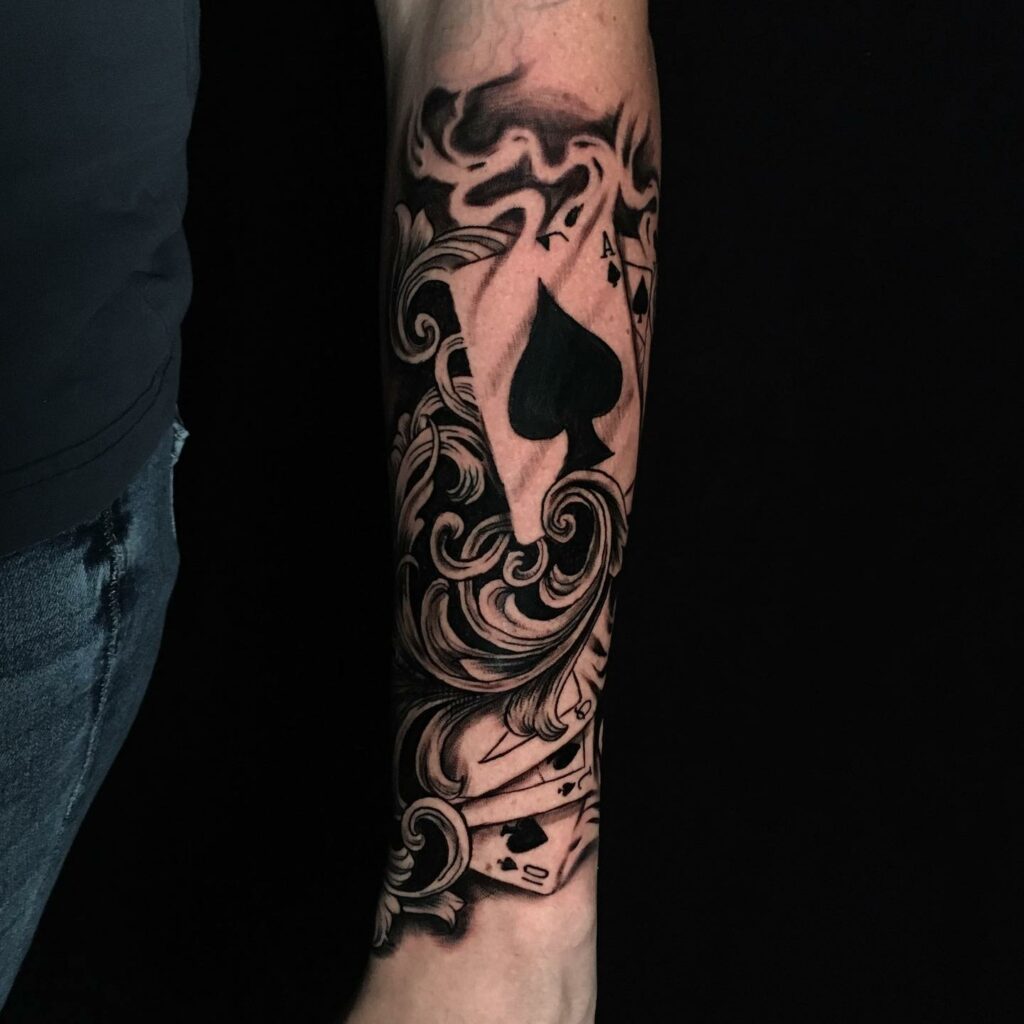 The playing card that stands for the ultimate in value is often linked to triumph and seizing the spotlight.
A symbol of conquest for those who embrace risk – a fitting muse for gambling enthusiasts. A tattoo like this, dedicated to the ace of spades, is a nod to the hearts of daredevils.
The ace of spades isn't merely inked; it's embraced by a sophisticated design that resembles wisps of smoke. The authenticity is maintained with classic black and white shades, securing its status as a beloved choice.
For those eyeing an ace of spades tattoo, the options are plentiful.
You can dive into abstract designs, black and grey cards, royal flushes, or even the regal lineup of A, K, Q, J, and 10 – all proudly in spades. When seeking inspiration for your next tattoo, the realm of playing cards is ripe with possibilities.
Traditional Gambling Tattoo Ideas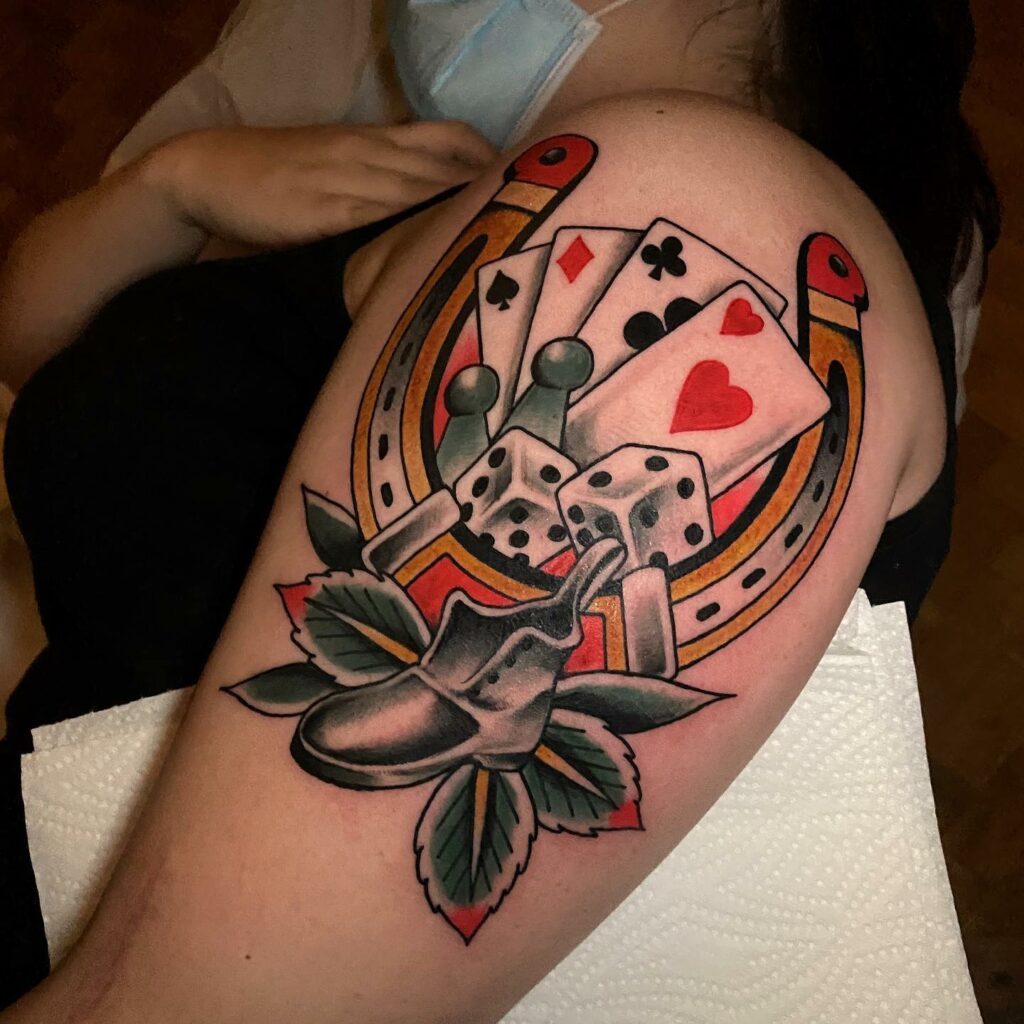 Are you someone who thrives on taking chances and blending various tattoo styles and colours? If you are, the allure of classic traditional tattoos might just be your thing.
Take a moment to appreciate the timeless design above, which embodies the essence of classic American tattoo artistry.
Encompassing the entire shoulder, this tattoo showcases a vivid and striking depiction of dice and playing cards, drenched in vibrant primary hues.
Even though the design includes an unconventional element like the big shoe, don't forget that you can tweak or add your own touch, ensuring its uniqueness.
Traditional tattoo styles are incredibly adaptable, allowing you to experiment with different components and truly make the design your own.
So, if you're in search of a timeless, attention-grabbing addition to your ink collection, a traditional gambling tattoo like this one could be the perfect choice.
Casino Tattoo With Gambling Quote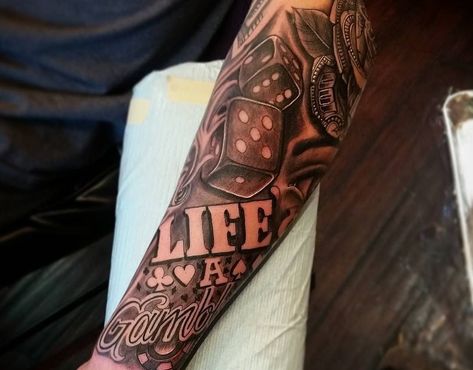 Tattoo sleeves adorned with quotes remain a timeless choice, and this casino tattoo seamlessly blends the world of gambling with a profound message.
The "Life's a Gamble" tattoo encapsulates the very essence of casino excitement and the daring risks it entails.
This quote resonates universally, finding a place with both gambling enthusiasts and those who appreciate keeping a safe distance.
Integrating a meaningful quote into your casino tattoo design adds an extra layer of depth and personal touch.
Pairing the quote with classic casino games like roulette, craps, or blackjack enhances the expression of your affection for gambling.
Imagine this design flourishing on a Las Vegas tattoo sleeve – the ideal canvas to display such a concept.
If you're seeking a method to convey your casino passion, consider the impact of a well-chosen quote within your gambling tattoo design.
Creepy Gambling Joker Skull Tattoo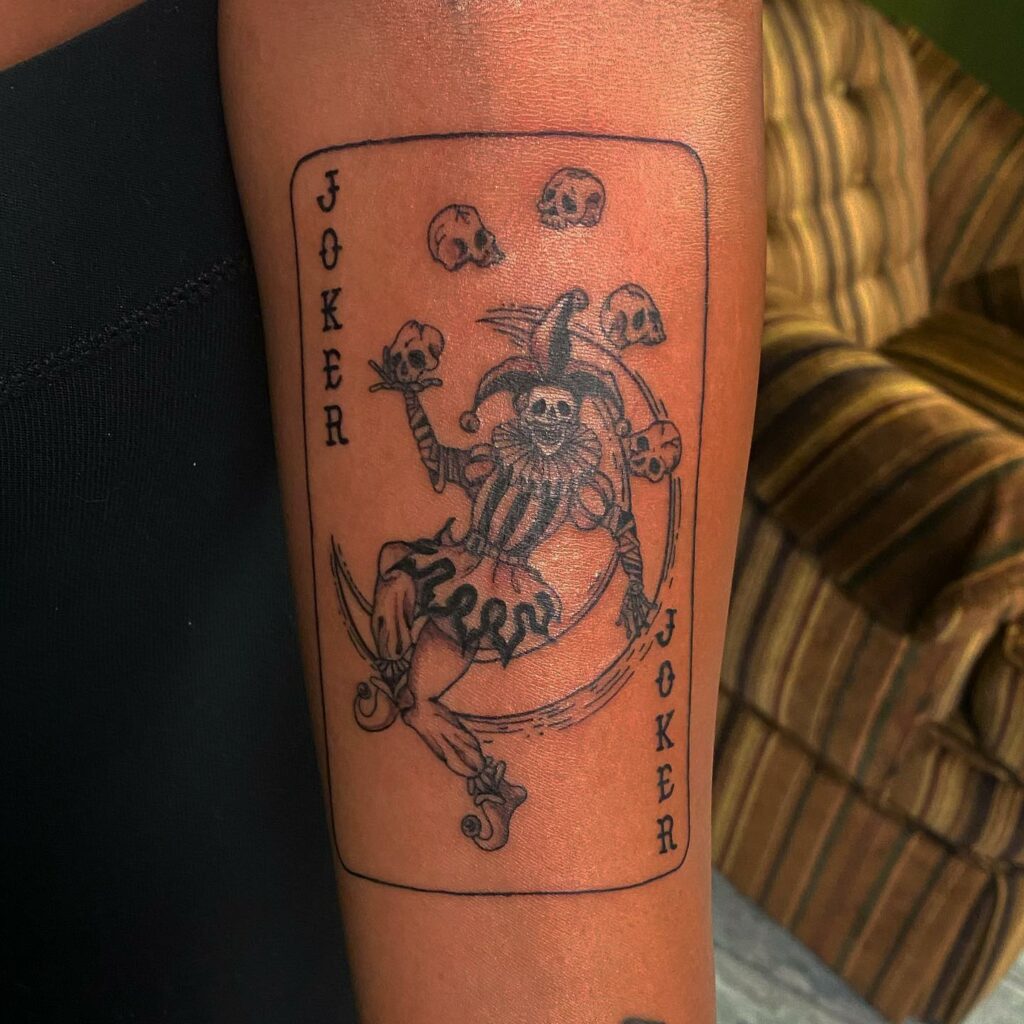 Jokers have long been a captivating element in the world of tattoos, their unique makeup and attire rendering them a standout choice for tattoo enthusiasts.
Despite their modest position in a deck of cards, jokers embody adaptability and versatility, making them a truly meaningful and inspired tattoo design.
The joker's ability to assume any card role mirrors our own need to embrace change and flexibly navigate diverse scenarios.
These tattoos often provoke contemplation, making them an ideal option for those in search of designs with depth and significance. If you're looking to enrich your collection, a joker tattoo should definitely be on your radar.
Minimal Casino Tattoos With Small Designs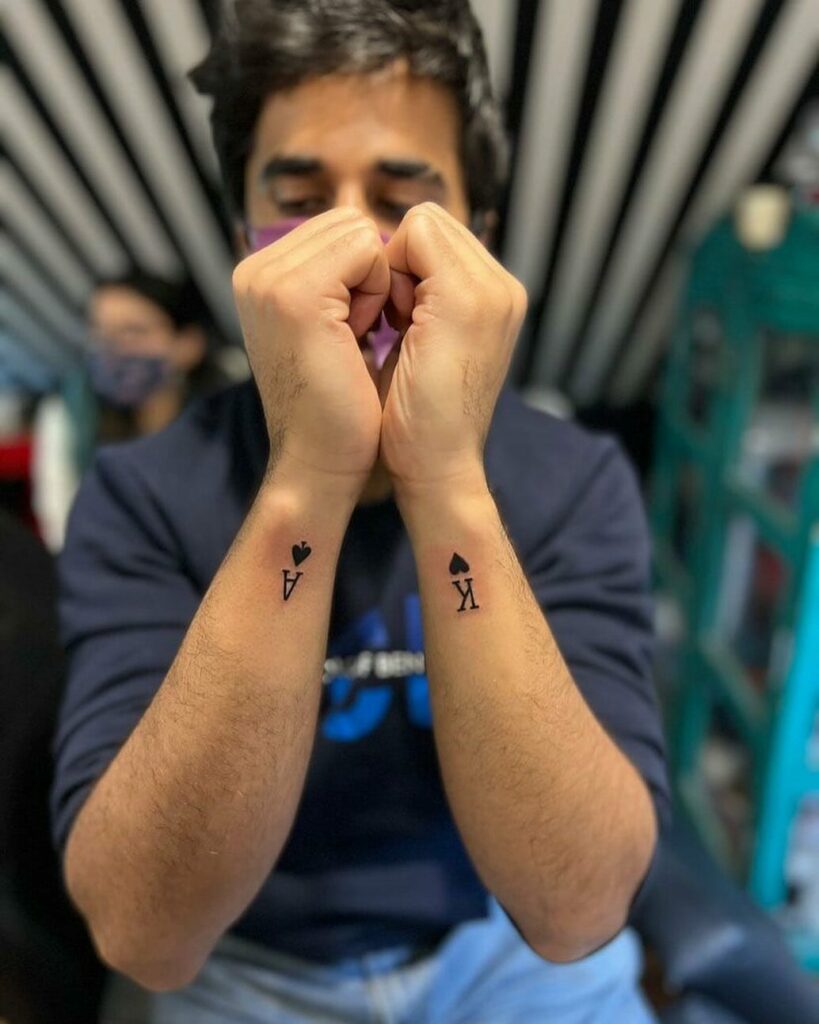 Look no further than this chic and understated design for those seeking a touch of gambling flair in a more subtle package.
Featuring the ace of spades and king of hearts, it's a choice that exudes style while discreetly showcasing your affection for the game.
And if you're feeling adventurous, there are many symbols at your disposal – money, dice, and roulette, to name a few.
We've curated additional tattoo ideas to ignite your imagination, guiding you towards your next ink adventure.
Whether you're a seasoned player or just captivated by the game's excitement, there's a gambling tattoo waiting to capture your essence perfectly.
FAQs
Q: What is the significance of a gambling tattoo?
A: Gambling tattoos often symbolize luck and chance, featuring elements like cards, dice, stars, cherries, poker chips, and lucky sevens.
Q: What does a 2 and 7-card tattoo symbolize?
A: In cartomancy, having the Two of Diamonds over the Seven of Spades signifies "bad news, you are going to die soon." It's the worst possible hand in poker, making it highly unfavourable.
Q: What meanings are associated with playing card symbols and tattoos?
A: Playing card symbols, tattoos can represent good luck, fortune, fate, and even mortality. These tattoos often include aces, face cards, and other elements like skulls and dice.
Q: What does a black ace of the spades tattoo typically symbolize?
A: A black ace of spades tattoo is often seen as a token of good luck. In the hierarchy of playing cards, the ace of spades holds the highest rank, leading many to believe it brings luck in various aspects of life.
Conclusion
In tattoos, few expressions encapsulate the exhilarating rush of gambling quite like the artful ink that symbolizes our devotion to games of chance.
The growing popularity of gambling tattoos is a testament to their power as a bold and personalized declaration of our love for the game.
Whether you're a seasoned player or simply captivated by the thrill, a gambling tattoo becomes a unique emblem of your identity.
The design possibilities are virtually limitless, from classic card designs to iconic roulette wheels and beyond.
Our tattoo studio is dedicated to working alongside you, crafting the perfect gambling tattoo that tells your personal story.
Explore our diverse collection of tattoo concepts and join us in embarking on a creative journey that merges art and passion.
MORE GAMBLING TATTOO IDEAS