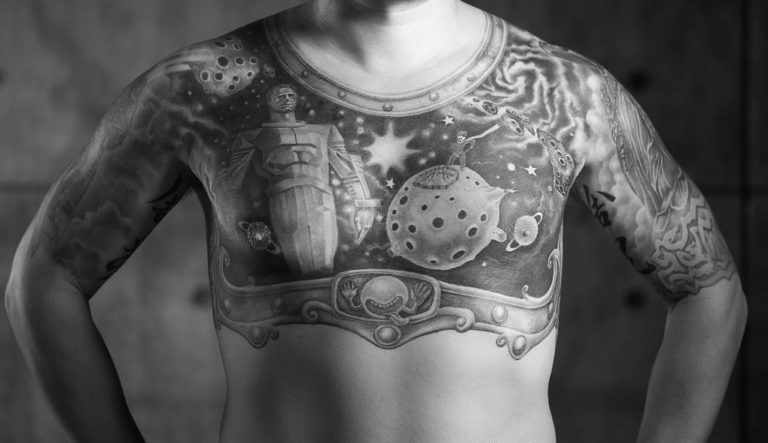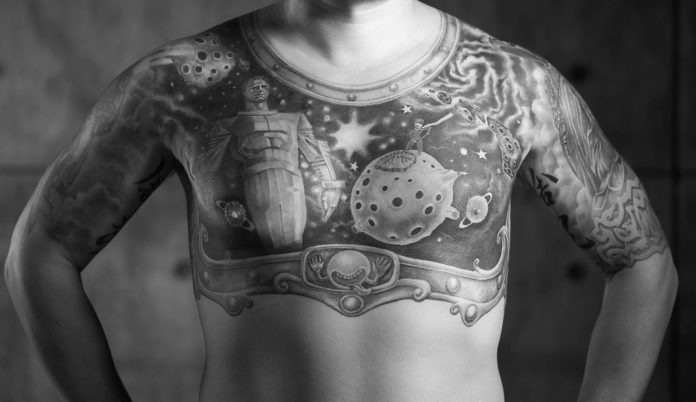 Space is a captivating state loaded with absolute mystery and infinite possibilities. Humanity has always been fascinated by space and different celestial bodies. If you are one of the people charmed by the sun, moon, stars, and the galaxy, then galaxy tattoo ideas are a perfect pick for you. 
When we think of space, many unsettling questions arise, like how huge is space? Is it all darkness there? How many galaxies are there in the universe? Or how many universes are there? Whenever we look up in the sky, the image of the beautiful moon and star always excites us and makes us wonder about the creation of the universe.
All these things of space you wonder about looking at the sky make a great tattoo choice. We have rounded up a list of the best galaxy tattoos to inspire your next tattoo design.
Galaxy Tattoo Meaning
Tattoos carry different symbolism and meaning for every person. One of the main reasons for the popularity of galaxy tattoo ideas is that they hold a lot of meanings. A galaxy is too large full of infinite possibilities and objects.
A galaxy tattoo can represent life and dreams. Sometimes, it can also represent humanity. On the other hand, it also presents complexity while sometimes it symbolizes infinite love. Here are some popular meanings associated with a galaxy tattoo.
Life and Aspiration
The first meaning of a galaxy tattoo is life and aspirations. Have you ever imagined something, and in deep thoughts, you have looked up at the star? If yes, you are not alone. It happens with all of us. Stars and galaxies give us inspiration. They are perfect to describe life and dreams. We often look at the sky when thinking something deep, and it inspires us all.
Optimism
The second and the most interesting meaning of a galaxy tattoo is optimism. When we look at the stars, we hold a lot of hopes and wish to have a positive life. When we look at stars and galaxies, we get inspiration and positivity from them to carry things with great optimism.
Forever Love and Commitment
A galaxy tattoo can also represent commitment and admiration. Having a cosmic or galaxy tattoo represents that your love for a person is like a galaxy or a universe, i.e., infinite. You will be the same person from the beginning to the end of your life.
Captivating Galaxy Tattoo Ideas
Space is a mystical place which always fills our mind with dream, hope, and inspiration. If you consider yourself a dreamer, then galaxy tattoos are the best ways to express your feelings. Galaxies come in different shapes and sizes, which makes the galaxy tattoo design a perfect fit for everyone. Here are some best galaxy tattoo ideas for you.
Galaxy Hair
This space tattoo is unique as well as creative. Galaxy hair tattoo design includes a girl, and her hairs are the galaxy. It represents the fantasy world that the girl has created for herself. It clearly shows that imaginations have no boundary.
This tattoo design also represents that the girl is happy in her own company and world and does not need others. She has a vivid and amazing imagination. If you are a person with lots of imagination, then this galaxy tattoo design is a perfect choice for you.
Forest Galaxy
Whenever we are frustrated by the overbooked schedule, we look up to forests and mountains for vacations. Why? The reason is that these places hold a lot of positivity. They provide us an escape from the bustling city lives. Mountains, forests, and beaches are the place where we get the opportunity to know ourselves and take a break. The best part when spending time at these places is sleeping under a sky full of stars. It is the most beautiful view.
If you are a person who loves all these things, then a nature tattoo showing forest and galaxy is the right choice for you. This tattoo inspires you to stay happy and motivated in the middle of the overbooked life. Moreover, it perfectly shows your love for nature.
Galaxy Tattoo Sleeve
Sleeve tattoos are gaining remarkable popularity. These tattoos make you stand out in the crowd and reflect your love for body art. Full sleeve tattoos make an amazing impact as they cover your complete arm from shoulder to the wrist. If you are looking for a unique idea, then nothing is better than a galaxy tattoo sleeve.
A galaxy tattoo covering your whole sleeve tells a unique story. Make sure to get a watercolor tattoo for your galaxy tattoo sleeve full of various colors and beautiful designs. The shades of yellow, purple, and red will make the tattoo design look fabulous. The tattoo looks highly realistic and an amazing piece of body art.
Saturn Tattoo
Saturn is one of the nine planets of our solar system and is different from others due to its beautiful rings. The rings of this planet make it unique and highly fascinating. A Saturn tattoo looks amazing with the right tattoo placement. You can get a Saturn tattoo on the ankle if you are looking for something unique.
When getting a Saturn tattoo, opt for colorful inks as they will make the tattoo more lively. A Saturn tattoo represents that you are unique and different from others in your own way. The colors and wonders of the galaxy are appealing and attract many eyes. The Saturn tattoo is a perfect choice for those who want to show love for the creative aspects of the galaxy.
Keyhole Galaxy Tattoo
Keyhole tattoos are displays of intellectual inclinations. They represent a reserved person filled with a lot of sly secrets. The shape of keyhole tattoos makes them incredibly attractive when they are filled with fine details and shading.
The keyhole galaxy tattoo is one of the most attractive universe tattoos. This galaxy tattoo design includes a keyhole filled with lots of stars and planets. It suggests a small look into another time or space. This tattoo design acts as on-the-spot lore encouraging the views to take a peek through the mysterious keyhole. It represents a person filled with infinite secrets like the galaxy. If you are a secretive person, then this one's for you.
Galaxy Between Hands Tattoo
This tattoo design is highly creative, which makes it attractive as well as unique. It is one of the best galaxy tattoo ideas, which shows a level of creativity. This design includes the entire galaxy between two hands. It represents the level of creativity of a person and higher optimism. Similarly, you can also get a single hand tattoo with sun and moon above it. This tattoo design shows your love for celestial objects. It is perfect for making a strong style statement.
World Map Galaxy Tattoo
Map tattoos are a reminder that you have the whole world to explore. They are perfect tattoo designs for people who never feel at home in one place. These are perfect for showing your wanderlust. A world map galaxy tattoo looks profoundly appealing.
It is the right pick to show your love for exploring the secrets of the world. This tattoo design combines a map tattoo and moon tattoo design. It includes a world map, stars, and different phases of the moon. It shows that the world is full of beautiful natural objects. This galaxy tattoo shows the guidance of celestial bodies in our journey of life. Moreover, it also symbolizes that the celestial body always protects us no matter in which corner of the world we are.
Galaxy Skull Tattoo
Skull tattoos have been one of the most popular choices in the tattoo world for centuries. They have different meanings and symbolism. It represents god or evil, life and death, strength and power, and change. A skull tattoo symbolizes overcoming the challenges of life. Moreover, it also offers protection to the wearer.
A skull is often considered a symbol of death, but a skull galaxy tattoo represents commemoration of life. It could be a splendid depiction of celebrating life in a world full of challenges and limitless difficulties. It is a constant reminder that no matter how hard time comes, we should always stay positive and happy as life is full of possibilities.
Spaceship Tattoo
As a kid, almost all of us have dreamt of going to the moon. This space tattoo is perfect for true explorers and cosmos lovers. If you love sci-fi and cosmos-related stuff, then a spaceship tattoo is the right pick for you. It is not necessary to get a big spaceship tattoo, as this design looks adorable as a minimalist tattoo.
A small spaceship on your wrist or finger will look magnificent and adorable. If you want something unique, you can get a retro-styled spaceship tattoo. This tattoo design looks splendid as a black and grey tattoo. There is no need to use a lot of colors in this space tattoo as black and grey provide it a classic touch.
Solar System Tattoo
We all have grown up studying the nine planets and solar system. The plants have always fascinated us and encouraged us to know more about them. A solar system tattoo is a perfect galaxy tattoo design for a person who loves space. Let's be honest many people dream of going to planets while looking at the sky.
This tattoo design includes the nine planets and the sun. A solar system tattoo is perfect for a person who loves to think, dream, and talk about space. This is an exotic tattoo design that can be a conversation starter.
Astronaut Tattoo
Another exotic tattoo for space lovers is astronaut tattoo design. This space tattoo design includes an astronaut wearing a spacesuit. To make the design look more magnificent, you can include small stars around the astronaut. It shows your desire to explore the universe and know the secrets of space.
The word astronaut is translated from Greek, and it means a sailor and a universe. An astronaut tattoo shows a quiet and calm personality. It shows that the wearer is courageous, dedicated, and is aiming for the stars, which means higher goals.
Impossible Triangle Galaxy Tattoo
The Penrose triangle is considered the impossible triangle. It remains an enigmatic figure in the minds of humans. This design is celebrated as a unique collaboration or paradox. Moreover, it reflects a mystery that can not be solved.
An impossible triangle galaxy tattoo is the right choice for people who are a little tricky in their life and have a mysterious side. The tattoo design includes an impossible triangle filled with colors of galaxies and stars.
Rose Galaxy Tattoo
Rose tattoo is one of the popular tattoo designs. A rose is a symbol of strong love and honesty. A galaxy tattoo holds a wide range of meanings, and when combined with a rose tattoo, the symbolism gets deeper. A rose galaxy tattoo shows the love of a person for mysteries and the universe. It makes a perfect couple tattoo that shows infinite love for your partner. This tattoo design symbolizes that you will love your partner till the end of your life.
All-Encompassing Eye Tattoo
An eye tattoo design represents faith and soul. You must have heard about the third eye, and it represents intuitions. This tattoo design symbolizes spiritual awareness and soul. If you want a unique galaxy tattoo, then you should get an encompassing eye tattoo combined with the galaxy. This tattoo design is actually a metaphor for spiritual power.
Final Words
Space is filled with infinite objects and anonymous things. If you are charmed by the universe, space, and celestial bodies, then a galaxy tattoo is the right pick for you. It symbolizes infinite love, high optimism, and wanderlust. Now get a galaxy tattoo and share your experience with us by dropping a comment.