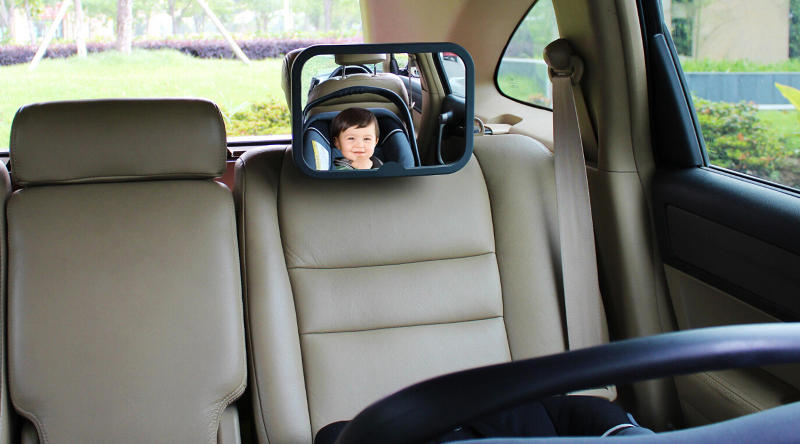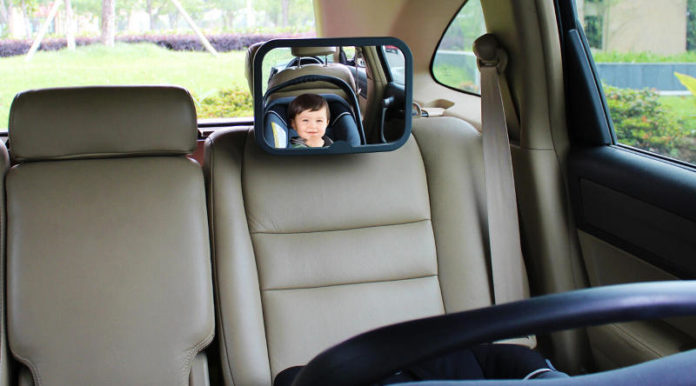 Are you also a new parent? Then you must be concerned about the security of your kiddo. When a baby is born, parents have to pay full attention to the newborns, especially when it comes to traveling. Guess what? Selecting the best baby mirrors can help you a great deal. That is so, as when you are commuting by yourself, then driving the car and keeping an eye on your toddler can be difficult, and that's where this best baby car mirror come into action. Continue reading to know more.
Top Baby Mirrors which can help you out
For those who are confused about the terminology, baby car mirrors are the mirrors attached to the back seat's headrest, which reflects the view of your baby to your rearview mirror. Most baby car mirrors provide almost the same specifications and features, but you must find the one that meets your needs and budget. Here are some best baby car mirror for you to keep an eye at your little one while driving.
Read More – Best Baby Stroller Fans
Shynerk Baby Car Mirror
Made of shatterproof acrylic glass and an extra-wide baby mirror, this car seat mirror will certainly ensure the safety of your baby. Must it be difficult to set-up? Nope, you can be at ease. That is so because it has been designed so that you can install it without any tools. With minimal and basic designs, the mirror offers an extensive vision and is compatible with numerous car models. Furthermore, it gives a broad and clear view of your baby, ensuring the out-and-out security of your toddler.
Snookums Baby Mirror For Car
This mirror has four straps to wrap around the headset. These straps accompanied by buckles make it easier to attach the mirror. With all those characteristics, the sturdy glass comes quite handy. Don't you think so? Well, you will breathe a sigh of relief when you get to know that the Snookums Baby car mirror comes pre-assembled, and all you have to do is adjust the mirror on the headrest and drive carefree.
Zacro Baby Car Mirror
Looking for an infrangible but easy-to-install baby car mirror? Then Zacro car seat mirror is your cup of tea. This baby car mirror is not only easy to install but is also eco-friendly. The mirror has a wide-angle-design and offers 360-degree flexibility. The mirror is supported by a lightweight and stout black polymer plastic. With all the above-mentioned baby car accessories, zacro is certainly one of the best baby car mirrors.
Jolly Jumper Baby Mirror
This Canadian brand is renowned globally for manufacturing baby car accessories for over 70 years now. The brand offers a large convex mirror presenting a broad angle view of your rear-facing baby. Furthermore, the baby car mirror has a very secure installation. How is that? Given that the mirror has adjustable straps, you can set this up on almost every one of the headrests. Also, it is equipped with shatter-resistant glass guaranteeing the overall safety of the baby. Although it doesn't have an alterable pivot, it is certainly the best baby car mirror for those having a small budget.
Lusso Baby Gear Mirror For Car
Are you meticulous with colors? Then this is your deal. If you are looking for an option that could match with your car's interior, Lusso is the one for you. It provides shades in gray, tan, or black. It comes with a unique mount system, which makes certain that it stays firm and steady once it has been accurately installed. The mirror is 11.5 inches in measurement and offers a broad-angle view of your baby. With double straps for rapid installation, the mirror is accompanied by a supreme matte finish, providing a crystal clear view of the baby. If you feel the need to clean it, you will be provided with a microfiber cleaning cloth. This way, you can easily maintain the hygiene of the baby. However, you should not opt for this if your vehicle has fixed headrests.
Britax Backseat Mirror
In case you are looking for a car seat mirror of a reputed brand, this one's for you. Britax is renowned for designing quality baby car mirrors. It is a broad range, convex pivot mirror constructed to reflect the head-to-toe view of your child. Moreover, it's a lightweight and shatter-resistant mirror. The mirror measures 11.5 inches by 7.5 inches by 3 inches and weighs just 1 pound. Furthermore, it has been designed with a beautiful gray frame, offering a decent match to your vehicle's interior.
Baby and Mom Backseat Mirror
Baby and Mom provide the most affordable baby car mirrors when it comes to budget-friendly options. However, the best thing about this car rear view mirror is that it has significantly durable pivot attachments and comes pre-assembled. With glass made of shatterproof acrylic material, which can hold out against any impact at any moment, this piece is a standout among all. Additionally, the company also provides adjustable bands with stiffened stitching to avert bust and disengagement. If you need a full view of your baby inside the car, you can always change the setting of the pivoting backrest attachment.
Brica Cruisin' Baby Insight Car Mirror
Do you want to keep your baby entertained while you drive? Then, Brica will prove to be an excellent choice. The mirror not only helps you to keep an eye on your baby but also keeps the child entertained. While it keeps your baby occupied and happy, you can drive assuredly. Before we dive into details, you can rest easy as this product is crash-tested for safety and provides a distortion-free image with shatterproof material.
Moreover, it can be easily installed with multiple attachment options. To keep your baby engaged, the mirror has been attached with the captivating LED lights at the back, which constantly move around like fireflies. What's life without music? Yes, Brica also provides the feature of calm, soothing music, which would certainly cheer up your baby's mood.
Itomoro Baby Car Camera
If you are looking for a versatile car rear view mirro, you have got to go through this honorable mention. This baby car mirror is in the form of a camera with a 4.3 inch LCD, enabling you to keep an eye on your baby without using the rearview mirror. Awesome, huh? Well, it is. With a field of vision of 120 degrees, you can set up the monitor according to your convenience.
Although you do not require any tools to install this system, it is slightly more complicated than the standard mirror. To configure the mirror, you would have to run the cables from your back seat straight up to the front cabin. You should totally go for Itomoro if you want a technologically advanced way to monitor your baby.
Final Words
Although there are plenty of baby car mirrors in the market, it can be difficult to find accurate baby mirrors for your child. Therefore, we have mentioned some of the best options to begin with.
So, test these suggestions, and feel free to let us know your experiences in the comments section below. These rear-facing mirrors are suitable for kids of almost all ages. Toddlers are fickle-minded; however, by having these mirrors in your vehicle, you can bring their focus to themselves. This way, they can entertain themselves, and you can also drive carefree all along the way, knowing that your little one is at comfort. You can also check out the baby