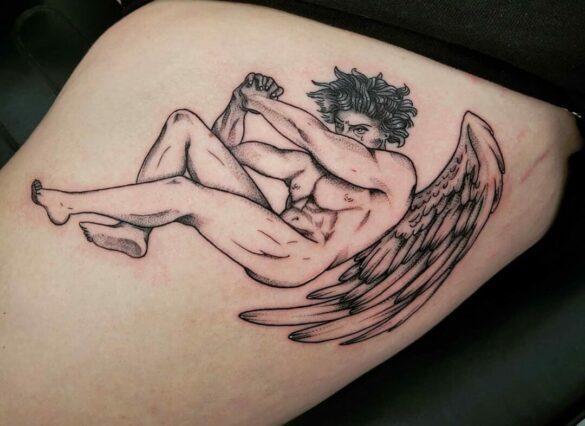 If you're captivated by the intriguing tales of Lucifer and the fallen angels, you're certainly not alone. We've gathered a unique selection of fallen angel tattoos that carry no sinister undertones, exclusively for you.
Fallen angel tattoos have held a special fascination among tattoo enthusiasts worldwide for quite some time.
While fallen angels are often regarded as symbols of defiance against divine authority, their story is much richer. These once-perfect beings experienced not just a physical descent but also a profound loss of innocence and faith.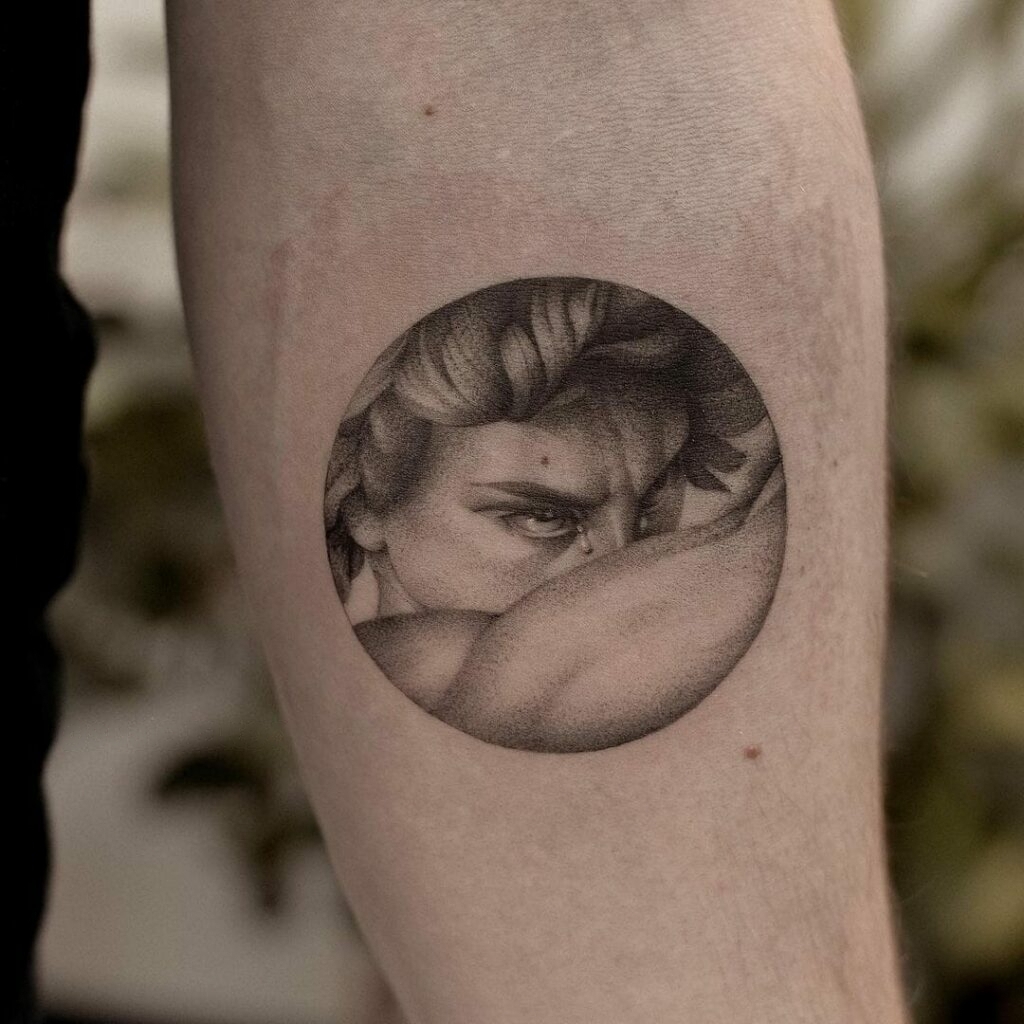 Throughout history, they've been depicted as tormented souls yearning for redemption and forgiveness from higher realms.
The significance of a fallen angel tattoo can be deeply personal, portraying an individual's struggle towards a better state or commemorating a significant loss. The interpretation of these tattoos, however, varies from person to person.
If you're ready to explore the poignant allure of fallen angel designs, our carefully curated collection awaits you to find your perfect fit.
Fallen Angel Tattoo Meanings
Loss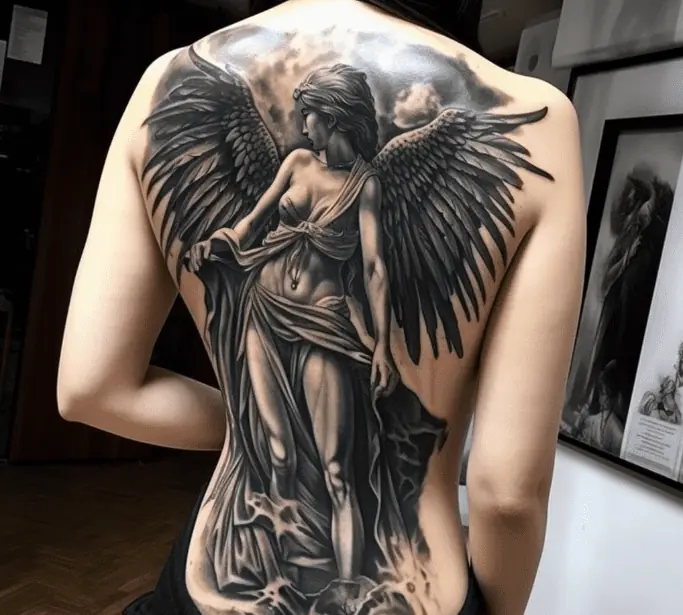 Opting for a fallen angel tattoo has gained popularity among individuals who have navigated challenging phases in life, as it masterfully captures the juxtaposition of melancholy and optimism often associated with such situations.
This tattoo design embodies the journey of those who have undergone substantial transformations, departing from a state of grace due to personal choices or external circumstances.
The wings depicted in the tattoo hold the profound symbolism of seeking redemption and the prospect of starting anew, offering a glint of positivity amid adversity.
For many, the fallen angel tattoo acts as a poignant reminder that even amid profound loss, there exists space for personal evolution and renewal.
Additionally, it can serve as a heartfelt tribute to a departed loved one, a constant memento of their enduring presence.
Irrespective of interpretation, a fallen angel tattoo stands as a meaningful and visually captivating tribute to the voyage through hardships and loss.
Grief
Opting for a fallen angel tattoo carries a profound significance, particularly for individuals who've encountered loss. The imagery of an angel descending from the heavens encapsulates the intricate mix of emotions tied to grief, making it a poignant and heartfelt choice.
Beyond the realm of grief, the notion of a fallen angel delves into the concept of redemption.
It symbolizes the potential to rise anew, even after grappling with challenges or errors. Embracing a fallen angel tattoo can function as a personal prompt that amidst life's trials, there exists space for optimism, resilience, and the enduring allure of beauty.
Furthermore, this tattoo can also gently nudge towards appreciating the positives that persist, even within the context of sorrow.
Regardless of the exact interpretation, a fallen angel tattoo stands as a profound gesture to honour someone who's departed.
It artfully intertwines creativity and sentiment, encapsulating the essence of reminiscing and treasuring the impact left behind by those who've touched our lives.
Mourning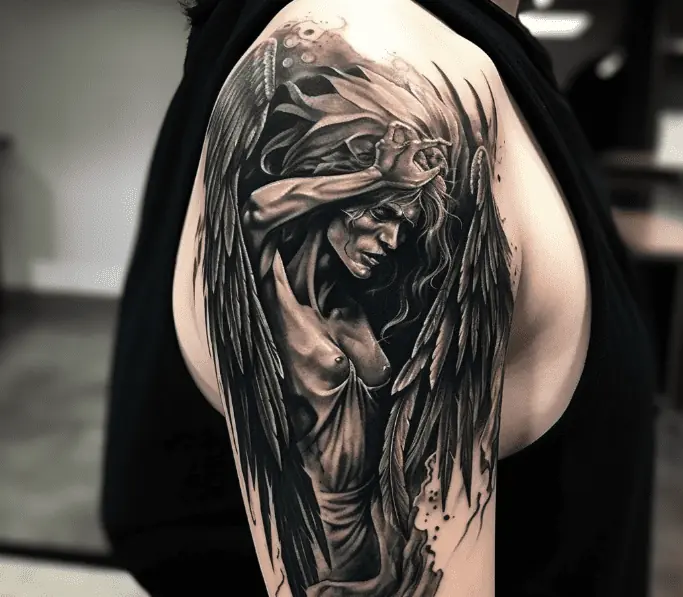 A fallen angel tattoo can convey various meanings, with a common motivation being to pay tribute to a departed loved one.
The concept of an angel descending from the heavens is often employed to symbolize the loss of someone pure, and the tattoo's sombre wings can epitomize the sorrow and void that accompanies grief.
Furthermore, this tattoo can serve as a prompt to value life and cherish moments shared with our dear ones, underscoring the significance of not underestimating life's blessings.
For many individuals, a fallen angel tattoo evolves into a method to preserve the memory of their beloved and locate comfort amid challenging periods. It stands as a perpetual reminder that even amidst darkness, a glimmer of hope persists.
Betrayal
The significance of a fallen angel tattoo can vary among individuals, with a common interpretation centring around feelings of betrayal.
This sentiment may manifest in various forms, such as a sense of letdown from a higher authority or experiences of betrayal by people in one's life.
Another perspective is the concept of someone losing their virtuous standing due to their personal choices or the actions of others.
Furthermore, some people perceive a fallen angel tattoo as emblematic of a challenging phase they've successfully overcome.
Though interpretations differ, a recurring theme in fallen angel tattoos is the portrayal of resilience and inner strength, underscoring an individual's ability to endure and emerge stronger from adversity.
Anger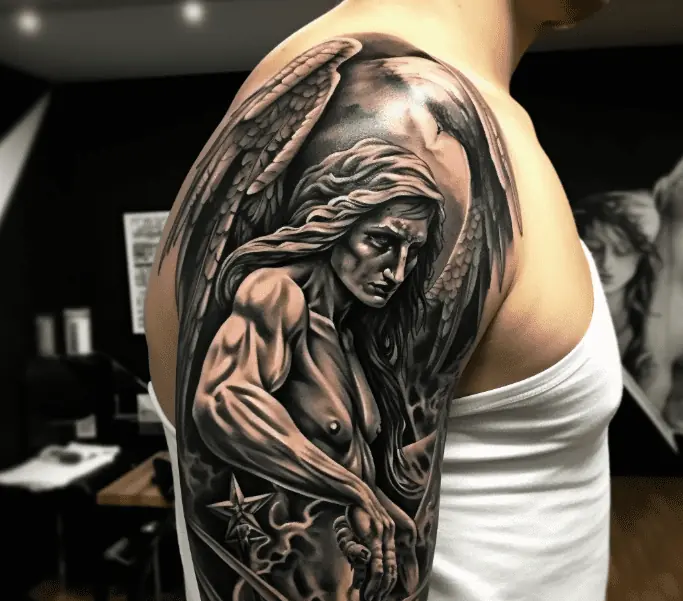 A fallen angel tattoo is a common choice among individuals seeking to convey their discontent and displeasure with the world.
The visual of an angel descending from the heavens holds a potent emblem of rebellion, frequently echoing the wearer's sense of being misconstrued or unfairly dealt with.
On occasion, this tattoo may also symbolize a resolve to break away from a life marked by criminality or violence. Nevertheless, it's crucial to comprehend that this tattoo will eternally serve as a reminder of one's resentment and exasperation.
Unless you're prepared to effectively manage these sentiments, it might be wise to explore alternative tattoo designs.
Despair
A fallen angel tattoo holds diverse symbolism, yet a prevailing interpretation relates to feelings of despair.
Such tattoos evoke emotions like sadness, loss, and isolation, acting as a poignant emblem that even the most resilient can stumble.
For numerous individuals, a fallen angel tattoo transforms into a tribute to departed loved ones. Others find solace, reminded to remain strong in challenging times.
Regardless of personal significance, fallen angel tattoos consistently encapsulate hope amid moments of despondency.
Loneliness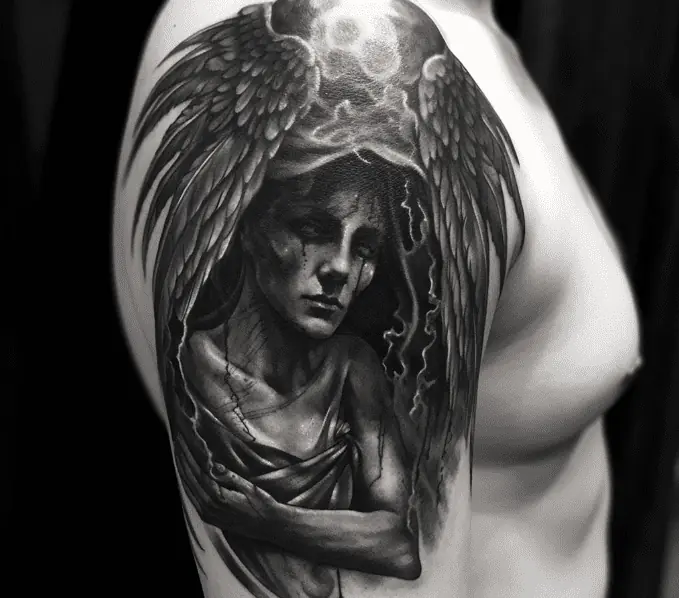 A fallen angel tattoo conveys a sense of isolation, embodying the idea that those who have fallen from grace are separated from heaven and left to navigate a solitary path.
This notion often portrays them as outsiders, estranged from their angelic counterparts and existing in isolation.
The fallen angel tattoo visually captures the wearer's individuality, depicting their distinct identity as someone who has encountered rejection and now stands apart from the norm.
Furthermore, this tattoo can symbolize the wearer's journey to discover their purpose in the world and their pursuit of acceptance and a sense of belonging. In certain instances, it might even represent a defiance of authority or a rejection of established conventions.
Irrespective of its connotation, the fallen angel tattoo evokes the concept of solitude and the emotion of being alone.
Rejection
A fallen angel tattoo commonly signifies rejection from a divine source, society, or even oneself.
For many individuals, opting for a fallen angel tattoo is a method of reclaiming their body and identity after feeling marginalized. Alternatively, it is a constant reminder that human imperfections are natural, urging them to persist in adversity.
Regardless of the interpretation, fallen angel tattoos celebrate embracing shortcomings and learning from mistakes. Having a permanent emblem of our humanity can be truly empowering in a world fixated on flawlessness.
A fallen angel tattoo might be the perfect choice if you're seeking a tattoo that seamlessly blends aesthetics with significance.
Abandonment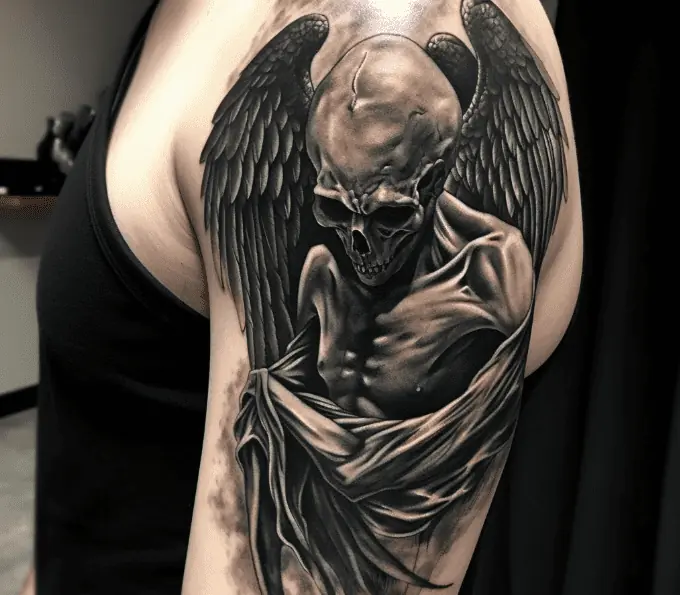 A fallen angel tattoo frequently embodies the notion of feeling abandoned or left behind.
This interpretation might stem from the idea of an angel's expulsion from heaven or could reflect personal encounters of rejection or isolation.
The tattoo could also signify grappling with challenges such as addiction or mental health battles, often accompanied by a feeling of hopelessness.
For many individuals, opting for a fallen angel tattoo serves as a channel to articulate their internal struggles and a poignant reminder that they're not solitary in their journey.
Moreover, these tattoos can also hold profound meaning as a way to pay homage to a departed loved one, serving as a reminder that even in the bleakest moments, a flicker of hope remains.
Guilt
Many individuals choose a fallen angel tattoo to communicate emotions of guilt or remorse.
The portrayal of an angel expelled from heaven holds significant symbolism for someone who has erred or engaged in wrongdoing.
For numerous people, a fallen angel tattoo acts as a memorial for a personal catastrophe or a method of paying homage to a departed beloved.
It can also stand as a representation of optimism, signifying the wearer's aspiration to gain redemption in the perceptions of others. Irrespective of the rationale, a fallen angel tattoo undoubtedly makes a powerful and distinctive statement.
Addiction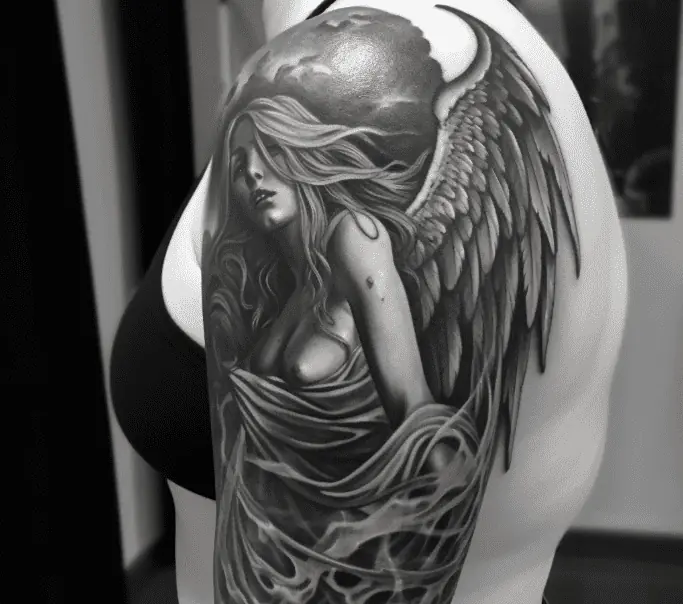 Many individuals facing the challenges of addiction find comfort in opting for a fallen angel tattoo.
This tattoo design encapsulates the idea of fallen angels – celestial beings once held in divine grace, now expelled.
For those engaged in the battle against addiction, the tattoo serves as a tangible reminder of their personal journey from a better state to a more difficult one, encouraging them to strive for a return to a healthier self.
Moreover, the fallen angel tattoo carries a message of optimism, depicting the belief that even those who have faltered can rise anew.
For those progressing through the journey of recovery, this tattoo transforms into a potent emblem of their advancement and unwavering resolve to conquer addiction.
Fallen Angel Tattoo Symbolism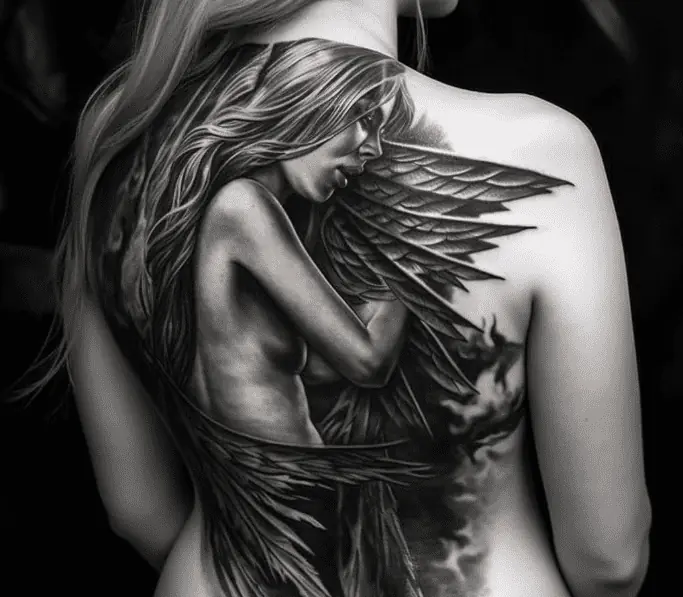 People have different ideas about the fallen angel tattoo, but usually, it's seen as a symbol of being a bit rebellious.
Imagine a picture of an angel with its wings all messed up – that can mean different stuff, like going through tough times or battling things like addiction.
Some folks get this tattoo to remember they've gotten through the hard stuff in the past. Others get it to show they're not big fans of following strict rules.
No matter what it means, the fallen angel tattoo usually shows strength and the ability to overcome hard times.
Fallen Angel Tattoo Ideas
Fallen Angel Out Of A Canvas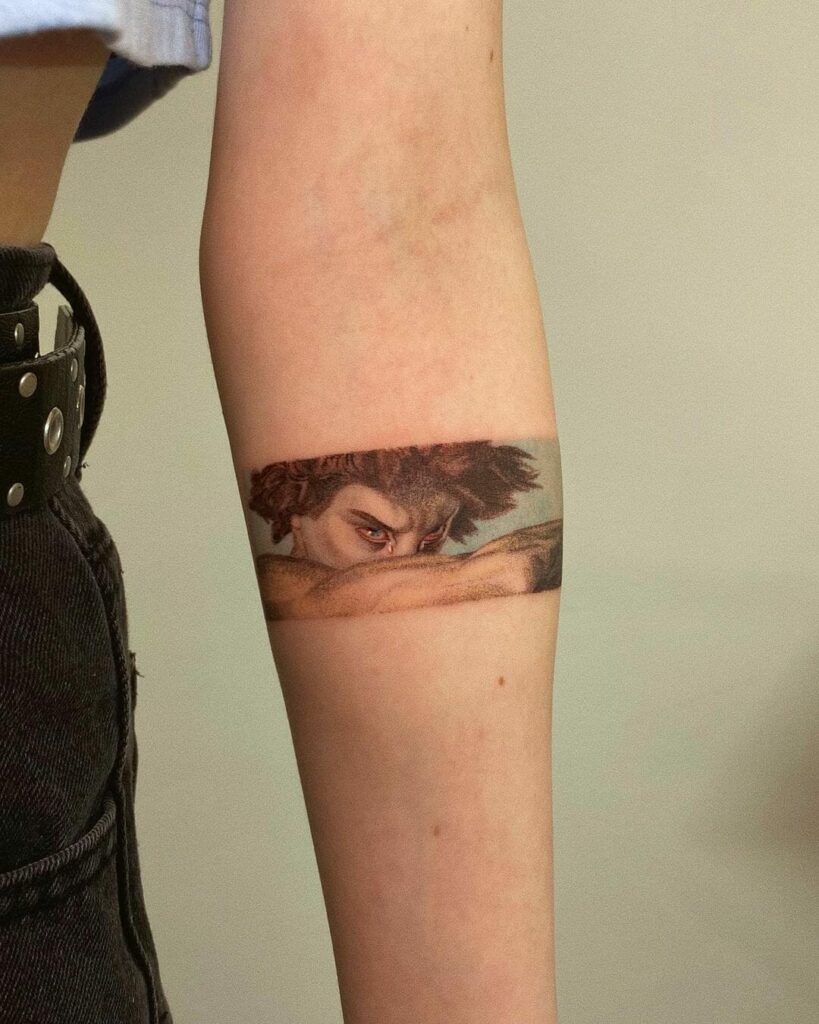 The renowned painting by Alexandre Cabanel depicting a weeping fallen angel has garnered admiration from art aficionados over time. A gifted tattoo artist has skillfully translated the essence of this artwork into a breathtaking tattoo.
Retaining the original colour transitions, the micro-realistic fallen angel tattoo is meticulously sized for the forearm. This design showcases an affinity for classical art and introduces a hint of avant-garde to your individual style.
The Fall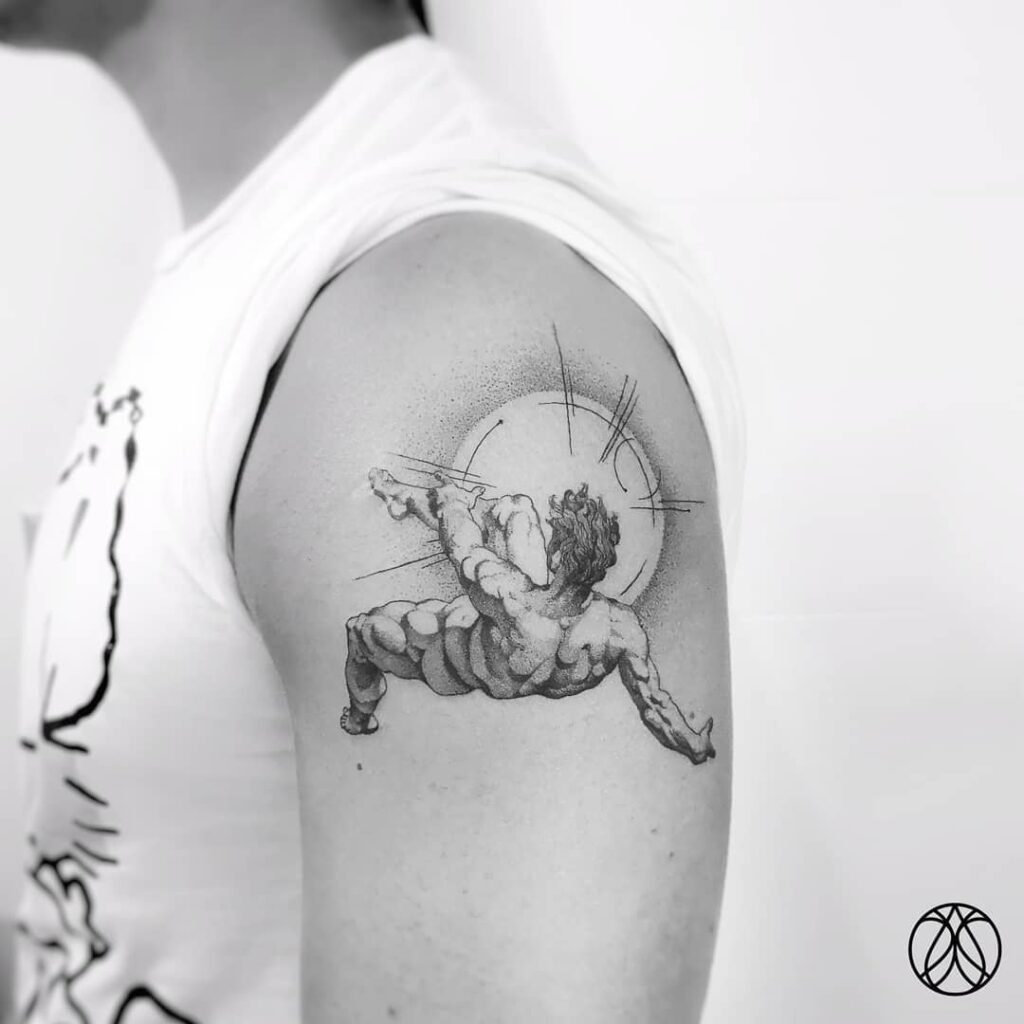 This captivating fallen angel tattoo goes beyond being mere ink on the skin; it embodies a profound portrayal of a biblical narrative.
The adept tattoo artist has masterfully encapsulated the moral and physical descent of the angel in this artwork. The imagery of the angel clinging to the final vestiges of hope and light before plunging into an eternal abyss evokes deep emotions.
The meticulously executed halo and elongated fingers, created using dot work, further intensify the sentiment of the piece.
Whether you hold an affinity for biblical art or simply seek a remarkable and meaningful tattoo, this forearm depiction of a fallen angel is bound to leave a lasting impression.
Fallen Angel Tattoo On The Back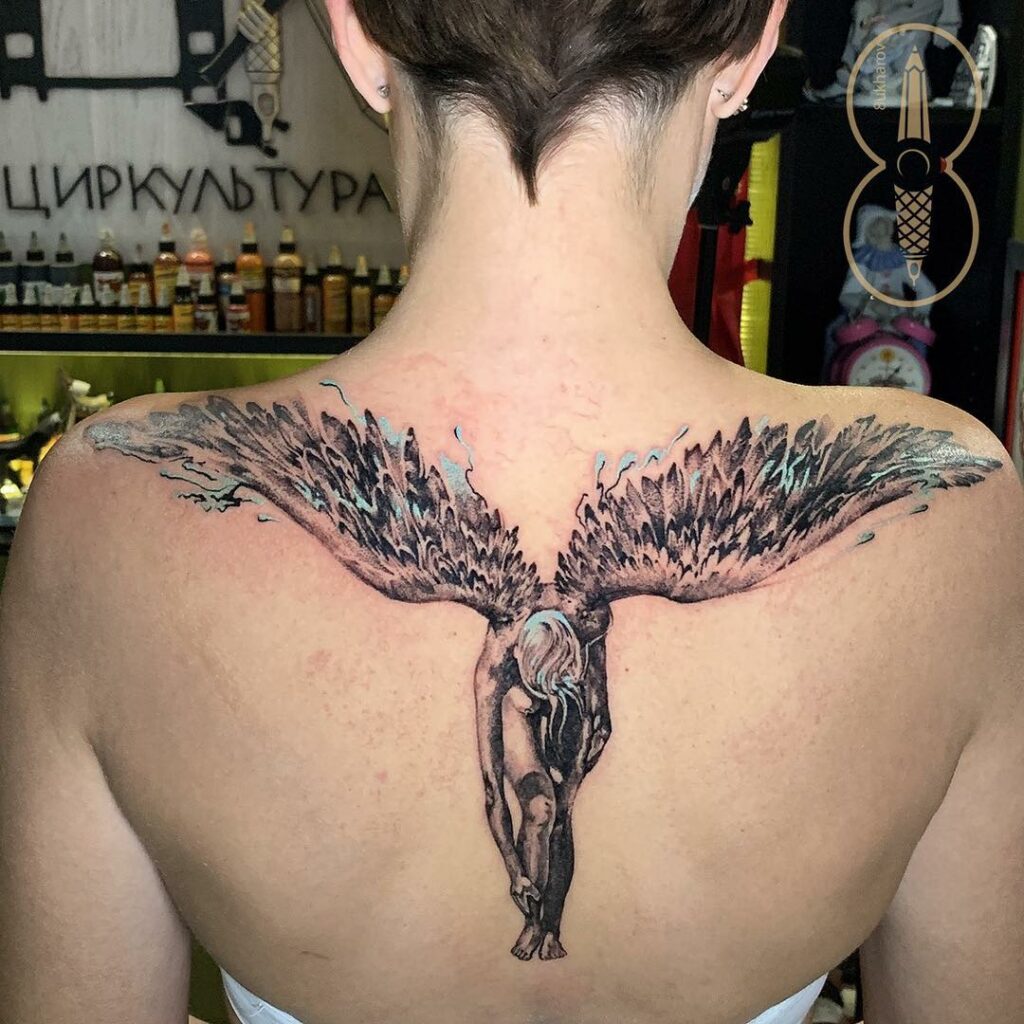 The notion of lost innocence and a longing for a celestial ideal strikes a chord with many. This mesmerizing portrayal of a fallen angel echoes these emotions through its downcast gaze and poignant countenance.
The expertly employed shading and gradual dimming of luminescent wings evoke a striking contrast, underscoring the depth of the fallen state.
Adorning your back, this fallen angel tattoo serves as a means to articulate personal struggles and seek solace through artistic expression. It is a potent reminder that beauty can still emerge amidst the darkness.
Inspirational Fallen Angel Tattoo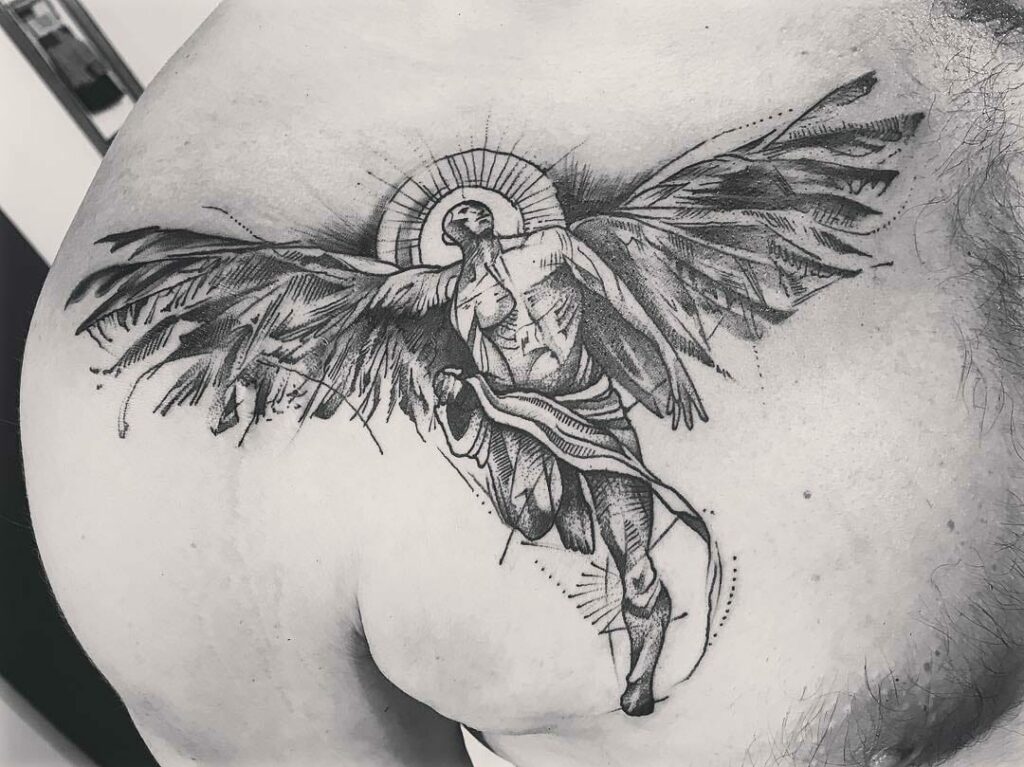 An exquisite illustration of intricate line work and skilled shading techniques, this fallen angel tattoo, delicately positioned around the clavicle, showcases the mastery of professional tattoo artists.
Notably, the unique aspect of this design is the fallen angel's gaze directed upwards, brimming with hope rather than sorrow.
This portrayal captures the optimistic facet of the fall, serving as a poignant reminder that growth and enlightenment can emerge from adversity and loss.
Minimal Fallen Angel Tattoo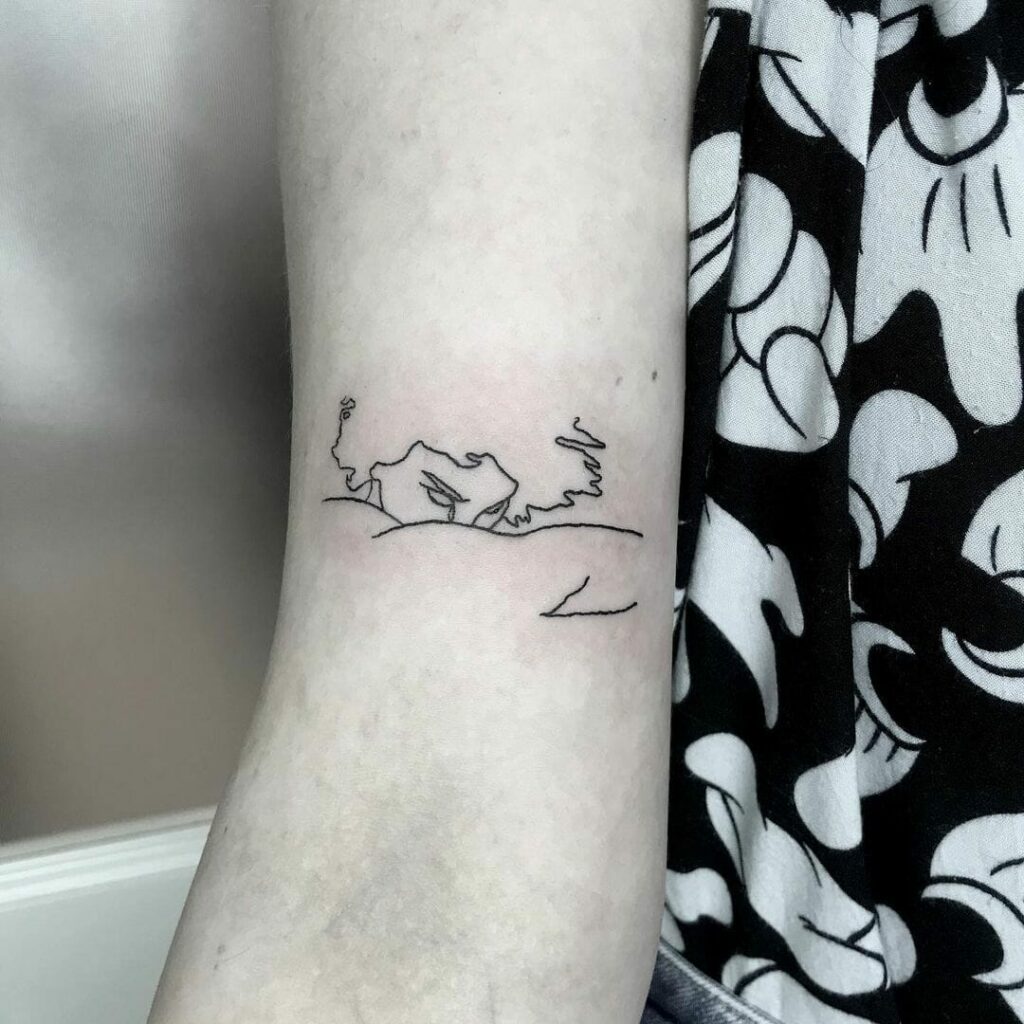 Drawing inspiration from Cabanel's renowned artwork of a fallen angel, this tattoo design offers a contemporary and minimalist reinterpretation.
The artist has skillfully employed clean outlines to portray the angel's anguish, resulting in a design that strikes a harmonious balance between simplicity and elegance.
Minimalist tattoos have surged in popularity, and this fallen angel rendition follows suit.
Whether placed on the forearm or slightly above the elbow, this tattoo is a superb option for those seeking a chic and refined addition to their body art collection.
Fallen Angel Tattoo With Serpents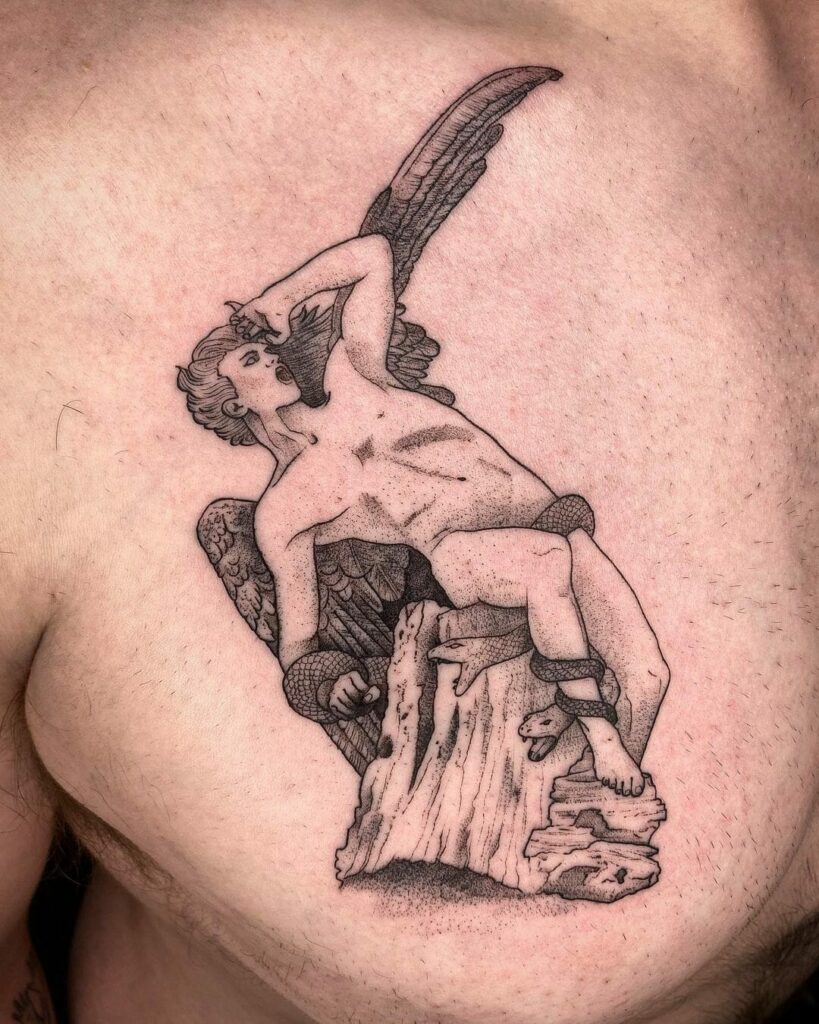 Among the array of angel tattoos tailored for men, this one stands out with a distinct and innovative twist.
Depicting a fallen angel descending into the depths of hell, this design offers a unique perspective that doesn't necessarily delve into darkness.
The wings of the angel are intricately detailed, introducing depth and contrast to the otherwise straightforward body design. This versatile tattoo can find a home on your arm, chest, or any location of your preference.
Whether you're venturing into the world of tattoos for the first time or you're a seasoned enthusiast, this design is bound to make a striking and memorable statement.
Fallen Angel Tattoo On Forearm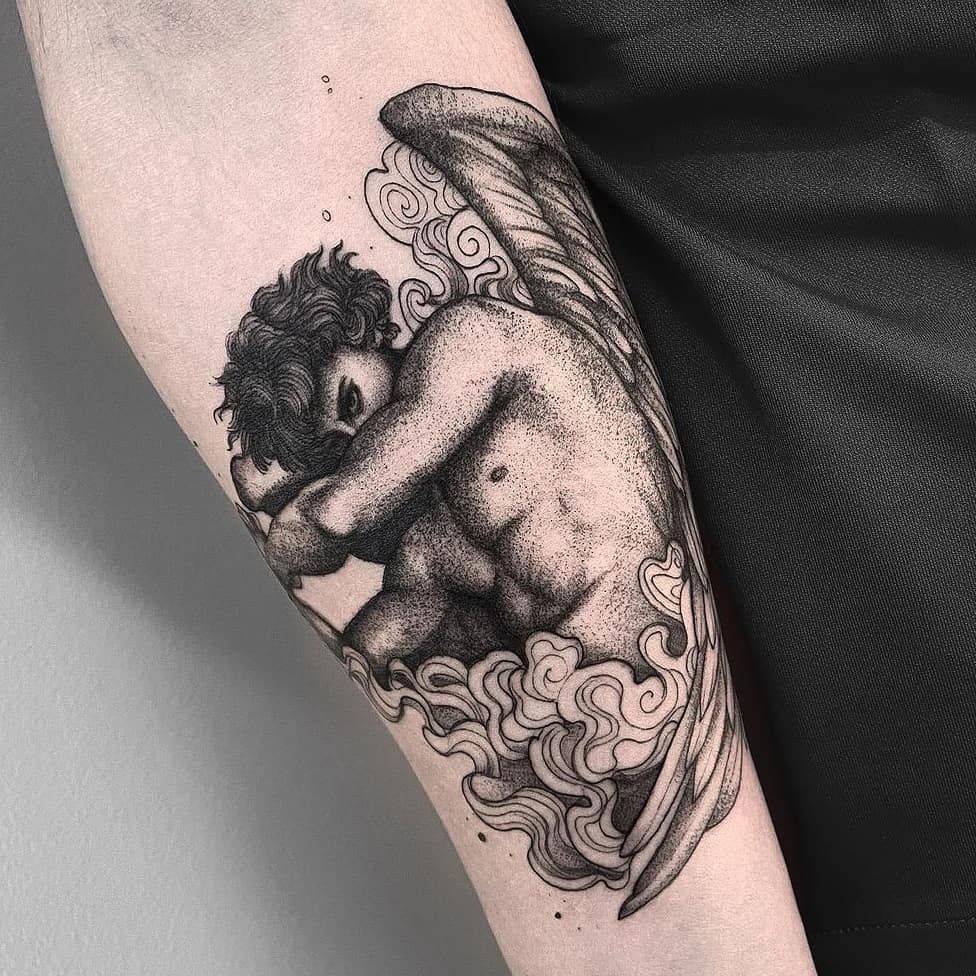 Forearm tattoos are renowned for their compact and visually appealing nature but can also accommodate more intricate designs. This fallen angel tattoo serves as a prime example of the forearm's potential.
Drawing inspiration from Cabanel's artwork, the tattoo artist skillfully blends the fallen angel motif with abstract patterns and elaborately detailed wings.
What sets this design apart is the incorporation of intricate patterns and dot work, typically reserved for larger tattoos. The background itself is far from mundane, featuring spiral lines resembling cascading clouds.
With its captivating composition, this design is poised to make a striking statement on your forearm, effortlessly catching the attention of those who lay eyes upon it.
Fallen Angel Tattoo Sleeve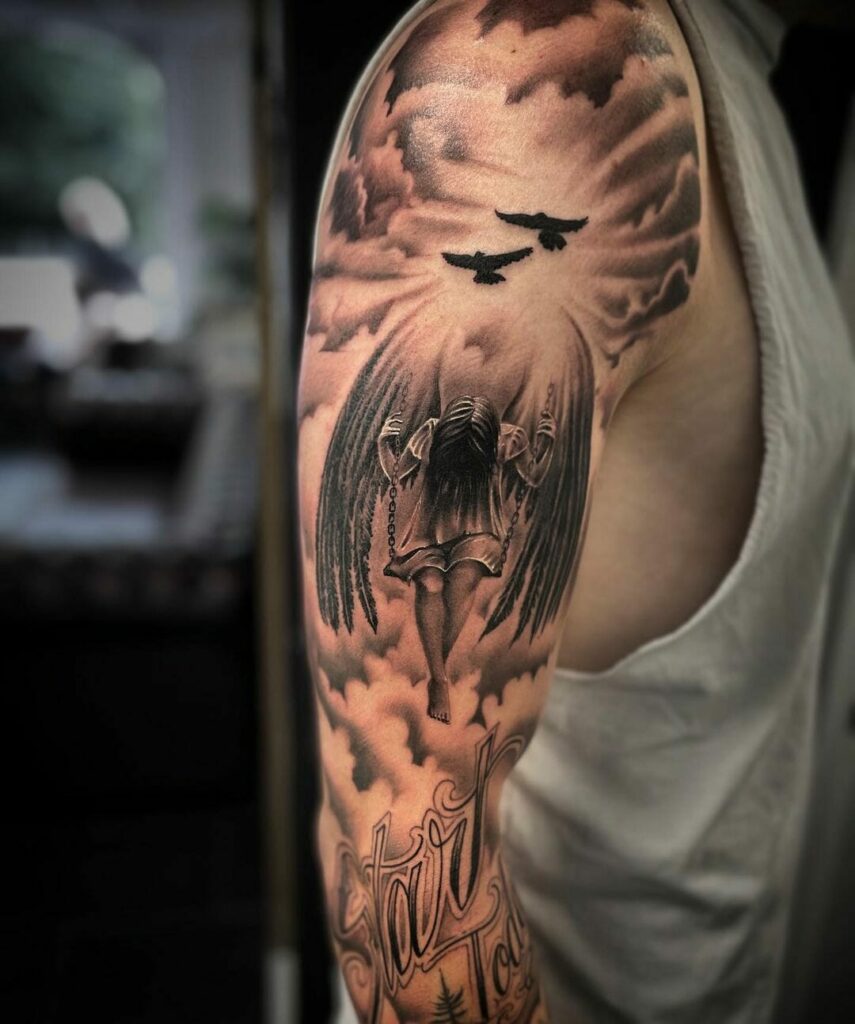 This full-sleeve fallen angel tattoo is an exceptional choice for men seeking to showcase their inked arms. The design centres around a female fallen angel, her expression reflecting the pain of her fall and the loss of innocence.
Surrounding her, the tattoo artist has skillfully incorporated various depictions of heaven that have spanned centuries, adding depth to the narrative.
The underlying meaning of this tattoo resonates with anyone grappling with personal challenges and a sense of despair.
It serves as a potent reminder that even amidst the darkest periods, the possibility of redemption and renewal remains ever-present, echoing the enduring hope within the human spirit.
Fallen Angel Tattoo With Wrath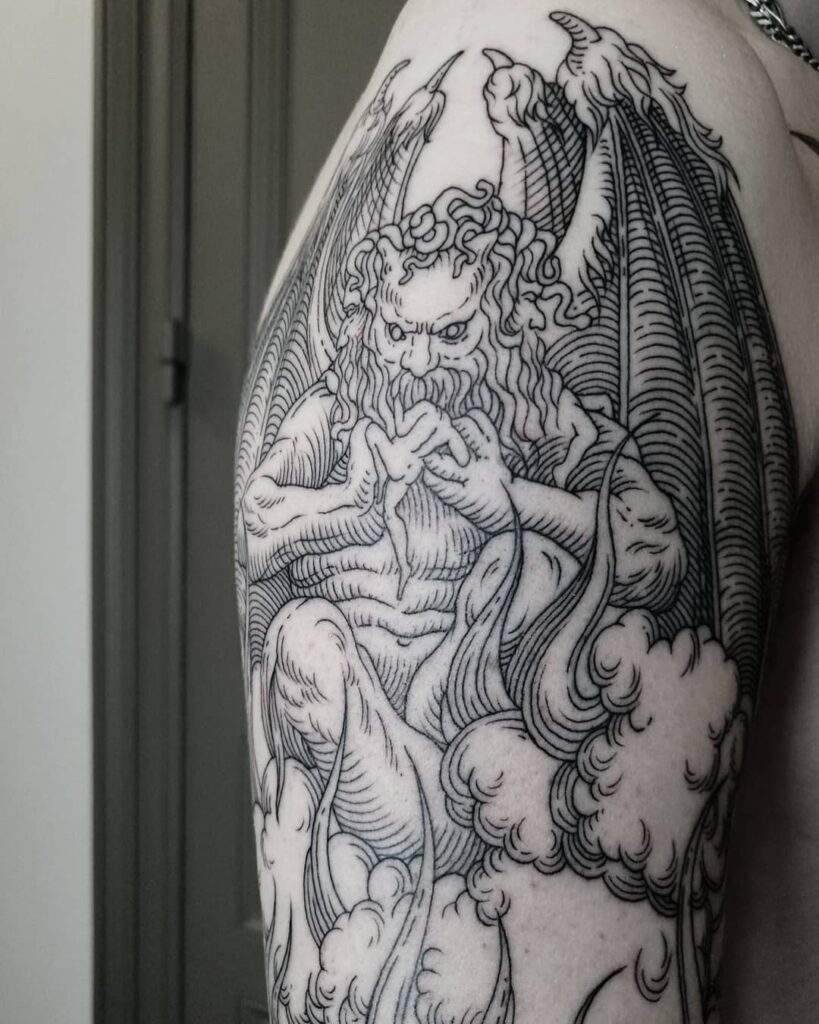 If you're seeking a tattoo design that breaks away from the norm, this distinctive fallen angel tattoo might be just what you're looking for. This design takes a unique approach by portraying Lucifer himself, capturing his mischievous demeanour in his eyes.
The intricate detailing in both the wings and the angel's form adds a sense of depth and realism to the artwork.
But the story doesn't end with Lucifer – the tattoo also incorporates male and female figures representing humans who fell from grace in the Garden of Eden.
This fallen angel tattoo is perfect for those who desire a tattoo that challenges conventional perceptions of angels and demons, offering a thought-provoking piece of body art.
And if you're ready to make a bold statement, consider adorning your back with this remarkable design.
Fallen Angel Tattoo With Skulls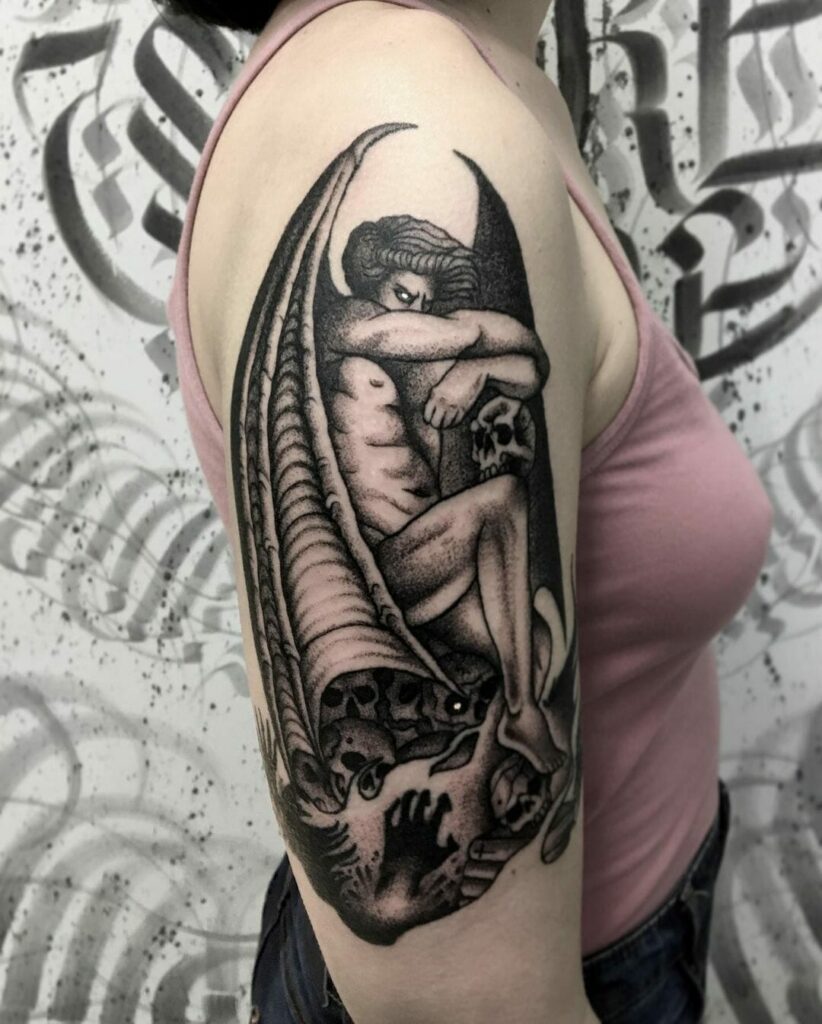 Fallen angel tattoos offer a versatile and meaningful choice for both men and women. This specific design captures the fallen angel's essence of despair and hopelessness, encircled by symbols of mortality and decay.
The intricate detailing of the skulls and handprints is elevated through expert shading and precise line work, transforming the tattoo into a genuine masterpiece.
If you're looking to display this design across a larger canvas, the calf area is an ideal choice. The rise in popularity of the TV show "Lucifer," featuring a fallen angel as the lead character, has fueled increased interest in fallen angel tattoos.
As a result, body art enthusiasts seeking distinctive and creative designs are drawn to the allure of fallen angel ink.
FAQs
Q: What does a fallen angel tattoo mean?
A: A fallen angel tattoo typically represents an angel who rebelled against God and was expelled from Paradise. It's often seen as a symbol of rebellion, sin, or disobedience in art and culture.
Q: What are the Hells Angels tattoo symbols?
A: The primary symbol for Hells Angels is a skull with wings. This emblem holds significance for the Hells Angels, as evidenced by the Calgary Police Service Integrated Intelligence Unit.
Q: What is the tattoo for losing a loved one?
A: Memorial tattoos are commonly used to commemorate a loved one. These tattoos hold personal meanings, such as names, dates, hands holding hearts with initials, or even a simple rose, serving as a remembrance of the departed.
Q: Where do you put an angel tattoo?
A: An ideal location for angel wing tattoos is the back. You have the choice of wings spread out or in a relaxed position. Opting for relaxed wings means they can extend from your shoulders down to your lower back.
Q: What colour are fallen angel eyes?
A: Fallen Angels are often depicted with eyes that glow blue and have pitch-black sclera. This unique combination of eye colours can sometimes lead to confusion, as they resemble a distinct type of demon.
Conclusion
In conclusion, a fallen angel tattoo is a rich tapestry of symbolism that resonates with various aspects of the human experience.
Whether it's the embodiment of grief, the reminder of redemption, or the expression of personal struggles, these tattoos hold a deep and multifaceted significance.
They serve as visual reminders of resilience, transformation, and the complexities of life's journey.
Whether chosen to commemorate lost loved ones, confront inner demons, or challenge conventional norms, fallen angel tattoos are visually captivating and emotionally profound.
Their artistry and symbolism encapsulate the diverse range of emotions and experiences that shape our lives.
MORE FALLEN ANGEL TATTOO IDEAS