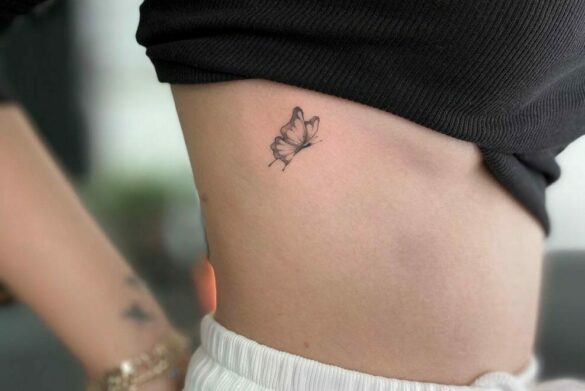 Greetings to all tattoo enthusiasts out there. If you're contemplating a rib tattoo and have an affection for butterflies, you're in for a delightful treat. Butterfly rib tattoo have gained popularity for several compelling reasons.
Butterflies are renowned for symbolizing happiness, grace, and the carefree essence of summertime.
They also hold a significant connotation related to the affection and social vibrancy of the younger generation, much like their playful presence amid flowers.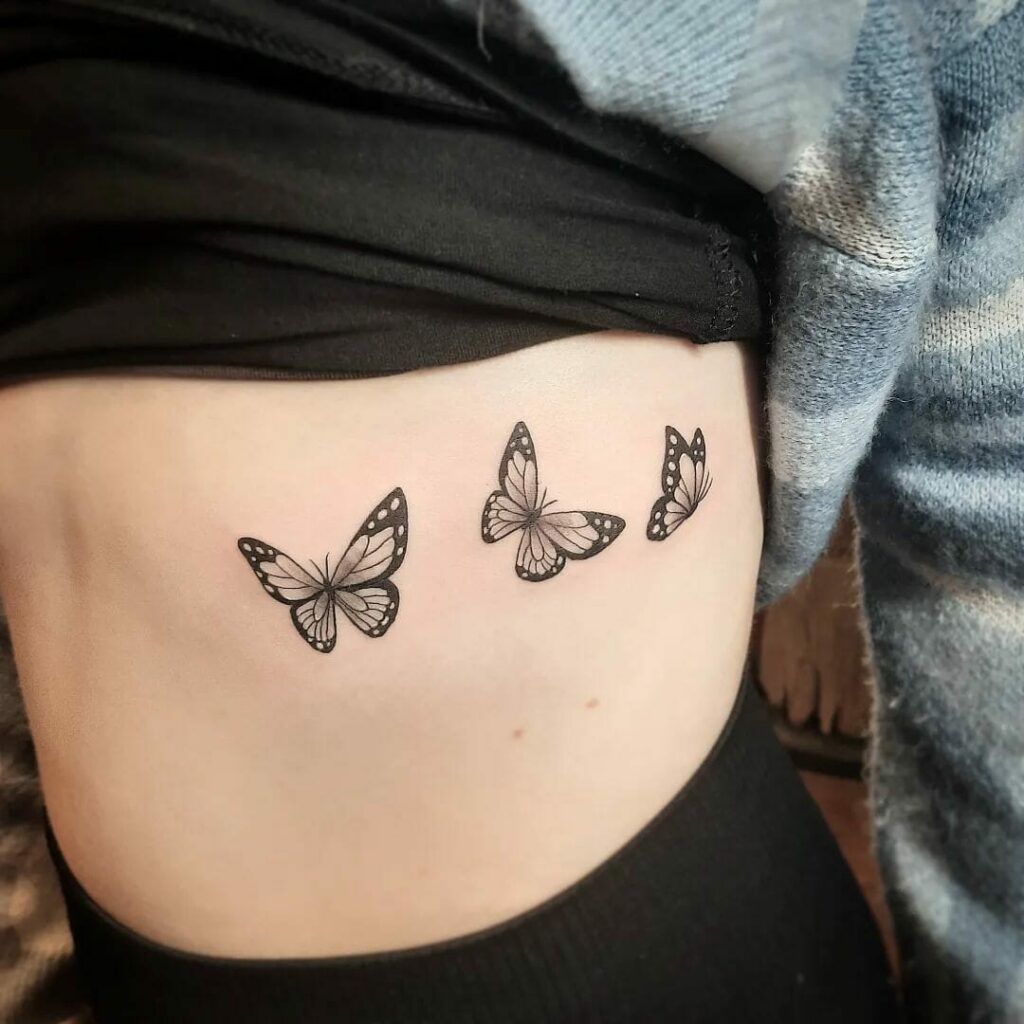 The commendable shift from outdated beliefs that frowned upon women having tattoos is truly empowering.
Tattoos provide a means for women to express their individuality, asserting their autonomy over their bodies and their right to make personal choices.
So, don't hesitate any further – confidently embrace that butterfly rib tattoo, celebrating your body and embracing your unique journey.
Red Butterfly Rib Tattoo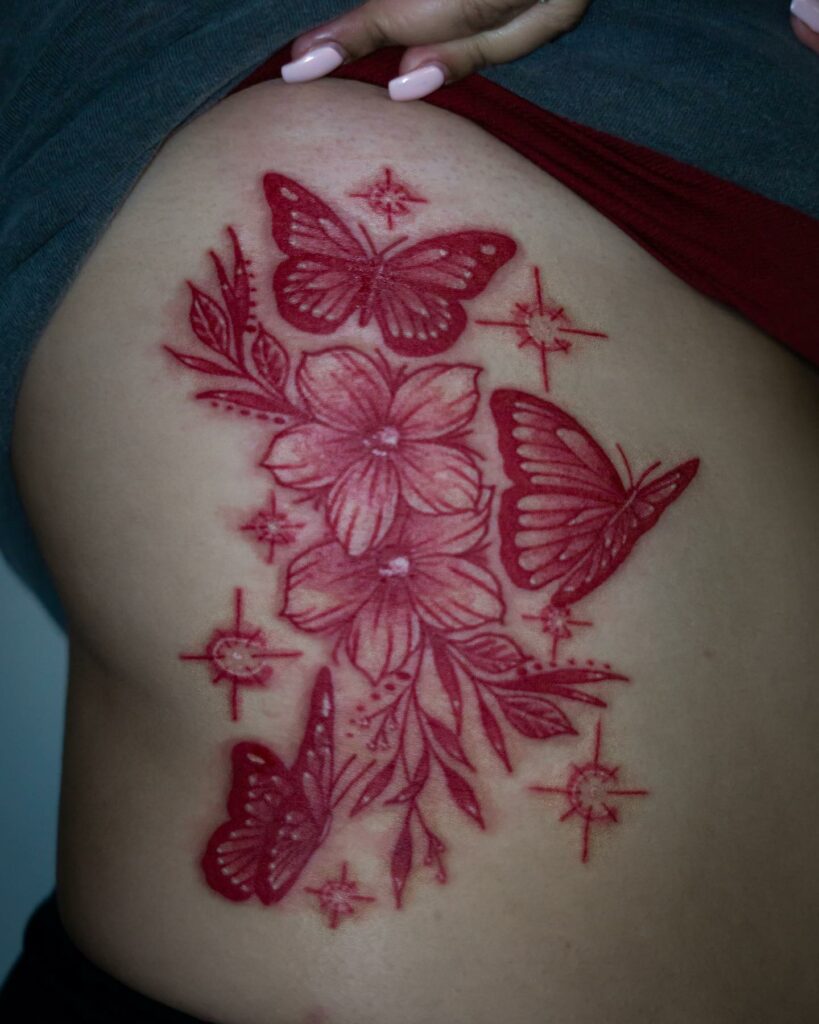 Selecting a tattoo design involves understanding the meaning behind it. Red carries a dual significance, signifying love, passion, and negative emotions like aggression.
If you resonate with the positive aspect of red, a red butterfly tattoo accompanied by flowers could be an ideal choice. This design beautifully embodies affection and offers a heartfelt way to express your feelings towards someone special.
Prioritize an experienced tattoo artist for any design, especially rib cage tattoos that can be slightly more uncomfortable. Ensuring the proper execution of the design is crucial. Safety and aftercare are paramount to a successful healing process.
Remember, the decision to get inked is personal. I trust this insight has empowered you with more clarity. For further queries or guidance, feel free to reach out.
Colourful Butterfly Rib Tattoo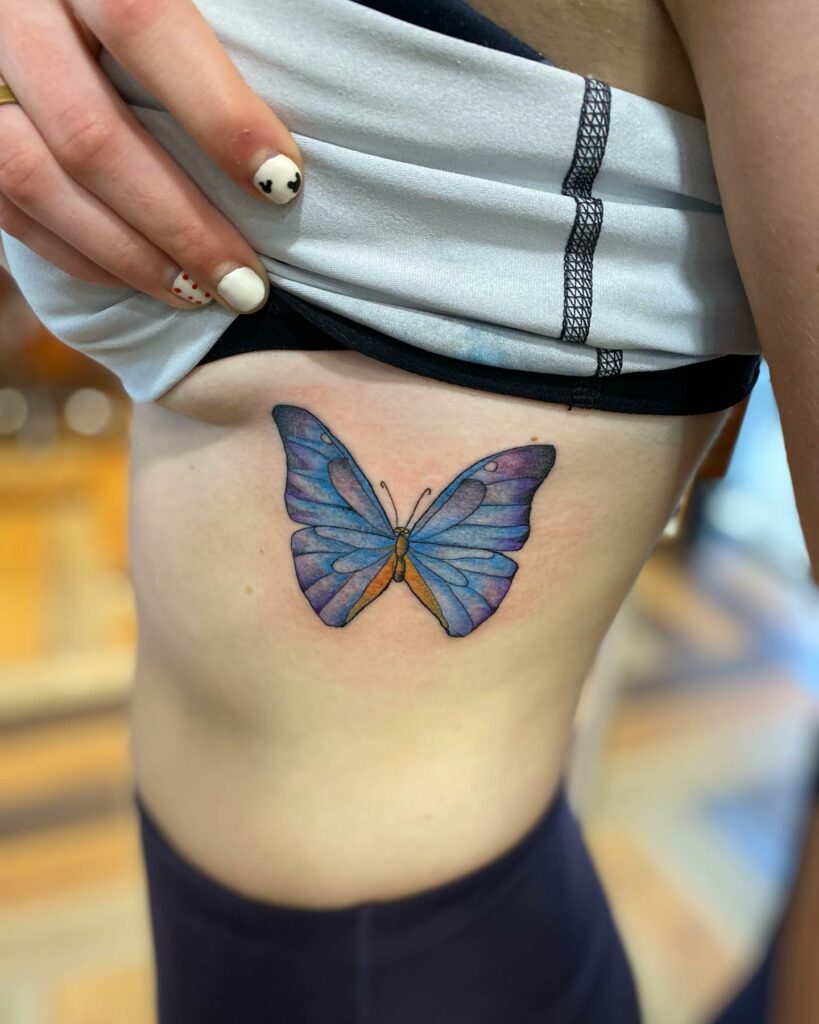 Butterfly tattoos offer a versatile canvas for creativity as they can be adorned in various colours, always emanating a striking charm.
A vivid black and blue butterfly design spanning your rib could be a masterpiece that mirrors your uniqueness. Finding a skilled tattoo artist is key to transforming your concept into reality.
Before inking, delve into the tattoo's meaning, aligning it with your essence. The permanence of tattoos necessitates compatibility with your identity.
Representing freedom and transformation, a butterfly tattoo embodies your evolution journey beautifully.
For rib tattoos among women, butterfly motifs remain timeless. Their delicate wings and graceful symbolism hold the power of transformation.
If you're contemplating a butterfly tattoo, I trust this information aids your decision-making process. Always prioritize a trusted tattoo artist and ensure safety and proper aftercare.
Small Butterfly Rib Cage Tattoo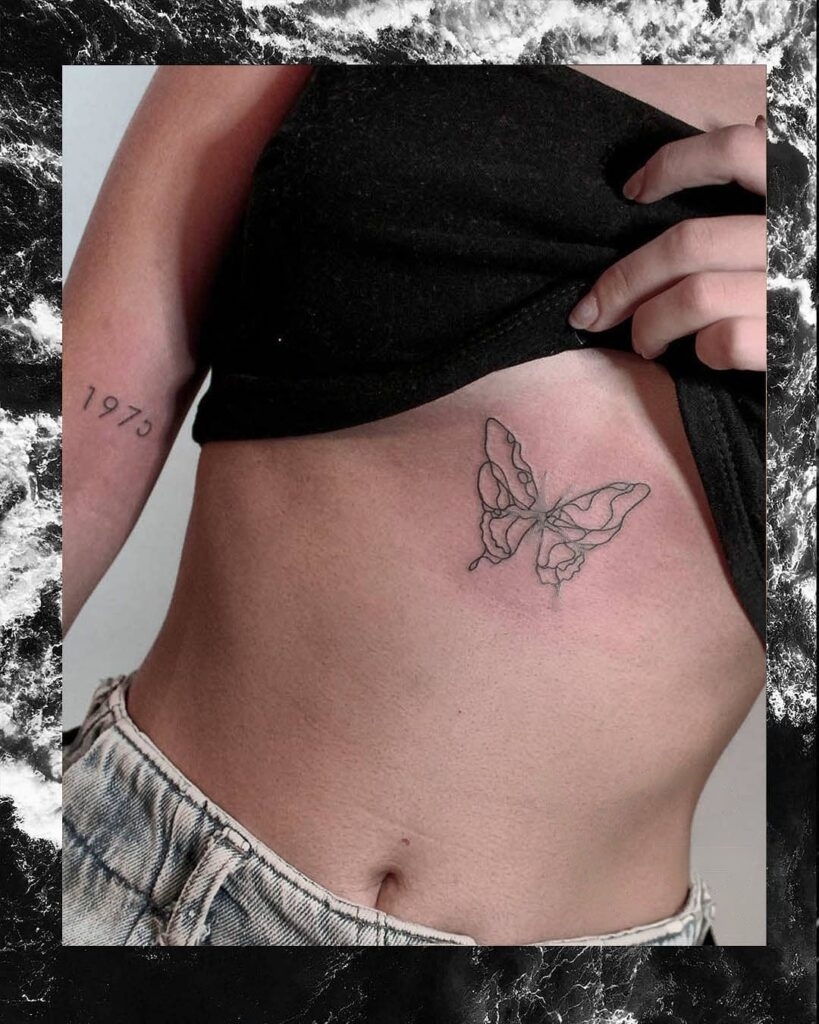 The allure of nature-inspired designs like small butterfly tattoos is timeless and captivating, resonating with many due to their beauty and charm.
While opting for a rib cage tattoo, it's vital to acknowledge that this area can be more sensitive than others. The thinness of rib skin may lead to heightened discomfort during tattooing.
Yet, the final outcome justifies any momentary discomfort – an exquisite, distinctive piece of art that radiates pride.
Selecting a seasoned tattoo artist is paramount to minimize discomfort and achieve optimal results. Their expertise will navigate you through the process, ensuring meticulous execution and care.
Consider a design with minimal shading or intricacies for a delicate butterfly tattoo that's not overly painful. This choice highlights the butterfly's elegance while minimizing potential discomfort.
Remember, tattoos transcend gender norms – anyone can confidently sport a butterfly rib tattoo or any design they adore.
Butterfly Rib To Waist Tattoo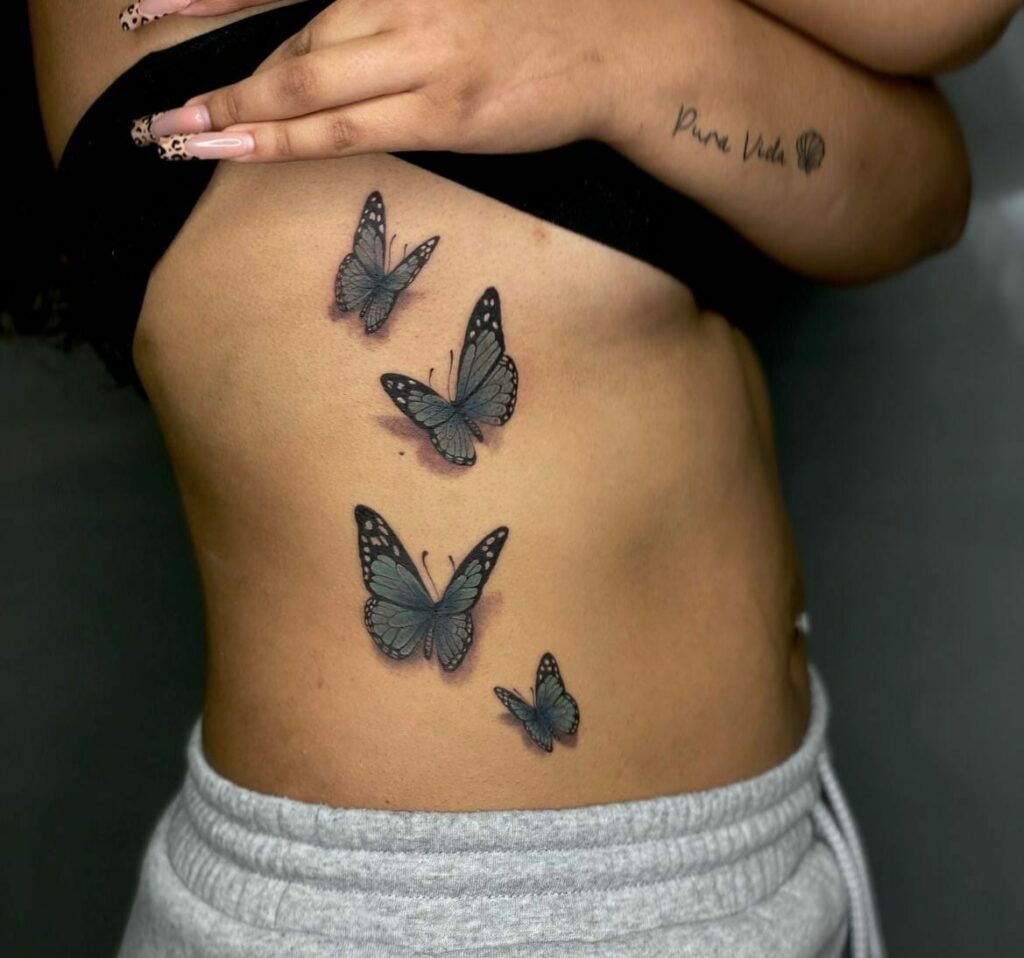 Embracing sensuality and elegance, rib cage tattoos have surged in popularity, particularly among women. Among the array of designs, tribal and butterfly tattoos hold a significant place, embodying allure and renewal.
These tattoos are often regarded as luck symbols, adding charm to those who bear them.
A butterfly rib-to-waist tattoo could be the ideal choice for a timeless addition to your aesthetic. This exquisite design starts at the ribs and gracefully extends down to the waist, making a bold statement.
If you're contemplating a rib tattoo, exploring this design might resonate with your vision, allowing you to make a distinctive mark that speaks volumes.
Black Ink Butterfly Rib Tattoo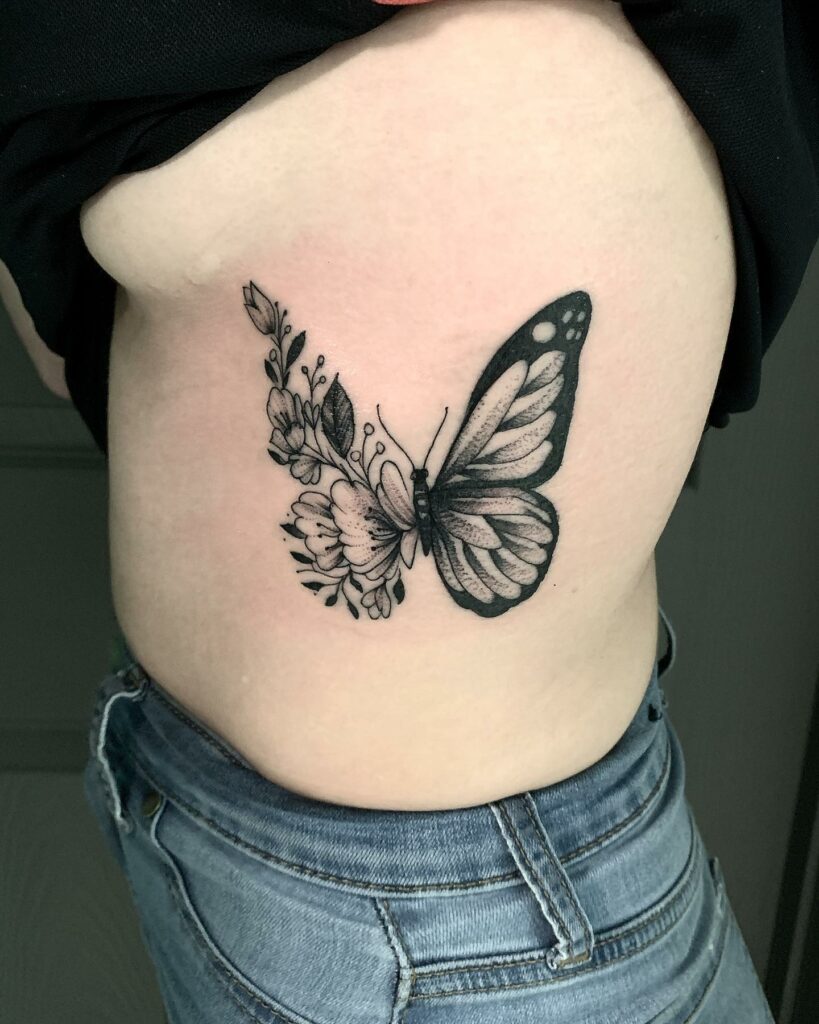 In the realm of butterfly rib tattoos, the classic choice of black ink holds timeless allure. Renowned for its versatility against all skin tones, black ink remains the quintessential selection for tattoos.
If you're drawn to the elegance of a butterfly tattoo but wish to embrace the enduring charm of black ink, this concept seamlessly marries both aspirations.
With this tattoo, you can revel in the best of both worlds – a timeless black ink design intertwined with the delicate beauty of a butterfly. It's an impeccable choice for those seeking a straightforward yet refined rib tattoo.
Center Butterfly Rib Cage Tattoo Design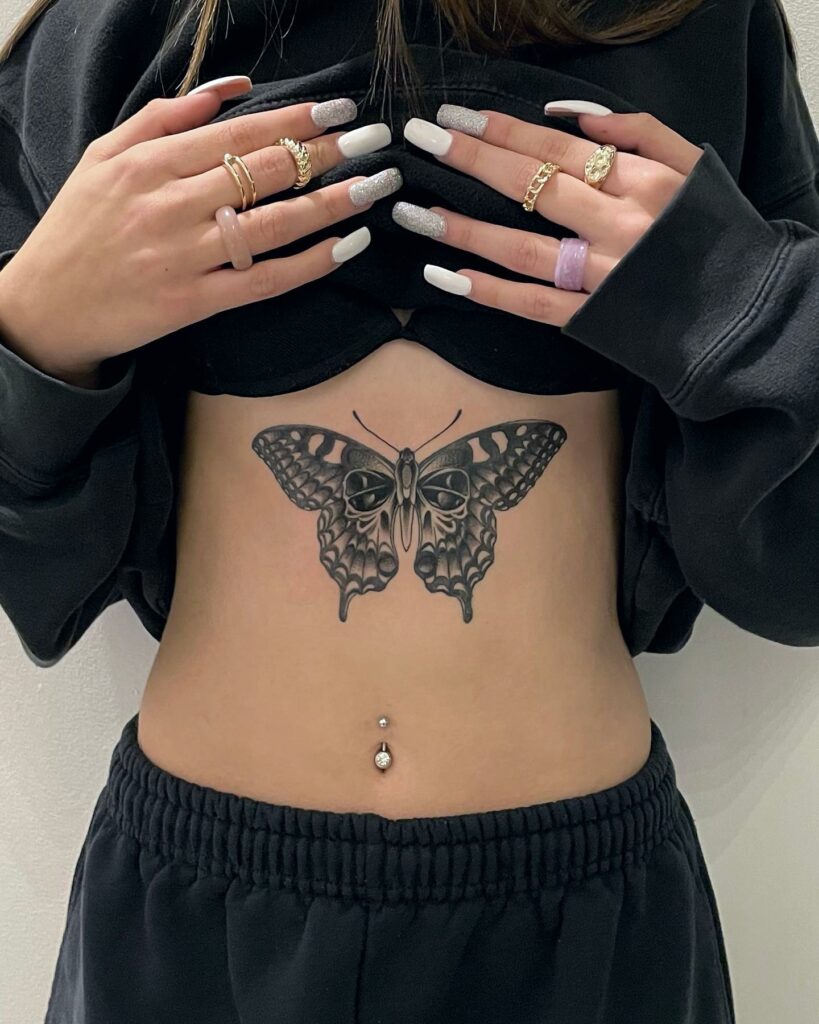 Flowers have forever symbolized love, fertility, healing, and new beginnings, carrying profound meanings.
The rib cage provides an ideal canvas for a personalized and distinctive design. Among the options, a flower or butterfly tattoo can adorn anyone beautifully.
Consider the exquisite butterfly rib tattoo as an example. Positioned at the centre of the rib cage, it infuses an alluring and feminine touch to a woman's physique.
The intricacy and finesse of the design enhance its appeal, a testament to the artistry and dedication of the tattooist.
Butterfly rib tattoos come in a multitude of styles and shapes, and this particular centred design holds an undeniable allure.
If you're seeking a channel for self-expression and a touch of elegance, a butterfly or flower tattoo might be your answer. Embrace the journey of exploring various designs until you discover the one that resonates with you.
With a skilled tattoo artist at your side, you can craft a unique and captivating masterpiece, a lifelong adornment to cherish.
Outline Butterfly Rib Tattoo Design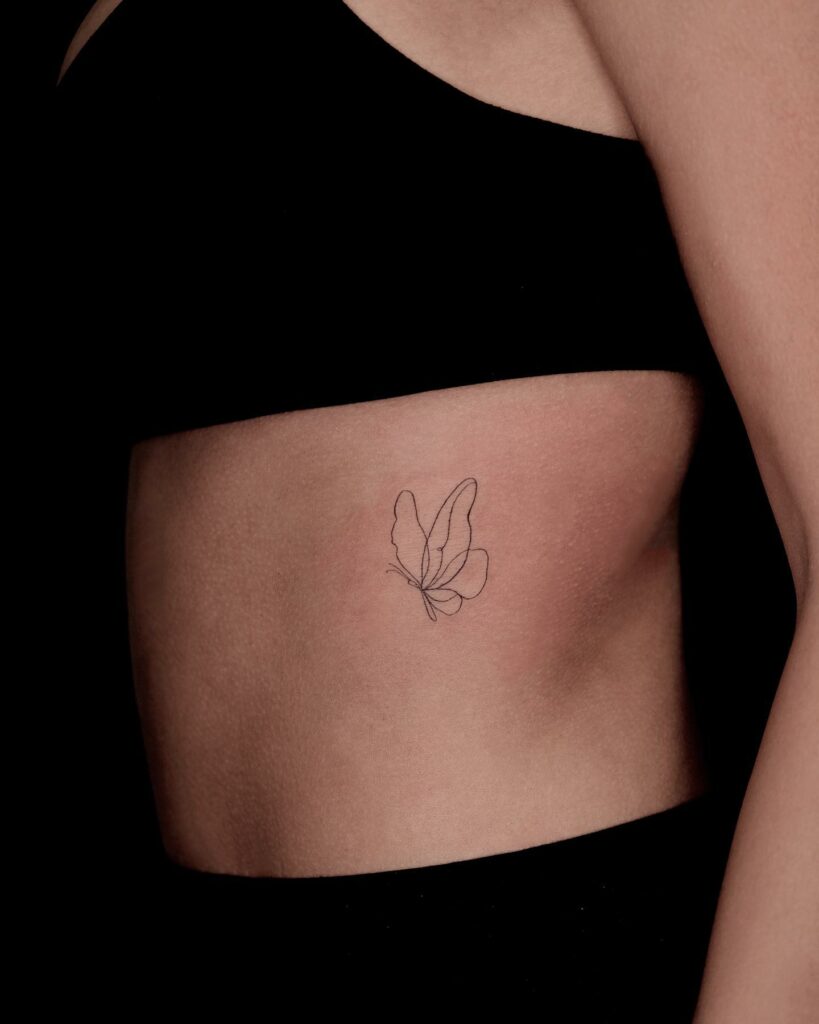 Consider unique tattoo placements like behind the ears or neck for a subtle touch, or opt for a classic yet striking location like the ribs.
The rib area offers ample space for a tattoo artist to craft intricate and captivating designs that are sure to catch the eye.
Now, let's delve into outline tattoos. These designs demand precision and attention to detail, as they rely on a single continuous line without shading or intricacies. Despite the intricacy, the outcome can be truly mesmerizing.
If you're intrigued by the concept of an outline tattoo and have a penchant for butterflies, you're in for a treat. This innovative idea combines both elements, resulting in a distinctive and attention-grabbing tattoo.
Your chosen tattoo artist will bring your vision to life, creating an exquisite design that fills you with confidence and pride.
Whether your preference is a discreet location or a more prominent one, and whether you lean towards classic aesthetics or seek something uniquely yours, the realm of tattoos offers a myriad of possibilities.
Dive into the exploration and uncover the design that perfectly aligns with your style and persona.
Butterfly Rib Tattoo Design For Men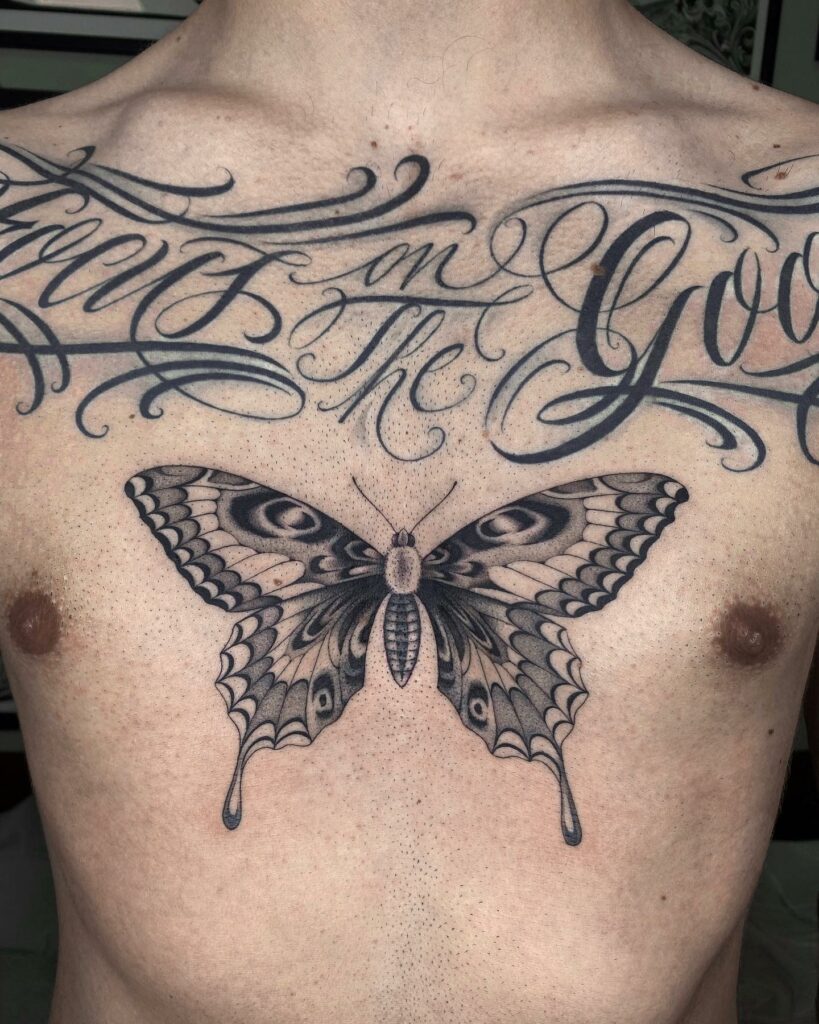 Embrace the butterfly rib tattoo design, which provides ample space for your tattoo artist to craft a distinctive and personalized masterpiece.
This canvas offers the opportunity to embody a shared or personal significance that resonates with you. Furthermore, if you're seeking to cover up an old tattoo, a rib tattoo can seamlessly achieve this while enhancing your overall aesthetic.
While some men might initially hesitate to consider a butterfly tattoo, this design can look as captivating on males as it does on females.
If this concept intrigues you, don't hesitate to give it a shot. Collaborate with your tattoo artist to create a design that mirrors your unique style and character, leaving you with an artwork that exudes pride for years to come.
Ultimately, in the realm of tattoos, the pivotal factor is selecting a design that speaks to you, ignites confidence, and imparts a sense of empowerment.
So, venture forth and explore your options – with the guidance of a skilled tattoo artist, you're destined to uncover the ideal design that flawlessly aligns with your one-of-a-kind persona.
Tiny Side Butterfly Rib Tattoos For Women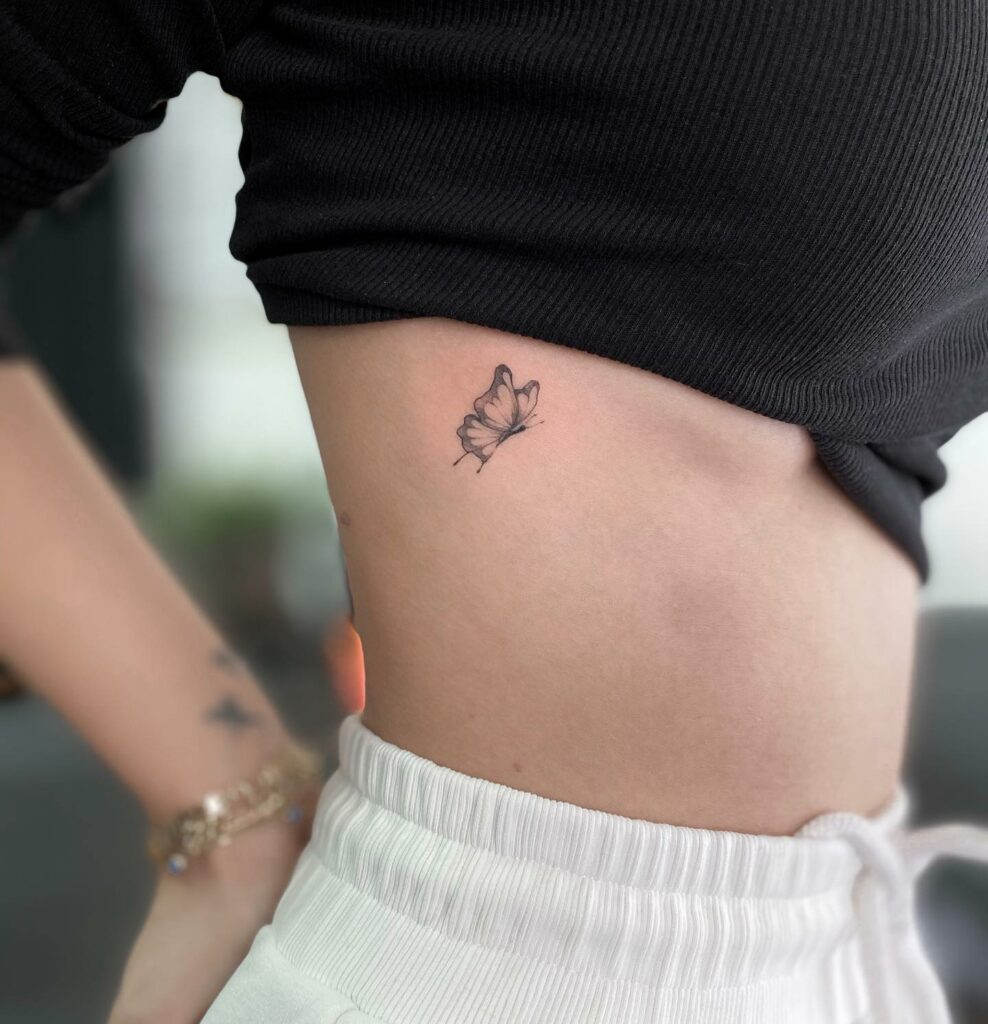 Embrace the allure of watercolour tattoos, a captivating option that seamlessly blends the world of tattoos and artistry.
Named for their resemblance to painted canvases, watercolour tattoos exude a painterly quality – as if the design has been delicately brushed onto your skin by a skilled artist.
This style flourishes with floral motifs, making it an ideal choice for a distinctive and charming floral rib tattoo.
Undoubtedly, watercolour tattoos draw inspiration from the mesmerizing watercolour paintings that have captured our hearts.
If you gravitate towards subtlety and desire a small yet impactful tattoo, the notion of a petite and endearing tattoo might pique your interest.
This is an excellent avenue for those who wish to explore the realm of tattoos without diving into a larger-scale design. If this resonates with you, I wholeheartedly encourage you to explore this tattoo concept.
Collaborate with your tattoo artist to fashion a design that exudes both beauty and personal significance, resulting in a masterpiece that is uniquely yours.
Simple Side Butterfly Rib Tattoo Design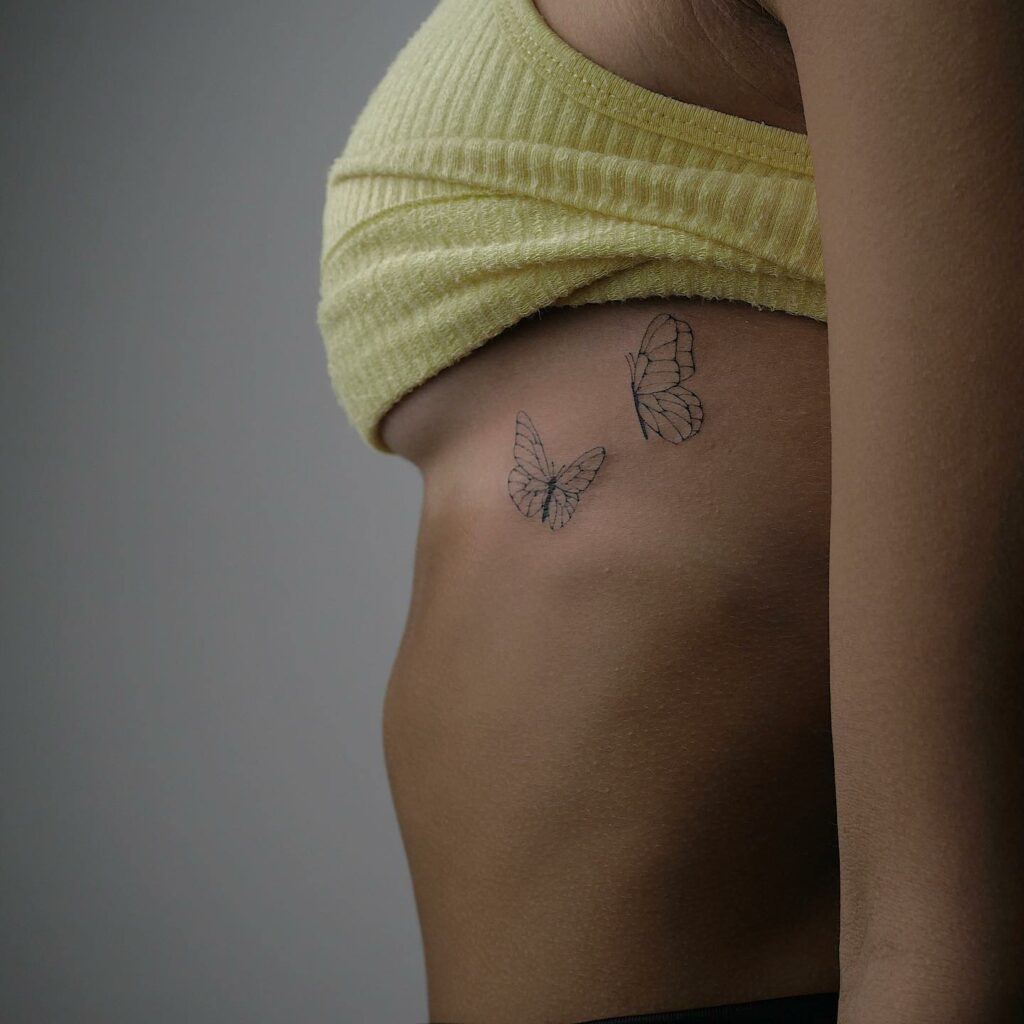 Let's explore the intriguing realm of rib tattoos and discover their myriad possibilities! Rib tattoos provide a fantastic avenue for those seeking a tattoo design that's not only distinctive but also deeply meaningful.
These tattoos extend beyond just the rib area, branching out to the sides, allowing for an even more imaginative range of placements.
Concerns about pain can sometimes deter individuals from considering rib tattoos.
While it's true that rib tattoos can be more uncomfortable compared to tattoos in other areas, many people find the eventual outcome more than compensates for any temporary discomfort.
The familiar saying "no pain, no gain" holds true here, as enduring the process results in the creation of beautiful and lasting art.
Interestingly, tattoo artists often observe that newcomers to the world of tattoos are drawn to rib tattoos, appreciating their ability to remain discreet. The rib area serves as a perfect canvas for this purpose.
If you're on the hunt for striking tattoo designs, envision the grace of a butterfly rib tattoo or the depth of a rib tattoo imbued with personal significance.
Irrespective of gender, many choices await, whether you're a man seeking a suave rib tattoo or a woman intrigued by the allure of side tattoos.
By collaborating closely with your chosen tattoo artist, you can craft a design that resonates uniquely with you.
Simple And Minimal Rib Tattoos With Butterfly Motif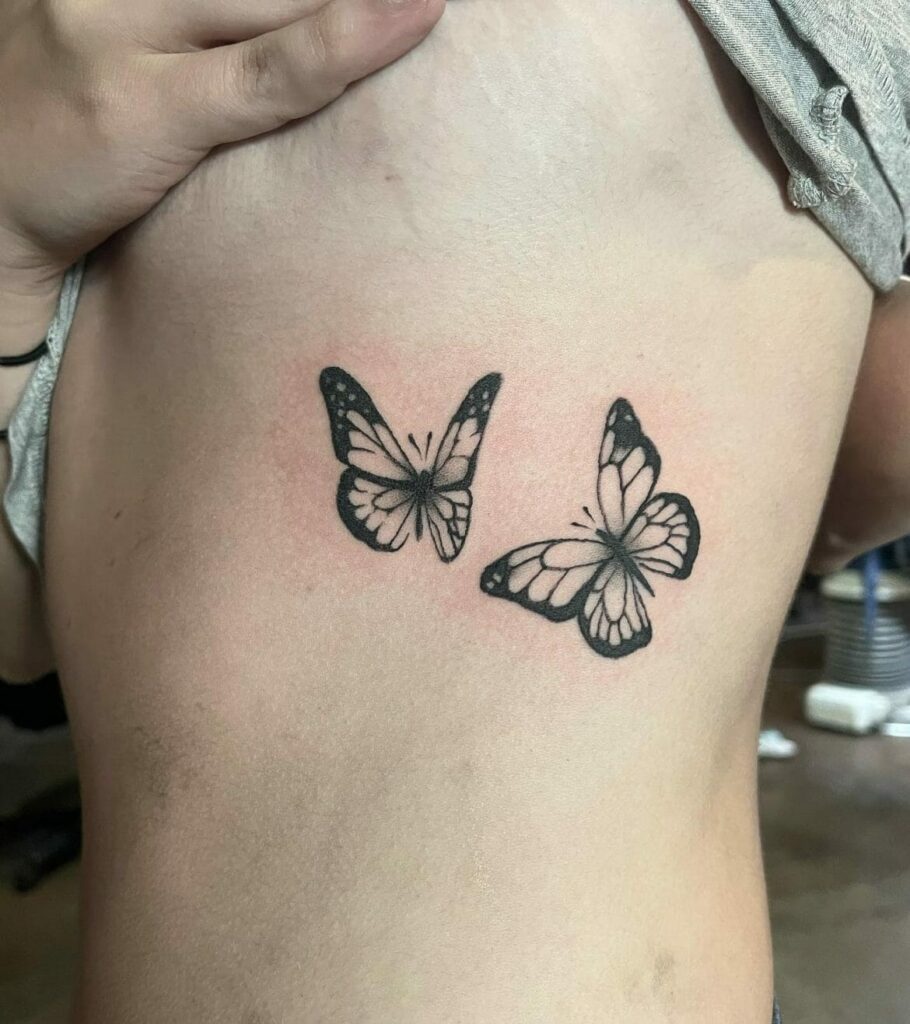 If the concept of a rib tattoo is new to you, starting with a basic butterfly design in an outline style can serve as a wonderful introduction to the world of body art.
This method embraces a delicate and minimalist aesthetic, gently encouraging future exploration in the realm of tattoos.
To highlight these petite marvels, you might consider sporting a crop top or a bralette, offering an elegant way to showcase your ink.
Lovely Ideas For Colorful Butterfly Tattoos To Place On Your Ribs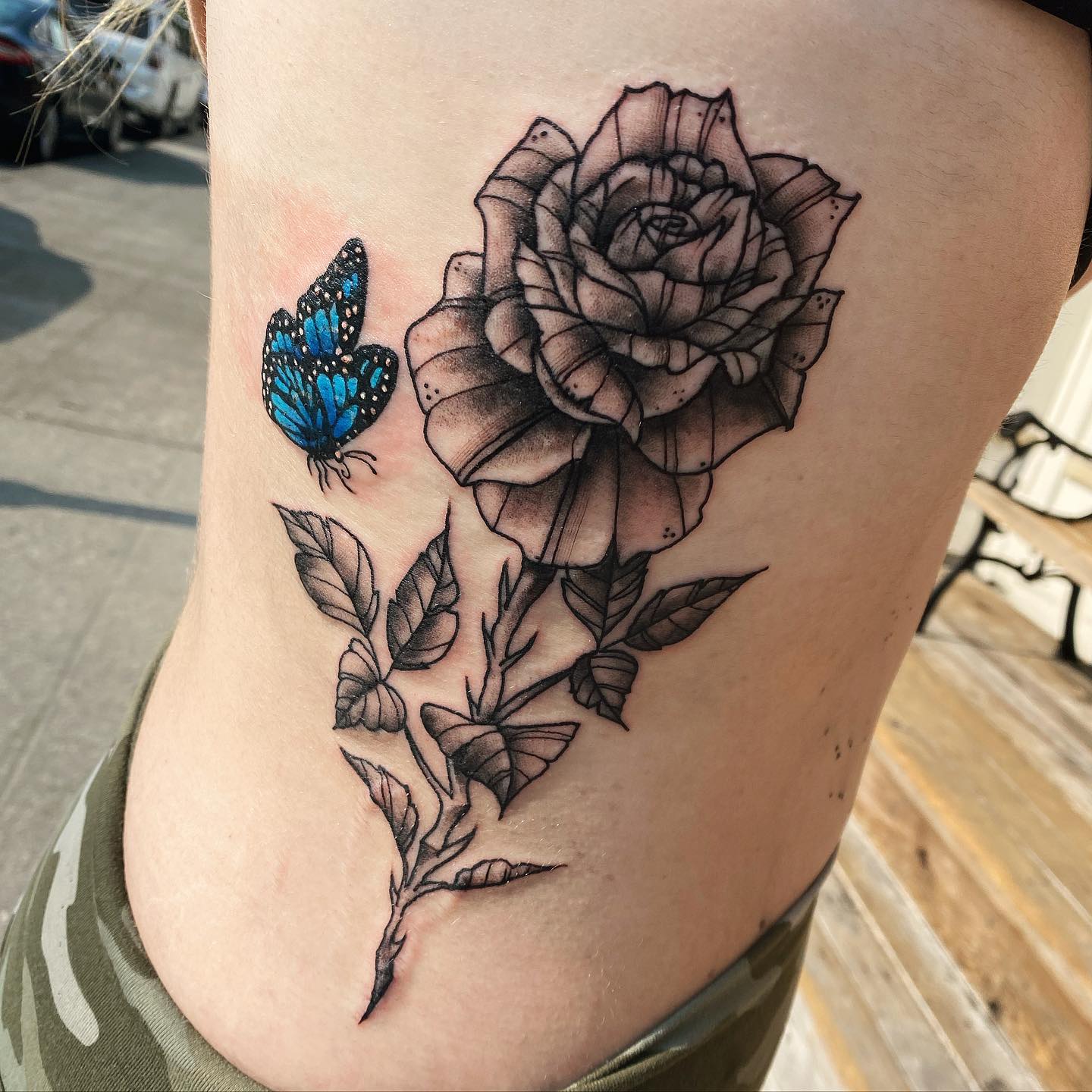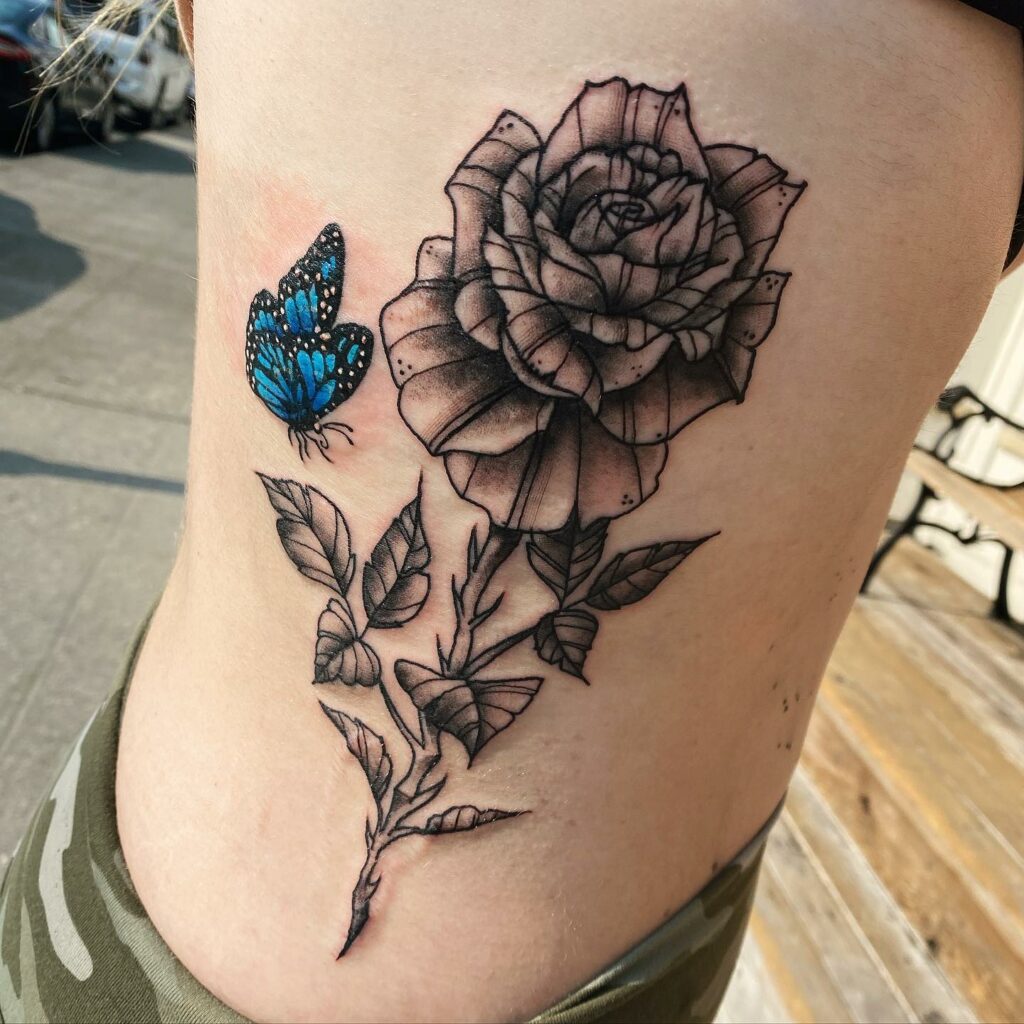 If you're seeking to break away from the realm of monochromatic designs, there's a realm of vibrant colours waiting to grace your skin canvas.
Admittedly, incorporating colours might slightly increase the cost, but what is the outcome? A dazzling display of technicolour that effortlessly draws attention even from a distance.
After all, butterflies are like nature's artists, displaying various vivid colours. You can contemplate infusing gentle pastels for a soothing effect or embracing vibrant electric shades to infuse your butterfly tattoo with vitality.
Beautiful Butterfly Tattoos On Ribs With Flowers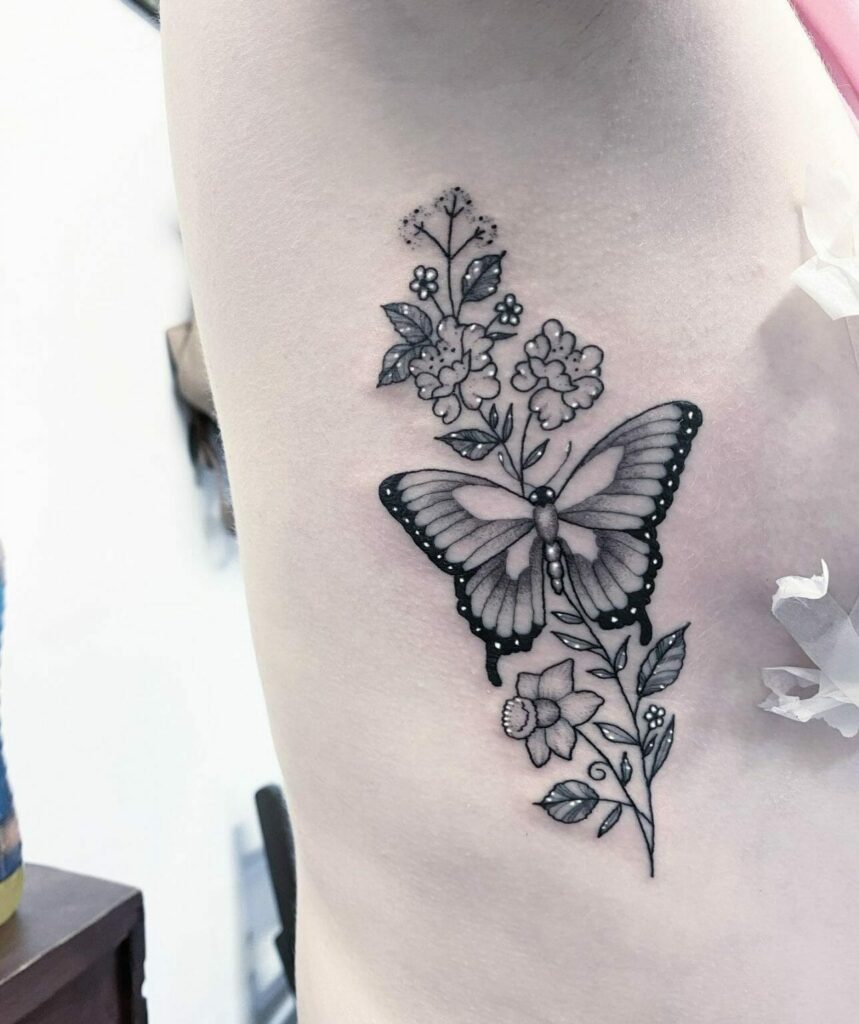 Butterfly tattoos intertwined with delicate flowers on the rib area exude a special charm. These tattoos, often embraced for their symbolic femininity, beautifully blend flowers' elegance with butterflies' grace.
It's a subtle yet powerful way to celebrate the strength and beauty inherent in women. Flowers have an enduring language that conveys emotions, making them a perfect addition to a tattoo.
It's wise to collaborate with a skilled tattoo artist who can guide you on crucial design elements like size, shading, and colour to make your vision come to life.
Awesome Butterfly Tattoo On Ribs Designs With Other Symbols And Motifs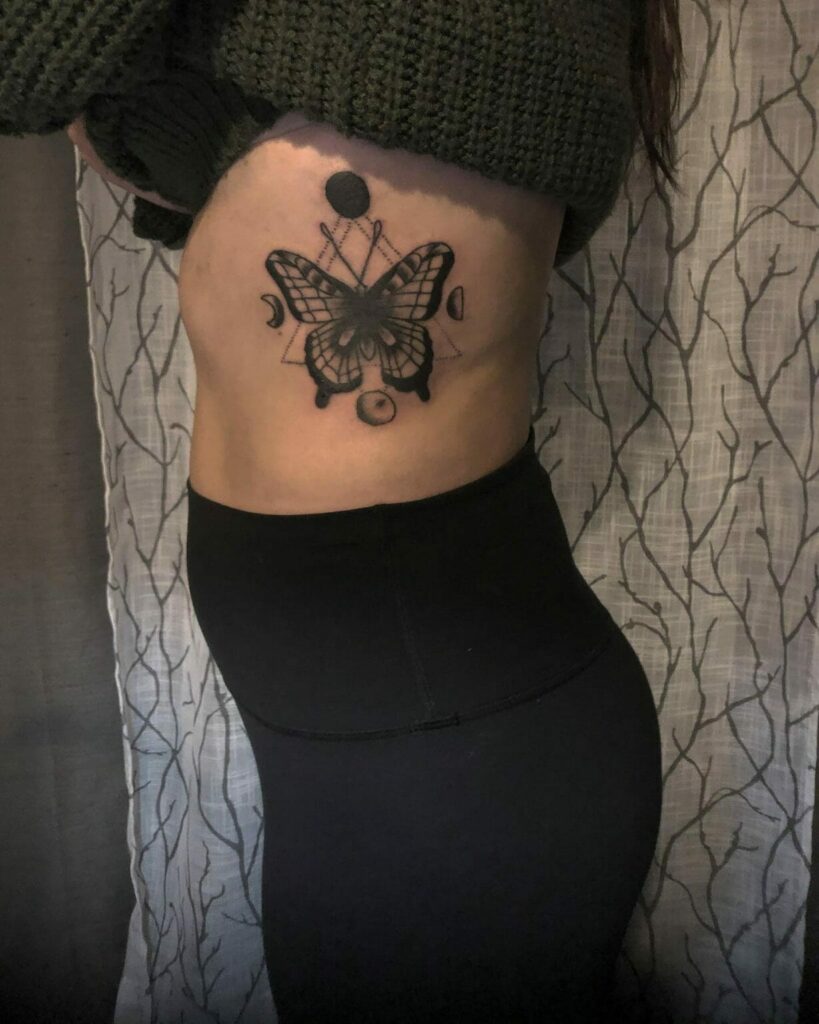 The allure of a butterfly tattoo lies in its versatility and potential for creativity. Beyond the elegant form of the butterfly, you have the canvas to integrate additional symbols and motifs.
Celestial bodies like stars or moon phases, abstract geometric patterns, and even angelic elements can enrich the tattoo's meaning.
This customization allows you to craft a design that aligns with your individuality, making it a truly personal and captivating work of body art.
Cute Ideas For Butterfly Tattoo on Ribs With Names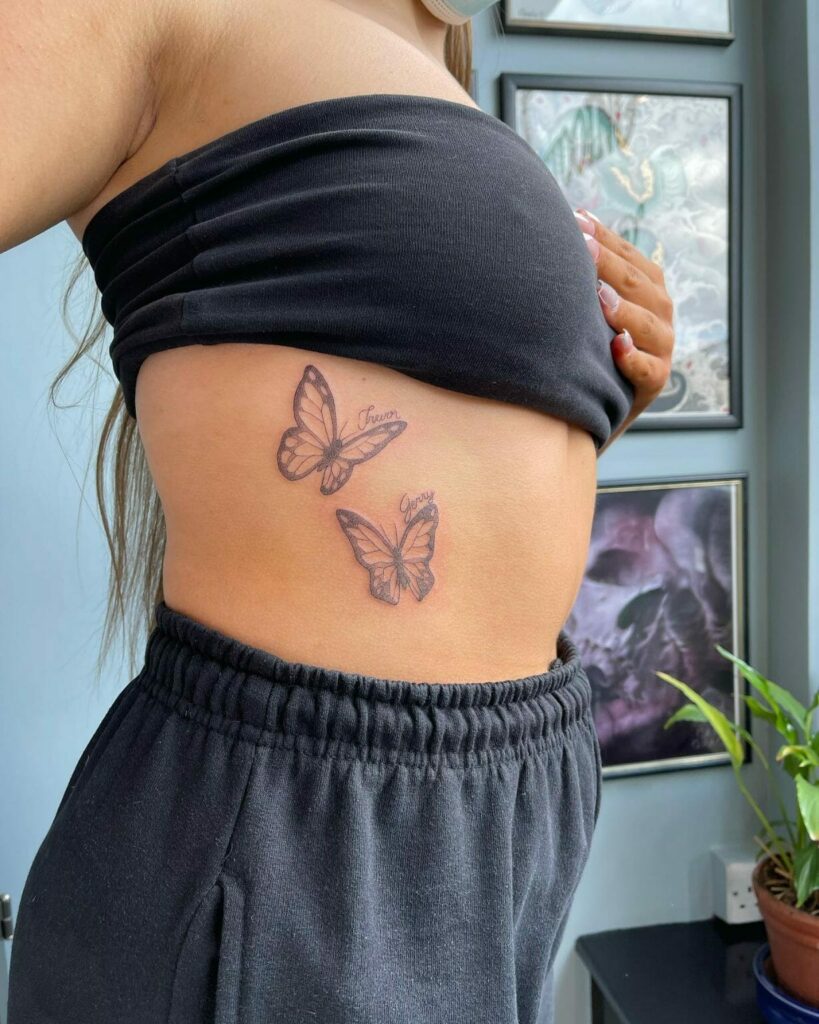 Incorporating names into tattoos is a heartfelt way to honour the people who hold special places in our lives. Pairing names with butterfly designs creates a charming and meaningful fusion.
The butterfly's symbolism of love and transformation amplifies the emotional resonance of the tattoo, making it a touching tribute to your loved ones.
This unique blend of elements captures the butterfly's beauty and the lasting bonds represented by the names, resulting in a truly special piece of body art.
Creative Butterfly Tattoo Designs On Ribs For Your Inner Artist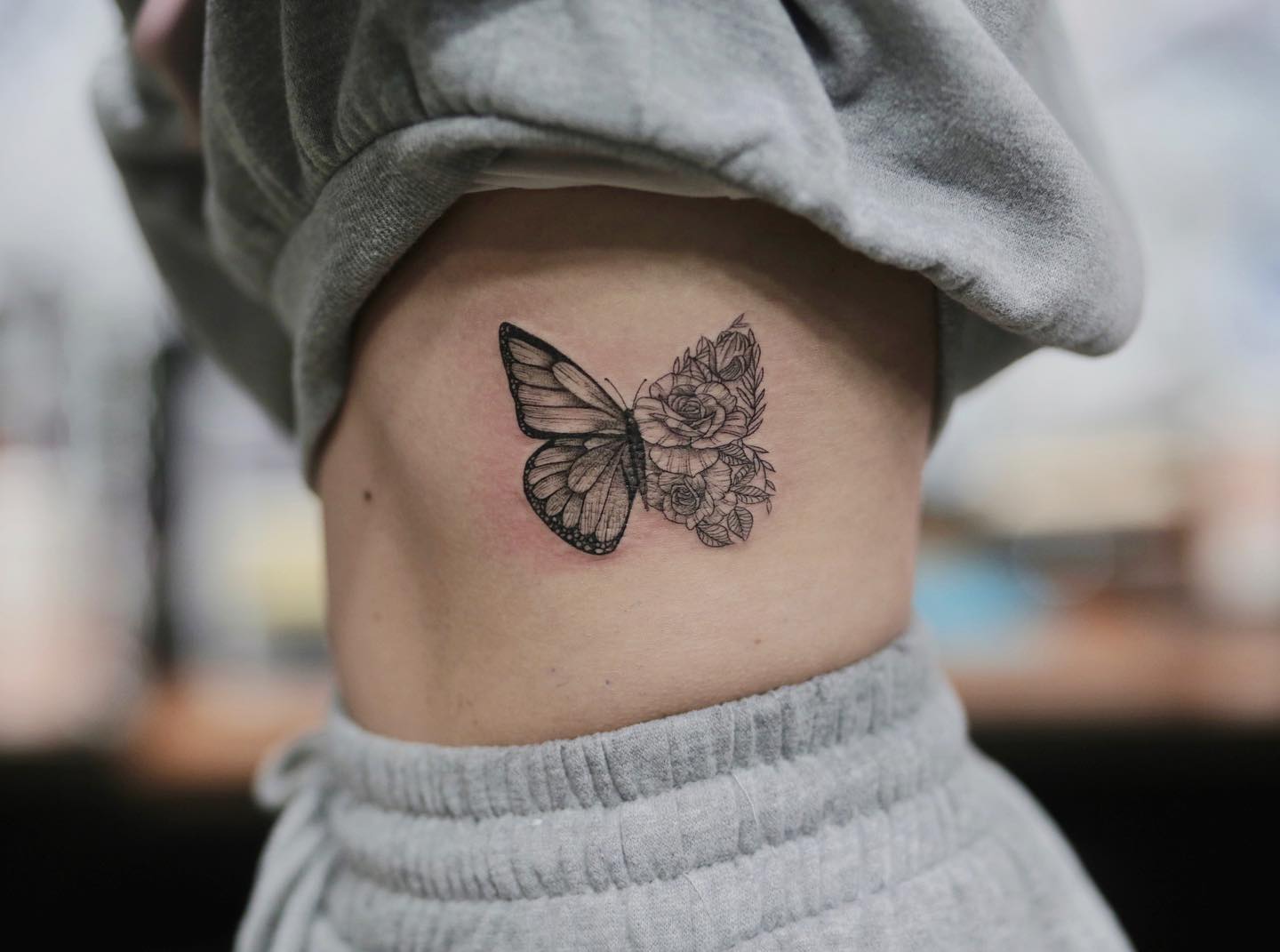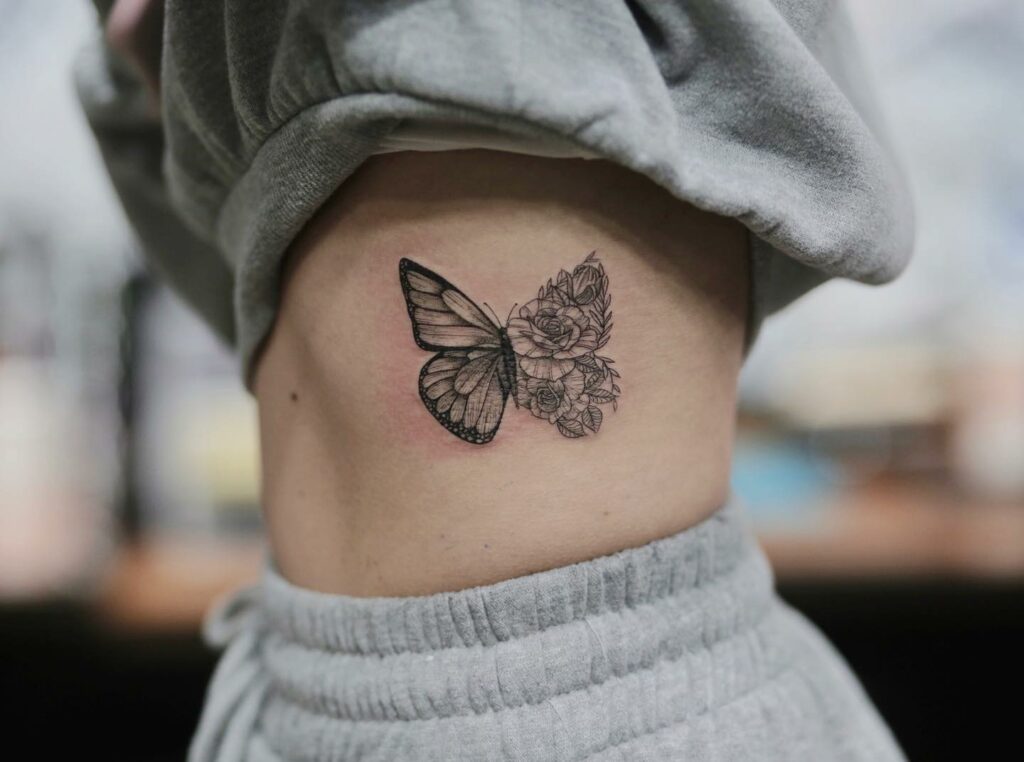 Unleash your inner artist with creative butterfly tattoo designs that offer endless possibilities. Imagine a butterfly's outline transformed into a canvas for a captivating floral montage.
Whether you opt for vibrant colours or timeless monochrome, this innovative approach beautifully fuses butterflies' elegance with nature's beauty.
It's a stunning way to showcase your artistic spirit while leaving an unforgettable mark on your skin canvas.
Adorable And Tiny Butterflies For Your Rib Tattoos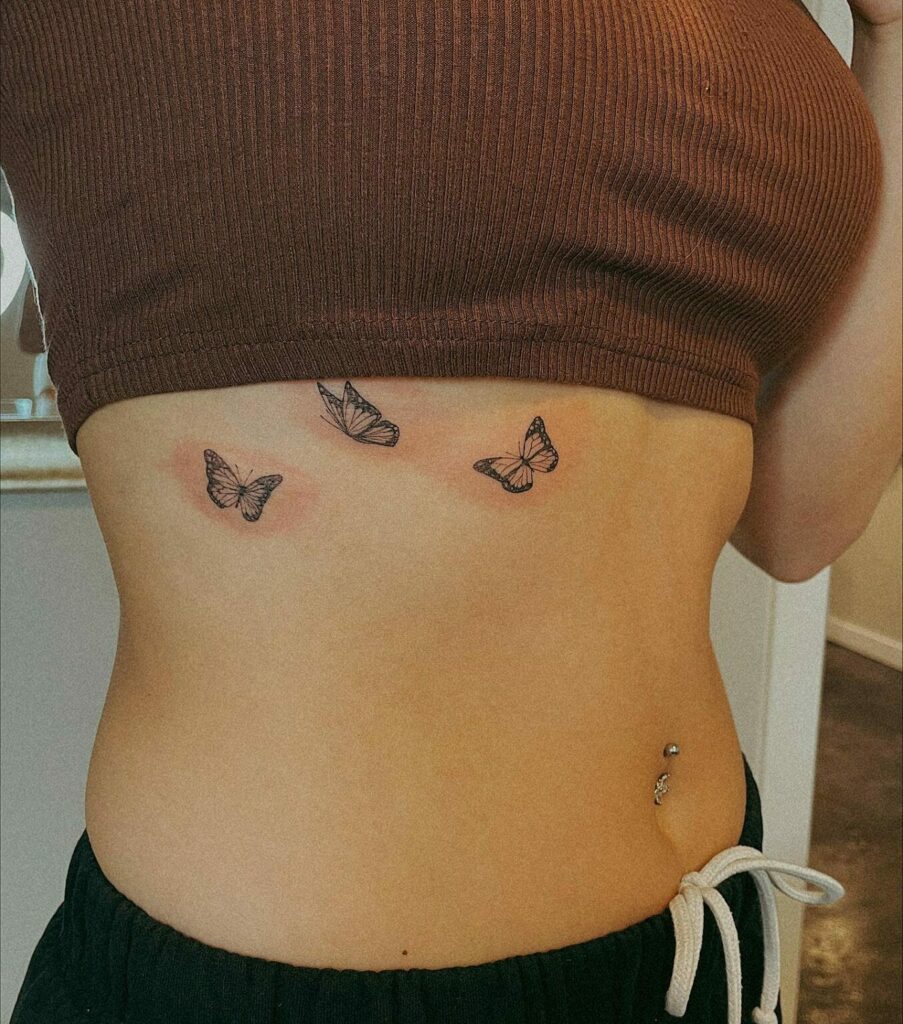 Embrace the charm of tiny tattoos with adorable butterfly designs delicately gracing your ribcage. The elegance and fragility of butterflies convey a message of enduring grace and inner strength.
Opt for this subtle yet impactful choice to showcase your appreciation for beauty in its most delicate form.
Large Tattoos Of Butterflies To Cover Your Ribs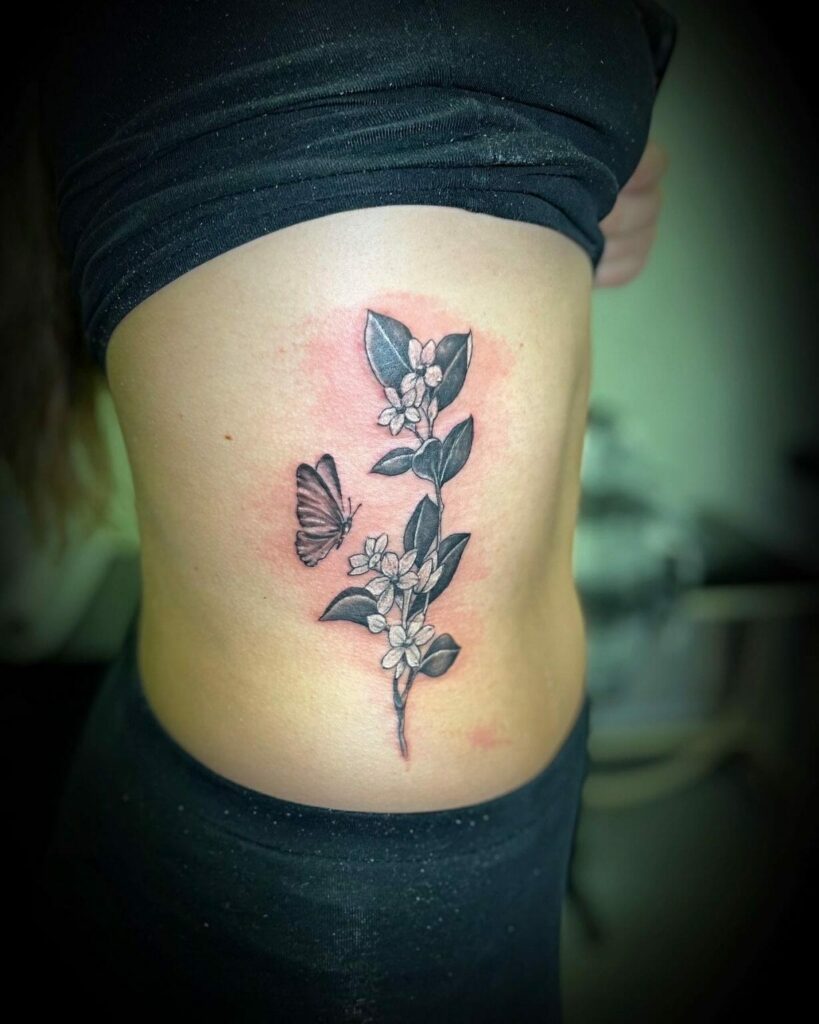 If you're inclined towards a more immersive tattoo experience, opting for larger butterfly designs can gracefully extend across your ribcage.
Depending on your perspective, a butterfly can represent beauty, resilience, or the sheer happiness of life. If this expansive canvas resonates with you, a monarch butterfly design could be an exceptionally captivating option.
Amazing Ideas For Dotwork Butterfly Tattoo For Your Ribs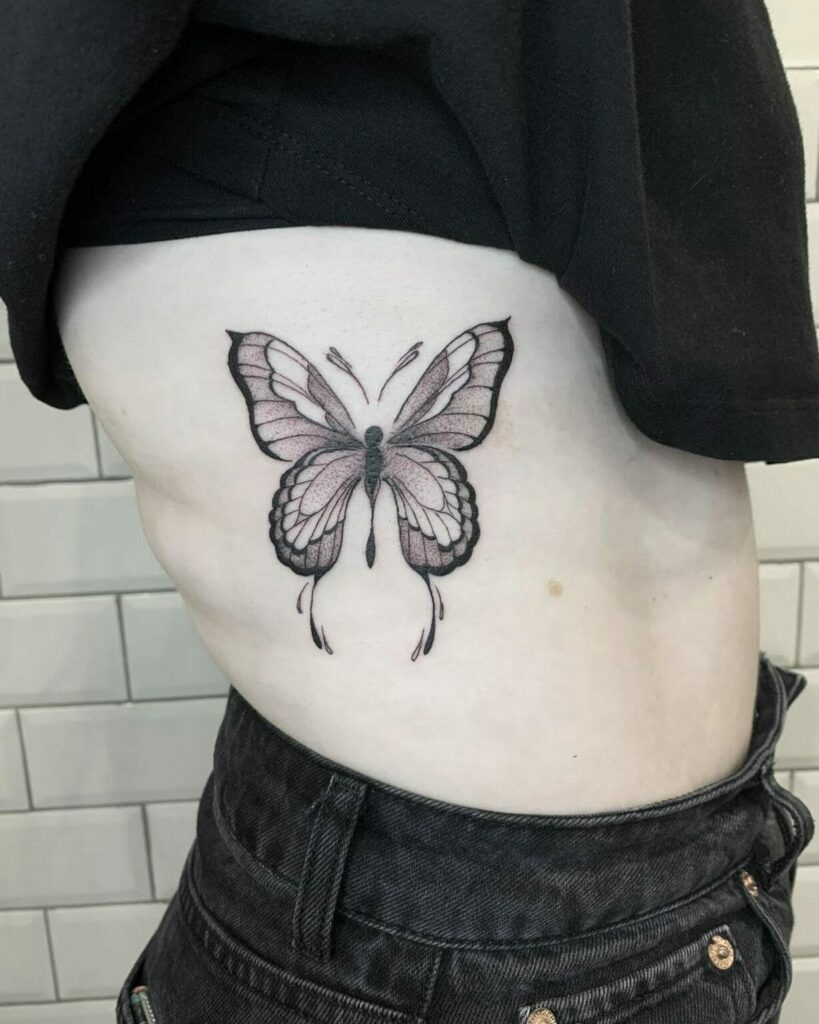 Dotwork tattoos provide a distinctive choice for those looking to deviate from conventional tattoo styles.
These tattoos involve the meticulous arrangement of small dots to form intricate designs. Selecting a grayscale butterfly tattoo using this method can add a unique and tactile dimension to your skin artwork.
Designs With Multiple Butterflies For A Tattoo To For The Side Of Your Body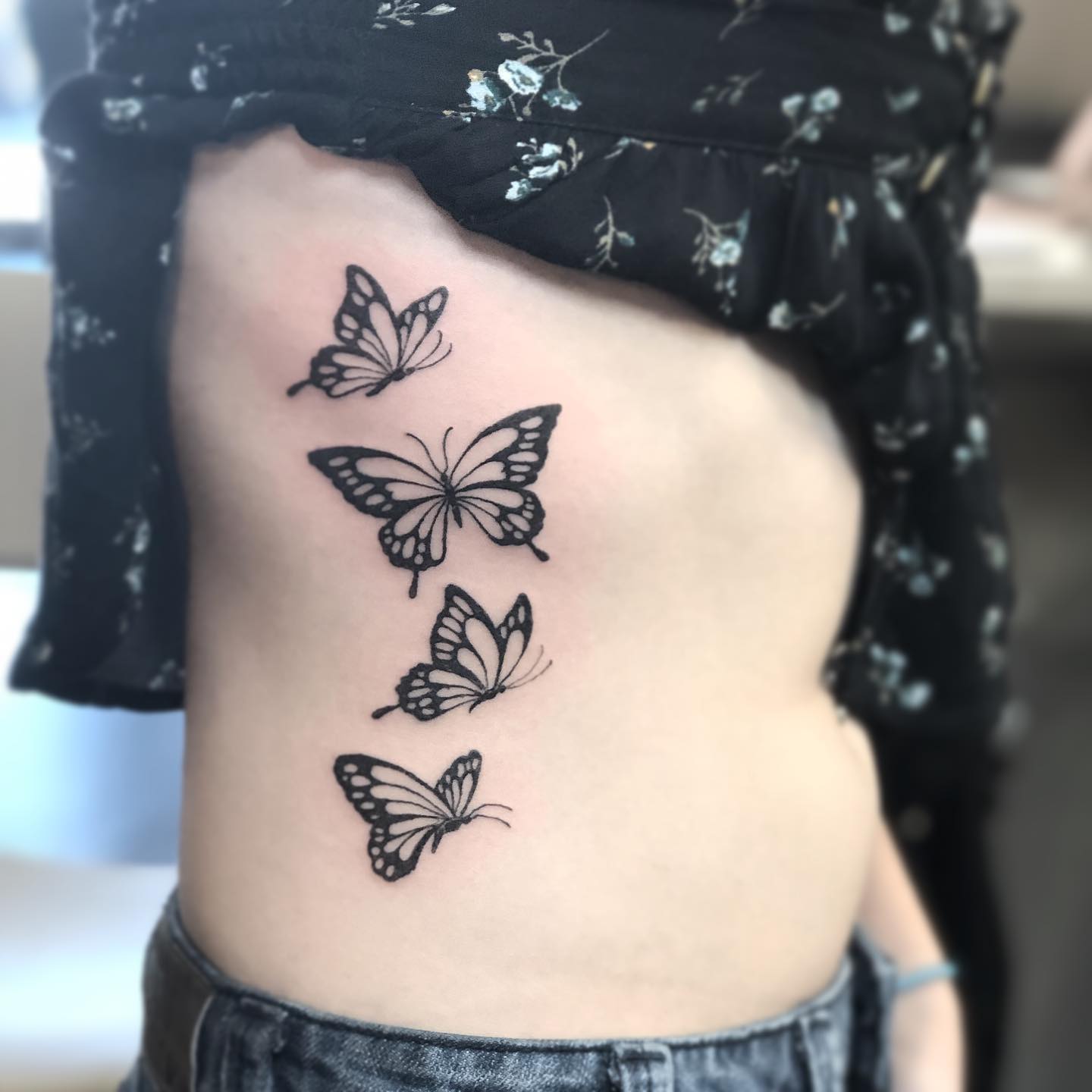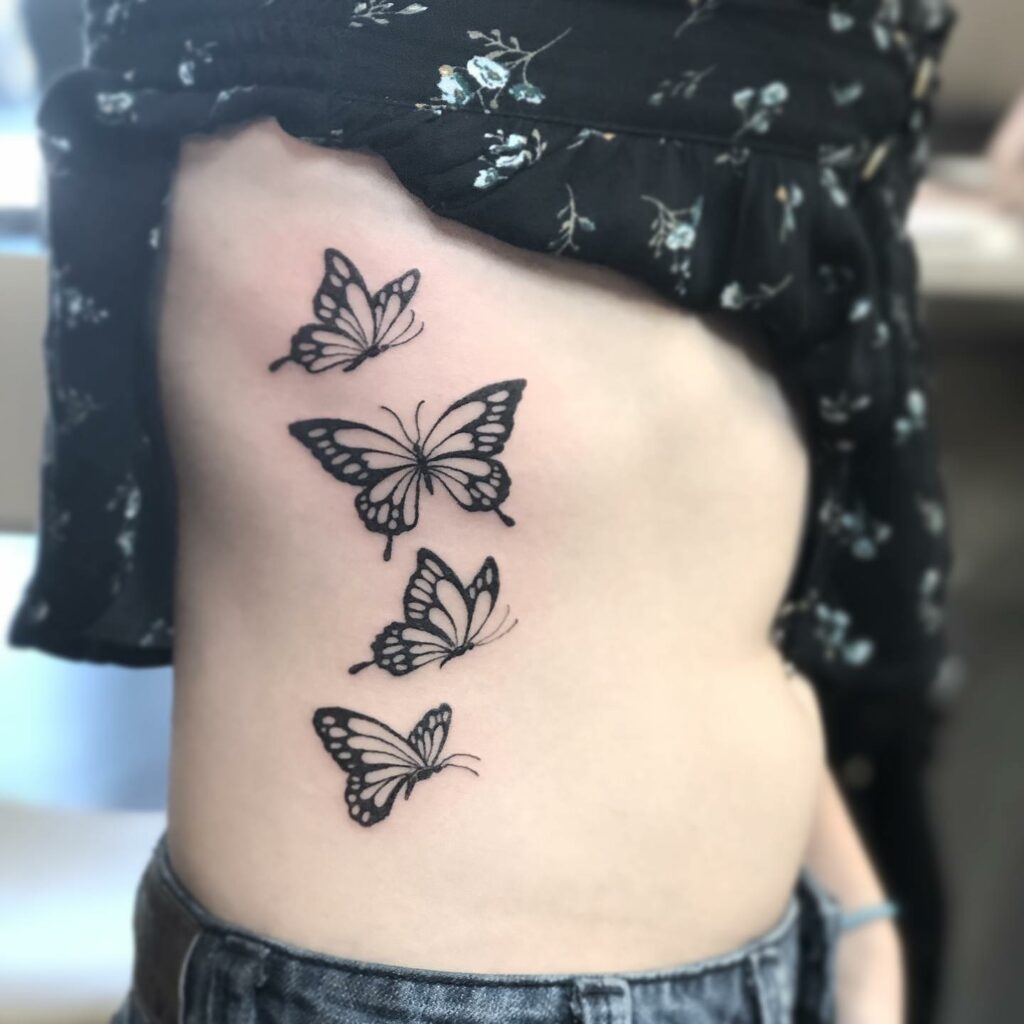 Opting for a substantial tattoo stretching from your rib cage to your waist can deliver a striking impact. Imagine a sequence of butterflies elegantly gracing your side, introducing a feeling of fluidity and dimension to your skin.
Remember that rib tattoos might entail more time and a higher level of discomfort, yet the ultimate masterpiece justifies the process.
If you're prepared to embrace the challenge, envisioning an arrangement of butterflies could mark your upcoming venture into the realm of body art.
FAQs
Q: What is the meaning of a butterfly rib tattoo?
A: A butterfly rib tattoo symbolizes transformation, beauty, and freedom. It represents growth, rebirth, and spiritual transformation, often associated with the Holy Spirit.
Q: Is getting a rib tattoo painful?
A: Yes, getting a rib tattoo can be quite painful. The rib cage is known to be one of the most painful areas for tattooing due to its thin skin and minimal fat, causing discomfort during the process.
Q: Are there any precautions to take with a new rib tattoo?
A: It's important to avoid fabrics rubbing against the new tattoo, as it can cause pain and delay healing.
After scabbing is done, wearing a bra is generally okay, but using plastic wrap or a non-adherent medical bandage underneath is recommended to protect the tattoo.
Q: Do rib tattoos stretch if you gain weight?
A: Rib tattoos are less likely to stretch with weight gain or changes in body shape. The upper side of the rib cage typically maintains its tautness even if there are changes in belly fat or sagging.
Conclusion
In conclusion, butterfly rib tattoos are a captivating blend of artistry and symbolism. These designs offer a range of options, from delicate watercolour renditions to intricate dotwork creations.
The enduring significance of butterflies – representing grace and transformation – adds depth to the choice. Rib tattoos become personal narratives, combining names, flowers, or clusters of butterflies to convey unique stories.
Importantly, these designs transcend gender norms, appealing to both men and women. The process may be uncomfortable, while the rib's canvas accommodates larger, more detailed designs.
However, the result is a masterpiece that is undeniably worth it. Partnering with a skilled artist ensures the creation of timeless and cherished body art that resonates with individual expression.
MORE BUTTERFLY RIB TATTOO IDEAS