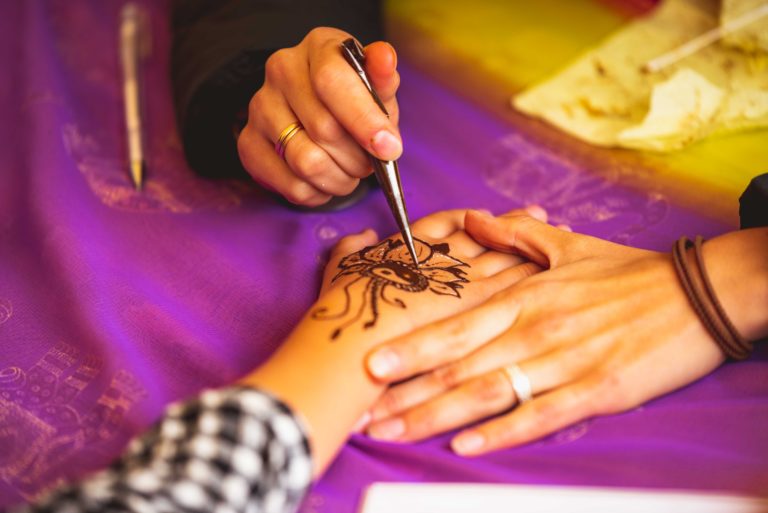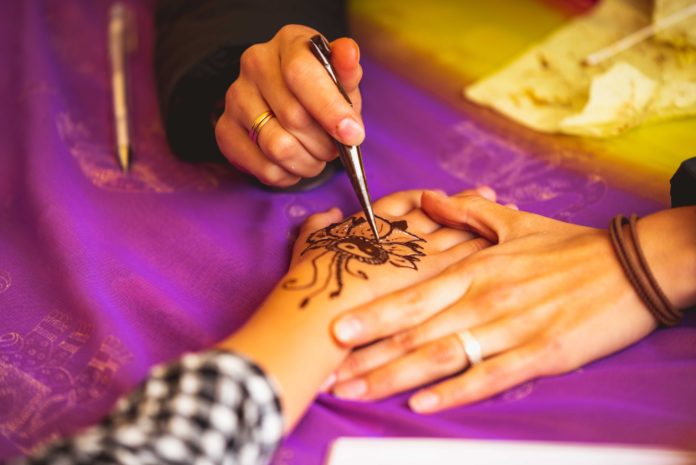 Do you ever wonder what it feels like to have a tattoo but don't want to commit to going under the needle? Or want to try some trending tattoos but worried about what you will do when they go out of trend? Whatever it is you want, getting the custom temporary tattoos is the solution. 
They are also an amazing option if you love the traditional Indian henna tattoos. The good thing is that temporary tattoos are a good option and don't matter what you want. It gives an option to try everything without worrying about not liking it afterward.
In the article, we will tell you about various custom temporary tattoo designs, including how to make a temporary tattoo.
Henna Custom Temporary Tattoos on Leg
Leg tattoos are one of the most popular among women in recent times. This is because the leg tattoos look sexy and sassy, giving something eye catching to a woman. They are also a feminine thing to adorn the body of a woman.
Thus, temporary leg tattoos are an amazing option when you want to flaunt something while wearing a short dress. What's campaign is that with the temporary henna tattoo, you get the option to remove them when you don't want to fall for them. This makes the temporary henna tattoos an amazing option for both professional and personal life where you choose the audience.
The good thing about temporary tattoos is that they are custom made, and you could choose from a variety of designs. You can mix them, match them with other tattoos and do whatever you want. The temporariness of these tattoos also gives you the option to experiment with the designs. Thus getting custom temporary tattoos on the leg can be a great option to beautify your body.
White Temporary Tattoos
Do you want tattoos for dark skin? Or do you want something different to adorn your dusky beauty? If yes, then getting white henna tattoos can be the solution.
These tattoos are an amazing option for those who have dark skin tones – or who want a beautifying twist for adorning your body. One of the most popular among the white color tattoos is the white henna tattoos. They are temporary tattoos and are safe for all skin types. The good thing about the white henna tattoos is that they don't include bleach, stain, or discolor your skin. 
If you don't want a custom temporary tattoo made from henna, then you can also go for market tattoos. Most of the white temporary tattoo options are made from skin safe and adhesive of surgical grade paint. You can easily apply and use them on the skin. Both types of tattoos stay on the skin for a period of 5 to 10 days, depending on your care. What's more interesting is that you can customize these tattoos, which allows you to choose between various tattoo designs and patterns like geometric tattoos.
Meaningful For Temporary Tattoos
Want a meaningful temporary tattoo to adorn your hands? Or do you want a sleeve tattoo that is meaningful, eye-catching, and give you the option to change it after some time?
Well, whatever it is you want, we suggest you try the Indian wedding henna tattoos. The reason for this is that they are meaningful and look astoundingly beautiful. According to the tradition, the henna, when adorned on the hands, allows the wearer to receive the people's blessing. These are some of the best henna hand tattoo designs which you will love.
One of the popular traditional tattoos is the swan tattoos in the Indian culture. This tattoo depicts beauty and success. Simultaneously, other tattoos like the lotus flower tattoo is a scared henna tattoo that you will love. According to Hinduism, the lotus tattoo is associated with the god-like Brahma and Vishnu, which symbolizes divine, eternity, and purity.
If you want to know how to make a henna tattoo, then trying some Indian traditional tattoos can help. This is because they are easy to make, and you can easily learn to make them with little effort. All you need is dedication and love for them.
Flower Tattoo
Do you love the flower design but are confused about which will look the best on you? Well, the best way for it is to try the custom temporary tattoos of flower designs. The reason for this is that the temporary tattoos will let you experiment, and once you know what you actually want, you can go for permanent inking.
Moreover, if you want a sleeve tattoo or henna hand tattoo, then flower tattoos are a great option for the first time. The flower tattoos are also meaningful, and thus you can choose from various options like rose, lotus, and more. They all depict various things but what they depict the most in common is feminist, love, hope, and rebirth.
The flowers also look feminine and gorgeous and are amazing if you combine them with the other things. Some of the best thighs with which you can combine them are butterflies, birds, and dragonflies.
Black Ink Temporary Tattoo
Do you want something different from the regular custom temporary tattoos? If yes, then try the jagua tattoos. They will let you have a dark beauty on your hands or whichever placement area you choose.
The jagua ink is made using a South American variety of fruit and gives a dark, catchy look to the tattoos. These tattoos are also a traditional option in many indigenous cultures of America and the Caribbean. However, you must be aware when you chose dark color custom temporary tattoos as some inks are made from P-Paraphenylenediamine(PPD). The PPD is a toxic ingredient and causes many skin problems, thus not safe for use on the skin. Some common problems which you may face are scarring and illness. 
Small Temporary Tattoos
If you are a first-timer and want to try some temporary tattoos, then getting a small tattoo is a great idea. Moreover, you get the choice of choosing among numerous designs and patterns in small tattoos. You can go for tiny flower tattoos, or you can choose other designs like sun tattoos, animal tattoos, or more.
The good thing about the custom temporary tattoos is that you can choose the pavement areas. For example, if you want it to be expressive, then you can go for wrist or arm tattoos. But if you want discrete, then you can go for thigh and breast tattoos. They are also an amazing option if you want finger tattoos or hand and neck tattoos. Moreover, you can try awesome nature inspired tattoos or geometric tattoos and shapes for a more expressive option. 
What's even more amazing is that the small tattoos not only let you choose the audience but are also beautiful; you can also choose various meaningful designs like bird tattoos or lion tattoos, or Asian tattoos.
Sun Tattoo
The sun tattoo is a traditional design, which is also a popular option for temporary tattoos. And the good thing is that you can easily get various custom temporary tattoos in sun tattoos, and you can combine them with various items. For example, you can combine the sun with the moon or earth. Or you can also combine it with other designs like Indian traditional tattoos.
The sun tattoo depicts love, which is endless as the endless blue sky. If you don't want the simple and want something stylish and adorning, then go for the tribal style patterns. However, you can choose the final outlook of the tattoo. You can keep it simple and sober, or you can give a complicated and sexy outlook; it all depends on what you choose for yourself. The good thing about the sun tattoo is that you can choose from a variety of the various colors available. For example, a yellowish sun combined with black ink will look astonishing.
One of the most popular sun tattoo designs includes window tattoos where the sun is setting in the background. You can also go for the moon tattoo if you want something even more intriguing. We assure you that whatever you choose for these temporary tattoos there beauty will inspire you to get a permanent tattoo to adorn their beauty. 
Finger Tattoos
The temporary tattoos like the henna tattoos look astonishing, and the colors like the dark black make the fingers stand out against various skin tones. Popular temporary tattoo designs for the finger tattoos include the dots, leaves, and drops. Other than these designs, the full color of the 'dip-dye' also looks just amazing in the finger tattoo designs and ideas.
One thing you need to know about the finger tattoo ideas with the temporary pattern is that they should be well made. For example, you don't want your custom temporary tattoos to fade just after two days of inking. So always use quality products. If you choose the designs carefully along with the inks you ink yourself with, then the finger tattoos will make you look amazing. What more is that the finger tattoos are always visible, so you get something to flaunt.
The visibility of the finger tattoos also makes it essential that you choose an experienced artist for making temporary tattoos. For example, if you want a henna tattoo for your fingers, choose a good artist. You don't want your finger to look messy instead of beautiful.
Wrist Tattoo
Temporary tattoos are a great option when you want something to adorn your hands or the wrist. What's more amazing is that if you want something to adorn your hand or wrist for a particular event, then you can go for the temporary tattoos. This is a good option as in this way you get the option to remove it afterward while you have something to flaunt at the party.
The wrist tattoo design includes various options, like a compact style of the bracelet tattoos to flowers and plant designs. You can also get a dragon tattoo in which the dragon surrounds your wrist. Another design that is trending in wrist tattoo designs is the lotus tattoos, specifically the mandala lotus tattoo.
The good thing about such wrist tattoos is that they are meaningful. For example, the lotus mandala tattoo is a popular symbol in Hinduism and depicts divinity, purity, and eternity. As a bonus to meaning, you also get something that is enticingly beautiful on your wrist. So getting the custom temporary tattoos on your wrist can be a great option when you want something to adorn your hands during a party but not permanent. But one thing which is sure is that their beauty will inspire you to make them a permanent beauty on your wrist. 
Temporary Tattoos on Sleeve
Are you a fan of sleeve tattoos or want something to beautify your sleeve but confused about what to get? Well then, getting the temporary style of tattoos is the option for you, as they will let you know which tattoo design suits you the best.
The sleeve tattoo design is also a trending body art among people worldwide in recent years. Moreover, the sleeve tattoos give you something to beautify your whole hand as they stretch all the way from shoulder to wrist. This means it is easy and tough both at the same time to choose the right sleeve tattoo as they are expressive and visible. The good thing about temporary tattoos is that they let you choose among the numerous eye catching and bold designs. So that if you don't like the design, you can remove it easily.
It will also help you choose the right sleeve tattoo for yourself if you are confused about what you want on your sleeve permanently. You can also choose among the various mixed designs in custom temporary tattoos, like you can mix Asian tattoos with traditional American style tattoos.
Final Words
There are numerous custom temporary tattoos that you can get for yourself. Moreover, the good thing about temporary tattoos is that they give you the option to keep or remove without much effort. So if you like the design, you can get a permanent tattoo, but if you don't like the designs, you can remove it and try a new one easily.
Something which you must know about temporary tattoos is that they always use the approved and skin-friendly ink. The other option is henna tattoos, but in them also you must be careful that they don't contain PPD. These precautions are essential as otherwise, the ink may cause infection, irritations, and scarring.