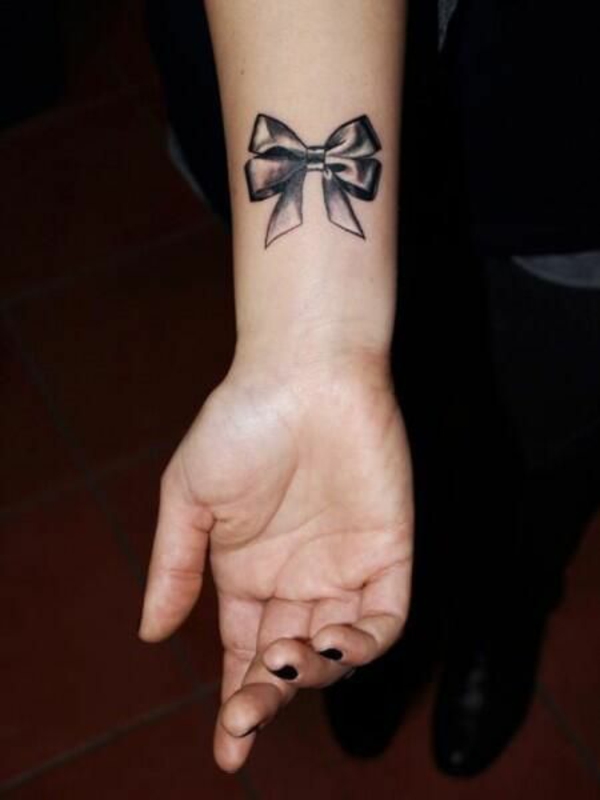 Tattoos have become a popular art form for people to emblazon their bodies, specifically young people. Currently, there are bazillions of celebrated and popular tattoo designs that look great anywhere on the body, but if you are looking for something that is meaningful and charming, then you must consider a bow tattoo, and specifically, girls should go for it.
Bow tattoos don't only look feminine and amazing but are also very excruciating. The bow tattoo is popular among women for their meaning and their subtle shapes and vibrant colors. Therefore most women love to get themselves inked with the bow tattoo designs when it comes to getting their first tattoo.
What makes this ribbon tattoo even more appealing is the availability of numerous design tattoo ideas for every part of the body.
One of the most common places where women prefer this tattoo is the legs. It is one of the most popular female leg tattoos which women love to get for themselves.
To help you better understand the bow tattoo, its designs, and meaning, we have put together this small bow tattoo guide for you.
What Does a Bow Tattoo Mean?
Bow tattoos have a very interesting meaning, which is why these tattoos are very popular among females.
Ideally, the ribbon tattoo designs of the bow tattoo are used for emphasizing the feminine nature of women based on the intricacy and delicacy of the ribbons.
While on a large scale, these tattoos represent the bigger part of a female's lifestyle, attitude, and appearance.
What makes the bow tattoo an even more favorable choice among the women is that these tattoos can be easily inked on the parts which are considered more attractive in a woman.
This tattoo gives the women a multitude of options to engrave themselves, like a thigh bow tattoo, a hand tattoo, and more.
Whatever the design and color you may prefer for this tattoo, it always represents the feminine nature and women empowerment & sexuality.
READ MORE: Symbols of Strength Tattoo That Make You Look Stronger
What Color Combinations Can Form A Fantastic Bow Tattoo?
Since the bow tattoos are basically feminine tattoos, bright and vibrant colors are more preferable.
The bright colors in this tattoo express the feeling of passion, open-heartedness, and love. Some of the most popular color options for this tattoo are red, light blue, and yellow.
However, you can choose from a multitude of other available colors according to your preferences and taste. You can add things like butterflies, arrows, flowers, hearts, and more to this tattoo for an added beautification of the bow tattoo.
The addition of these little elements in this tattoo will make it even more feminine and attractive.
READ MORE: Top Nature Tattoo Ideas that Make You Feel Closer to Nature
How Much A Decent Bow Tattoo Cost?
The prices for inking if the bow tattoos can vary, and there is no standard price for it.
These tattoos' prices differ on your choices like what design you want if you want a simple or sophisticated bow tattoo, where you want it, like a hand tattoo may cost low while going for some women's unique thigh tattoos may cost you more.
The size and the artist you choose also impact the tattoo designs so, always check for prices and reviews before you visit a tattoo artist.
Reviews become vital as a well-reputed tattoo artist uses authentic products, and thus it helps in easy tattoo aftercare with fewer chances of any infection.
READ MORE: Symbols of Protection Tattoos for Evil Protection
Some Enticing Bow Tattoo Designs
The bow tattoo designs differ according to the person and meaning. They also vary according to the place of the tattoo. Some of the popular designs are:
Cool 3D Tattoo On Back
A 3D bow tattoo on the back made using the black ink looks ravishing and expresses that a woman is a powerful gift from mother nature.
The back tattoos need extra care when making as they need to be specific about every detail when making this tattoo as the shades and designs of this is what makes it look bewitching.
The back tattoo design can be made even more eye-catching by adding some elements like flowers and butterflies.
One thing to remember when you decide to get this tattoo is that it is a large piece of tattoo; thus, you will need to be more vigilant in tattoo aftercare.
READ MORE: Cute Little Word Tattoos to Describe Your Personality
Sexy Lace Tattoo On The Back
The sassy and sexy lace bow tattoos on the back look amazing as they use 3D effects along with black ink and laces in design. The tattoo depicts a lace that makes a bow with a flower pattern in it, which gives it a distinct and sexy look.
To complete the 3D look of this bow tattoo addition of slight shadow with it is amazing. If you want to add even more outlook to this already ravishing design, you can also add things like roses and butterflies with it.
READ MORE: Micro Tattoo Ideas for Fashionable People
Pretty Red Tattoo On Thigh
If you want women's unique thigh tattoos, then a red bow ribbon tattoo is for you.
This tattoo, with the addition of bright red along with the black, looks appealing and attractive on the thigh. In this tattoo design, the bow looks like it is tied around the thigh of the girl after the red ribbon has been tied.
The significance of this tattoo among the people is more as the red signifies the women's sexuality and power.
While the black in it tells us that the women have tied the dark sides of the world with their power, thus shows the fighter spirit of women. These amazing things about this bow tattoo make it one of the most popular female leg tattoos.
Black Bow Tattoo On Side
Want something different and sexy? If yes, then the black ink bow tattoo on the side is perfect for you. It's drawn on the side of your body under the breast over the rib cage.
What makes this tattoo even more amazing is that it comes with some words written along with it. Although the words may differ according to your preferences, it still is a sexy and attractive tattoo.
For an added pinch of enticement, this tattoo is made in combination with flowery patterns with a detailed outlook.
One of the most common words which are linked with this tattoo is "Life is what you make it." This line with this bow tattoo signifies that a woman is powerful and can be a dreamer as she is capable of achieving. It shows that women are achievers and empowered.
READ MORE: Avoid These Silly Mistakes Before Getting a hand Tattoo
Sassy Skin Colored Bow Ribbon Tattoo On Arm
Want a sassy arm tattoo to flaunt among your friends? This skin color ribbon tattoo can be a perfect choice, as it looks fascinatingly gorgeous and sexy on a girl. The tattoo is a cautiously designed bow that is joined together using a flower with five petals in it.
Other elements of this tattoo circles the hand in a way that they join at the bow. These flowers keep the circle in the center while completing the circle around the hand.
Multi-Colored Thigh Bow Tattoo
These female leg tattoos are an amazing option for girls who want to flaunt their sexy legs.
What makes this a foxy tattoo option for the girls is that it uses the feminine favorite red color. It uses a red bow in combination with an attached embroidery in black color, which appears like it's encircling the thigh.
In addition to a more alluring look, this bow tattoo design has a heart shape jewel in the center. This tattoo's vibrant colors and designs make it an amazing option for girls to flaunt those sexy legs.
READ MORE: Tattoos for Dark Skin Yay or Nay?
Pink Tattoo On Thigh
Love pink? Well, if yes, this can be one of the best women's unique thigh tattoos for you to try.
What makes this tattoo different from others? The answer is its color and design as its eye-catching pink color with a design of mid-size bow on the sides of thighs look bewitching.
The bow in this tattoo itself is made with pink color in combination with some slight touches of white. This makes it an even more appealing option for any girl to get inked.
Black Bow Tattoos On Thighs
Love flaunting in short dresses? Then the black thigh bow tattoo is an appealing option you can try.
In this tattoo, there is a depiction of two bows in black ink that looks like they are tied around the thighs on each leg. This tattoo with black color in combination with the detailed artistic designs and decorative ribbons makes an impressive and appealing look.
Final Words by Fix The Life
One of the most amazing things about the bow tattoo that makes it different from others is that it is a symbol for women. Although there are many different tattoo styles with which men and women get themselves inked, the bow tattoos are an ultimate testimony of feminine power with a strong association with the women empowerment to have their own identity, female sexuality, and female liberations & rights.
The bow also has a wide variety of appealing designs and areas for placements. It can be curly, silky with decorations of gems and other things like flowers and butterflies. All these amazing things about these tattoos make them a must-have option for strong empowered women.