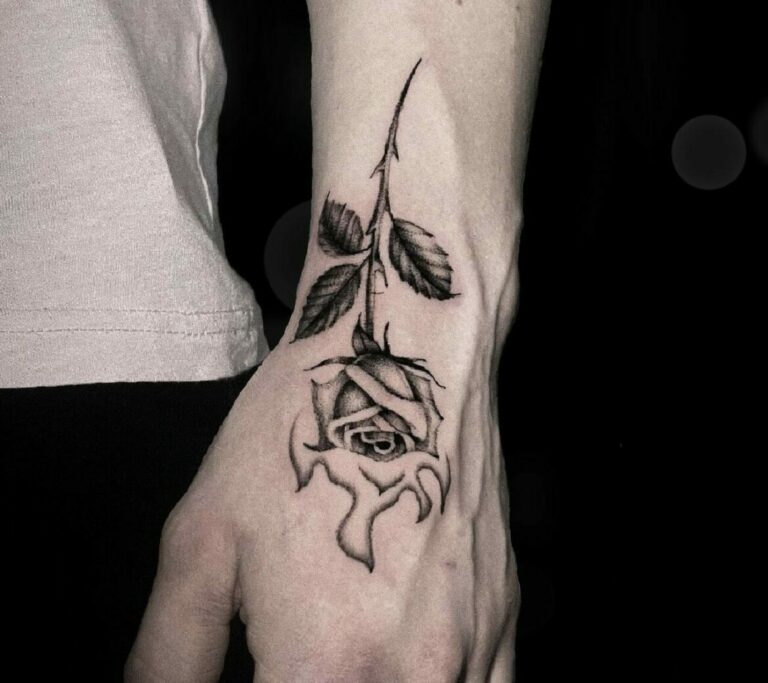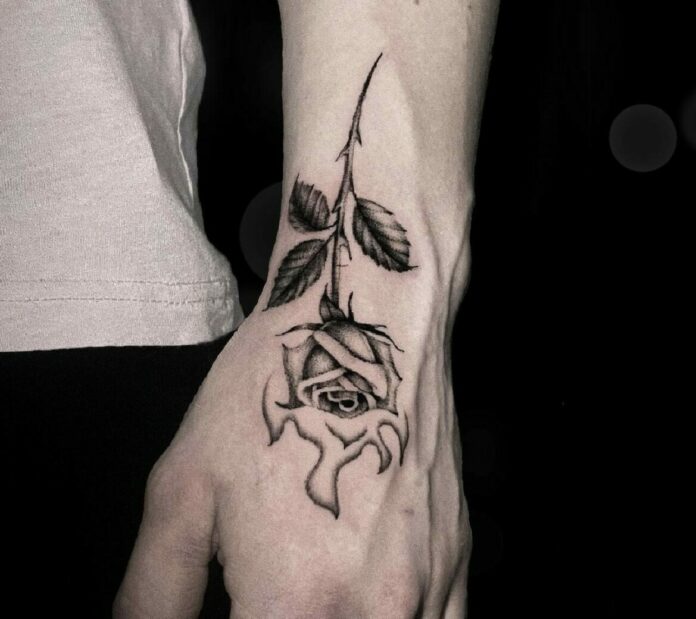 Rose hand tattoos are a big trend among men. The rose isn't just for women – it stands for dignity, courage, and strength, making it a great choice for tough guys too.
These male rose tattoos on hand remind us that love, like a rose, has its thorns, but the beauty and strength it brings are worth it.
The modern rose hand tattoo design is classy and timeless, giving you a delicate but manly look.
And the best part? You can make it your own by picking your favorite ink color to show off to your loved ones.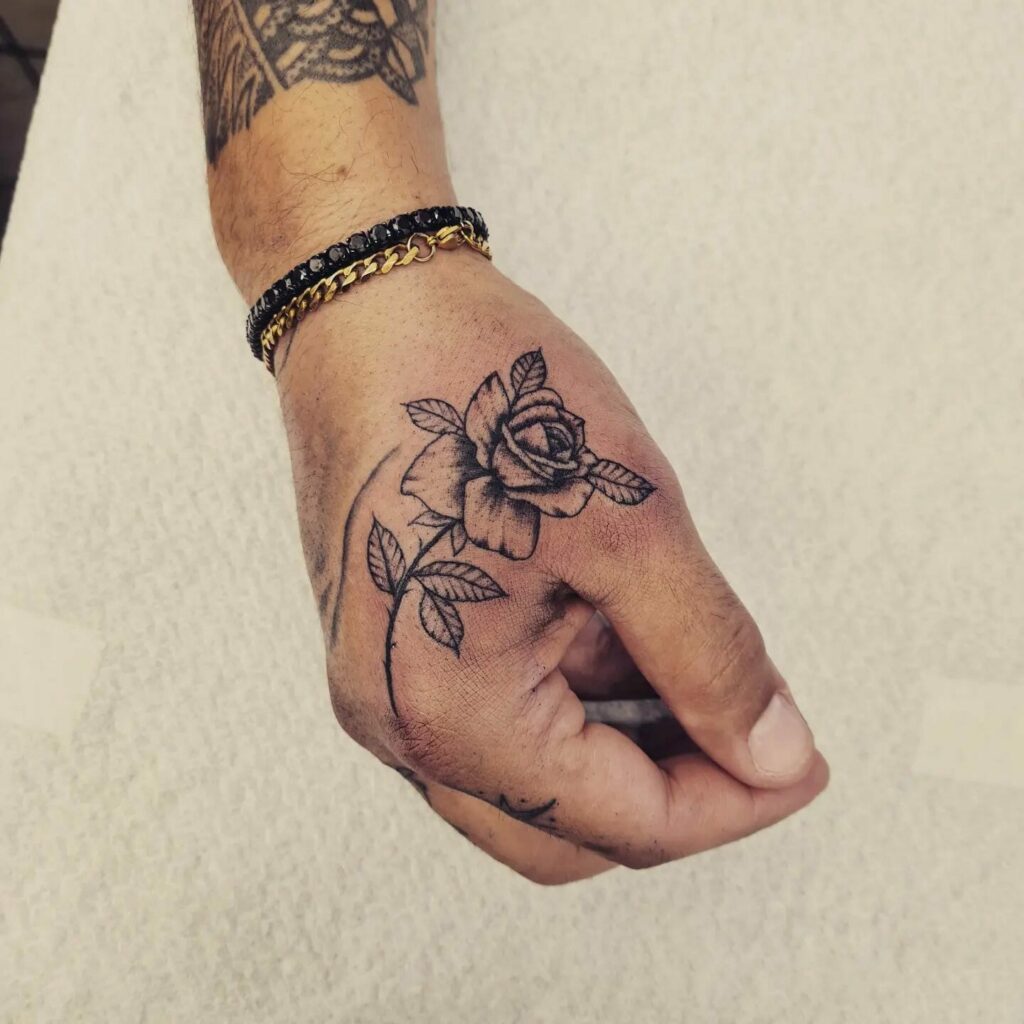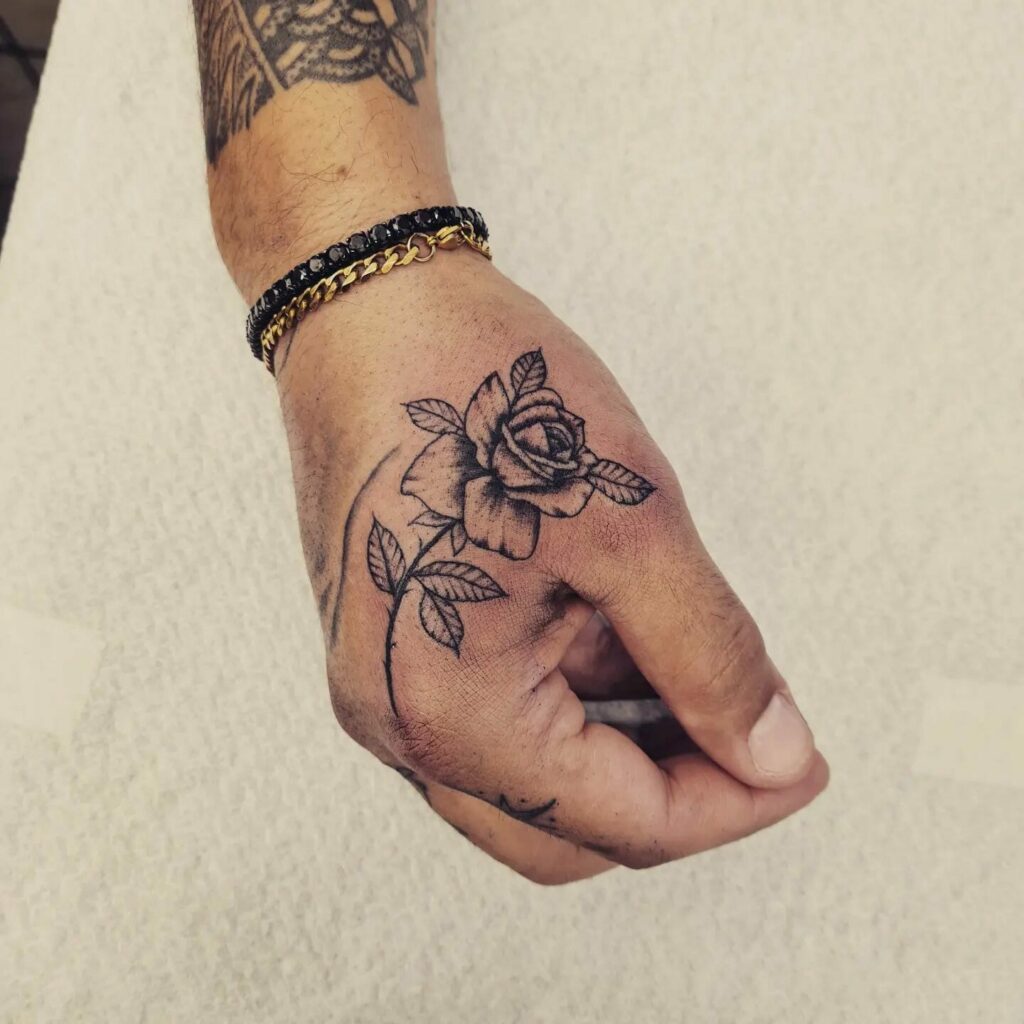 Today we will explore some awesome rose hand tattoo ideas for men.
Beautiful Black On Hand Rose Tattoo For Male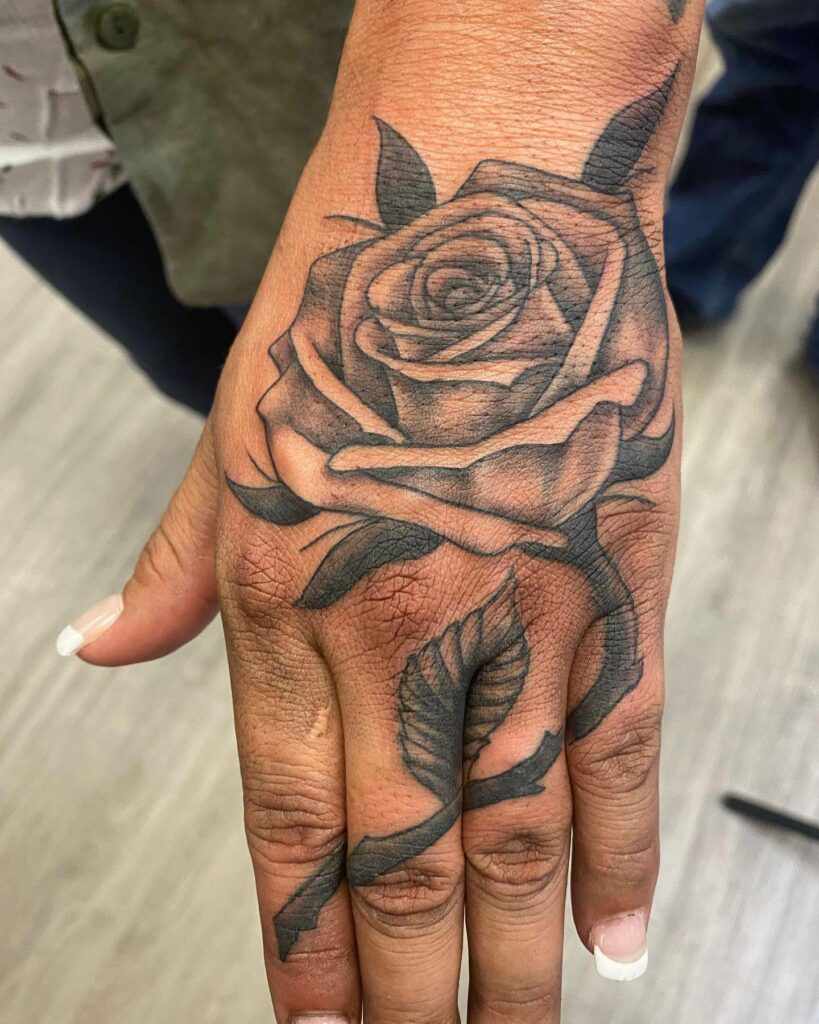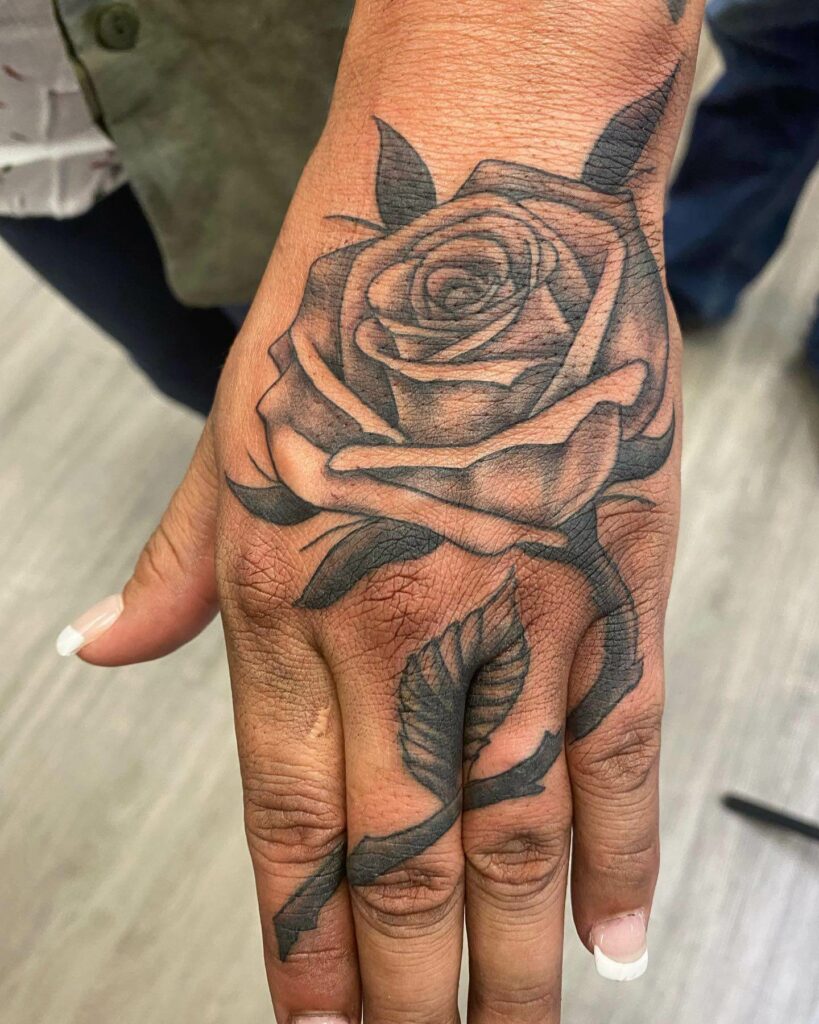 Roses, known for their beauty and variety in shapes, colors, and symbolism, can be interpreted in countless ways. This unique rose tattoo exemplifies that versatility.
It's no surprise that it's gaining traction among men, thanks to its bold and captivating appearance.
If you're a guy who's been on the hunt for a masculine rose tattoo design but isn't particularly drawn to yellow roses, then this tattoo might be just what you're looking for.
Crafted using deep black ink, this medium-sized rose tattoo stands as a true artistic achievement by the hands of the skilled tattoo artist.
The design not only showcases creativity but also stands out as one of the most exceptional tattoo ideas in circulation.
If you're curious about incorporating this tattoo into a full-sleeve design, it's a good idea to discuss the possibilities with the tattoo artist.
The arrangement features a medium-sized black rose with an elongated stem that gracefully winds around your fingers, adding an extra touch of edginess to the overall look.
Classic Black Rose Hand Tattoo With Leaves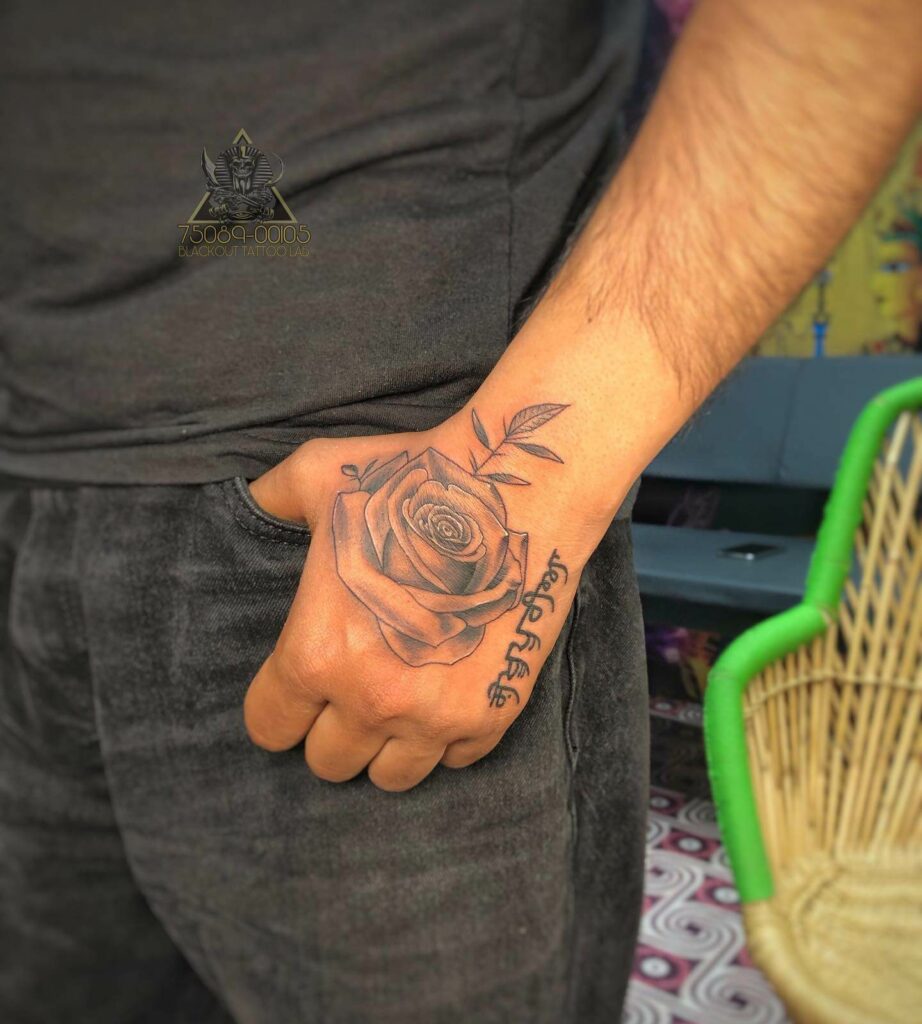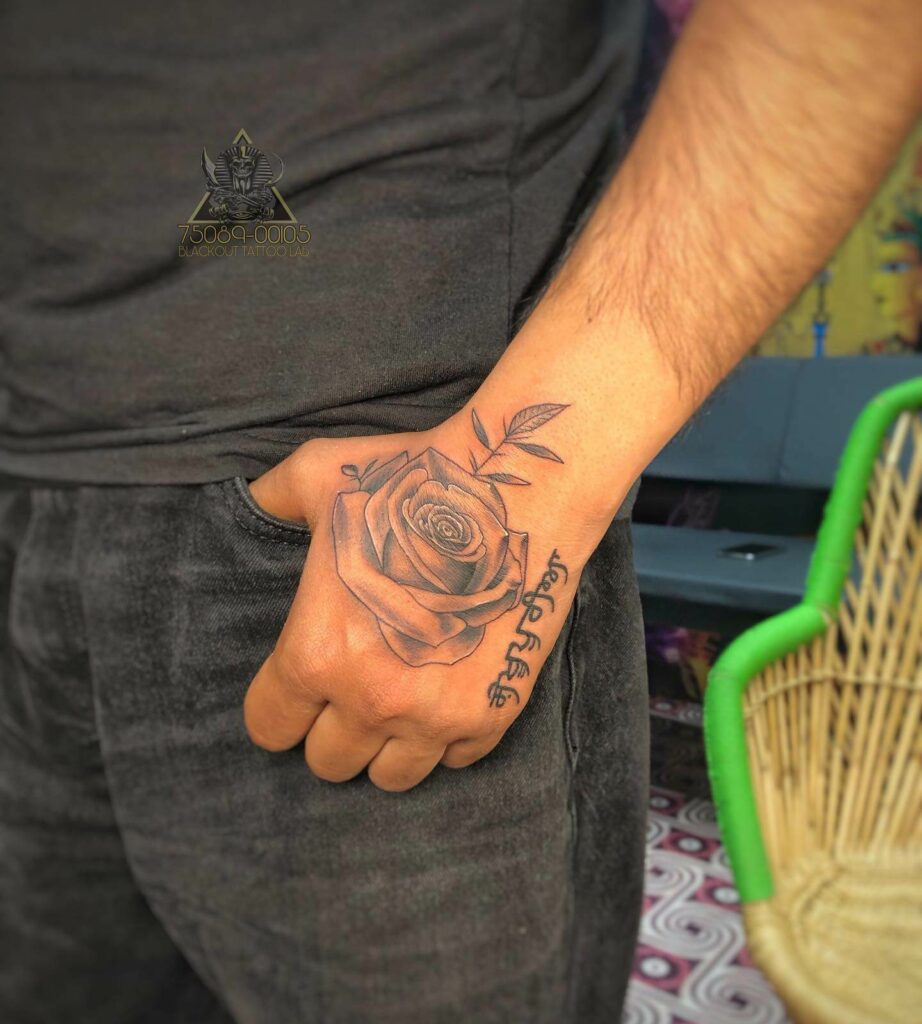 On the lookout for a meaningful rose tattoo design that holds both uniqueness and depth? Your search concludes right here with this classic black rose hand tattoo.
The tattoo artist brings their skill to the forefront, utilizing top-notch ink and intricate craftsmanship to fashion a remarkable tattoo that's guaranteed to seize attention.
If your preference leans towards a more muted vibe, distinct from the vividness of yellow or blue roses, this classic black rose design is precisely what you're after.
This unassuming yet captivating flower tattoo finds its place on your hand, presenting a medium-sized black rose flanked by a series of leaves that gracefully extend from your wrist to the upper expanse of your hand.
Although black rose tattoos often carry connotations of loss and the inevitable cycle of life, they're not confined to representing a singular individual.
Instead, this tattoo can encapsulate the idea of heartache, the void left by lost love, and the poignant ache of a fractured heart. It's a potent and meaningful hand tattoo design for males that truly makes a poignant statement.
Realistic Black And Gray Rose Outline Tattoo For Men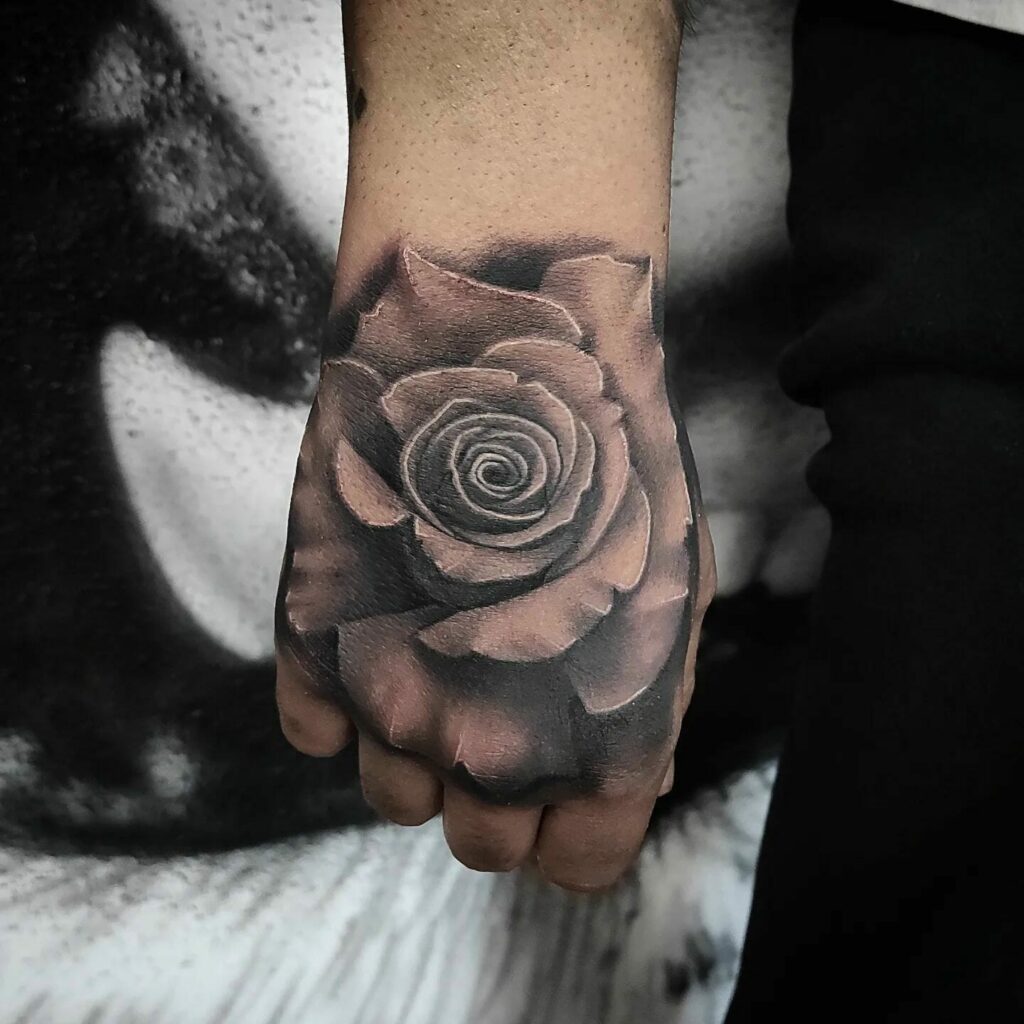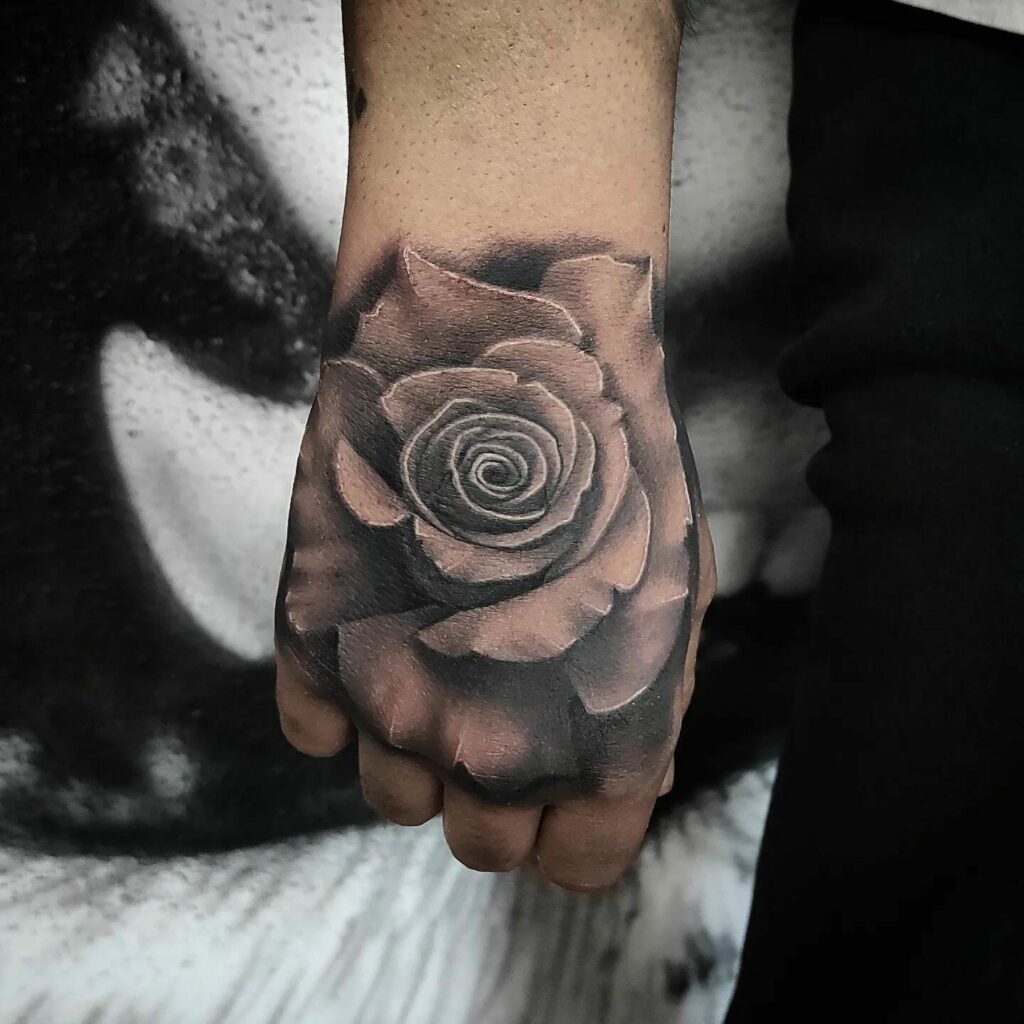 Looking for a traditional rose tattoo for your hand? You're in luck with the black and grey rose tattoo, a top choice for guys that's just as attention-grabbing as colorful ones.
This tattoo is great if you want to show you're tough and stylish.
Imagine a simple yet powerful design – a big rose that goes across your fingers, the back of your hand, and a bit onto your wrist.
The black and grey colors give the tattoo a classic feel. We usually think of roses as pretty and tied to love, but this tattoo also shows strength and power.
So, if you want a striking tattoo that says a lot, this Rose hand tattoo could be exactly what you need.
Colorful Big Rose Hand Tattoo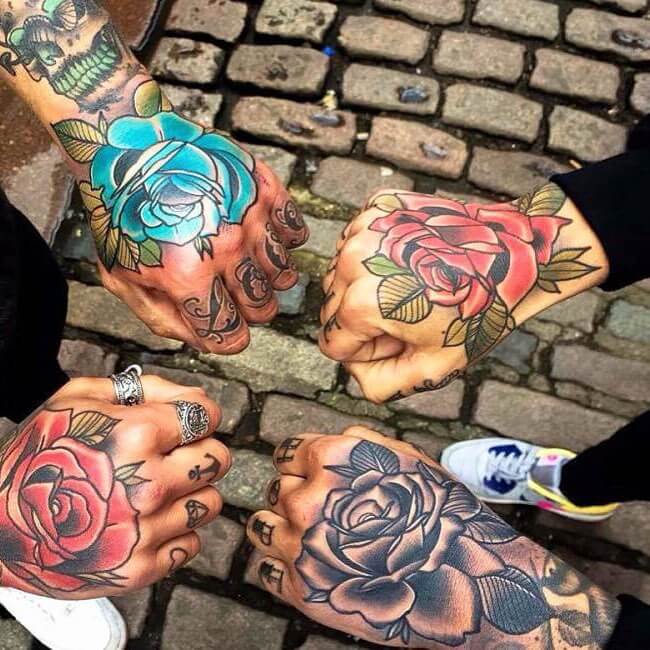 The rose holds significant meaning, and men are now embracing it as a popular tattoo choice.
If you're on the hunt for a vivid and attention-grabbing rose tattoo that leaves a strong impact, this design is definitely one to consider.
Its overall appearance carries a message of everlasting love for your partner.
Throughout generations, red rose tattoos have been donned by diverse individuals, from sailors navigating the seas to soldiers bravely facing battlefields.
However, setting it apart from the classic red rose tattoo and traditional rose vine design, this tattoo concept aims to create a potent impression.
The use of quality ink results in a vibrant and colorful appearance that truly makes the tattoo stand out, serving as a symbol of your enduring love.
Beautiful Embossed Black Rose Hand Tattoo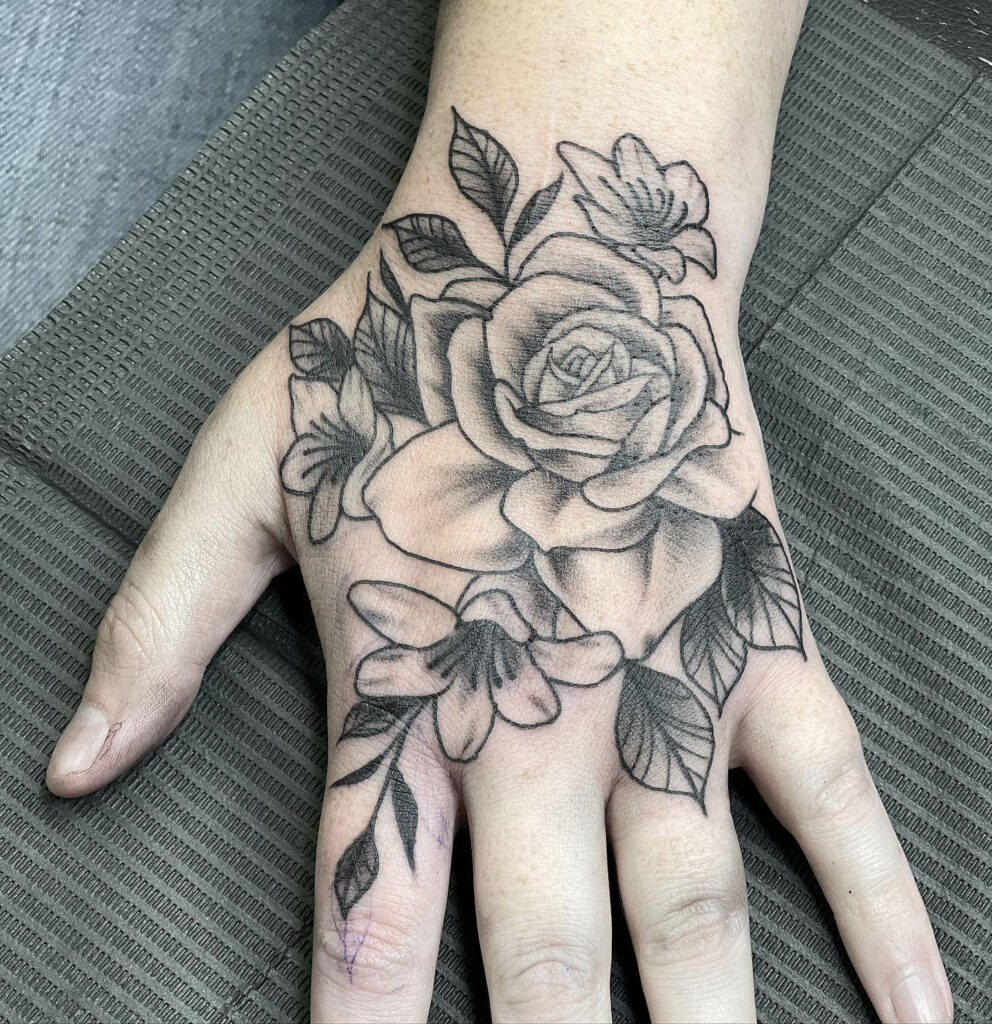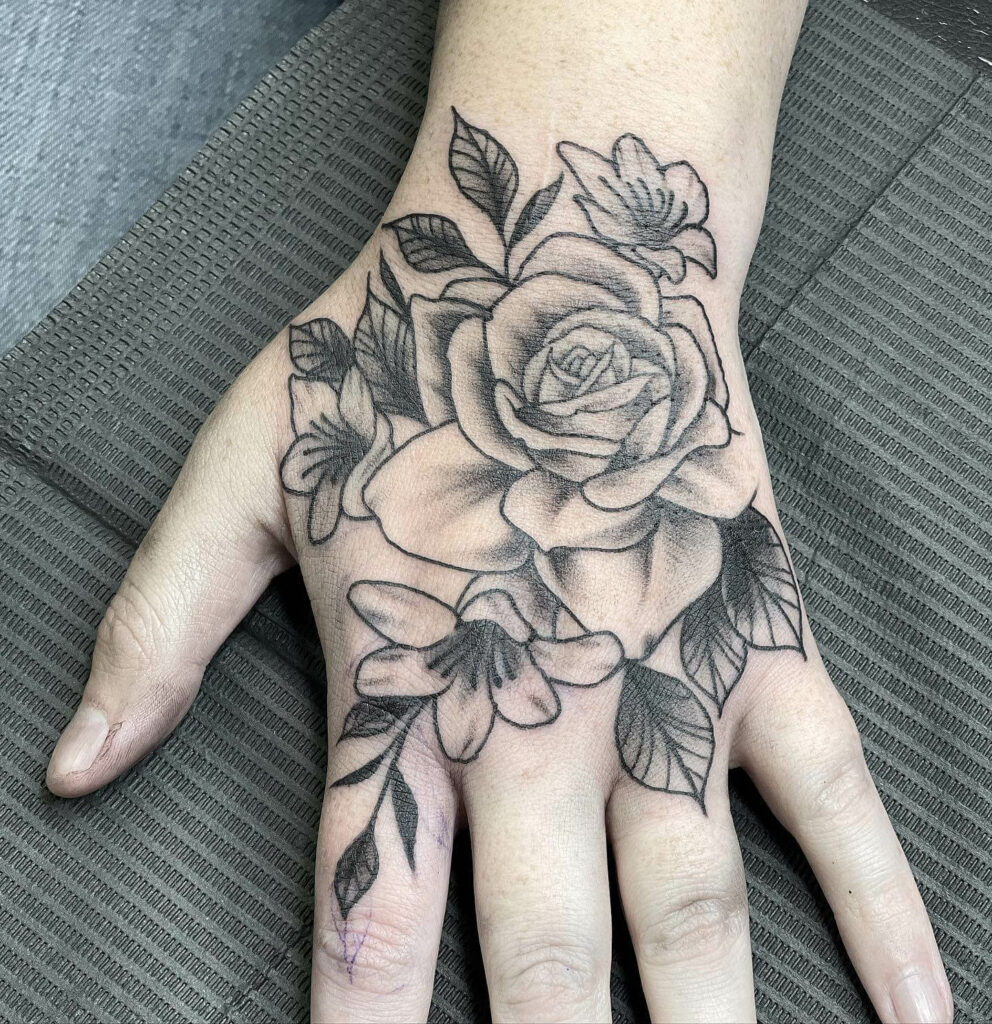 If you're in search of a rose hand tattoo that boasts originality and intricate detailing, this particular tattoo design might align perfectly with your preferences.
This raised-style black rose tattoo incorporates small and medium-sized leaves in its composition, rendering it an appealing option for men who hold an affinity for classic rose tattoos.
The elaborate design gracefully stretches across your hand, extending onto certain parts of your fingers, thus enhancing its visual allure.
The use of deep ink imbues the tattoo with a strong impact, while the uncomplicated yet innovative presentation of both the flower and leaves sets it apart from the array of other tattoo concepts.
Traditional Big Black Rose Hand Tattoo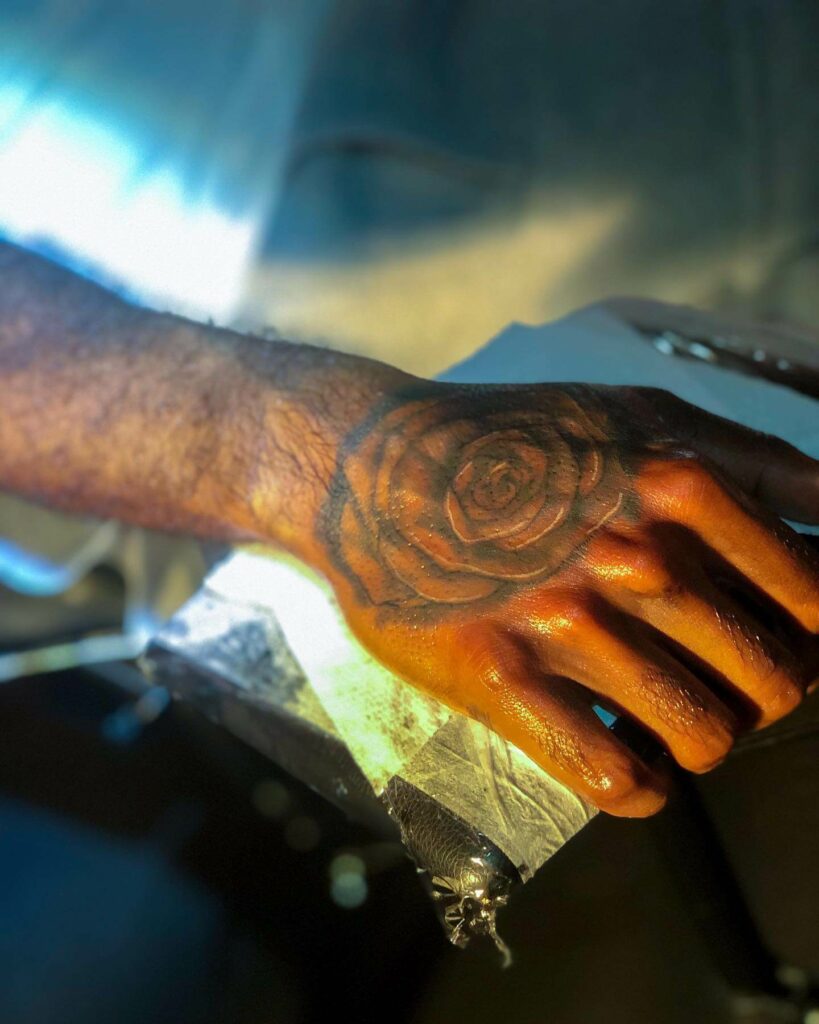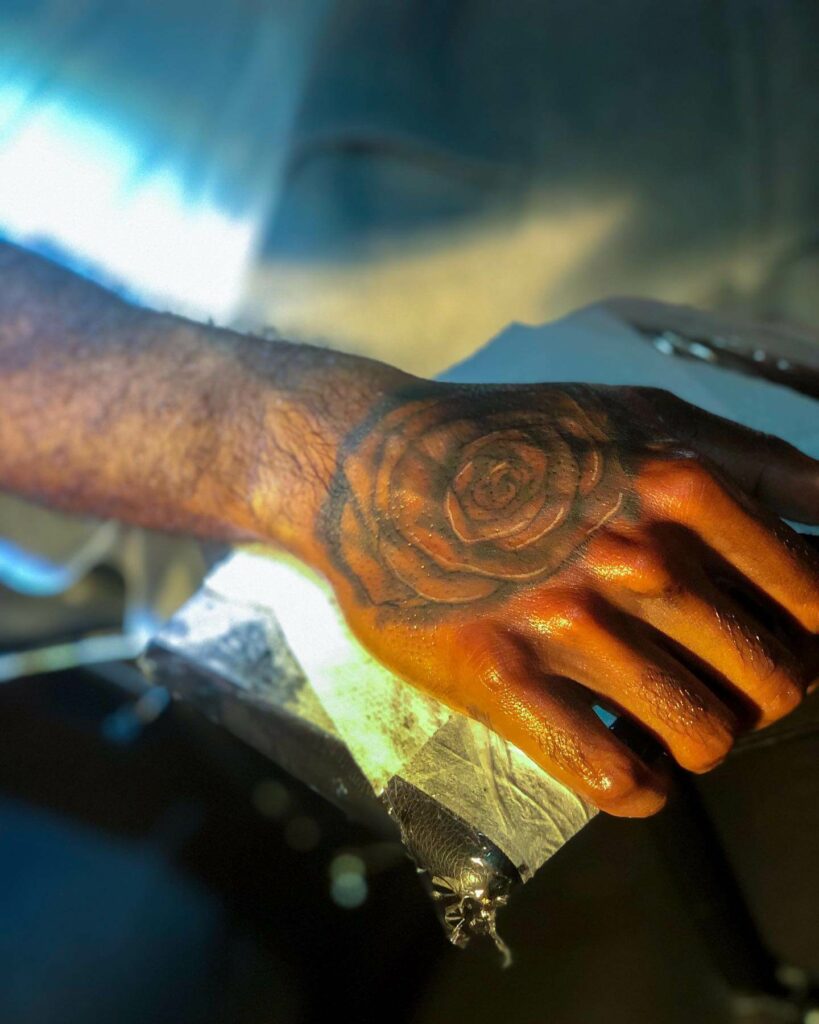 This classic black rose tattoo design offers a timeless aesthetic that highlights the artist's meticulous craftsmanship.
Unlike overly extravagant designs, this option is both uncomplicated and daring, making it a superb selection for those seeking a subtle yet impactful tattoo.
Possessing a moderate size, this rose tattoo is also budget-friendly, catering to individuals in search of an affordable yet appealing tattoo.
For those inclined toward a more robust and assertive appearance, this black rose tattoo is an ideal choice.
Furthermore, it can be seamlessly integrated into a full sleeve tattoo, although consulting your tattoo artist beforehand is advisable.
Dynamic Black And Grey Rose Hand Tattoo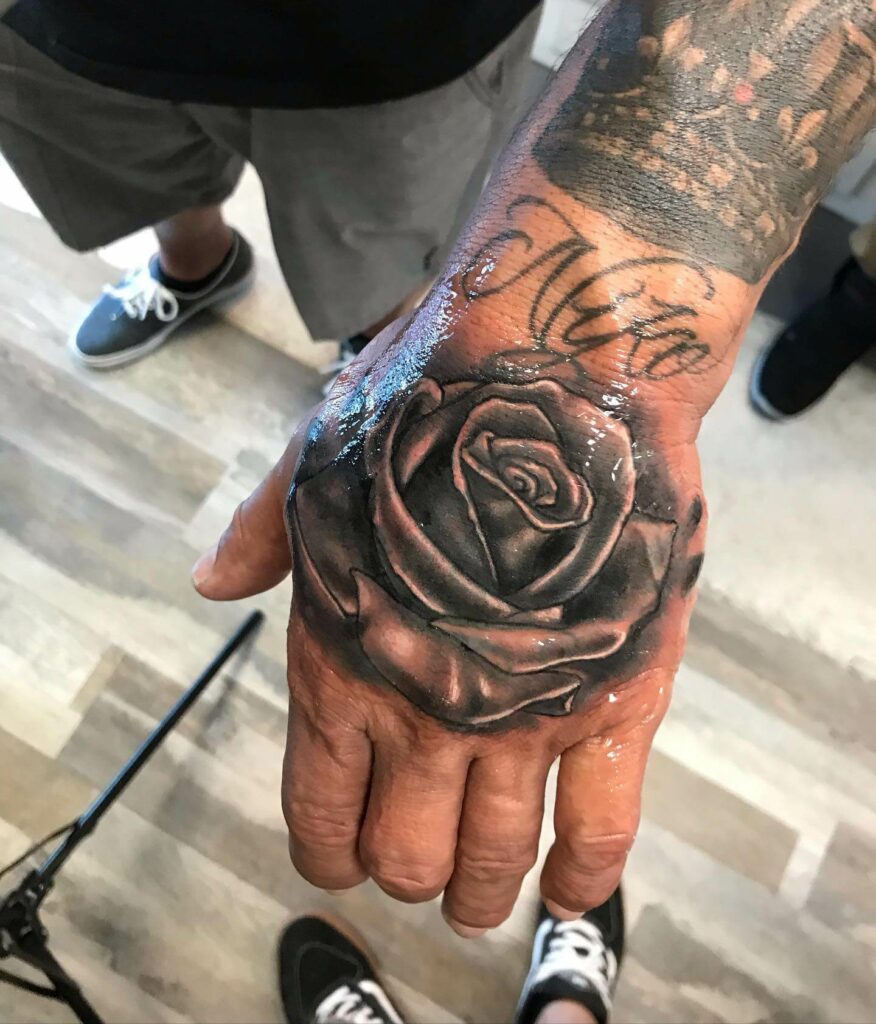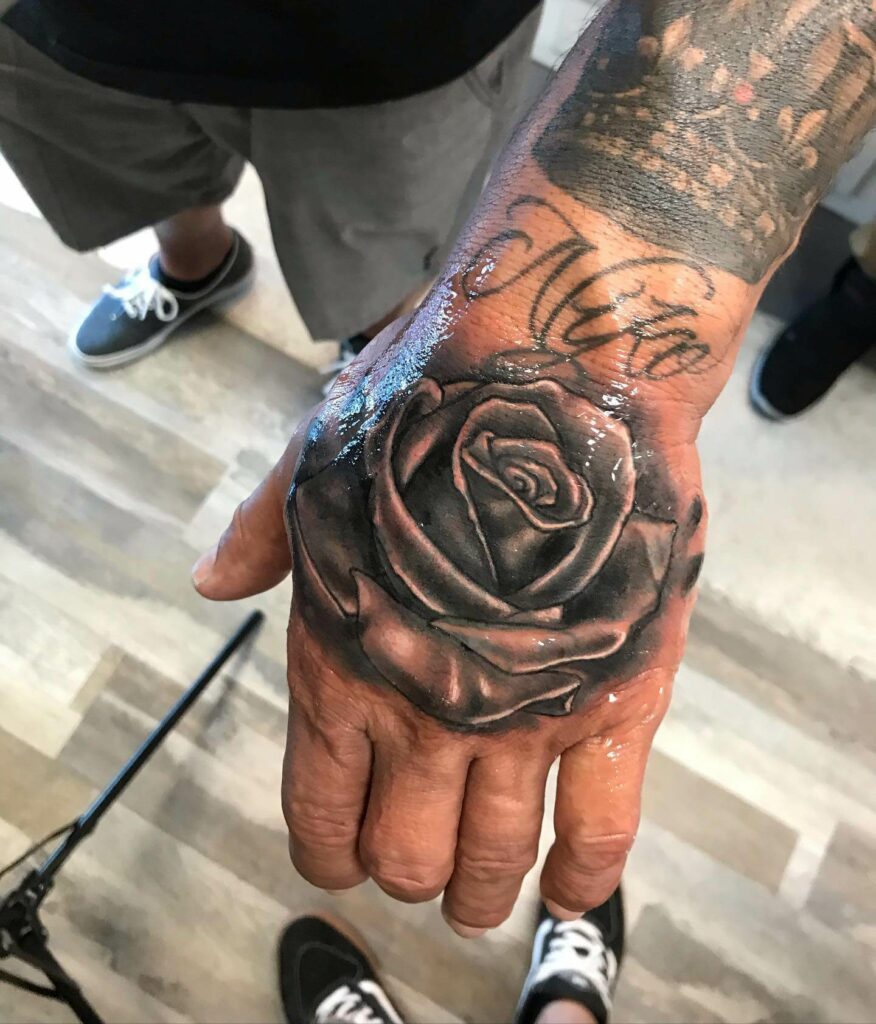 If your goal is to find a tattoo that embodies passion and bravery, then considering a red rose tattoo could be an excellent fit.
The use of deep ink to craft a vivid and intense appearance, coupled with the interplay of dynamic black and gray hues, results in a visually captivating and remarkable design.
It's a favored option among men spanning various age groups who wish to exhibit their masculine demeanor.
Typically, this male rose tattoo on hand occupies a larger space, enveloping the entirety of the hand or even extending into a sleeve tattoo.
Its audacious design and vibrant color scheme make a powerful statement, symbolizing love, courage, and strength.
This enduring and classic design has maintained popularity across generations and is poised to remain a cherished tattoo choice for years to come.
Realistic Big Black And Grey Rose Hand Tattoo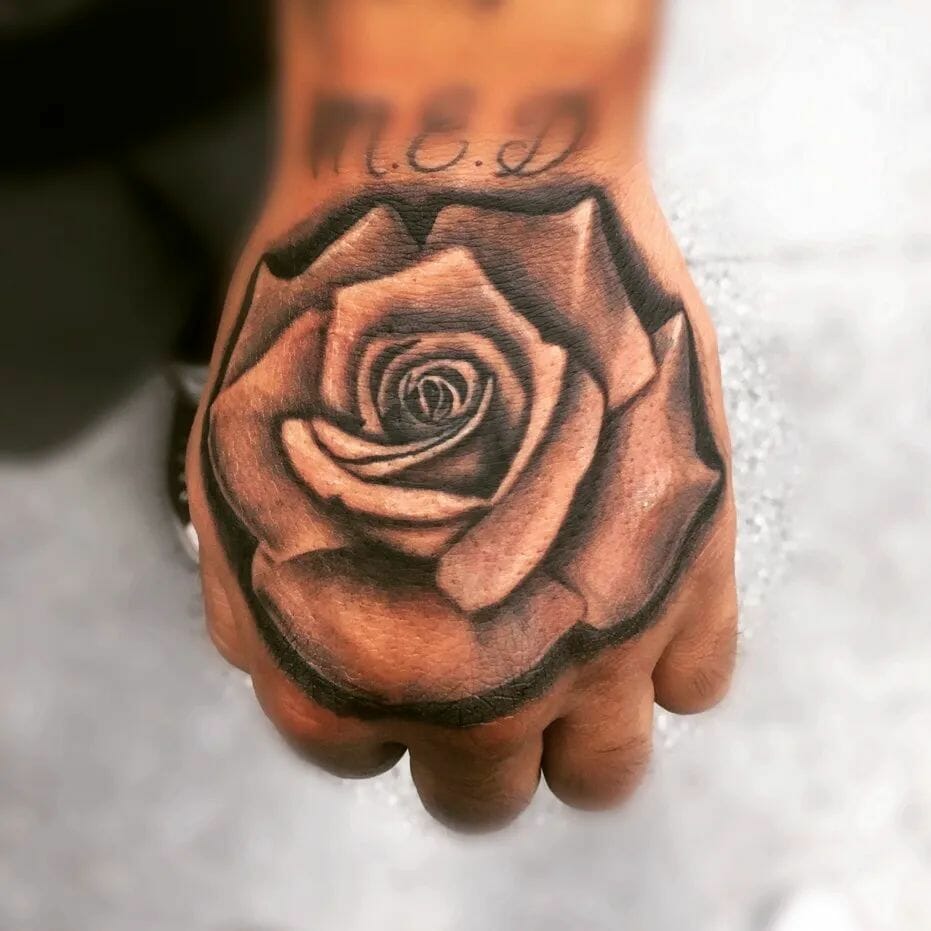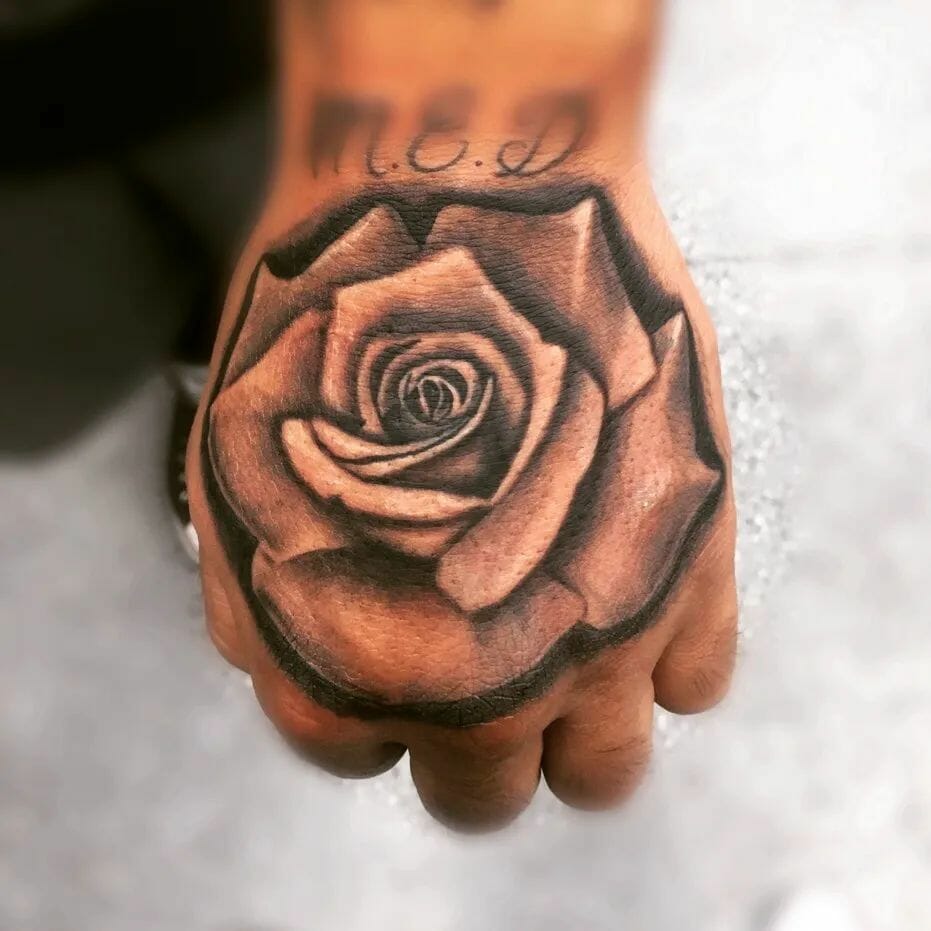 Are you in search of a tattoo that suits a special event or a romantic outing? If so, you might want to contemplate a realistic black and grey rose tattoo.
In contrast to the customary white rose tattoo designs, this particular design is a daring option, ideal for those aiming to create a noticeable impact.
One of the most notable elements of this tattoo design is the meticulous and nuanced depiction of the rosebud and its petals.
It offers a realistic and artistic portrayal that captures the exquisite essence of a rose. If you're inclined towards a tattoo that seamlessly combines boldness with elegance, this design could be an impeccable choice for you.
Beautiful Full Color Big Rose Hand Tattoo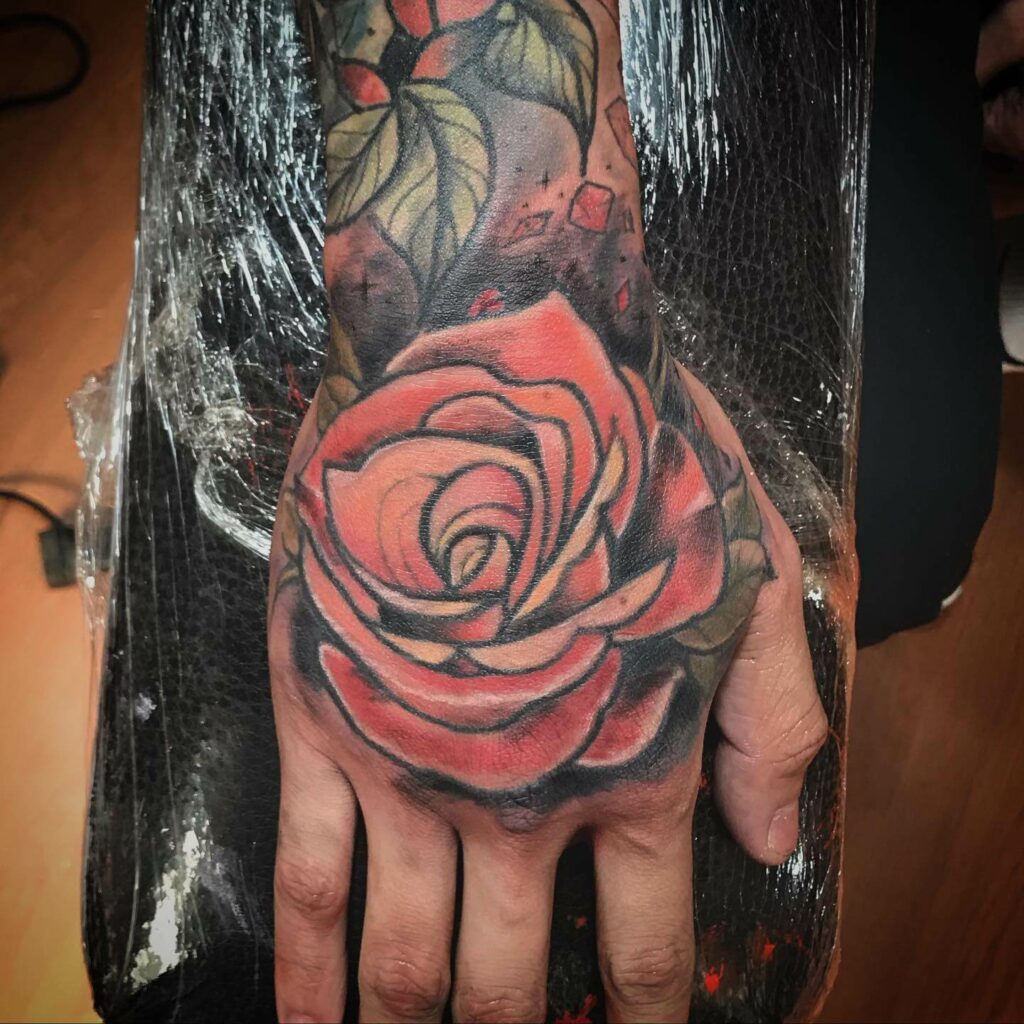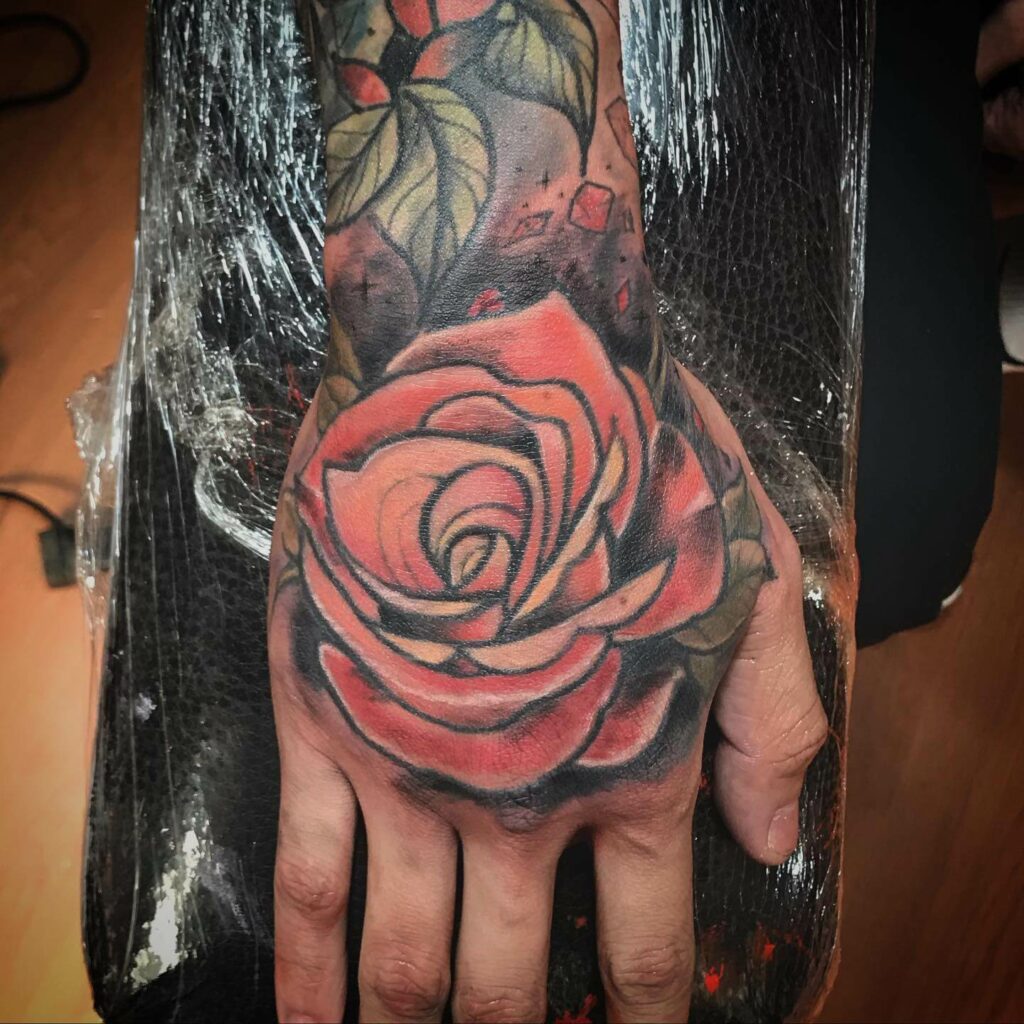 Speaking from a tattoo expertise perspective, it's evident that vibrant colors can significantly enhance the visual impact of any tattoo design.
Consider this rose tattoo as a prime example: its intricately crafted buds and petals boast vivid red and cream shades, resulting in a daring and energetic appearance.
This specific male rose tattoo on hand truly distinguishes itself from the conventional white rose, vine, or rose vine tattoos that might lack vibrancy and vitality.
To complement the rose's allure, the leaves are fashioned in a lively shade of green, with some smaller leaves tastefully accented in red.
This big rose hand tattoo serves as an ideal option for men seeking a striking and animated tattoo design.
Beautiful Rose Hand Tattoo With Leaves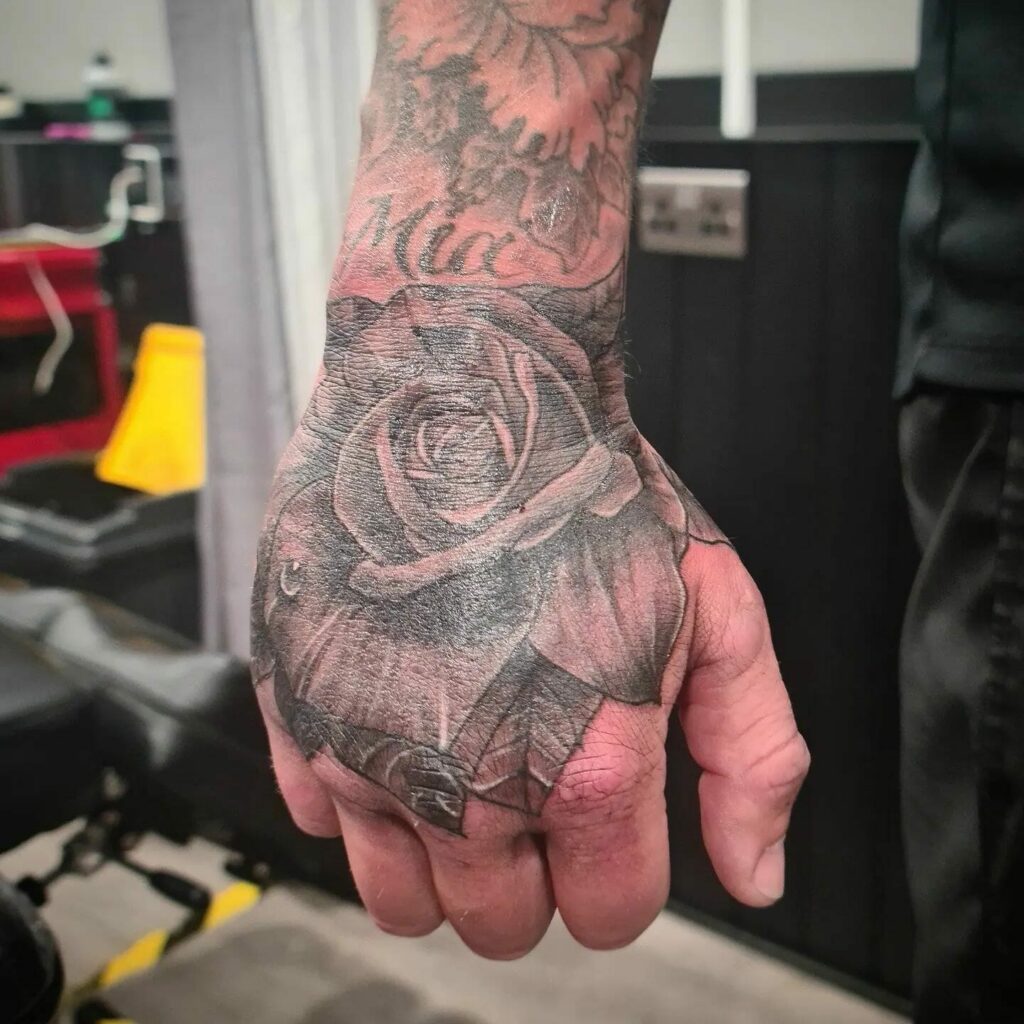 If you're on the hunt for a rose tattoo for your hand, this particular design is undeniably remarkable. The tattoo artist has invested significant effort into ensuring intricate detailing and crafting a refined and graceful composition.
In contrast to more intricate thorn-themed tattoos, this design exudes an air of elegance, rendering it an excellent choice for individuals desiring a hand-adorned rose.
This tattoo design extends some petals and leaves towards your fingers. The black rosebud's precise design work lends it a lifelike appearance. Regardless of gender, rose tattoos serve as an appealing option for anyone with an interest in body art.
Tattoos with roses have the ability to communicate a variety of messages and represent diverse concepts, such as the contrast between positive and negative forces.
This attribute makes them appealing to individuals seeking to articulate their identity through body art.
Regardless of the specific rose tattoo design you opt for, it's guaranteed to leave a significant impact on those who encounter it.
Rose Hand tattoos for men are trending nowadays, whether they're well-versed in tattoo culture or embarking on their inaugural ink journey.
Moreover, these male rose tattoos on hand not only have a soothing effect on the wearer but also contribute to enhancing the overall atmosphere.
Traditional Rose Tattoo on Hand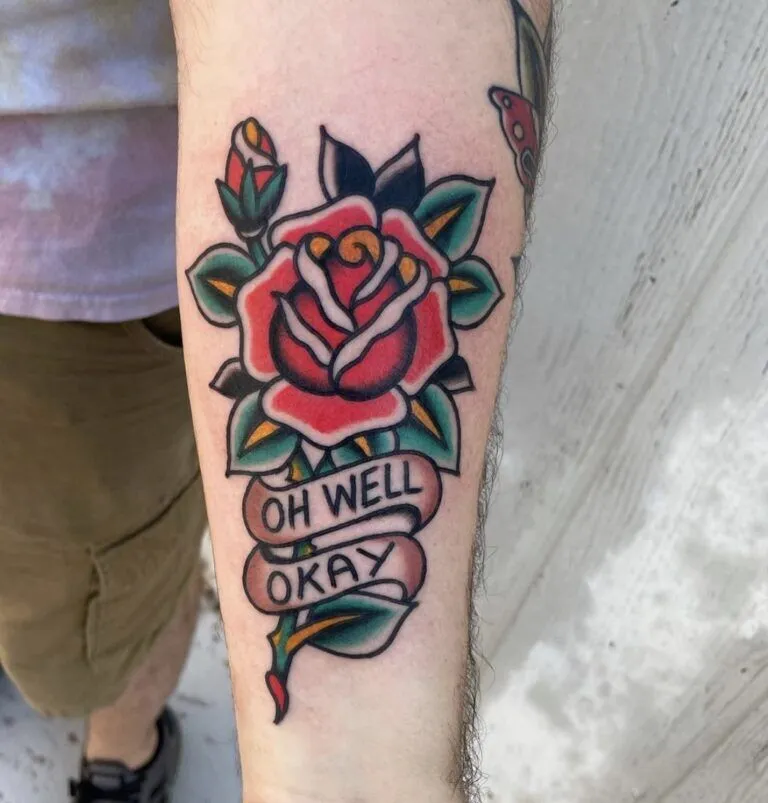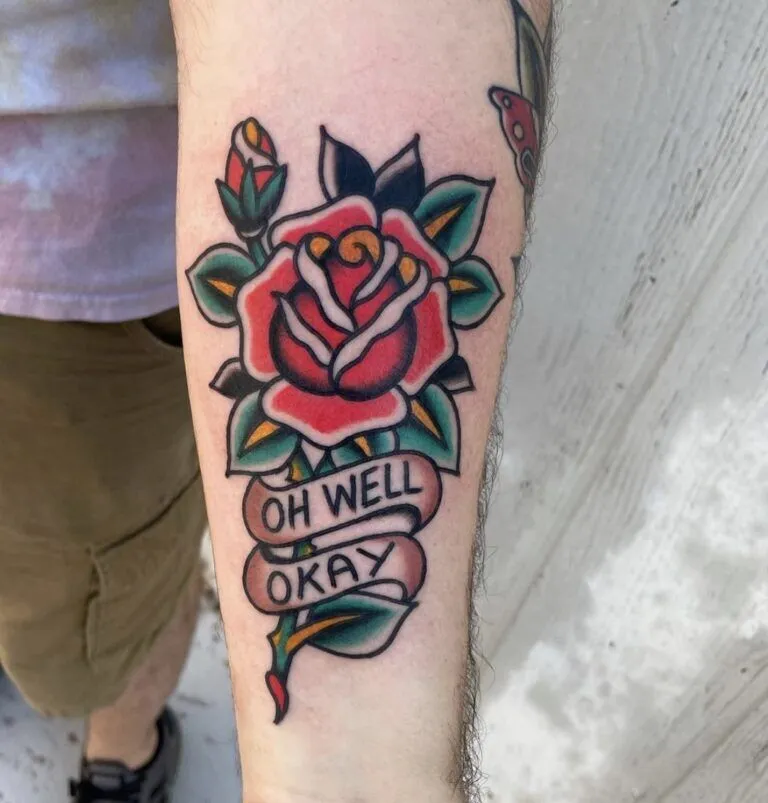 For a long time, people have been getting rose tattoos, dating back to the early sailors who traveled east and brought back ink marks from their journeys.
These traditional rose tattoos continue to carry importance. If someone desires a clean design with a touch of history, it's challenging to come across something better than this.
Simple Rose Hand Tattoo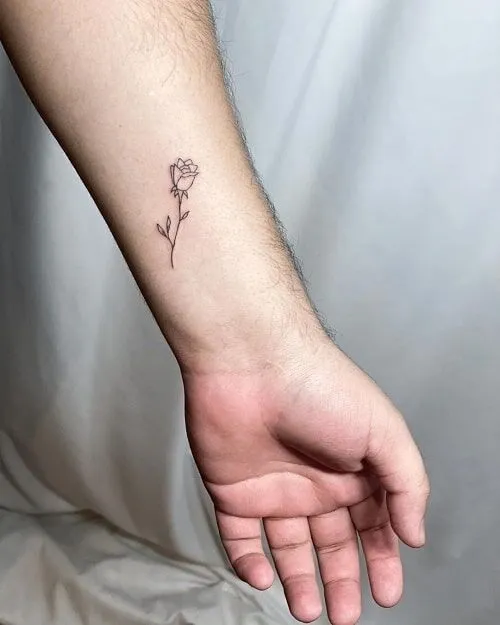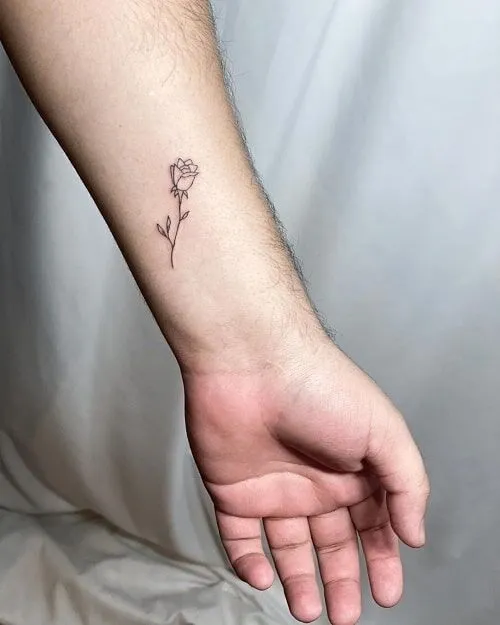 Small rose tattoos on hands offer a blend of elegance and subtlety. Their compact size allows for versatility in placement, making them easily visible yet easy to conceal.
These delicate designs can hold personal meanings, symbolizing love, beauty, or growth.
Moreover, their simplicity often results in quicker and less painful tattoo sessions.
Whether as a first tattoo or a subtle addition to existing ink, small rose tattoos on hands provide a charming and meaningful aesthetic.
Blue Rose Tattoo for Hands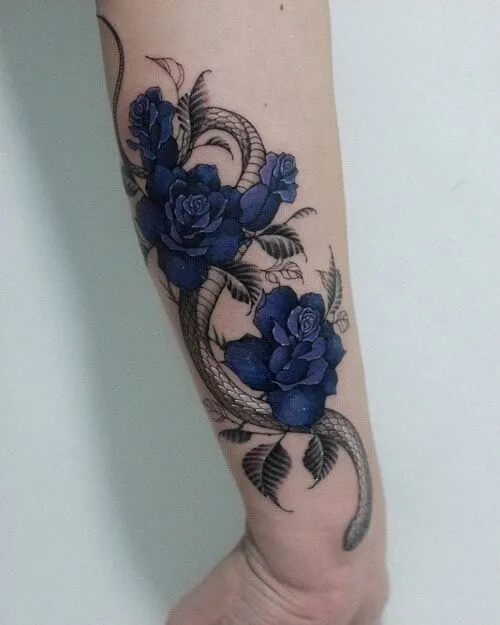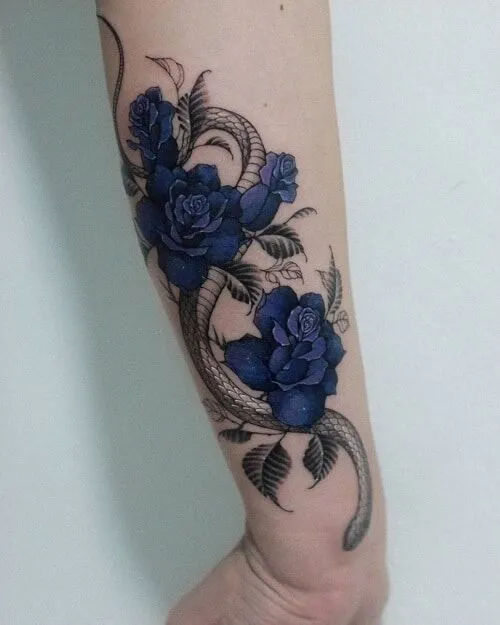 Blue rose tattoos on hands hold a unique allure due to their uncommon and intriguing nature. Unlike natural blue roses that don't exist, the blue rose tattoo offers a sense of mystery and fantasy.
This rarity makes it a symbol of the extraordinary and the unattainable, making those who choose this design stand out with a distinct and captivating aesthetic.
Exotic Yellow Rose Tattoo for Your Hands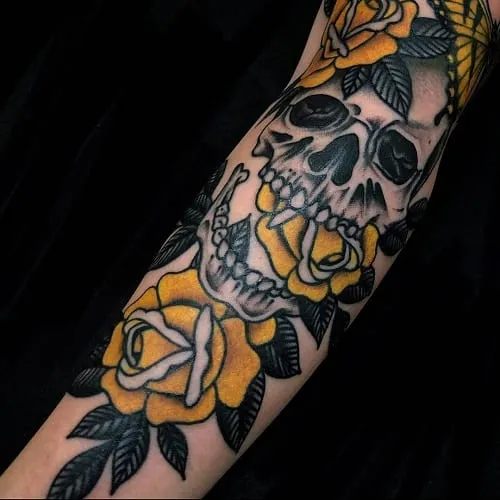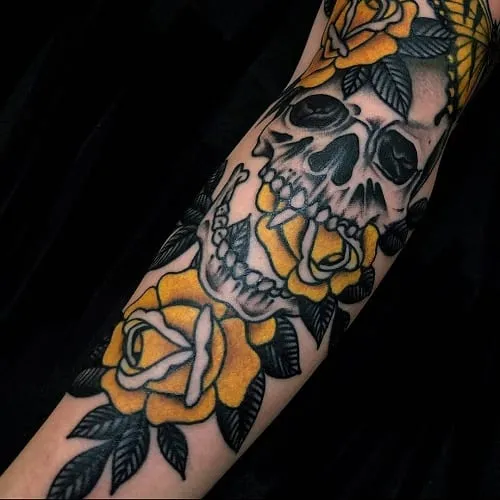 A yellow rose tattoo on the hands symbolizes friendship, happiness, and new beginnings. This sunny hue embodies cheerful bonds and optimistic starts, making it a choice that radiates positivity and hopes for the future.
Snake and Rose Tattoo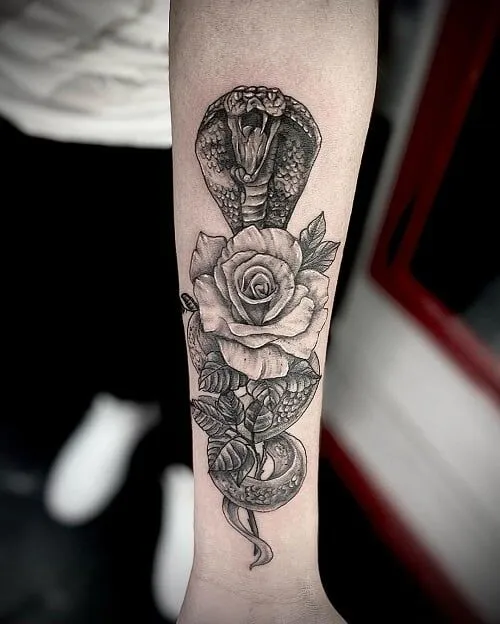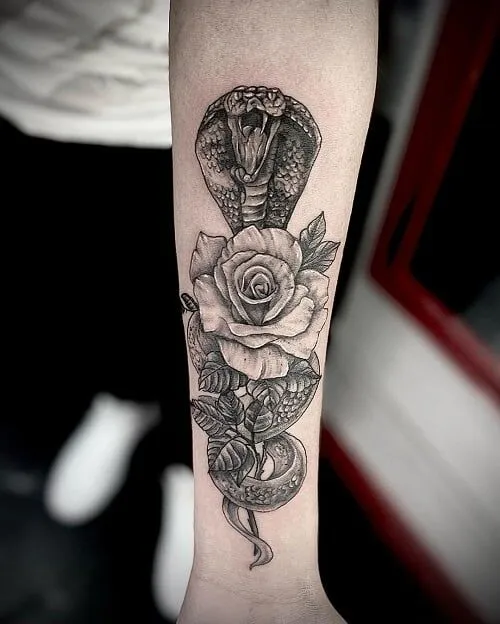 A snake and rose tattoo on hands often symbolizes the duality of life – the snake represents transformation and rebirth, while the rose signifies beauty and love. This combination embodies the complexities of existence, change, and passion.
Compass Rose Tattoo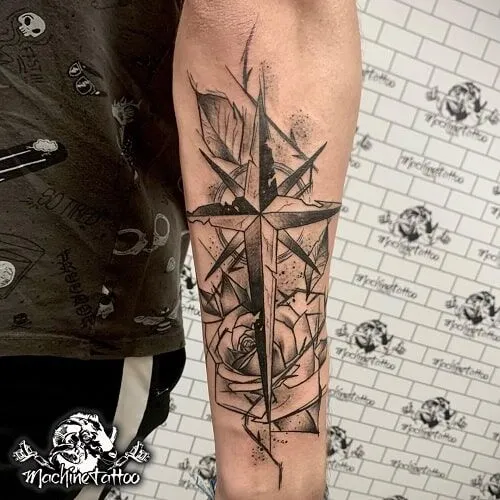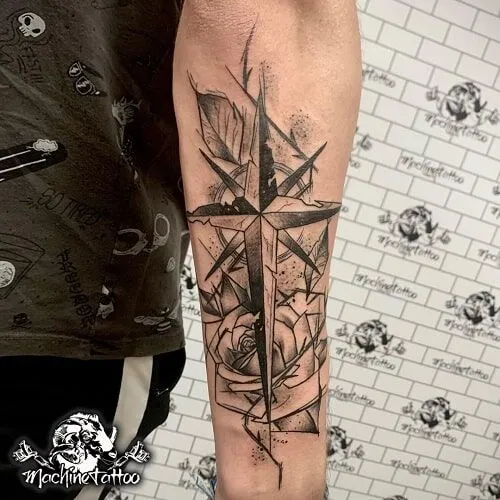 The Compass Rose Tattoo is a cherished emblem embodying direction, adventure, and self-discovery. This enduring symbol serves as a reminder of navigating life's journey with purpose and determination.
Skull and Rose Hand Tattoo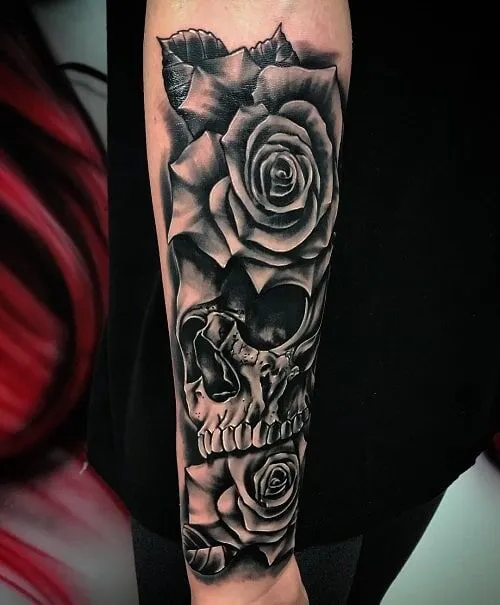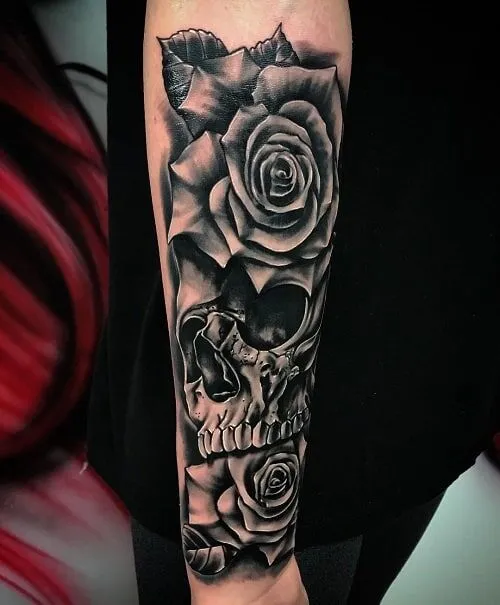 The combination of a skull and a rose in a tattoo often symbolizes the contrast between life and death, beauty and decay.
The skull signifies mortality and the impermanence of life, while the rose represents beauty, love, and the fleeting nature of existence.
This juxtaposition can convey themes of duality, rebirth, or the acceptance of life's complexities.
Rose and Butterfly Tattoo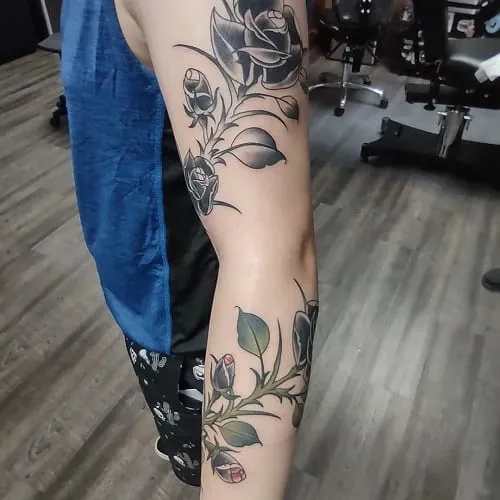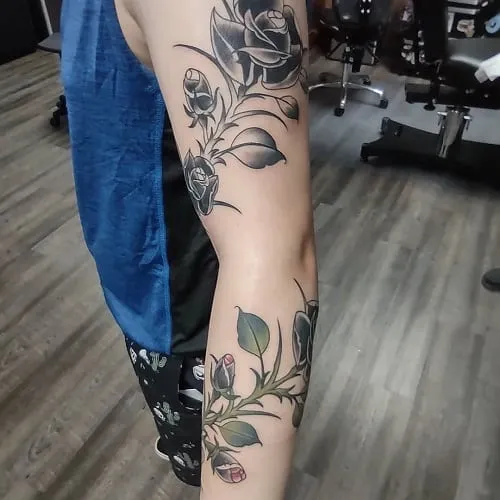 A Rose and Butterfly tattoo often signifies beauty, transformation, and the fleeting nature of life.
The combination of the delicate butterfly and the elegant rose creates a symbol of growth, change, and the interplay between the ephemeral and enduring aspects of existence.
Dead Rose Tattoo on Hand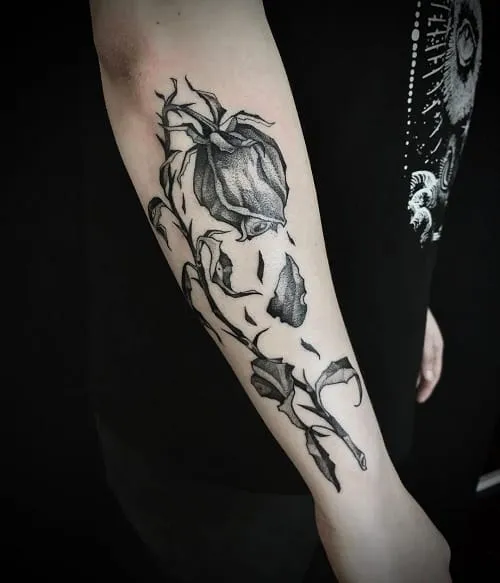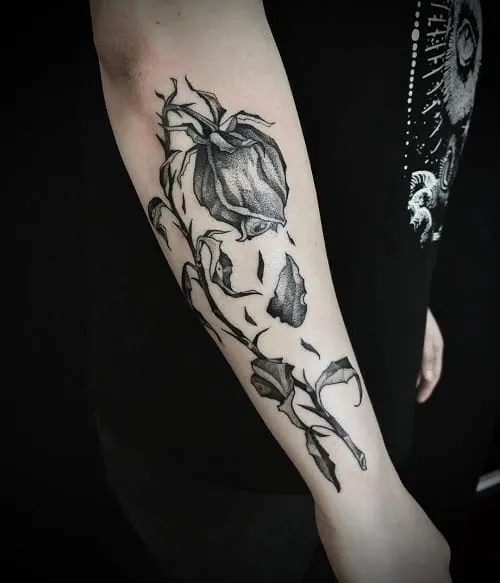 The "Dead Rose" tattoo carries a meaning that highlights the fleeting nature of both beauty and love. It serves as a poignant reminder of life's impermanence.
Not everyone experiences fortunate love stories, and for those seeking to immortalize tales of romantic misfortune and lost love, a "Dead Rose" tattoo becomes a poignant symbol of a heart once broken.
Purple Rose Tattoo for Hands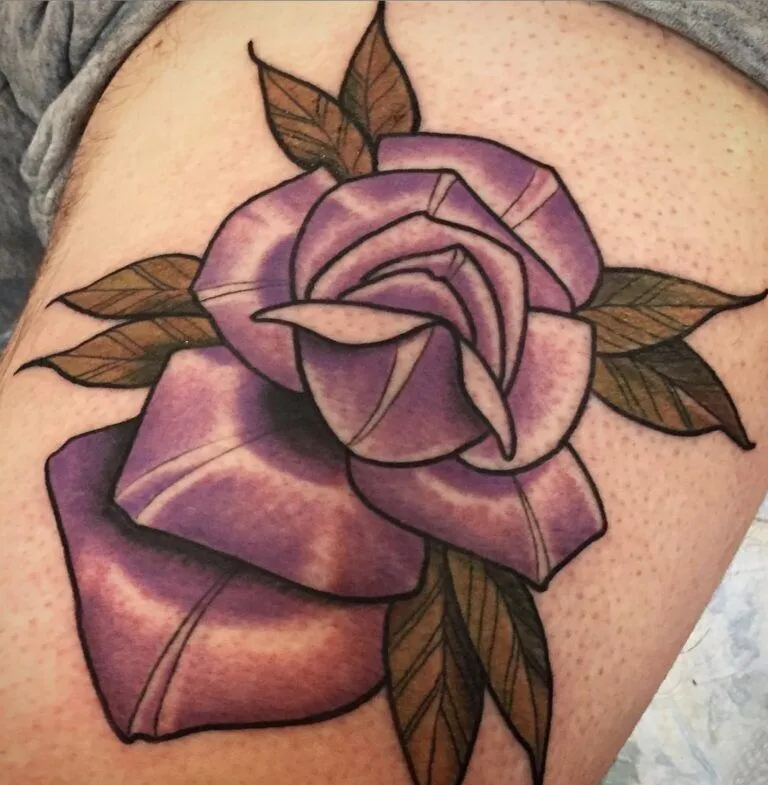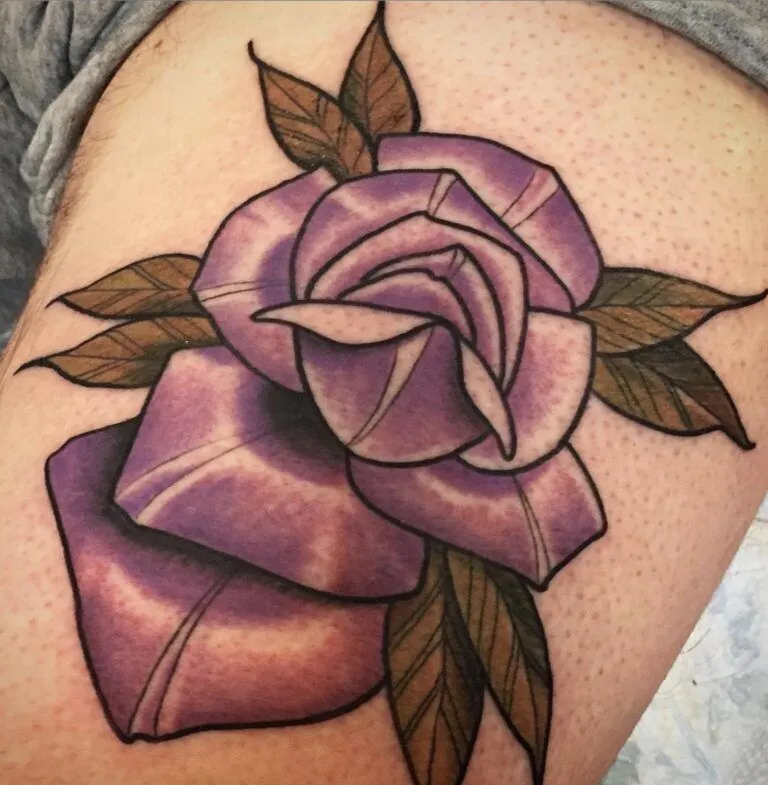 A purple rose tattoo often symbolizes enchantment, mystery, and uniqueness. It represents a rare and distinctive love or admiration that goes beyond the conventional red rose.
The color purple adds an element of intrigue and elegance to the timeless beauty of the rose imagery.
Dagger and Rose Tattoo on Hands for Men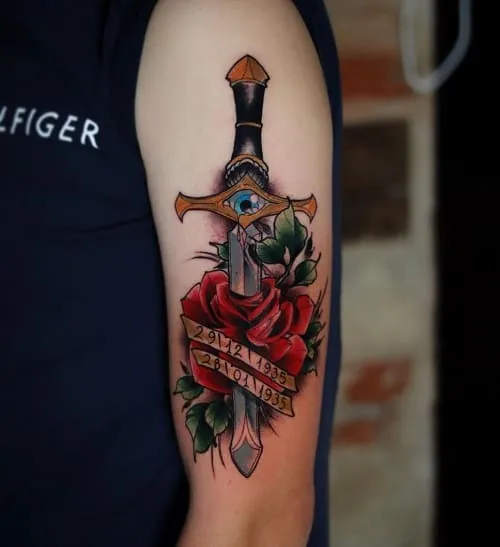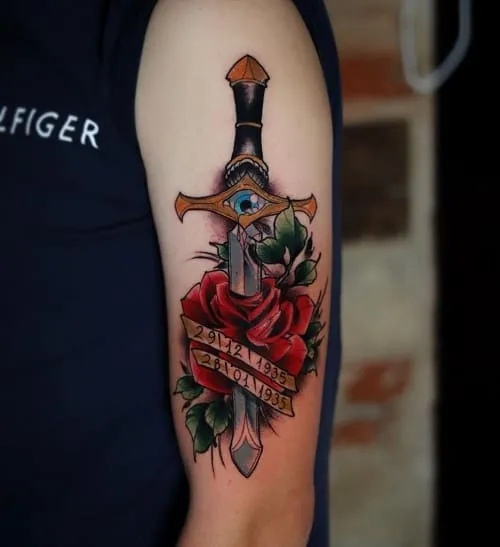 A Dagger and Rose tattoo on hands for men is a captivating fusion of symbolism and artistry.
The dagger, representing strength and courage, contrasts elegantly with the delicate beauty of the rose, symbolizing love and passion.
This design combines bold masculinity with refined aesthetics, making a striking statement that resonates with both power and emotion.
Tribal Rose Hand Tattoo for Males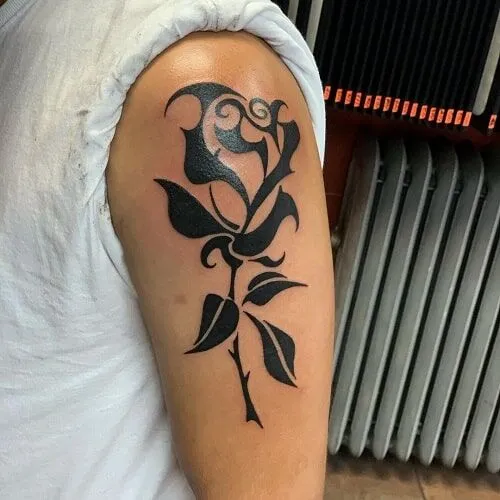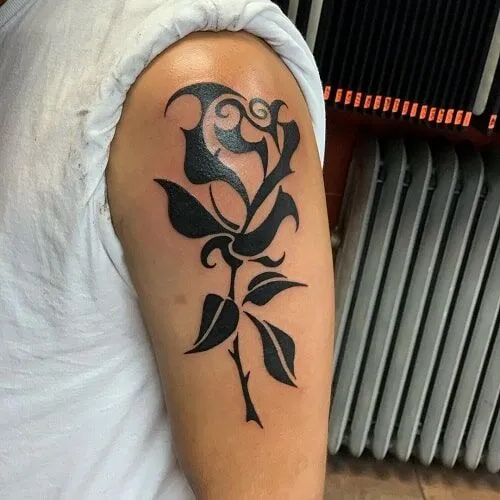 The Tribal Rose Hand Tattoo for males harmoniously merges the elegance of roses with the rugged essence of tribal design.
A potent symbol of strength and sophistication, it adorns the hand with a captivating fusion of traditional and contemporary aesthetics.
Cross and rose tattoo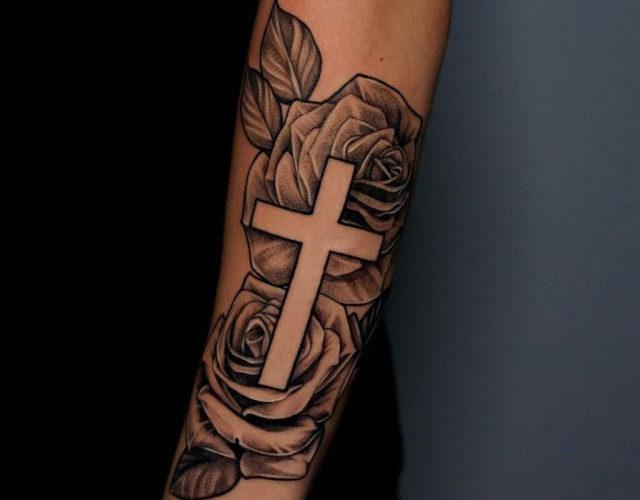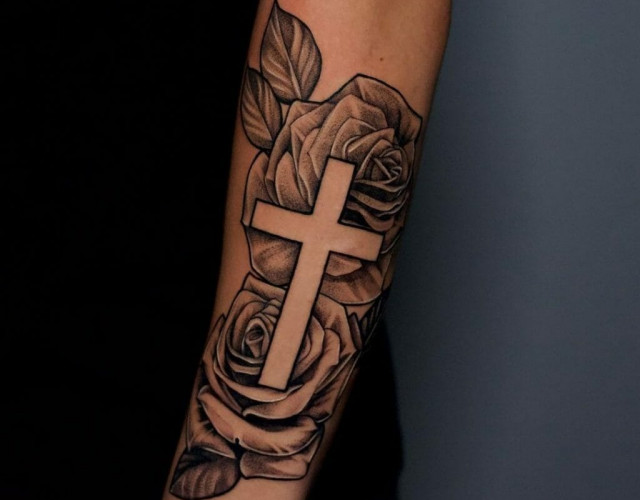 A cross and rose tattoo combines religious symbolism with the beauty and emotions represented by a rose. It can express themes like faith, love, and remembrance, making it a meaningful and visually striking choice.
Frequently Asked Questions on Rose Tattoos
🌹 Are rose tattoos appropriate for men?
Absolutely, rose tattoos are a great choice for men. There are numerous captivating tattoo designs that are quite masculine. Options like American traditional, watercolor, or geometric styles work well.
🌹 Where is the best location for a rose tattoo on men?
The ideal spot depends on your preference, the design's size, and style. Popular choices for men's rose tattoos include forearms, legs, elbows, chest, hands, and neck. However, you can choose based on what suits you.
🌹 What color options are suitable for men's rose tattoos?
You can opt for black and white or colored rose tattoos. Meaningful shades encompass red, blue, purple, yellow, and pink. You can even combine multiple colors in a single tattoo.
🌹 Is getting a rose tattoo behind the ear painful for men?
Getting a tattoo anywhere can involve some discomfort, and behind the ear is among the more sensitive areas. Pain level depends on skin sensitivity, personal pain threshold, tattoo size, design intricacy, and application technique.
🌹 What does a roe tattoo symbolize?
While generally symbolizing some form of love, the precise meaning of a rose tattoo varies based on its color, style, design, and placement.
🌹 What is the best body part to get a rose tattoo?
The versatility of rose tattoos means they look fantastic almost anywhere. Whether on the forearm, chest, neck, or elsewhere, rose tattoos are a reliable choice.
🌹 What does a black rose tattoo signifies?
Black rose tattoos often symbolize death and loss, although they aren't exclusively linked to individuals. They can represent lost romance, heartbreak, and the pain of love.
🌹 Do rose tattoos look attractive on men's hands?
Despite traditional notions, rose tattoos challenge stereotypes. Rooted in the tough origins of shore-leave tattoo parlors, rose tattoos exude masculinity and can be undeniably appealing to men.
Conclusion
Rose hand tattoos are a growing trend among men, challenging stereotypes. The Rose hand tattoo male design symbolizes strength and vulnerability, offering a timeless yet masculine aesthetic.
From classic black roses to intricate symbols, Rose hand tattoo designs cater to diverse preferences and narratives.
The versatility of Rose hand tattoo male designs provides a canvas for personal expression, making them a meaningful choice for self-expression and storytelling.
More Rose Hand Tattoo Ideas