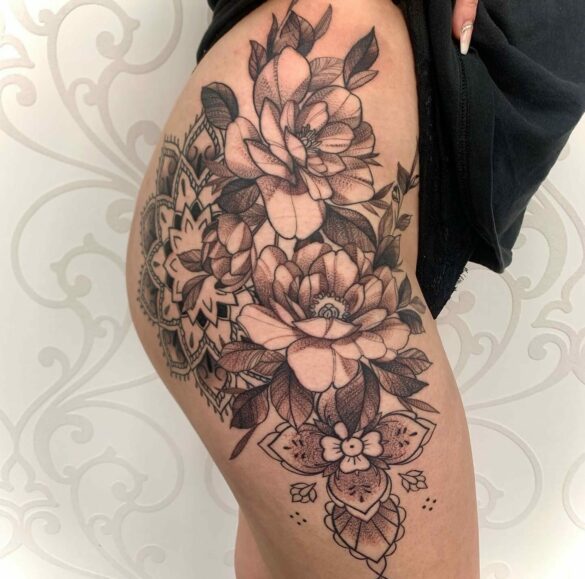 Are you an adventurous individual with a desire to explore various experiences? Look at our collection of top creative booty tattoo ideas and discover an alluring design that resonates with your style.
Buttock tattoos might not cater to everyone's taste, but they undoubtedly capture attention and reflect a bold and confident disposition.
Public figures like Cardi B and Halsey have embraced this distinctive form of body art to make their own individual statements.
Opting for a tattoo on your buttocks could signify fulfilling a concealed aspiration. Many individuals select this location to feature a special message or an intimate design they prefer not to showcase elsewhere.
It's akin to having a secret masterpiece that only a select few will ever see, making you behind an ideal canvas for expressing your inner sensuality.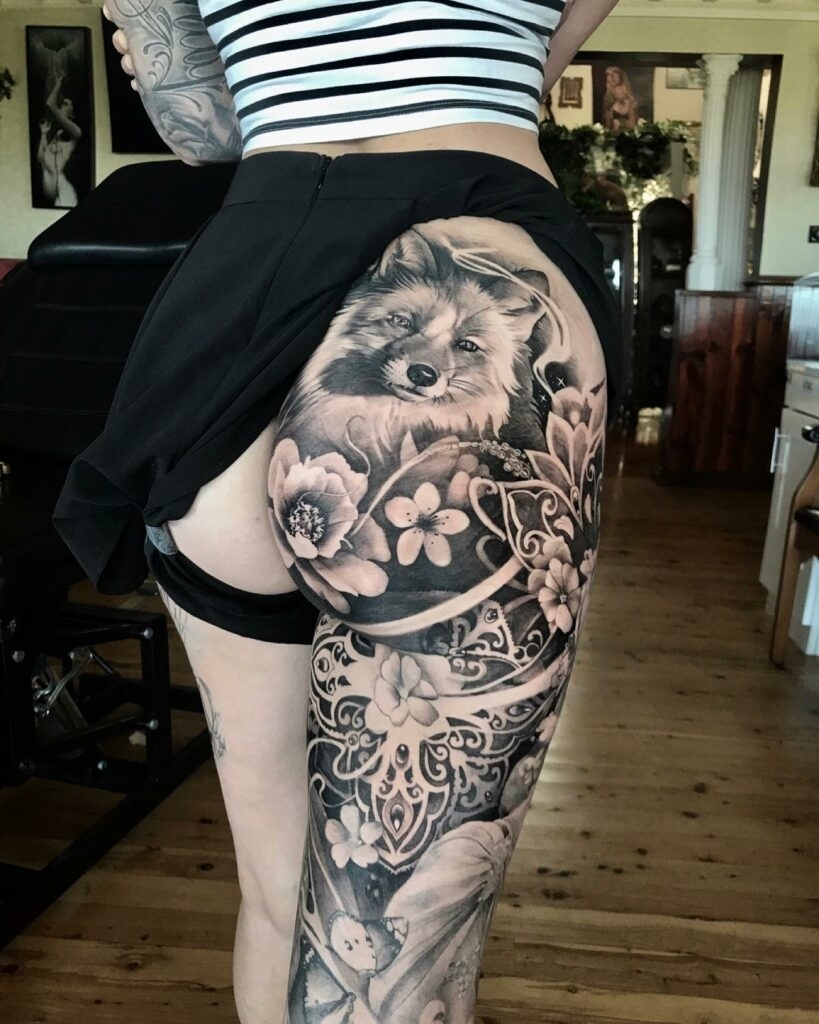 Keep in mind that courage isn't the only prerequisite for a buttock tattoo. The healing process and post-care can pose challenges in this area.
Although the presence of adipose tissue and muscle might alleviate pain during tattooing, the real test lies in maintaining the cleanliness and well-being of your fresh ink.
Make sure to don loose and breathable attire for your appointment and refrain from sitting or exerting pressure on the tattooed area during the initial one to two weeks.
Given that the skin here is typically covered, booty tattoos necessitate a longer healing period and extra vigilance.
However, with a little patience and diligent care during this initial phase, you'll be able to relish your captivating tattoo for years to come.
Are you prepared to showcase an exclusive design on your posterior? Continue reading to explore the captivating array of options for your buttock tattoo.
Pretty Cheek Booty Tattoo Ideas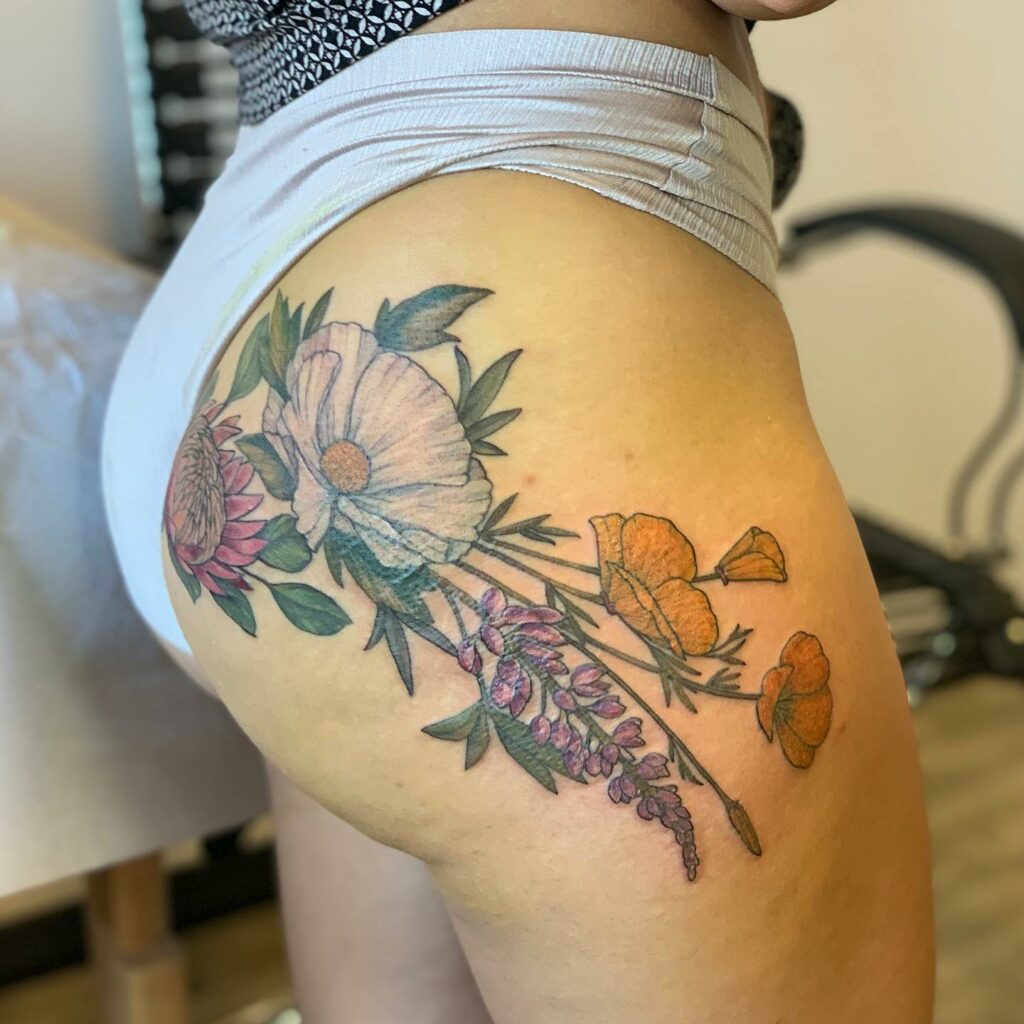 In recent times, booty tattoos have gained popularity, breaking away from gender stereotypes. Originally associated with women, this tattoo trend also appeals to men.
The feminine curves of women's bodies beautifully complement butt tattoos, but this idea isn't limited by gender. A prime example is the floral scene butt tattoo, showcasing elegance and femininity.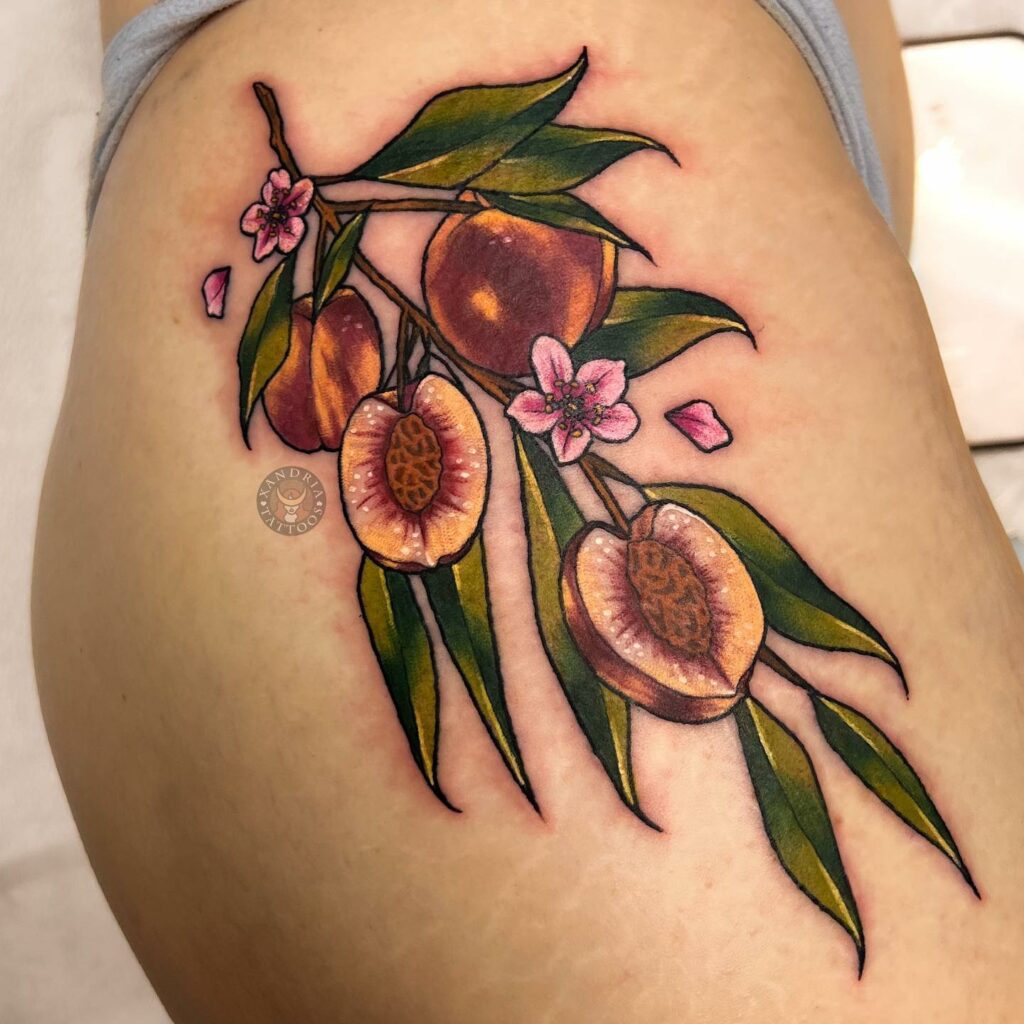 The vivid array of flowers and branches creates an exotic and customizable image. The skilful colour gradient prevents overcrowding and offers room for personalization. Opt for roses or add butterflies to enhance the design.
For a playful twist on traditional butt tattoos, consider a peach tattoo. This design is strategically placed from the top of the buttocks to the side thighs, featuring a meticulously shaded nectarine branch with vivid colours.
It's a distinctive and attention-grabbing tattoo that exudes confidence. Express your fondness for fruit with this fun and flirty tattoo choice.
Small Booty Tattoo Ideas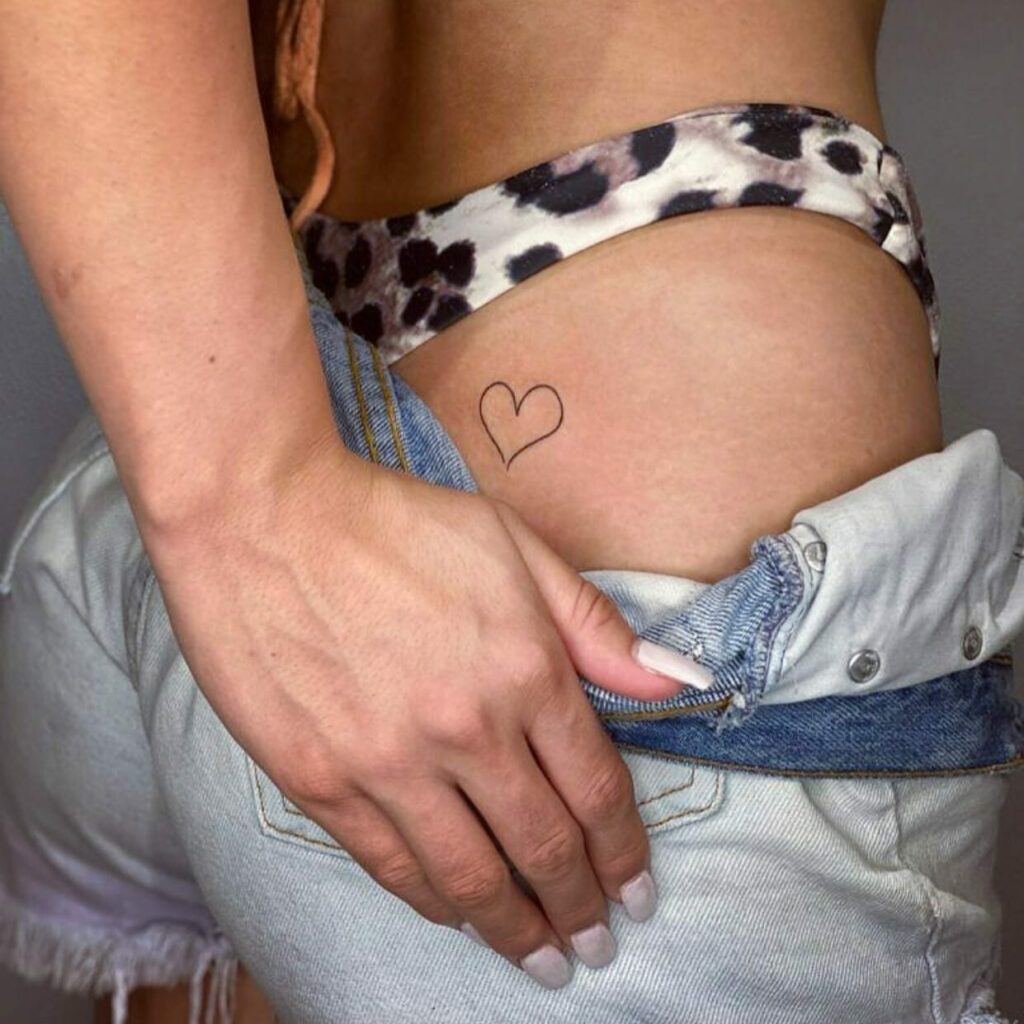 For those new to butt tattoos, starting small is a smart move to ensure a smooth experience. Simple designs like hearts, words, or small flowers can be ideal choices for beginners.
A classic black heart positioned at the centre of the buttocks offers an elegant and uncomplicated option. Whether you opt for minimalism or a touch of flair, a small butt tattoo can be a delightful and expressive way to make a statement.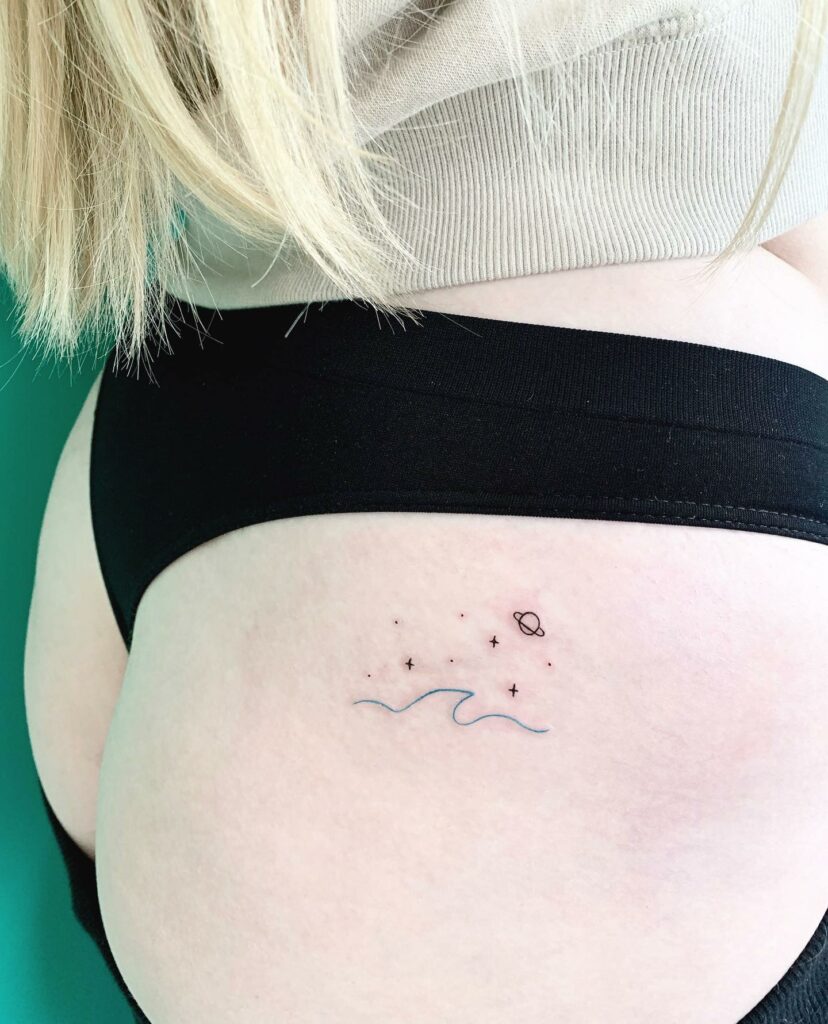 If you're aiming for a more meaningful design, consider a celestial-inspired concept that merges ocean waves with cosmic magic.
Booty tattoo boasts intricate details, including stars and planets, setting it apart from typical butt tattoos. The contrast between blue waves and black stars adds depth to the design.
Perfect for those seeking cosmic allure in their body art. And for a fun bonding experience with friends, why not go for matching friendship tattoos on your butt? It's a unique and memorable way to celebrate close connections with your gal pals.
Cheeky Booty Tattoo Idea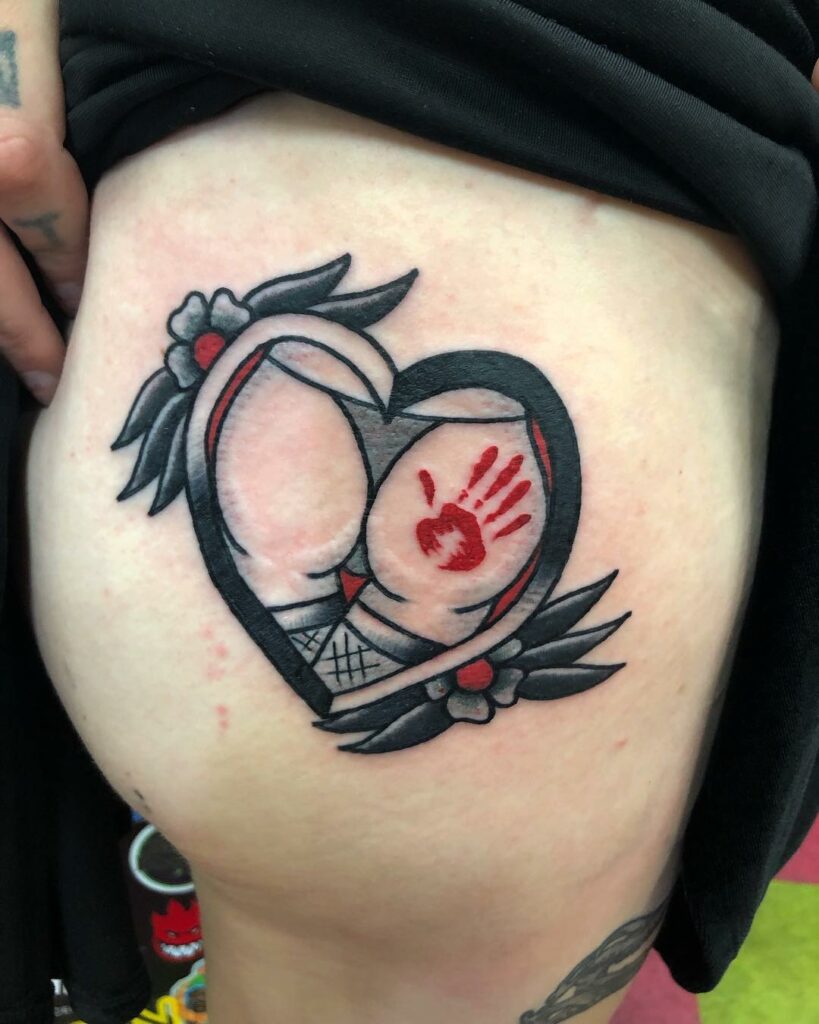 Butt tattoos are popular as a canvas for showcasing an adventurous spirit. This unique body part offers a playful platform to express humour and cheekiness.
This design boldly pairs a red, playful booty with traditional floral accents in bold black ink. The vibrant colour contrast guarantees attention.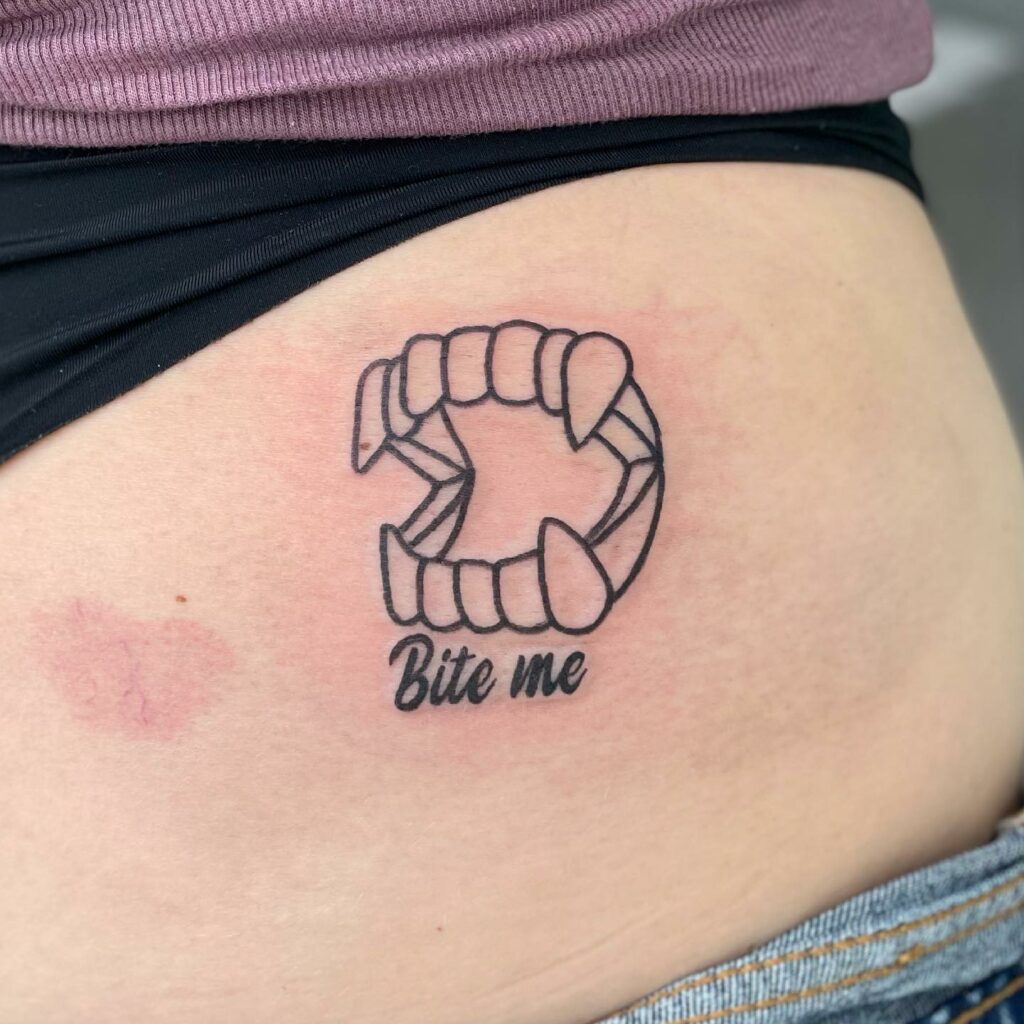 If you're seeking a touch of spice in your body art collection, a butt tattoo like this could be the perfect choice.
Ever considered a tattoo with clear instructions on your butt? It's not only possible but can also be amusing.
This cheeky tattoo design features a set of teeth, injecting playfulness into what could have been a serious motif. It's a fun design that's bound to ignite engaging conversations and leave a memorable mark on anyone who sees it.
Funny Tattoos On Butt Cheek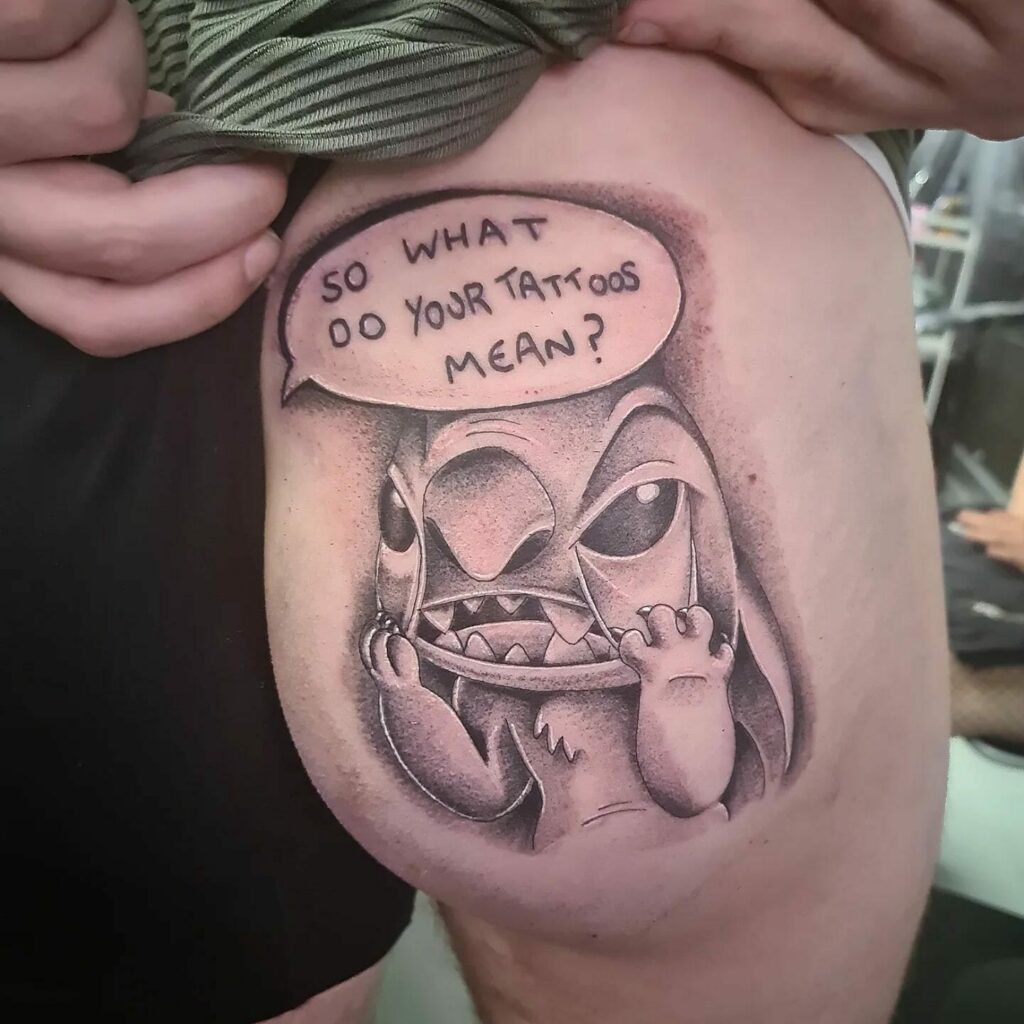 Butt tattoos don't solely cater to sexy or daring designs; they can also be amusing and lighthearted. This playful tattoo stars Stitch from Disney's "Lilo & Stitch," posing a timeless question often heard by tattoo enthusiasts.
The placement on the butt adds to the humour, making it a fantastic icebreaker. This black and grey tattoo masterfully combines simplicity and humour in body art.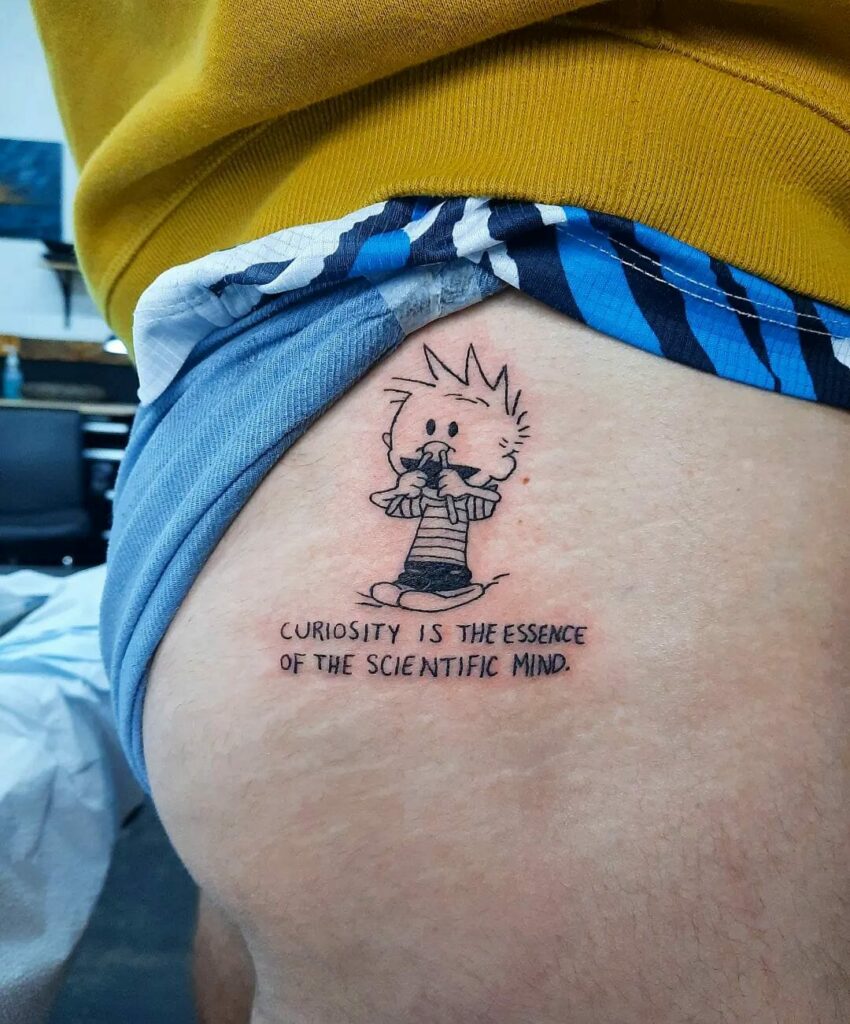 If you're on the lookout for a delightful addition to your tattoo collection, this one might be the perfect choice.
Ever pondered a witty butt tattoo with a touch of philosophy? This design pairs a sagacious quote with the mischievous Calvin from "Calvin and Hobbes," infusing the tattoo with an amusing twist.
The use of black ink lends a timeless aura, ensuring its bold visibility for years to come. This tattoo is ideal for those seeking to infuse humour and significance into their body art through a distinctive and inventive approach.
Weird Butt Tattoo Designs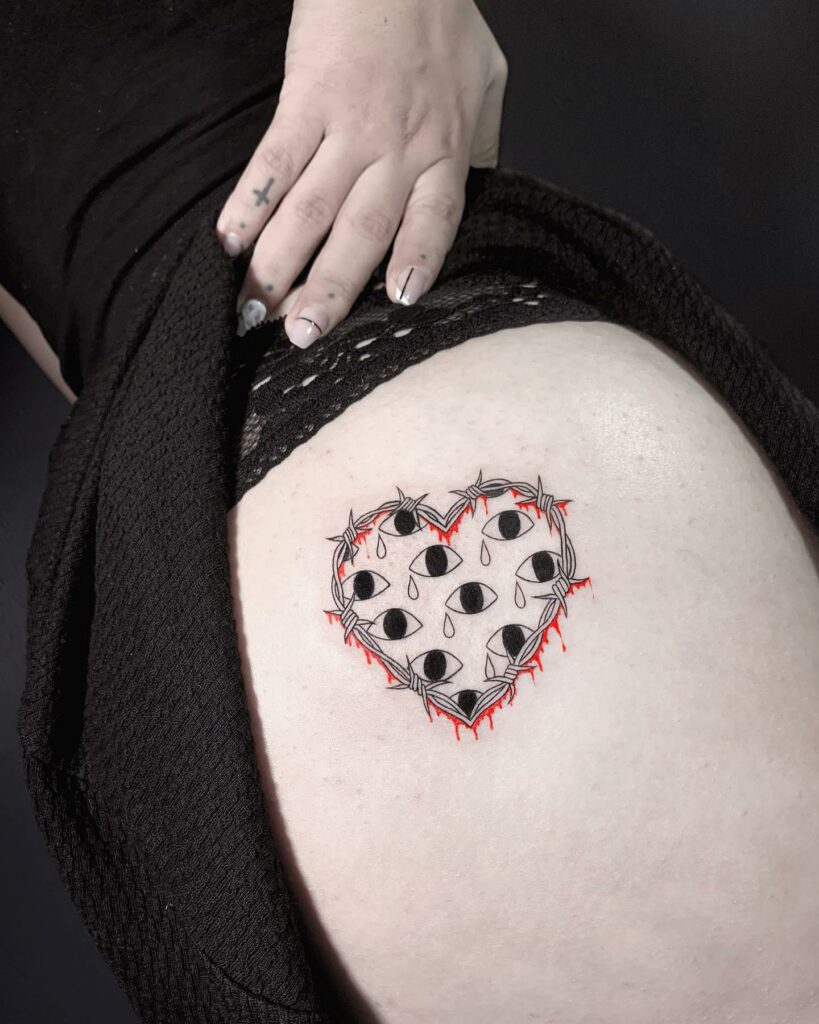 Ready for something truly outlandish and offbeat for your butt tattoo? Look no further – we've got just the idea for you. This tattoo concept is bound to set you apart from the crowd.
Picture a heart tattoo with eyes that appear to gaze right back at you. It might strike as odd, yet it's guaranteed to capture everyone's attention.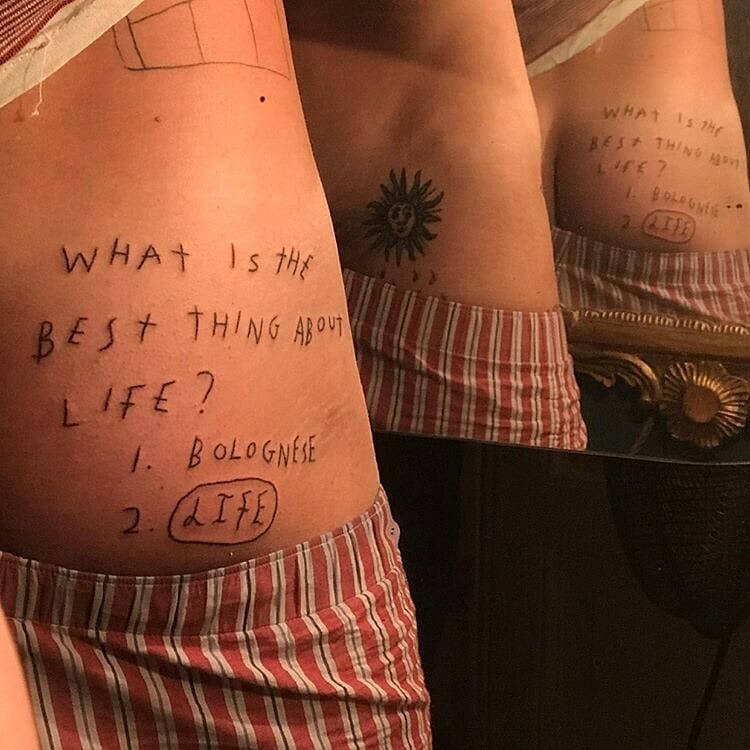 The inclusion of barbed wire and the vibrant red hue infuses the design with depth and distinctiveness. If you're a fan of unconventional tattoo concepts, this one is tailor-made for you.
Sometimes, when it comes to butt tattoos, a touch of humour is all you need.
Why not consider tattooing a funny phrase or word in a unique font for a playful yet stylish design? Such tattoos tend to be less painful in this area and are sure to elicit laughter from your loved ones.
Embrace your funny side with a clever butt tattoo that's bound to tickle the funny bones.
Full Butt Tattoo Ideas For Women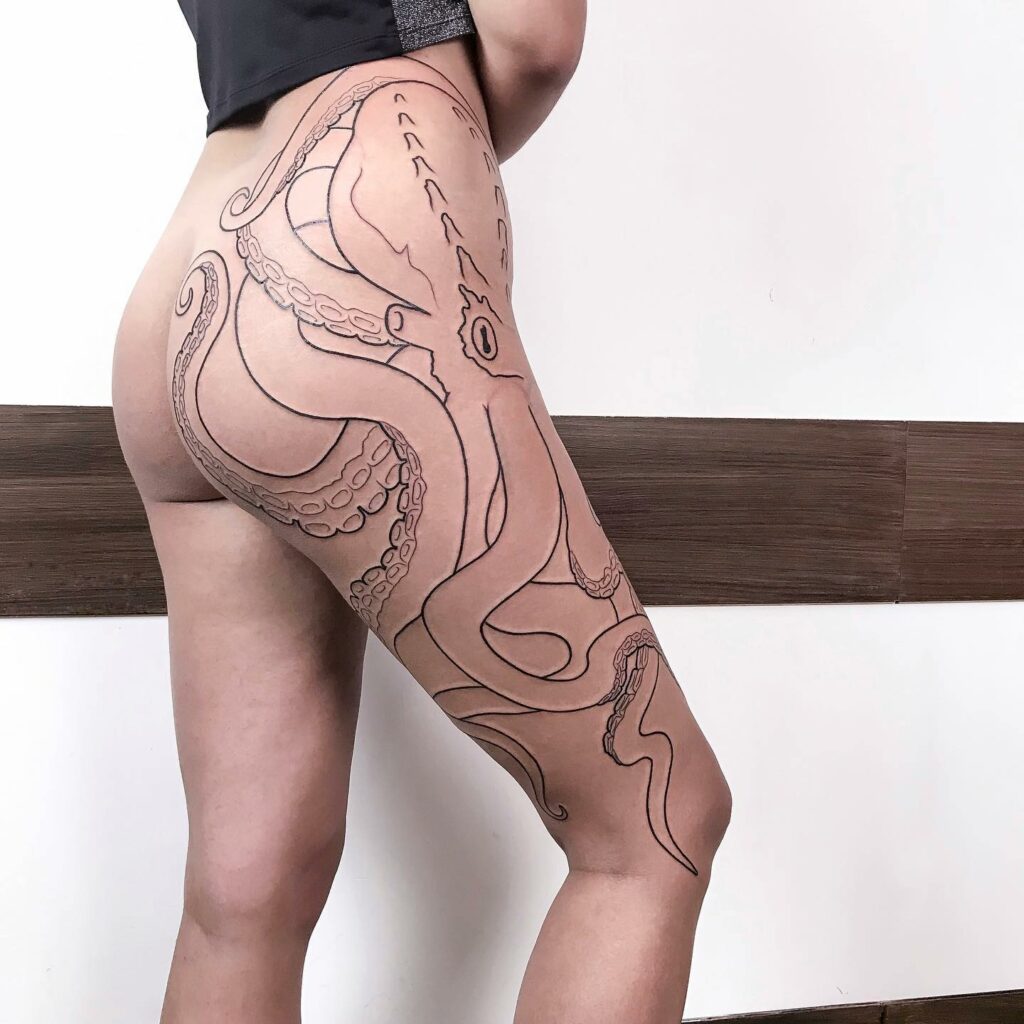 For a tattoo that truly commands attention, consider a design that stretches from your butt to the side of your thigh. This unique approach guarantees a standout look.
Take, for instance, this tattoo featuring an exquisitely detailed octopus. Its tentacles are meticulously outlined with fine lines, showcasing the artist's precision.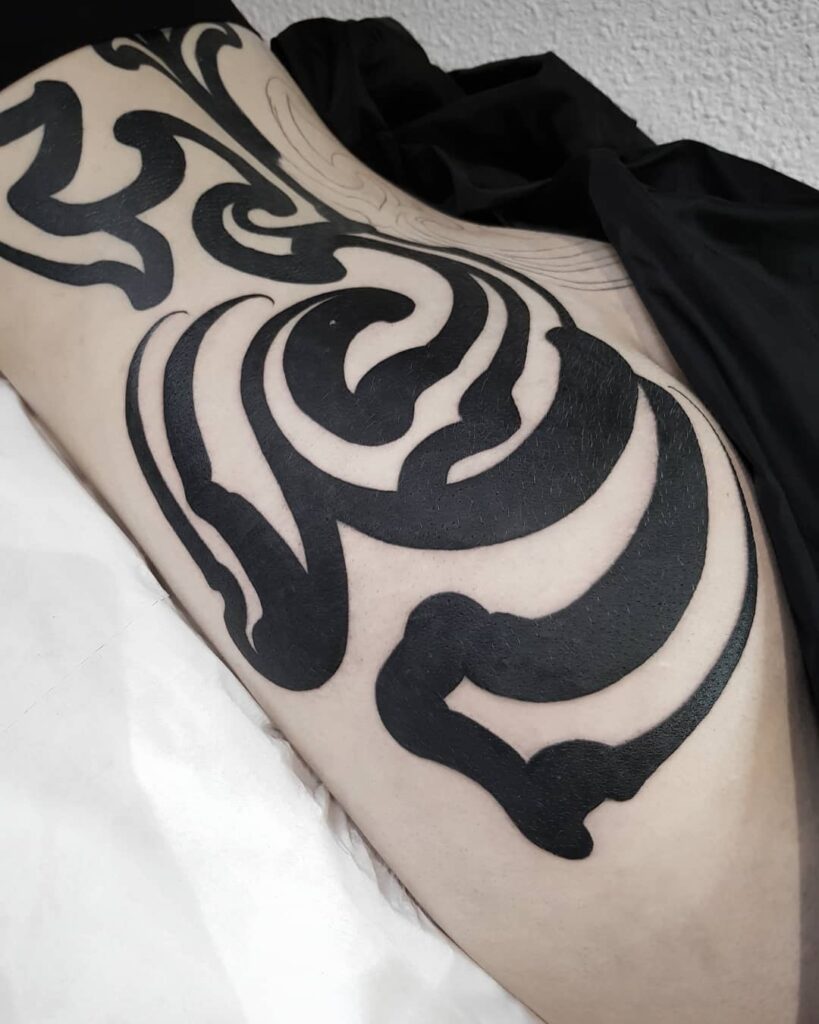 Booty tattoo perfectly fits those who desire a bold yet tasteful representation of their affinity for marine life. The design's simplicity and expert execution make it an excellent choice for those seeking an intricate and impactful tattoo.
Drawing inspiration from neo-tribal patterns, this remarkable butt tattoo follows abstract and fluid lines. Starting from the back and extending across the entire butt creates a mesmerizing visual display.
If you're uncertain about a specific design but still yearn for a captivating piece, these abstract motifs are ideal. They elegantly emphasize your contours while adding an enticing touch of allure to your overall appearance.
Butt Tattoos With Greek Motif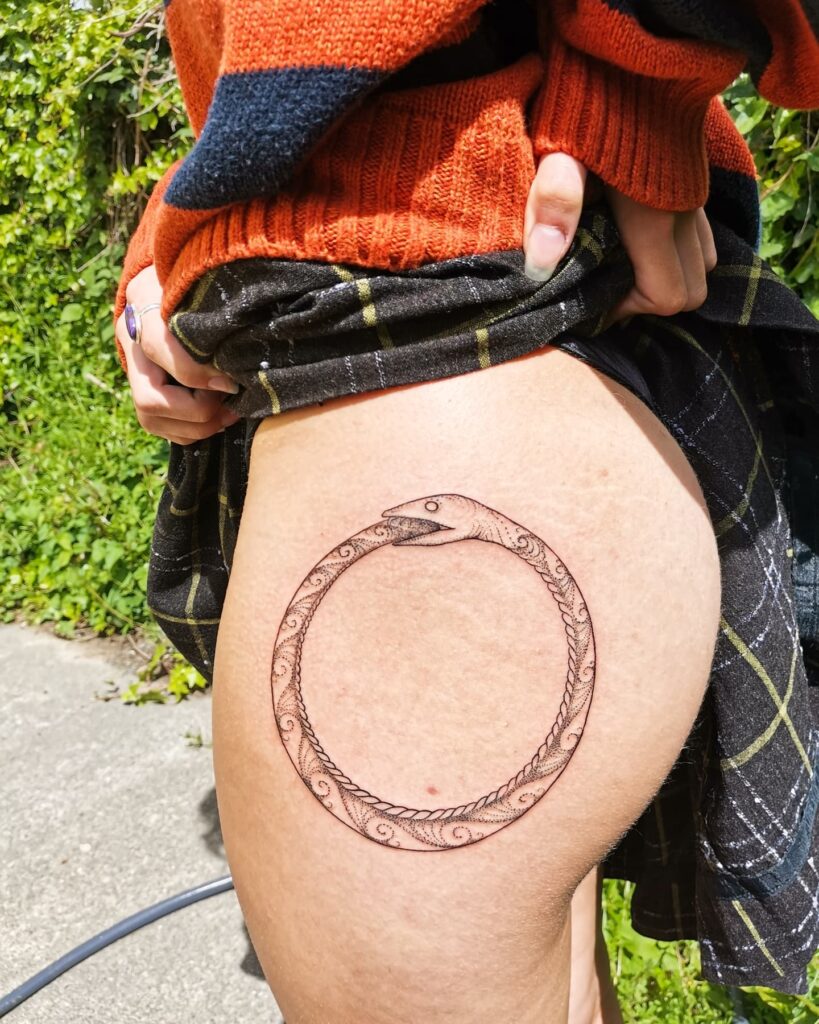 Greek mythology has sparked creativity in various tattoo designs, including the iconic Ouroboros symbol. This tattoo, inked in black and grey, portrays the serpent devouring its own tail, symbolizing infinity and unity.
The symbol's intricate detailing holds both deep significance and visual appeal, making it a valuable addition to any tattoo collection.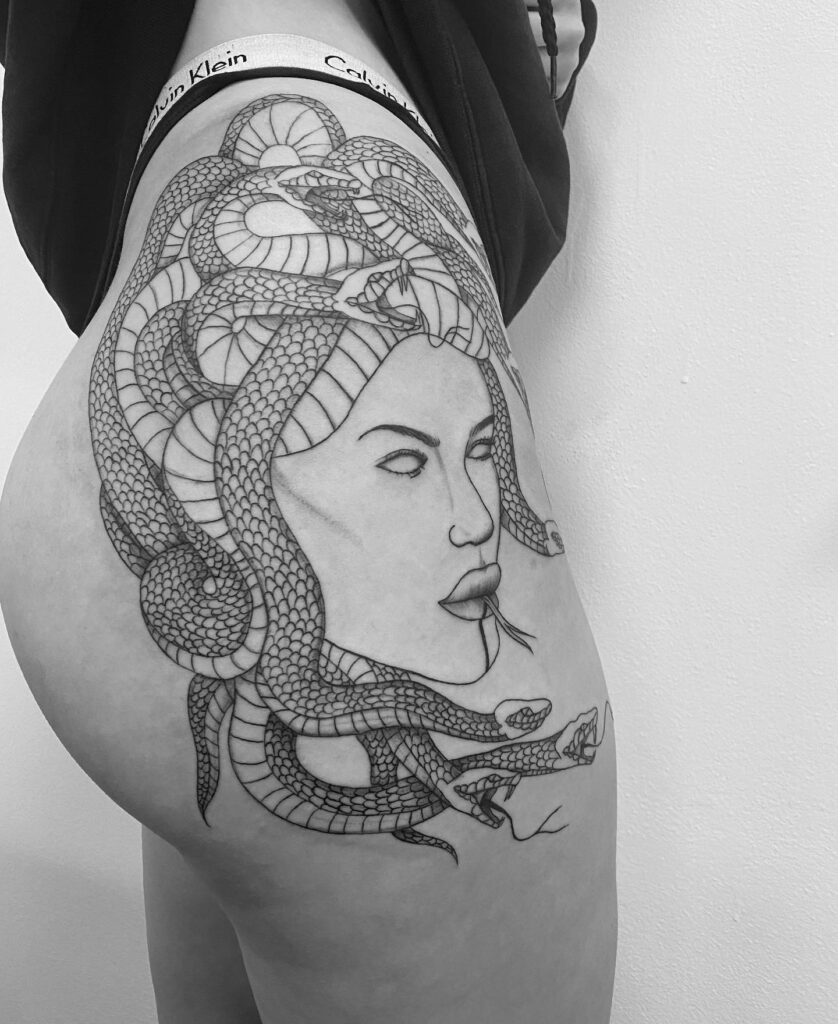 The allure of Greek mythology continues to inspire remarkable tattoos. This side butt tattoo, for instance, elegantly portrays Medusa, complete with her serpent-adorned hair, rendered in black and grey ink.
The artist has opted for a minimalist approach while preserving the portrait's intricacies. Such designs are ideal for women who hold a passion for Greek mythology and wish to express their admiration through body art.
Butt Tattoos With Lettering For Women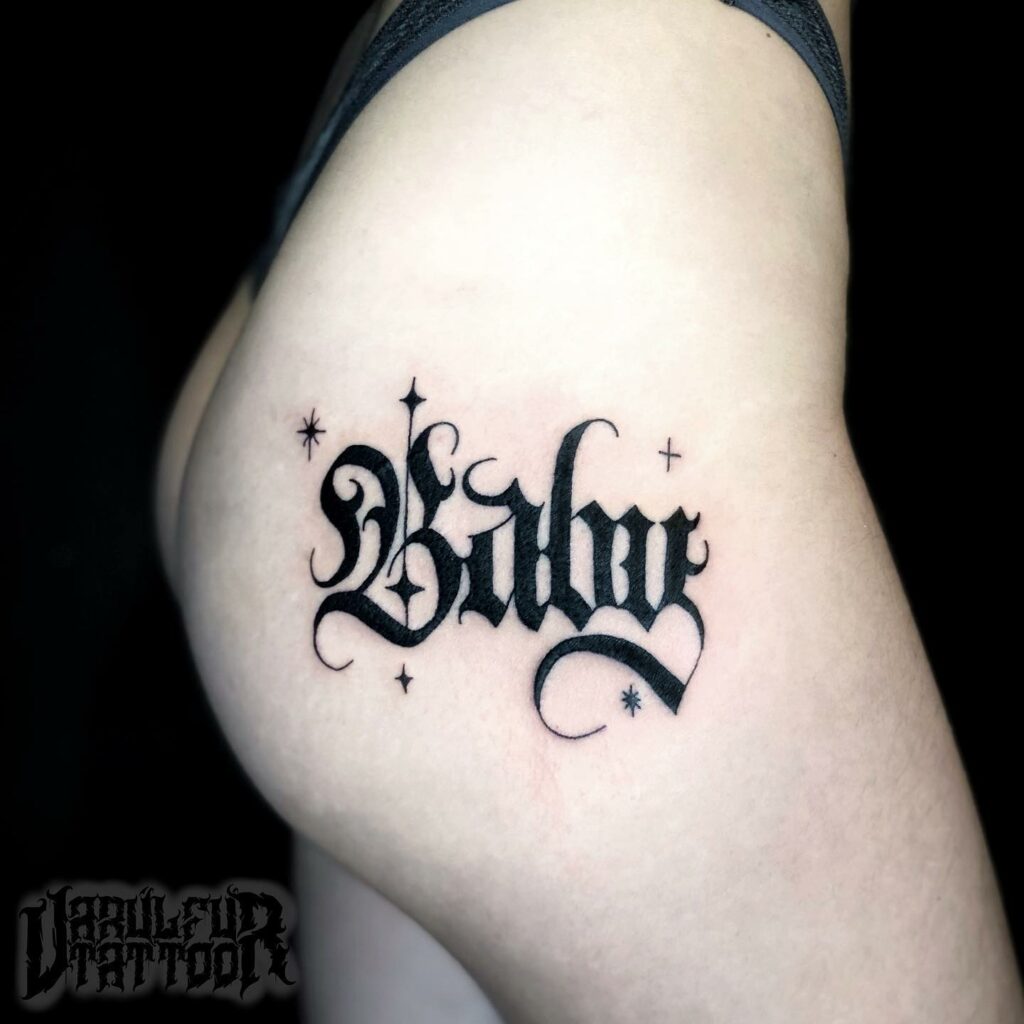 Butt tattoos with lettering designs are gaining popularity among tattoo enthusiasts. These designs can range from a single word to a meaningful quote that holds significance for the individual.
In this particular butt tattoo, an old English font adds an intense yet playful touch with the inclusion of sparkles.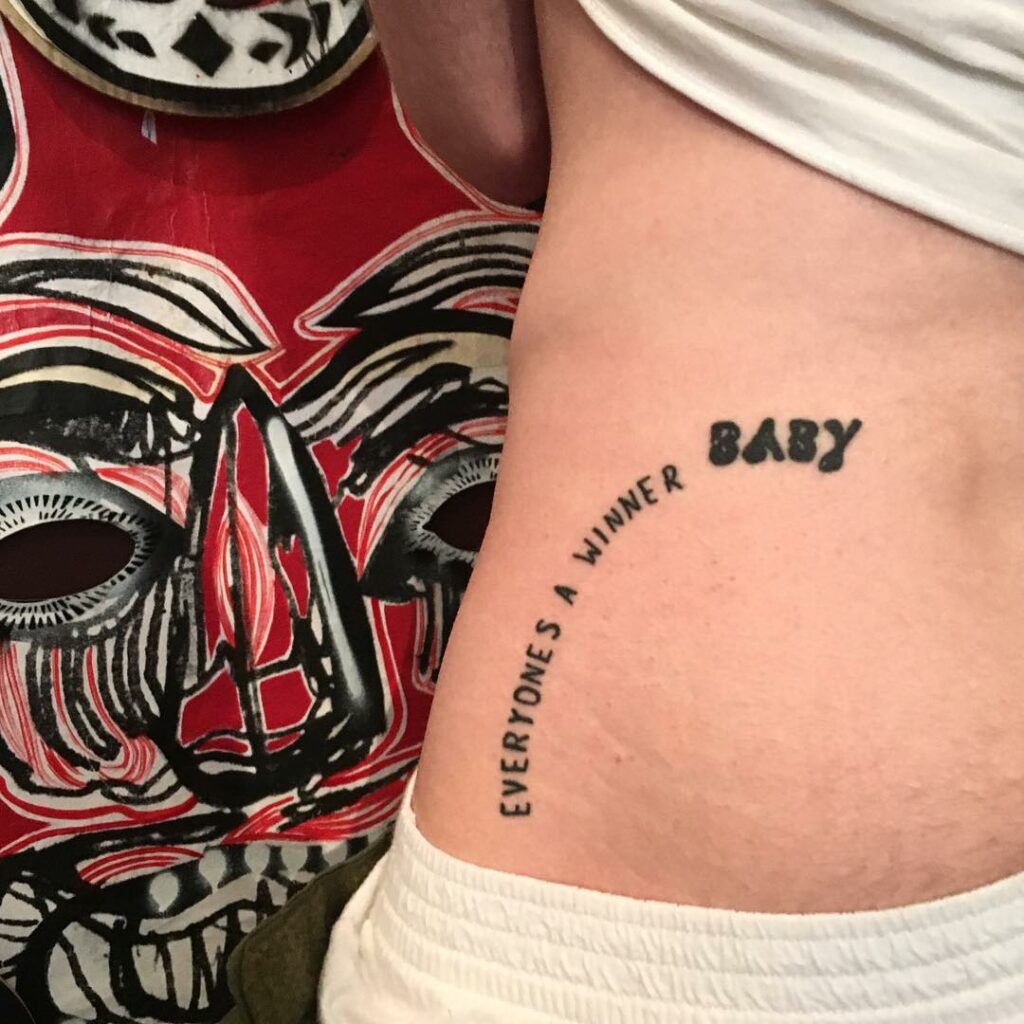 Whether it's about expressing a cherished word or quote or adding a personalized touch to your body art, a lettering design on your butt is a unique option to consider.
This butt tattoo gracefully presents a beautiful quote that flows along the curvature of the buttocks. Its strength lies in its simplicity, with a monochrome gradient enhancing its visual charm.
You can even play around with colours for a more feminine personality representation. Choose words that are both endearing and meaningful, using this butt tattoo as a way to reveal your hidden side to the world.
Traditional Butt Tattoo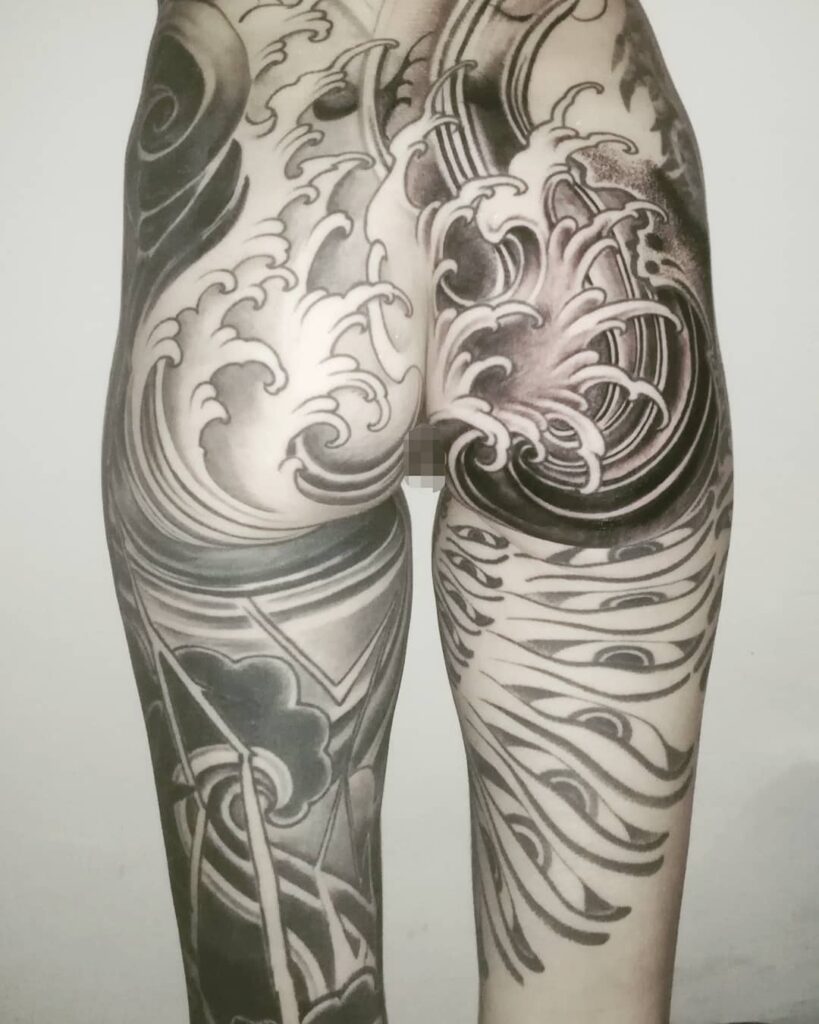 Japanese tattoos have always been celebrated for their intricate designs and rich cultural significance.
What sets Irezumi apart is its capacity to cover the entire body, including the butt and thigh regions, providing artists with ample space to create complete masterpieces.
This butt tattoo, featuring traditional Japanese waves, highlights the mastery of Irezumi artistry. Crafted with precision using black and grey ink, the design impeccably captures the ebb and flow of the waves.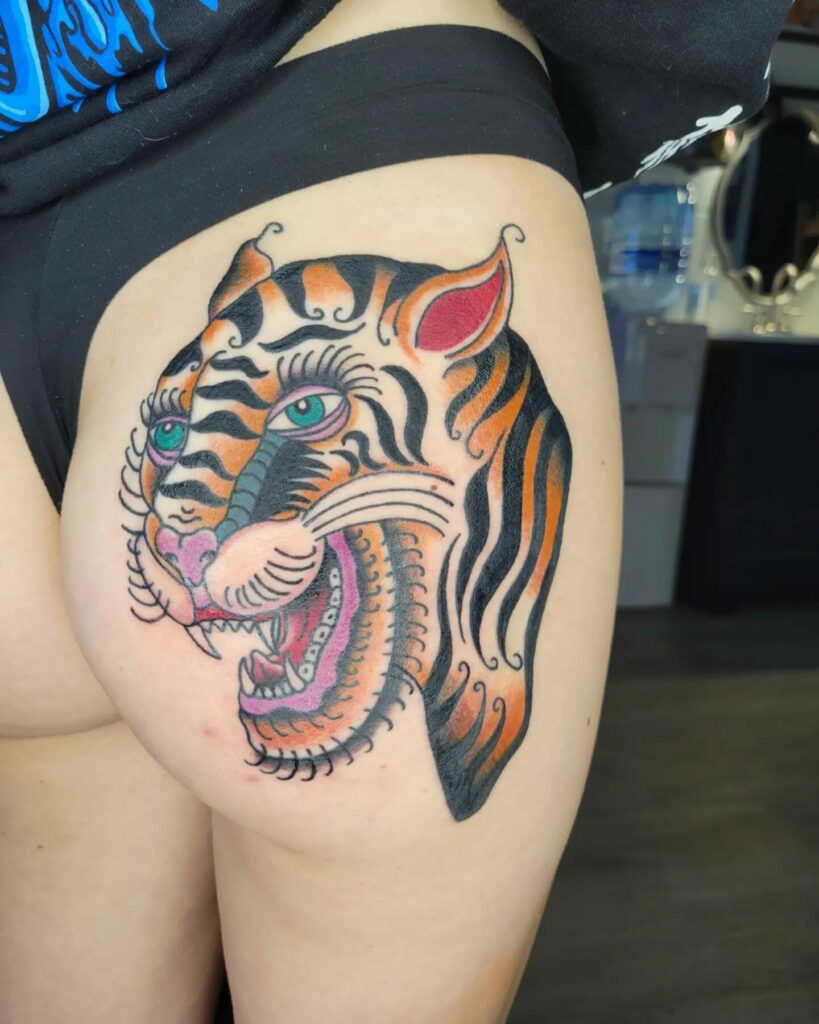 If you seek a tattoo that reflects your admiration for Japanese culture and exquisite craftsmanship, an Irezumi tattoo on the butt is the ultimate choice.
The American traditional tattoo style is a timeless option for butt tattoos that maintains its allure.
This tiger design embodies the quintessential elements of traditional body art, boasting bold outlines, vibrant colours, and minimal shading.
With its versatility, the traditional style offers a myriad of charming tattoo concepts, from pin-up girls to flowers, that can be seamlessly integrated into your design.
Opting for a traditional butt tattoo is ideal for showcasing your affinity for classic art with a contemporary twist.
Detailed Butt Tattoo Ideas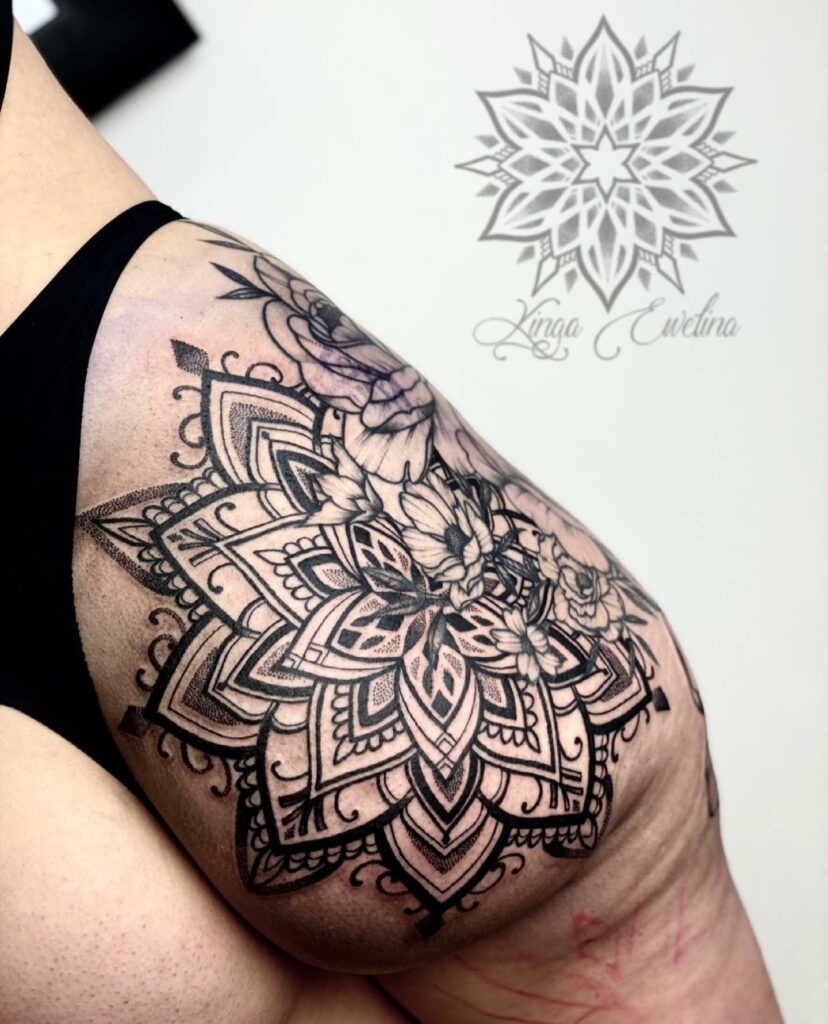 Butt tattoos have surged in popularity, and among the most coveted designs is intricate mandala art.
This sophisticated choice showcases a complex interplay of detailed lines, shading, and meticulous dot work that blankets the entire buttock area.
Mandala tattoos carry an air of elegance, often resonating with a feminine allure that draws many women to this design. However, being prepared for a session that demands stillness is important.
Butt tattoos aren't limited by gender; they can be equally stylish for both men and women. From classic tigers to abstract patterns, the creative options are boundless.
With a comprehensive understanding of butt tattoos, it's time to secure your spot and become part of the trendy community of butt tattoo enthusiasts.
Butterfly Tattoo on Butt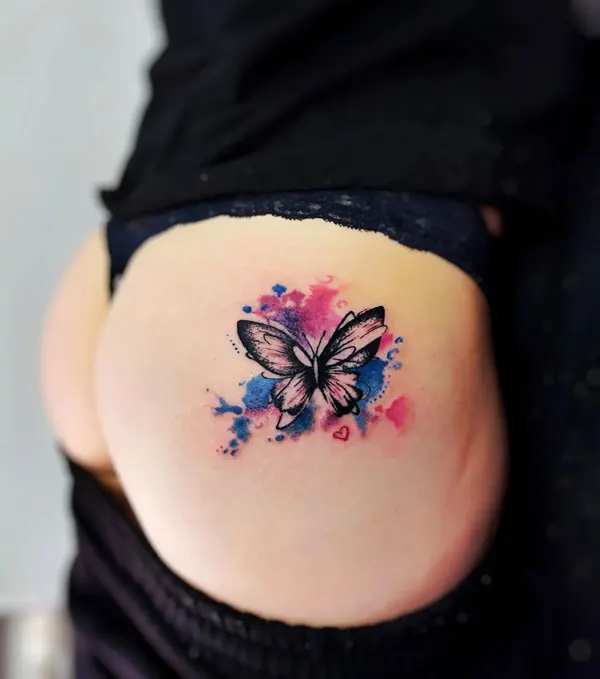 For those grappling with design decisions, consider a butterfly tattoo. It's versatile, catering to those embracing their feminine side or seeking a delightful and charming image. It's a choice that offers both personal expression and a pleasing aesthetic.
Raven Butt Tattoo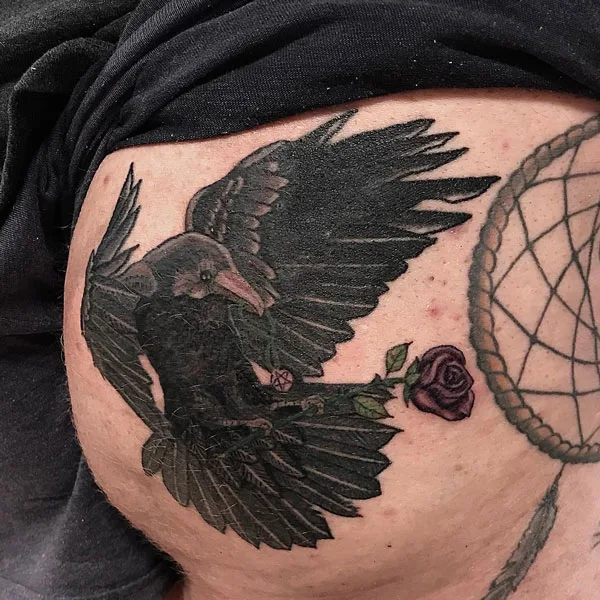 Why not opt for the best of both worlds and consider a raven tattoo? Aside from the captivating visuals this tattoo offers, ravens are also emblematic of wisdom and intelligence, giving your tattoo a distinctive edge compared to others.
Ramen Bowl Butt Tattoo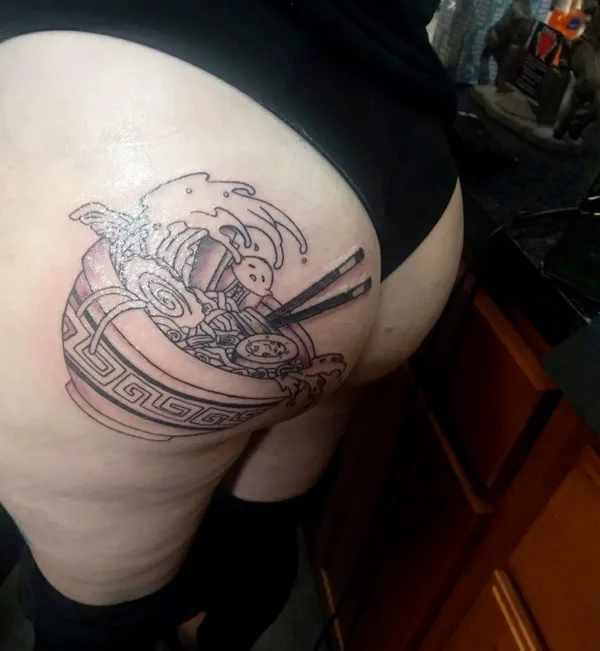 Butt tattoos don't always need to carry deep significance. You can also inject some fun into them, like getting a tattoo of your favourite food – in this case, ramen. It's a lighthearted choice allowing you to display your love for this delectable dish proudly.
Bunny Butt Tattoo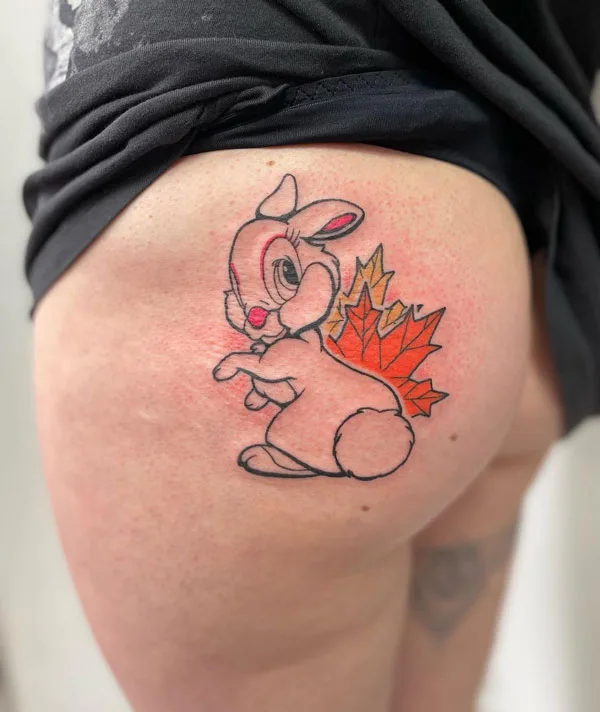 Want to infuse some adorableness into your butt tattoo? Choose an endearing bunny design. This mirrors your relaxed demeanour and brings a grin to anyone who catches a glimpse. It's a playful way to express your character.
Panther Butt Tattoo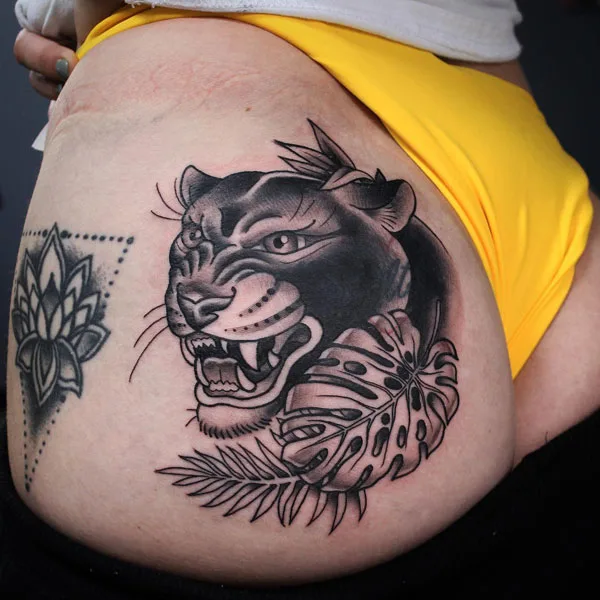 Highlight the resilience of your buttocks as a canvas by selecting a symbol of strength, such as a panther tattoo. The muted colour scheme and the commanding panther design create a captivating and audacious tattoo that commands attention.
Peony Butt Tattoo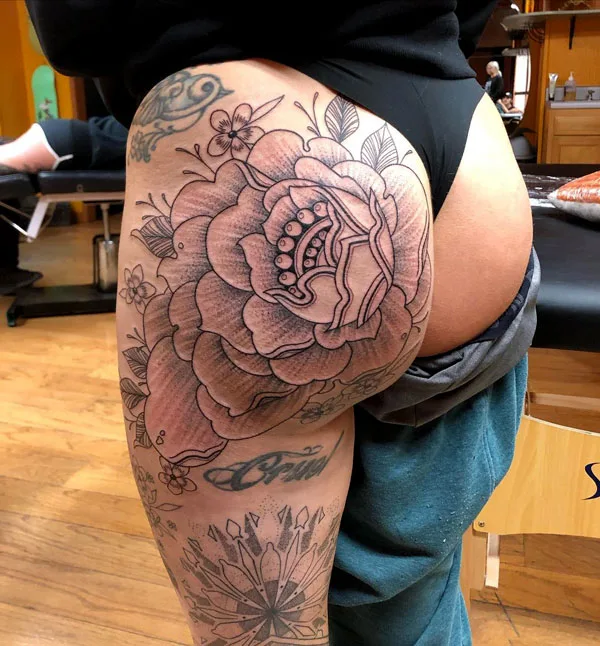 If you have an affinity for flowers, why not incorporate them into your tattoo collection in a more understated location? A striking peony on your posterior can be a visually arresting choice. The intricate details and hues will make it truly remarkable.
Gun Butt Tattoo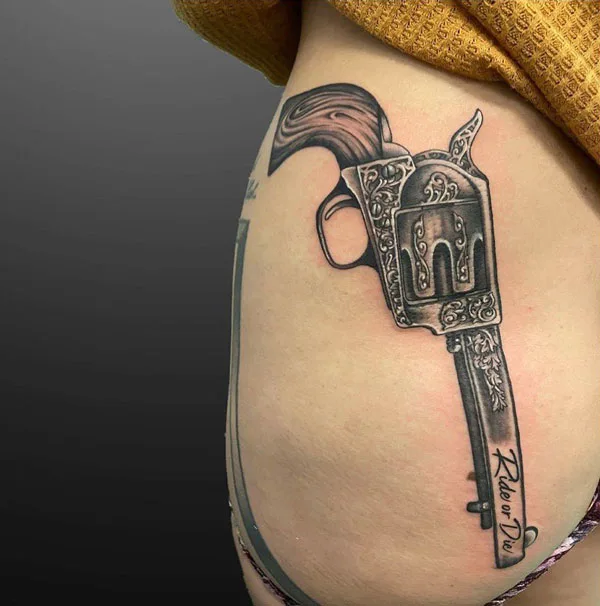 You might consider a gun or weapon-themed design for a more daring option. Revolvers and knives can infuse an edgy element into your butt tattoo, whether you prefer a monochromatic aesthetic or a burst of vibrant shades.
Phoenix Butt Tattoo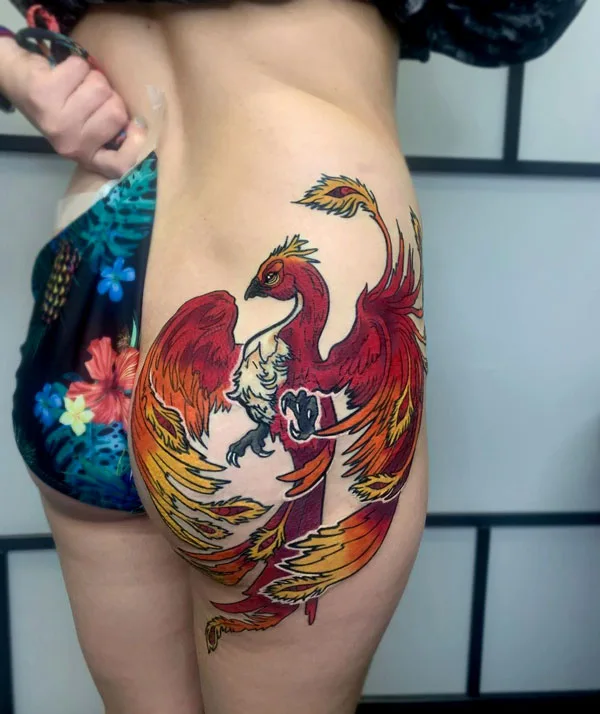 If Greek mythology piques your interest, a phoenix tattoo on your buttocks could be a fascinating choice. This immortal bird's vibrant colours can make a bold statement while also revealing your fascination with ancient tales.
Cactus Tattoo on Butt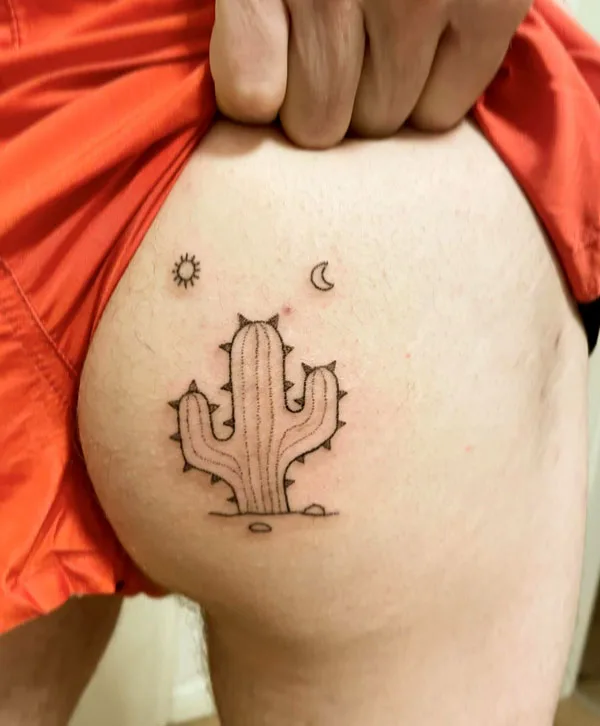 The colours of a cactus plant can accentuate the delicateness of the buttocks. Whether you opt for natural tones or vivid greens, a cactus tattoo on your behind merges the allure of nature with your personal style in a distinctive manner.
Skull Butt Tattoo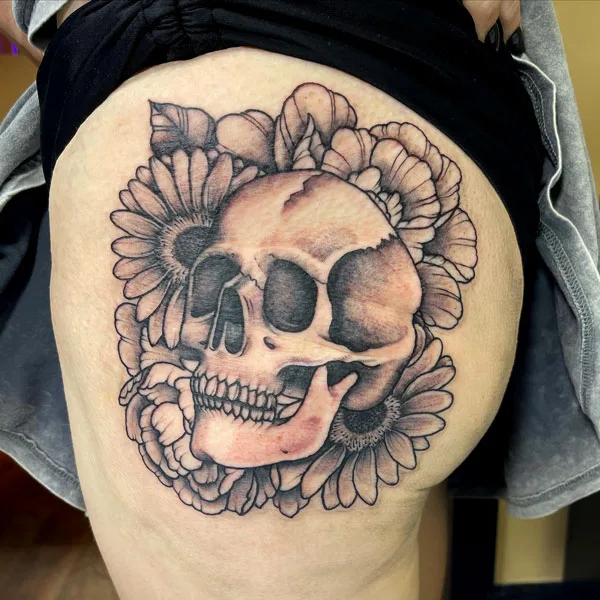 A skull butt tattoo is an ideal choice for those with an edgy flair. This monochromatic design offers incredible versatility in terms of size and style. The intricate details of the skull illustration can evoke a mix of fear and fascination, making it a conversation starter that garners both attention and admiration.
Lips Tattoo on Butt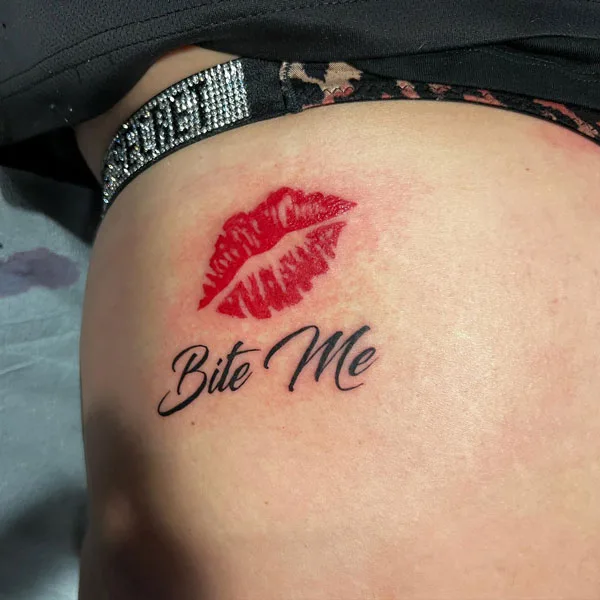 If you're aiming to add a touch of allure, why not consider a lips tattoo on your buttocks? Despite its small size, this tattoo can enhance your physical appeal and leave a lasting impression on those who catch a glimpse.
Kylie Jenner's Butt Tattoo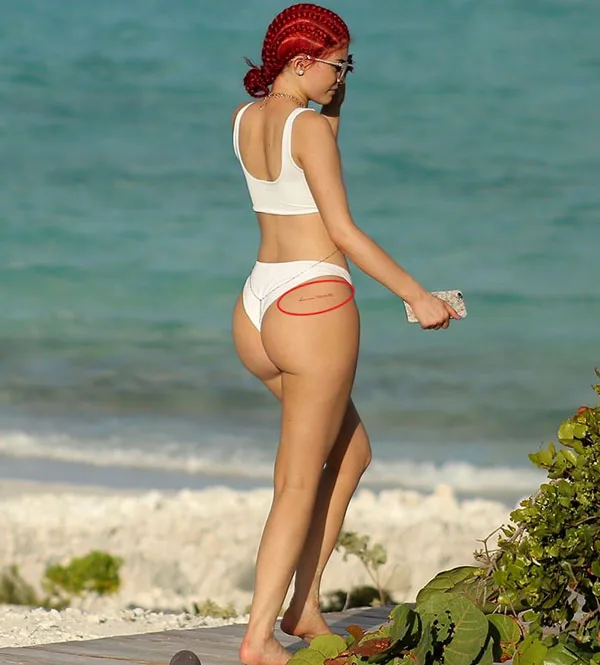 For those who've followed the Kardashian saga, replicating Kylie Jenner's "Before Sanity" butt tattoo could be quite a catch. It's a simple yet impactful choice, perfect for making a trendy and straightforward statement.
Monkey Butt Tattoo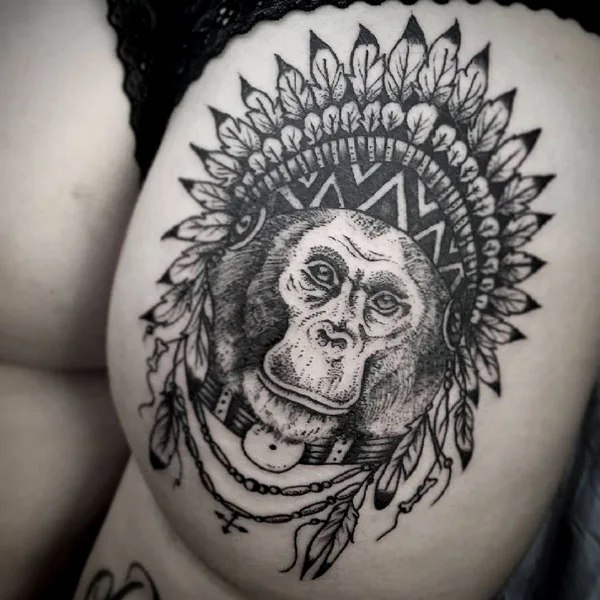 Let your inner goofball shine with a monkey butt tattoo. It's not only a fun memory of good times with friends, but the compact size also means you can easily say goodbye whenever you wish.
Thigh Butt Tattoo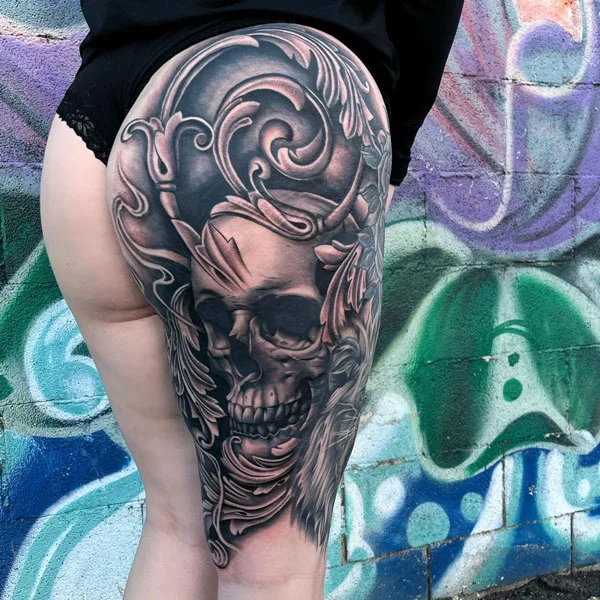 Expand your artistic canvas by incorporating a thigh butt tattoo. While there's no strict rule to match themes, syncing up both designs can create a pleasing flow.
Big Butt Tattoo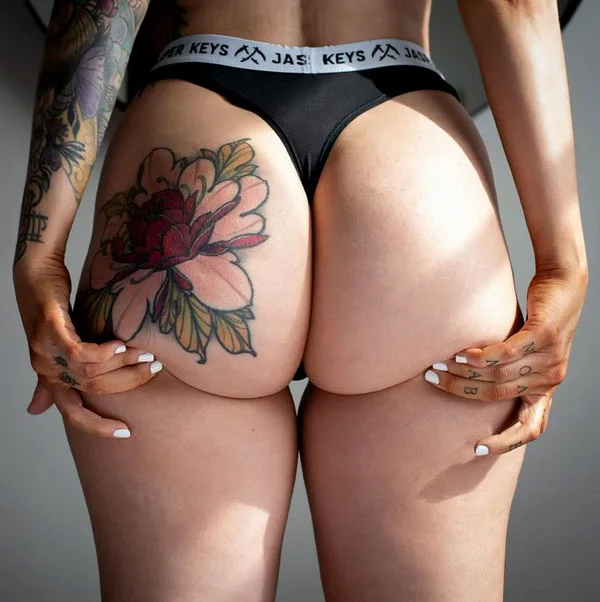 If you're up for making a bold statement, a big butt tattoo might be the way to go. Crafting it takes time due to its size, but the final result promises to be truly impressive.
Playboy Butt Tattoo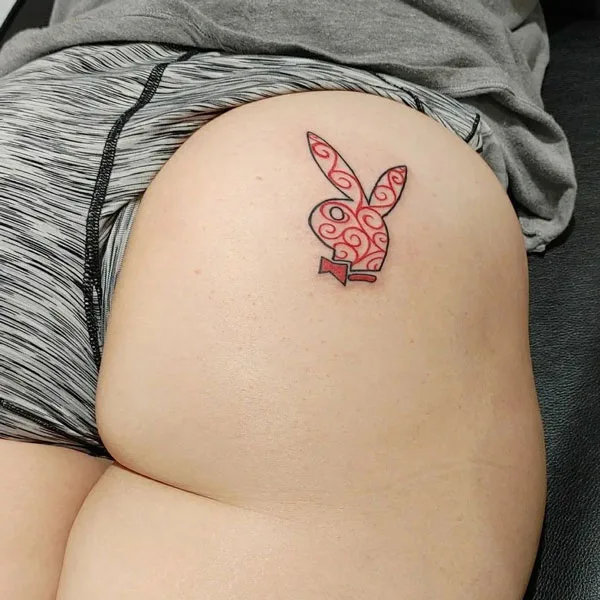 Inject a touch of grown-up allure with a Playboy bunny butt tattoo. This iconic symbol from the famous entertainment magazine adds a unique flair to your rear end.
Bud Butt Tattoo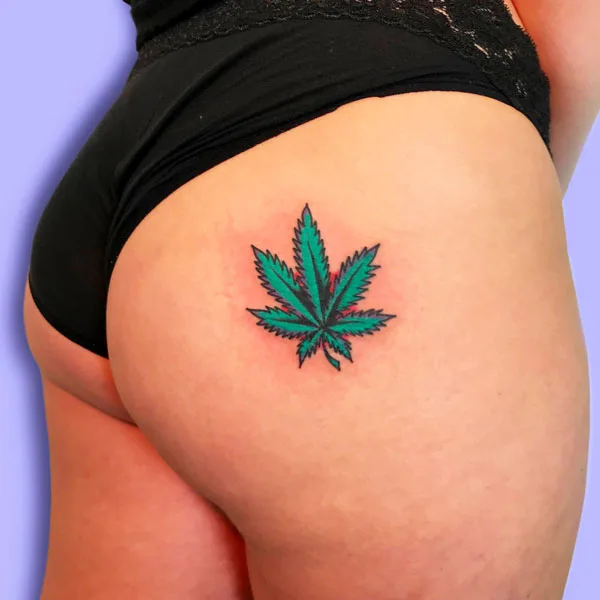 If you're a fan of cannabis and its potential benefits, why not wear your heart (or your bud) on your buttocks? It's a playful and daring choice that might spark interesting conversations.
Cat Butt Tattoo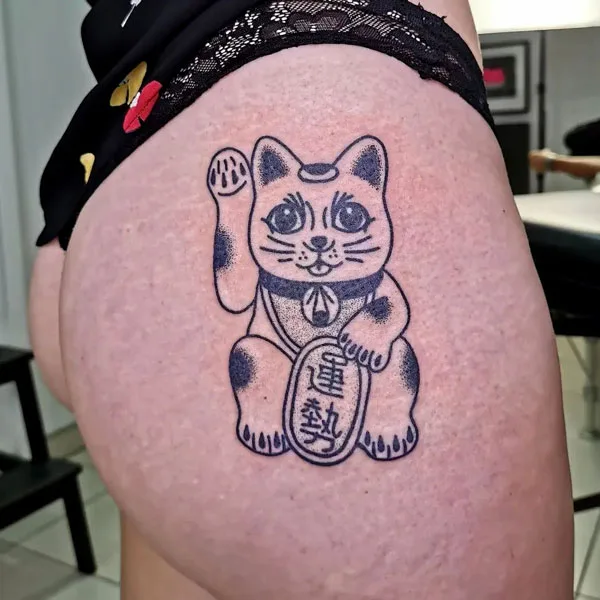 For all the cat lovers out there, a cat tattoo could be a quirky and endearing option. It's a way to keep your furry friends close to you, even when they're not around.
Under Butt Tattoo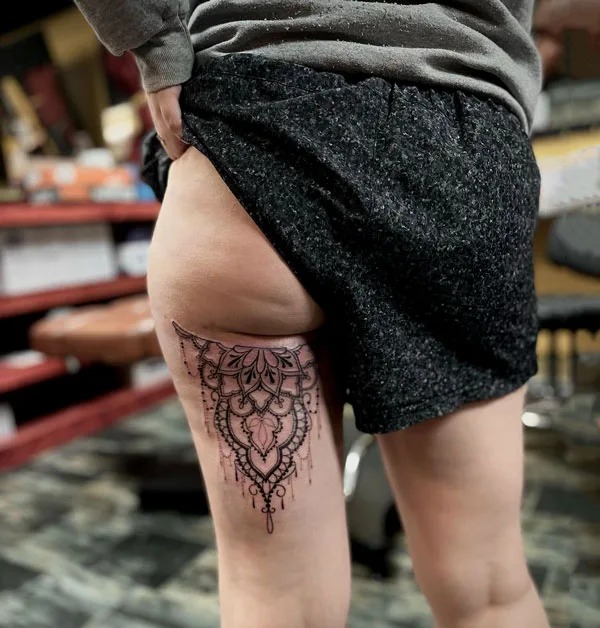 For an extended canvas, consider getting an underbutt tattoo. This provides room for future designs, allowing you to explore your creativity and unique patterns.
Cute Butt Tattoo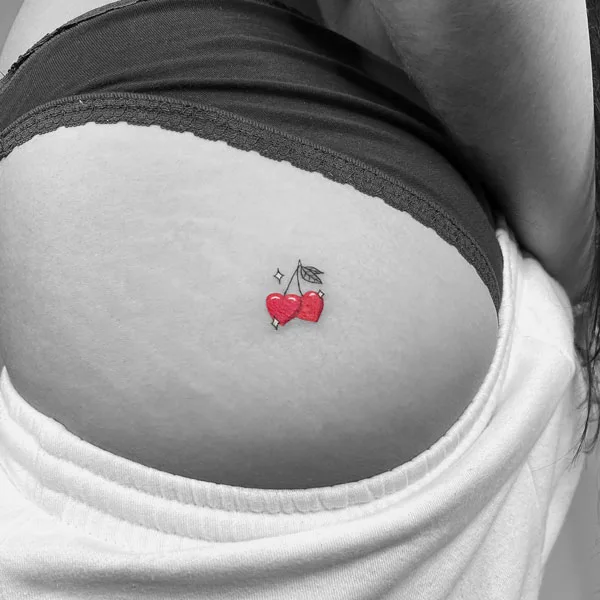 If you're looking for a compact yet visually appealing tattoo, a cute butt tattoo might be the answer. Despite its small size, the imagery is sure to stand out and capture attention.
FAQs
Q: What's the significance behind butt tattoos?
A: Unlike many tattoos that often carry symbolism and meaning, butt tattoos are quite open to interpretation. Essentially, they don't come with a predefined meaning or purpose, offering both freedom and challenge.
Q: What's the advantage of a butt tattoo's lack of specific meaning?
A: The beauty of a butt tattoo lies in its versatility – it can portray absolutely anything you desire. The rear end can be your canvas if you're keen on expressing your creativity without being confined to a particular message.
Q: Are there drawbacks to this lack of concrete symbolism?
A: Certainly. The absence of a clear meaning might lead to regret down the line, especially if the chosen image isn't appealing. Without a defined purpose, there's a risk of the tattoo losing significance over time.
Q: Is getting a butt tattoo painful?
A: Surprisingly, getting a butt tattoo is generally quite painless. Unlike sensitive areas, the butt boasts ample muscle and fat layers, making it remarkably resilient to the minor discomfort caused by tattooing needles.
Q: Why is the butt less sensitive to pain during tattooing?
A: The butt lacks the sensitivity found in many other body parts. Its substantial muscle and fat composition and its boneless nature contribute to the relatively pain-free tattooing experience.
Q: Is there any pain associated with the healing process?
A: While the shape of the butt can present some challenges for the tattoo artist, individuals who've gotten butt tattoos rarely complain about pain during or after the procedure. Despite concerns about the healing process, enthusiasts generally don't highlight pain as a significant issue.
Conclusion
In conclusion, buttock tattoos offer a unique canvas for those seeking to express their adventurous spirit and individuality. While not everyone's preference, these tattoos make a bold statement and exude confidence.
Public figures like Cardi B and Halsey have embraced this distinct form of body art. Whether it's a meaningful message or a playful design, buttock tattoos hold a special place as intimate and personal artwork.
The healing process and aftercare demand attention, but with patience, these captivating tattoos become a lasting symbol of boldness.
Are you ready to showcase a one-of-a-kind design on your posterior? Explore the diverse range of buttock tattoo options and make a statement that's uniquely yours.
MORE BUTT TATTOO IDEAS