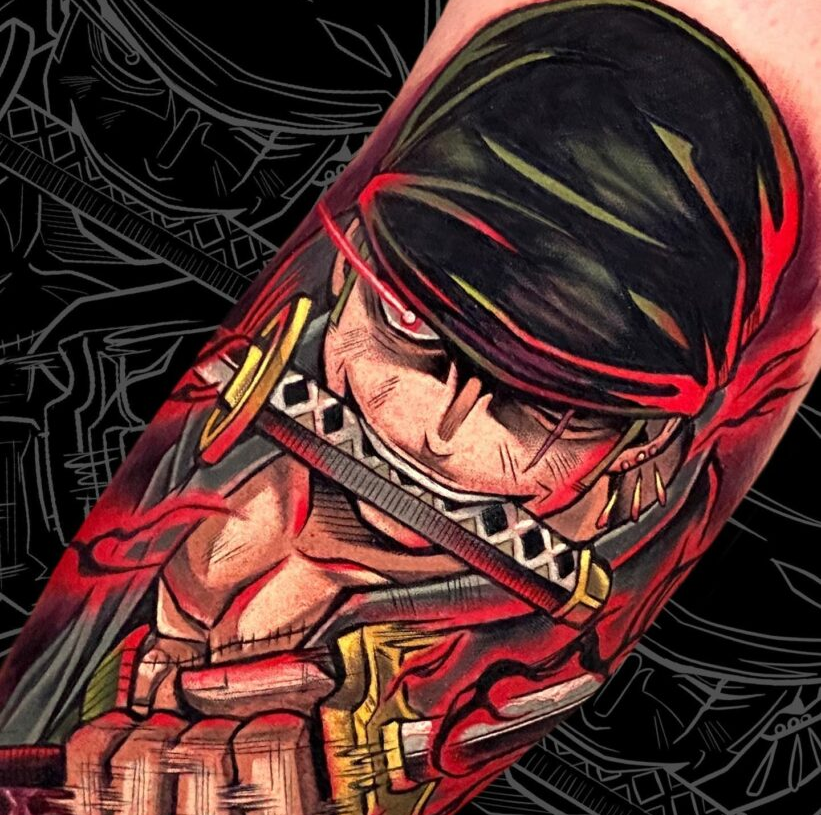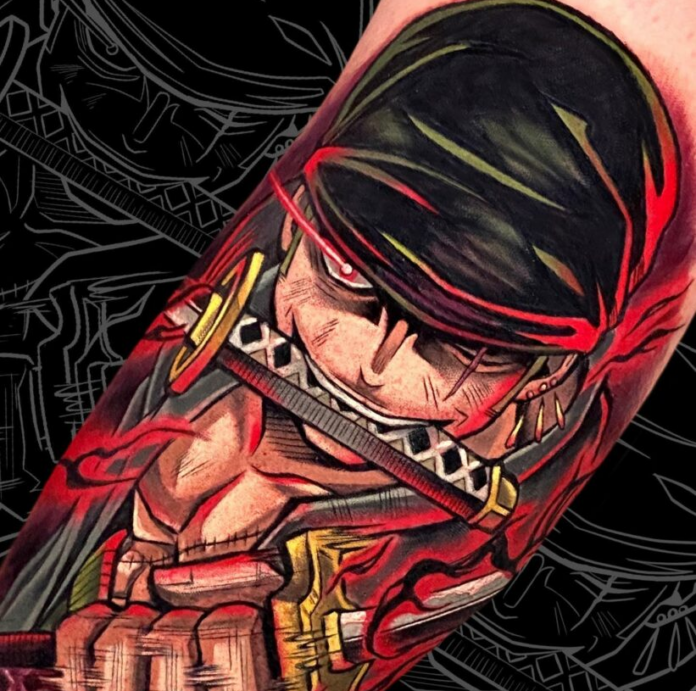 Are you a dedicated admirer of Roronoa Zoro, the legendary swordsman from the immensely popular anime 'One Piece'? If so, get ready for an exciting journey ahead, particularly if you're interested in Zoro tattoo designs.
'One Piece' stands as one of the most beloved and enduring anime series, boasting a whopping thousand episodes and still counting. Crafted by the talented mind of Eiichiro Oda, the show traces the captivating exploits of the Straw Hat Pirates.
Their quest revolves around uncovering the fabled treasure, 'One Piece'. En route, they cross paths with an array of formidable and captivating characters, including the fearsome Whitebeard Pirates.
What sets 'One Piece' apart are its distinctive devil fruit abilities that offer extraordinary powers to characters, albeit with inherent limitations.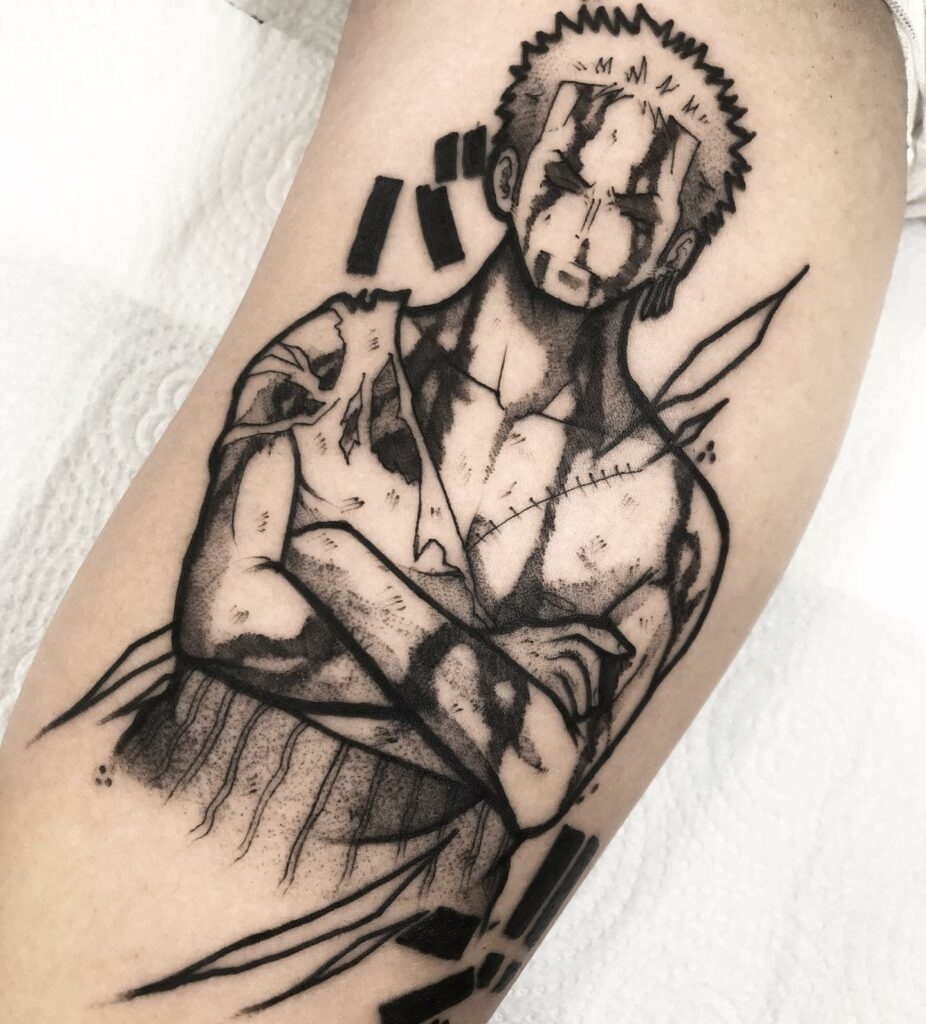 Not to be overlooked is the enthralling concept of Haki, a special ability wielded by select individuals. The series' protagonist, Monkey D.
Luffy, possesses the intriguing Paramecia-type power to stretch like rubber, and his formidable skill 'Conqueror's Haki' or 'King Haki' is a force to be reckoned with.
However, the spotlight often falls on Roronoa Zoro, the vice-captain of the Straw Hat Pirates, and his distinctive combat style involving three swords. A testament to his might, Zoro commands all three Haki types, solidifying his position as a truly potent character.
As someone well-acquainted with tattoo culture, I can affirm that 'One Piece' tattoos are a sensation among enthusiasts aiming to express their passion for the series or their preferred character.
So, if you're seeking captivating Zoro tattoo concepts, you've landed in the right spot. Let's embark on this creative journey and explore the realm of tattoos.
Menacing Zoro One Piece Tattoo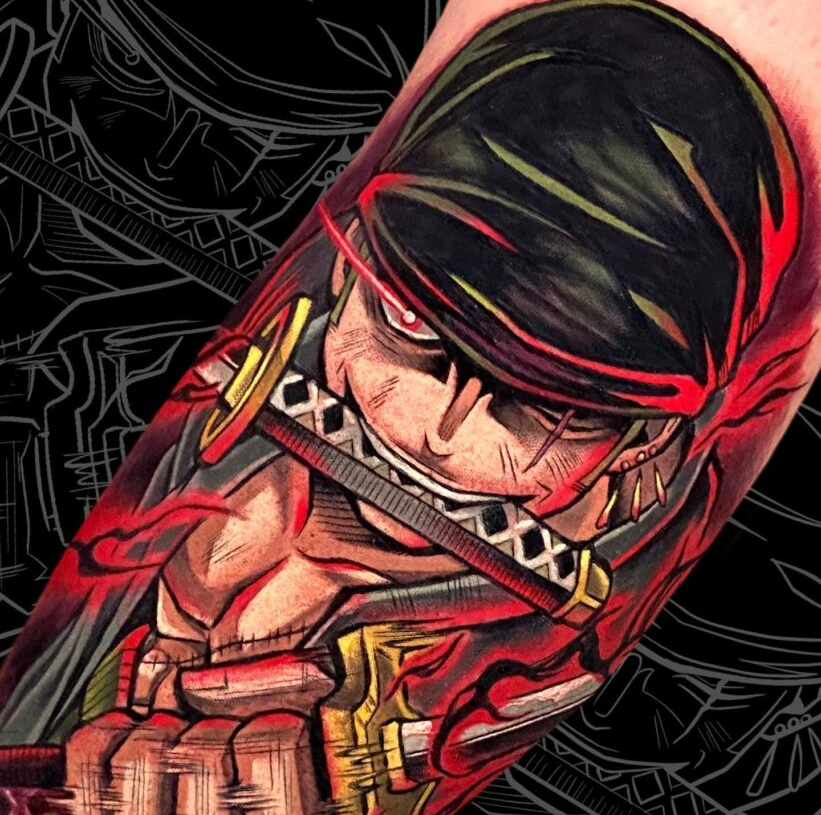 Let's take a moment to delve into this captivating 'One Piece' tattoo that graces the arm of its proud bearer. Can you guess which iconic character takes the spotlight here? You're right – it's the formidable Zoro.
The colour palette chosen for this tattoo impeccably mirrors the vibe of the anime and manga series. One of Zoro's eyes bears a distinct scar, a defining feature that stays faithful to the anime's portrayal.
The intensity of Zoro's gaze is strikingly captured, enough to send shivers down the spines of adversaries.
In this 'One Piece' tattoo masterpiece, Zoro is skillfully depicted wielding his signature trio of swords, with two of them prominently displayed – one gripped in his left hand and the other clenched between his teeth.
But did you catch that burst of pink lightning? It's a nod to Zoro's activation of his King Haki, a uniquely captivating facet of the 'One Piece' universe.
For fervent 'One Piece' aficionados who hold a special fondness for Roronoa Zoro, contemplating this tattoo for your next ink venture is a worthy idea.
It's an exceptional work of art, intricately detailed to encapsulate the very essence of the character. Let's discuss the exciting potential of bringing this tattoo to life.
Zoro Wanted Poster One Piece Tattoo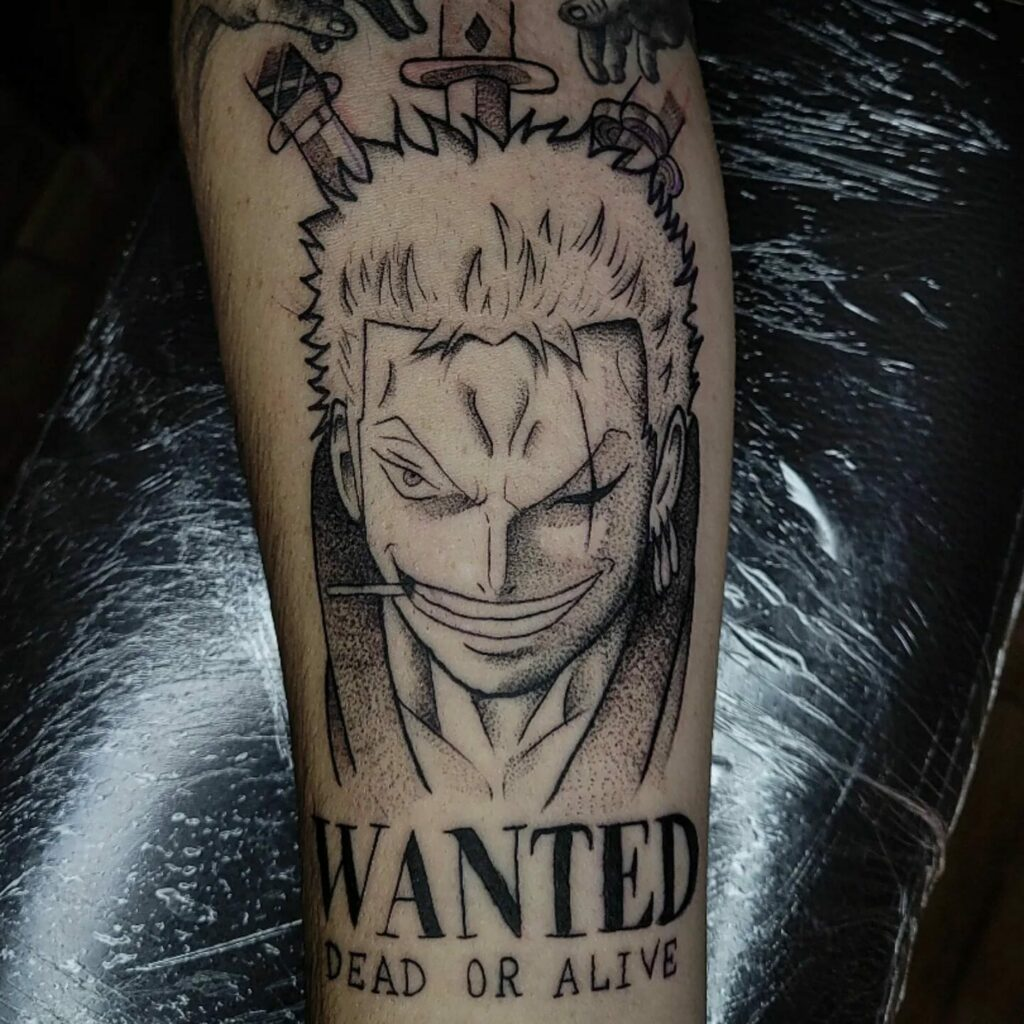 Let's delve into this incredible 'One Piece' tattoo that showcases the wanted poster of Roronoa Zoro, the vice-captain of the Straw Hat Pirates.
Wanted posters hold immense significance in the 'One Piece' world, and this tattoo masterfully captures the essence of these posters.
What sets this tattoo apart is the ingenious use of the dot work technique.
The tattoo artist has demonstrated exceptional skill in shading and intricate detailing, giving the impression that the poster is seamlessly integrated into the bearer's hand.
The fearless expression on Zoro's face, complete with a toothpick in his mouth, is impeccably portrayed, perfectly encapsulating his character.
If you're a 'One Piece' enthusiast in search of a remarkable tattoo concept, this dot work rendition of Zoro's wanted poster is undoubtedly worth considering.
Its remarkable execution deserves recognition, and I'm eager to explore further to transform your 'One Piece' tattoo visions into reality.
Fighting Stance Zoro One Piece Tattoo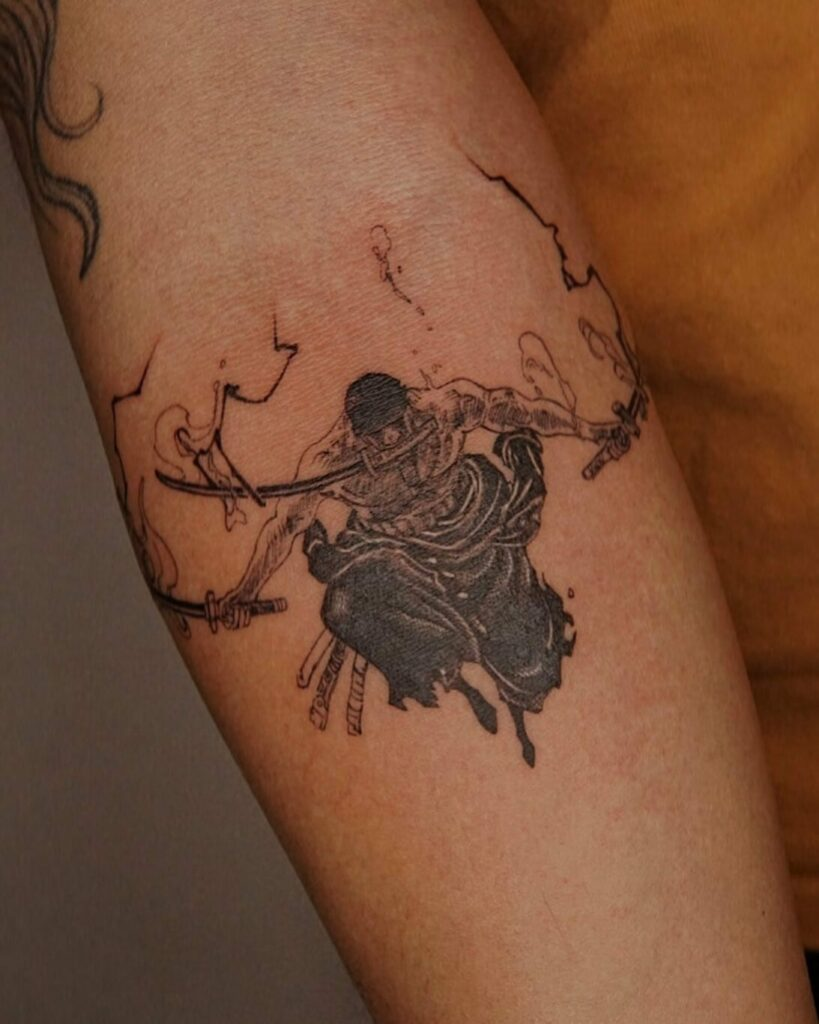 Let's talk about a cool 'One Piece' tattoo that shows how the Straw Hat Pirates crew has grown stronger after a time skip in the anime. This tattoo captures a tough fight on Mermaid Island, where they face a bad guy named Hody Jones.
The tattoo shows Zoro in a strong pose and is drawn in black ink. If you're a fan of 'One Piece' and want to show your love for the series, this Zoro tattoo is a great choice! It's a powerful tattoo that represents the spirit of the anime.
Let's chat more and make your 'One Piece' tattoo idea real.
Luffy Zoro One Piece Tattoo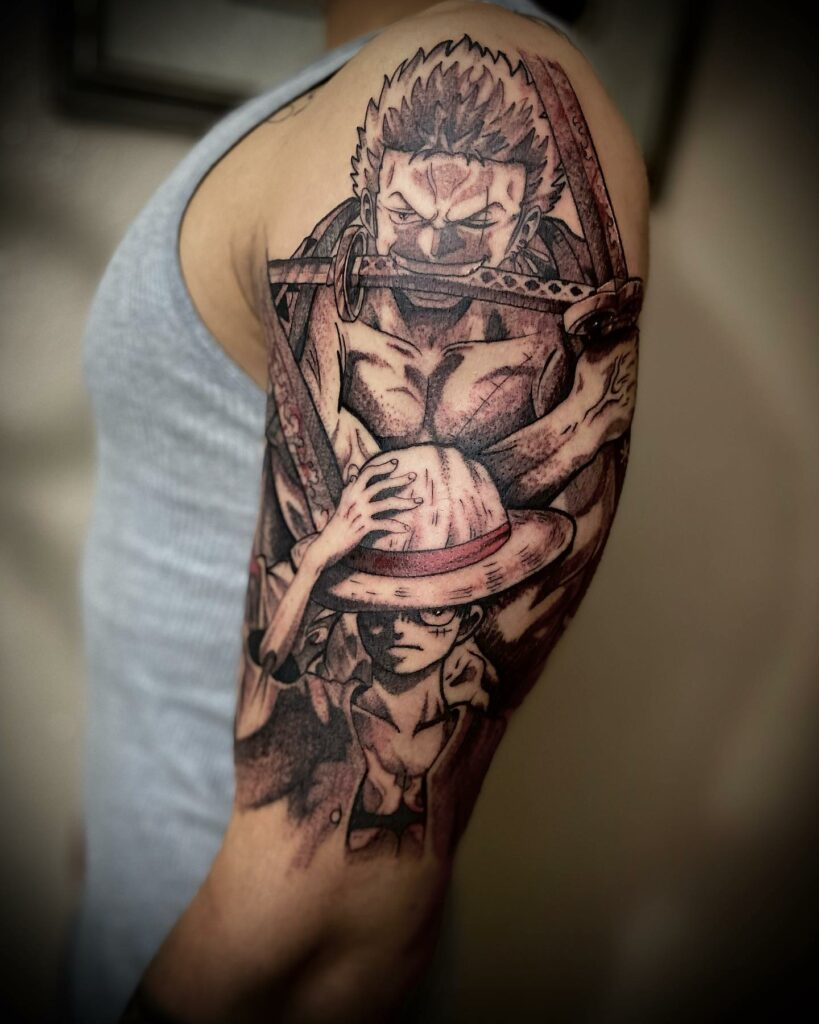 The artist skillfully captures the dynamic energy of the characters locked in combat, creating an impression of a fierce battle scene.
One Piece arm tattoo's level of realism is exceptional, with every intricate detail of the characters' features impeccably rendered. The shading work on both figures is also masterfully executed, lending the tattoo an added dimension and a lifelike quality.
These audacious characters portrayed in the 'One Piece' tattoo exude an air of nonchalant rebellion. We wholeheartedly suggest contemplating this tattoo if you're a devotee of this iconic pair and their carefree ethos.
It serves as a splendid means to express your admiration for the characters and the larger narrative.
Let's delve deeper into your 'One Piece' tattoo concepts, enabling us to craft a design that authentically encapsulates the spirit of the series.
Wano Arc One Piece Tattoo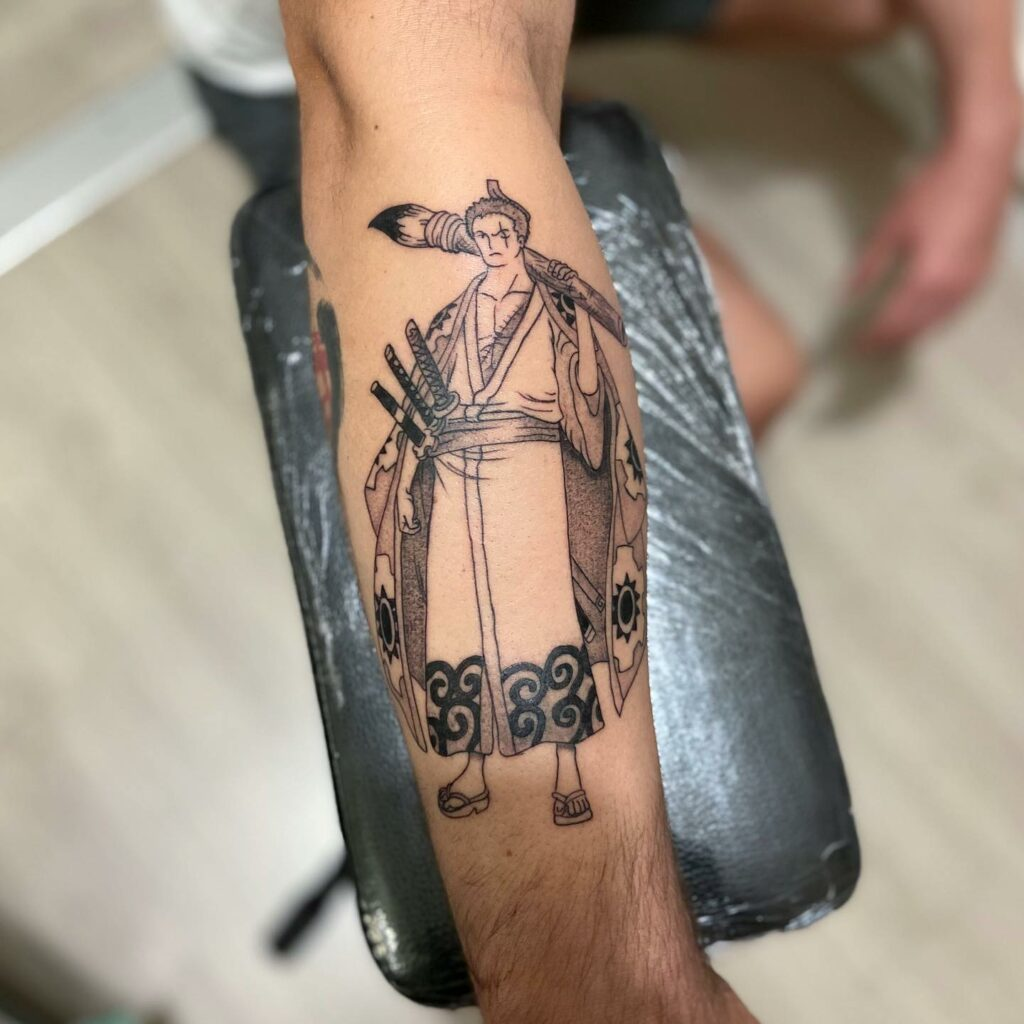 Crafted with meticulous precision, this Zoro' One Piece' tattoo proudly graces the forearm of a dedicated tattoo enthusiast.
The image of Zoro is drawn from the impactful 'Wano Arc', a narrative phase where the straw hat pirates courageously face off against the formidable Yonko, Kaido.
This tattoo seamlessly encapsulates the show's essence and character, resulting in a harmonious blend of body art and fandom.
For devoted 'One Piece' aficionados, especially those who hold a special fondness for Zoro, this 'One Piece' tattoo offers an alluring option. It captures Zoro's distinctive persona and unwavering spirit with remarkable accuracy.
Join us in the world of 'One Piece' tattoos as we journey to honour this beloved series' allure through captivating ink expressions.
Zoro With Tokkuri One Piece Tattoo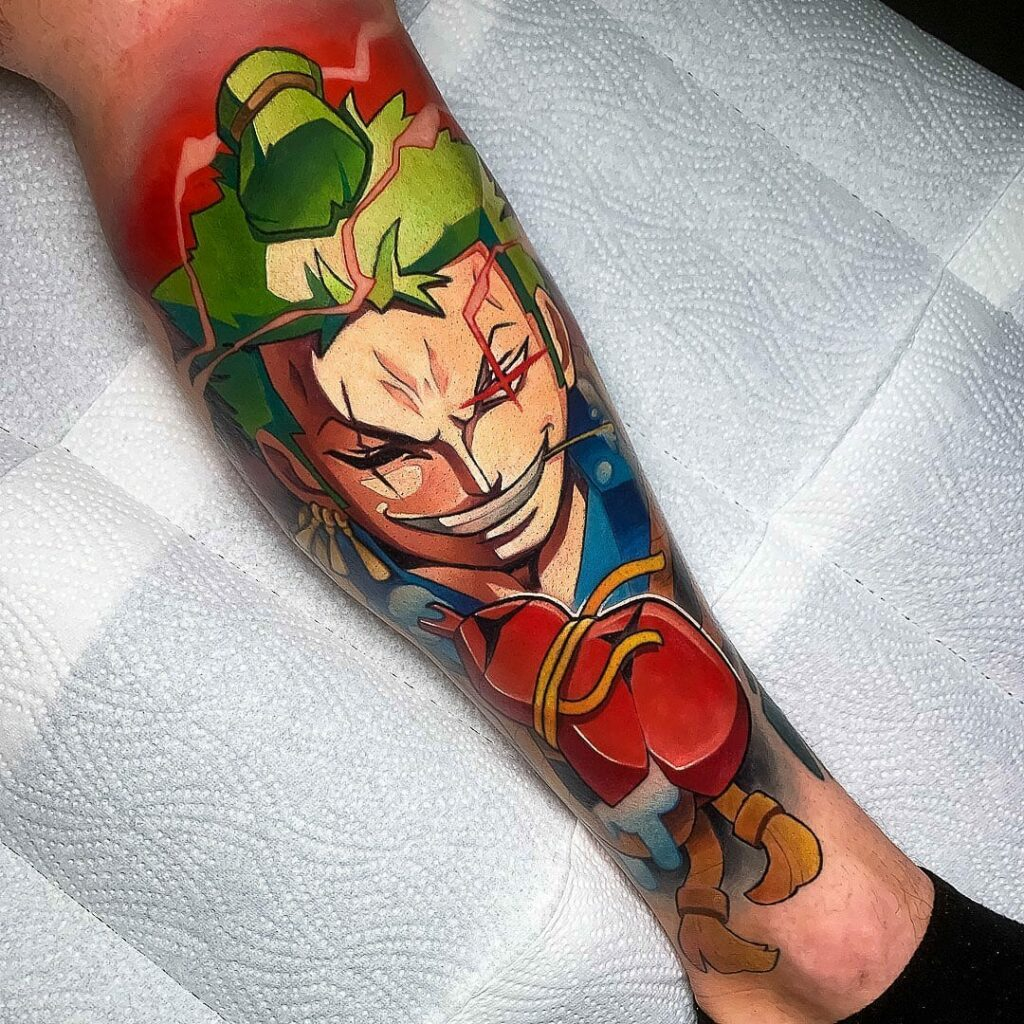 The Tokkuri, a traditional Japanese sake container, has found its way into 'One Piece' anime as a familiar motif. This dynamic 'One Piece' tattoo featuring Zoro showcases this emblem with a burst of colour and individuality.
The artist's skill shines through as they expertly capture the very essence of the anime, amplified by the vivid red aura enveloping Zoro.
Meticulous attention has been paid to every detail, from the electric haki lightning to the intense crimson eye and Zoro's determined visage. These intricate elements truly highlight the artist's craftsmanship.
For devoted 'One Piece' enthusiasts searching for a tattoo that embraces a lively and bold colour scheme, the Zoro' One Piece' tattoo should be on your radar.
Not only will it command attention, but it will also serve as a vibrant homage to the cherished series that holds a special place in your heart.
Caricature Zoro One Piece Tattoo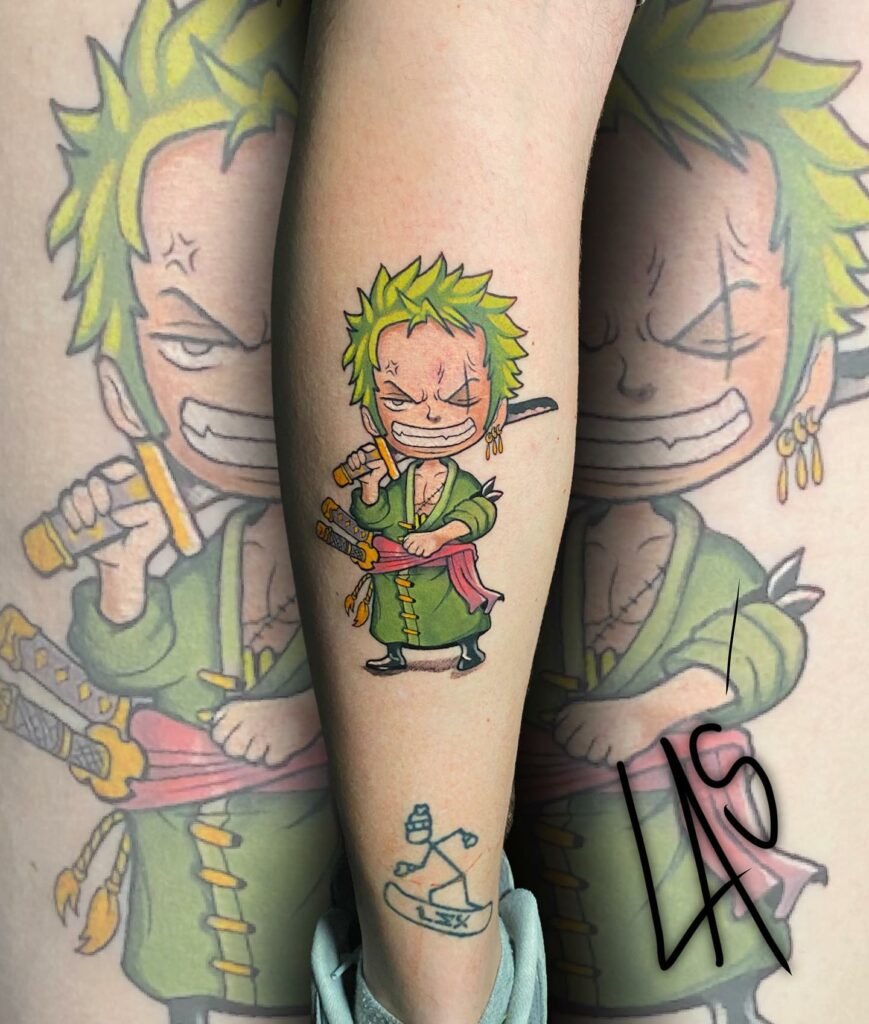 This tattoo inspired by 'One Piece' showcases a caricature representation of Zoro, perfectly capturing his trademark facial expressions and mannerisms, including his iconic forehead vein and distinctive laughter.
This tattoo's meticulous attention to detail speaks volumes about the artist's expertise and commitment.
If you're a fan of caricature art and have been seeking a distinctive and light-hearted 'One Piece' tattoo, this design should be on your radar for your next tattoo session.
It offers a fun and unique way to display your affection for the character and the series, undoubtedly catching the attention of fellow enthusiasts.
Manga One Piece Tattoo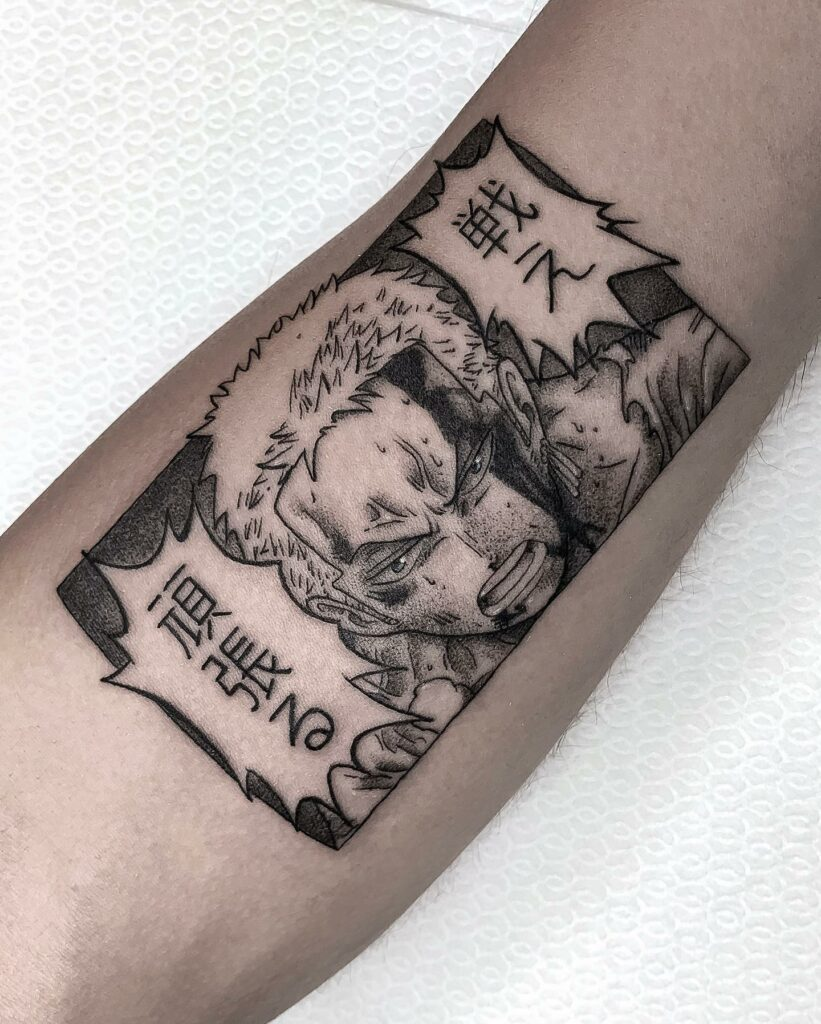 The skilled tattoo artist has done a remarkable job bringing Zoro's manga depiction to life with remarkable attention to detail.
The image perfectly resembles Zoro, and the text incorporated into the tattoo features Zoro's actual dialogue, enhancing its authenticity. This specific scene is widely acknowledged as one of the most iconic moments in Zoro's storyline.
Therefore, getting this tattoo means wearing a genuinely unique artwork that fellow fans will easily identify with and appreciate.
Regardless of whether you've been a dedicated fan for a while or are just beginning to explore the world of 'One Piece,' this Zoro tattoo is certain to initiate conversations and hold deep significance in your tattoo collection.
Powerful One Piece Characters Tattoo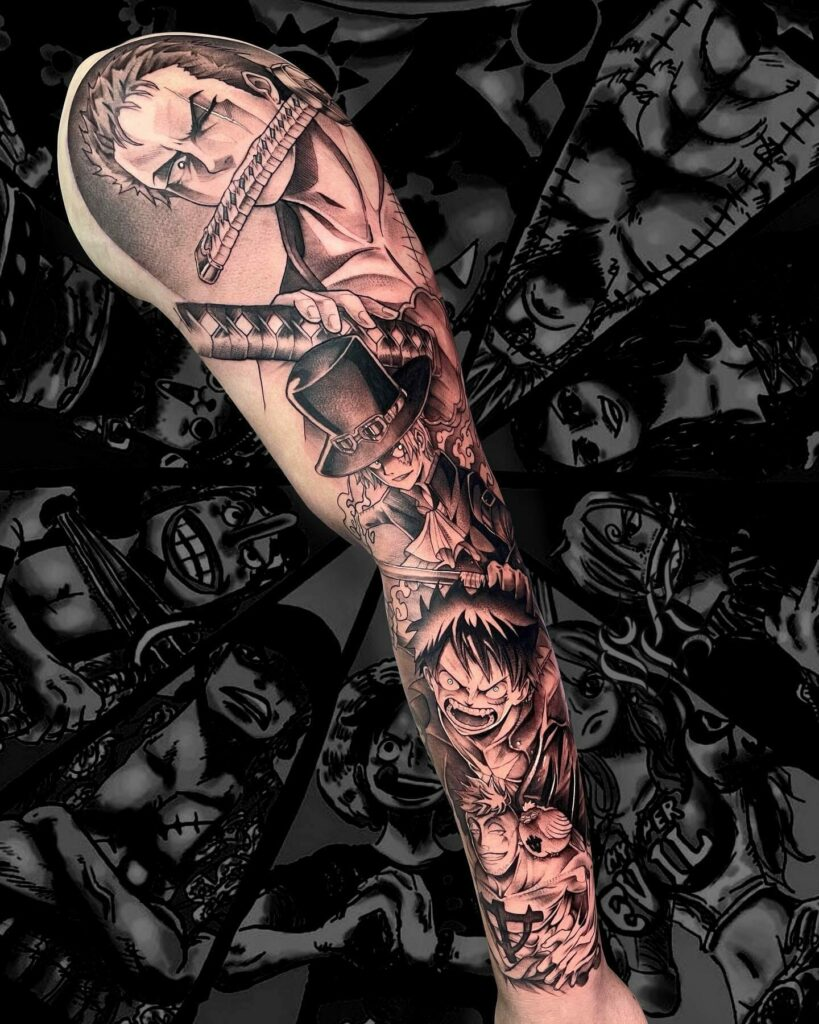 In this 'One Piece' tattoo design, we witness a depiction of a selection of the most formidable characters from the series.
While the 'One Piece' universe undoubtedly houses numerous other influential personas, these four individuals carry a distinct significance. Alongside Luffy, who commands as the captain, Zoro, Sabo, and Marco assume the roles of vice-captains.
The tattoo adeptly conveys the intense and resolute expressions etched across these characters' faces, effectively capturing their warrior-like resolve.
If these anime characters hold a special place in your heart, this particular tattoo concept is undoubtedly tailored to your preferences.
Bartholemew Kuma' One Piece' Tattoo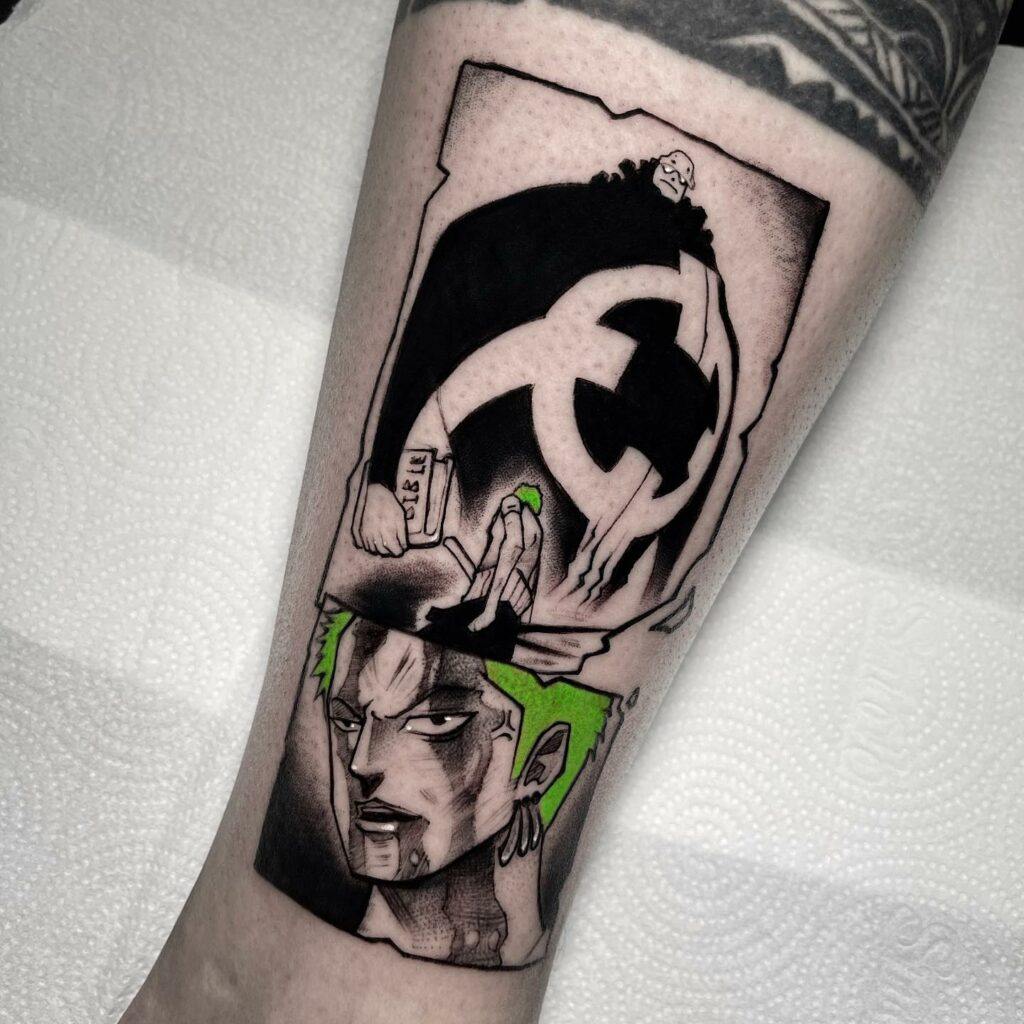 This remarkable tattoo pays homage to a memorable scene featuring Zoro and Bartholomew Kuma. Moreover, it captures the distinct art style of the original manga, making it a genuine masterpiece.
The tattoo artist has scrupulously recreated the iconic afterimage effect of Zoro's hair and Kuma's imposing appearance, bringing to life a moment that only the most devoted fans will recognize.
This scene holds a special place for Zoro enthusiasts as it was the pivotal moment that fostered our admiration for this formidable character.
The artist has poured their dedication into every intricate detail, ensuring this 'One Piece' tattoo is a splendid and authentic embodiment of your fandom.
If you're a genuine Roronoa Zoro fan aiming for a 'One Piece' tattoo that resonates with fellow enthusiasts who share your zeal, this design is the ultimate choice. So, without hesitation, schedule an appointment and let's materialize this incredible tattoo.
FAQs
Q: What does the tattoo on Luffy's arm mean?
A: Zoro deciphers Luffy's message on his right arm, revealing that the Straw Hat crew won't reunite in three days but after a span of two years. This is highlighted by the title "3D2Y," with the "3D" crossed out. Additionally, Mihawk agrees to provide training to Zoro during this time.
Q: Who is Zoro's mother?
A: Zoro's mother is Tera. In One Piece volume 105, creator Eiichiro Oda unveils Zoro's family background, disclosing that his father, Roronoa Arashi, was killed by pirates, while his mother, Tera, passed away due to illness during his childhood.
Q: What are the symbolic meanings behind a Roronoa Zoro tattoo?
A: A Roronoa Zoro tattoo symbolizes strength, courage, and determination, reflecting the character's resilient nature.
Q: How does Zoro's tattoo on his back signify his relationship with Luffy?
A: Zoro's back tattoo features an image of Luffy holding a straw hat, symbolizing that Zoro recognizes Luffy as his captain and leader among his Nakama (crewmates).
Q3: What is the cultural significance of the dragon tattoo on Zoro's chest and abdomen?
A: The dragon tattoo represents strength, power, and courage, important virtues in Japanese culture. Individuals who choose this tattoo might have faced challenges and seek motivation to overcome them.
Conclusion
In tattoo art, 'One Piece' has become more than just an anime; it's a vibrant culture enthusiasts embrace through intricate inked designs. These tattoos encapsulate the essence of the series, from its iconic characters to their defining moments.
With vivid colours and meticulous details, these tattoos immortalize the spirit of adventure and camaraderie that defines 'One Piece.'
Each inked creation serves as a lasting testament to fans' dedication, allowing them to carry a piece of the Grand Line's magic wherever they go.
MORE ZORO TATTOO IDEAS