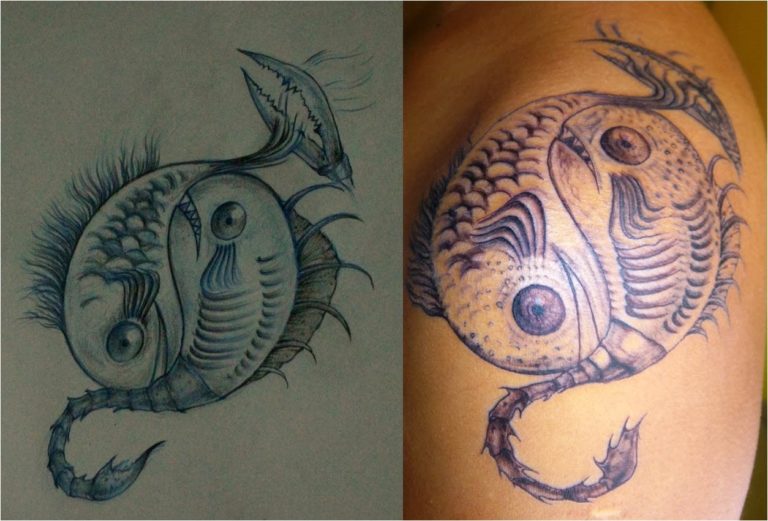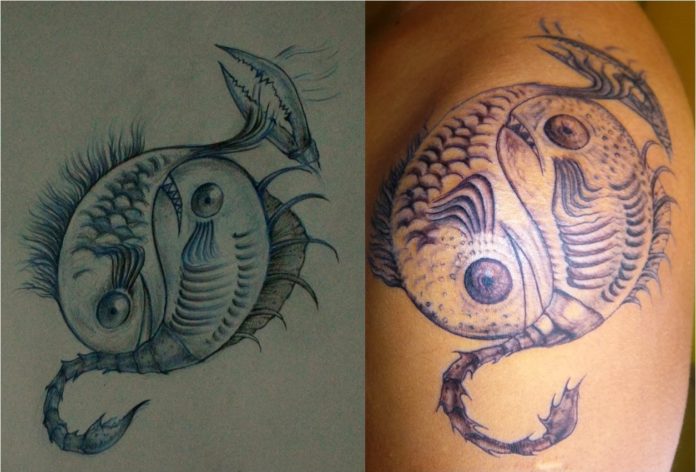 Zodiac signs and astrology is becoming more of a popular trend nowadays. The trend has led to an increase in the popularity of zodiac tattoos among Gen Z and millennials. An amazing thing about zodiac sign tattoos is that they illustrate personal character traits while providing a fashionable look. Moreover, they also allow you to pay homage to the fascinating wonders of the constellations.
Zodiac signs are the star signs. We all are born under one out of the total twelve signs. Each of the signs governs our personality, moods, and styles. So getting a zodiac sign tattoo is the best way to show what you are without even speaking a word. Here is an article with the best zodiac tattoos to help you find out the best one for you.
Best Zodiac Tattoos and Meanings
Astrology is nothing new. It is an ancient practice, so you get a lot of creative options. You can include start tattoo, moon tattoo designs, or rising sign tattoos on your list for a creative idea.
From zodiac symbols to constellations, zodiac tattoos can say a lot about you. It is an amazing way to have some unique and meaningful body art that represents your personality. In addition to this, you can never get bored of these tattoos as your birth date never changes. Below mentioned are zodiac tattoos with meaning.
Aries Constellation Tattoo
People who belong to this zodiac sign tend to be honest, intelligent, energetic, and active. Just because you are an Aries, your astrology tattoo does not have to be a ram tattoo. You can also get an Aries constellation tattoo, and it is a creative choice for zodiac tattoos. Celestial bodies like planets and constellations are one of the most popular unique tattoos nowadays.
So in order to go with the trend, you can get an Aries constellation tattoo. It is a bit whimsy and includes some of the biggest stars.
Aries Symbol Tattoo
People belonging to Aries have an amazing and vibrant personality. They make really good company. From ram's horns to geometrical tattoo design, there are various zodiac symbol tattoos for Aries.
If you are looking for minimalist tattoo ideas, you can also get an Aries symbol tattoo.
You can also get an Aries ram tattoo as your astrology tattoo. In order to make the tattoo more interesting, consider getting a geometric ram tattoo. An Aries tattoo represents that the sign has fiery nature, assertive disposition, and bold confidence.
Taurus Bull Tattoo
People belonging to the Taurus zodiac sign are sensual, diplomatic, and great lovers of luxury and beauty. The Taurus sign is represented using a bull, so get a bull symbol tattooed on your body.
In order to make the tattoo design interesting consider getting a zodiac sign tattoo with basic line-art and fine details like eyelashes, realistic face shape, and whimsical surroundings to make the design look outstanding while maintaining simplicity.
You can also get a baby bull tattoo with a Taurus sign on it. The design looks adorable and reflects your soft side. Make sure to get the bull design with adorable expressions and a cute face.
Taurus Floral Tattoo
Taurus signs people can be materialistic sometimes, but they make amazing friends. If you love floral tattoos, then you can opt for including them in your zodiac sign tattoo. These tattoo designs look elegant and carry deep symbolism. In general, flower tattoos represent beauty, femininity, and love.
A bull with flowers is one of the best zodiac tattoos. It allows you to represent your dark as well as a soft side together. This tattoo design includes a dark animal head which shows a dark side, and a beautiful floral design that shows soft elements of the personality. This tattoo design is perfect for showing the complex nature of Taurus.
Gemini Face Tattoo
People falling under Gemini are practical, intelligent, and attractive, which makes them difficult to avoid. They are highly sociable, romantic, and humorous.
A Gemini sign usually shows the portrait of two girls and both facing in opposite directions. It clearly reflects the nature of people belonging to this sign.
If you belong to a Gemini and are looking for zodiac tattoos, then nothing can be better than a face tattoo. Make sure to get a face design that has simple lines with a sketch-like effect. The two faces should also look different ways to relate back. It brings out the nature of the Gemini people.
Gemini Snake Tattoo
If you are looking for some creative zodiac sign tattoo for Gemini, then you can get a Gemini snake tattoo. Get the twin snake tattoo as it symbolizes Gemini. You can get any two identical elements to represent this zodiac sign. So, feel free to be creative. If you want a tattoo design that does not cause too much pain, then get a simple two snake tattoo. It is best to reflect your sign's personality and make a style statement.
Cancer Symbol Tattoo
People falling in this zodiac sign are very moody. They have different moods for every occasion. If you are looking for a cancer zodiac sign tattoo, you can get a cancer symbol.
A crab is the symbol of the cancer zodiac sign, so a small and simple symbol tattoo will be enough. The tattoo design may be simple, but it is best to reflect the powerful personality of this astrology sign. Make sure to get the tattoo in a simple but artistic way.
Cancer Constellation Tattoo
Cancer people make great companions. They are always ready to help their near and dear ones during troubled times. If you want something simple but attractive, you can get a cancer constellation tattoo. It is basic but looking really beautiful. When it comes to constellation tattoos for cancer, the designs are basic and include small dots as a connection to show the placement of stars.
Leo Zodiac Tattoo
Leo people are generous, passionate, enthusiastic. This zodiac sign is proudly represented using a lion, and this astrology tattoo design is the perfect first for a king. Lion tattoo designs symbolize strength, power, and courage. Moreover, it also represents royalty, life, and vitality.
If you do not want a normal lion tattoo, you can get a geometric lion tattoo. It looks unique and best to show your personality on the basis of your zodiac sign.
Leo Symbol Tattoo
When it comes to Leo symbol tattoos, you can feel free about creativity and customization. You can make it look unique by adding a little bit of color. Small tattoos look highly attractive when you add color to them.
You can also get Leo constellation tattoos if you want an astrological tattoo. It provides all the mystery that Leos love. The design includes a traditional Leo constellation with bold stars and connected with dots to clearly reflect the design.
Virgo Symbol Tattoo
Virgo people are composed, quiet, and calm. They have amazing personalities, and one best thing about them is that they make great companionships. If you want a larger zodiac tattoo, then you can consider including earthly elements like flowers in them. Including flowers in the zodiac sign, tattoo design makes it profoundly eye-catching. However, make sure to highlight the Virgo symbol to grab the attention directly to it.
Virgo Maiden Tattoo
Virgo is an earth sign which is often associated with natural beauty symbols like maidens and flowers. This zodiac sign is symbolized by a maiden, which makes it a perfect tattoo design for females. Opt for the black and grey tattoo design of the maiden to make it look more attractive. Use a mixture of tick outlines and heavy shading to create a classic look.
If you want a Virgo zodiac tattoo design for men, then you can opt for getting a constellation tattoo. Usually, Virgo constellation tattoos are made using bold lines to show the bold nature of people belonging to this sign.
Libra Sign Tattoo
People belonging to this zodiac sign can be very simple or complex. It completely depends on how you understand and perceive them. The best thing about Librans is that they are romantic and value their relationships. The symbol of Libra is scales which itself makes an amazing zodiac tattoo design. A perfectly designed scale tattoo looks wonderful, creative, and unique. It is perfect for showing the nature of Librans. In order to make it look more attractive, you can choose to get dotted shading. Trust me, and it will give a crisp look to the tattoo.
Libra Constellation Tattoo
Librans are romantic, sociable individuals and charming. They make a social gathering more amazing and engaging. If you think libra tattoos are boring, then you should have a look at the libra constellation tattoo. It is one of the most attractive astrology constellation tattoos. This astrology tattoo design utilizes doodle-like details and small dots to render a touch of whimsy and customization. You can also include stars, dots, and hearts in this tattoo design to make it look more happening.
Scorpio Symbol Tattoo
Scorpios are emotional and deep people. Moreover, they are intense in all things they try to do. They are natural leaders, which makes their personalities strong. The symbol of Scorpio is scorpions, and they naturally make amazing zodiac tattoos.
A scorpion tattoo is the perfect representation of great strength. Loyalty and the ability to control everything. It is perfect to represent the nature of people belonging to this zodiac sign. If you want a simple tattoo design, then you can get a black scorpion with fine shadings and details to make it attractive and appealing.
Scorpio Constellation Tattoo
Another good idea to get a simple astrology tattoo is the Scorpio constellation tattoo. Scorpio star signs make an amazing tattoo design. Make sure to include tiny dots in order to connect the stars. It will help to make the star sign recognizable. Moreover, add a little bit of unique details to create a classic zodiac sign tattoo.
Sagittarius Arrow Tattoo
Sagittarius people are highly optimistic, and they love freedom. They are fair-minded, intellectual, honest, and hilarious. This one is a fire sign. If you are looking for Sagittarius zodiac tattoos, nothing is better than an arrow tattoo. Use an arrow as a simple base and then add linework and shading to the design to make it look more appealing. Detailing will help in providing a charm to this tattoo design.
Sagittarius Symbol Tattoo
Sagittarius people are spontaneous and always fun to be around. One of the best zodiac tattoo designs for Sagittarius is the symbol of this sign. The symbol includes an archer. In order to make the design interesting, you can add fire to the arrow and surround it with moons and stars. It will provide a majestic look to the design.
You can also get a bow and arrow tattoo. This zodiac tattoo design is perfect to represent a sine of direction, sense, and power.
Capricorn Symbol Tattoo
Capricorns are ambitious, practical, and goal-oriented. They are okay with the hustle. If you are a Capricorn and looking for simple zodiac tattoos to show your pride, then you should get a small Capricorn symbol inked.
If you want something unique, then you can get a Capricorn woman tattoo. The design includes a beautiful woman with horns and open hair. Make sure to include proper shading in the design to make it look attractive.
Capricorn Goat Tattoo
Sea-goat is the symbol of Capricorn. A goat makes a great tattoo choice for someone who is looking for something customizable and unique. You can get a black goat tattoo with intense black shading. However, if you want something simple, you can get a simple goat tattoo with dark outlines and basic shading. You can also include crosshatch patterns for better shading.
Aquarius Wave Tattoo
Agree to it or not, every person belonging to this zodiac sign is a rebel at heart. Aquarians are eccentric and free-spirited and can be identified by their nonconformist attitude. If you want to get a sweet and simple Aquarius tattoo, then nothing is better than a wave. It is best to associate this tattoo design with water moving overtly. Waves are the best zodiac tattoo design to connect with this symbol.
Aquarius Water Bearer Tattoo
People belonging to these zodiac signs are identified by their unusual hobbies and fashion sensibilities. Water-bearer is the symbol of Aquarius. A water bearer image can be the best astrology tattoo for this zodiac symbol.
If you are planning to get this tattoo design, then make sure to use bold colors and lines as it will provide an attractive look to the design. Moreover, it makes the design feel more realistic and visible. Add flowing water design to the tattoo. Design it with line details to create a vision like water is moving.
Pisces Fish Tattoo
This one is a mutable sign. People belonging to this sign easily adapt to their surroundings. They are kind and gentle and make great creatives and artists. If you want a zodiac symbol tattoo for Pisces, then a pair of fish is perfect for you. Sea creature tattoos make an amazing choice, and they represent strength and resilience. In this regard, fish tattoos also represent creativity.
If you want a unique tattoo, then you can get a koi fish yin yang tattoo. Apart from reflecting the zodiac sign, this tattoo represents courage, luck, and abundance. Moreover, it also symbolizes unity in opposites.
Pisces Symbol Tattoo
Pisces are represented using a pair of fish. You can get the symbol tattoo in an attractive way by getting it inked as a watercolor tattoo. Use attractive colors in the tattoo-like blue and pink to make it look more captivating and attractive. The colors are perfect for adding whimsy and beautiful touch to the design.
Final Words
Different zodiac signs have different personalities, and zodiac tattoos are a perfect way to reflect that. Nothing can be more fashionable and meaningful than astrology tattoos. Moreover, they never get out of trend as astrology signs are permanent. You can either get your zodiac sign constellation tattoo or can also get a symbol tattoo. Make sure to choose an experienced tattoo artist to get inked. Do share your experience with us by dropping a comment.