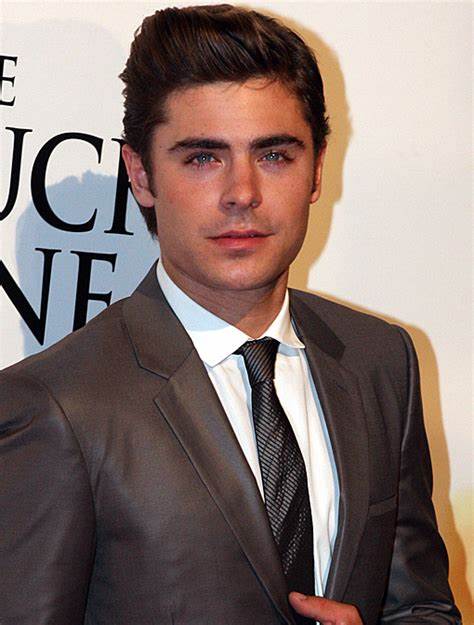 Zac Efron net worth- $25 million
Age- 33 years
Profession- Singer, Actor, Voice Actor
Nationality- United States of America
 Zac Efron became a heartthrob of most girls after he played an unforgettable role in High School Musical. Zac Efron has a net worth of $25 million and has appeared in various television shows and films. He rose to fame as a child actor after "high school musical" and "high school musical 2".
Read More:- How Much is Taylor Swift Net Worth?
Early Life of Zac Efron:
He was born as Zachary David Alexander Efron on 18 October 1987 in California. Zac was raised with his brother in Arroyo Grande. He was a very dedicated student from a young age. Zac Efron started working in his High School Musical productions, participated in theatre companies, and also took singing lessons outside school. His drama teacher noticed his talents and connected him with an agent in Los Angeles.
Career:
2004-2010
Zac Efron started his career by playing small roles in various TV shows like a firefly, ER, and The Guardian. He played his first recurring role in the show Summerland in 2004, and then he got a chance to play various central roles in teh show by 2005.
In 2004 Zac Efron did his first debut movie, " Miracle Run," and he was also nominated for Young Artist Award for his great acting.
2006 was a breakthrough year for Zac Efron as it was the releasing year of High School Musical. To this day, his fans consider this the best film with Zac Efron. This movie put him on Hollywood's radar, and Zac became a major hit among the teens. High School Musical became the fastest-selling TV film after the release of DVD.
Later in 2007, zac release a successful musical named " Hairspray," which hit amazing box office numbers. Disney fans loved seeing him in High School Musical 2 in 2007 and again in 2008 for High School Musical 3. In 2009 Efron played a younger version of Mathew Perry in "17 Again".
After 2009 Zac Efron made efforts to expand his genre and shake off the child actor reputation. He made an appearance in Orson Welles and Me; in 2008, the film was also premiered at the Toronto International Film Festival. In 2010 he acted in "Charlie St. Cloud," which was a hit at the box office. 
2010-2020
In 2011 he appeared in "New Year's Eve," and in 2012, Zac joined the "Liberal Arts cast," an independent film. The same year zac also appeared in Paperboy, which received negative reviews by the critics. After giving his voice to an animated film, "The Lorax," Zac got roles in many films like Parkland, The Lucky One, And At Any Price in the coming years. In 2014 Zac did his first romantic comedy movie, " That Awkward Moment"; however, the movie mostly received negative reviews.
In 2014 movie "Neighbors" was released, which portrayed Zac as a bad body, which was completely opposite of his Disney movie roles. This paved his way for more mature roles in movies like "We Are Your Friends" in 2015 and " Dirty Grandpa" in 2016. The same year he also played a role in Neighbors 2: Sorority Rising.
Later in his career, he did some bigger roles in movies like Baywatch, Extremely Wicked, Beach Bum, Vile, and Shockingly Evil. Zac played the role of a serial killer named Ted Bundy in Vile.  In 2019 Efron announced to star alongside his brother in a reality TV series called Kill The Effrons. The same year he also announced that Efron also gave his voice to the character of Fred Jones in an upcoming animated film Scooby-Doo.
Read More:- This is The Surprising Net Worth Of Ralph Macchio Net Worth
Other Ventures:
Zac Efron launched his own YouTube channel in 2019, which often features his brother and content focusing on fitness, diet, and outdoor survival. He hit 1.26 million subscribers in 2020. Zac Efron, along with his brother, created a film production company named "Ninjas Runnin Wild. This movie production company operated under Warner Bro's banner. Their company has played parts in movies like That Awkward Moment and Dirty Grandpa and also focuses on releasing digital format. All of this combined plays a major role in Zac Efron net worth. 
Substance Abuse and Legal Issues:
Zac Efron is known to struggle with drug abuse over the past years. In 2013 he was treated for his addiction, and by the time "Neighbors" was released, he was living completely sober. During the treatment, Zac Efron was the subject of gossip frequently and was on the headlines of the newspaper for his party and drug use.
In 2014 Zac Efron was in the newspaper headlines for getting into a fight with a homeless man in Los Angeles. However, he was not arrested as the law enforcement viewed the incident as a mutual combat.
Sneak Peek into The Personal Life:
Zac Efron was the talk of the town when he started dating High School Musical co-star Vanessa Hudgens. They were in a relationship for five years from 2005-2010. Later he started dating Sami Miro, a model, in 2014. Their relationship ended after two years.
Injuries and Illnesses:
Zac Effron fell from his own house in 2013 and broke his jaw wish was wired shut at the hospital. In 2019 he contracted typhoid, which was so fatal that it could have taken his life. He got it while filming outdoor survival videos in Papua New Guinea. Luckily he was fully recovered.