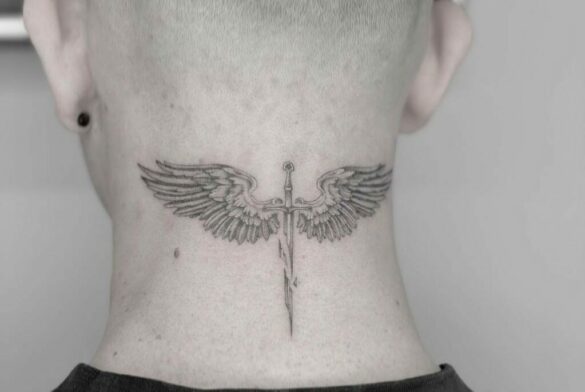 Are you interested in neck tattoos? Let's talk about wings neck tattoos – meaningful designs that show your style and feelings.
Angel wing tattoos are like a message about deep thoughts. They can mean you're growing spiritually, like wings opening up to higher ideas.
Neck tattoos come in lots of different styles and are important in different cultures. For example, in Native American traditions, they can show how strong you are.
But remember, if you don't understand a tattoo's meaning in these cultures, it's not right to have it. This reminds us to respect what tattoos mean.
Wings neck tattoos are beautiful and liked by many people. They can also be a way to remember guardian angels. Lots of people get these tattoos on their necks to remember loved ones who aren't here anymore.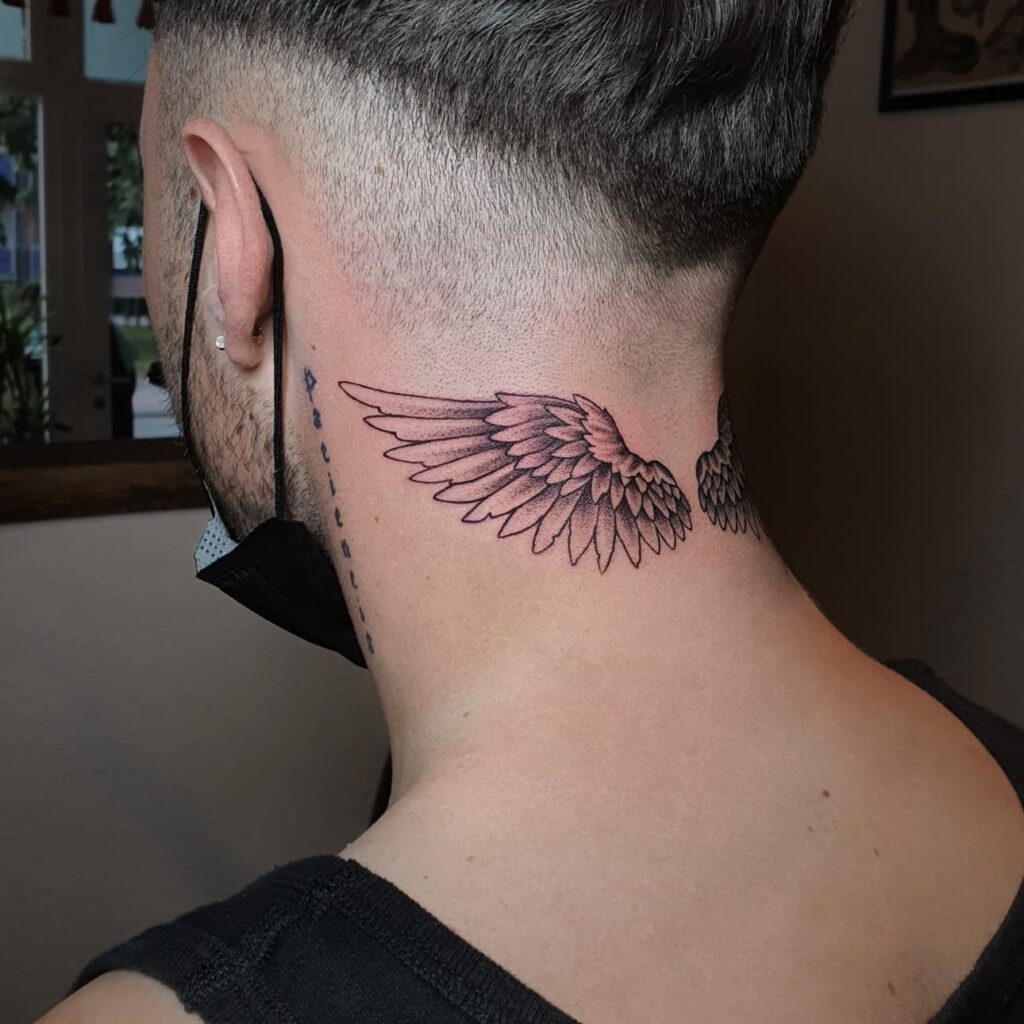 More than just a picture, they can show how you're changing and becoming healthier and happier. That's why wing tattoos are so popular.
Neck tattoos also show that you're ready for new things in life. They say you're brave and can handle anything. Putting wings and neck tattoos together is like showing you want to explore and be free.
Even though we often see winged tattoos on necks, they can go on other places, too, like shoulders or throats. So, whether you've got tattoos already or are thinking about your first one, remember they're more than just drawings.
They're like stories on your skin, telling everyone about you and what you care about.
Angel Wings Neck Tattoo Ideas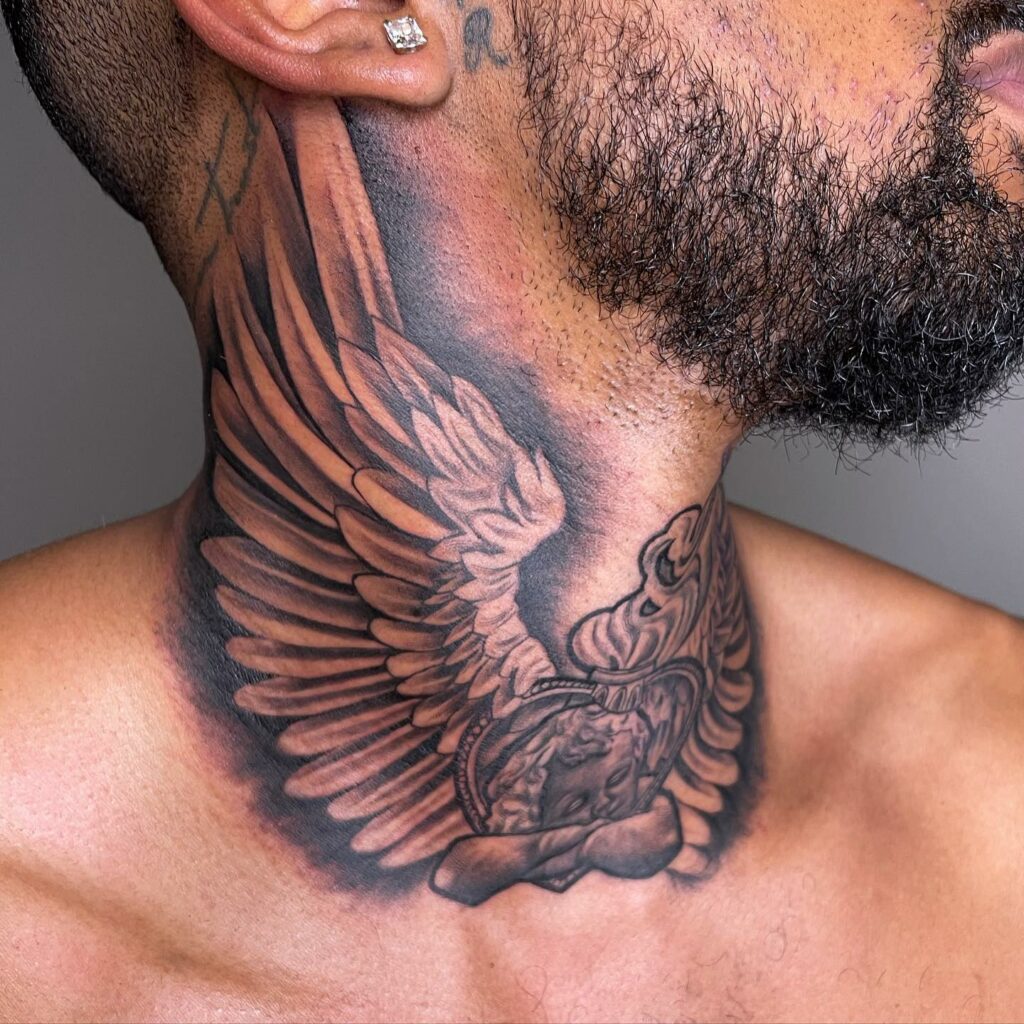 Picture a captivating neck tattoo that captures the graceful arc of angelic wings embracing the neck.
The tattoo portrays a sleeping angel with its wings gracefully expanded, painted in soft shades of grey that conjure a feeling of tranquillity and serenity.
The dark black backdrop provides a striking contrast, infusing vitality into the tattoo and highlighting the impressive craftsmanship of the artist responsible.
This artistic gem encompasses not just the neck but also extends to the throat, utilizing understated hues that nonetheless seize the observer's gaze through their artistic magnificence.
Red And Black Angel Wings Neck Tattoo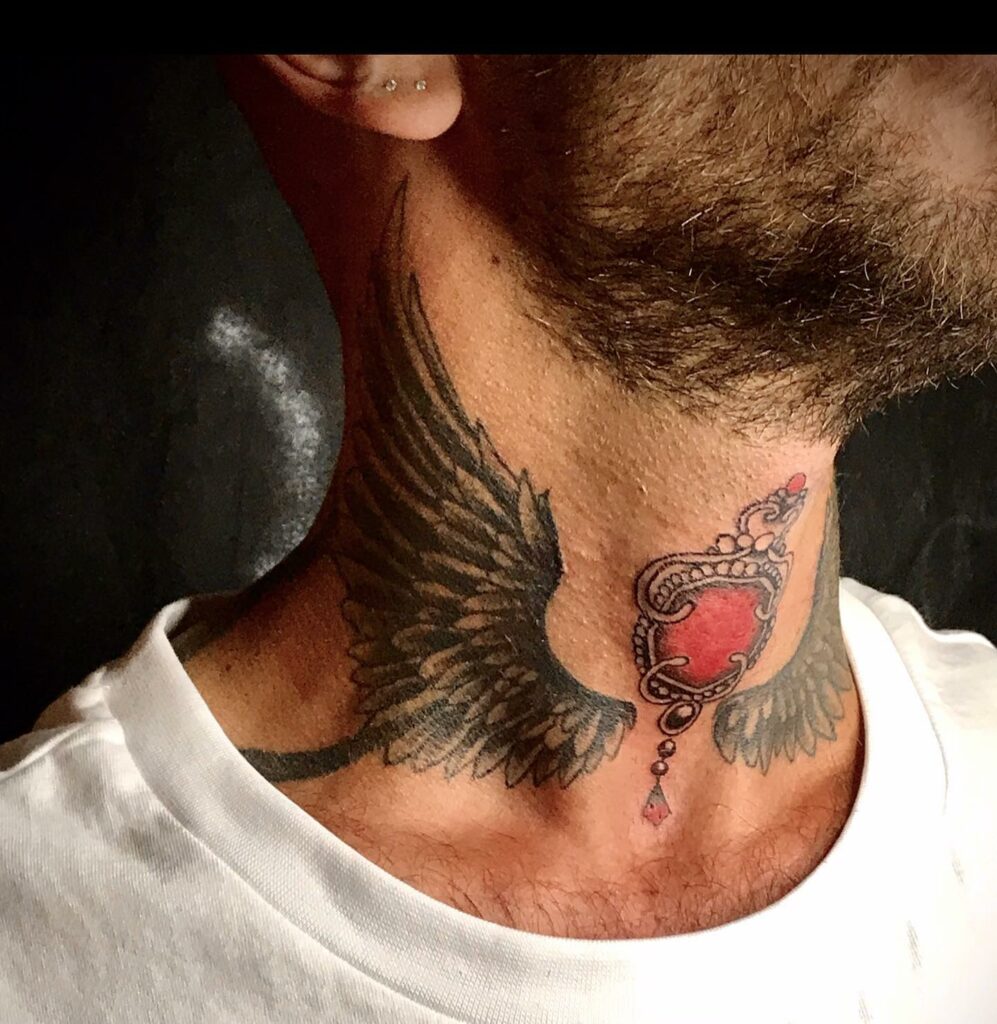 If you're after a standout neck and throat tattoo, there's a captivating design featuring angel wings that's truly unique. These wings are carefully shaded in black, creating a mesmerizing interplay of light and shadow on the feathers.
What adds a burst of colour is the vibrant red gem that resembles a ruby, outlined with a touch of brown for depth.
Around this gemstone are mandala patterns that bring in a touch of Asian influence, making it an intriguing choice for anyone who's into distinctive and unconventional tattoo designs.
Classy Neck Tattoo Wing On Men For Cover Up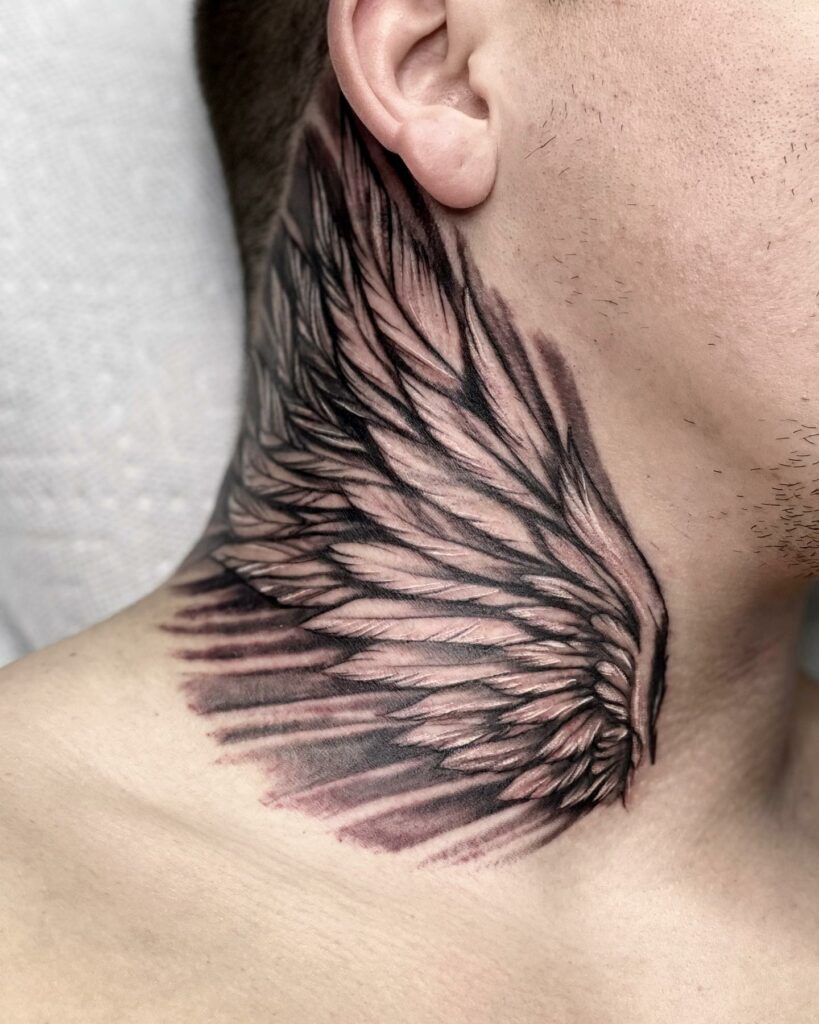 If you're seeking a way to subtly show your religious devotion, a wings tattoo on neck could be a meaningful choice.
This design features angel wings delicately inked onto the neck, silently expressing your faith in divine care.
Beyond its aesthetic appeal as a concealment tattoo, it also holds a deeper significance of spiritual revival and inner resilience.
Sword And Wings Tattoo On Neck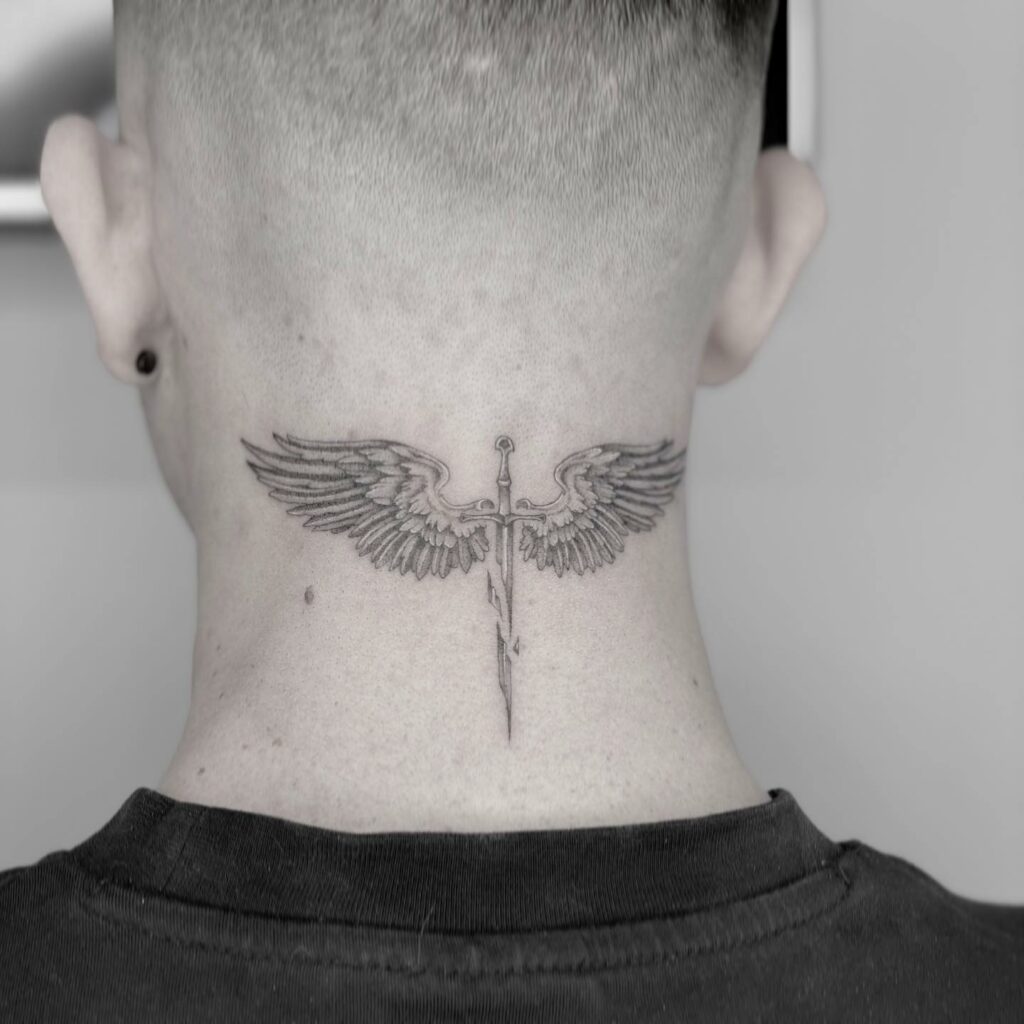 If you're interested in a tattoo symbolizing strength and empowerment, consider getting one on your neck. A design with a sword flanked by wings can convey a strong message.
While the sword might resemble a dagger in this particular artwork, its placement beneath expansive wings suggests a sense of power and liberation.
Executed in subtle grey tones, this piece effectively represents the inner strength of the person wearing it.
Crown Neck Tattoo With Wings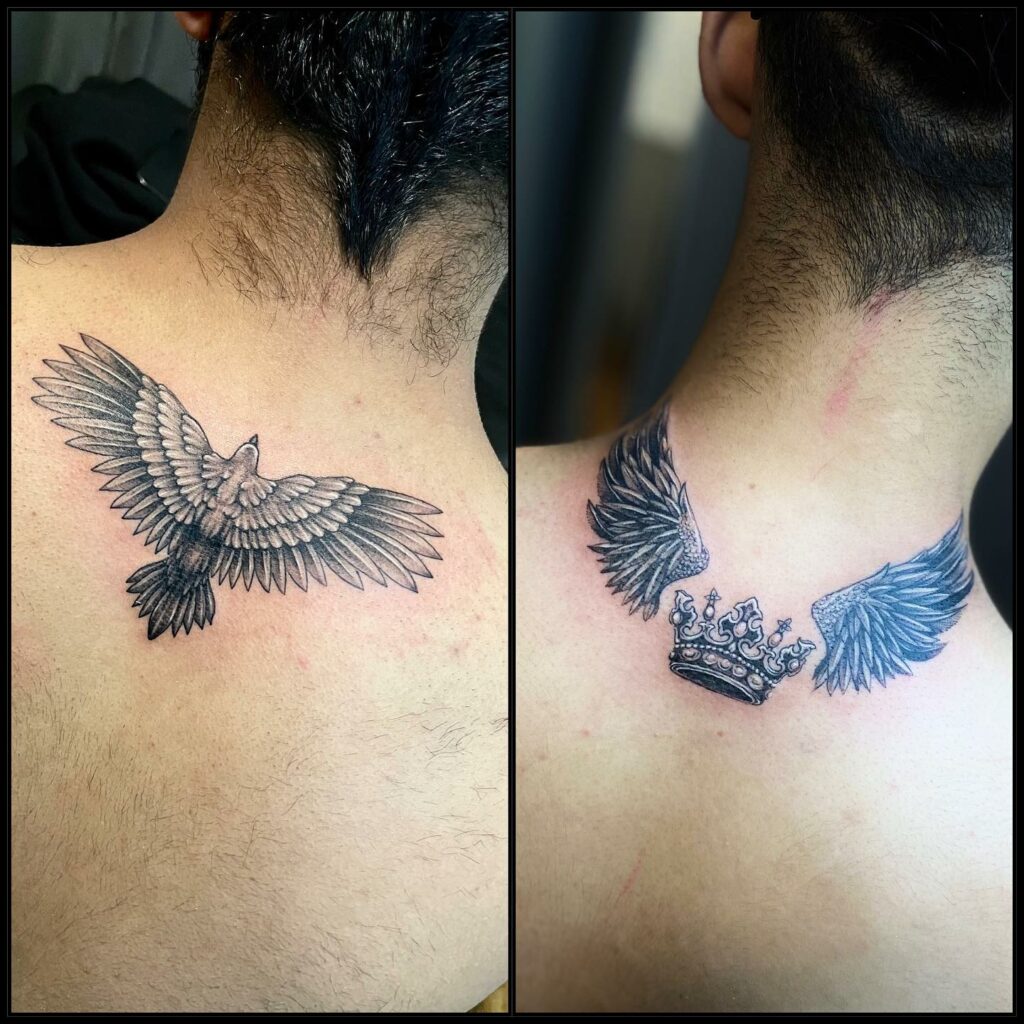 Opting for an eagle and crown tattoo is a surefire way to make a strong impression. This design embodies qualities like pride, leadership, and a regal demeanour, clearly expressing the wearer's royal affinity.
As seen here, tattoos placed on the back of the neck can be equally captivating compared to larger wings neck tattoos, introducing an element of curiosity to your appearance.
Compass Tattoos For Men With Bird On The Neck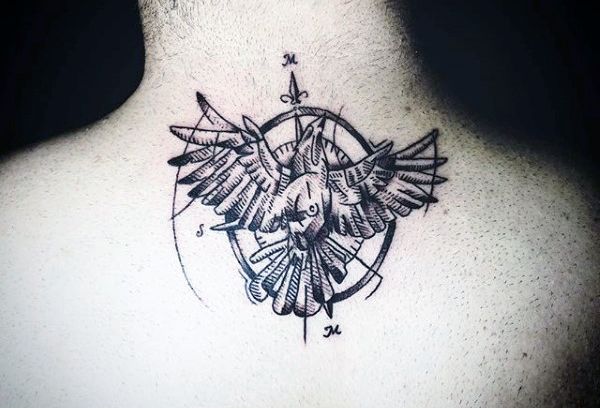 Getting a full-neck tattoo that shows a compass and an eagle is a special idea, especially for guys who like meaningful symbols.
The eagle stands for being proud and a good leader, while the compass shows you want to do what's right.
The wings and the compass pointing north are really well done, showing that you're good at guiding and leading others.
Demon Wings Tattoo On Neck For Women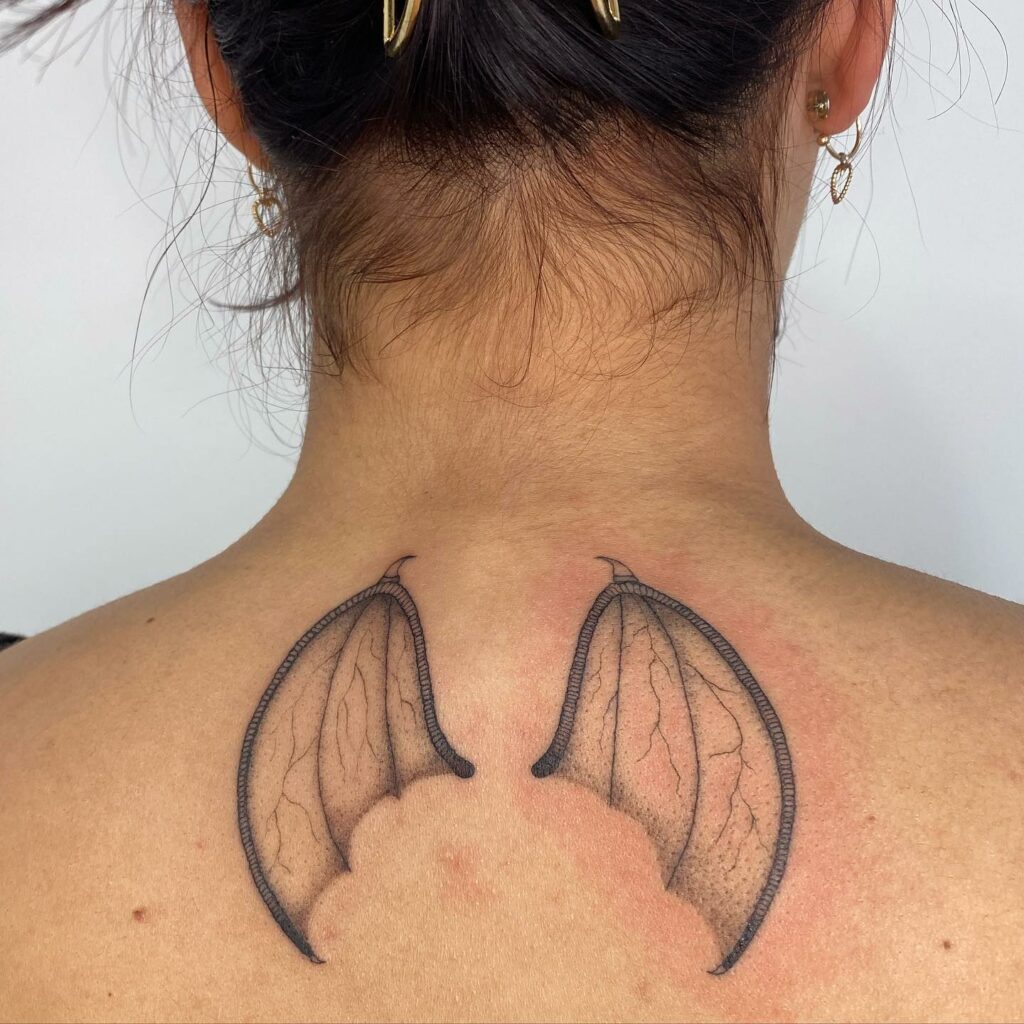 Compact yet impactful neck tattoos are currently making waves in the world of fashion.
As an illustration, consider a demon wings tattoo on neck, which can symbolize a potent representation of the inner conflict and delicate equilibrium between morality and malevolence.
This bold and intriguing design might also resonate with individuals attracted to the gothic culture and themes with a darker undertone.
Angel Tribal Cool Neck Tattoo Ideas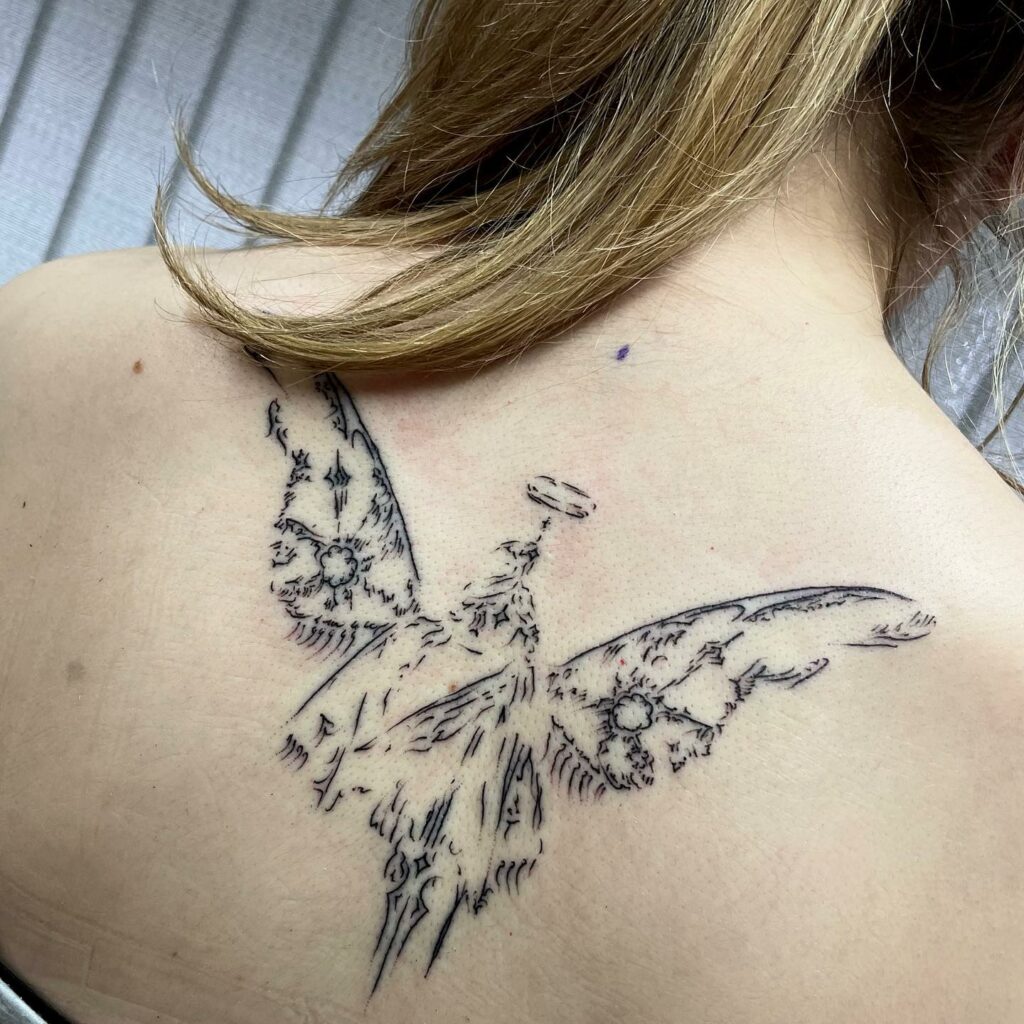 Tribal neck tattoos offer a canvas for captivating body art creations. The fusion of angelic motifs with tribal patterns presents an enchanting opportunity for a truly unique and mesmerizing piece of body art.
Using minimalist lines and dotwork, you can create an image reminiscent of protective wings, much like those of a guardian angel, with a delicate touch reminiscent of a butterfly's grace.
Trivandrum Temple Wings Religious Tattoos On Neck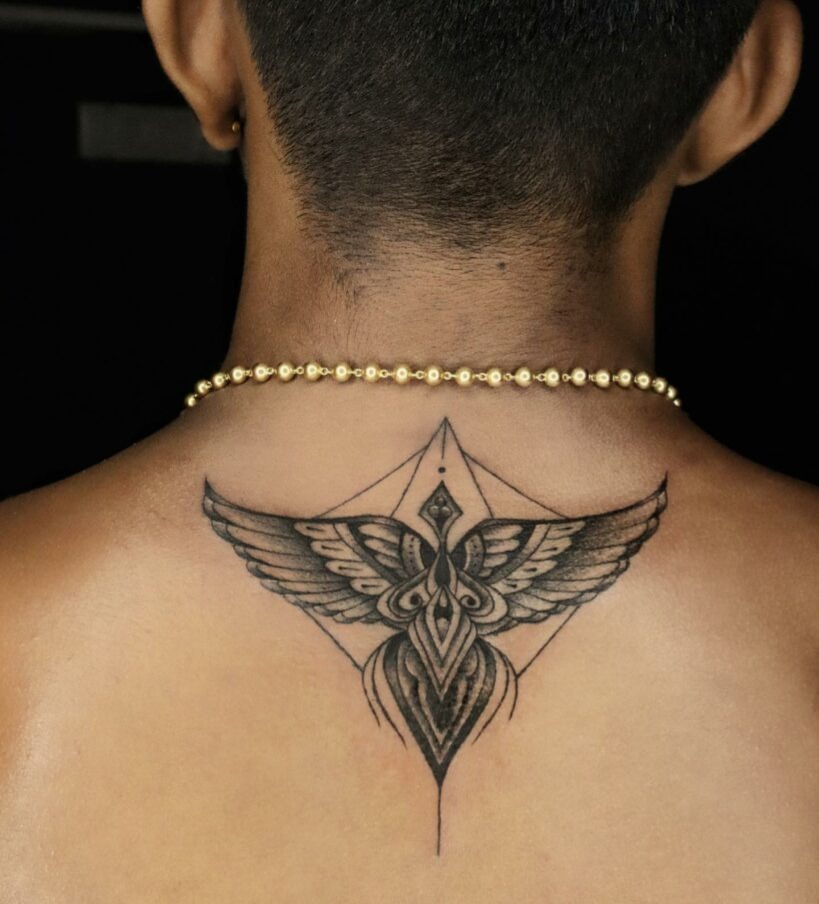 A distinctive choice for individuals interested in religious tattoos could be a design inspired by the Trivandrum temple in Kerala, India.
This temple is celebrated for its tranquil ambience and meticulous upkeep, qualities that find resonance in the intricate mandala artwork and gradual colour transitions presented within this elaborate tattoo design.
Minimalistic Neck Tattoo Of Angel Wings For Women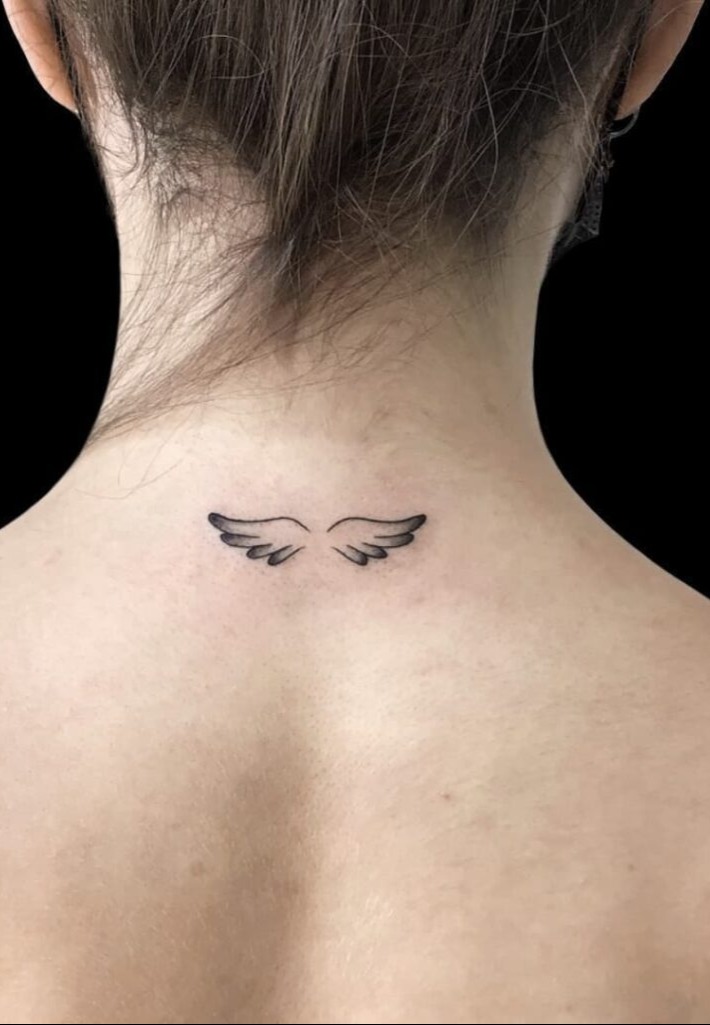 Consider a tattoo on your neck if you prefer a straightforward approach. Imagine dove wings with a gradual shift from grey to black. This design could symbolize your openness to new life experiences and opportunities.
Its artistic simplicity enhances your natural attractiveness and reflects your adventurous and free-spirited nature in a truly appealing way.
Conclusion
Wings neck tattoos have emerged as a prominent trend, providing a canvas for self-expression. Designs like angel wings and compasses symbolize beliefs and readiness for new experiences.
Options inspired by gothic themes or the Trivandrum temple reflect unique journeys and styles. These wings tattoos on neck, often featuring great designs, aren't just art; they're narratives etched onto skin, capturing moments and beliefs.
They're a distinctive and potent form of self-expression, conveying stories in ink that speak volumes.
FAQs
Question: What does the wing tattoo on the neck mean?
Answer: Wing tattoos, particularly on the neck, often carry a religious connotation. They are commonly associated with guardian angels, symbolizing protection and guidance.
For many men, these tattoos represent their belief in safeguarding and guidance, especially by loved ones who have passed away.
Placing two wings on the back of the neck can be a fitting choice, while a single wing on the side of the neck is an alternative option.
Question: What is the meaning of the angel wing?
Answer: Angel wings hold significant meaning, especially for those in tune with current trends. They symbolize love, spirituality, and protection.
Wearing an angel wing necklace serves as a poignant reminder of a person you consider your guardian angel.
Additionally, presenting this exquisite necklace to someone who provides unwavering support conveys a heartfelt message of gratitude and appreciation.
Question: What does black wings mean?
Answer: In various contexts, black wings are associated with a darker symbolism. Particularly in the realm of angels, black wings signify a malevolent nature.
These angels, referred to as Black Wings, are considered evil and dangerous. Their presence is often linked to feelings of sadness, serving as an indicator of their ominous aura.
These beings possess black wings and have the ability to transform into animals.
Question: What do wing tattoos symbolize?
Answer: Wing tattoos carry diverse symbolic meanings that span various cultures and creatures. Throughout history, wings have held significance in religious and mythological contexts.
Whether belonging to angels, birds, or bats, wings symbolize a range of concepts, including freedom, aspirations, and faith. With their presence in land and sea creatures alike, wings evoke a sense of transcendence beyond earthly limitations.
More Wings Neck Tattoo Ideas