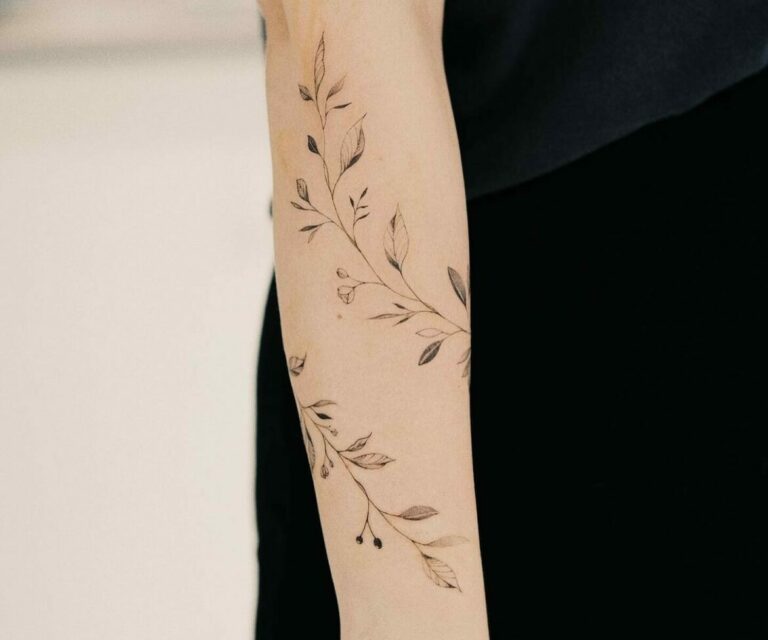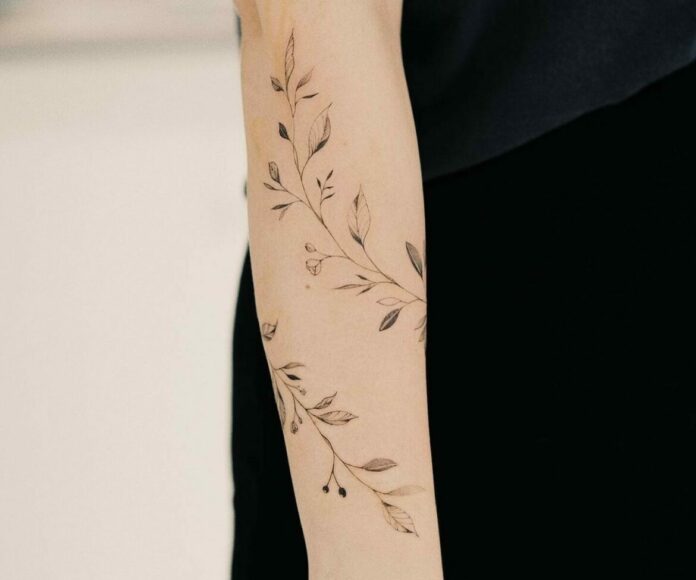 Hello there, tattoo enthusiasts, Are you thinking about getting a vine flower tattoo? We have a great collection of beautiful vine tattoos to inspire you.
Vine flower tattoos are more than just decorations – they show love for nature's beauty. They look elegant and can be a part of different tattoo designs. But they also have deeper meanings.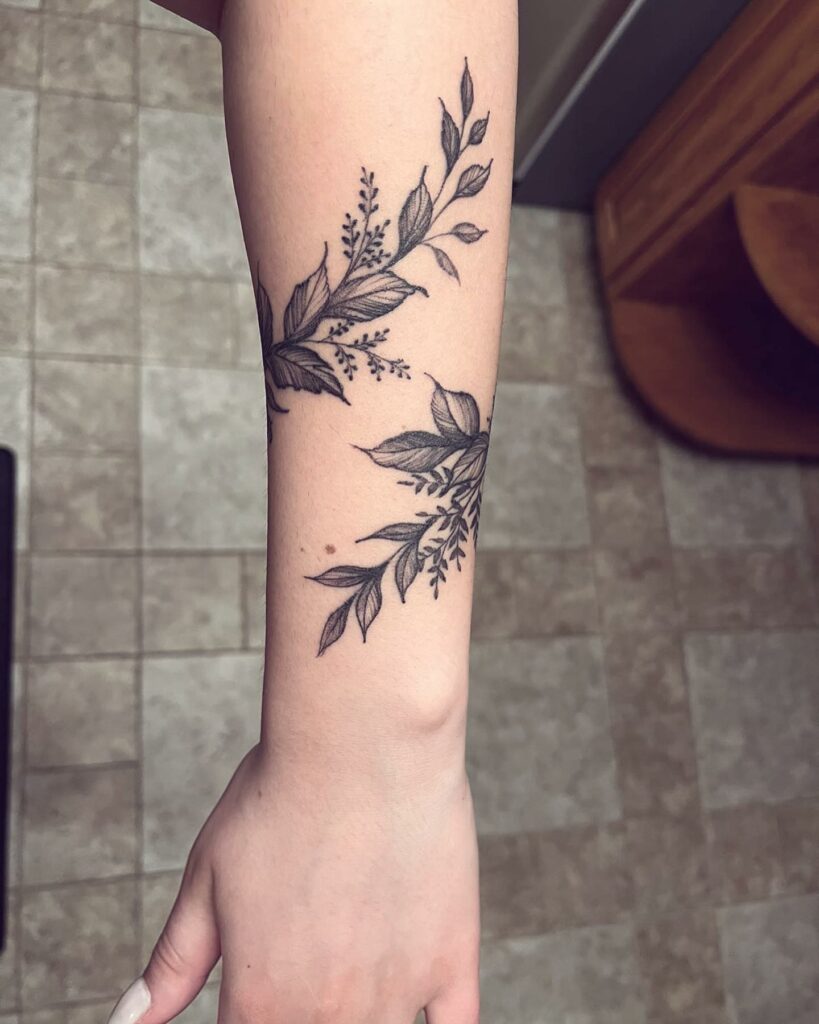 They represent friendship, strength, and personal growth. Vines show new beginnings, fertility, and hope, making them a meaningful choice for tattoos.
Throughout history, vines have been important in stories from ancient cultures. Vine flower tattoos could be perfect if you want a tattoo that combines different things.
There are many colours and designs to choose from, showing the beauty of nature. So, why not explore vine tattoos and find inspiration for your next tattoo?
The Freehand Vine Tattoos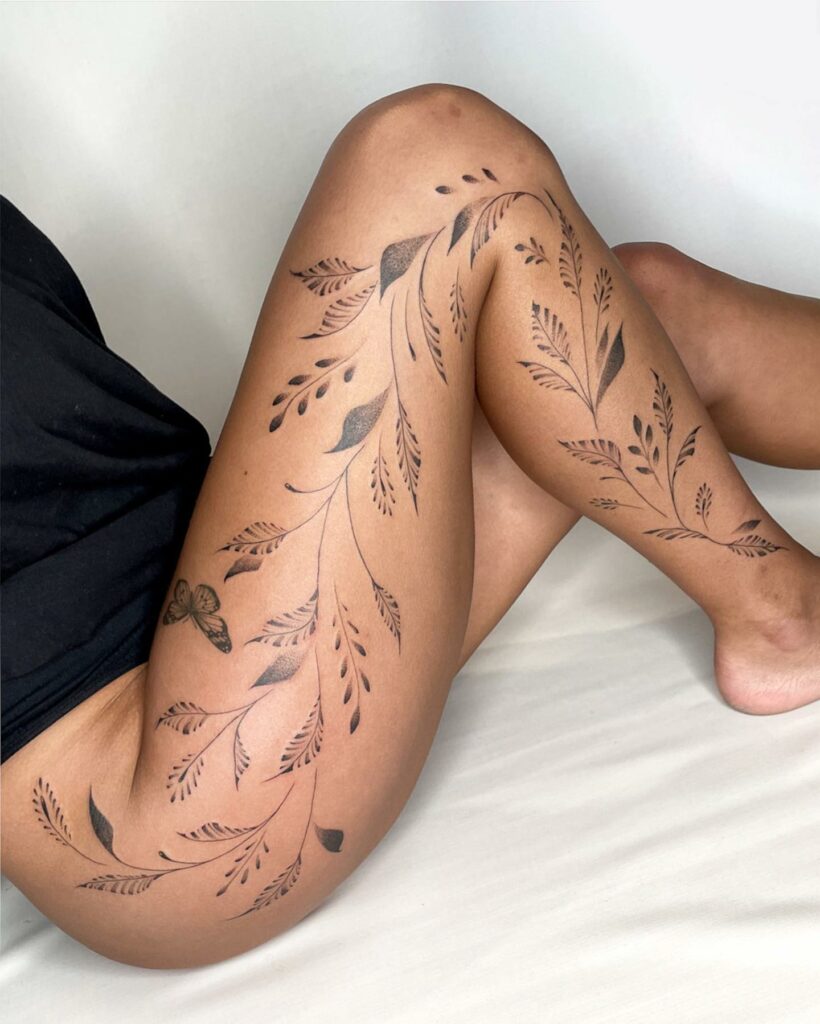 The vine tattoo shows strength and toughness and can be put on any part of the body. Vines grow in an interesting way, trying to reach sunlight by using things around them.
This means they don't give up easily and can do well even when things are hard. When someone gets a Vine tattoo, it often means they face big challenges and become stronger.
Vine tattoos mean a lot in many places around the world. This vine and flower tattoo design is pretty and can be put on the arm or back to look nice.
The Simple Vine Tattoo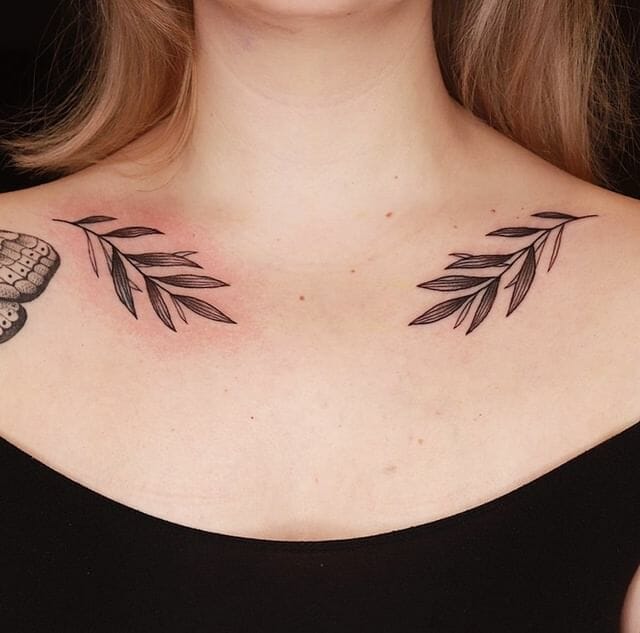 Vine tattoos have gained popularity due to their deep symbolism. The vine is a symbol of strength and growth, able to thrive in harsh conditions.
This mirrors a person's resilience in overcoming challenges and coming out stronger. Moreover, vines reaching for sunlight represent the quest for knowledge and understanding.
Individuals with vine tattoos are often associated with curiosity and a thirst for learning. Enhancing the design with elements like butterflies or grapes can add personal significance.
This exquisite vine and flower tattoo can adorn different body parts, such as the arm, back, or chest.
Black & White Vine Tattoo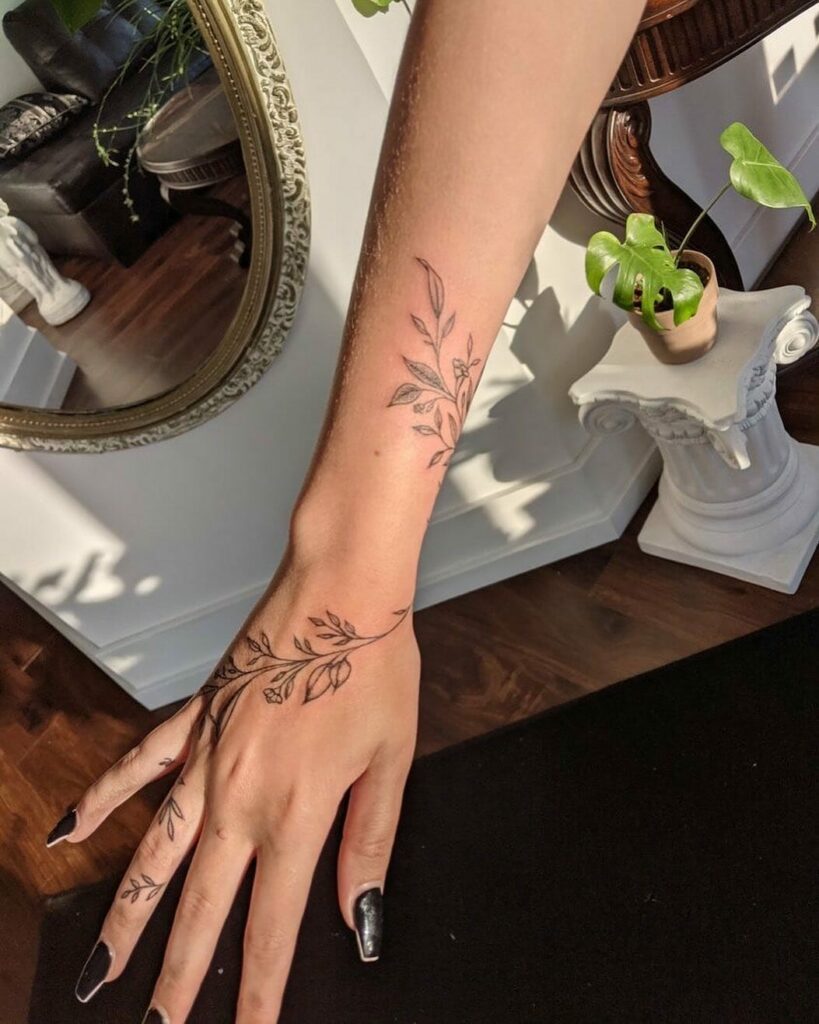 Vines often struggle to reach sunlight in the natural world, mirroring life where challenges must be faced for personal growth and achievement.
Overcoming adversity adds even more significance to finding that light, signifying an individual's fortitude and evolution. Those who triumph emerge as stronger versions, persistently aiming for progress.
A flower vine tattoo design embodies the resilience and the determination to conquer obstacles. This refined floral artwork, executed in black ink, offers a canvas for customization with elements like butterflies or grapes, allowing for a unique touch.
Ideal for the arm, back, or chest, this tattoo elegantly displays one's inner strength and perseverance.
Cat & Flower Vine Tattoo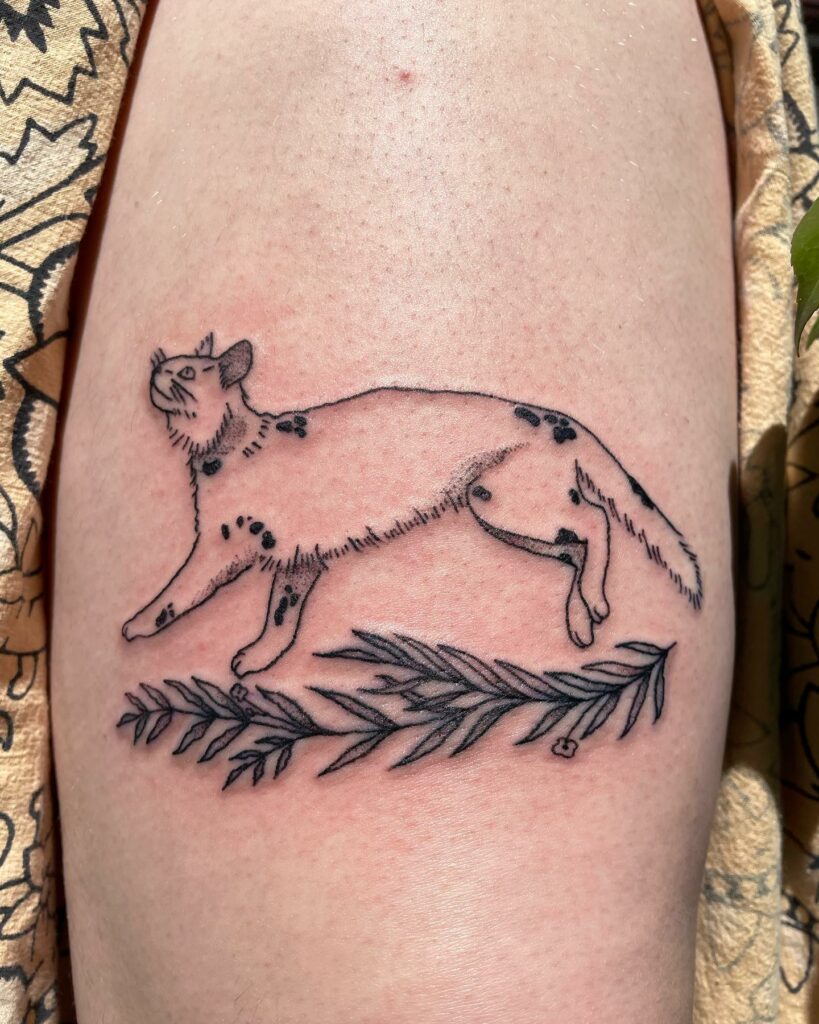 Combining a black and white flower vine tattoo with a cat tattoo design results in a captivating and unique image. Cat tattoos carry various meanings, such as luck, mystery, grace, and wisdom.
Different interpretations of feline tattoos exist, each holding its own significance. Some individuals choose cat tattoos to commemorate beloved pets, while others are drawn by cats' exotic and adventurous nature or seek a spiritual connection.
The flower vine tattoo doesn't have prescribed symbolism regarding placement, making it versatile for any body part. However, it's often favoured on arms and hands for its elegant appearance.
Tangled Flower Vine Tattoo on Arm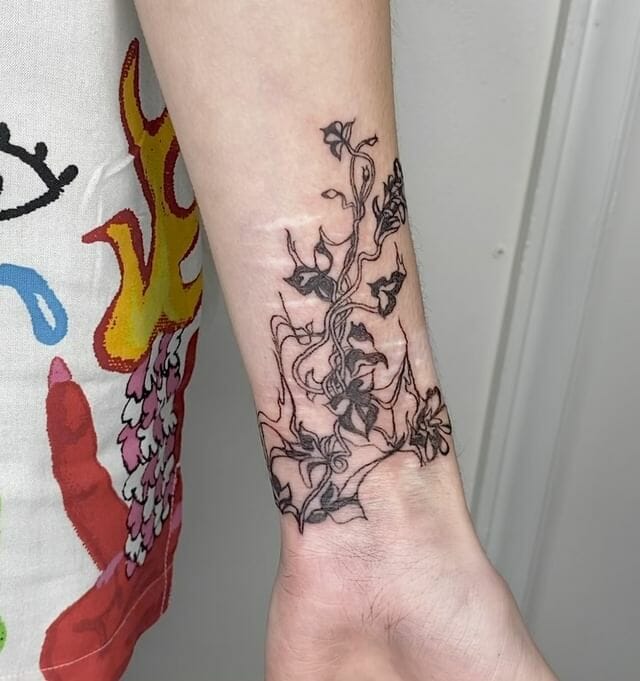 Merging a black and white flower vine tattoo with a cat tattoo design results in a captivating visual. Cat tattoos hold diverse meanings, embodying concepts like good fortune, enigma, grace, and wisdom.
Various interpretations of feline-inspired tattoos exist, each carrying its own distinct significance.
For some, a cat tattoo serves as a poignant remembrance of a cherished pet, while others are drawn to the exotic and adventurous nature often associated with cats, or they seek a spiritual connection.
On the other hand, the flower vine tattoo lacks specific symbolic placement, allowing flexibility for inking it on any part of the body. Nevertheless, it's frequently showcased on the arms and hands, accentuating its graceful and refined design.
Dagger Flower Vine Tattoo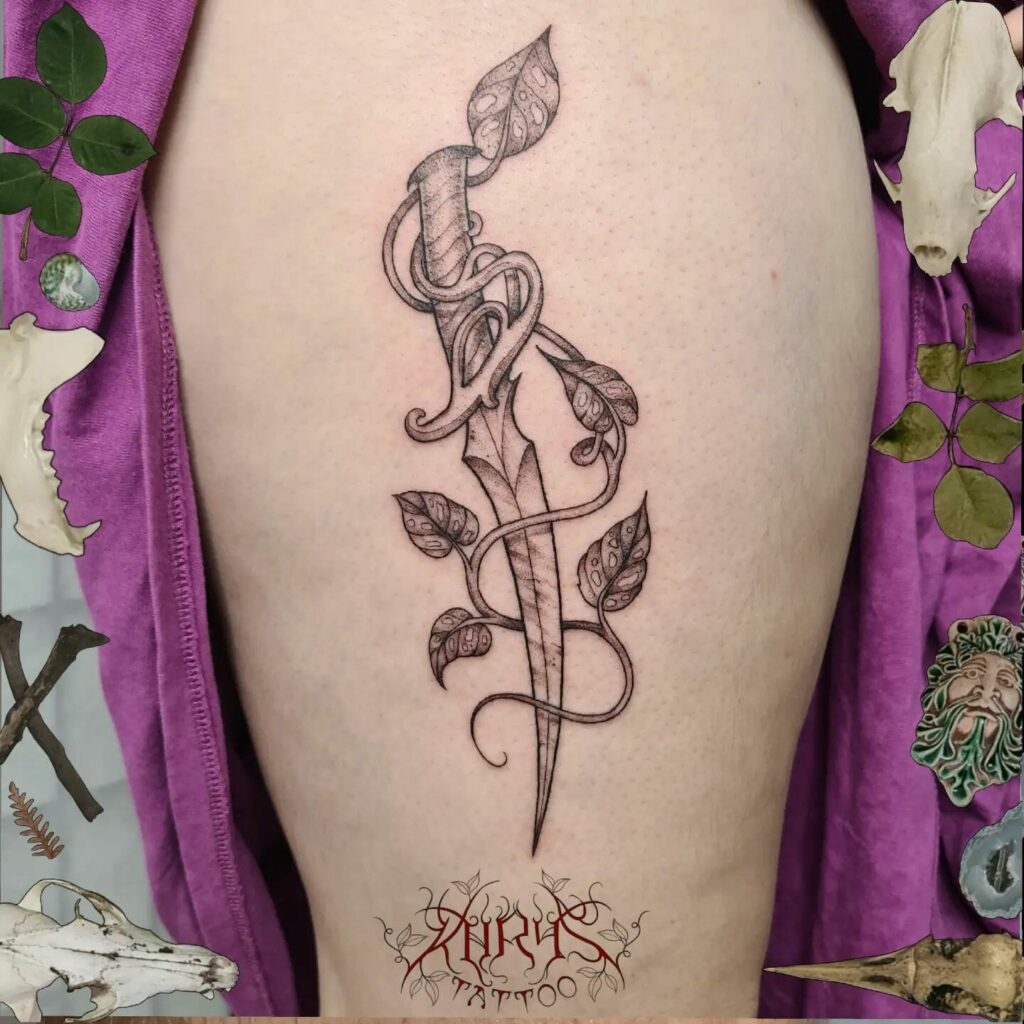 The fusion of flower vine and dagger tattoos offers a captivating and versatile artistic option. This unique design invites further customization, allowing for the creation of a personalized masterpiece.
A standalone dagger tattoo symbolizes courage, loyalty, and self-sacrifice. However, it can also carry darker connotations, such as betrayal or deceit.
When combined with symbols like a floral vine, the interpretation can evolve into a representation of resilience or bravery. The traditional style of dagger tattoos further enhances their significance.
The charm of the vine tattoo design lies in its adaptability, suitable for placement on various body parts like the chest, back, legs, or even the hand – an ideal choice for any occasion.
The Strawberry Vine Tattoo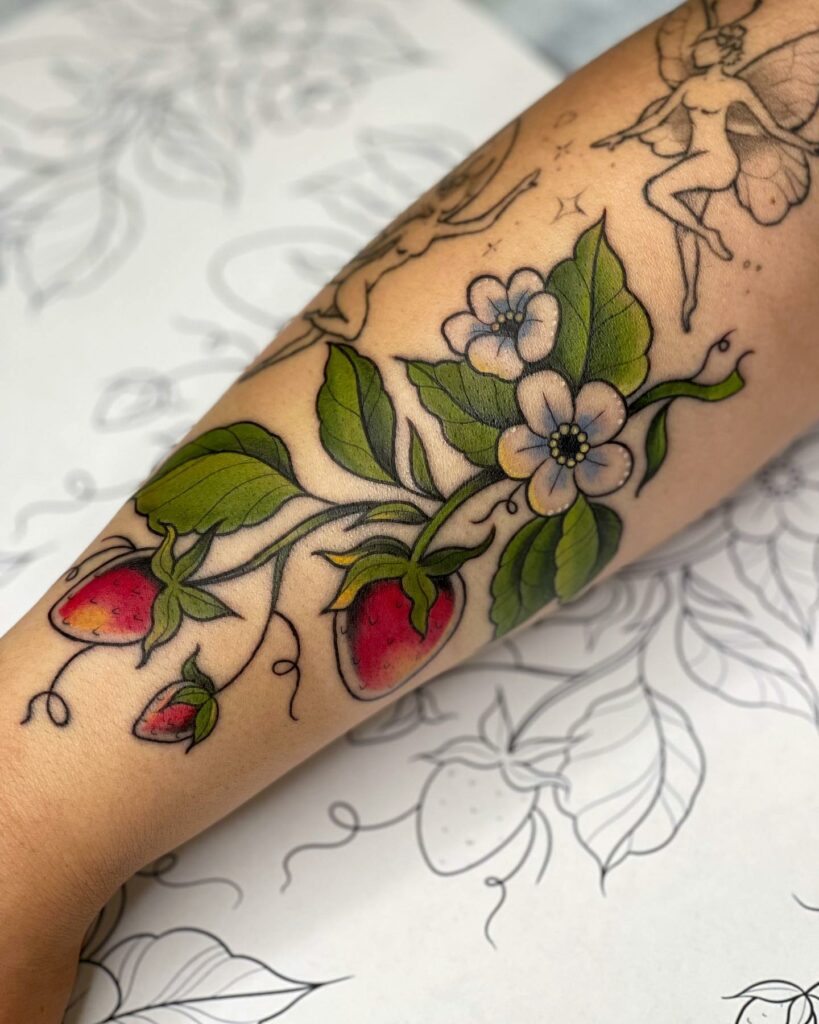 The Strawberry Vine Tattoo showcases a creative twist on traditional designs. It's a unique and personalized wrist tattoo with strawberries in a flowering vine.
Beyond the usual grape vines, strawberries add a playful and feminine touch. Symbolizing love and passion, it's perfect for romantics. Enhance it with butterflies or vines for a more personal touch.
Vine And Words Tattoo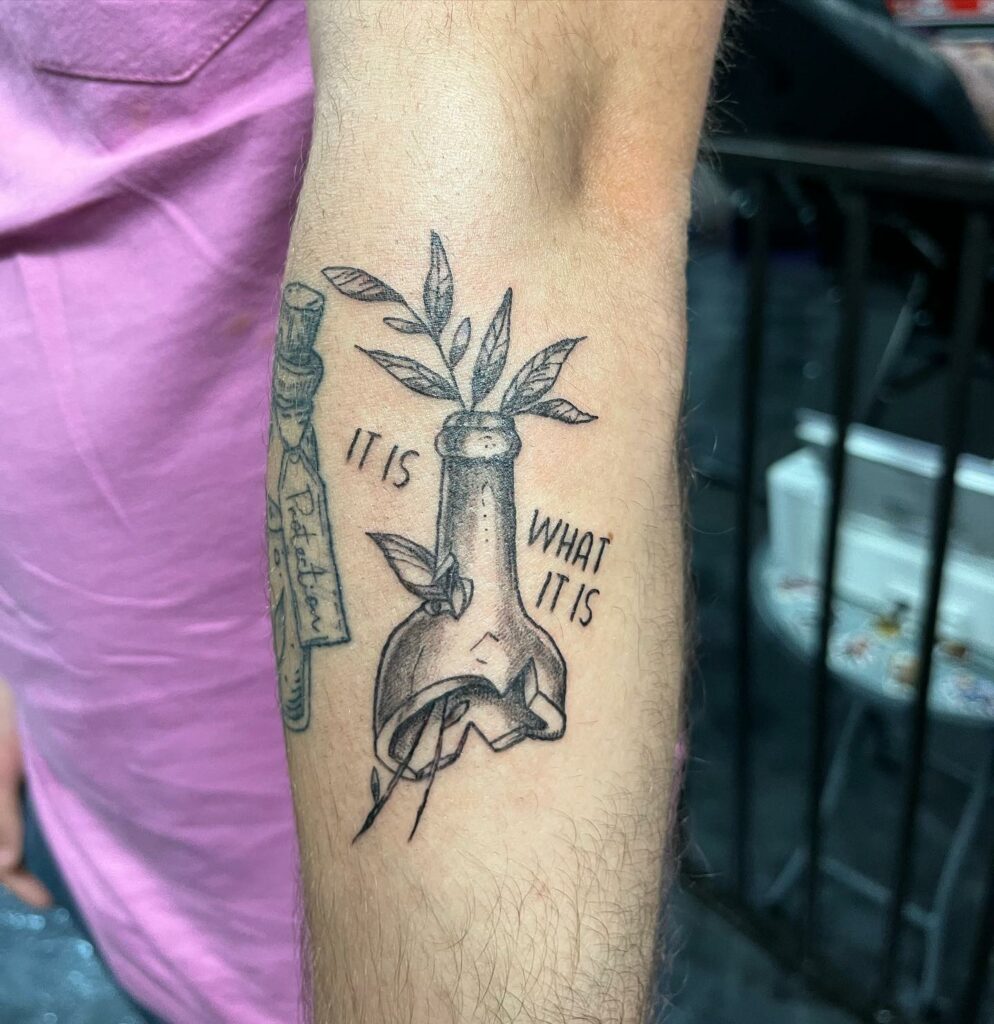 Vine and flower tattoos offer incredible versatility and boundless creative options. This specific design of a floral vine tattoo showcases how you can ingeniously weave words and phrases within the curves of the vine.
The graceful handwritten script seamlessly complements the elegant vine pattern. Additionally, you can incorporate smaller vine motifs on various body parts, like the feet, to amplify the overall visual impact.
Consider merging this design with a twisted grapevine or a delicate butterfly motif for an extra layer of charm. The potential for artistic exploration knows no bounds with vine and flower tattoos.
Rose vine Tattoo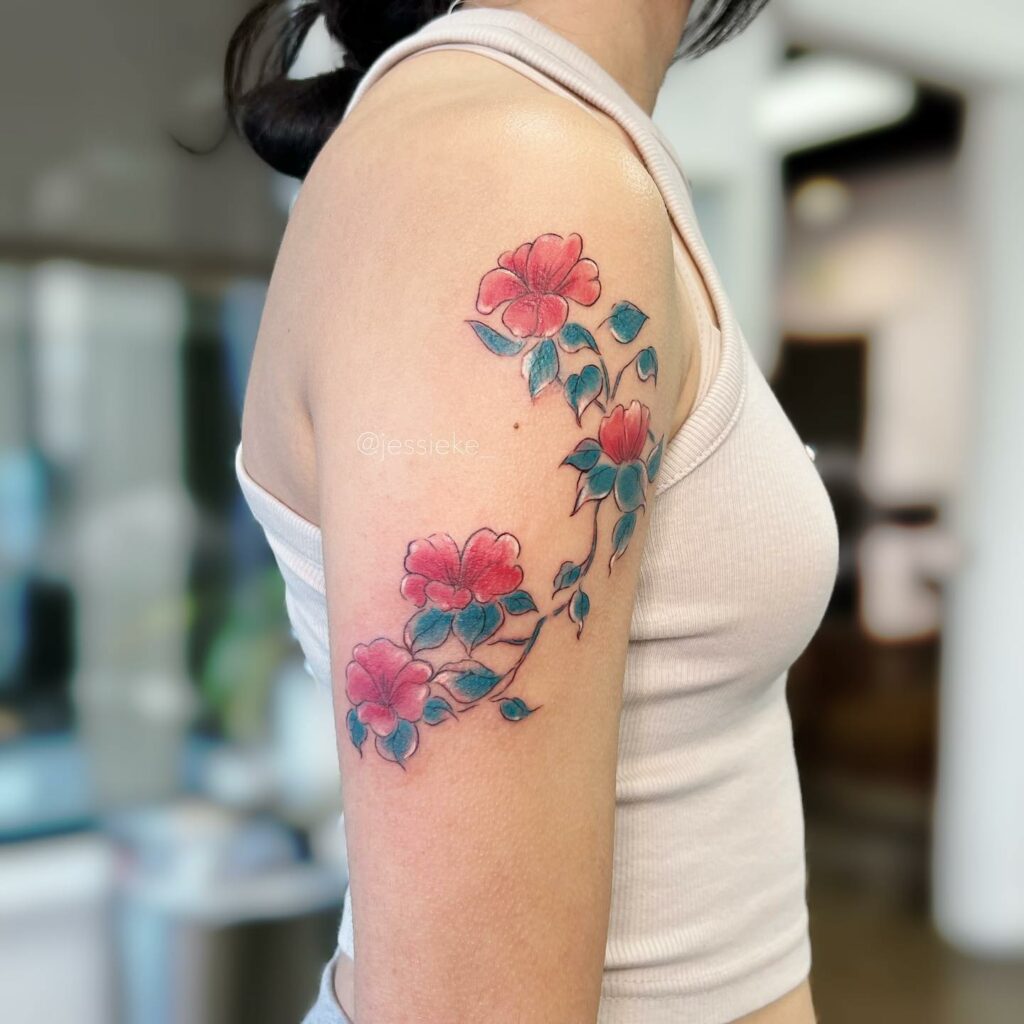 Flower vine tattoo designs offer a realm of possibilities that go beyond grapes and butterflies.
Why not explore the inclusion of roses in your design? Rose vine tattoos bring versatility, finding their place on various body parts like the waist, shoulders, feet, ankles, wrists, and back.
These tattoos encapsulate notions of beauty and friendship, elegantly spanning considerable areas while retaining their captivating allure. Sharing reference images with your chosen tattoo artist is a prudent step to ensure your envisioned design comes to life authentically.
Simple Flower Vine Tattoo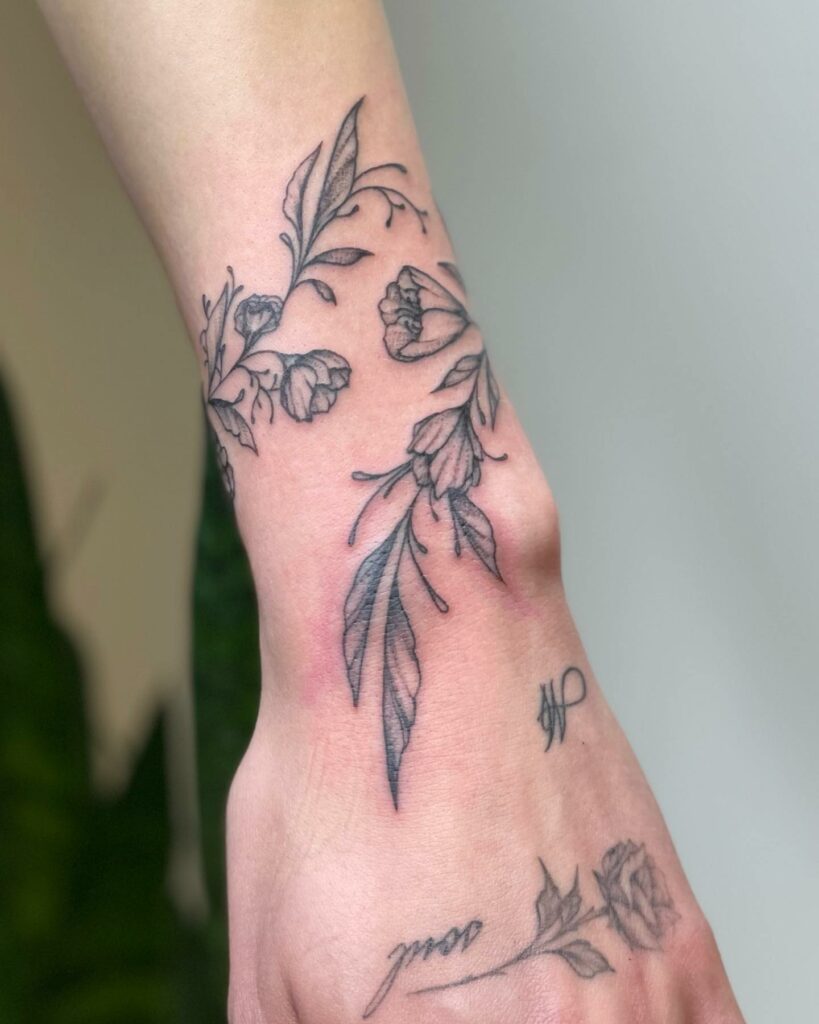 Vine tattoos go beyond their visual appeal; they carry symbolic significance tied to fertility, life, and optimism. When brainstorming vine tattoo concepts, you have a range of possibilities to elevate their overall effect.
For instance, integrating flowers like roses, daisies, or lilies into the vine can create a blend that's not only visually appealing but also meaningful.
Adding birds and butterflies work well to infuse a natural and woodland ambience. As you delve into different vine tattoo designs, take your time to select one that genuinely resonates with your emotions and values.
Pink Lily Vine Arm Tattoo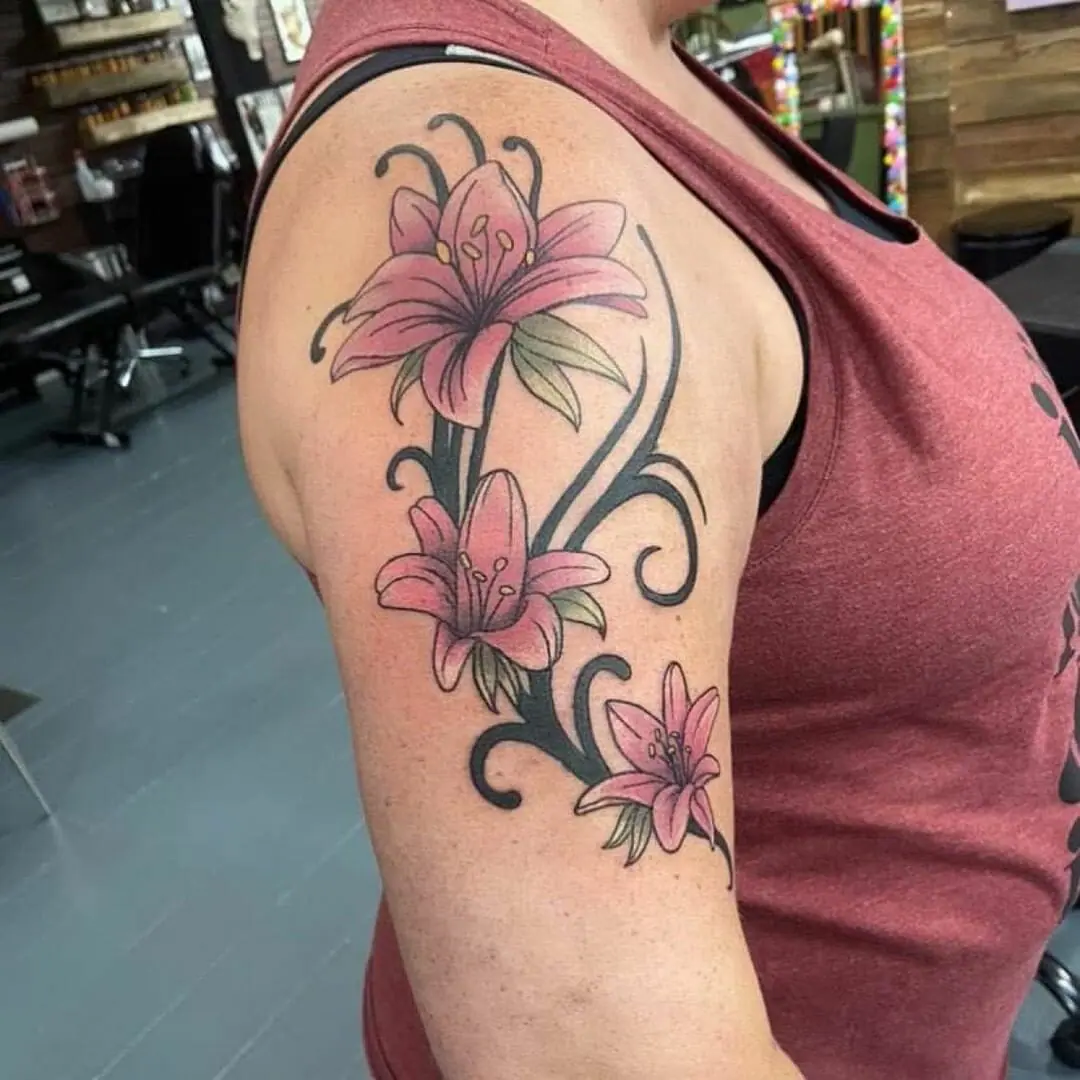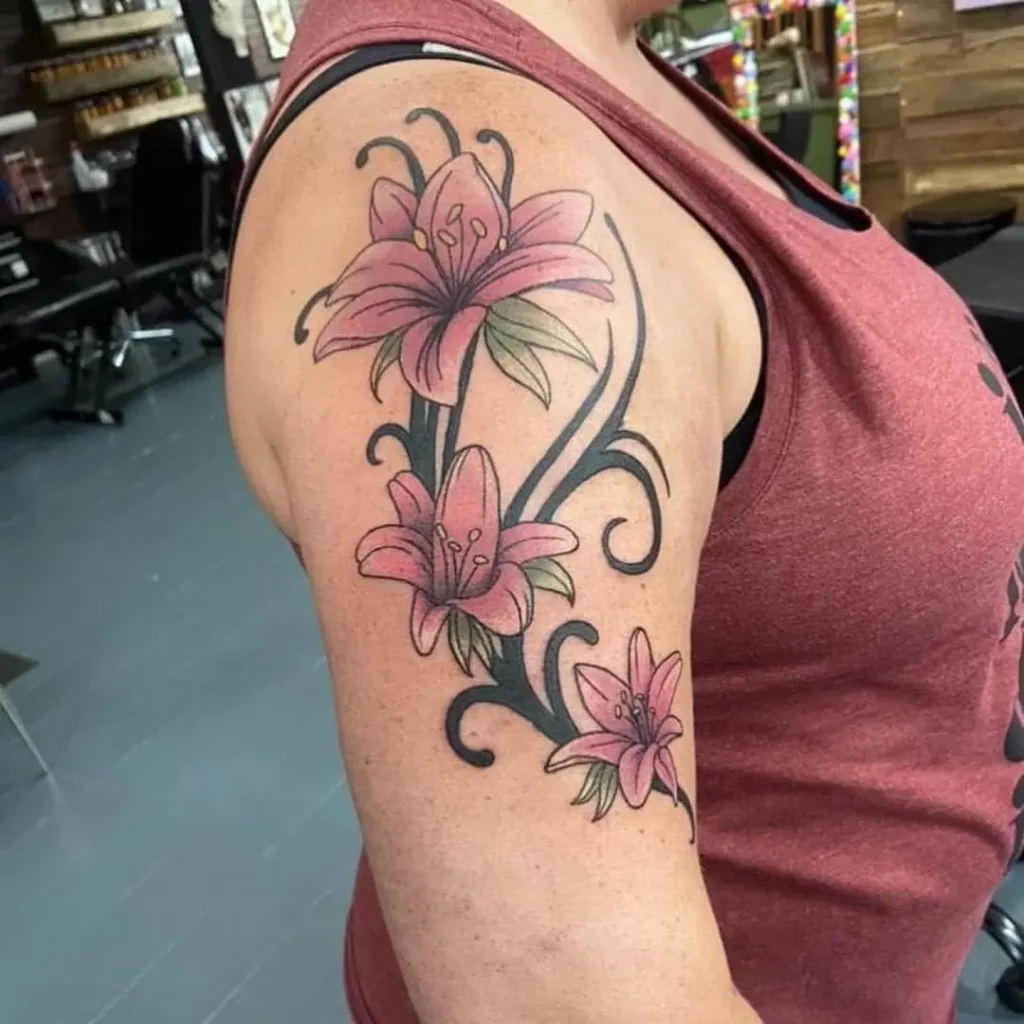 The pink lily vine arm tattoo is a perfect choice for women, symbolizing the essence of motherhood and womanhood through its representation of fertility.
Embrace this tattoo to honour the transformative journey of becoming a mother, celebrating a remarkable phase of life. Lilies offer versatility in their forms and styles, allowing you to express your individuality through your chosen design.
Arm Wrapped Vine Tattoo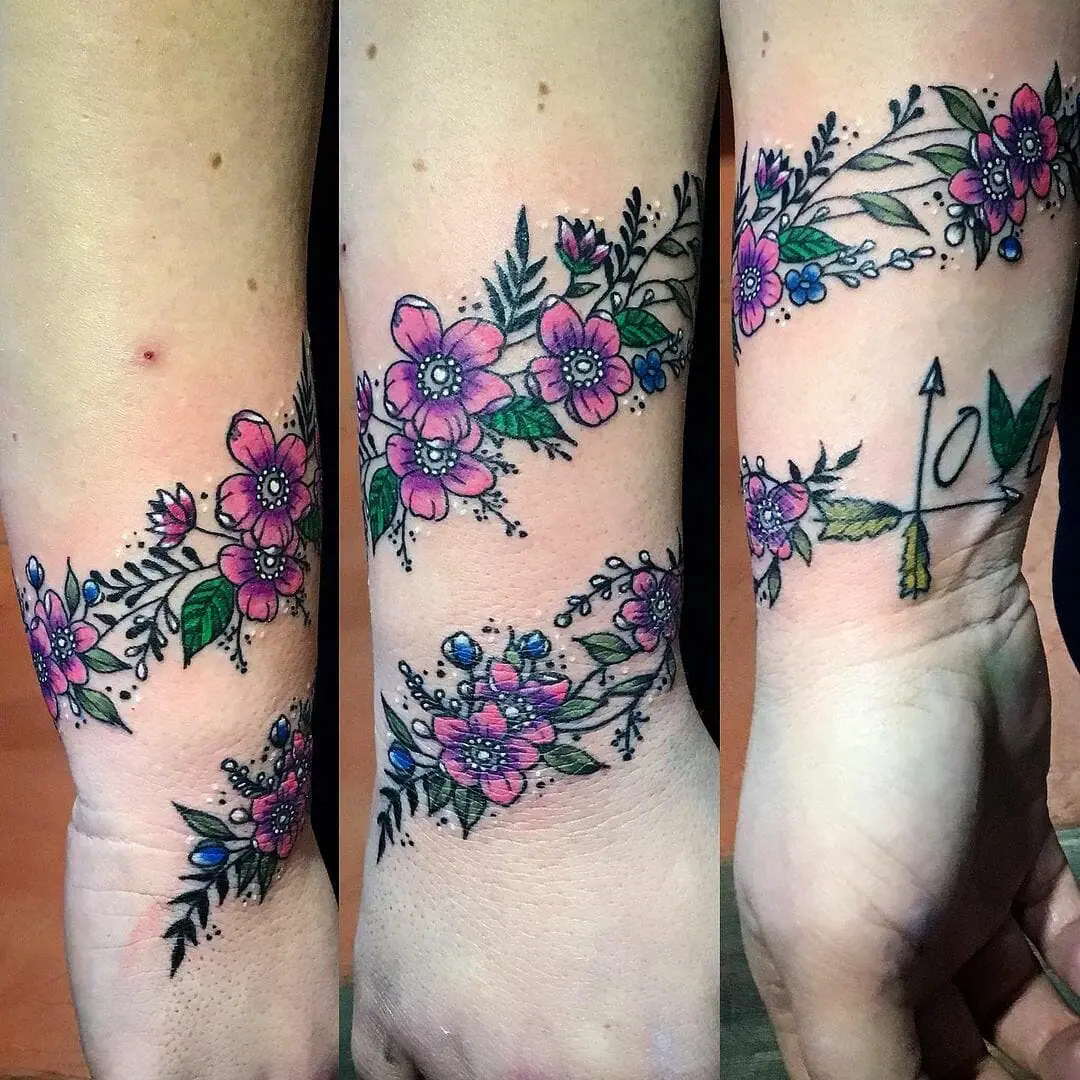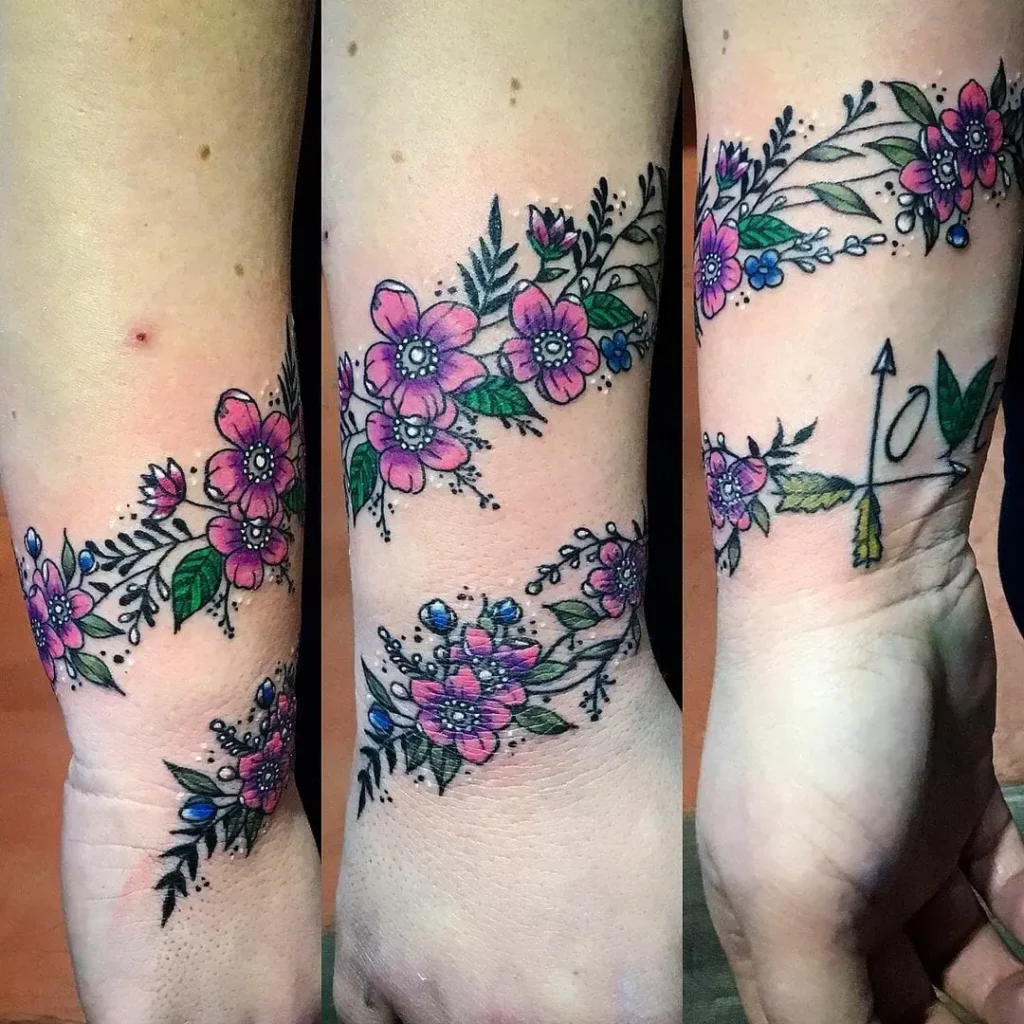 The wrist tattoo featuring a winding vine design is truly remarkable, adorned with captivating colours. Deep green and luxurious purple juxtaposition produces a striking and visually appealing contrast.
The inclusion of twin arrows on the wrist is a thoughtful addition, representing the skilful proficiency of a hunter. This tattoo serves as a testament to the artist's skill, evident in the intricate attention to detail and expert execution.
Beautiful Bird Vine Tattoo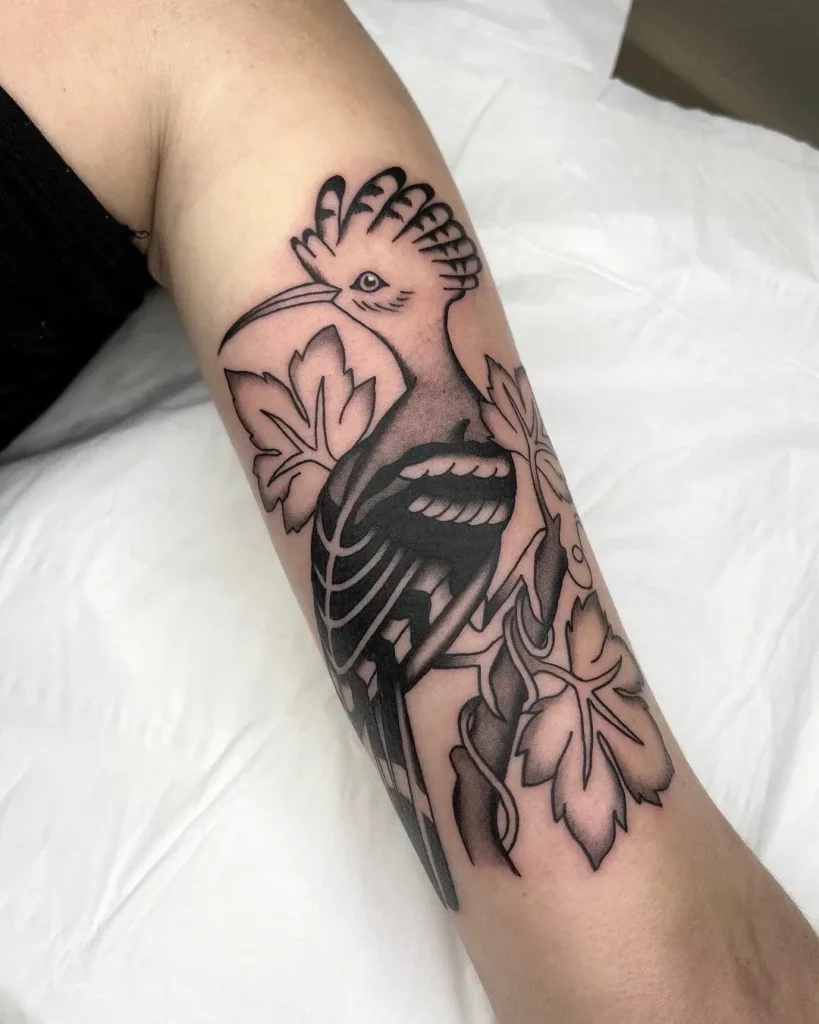 Choosing a bird resting on a vine creates a charming tattoo style. In this case, a Woodpecker is showcased, known for symbolizing qualities like creativity, determination, shamanism, and strength.
If these characteristics align with your personality, incorporating a Woodpecker into your tattoo design could be a wonderful representation.
Rose Guitar Vine Tattoo Design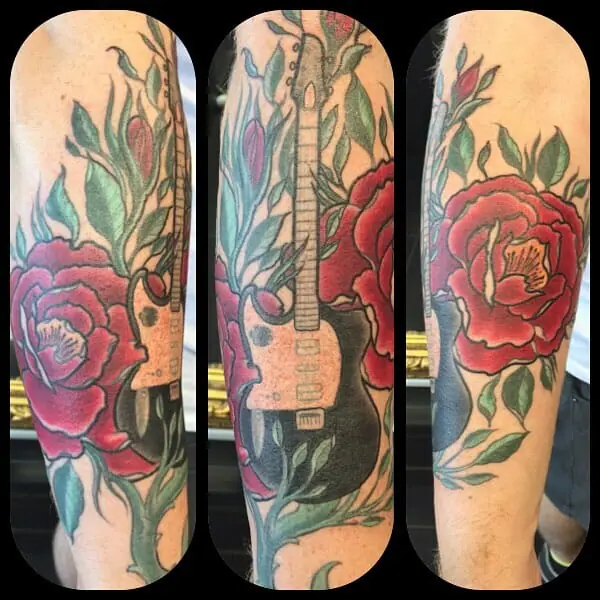 Roses are a commonly selected floral motif in the world of tattoos, frequently chosen to convey themes of love and passion. They can also symbolize both victorious and vanished affections.
Opting for a vibrant red rose tattoo could be a choice if you're aiming for a lifelike depiction. The incorporation of a guitar into this design showcases not only an affinity for music but also a deep passion for it.
The interplay of red and black hues within the tattoo creates a visually appealing contrast against the verdant stem of the flower.
Classic Vine Arm Tattoo Design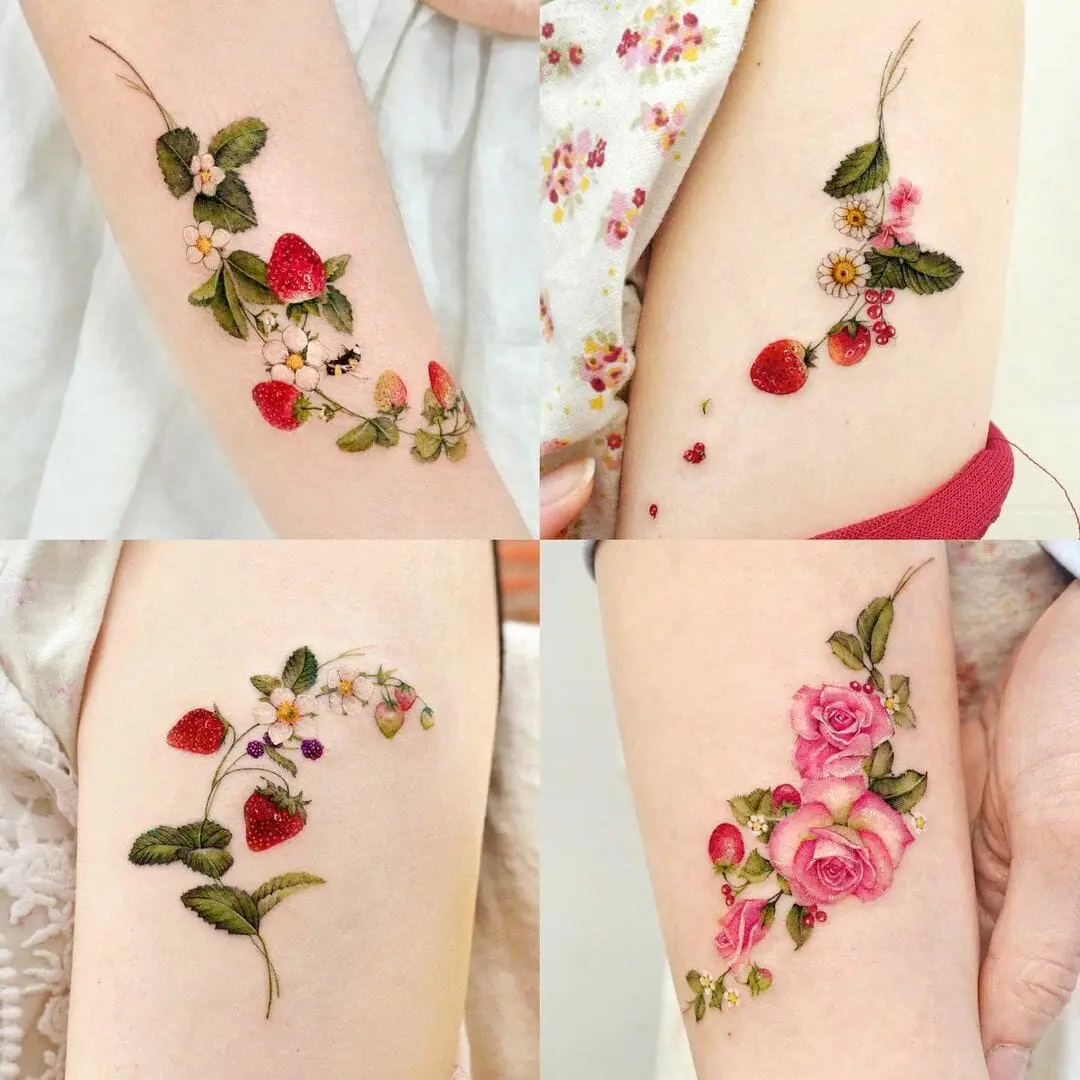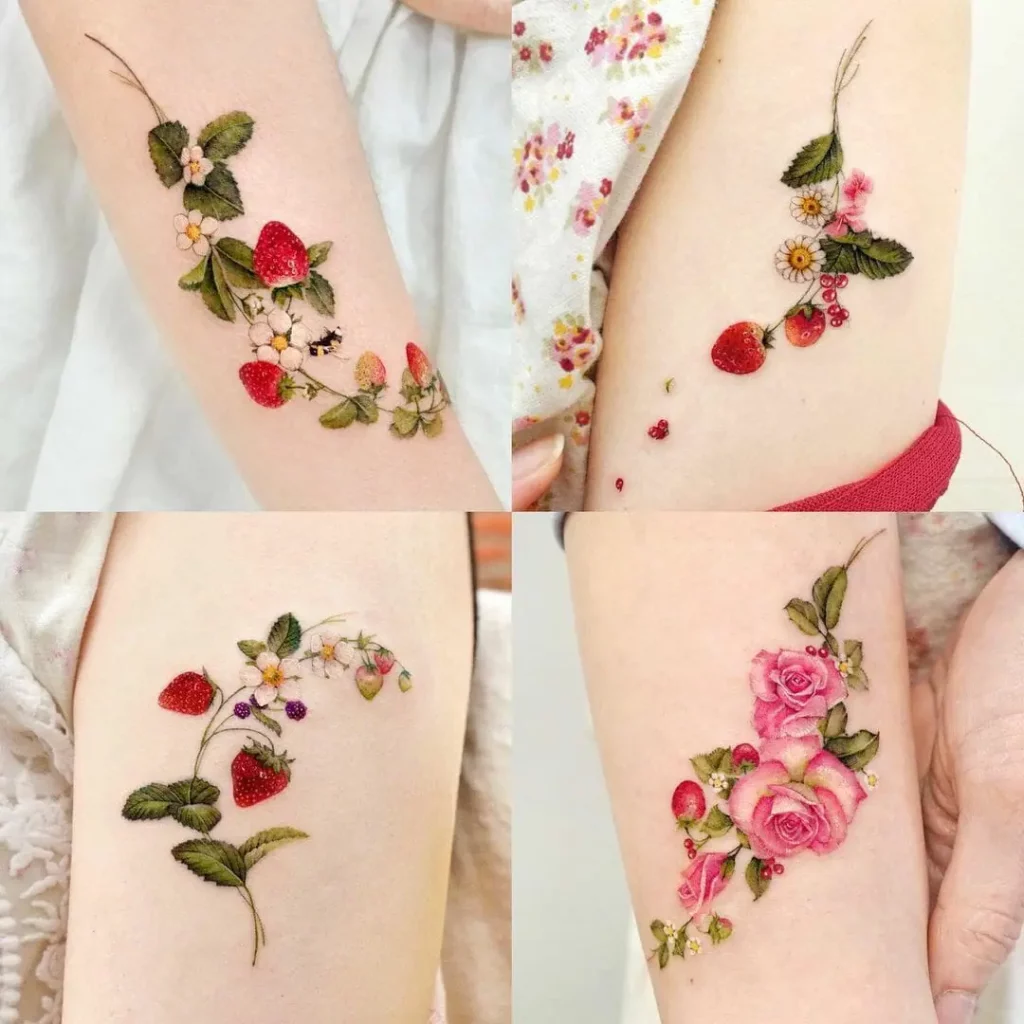 The classic Vine tattoo might catch your eye if you're a classical and retro aesthetics fan. This timeless design exudes elegance, adorned with small strawberries entwined along the vine, complemented by delicate thorns near the roses.
There are several approaches to crafting the strawberry vine motif, allowing your tattoo artist to display their artistic ingenuity and deliver a classic vine design tailored to your preferences.
Delightful Vine Forearm Art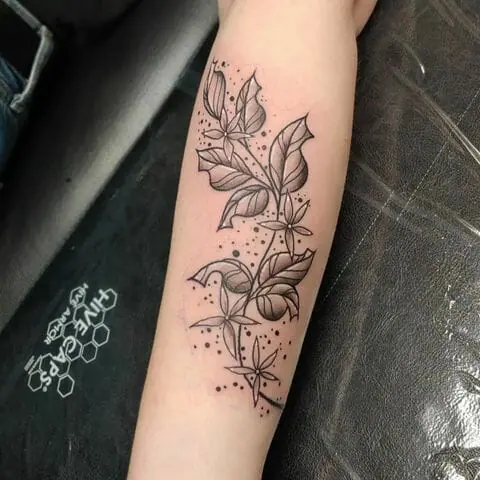 Combining a delicate vine tattoo with the dot style of tattooing creates a stunning appearance, and the incorporation of subtle, intricate elements gives the tattoo a vibrant and lively feel.
Mesmerizing Vine Arm Tattoo Design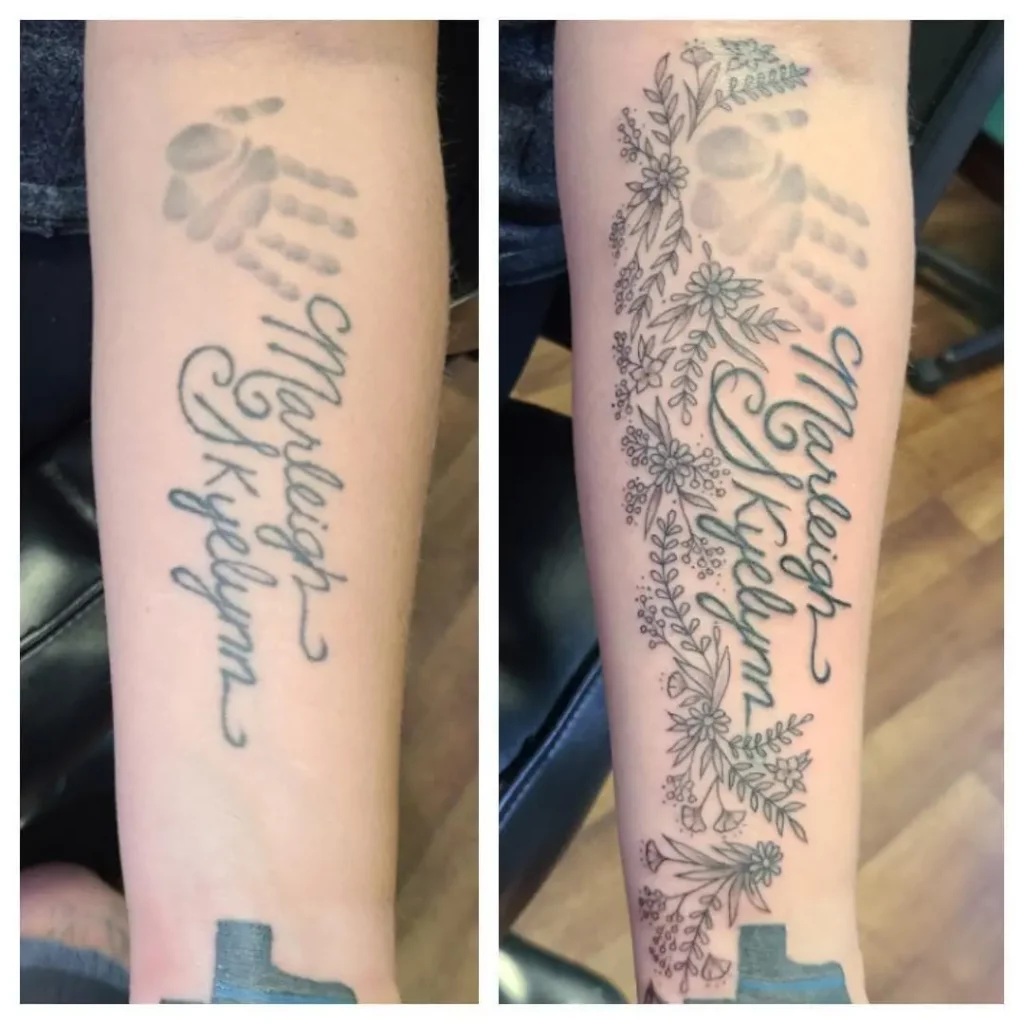 Flowers are also chosen to commemorate funerals; you can opt for a Vine tattoo to remember and honour someone. The addition of a name and a handprint can be meaningful elements to incorporate, symbolizing that the tattoo serves as a heartfelt tribute.
Green Leaf Vine Tattoo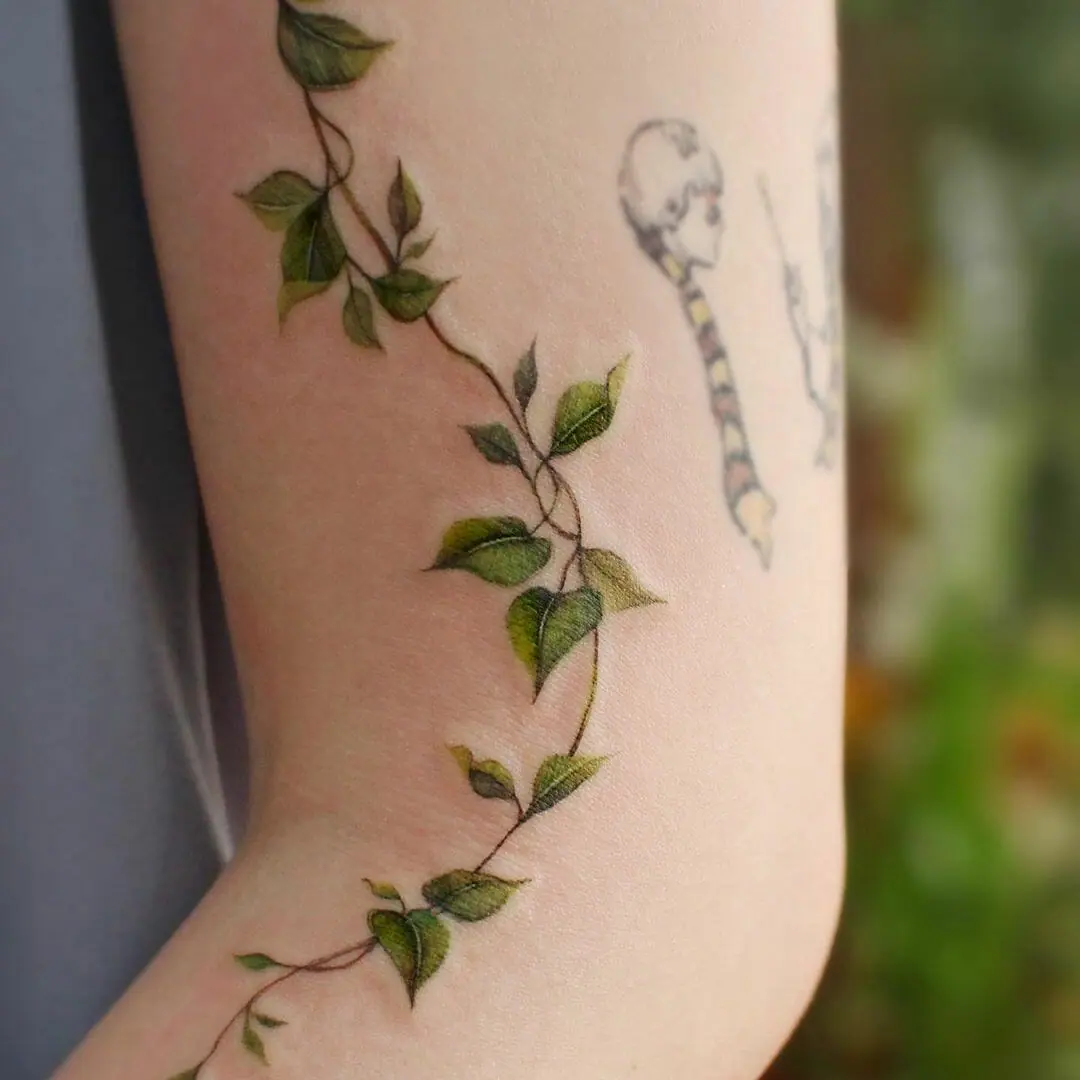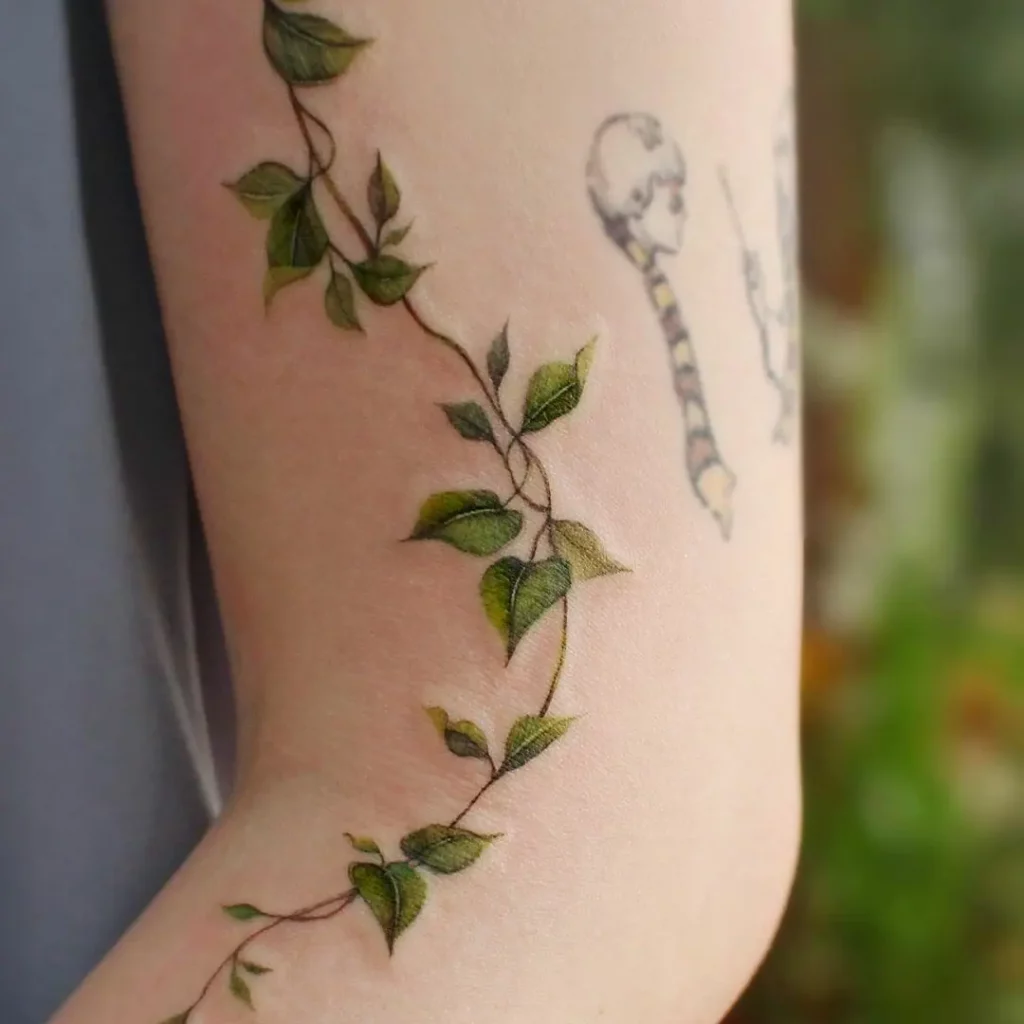 Opting for a minimalist green tattoo is a classic idea that suits everyone's preferences.
Lovely Green Vine Arm Tattoo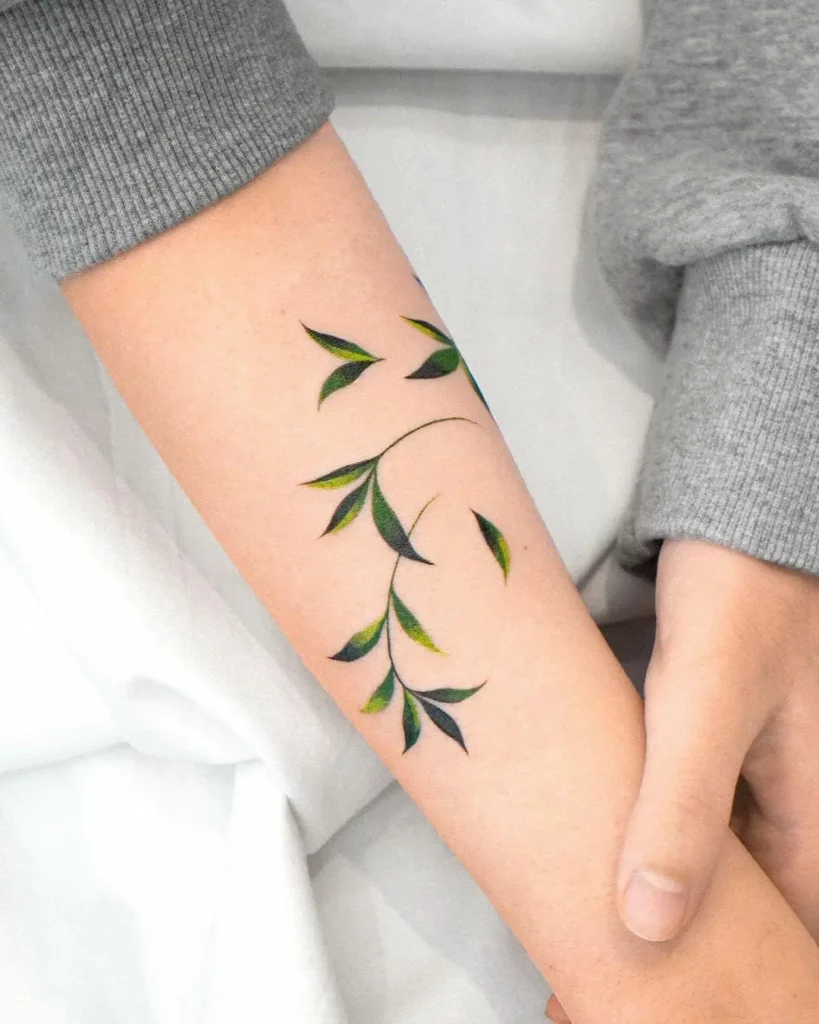 A different approach to creating the elegant and minimalistic green vine, particularly suitable for women.
Floral Butterfly Vine Arm Tattoo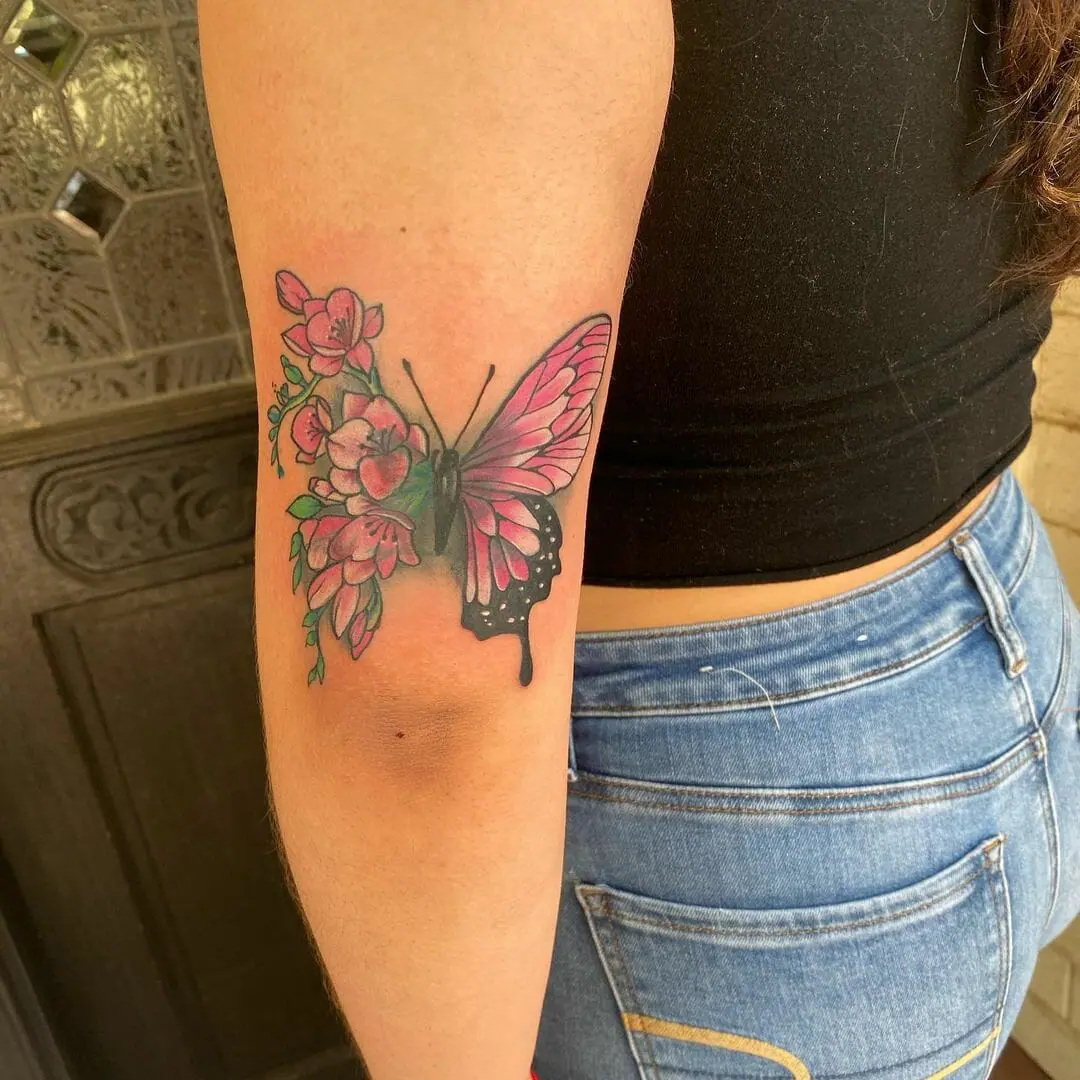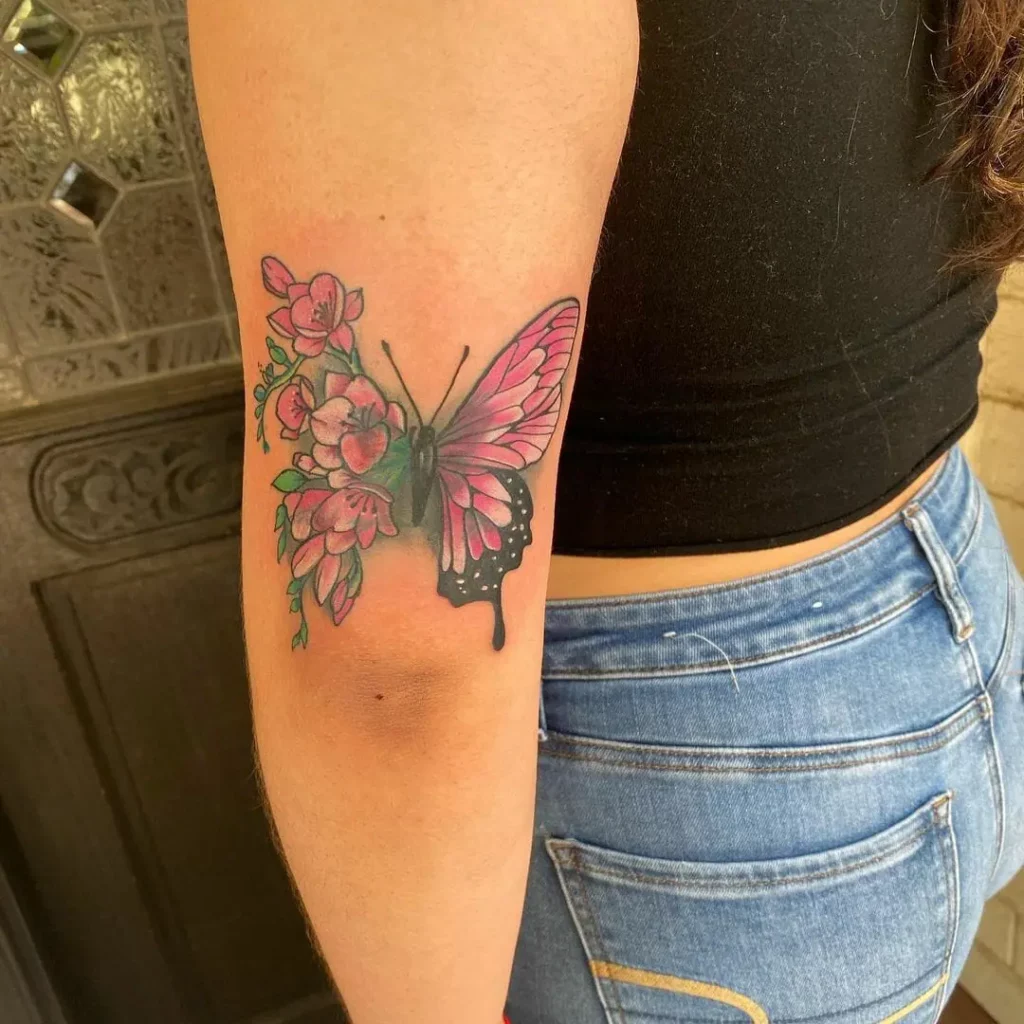 Explore this imaginative concept that brings together a butterfly and a cherry blossom. The butterfly's representation of change and transformation beautifully pairs with the cherry blossom's symbol of the passage of time.
The careful alignment of colours and patterns between the butterfly and the flower petals results in a visually appealing and meaningful design.
Outlined Vine Arm Tattoo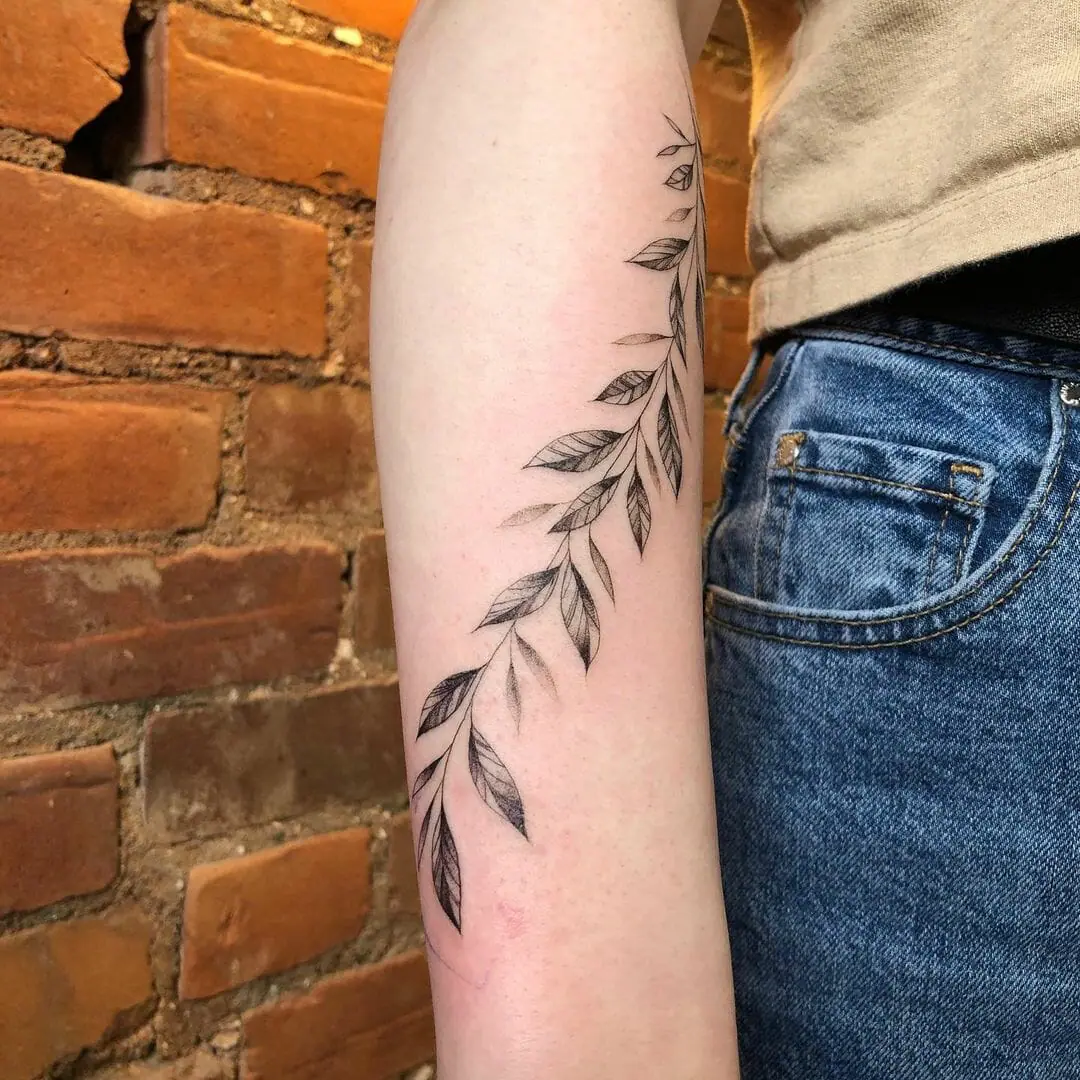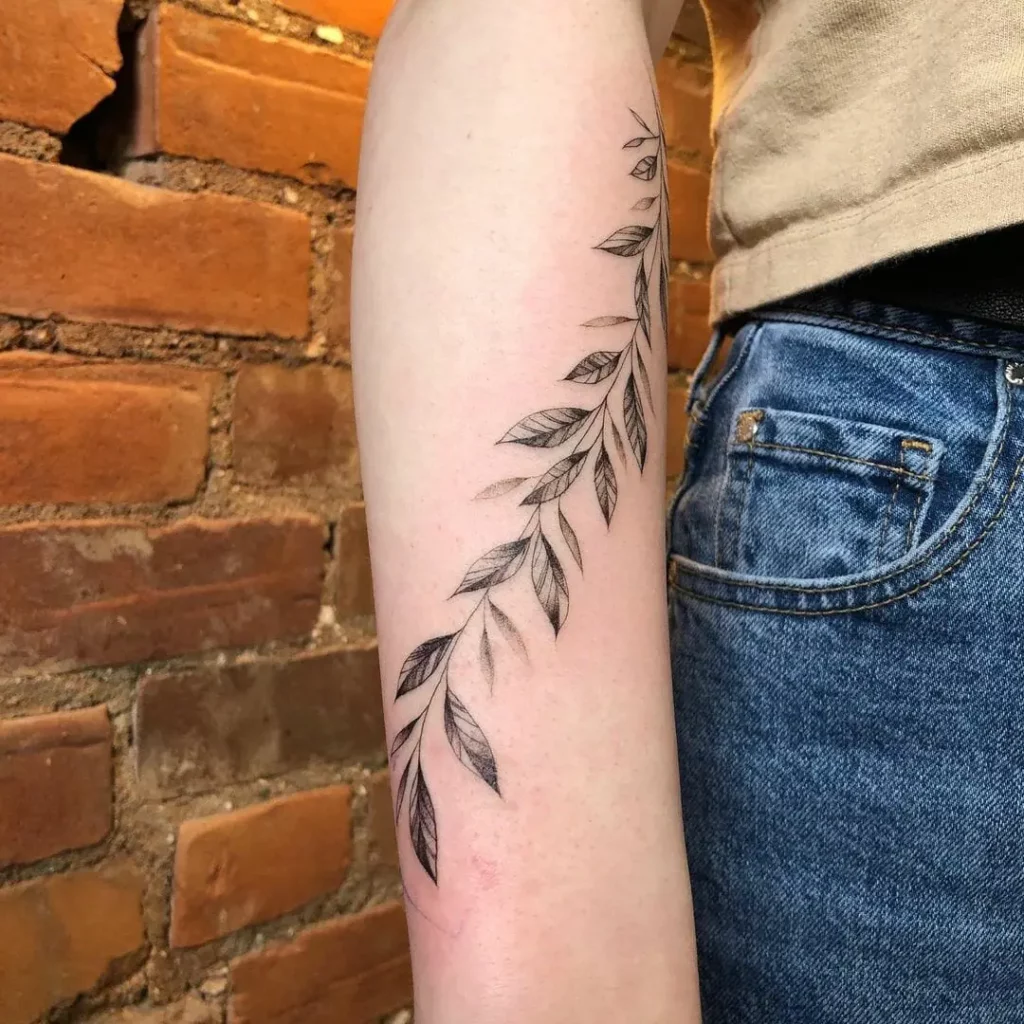 The outlined vine arm tattoo is a popular and timeless choice, especially among individuals who appreciate delicate designs.
The simplicity of the outlined vine creates an elegant and refined look on the arm. Those seeking a subtle yet visually appealing tattoo often favours this style.
Feminine Shaped Vine Tattoo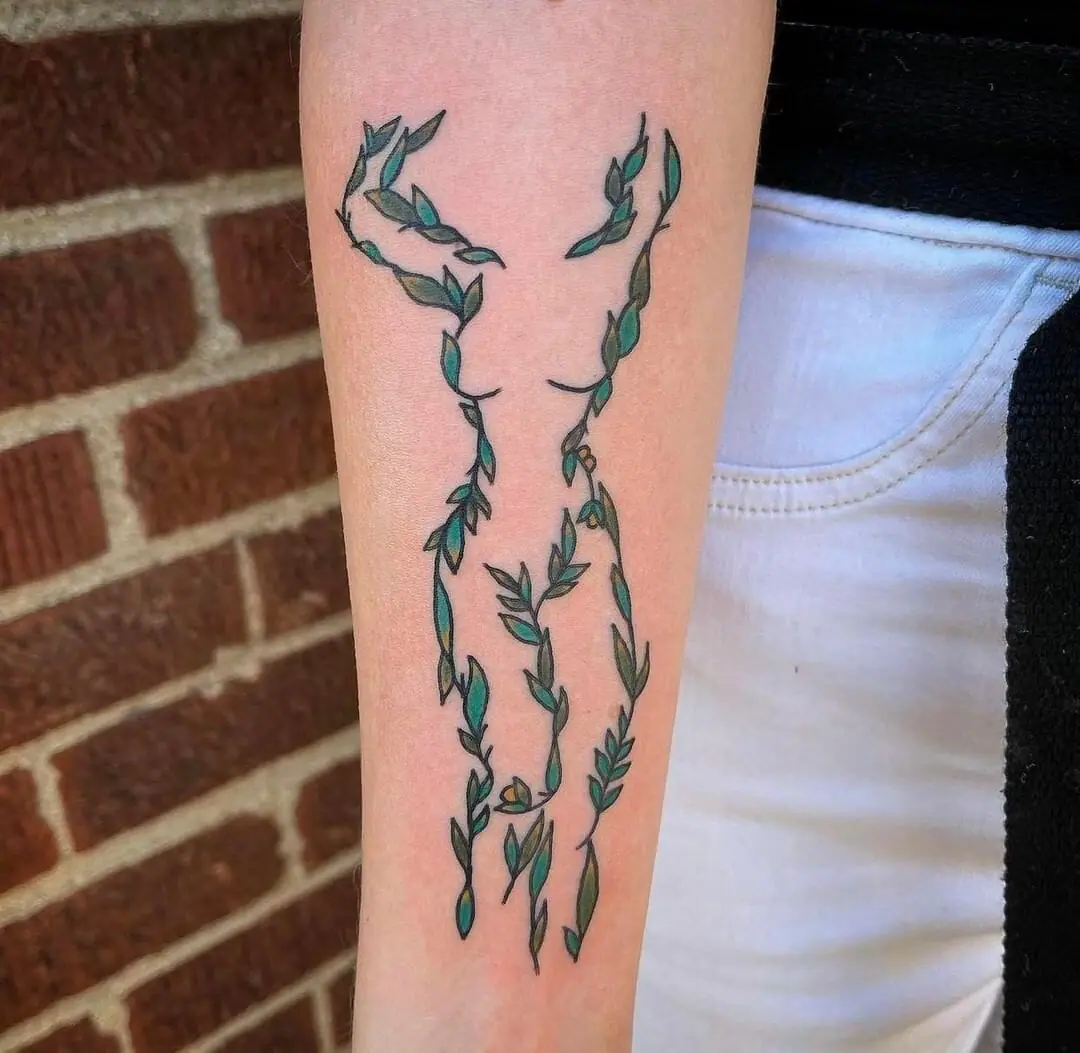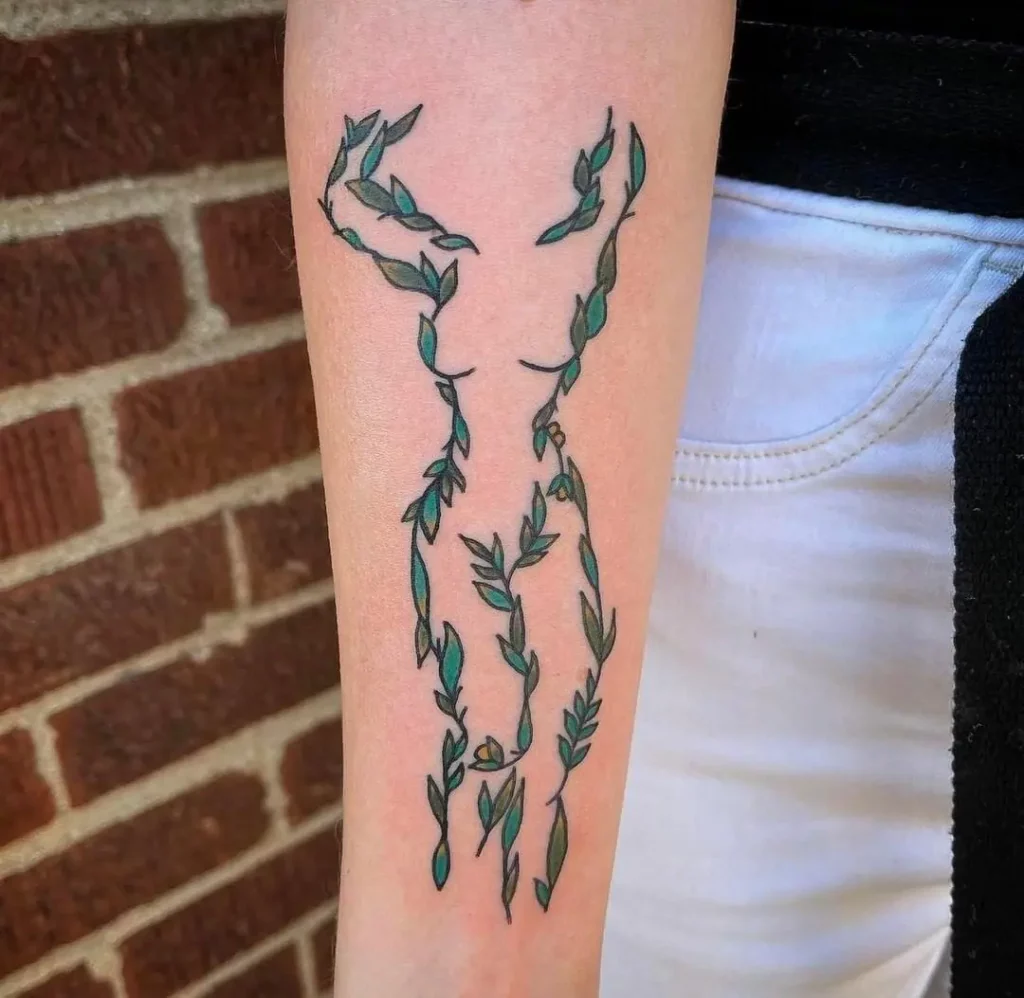 A unique and creative approach to the vine tattoo involves using the vine's graceful curves to form a specific shape or symbol.
This particular design showcases how the vine can be shaped into the outline of a woman, adding an extra layer of meaning and beauty to the tattoo. It's a way to personalize the tattoo and make it even more special.
Overlapping Leaf Vine Tattoo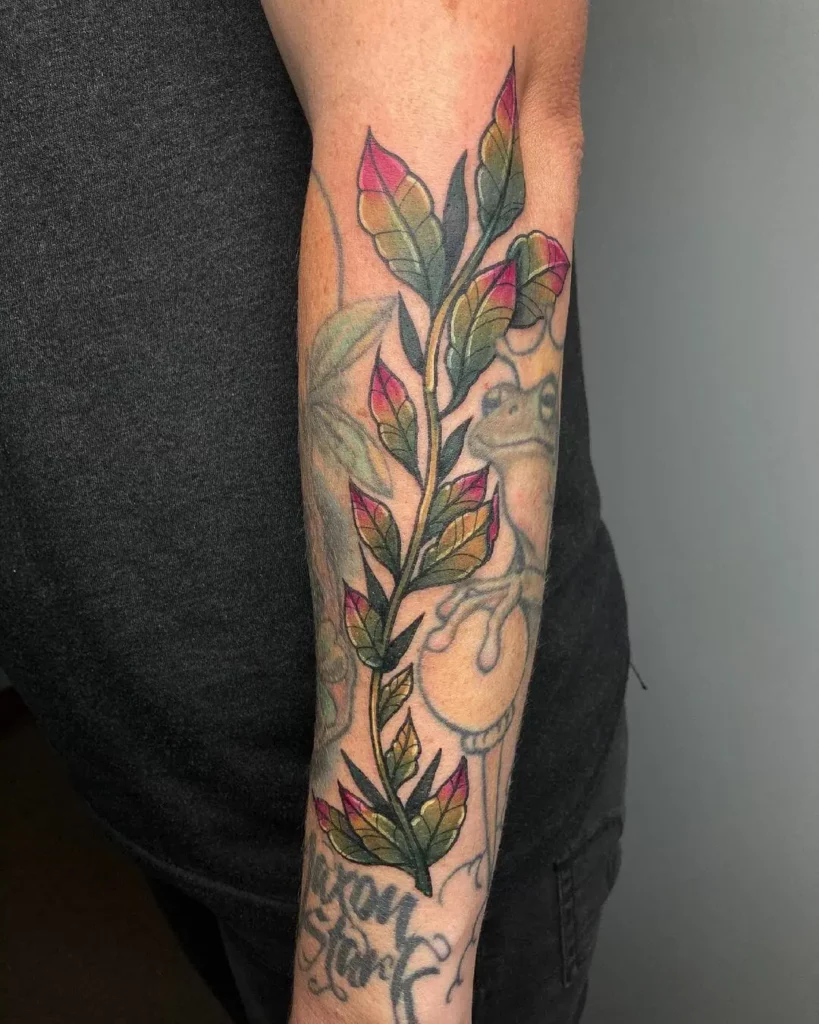 The overlapping leaf vine tattoo is an excellent choice for those who appreciate intricate details and a touch of colour. The design achieves a subtle yet eye-catching effect by adding hints of purple to the leaf tips.
This style can be adapted to various tattoo placements, with the arm sleeve being a popular canvas for such a design.
Vine Anemone Arm Tattoo Design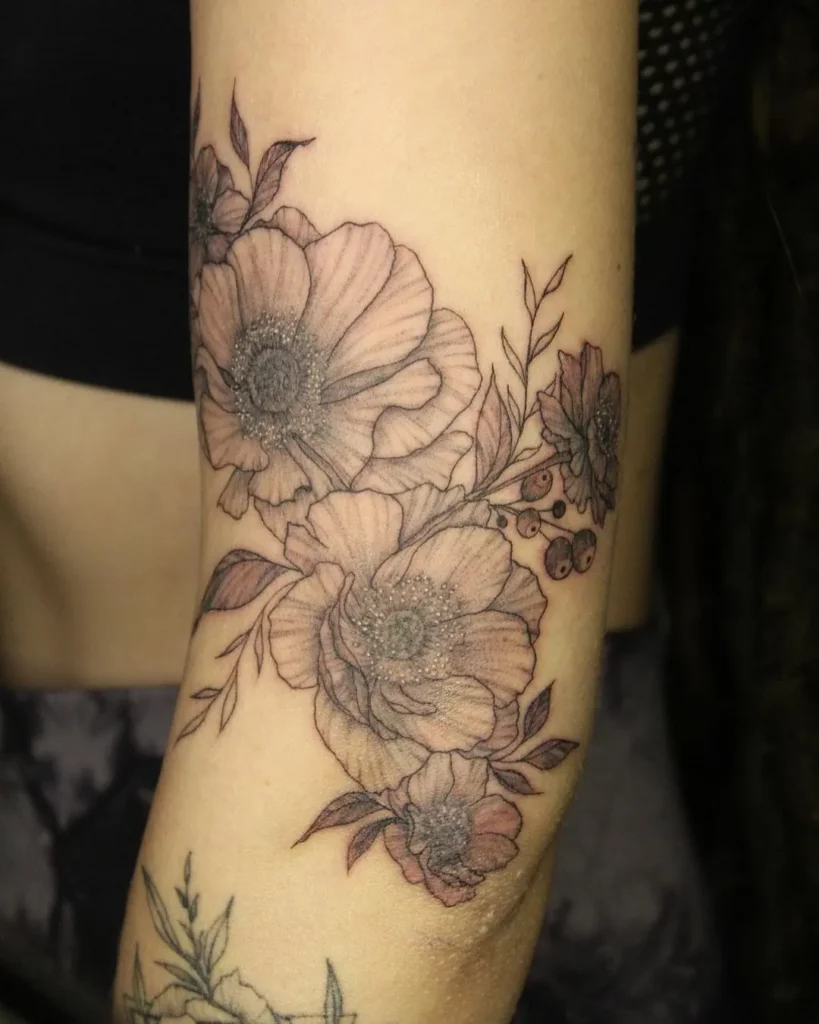 Discover the beauty of anemone flowers through a meticulously detailed tattoo design. The use of grayscale shading adds depth and dimension to the tattoo, creating a visually captivating result.
Anemone flowers are known to symbolize protection against negativity and illness, adding a layer of symbolism to this stunning arm tattoo.
Dragon Vine Arm Tattoo
Combining various design elements can lead to a visually stunning and unique tattoo. Green stems are expertly incorporated into this design to create a dragon-like creature complemented by flowing wave patterns.
This approach allows for personalization, making each tattoo a one-of-a-kind piece of body art.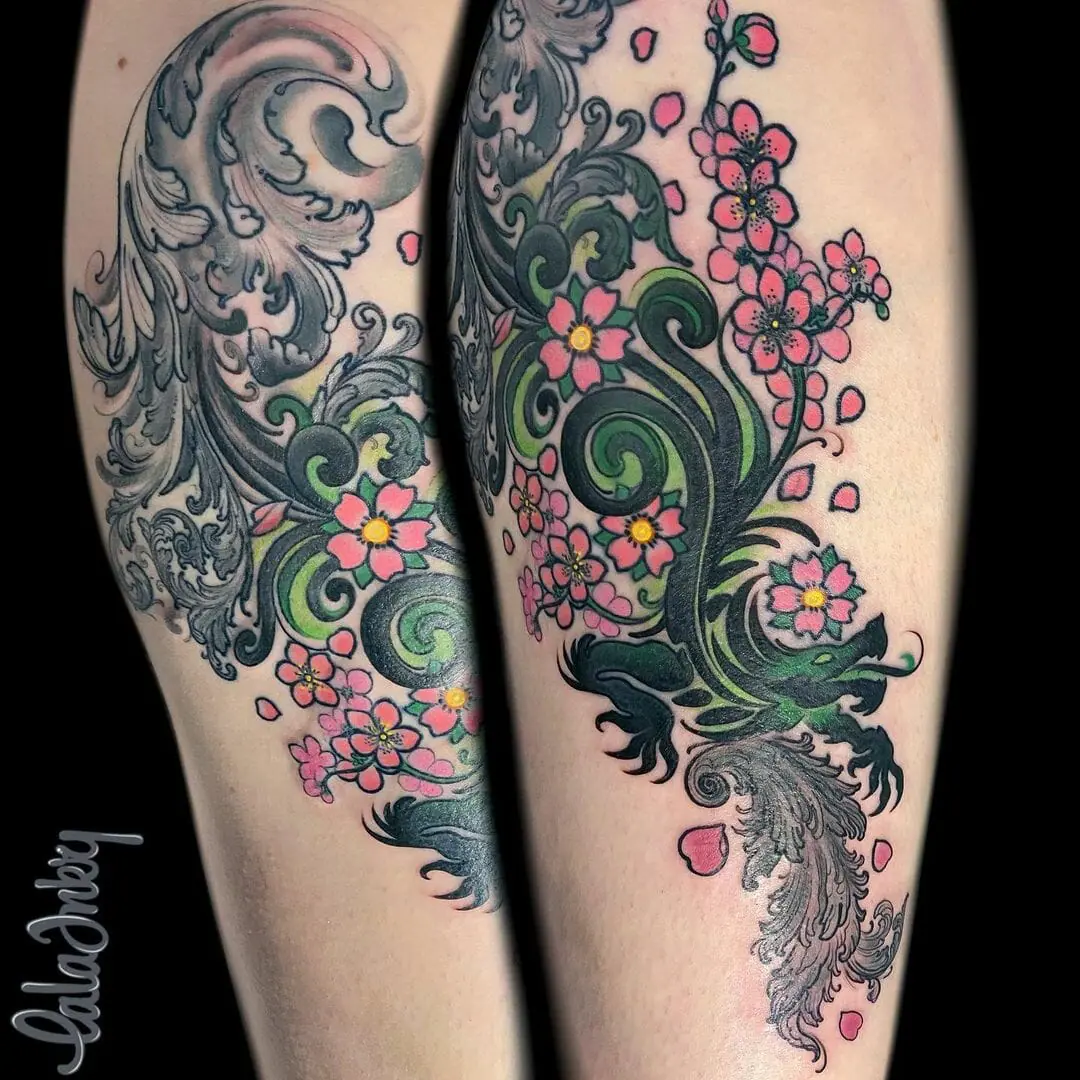 Orange Vine Arm Tattoo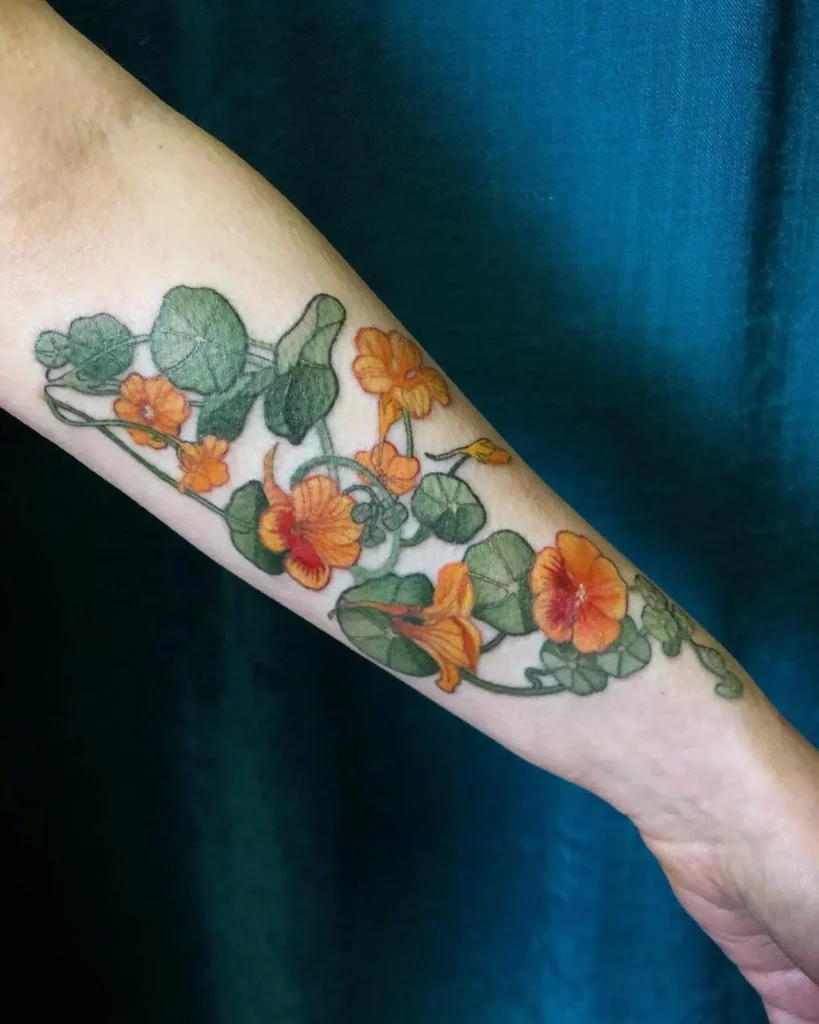 This design seamlessly blends the vine's stem with the flower nodes, creating a vibrant effect with its orange colour. The incorporation of green and orange hues adds a visually appealing contrast to the tattoo.
Abstract Vine Arm Tattoo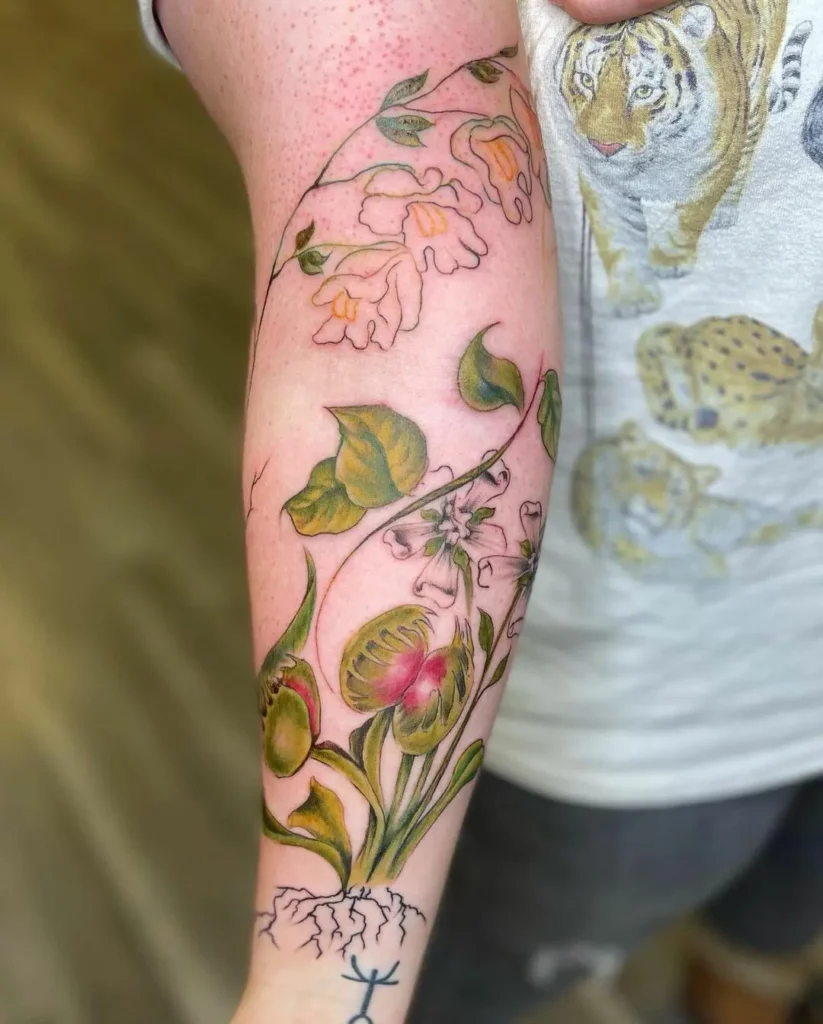 This colourful vine tattoo is an excellent choice if you appreciate abstract art. The blend of vivid colours, along with the flowing vines, imparts a distinctive touch. The flowers, rendered in an animated style, infuse an extra layer of creativity into the design.
Black Rose Vine Arm Tattoo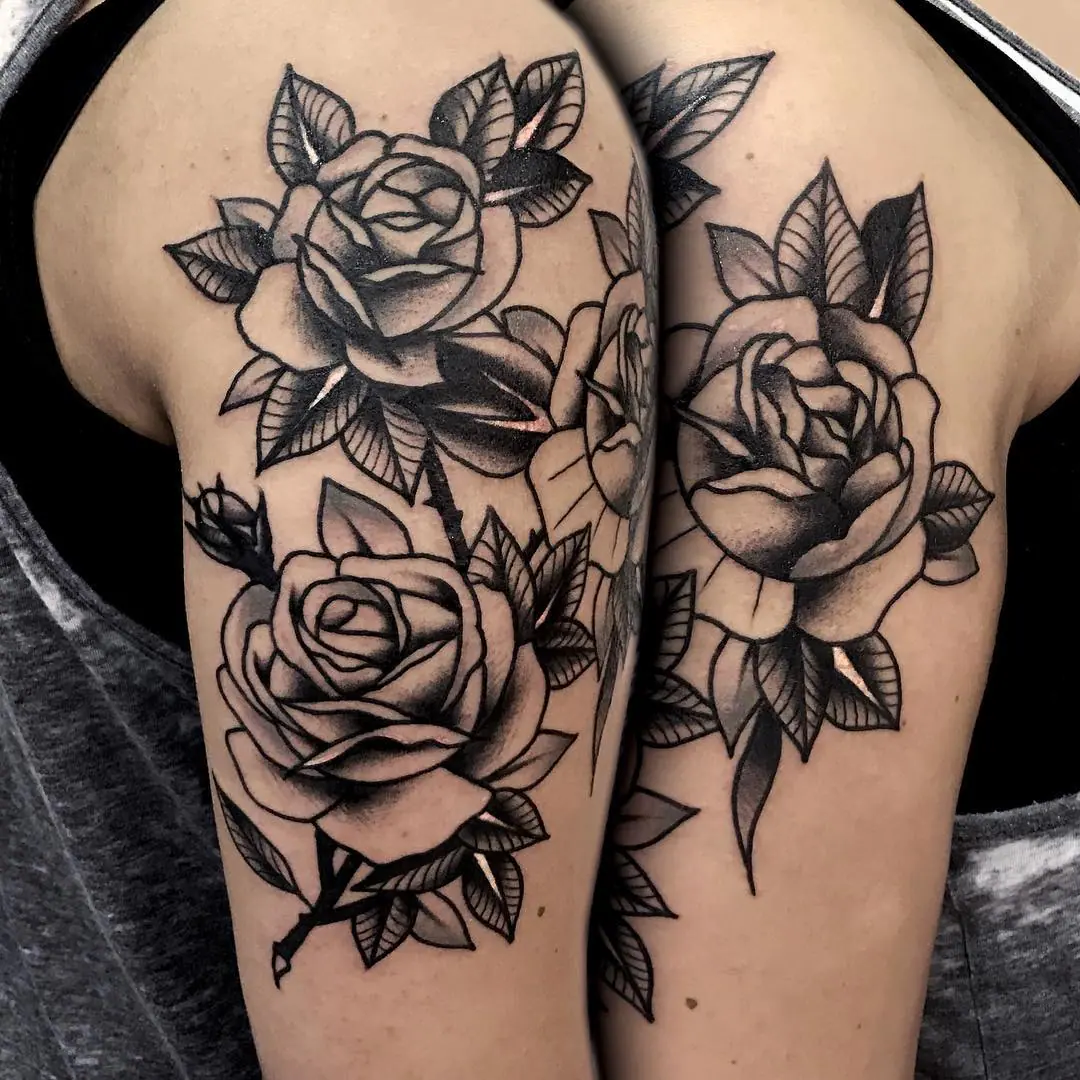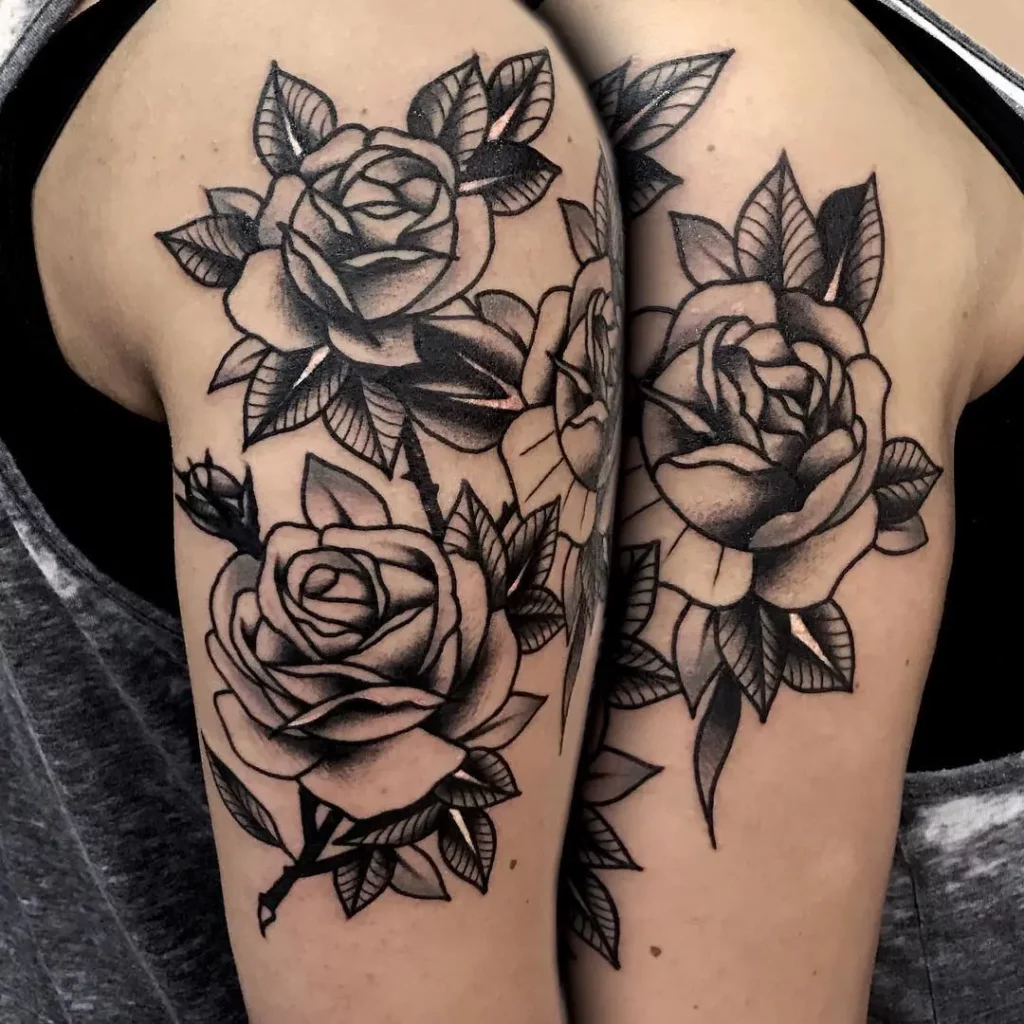 The black rose traditionally symbolizes grief and commemoration. This tattoo could serve as a poignant tribute to a departed loved one.
The clever utilization of negative space in the tattoo design imparts elegance and depth, resulting in a profound and symbolic piece of body art.
Black Ink Vine Arm Tattoo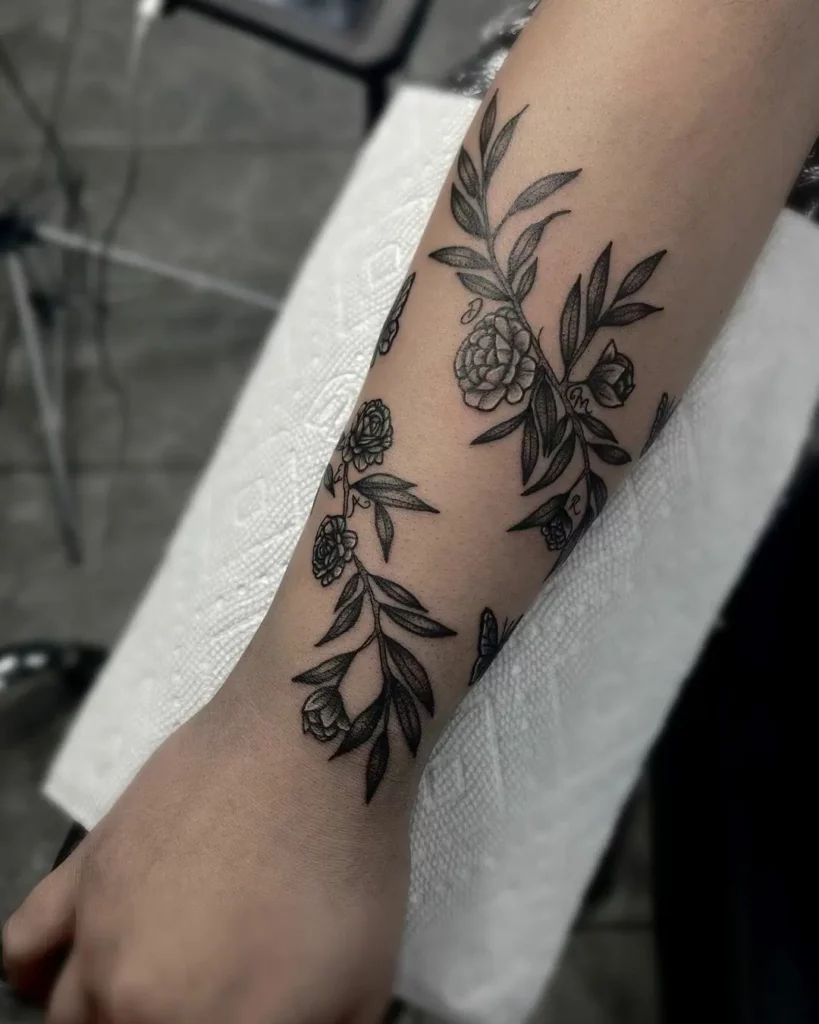 Consider a delicate black ink vine tattoo for a refined and understated option. This choice is particularly suited for women and offers a striking contrast against lighter skin tones.
The intricate vine pattern stands out beautifully against the skin, creating a sophisticated yet simple aesthetic.
Cherry Blossom Vine Arm Tattoo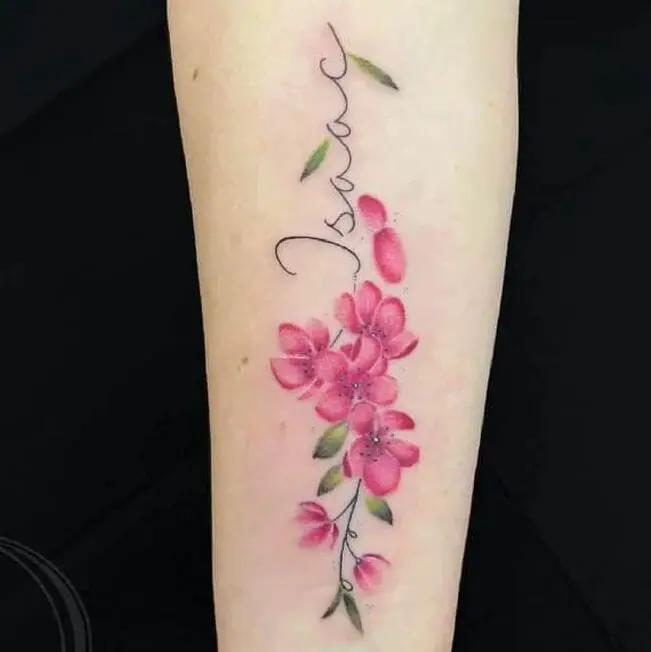 The cherry blossom flower is widely chosen for tattoos due to its profound symbolism. It can represent the passage of time, the blossoming of love, and innate beauty.
This has made it a preferred option among women seeking tattoos that hold deep significance. Incorporating a name into the tattoo further accentuates its personal touch, transforming it into a symbol of affection.
Green Vine Arm Tattoo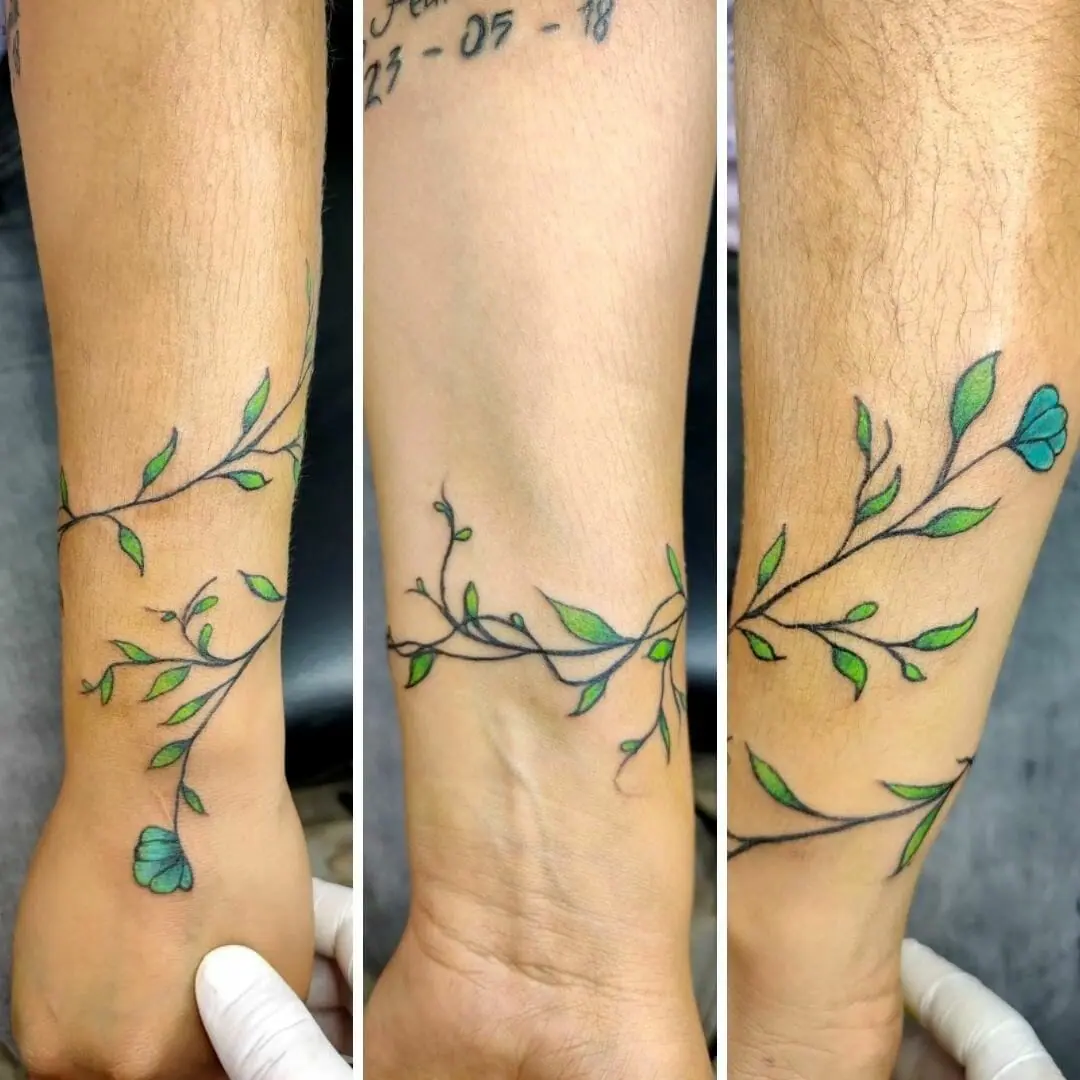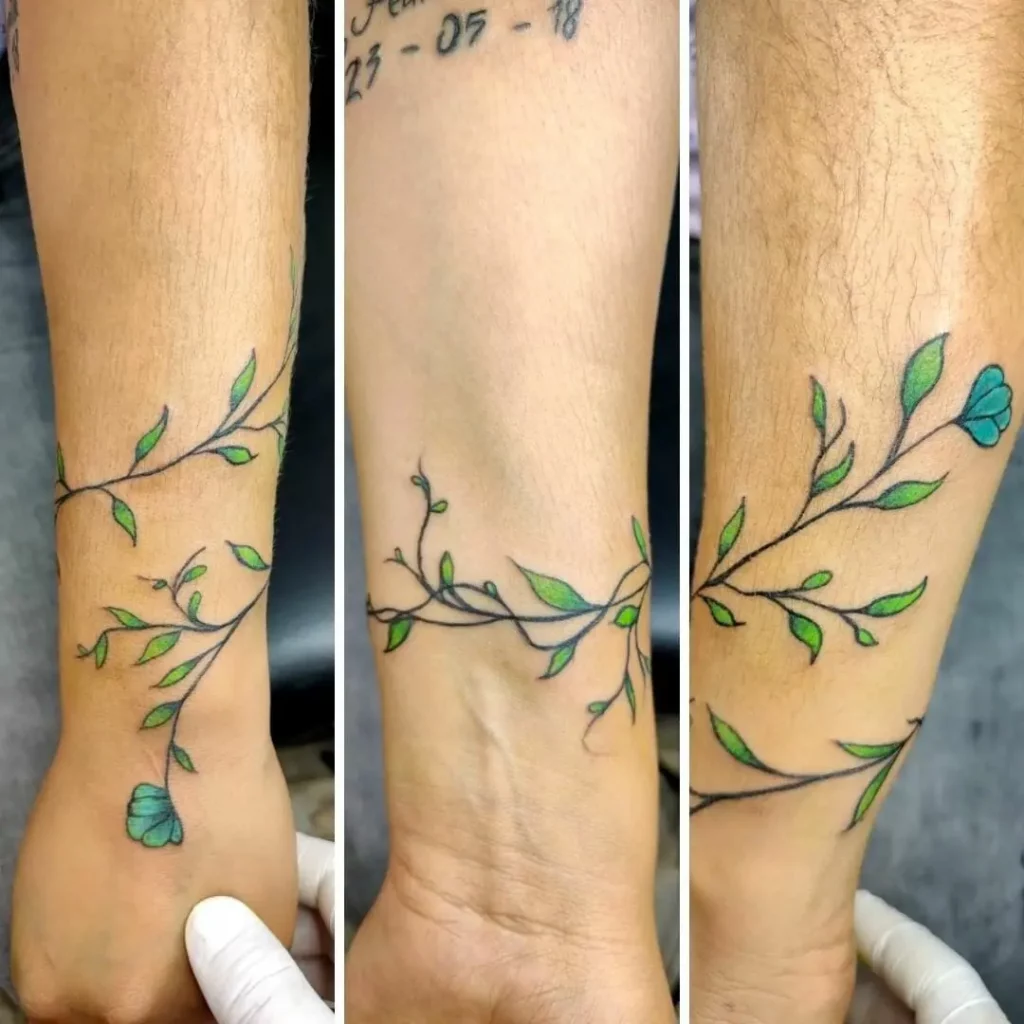 For those who appreciate minimalist tattoo ideas, the delicate vine wrapping around the arm offers an enchanting choice. The use of green hues for the flowers reflects a connection with nature and a genuine appreciation for it.
Elegant Vine Forearm Design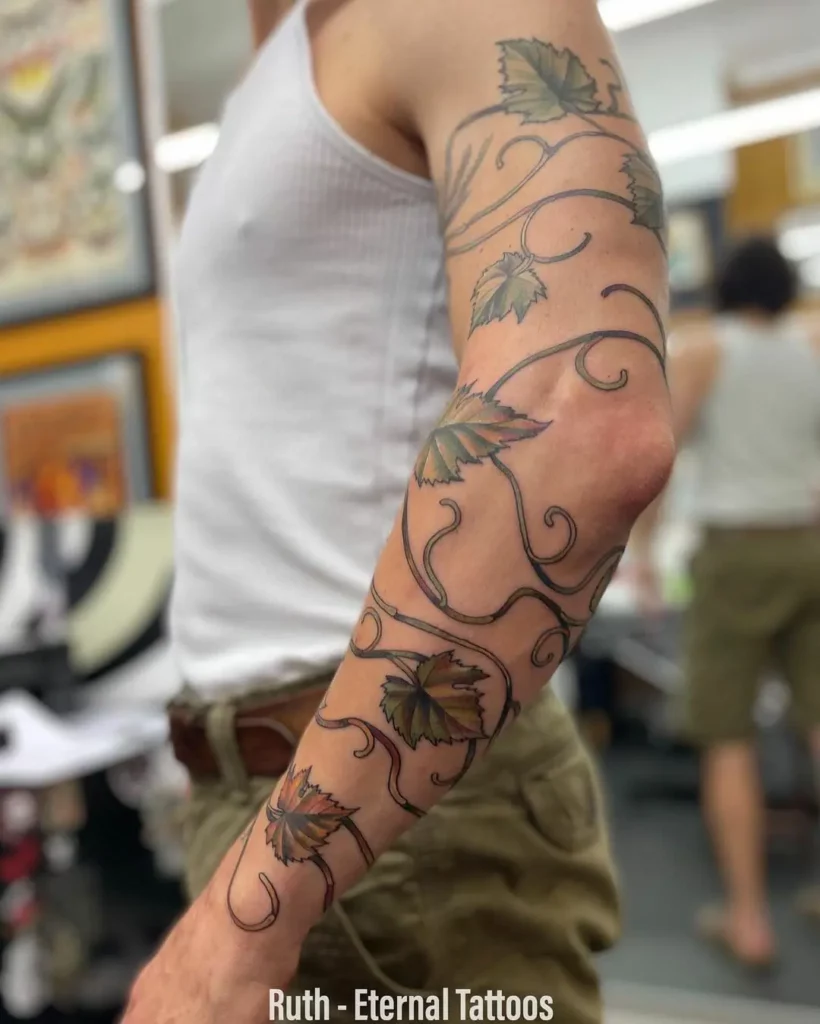 A remarkable design that envelops the entire forearm with intricate leaf patterns and rustic foliage serves as a beautiful testament to an individual's affinity with the natural world.
The fern tattoo, recognized for symbolizing endurance and resourcefulness, also conveys youthful energy and a sense of embarking on new ventures.
This intricate design captures the essence of growth and preparedness for fresh experiences.
Floral Pattern Vine Tattoo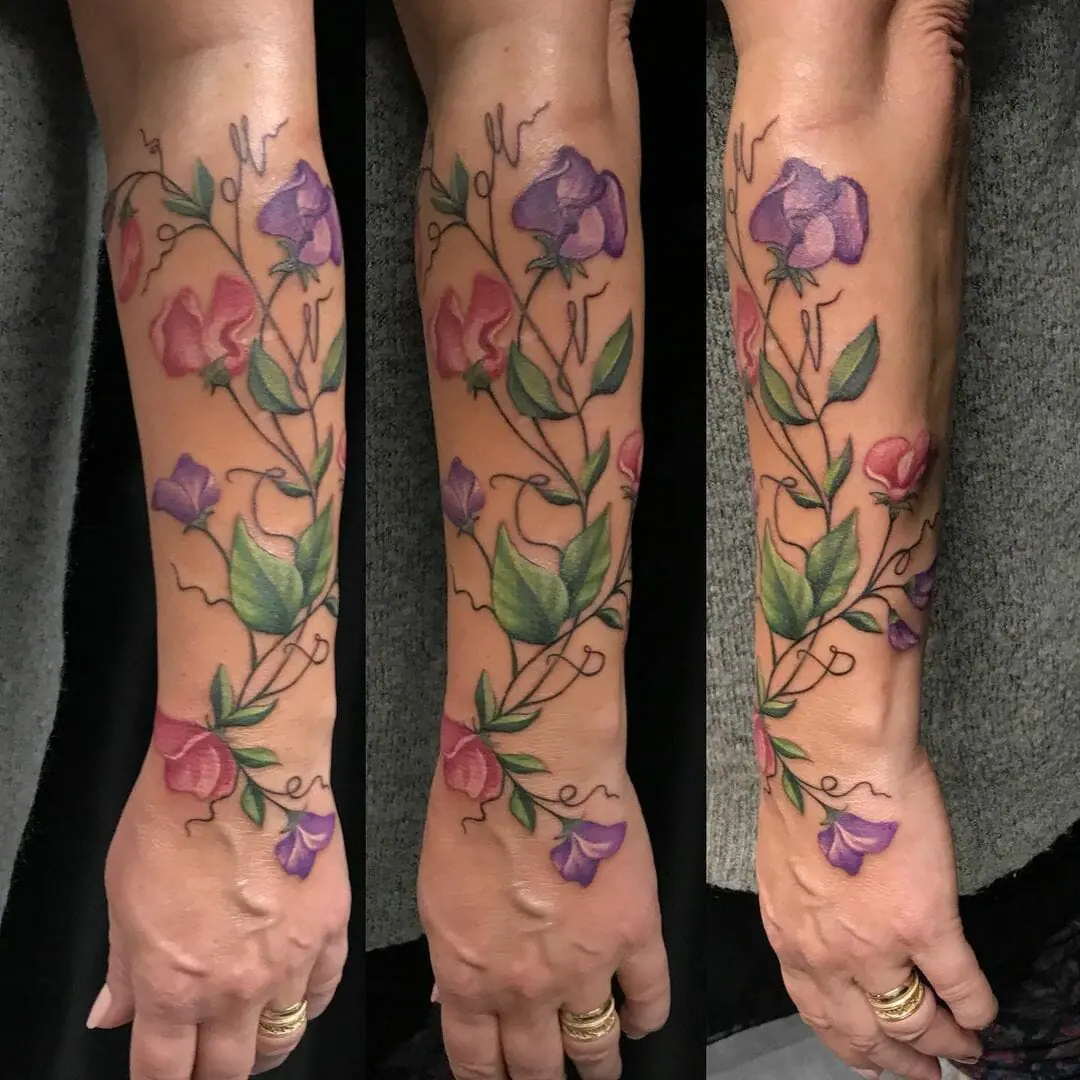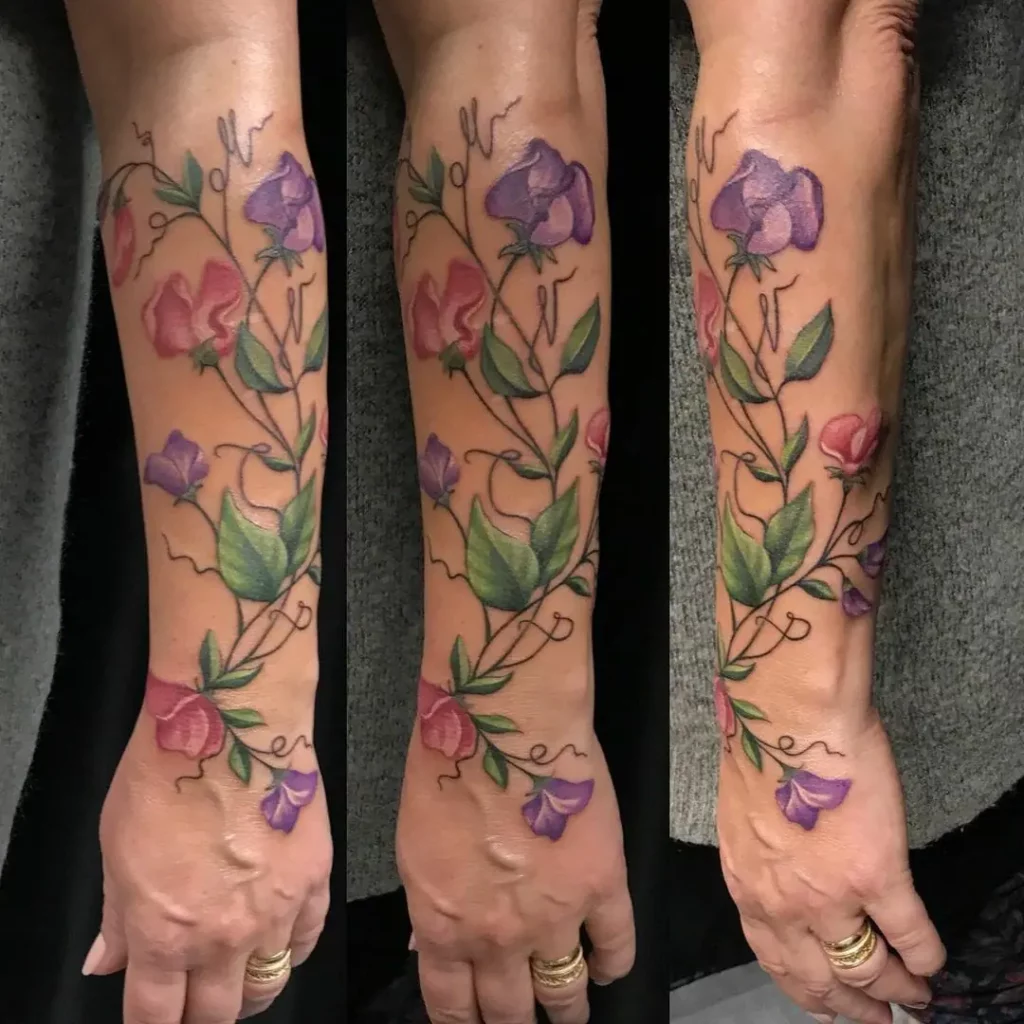 Here's an innovative approach to the classic flower vine tattoo, featuring a burst of colours that adds an intriguing twist. If you appreciate lively and dynamic designs, this style might be a great source of inspiration.
Tiny Arm Vine Tattoo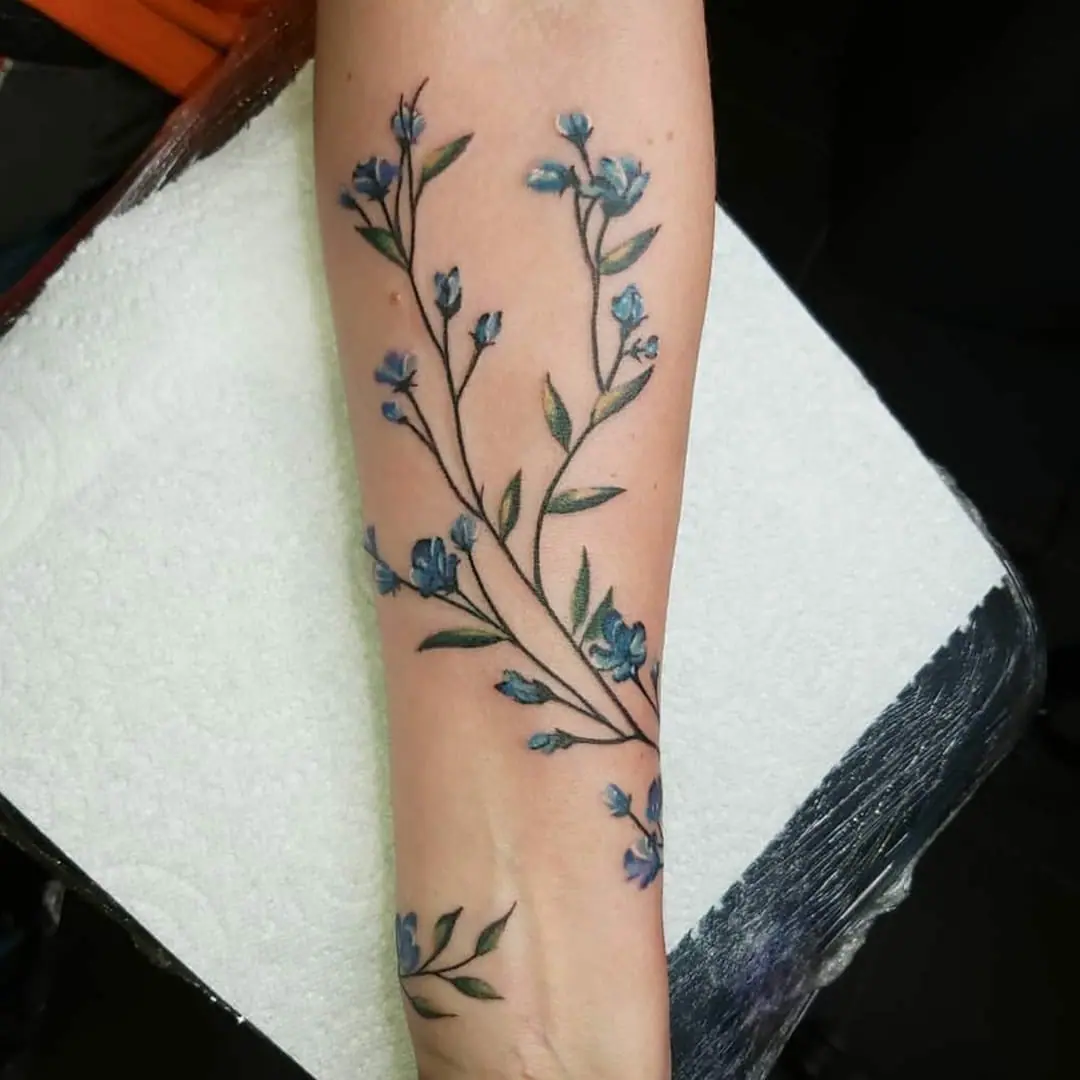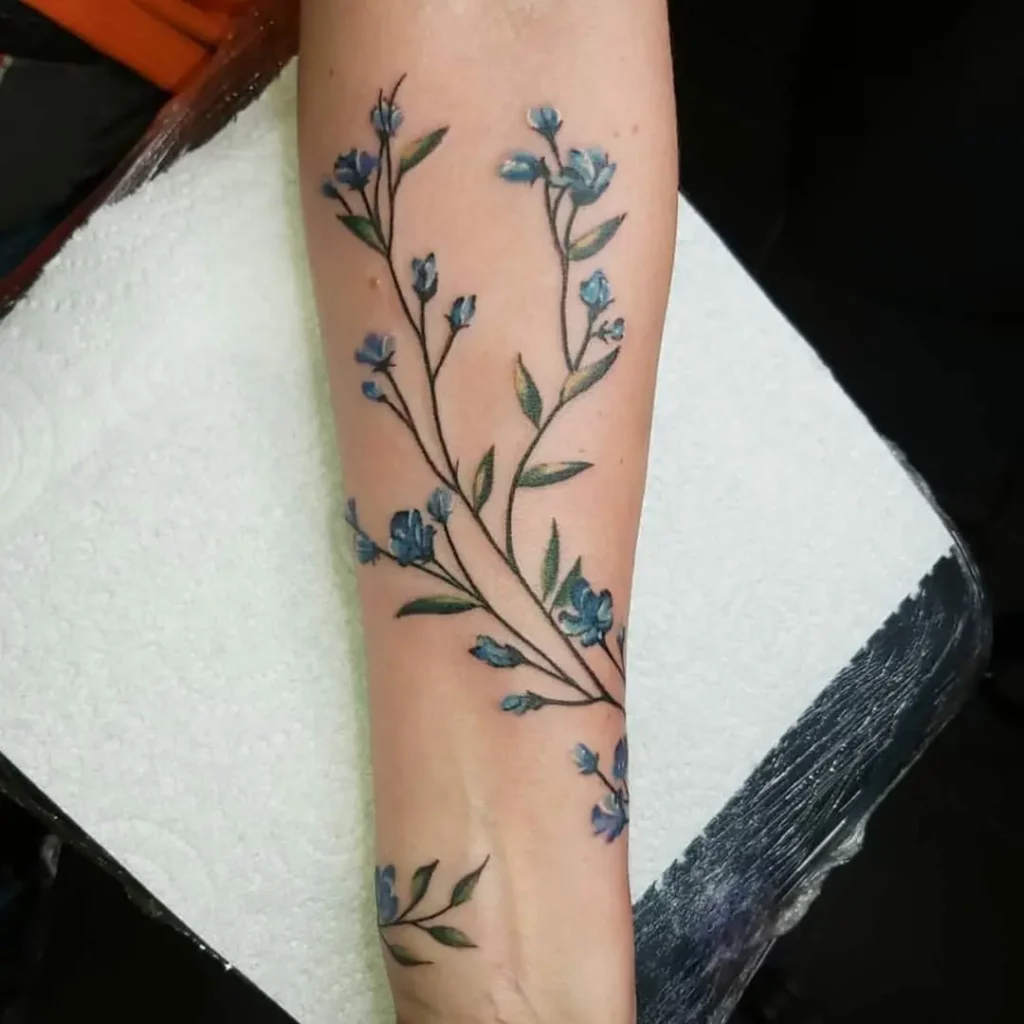 Consider a subtle vine tattoo on your arm for a delicate and elegant touch. The incorporation of soft blue hues into the small flowers enhances the overall charm, making it a suitable option for individuals who admire subtle and feminine tattoos.
Artistic Wrapped Vine Tattoo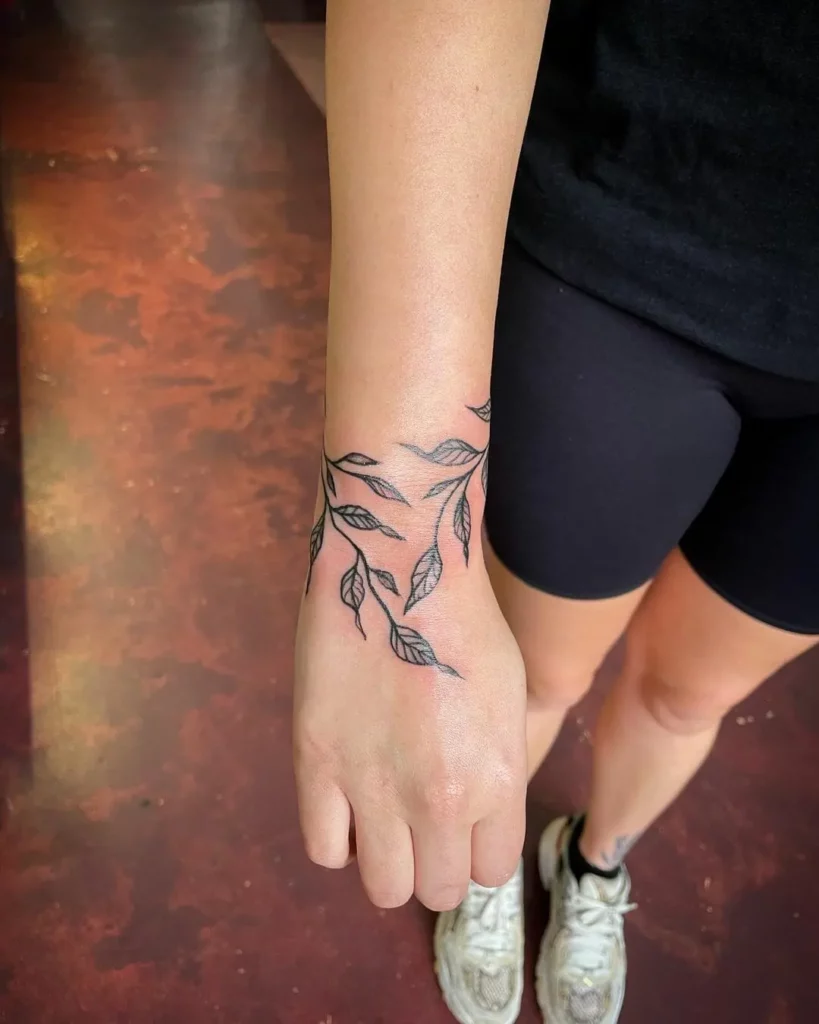 This design could be fitting if you lean towards simple and minimalist tattoo concepts. It's particularly well-suited for those who prefer a minimalist aesthetic or are getting their first tattoo.
Exquisite Leafy Vine Tattoo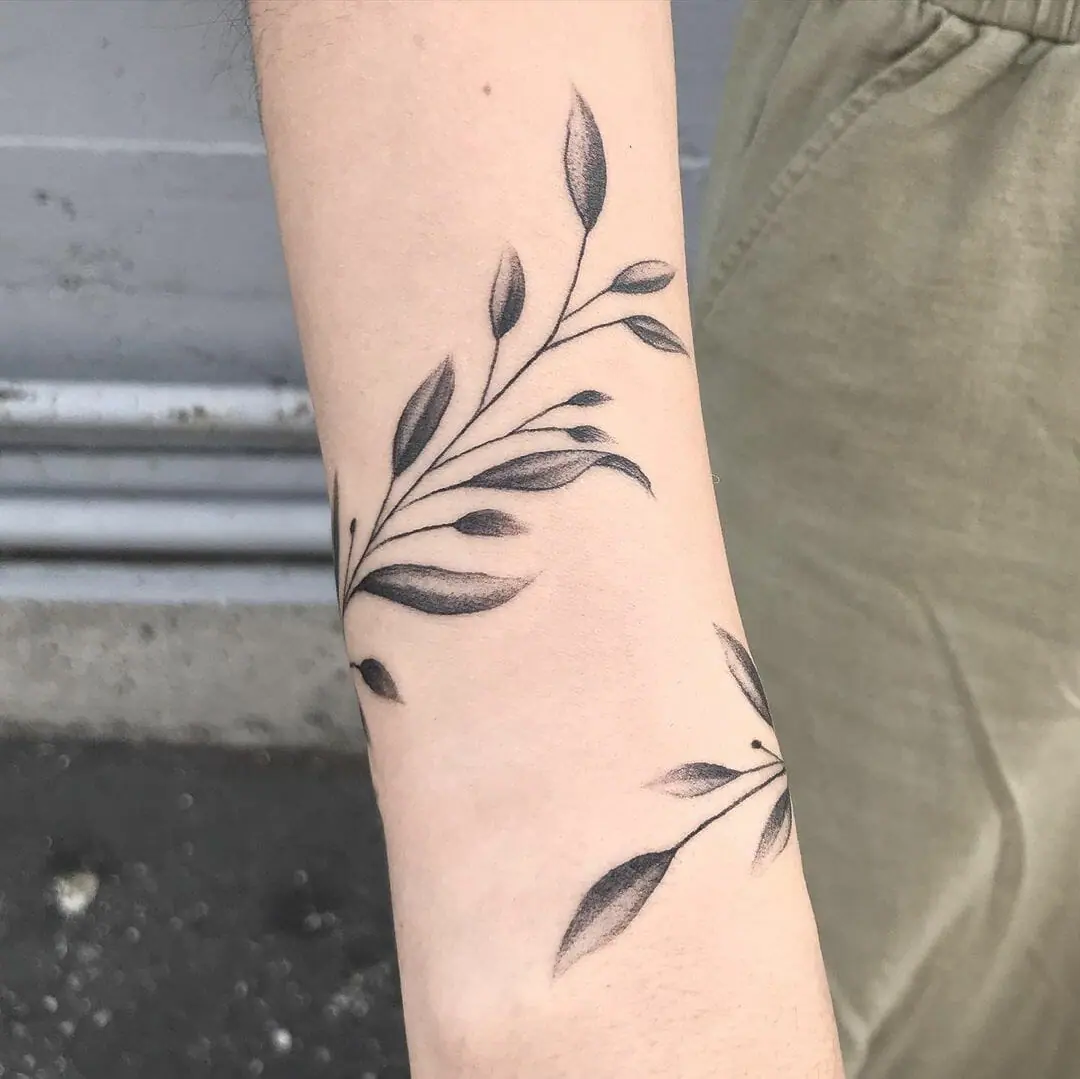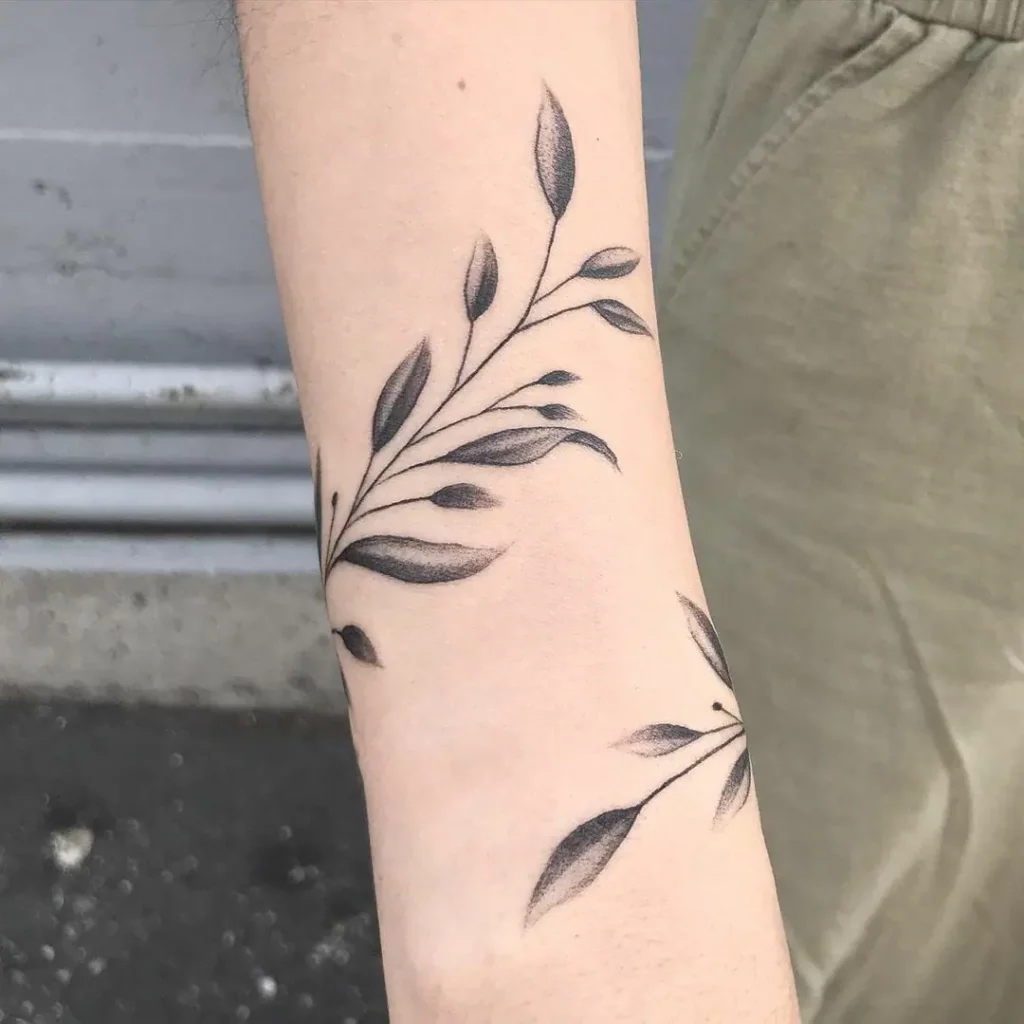 Here's another example of a grayscale shading tattoo featuring a clean and uncomplicated leaf motif. Minimalistic tattoos are gaining popularity for their ability to showcase the beauty of simplicity.
Henna-Inspired Vine Tattoo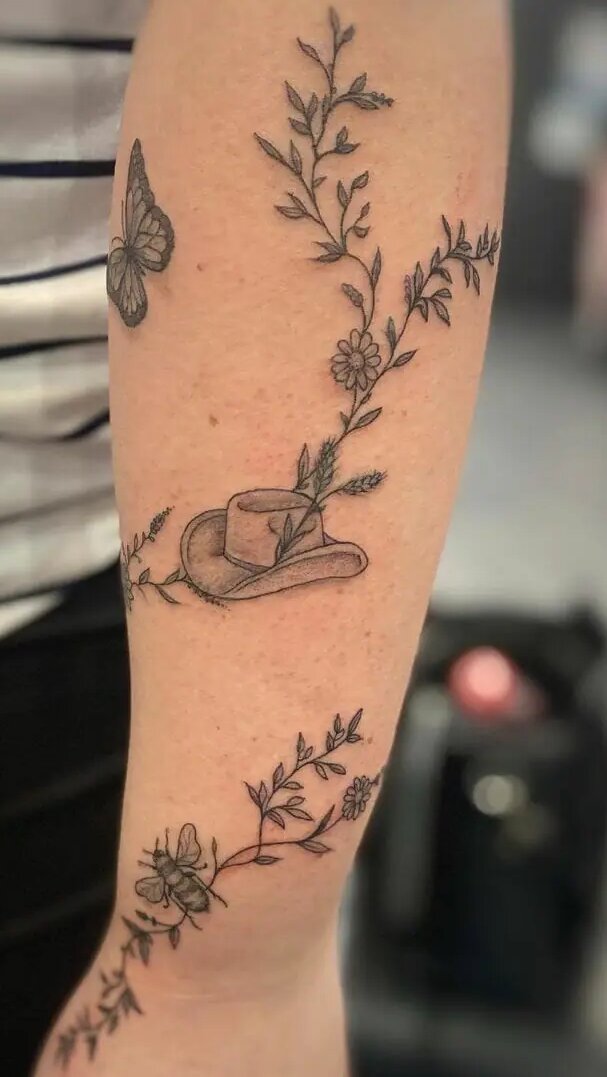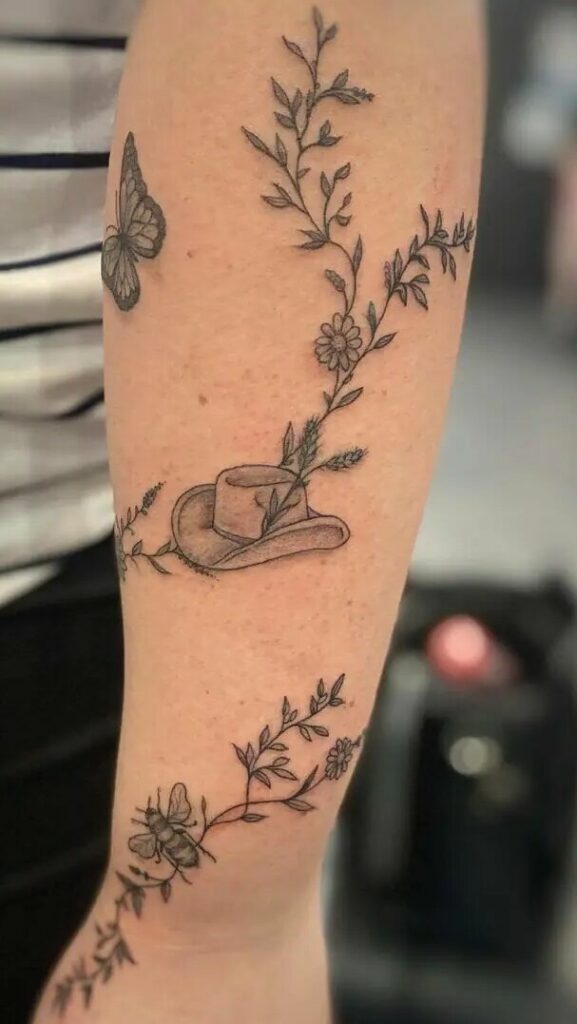 Art Infusing henna-inspired elements into your tattoo can symbolize marital happiness and well-being. Indian brides often select this traditional design before their weddings to represent prosperity.
Delicate Arm Vine Tattoo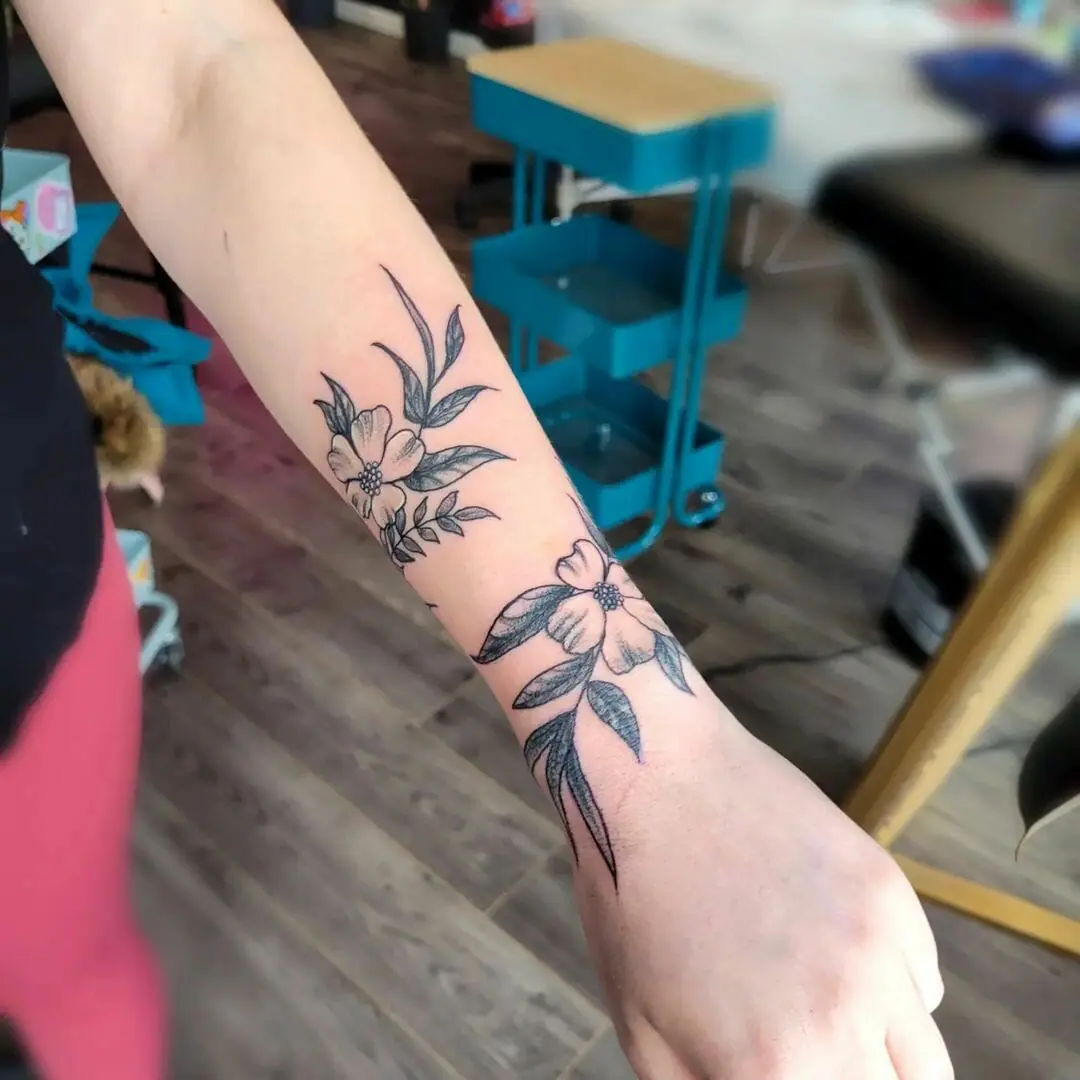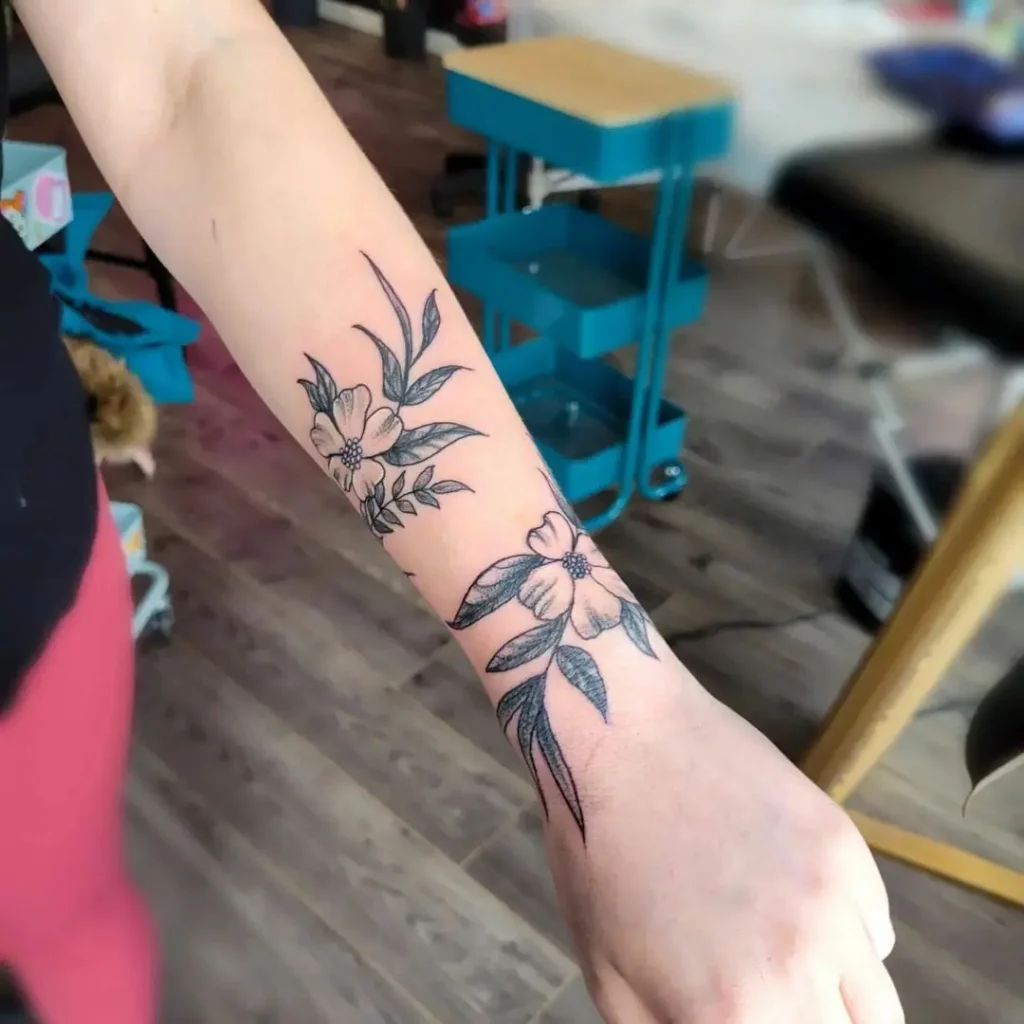 This stylish and refined vine pattern is adorned with two subtle flowers, balancing sophistication and moderate intricacy. It's an ideal choice for those seeking a tattoo with a medium-sized design.
Intricate Leafy Vine Arm Tattoo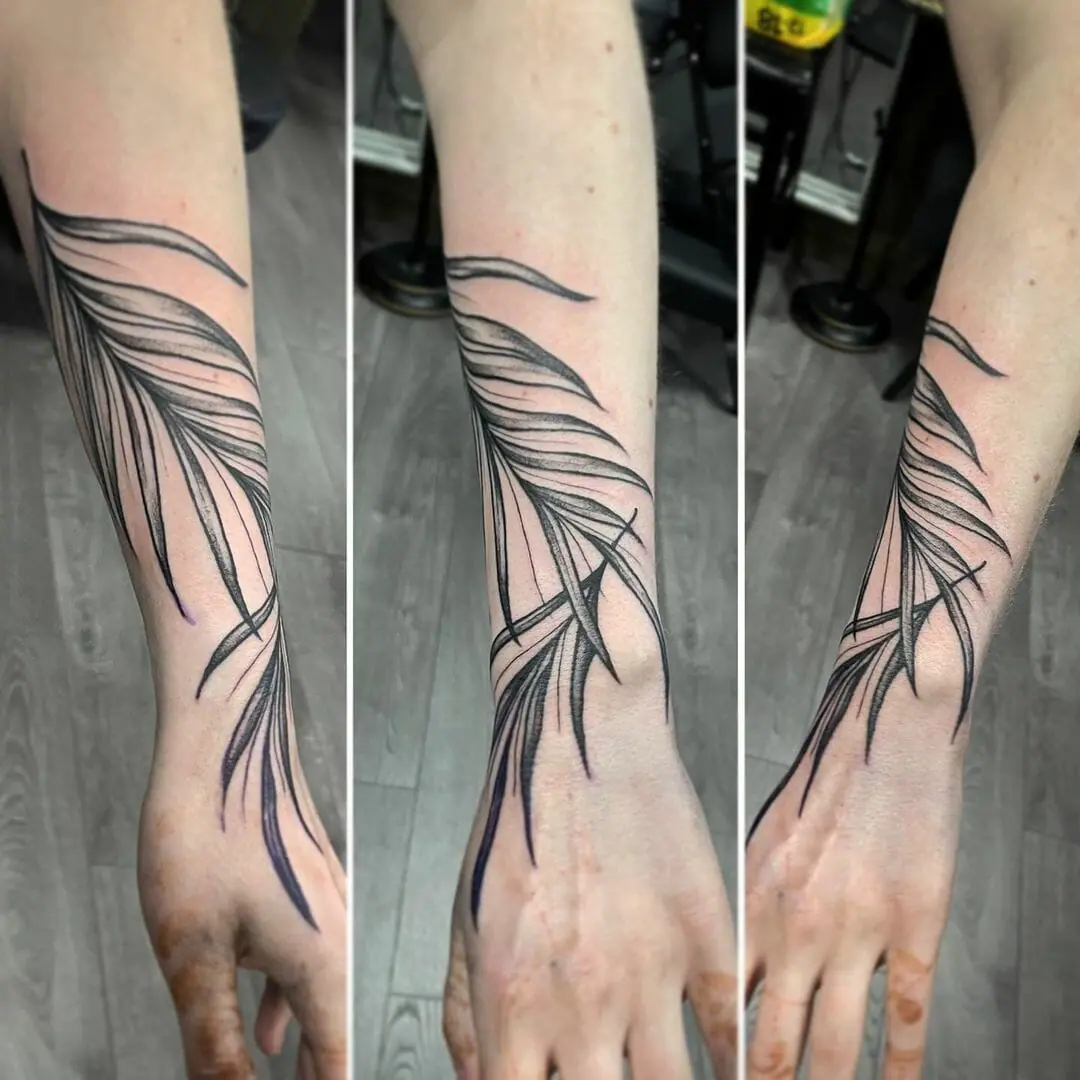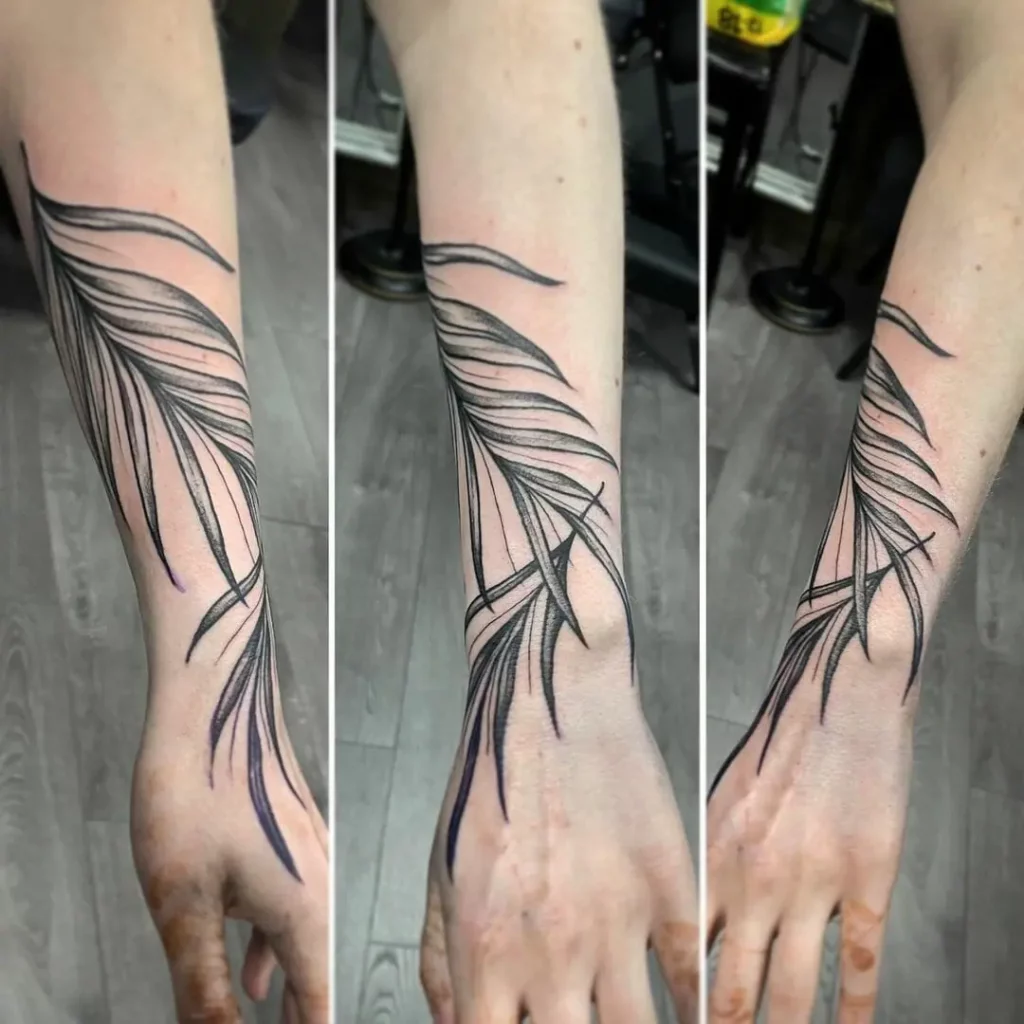 As demonstrated in this example, the range of leaf designs allows you to select a unique leaf tattoo, resulting in a truly distinctive artistic piece.
Elegant Arm Vine Tattoo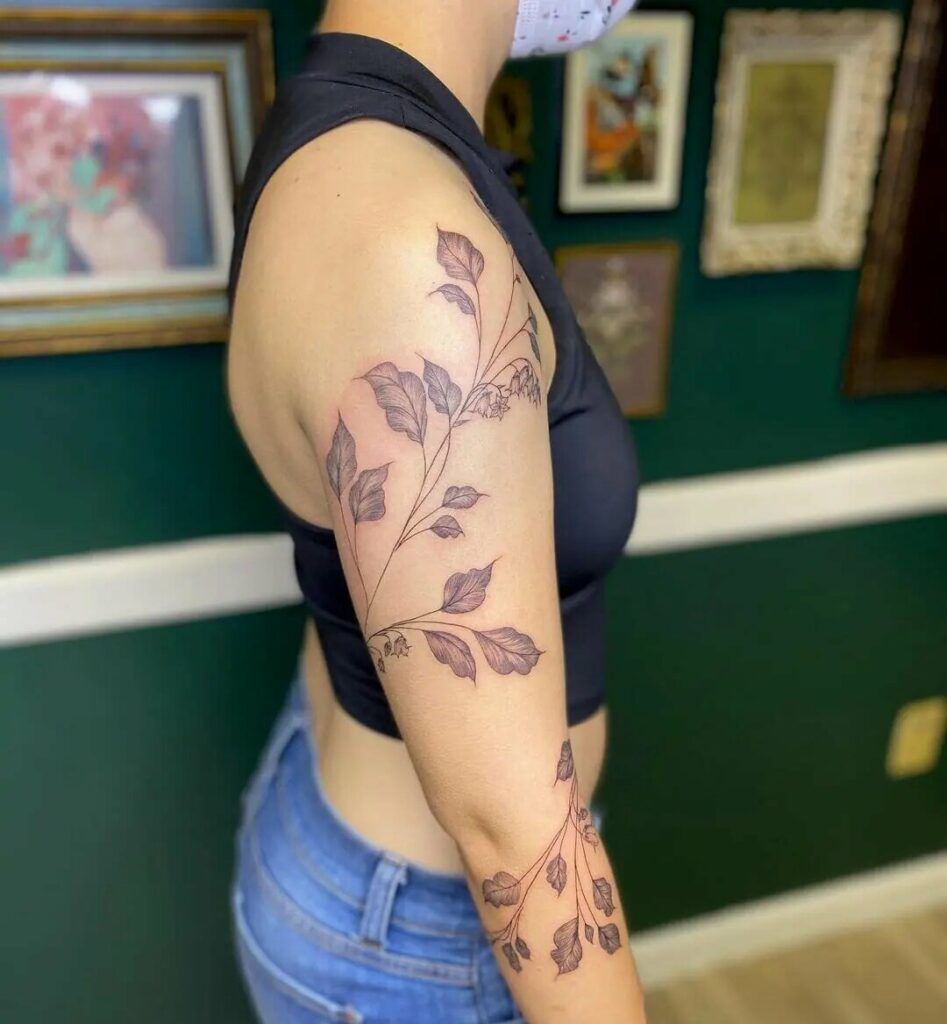 One of the most prevalent and favoured vine tattoo styles involves the gracefully wrapped-around-arm design. This style's popularity is easily understood, as showcased by the sophisticated appearance of this vine tattoo on the young woman's arm.
Artistic Ivy Vine Tattoo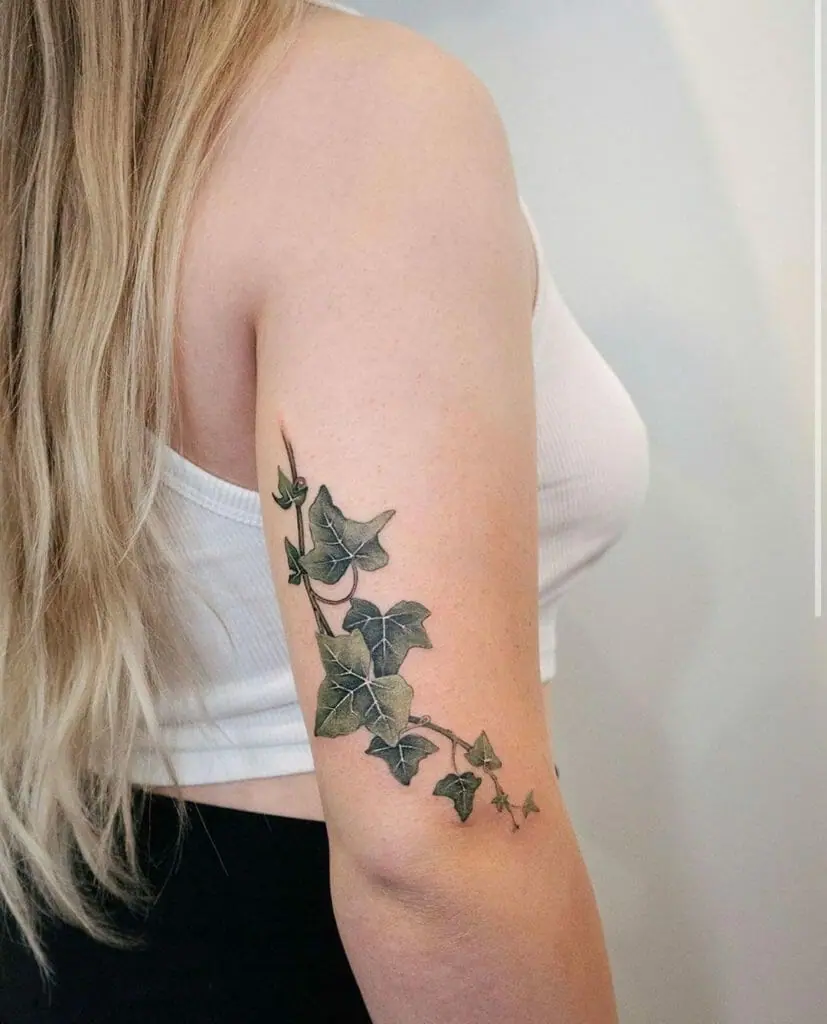 Ivy vines and their leaves stand as highly sought-after tattoo motifs. This minimalist interpretation of the Ivy Vine highlights its artistic potential. Feel free to explore various colours beyond the traditional green to craft an authentic and personalized tattoo.
Charming Forearm Vine Tattoo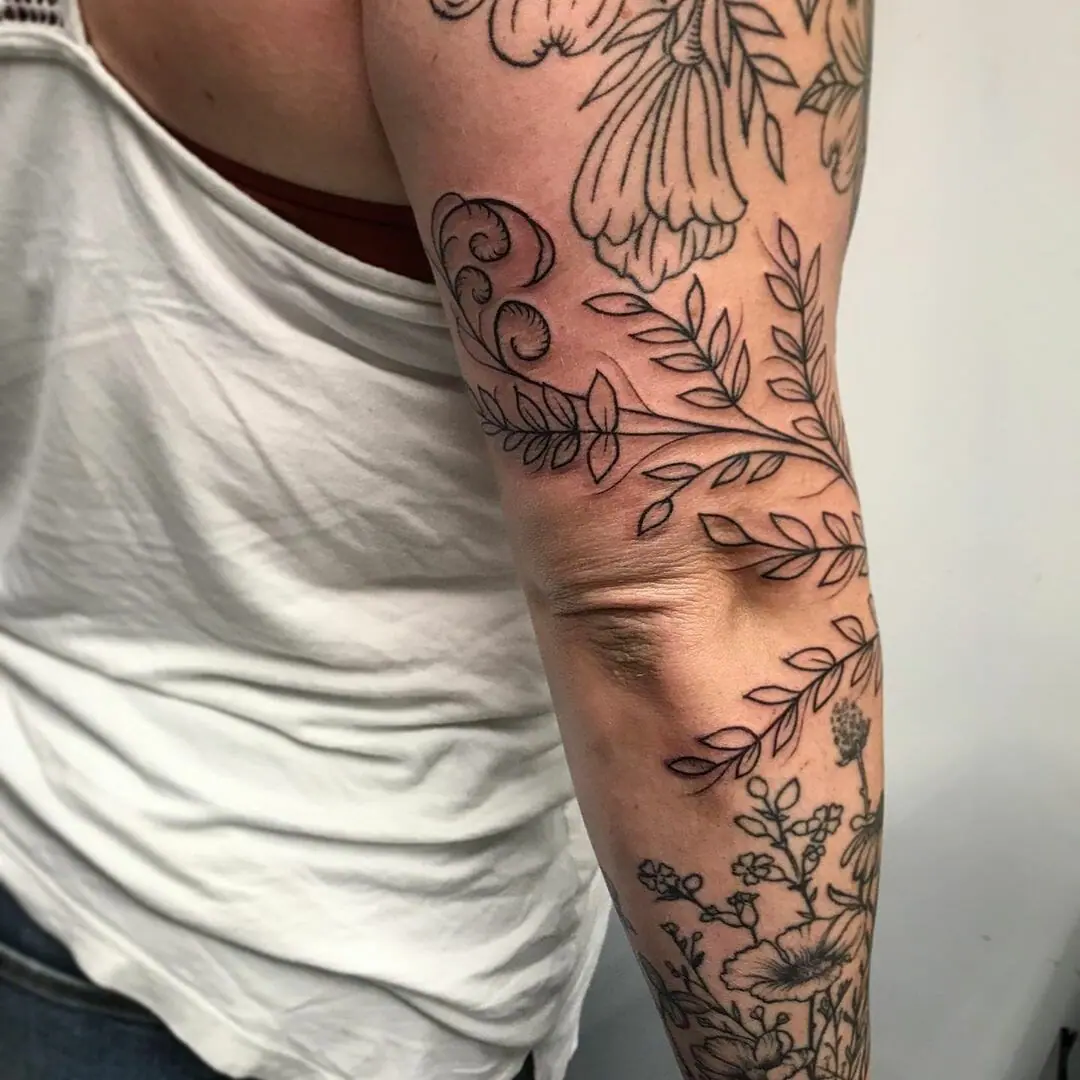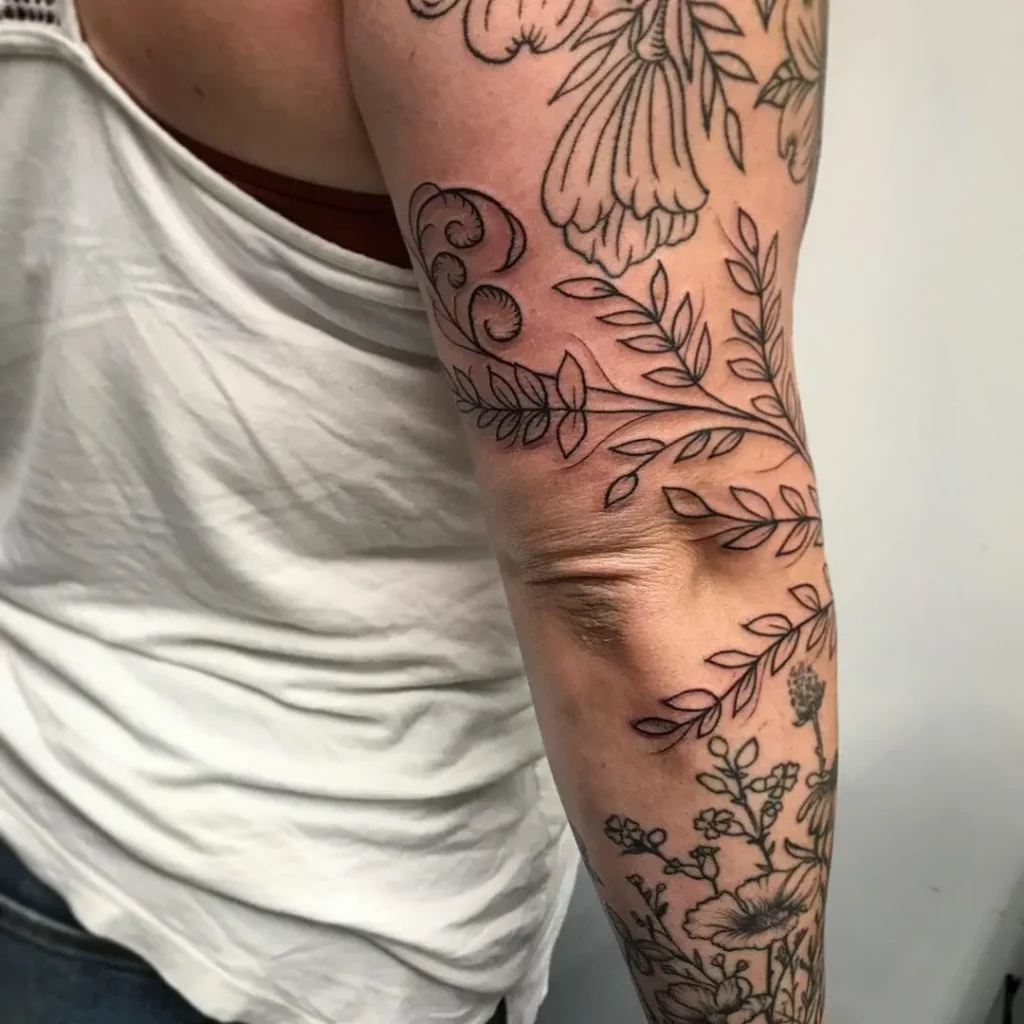 Idea For a delightful and distinctive tattoo, consider an outline-style design that mimics the appearance of an arm sleeve. If you're inclined towards a monochromatic tattoo presented in a sketch-like manner, this design offers an appealing choice.
Monochromatic Arm Vine Tattoo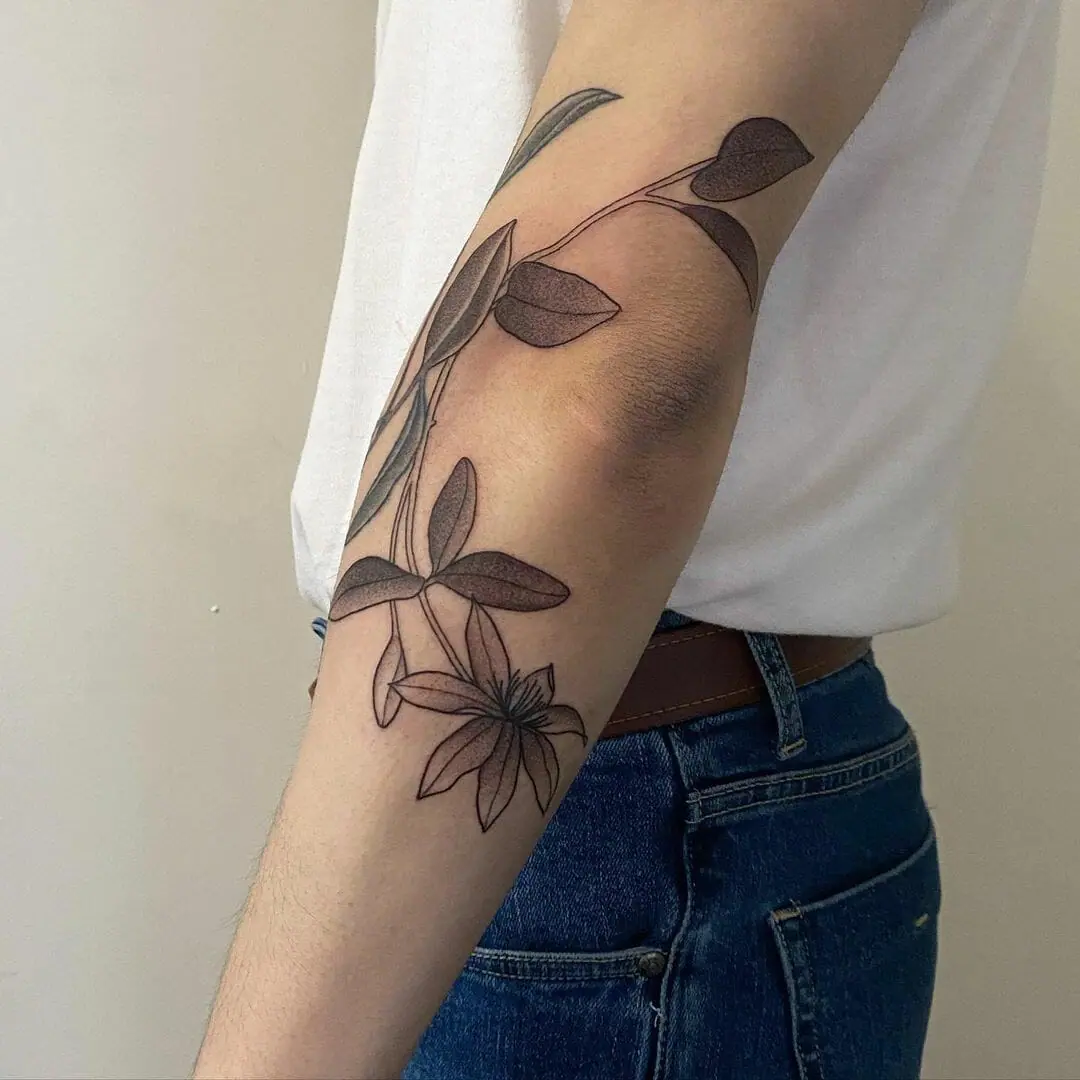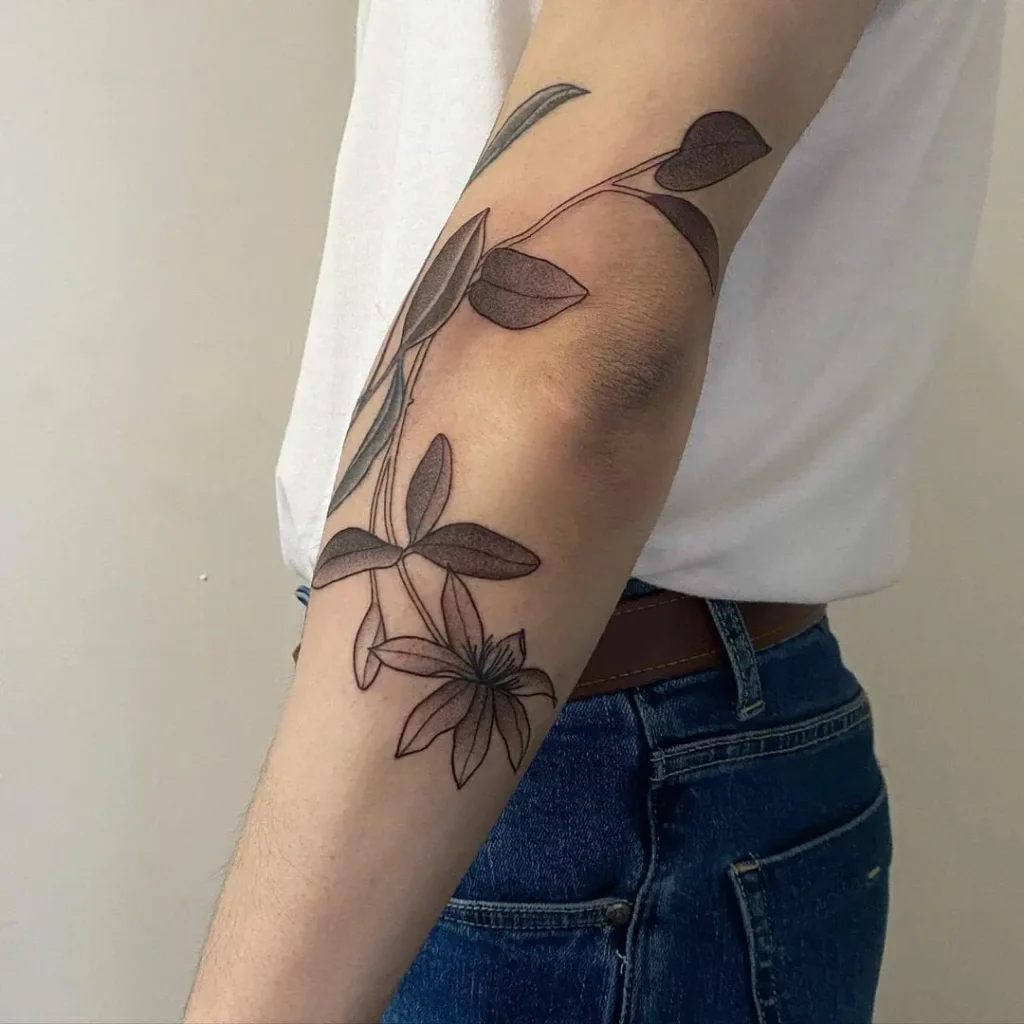 The enduring appeal of a black and grey Vine tattoo makes it an excellent option for both men and women. This classic design's timeless allure continues to make it a popular and enduring choice.
Vine Full Sleeve Tattoo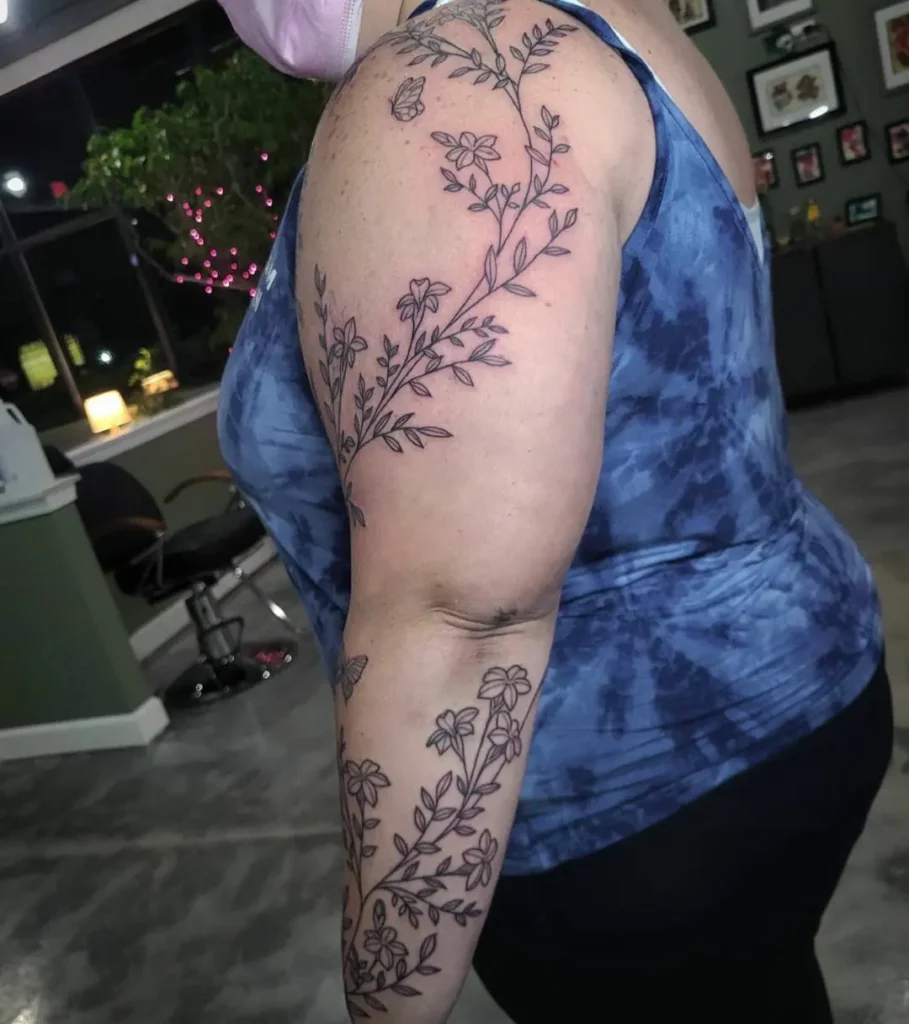 Imagine having a sleeve tattoo that features a Vine gracefully wrapping around your arm, starting from your shoulder. This particular tattoo design uses minimal colouring, following a minimalist approach for those who prefer simple yet impactful tattoos.
Distinctive Arm Vine Tattoo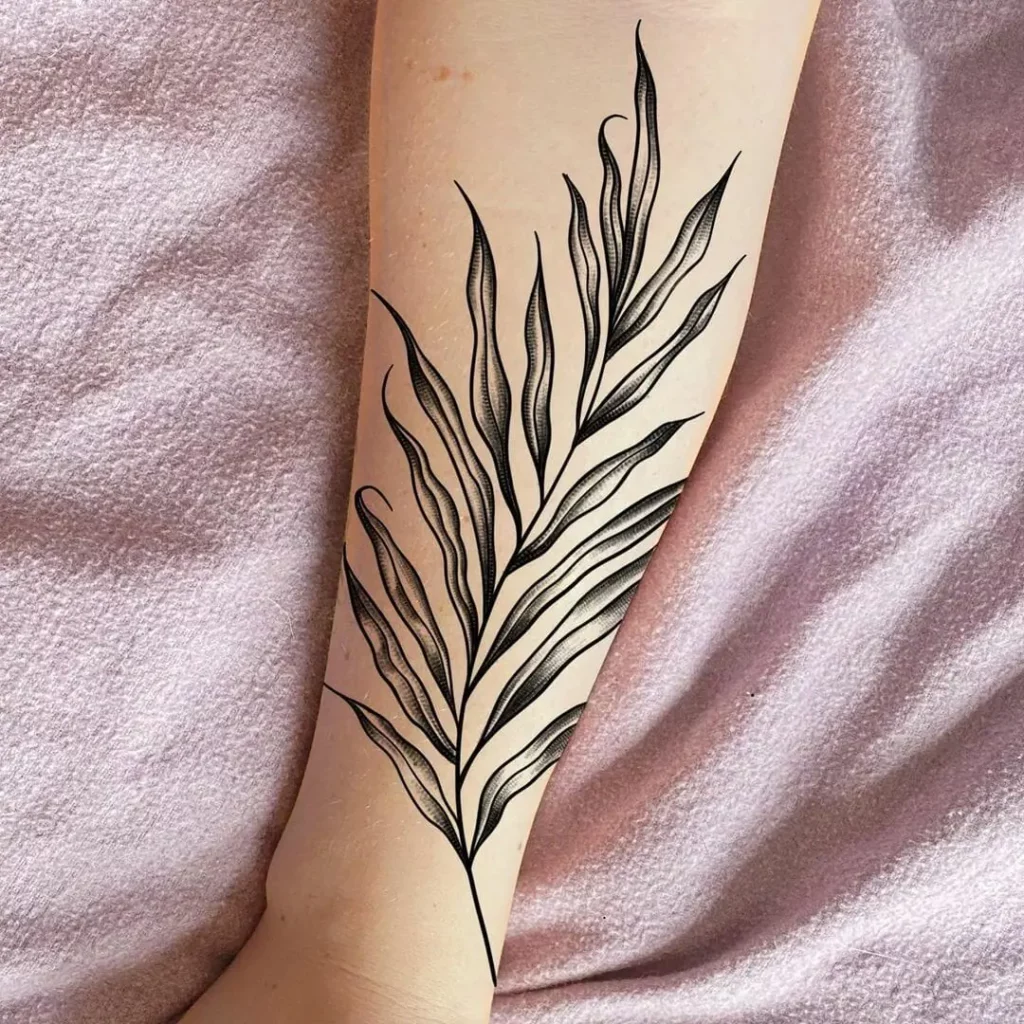 Even a single, larger leaf can add a unique touch to a simple vine tattoo.
Vine Arm Band with Shading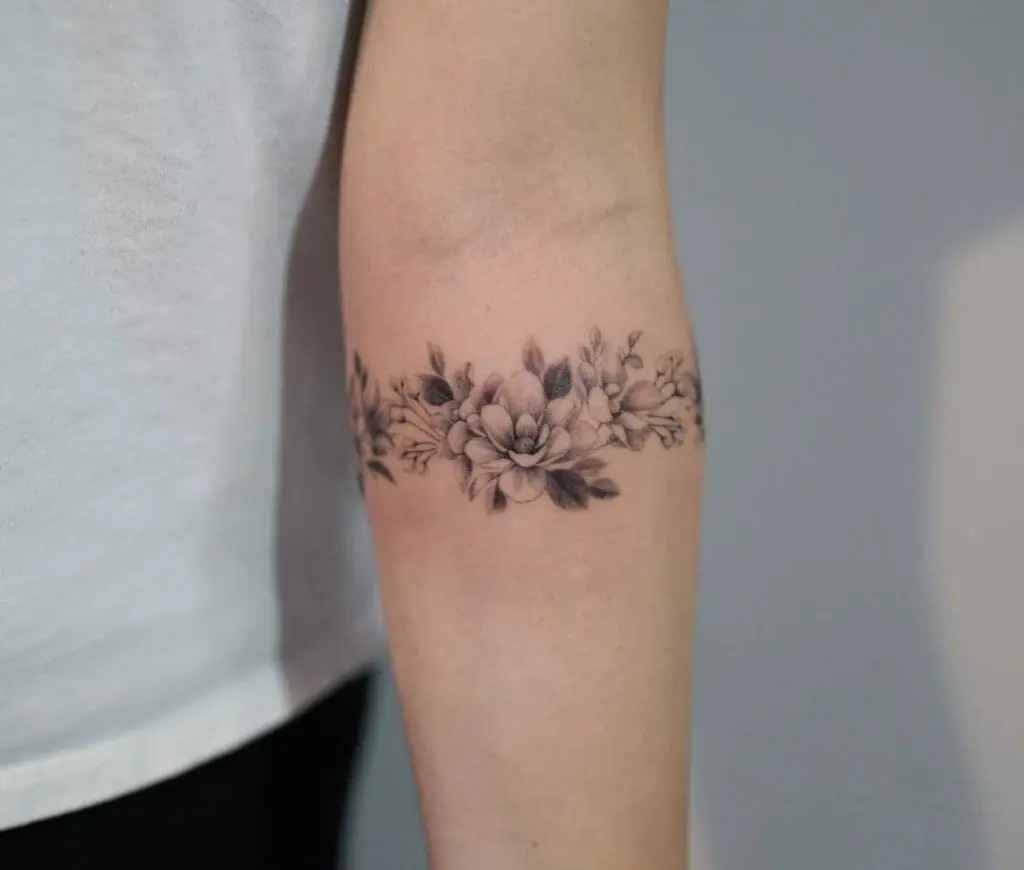 Armband tattoos hold a certain allure, and opting for a vine pattern as your armband choice can offer you a distinct and stylish appearance.
Vine and Hourglass Arm Tattoo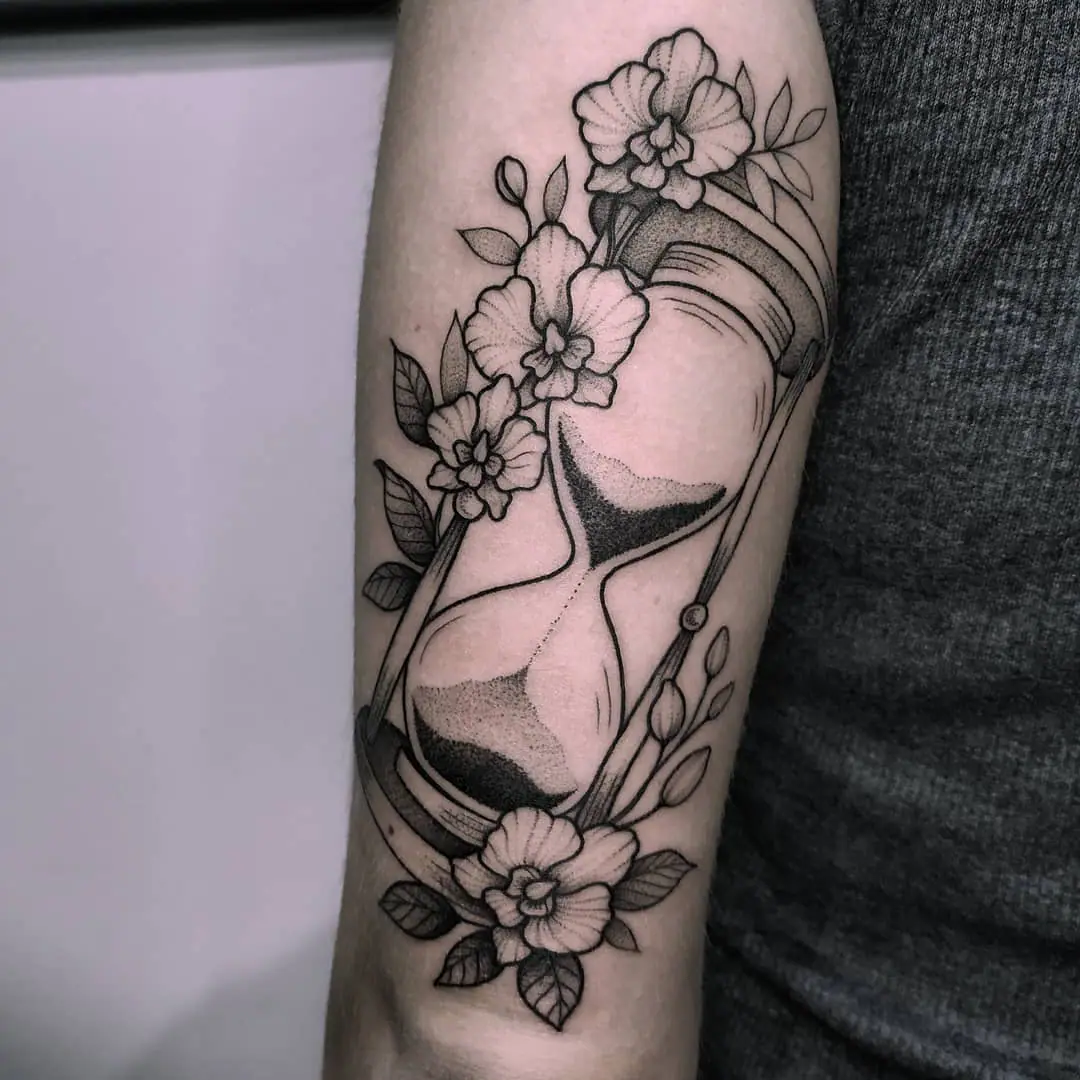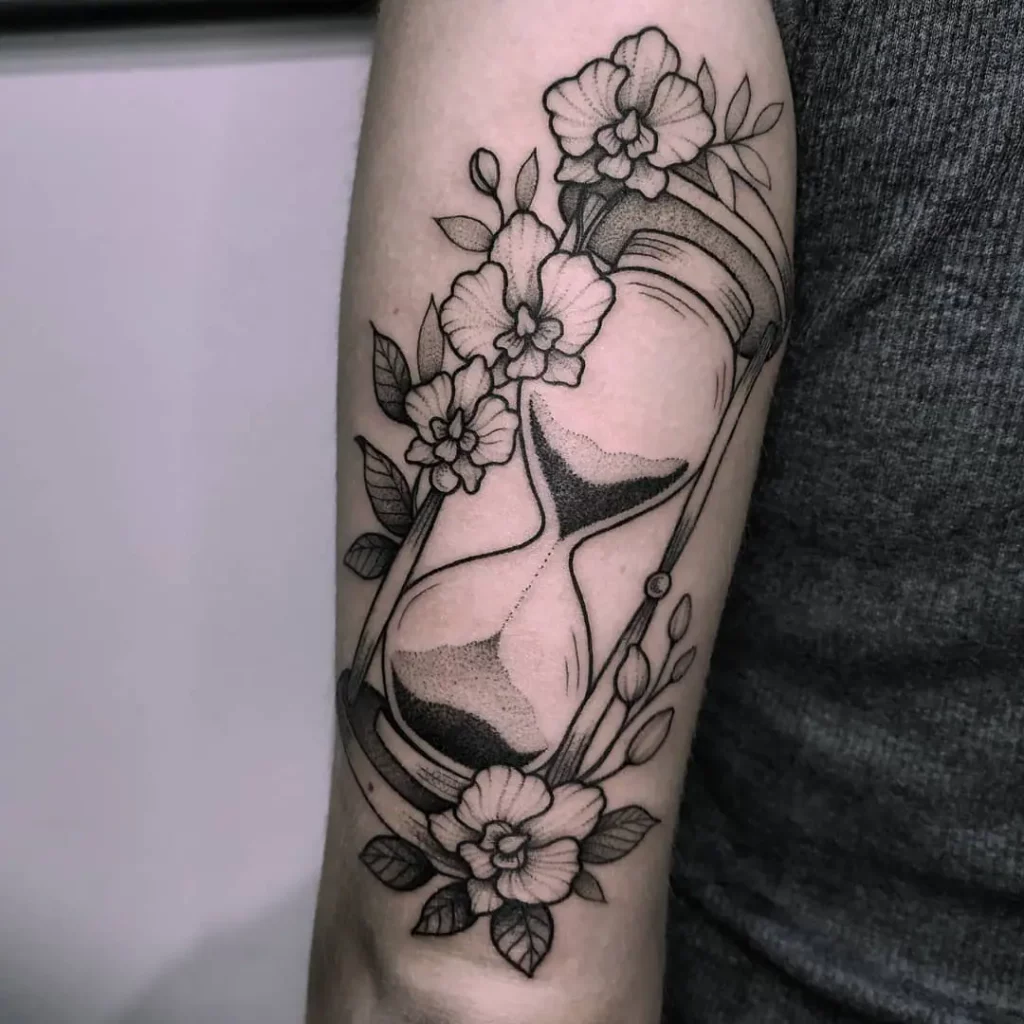 The hourglass often symbolizes the passage of time, making this tattoo a reminder to make the most of each moment. The inclusion of flowers and a surrounding boundary adds a thoughtful element to the design.
Graceful Linework Vine Tattoo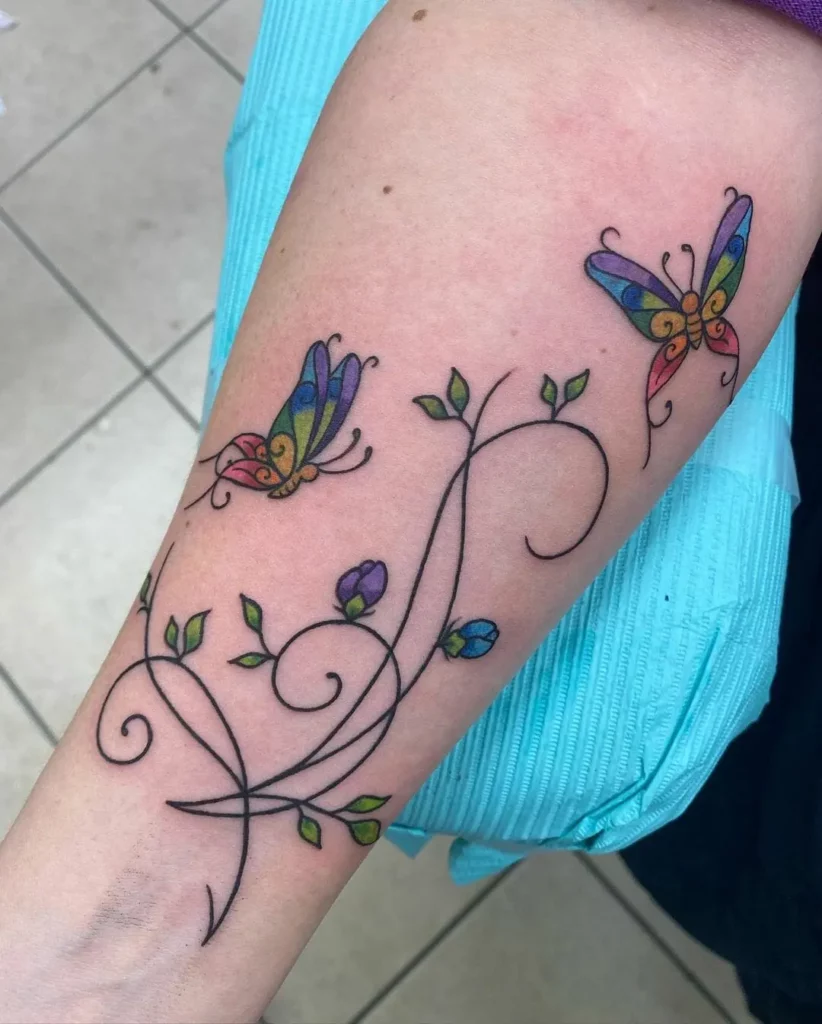 Integrating a butterfly with a vine tattoo can signify personal growth and transformation. The use of rainbow colours in the butterfly design also expresses support for the LGBTQ community, making this tattoo choice both meaningful and visually appealing.
Vine Girl Arm Tattoo Design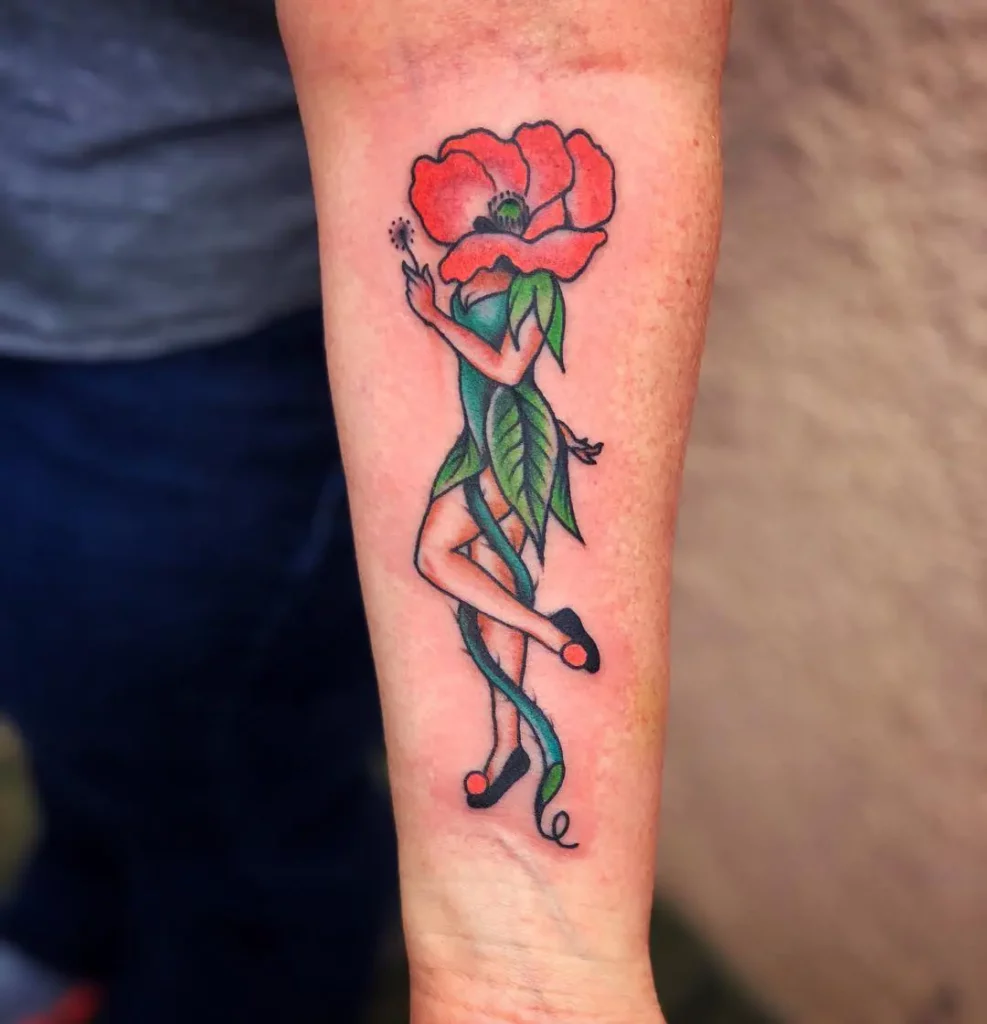 A creative approach to infuse a feminine touch into your vine tattoo involves integrating the figure of a girl with the graceful flow of vines. This imaginative fusion showcases the artist's skill and allows for a truly unique and artistic representation.
Cool Ivy Forearm Vine Tattoo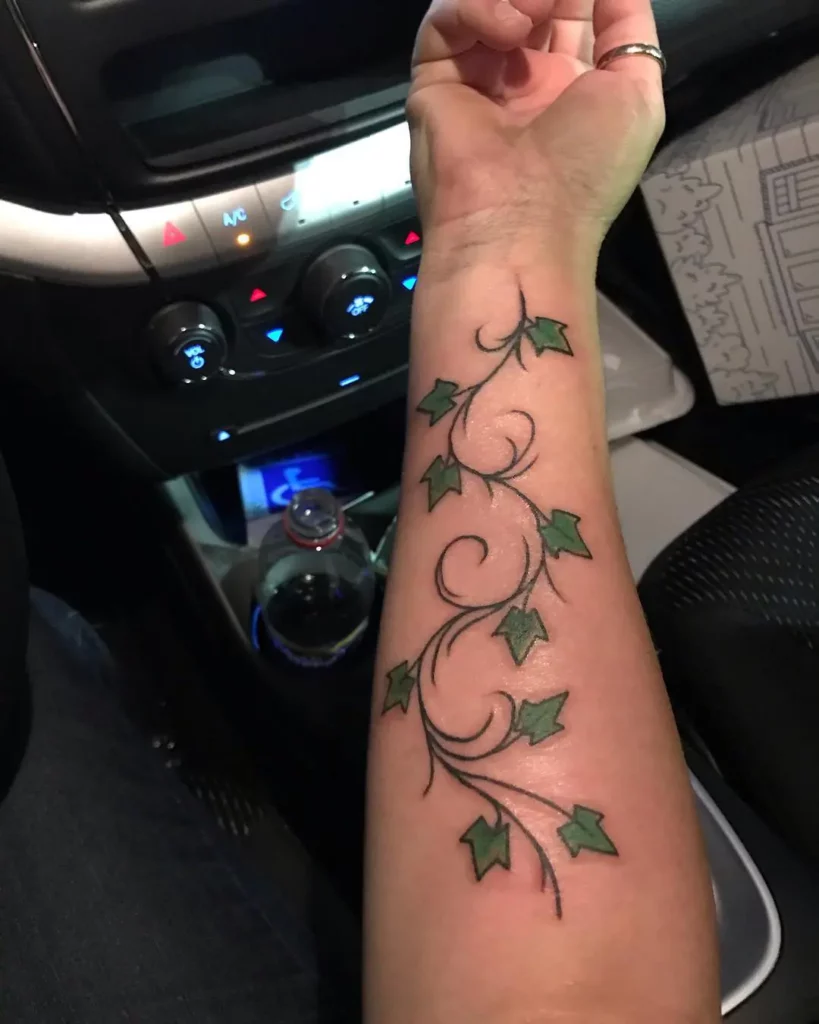 The winding and cool green Ivy vine tattoo carries the symbolism of fidelity and everlasting devotion, aligning with its evergreen nature. This elegant design conveys a sense of timeless commitment.
Adorable Leaves Vine Arm Tattoo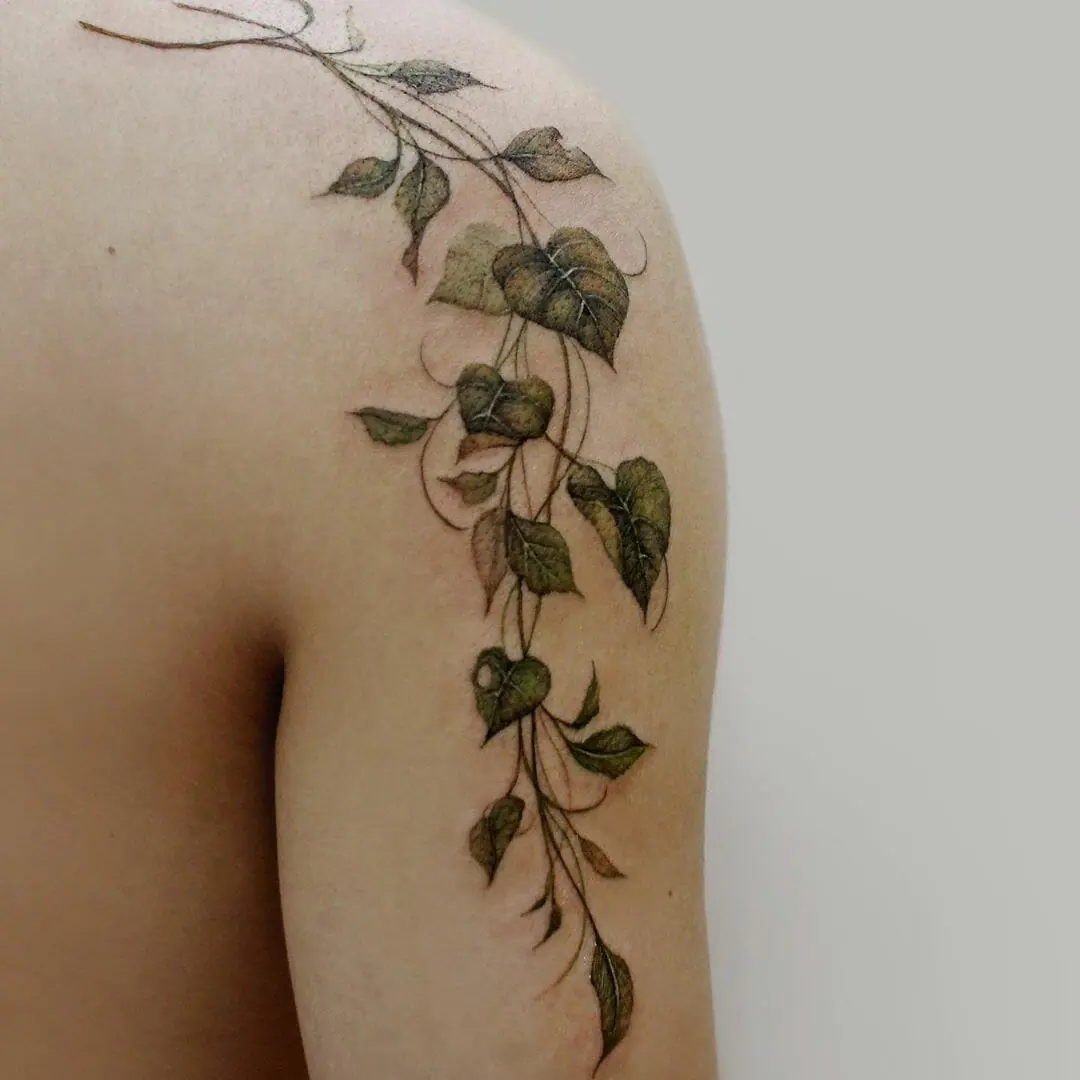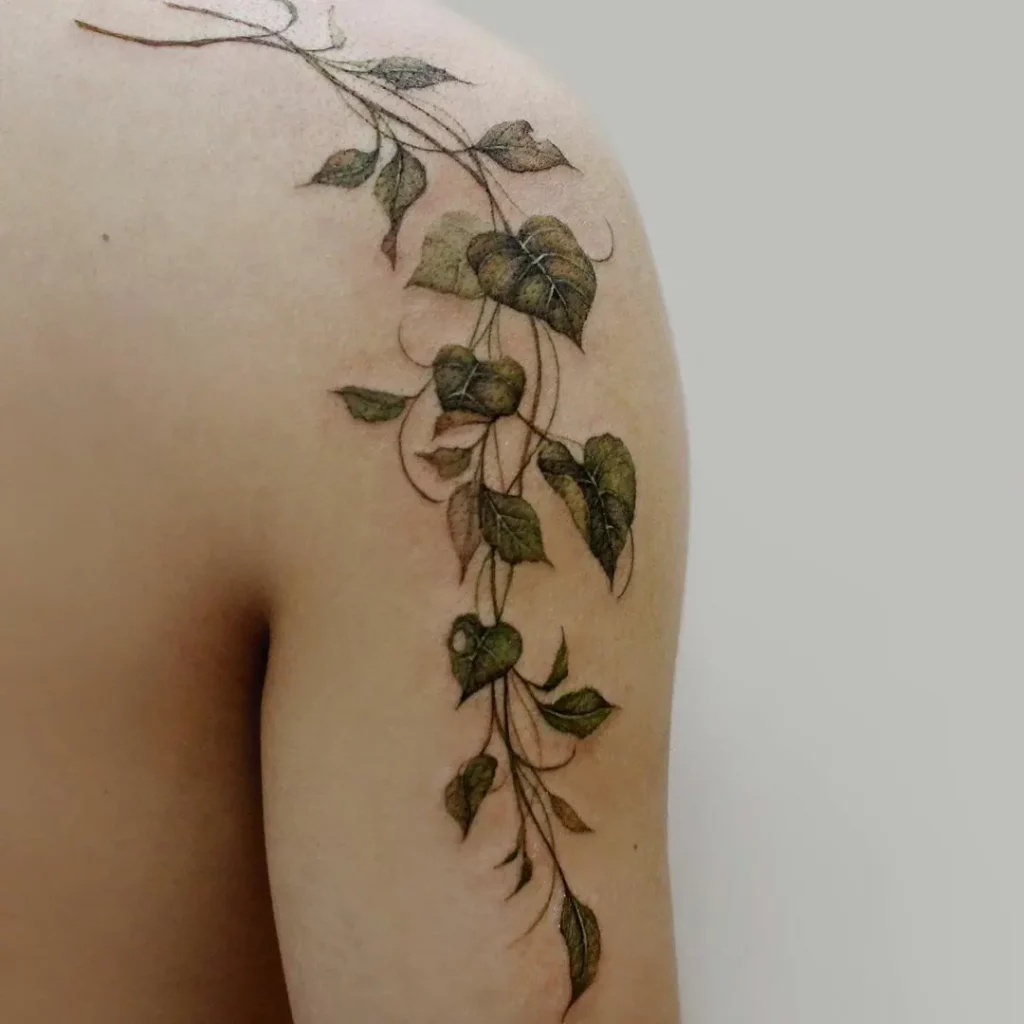 This classic vine tattoo design exudes an adorable and feminine charm, making it an excellent option for those seeking a graceful and delicate aesthetic. The inclusion of leaves and vines creates a lovely and eye-catching effect.
Elegant Rose Vine Arm Tattoo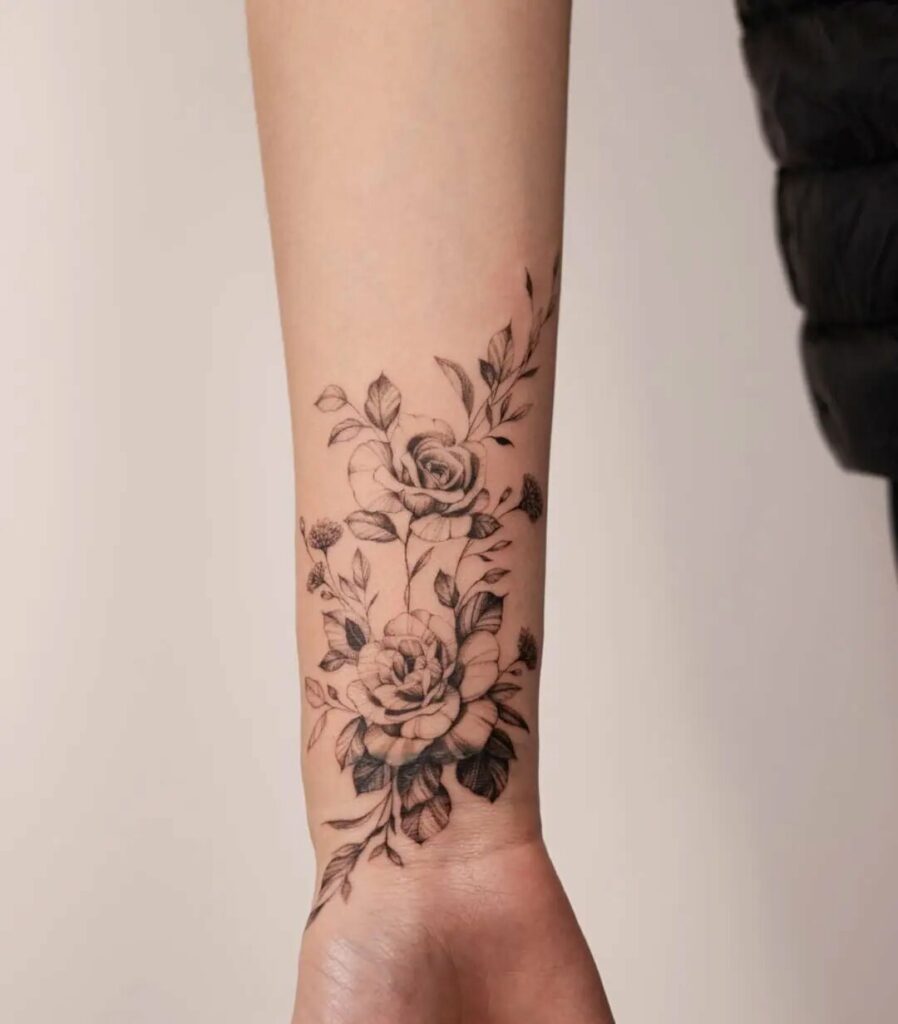 With its black and grey shading, this abstract rose vine tattoo emanates a sense of elegance and refinement. Whether worn as a band or in a standard style, the use of shading adds depth and character to the design.
Bold Roses Vine Arm Tattoo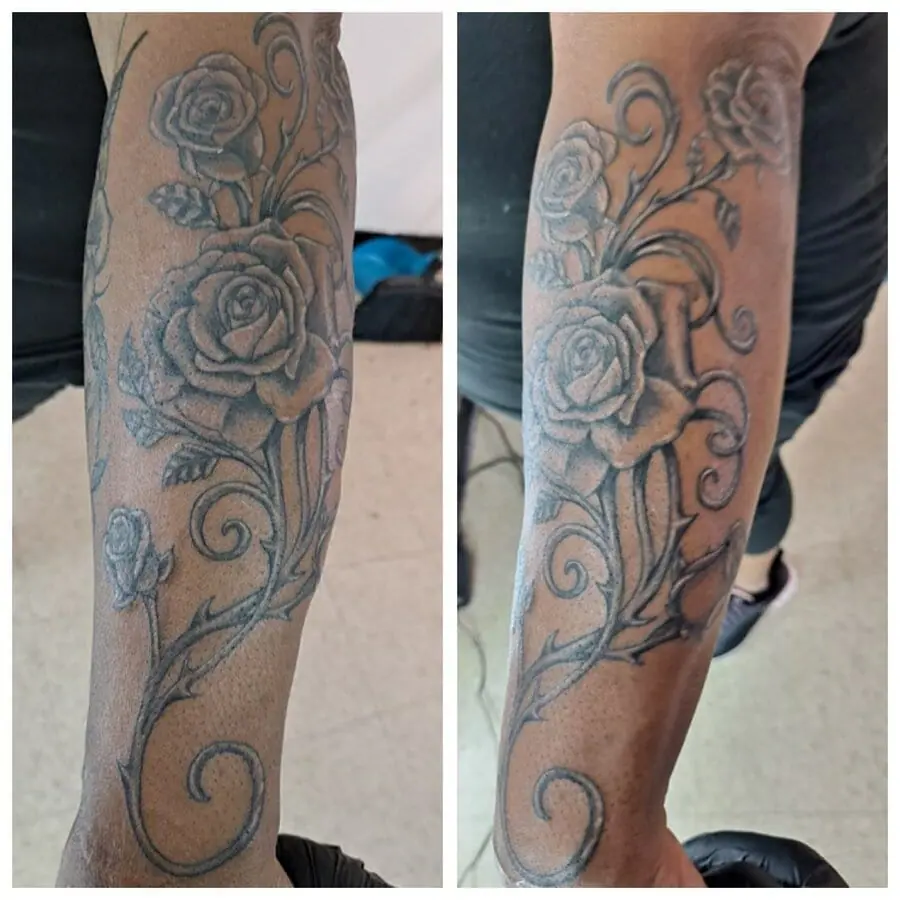 For enthusiasts of realistic tattoos, a bold depiction of rose vines offers a striking and detailed representation. Including additional tiny flowers enhances the tattoo's visual appeal and colour contrast.
Butterfly & Ivy Vine Tattoo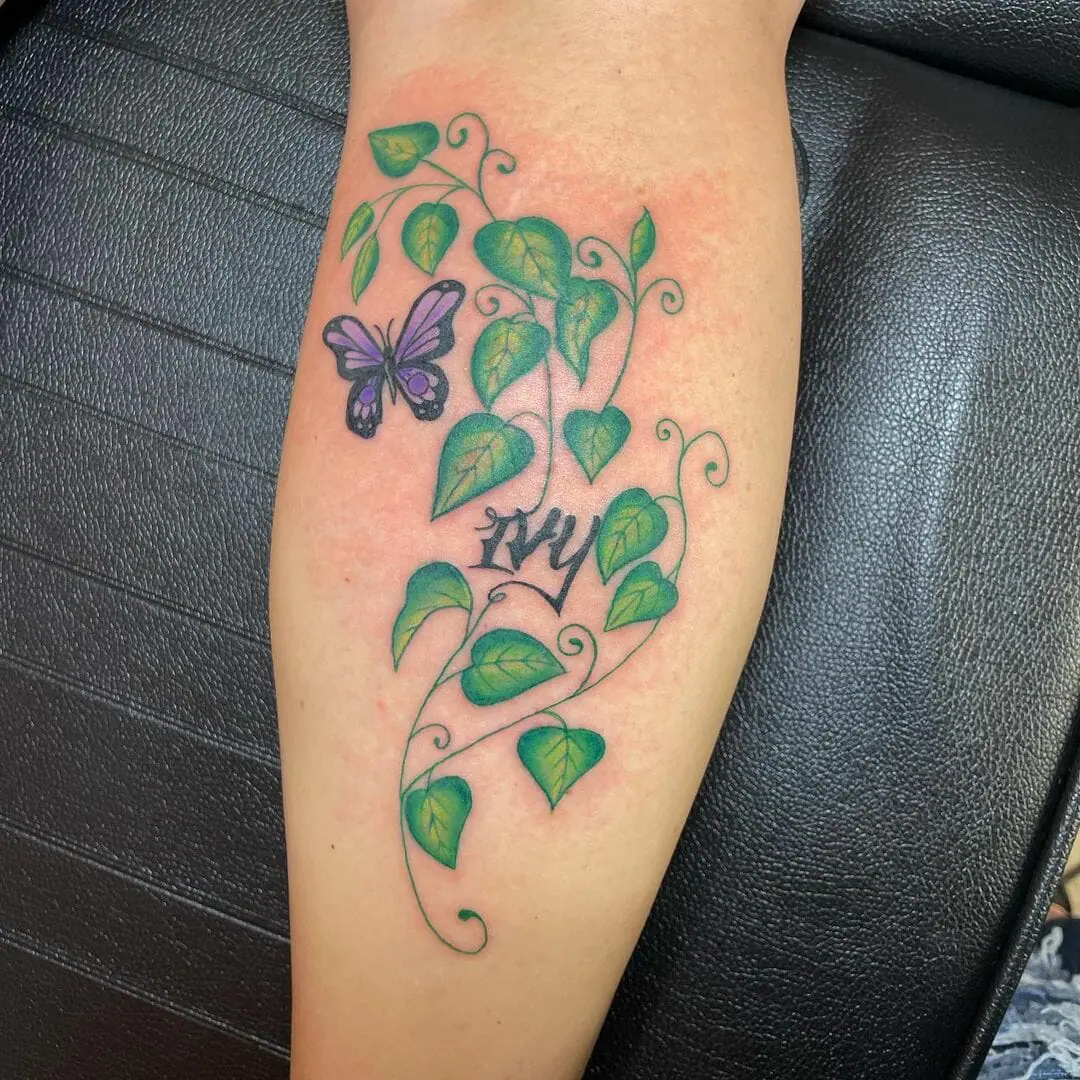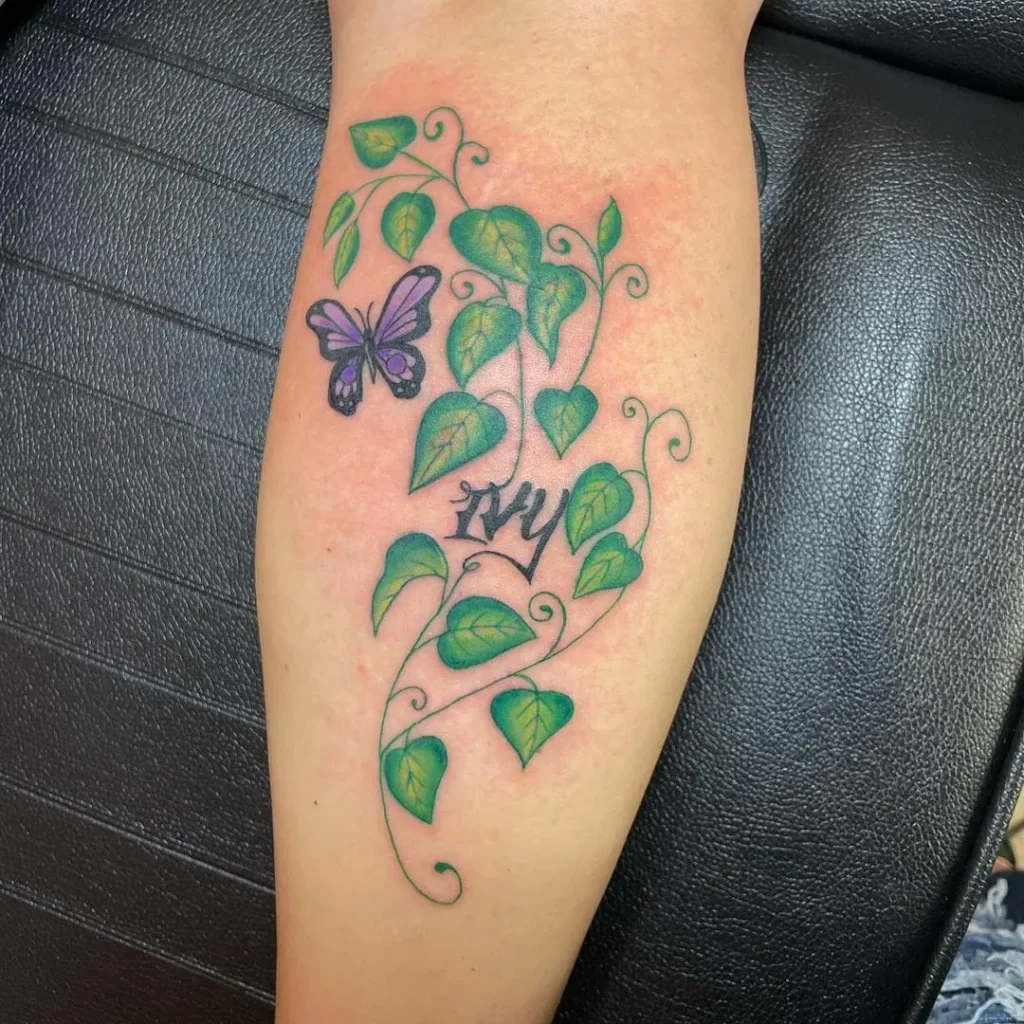 Blending Ivy leaves into a tattoo design can result in unique and captivating visuals, as seen in this creative and one-of-a-kind composition. The butterfly, symbolizing transformation, complements Ivy's symbolism beautifully.
Blue & Red Vine Arm Tattoo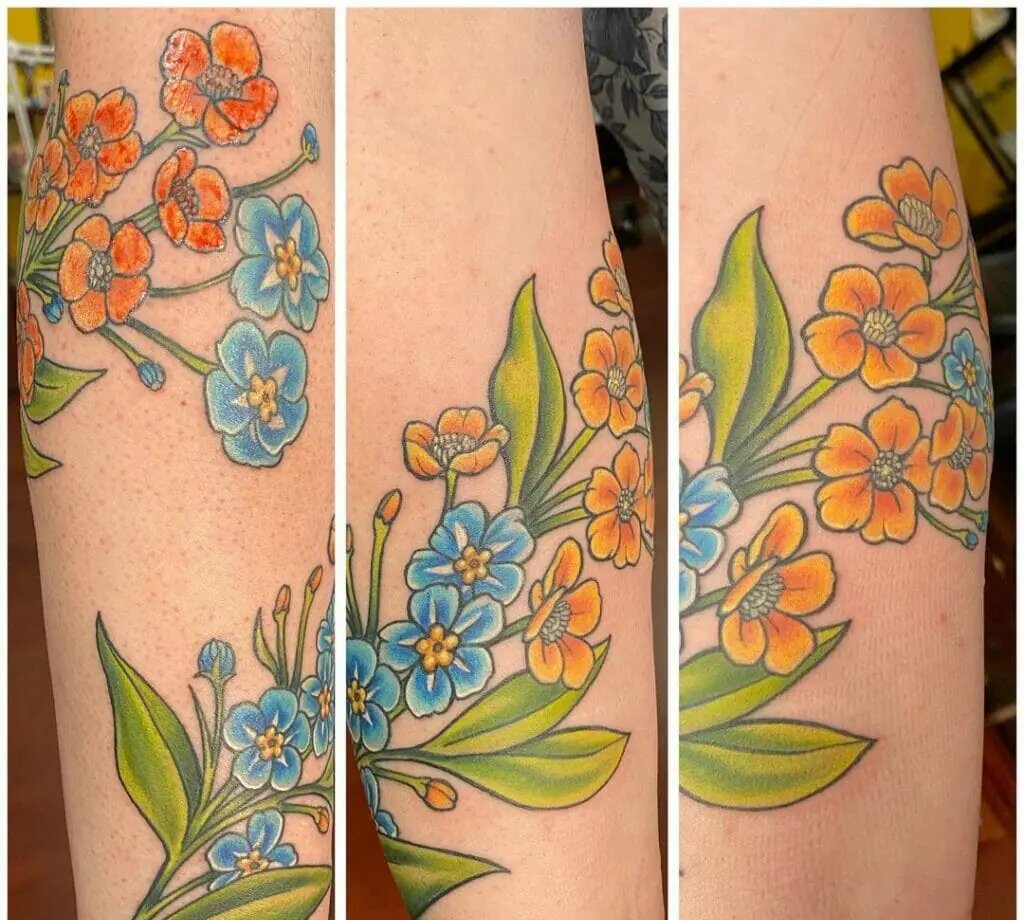 This tattoo showcases an unconventional colour palette of orange, blue, and green, creating a distinct and attention-grabbing effect. If you appreciate vibrant tattoos, this design can inspire your own colourful creation.
Stem Vine Arm Tattoo Design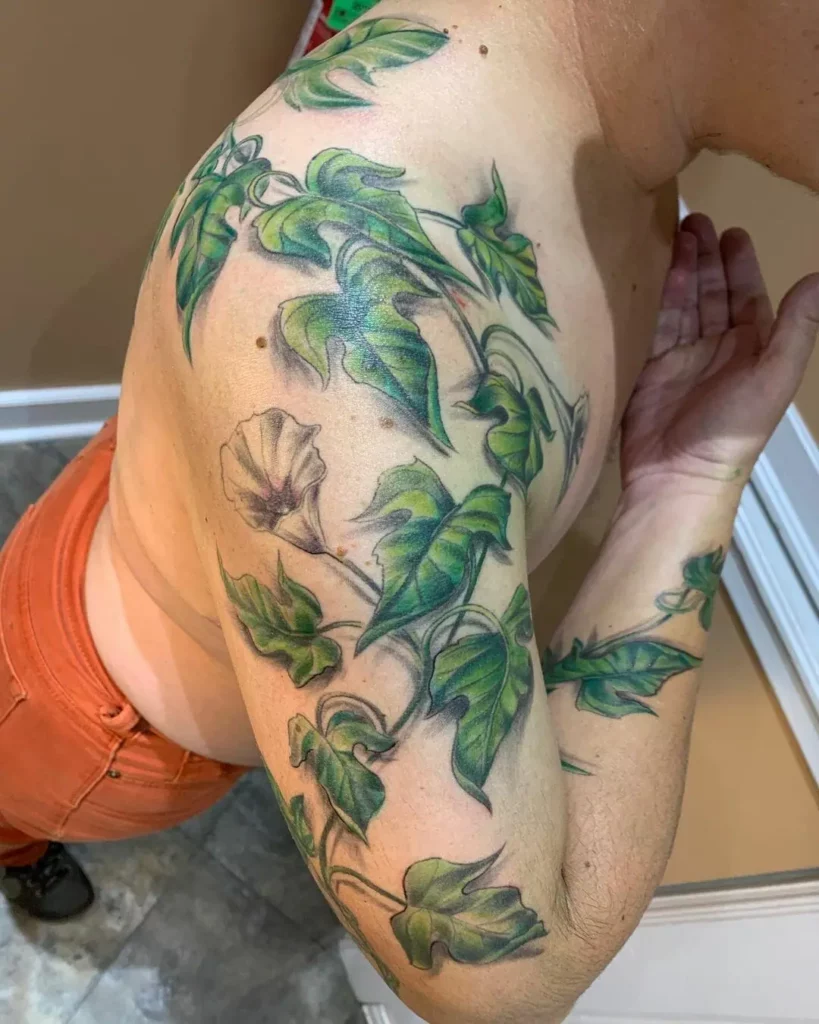 Stretching from shoulder to arm, this vine tattoo incorporates a simple grey flower at its centre. The minimalist elegance of this design gives it a refined and sophisticated appearance.
Orchid Vine Forearm Tattoo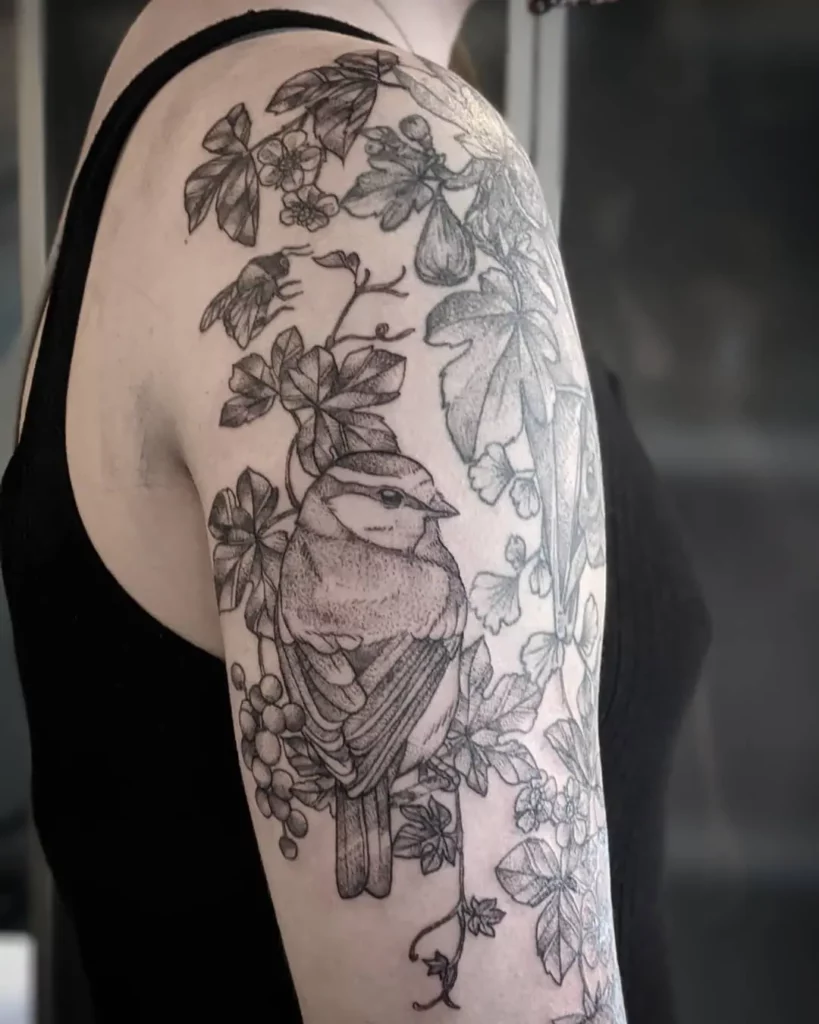 An Orchid vine tattoo symbolizes fertility and elegance and incorporates a bird element representing freedom. This combination creates a meaningful portrayal of nature's beauty and symbolism.
Raspberries Vine Arm Tattoo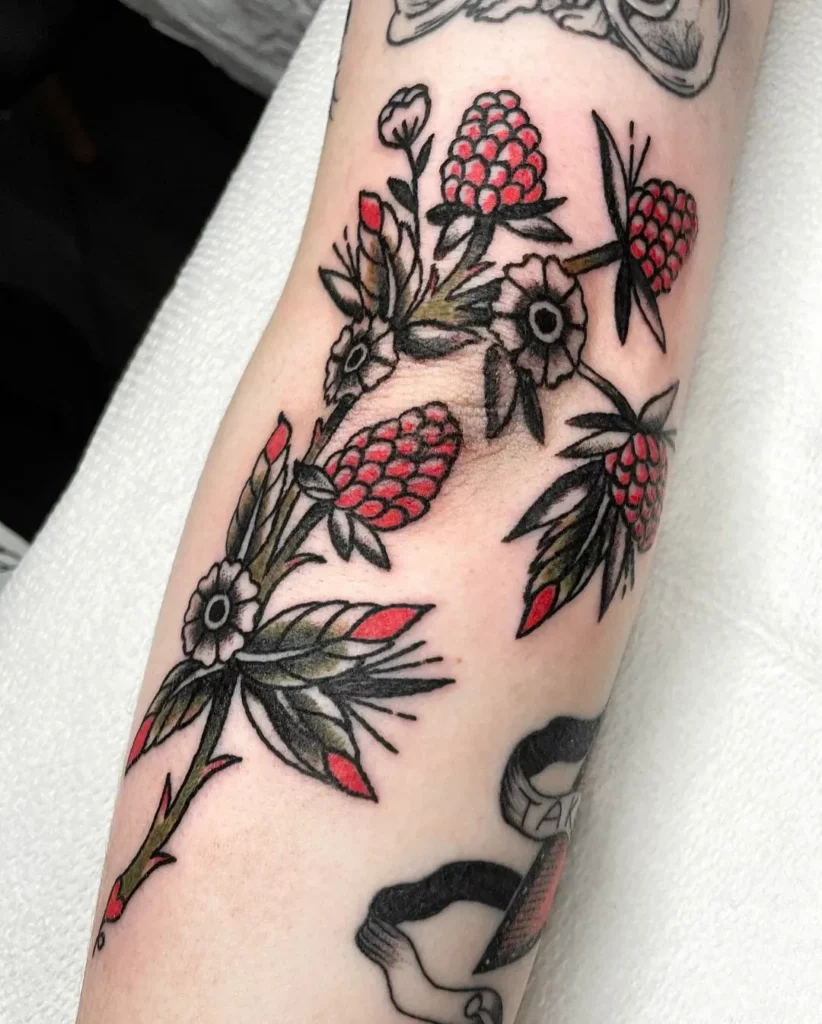 If you have an affinity for raspberries, integrating them into your vine tattoo can result in a unique and charming touch. This example serves as inspiration for creating a tattoo that reflects personal preferences.
Ivy Vine Tattoo Design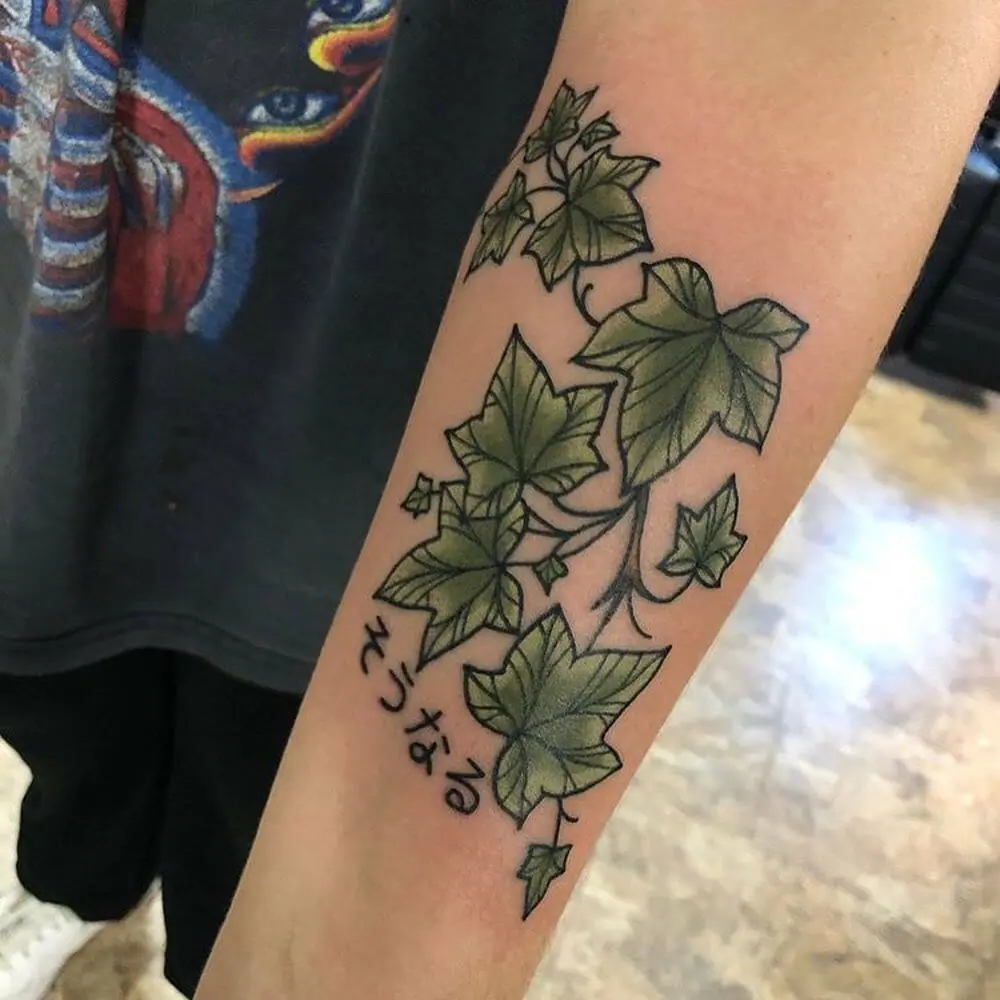 Using Ivy to symbolize enduring qualities aligns with its evergreen nature, representing constancy and longevity. The addition of Chinese initials adds an element of sophistication to this representation.
Morning Glory Blue Vine Arm Tattoo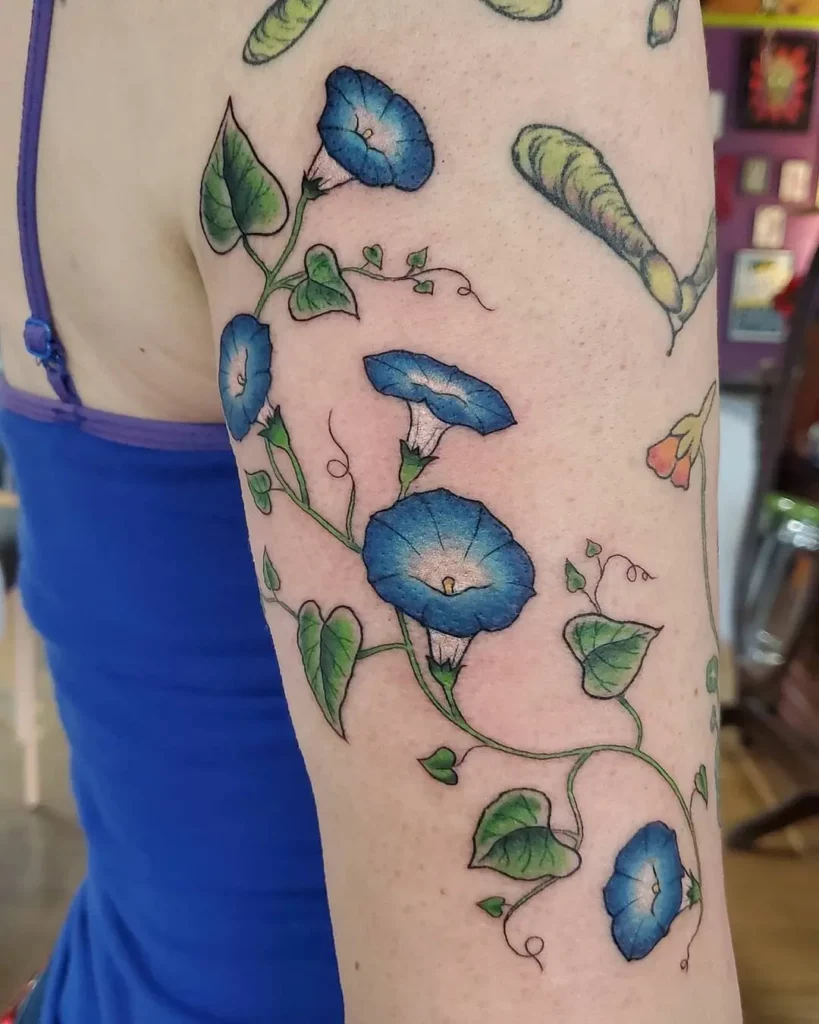 The morning glory flower symbolizes the strength of heart and compassion. The contrast between blue and green hues enhances the visual allure of the tattoo, capturing a vibrant and meaningful essence.
Conclusion
In the realm of tattoo art, vine flower tattoos transcend aesthetics, embodying resilience and growth. Beyond their beauty, they symbolize personal evolution, mirroring vines' ability to thrive amid adversity.
They weave history's threads and offer versatility, merging with birds, butterflies, and words for depth. Styles span delicate wrists to intricate sleeves, each a canvas for unique storytelling.
Simple Vine tattoos blend nature's elegance with personal narratives, creating a harmonious narrative of growth and triumph.
For those seeking meaningful body art that speaks volumes, vine tattoos intertwine beauty with the strength of the human spirit.
FAQs
Q: What does a vine tattoo symbolize?
A: The vine tattoo serves as both a decorative element and a bearer of meaning. It signifies attributes like friendship, strength, connection, and determination.
Q: What's the significance of a rose vine tattoo?
A: A rose vine tattoo holds diverse meanings based on its colour. Generally, it represents love, sacrifice, beauty, and bravery. The thorns in the design also carry specific symbolism.
Q: In art, what do vines symbolize?
A: Vines symbolize temporal blessings in artistic contexts. Their use dates back to historical periods such as the Middle Ages and Renaissance, adorning architectural features like pilasters and friezes. The symbolism can be traced to ancient Roman and Greek cultures.
Q: What's the symbolism behind a morning glory tattoo?
A: Similar to the rose tattoo, the meaning of a morning glory tattoo varies with its colour and cultural interpretations. It can signify the transience of life, unrequited love, unanswered emotions, and compassion.
Q: What's the meaning of a leaf tattoo?
A: A leaf tattoo represents the cycle of life. It conveys the idea that even after death, life continues—an eternal cycle encompassing life, death, and rebirth. Additionally, individuals choose leaf tattoos to connect with the different stages of their personal life journeys.
MORE VINE FLOWER TATTOO IDEAS