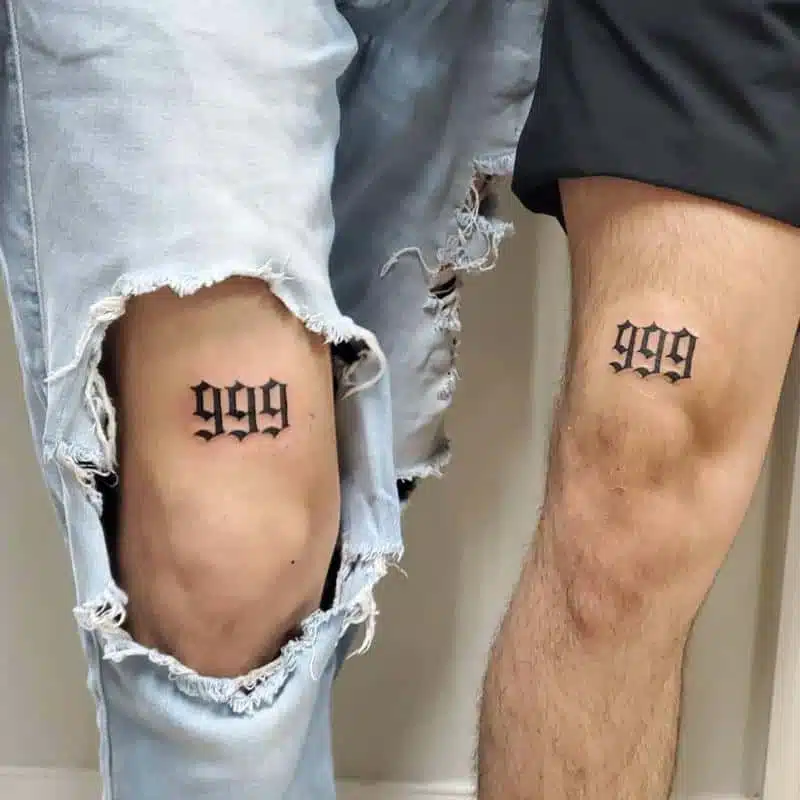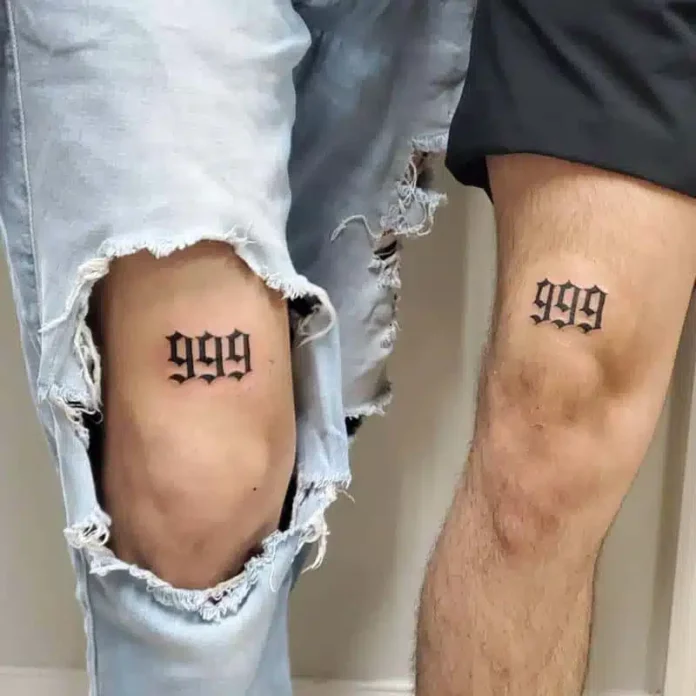 A 999 tattoo represents the embrace of change and signifies the beginning of a new chapter in life. It symbolizes the importance of embracing transformation and starting anew. Numbers possess a more profound sense beyond their numerical value. They carry substantial significance and can communicate concealed messages from the universe.
If you've ever pondered the deep symbolism behind recurring numbers such as 3, 6, and 9, rest assured that you are not alone in your curiosity. While some individuals may dismiss it as mere coincidence, others acknowledge the potential communication in these numbers. If you are eager to explore and expand your knowledge, you have found an ideal resource.
What is the meaning of the 999 Tattoo?
Juice Wrld, a famous rapper, explains that 999 symbolizes utilizing challenges, unfortunate situations, or struggles as stepping stones to propel yourself towards progress.
What Does The 999 Tattoo Represent?
The 999 Tattoo represents the vastness of the universe and the boundless opportunities that await you. It reminds you to leave the past behind, let go of guilt, and view your challenges as valuable lessons contributing to your personal growth.
Open yourself to the countless possibilities that lie ahead. It is believed that throughout our lives, our soul undergoes nine cycles of creation, enabling us to discover and develop nine distinct aspects of ourselves.
999 Tattoo Designs and Ideas
JUICE WRLD TATTOO 999 WITH A ROSE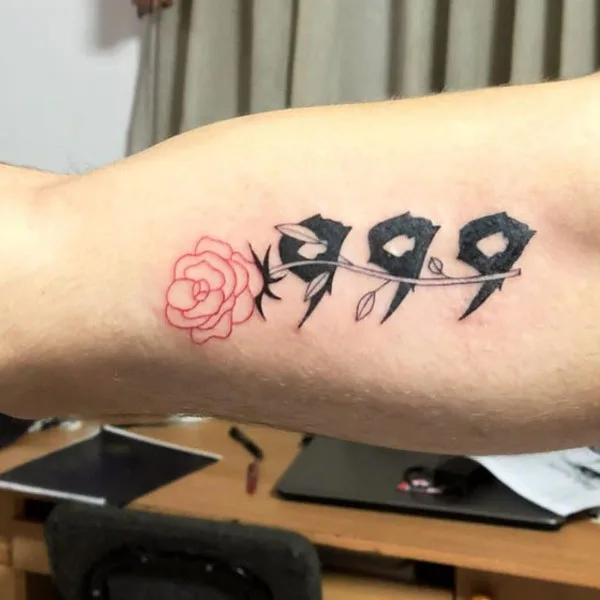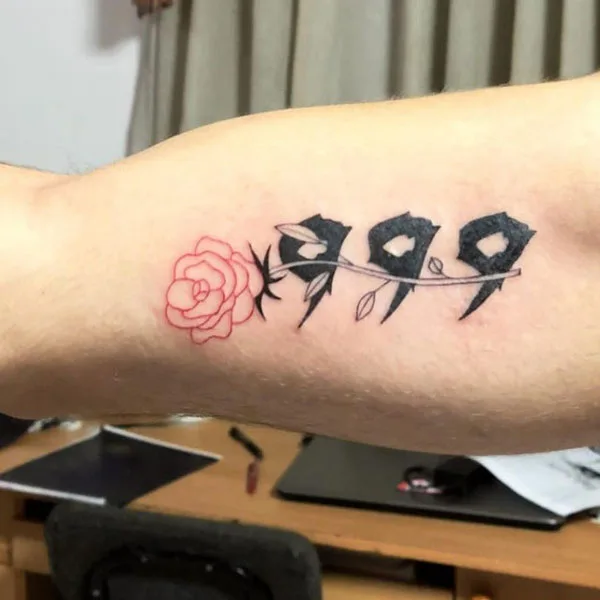 Although Juice WRLD's time in the music industry was relatively short, he made a lasting impact on the hearts of many. His devoted fans have shown their admiration through tattoos, with the 999 design being a favoured choice. One prominent example is the 999 Juice WRLD tattoo featuring a beautifully executed rose created with clean and elegant linework. This rose symbolizes the song "Roses," a collaborative work between Juice WRLD and Benny Blanco.
TRADITIONAL 999 UNDER THE CHIN TATTOO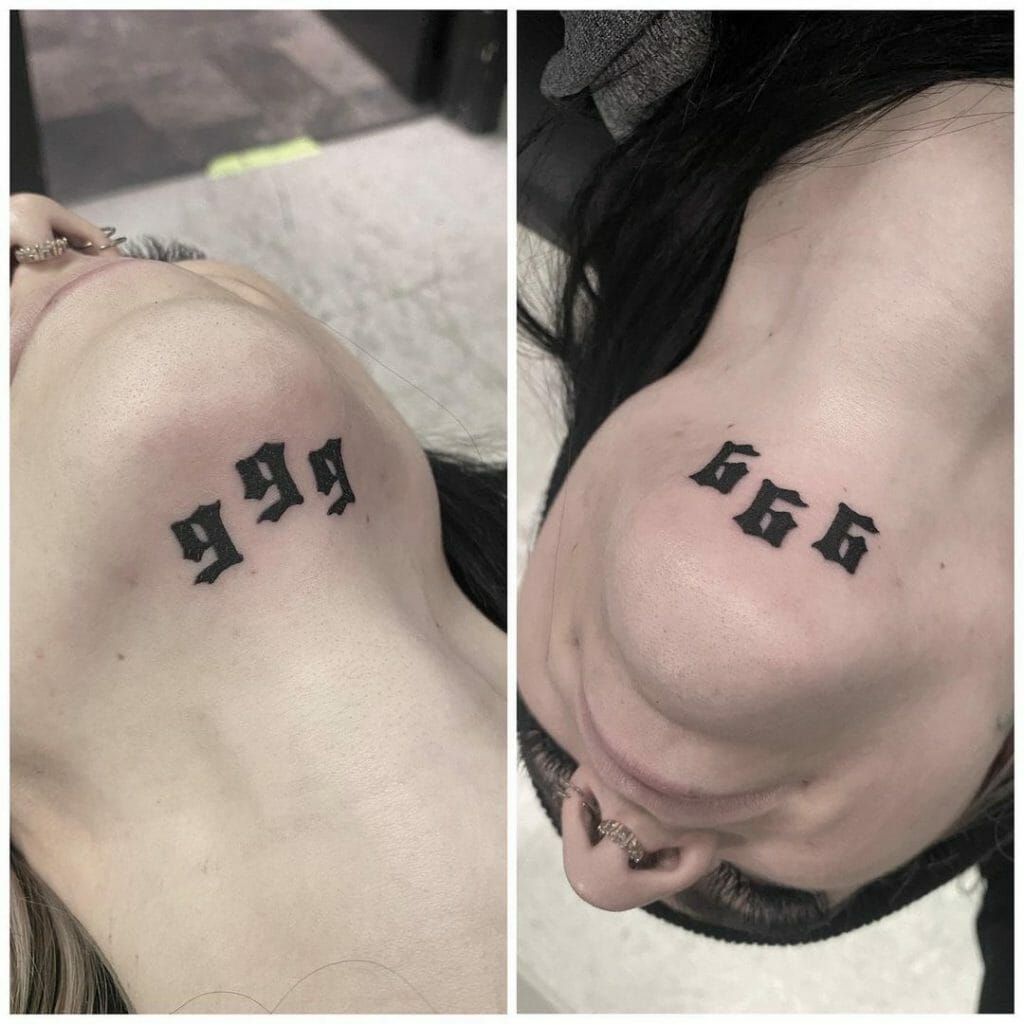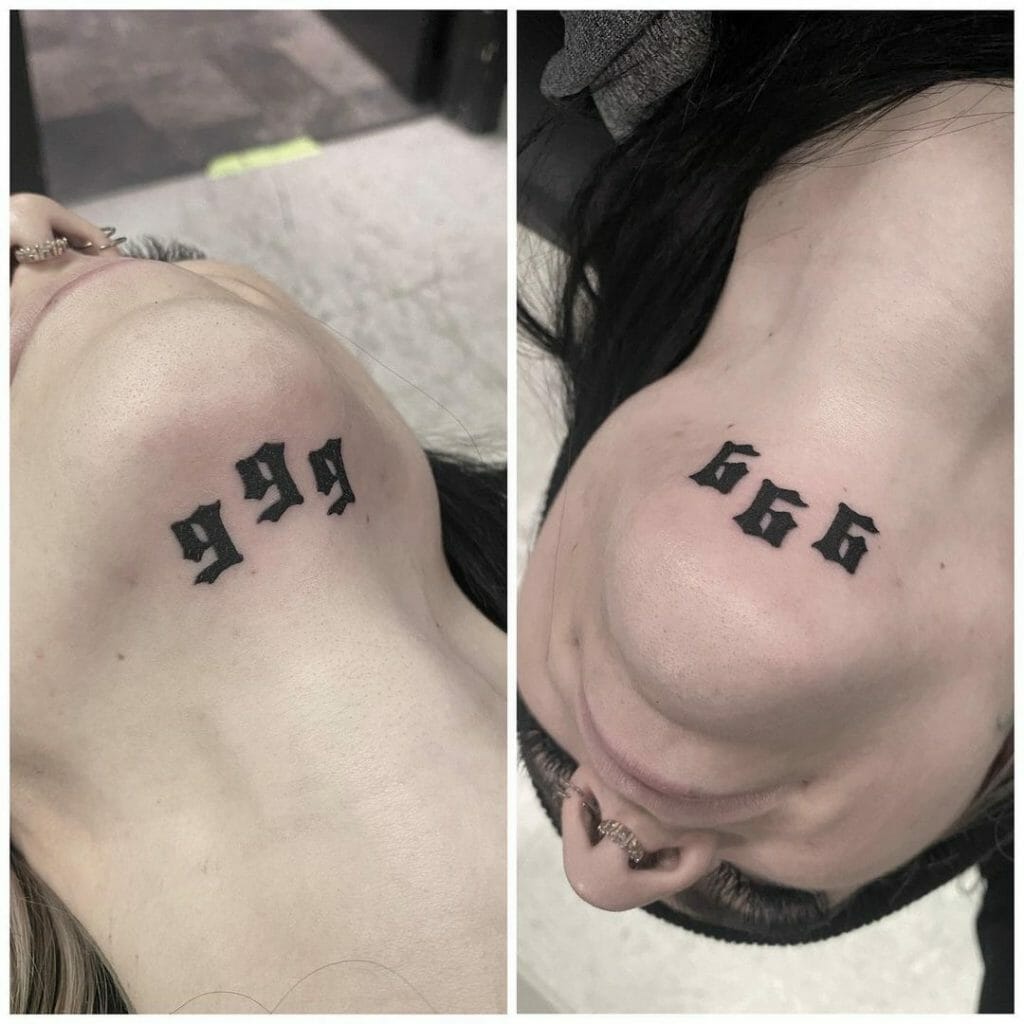 Under-the-chin tattoos are incredibly distinct and symbolize a person's bravery and boldness. For individuals who aspire to let go of their past and embark on a new path with courage, a traditional Blackwork 999 tattoo beneath the chin can be an excellent choice. It signifies your readiness to embrace a fresh start and proudly displays your unique personality.
999 WITH A WING TATTOO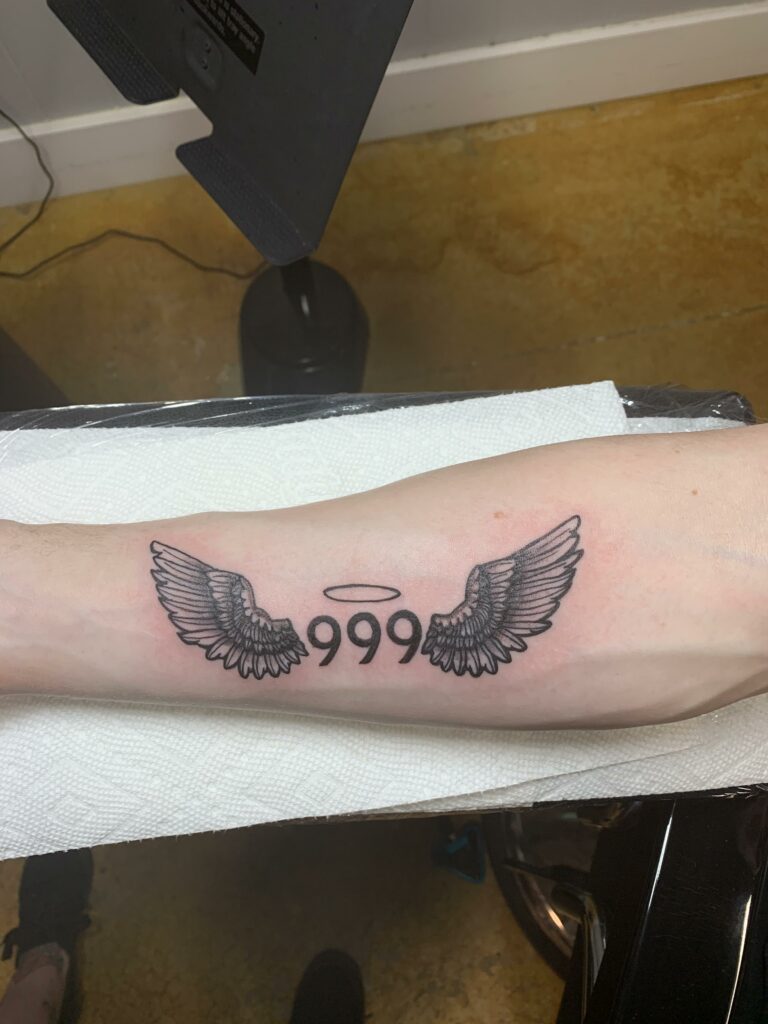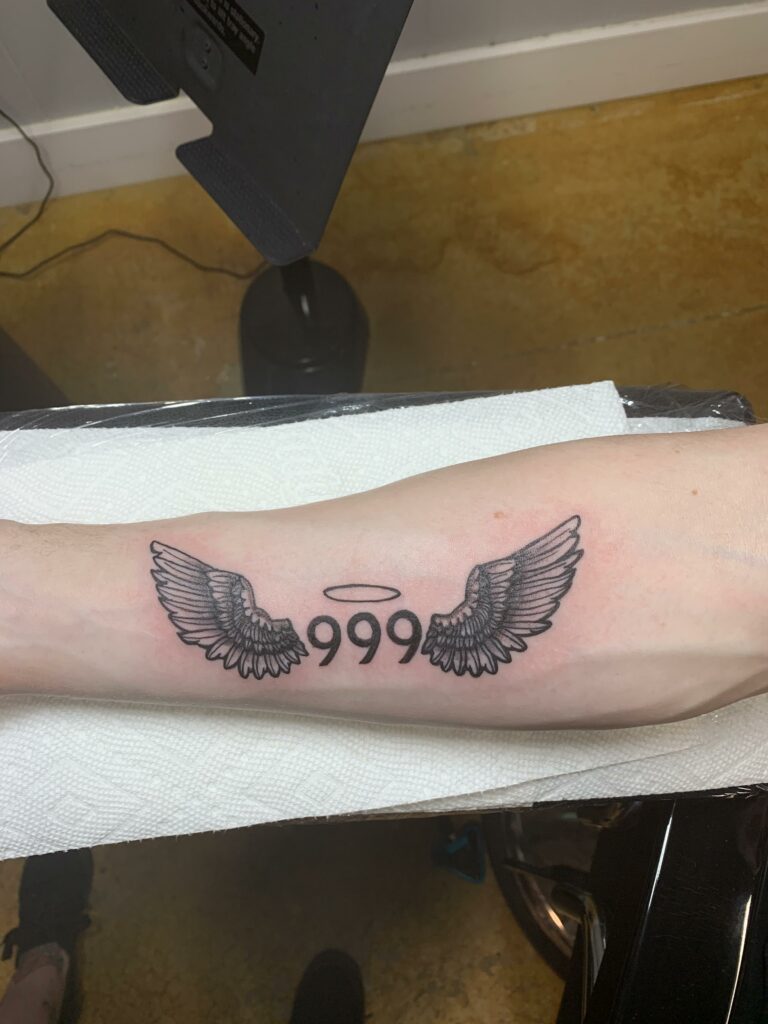 The lovely tattoo features intricate lines that create a refined appearance. The angel wings are elegantly tattooed, enhancing the tattoo's appeal. Its distinct aesthetic instantly grabs attention. The collaborative design of the angel wings and the number 999 ensures that each symbol is recognizable and significant. This tattoo symbolizes a fresh start for the wearer, reflecting their newfound clarity and optimistic outlook on life.
999 LEG TATTOO IN GOTHIC LETTERING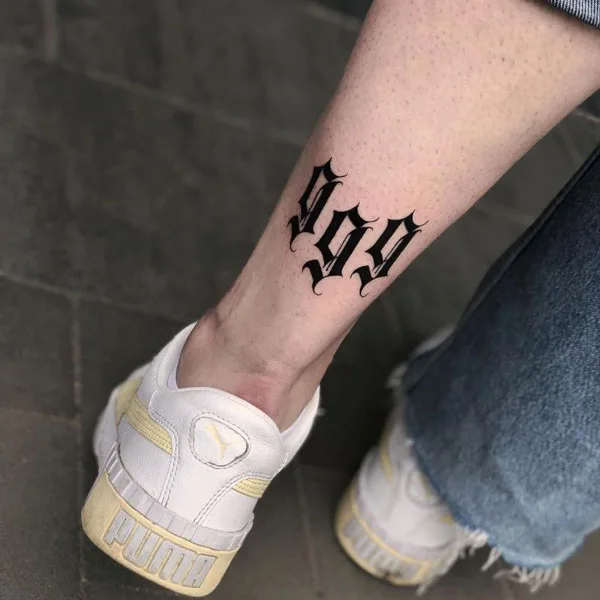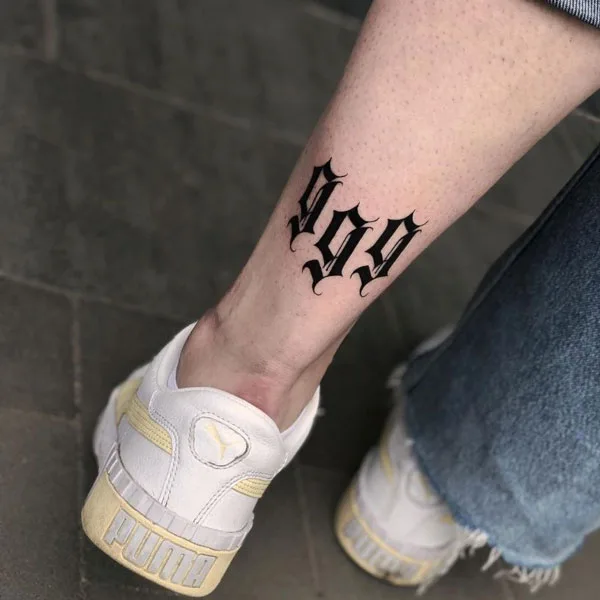 Gothic fonts are designed to evoke feelings of bravery and fearlessness. When the number 999 is tattooed in Gothic script, it can symbolize the wearer's bold character and the start of a new journey where negative emotions are left behind. This tattoo is an excellent choice for individuals who proudly embrace their authentic selves and personal growth in their distinctive way.
VERTICAL 999 WRIST TATTOO IN RED INK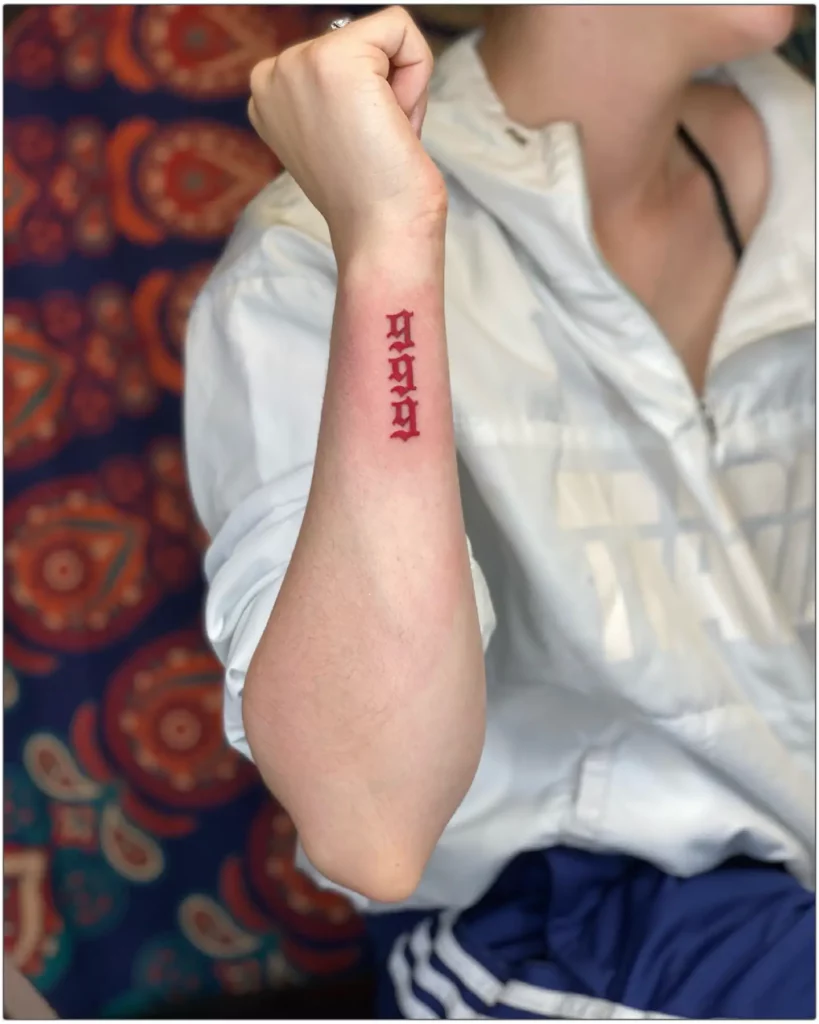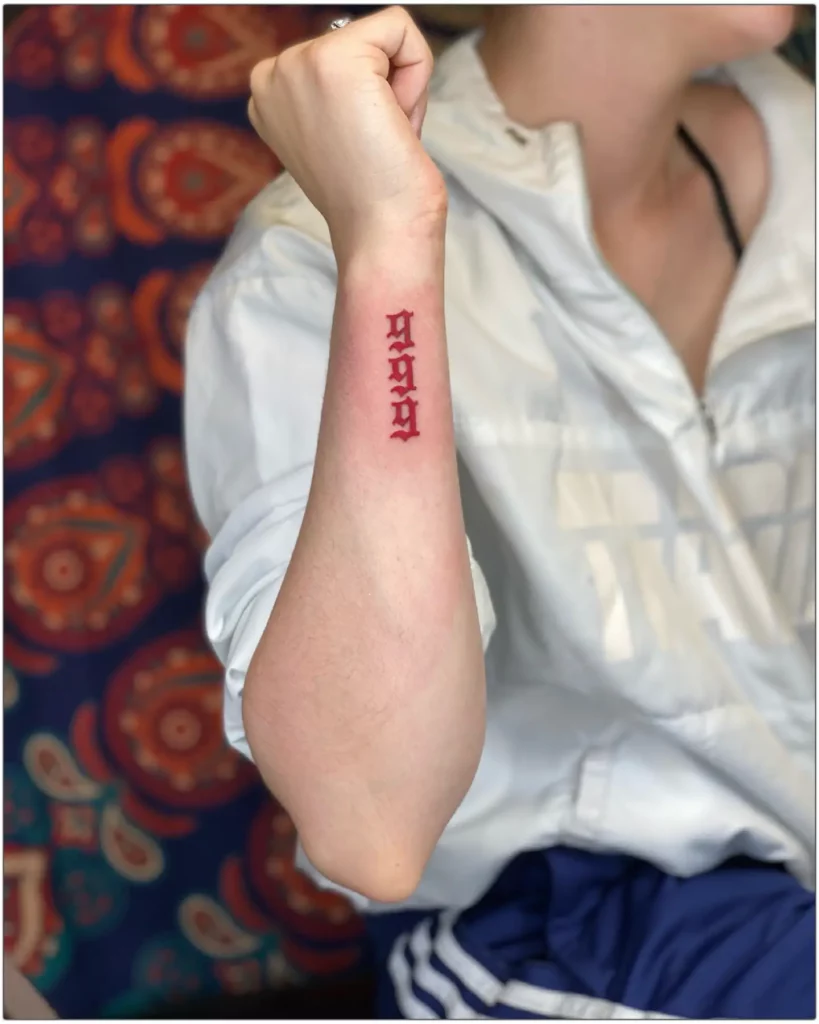 Using red ink for numbers or symbols can make a bold and eye-catching statement. Unlike the usual horizontal 999 tattoos, this particular 999 tattoo is designed vertically, adding a unique touch. The vibrant crimson colour represents the beginning of a new and lively life filled with excitement, passion, and fulfilment. This tattoo is intended to make a powerful statement and set the wearer apart from others.
CLASSIC 999 HAND TATTOO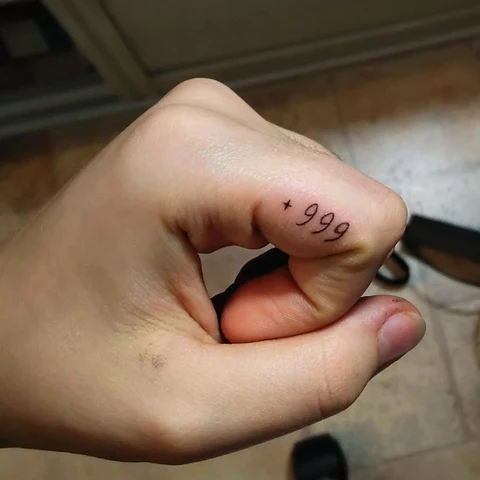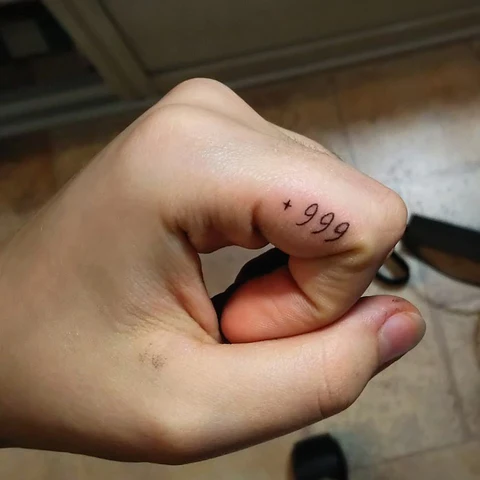 The number 999 embodies the virtues of wisdom described in the fifth chapter of the Epistles to the Galatians. It signifies love, peace, joy, kindness, patience, faithfulness, gentleness, goodness, and self-control. Additionally, 999 holds spiritual significance and represents a belief in God. Opting for a classic-style 999 hand tattoo can also symbolize optimism and hope for the future.
JUICE WRLD THEMED 999 TATTOO FEATURING THE SONG' LIFE'S A MESS'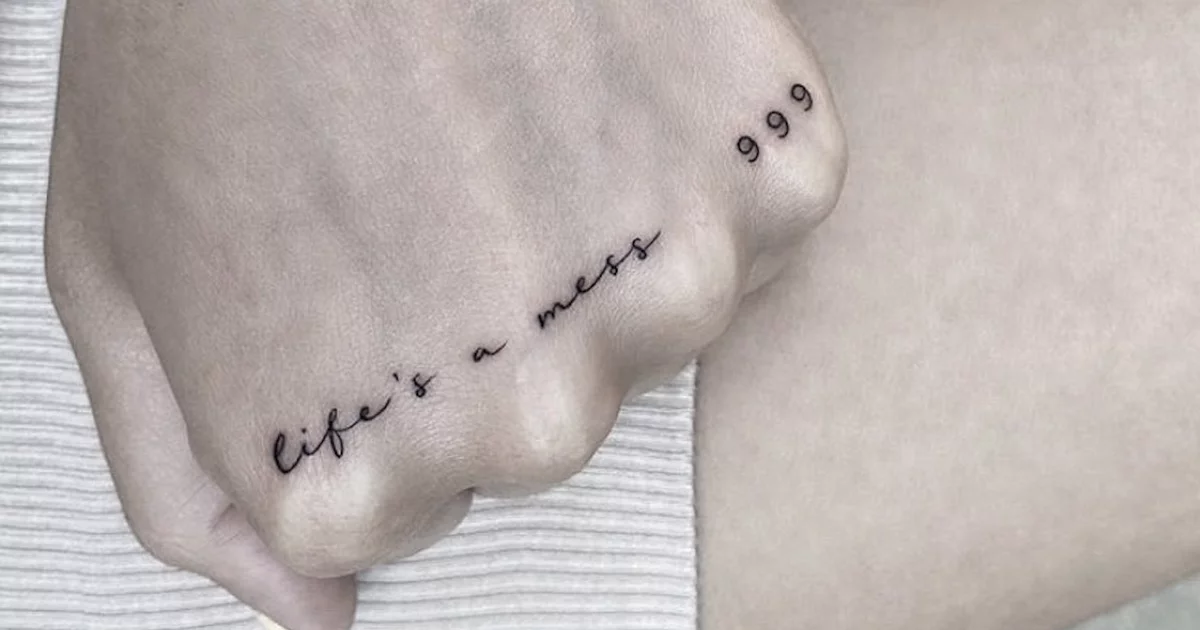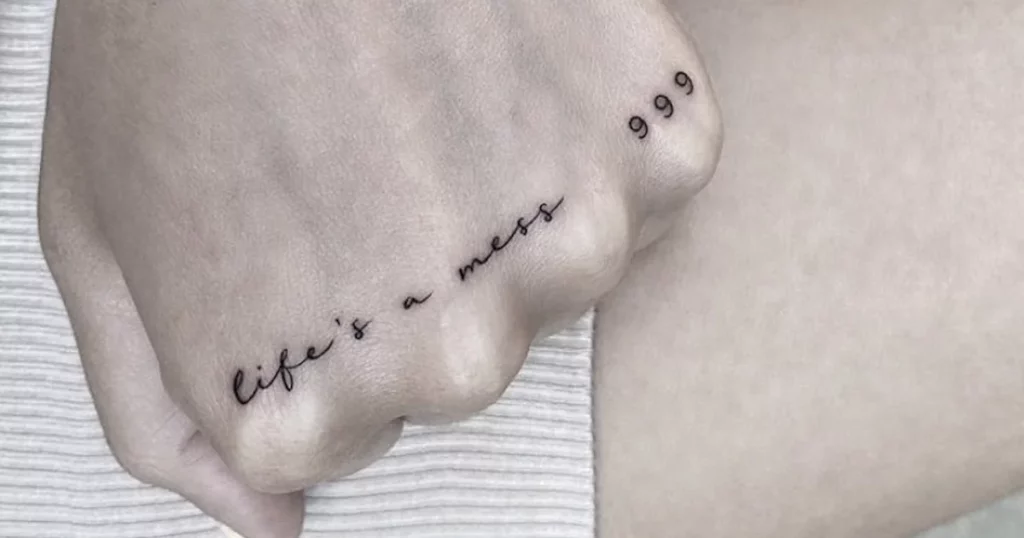 Juice WRLD and Halsey teamed up to create a song called "Life's a Mess." If you want to honour Juice WRLD uniquely, getting a tattoo can be a meaningful tribute. By getting a fresh tattoo with Juice WRLD's 999 symbols, you can find the courage and strength to face challenging situations and overcome obstacles. This tattoo will serve as a reminder of Juice WRLD's lasting impact and can inspire you to stay resilient during tough times.
DARK AND BOLD 999 WITH BUTTERFLY BLACKWORK TATTOO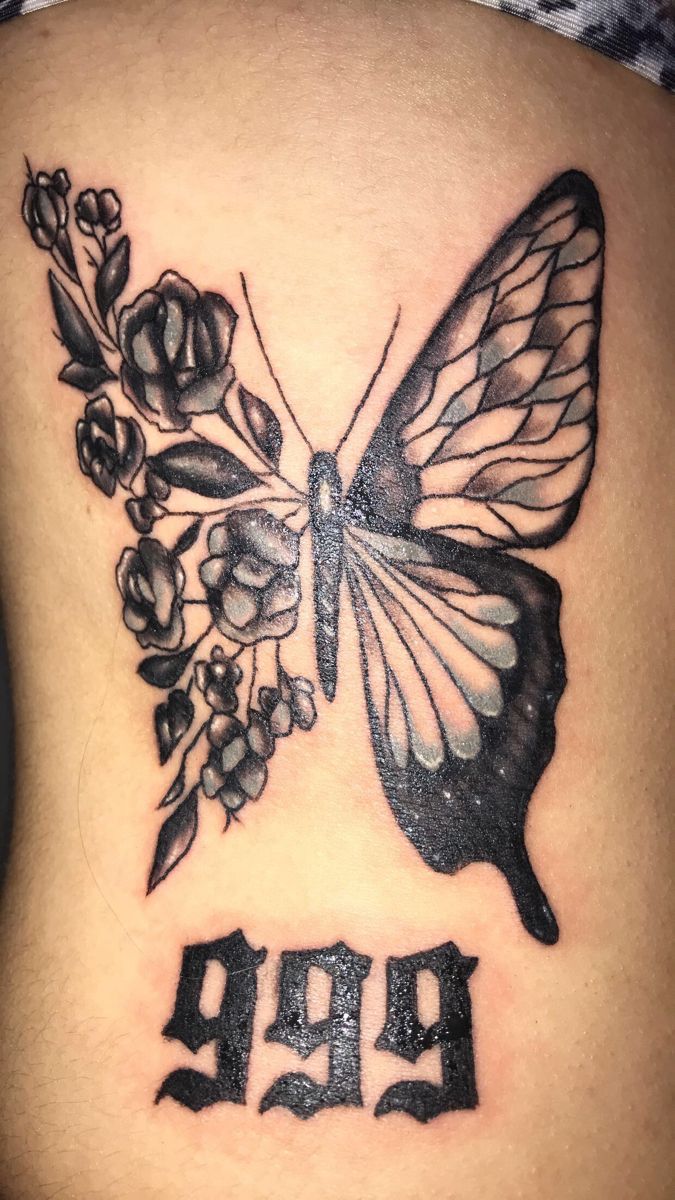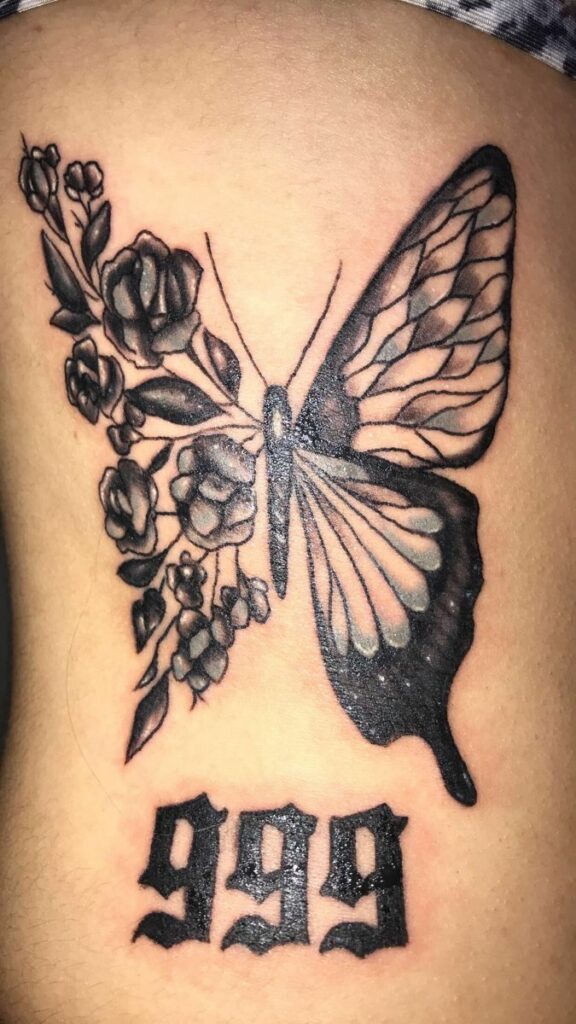 The butterfly in this tattoo has wings shaped like a spider web, and flames are also present. This tattoo can have various interpretations. Like the phoenix rising from the ashes, the fire can symbolize a fresh start or a new beginning. The butterfly represents change and fleeting beauty. Additionally, the spider web is a symbol of creativity and inventiveness. To summarise, this 999 tattoo may represent the wearer's journey towards embracing positive changes, fostering creativity, and living a beautiful life.
MINIMALISTIC 999 BEHIND-THE-EAR TATTOO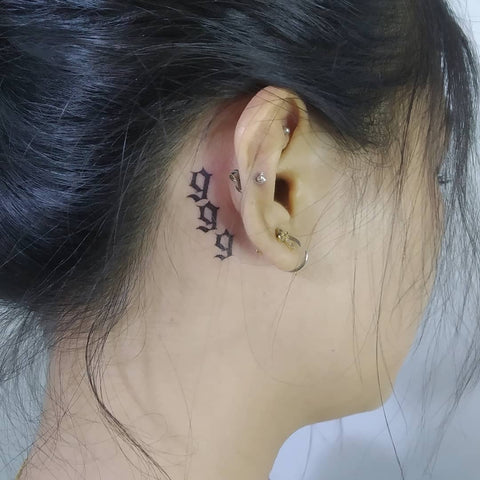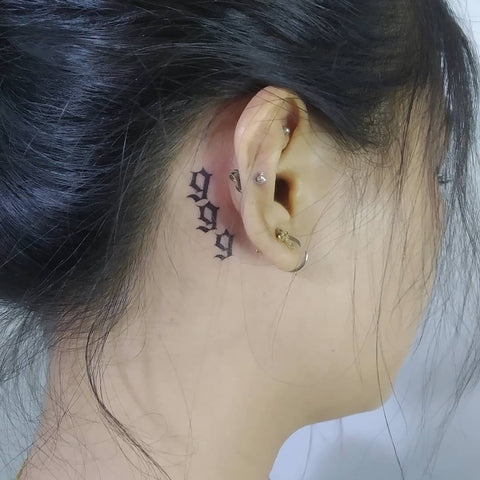 Deciding where to get your tattoo is a crucial part of the tattooing process. While many people opt for tattoos on their arms, forearm, shoulder, or back, some unconventional and fashionable choices are emerging. One of these trendy options is getting a tattoo behind the ear. These tattoos look cool and stylish, especially when designed with a simple pattern or style.
WITH MUSIC FROM THE ALBUM "LEGENDS NEVER DIE," JUICE WRLD 999 TATTOO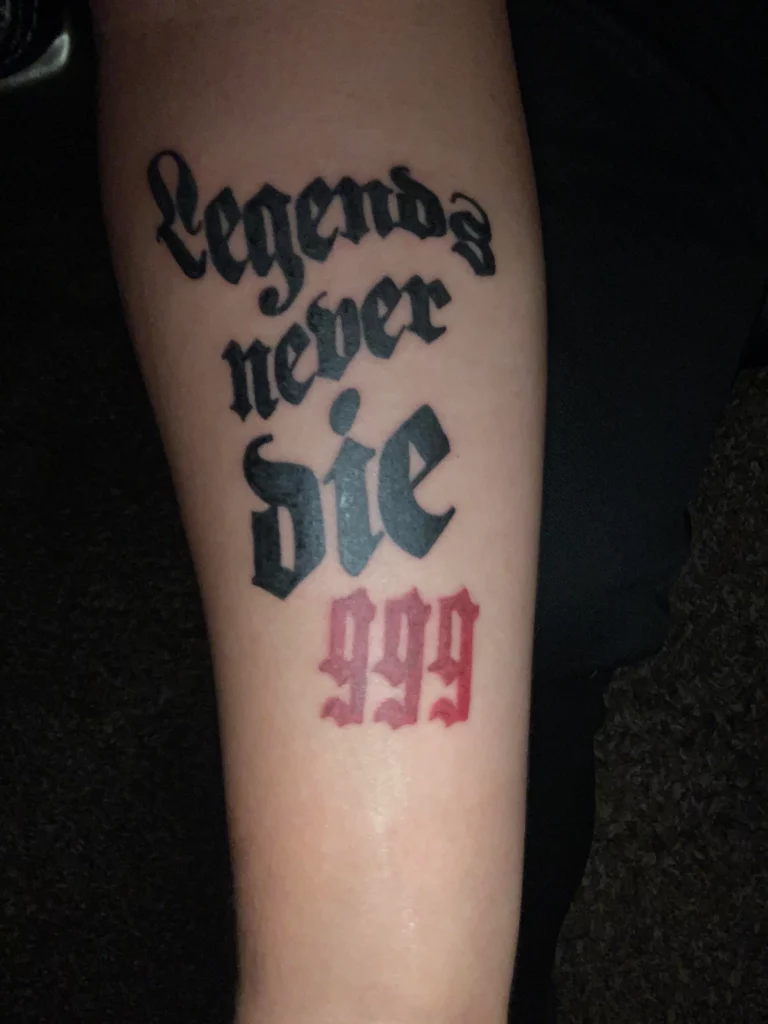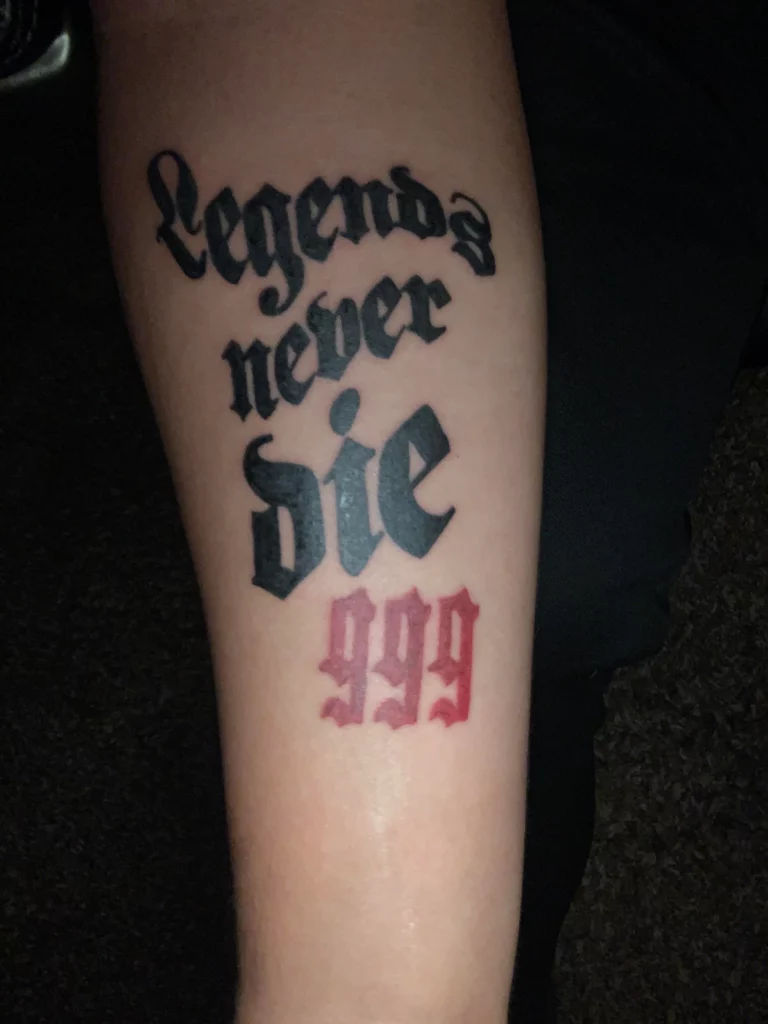 Note: Tattooing of minors is against the law according to Section 260.21 of New York State Penal Law
Fans of Juice WRLD were deeply saddened and shocked by his sudden passing at such a young age. Juice WRLD's fans strongly connect to the symbol 999; his album "Legends Never Die" was released after his untimely death in 2020. This Juice WRLD 999 tattoo is a genuine tribute to this talented young artist who had immense potential but left us too soon.
The meaning behind 999 is a reminder that everything you've ever dreamed of is within your reach and even more than you could have imagined. It may feel like you have to break free from limitations, but it's essential to understand that age doesn't define what you can achieve. Right now, you are in perfect harmony with the universe, and the symbol representing 999 is boundless, stretching infinitely in all directions.
Moreover, you can also get a 999 tattoo with its unique meaning, unrelated to Juice WRLD. It can represent something personal and significant to you.
Read More: Meaningful Hand Tattoos for Women
Final Words
999 Tattoos have many meanings and symbolism for those who decide to get them. They can represent concepts such as the boundless universe, personal growth, spirituality, or paying tribute to Juice WRLD's legacy. These tattoos carry a profound sense of depth and importance, serving as constant reminders of inner strength, resilience, and the ability to conquer obstacles.
With countless design options and different placements, 999 tattoos allow individuals to express their individuality and share their unique stories. Ultimately, the true beauty of 999 tattoos lies in the personal connection and significance they hold for each wearer.
FAQs
Where is the ideal placement for a 999 tattoo?
Wrist: You can opt to have your 999 tattoos on your wrist, which is a discreet yet meaningful location. It serves as a subtle symbol of support for emergency services. Additionally, you can cover it up with a watch or bracelet whenever you want.
Neck: If you want to make a bold statement, consider getting your 999 tattoo on your neck. This placement allows for a more prominent and visible display of the tattoo, showcasing your commitment to its significance.