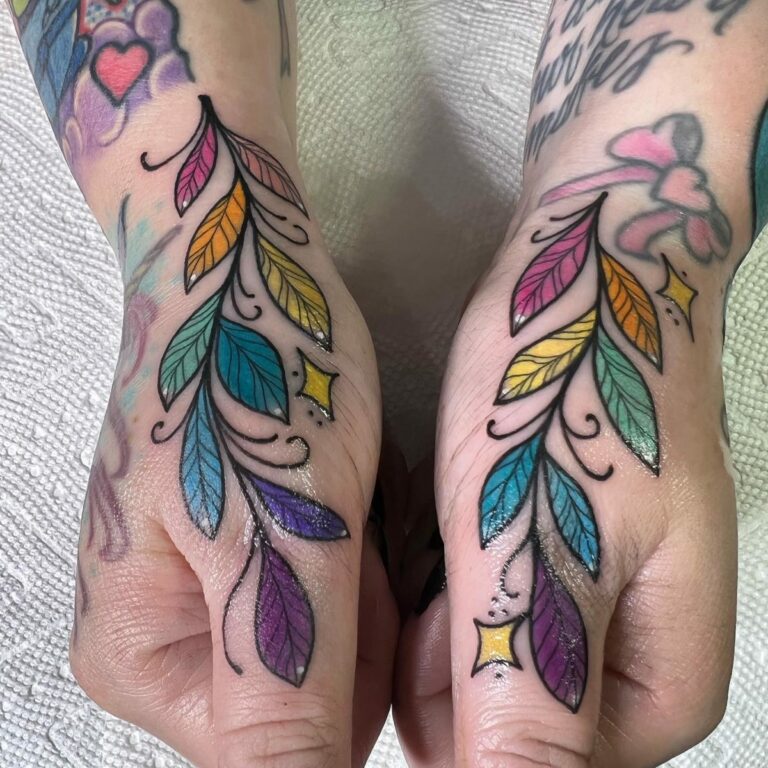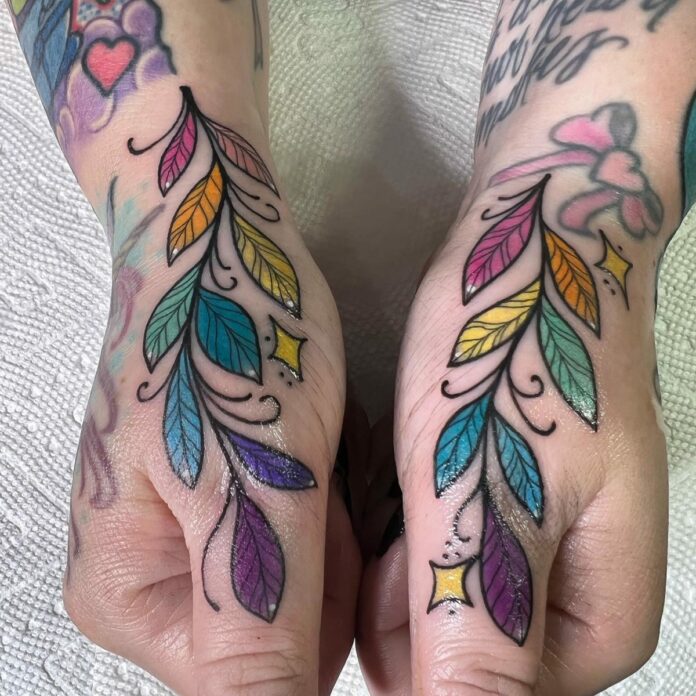 Hand tattoos have recently gained significant popularity among women, particularly the small and simple ones on the fingers. However, it's important to note that hand tattoos offer a wide range of options beyond the current trend of small finger designs. Hand tattoos for women come in various shapes and sizes, giving you ample choices if you're contemplating getting one or even a couple.
We conducted a thorough social media analysis to explore the latest trends and preferences. To our delight, we discovered a diverse collection of distinctive and similar designs, providing valuable insight into the ongoing trend. If you're seeking inspiration for your ink, take a moment to browse through these fantastic hand tattoos for women.
Explore the following collection of stunning hand tattoos for women!
Dainty Details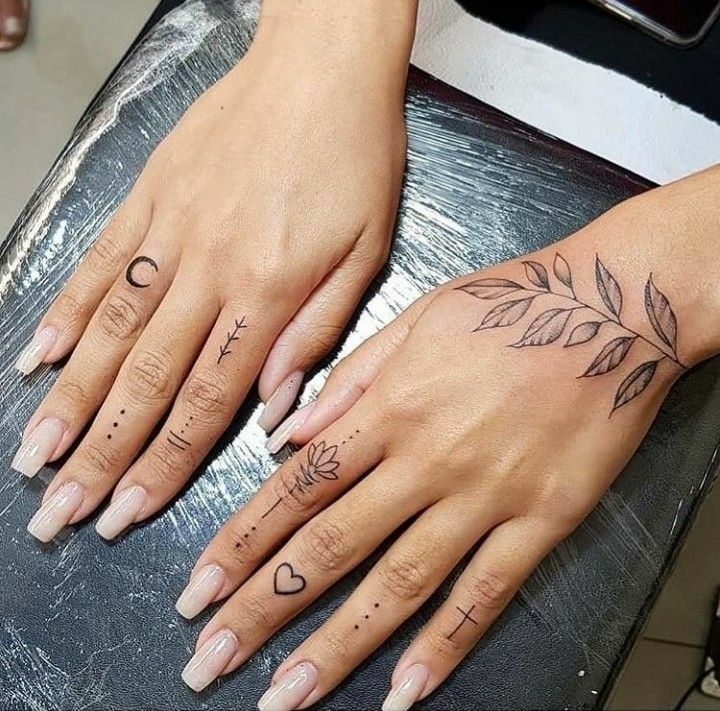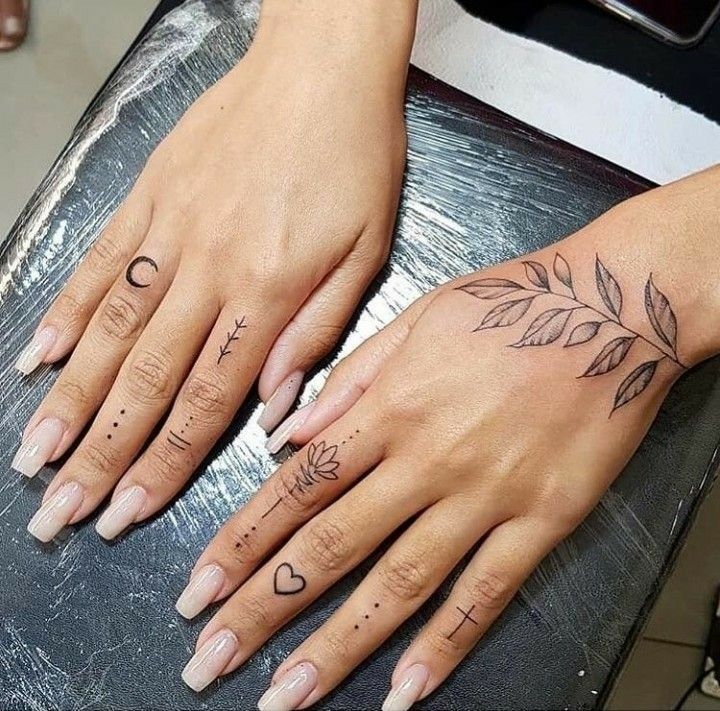 Hand tattoos with tiny shapes and dots have become incredibly popular among women. Celebrities like Chrissy Teigen have also embraced this trend! The specific example showcases fine lines and delicate dots likely created using the stick-and-poke method. This technique involves manually using a needle instead of a traditional tattoo gun, resulting in detailed and intricate designs. Many individuals on the mentioned list and beyond prefer this method for its unique application.
Big Red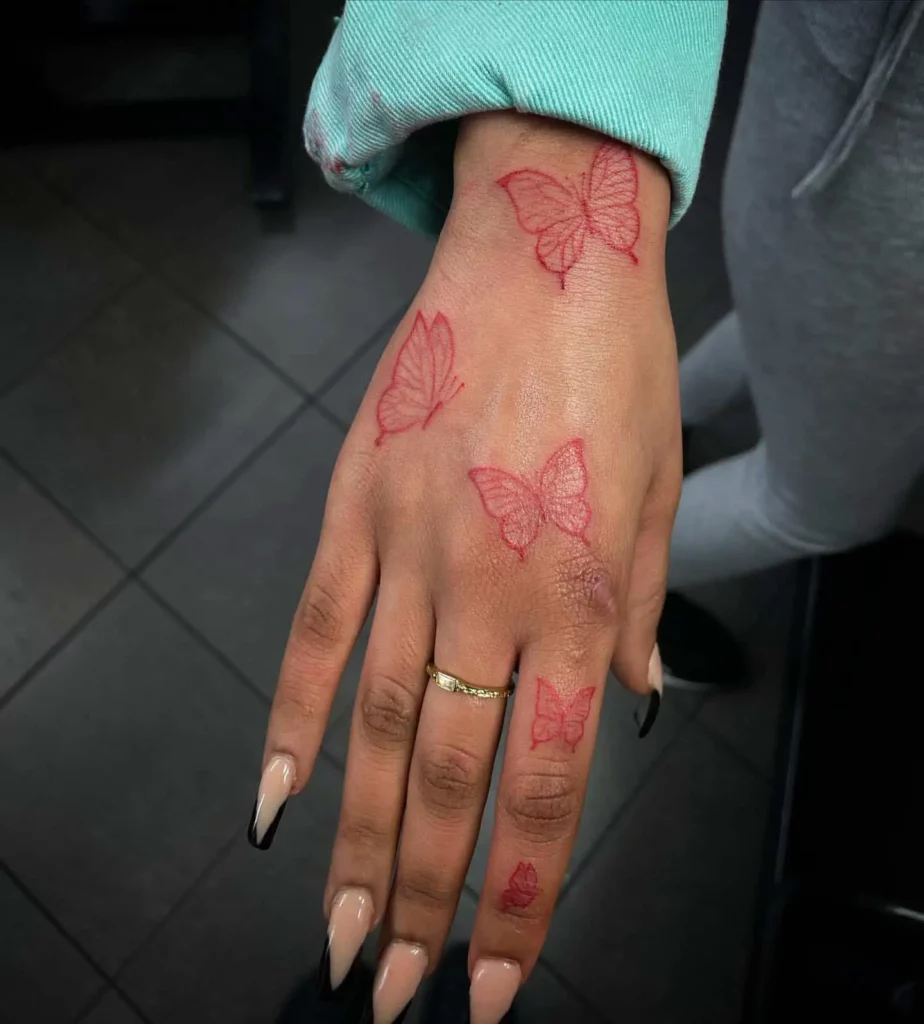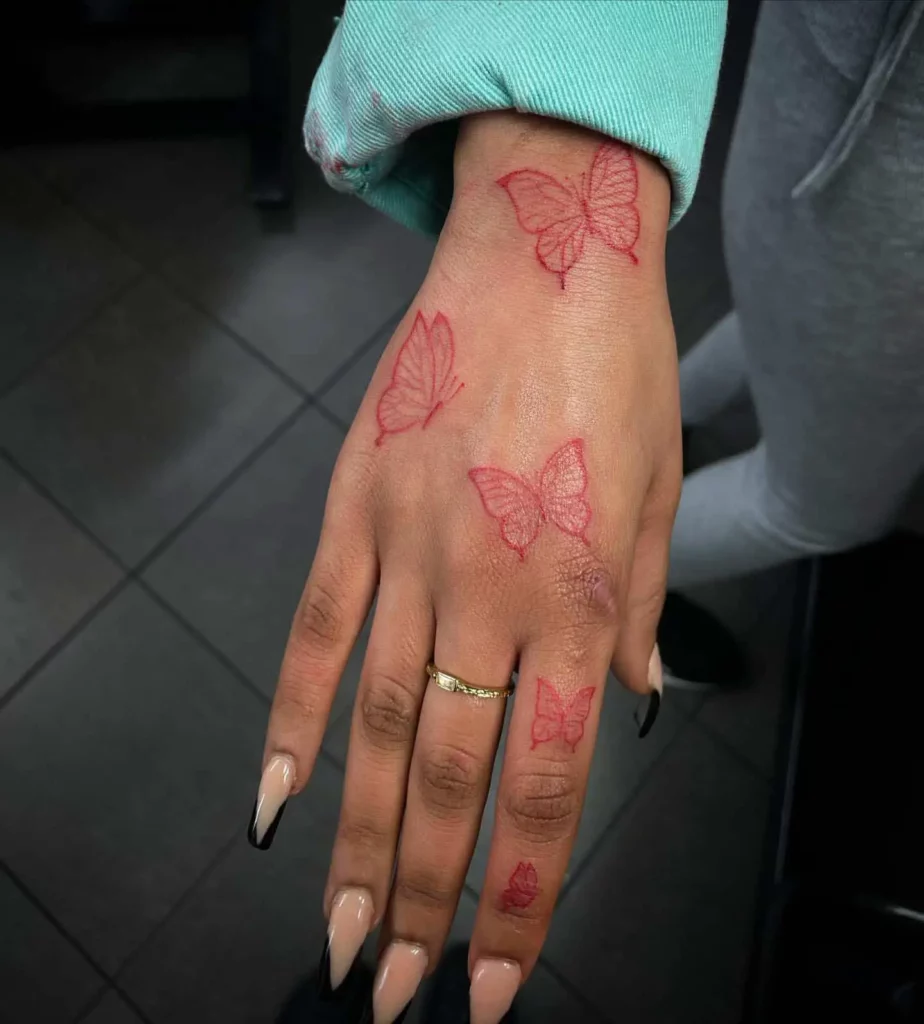 We suggest red if you're considering getting a tattoo in a colour other than black. Red ink creates a strong and noticeable impression compared to black. Check out this person's tattoo as an example—they hope the red ink will bring them good luck.
Timeless Florals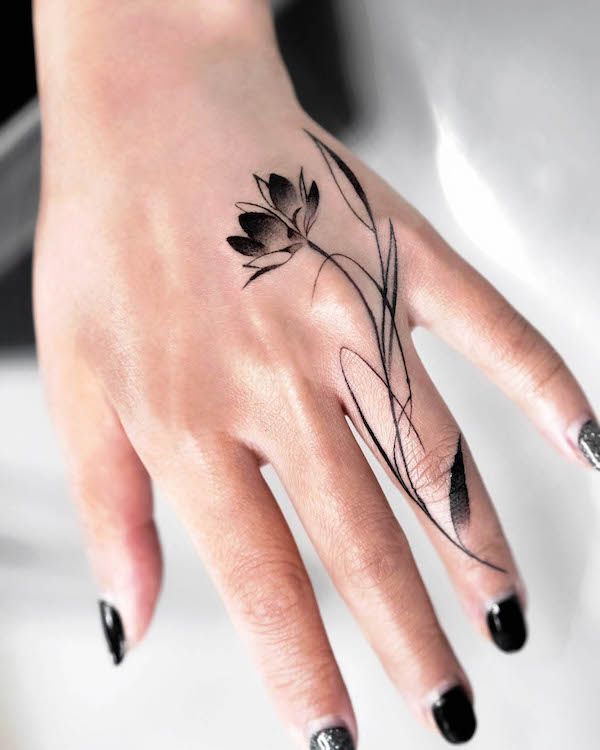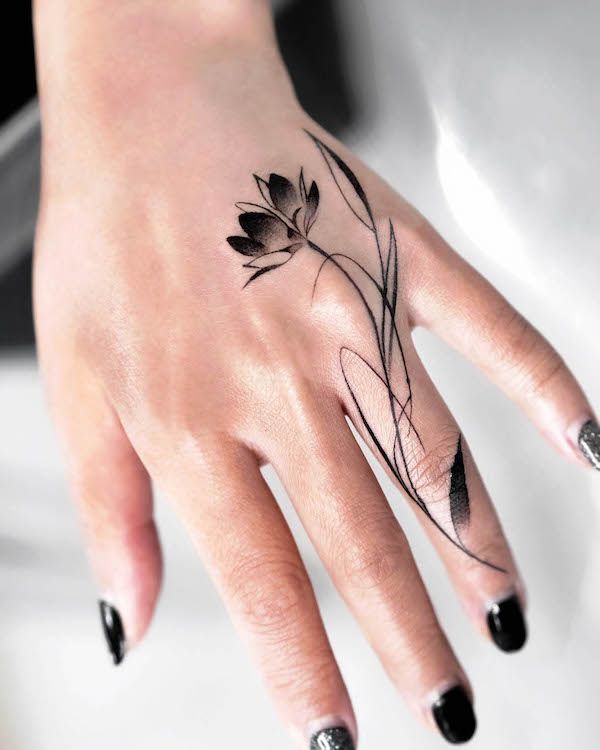 Opting for a floral design as your hand tattoo is an excellent choice. Floral tattoos are not only stunning, but they also have a broad appeal and enhance the look of your hands.
Something Flashy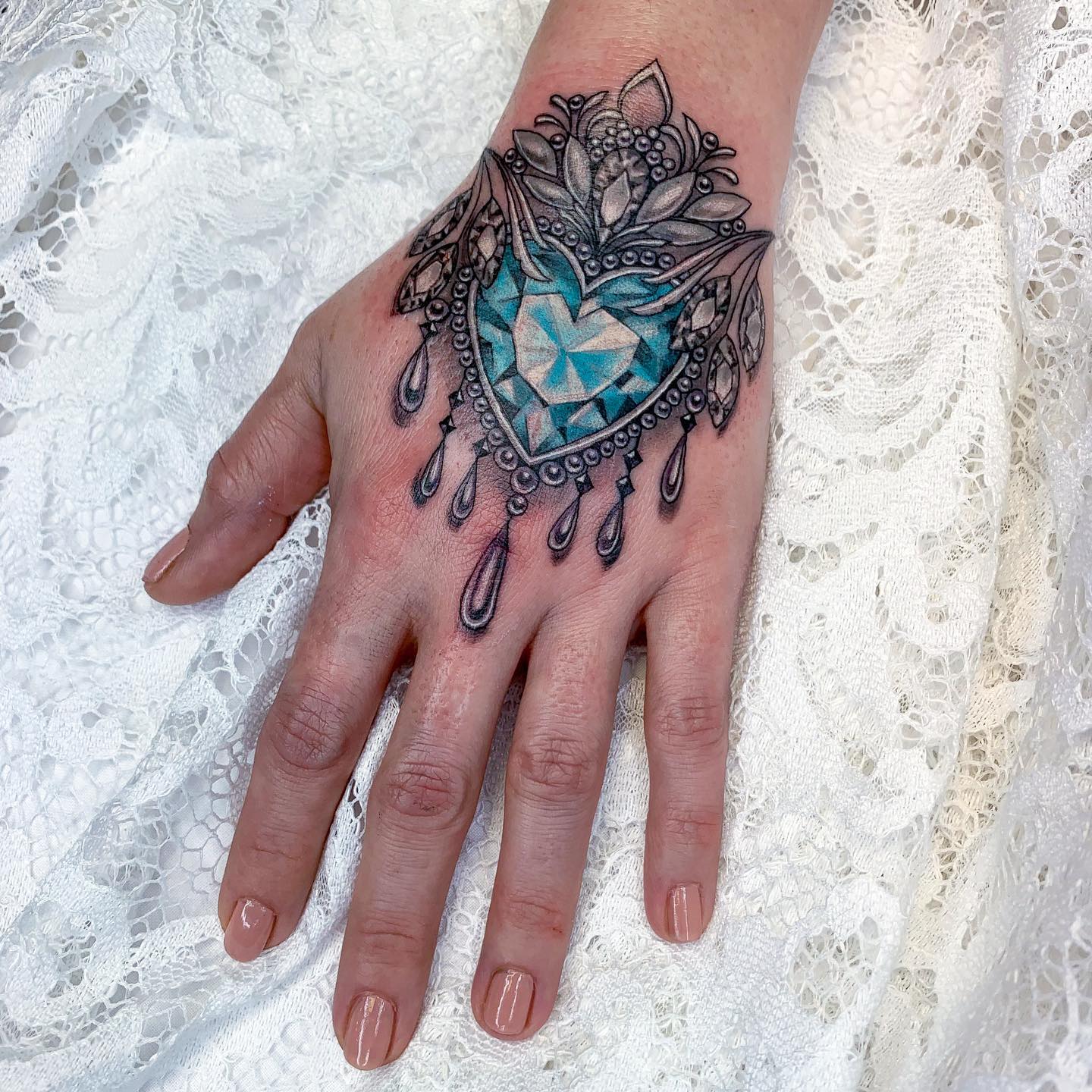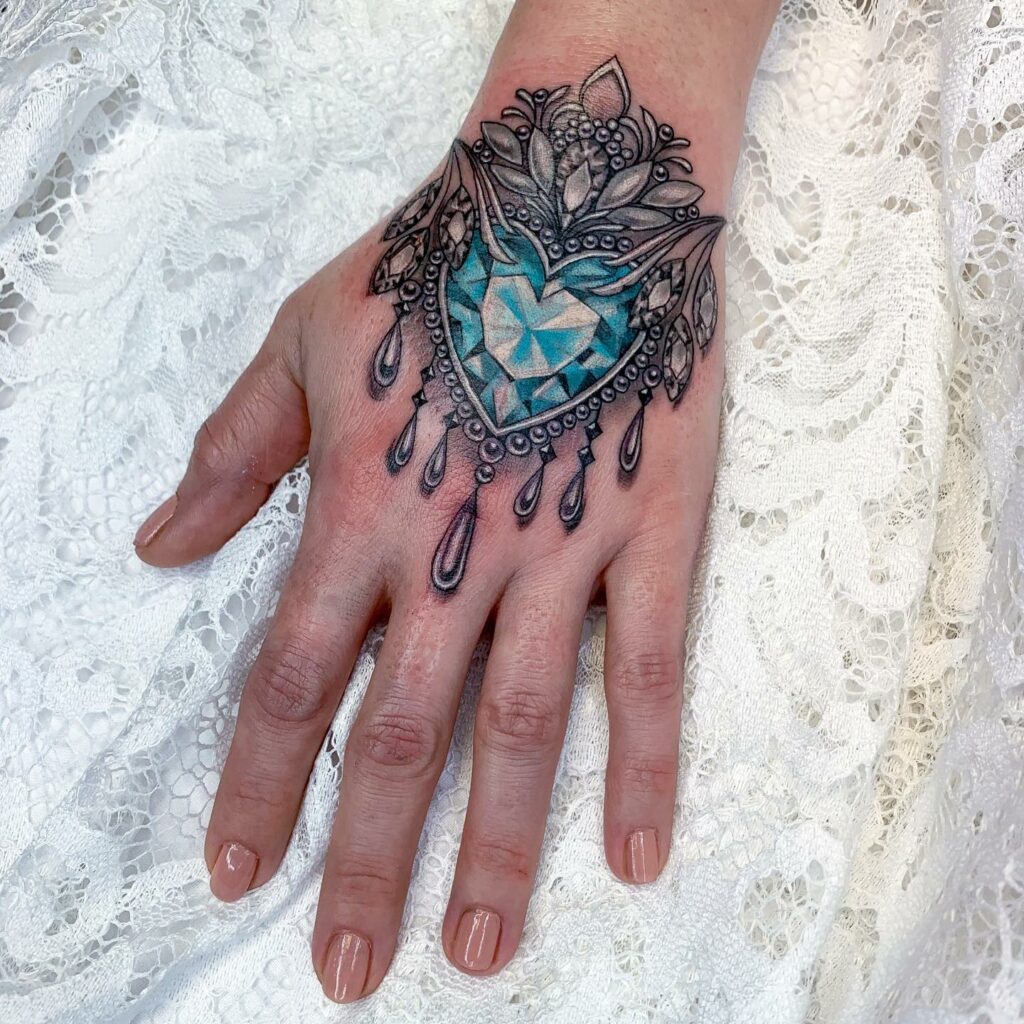 If you want a daring hand tattoo, consider getting one that covers the top of your hand. We came across a stunning bejewelled design, and a similar option could be a perfect fit for you.
Some Marvelous Micros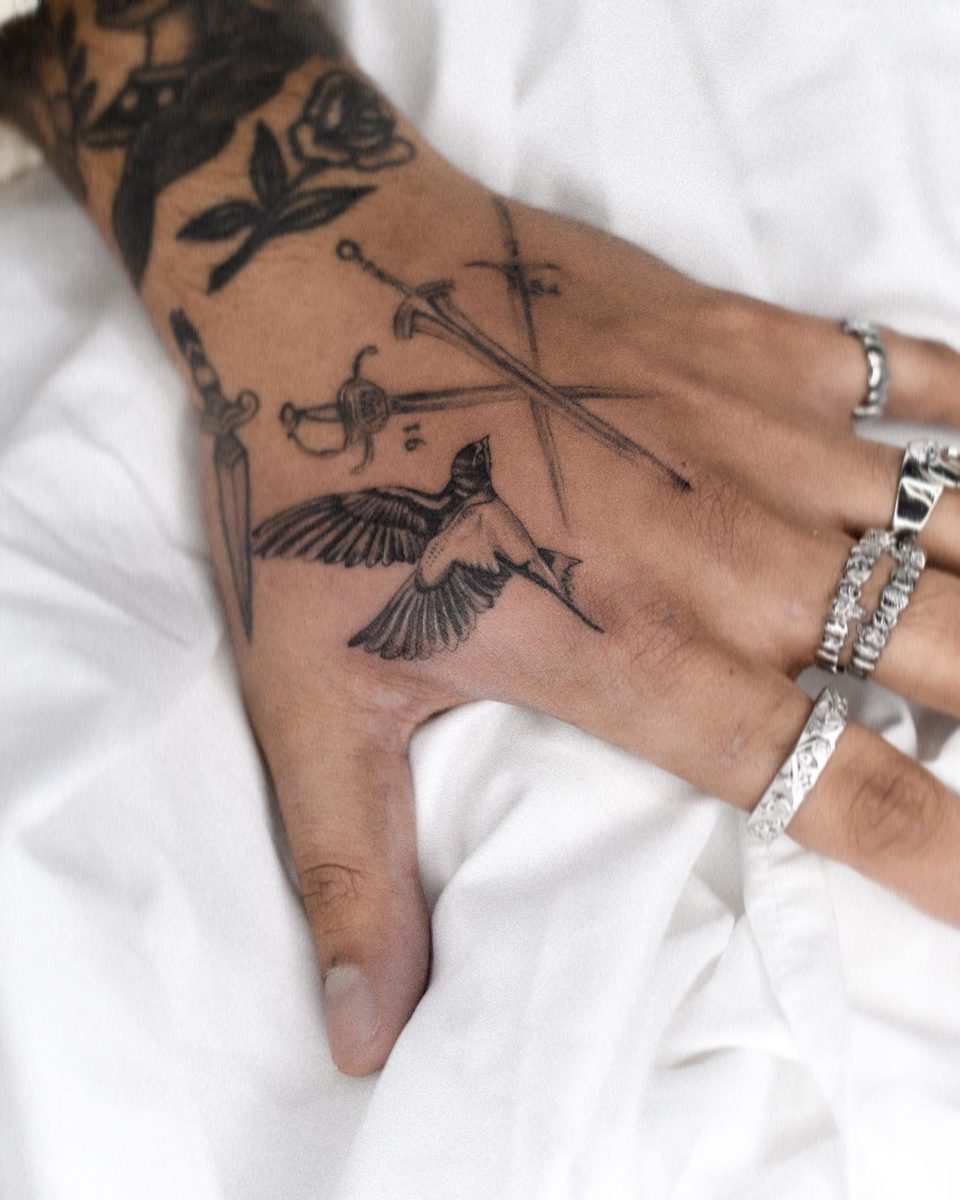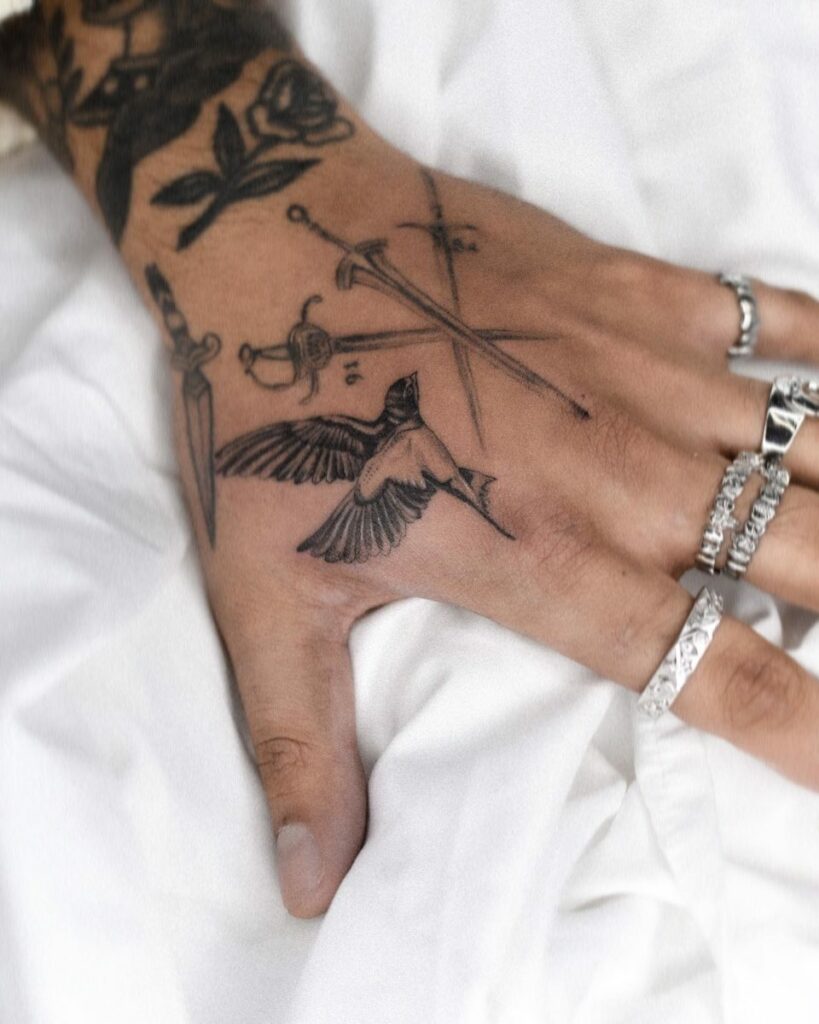 Micro tattoos are incredibly trendy, not just for women's hand tattoos but in general. These small bird and sword tattoos look amazing, and any object you desire can look fantastic if you find the right artist for the job.
Here for the Ornamentation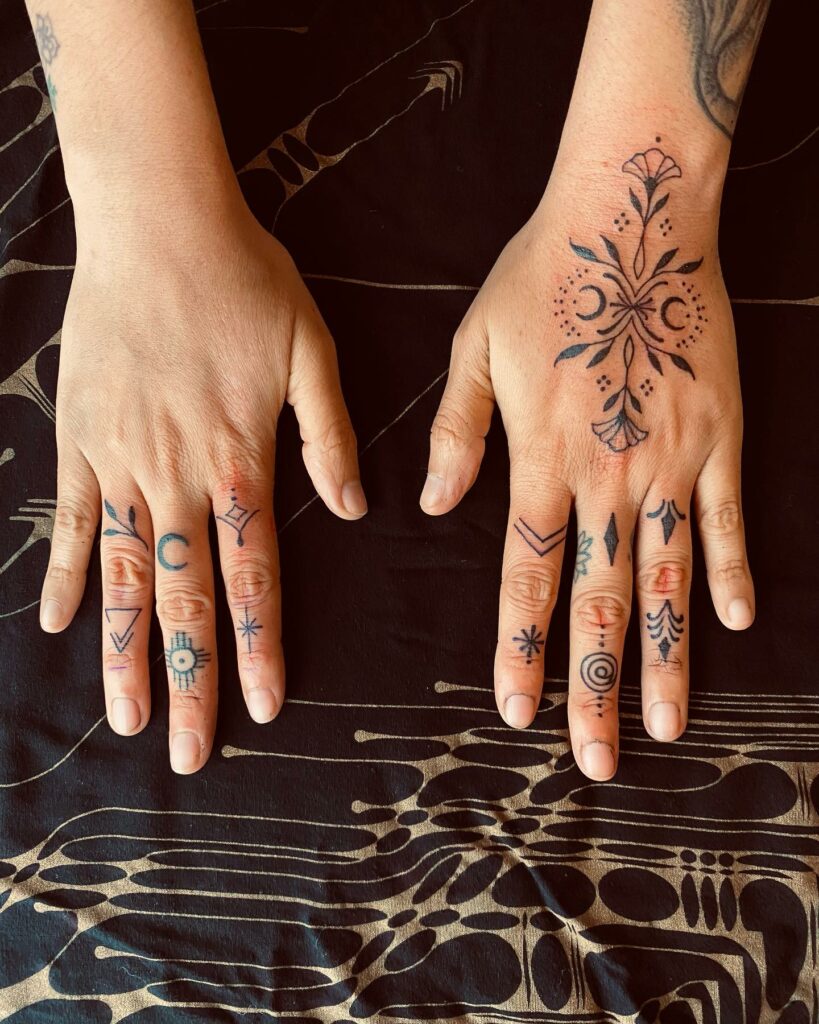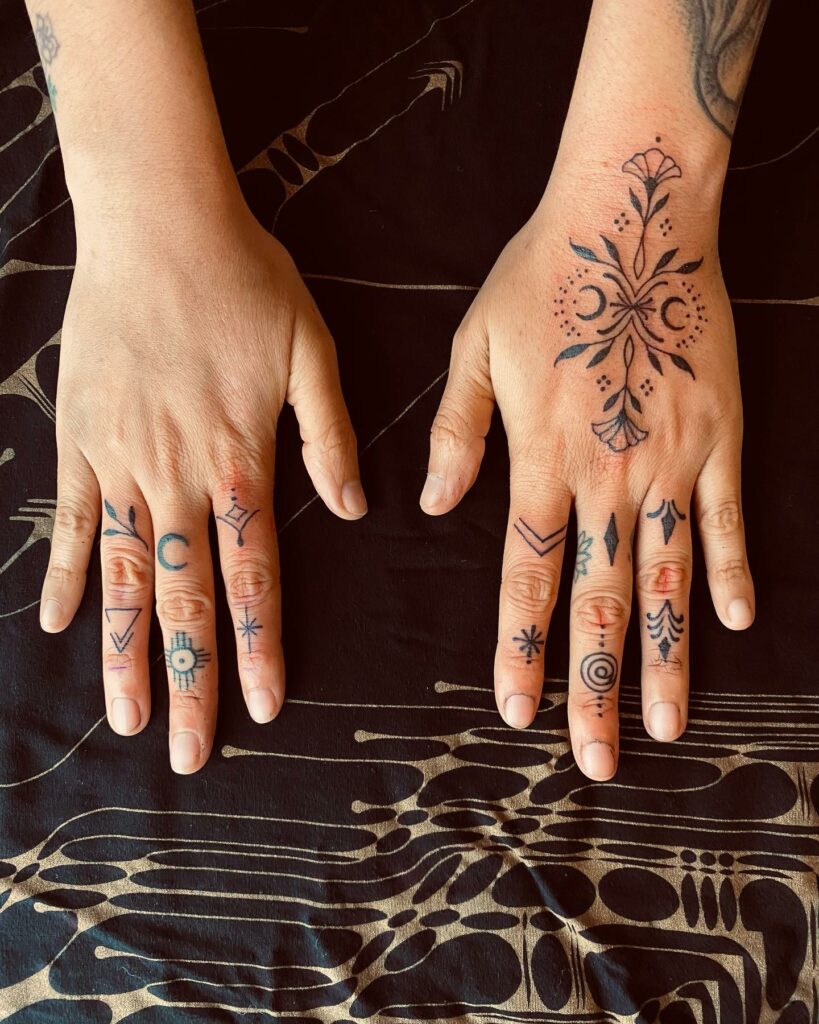 Regarding hand tattoos for women today, the focus is on ornamentation. Abstract designs that don't necessarily carry a specific meaning but are visually striking can be excellent choices for subtle and beautiful tattoos.
Flower Power in the Palm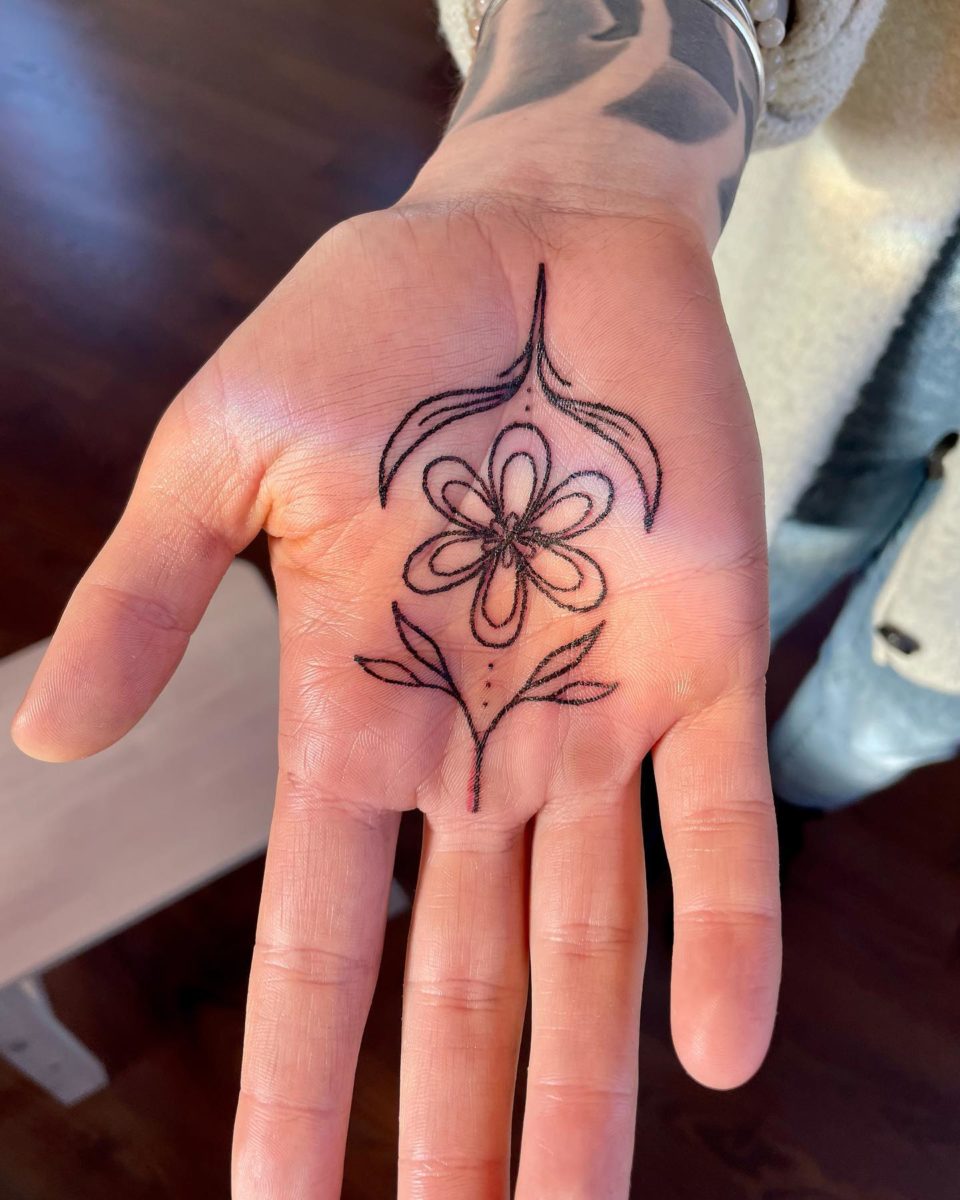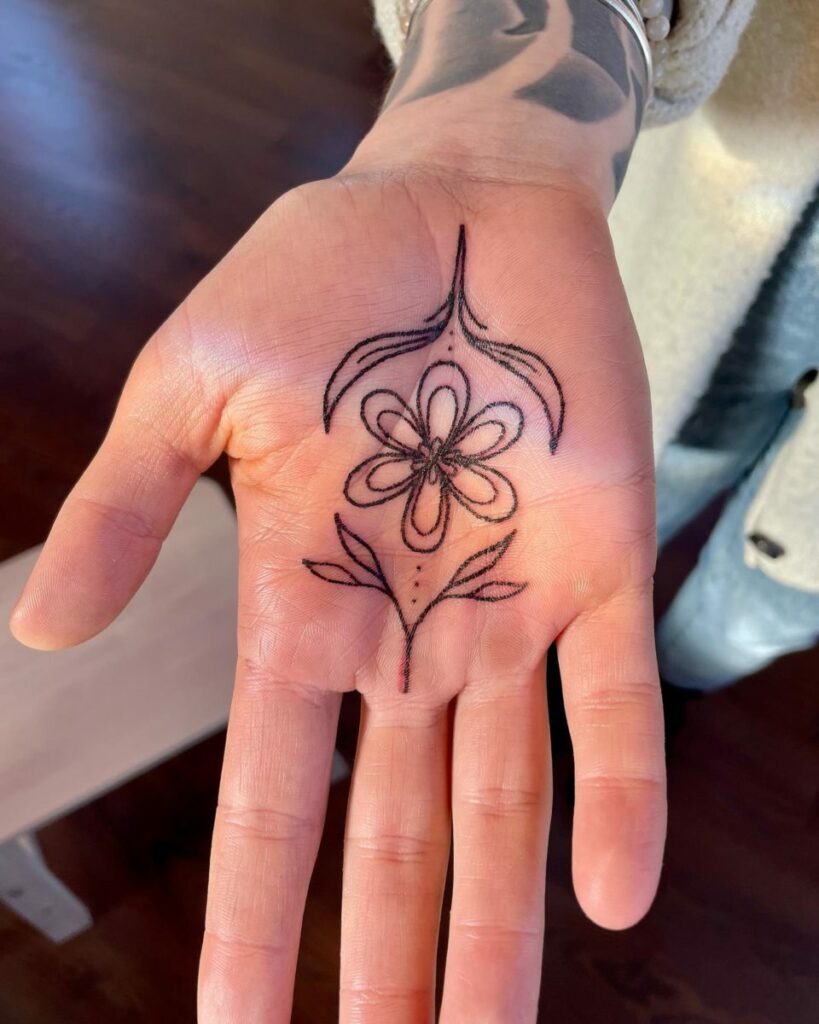 Palm tattoos are less popular because they fade rapidly and might need touch-ups within a few years. However, this can be appealing if you're looking for a tattoo that doesn't last indefinitely.
A Little Fancy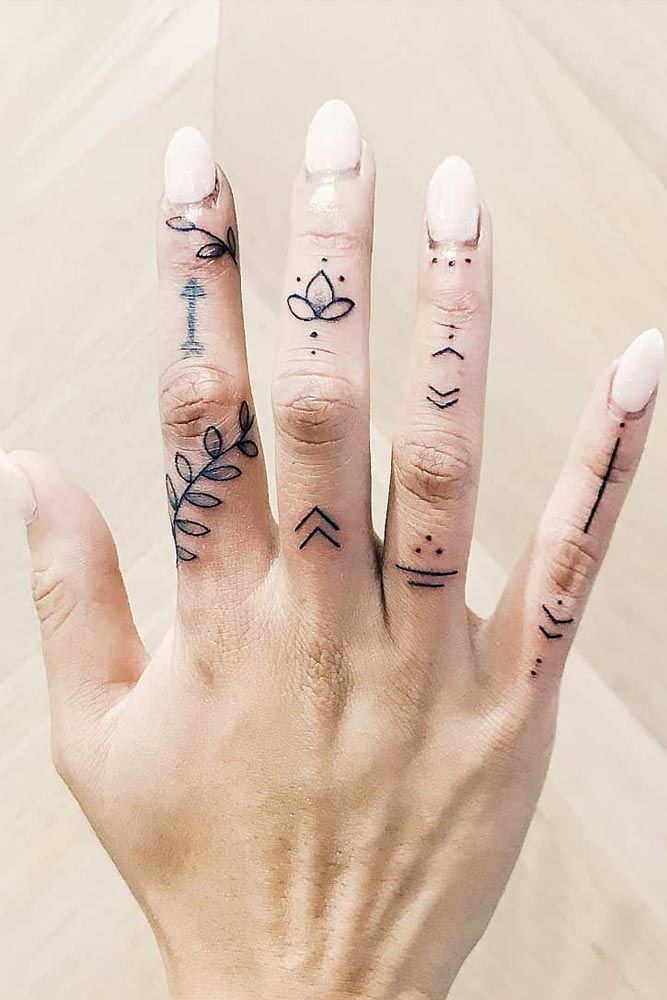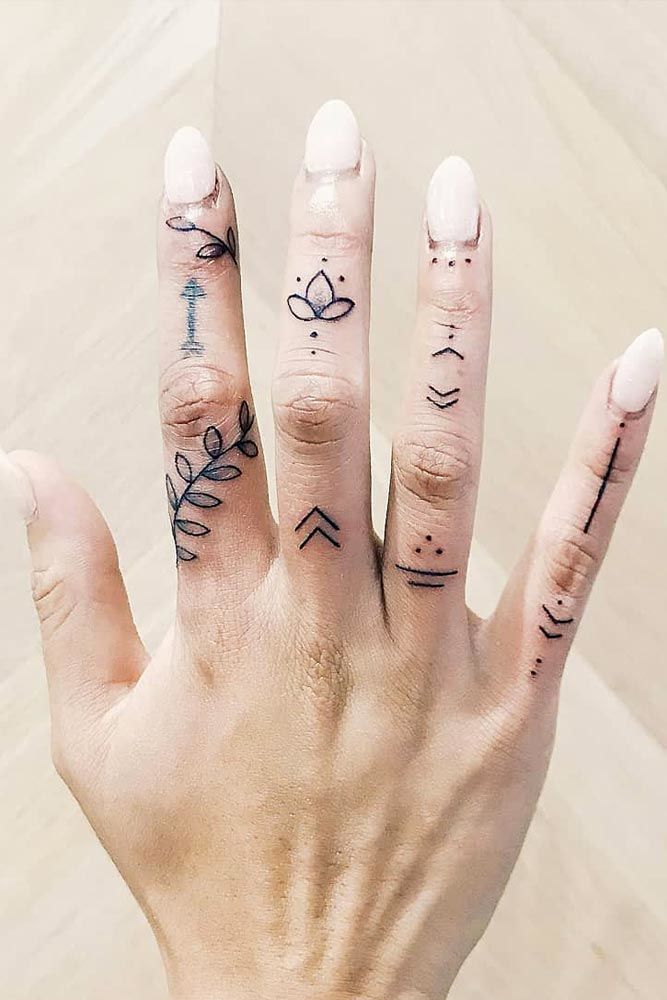 Check out these additional ornamental designs, including a botanical sprig and playful shapes. Regarding hand tattoos, you can choose anything that speaks to you!
Witchy Woman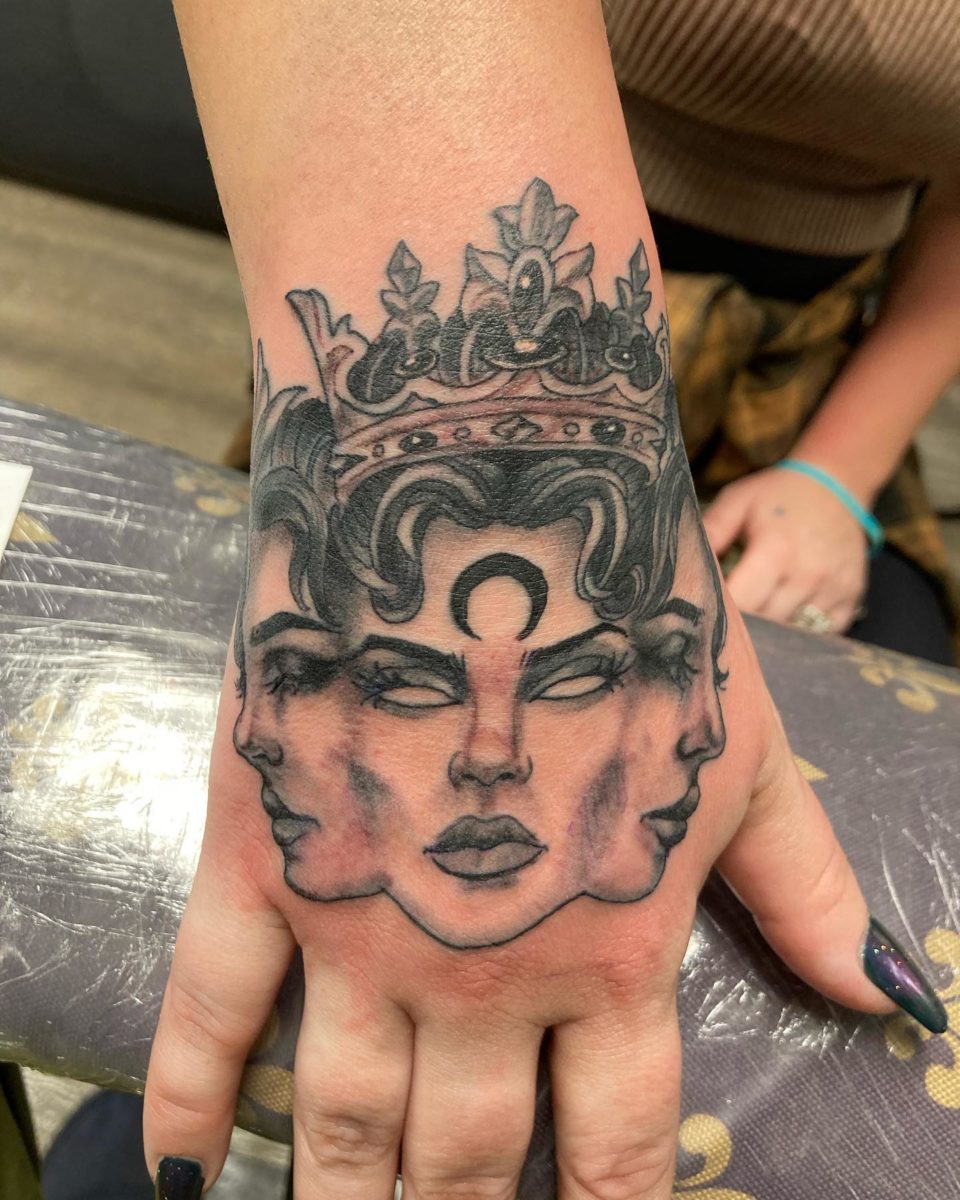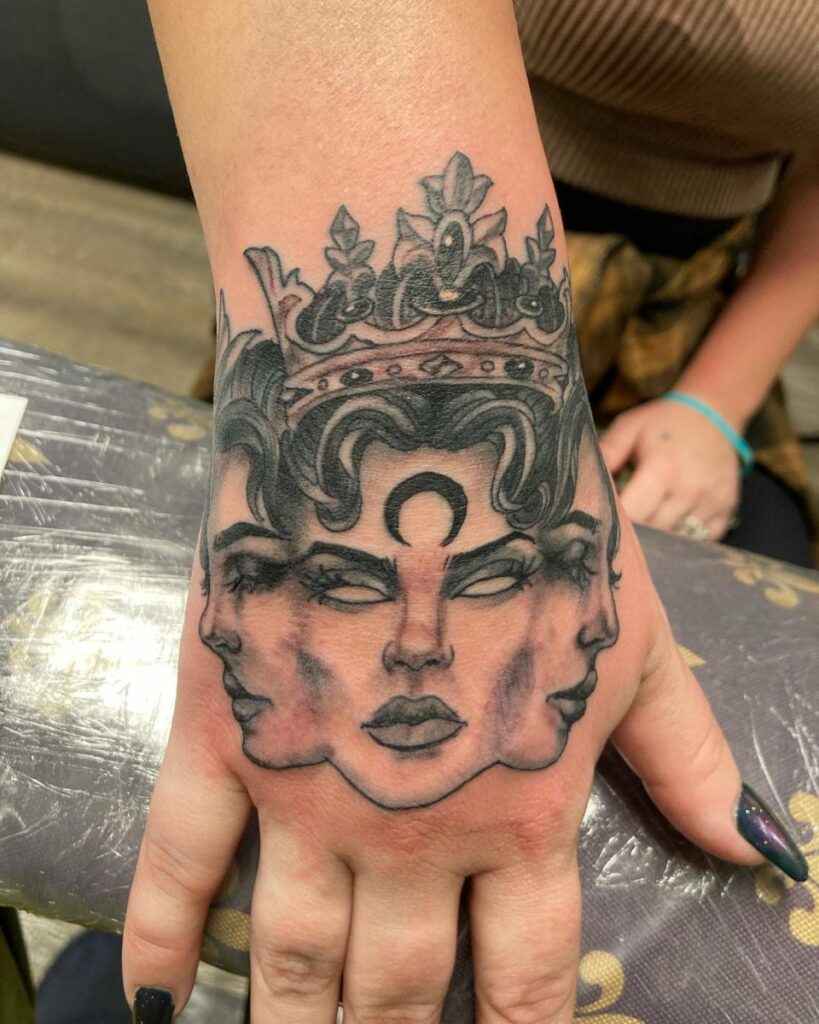 Behold one of the most prominent hand tattoos for women featured here. It showcases a woman with three faces, each wearing a crown. The person who shared this tattoo described it as a "witchy woman."
Matching Hands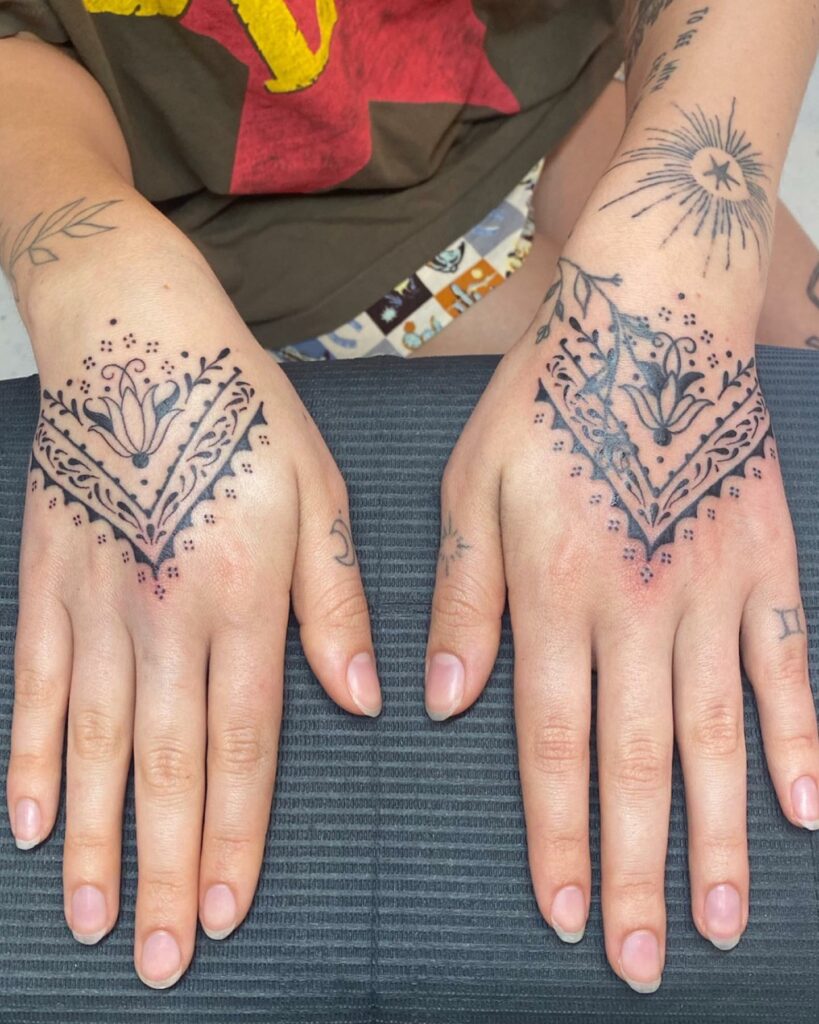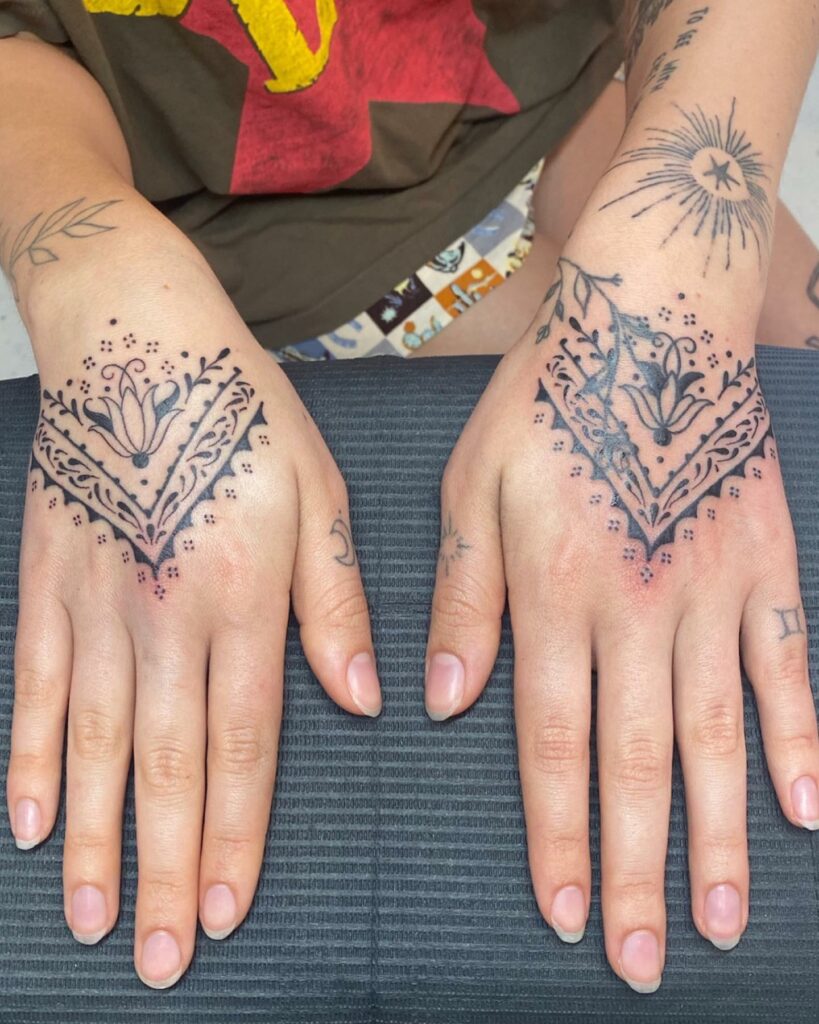 These V-shaped designs have gained some popularity among women's hand tattoos recently. They are visually striking, and if you wish, you can enhance their beauty by replicating the same design on your other hand.
Warm It Up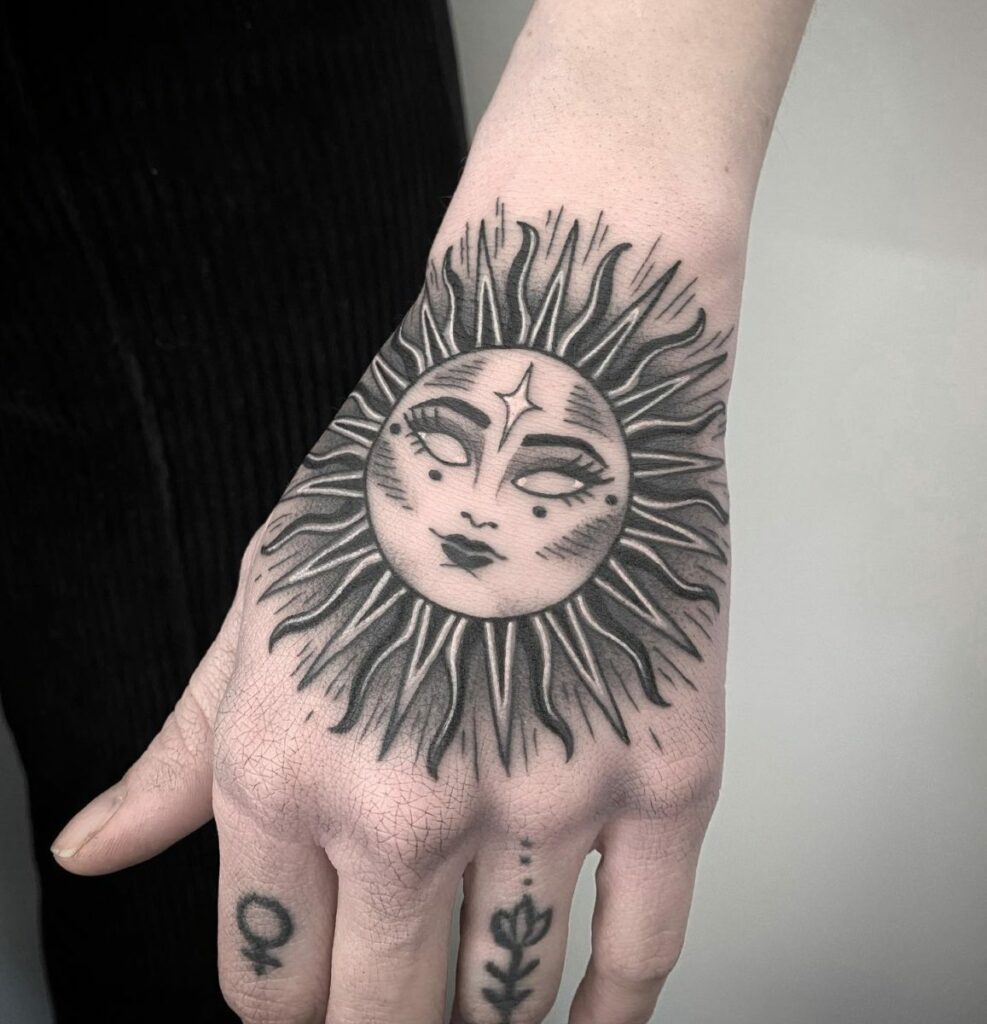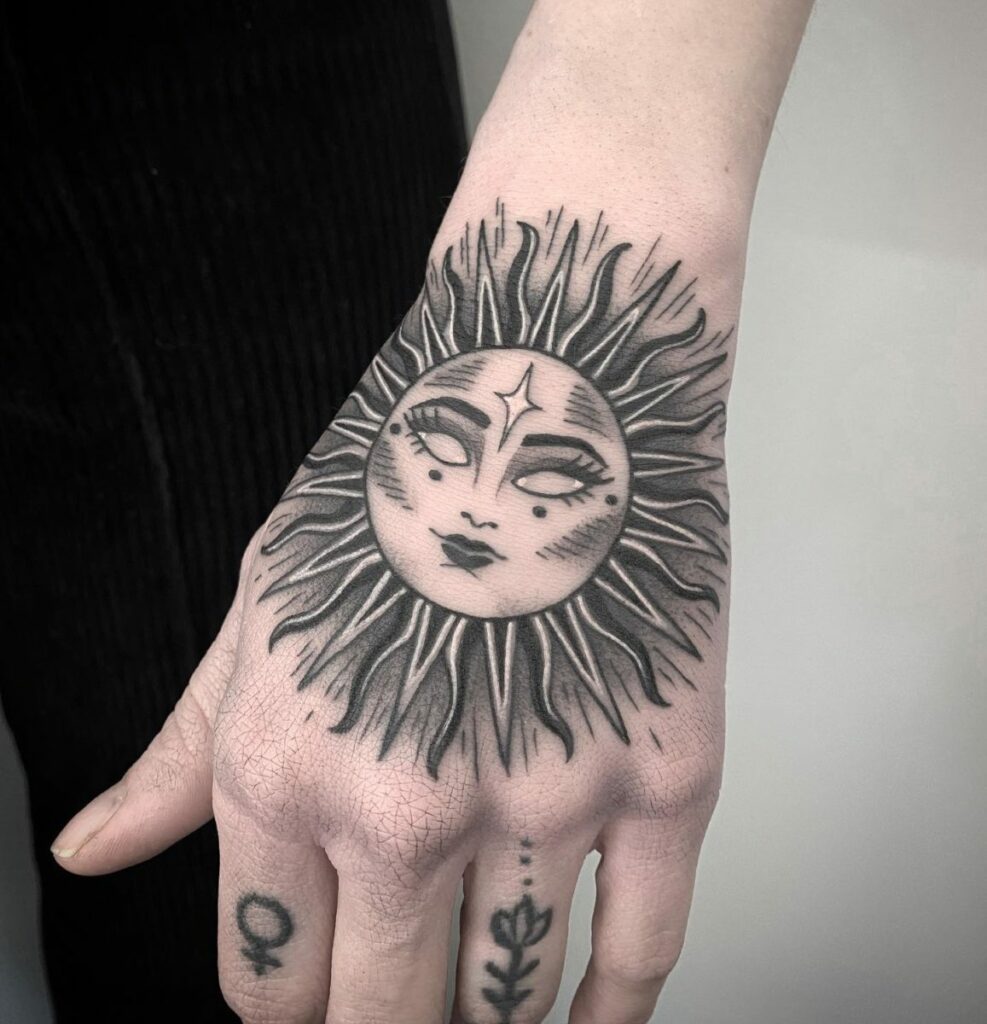 This incredible sun tattoo looks stunning, particularly when positioned above the finger tattoos below. The shading is skillfully executed, and the lines are exact, demonstrating the artist's expertise.
Super-Fine Lines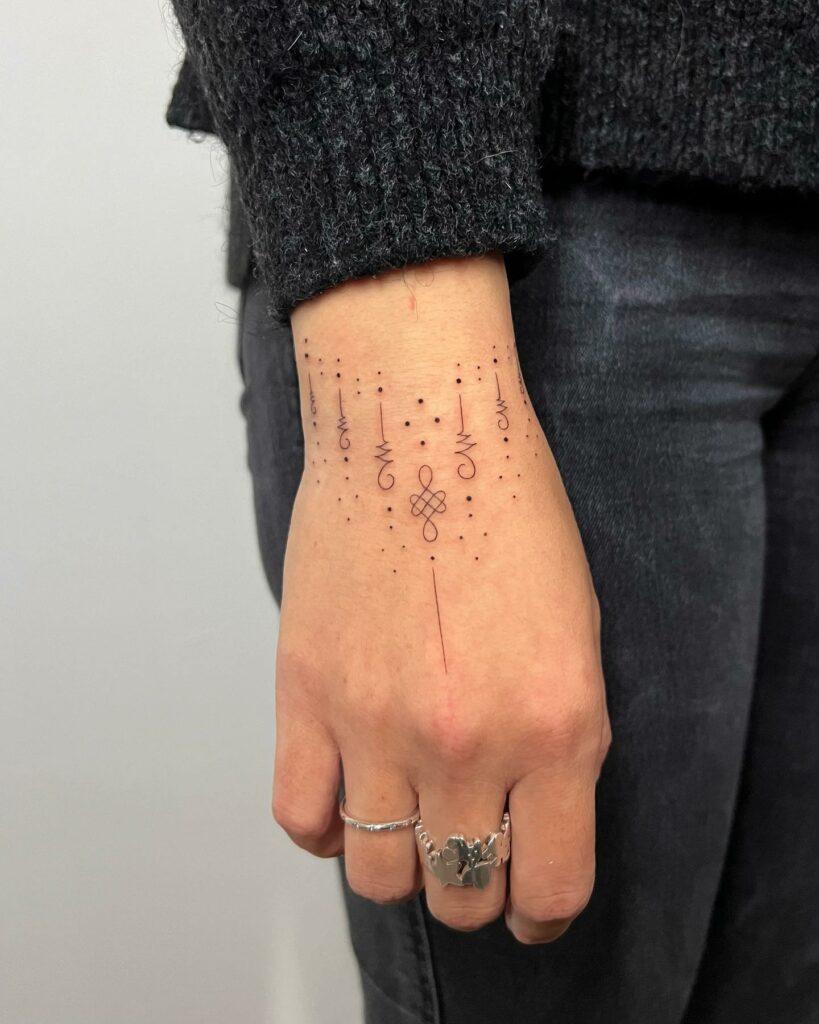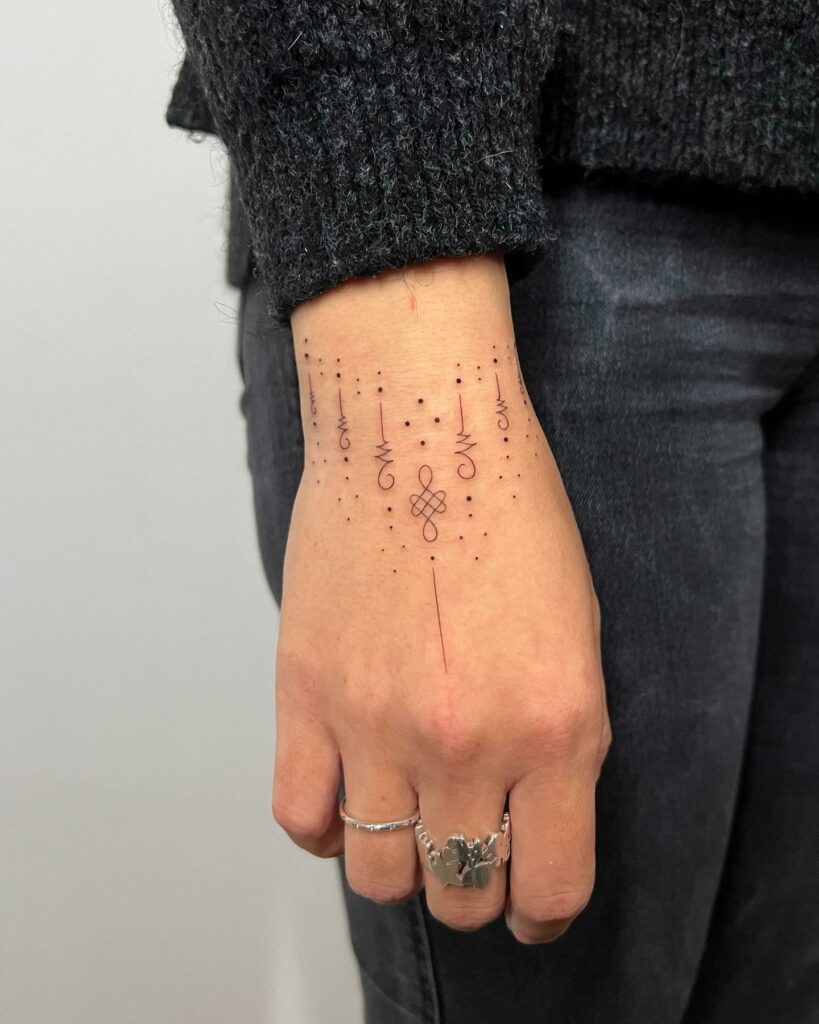 The tattoo lines in this example are fragile, suggesting that it was created using the stick-and-poke technique. As previously mentioned, the V-shape design is highly sought after, and it becomes clear why when you observe this specific example.
Sleeping Cupid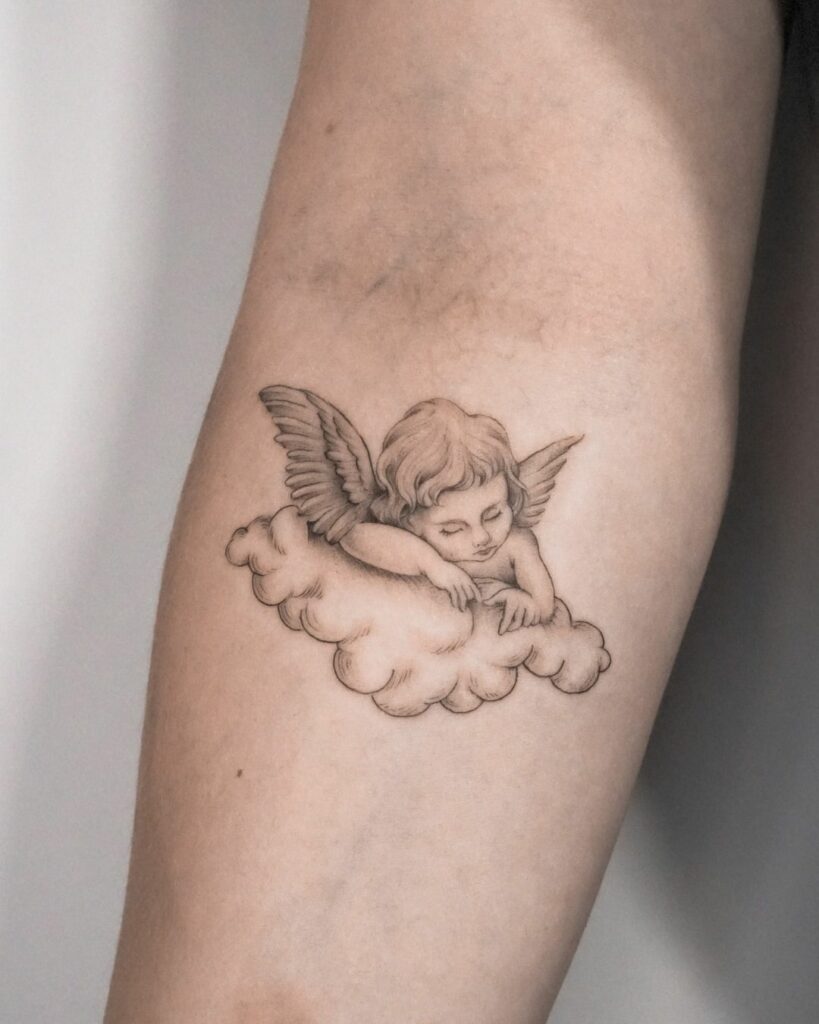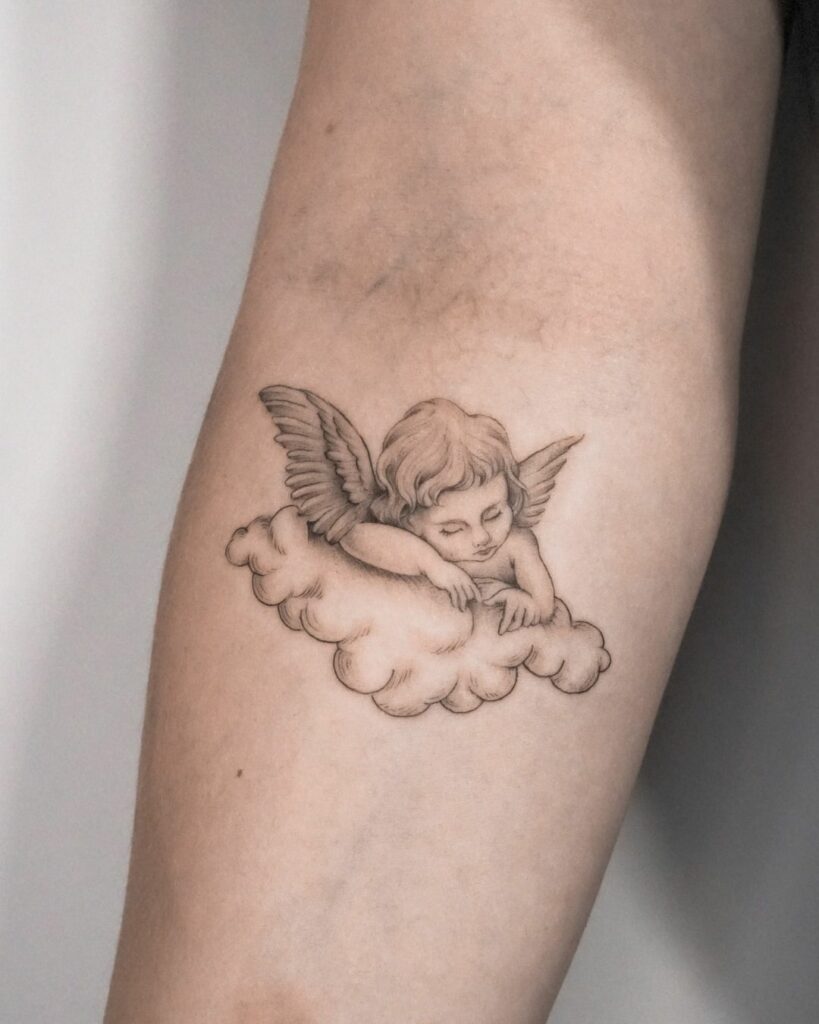 In this tattoo, you'll find a peaceful sleeping cupid. The design is kept simple with a thick line, producing a mild and graphic effect. To add a little extra flair, dots are placed above the nails.
Mandala, Mama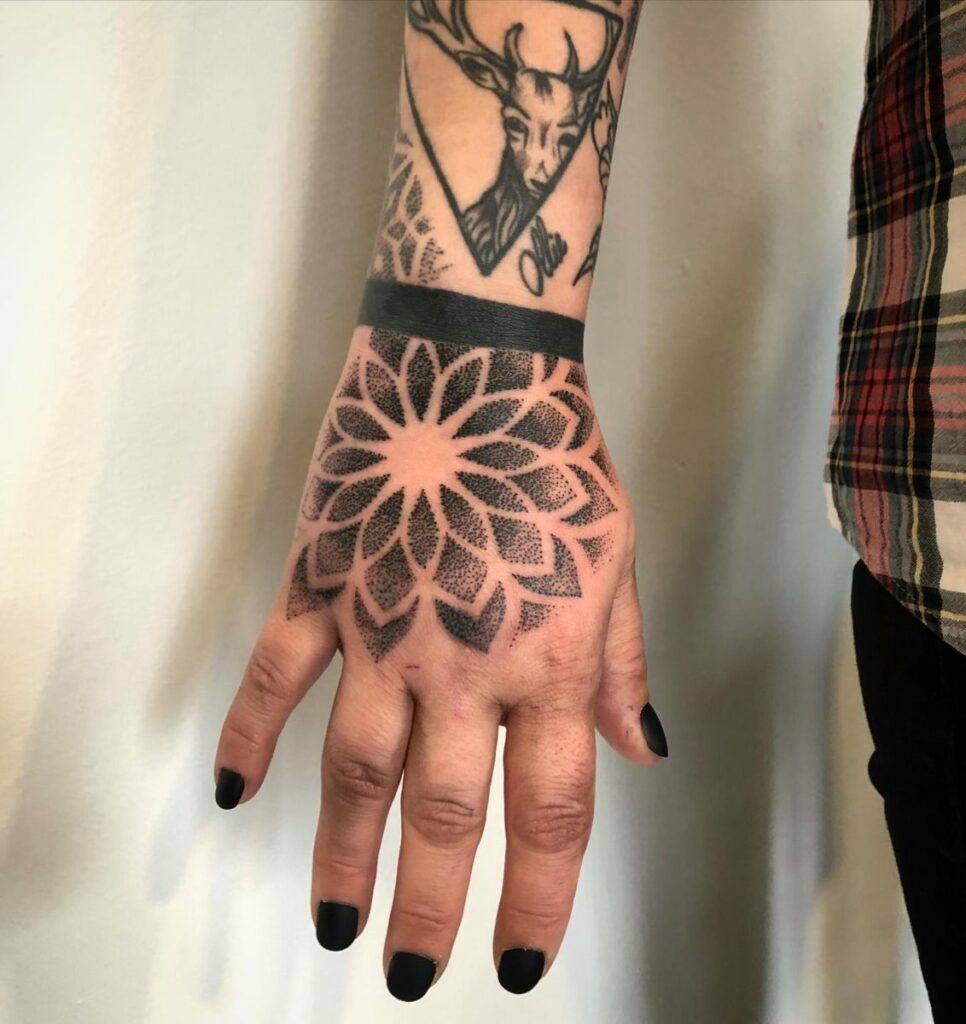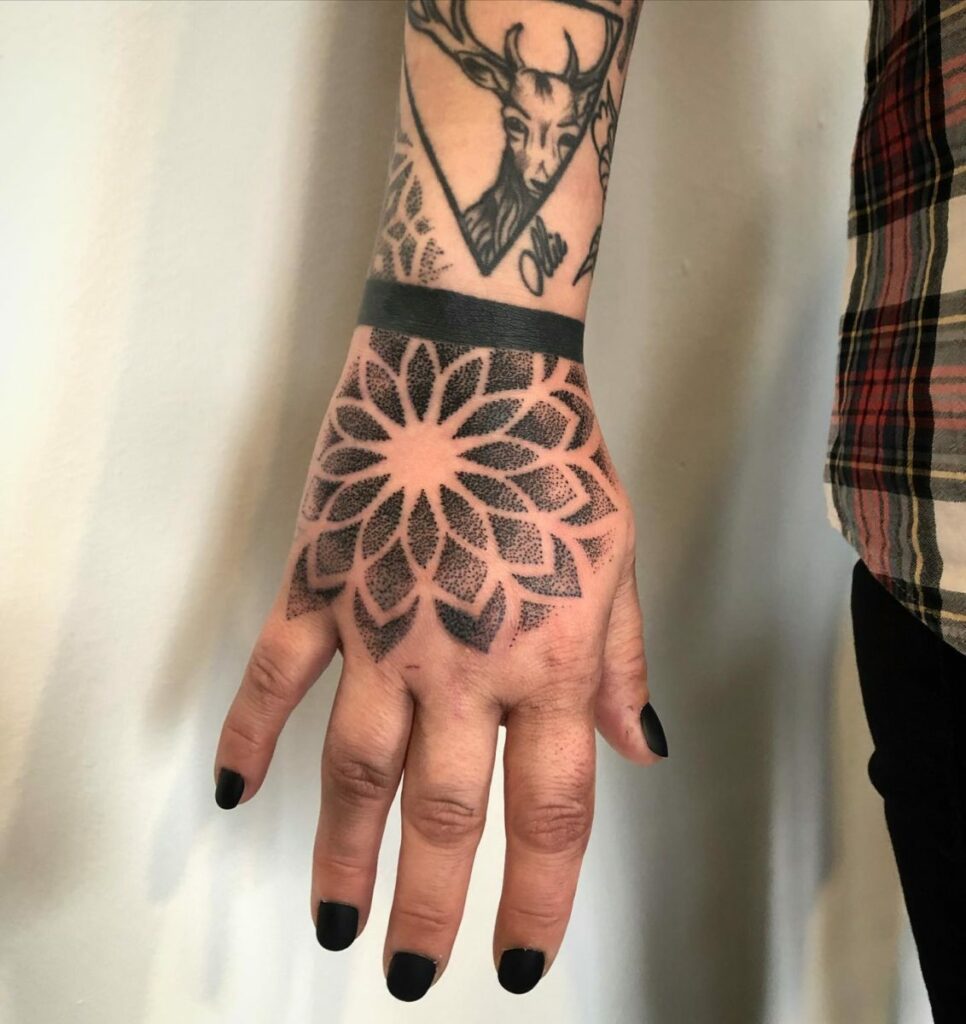 Mandala tattoos are trendy right now. These intricate and calming designs look breathtaking on hands and any other part of the body you choose to have tattooed.
More Mandala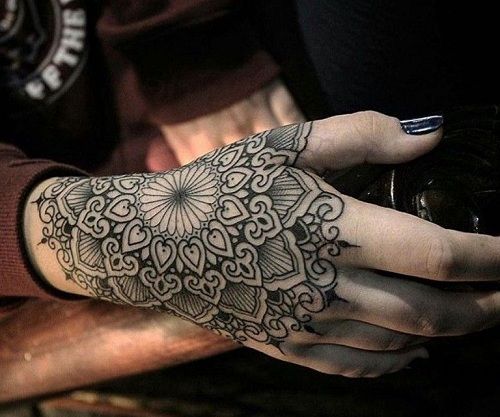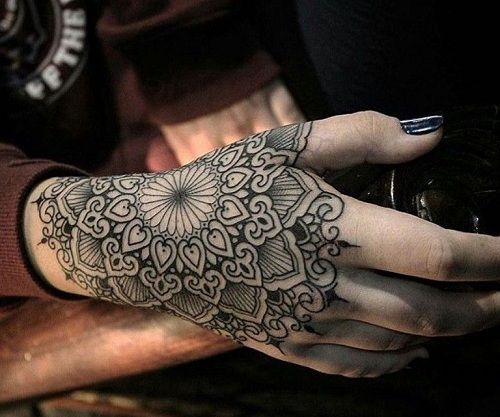 We have a strong admiration for the captivating mandala designs! Hand tattoos for women generate a remarkable texture through the skilful use of numerous tiny dots. It's genuinely enchanting!
Minimalism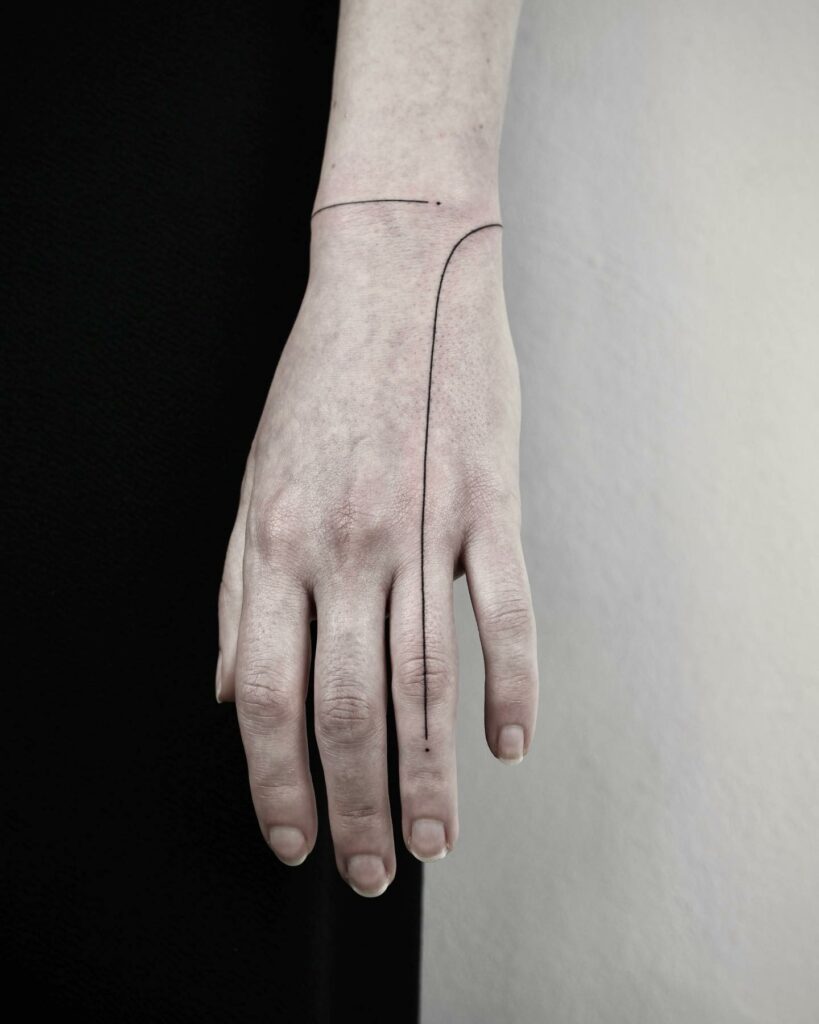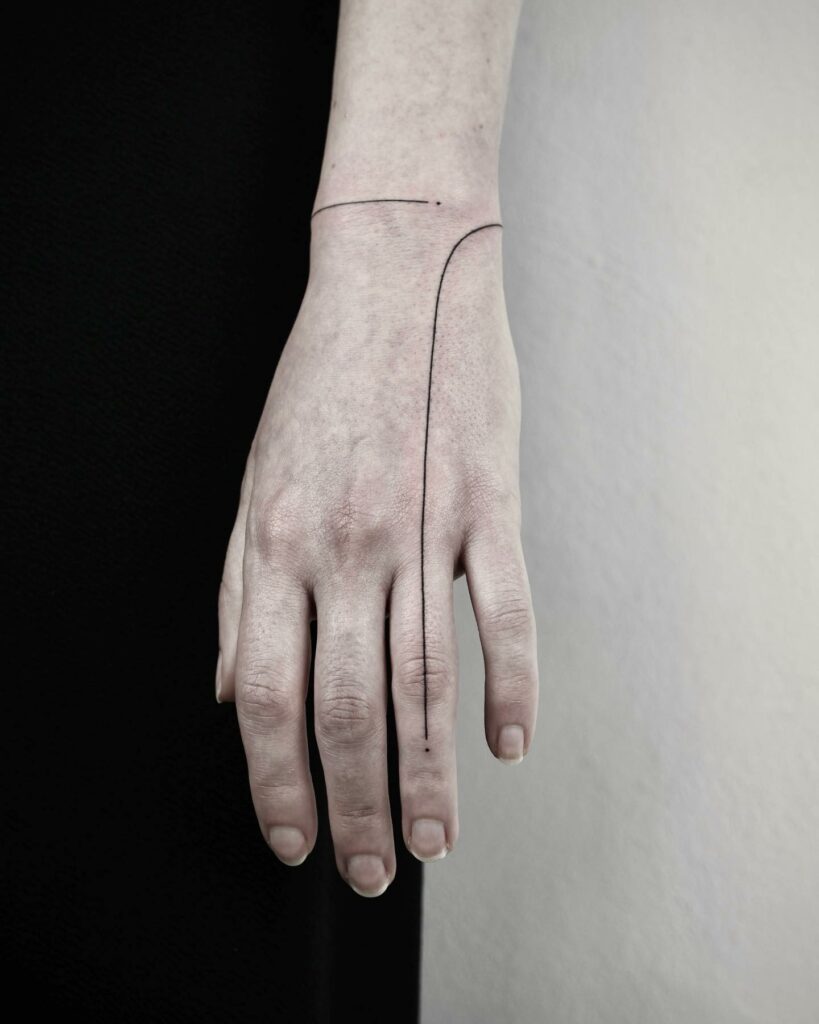 If you appreciate the beauty of simplicity, this minimalistic line tattoo can bring a hint of excitement without requiring a significant commitment. Only two dots symbolize a meaningful line's start and finish.
Goth Butterfly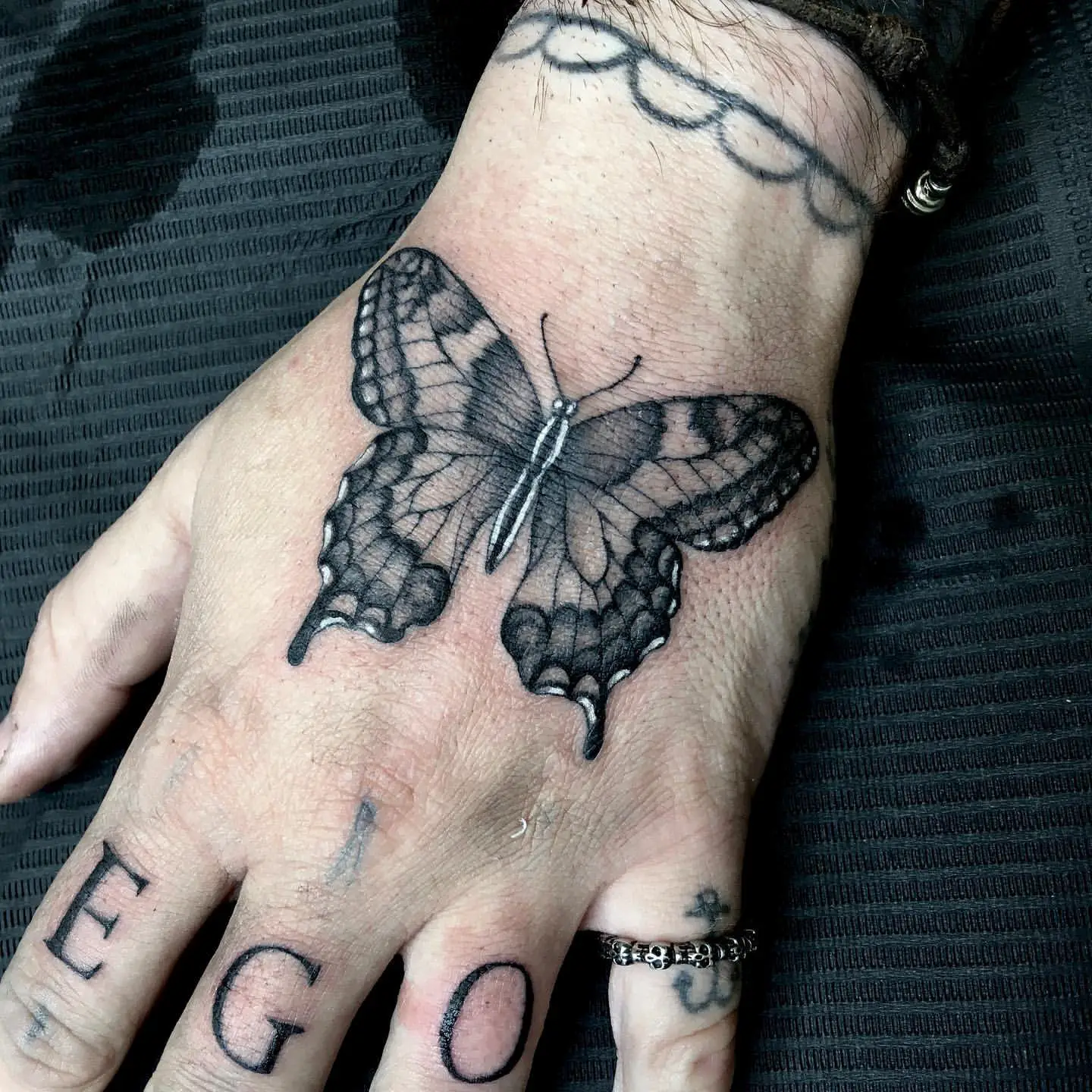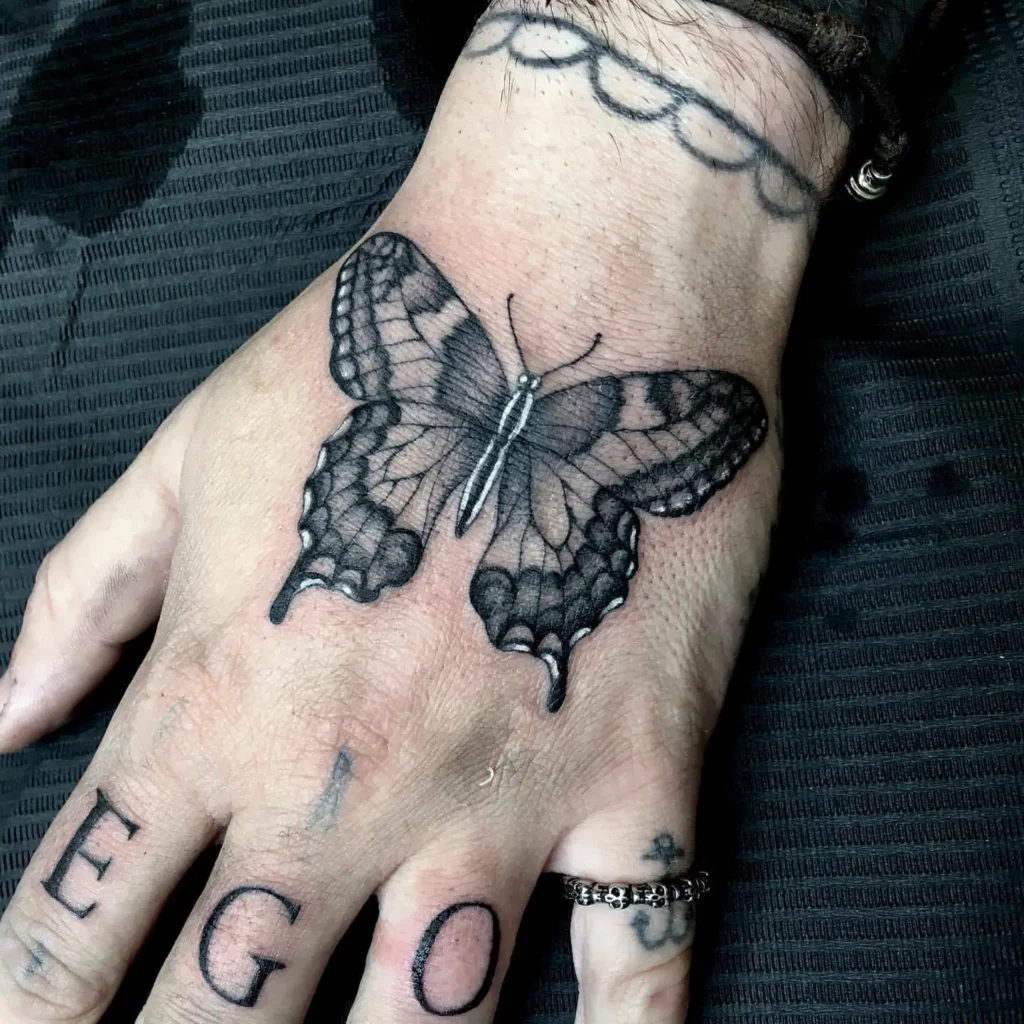 If you want to make a statement, this incredible black butterfly tattoo is perfect. The edges are shaded slightly, giving the design a cool and hazy effect that adds to its mysterious and moody feel.
A Lovely Lotus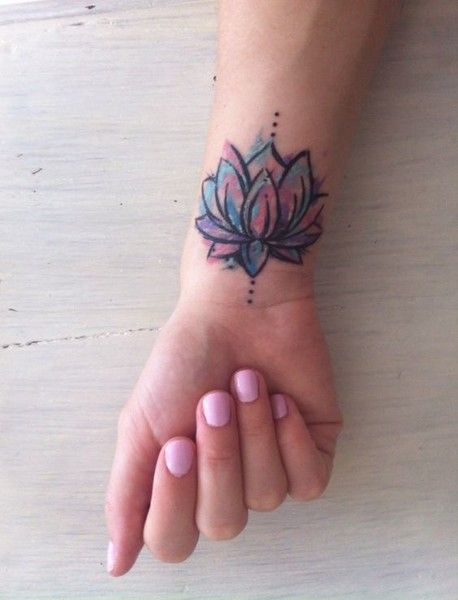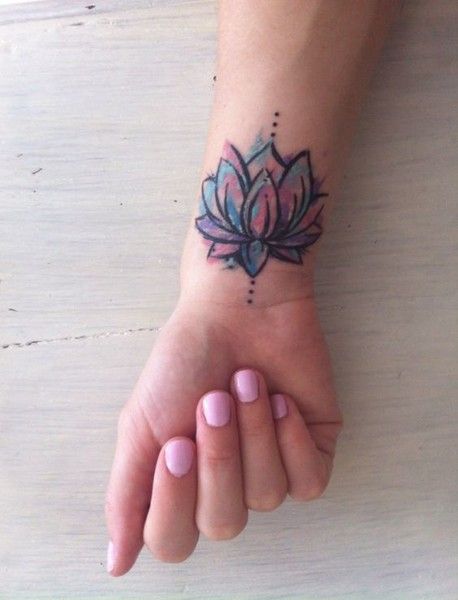 Lotus tattoos are trendy at the moment. They're not just visually appealing but also carry profound significance. The lotus symbolizes strength, new beginnings, and the inherent beauty of life.
Woof!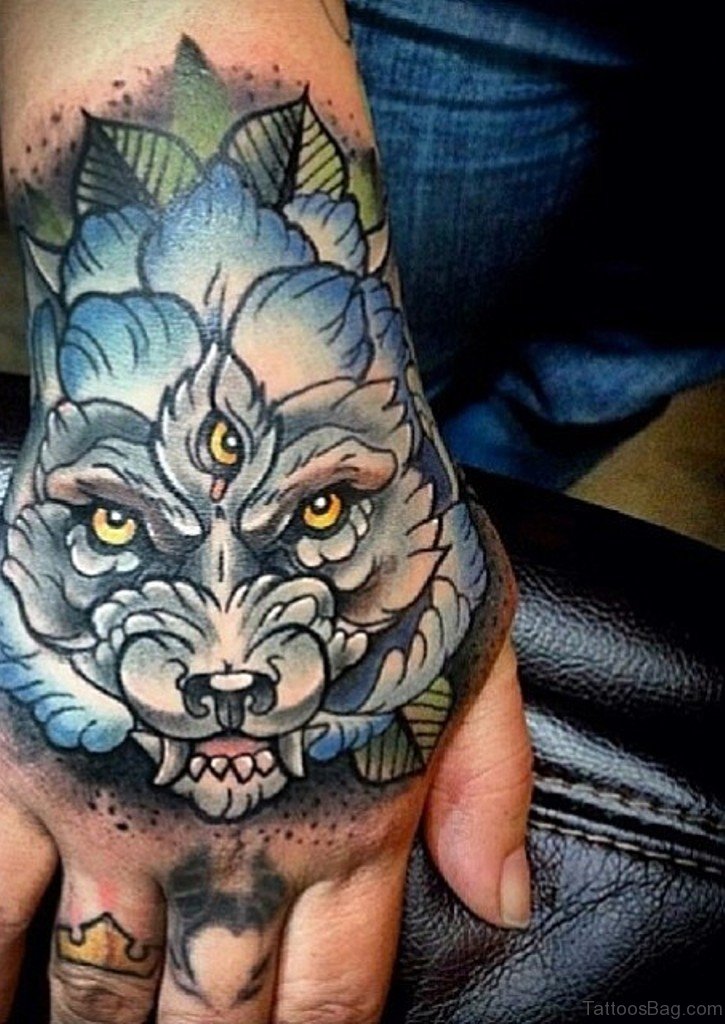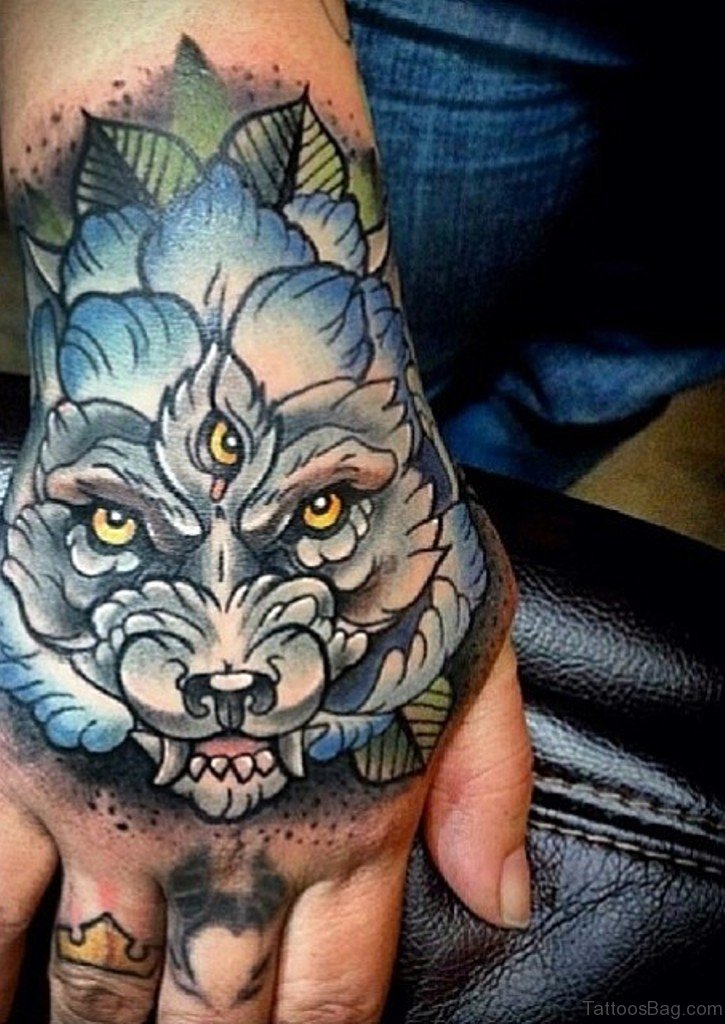 Feel free to use hand tattoos as a means of expressing yourself openly. Remember, tattoos can be a powerful reflection of your identity. Whether it's a design you're genuinely passionate about or a unique concept, working with a talented tattoo artist will bring your vision to reality.
Oh, Baby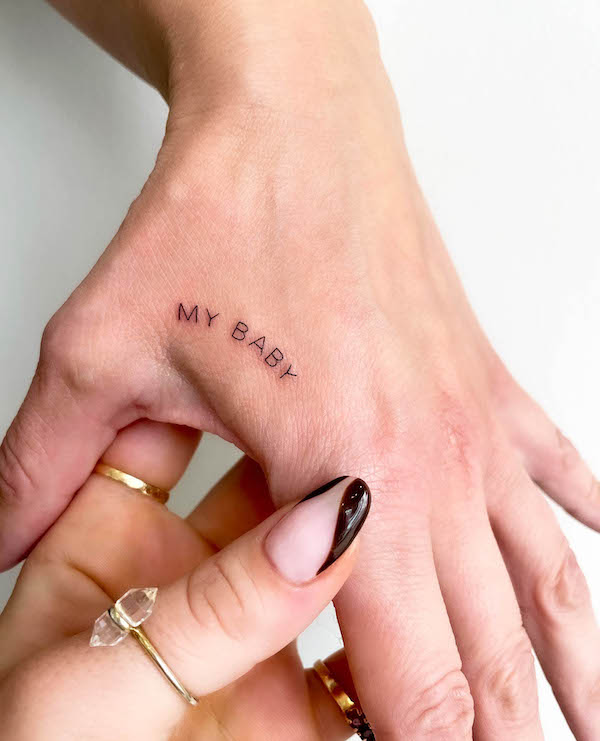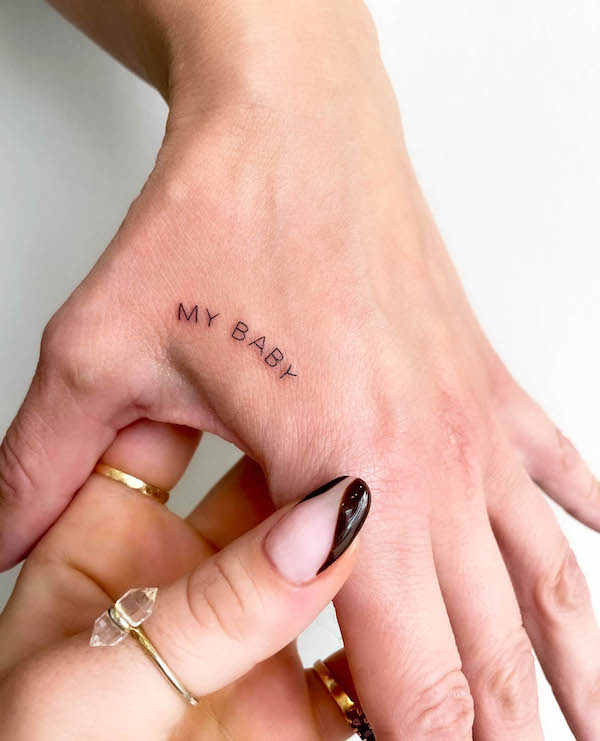 It was unexpected to find so few word tattoos among hand tattoos for women. They are rare to come across. However, when you want to convey a particular message, a single word like "Baby" can substantially impact and make a meaningful statement.
Rainbow Leaves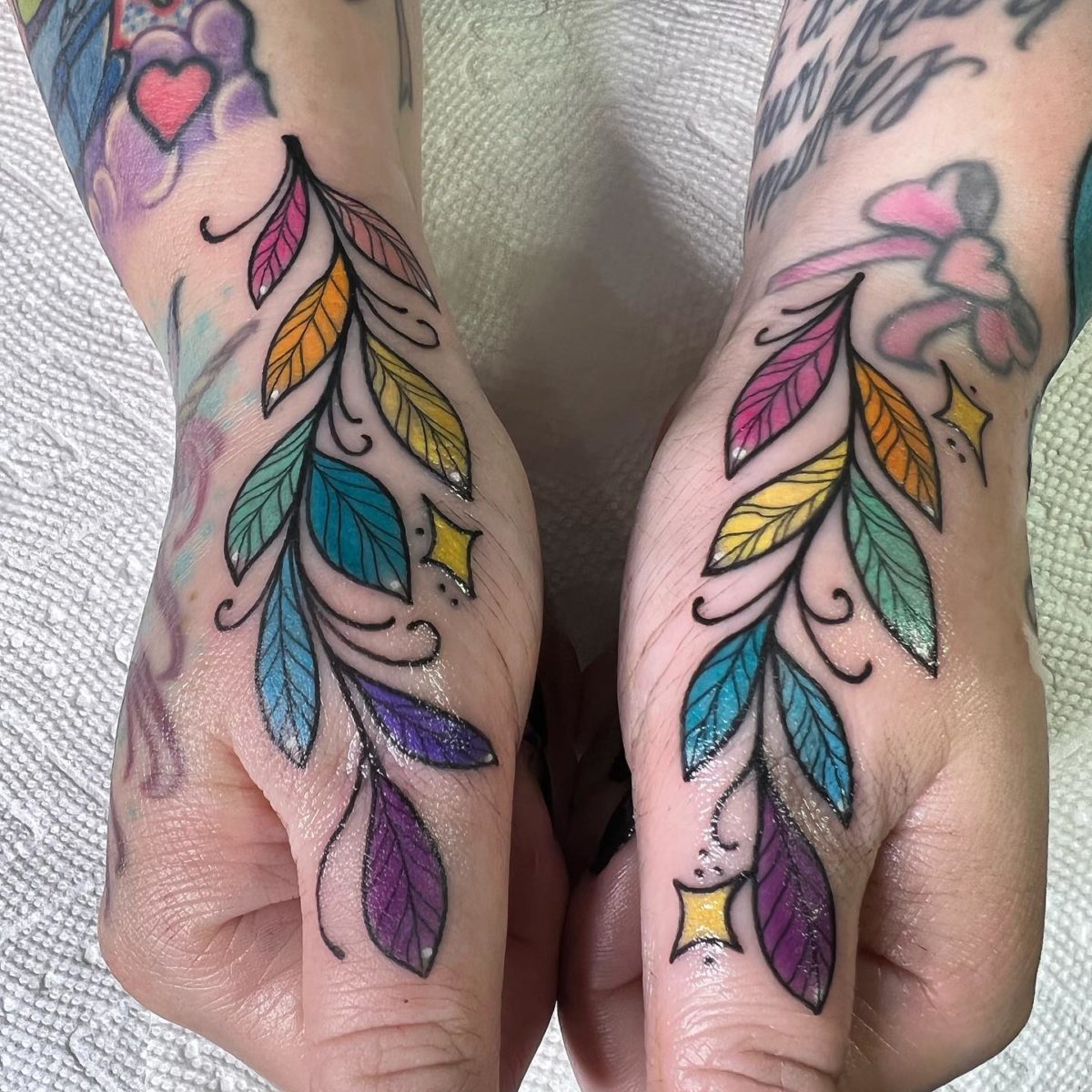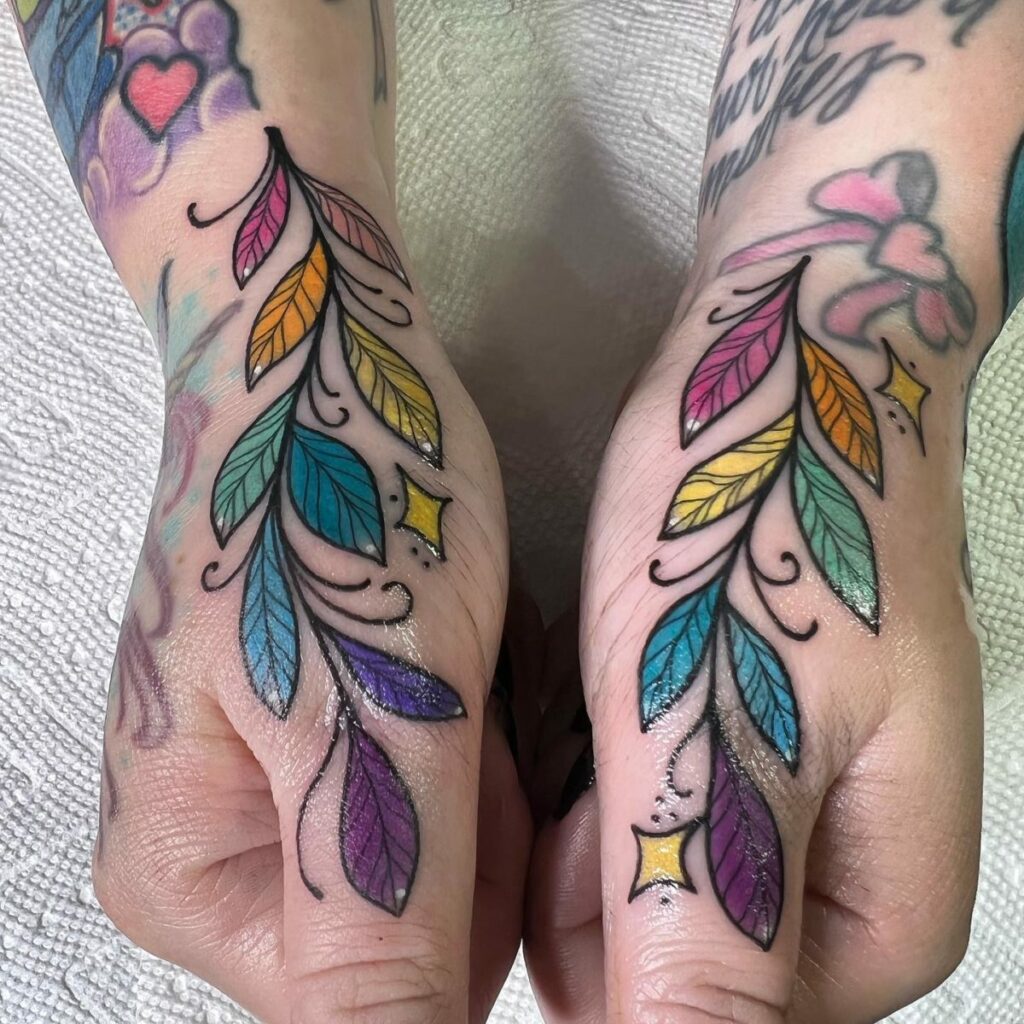 Feel free to let your creativity soar when picking out hand tattoos. These vibrant leaf designs are full of playful charm and bring a burst of liveliness.
Black Botanicals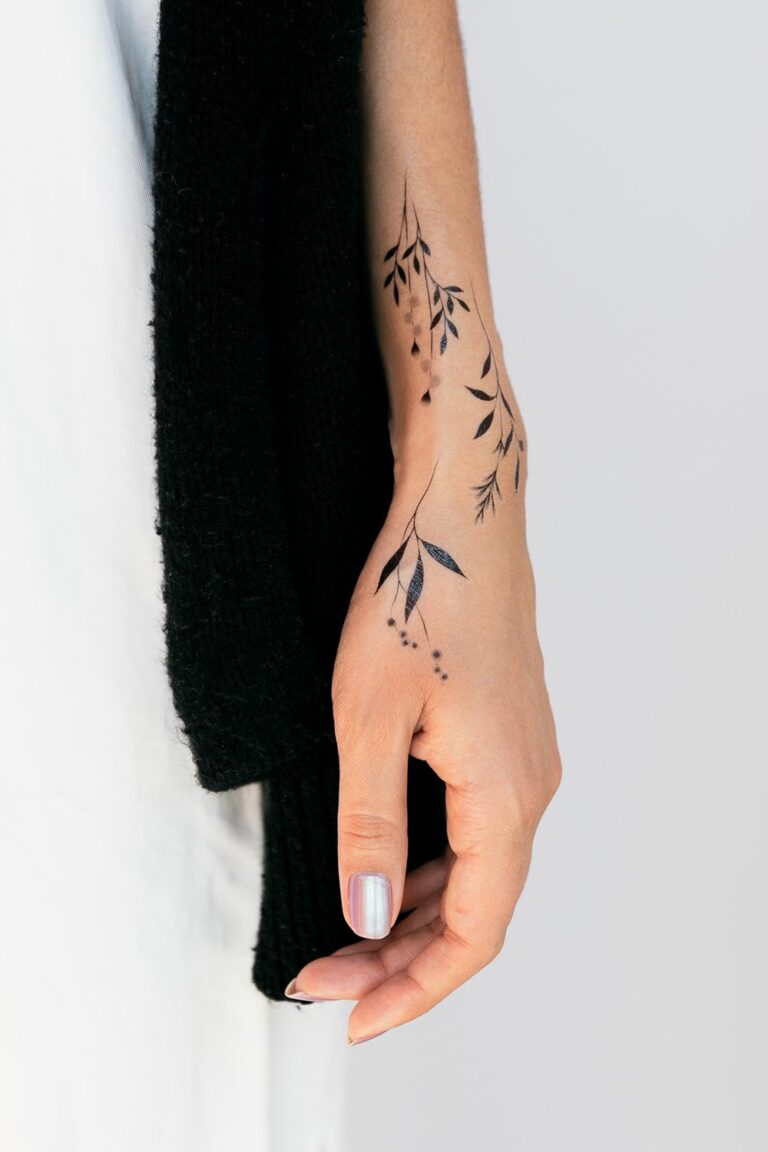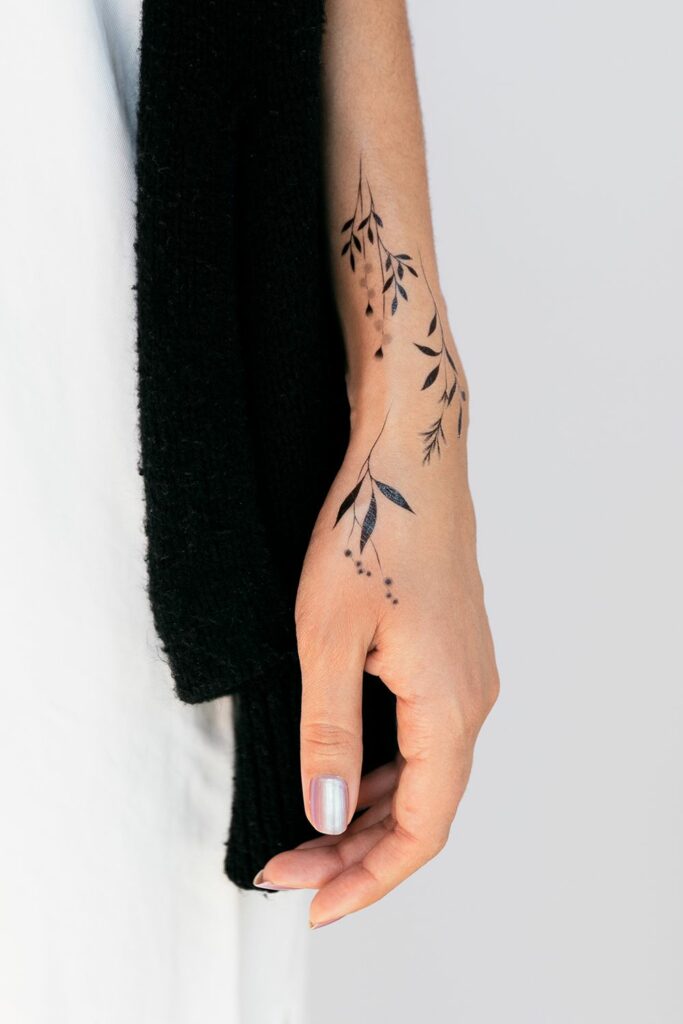 You can't go wrong with a tattoo that takes inspiration from nature. These fashionable and leafy designs are incredibly appealing, exuding a sophisticated and calm aura.
Abstract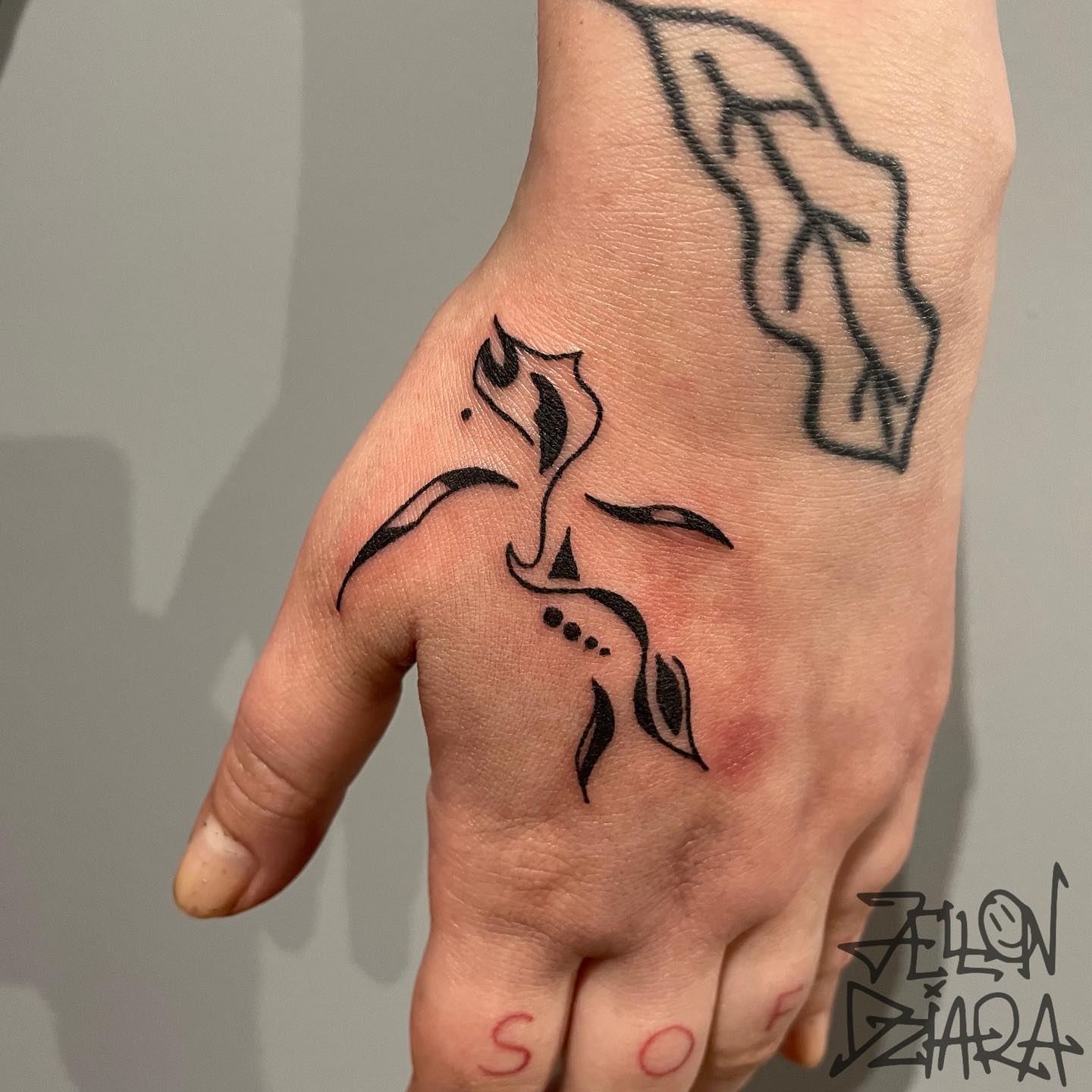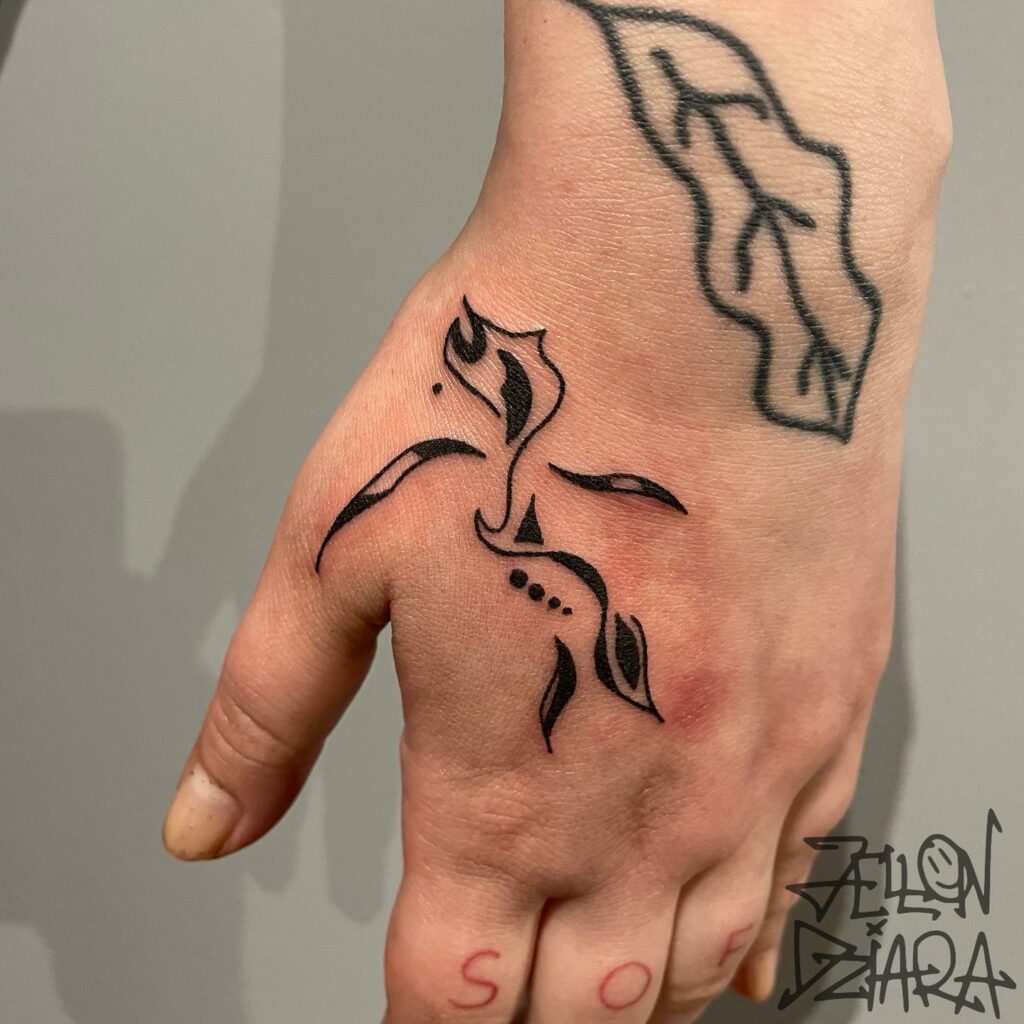 You don't have to follow the usual rules. If you're attracted to an abstract design, consider placing it in a spot on your body where its shape will be most prominent. Here's a fantastic example of how to make it look stunning.
Baby Snake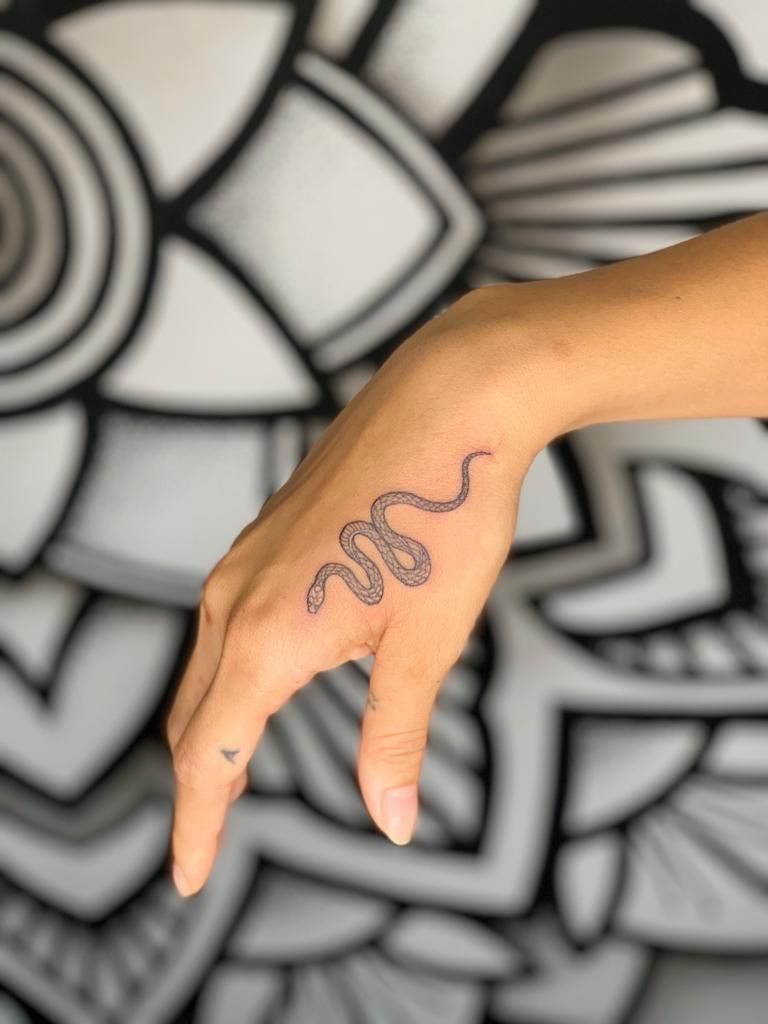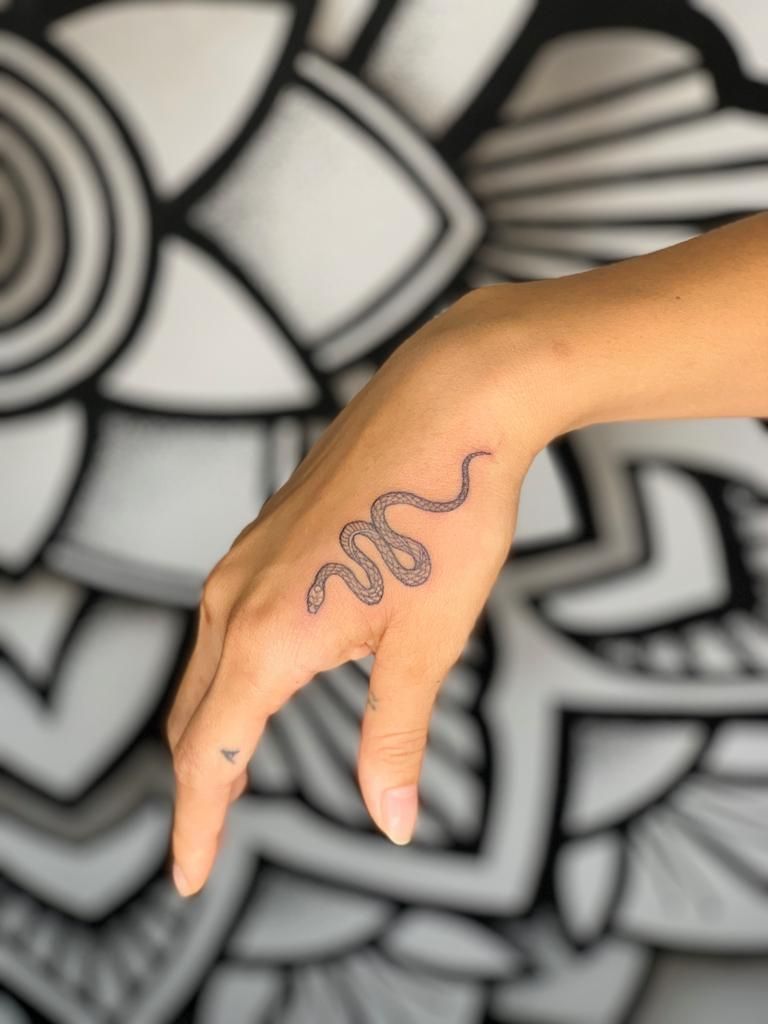 Take a look at this adorable small snake tattoo! It has a cute crescent moon shape and looks fantastic when positioned near the wrist.
Meow!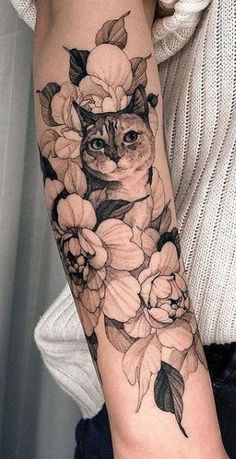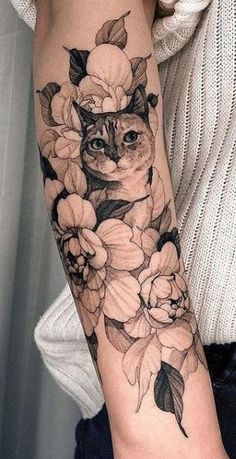 Lastly, we want to show you this cute cat tattoo as an example of how you can choose any design you like. If you have a special love for your cat or any pet, you can honour them with a hand tattoo that will always bring you joy.
So there you have it! What do you think of these fantastic hand tattoos for women? Hand tattoos used to be seen as controversial, but nowadays, many people are more accepting. If you're interested in finger tattoos or even tattoos on the top of your hand, you have plenty of ideas to consider. If you enjoyed these hand tattoos, keep reading. We have many more to inspire you!
Pendant Thumb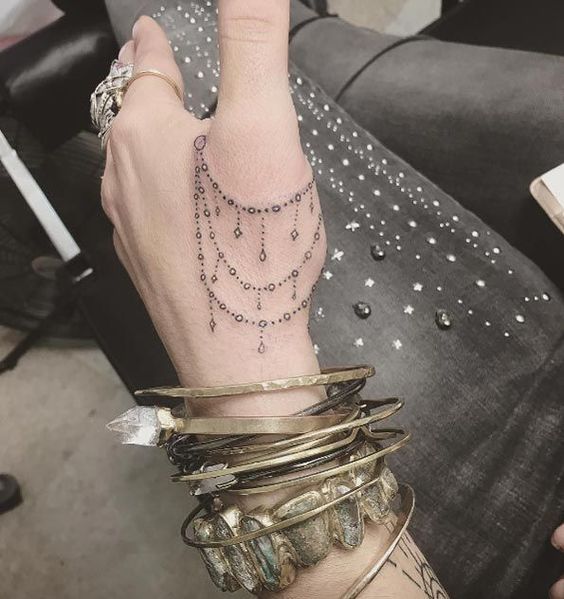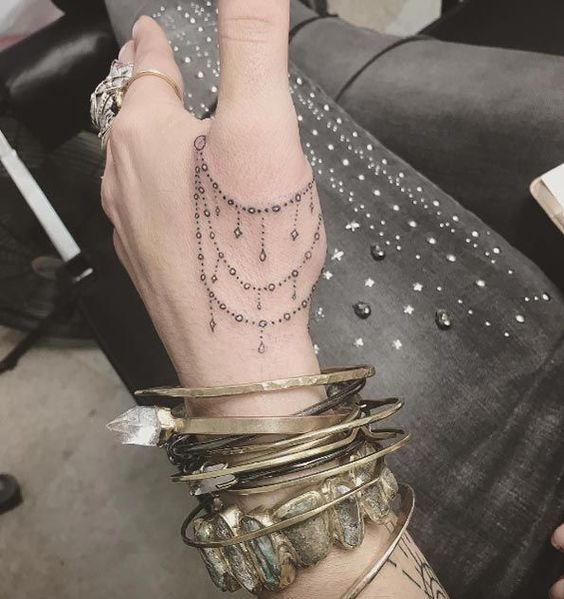 While tattoos can serve as a means of self-expression or making a statement for some individuals, others see them as stylish accessory that enhances their style.
This pendant tattoo belongs to the latter category. The pendant gracefully hangs down, creating a captivating look similar to a genuine gemstone adorning the hand.
Brushstroke on the palm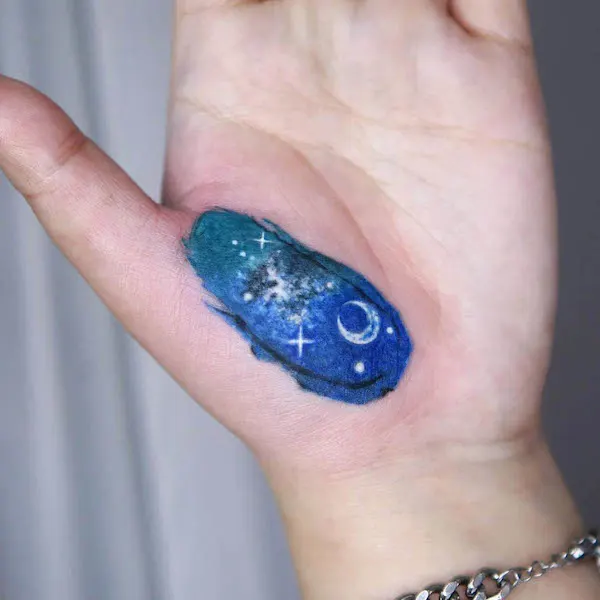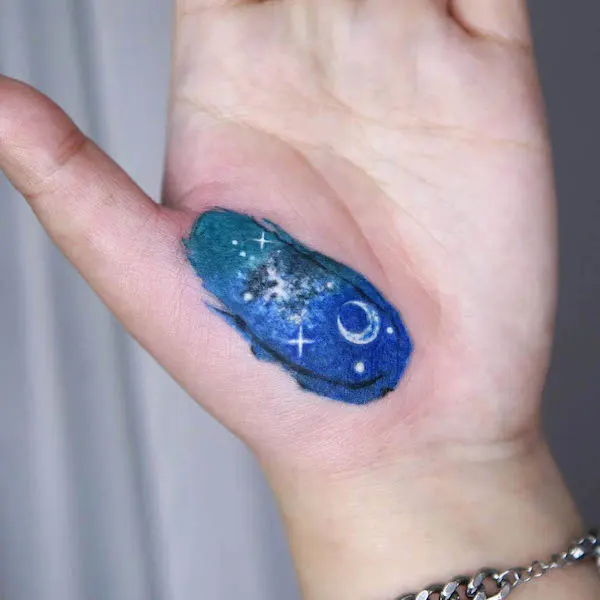 If you want an artistic tattoo that reflects your unique sense of beauty, why not consider a simple yet captivating brushstroke design like this?
Spider lily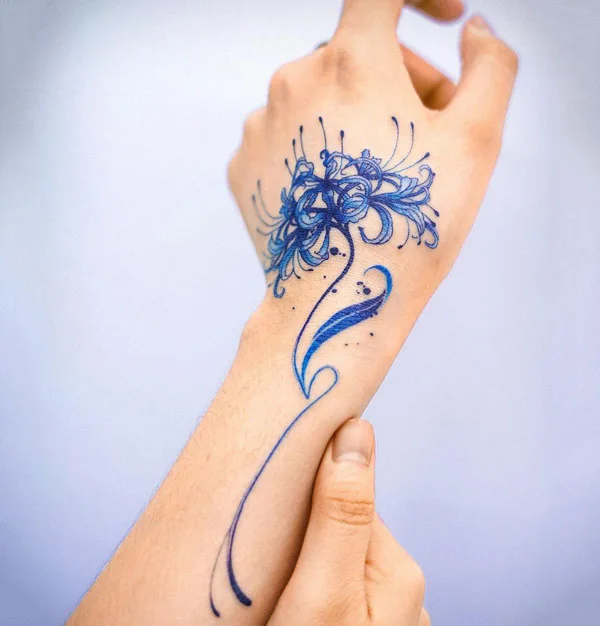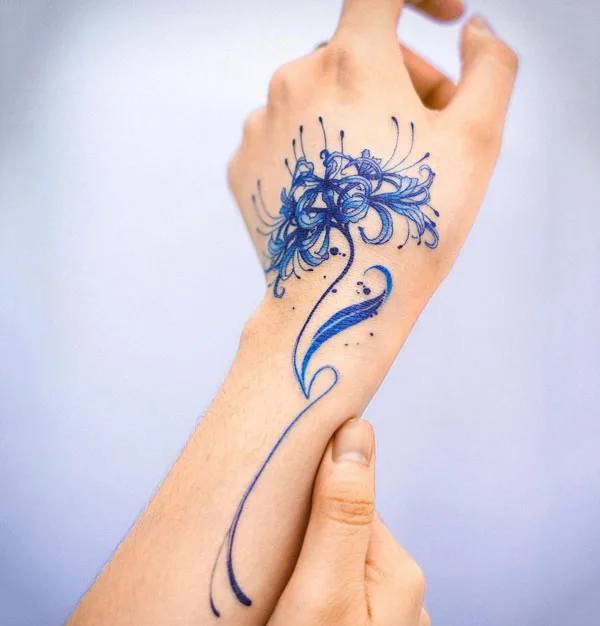 Read More: Everything You Should Know About the Meaning of the 999 Tattoo
Spider lilies are admired for their
striking and one-of-a-kind shape. As they blossom, their petals gracefully curl inwards, resembling a spider's claw. However, what makes this hand tattoo truly special is its vibrant colour. The blue hue is not only sophisticated but also unexpected for flower tattoos. This design is ideal for someone who embraces their individuality and loves to stand out.
Bird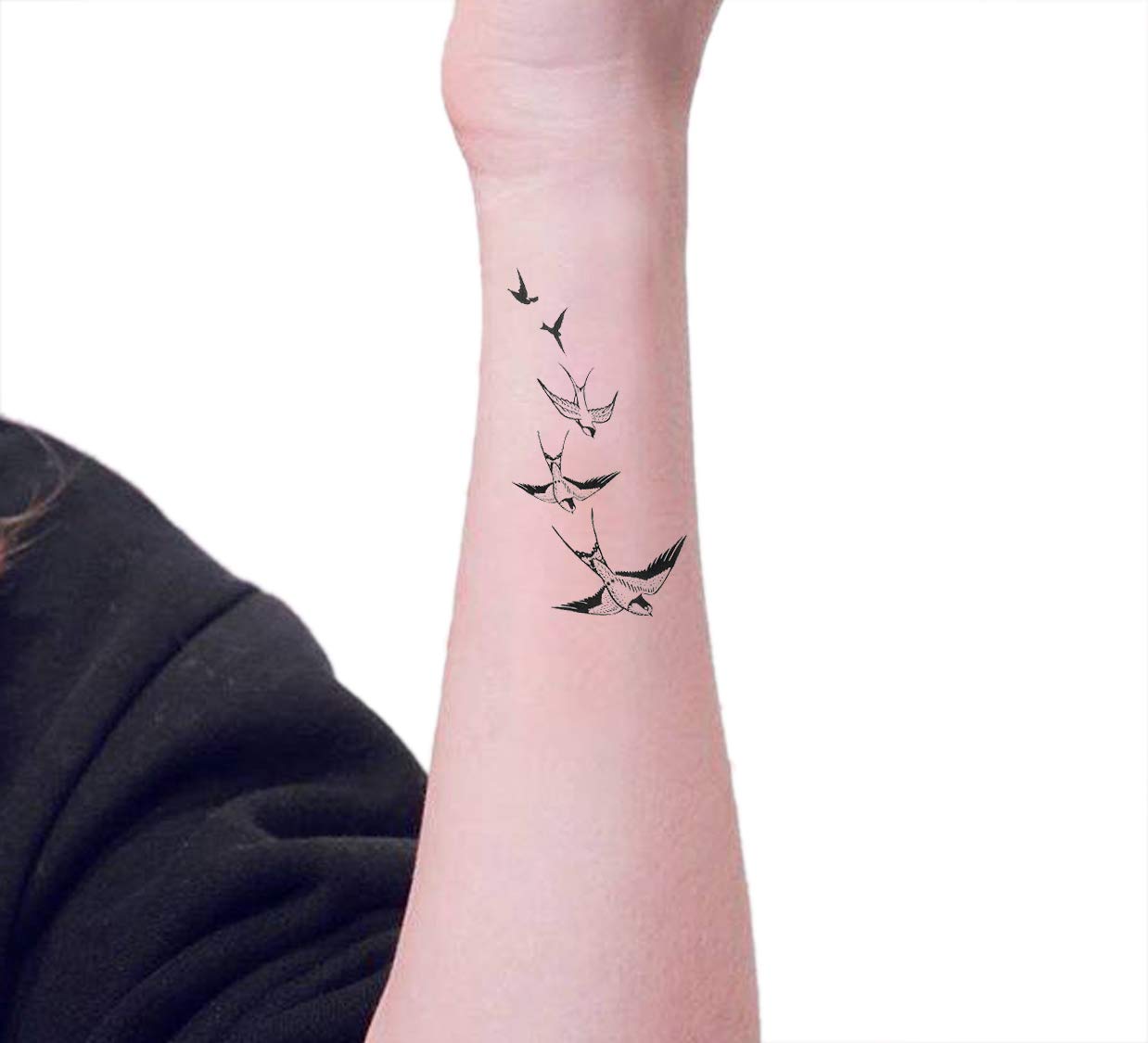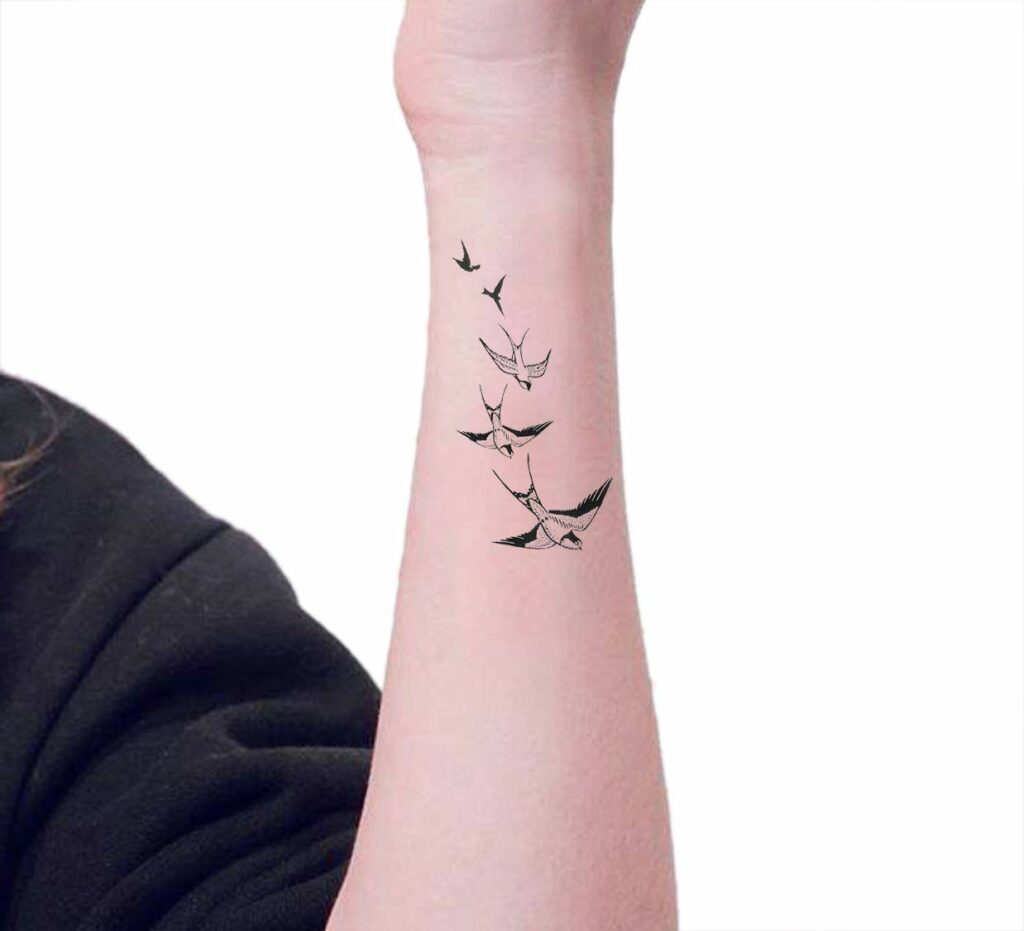 Birds are commonly associated with freedom, and this tattoo beautifully portrays that. The birds gracefully glided across the skin, thanks to the skilled tattoo artist who precisely captured their movements and poses.
Tiny semi-colon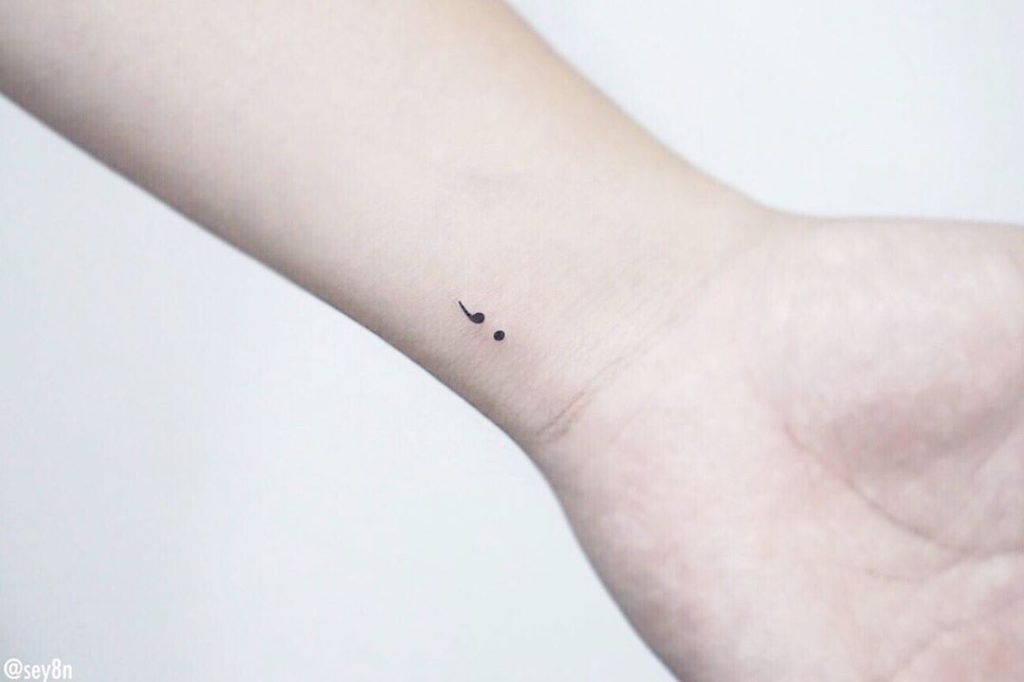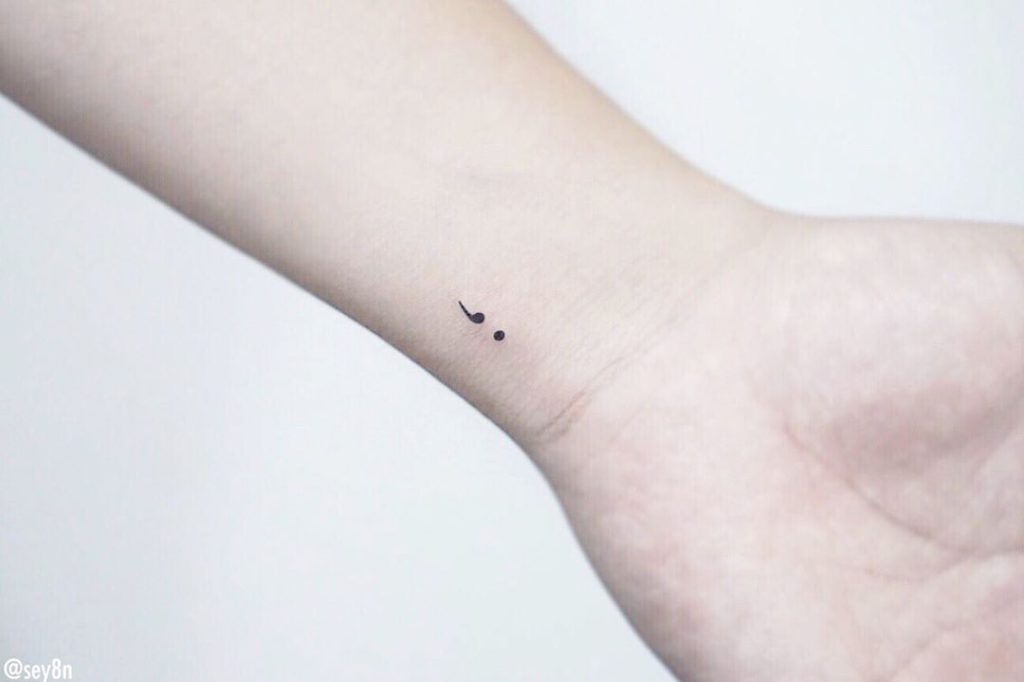 The semi-colon might seem small, but it carries immense significance in mental health tattoos. In grammar, a semi-colon represents a brief pause before continuing a sentence. Symbolically, it stands for resilience and perseverance after overcoming mental challenges. Many people who have faced mental illness use the semi-colon as a powerful symbol to convey their hope and belief in brighter days to come.
Note: Tattooing of minors is against the law according to Section 260.21 of New York State Penal Law