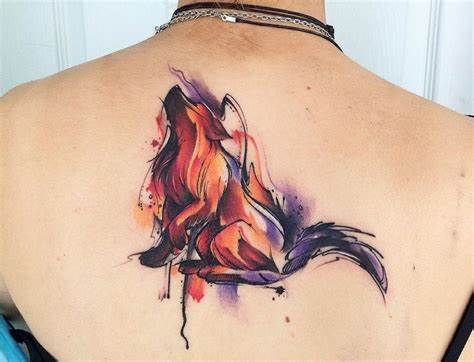 Over the years, tattoos are becoming hugely popular and have transformed into a self-expression art form. If you are looking forward to getting a unique and eye-catching tattoo design, you should definitely check out a watercolor tattoo.
Nowadays, tattoo artists have started experimenting with various styles of tattoo designs. Earlier, if you would take a walk inside a tattoo studio, all you would get to see is traditional style black ink tattoo designs. This is no longer the case now. You have so many options to choose from, minimalistic to abstract, watercolor to glitch tattoo.
Watercolor tattoos are inspired by watercolor paintings. In this type of tattoo style, various shades of colors are used to connect with each other in a seamless pattern. There is no stark outline; instead, the edges fade out.
This article will give you a brief insight into the world of watercolor tattoo, their origin, and everything you need to know.
Origin of Watercolor Tattoo:
During ancient times, the pigments used for the paintings were made out of organic materials like minerals, plants, animals, and many others.
For instance, the red color was derived from Cochineal's crushed shells; the yellow color comes from the urine of Indian cows; similarly, emerald green was derived from copper aceto-arsenite.
The earliest examples of watercolor painting can be found in cave paintings. Later the method was used in writing illuminated Manuscripts during the Middle Age. Later in the 18th and 19th centuries, watercolors were often used to capture the people's journey and beautiful landscapes. This is where the watercolor tattoo got its inspiration from. The watercolor tattoo ideas we generally see are usually created using blue, red, green, and yellow tints.
Styles of Watercolor Tattoo
There are different types of watercolor tattoo styles; however, the two most popular types are: with a black base and without a black base.
Watercolor tattoo ideas with a black base make the rest of the color look as if they are melting into the skin without any distinct edges. With a black base, colors come out more vibrantly,,taking center stage and shading nicely blends one tint into the other seamlessly. A black baseline lays a strong foundation for watercolor designs. The black lines also create a striking contrast between the free-flowing colors and black lines.
If you are looking for cool tattoo ideas in the traditional tattooing styles, watercolor adds a splash of liveliness.
Meanings Behind Popular Watercolor Tattoos
There are various types of watercolor tattoo ideas. Some popular watercolor styles are rose , flower, and butterfly tattoo.
Butterflies make a great choice of color tattoo ideas because of their natural colors. These insects are a representation of freedom, transformation, and beauty.
Flowers are great attention grabbers when done in watercolor patterns, making them look hyper-realistic. Flower tattoos have various meanings. Watercolor rose tattoo represents love, grace, and gratitude; flowers are also a symbol of life and beauty. 
Things to know before getting a watercolor tattoo
Although the thought of getting a cool and vibrant looking tattoo ideas sound awesome, here are a few things that you should be aware of before getting an artistic or distinctive tattoo.
Be Sure About the Design
This goes without saying for every tattoo design, you should 100% sure that you will love the design you are planning to get inked for a long time. You cannot simply wash off the tattoo when the colors of the ink look too stark or do not go well with your outfit and fashion choices.
Before getting the design final, ask the tattoo artist whether the tattoo is going to work with your style choice for the long term. Take your time to research designs and then decide if this is good for you or not.
If you are certain that you have found your design, save the image to your computer or phone background, and notice if you get bored of looking at the image after a day or two; if so, then this may not be the right tattoo design for you.
Choose The Tattoo Area Wisely
It is common for tattoos to fade over time, particularly in the case of the color tattoos. Vibrant colors start to fade and lighten more quickly than black and white tattoos. Yes, you always have the option to do regular touch-ups to keep the colors looking more vibrant and colorful.
However, watercolor tattoo designs fade a bit faster due to transparency in design, requiring you to take extra care and precautions.
If you do not like the faded effect of the tattoo, then choose the area wisely and give some extra thought to where you would like to get inked. Choosing a body part that is frequently exposed to the sun will require extra care, whereas a body part that is mostly covered will require less maintenance.
Learn How to Look After watercolor Tattoo
The key to maintaining the longevity of your tattoo is following good aftercare practices. Never pick your tattoo while it is healing, as it could remove some of the colors.
Always keep the area clean and properly moisturized. Wash your tattoo gently using a soap twice a day and pat dry before applying antibacterial ointment to heal them.
While your tattoo is in the healing stage, avoid sun exposure, and once healed, apply sunscreen before stepping out in the sun.
Read More:- Amazing Tattoo Ideas that are Creative and Meaningful
Find a Skilled, Experienced Tattoo Artist
Watercolor tattoo ideas and designs require more skills in comparison to traditional black stenciled tattoo. Make sure you find skilled and experienced tattoo artists who have created watercolor styles before.
Below we have mentioned some tips for choosing the right tattoo artist:
Don't rush it
Just because you have a tattoo parlor close to your house, it does not mean you should simply go there and get tattooed. Do extensive and thoughtful research for good tattoo artists and find a studio for which you are 100 percent confident.
Be objective when going through an artist's portfolio.
The key here is attention to detail. Examine the artist's work closely and notice if there are lopsided circles or jumpy lines or whether you like their approach to creating a watercolor tattoo.
If you do not love any particular artist's work, do not stop there; keep looking around for the right artist for you.
Ask around and get reviews from tattooed friends.
Ask your friends for their reviews on where they got their tattoo done; they will be able to give you a proper insight into a studio, whether it's good or bad.
Also, notice the tattoos of other people and ask them where they got their tattoos done from.
Take your time
Be patient and take your time to do complete research. It will save you from a lot of disappointments in the future and also save tattoo removal fees.
Conclusion
If you are planning to get inked and looking for cool and eye-catching tattoo designs, then check out watercolor tattoo ideas. The watercolor tattoo looks unique and vibrant and can also be modified to meet your personal requirements.
However, before getting any tattoo design, make sure you do complete research about its pros and cons, aftercare practices, and tattoo artists. There are several design options available, ranging from watercolor butterfly to flower and graphic tattoo ideas.
Take your time when making a decision, after all, you will have to love it for the years to come by.