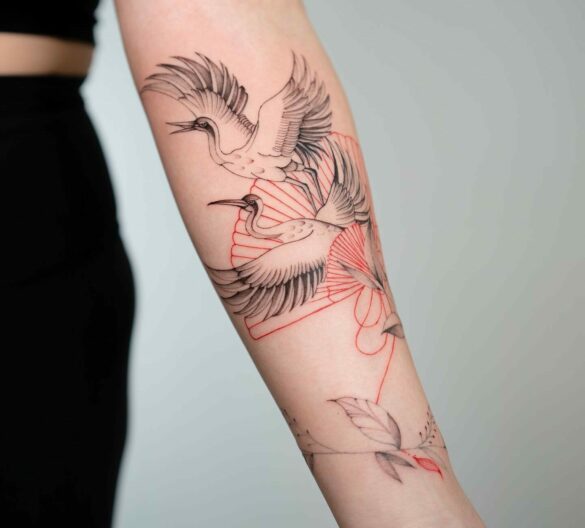 Are you considering getting a Texas-themed sleeve tattoo to display your Lone Star State pride proudly? Well, you're in for a treat.
We've gathered a wonderful assortment of Texas sleeve tattoo ideas to help you discover the perfect design to express yourself through ink.
Texas is renowned for its rich history and vibrant culture, adorned with iconic symbols that encapsulate its unique spirit.
Many individuals opt to embrace the cowboy culture, a dynamic facet of Texan heritage that's both theatrical and incredibly captivating.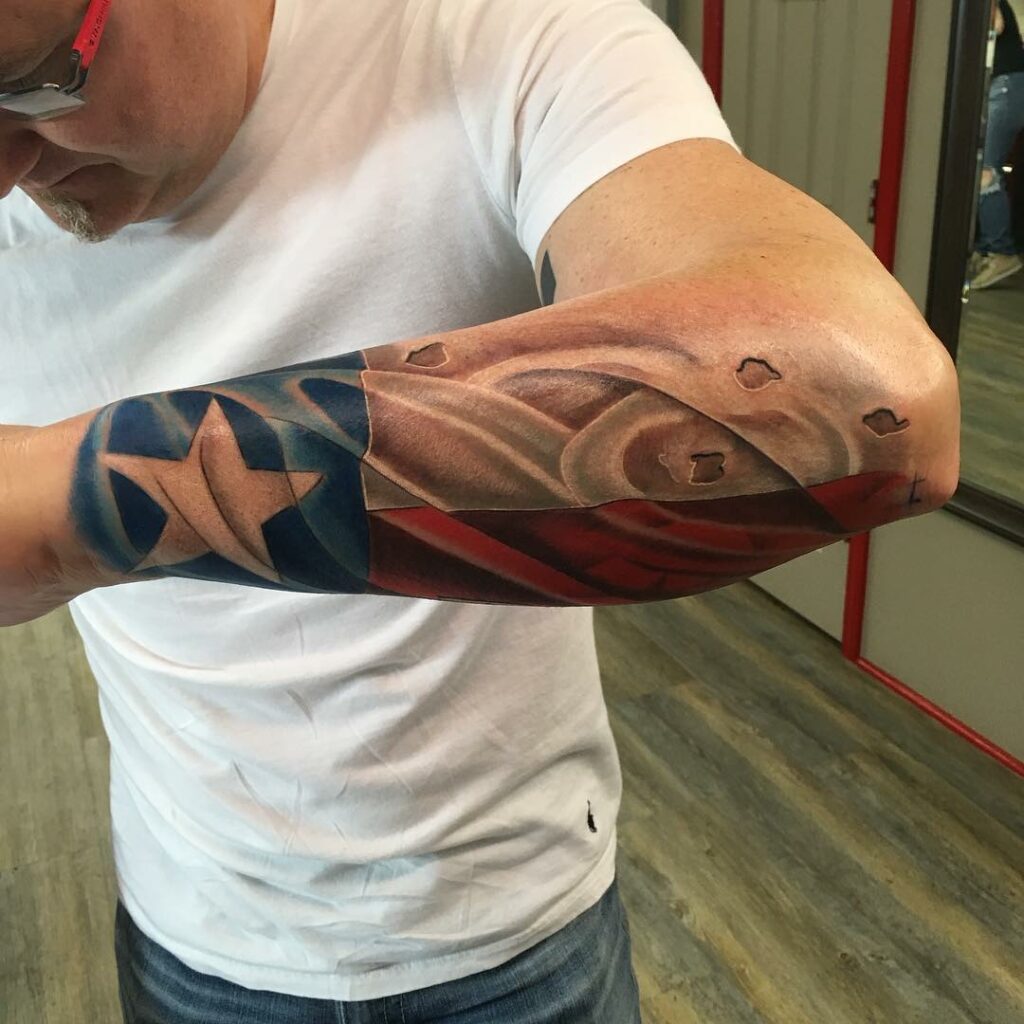 Incorporating elements like lassos, cowboy hats, guns, and even bulls can amplify this theme.
Creating an exceptional Texas tattoo requires your dedication and the creative touch of your chosen tattoo artist.
Together, you can collaboratively craft a stunning Texas sleeve tattoo design that prominently features the Texas flag, interwoven with personalized elements that celebrate your deep affection for the Lone Star State.
Set your imagination free and confidently wear your Texan pride on your sleeve.
The Lone Star Tattoo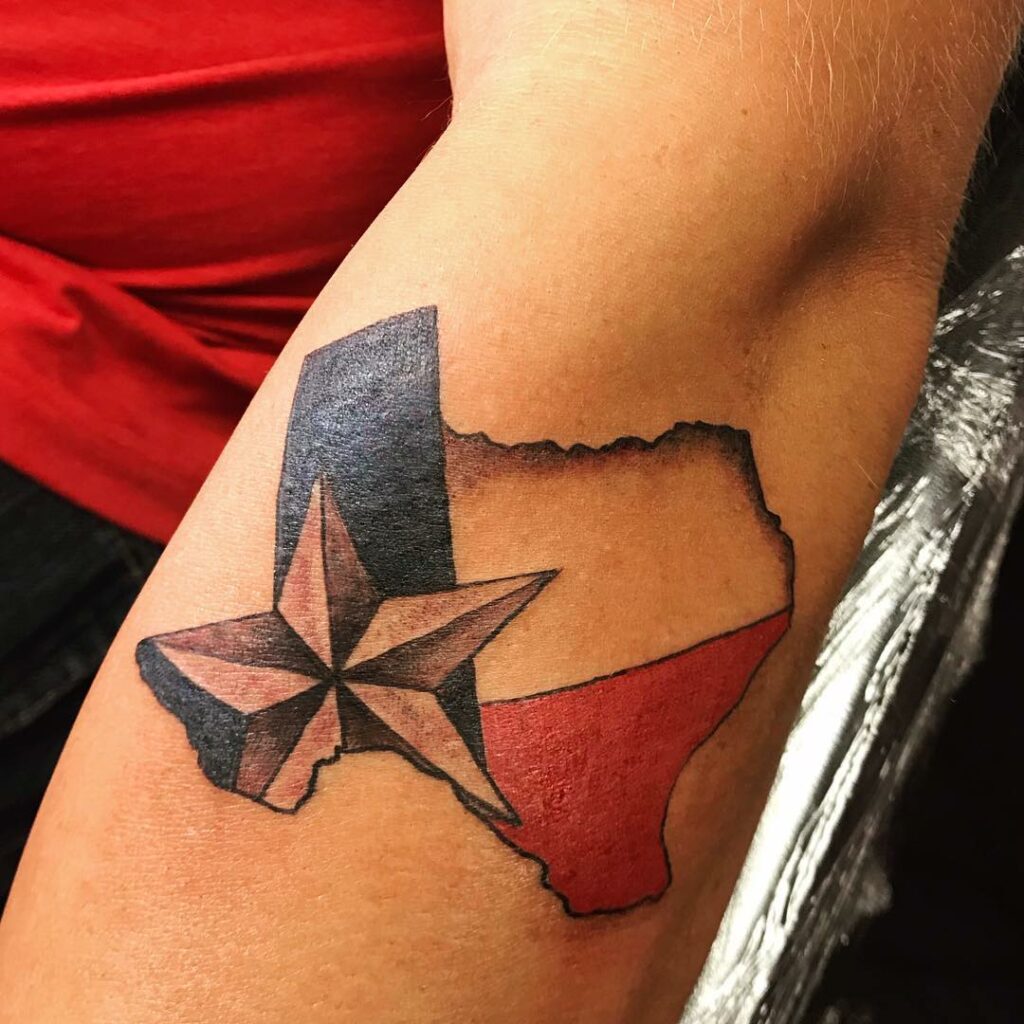 Embracing Texan pride has never looked better than with The Lone Star Tattoo. Texans' deep connection to their state finds expression in these tattoos, a blend of popularity and uniqueness perfect for tattoo newcomers.
The Texas flag's iconic blue, red, and white hues embody values like loyalty, courage, love, and purity. The lone star itself stands as a testament to Texas's independence from Mexico.
Infuse additional elements like state flora or fauna to craft a Texan-themed sleeve, while platforms like Instagram and Pinterest offer ample design inspiration.
Collaborate with your tattoo artist to transform your vision into reality. A Texas tattoo ensures your love for the Lone Star State is etched into your story forever.
Martin Arturo Crislobal III Tattoo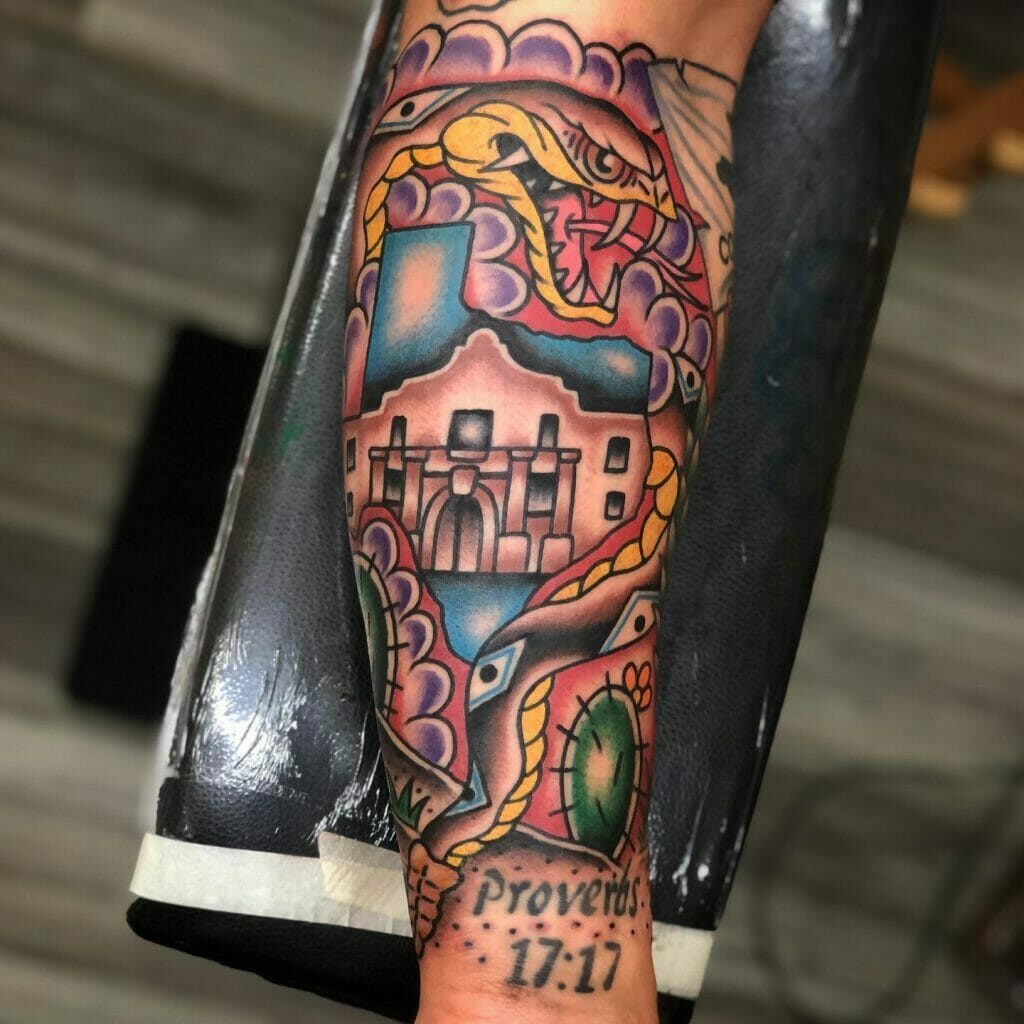 The Martin Arturo Crislobal III Tattoo encapsulates the vibrant spirit of Texas culture. Flaunt your Lone Star State devotion through a Texas state tattoo, a design that's masterfully executed yet open to personal touches.
Elevate the design with symbols synonymous with Texas, whether it's the state flower or an iconic animal.
The forearm placement echoes Texas's grandeur motto – "Everything is bigger in Texas." Collaborate with your artist to explore various styles and techniques, ensuring your Texas tattoo is an authentic representation of you.
If finding the right tattoo shop proves challenging, persistence pays off. These tattoos showcase your state's pride and inspire others to follow suit.
Unleash creativity by choosing colours and adding your own words to make the design uniquely yours.
The State Flower Tattoo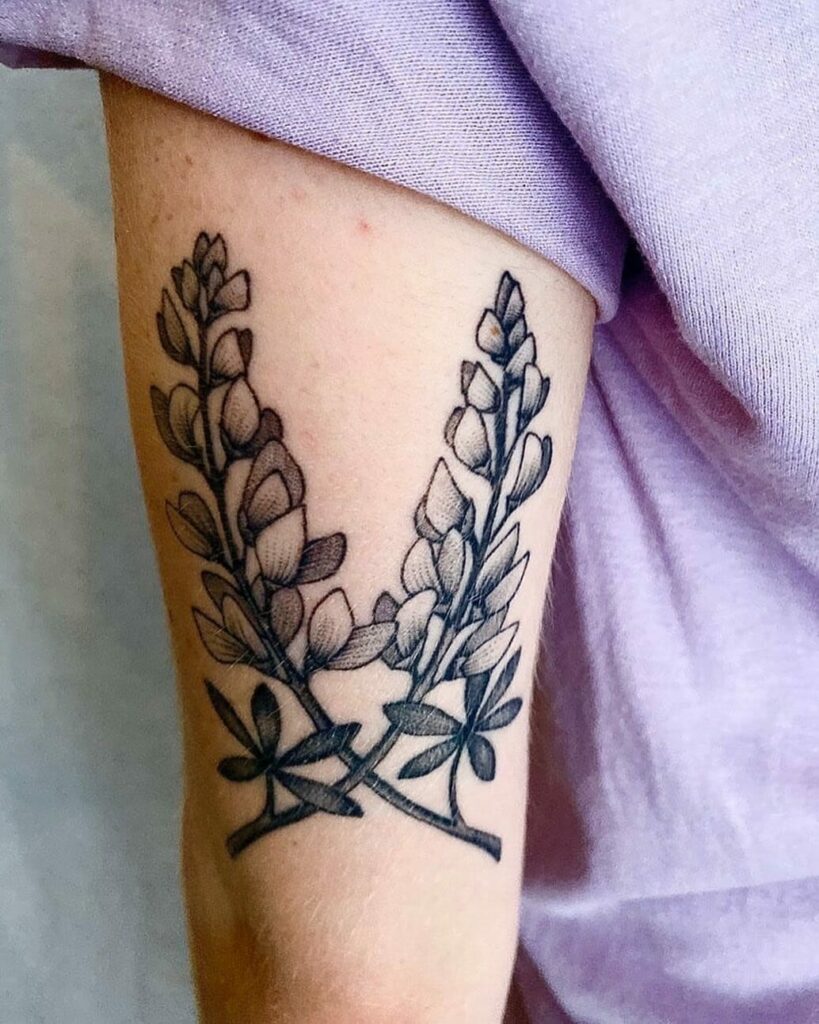 The State Flower Tattoo celebrates the charm of Texas with its emblematic bluebonnets. As the cherished state flower, bluebonnets hold significance beyond their vibrant appearance.
These bold blossoms, often associated with happiness, lend a Texan flair to any tattoo. Capturing the essence of spring, bluebonnet tattoos resonate with a sense of pride and fervour for the Lone Star State.
The flower seamlessly blends into diverse tattoo designs, from Texan sleeve flags to traditional American motifs and even half-Texas tattoo sleeves.
Placement options are versatile – wrists, chests, backs, or legs can all showcase this emblem. Collaborate with your tattoo artist to recreate the flower's hues for an authentic touch.
Be it a solo choice or a shared experience, a bluebonnet tattoo conveys a narrative of spirituality, courage, and blessings.
The Bluebonnets Tattoo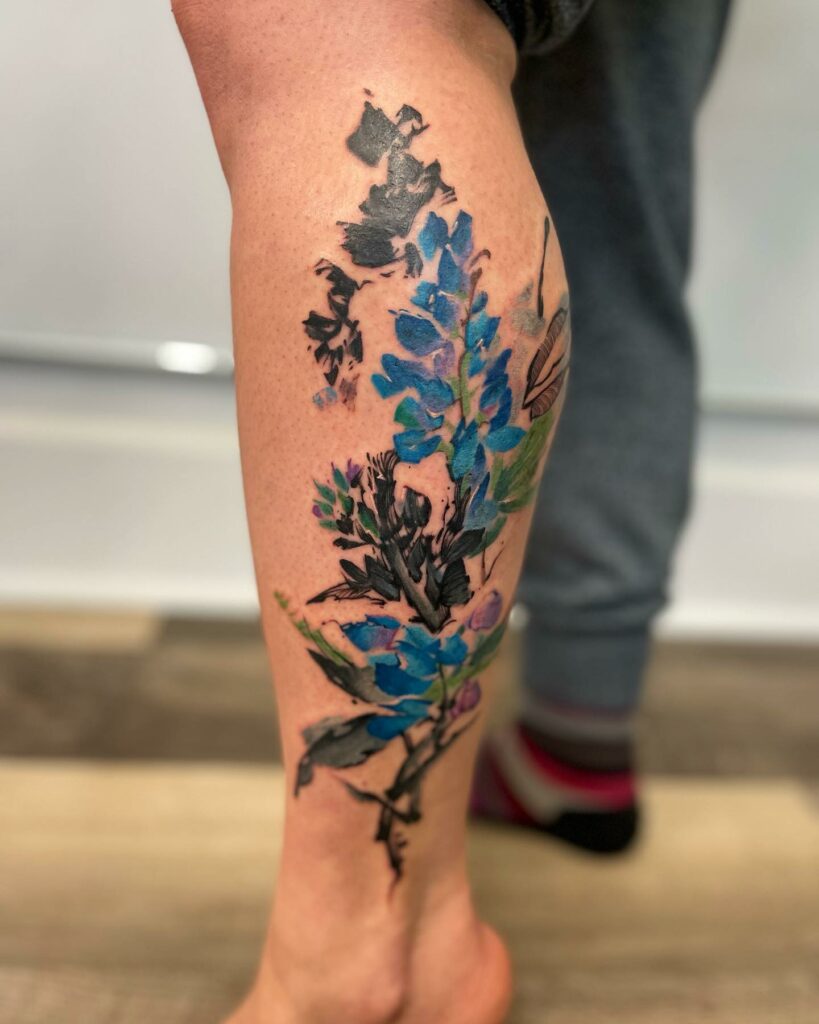 The Bluebonnets Tattoo is a charming and versatile design that appeals to both genders. As an emblem of beauty and emotion, flowers hold profound cultural significance.
With their striking blue hue, the bluebonnets herald the arrival of spring across the United States, with Texas being home to two exclusive species.
As Texas's official state flower, it's a favoured choice among Texans keen to showcase their state loyalty. While the design is elegantly simple, there's room for personalization by referencing online sources for added intricacy.
This design adapts seamlessly to various body placements – wrists, chests, and backs. It also pairs wonderfully with a Texas flag tattoo sleeve.
Moreover, the Bluebonnets Tattoo can be a poignant representation of the cherished bond between a parent and their daughter, making it a meaningful choice for both aesthetics and sentiment.
The Skull Ranger Tattoos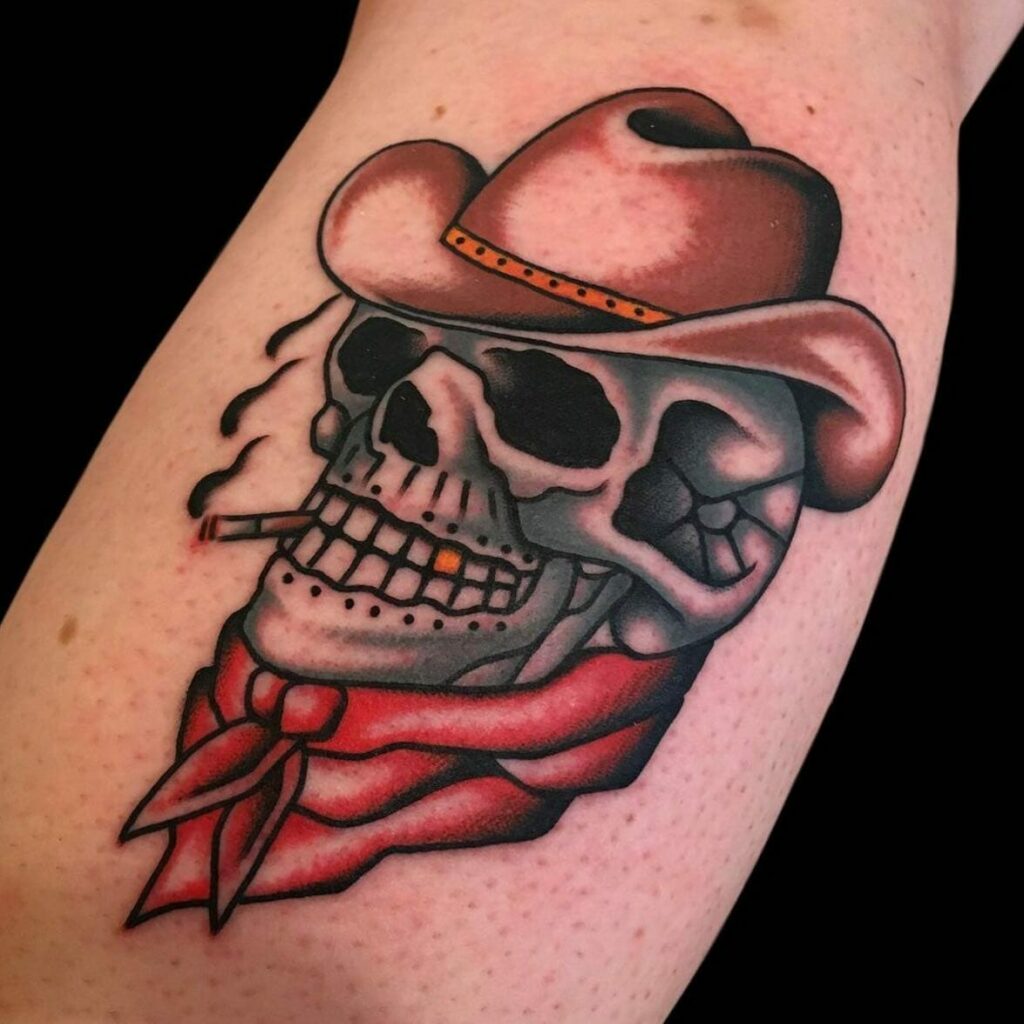 The Skull Ranger Tattoos encapsulate the cherished emblem of Texas – the iconic Texas star, a testament to Texan heritage and bravery.
This star is intertwined with the courageous history of the Texas Rangers, legendary figures who safeguarded the Wild West and now embody a deep source of state pride.
The intricate design is brought to life with vibrant colours, creating a visually striking effect that seems to leap from your skin.
Personalization options abound, allowing you to infuse additional Texas-themed elements, like the state flag or wildflowers, to make the tattoo uniquely yours.
An adept tattoo artist can even transform this design into a captivating Texas flag tattoo sleeve, enveloping your arm with a tapestry of Texan identity and reverence.
The Cowgirl Tattoo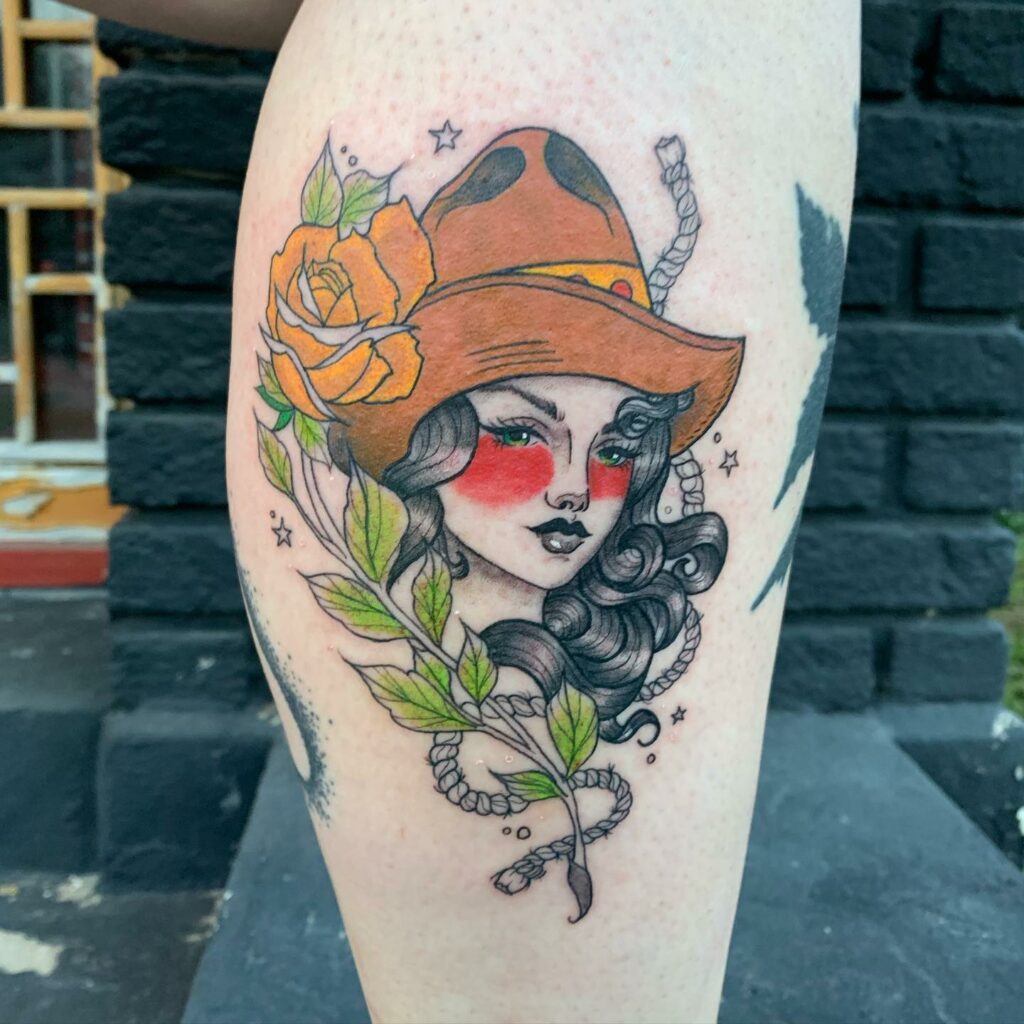 The Cowgirl Tattoo pays homage to the timeless icon of the Old West, resonating with the charm and allure of bygone eras.
In the realm of Texas tattoo culture, cowgirl tattoos have risen in popularity, encapsulating the essence of pinup style art while invoking a sense of nostalgia for the rustic days of yore.
This unique form of body art celebrates the adventurous spirit and untamed allure of the Wild West.
Embracing tradition, many opt for the classic rendition of the cowgirl design, characterized by bold lines and iconic colours.
Whichever canvas you choose – be it your arm, leg, or chest – the cowgirl tattoo stands as a timeless masterpiece, a symbol of your affinity for the adventurous spirit and untamed allure of the Wild West.
The Cowboy Boots Tattoo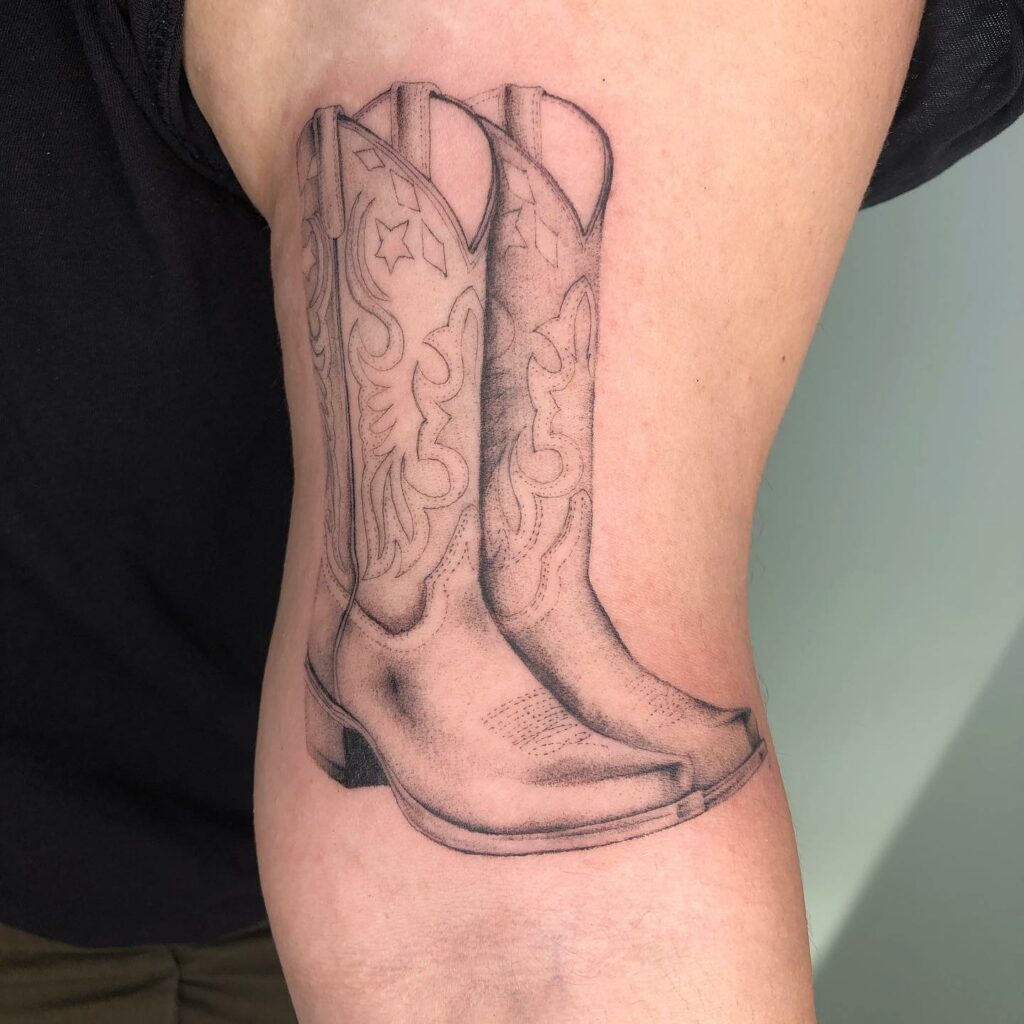 The Cowboy Boots Tattoo captures the essence of Western culture, encapsulating both style and functionality.
Beyond their fashionable appeal, cowboy boots were tools of the trade, enabling crucial tasks and embodying the spirit of the Old West.
The resilience of the boots, with their sturdy soles and elevated heels, mirrored the determination required to conquer daily challenges and navigate life's journey.
These designs offer versatility, finding their canvas on the chest, leg, or back – a choice rooted in individual preference. For an added touch, you can even pair them with piercings to enhance the overall aesthetic.
Whether your heart resonates with the cowboy or cowgirl within, a boots and spurs tattoo serves as a vivid testament to your deep-rooted connection to the timeless Western lifestyle.
Red Indian Tattoos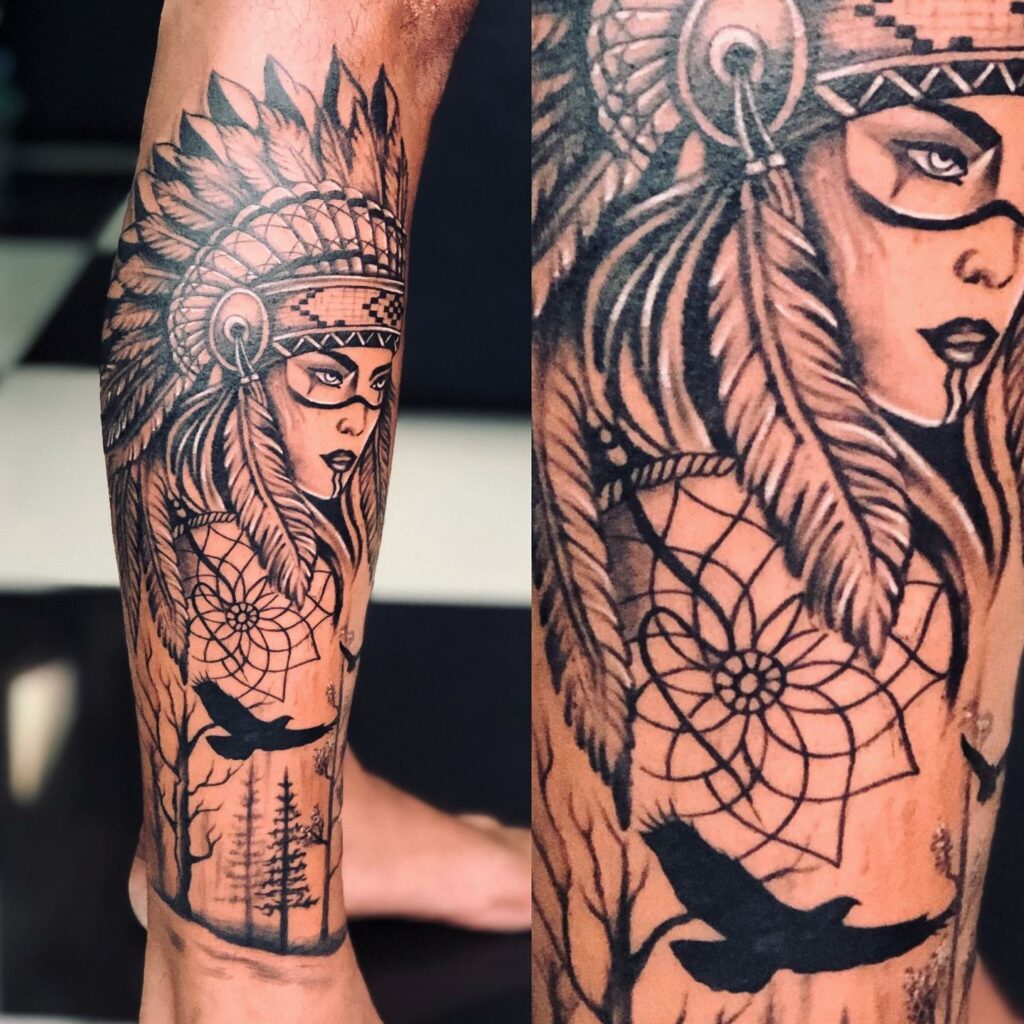 Red Indian Tattoos are a powerful homage to the indigenous cultures of North America. These designs honour the rich heritage, traditions, and spiritual beliefs of Native American communities.
These tattoos can be deeply meaningful with intricate patterns and symbols, reflecting respect for the land, nature, and ancestral wisdom.
Whether depicting tribal motifs, animal totems, or sacred elements, Red Indian Tattoos serve as a bridge to connect with the past and show appreciation for the enduring legacy of Native peoples.
When adorned with such a tattoo, you carry a piece of history and culture, intertwining your story with the stories of those who have lived on this land for generations.
Native American Tattoos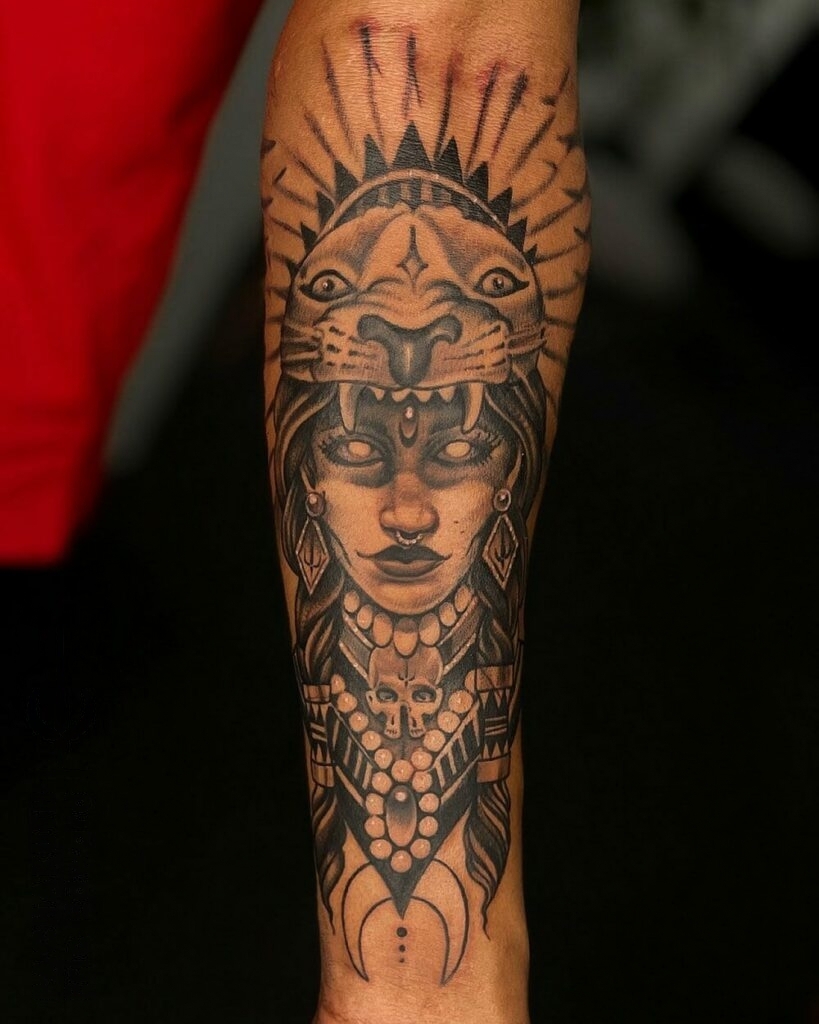 Native American tattoos are a meaningful way to embrace your heritage and honour the diverse cultures that have shaped Texas and beyond.
These designs hold significance beyond aesthetics, as they carry indigenous peoples' wisdom, traditions, and spirit.
Whether it's a depiction of a revered animal totem, a sacred symbol, or a portrait of a Native American figure, these tattoos allow you to proudly wear your connection to the land's original inhabitants.
By choosing a Native American tattoo, you're not just adorning your skin – you're paying homage to the rich tapestry of history and sharing a piece of cultural legacy.
288 Texas Tattoos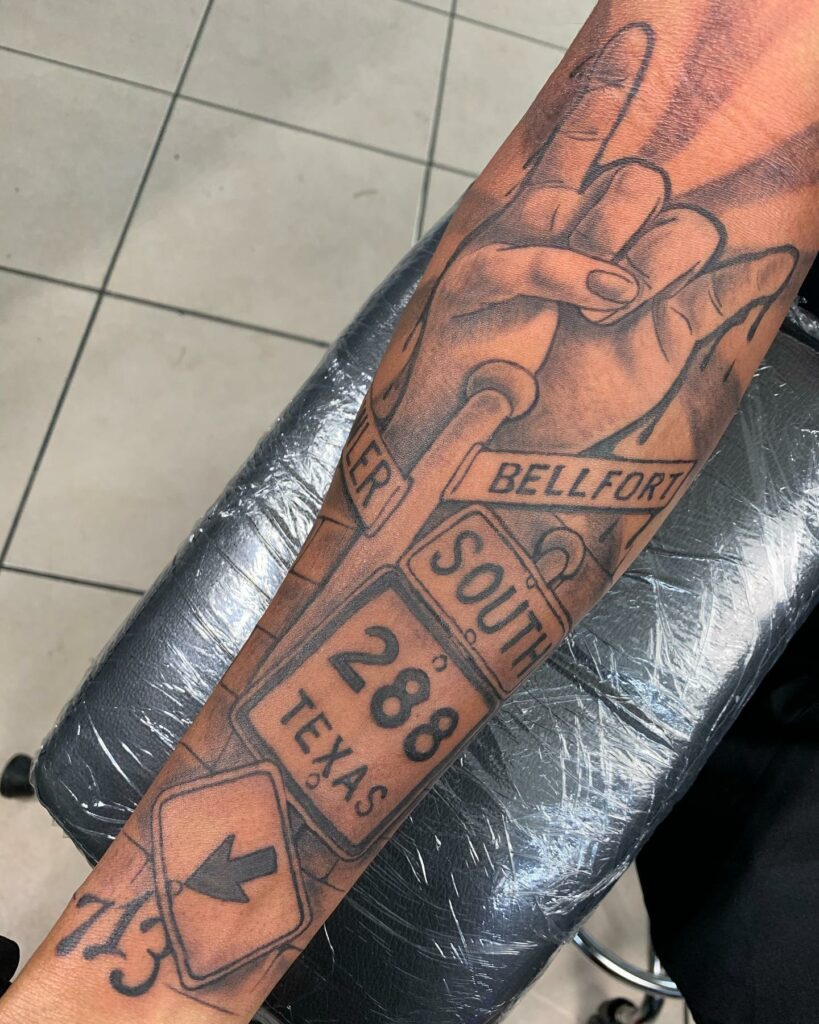 The 288 Texas tattoo showcases the iconic routes that crisscross the state, symbolizing Texas's vast landscapes and adventurous spirit.
This design captures the essence of exploration and the open road, making it a captivating choice for those who want to commemorate their Texan pride.
Whether you're a road-trip enthusiast or simply drawn to the symbolism, the 288 Texas tattoo offers a unique way to tell your story.
Similarly, American traditional tattoos are more than just ink – they embody emotions, narratives, and cultural heritage that resonate through time.
With their timeless charm and expressive designs, these tattoos create a powerful connection between the past and the present, speaking volumes about your values and identity.
FAQs
Q: How much does a good sleeve tattoo cost?
A: A full sleeve tattoo can range from $1000 to $6000, depending on the artist's hourly rate and the time required to complete the artwork. Expect multiple sessions for intricate designs or vibrant colours, often spanning over two days.
Q: What is a cowboy tattoo?
A: Cowboy tattoos hold unique meanings for each individual. They can be tributes to lost loved ones or expressions of the desire for freedom and independence, reflecting the rugged spirit of the Wild West.
A: Navy SEALs often sport the bone frog symbol as a tattoos, which symbolizes their camaraderie, service, and connection to their elite unit. It's a sign of honour, respect, and remembrance for fallen comrades.
Q: Is it illegal to tattoo at home in Texas?
A: In Texas, tattooing at home is prohibited. You must operate from a licensed tattoo parlour or a separate mobile trailer studio to perform tattoos and body piercings. Each studio requires its own Tattoo Studio License, ensuring compliance with regulations.
Conclusion
In conclusion, the world of Texas-themed sleeve tattoos is a vibrant canvas for expressing your Lone Star State pride.
The fusion of Texas's cultural richness and iconic symbols offers a multitude of design possibilities, from cowboy culture to Native American heritage.
By partnering with a talented artist, you can manifest your creative vision into striking reality, confidently wearing your Texan identity.
Whether you opt for The Lone Star Tattoo, Native American motifs, or the captivating routes of the 288 Texas Tattoos, each choice encapsulates a unique narrative that honours the multifaceted heritage and values of the Lone Star State.
MORE TEXAS SLEEVE TATTOO IDEAS