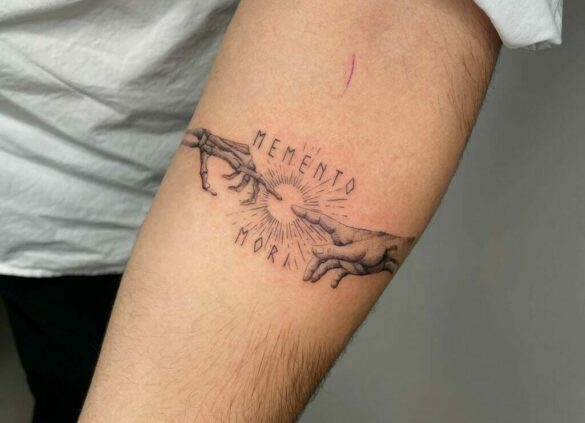 Are you looking for a cool tattoo design with a special meaning? Well, you're in luck we've got some awesome stoic tattoo ideas just for you.
Stoicism is a kind of thinking that likes simple and useful things and a good life. Many really smart people in history have liked it.
Stoicism doesn't make things seem better than they are or too hard to understand. It says that the only things we can control are our thoughts and actions.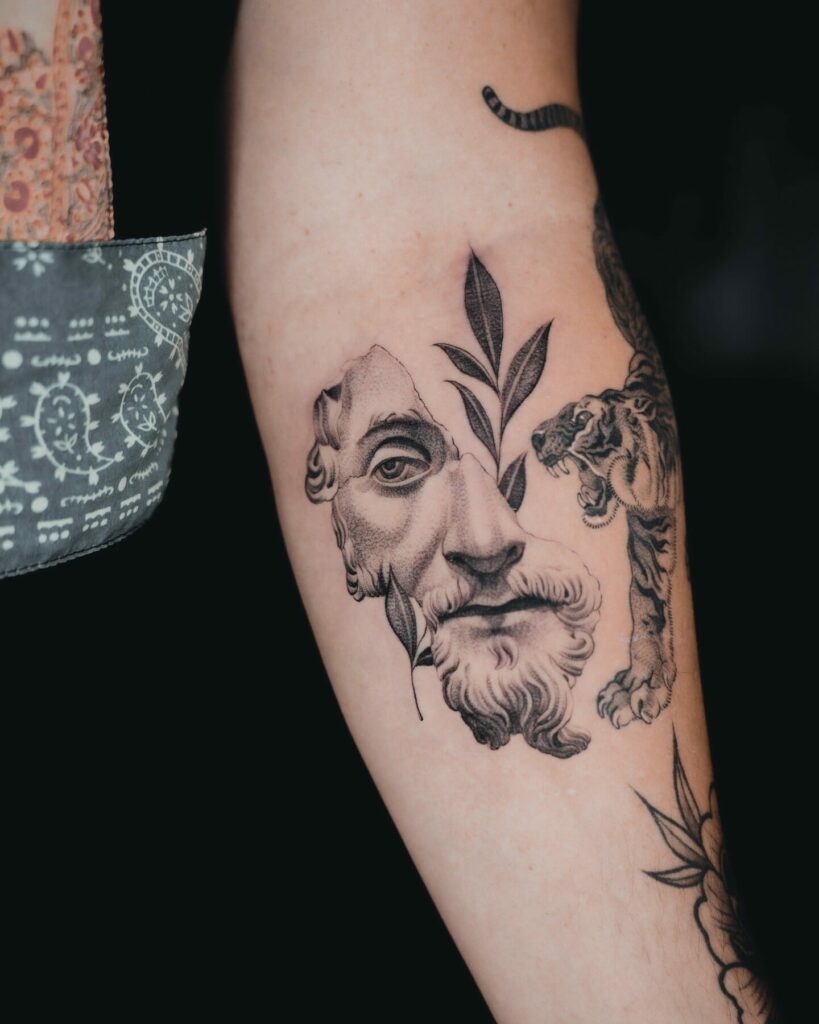 People who like Stoicism say we should live in a way that fits with nature. They also believe that if we become better people, the world will be better too.
If you're someone who likes thinking about big ideas and you like Stoicism, these tattoos could be great for you.
In the past, people who liked Stoicism used special drawings on their skin to show their ideas. These tattoos are a modern way to show you like Stoicism too.
We've made a list of ten simple stoic tattoo ideas with a big meaning. Take a look and choose the one that feels most important to you.
Marcus And Skull Tattoo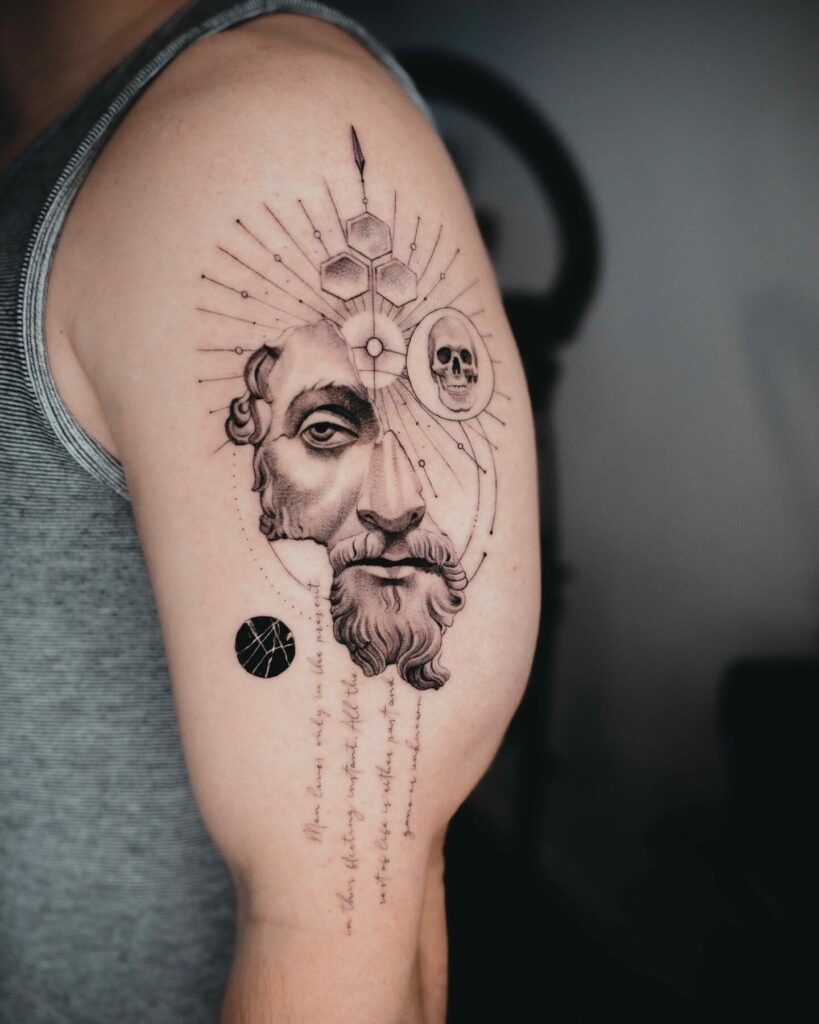 A philosopher and king, Marcus Aurelius, strongly influenced Stoic tattoo designs in the USA. His book "The Meditations" has affected many important people in history.
Stoicism is about focusing on what we can control and not worrying about what we can't.
One popular Stoic tattoo shows Marcus Aurelius' face and a small skull. The skull means everyone will die someday and challenges normal ideas.
This tattoo is usually done with thin black lines, looking simple but nice. It's good for people who like Marcus Aurelius and Stoicism.
Memento Mori Tattoo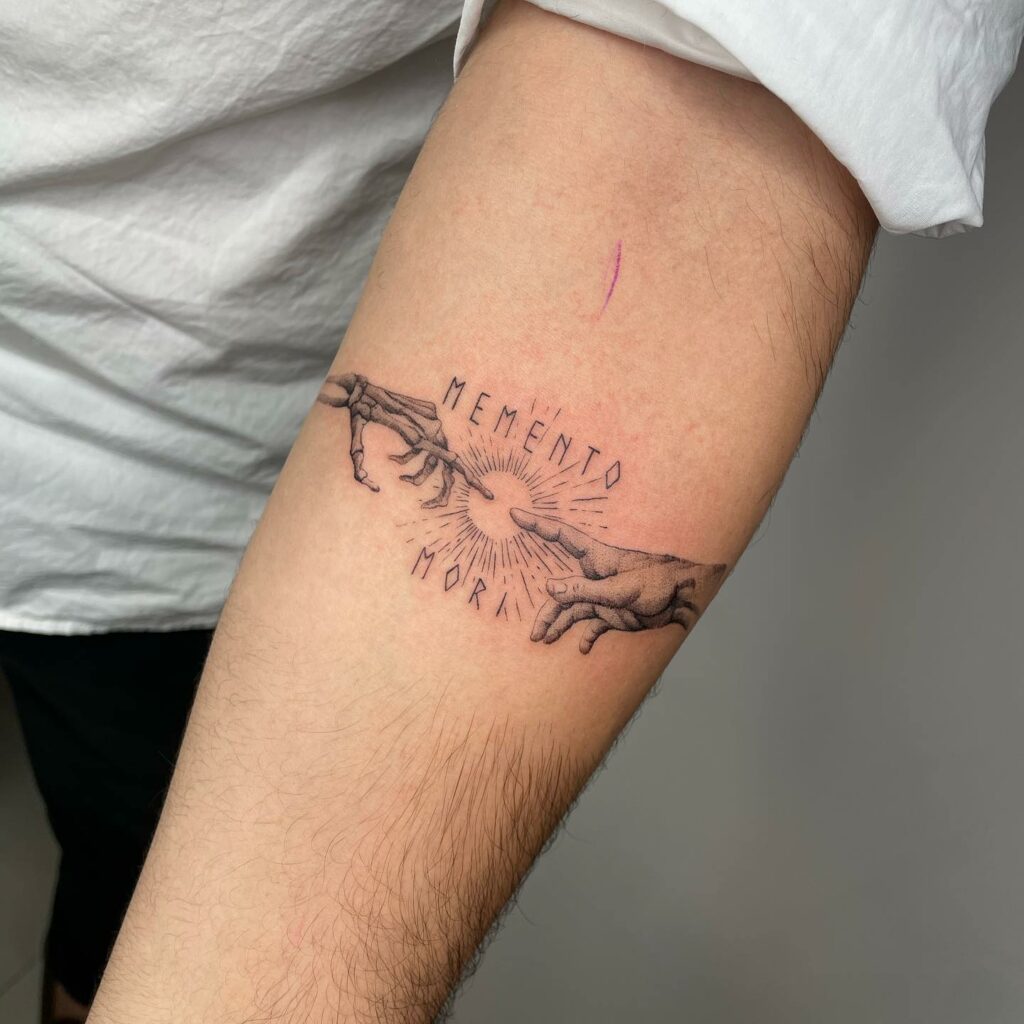 In Stoic philosophy, "Memento Mori" is a well-known saying, and its significance is clear. This philosophy reminds us that our time on Earth is limited, and this tattoo acts as a reminder to live in the present and chase our dreams.
The design features two hands – one skeletal and the other normal – with their index fingers seemingly touching. Behind them, the words "Memento Mori" are written.
The tattoo is easily visible on the forearm, and the artist used black and grey ink for the design. The letters of "Memento Mori" are in sharp black ink, creating a powerful and meaningful design that's perfect for your next tattoo.
Marcus Aurelius Tattoo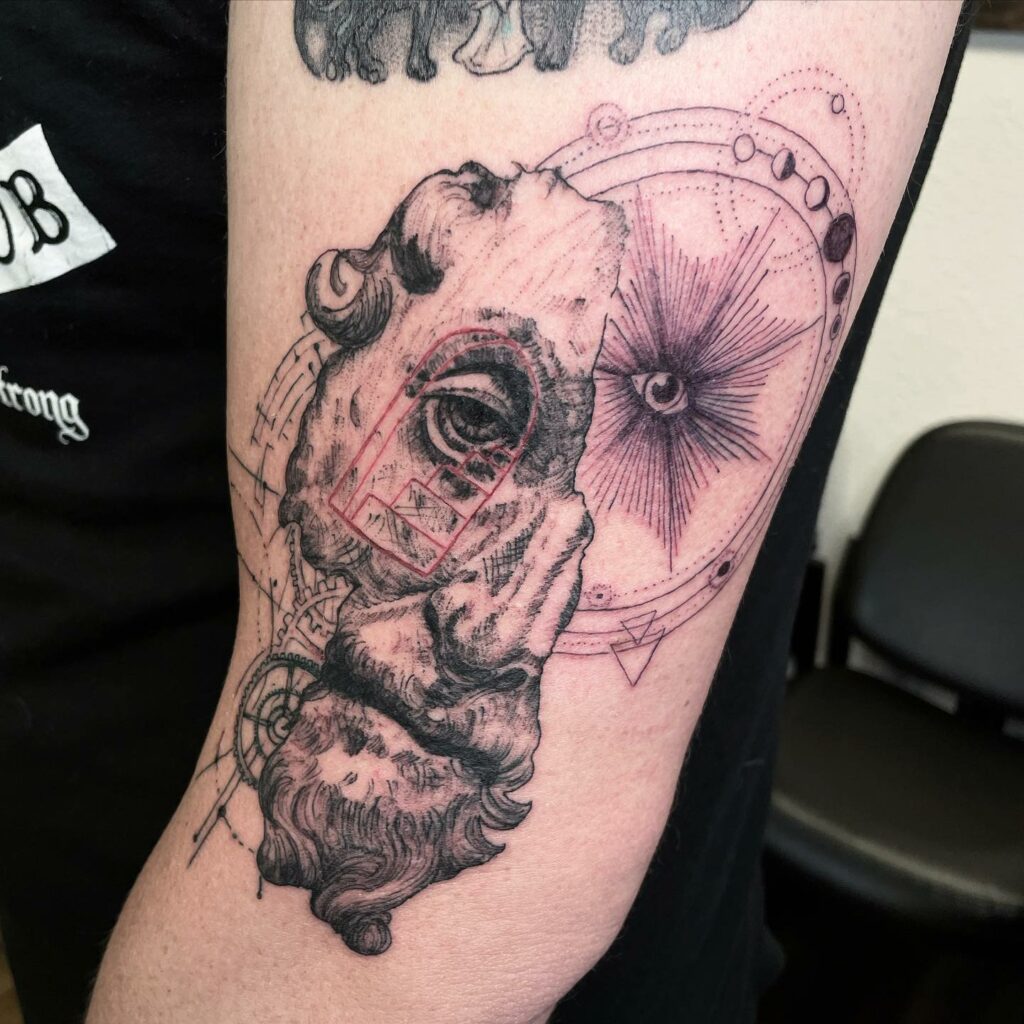 Marcus Aurelius, a famous philosopher and king, is a source of inspiration for those who embrace Stoic philosophy. This tattoo pays tribute to his teachings and beliefs.
Designs influenced by Marcus Aurelius often incorporate aspects of his philosophy, resulting in striking and meaningful tattoos. Created with shades of black and grey, this design also uses delicate red lines to highlight specific areas.
The tattoo artist skillfully brings together elegance and visual impact, capturing the essence of Stoicism.
Seneca Tattoo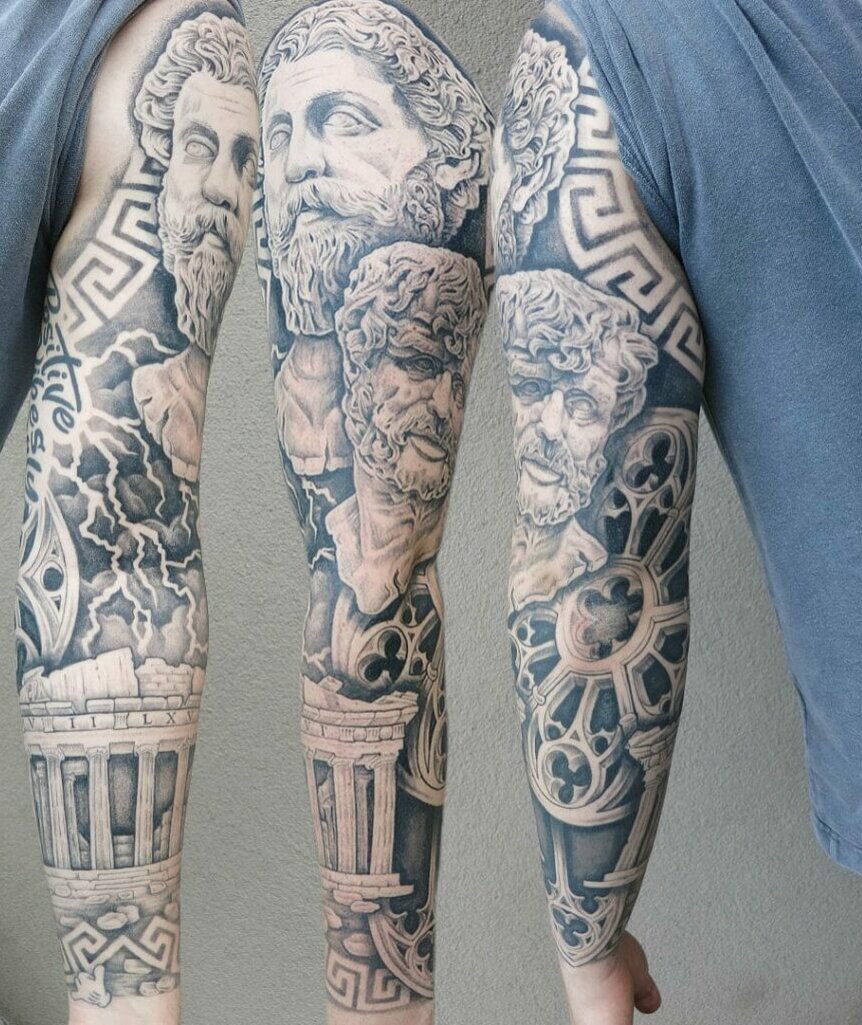 Seneca the Younger, known for his lavish lifestyle in contrast to other Stoics, earned the nickname "Bad Boy" of Stoic philosophy.
Surprisingly, this distinction makes him a captivating inspiration for modern Stoics. His teachings remain relevant, offering insights into tackling life's challenges.
It's no wonder Seneca's likeness has become a sought-after tattoo among Stoic followers.
This full-sleeve tattoo showcases both Seneca and Marcus Aurelius. The artist employs varying shades of black and grey, crafting a captivating portrait that captures their essence.
The meticulous detailing elevates this tattoo into a genuine masterpiece. This design should surely be on your radar if you're seeking a profound and impressive Stoic tattoo.
Philosophy Tattoo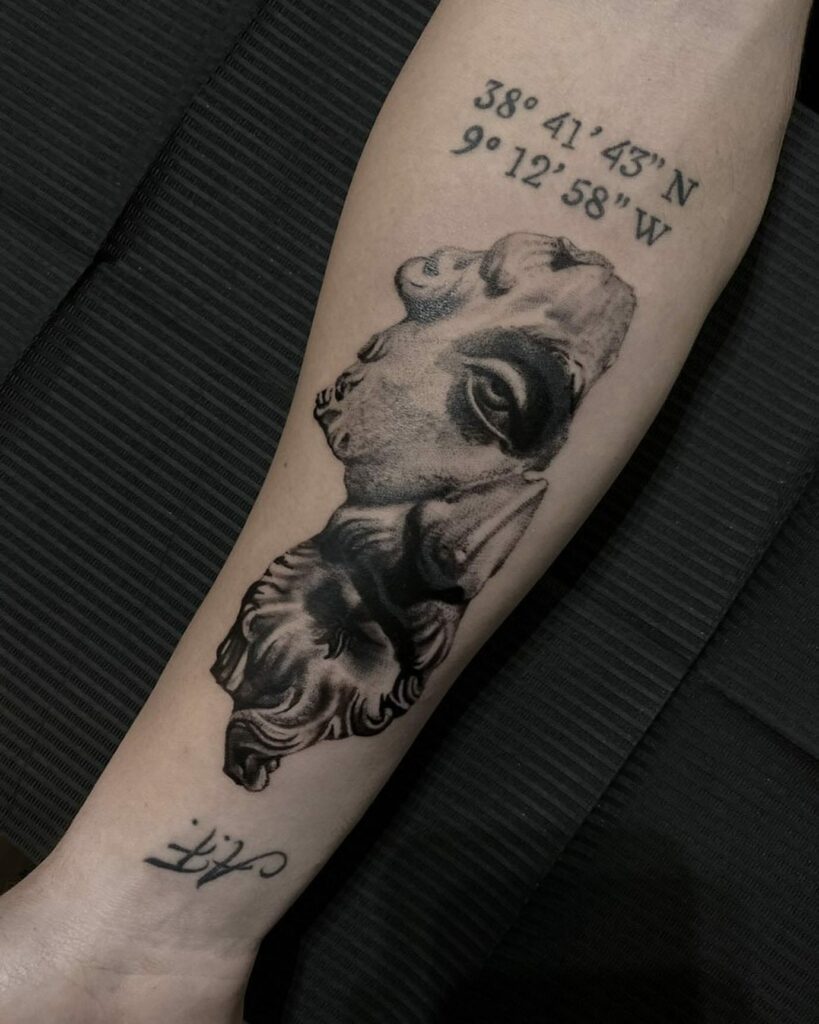 Marcus Aurelius, a philosopher and king, serves as a muse for numerous Stoicism-inspired tattoo designs. His teachings advocate for embracing life's challenges and living fully.
Beyond its inspirational depth, his philosophy also possesses an aesthetic allure.
This tattoo showcases an intricately detailed portrait of Marcus Aurelius, brought to life with black and grey ink. The four virtues of Stoic philosophy can be incorporated for those seeking more intricacy.
Beyond its visual appeal, this design carries a potent message of resilience and fortitude in adversity. If you want to express admiration for Marcus Aurelius' wisdom, consider this design your next body art masterpiece.
Amor Fati Tattoo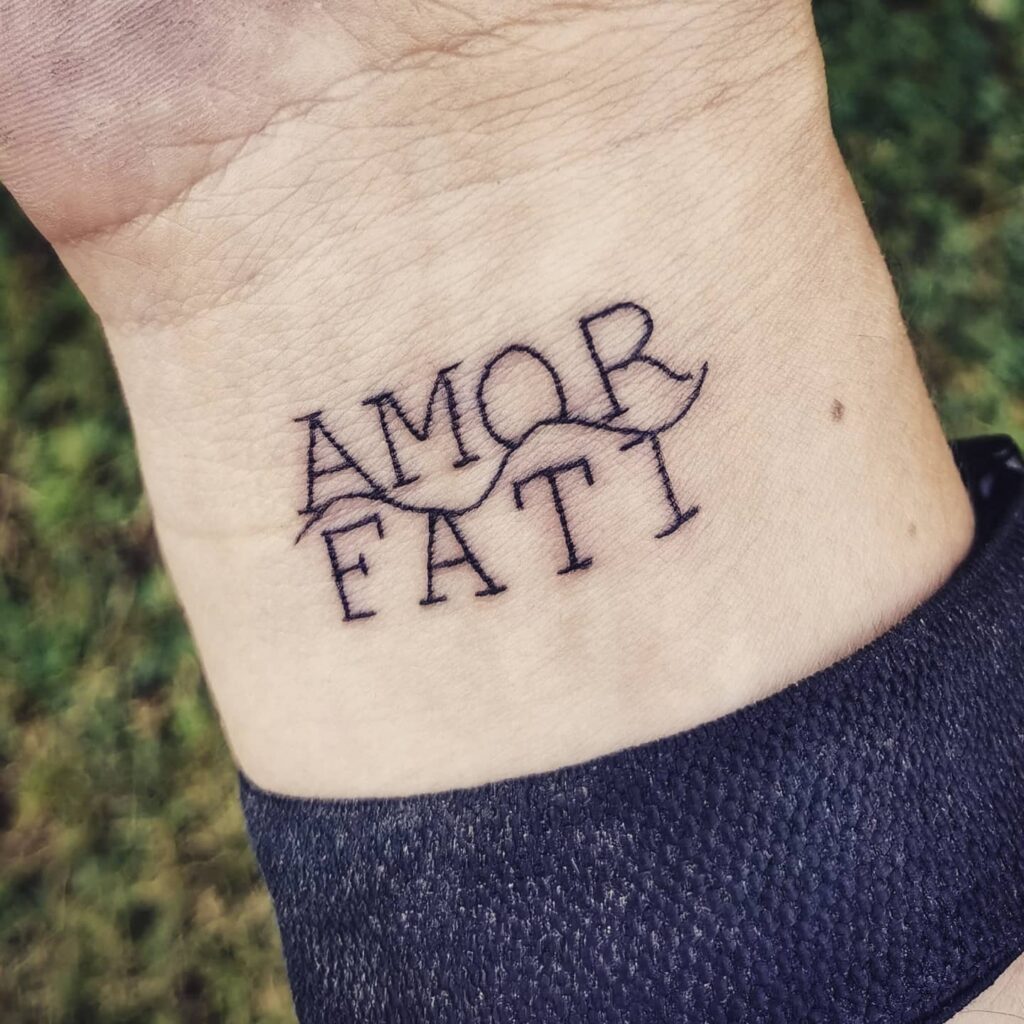 Amor Fati, translating to "love of fate," is a profound concept urging us to embrace life's highs and lows. It invites us to find purpose in all experiences, loving every facet of existence.
This design serves as a constant reminder to cherish life and its entirety. It inspires us to embrace challenges and setbacks, finding comfort in the belief that everything unfolds with purpose.
This tattoo exemplifies elegance through simplicity. The phrase "Amor Fati" is delicately inked in a charming font on the wrist. Crafted with fine black lines, the design radiates a refined appearance.
This design holds significant appeal if you seek a minimal yet profound tattoo encapsulating Stoic philosophy.
4 Stoic Virtues Tattoo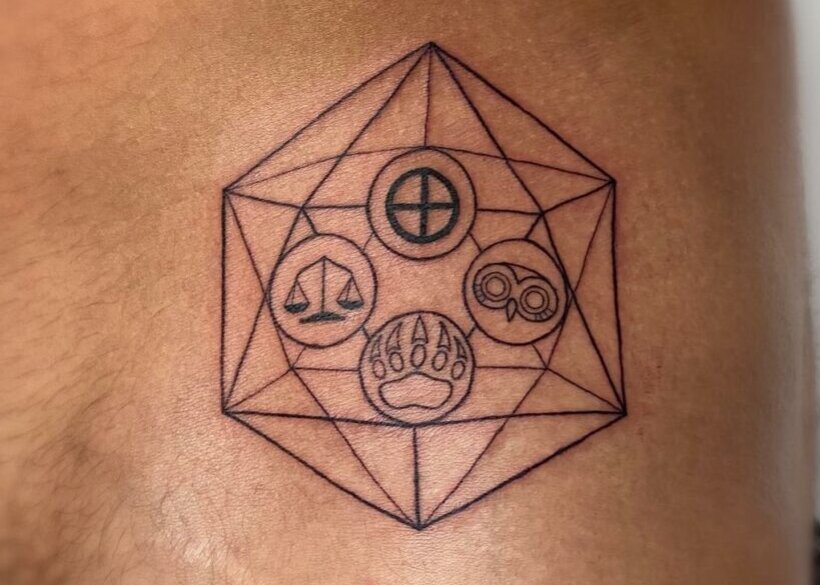 Stoic philosophy underscores the significance of four virtues: wisdom, justice, temperance, and courage. These virtues, integral to Stoic teachings, guide individuals toward virtuous living.
This tattoo ingeniously incorporates these virtues:
The owl signifies wisdom.
Scales embody justice.
The anchor denotes temperance.
The lion's paw symbolizes courage.
Each virtue resonates with profound meaning in our daily journey.
The design showcases a diamond-shaped backdrop housing these virtues. Executed with meticulous finesse in black ink, the artist crafts an enduring and captivating artwork.
Should you seek a tattoo that captivates visually and embodies the core tenets of Stoic philosophy, this design offers a compelling choice.
Thor Hammer Tattoo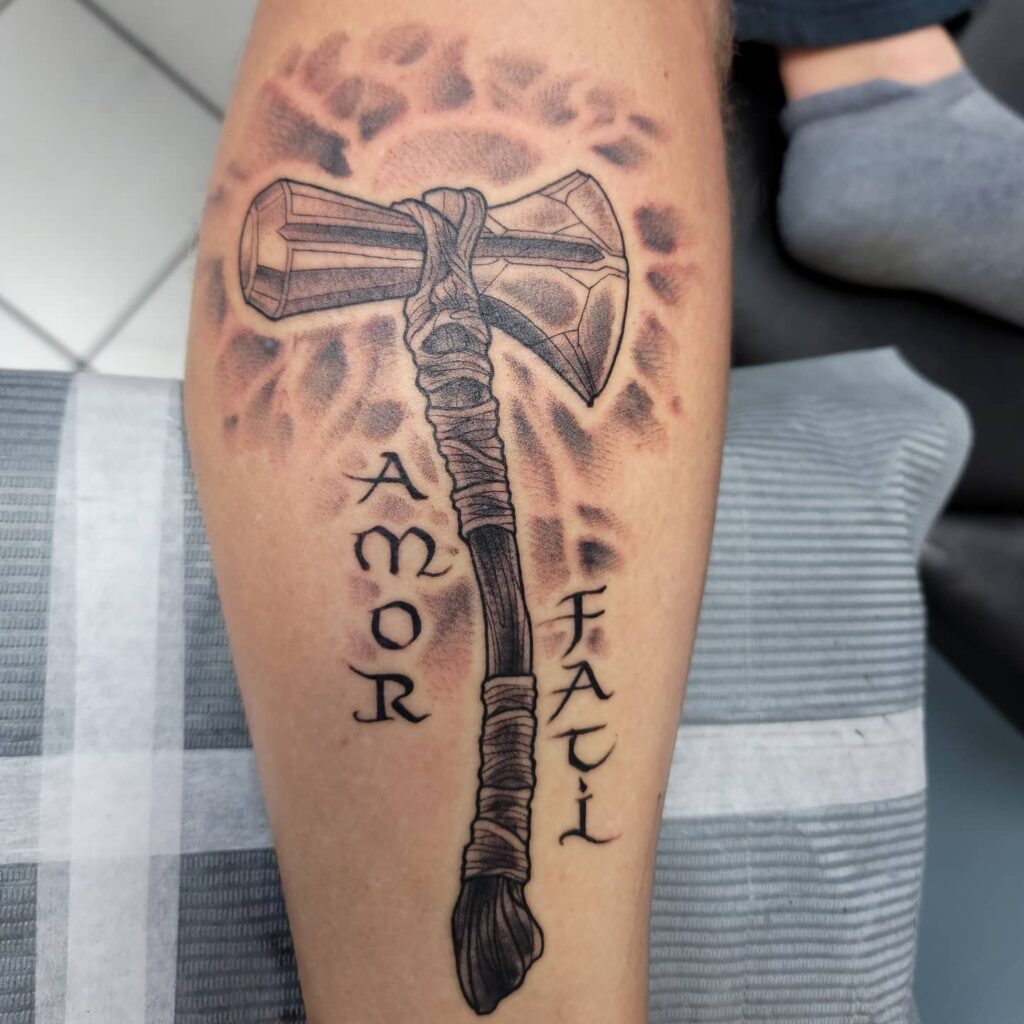 The Stormbreaker, Thor's mighty weapon, embodies inner strength and resilience. This tattoo signifies the journey of self-discovery and conquering inner struggles, akin to Thor's narrative.
It resonates with Stoic ideals of facing challenges and regaining self-belief. The inclusion of "Amor Fati," translating to "Love Fate," reinforces embracing life's path.
With masterful use of black and grey shades, the tattoo artist crafts an intricate design uniting Stormbreaker and Amor Fati in a distinctive, meaningful portrayal.
Life And Death Tattoo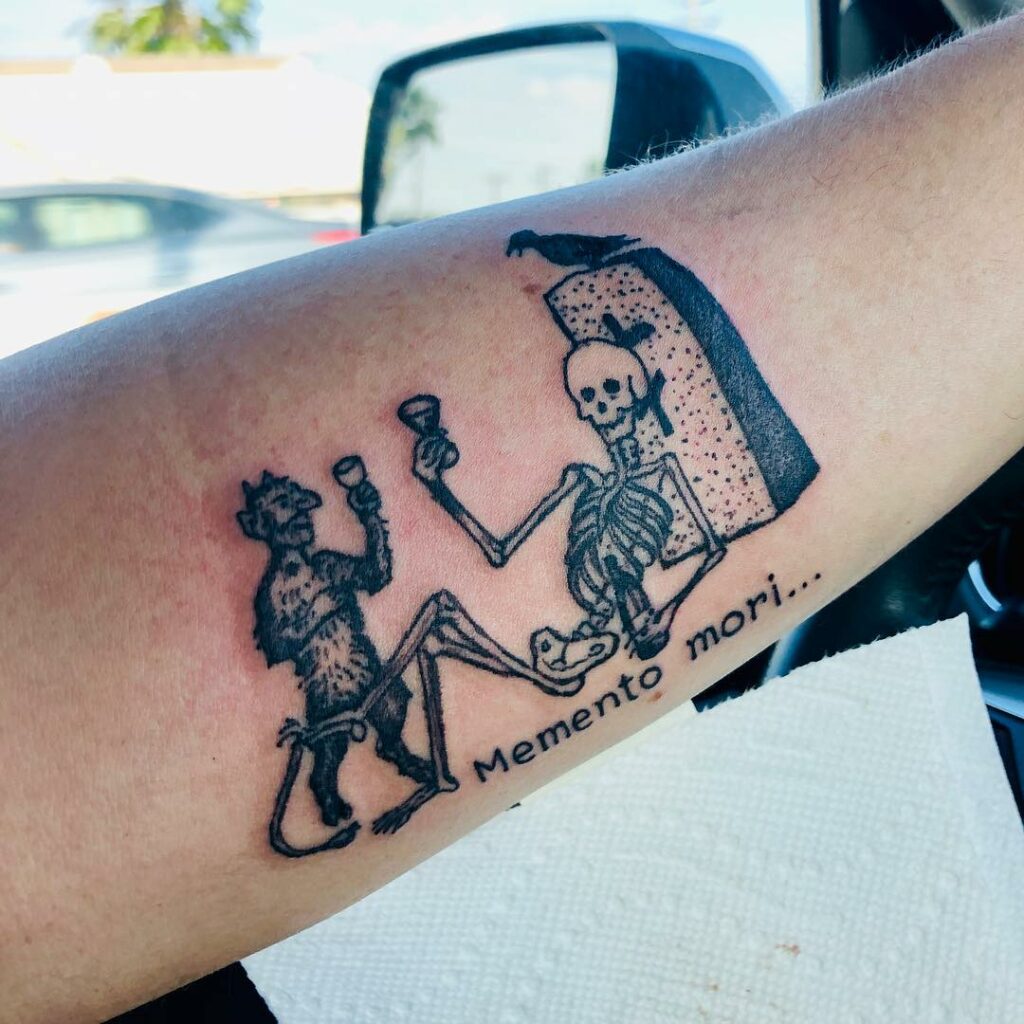 Life and death tattoos hold deep meaning, expressing beliefs uniquely. They offer two variations: life tattoos symbolize life's strength and cycle, while death tattoos remind us of mortality.
A standout choice aligned with Stoic philosophy is Memento Mori, urging us to embrace life fully. This captivating tattoo features a skeleton, a drinking animal, wine glasses, and a crow on a cemetery stone.
Crafted with bold black ink, the skilled tattoo artist brings every detail to life, making it a profound and intricate design.
Enlightenment Tattoo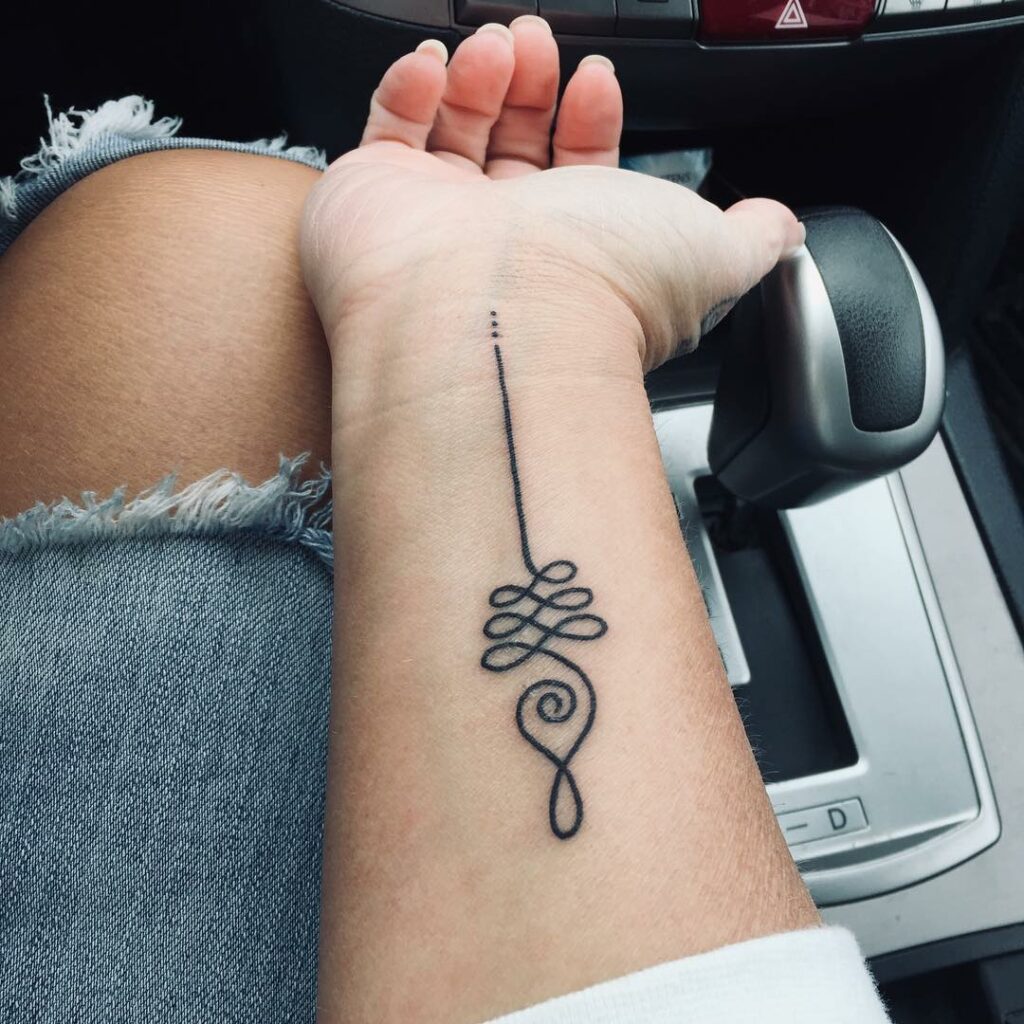 Tattoos are impactful expressions of personal beliefs and journeys. Those in search of enlightenment can find a profound symbol in the Unalome tattoo.
Its fine black lines depict spiritual growth, making it an ideal reflection of one's path to harmony.
This design beautifully conveys philosophical beliefs and serves as an inspiration. Bold and meaningful, such tattoos turn self-expression into an art form.
Memento Mori and Memento Vivere Tattoo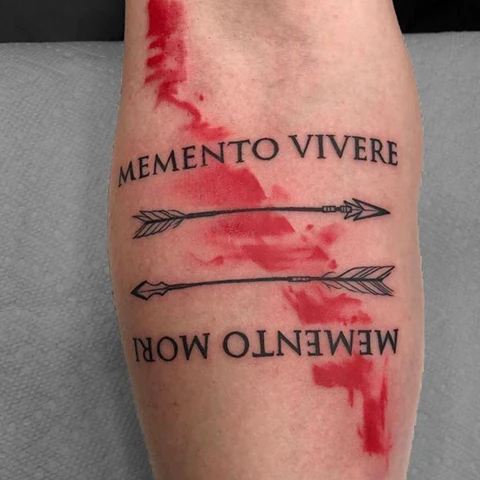 This tattoo conveys a potent message many of us overlook amidst our daily routines. "Memento Vivere," translating to "Remember to live," serves as a poignant reminder to not lose sight of actual living while being consumed by our busy lives.
Similarly significant is "Memento Mori," which translates to "Remember you will die," encouraging us to seize the present moment since tomorrow's uncertainties are beyond our control.
This tattoo's combination of red and black hues adds a hint of the distinctive "trash polka" style, making it an exclusive option for those who resonate with these profound messages.
Stoic Coin Tattoo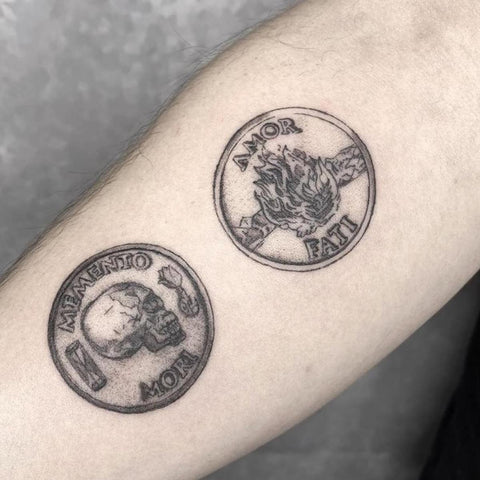 Recently, there has been a surge in the popularity of coins inscribed with Stoic phrases. This could be due to their stylish appearance and portability, alongside the promotion by a prominent Stoic figure.
These factors make them an excellent choice for a Stoicism-inspired tattoo. Their visual appeal and practicality of having meaningful messages on your skin are undeniable.
The tattoo example below showcases a coin design bearing the two most renowned Stoic mottos: "Memento Mori" and "Amor Fati."
Yin Yang Tattoo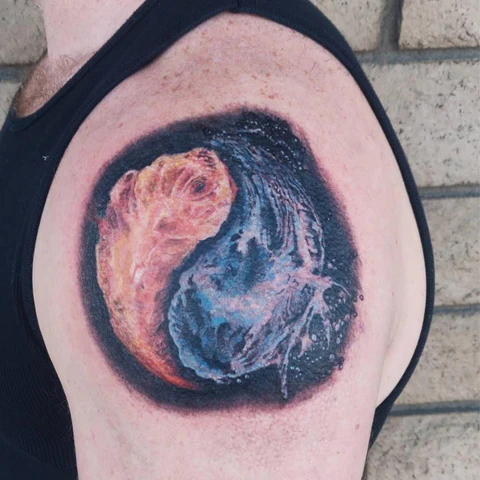 The Yin Yang symbol, closely related to Taoism, also holds a Stoic-like meaning. It symbolizes balance, harmony with nature, and embracing fate. Despite its Taoist origin, the Yin Yang can be ideal for a Stoic tattoo.
This specific Yin Yang design perfectly combines these aspects with its vivid colours set against a dark background and contrasting fire and water elements.
Heart and Mind Scales Tattoo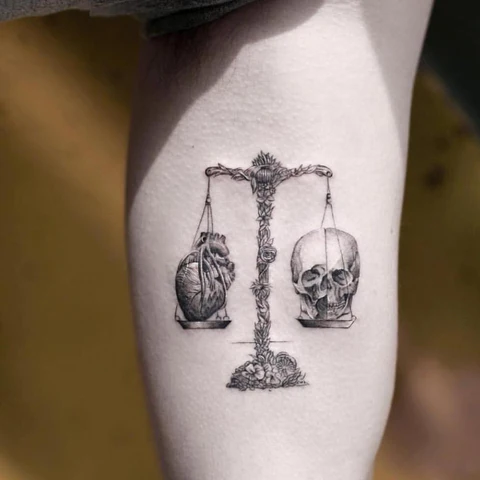 Striking the right balance between our emotions and thoughts is integral to various philosophies, including Stoicism. This is why our third recommended Stoic tattoo showcases a scale holding a harmonious heart and mind – an emblem of stability.
Additionally, this tattoo embodies the Stoic principle of temperance, depicted elegantly through intricate black and grey lines. It has rightfully secured a spot on our top Stoic Tattoo Ideas collection due to its profound symbolism and expert craftsmanship.
Conclusion
In conclusion, Stoic-inspired tattoos offer both aesthetic appeal and profound meaning. Rooted in simplicity and practicality, Stoicism's principles resonate in these designs.
From Marcus Aurelius' tributes to "Memento Mori" reminders, each tattoo encapsulates a vital life lesson. Whether it's the Yin Yang's harmony or the heart-mind balance in the scales, these tattoos merge philosophy with artistry.
A Stoic tattoo becomes a constant companion, urging us to embrace life's challenges and find solace in its wisdom.
FAQs
Q: What Symbol Is Associated With Stoicism?
A: Unlike religions, Stoicism was practised as a philosophy, so there isn't a specific symbol. Stoics used gestures to represent their ideas, but no definitive symbol exists.
Q: What Are The Four Pillars Of Stoicism Often Depicted In Tattoos?
A: The four pillars of Stoicism are Courage, Justice, Wisdom, and Moderation. These virtues are commonly portrayed in Stoic philosophy-inspired tattoos.
Q: Do Stoics Have A Belief In God?
A: Stoics consider the cosmos as a form of God due to its intelligence and rationality. They identify God as a universal mind present in everything, with the physical cosmos as its embodiment.
Q: What Is The Concept Behind A Stoic Tattoo?
A: Stoic tattoos represent the principles of Stoicism. They range from simple script tattoos of key maxims to more intricate designs symbolizing Stoic beliefs. These tattoos offer a tangible way to embrace and communicate the Stoic philosophy.
MORE STOIC TATTOO IDEAS