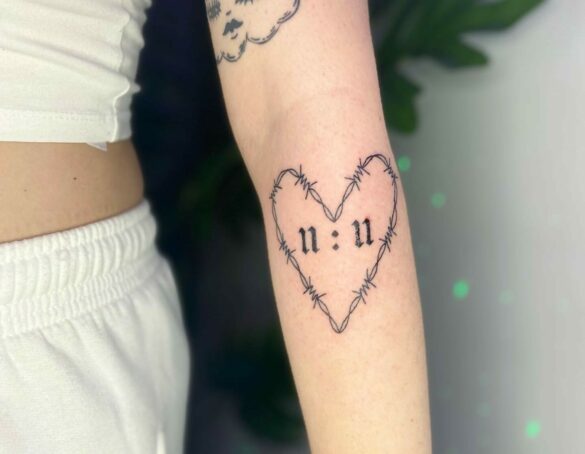 Hello! Have you ever taken notice of the recurring appearance of the number 1111 in various aspects of your life? It might indicate that you should consider getting that special number inked onto your skin as a 1111 tattoo.
This number holds significant spiritual meanings, often associated with fields like Numerology and New Age ideologies.
Some believe that if you consistently come across the number 1111, it signifies a harmonious connection with the universe and the vigilant care of your guardian angel.
Recently, the popularity of the 1111 tattoo has surged, with notable personalities like Jennifer Aniston embracing it as well.
This number carries associations with concepts such as trusting your instincts, gaining profound insights, and attaining enlightenment.
Additionally, it symbolizes good fortune, optimism, and the anticipation of positive outcomes. If you're looking for a way to carry these uplifting vibes wherever you go, considering an 1111 tattoo could be an appealing option.
To assist you in choosing a design that effectively honours your guardian angel, we've compiled an array of engaging choices.
1111 Angel Number Tattoo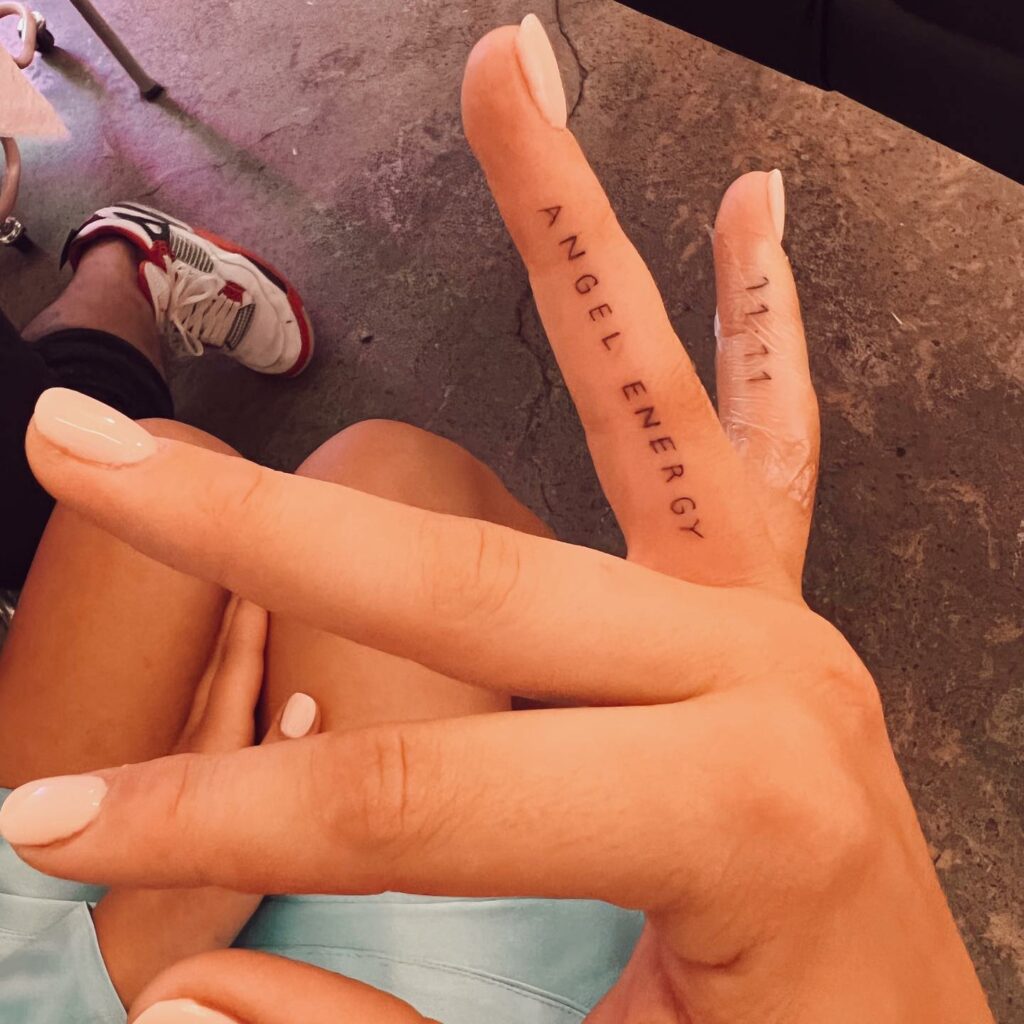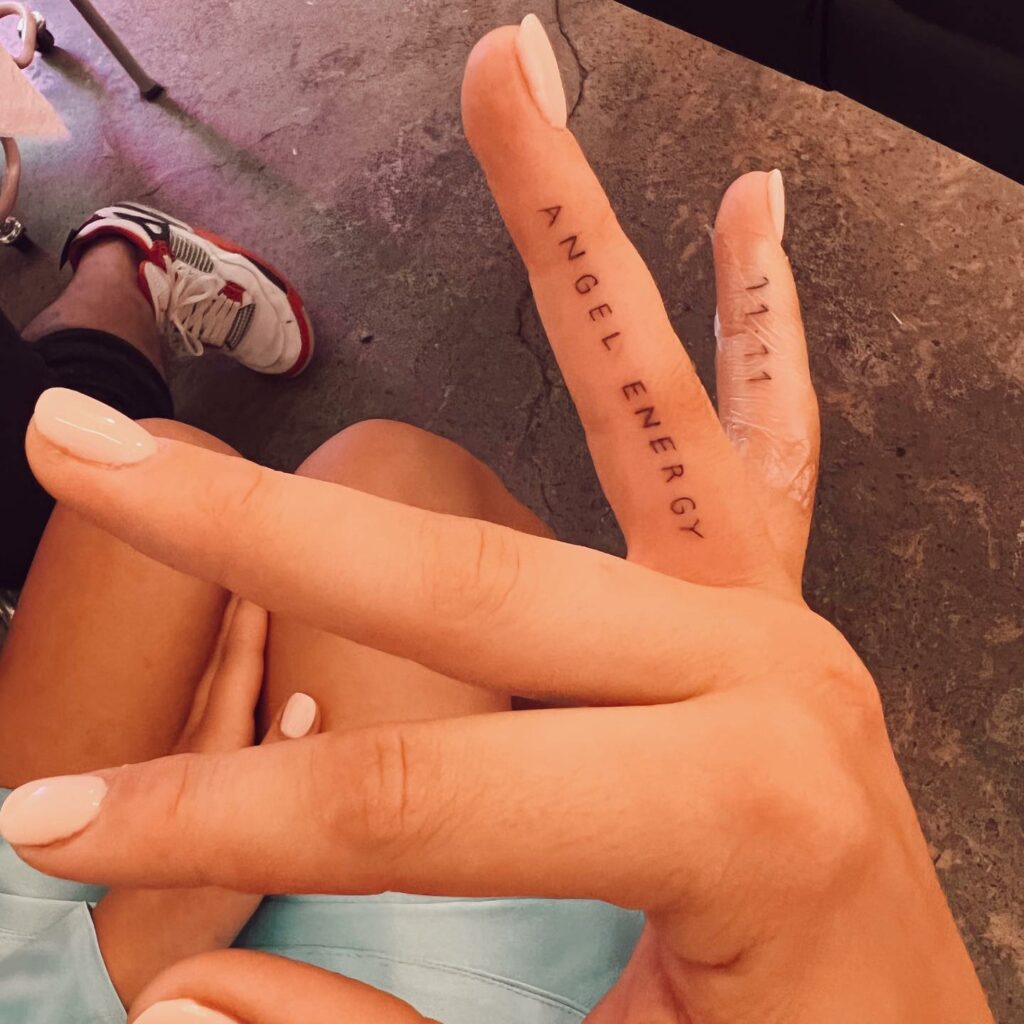 Let's talk about a cool the number 1111 tattoo. Imagine it's like a sticker on your skin that someone puts there. The person who got this tattoo cares about it, so they put it on two different fingers to show how much it means to them.
On one finger, they have 1111 tattoo, just like the numbers we learn. And on another finger, they have the words "Angel Energy" written simply and nicely.
Interestingly, the words are not in a straight line, but that's on purpose! It's like when things happen by luck, like the number itself.
Even though the tattoo looks simple, it has a super important meaning. It's like a little reminder never to stop believing in your dreams.
If this idea feels good to you and you want something like this on your skin, the tattoo could look awesome. I know a bit about tattoos, and having them on different fingers makes it extra special.
So, if you're excited about it, you could talk to someone who draws tattoos and make your version of this special tattoo.
11:11 Angel Number In Words Tattoo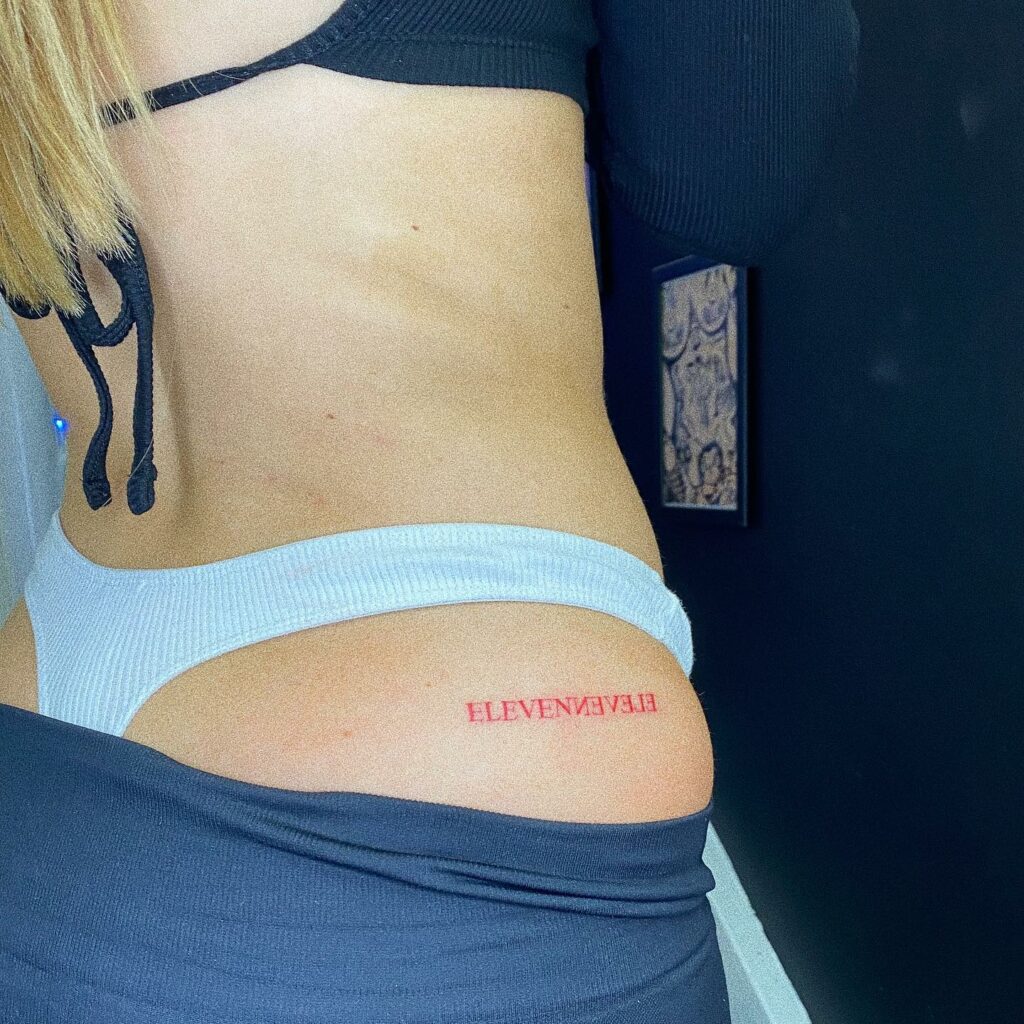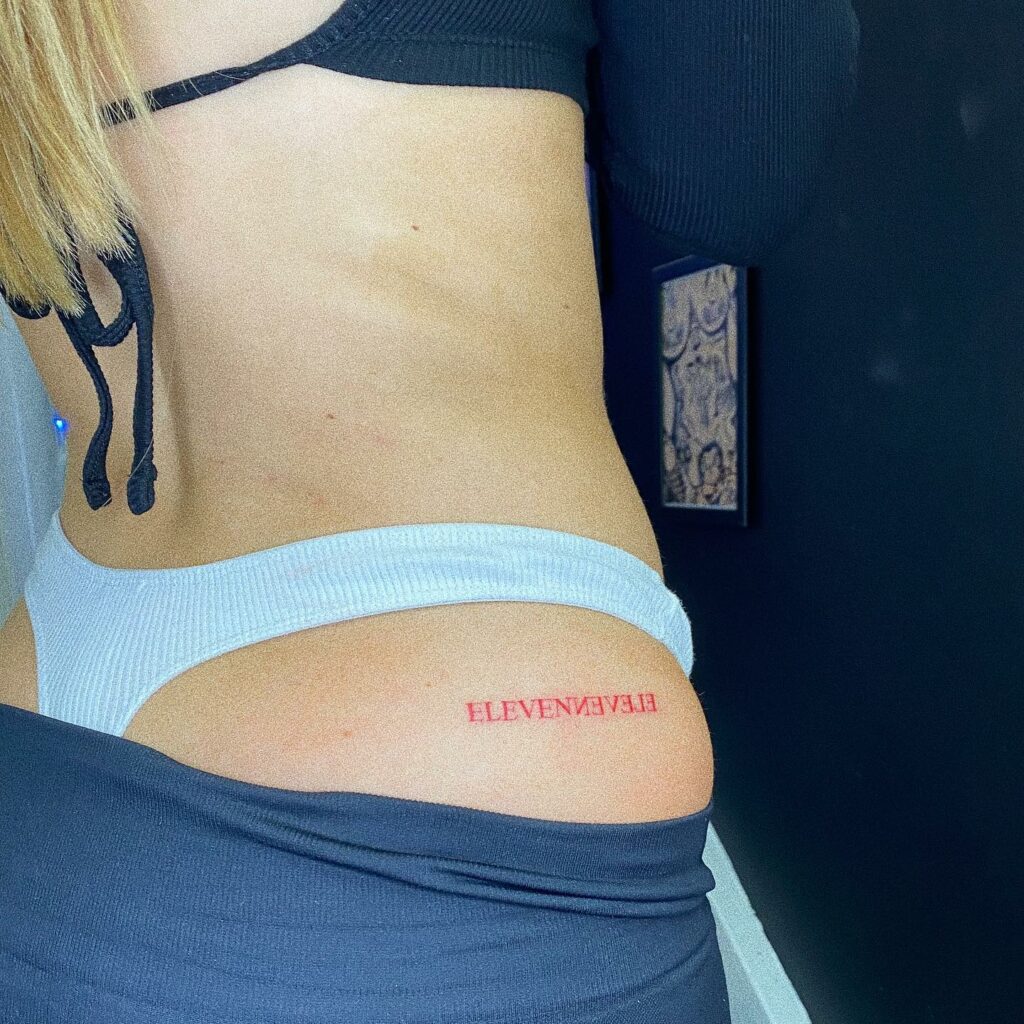 This picture is about special numbers that are like angels, and they're written as words, not just numbers. It's not like the regular tattoos you usually see.
If you look closely, you'll see that the words "eleven eleven" are written in a cool way that's like a reflection. The first word, "eleven", is written the normal way we read, left to right.
But the second word is written oppositely, from right to left. This makes it look super interesting and neat.
To make it even more awesome, the person who made the picture used red ink, making it stand out and look cool. The letters they used are special and make the design even more appealing.
If you're considering getting a tattoo everyone will remember, 1111 tattoo could be a great idea. It's not only pretty and catches your eye, but it's also a creative way to show who you are through art.
So, if you want, try it out and see how it looks on your skin. You might end up liking it a lot.
Also Read: Everything You Should Know About the Meaning of the 999 Tattoo
Classy 1111 Tattoo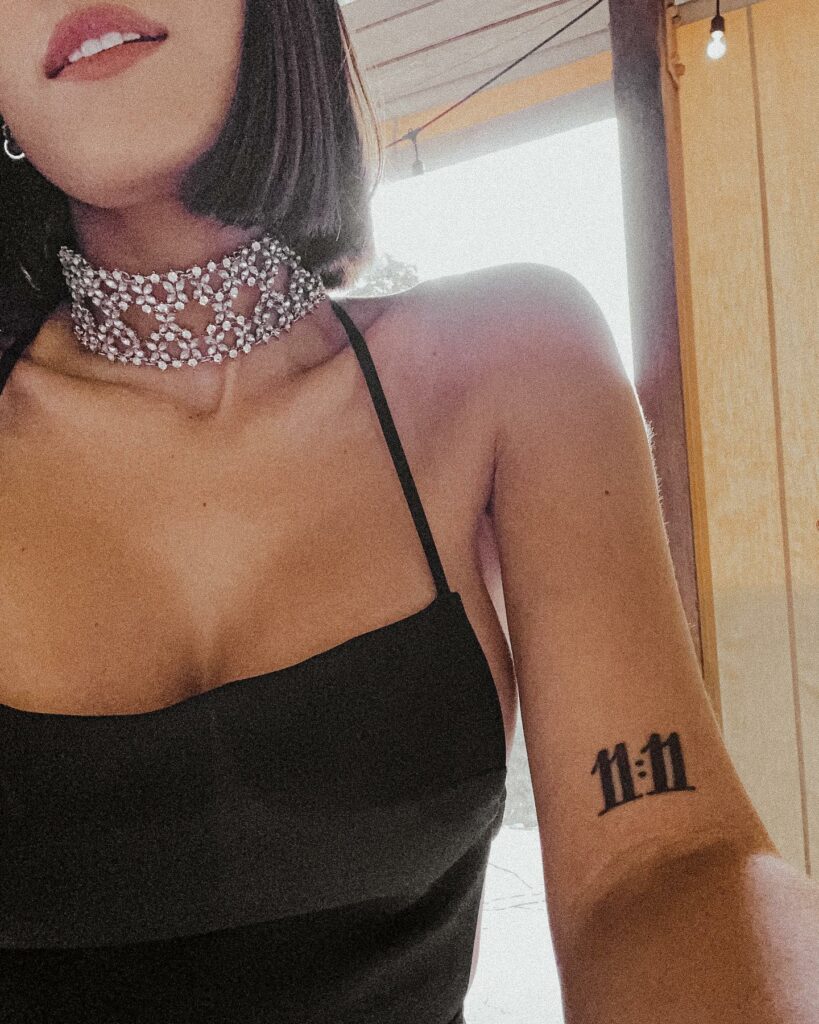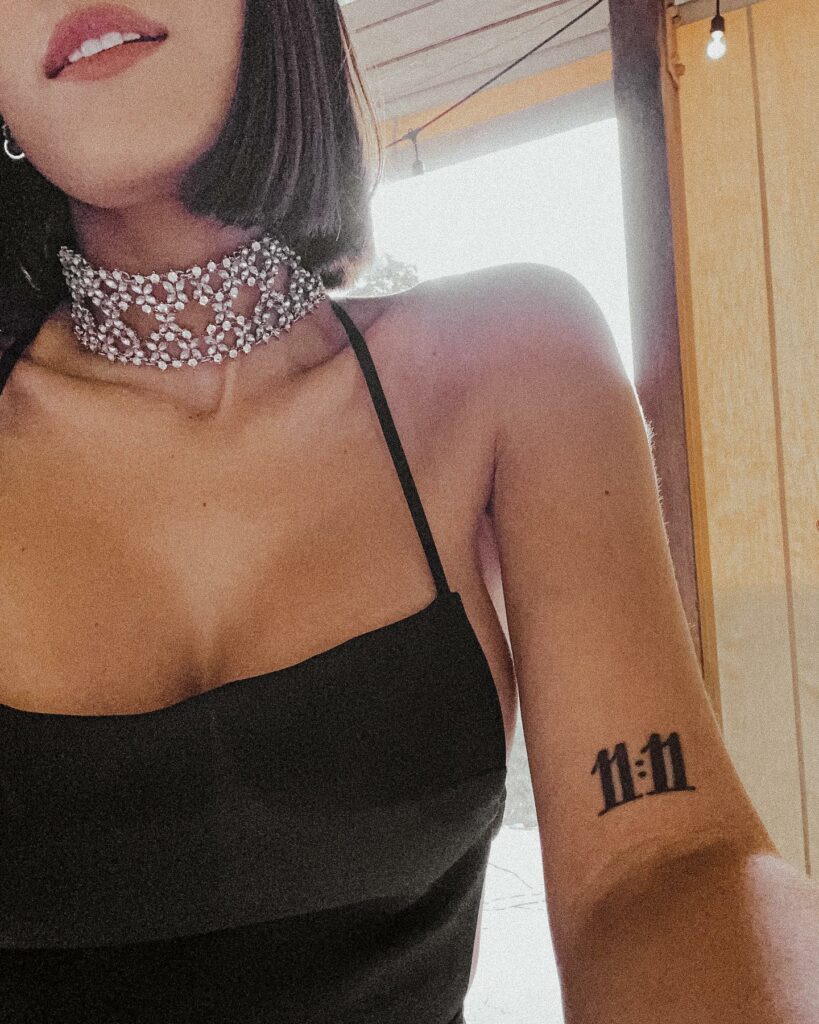 Many people like to put this cool picture on their upper arm. It looks really good there. The big letters used in this one make the number stand out and look fancy.
The way the picture is shaded makes it look like it's popping out a bit, and that's awesome.
This picture could be a great choice if you want to show how you feel and tell a strong message. It might make people talk about it and help you remember to stay happy and hopeful every day.
Just remember, a picture like this is like a special sticker that shows who you are, so choosing one that means something to you is important.
If the special number 11:11 is important to you, having it as a picture on your skin could be a really neat way to show it off.
Finger 1111 tattoo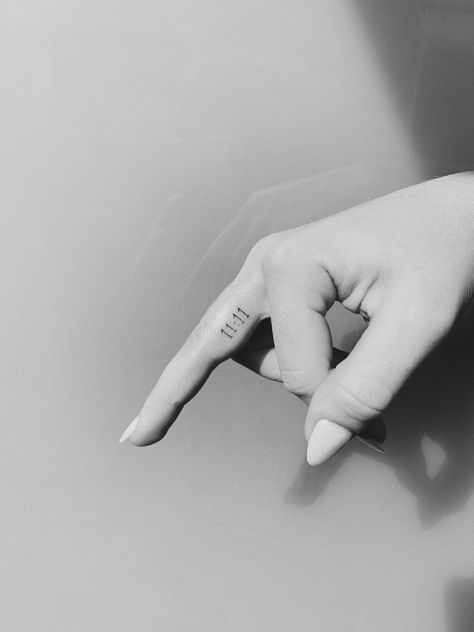 This design starts at the wrist and goes up to the middle finger, like a bracelet. The top part has three pretty butterflies with stars around them. Two butterflies have open wings, and the third has closed wings, which makes it look nice.
The artist used thin lines to make the butterfly wings look delicate. A heart on the finger's bend with dots and stars hanging from it makes it look nice.
Below the heart, there's the special number 11:11 tattooed. The tattoo ends with a cross, which is a symbol of faith.
If you believe in something, like faith, 1111 tattoo could be great for you. It's a pretty picture that reminds you about the strength of faith.
If you like this idea, getting this tattoo could be a cool way to add something special to your body art collection.
Arrow And 1111 Tattoo On Wrist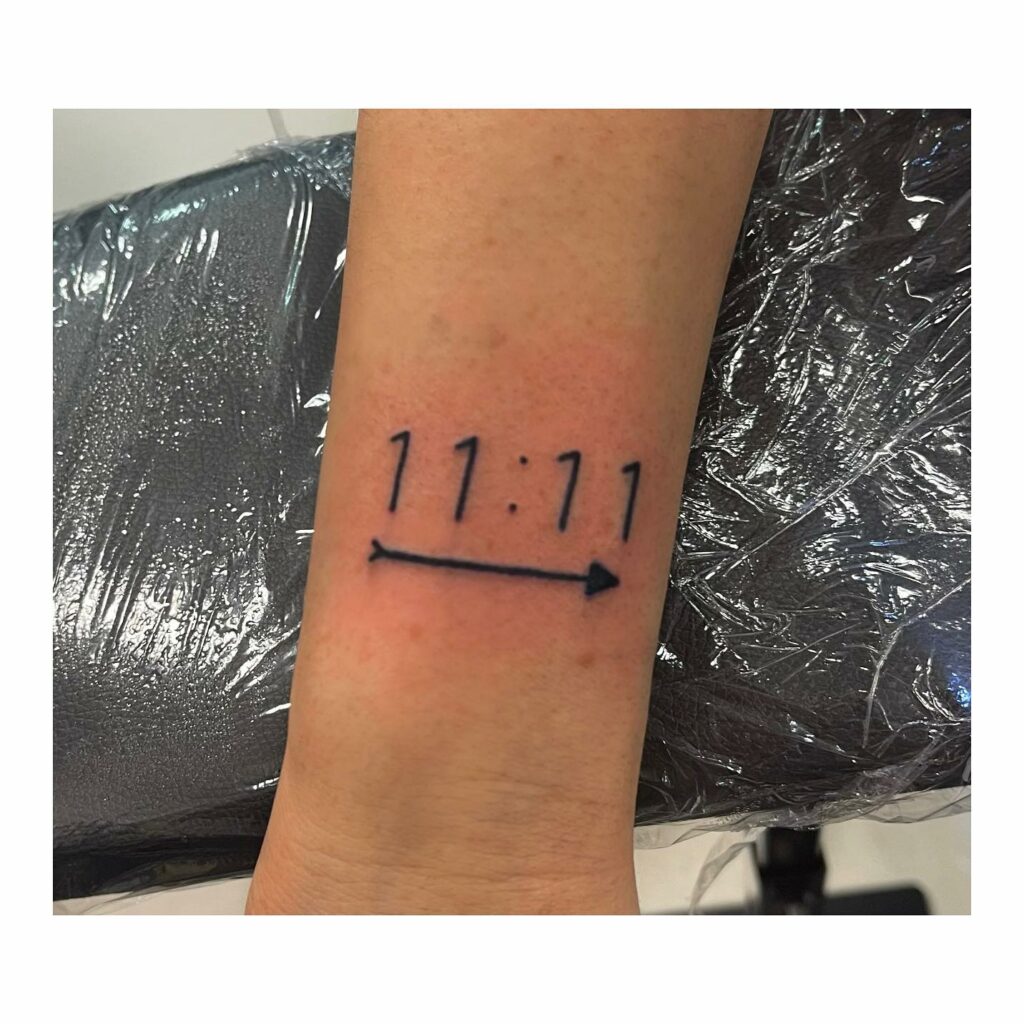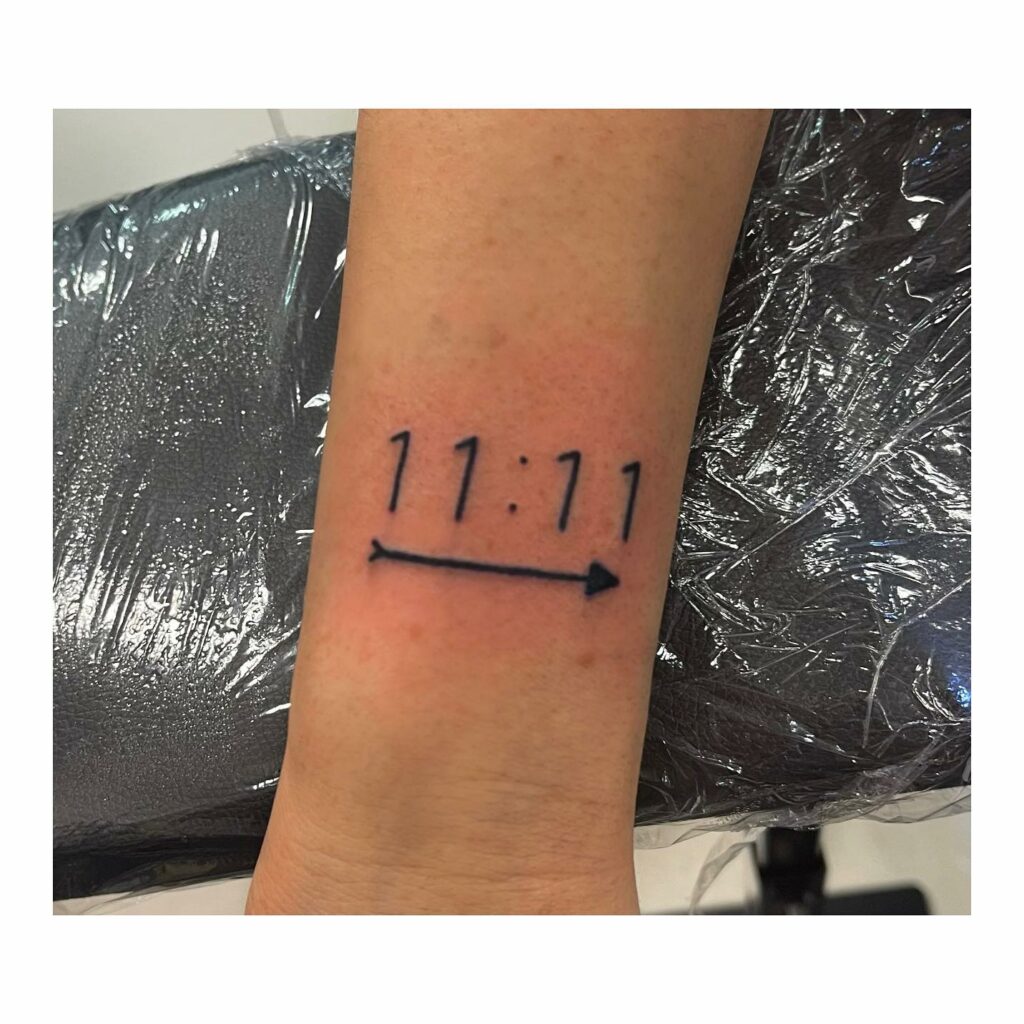 The number 1111 holds a special meaning, suggesting that things are in harmony with the universe.
The arrow in the tattoo signifies being on the correct path and receiving universal guidance step by step. This tattoo is a gentle reminder that everything is progressing as it should be.
Additionally, 1111 tattoo prompts you to maintain hope and faith in the universe. It's a way to remember that your guardian angels have positive intentions for you, and this tattoo helps you stay connected with them.
The font used in the tattoo is simple yet elegant, giving it a clean and timeless appearance on your skin.
This design might be a perfect fit if you're drawn to minimalistic tattoos. It's an effective way to express your beliefs and stay rooted in the present.
If this design resonates with you, consider getting it as a tattoo – proudly showcasing your connection to the universe.
Matching 11:11 Couple Tattoo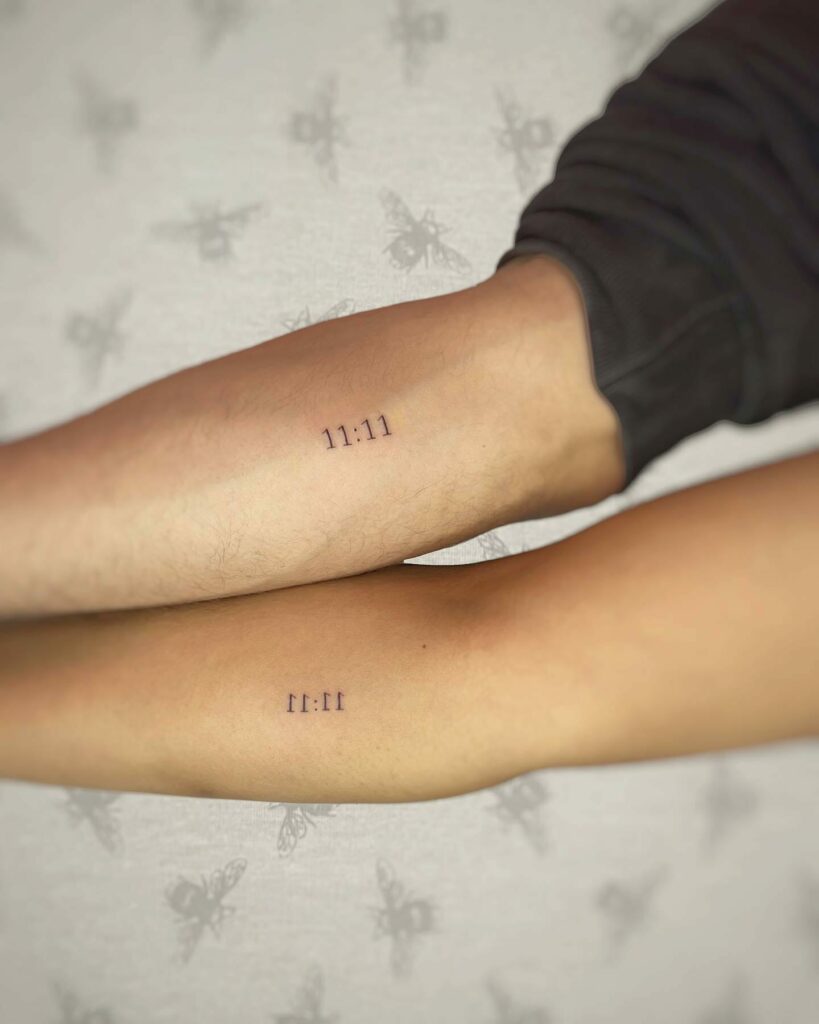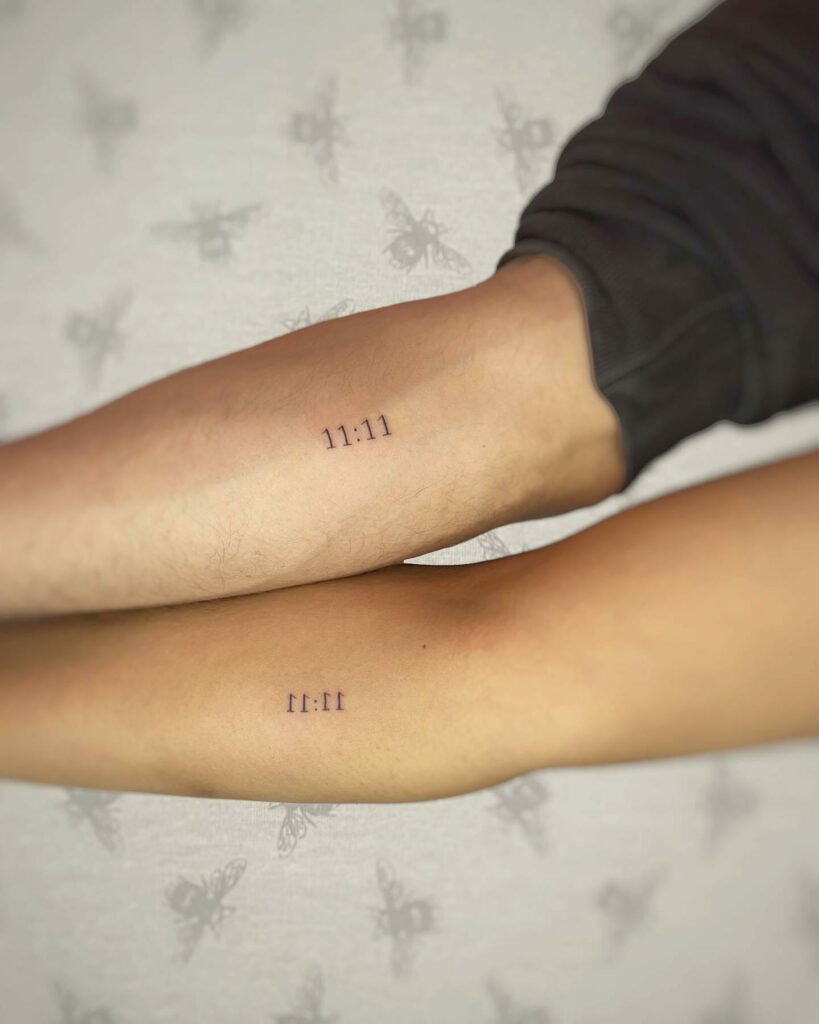 Both tattoos' writing styles are simple and basic, making them look clean and modern.
The tattoos are on different parts: the number on the upper hand is written from left to right, while on the lower hand, it's written from right to left. When you put them together, they make a cool, neat, mirrored effect.
Where the tattoos are on the hands also makes them special. It's like showing that things align with the universe, like a strong connection. This tattoo reminds you to trust your friendships, even when things are tough.
So, if you're considering getting a tattoo with a friend, this one is a great choice. It's simple but has a lot of meaning, showing you care about each other and reminding you to stick together no matter what.
Why not give it a try? You'll probably really like how it looks.
Also Read – 444 Tattoo Meaning
Make A Wish 11:11 Tattoo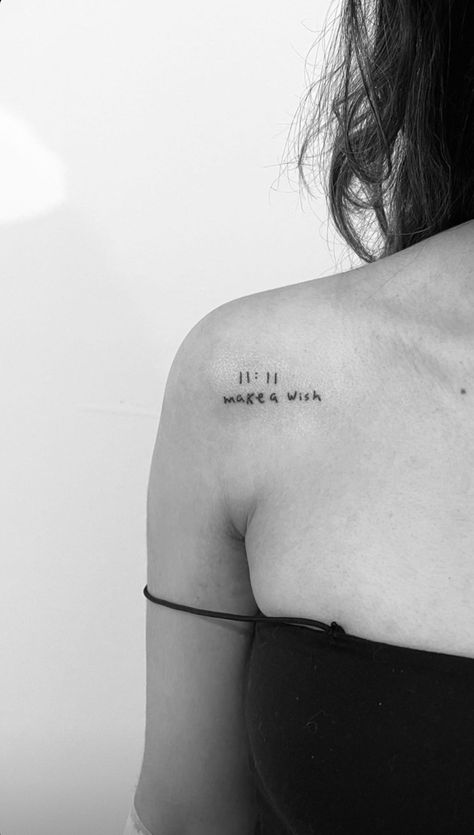 This design has the special number 11:11 and the words "make a wish" on different hands.
This tattoo is a good way to remember when you make a wish after seeing the number 11:11. The spot where they put the tattoo is also good, so the words and numbers stand out.
They added a little shading to both tattoos to make them appear more.
The writing they used for the tattoos is also nice. It's simple but looks nice, making the tattoo seem classic. This design has a nice message and is good for people who believe in making wishes.
So, if you're someone who wishes when you see the number 11:11, this tattoo could be a good idea. It's a way to remind you to stay hopeful and believe that your wishes can come true.
If you like the sound of it, why not give it a try? You might like how it looks.
Abstract 1111 Tattoo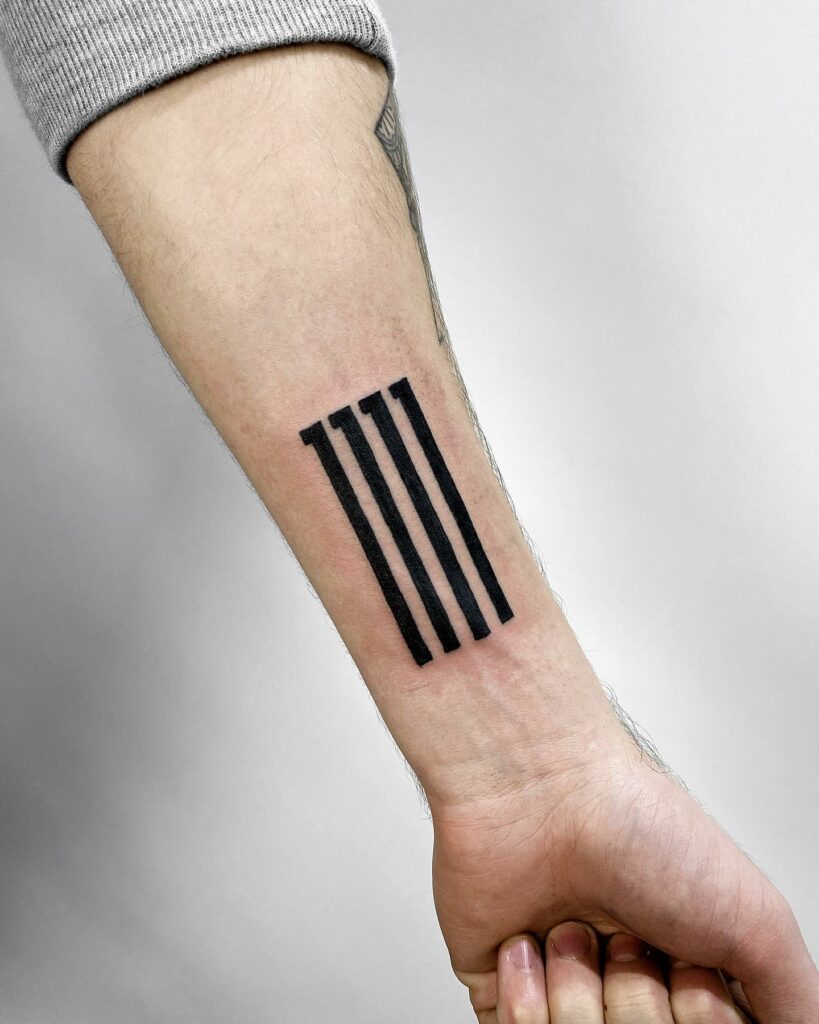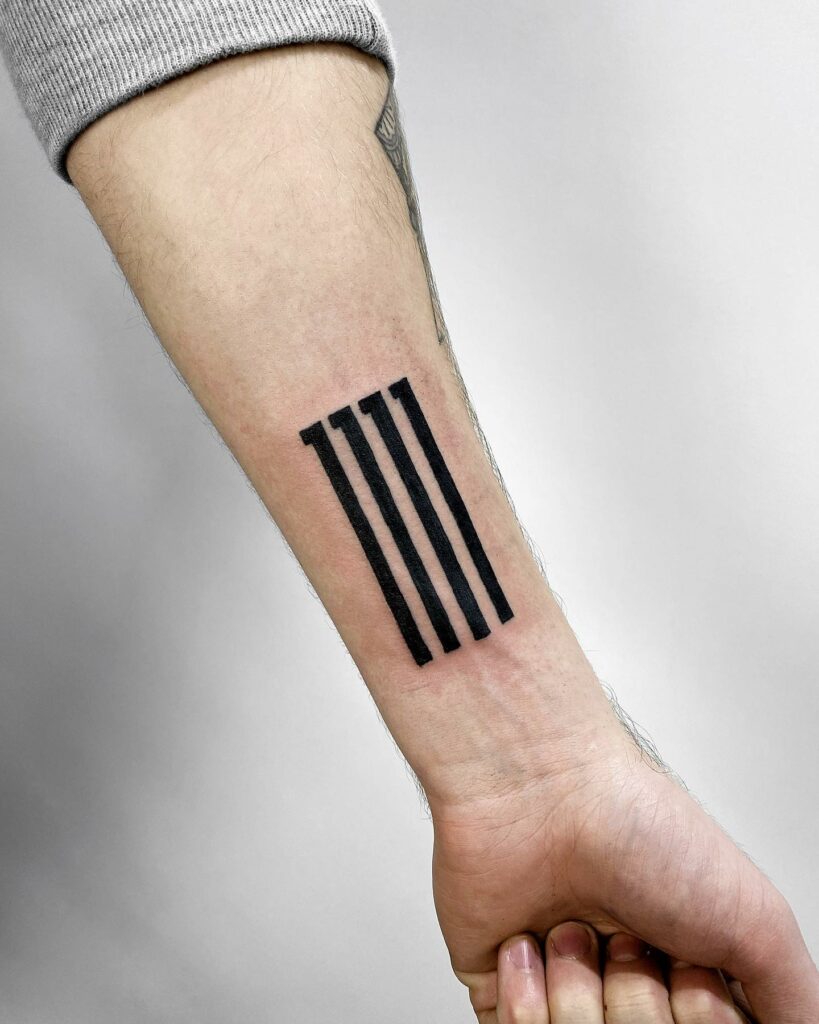 The technique used in crafting this tattoo is quite intriguing as it gives the appearance of the longer parts of the numbers resembling parallel lines.
This unique aspect holds significance, symbolizing the meaning behind the angelic number 1111 – when this number appears, it's like a signal that your thoughts are harmonizing with the universe, moving in parallel. Pretty amazing, right?
This tattoo design is far from the ordinary, making it exceptional and captivating. If you like abstract art and desire a tattoo that truly stands out, this design is tailor-made for you. Rest assured, and you won't regret your choice.
Infinity 11:11 Tattoo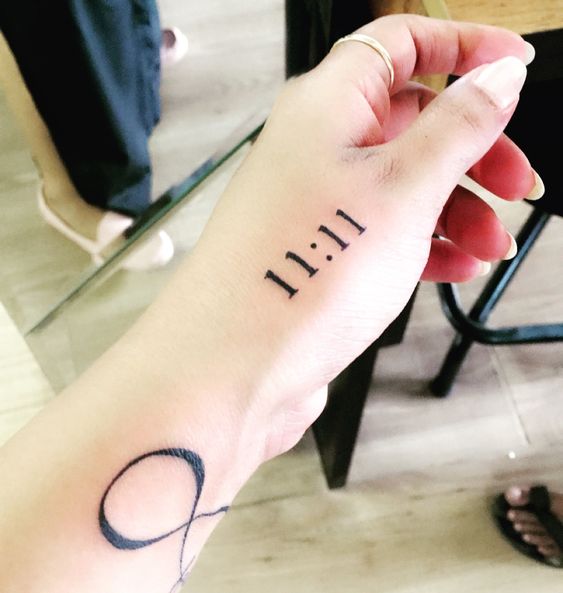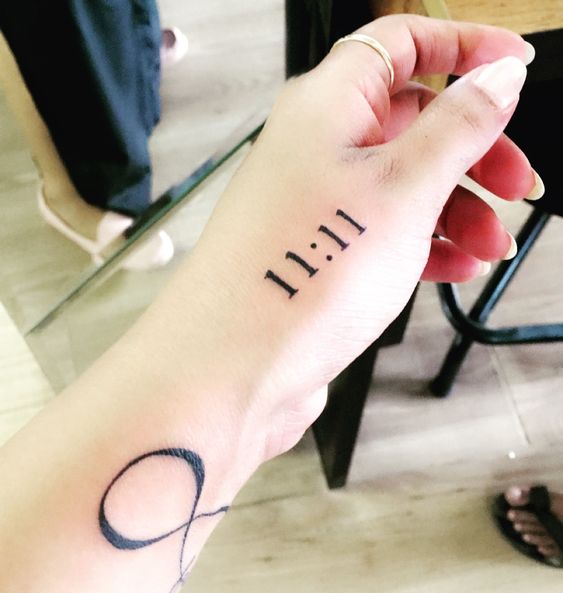 The number is written in a simple yet elegant font, with hands beautifully inked below it.
The fingers of the hands are cleverly connected in a special way to make the infinity symbol, and the heart is delicately shaded with vibrant red ink.
The hands reaching out from the heart make the whole tattoo look beautiful, something you'll always love looking at.
This tattoo isn't just a pretty picture; it's also a strong reminder that the universe cares about you and has endless plans for you.
So, no matter what happens in life, always stay hopeful and believe in the power of 1111. If you're someone who truly believes in love, then this tattoo is perfect for you.
So, why wait? Let's start creating this artwork that you'll treasure forever.
Coloured 11:11 Tattoo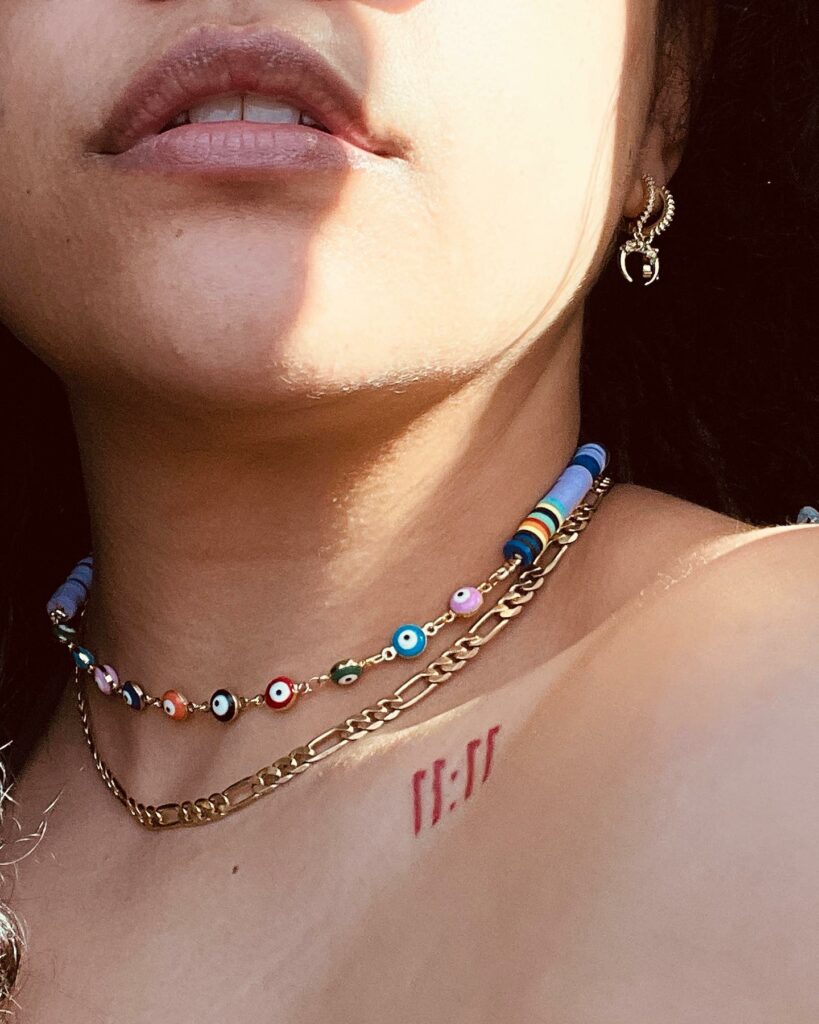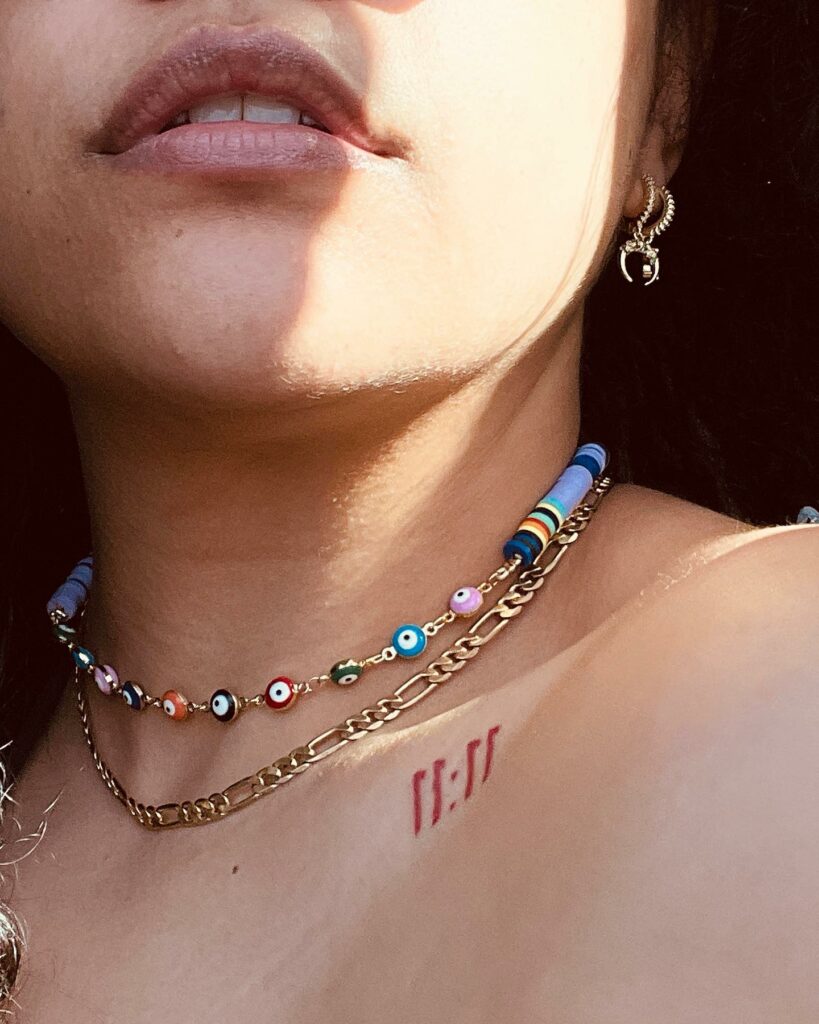 This tattoo showcases the special number on the collarbone, using a simple and nice font that gives it a clean look.
The artist used red ink to make the design stand out, giving it a pretty appearance that's sure to catch your eye.
But this tattoo is more than just a beautiful picture – it's also a strong reminder never to stop making wishes and to believe that the universe is on your side.
When you get this tattoo, you also tell yourself that your thoughts and plans are connected to the universe. It's a symbol of hope, a way to remember that everything has a reason and that believing in good things is important.
If you're looking for a tattoo that will encourage and inspire you, then this is the perfect choice. Believe me; you'll be happy you got it! So, let's start creating this amazing tattoo you'll love forever.
Conclusion
In conclusion, the number 1111 could signal a meaningful tattoo idea. Linked to Numerology and New Age beliefs, 1111 signifies alignment with the universe and the guardian angel's presence.
Popularized recently, the number relates to intuition, insight, and positivity. If you're intrigued by these concepts, an 1111 tattoo might be your ideal choice.
Each design holds personal significance, making it a unique representation of your beliefs. Embrace the opportunity to adorn your skin with a design that resonates with your journey.
FAQs
Question: What does the 11:11 tattoo mean?
Answer: The 11:11 tattoo conveys that the universe reminds you to be aware of a divine presence in your life. Many find the significance of this number appealing and consider getting it as a tattoo.
Question: What is the 111 tattoo?
Answer: For some, the 111 tattoo signifies a strong connection to their guardian angels. It's a way to express gratitude for these angels' protection and guidance.
Question: What do the 11 tattoos on the wrist mean?
Answer: Celebrities like Jennifer Aniston sport the "11 11" wrist tattoo due to their spiritual beliefs and personal ties to the number 11, such as birthdays or special memories.
Question: What is the deep meaning of the number 11?
Answer: Number 11 holds multifaceted meanings, including being an illuminator or teacher. It symbolizes spiritual awakening, encourages positive thinking and manifestation, and urges individuals to use their unique talents to contribute positively to the world.
More 1111 TATTOO IDEAS