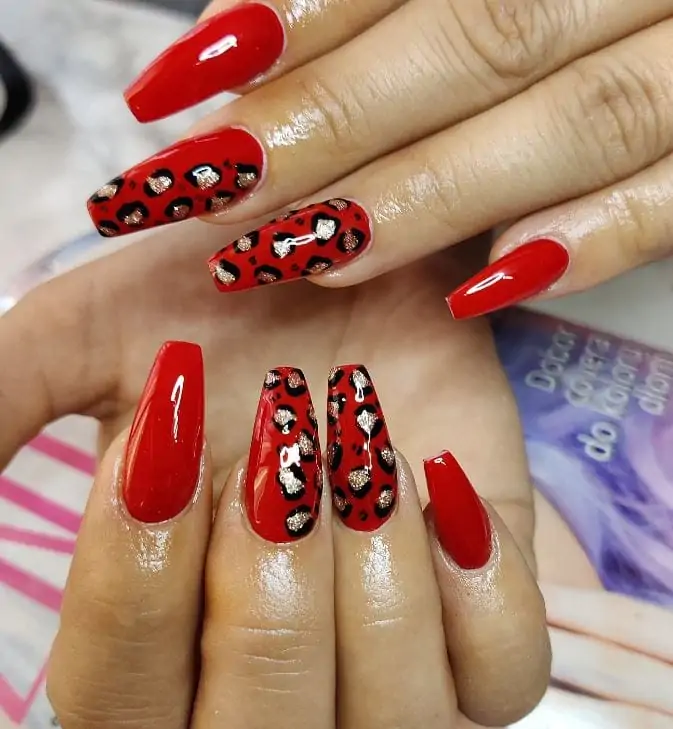 Bright red coffin nails are really popular if you want your nails to look bold. Red nails on their own look nice, but you can mix things up by adding colors like white, beige, taupe, or gray to make them look more subtle.
When you make your nail art personal, it helps you feel more confident. You can show who you are through your nail art with shiny things like crystals, gems, and glitter, or by painting a tiny picture of your favorite place.
If you really like red nails like I do, I've found 25 special red coffin nail ideas for you. These ideas will help you think of new and exciting ways to wear your red coffin nails.
Exciting Ideas for Your Red Coffin Nails
1. Shiny and Beautiful Red Coffin Nails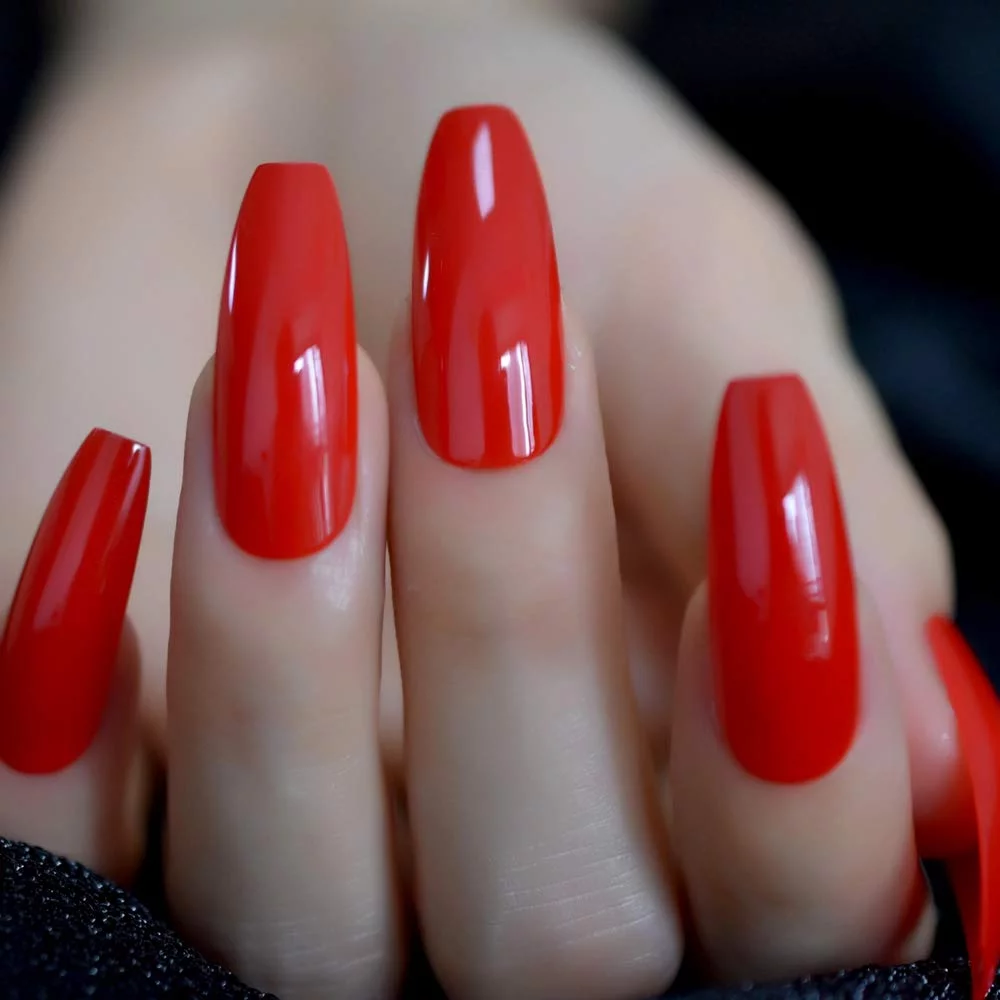 Imagine having nails that look like coffins painted deep, shiny red. This style is appealing and perfect for a special dinner date where you want to look classy.
2. Cool Mix of Red and Nude Nails
Get ready to be impressed by this stylish nail design. The coffin-shaped nails have red, nude, and white colors that go together well, making them look modern and fancy.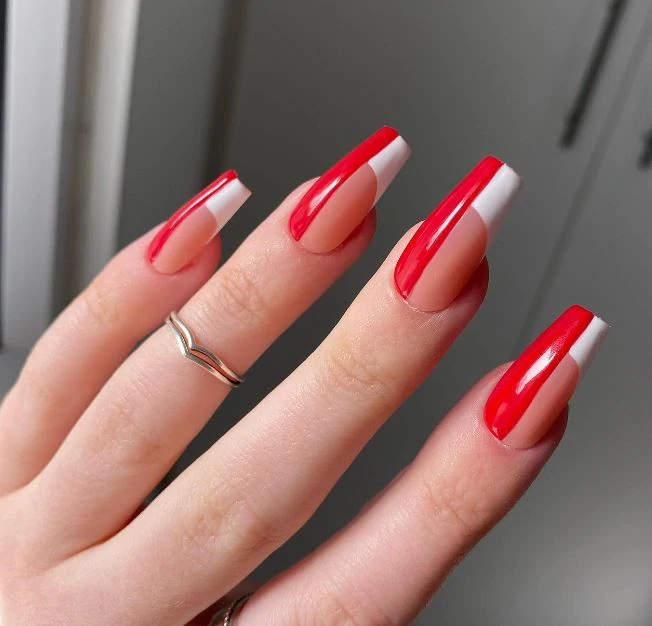 3. Making Nails Fancy with Cherry Designs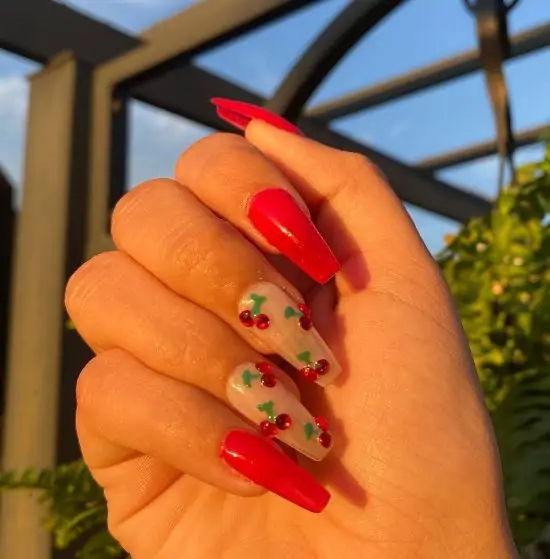 Make your nails stand out with a fancy design that has cherries on a neutral background. The bright red cherries make your nails look lively and elegant.
4. Creative Dark Red Nail Style
Add some creativity to your nail art with a unique design. Some of the nails have cute red hearts, and the others have glossy nude polish for a fancy touch.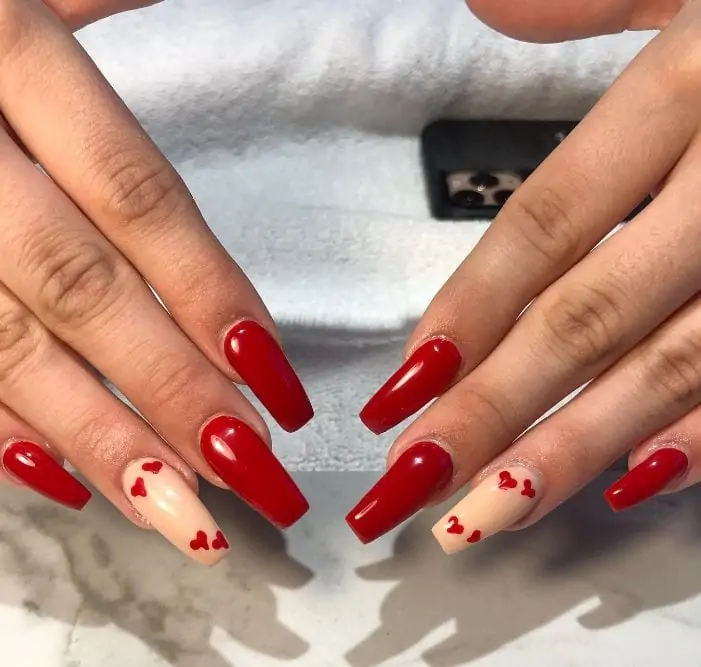 5. Long and Glamorous Dark Red Coffin Nails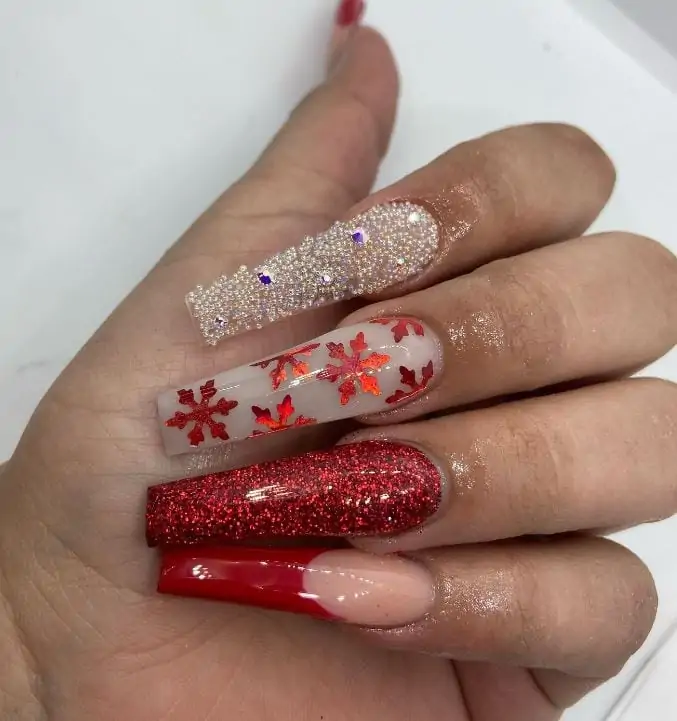 Imagine having long, dark red nails that look super fancy. Some nails have sparkly red stuff that adds fun, and one nail has shiny silver stuff with small shiny stones. The middle finger has a special design that makes everything look even cooler.
6. Fancy Red and Gold Nails
Make your nails feel fancy with red nails that aren't too shiny, and add gold sparkles on the tips of some nails. It makes your nails look extra special and stylish.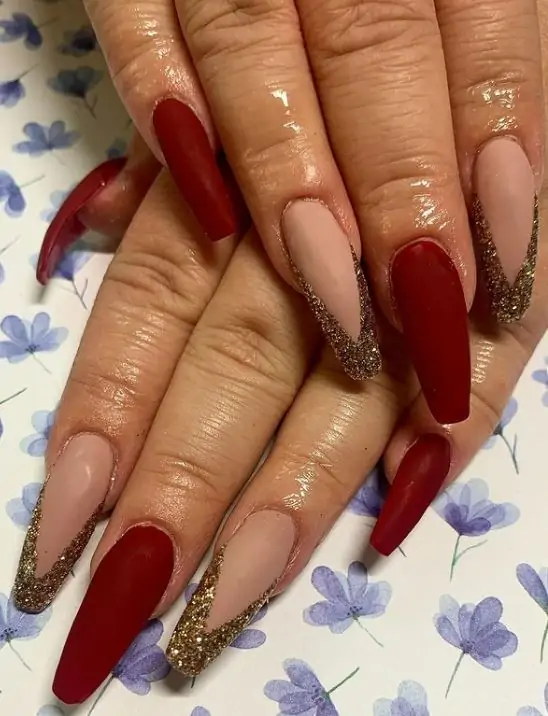 7. Cool Red Coffin Nails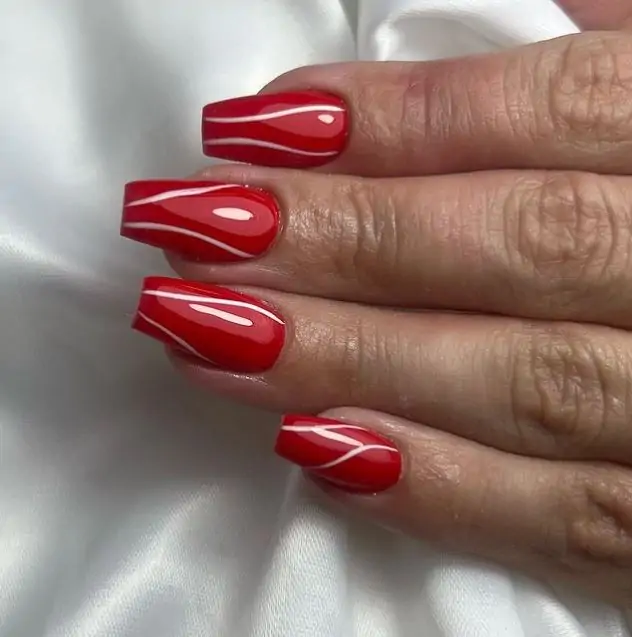 Imagine having short nails shaped like coffins. They're painted in shiny red and have neat white stripes on them. This nail style looks nice and gives a lovely feeling.
8. Long Coffin Mani
If you like longer nails, you'll like this design. Some nails have red glitter, while the others are glossy and nude with bright red tips.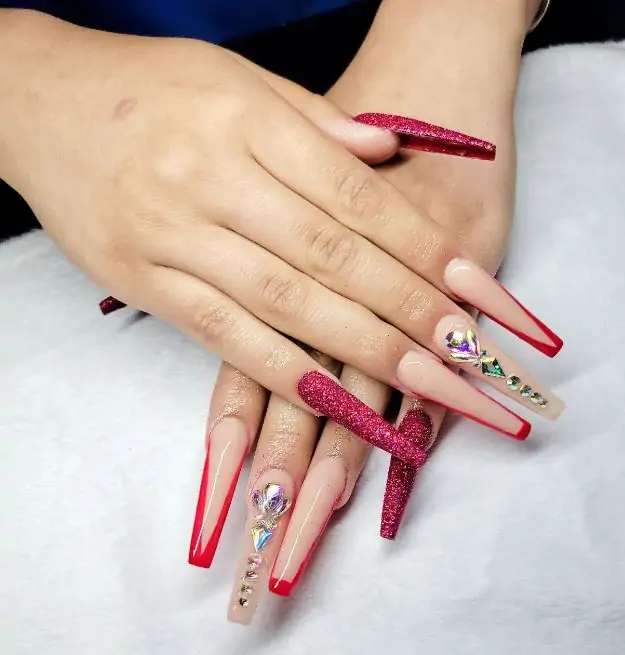 9. Fun Bright Red Crocodile Nails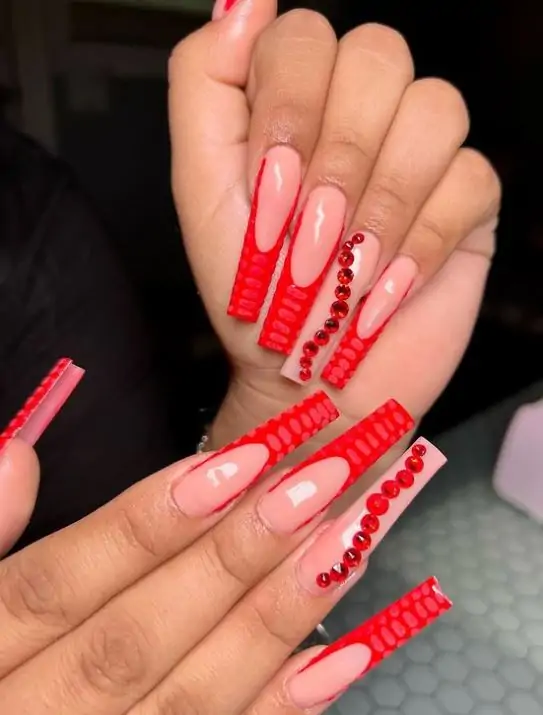 Imagine having long nails that look like coffins. They're painted with bright red and nude colors. Some nails even have a crocodile pattern and shiny red crystals on one finger.
10. Red Coffin Nails with French Tips
These nails are shiny and red, but there's a twist. One of the nails on the right hand has white at the tip, like a modern version of a classic style.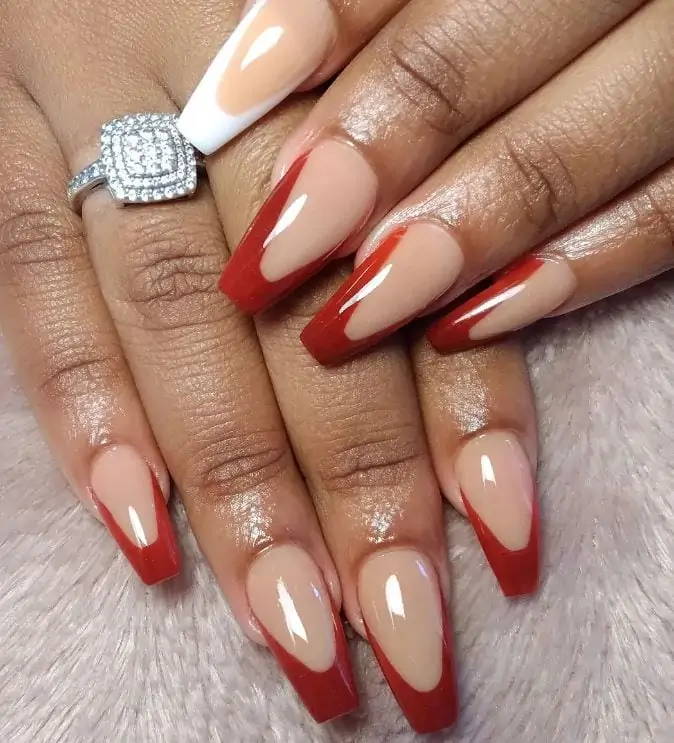 11. Elegant Matte Red Nails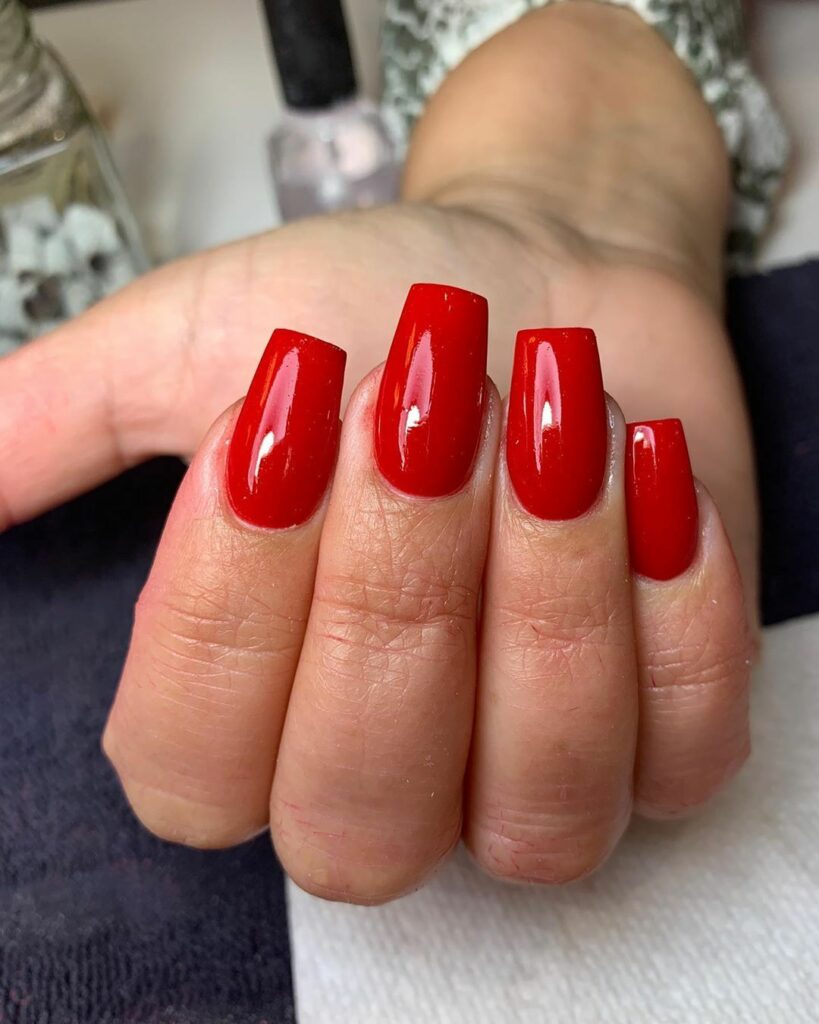 Think about having short coffin nails that are bright red. They don't shine, but that makes them look sophisticated and cool.
12. Pretty Red and White Coffin Nails
Imagine having nails with red and white colors. One nail has fancy gold designs on the red. It's a nice mix of colors that looks good.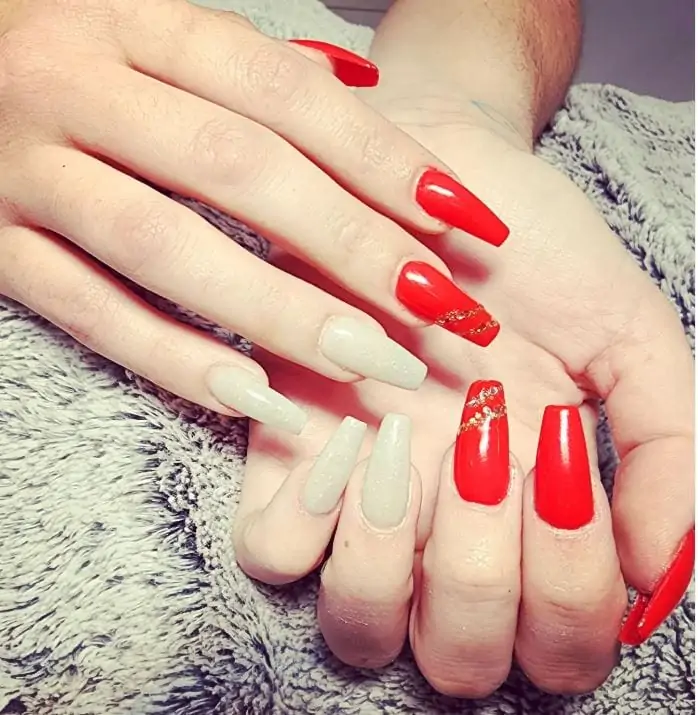 13. Shiny Marble-Look Nails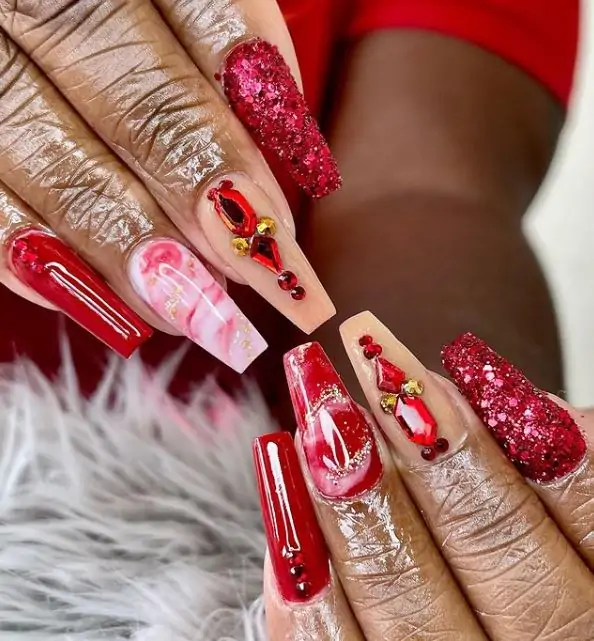 Think about having gleaming nails with a design that looks like marble on a few of them. Some nails also have sparkly rhinestones and loose red glitter on one of them. The dark colors make the nails look bold and daring.
14. Coffin Nails With Dragon Designs
Here's something different – nails decorated with pictures of dragons and colorful shiny stones that change color on some nails. The color of the nails is bright and catches your eye.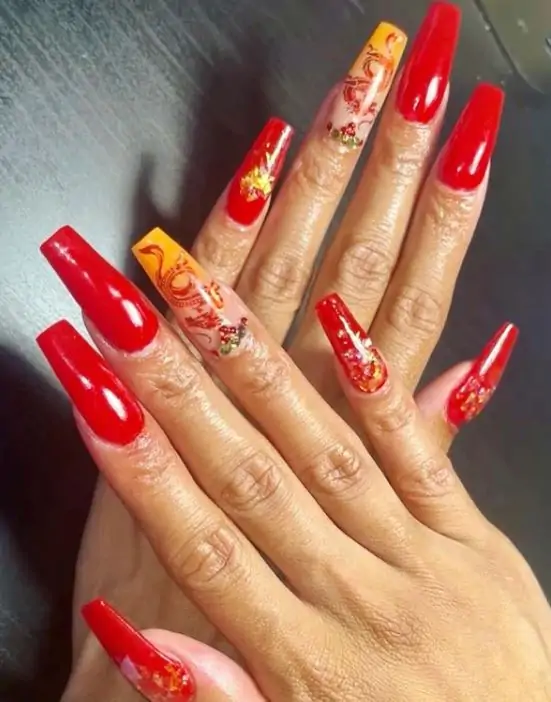 15. Fancy Long Coffin Nails with Red Roses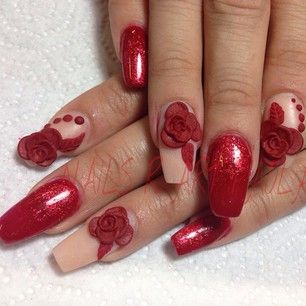 Imagine having long nails with pictures of red roses painted on one of them. You can ask the person doing your nails to paint roses on them.
16. Red Coffin Nail Art
Look at these special nails with black, red, and white lines on one of them. It's a creative look that stands out and looks nice.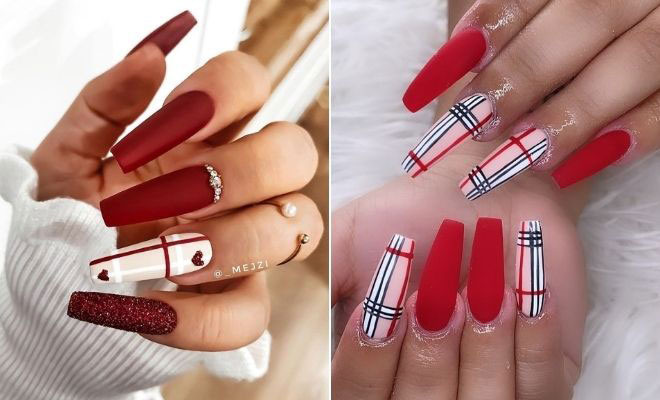 17. Pretty Red Nails without Shine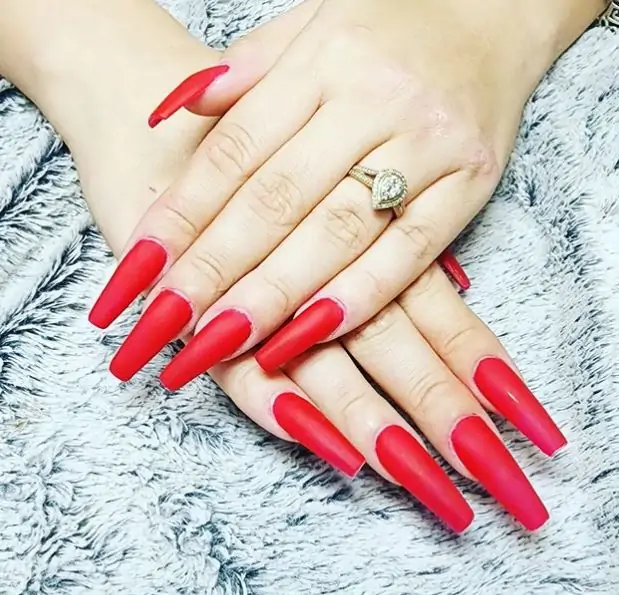 Check out these pretty red nails that don't shine. They're a nice color and can be good if you're celebrating a birthday or something special.
18. Fancy Long Coffin Nails with Pretty Stones
This set of nails has different stones in different shapes and colors. The patterns made with the stones make the nails look special and fancy.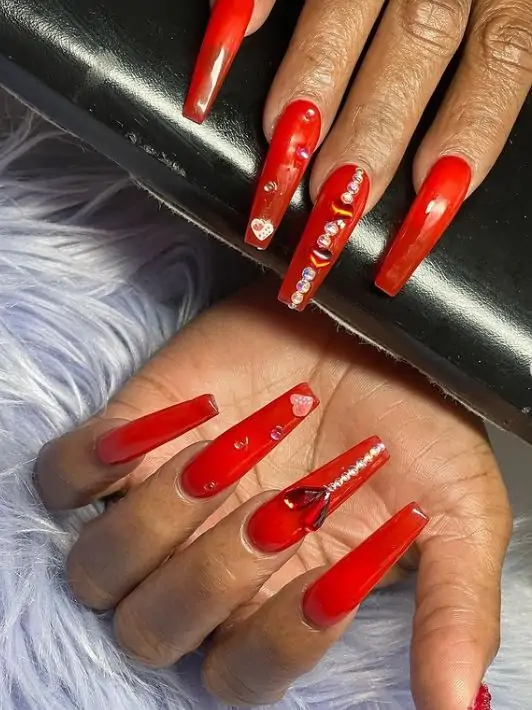 19. Nice Dark Red Coffin Nail Art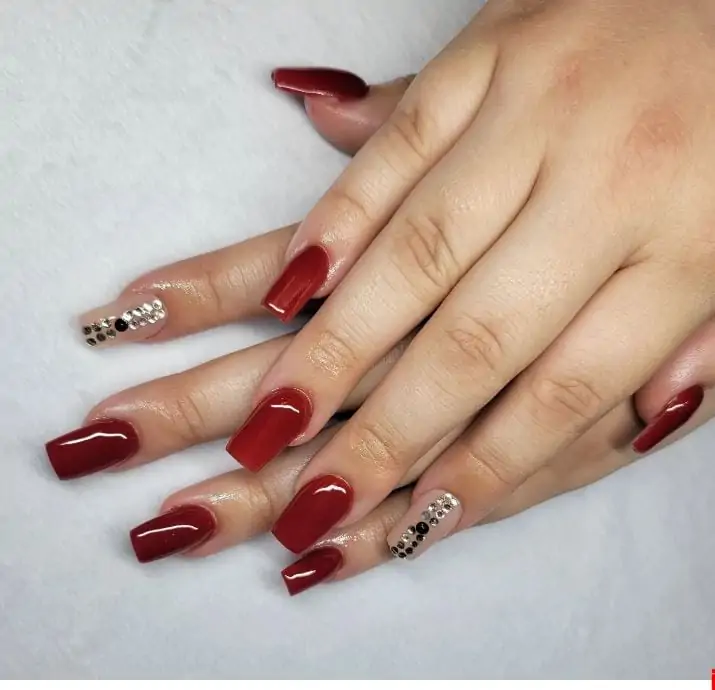 These nails are a dark red color and have cute black and silver stones on one of them. You can copy this design on that nail to match what you like. The whole look is simple and nice.
20. Short Nails with Cute Tips
Imagine having short nails painted with a classic style where the tips are a different color, like the French flag. There's also a little picture of a flower on one nail and small shiny silver stones on another. It's a great look for when it's sunny and happy outside.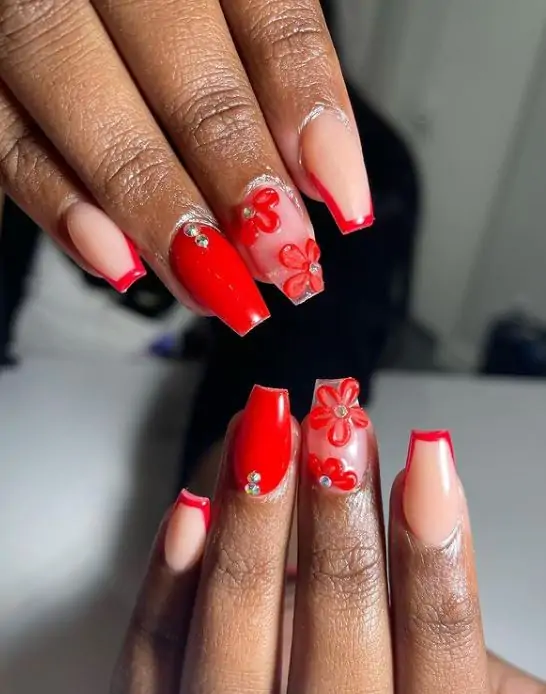 21. Popular Shouting Nails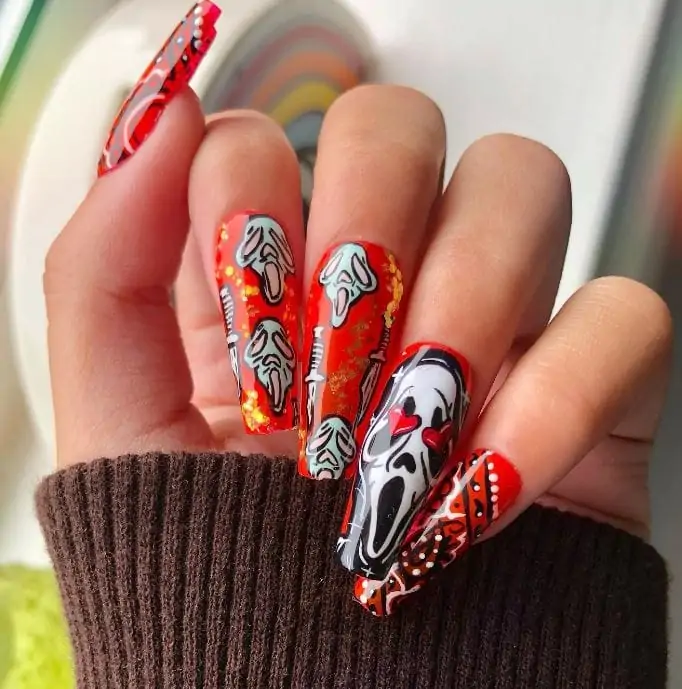 Let's talk about the shout nail design many people like, but now it's in bold red. The design shows a face that's shouting, and it looks cool. This is a good choice if you want to try something a bit daring.
22. Short and Cool Red Coffin Nails
Look at these shiny nails with black designs on one of them. You can change the black swirls to match what you like.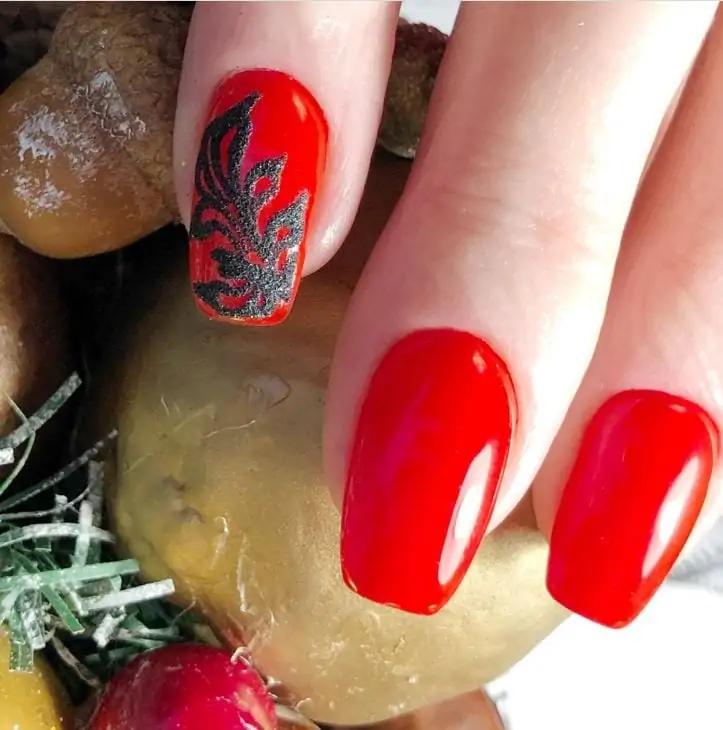 23. Fancy Nails with Gold Glitter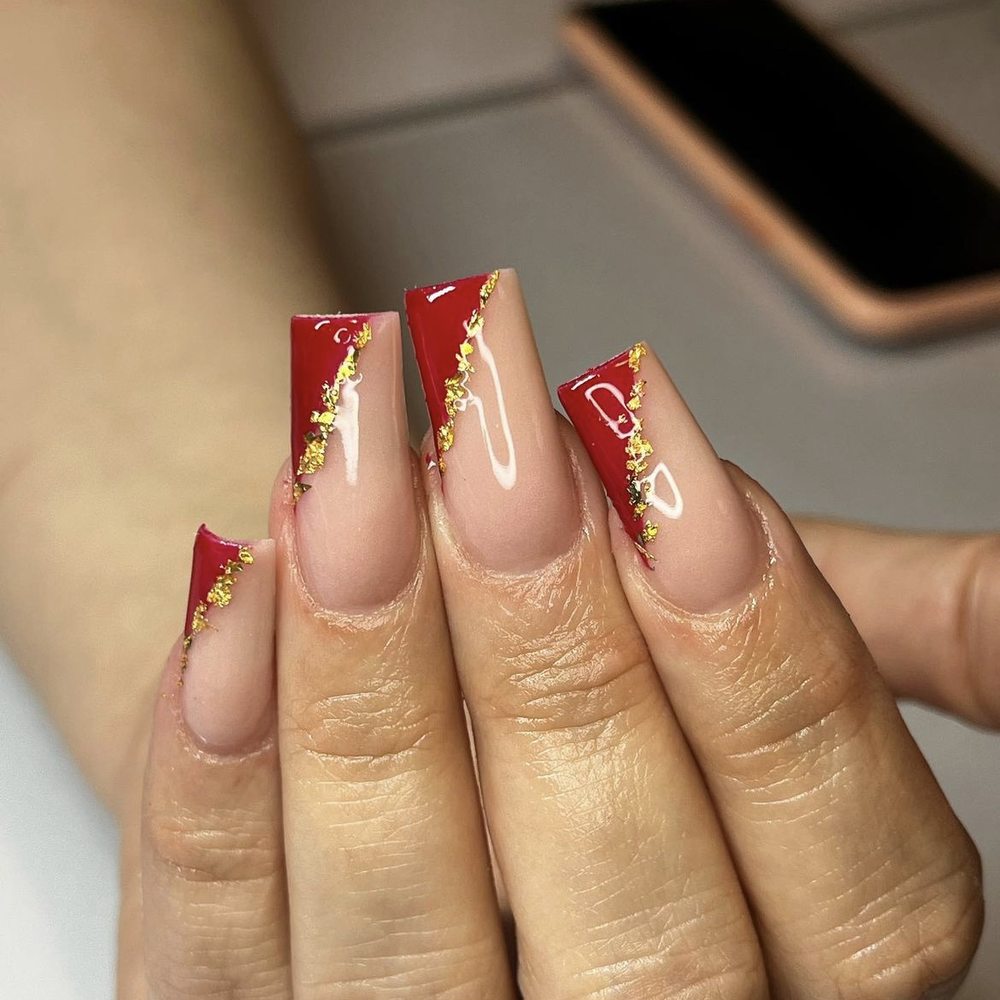 Imagine having fancy nails with shiny gold designs on the middle and ring fingers. The sparkle makes the nails look special, perfect for a romantic date on Valentine's Day.
24. Bold Acrylic Coffin Nails
I like bold red colors, and if you do too, you'll like this design. One finger has sparkle and silver stones near the bottom of the nail. The middle finger has a cool change from light to dark red that I can't stop looking at.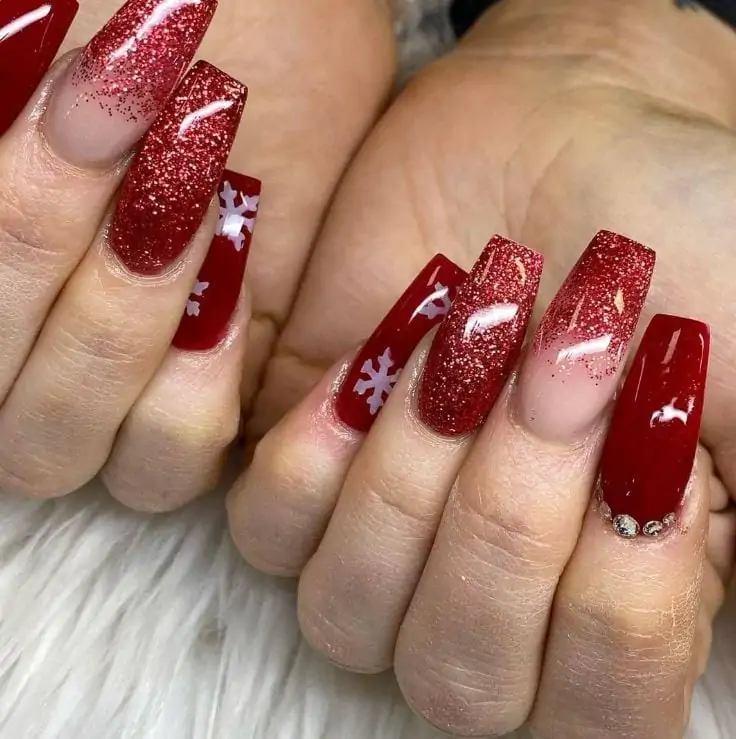 25. Fun Leopard Print Nails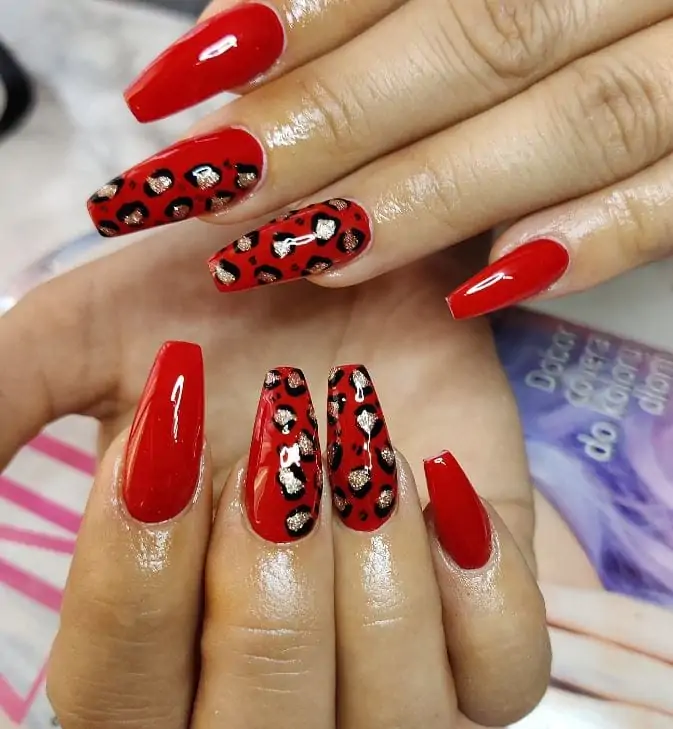 This design with spots like a leopard is eye-catching. You can change the spots to hearts or something cute. You can also add splashes of color on some nails to make them look bright for summer.
Recommendation
Toenail Falling Off: Causes, Care And Treatment
How to Stop Nail Biting- Reasons and Prevention of Nail Biting
Cute Birthday Nail Designs For Your Special Day Glam
Conclusion
These cool, pretty, and creative red coffin nail designs are nice. You can show off your favorite designs anytime. Red nails make things look more special and fun, especially for holidays like Christmas, New Year's, and Valentine's Day. Have fun trying these designs!
Some FAQs
Q: What exactly is a coffin nail?
A: Coffin nails, also referred to as ballerina nails, are a variation of the stiletto nail shape. Unlike the pointed tip of a stiletto, coffin nails have a square tip. These nails are characterized by their elongated and tapered appearance, with a flat tip. The term "coffin" or "ballerina" is used to describe this nail shape due to its resemblance to a coffin and a ballerina's slipper.
Q: What are coffin nails, and how do they differ from ballerina nails?
A: Coffin nails, also known as ballerina nails, are a nail shape characterized by their square tip rather than a pointed one. They are long, tapered, and have a flat tip. The name "coffin" comes from their resemblance to a coffin and a ballerina's slipper. The key difference is in the shape of the tips: coffin nails have flat and sharp edges, while ballerina nails have softly curved edges.
Q: Who does the coffin nail shape work well for?
A: The coffin or ballerina nail shape is ideal for people with naturally strong, long nails and slim fingers. This shape is achieved by squaring off the free edge of the nail.
Q: Are coffin nails still considered stylish in 2023?
A: Yes, in 2023, certain nail trends are emerging. The "squoval" shape, which combines square and oval elements, is gaining popularity, particularly for French manicures experiencing a resurgence. For those who like a touch of edginess, the coffin nail shape remains a popular choice this year.