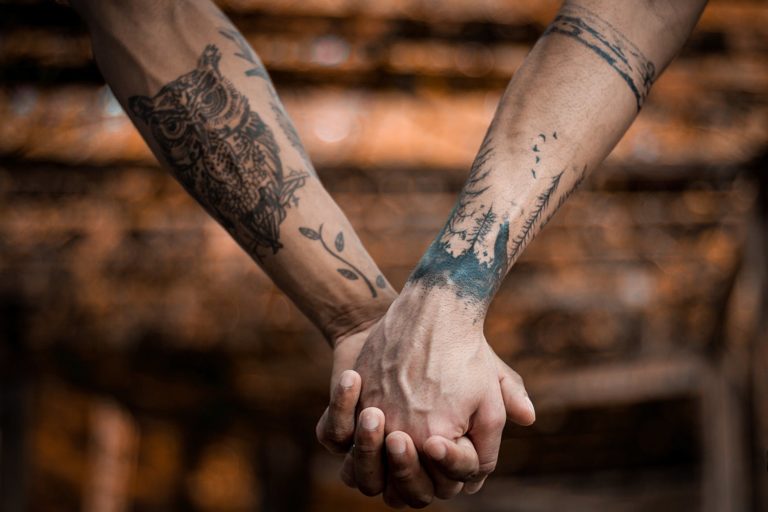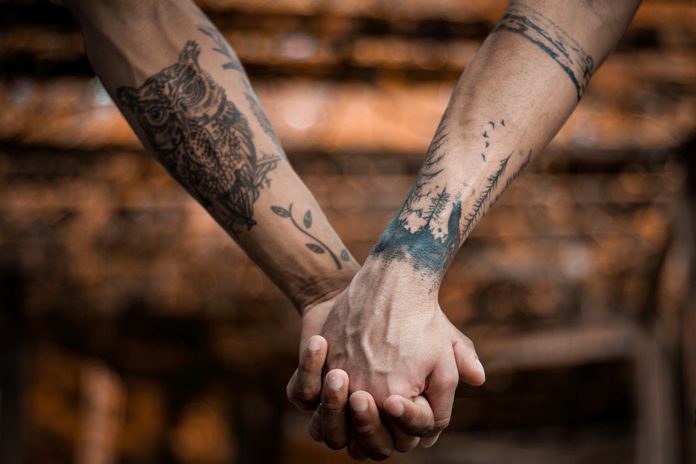 Negative space tattoo designs are raging nowadays. If you love unique designs and patterns, then negative shading tattoos will be the right choice for you.
This tattoo technique is different from other tattoos: instead of creating an outline, the design is done using heavy colors and contouring the skin area to create a design. Instead of ink, the skin forms the image, similar to a stamp.
The tattoo artist carves out the part that does not touch the skin using highlighting and ink on the major parts and leaving the rest of the area blank.
This article has included all the things you need to know about getting this Negative space tattoo. To give you a little inspiration, we have included some beautiful Negative space tattoo ideas.
What Is NEGATIVE SPACE TATTOO?
Negative Space Tattoo is also known as a reverse tattoo, is a technique in which a proposed part of the skin is left uncovered to form a preferred design.
These tattoo designs are widely based on black ink and are super affordable as compared to other tattoo styles.
Negative shading tattoos include designs that play with reverse images on the skin as a chief subject.
The key to getting a beautiful negative space tattoo is using the usual skin color for the lightest part of your tattoo design.
The most interesting thing about negative space tattoo ideas is that we believe the eyes are drawn towards the darker parts, but in reality, our brains focus on the inside picture.
PLACEMENTS OF NEGATIVE SPACE TATTOO
For people who are eternal dreamers, a Negative space tattoo brings space right and constantly remind us how big is the cosmos.
The size of your preferred tattoo design must be chosen according to what area you get inked. If you are planning to get a very detailed design, the tattoo will need enough area for elaboration and fine lines.
Lettering negative space tattoos are a perfect example of details that require space. If you want a small negative space tattoo, you can pick any place like the ankle, around the finger, wrist, the rim of your ear, or the nape of your neck, for the best effects.
Think carefully when selecting a body part where you would like to get a negative theme tattoo. The most preferred body part of getting a tattoo is the shoulders, forearm, biceps, legs, chest, upper arm, elbow, and legs.
BEST NEGATIVE SPACE TATTOO DESIGNS
Below we have mentioned some amazing Negative space tattoo designs to give you inspiration for when you get inked next time.
Animal Negative Space Tattoo
Negative space tattoo ideas open endless possibilities for you to get creative. If you are an animal lover or own a cute little pet, then we have a great design option for you. Create a black background in the shape of the animal and add the details to space within.
Delicate Designs
One great way to showcase the stunning negative shading tattoos is by creating a yin-yang effect by blacking out one of the figures and outlining the other figure.
Rose Negative Space Tattoo
Although space tattoos have a unique design element of their own, it does not mean that you cannot incorporate a detailed design. Instead, you should try more is more approach in your designs. You can add as many design elements as you like, from animal details to colored roses.
Geometric Negative Space Tattoo
Incorporating small or a few geometric designs in your space tattoo will make the overall design more balanced. The geometric shapes define really well where an element begins or ends.
Photorealistic Negative Space Tattoo
If you like photorealistic designs, using the negative space efficiently means the artists can spend more time focusing on the design details. The tattoo artists can carve out the main outline on the black background and then go in again, shading the details.
Graphic Art Negative Space Tattoo
A negative space tattoo lends a graphic art vibe in itself because of the way it pops. If you are a fan of graphic art, then incorporate your favorite panel inked in this style to pay homage to your art.
Minimal Negative Space Tattoo
A simple negative space tattoo with a minimalist vibe may sound like an oxymoron. However, it is possible to get a simple space tattoo using black ink defining the large shapes instead of using small forms or thin lines.
NEGATIVE SPACE SLEEVE TATTOOS
If you are planning to get a sleeve tattoo, then look no further; a negative theme tattoo on sleeves looks fascinating on both men and women. These designs are highly popular because of their placement and symbolism. There are endless design options to choose from, like floral, zodiac signs, traditional, and so many others.
Space CROSS TATTOOS
Cross tattoo designs are highly popular, especially among Christians. This design represents the belief of people in religion and god. You choose the size of your Negative space cross tattoo for a negative space theme as per your liking. This tattoo design looks extremely classic.
TATTOO LETTERINGS
Negative space lettering tattoos are highly admirable. These text-based tattoos are becoming very popular day by day. You can choose from a wide range of fonts style like italics, bold, etc. You can also personalize the tattoo using your preferred style font or letters.
Instead of choosing simple black ink to get a tattoo, try a negative space watercolor tattoo. Watercolor tattoos are highly popular due to their vibrant colors, and adding a negative space theme makes them more attractive. You can select the design as per your desire and choose from various colors like blue, red, yellow, orange, green, and many more.
SPACE STAR TATTOOS
If you are looking for a unique yet small space tattoo, this is a perfect tattoo for you. Negative space-themed star tattoos look fantastic combined with some test to make it look more artistic. The most preferred placement for such tattoos are legs, forearm, biceps, and other similar parts.
TREE TATTOOS
Tree tattoos with a negative space pattern are very eye-catching. It symbolizes growth, strength, and love for nature. It also symbolizes growth in a positive direction. You can get a tree tattoo on your forearms, chest, legs, and other body parts with maximum space.
Read More:- The Complete Process of Getting a Tattoo
SKULL TATTOOS
Skull design tattoos are highly popular all over the world, and using a negative space theme adds an extra element. You can modify the size of the skull as per your likings. Skull is a symbol of courage, death and showcases the fearless personality of the person.
NEGATIVE SPACE WOLF TATTOOS
Wolf tattoos are the most loved tattoo design among men. Wolf represents high strength, and men especially get a wolf tattoo on their forearm of a full sleeve. Black negative space in the wolf design will make your inked area more unique.
SPACE SNOWFLAKE TATTOOS
This is one of the cutest tattoo designs and is perfect for girls who are looking for small negative space tattoo ideas. People prefer adding a negative theme in a snowflake tattoo. This tattoo is a symbol of a joyful and cool personality, happiness, love for nature, or cold weather. You can modify the size of the tattoo depending on the body part where you will get inked.
NEGATIVE SPACE WRIST TATTOOS
Simple and small Negative space tattoos look super elegant and attractive on the wrist. Choose an eye-catching design with wonderful negative shading in your tattoos. There are several design options that look great on the wrist, like flowers, hearts, birds, trees, and others. Small tattoos are great for girls who like to experiment with several colors in a negative space pattern.
NEGATIVE SPACE MANDALA TATTOOS
Various religions across the world represent Mandalas in different patterns, including Buddhism, Christianity, and Hinduism. You can choose a mandala design for your tattoo on various sizes, forms like clock design, two in one, or sun design. Mandala tattoos represent religion in a true sense, and it helps people to calm their minds.
Final Words:
Negative shading tattoos add enigma and mystery to the personality. People around you will be amazed by the uniqueness and depth of the tattoo design.
Always pick a design that will go well with your negative space tattoo drawing. When choosing a design or artist, take your time to do proper research and thinking.
After you finally get inked, always do a follow up with your tattoo artists. Follow proper aftercare advice and invest in good quality tattoo healing creams to fasten the recovery process.