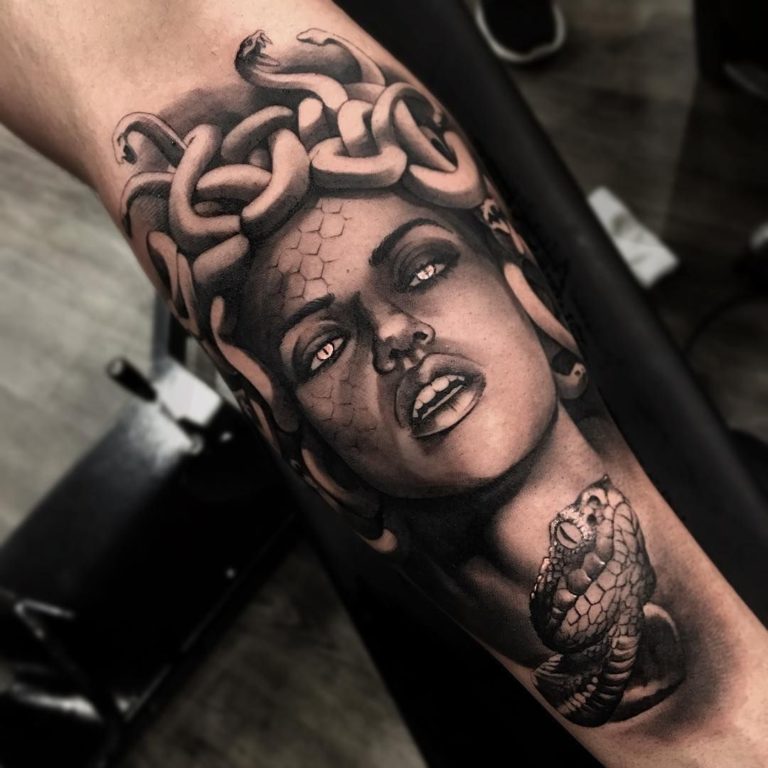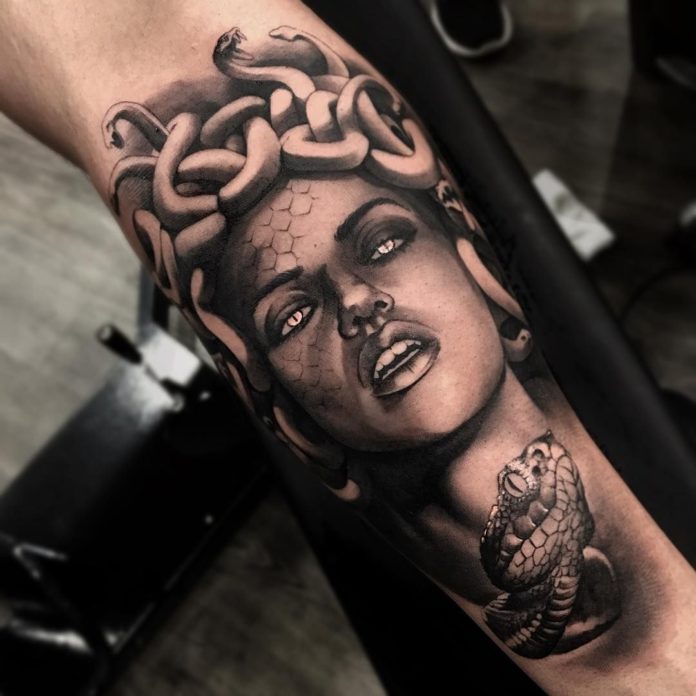 If you are looking for a unique tattoo design with a deep meaning and bold look, then the Medusa tattoo is the perfect choice for you. Medusa is a famous female character belonging to Greek mythology. She represents transformation, freedom, and female power. Here is an article with all you need to know about interesting Medusa tattoo designs and meaning to help you find out the best one for you.
Who is Medusa?
Before knowing about Medusa tattoo designs and meaning, it is better to know who is Medusa. It will help you better understand the interpretations associated with Medusa tattoo meanings and ideas.
Medusa is one of the most popular characters of Greek mythology. She is neither a Goddess nor a monster. Instead, she is a human and the most beautiful woman of Athens till now. Medusa was desired by many in Athens. She shined gracefully, and her hair flowed beautifully. One best thing about Medusa was that she was highly comfortable with her own beauty. Nevertheless, here beauty was highly incredible and never went unnoticed even by the Gods.
Medusa Myth
Medusa was a profoundly loyal woman dedicated to Athena, a Goddess and not to a God. She believed that Athena was the strongest of all in the Olympia.
In return, Goddess Athena respected Medusa as a woman who chose a female Goddess and not a male God. There was a rivalry between Athena (goddess of war and wisdom) and Poseidon (god of the sea), which spoiled the lives of many people, including Medusa.
While Medusa was traveling to various beautiful temples of Athens, she crossed paths with Poseidon. When she entered Parthenon and worshipped Athena, Posideon forced himself on beautiful Medusa. He claimed her as his life partner. Poseidon wanted to humiliate Athena, and he was successful in doing so.
It was unbearable by goddess Athena, and she could not watch it. She was hostile and notoriously competitive to any other female who could challenge her attention. Therefore, in anger, she cursed and punished Medusa for betraying her. For revenge, she changed the hairs of Medusa to horrid serpents. She cursed her with giant metallic wings and legs of a bird.
This was not enough; Athena made sure that Medusa's beauty still shines through her eyes, making it impossible for people to look at her, including Medusa herself. Athena cursed Medusa that even if you look at your reflection, you will turn into rock.
After some time, Medusa was banished with her sisters Euryale and Stheno on an island on the Oceanus. Later they became Gorgon. Medusa was left mortal and was isolated by her gaze.
After many years, a demigod named Polydectes was ordered to bring Medusa's head by an evil king named Polydectes. In order to help him, the Gods provided him an unbreakable sword, which was made of Hephaestus, winged sandals, and reflective shield of Athena, so that he would not have to look directly into Medusa's eyes.
Apart from this, The Hesperides gave him two more gifts. One was Hades' cap, which could make him invisible and a punch to safely keep Medusa's head. With the help of all the gifts, Perseus decapitated Medusa's head. He kept her head as a petrifying gaze and used it for advantages in various adventures.
Medusa Tattoo Meaning
Now the question is, what does the Medusa tattoo symbolize? Medusa tattoo designs are used as unique protection tattoos. In both Roman and Greek empires, Medusa mosaics were used as a protective symbol. In addition to this, Medusa tattoo meanings are also associated with the feminist symbol. Visage of Medusa has been used by many women as a symbol of rage and a guide through various terrors.
Moreover, on various occasions, Medusa has also been associated with feminism as it represents wisdom, feminine power, and a symbol of feminine seduction.
Medusa tattoo has a visually striking look and deep symbolic meanings. Below mentioned are some medusa tattoo meanings.
Victimization
Evil
Defenses and Protections
Magic
Female Power
Personality
Life Cycle
Freedom
Death and Birth
Transformation
The snake present on Medusa's head represents the natural cycle of one's life. They symbolize death and rebirth. In addition to this, Medusa had wings that represent freedom.
Medusa Tattoo Design
Medusa tattoo is one of the most popular Greek symbol tattoos. She was a victim of Athena's rage due to her association with Poseidon. Medusa represents strong female power, transformation, and freedom. However, for some, she represents jealousy and evil qualities.
Her reptilian hair and skin represent death and rebirth. Now that you know the Medusa tattoo meaning and what does Medusa tattoo symbolizes, here are some Medusa tattoo ideas.
Small Medusa Tattoo
Gone are the days when only big tattoos were in trend. Minimalist tattoos are one of the most popular trends at the present time. Small tattoos look amazing, and if you want a Medusa tattoo, then trust me, a small Medusa tattoo design will provide you a unique look.
Small tattoo pieces are budget-friendly, classy, and need less time to complete. It means no pain. Another best thing about the small Medusa tattoo idea is that it does not require a lot of place for placement. You can get it inked on your finger or wrist if you want.
A small Medusa tattoo will help you establish a strong style statement. It looks simple but is deeply meaningful. The small tattoo represents freedom to support your belief and strong feminism.
Medusa Head Tattoo
Medusa's head was of great worth. Her head was used as a severed weapon. Now, what does the Medusa tattoo symbolize? Or what does the Medusa head tattoo represent? Medusa head tattoos represent the idea of warding off evil. Her head was used as a feared weapon by Perseus in many adventures.
Medusa head tattoo represents the ultimate shield and protection against any evil force or thing that might harm you. It is believed to protect you against any threat or danger that comes your way. In addition to this, Medusa's head was full of snakes. It represents the cycle of rebirth and death.
Traditional Medusa Tattoo
Medusa tattoo ideas are full of symbolism. However, the style of the wearer makes Medusa tattoo designs unique. One of the popular choices for this amazing tattoo is a traditional Medusa tattoo. This tattoo design is popular for its thick lines and bold colors.
Traditional Medusa tattoos will help you get noticed and make a bold statement. One best thing about this tattoo design is the timelessness. If you are planning to get the traditional Medusa tattoo design, make sure to choose the right tattoo placement. As the tattoo is profoundly striking, you would want to get it on a tattoo spot where you can beautifully show it off.
Sexy Medusa Tattoo
Medusa is often considered a strong and beautiful feminist symbol. It is used to celebrate and praise womanhood. Women are attracted to Medusa tattoo designs and ideas, as they can be sexy as well as empowering.
According to your preference, you can get different types of tattoos, but if you are looking for something amazing, then a sexy Medusa tattoo is for you. One best thing about this tattoo is that you can get it anywhere, but as it is a seductive tattoo, it would look perfect on the back of a thigh. These places are highly attractive to get inked and get everyone's attention.
Sexy Medusa tattoos can be a combination of her legacy, femininity, and power. She was a maiden of impressive beauty, and her snake hair helps to create an image of a worthy protector.
Realistic Medusa Tattoos
Realistic tattoos look highly impressive as it makes the tattoo as the ink has come to reality. If you want to get a realistic Medusa tattoo, then you can also opt for portrait tattoo ideas. Modern tattoo artists have made the art of realistic tattoos highly popular and due to good reason. The result of realistic tattoos is spectacular.
When deciding to get a realistic medusa tattoo, it is highly essential to find an experienced tattoo artist who specializes in this style. This piece of body art requires great details. Moreover, you need to get this inked on the body that is sufficiently large to allow this tattoo design.
Perseus and Medusa Tattoo
The story of Medusa is actually a sad one. Many people believe that she was a monster, but actually, she was the victim of Athena's rage. No matter how you interpret Medusa's tale, it ends with Perseus holding her head. The story portrays Perseus as a hero, and he is believed to be courageous and brave.
People who value bravery, courage, and fearlessness should get this tattoo. The Perseus and Medusa tattoo shows Perseus holding Medusa's head. It shows the triumph of good over evil. The tattoos also symbolize revenge or wrath. If you value courage, then this tattoo is something that you should get inked on your body.
Medusa Statue Tattoo
People who are fascinated with Greek mythology and Medusa's study associate the Medusa statue design with bravery. Medusa has featured remarkably in the art of Ancient Greek. If you are willing to speak the truths to her origin, then a Medusa statue tattoo is the perfect choice for you.
This Medusa tattoo idea represents a wide range of things like evil, transformation, freedom, and femininity. The tattoo also represents defenses and protections from evil. This tattoo looks visually striking and will help you create a unique look. In addition to this, it will help you reflect your personality in a better manner.
Colorful Medusa Tattoo
If you are fond of colorful tattoos or watercolor tattoos, and looking for a unique tattoo idea, then a colorful Medusa tattoo is the right choice. Medusa tattoo is not like any average design. It requires attention. When planning to get inked with this symbol, you can opt for various designs to better interpret the image.
If you want to be more creative, then you should get a Medusa tattoo design in color. Bold lines and colorful filling make the tattoo design more realistic and attractive. When getting a colorful tattoo, always remember that these tattoos are more likely to fade faster. If you want to keep your body art for a long time, get it on the body part that does not expose a lot to the sunlight.
Dark Medusa Tattoo
Many people consider Medusa as a monster who represents evil. However, she is also a symbol of transformation and power. When planning to get an inked Medusa tattoo design, you can opt for a dark Medusa tattoo.
If you want to get a somber tattoo design, then a dark Medusa tattoo is perfect for you. If you want it to be scary, then you can get a forked tongue of Medusa and her snake fangs in the design.
Medusa Versace Tattoo
Some people may not know the story of Medusa, but they will recognize the symbol of the popular brand Versace. Famous Italy based fashion house has included the snake-haired Medusa into their brand's logo.
Gianni Versace is believed to be influenced by Greek art while growing up in Rome. He chose to include Medusa in the brand's logo as he liked how she made different people fall in love with her to the extent of not retiring. He wanted his audience to feel the same way about the brand and its clothes.
If you are brand conscious and love Versace, then Medusa Versace tattoo is a unique way to show your style statement.
Skull Medusa Tattoo
Different things and symbols are associated with Medusa tattoos. One of the popular Medusa tattoo meanings associated with the design is death and rebirth. Her snack hairs are considered as the symbol of the cycle of birth and rebirth.
When it comes to deciding the Medusa tattoo design, you can interpret the thought in different ways. You can also get a design showing her face with a skull. Trust me; the tattoo design is a conversation starter. If you want such a bold tattoo design, consider getting it on the thigh or arm to create a stunning look.
Final Words
Medusa is one of the most popular characters of Greek mythology. She is believed to represent evil, freedom, sensuality, and beauty. A Medusa tattoo design is perfect for individuals who value freedom, transformation, and the cycle of life. If you value courage and fearlessness, then you can opt for Perseus and Medusa tattoos.
Medusa tattoo is highly unique, so you should get it on a tattoo spot where it is clearly visible. Do share your experience with us by dropping a comment.