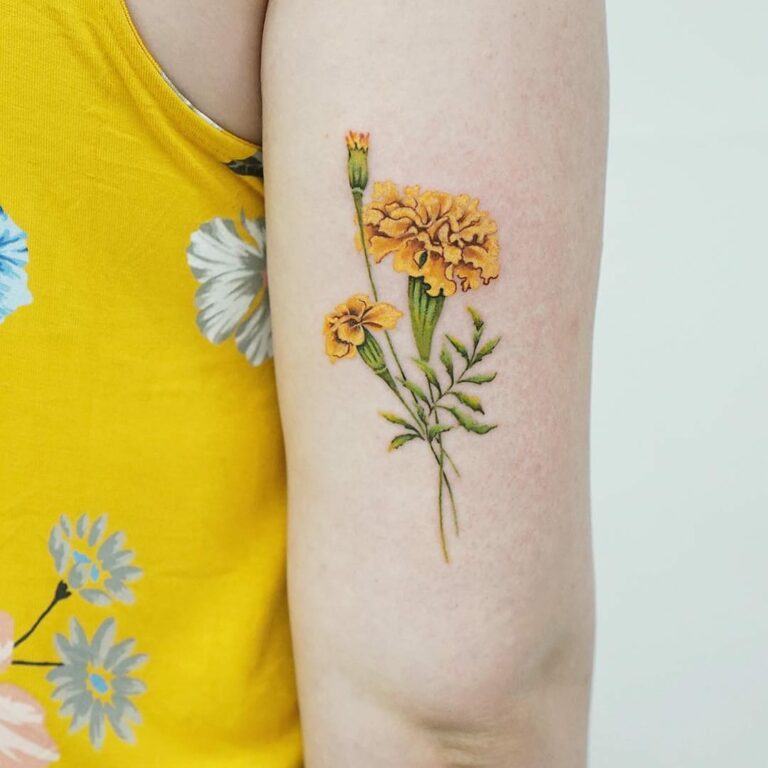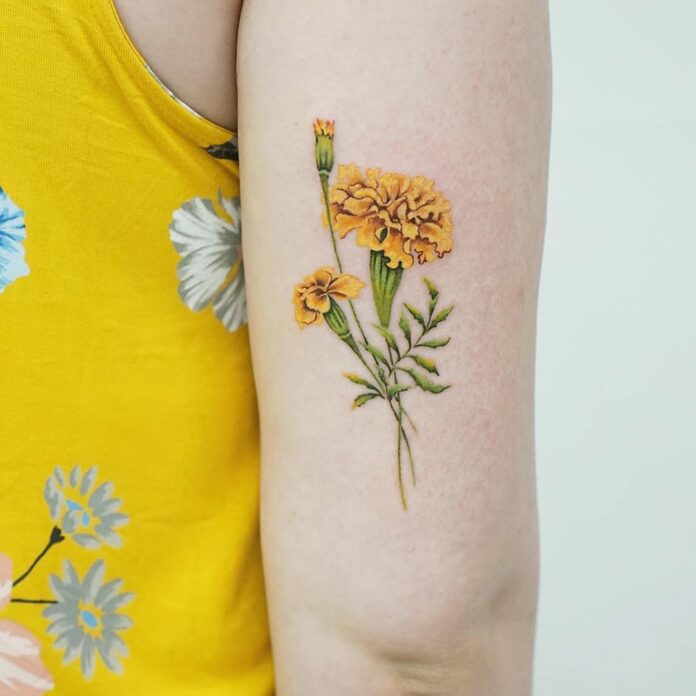 Marigold tattoos have become increasingly popular among enthusiasts due to their beautiful designs and significant meanings. Marigold flowers are known for their vibrant colours and symbolize emotions and sentiments. They are a fantastic choice for individuals who want to express their love and admiration or commemorate someone special.
In this blog post, we have curated a collection of meaningful marigold tattoo designs to inspire your next tattoo. The designs range from simple to intricate, ensuring something resonates with your preferences. Whether you want to honour a loved one, celebrate nature, or enhance the beauty of your skin, a marigold tattoo can be a perfect choice.
The Cultural Importance of the Marigold Flower
Marigold flowers hold great cultural significance in various parts of the world and have a fascinating history. Let's explore some of the cultural meanings associated with marigold flowers:
In Mexico, marigold flowers are essential in the Day of the Dead celebrations, which honour and remember the departed. Marigolds are believed to guide the spirits of the deceased to their altars, where they are honoured with offerings.
In India, marigold flowers are used in Hindu and Buddhist rituals, where they are offered to deities during religious ceremonies. Marigold garlands are also commonly used in weddings and other special occasions to symbolize prosperity and joy.
In ancient Greece, marigold flowers were linked to the sun god Apollo and were often used in religious rituals and as medicinal remedies.
Many cultures believe that marigolds possess healing properties and use them in traditional medicine to treat ailments like headaches, stomach problems, and skin irritations.
Marigolds are frequently used as decorative elements in gardens, festivals, and events worldwide due to their vibrant and captivating colours.
Marigold flowers carry deep cultural and symbolic meanings intertwined with religion, spirituality, and traditional practices. Their beauty and versatility have made them cherished and respected flowers in many parts of the world.
Marigold Tattoo Meanings
Marigold tattoos are famous among enthusiasts because of their vibrant colours and meaningful symbols. Let's explore some of the unique meanings associated with marigold tattoos:
Remembrance: Marigolds are used during Day of the Dead celebrations to guide the spirits of the departed. Getting a marigold tattoo can be a way to honour and remember loved ones who have passed away.
Protection: Many cultures believe marigolds have protective powers, shielding against negative energy and spirits. A marigold tattoo can serve as a symbol of security and safety.
Prosperity: Marigolds are often associated with wealth, abundance, and good fortune. Choosing a marigold tattoo can represent a desire for prosperity and success.
Love and affection: Marigolds are commonly given as gifts to express love, respect, and gratitude. A marigold tattoo can symbolize the love and deep connection between individuals or serve as a tribute to a cherished family member or friend.
Strength and resilience: Marigolds are known for their ability to withstand demanding conditions and still bloom beautifully. A marigold tattoo can represent strength, resilience, and the power to overcome challenges.
Marigold tattoos provide a versatile and meaningful option for expressing emotions and ideas through body art.
Ideas and Designs for Marigold Tattoos
Join us as we explore a few of our favourite marigold tattoo designs and suggestions for their placement. We aim to provide insightful information about marigolds to pique your curiosity and inspire you to consider getting a marigold flower tattoo.
Traditional Marigold Tattoo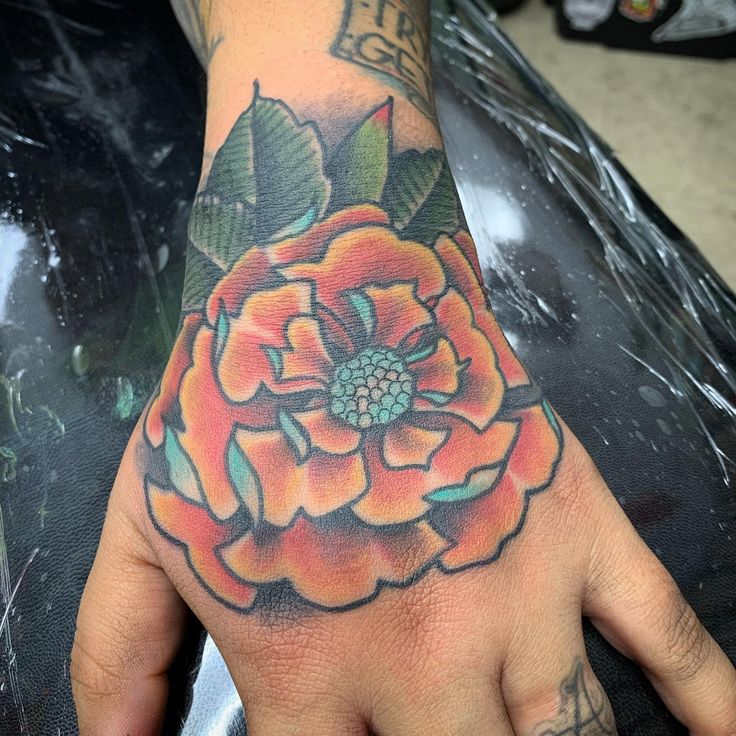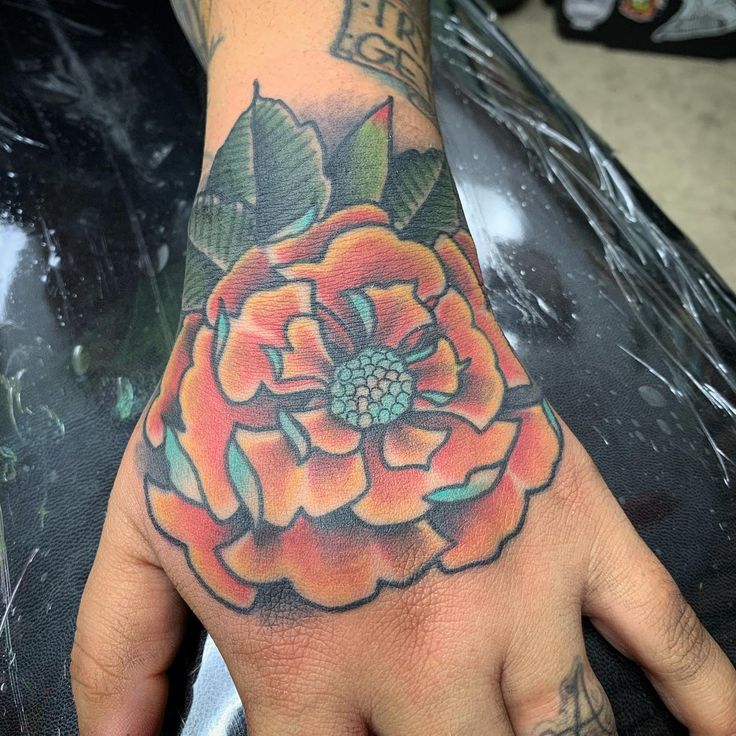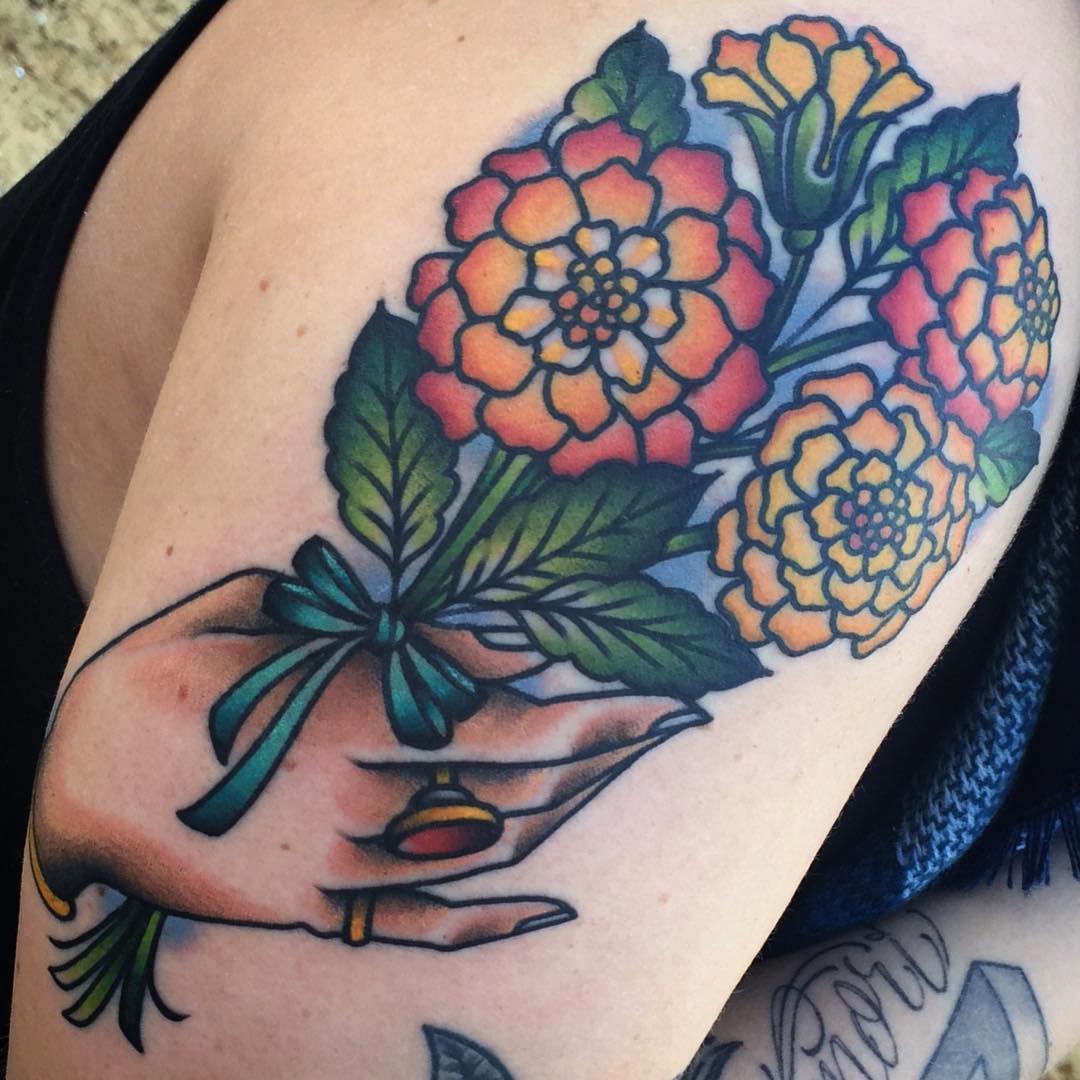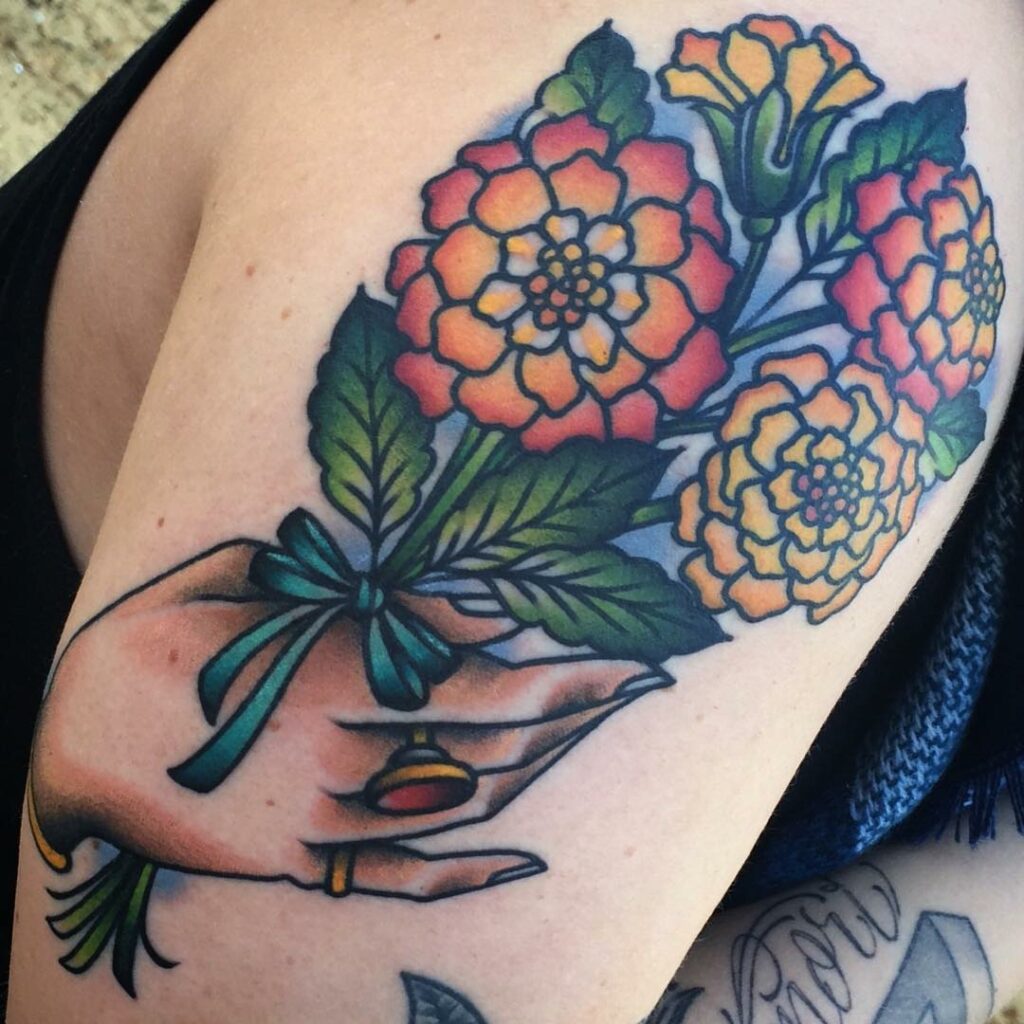 While tattooing marigolds is relatively new, the flower has a rich history dating back thousands of years. Marigolds have been utilized worldwide, including medicinal remedies and festive adornments. If you get a traditional marigold tattoo, you can uniquely interpret and assign meaning. You can infuse it with your signature and make it truly special.
Small Marigold Tattoo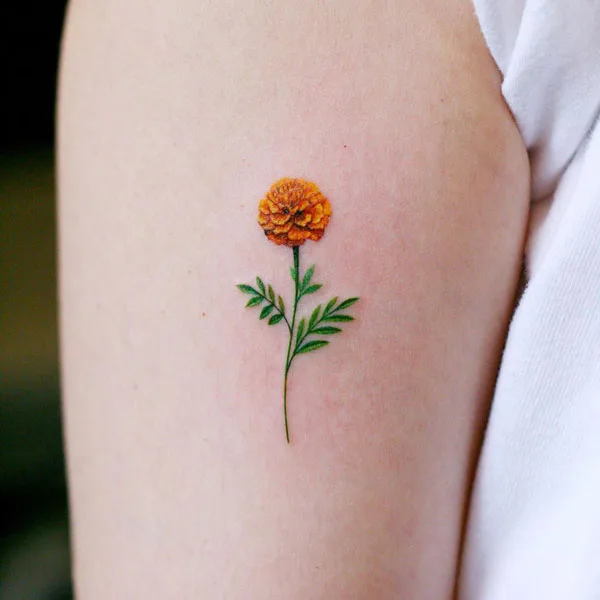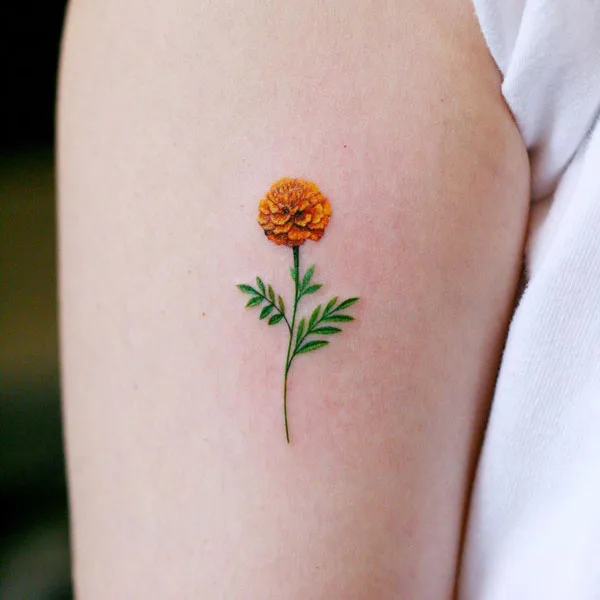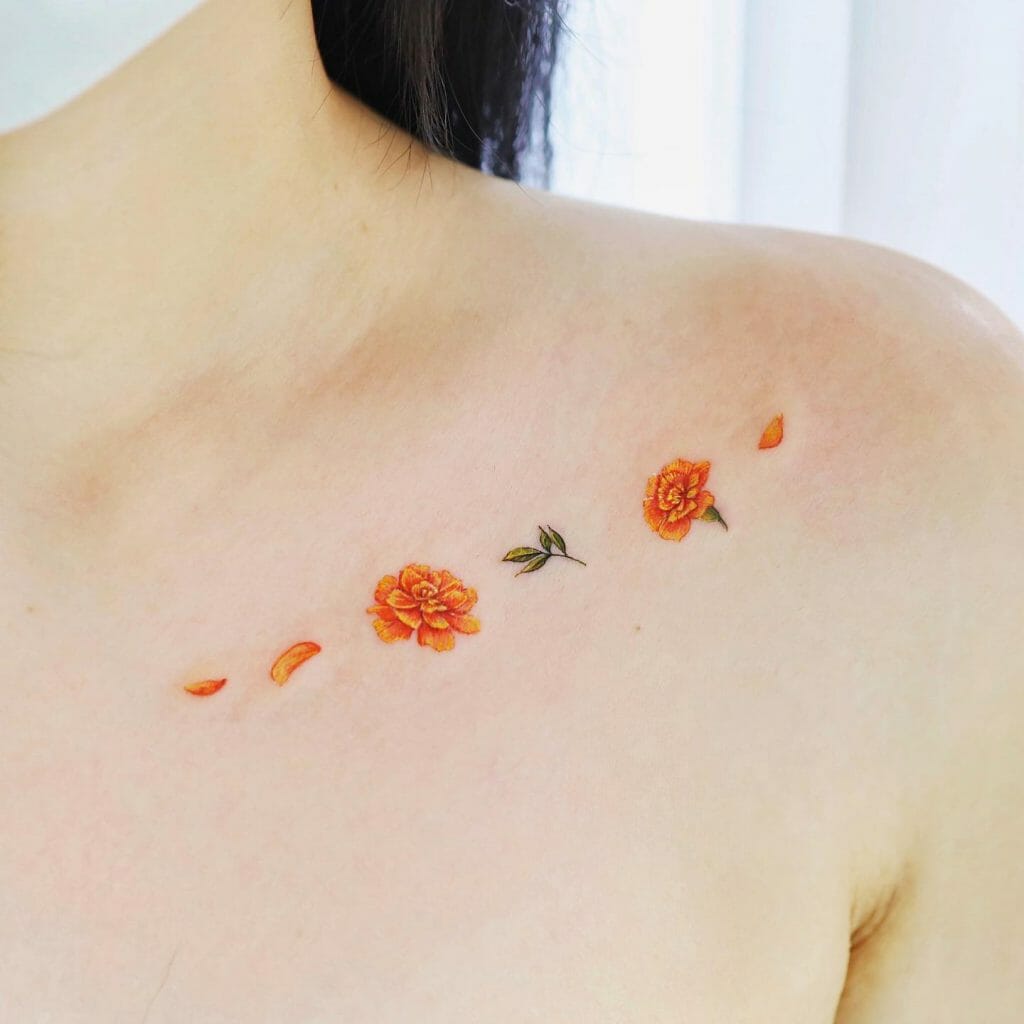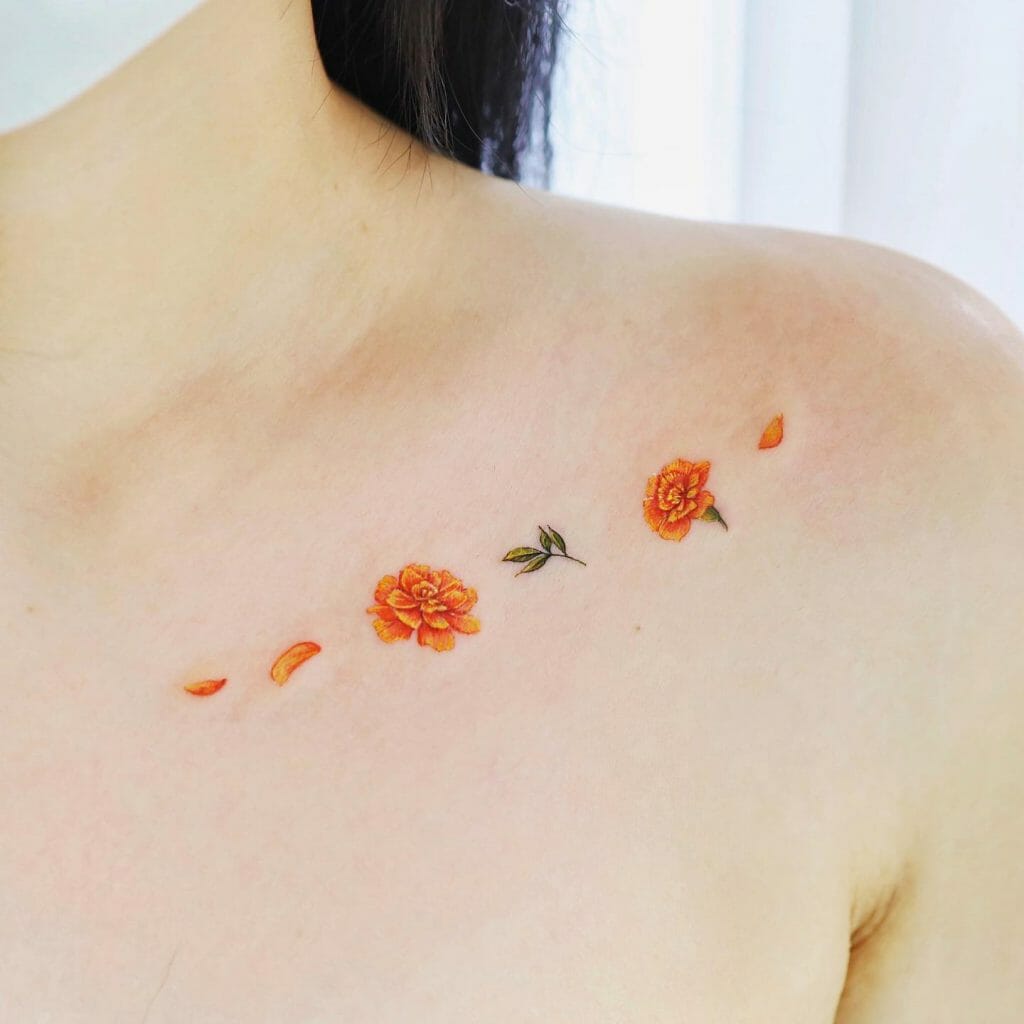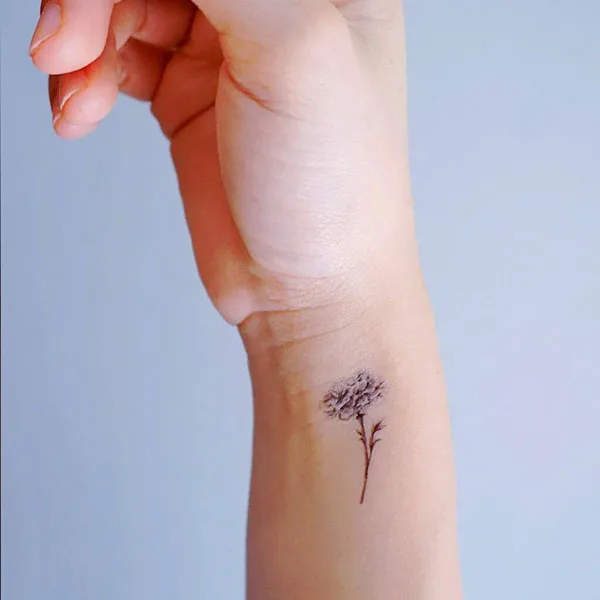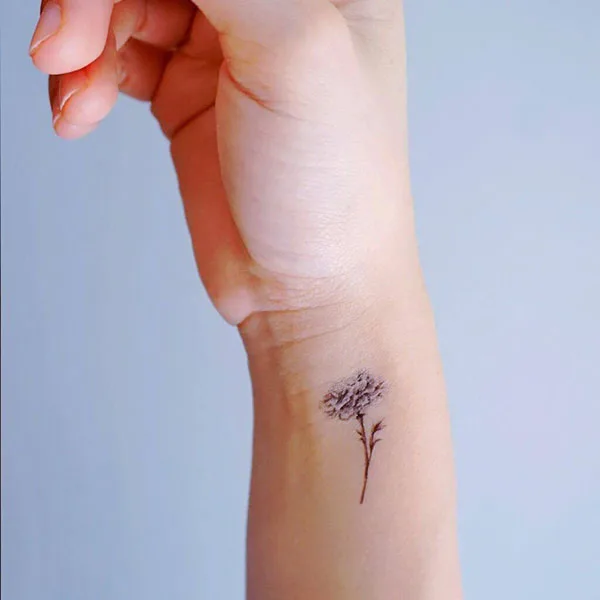 Flower tattoos are particularly loved when they are kept small in size. A flower's dainty and delicate nature is accentuated when it is inked as a smaller design. Regarding a marigold tattoo, some great placement options to consider are the inside of your wrist, your ankle, or even your collarbones. These areas can beautifully showcase the charm and allure of the marigold tattoo in a visually pleasing manner.
Marigold and Carnation Tattoo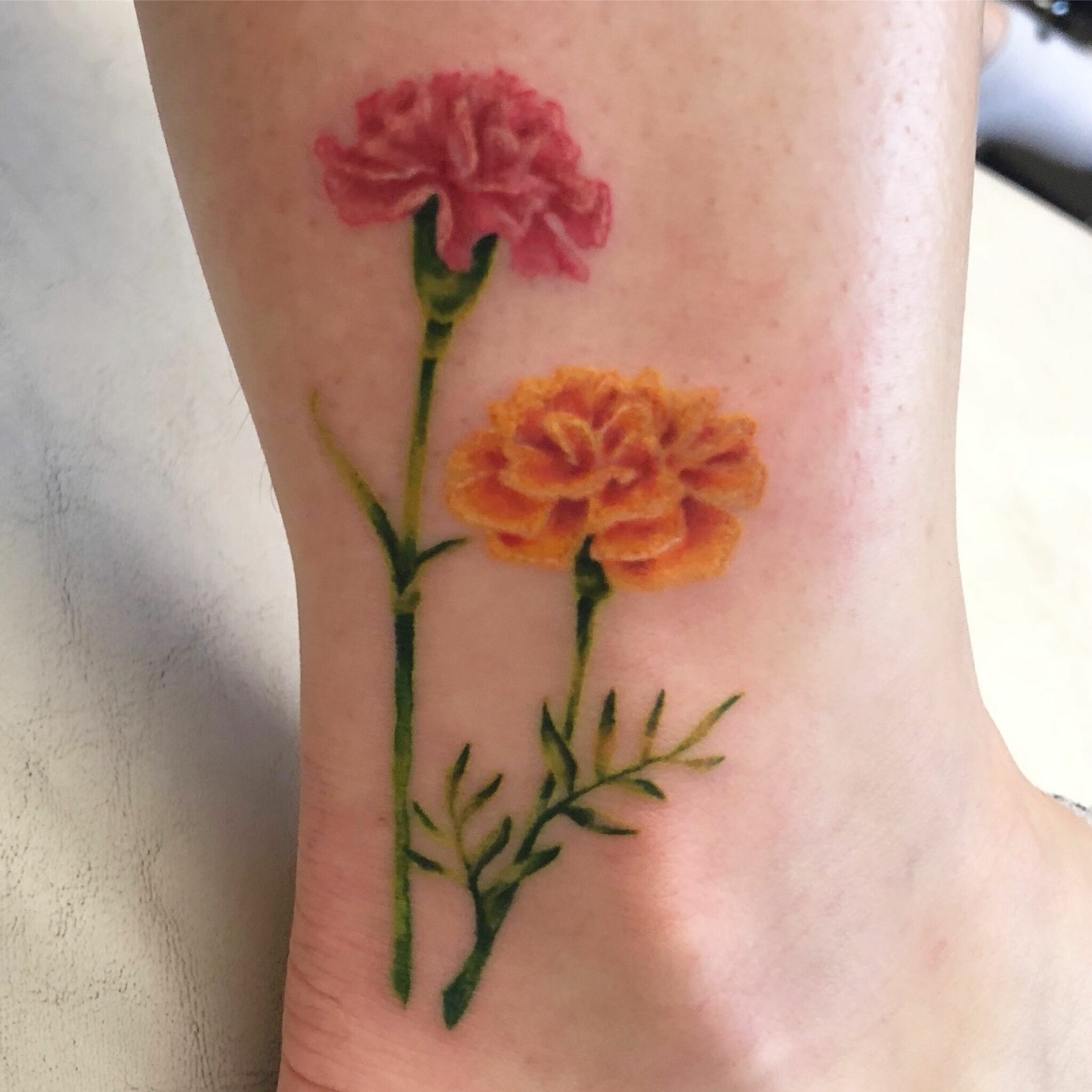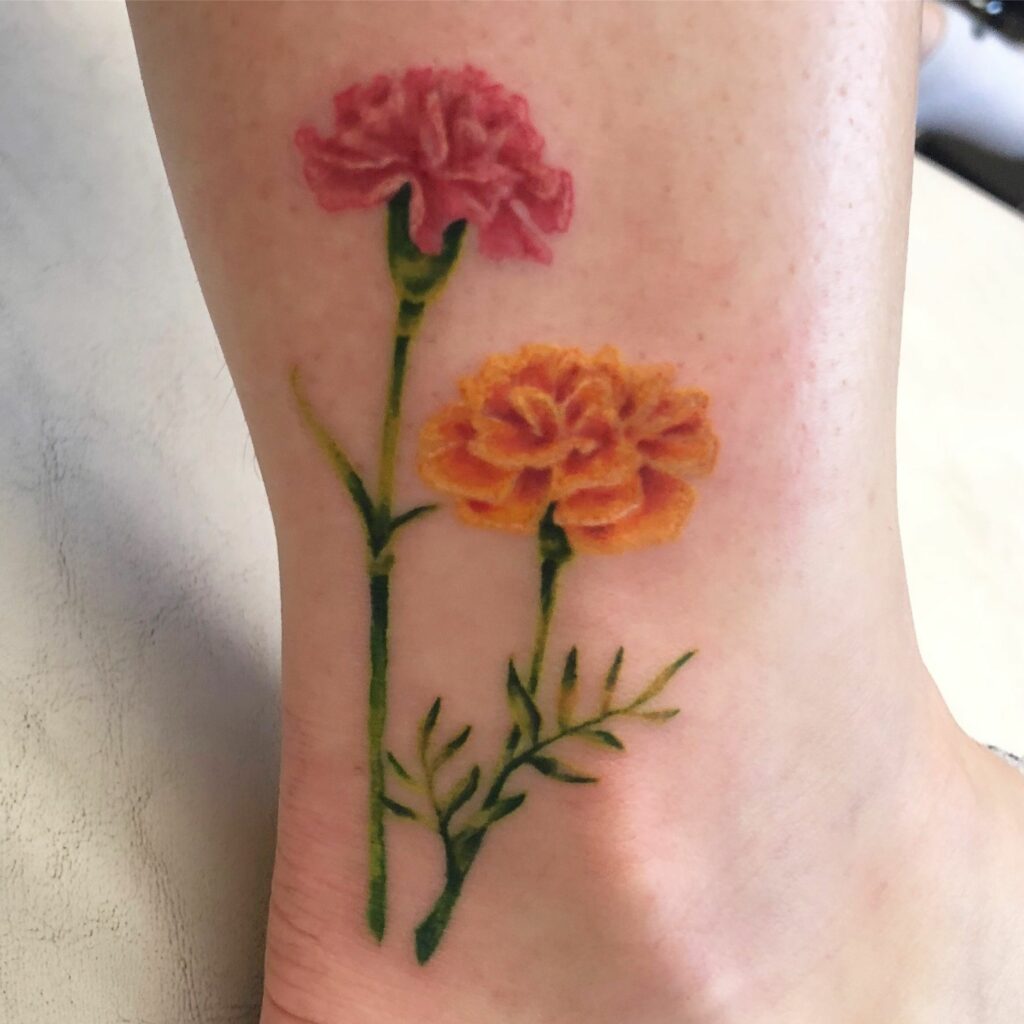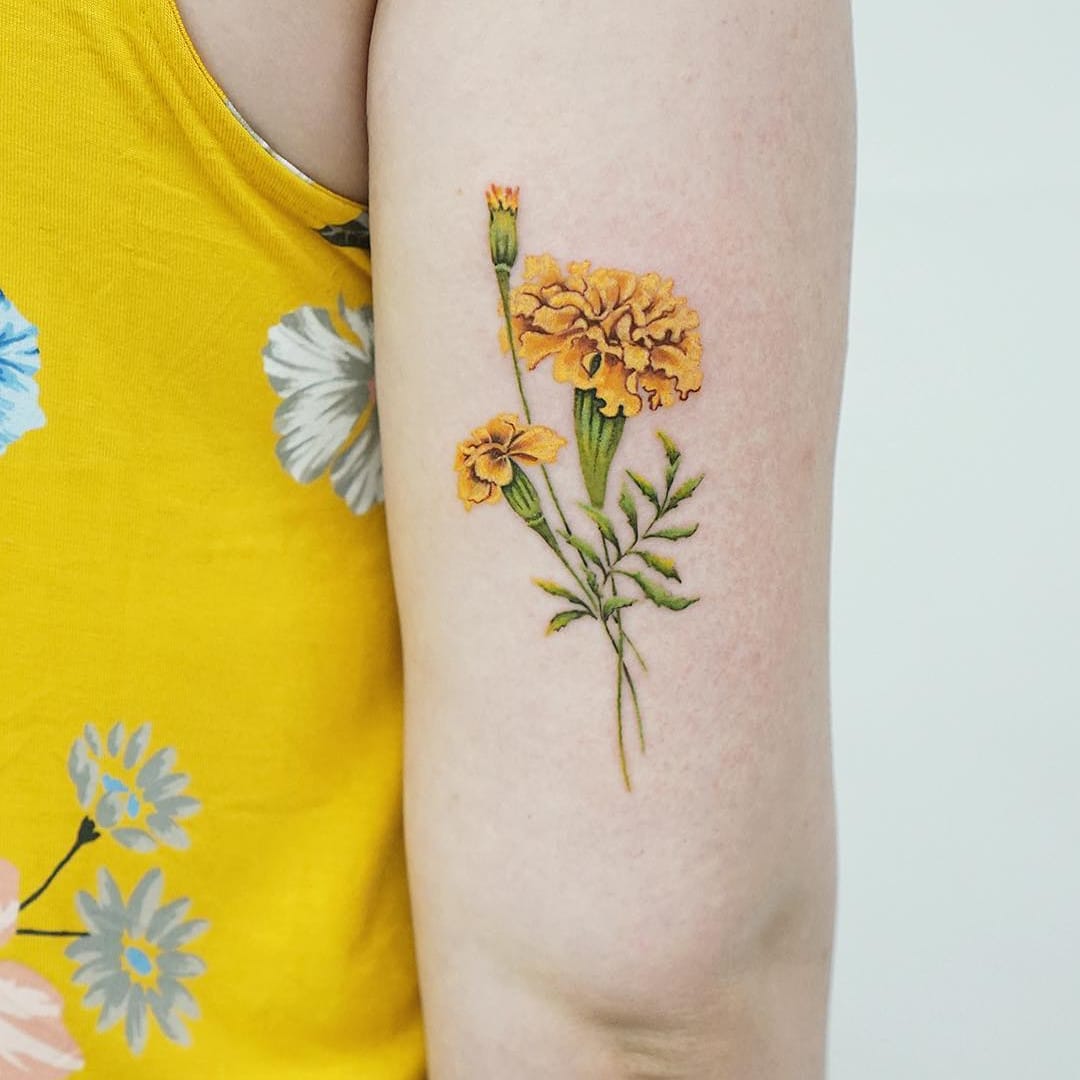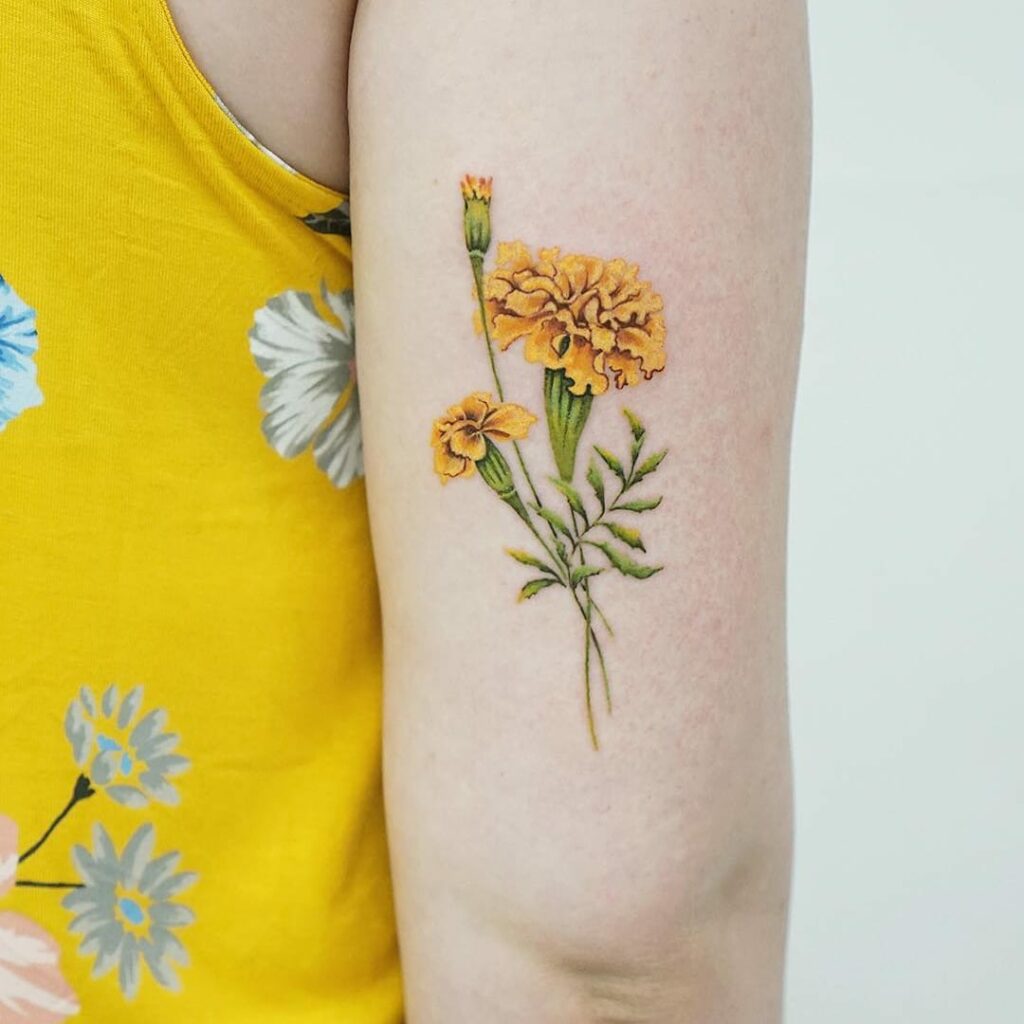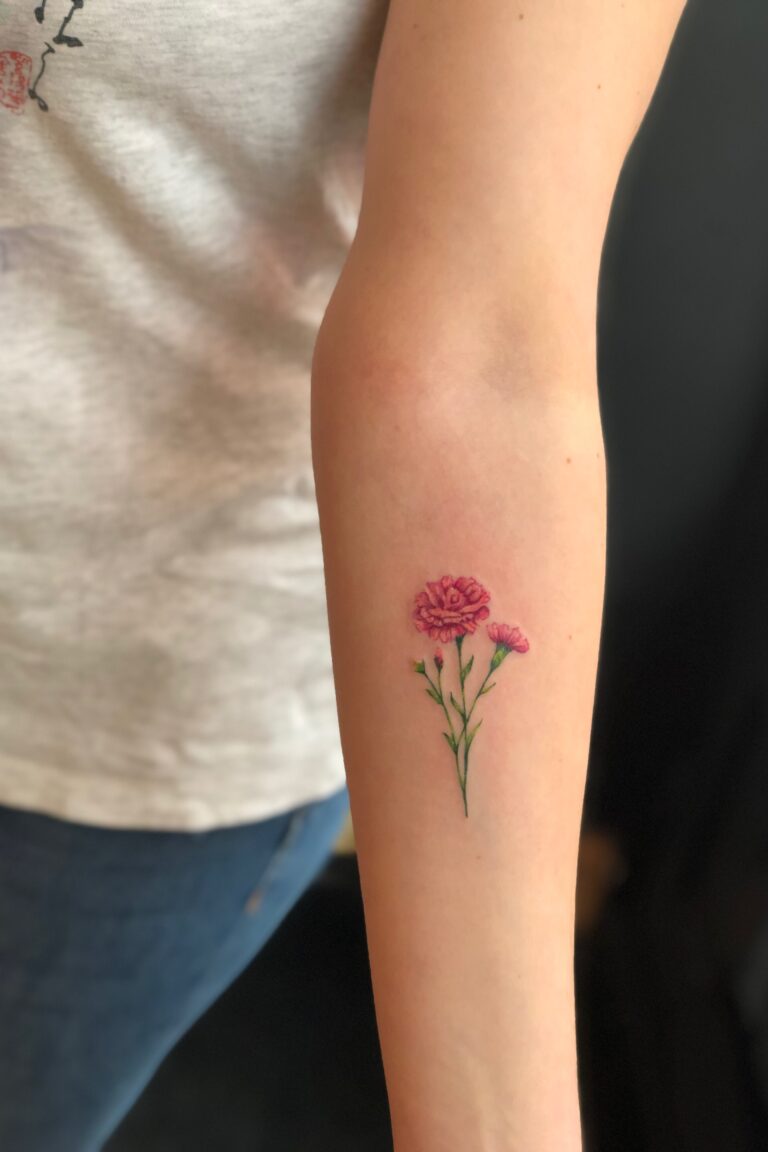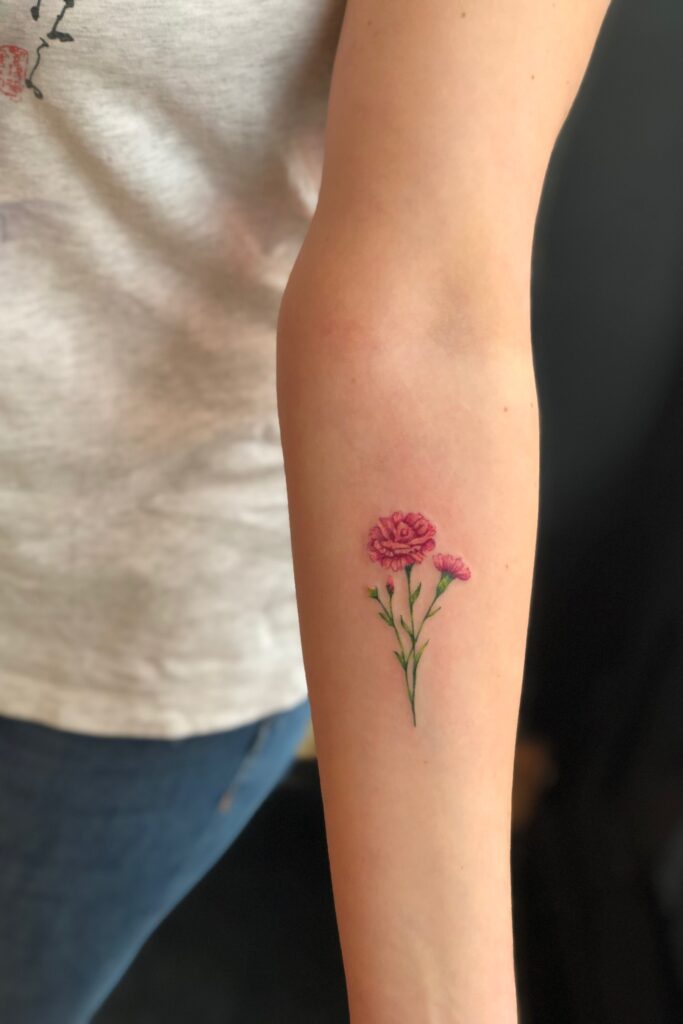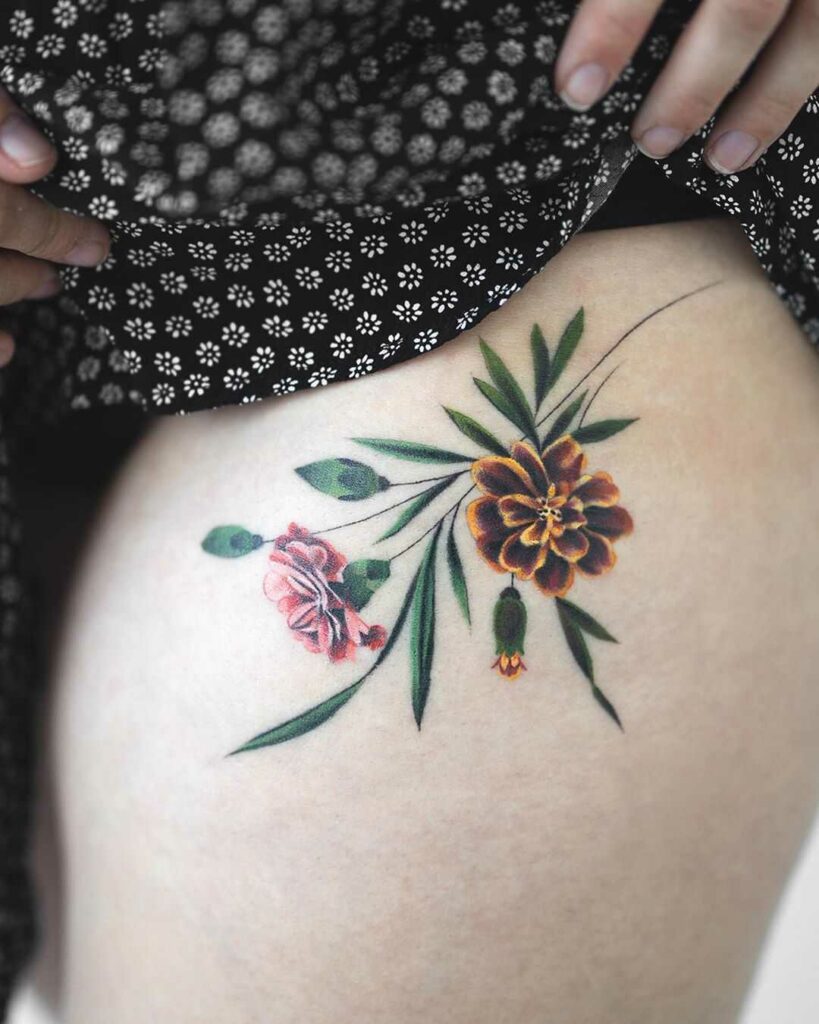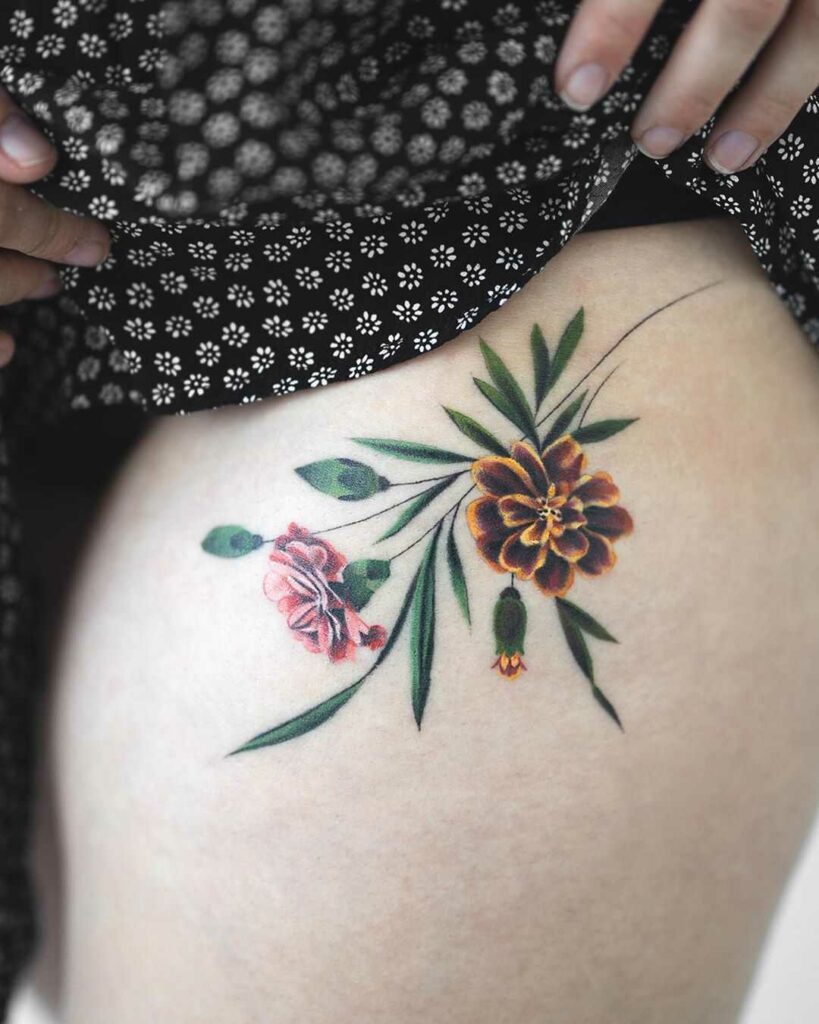 Carnation is a flower known for representing love, fascination, and individuality. When you blend these meanings with the marigold's symbolism, you can create something truly enchanting. Combining these exquisite and magnificent flowers allows you to capture and embrace their unique power and energy.
Mexican Marigold Tattoo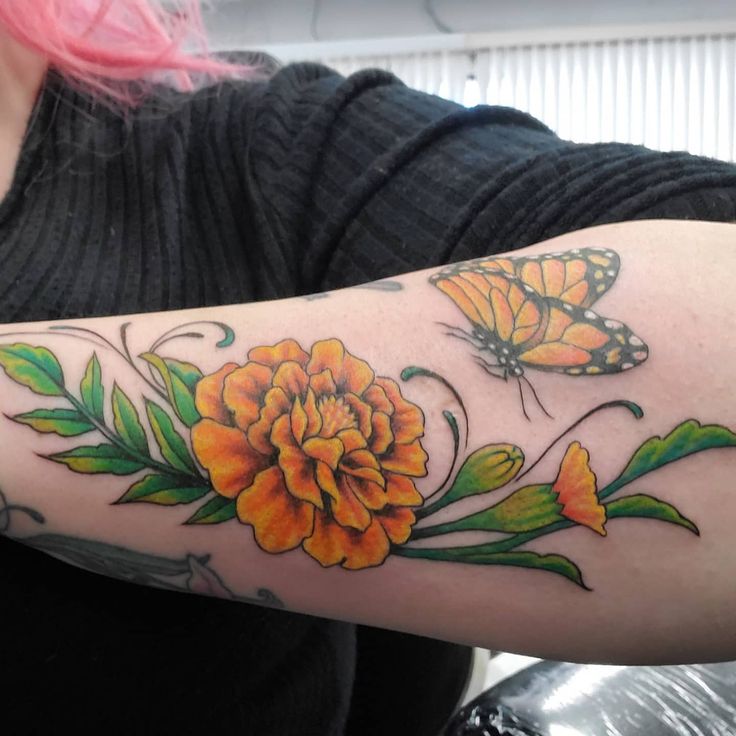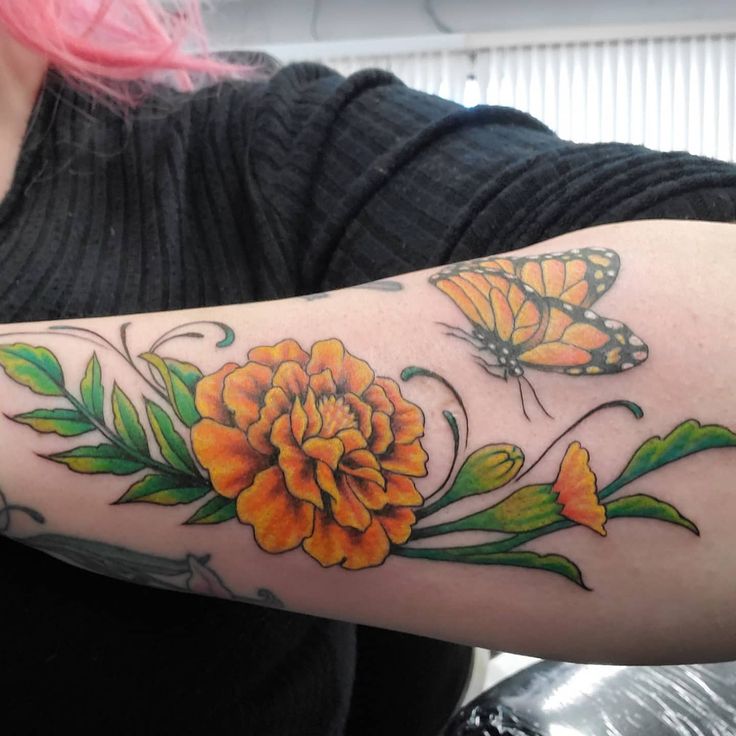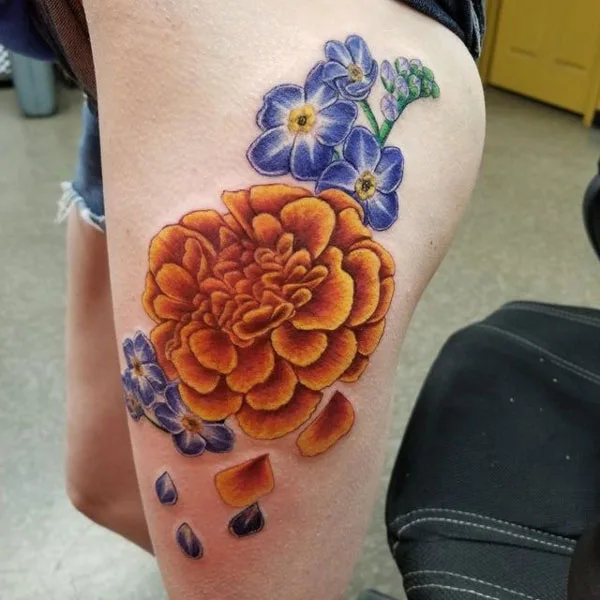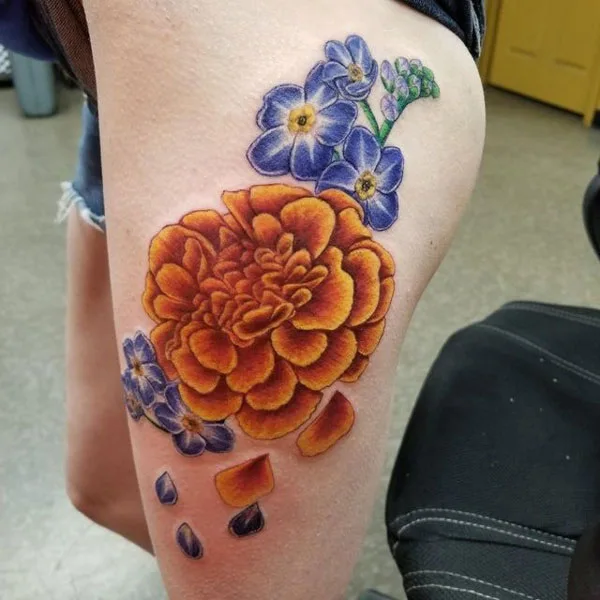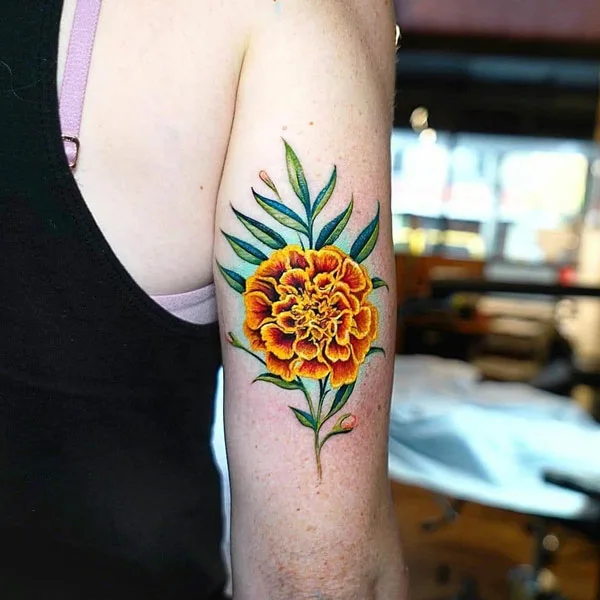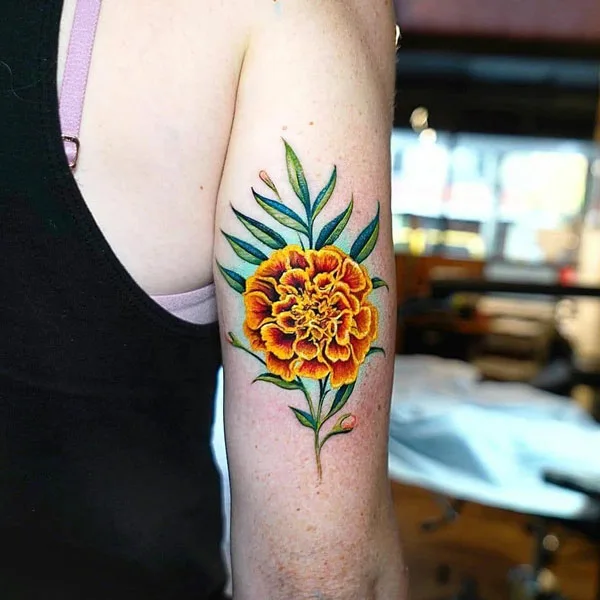 In Mexico, marigolds are deeply meaningful in honouring the memory of loved ones who have passed away. People place marigolds on graves or scatter them as a symbol of remembrance. During All Saints Day and All Souls Day, marigolds beautifully decorate houses to celebrate and pay tribute to those who have departed. If you have Mexican heritage or a special connection to Mexico, getting a tattoo of a native Mexican marigold can be a heartfelt and meaningful tribute to your beloved. It is a touching way to honour their memory and keep their spirit close to your heart.
Marigold and Rose Tattoo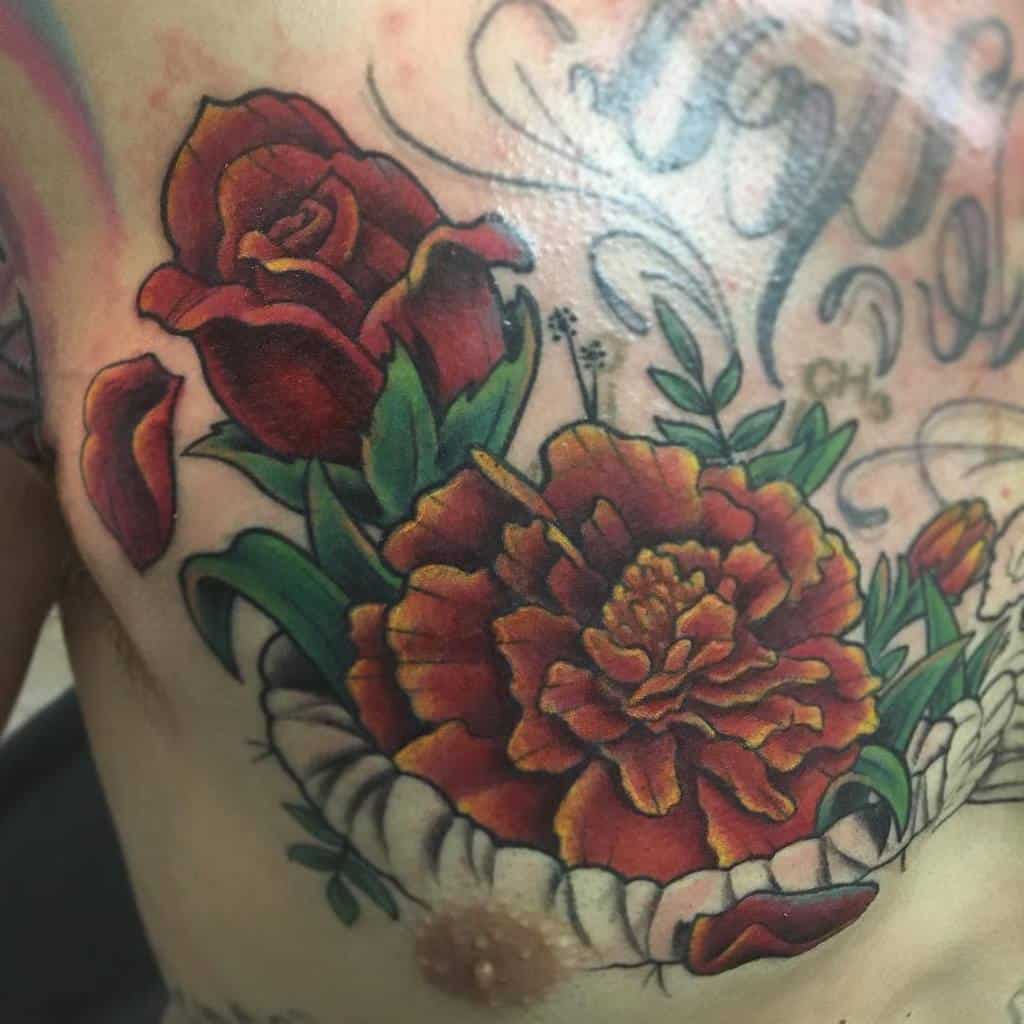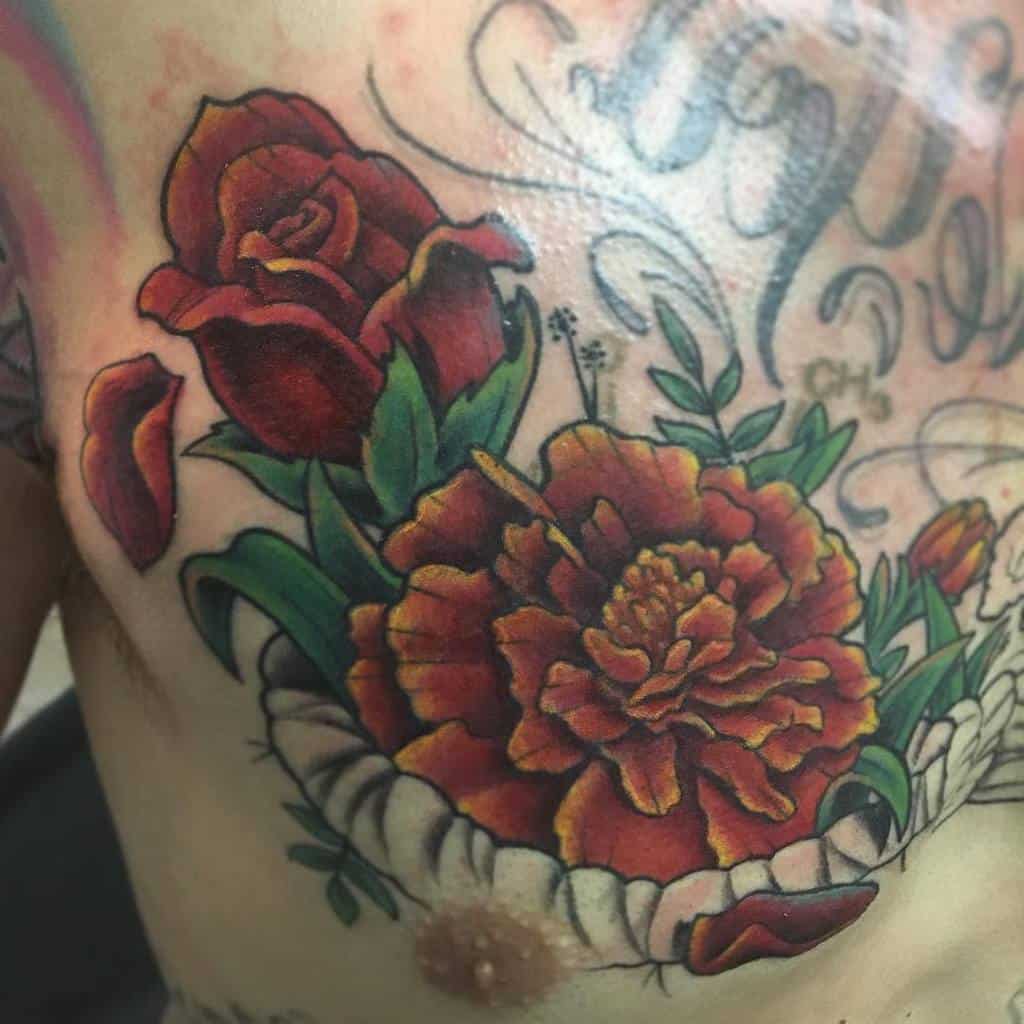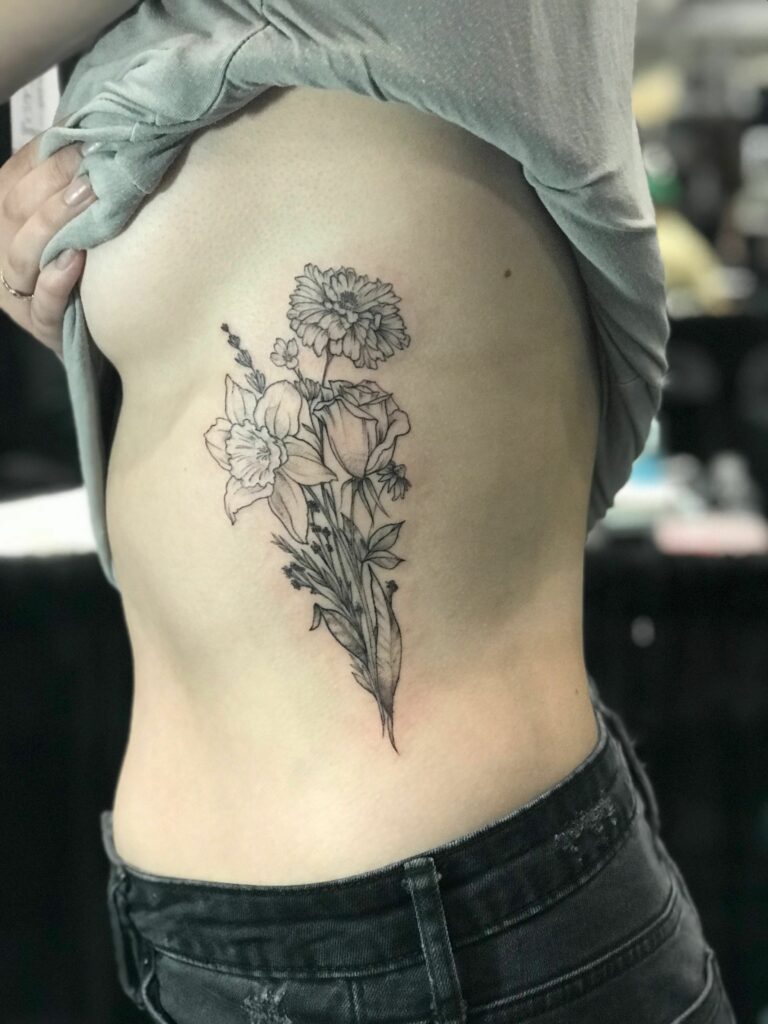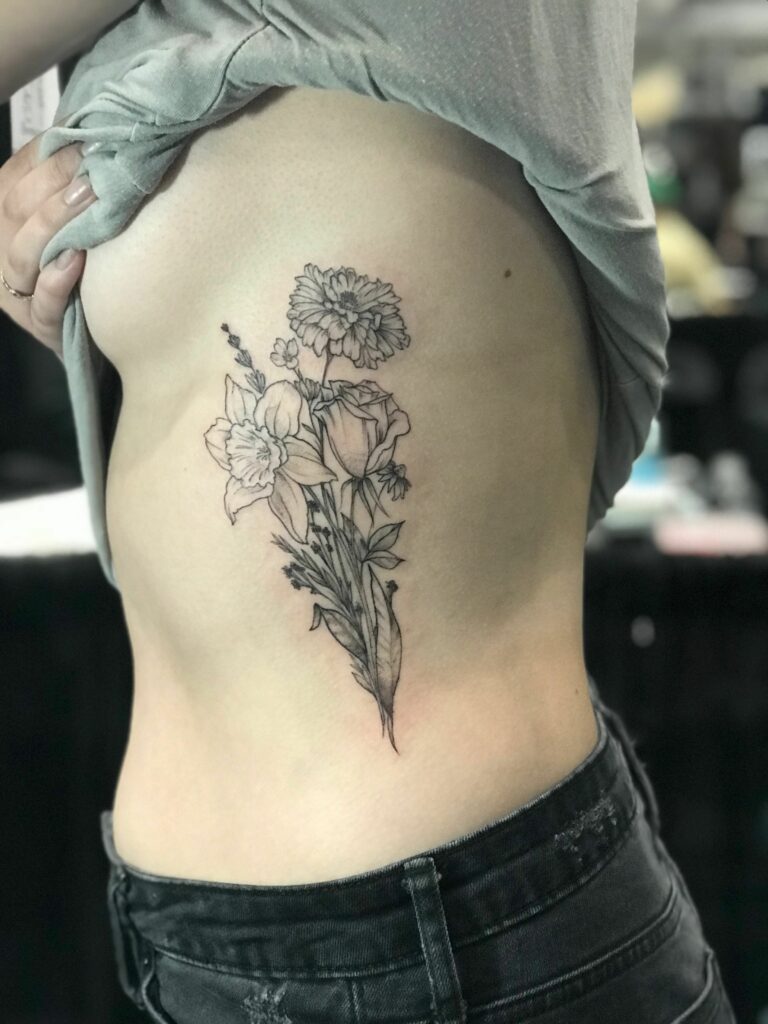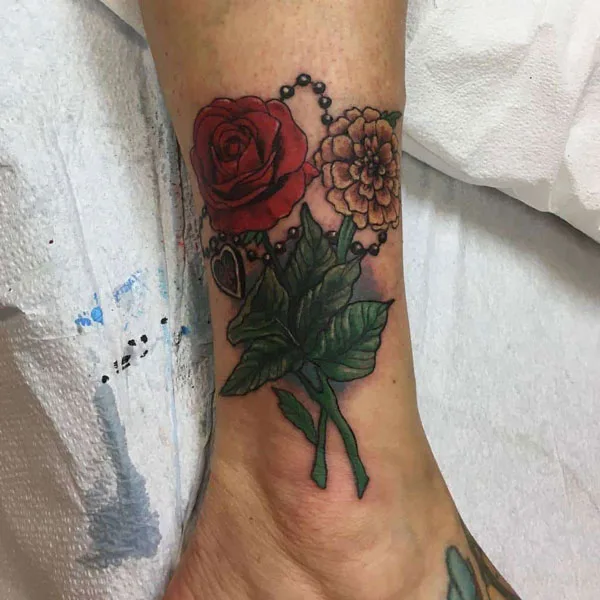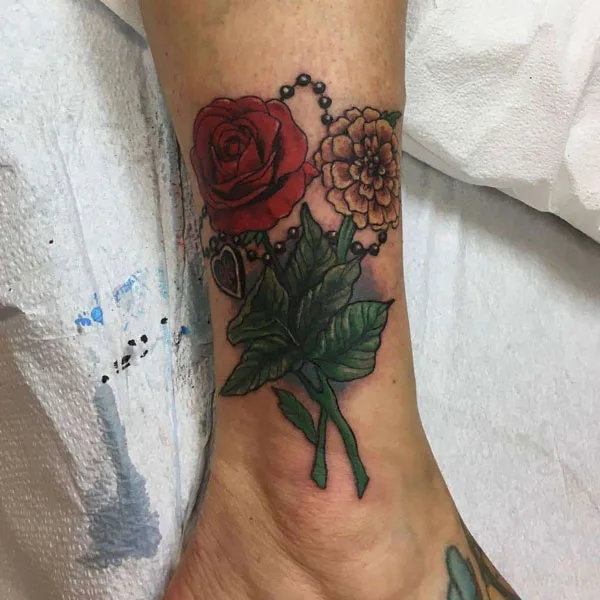 The rose has long been connected with Aphrodite, representing love and beauty as a homage to the Goddess. If you appreciate roses and marigolds, consider creating a hybrid design or combining the two flowers. By doing so, your tattoo design will embody the combined impact and essence of both flowers in a distinctive and significant manner.
Marigold Sleeve Tattoo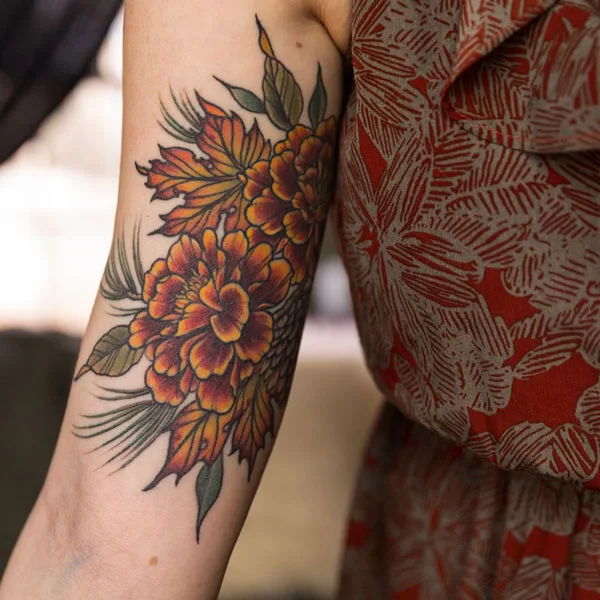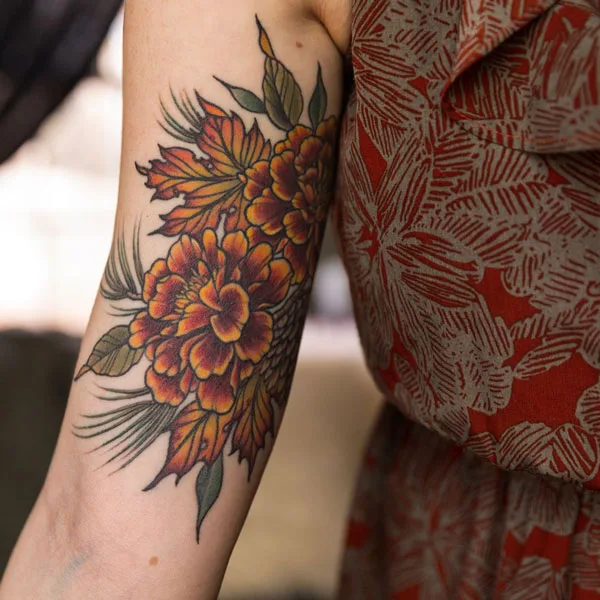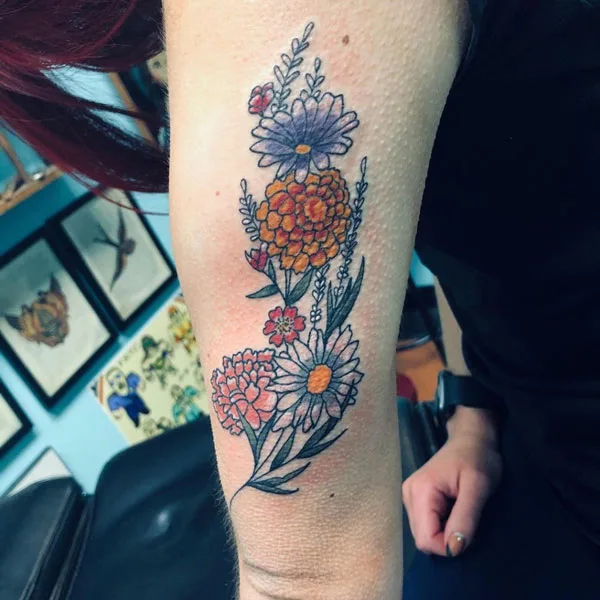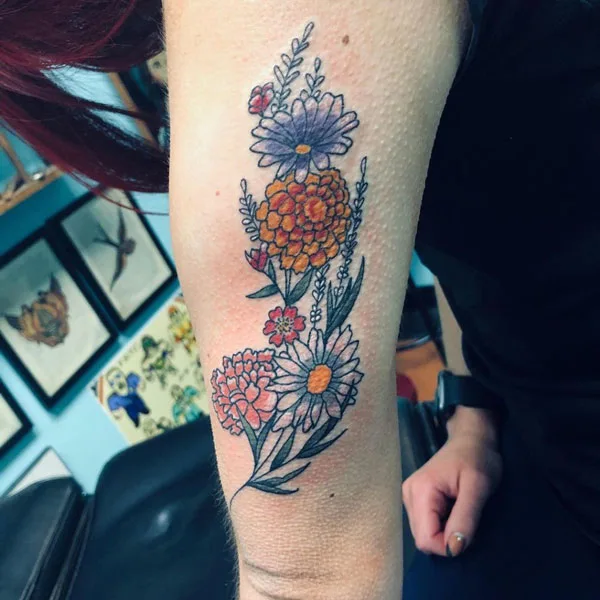 Flower sleeve tattoos are uncommon, but many people want them. Marigold is a flower often chosen for such designs, and the outcome is truly remarkable. You can incorporate different marigolds, sizes, and even colours in your tattoo design. The possibilities are endless, allowing you to create a stunning and unique sleeve tattoo that showcases the beauty of marigolds.
Sugar Skull Marigold Tattoo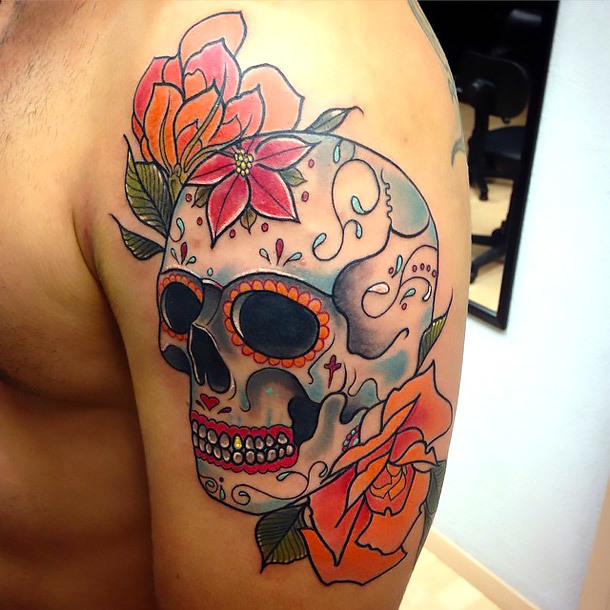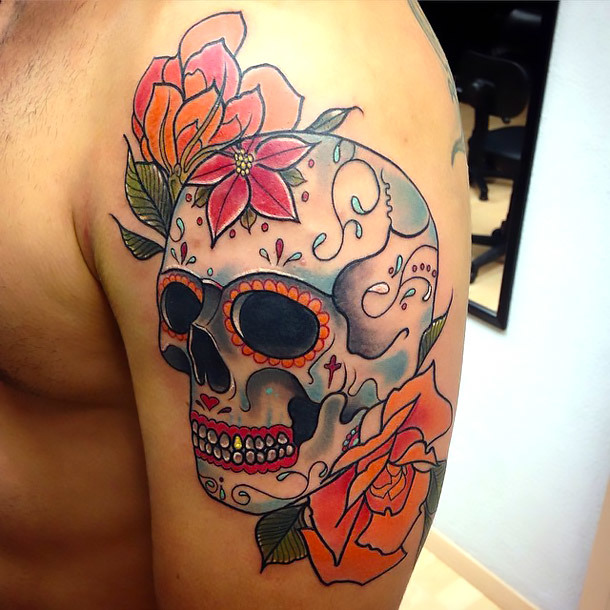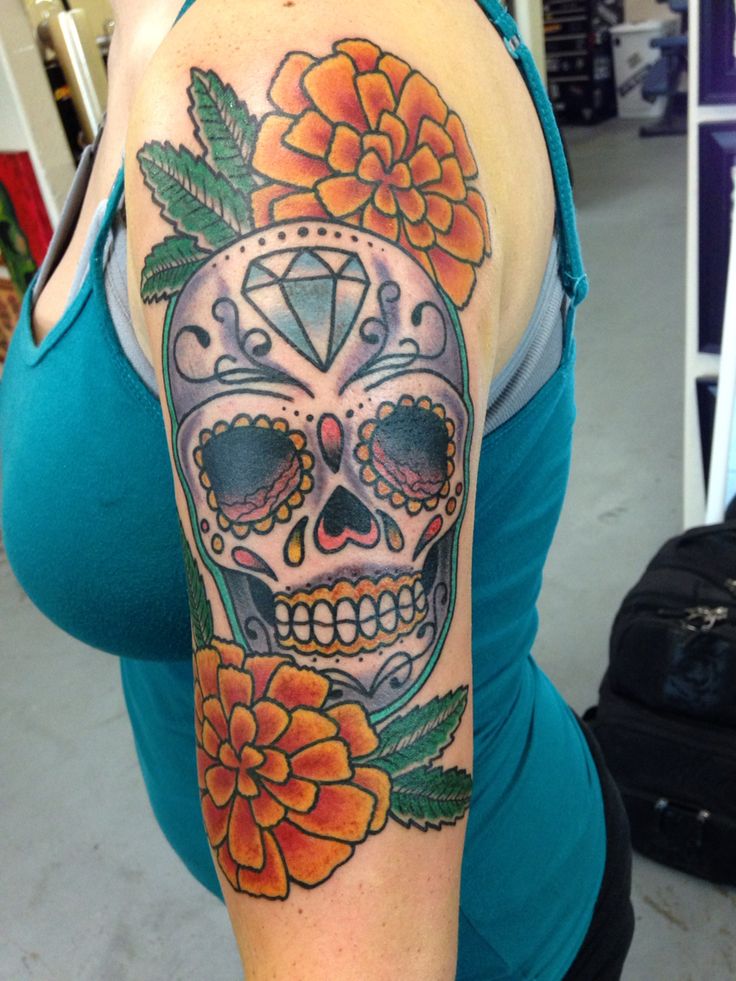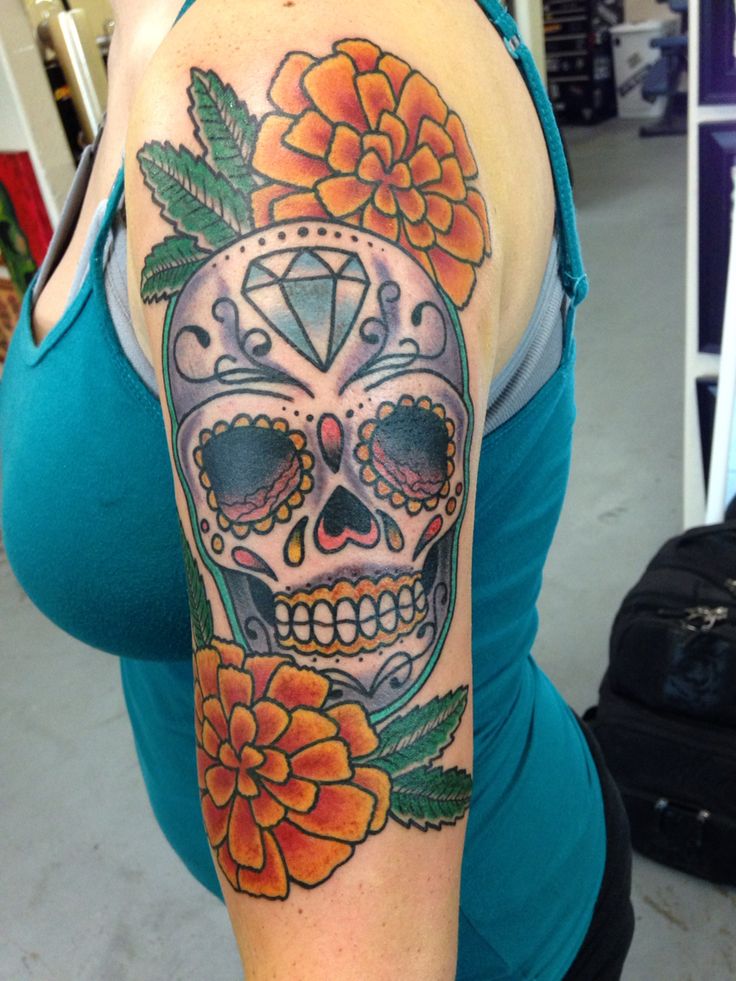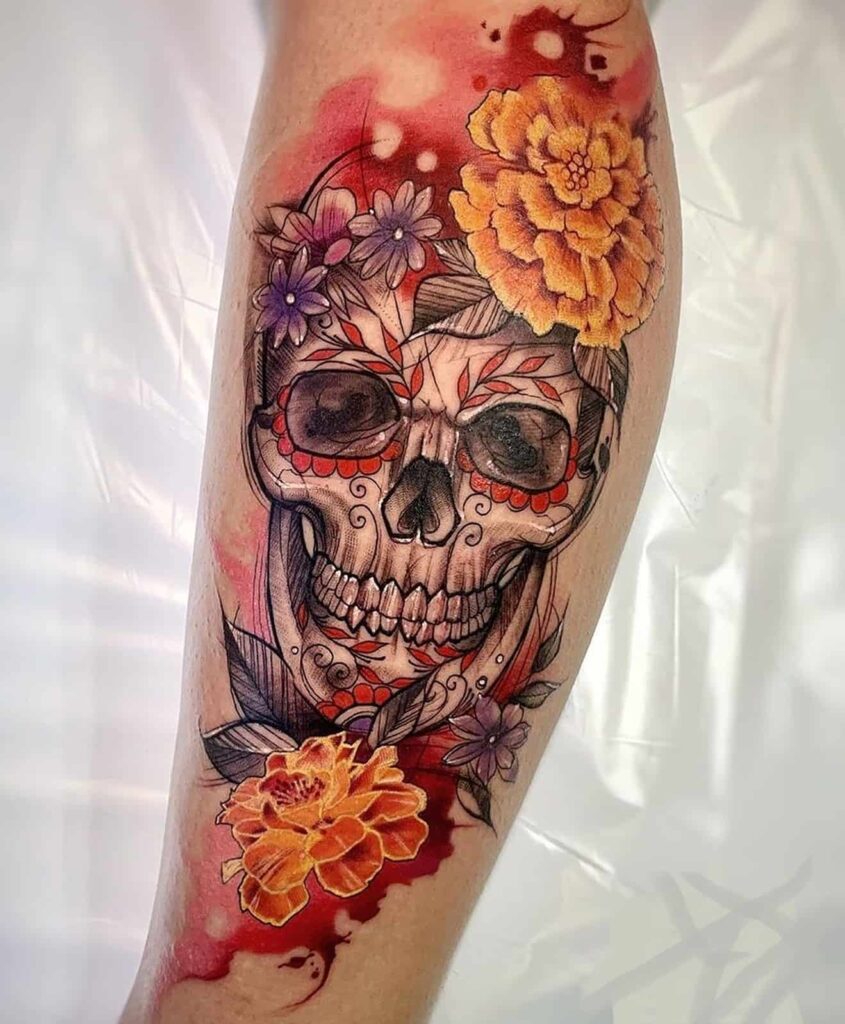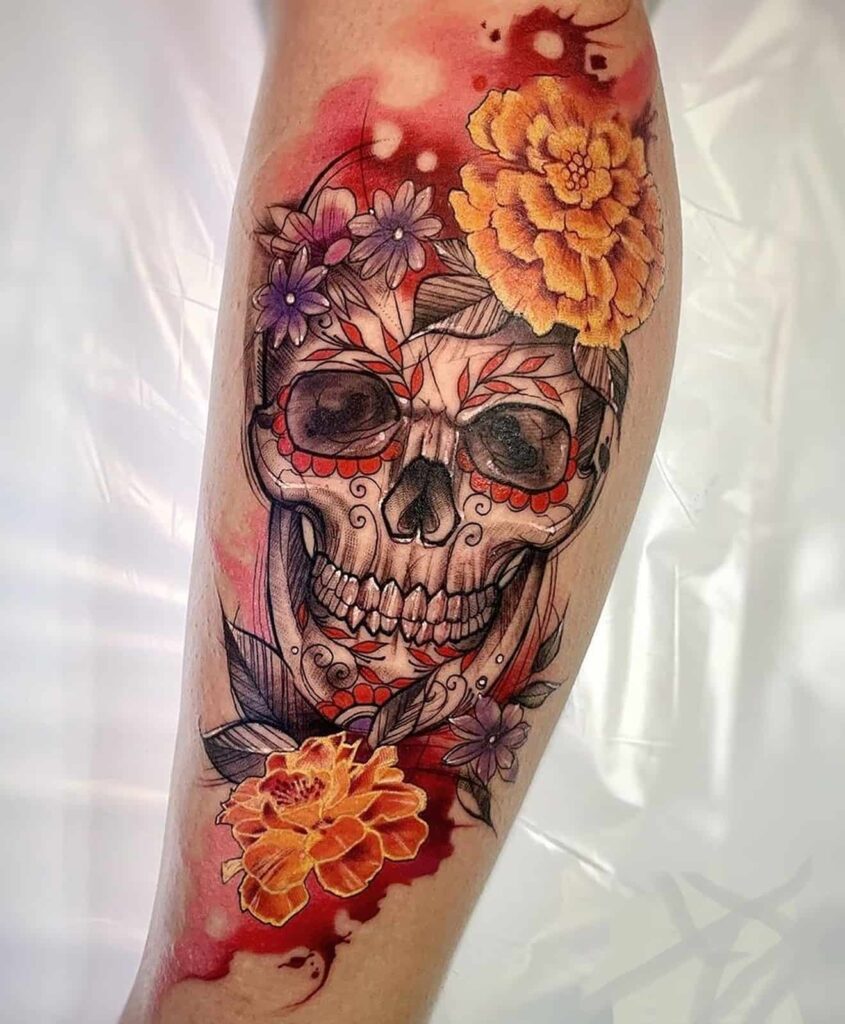 Sugar skulls have a special meaning in the Mexican community, especially during the "Day of the Dead" celebration. This event is a time to honour and remember loved ones who have passed away and to connect with their spirits. It is common to see sugar skulls drawn on walls, displayed on altars or porches, and even worn as masks. Some people choose to get a sugar skull tattoo, often incorporating marigolds into the design because marigolds are also associated with this special Day.
Marigold Tattoo on Wrist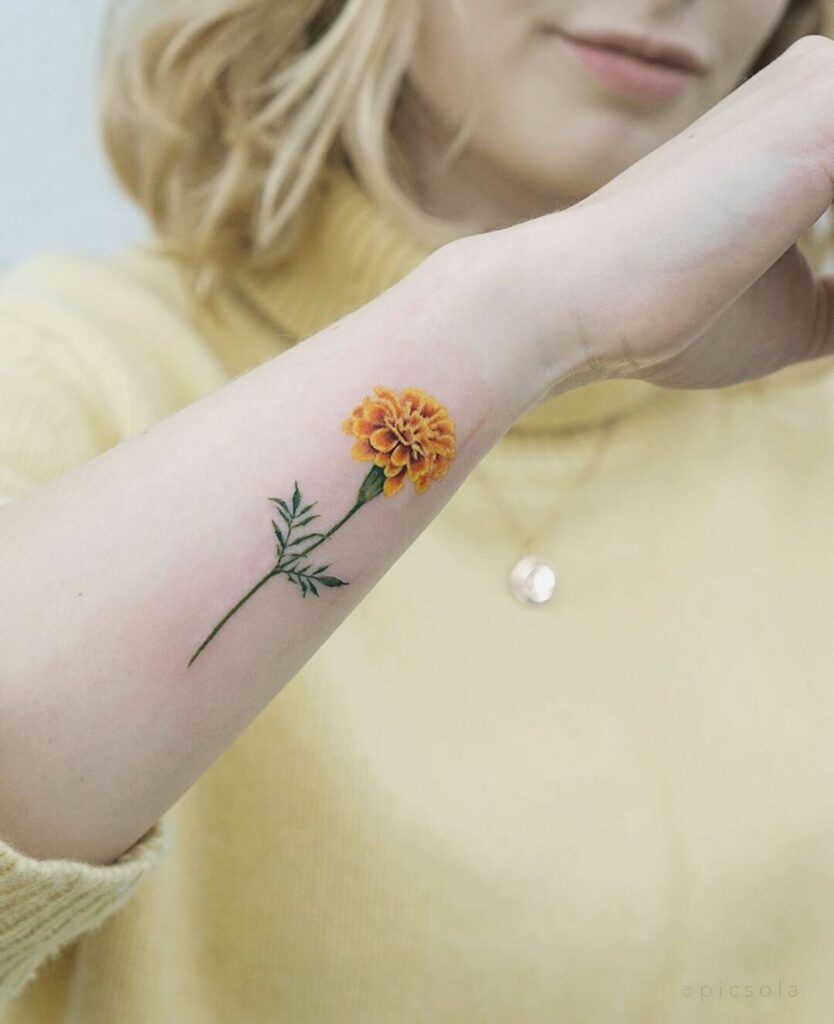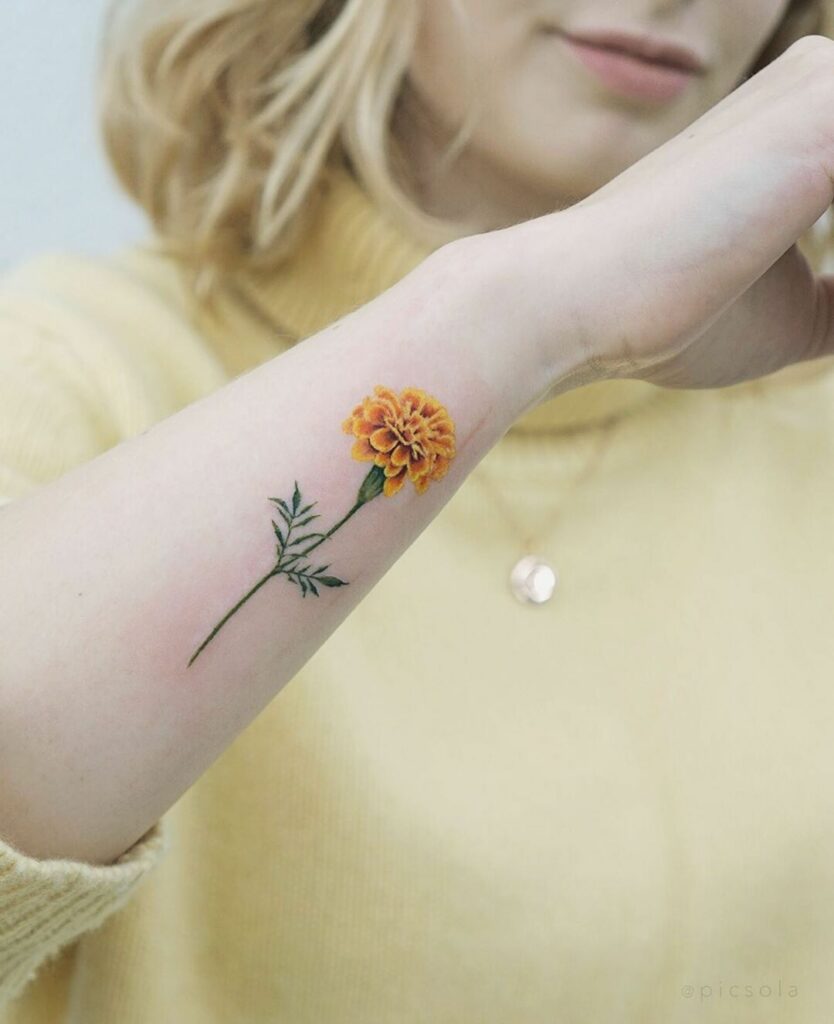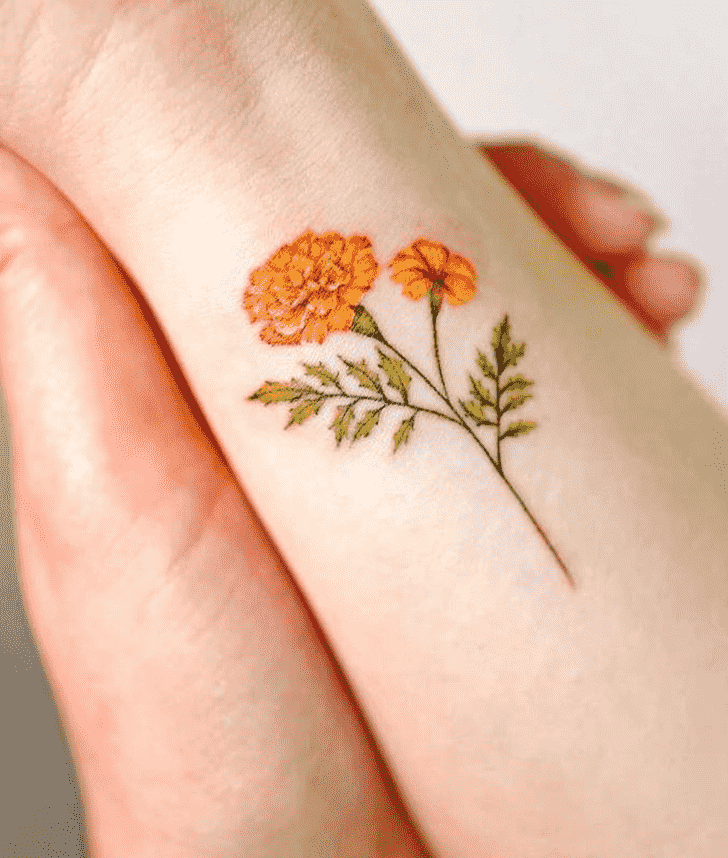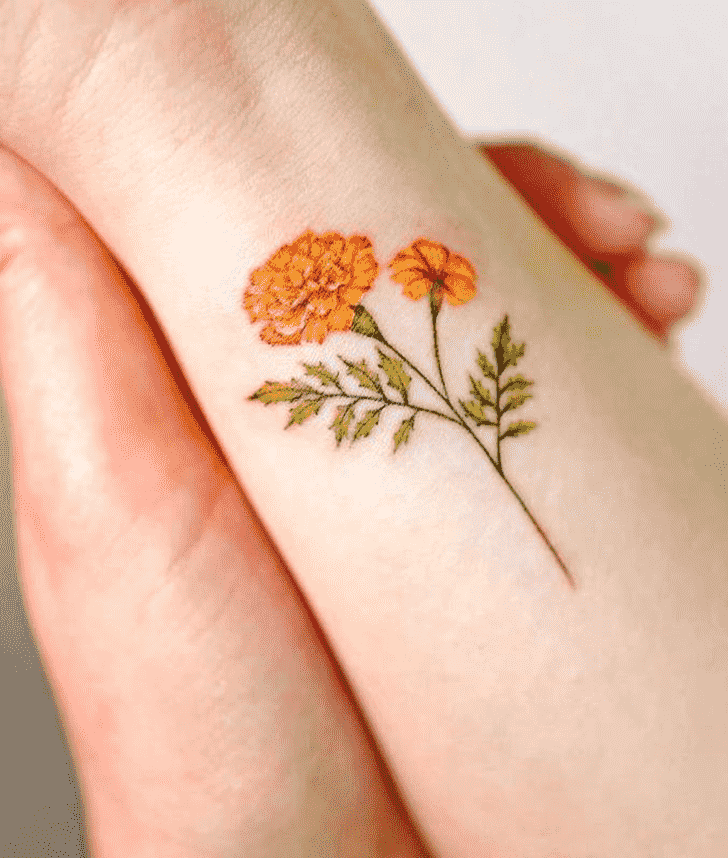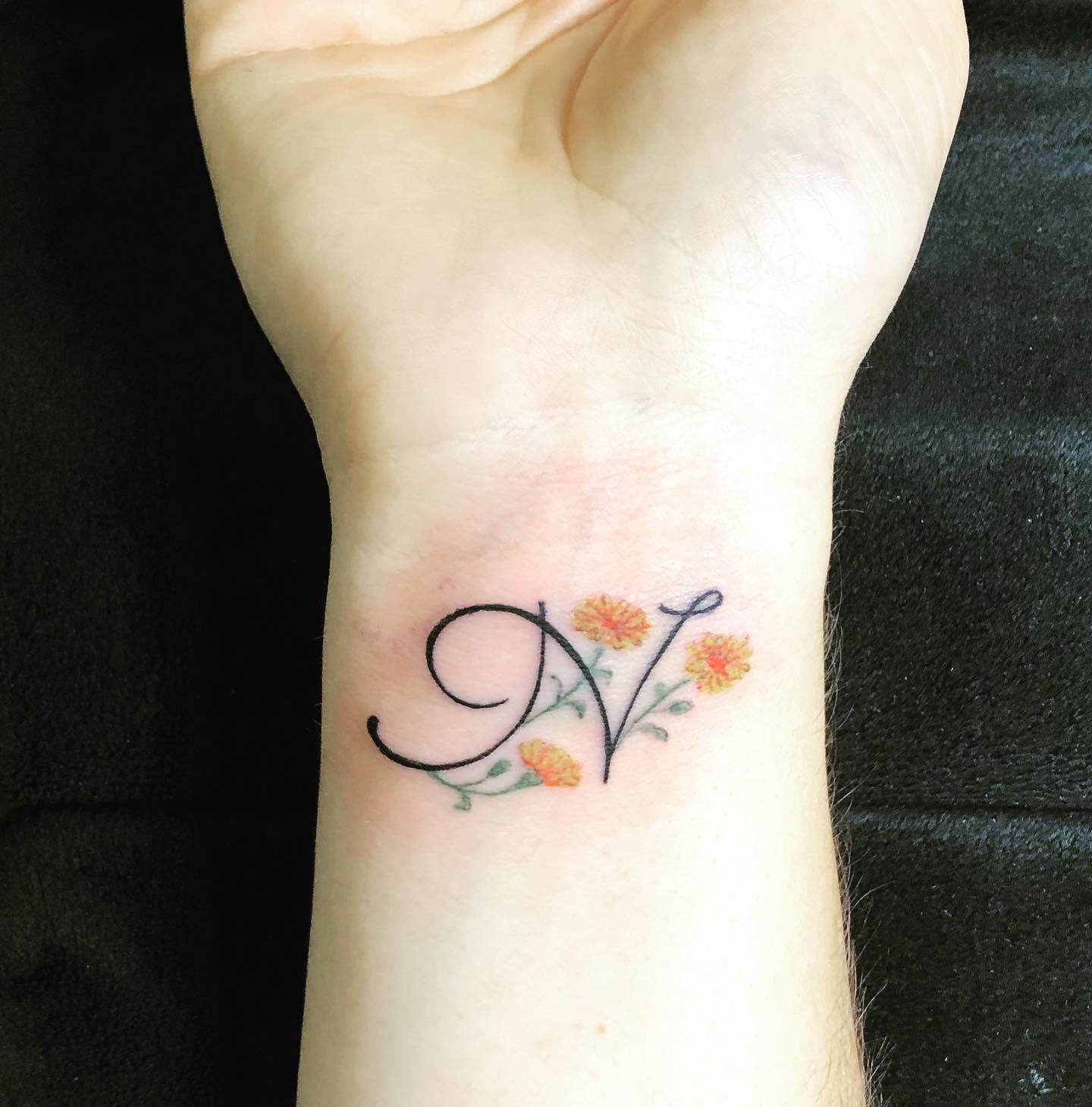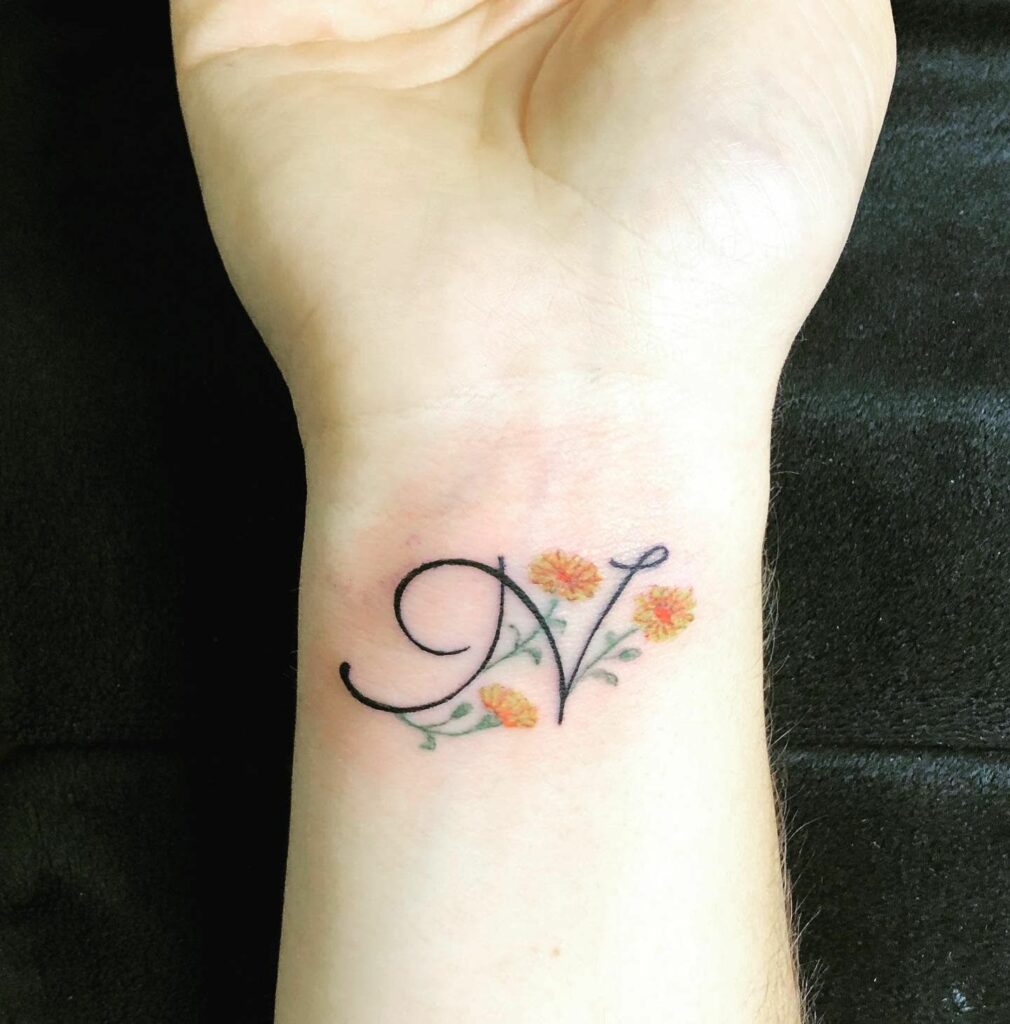 Getting a flower tattoo on your wrist is an excellent choice to showcase the delicate beauty of the flower and your wrist. The wrist represents the essence of life and its fragility. By getting a marigold tattoo on your wrist, you can have a meaningful and constant reminder of the beauty and preciousness of life.
Marigold Tattoo on leg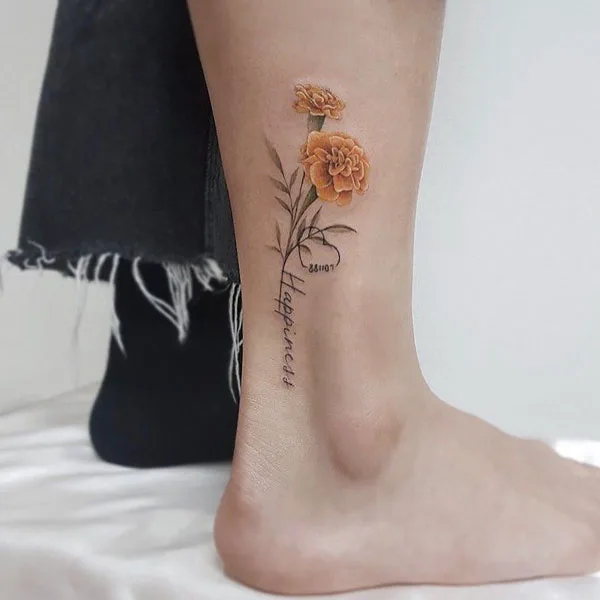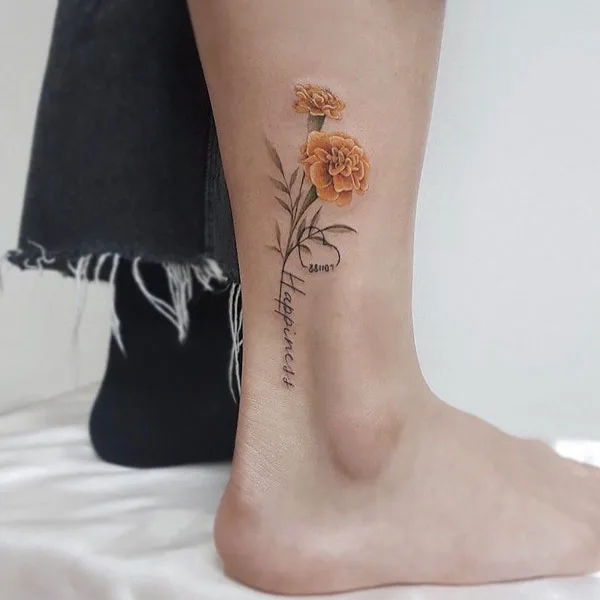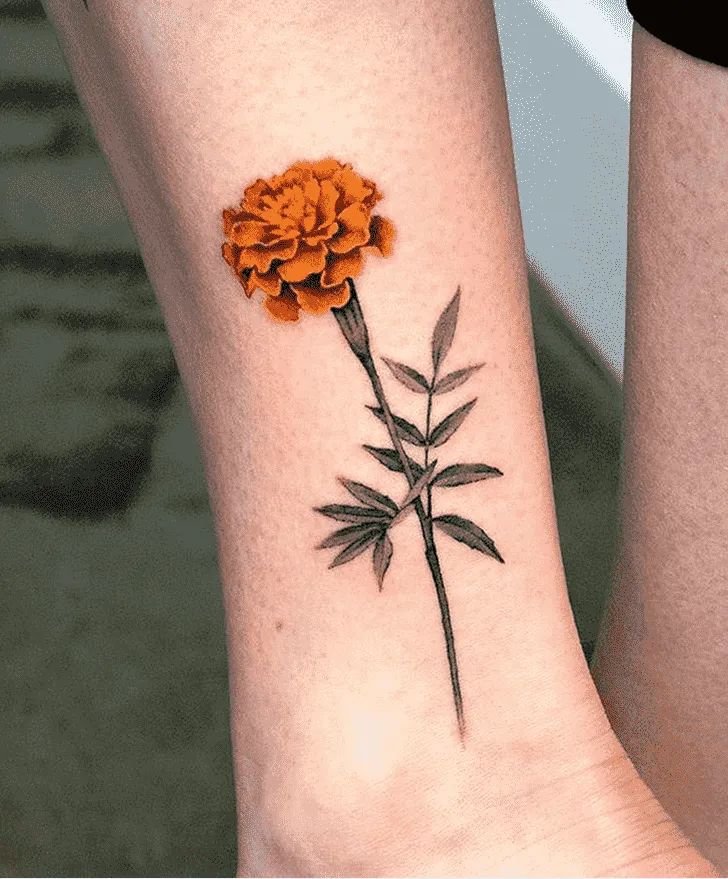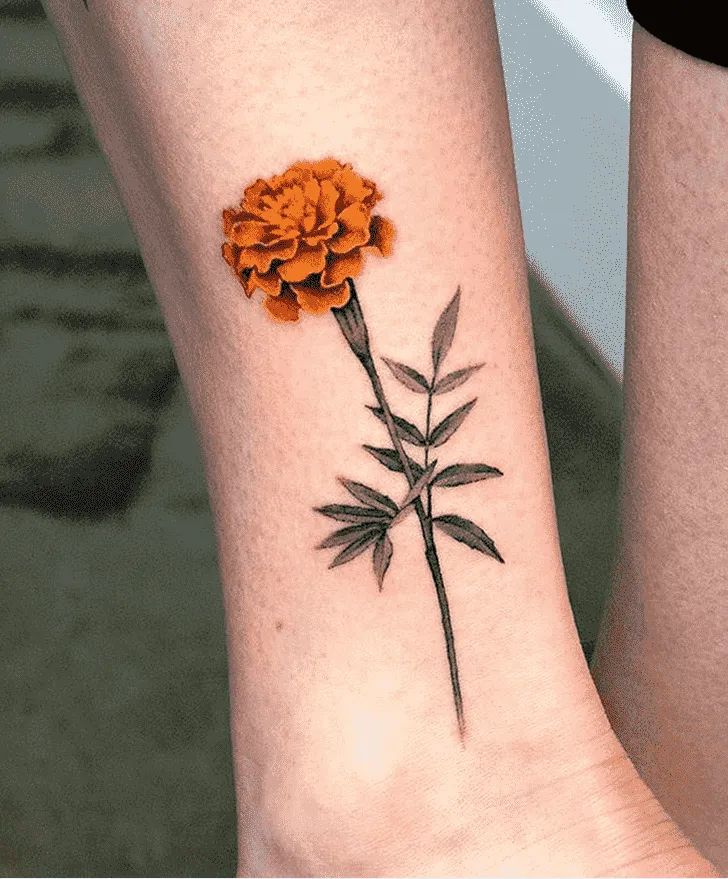 Getting a marigold tattoo on your leg is an attractive choice. It can be a small or large design, which will look fantastic in that location. To make it more interesting, you can include other objects that have personal meaning to you, like a clock or a butter knife. Doing this will make your tattoo a memorable and meaningful representation of your unique identity.
Black and White Marigold Tattoo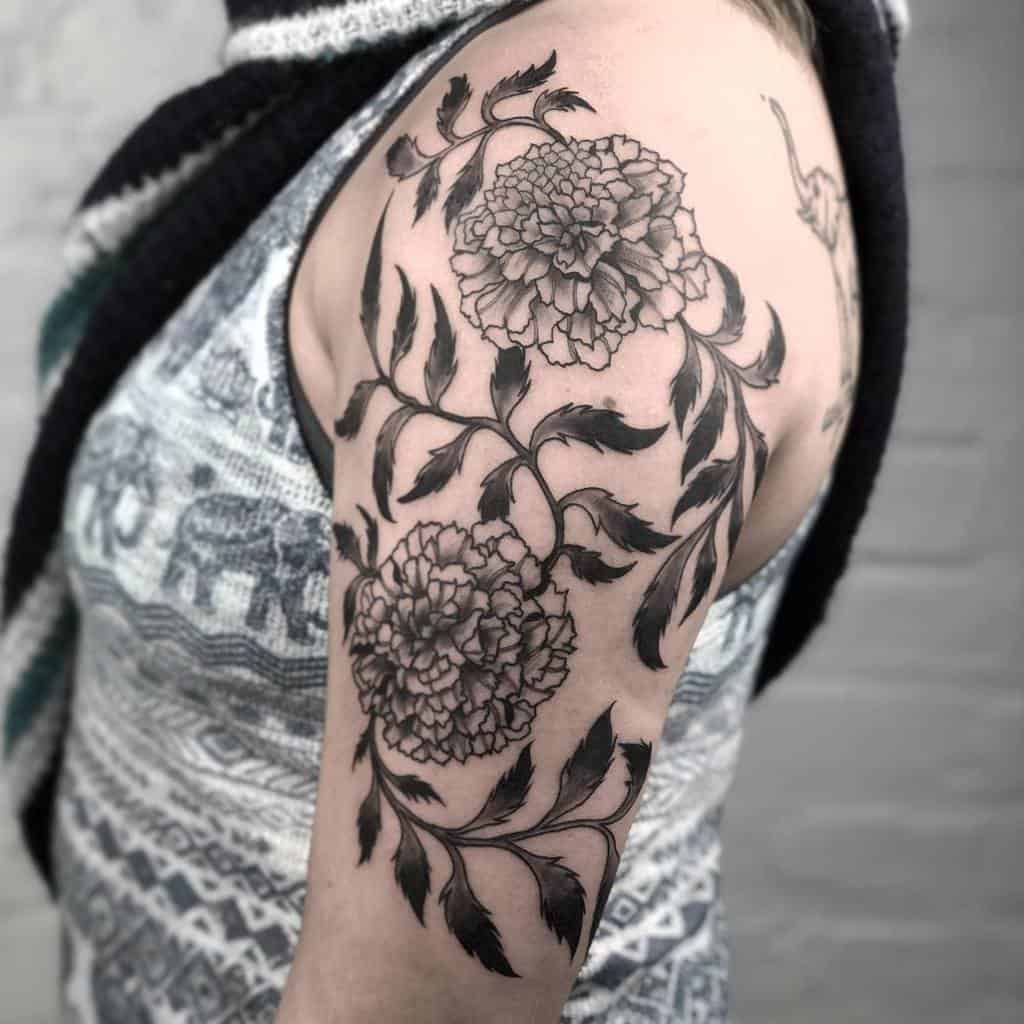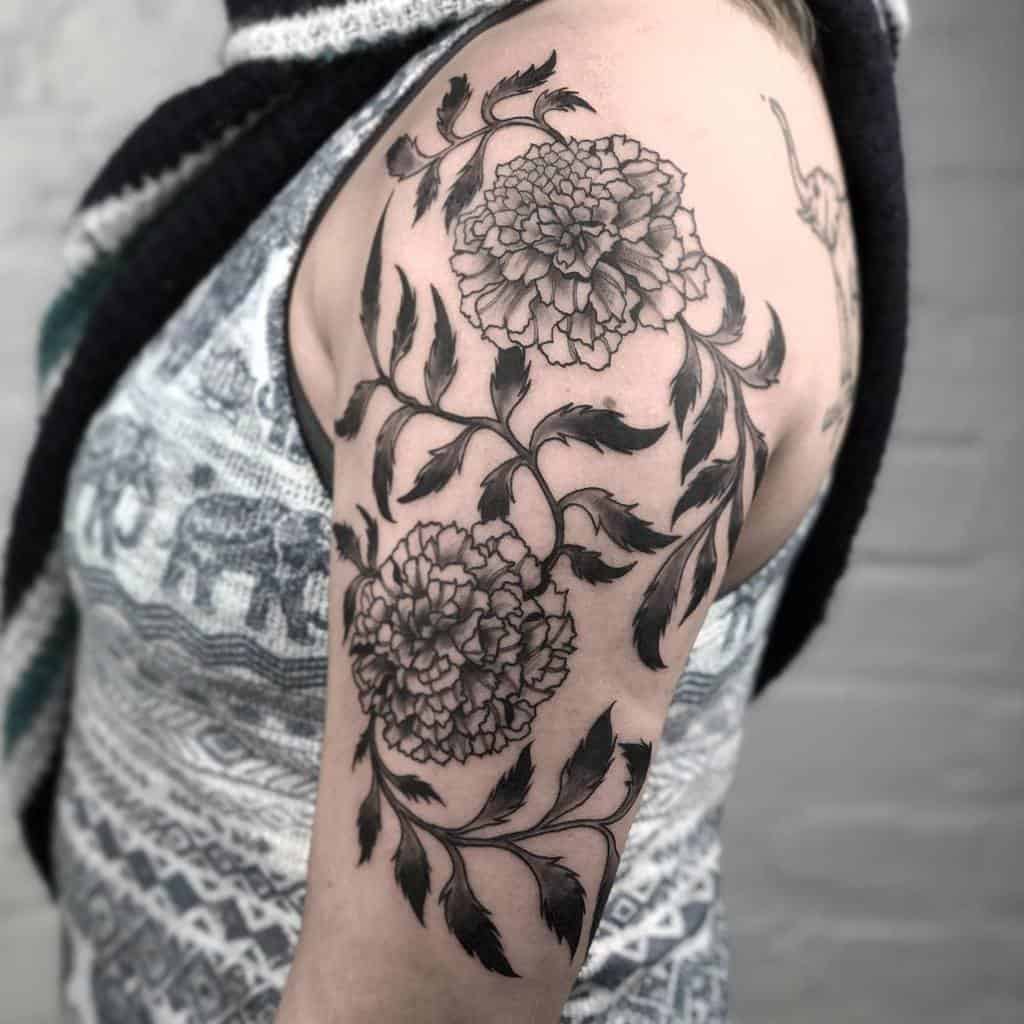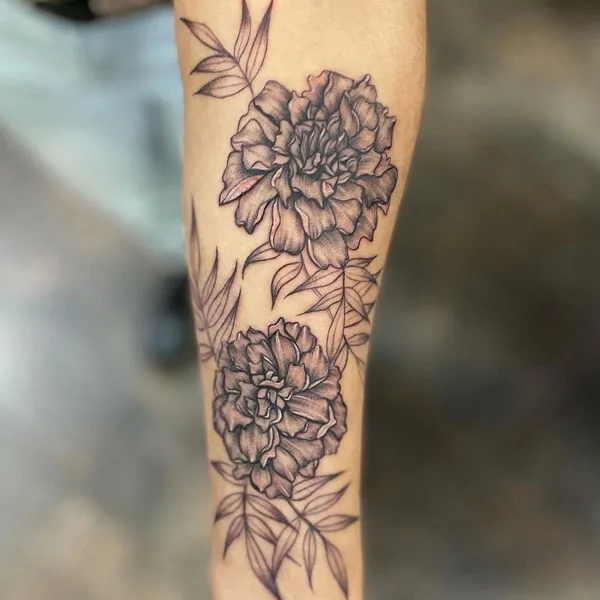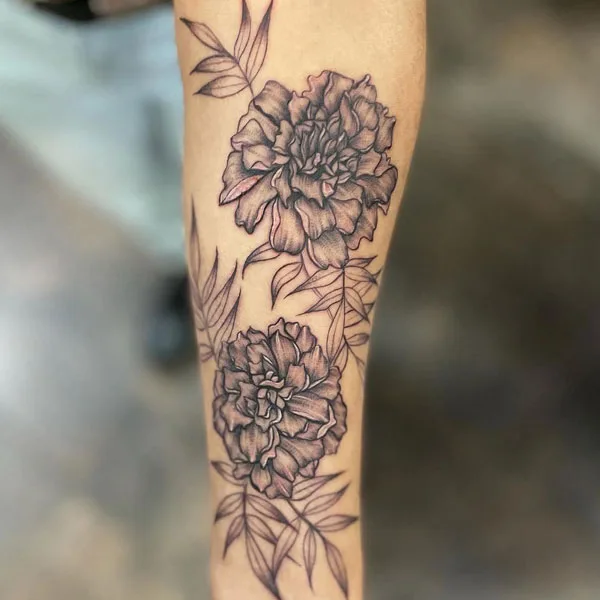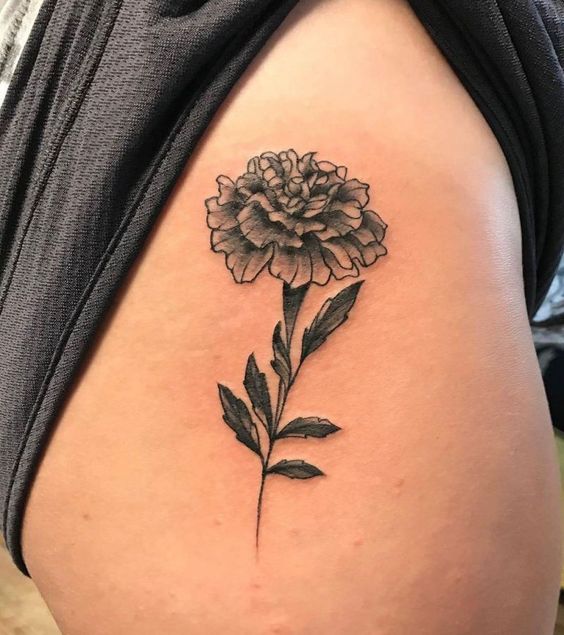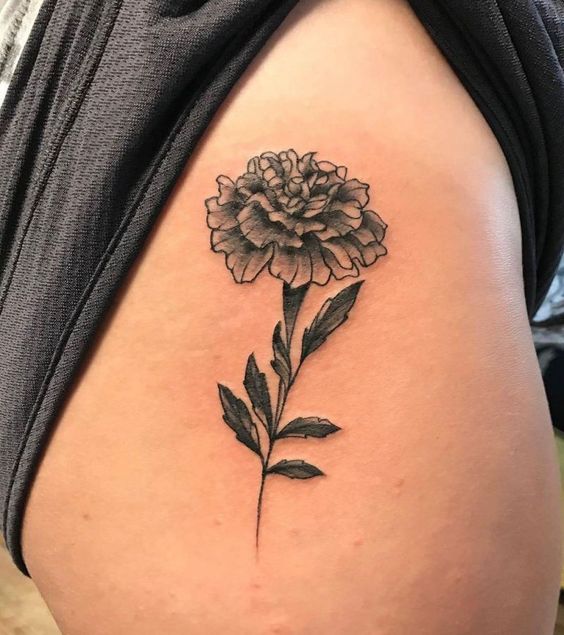 Not everyone appreciates colourful tattoos, so if you prefer a more straightforward option, you could opt for black and white marigolds. They possess an equal charm, albeit with a more subtle aesthetic. These flowers evoke a feeling of approaching winter or blooming in barren lands, creating a captivating yet haunting beauty.
Marigold Tattoo on Ankle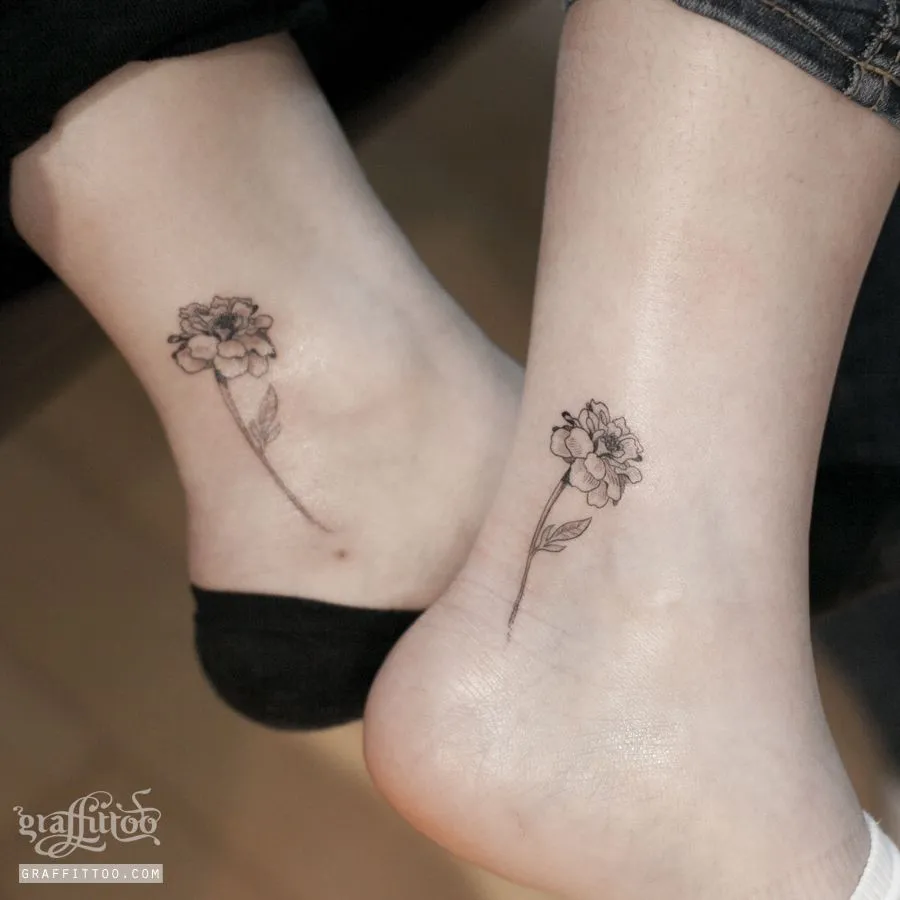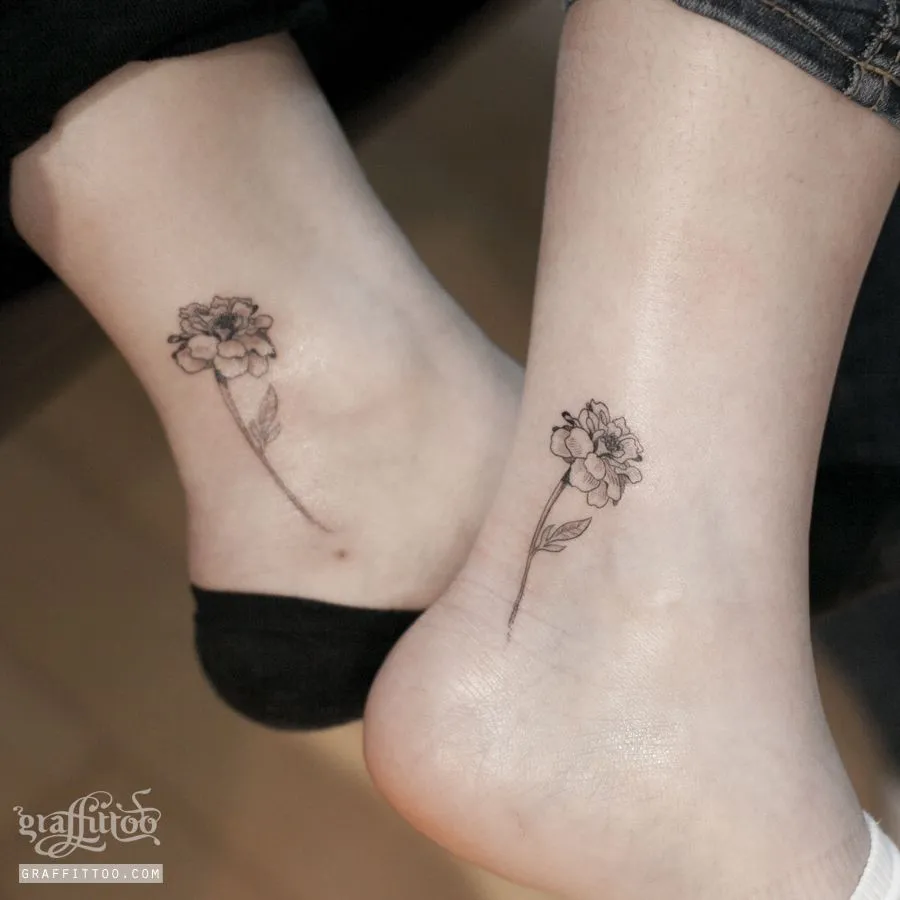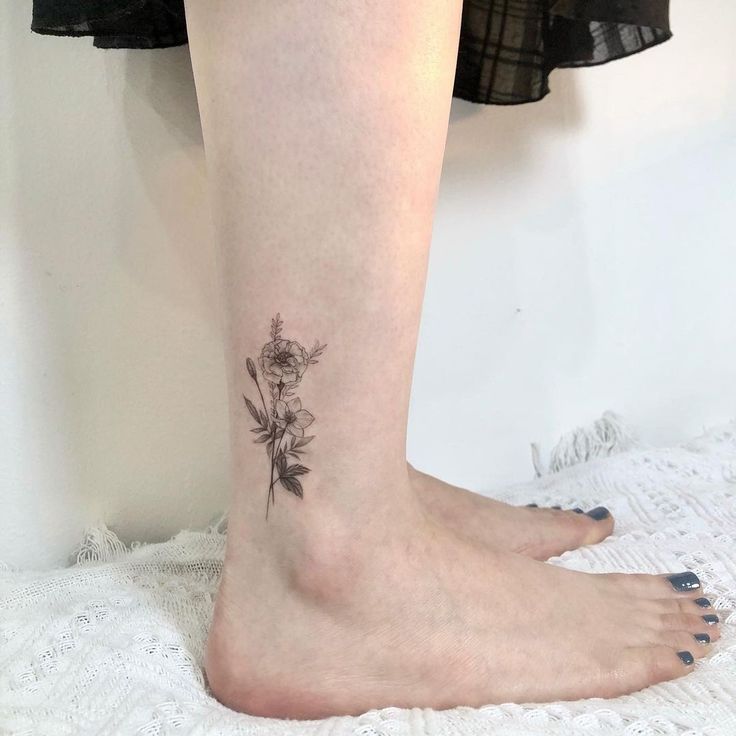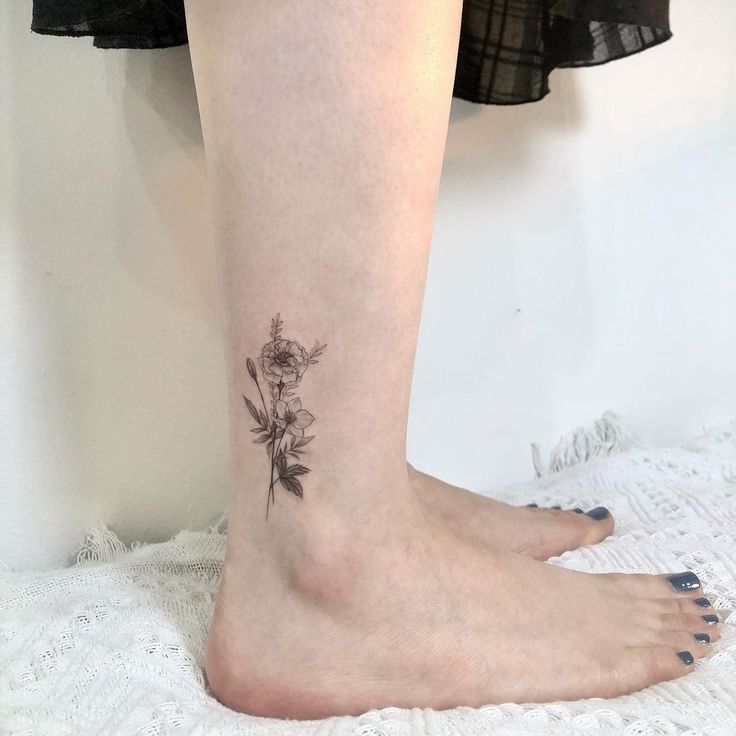 Ankle tattoos, similar to wrist tattoos, require delicate handling. If you're thinking about getting one, having a high threshold for pain is essential. Ankle tattoos are a fantastic option if you desire a tattoo that's noticeable but not overly conspicuous. Choosing a small or medium-sized design for your ankle can be a smart way to find the perfect balance.
Marigold Tattoo on Chest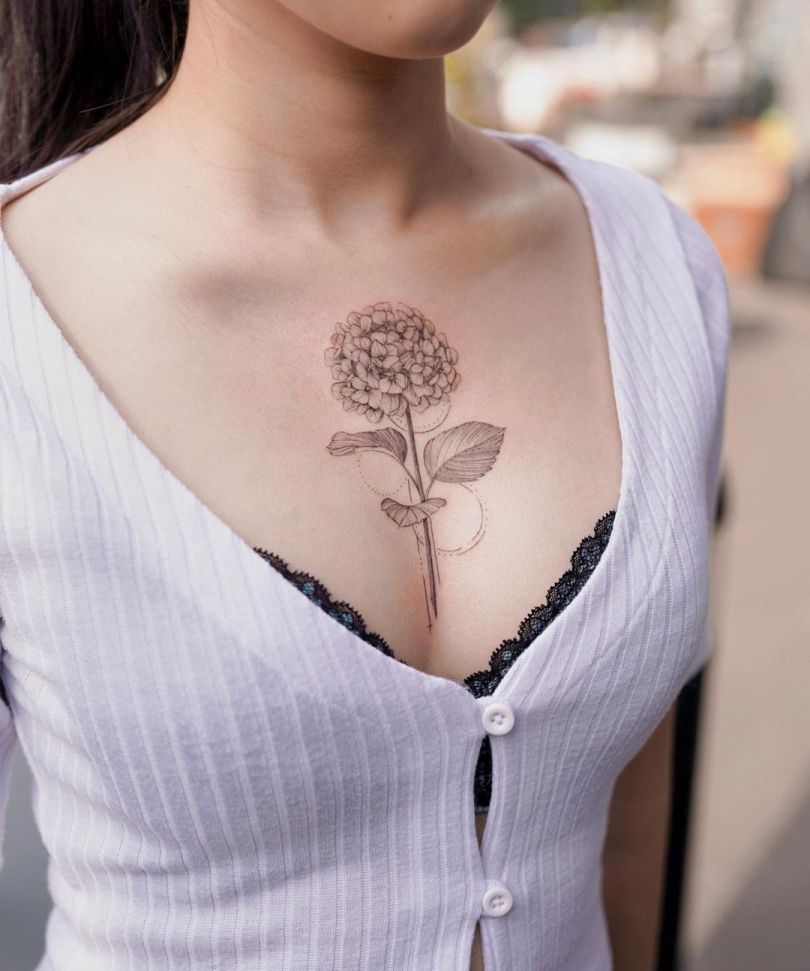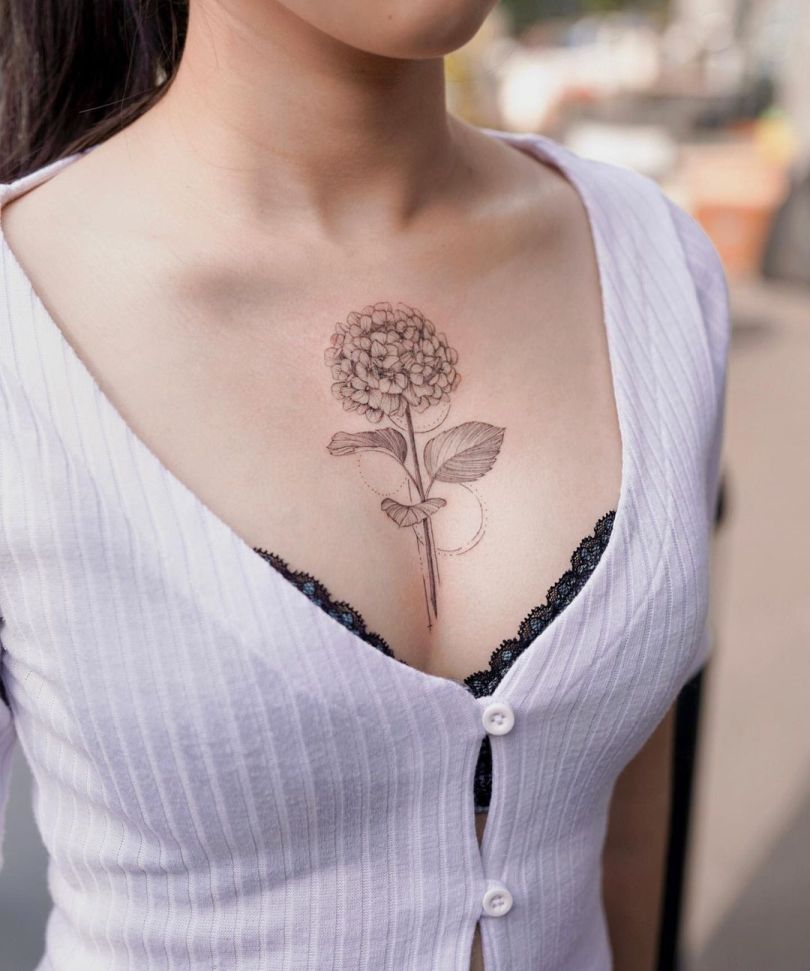 Flower tattoos, such as marigolds, are not commonly seen on chests. However, it can be a fascinating and distinctive placement choice. Your chest provides plenty of room, allowing you to choose the size and add as many details as you want for your tattoo. It's a flexible option that lets you personalize your design according to your preferences.
Marigold RIP Tattoo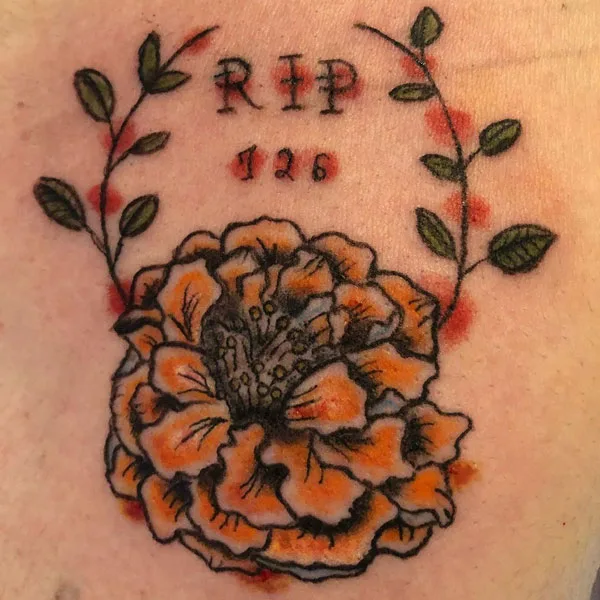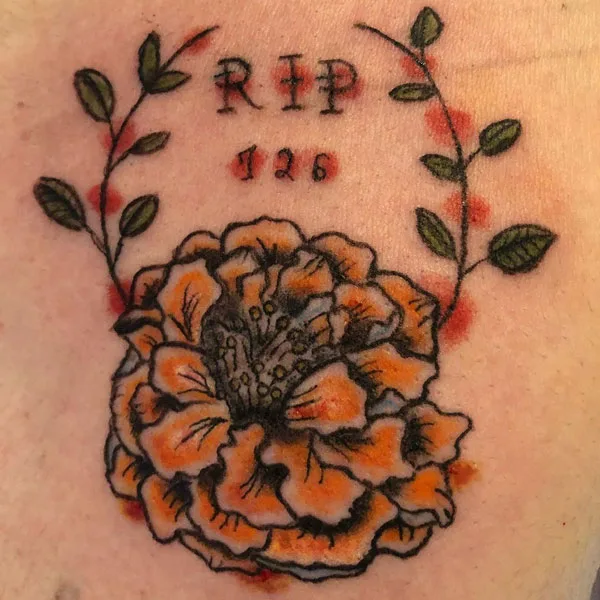 As we discussed earlier, flowers are often associated with the idea of death. So, it's completely natural if you want to get a memorial tattoo for a loved one, using a marigold as the main design element. This tattoo would be filled with deep meaning and symbolism, serving as a heartfelt tribute to your loved one.
Watercolor Marigold Tattoo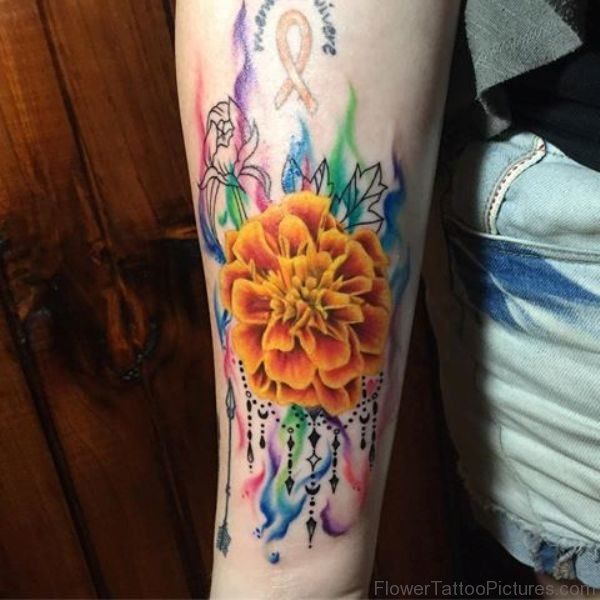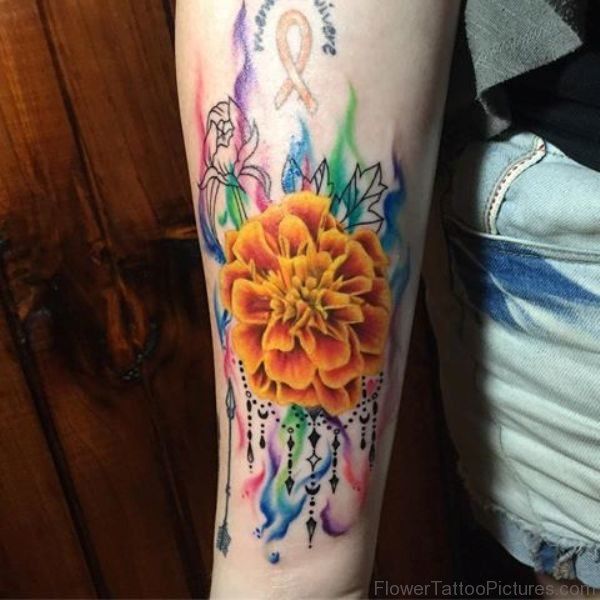 Watercolour tattoos are becoming more and more popular, especially among specific communities. These tattoos have a magical quality that makes flower designs look dreamy and ethereal. They are perfect for individuals who appreciate art with a more laid-back and less precise style.
Marigold and Butterfly Tattoo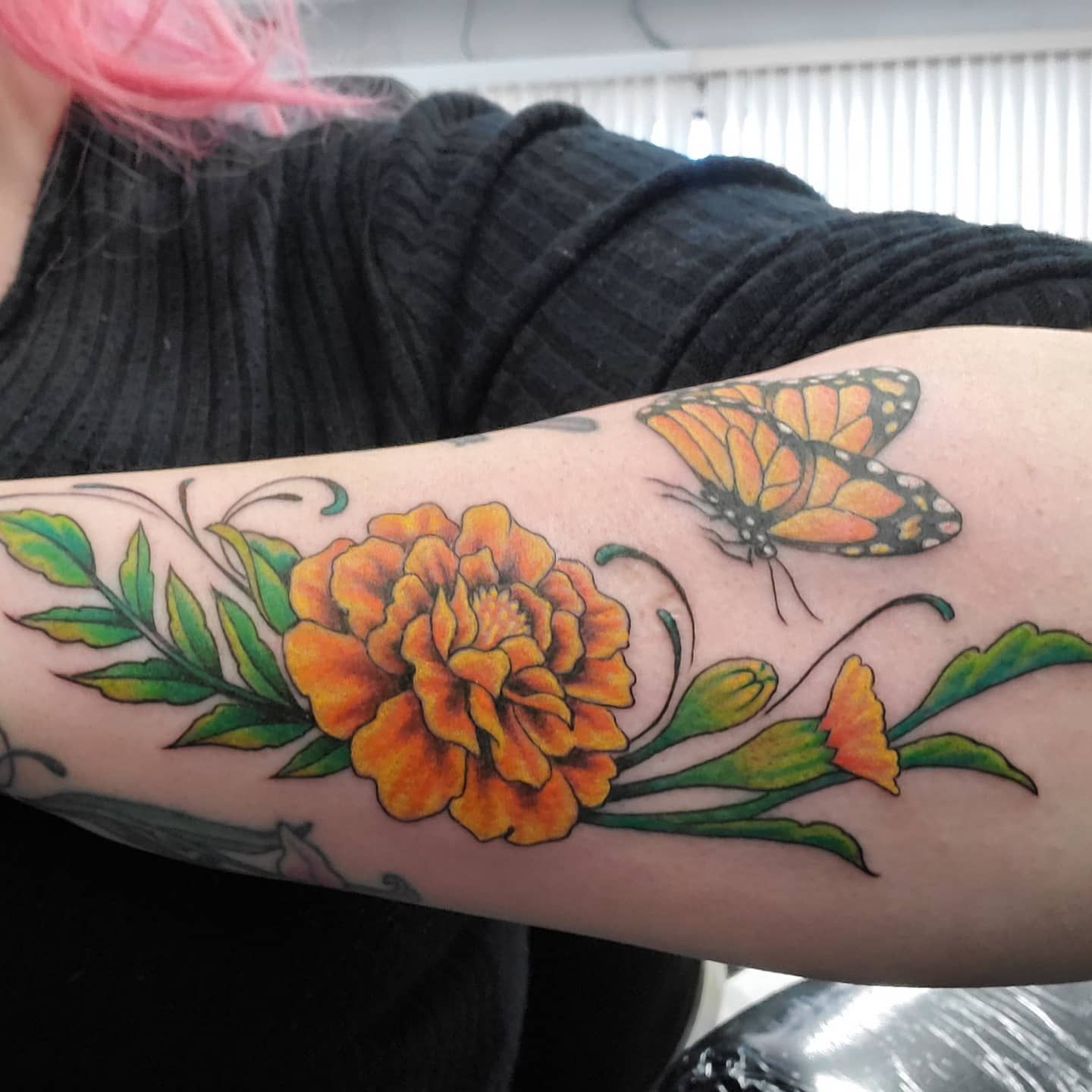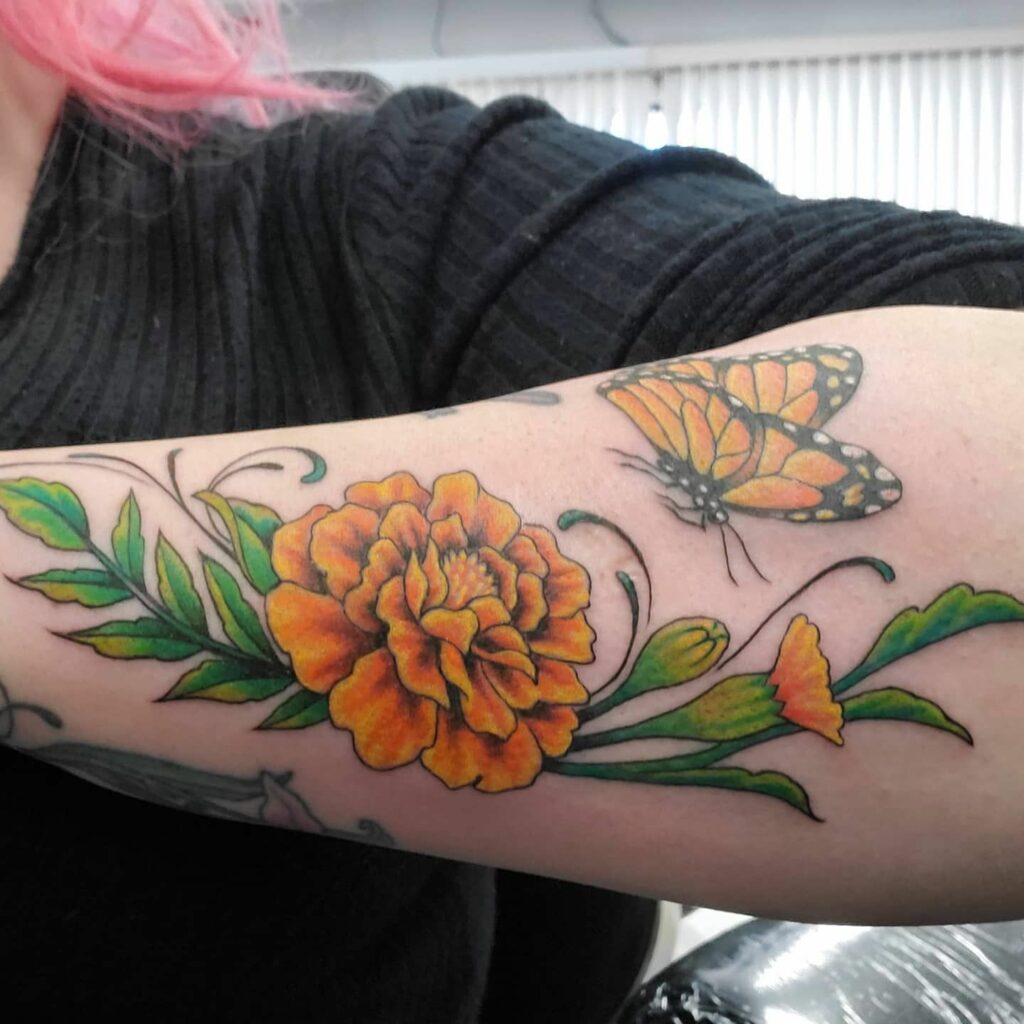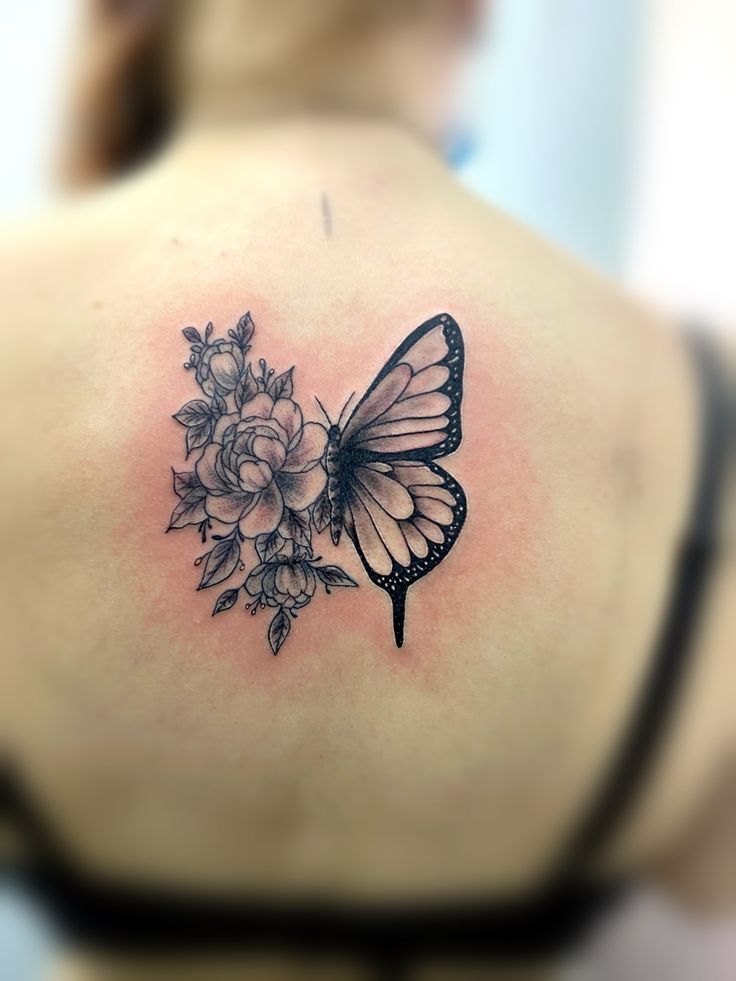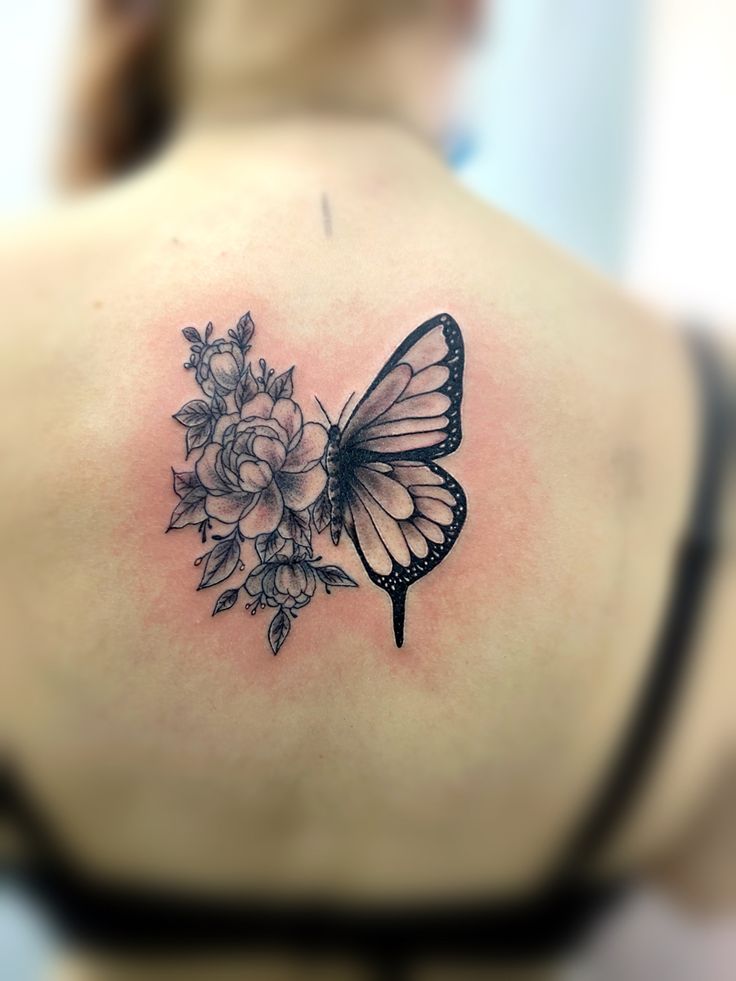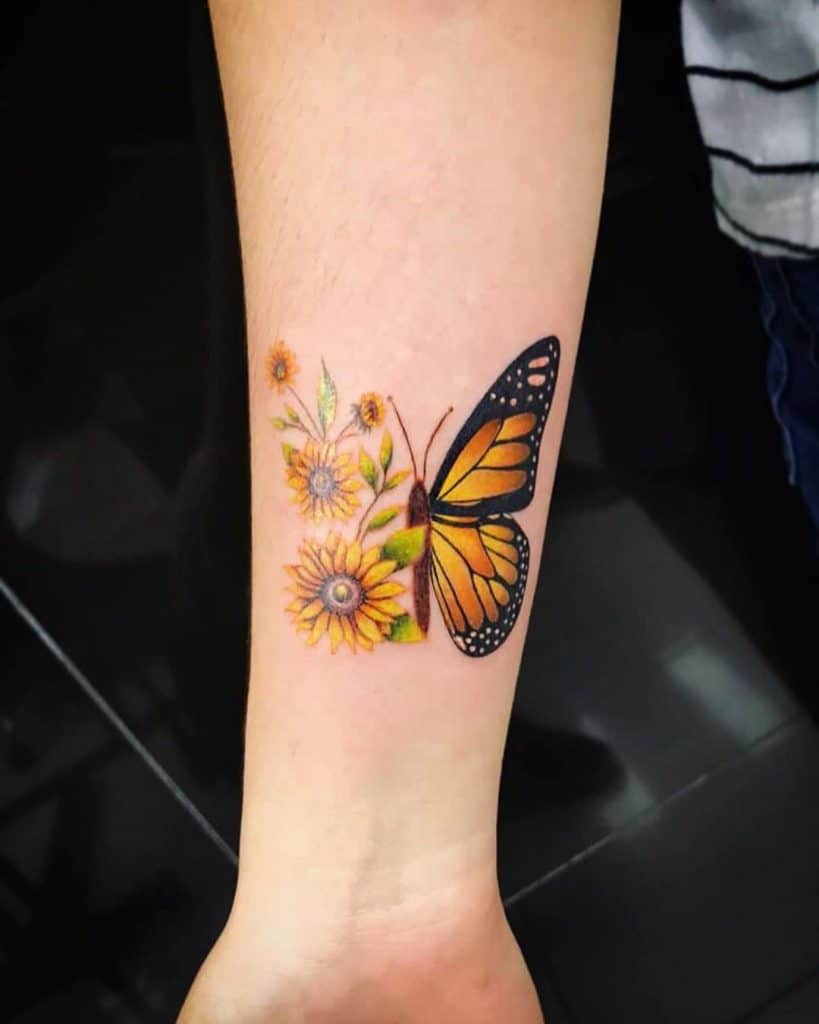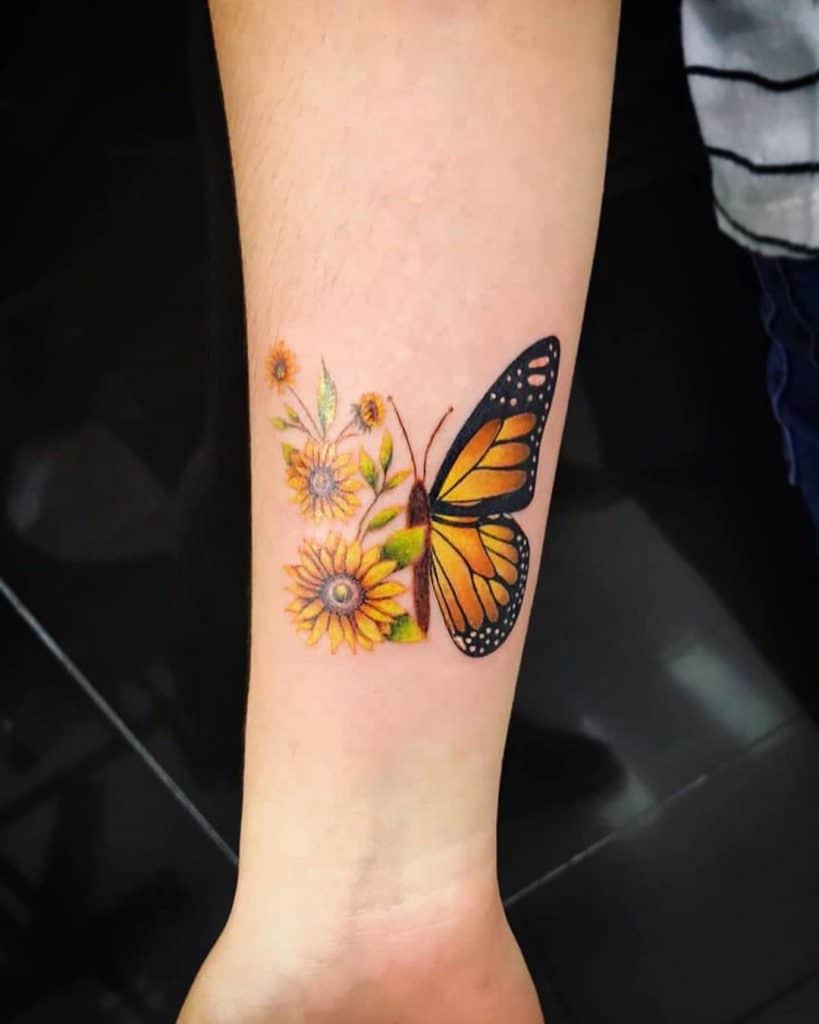 Butterflies have commonly recognized symbols in memorial tattoos and go wonderfully with marigolds. Combining these elements will make a meaningful and fitting tribute if you're considering a tattoo to remember someone special or if butterflies hold significance to them. It's a beautiful way to honour their memory.
Marigold and Bird Tattoo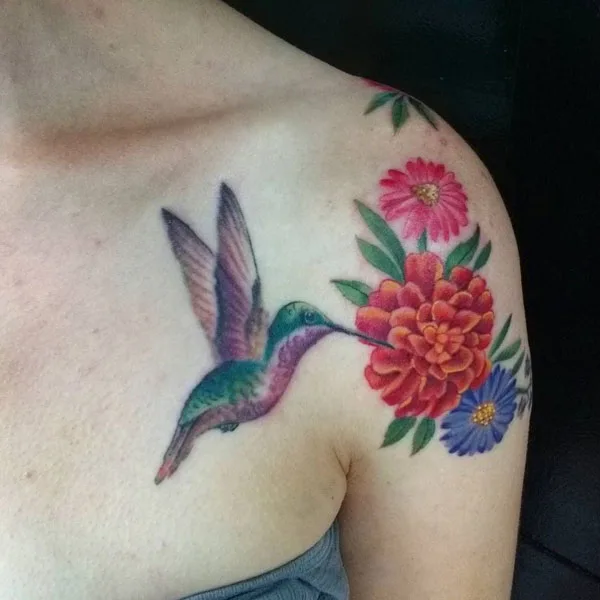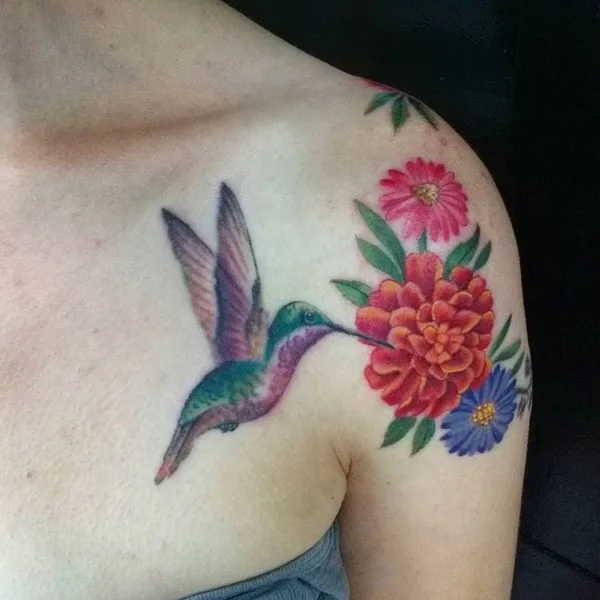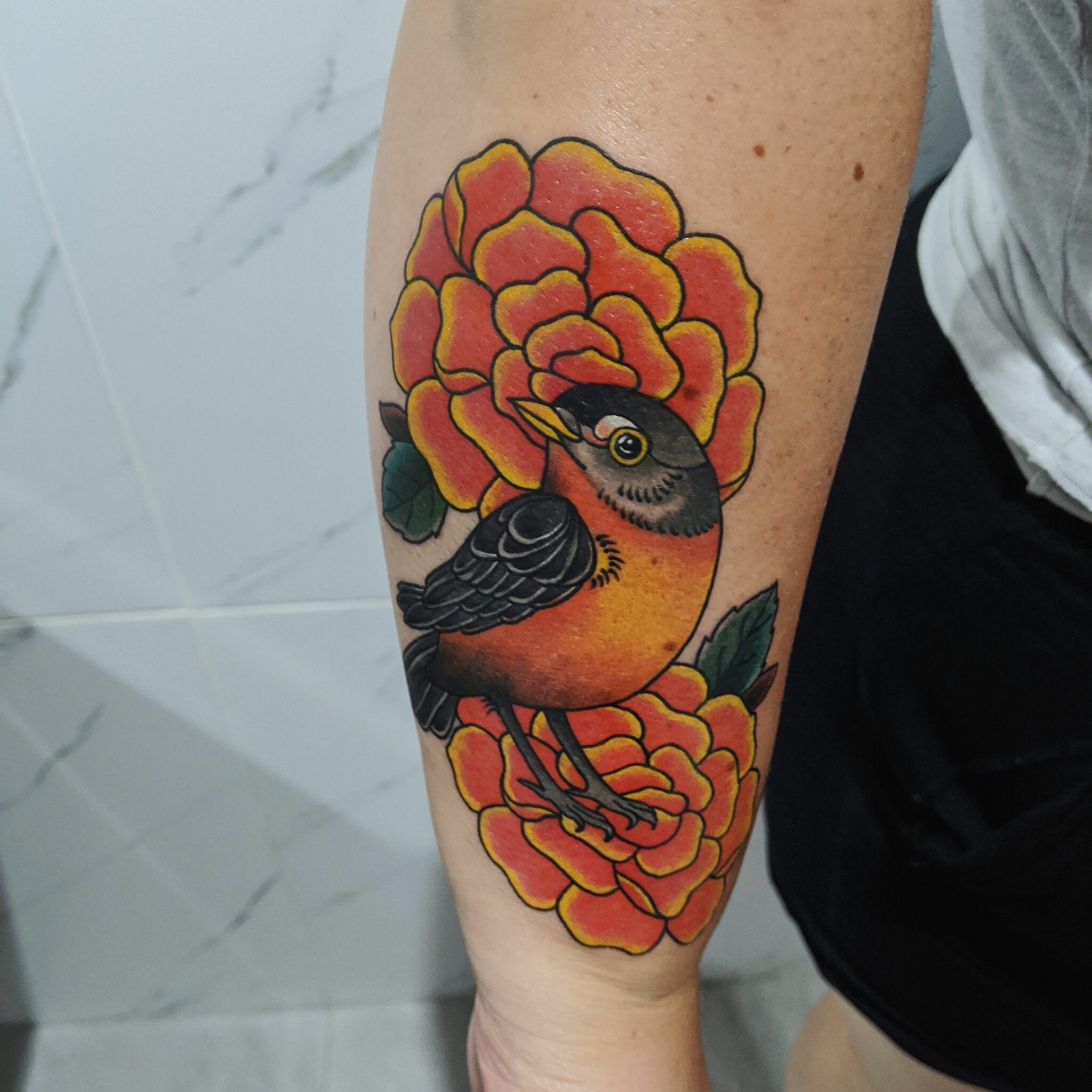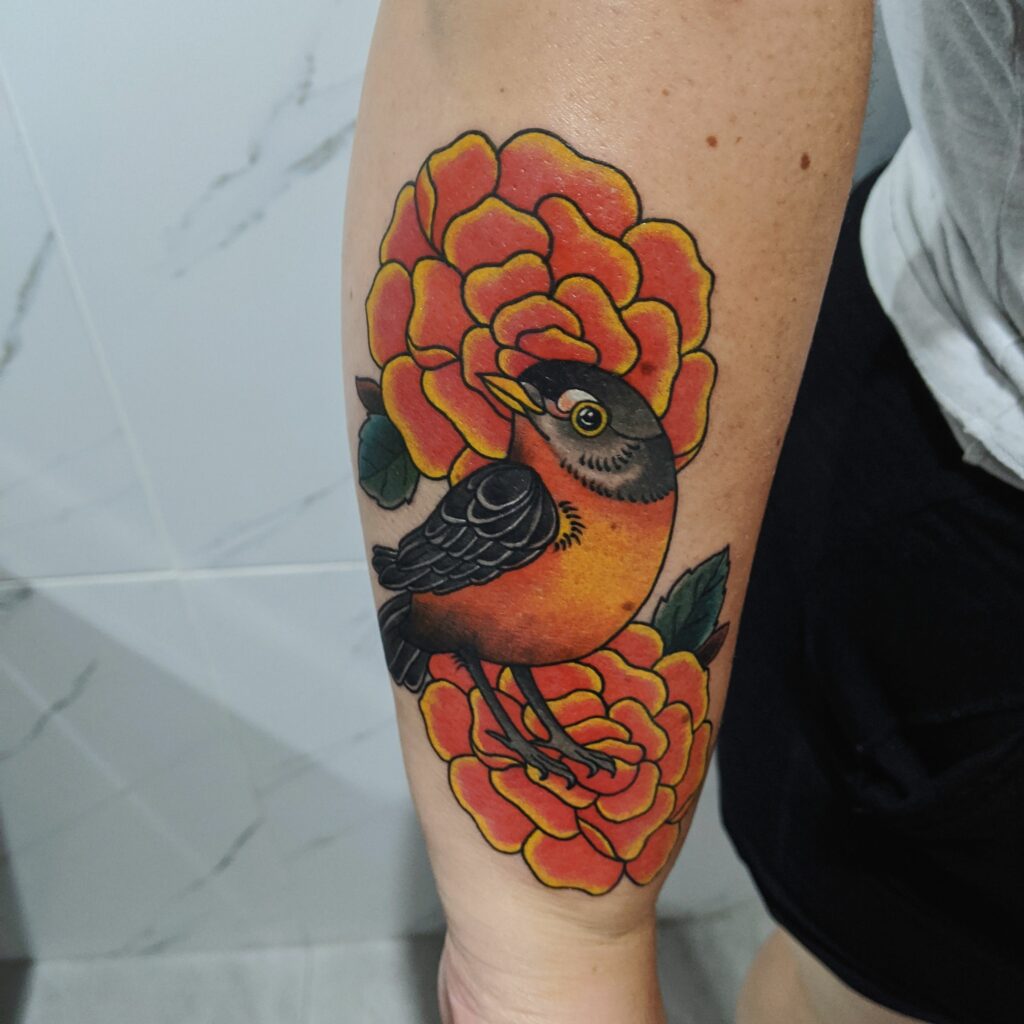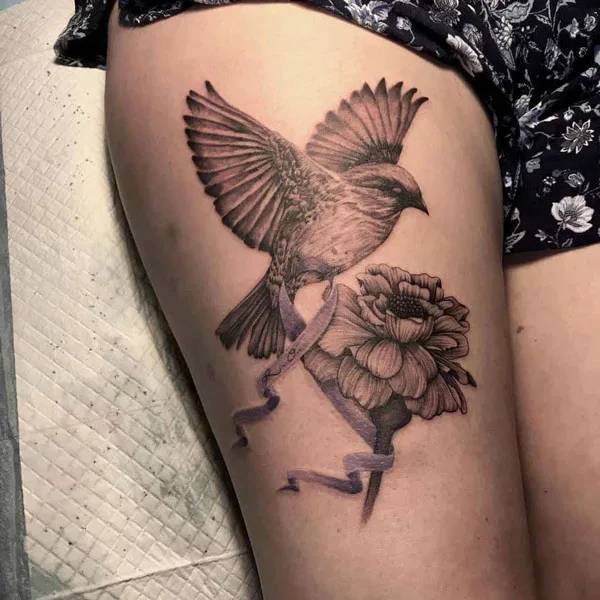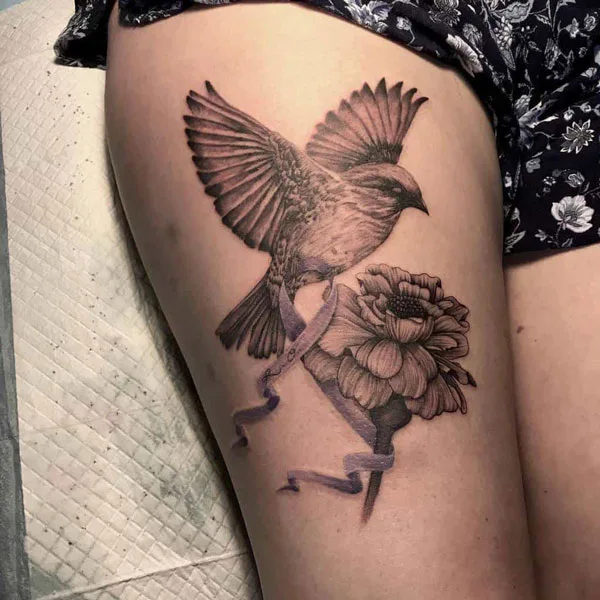 Birds are commonly associated with concepts like freedom, flight, and transformation. When paired with marigolds, they can symbolize the transition from one life to another or an individual's liberation and personal growth. The meaning behind this combination can be understood differently, depending on your experiences and beliefs. By incorporating both the flower and the bird in your design, you can explore various artistic options and create a tattoo with personal significance.
Red Marigold Tattoo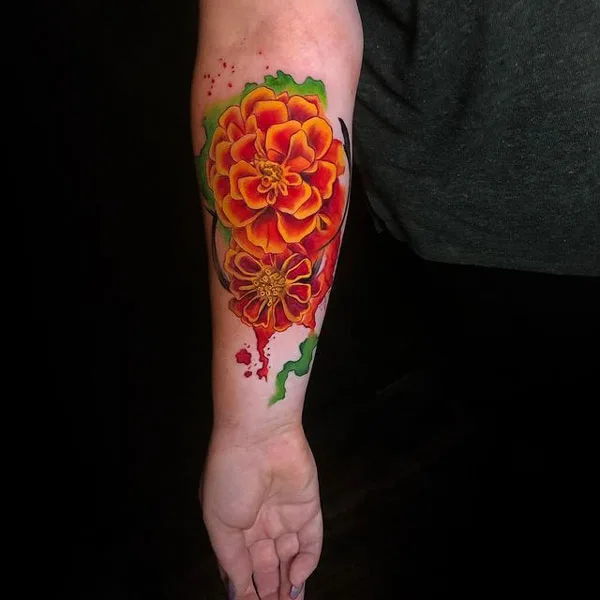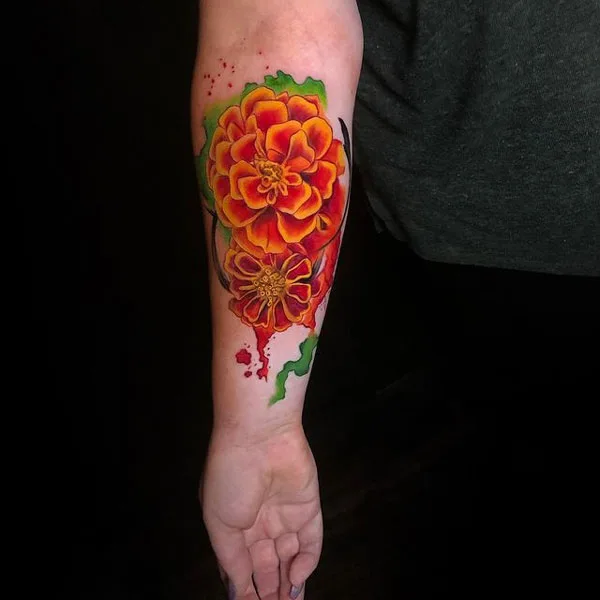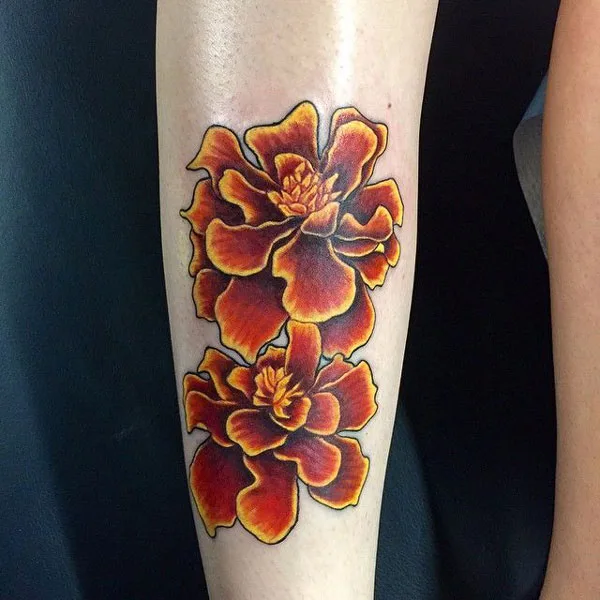 Red marigolds are rich in symbolism, representing love, romance, and passion. A red marigold will be a perfect option if you are overwhelmed with strong emotions of love or desire to express your romantic feelings through a tattoo. It beautifully captures the vibrant energy and essence of these emotions.
Marigold Semicolon Tattoo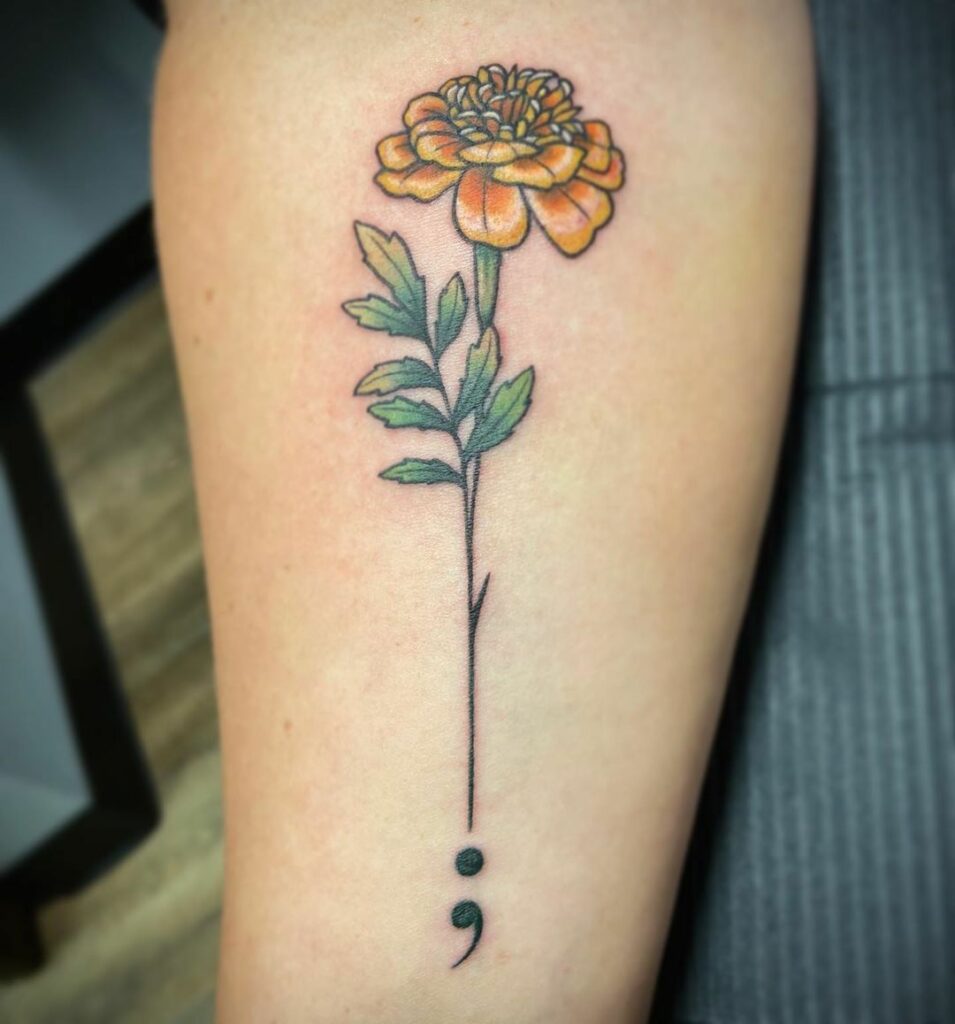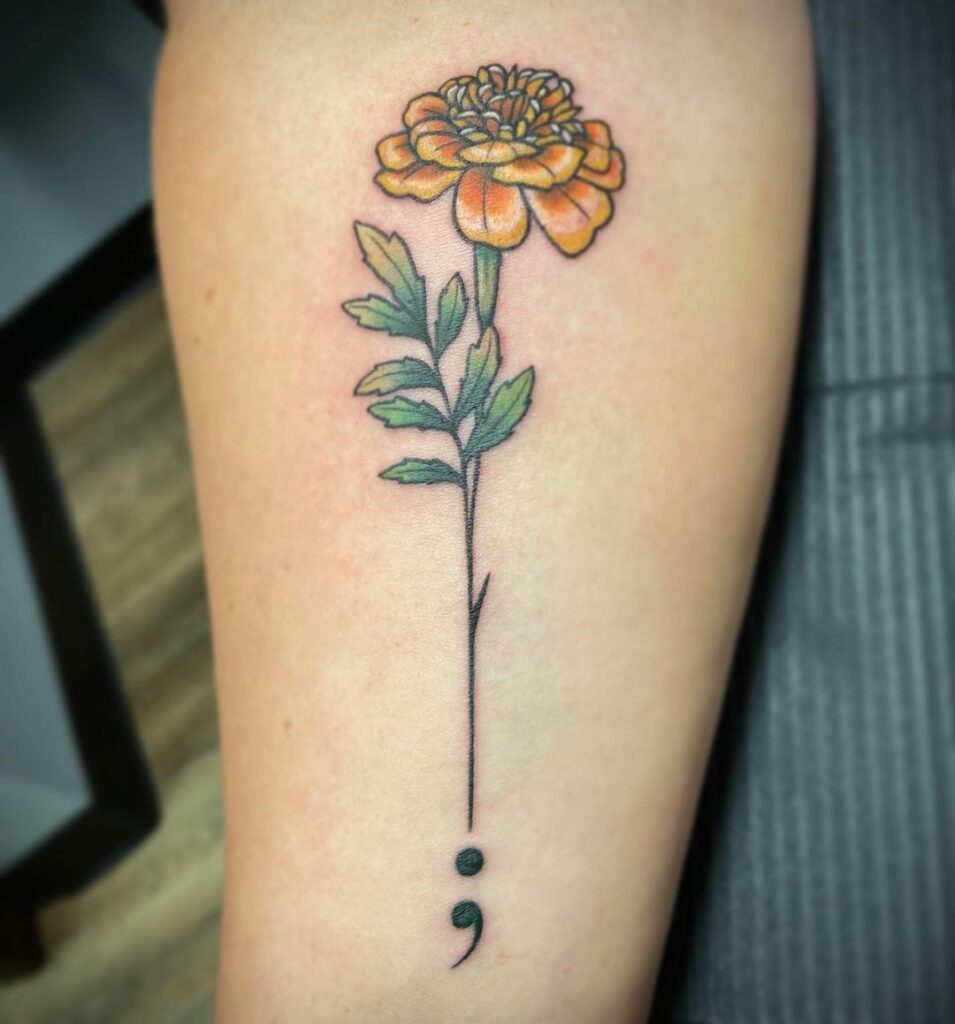 In tattoo art, the semicolon holds great significance as a symbol. It represents a personal struggle with life and overcoming obstacles. Combined with a marigold, it becomes a beautiful tribute to oneself, particularly if you have experienced such a battle. This combination signifies that you have faced the challenges that life has thrown your way and have chosen to embrace each day, even during difficult times. It serves as a meaningful celebration of your resilience and determination.
Geometric Marigold Tattoo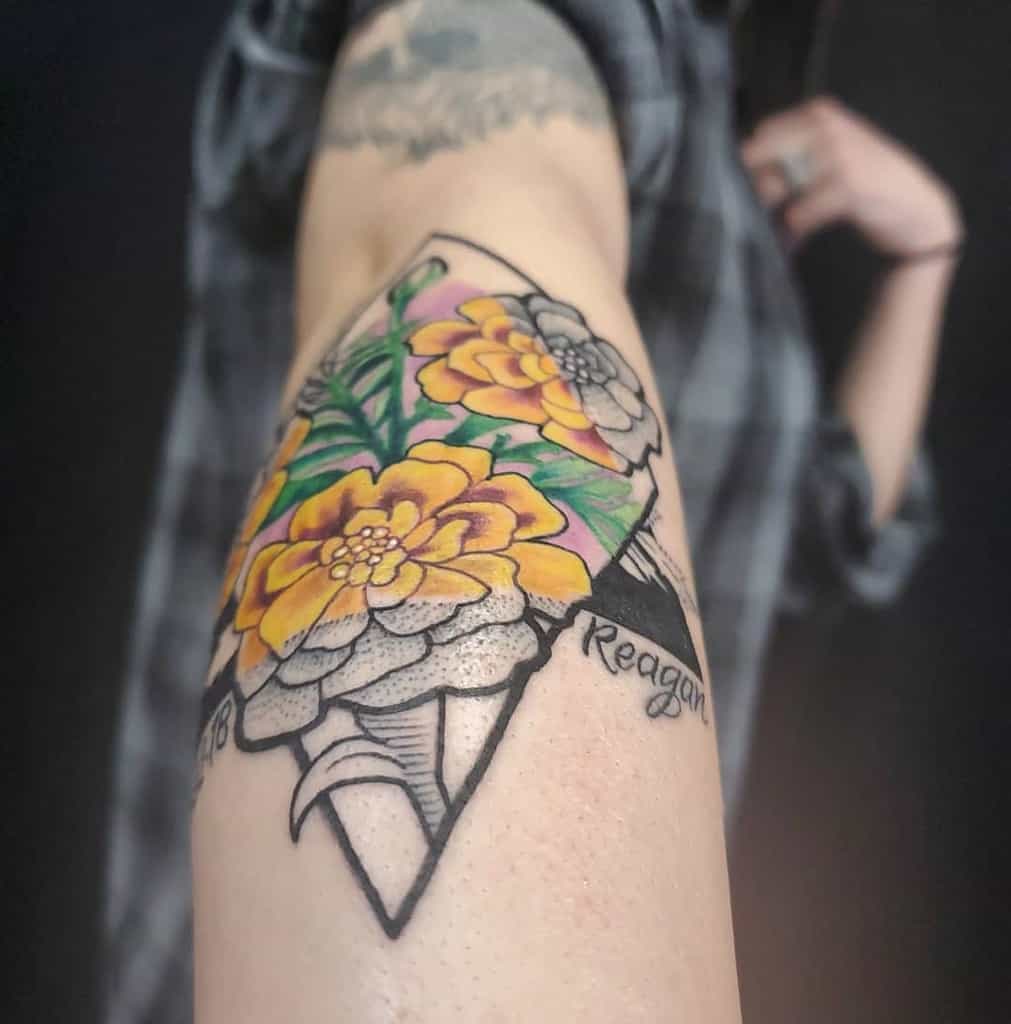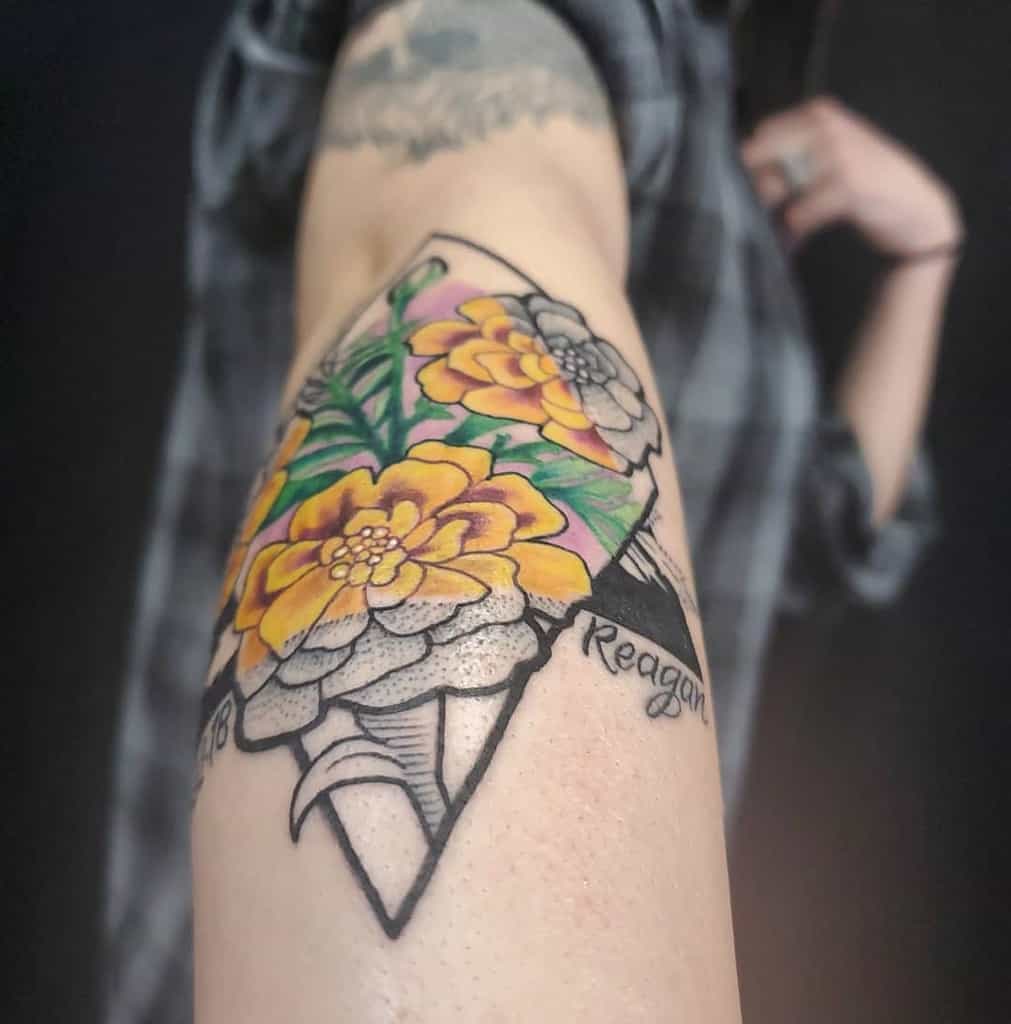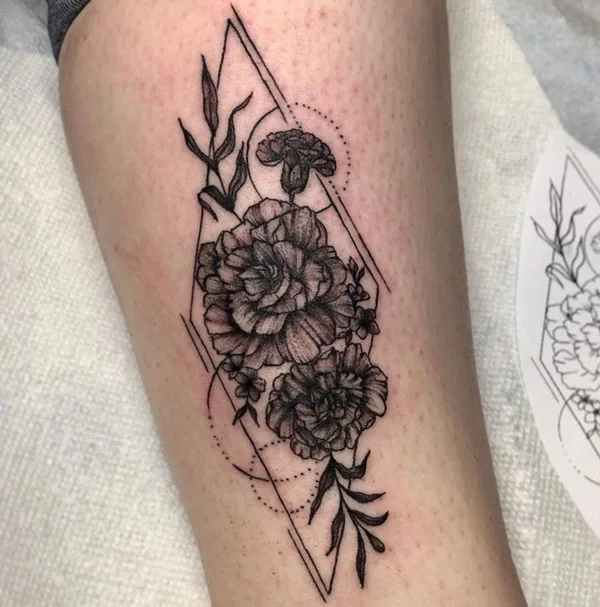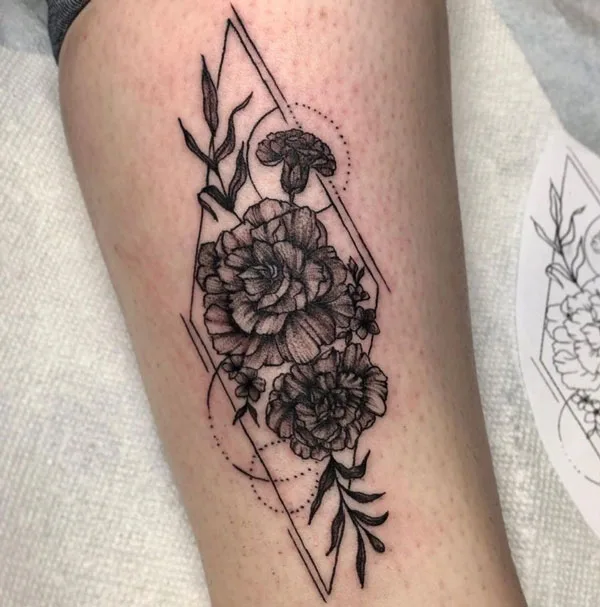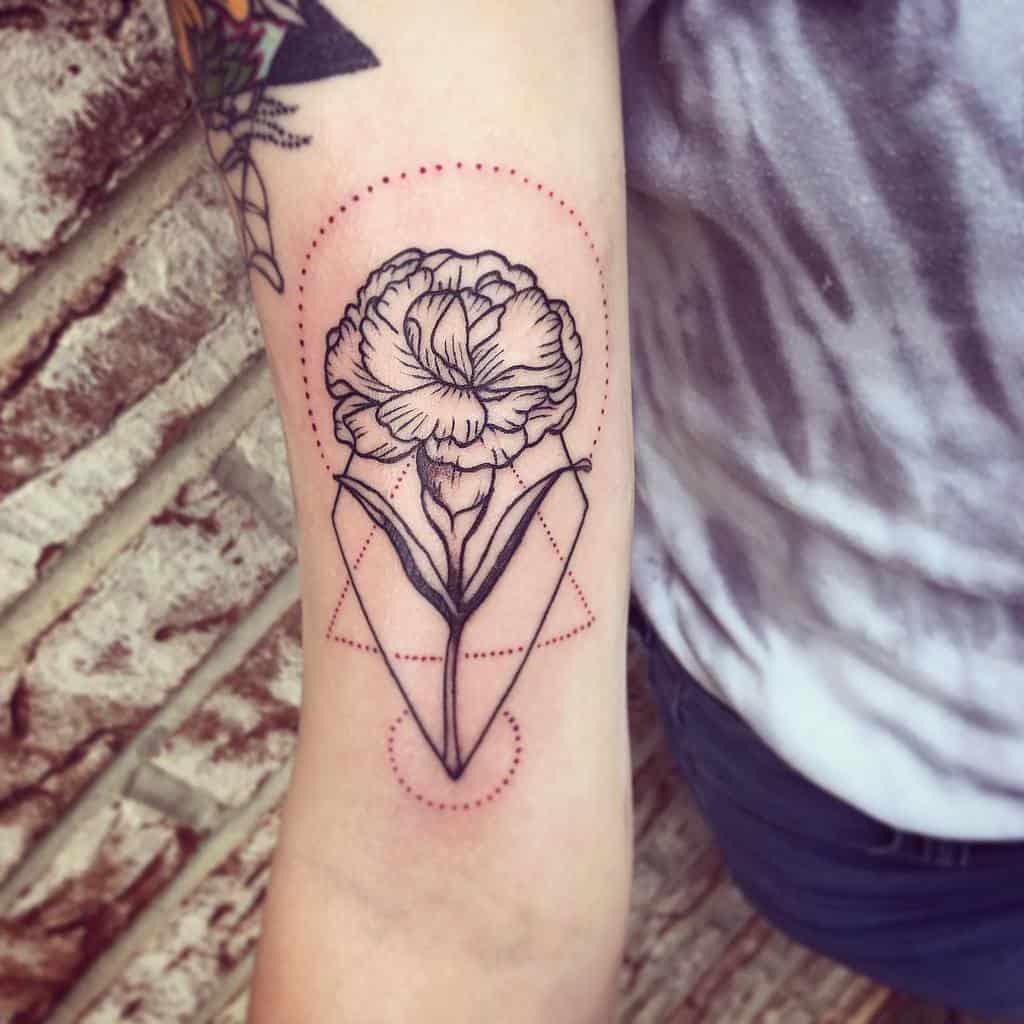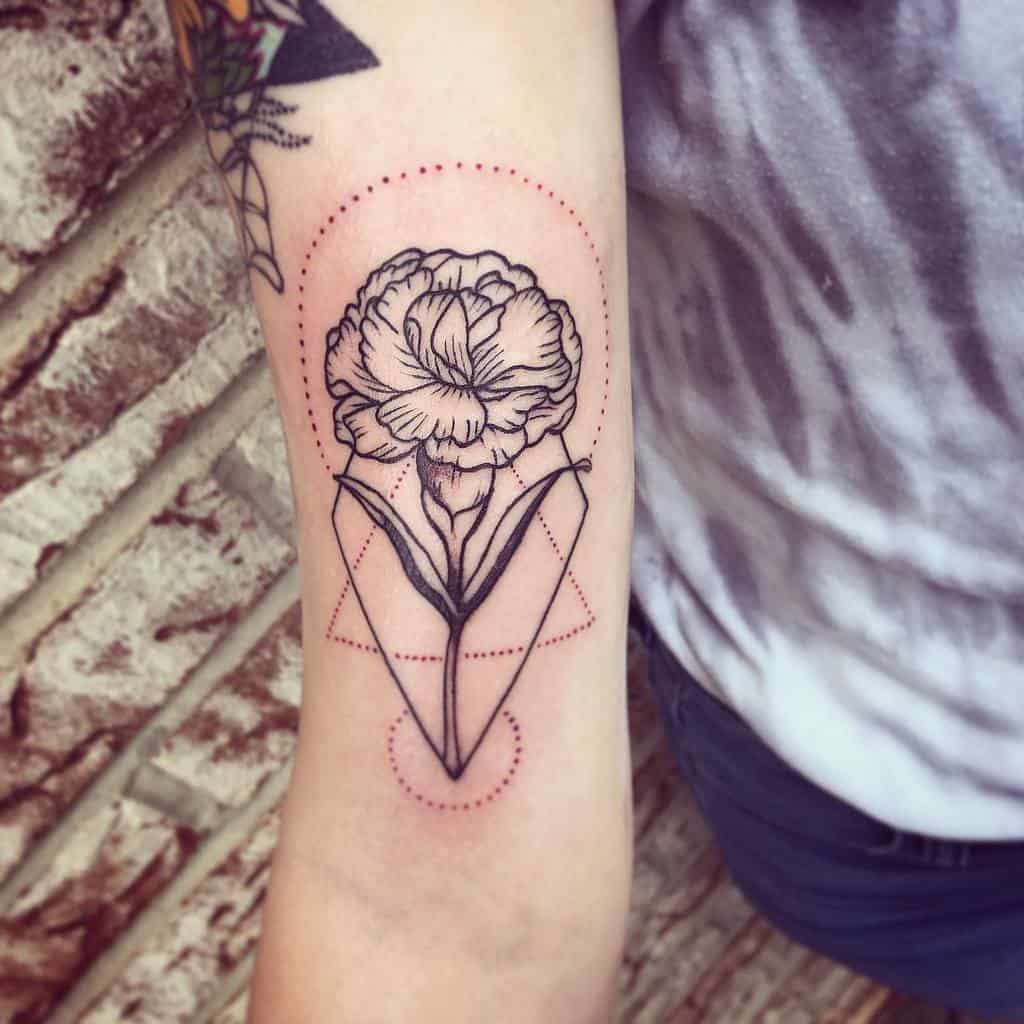 A geometric marigold tattoo design is appealing if you enjoy shapes and authentic artwork. Consider placing a flower inside a circle or square, or take it to the next level by intertwining it with forms like vines. This design encourages creative exploration and can lead to a visually beautiful tattoo. It's a great way to express your unique style and preferences.
Marigold and Clock Tattoo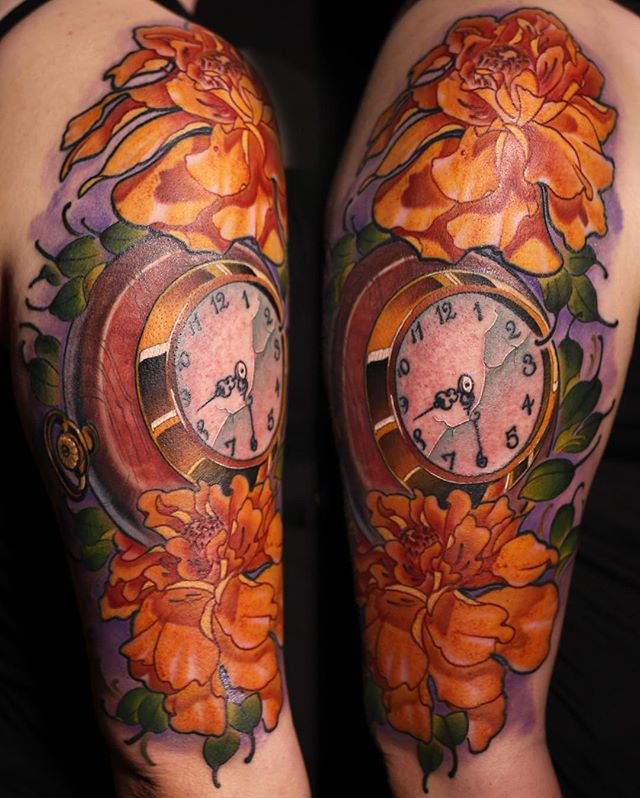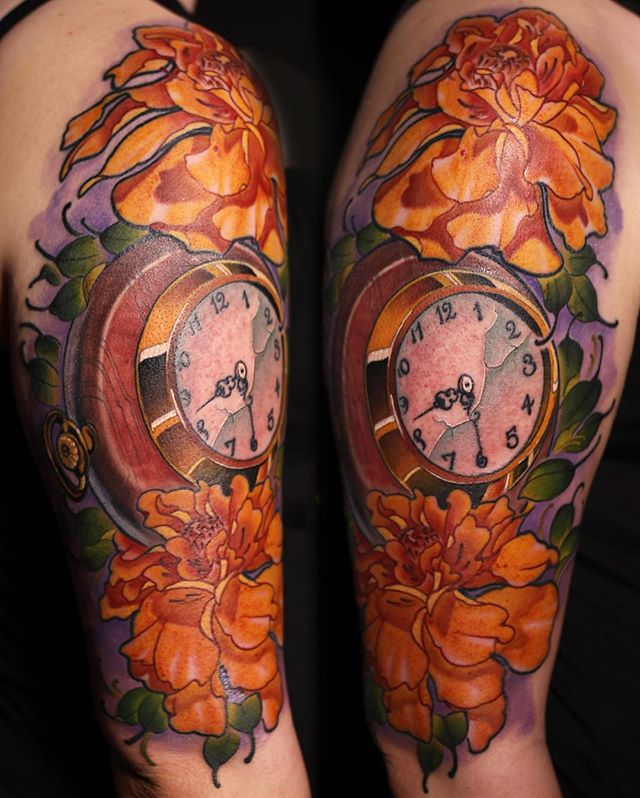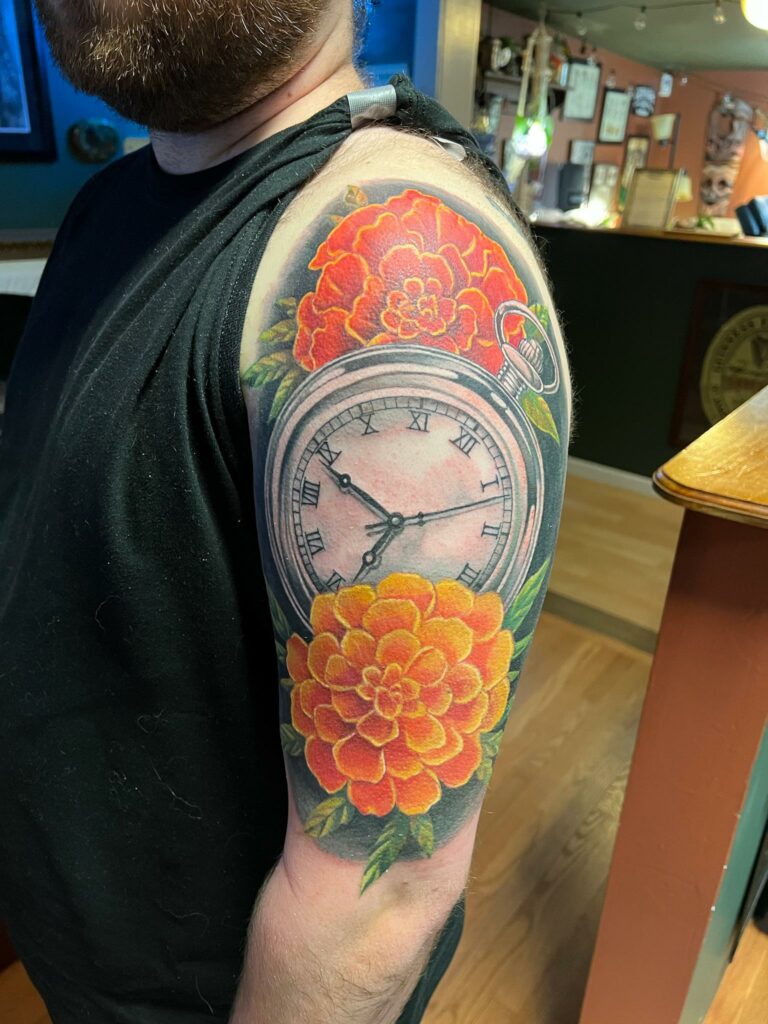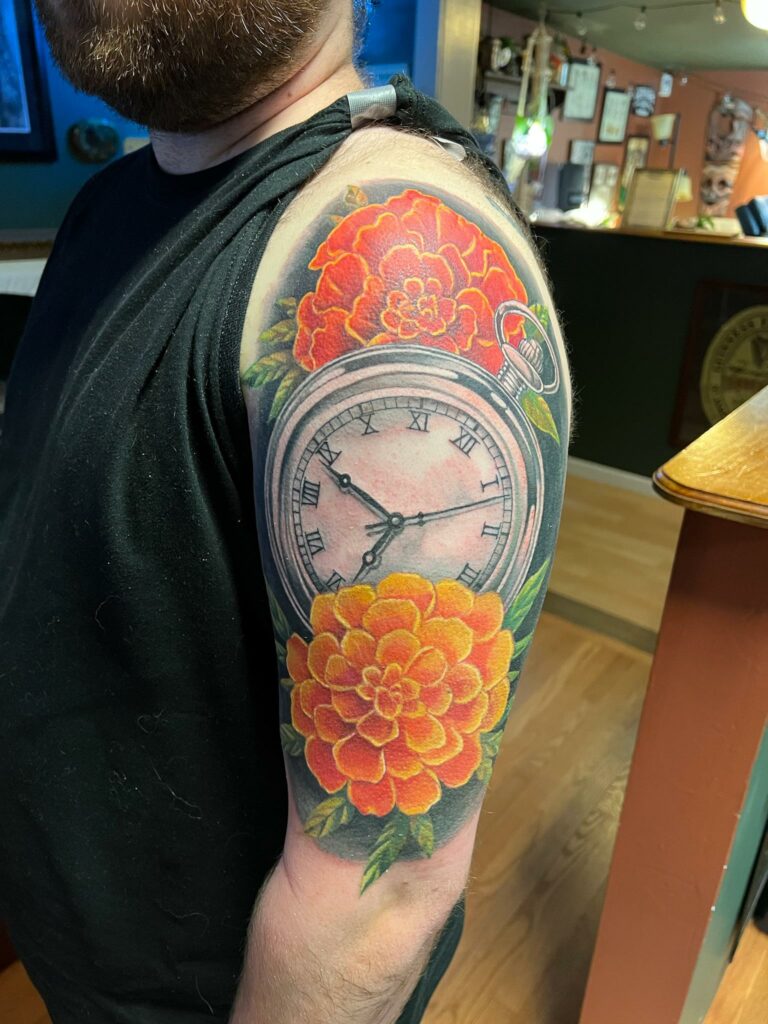 Clocks are often associated with the concept of life, while marigolds symbolize death. Combining these two elements in a tattoo design creates a striking contrast that holds deep meaning and carries a poetic quality. This design will be perfect if you are drawn to artwork exploring contrasting themes. It embraces the thought-provoking nature of opposing concepts, making it a unique and intriguing option.
Marigold and Snake Tattoo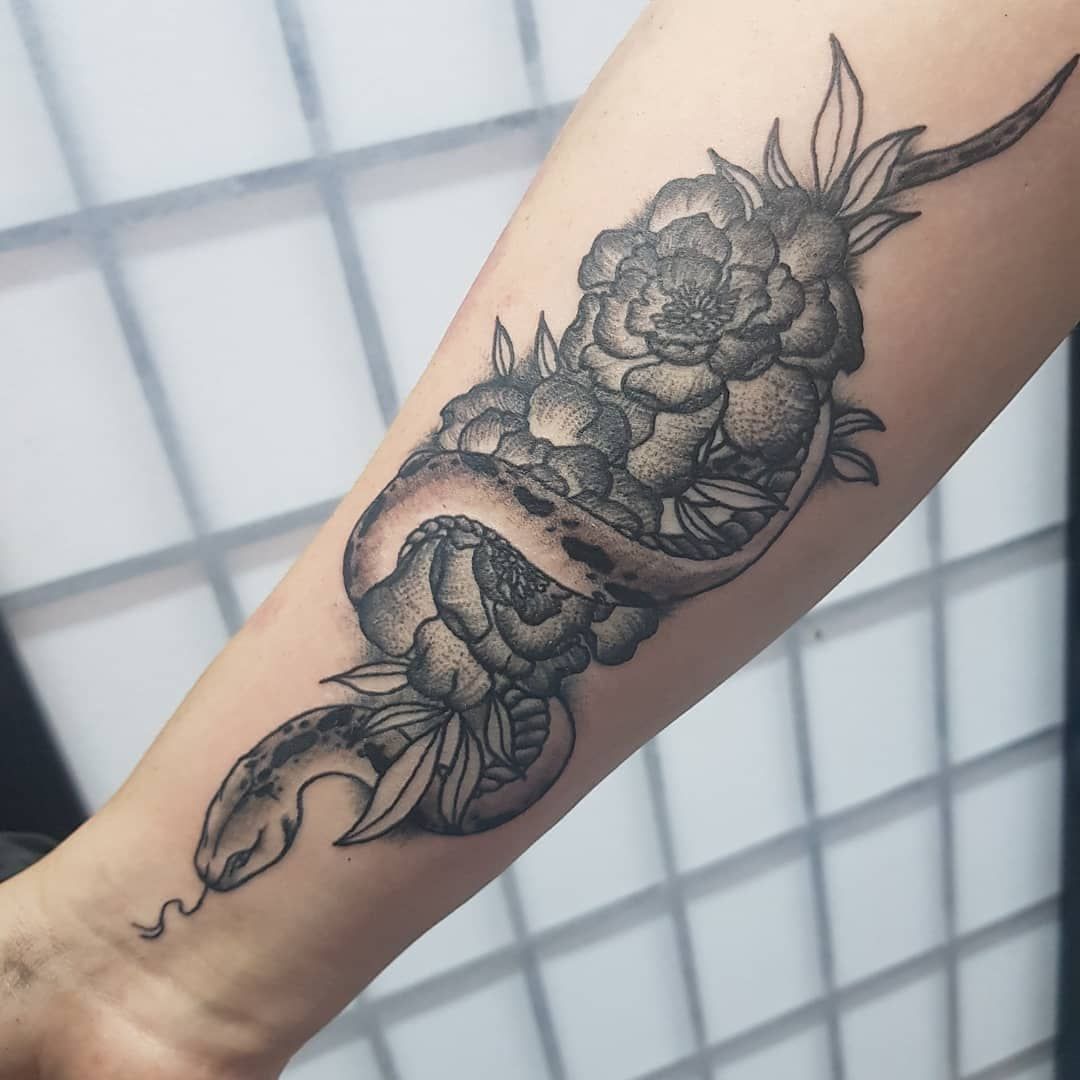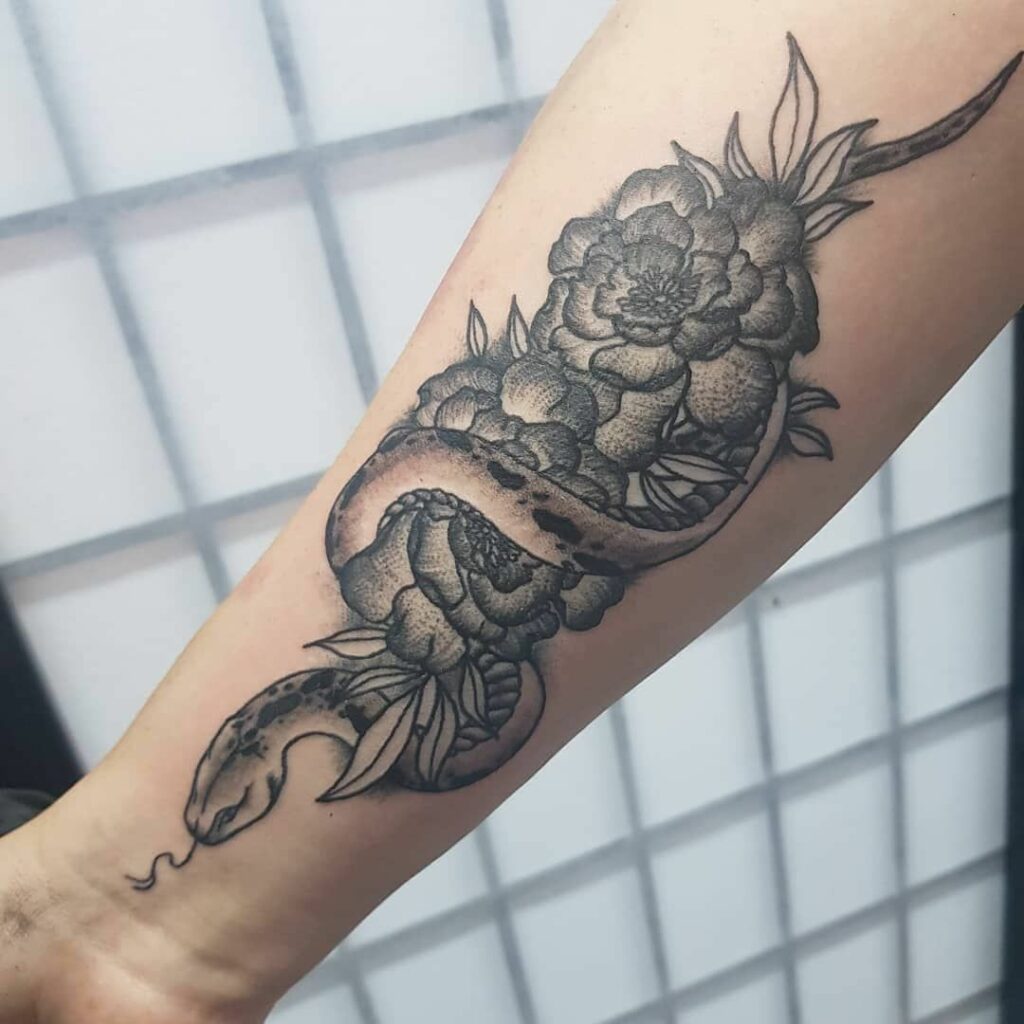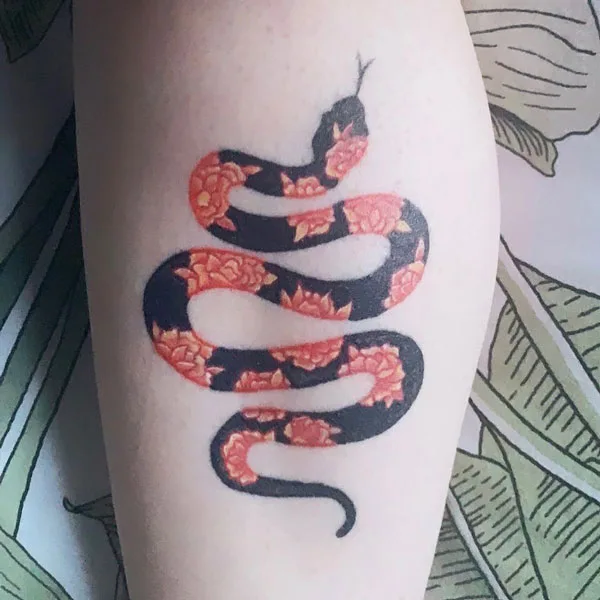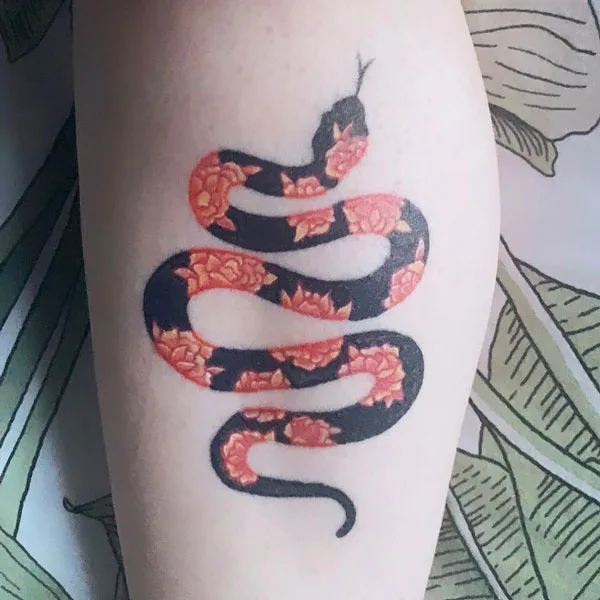 Snakes are often associated with themes of rebirth and fertility. This completely contrasts the meaning of marigolds, creating a visually stunning contrast when these two elements are combined. The resulting image will be captivating and eye-catching, drawing attention to the unique combination of these symbols.
Marigold Crown Tattoo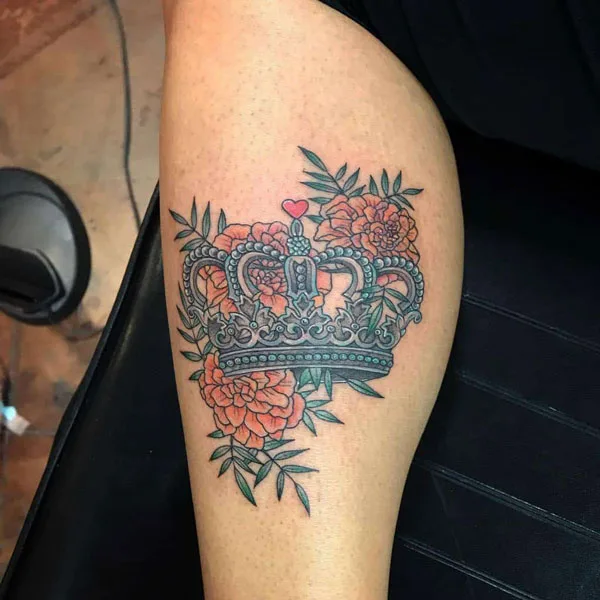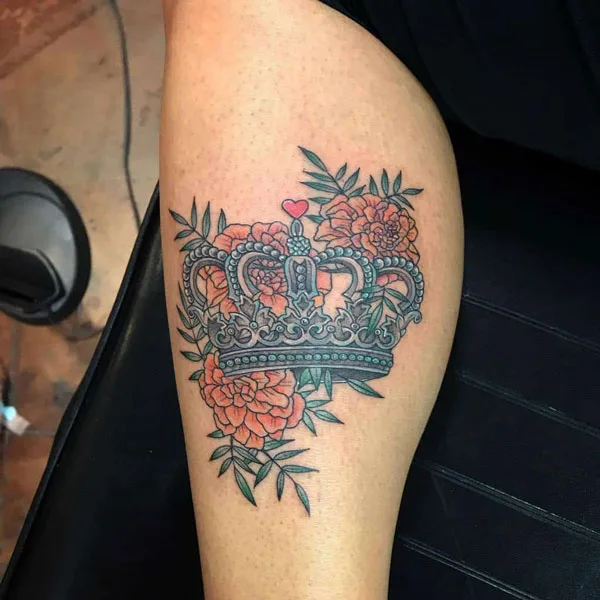 Note: Tattooing of minors is against the law according to Section 260.21 of New York State Penal Law
In Hinduism and Christianity, marigolds decorated with a crown carry symbolic meaning, although the reasons differ. Both religious perspectives hold significance, and if you follow one or find yourself intrigued by either or both, you might consider getting this artwork to express your faith or fascination. It can serve as a personal symbol of your beliefs and values.
Read More: Persephone Tattoo: Meaning, Tattoo Designs And Ideas
Final Words
Marigolds have been highly valued in various cultures, and their significance continues to resonate today. This flower holds a profound meaning for many generations, tied to their customs and traditions. It is perfectly normal and acceptable to get a marigold flower tattoo. We are free to choose any design that combines the marigold with another symbol of personal importance. No matter the specific design, the result will be meaningful and remarkable regarding personal significance and artistic value.