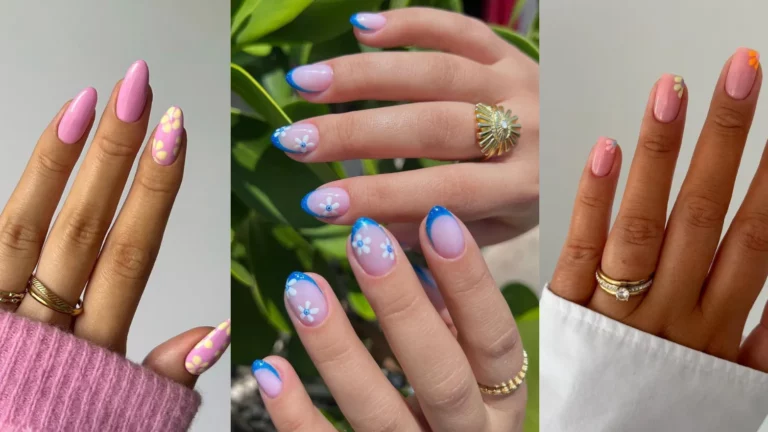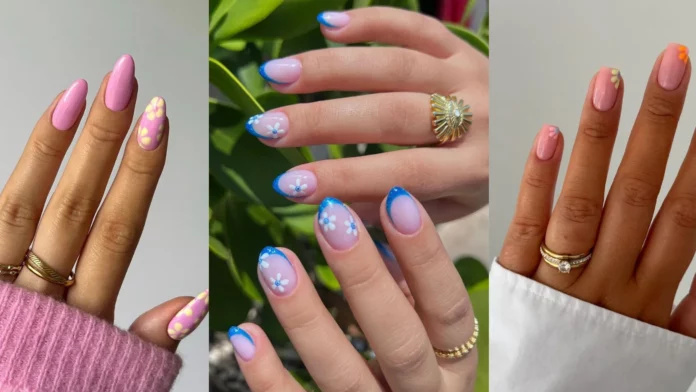 Spring is just around the corner, and that means the snow is melting, and the cold is finally letting up for many of us. Soon enough, we'll see summer flower nail designs blooming and hear the birds returning to the trees, filling the air with their cheerful songs.
Say goodbye to the dreary winter weather and get ready for the explosion of bright colours that come with spring.
And you know what this all means, right? It's the perfect time to have some fun with spring and summer flower nail designs. Who doesn't love having their nails decorated with cool flower patterns?
Whether you're into spring-themed nail art or prefer nails that showcase the beauty of summer flowers, we've got a bunch of awesome options for you summer flower nail designs.
Summer Flower Nail Designs
Feel inspired by these amazing flower nail designs. Whether you're all about certain colours or prefer simple nail designs instead of intricate ones, we've got you covered.
What better way to celebrate the start of a new season than by visiting a nail salon? These easy-to-love flower nail designs work for all sorts of occasions.
And hey, we suggest checking out the latest trends in summer nail art, like sunflower-themed designs. Oh, and don't forget to give these cute blue butterfly nail designs a shot, too.
They're all awesome picks for enjoying the warm, sunny weather and are bound to turn heads wherever you go.
1.Yellow Nails with Flowers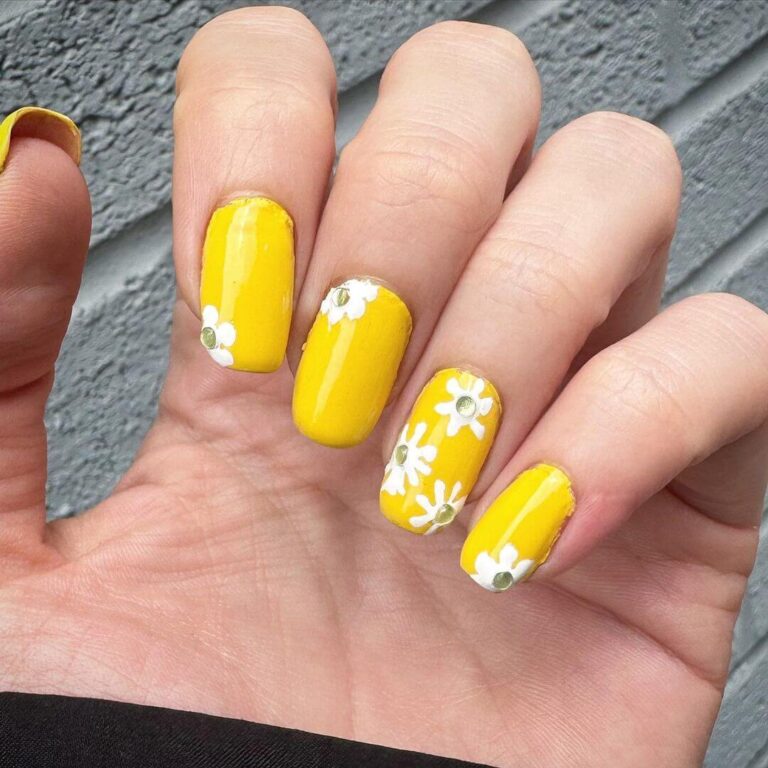 Floral nail designs and spring-inspired daisy nails are currently all the rage, so don't hesitate to acknowledge and appreciate these striking yellow nails adorned with delightful flowers.
You have the flexibility to style them for a more formal look or keep them relaxed and casual. Embrace the beauty of these flourishing nails, and be prepared for them to catch the eye and spark conversations.
2. Pink Nails with Flower on Ring Finger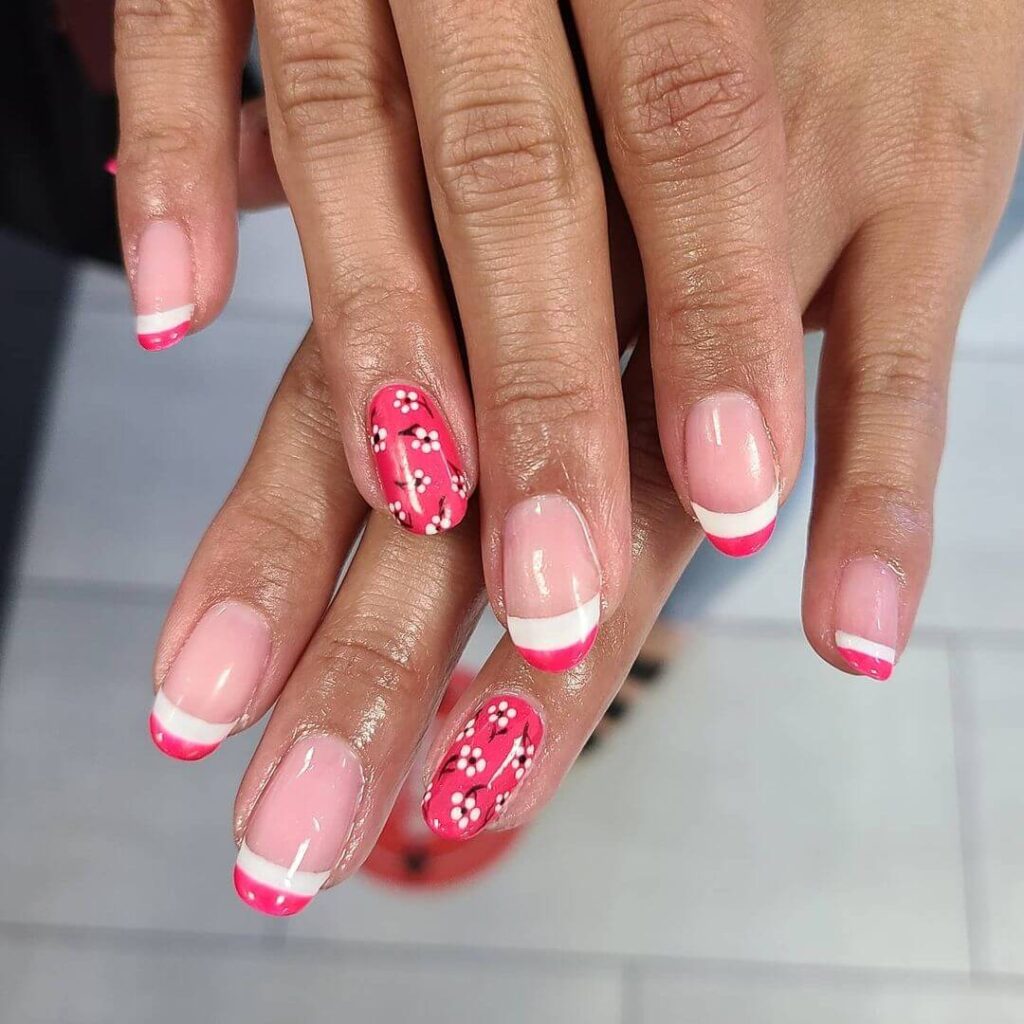 Even if nobody's getting married, there's something fun about trying out playful pink nails with a cute flower on the ring finger. These pink French tips show off a girly charm and let you embrace your more reserved side.
Whether you're into a Barbie-like style or prefer a simple and classic city girl look, these flower designs on the ring finger will definitely get noticed, and people will be wondering where you got your nails done.
3. French with Flowers Nails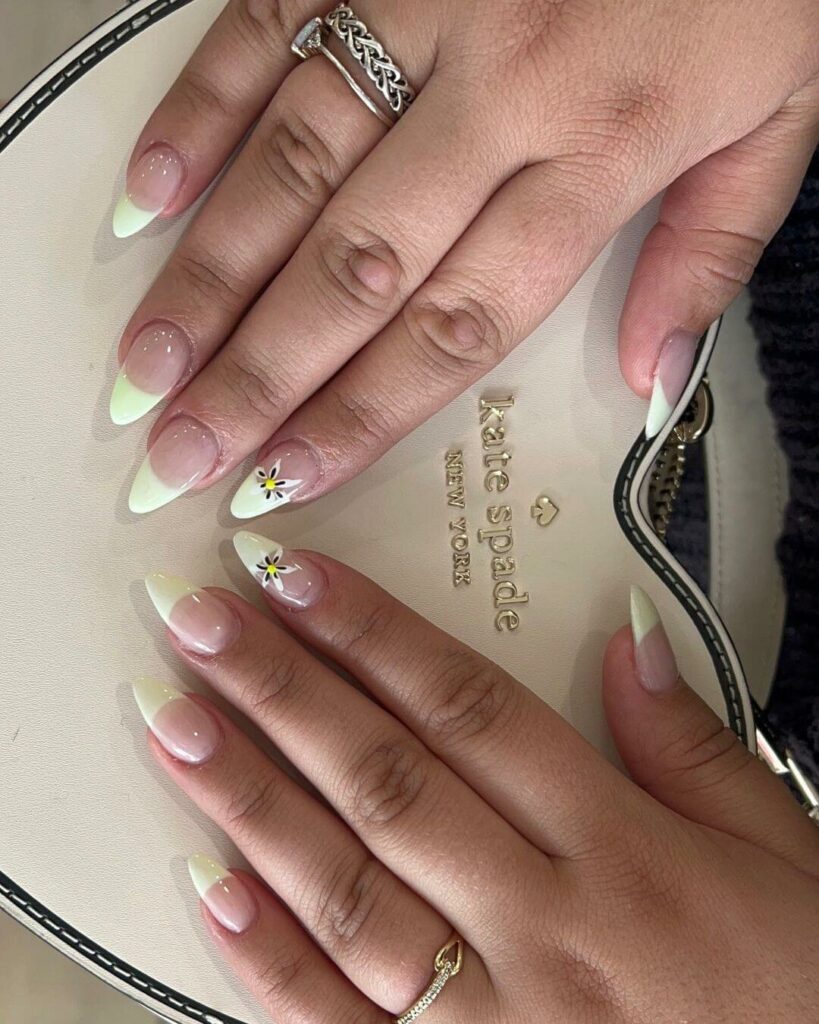 Give your nails a fun twist with a modern take on the classic French design. These French tip nails with flowers add a playful touch, perfect for anyone who wants a mix of classy and fun.
Elevate your style with these captivating and flirty nails that strike the right balance between being elegant and having a good time.
Let your lively personality shine with this chic and flirty nail design that's sure to catch people's eyes and make a bold statement.
4. Summer flower nail designs With Acrylic Nails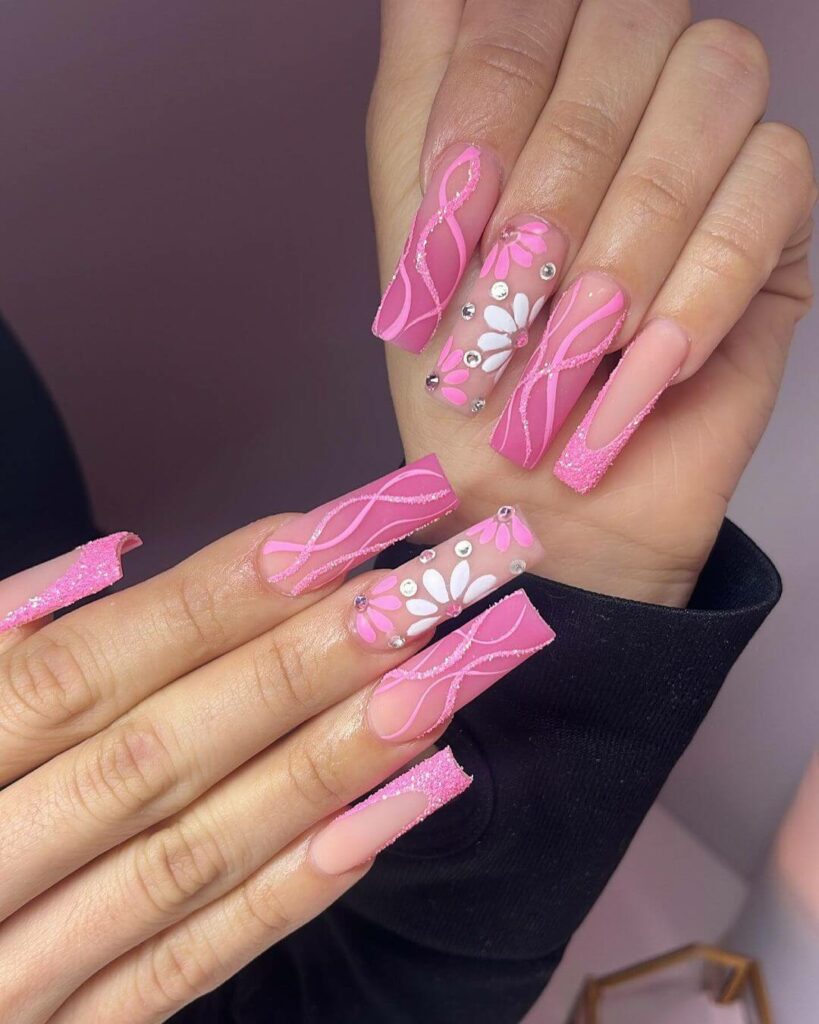 Beautiful acrylic coffin nails with pretty flower designs and a touch of sparkling diamonds reveal a lot about you. They show you're confident, feminine, and unafraid to be yourself.
These long, lovely nails deserve to be noticed and admired all the time because who doesn't like feeling great and getting attention?
Embrace the beauty of these stunning nails, and let them remind you of how special and attractive you are every day.
5. Elegant Flower Nail Designs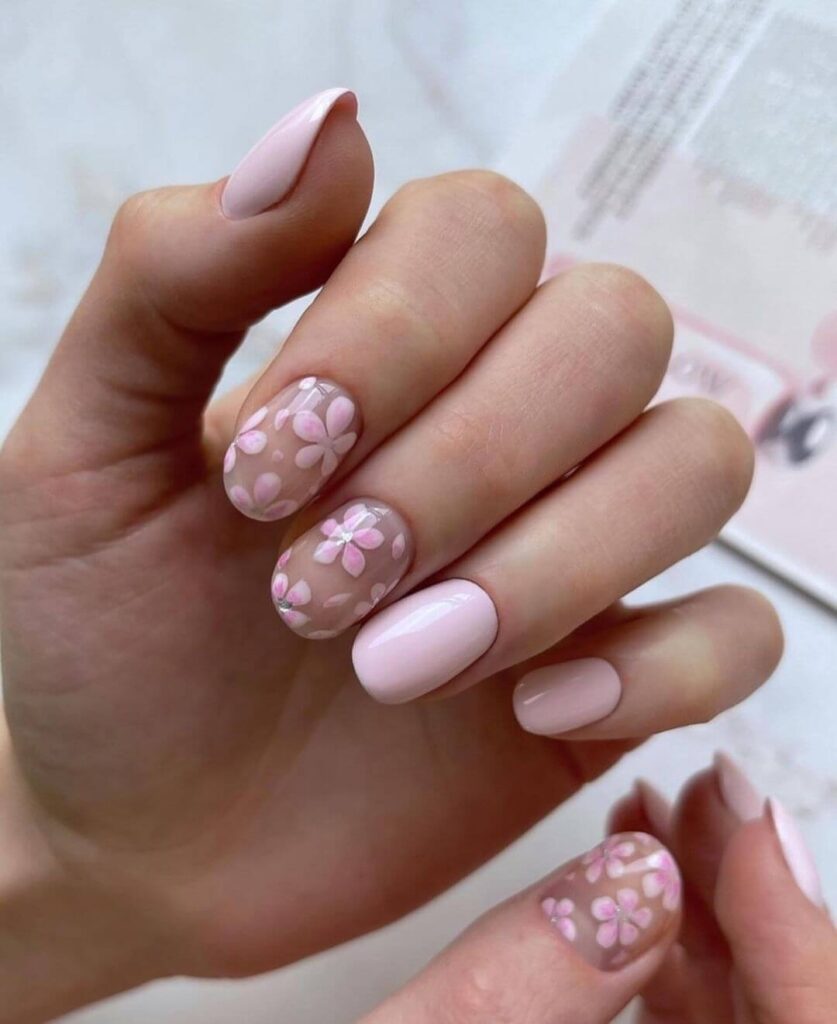 Show off your short nails in style with these summer flower nail designs. Whether you're into a simple or bold look, let your fashion sense and hairstyle ignite your imagination.
Short nails can be cute and sexy, too, so don't let anyone tell you otherwise. Break free from those stereotypes and display your confidence by embracing these captivating designs that are sure to make a lasting statement.
6. Pink French Tips Flower Nails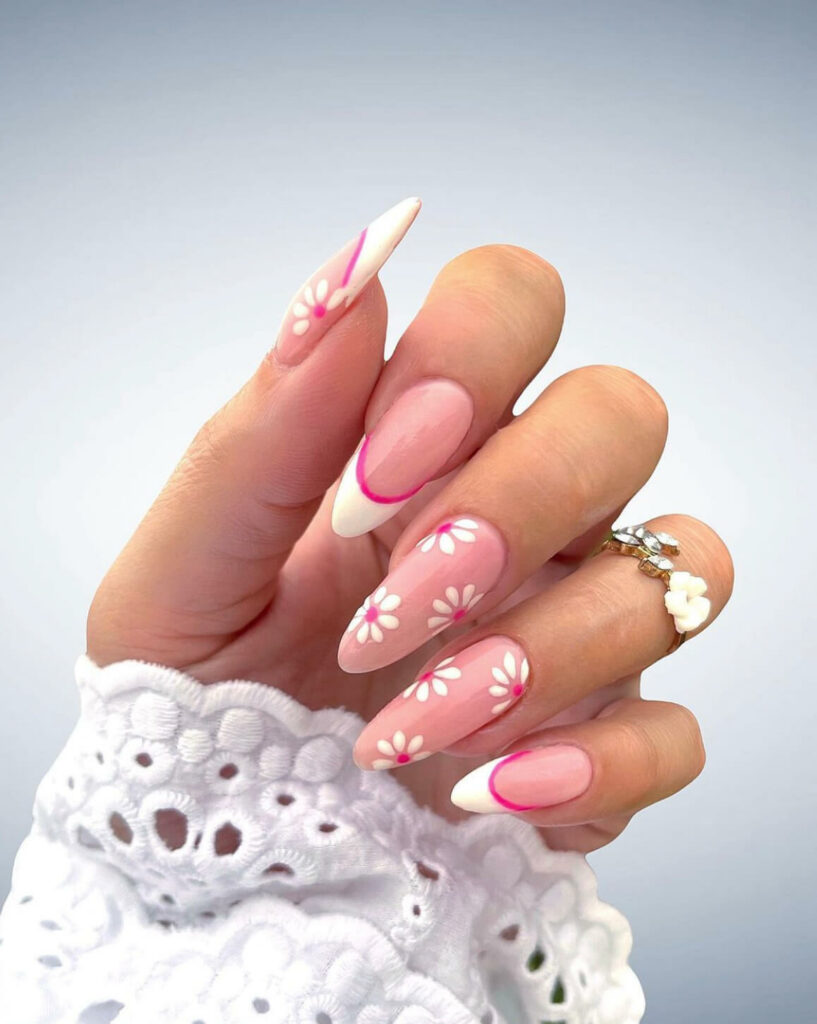 A timeless favourite, the pink French nail design gets a fresh makeover in this style.
These French tip flower nails are ideal for those who appreciate a touch of sophistication blended with a playful twist. It's a classy yet fun choice that adds a bit of charm to your nail game.
7. Summer Sunflower Nail Art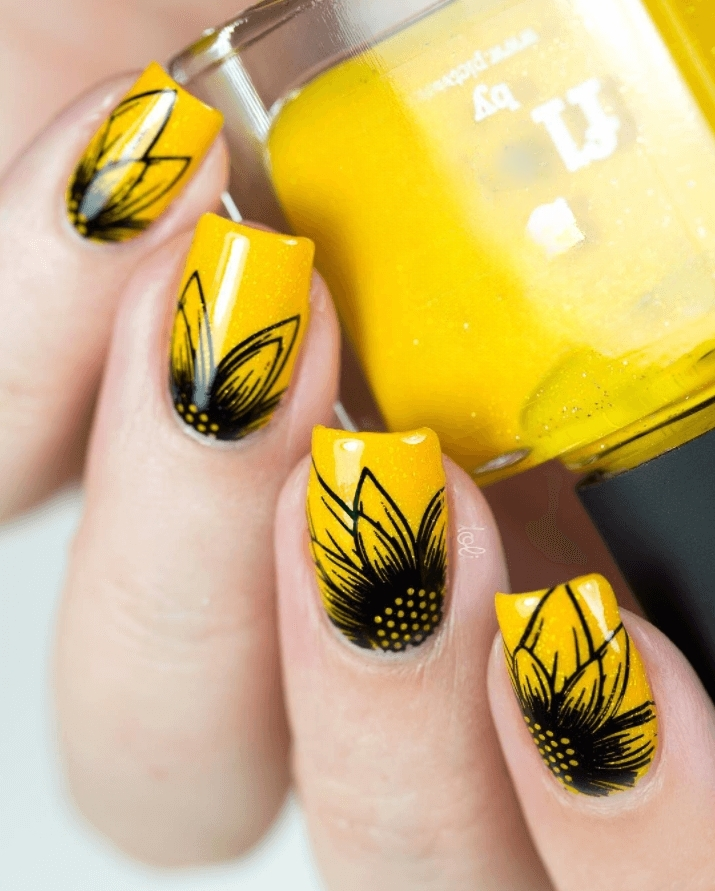 Embrace the vibrancy of summer with these irresistible sunflower nails. Radiating in bright yellow and adorned with bold black flowers, these nails are like a burst of sunshine.
They're bound to grab everyone's attention and spark lively conversations wherever you go. It's hard to resist such a playful splash of colour.
8. Easy Spring Floral Nail Art Design Tutorial
This lovely springtime floral nail design combines shades of blue, pink, and green.
The deeper base colour provides a striking backdrop to the vibrant accent colours. It's a fantastic option for those who want their nails to stand out and make a unique statement.
9. Simple Summer Flower Acrylic Nails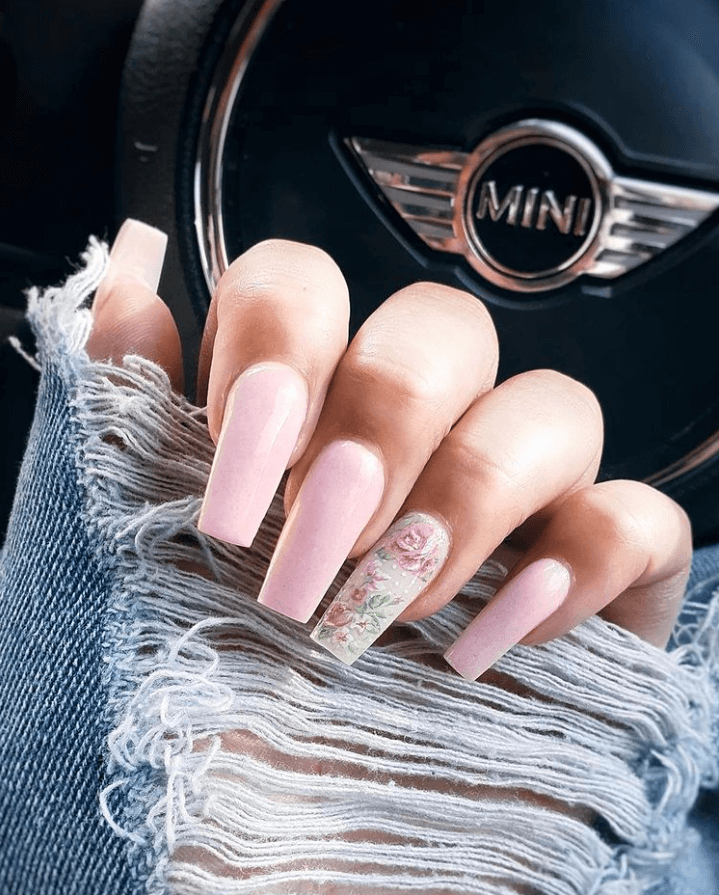 These simple flower acrylic nails are a must-see for those who appreciate simplicity but refuse to be dull.
The majority of the nails sport a matte cream or pink finish, but the ring finger takes centre stage with its exquisite floral design. If you share our fondness for soft, baby-pink hues, these adorable nail designs are perfect for you.
10. Simple Nail Designs With Sky Blue Spring Flower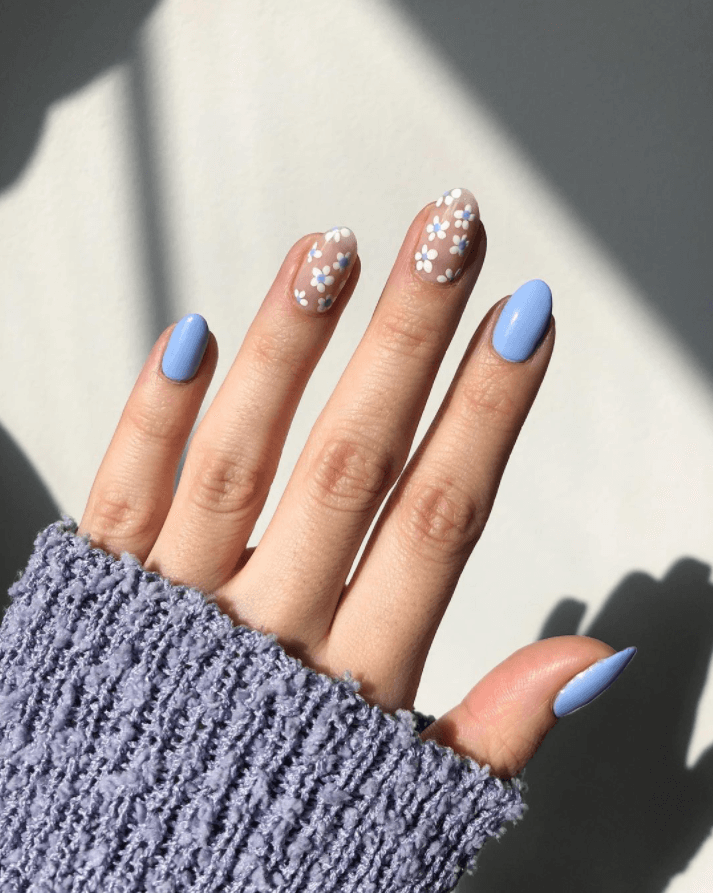 Spring brings the joy of blooming flowers and the melodies of birdsong, and this nail design captures the essence of both. Picture robin egg blue sky nails that feel like a piece of the clear spring heavens.
To add a touch of floral charm, two accent nails boast delicate blue and white flowers. It's a delightful way to embrace the beauty of spring at your fingertips.
11. Cute Yellow Nails with Flowers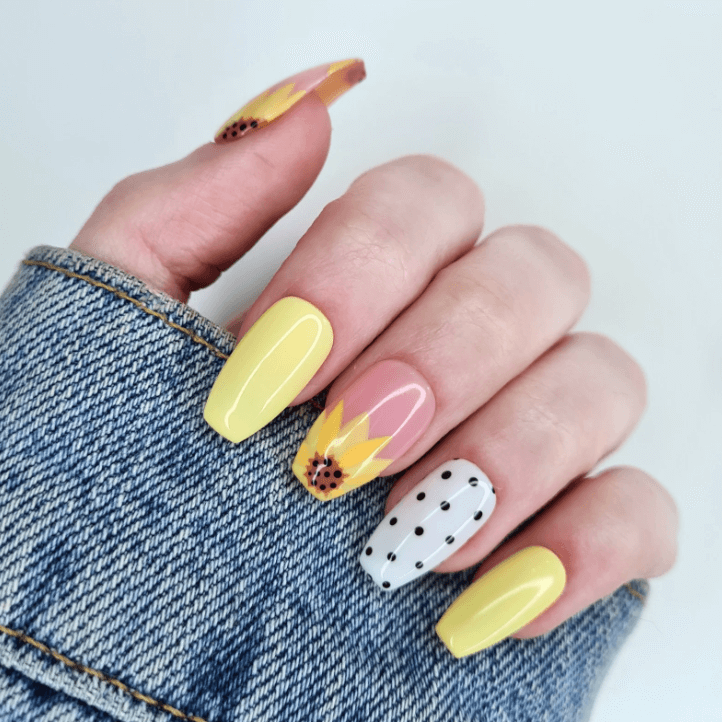 If you have a preference for more subtle hues, this spring-summer yellow nail design is right up your alley. The choice of a softer yellow shade offers a gentle and charming look.
Adding a touch of personality, there's an accent nail featuring a sunny sunflower. Another accent nail features a white background adorned with stylish black polka dots, creating an appealing contrast that completes the look.
It's a charming and versatile design for those who appreciate muted colours with a dash of character.
12. Pastel Pink Almond Nails with Flower Designs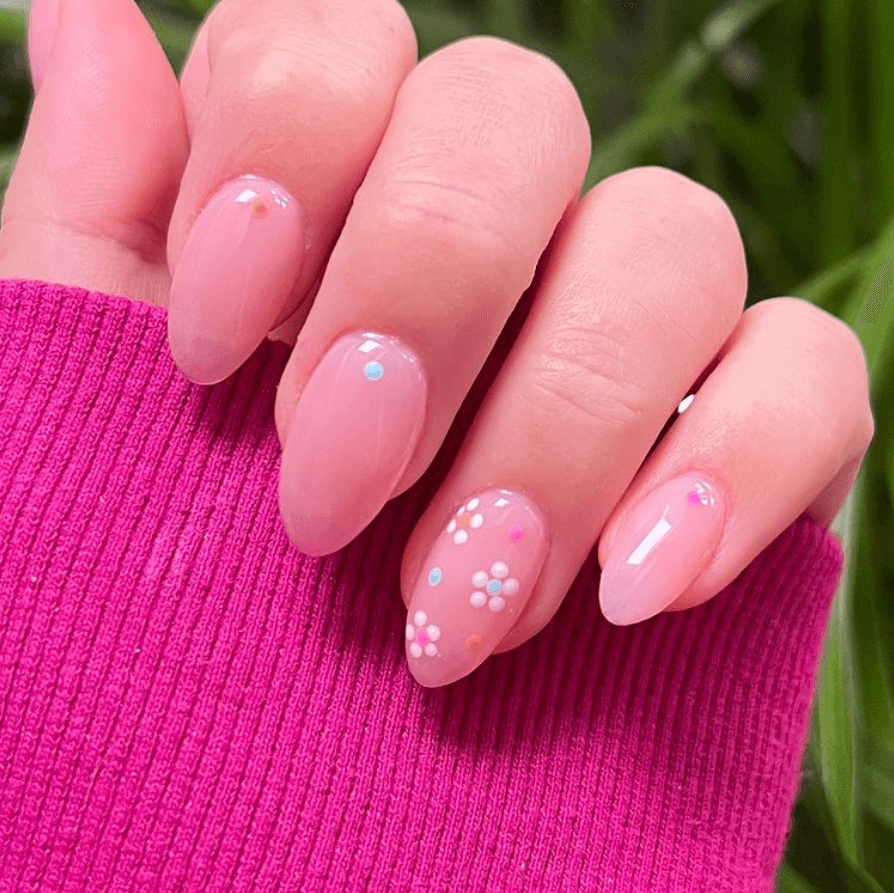 If you have a fondness for almond-shaped nails, this style is tailored to your liking. It begins with a gentle pastel pink base, accentuated by uncomplicated yet vibrant dots. What's more, the ring finger boasts charming floral embellishments.
Alternatively, if you find shorter nails more appealing, you might want to explore these charming almond nail designs crafted especially for shorter lengths.
13. White Nails with Flower Designs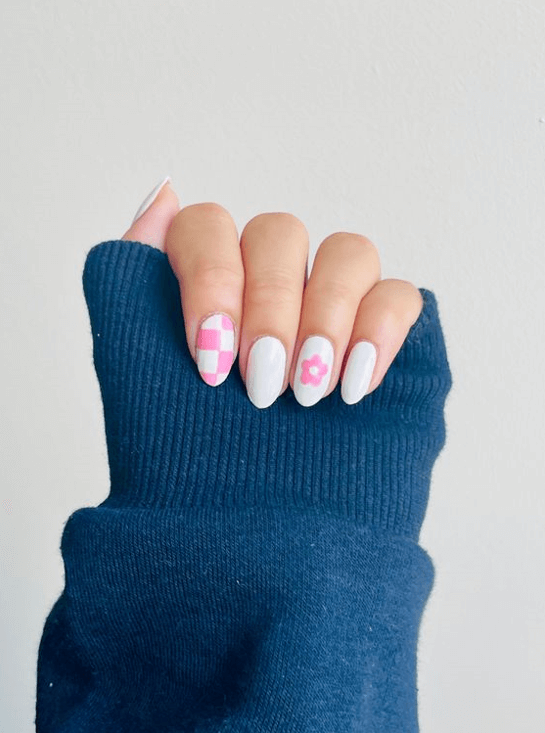 There's a certain allure in the simplicity of pure white nails. But if you're looking to give them a stylish edge, consider adding pink checkers and a delicate flower, as seen in this design.
White and pink nails are a timeless favourite, especially in the vibrant seasons of spring and summer. It's a fresh and trendy way to embrace the beauty of these classic colours.
14. Strawberry Flower Nail Designs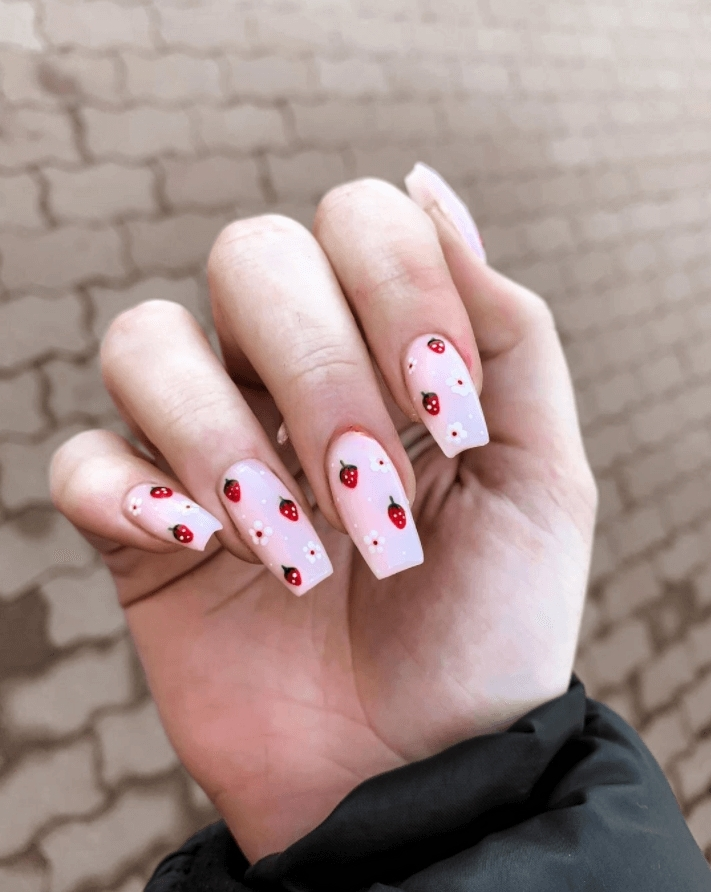 Indulge in the delightful charm of this strawberry flower nail design that we absolutely adore, and we're sure you will, too.
The neutral base serves as the perfect canvas to make the vibrant red strawberries pop. Whether it's a casual day out or a special event, this design is a sweet choice that's suitable for any occasion.
15. Blue Roses Nail Art Ideas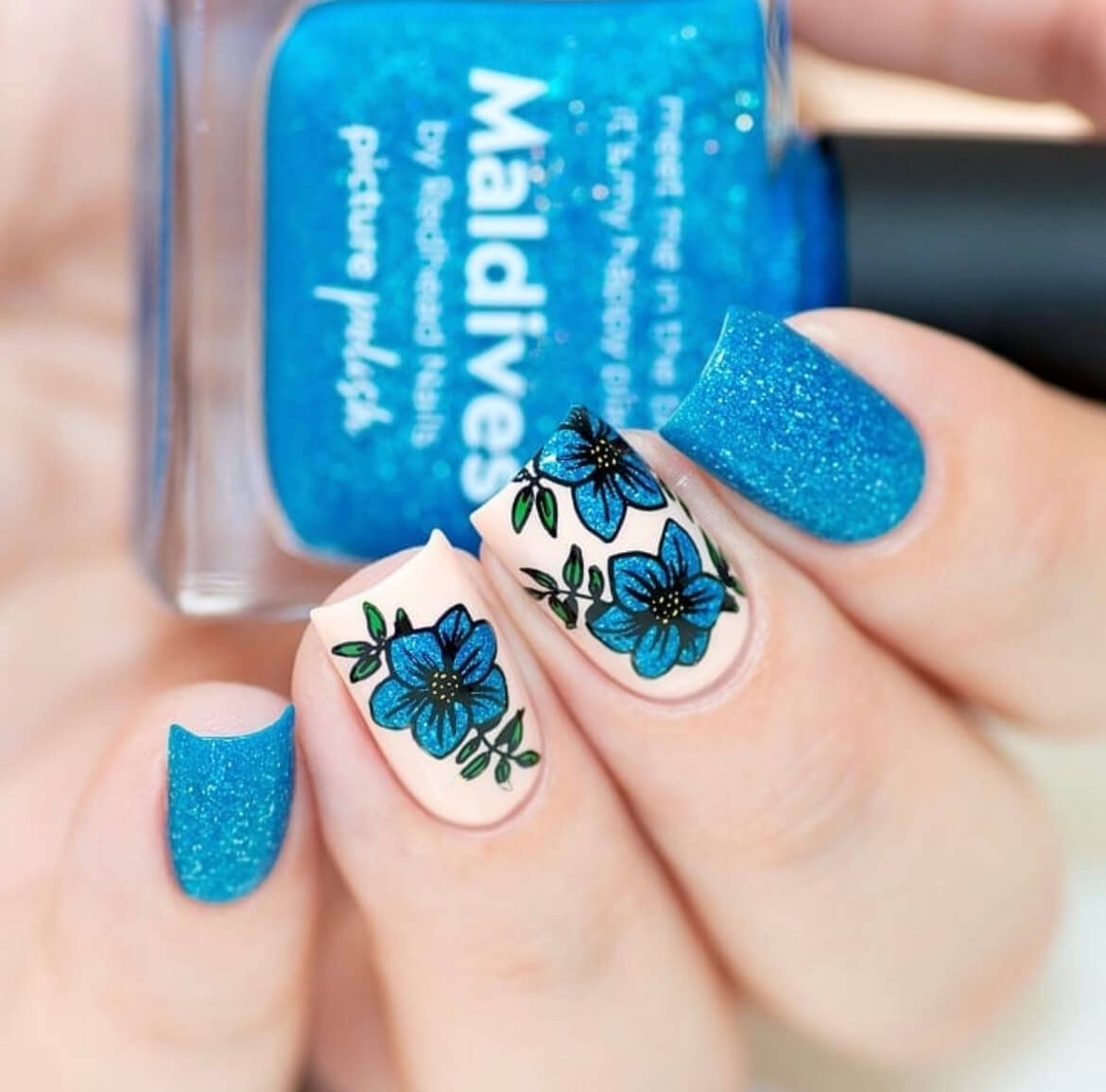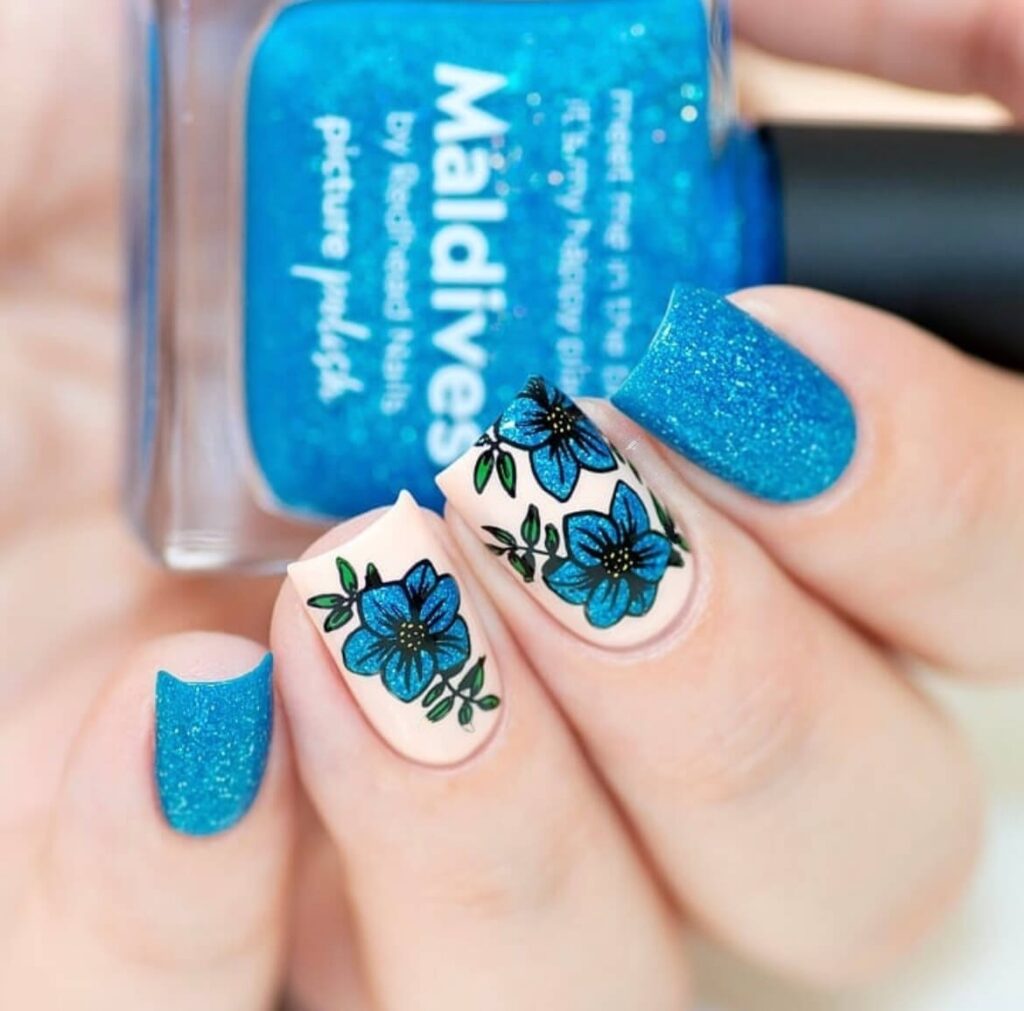 Summer flower nail designs often gravitate toward pinks and reds, this unique blue rose design catches the eye with its deep, rich blue hue.
The added touch of glitter adds a dazzling effect that truly shines, especially under the sun.
It's a perfect choice to consider for your upcoming vacation, promising stunning and radiant nails that capture the beauty of blue roses in all their glory.
16. Classy Flower Nail Designs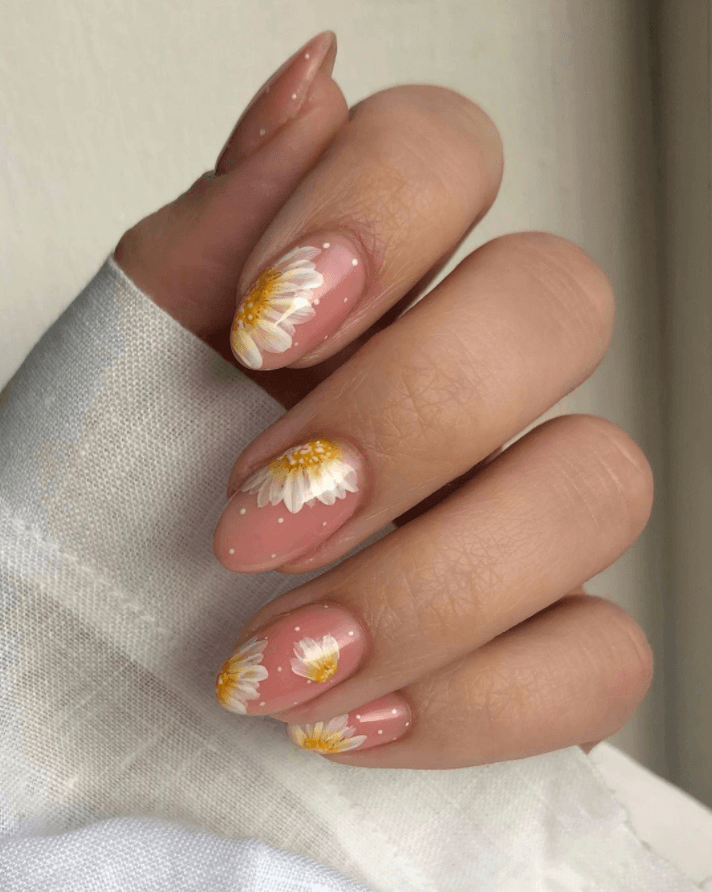 "In this design, a delightful colour combination comes into play.
A mauve base serves as the backdrop, and it harmonizes wonderfully with the addition of white petals and subtle yellow accents, resulting in a truly beautiful and captivating nail design."
17. Elegant and Simple Flower Nails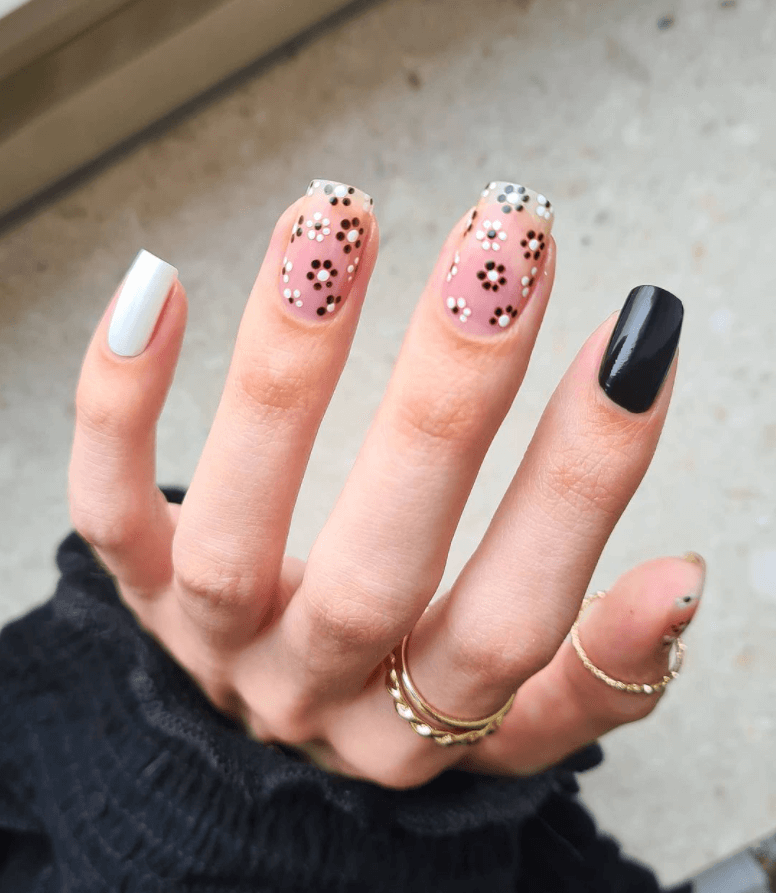 Elegance doesn't always require intricate designs or deep colours. This distinctive nail design demonstrates how black, white, and nude shades can come together to create an elegant look.
It's an ideal choice for those who have a fondness for flowers but prefer a more understated palette over vibrant and bold colours.
18. Spring Flower Gel Nails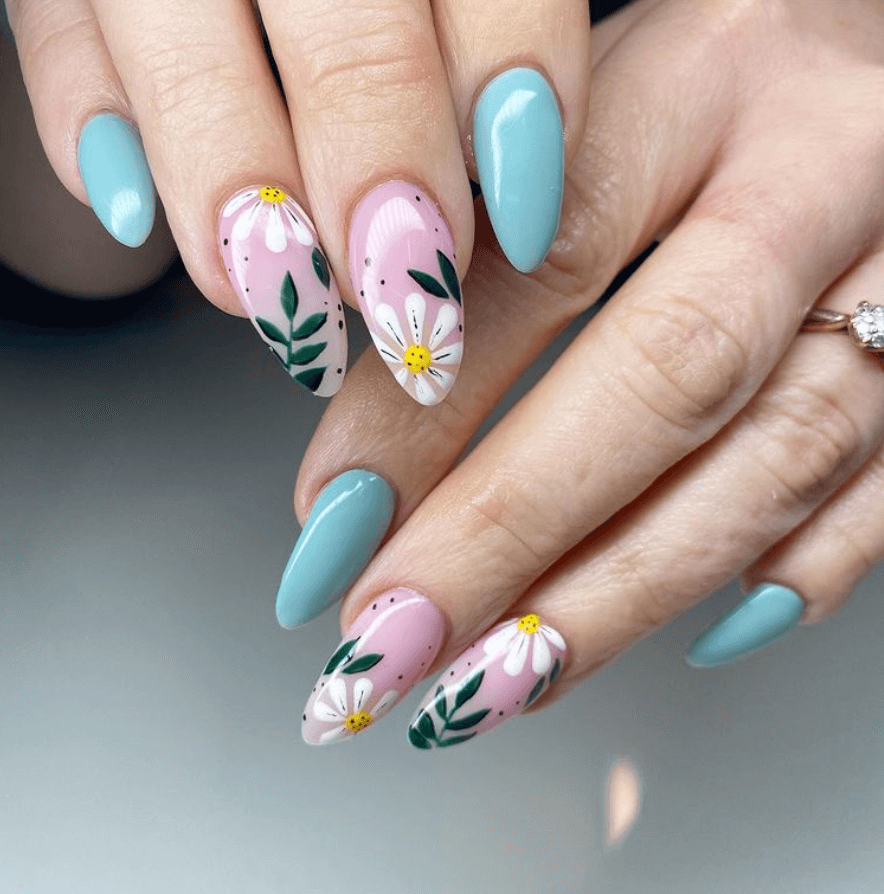 You might not typically think to combine light blue, dark green, white, yellow, and pink, but in this gel design, they blend harmoniously. It's a refreshing way to welcome the colourful vibes of spring.
19. Fun and Lively Purple Flower Nails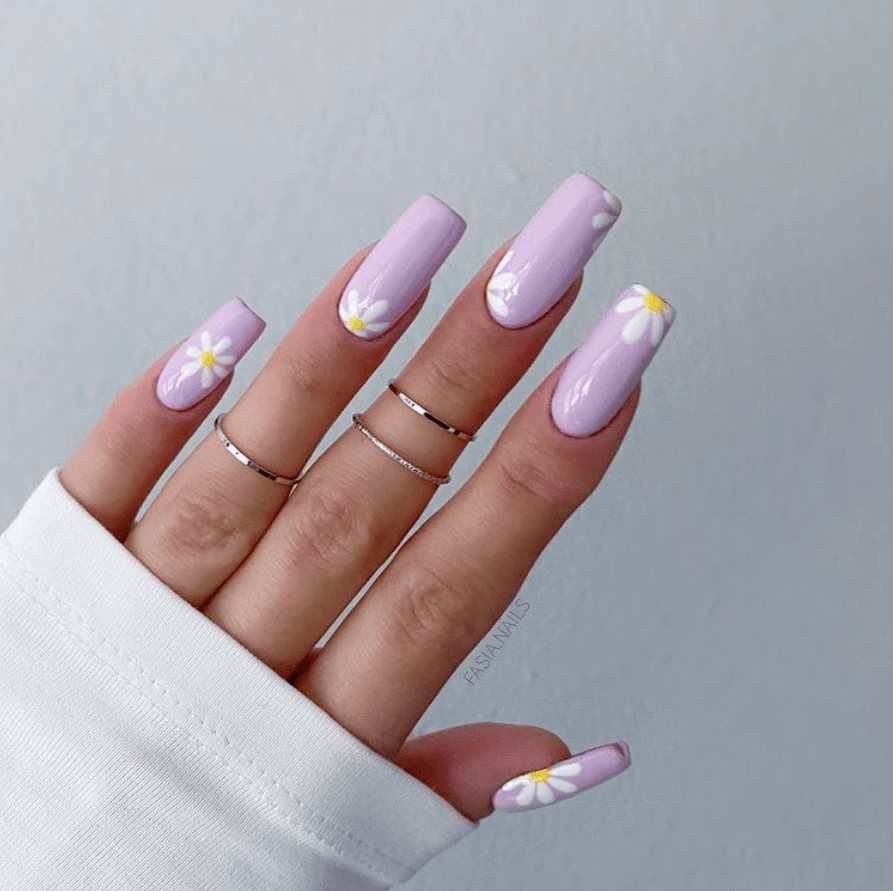 In this nail art, a soft pastel light purple pairs perfectly with a simple flower pattern on each nail.
The placement of these flowers varies, adding depth and a playful touch. This design is particularly suited for spring weddings, bringing a dash of whimsy to the occasion.
20. Nails Inspired by Marc Jacobs Daisy Dream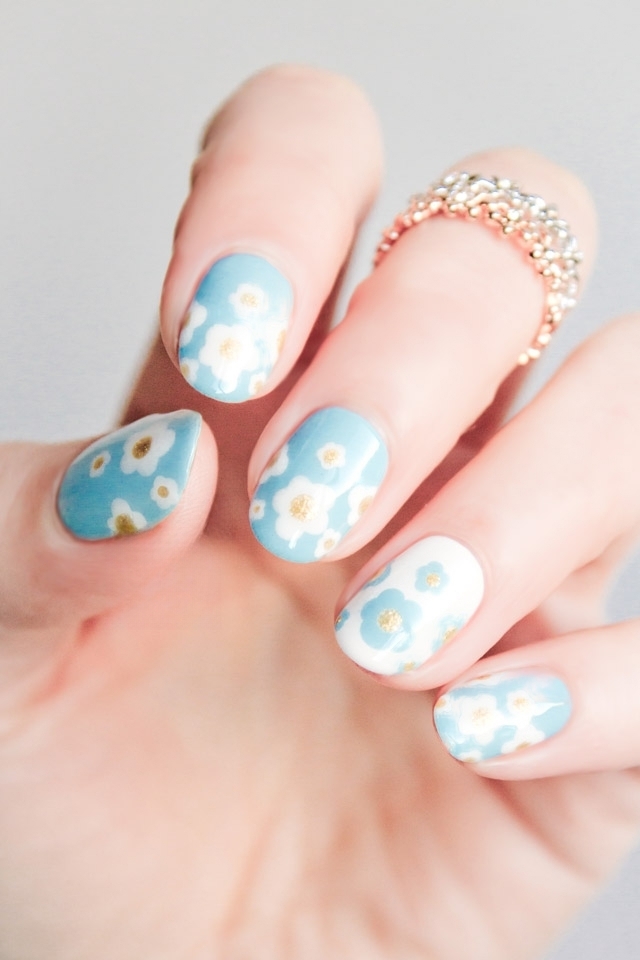 For those who admire Marc Jacobs and are familiar with the Daisy Dream fragrance, you'll instantly connect with the perfume's essence in this nail design.
The blue base elegantly complements the chunky white flowers, creating a chic and fragrant-inspired appearance.
21. Long Pink Rose Nails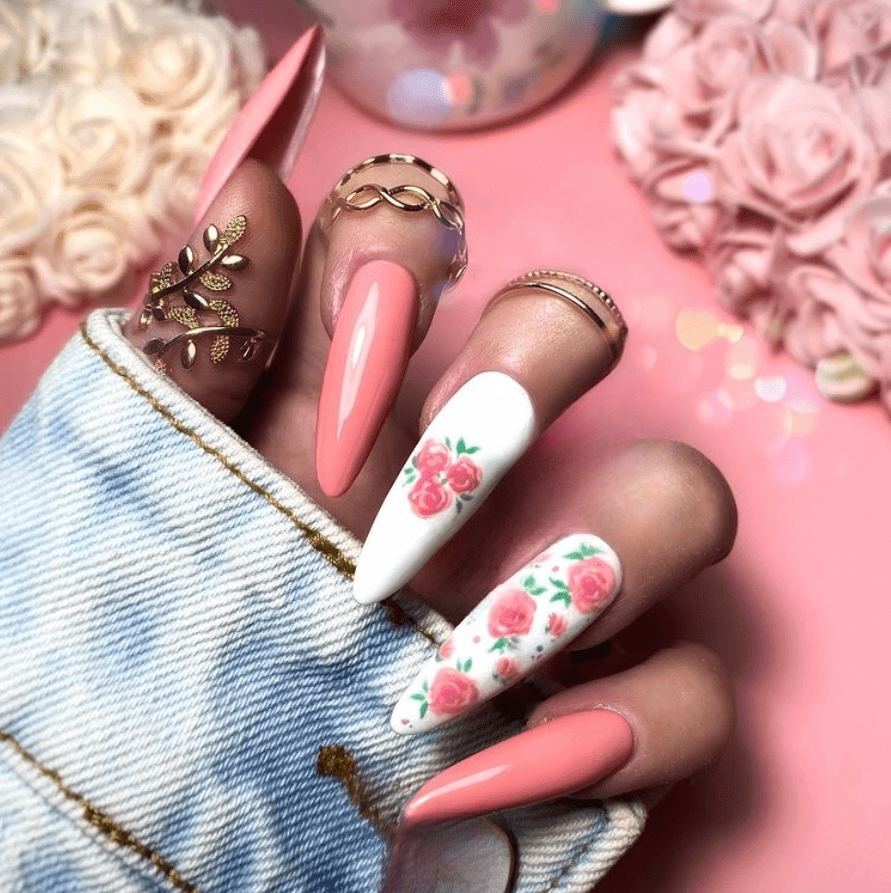 If you're flaunting longer nails, this style is an excellent choice. It showcases a lovely coral pink shade on three nails, accompanied by elegant white accent nails.
The standout feature is the exquisite white roses adorned with a hint of green, adding a touch of floral charm to your nails.
22. Gucci French Nails with Flower Designs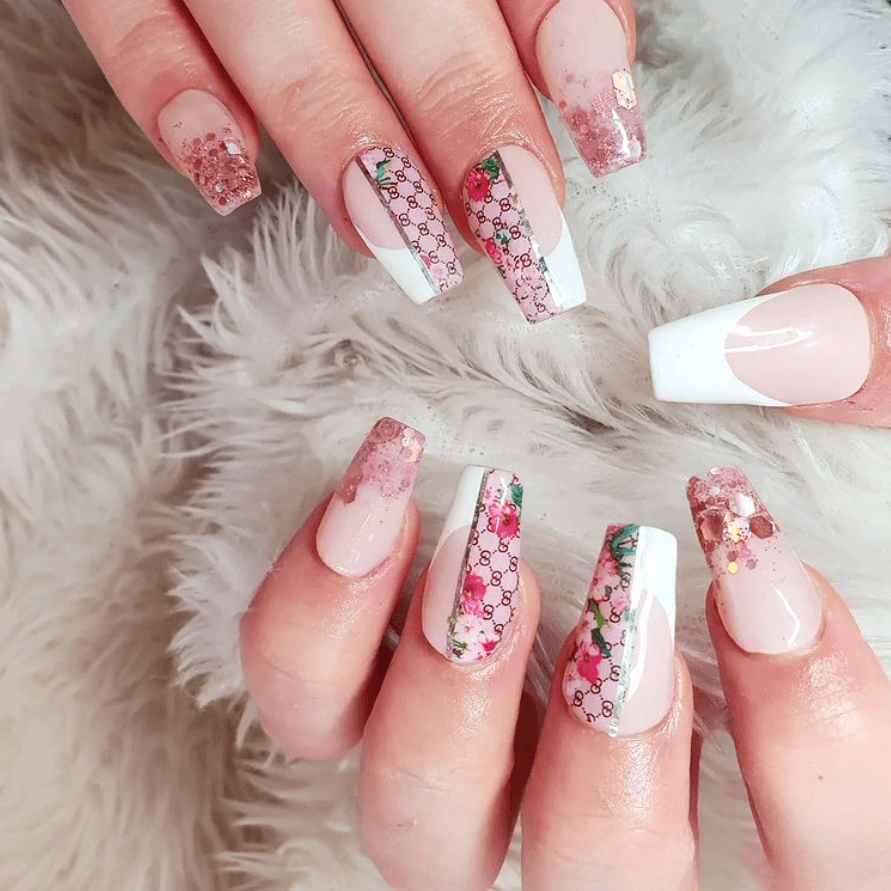 If you have a penchant for designer brands, you'll surely adore this Gucci-inspired nail design. It features a subtle colour palette of soft pinks, rich browns, and lush greens.
What sets it apart is the unmistakable and iconic pattern that immediately catches the eye. It's a fashionable choice for those who appreciate the essence of luxury brands on their nails.
23. Baby Pink Daisy Nail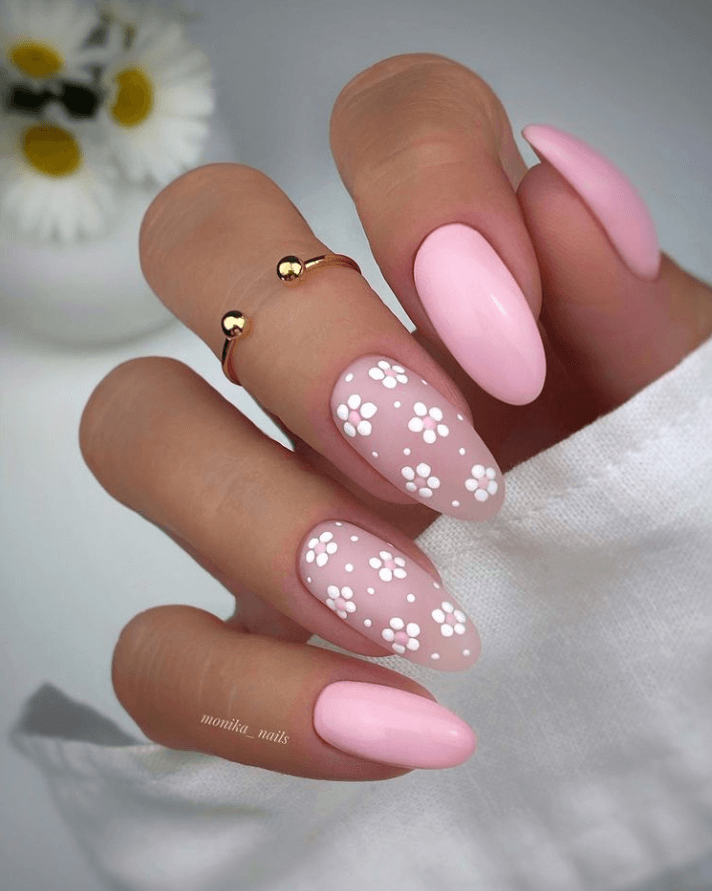 Here's another delightful addition to the collection of pink and white nail designs with floral accents. While the design maintains a certain simplicity, it's anything but dull.
Those with an affinity for pink and pastel hues will find this design truly captivating. The graceful pairing of baby pink and delicate white flowers exudes a sense of elegance that's hard to resist.
24. Summer Flower Manicure Nails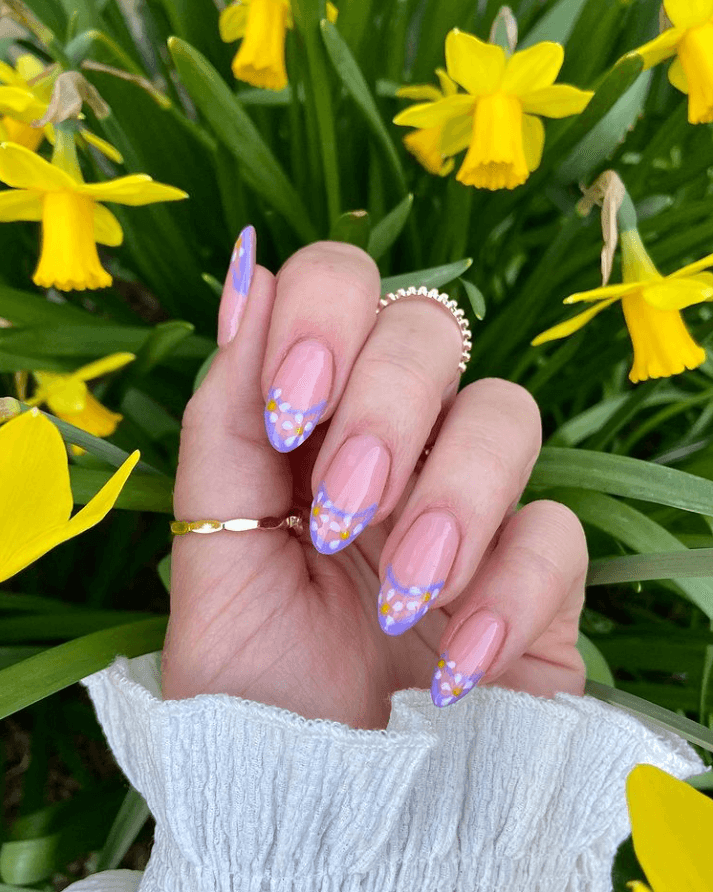 If you're seeking a fresh twist on the timeless French manicure, try this summer flower style.
The vibrant purple tips come to life with the addition of playful orange and white accents. It's a fun and cheerful look that's perfect for the sunny season.
25. Flower Power Pink Nails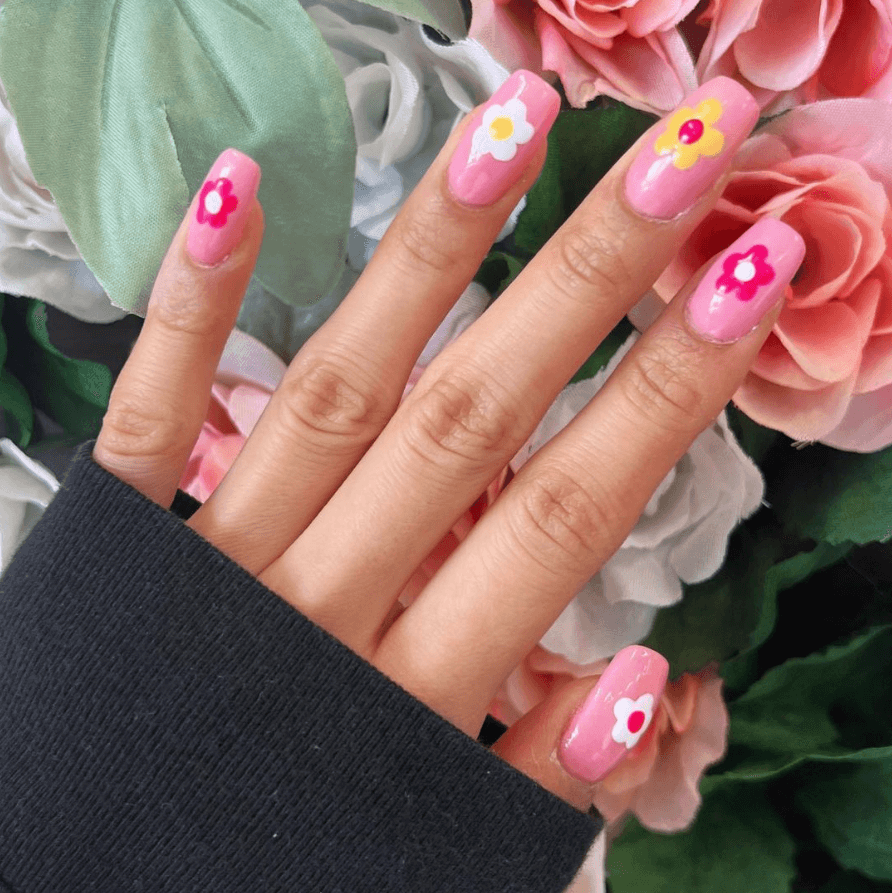 Last but certainly not least, these pink nails adorned with vibrant flowers are a celebration of bold pinks and cheerful yellows.
This design captures the essence of the classic flower power look, showcasing impeccably shaped flowers on each nail. It's a lively and eye-catching style that radiates positivity and fun.
Recommendation
17 Most Gorgeous Black Glitter Nails Ideas
25 Red Coffin Nails to Try in 2023
Cute Birthday Nail Designs For Your Special Day Glam
How to Stop Nail Biting- Reasons and Prevention of Nail Biting
50+ ELEGANT 3D NAILS DESIGNS TO INSPIRE YOUR NEXT MANICURE
FAQs
Q: What are aesthetic nail colours for summer?
A: Turquoise, seafoam green, and cerulean will be everywhere, but the "mermaid manicure" in soft baby blue with a sparkling or pearlescent top coat is the standout choice for summer.
Q: How can I create easy flower nail art?
A: Start by applying two coats of your favourite nail polish colour. After it dries, use a dotting tool with another colour to create five dots in a circle shape, and then fill in the centre area for the flowers. Add any desired details to complete the look.
Q: What is the hottest nail shape in 2023?
A: Square, oval nails are the reigning trend for 2023, being universally flattering and suitable for all types of nails, from natural to extensions, and complementing a wide range of gel polish colours.
Q: What nail colour goes with everything in the summer?
A: Gray nails, especially lighter shades like Mirror Mirror Nail Polish, work well with your summer wardrobe. They pair beautifully with white, green, red, yellow, orange, and pink outfits, making them versatile for the season.
Q: Should toenails and fingernails match?
A: No, your manicure and pedicure don't have to match. Matching nail colours for both fingers and toes was a tradition, but it has become less predictable and more flexible over the years.
Conclusion
In conclusion, as spring approaches, it's the perfect time to infuse your style with the vibrant energy of the season. Summer Flower nail designs offer a delightful way to embrace the beauty of nature and express your unique personality.
Whether you lean toward subtle elegance or bold creativity, there's a flower nail design to match your taste. From sunflowers to daisies, these designs capture the essence of spring and summer.
So, treat yourself to a manicure, let your nails become a canvas for blossoming creativity, and step into the season with style and elegance.
More Summer Flower Nails Designs Ideas