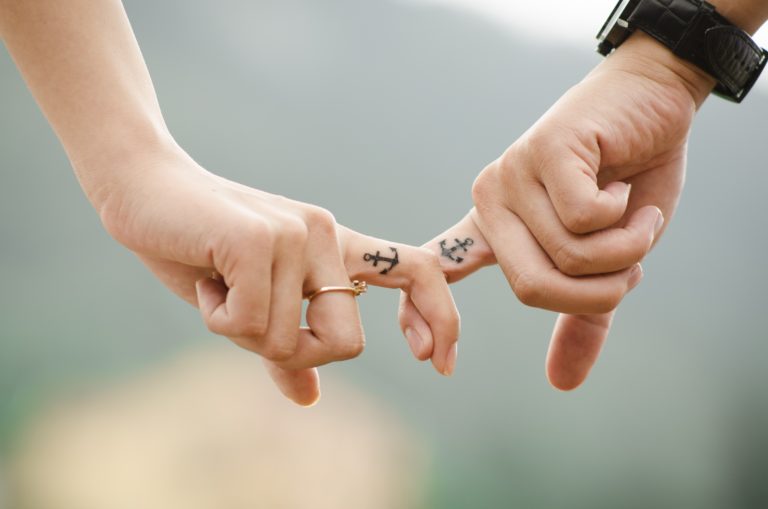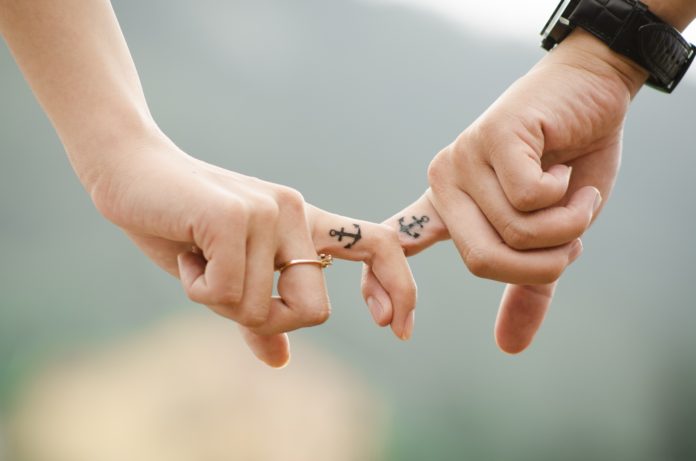 Looking for a unique way to show your eternal love to your partner? If yes, then a couple tattoos are a good idea. The trend of couple tattoos is continuously increasing as it is a unique way of showing that you are committed to your love.
Getting inked together is the best way to get an amazing bonding experience. When you choose a relationship matching tattoo for couples, you show your best creative side. Getting matching tattoos allow you to make a strong statement and show the world that your other half means the whole world to you. Here is an article with some amazing couple tattoo ideas to help you find the best one.
Couple Tattoo Ideas
Finding the right person and being in love is an amazing experience. It allows you to keep your fire alive. Couple tattoos help you to get a unique look and make your love bond stronger. There are different types of relationships matching tattoos for couples you can get. We have rounded up some cute couple tattoos that you can get.
Infinity Rose Couple Tattoos
If you are looking for a cute couple tattoos, then nothing can be better than an infinity rose couple tattoo. Floral tattoos look amazing and in the world of couple tattoos, rose infinity tattoos are a popular choice.
It includes an infinity sign, rose, and leaves growing on the infinity sign. This unique tattoo allows you to attain a romantic and symbolic touch. Infinity rose tattoo represents everlasting love for each other. Moreover, it shows that you do not have any boundaries when it comes to loving your partner. The rose on the infinity sign shows new beginnings and hopes in the romantic journey.
The perfect tattoo spot for this couple tattoo is your wrist. It is a minimalist tattoo that looks amazing on the wrist. You can also get in on your shoulder or ankle.
King & Queens of Hearts
When it comes to small matching tattoos, nothing can be better than the King & Queen tattoo. It provides you a straightforward but royal effect. This couple tattoo design includes two mini black king and queen symbols. The tattoo comprises the letter Q with a heart on the female hand and letter K with a spade symbol on the male partner. You can also get the king and queen inked on hands.
This tattoo is an amazing symbol of love. Moreover, it also represents power and responsibility. It symbolizes your unconditional love for your partner and your strong will to spend the rest of your lives together.
Tattoo placement plays a crucial role, so make sure to get in on the right spot. You can get this matching tattoo for couples on your hand. Apart from hand, you can also get it on your neck, wrist, or ankle.
The Sun & Moon
If you are looking for a unique couple tattoo, then what about a sun & moon tattoo? You should try this cute couple tattoo to make a strong style statement. This tattoo is the right choice for couples with completely different personalities.
The sun represents energy, heat, and light. On the other hand, the moon symbolizes dark, cold, and calm. This tattoo shows how earth needs both the moon and sun to survive. In a similar manner, you both need each other.
If you and your partner are nature lovers, then also this tattoo is good for you. The right placement choice for this tattoo would be hands, wrist, or shoulder.
The Yin Yang Tattoos
When it comes to matching tattoo ideas, yin yang tattoos are a popular choice. This tattoo contains a black outlined yin that shows a feminine vibe. On the other hand, the black inked yang shows a masculine vibe. When the yin yang tattoos are combined together, they make a cute couple tattoo.
This tattoo shows how you both are different, but your differences complement each other. The tattoo also represents that a couple always balances each other in a relationship. The best tattoo spot for this one is your finger or wrist. Getting it inked on your wrist makes it easily visible.
Cartoon Tattoos
If you and your partner love cartoons, animated characters, or Disney characters, then cartoon tattoos are for you. It is one of the best and cute couple tattoos. Trust me; you are never too old to watch animated or cartoon movies. If you both love the same cartoon characters, then get it inked on your body.
Cartoon tattoos are a unique couple tattoo idea. You can get Mickey and Minnie on your hands. This tattoo comprises black outlined images of fictional characters. Trust me; it will be exciting to get a couple tattoos.
Cartoon tattoos symbolize that the inner child inside you never dies. It also represents that you and your partner share the same interests and choices. The best place to get cartoon tattoos is your back or forearm. Moreover, depending on the tattoo size, you can also get it on your hand or wrist.
Bow and Arrow Tattoo
The bow and arrow are also a popular couple tattoo choice. The tattoo design includes an arrow on the female hand and a bow on the male hand. It includes a finely outlined black colored bow and arrow.
What makes bow and arrow tattoos special is the deep meaning this cute couple tattoo carries. The bow and arrow represent that it requires two parts to be effective; otherwise, it is not of much use. This tattoo shows that the partners are indestructible when they are together, and they play a vital role in a couple. The best placement idea for this one is the forearm.
Lock & Key
Another popular small couple tattoo idea is lock and key. It is a perfect tattoo that allows you to show your love for each other. This tattoo comprises a black vintage lock on one partner's hand and a key on the other partner's hand. To make this tattoo unique, you can get your anniversary date inked on it.
The lock and key tattoos have a straightforward and beautiful meaning. It shows how two people who genuinely love each other complete each other's life. It also shows that without your love (the key), you are only a closed-door (the lock). The best place for this tattoo would be your wrist or arm.
Crown Couple Tattoos
Crown couple tattoos allow you to make a strong style statement. This cute couple tattoo includes the crown of a king and queen, which is made with fine details. If you are looking for something unique and royal, then this one's for you.
The crown tattoo represents responsibility and power, both of which are essential when it comes to love. They also symbolize what you want to achieve in your life. Crown tattoos for couples show their everlasting love for each other.
Infinity Tattoos for Couples
Infinity tattoos are popular small couple tattoos with a deep and impressive meaning. These tattoos look amazing when they are small in size and made with black ink. In order to make the tattoo unique, you can get a love quote or your anniversary date inked in the infinity symbol.
The infinity symbols show eternity. The tattoo shows a neverending loop without any beginning or end. Therefore, it is a popular choice among couples. This tattoo not only has a great meaning but is also a unisexual design. It is best for every type of couple. The best spot for this tattoo is the forearm or wrist.
Skull Tattoos
Some might relate skull tattoos with macabre, but it is the best way to say that 'til death no one can seperate us'. This tattoo includes a black outline of a skull with a crown on the top. The female version of this tattoo has studs in the crown, whereas the male has a simple crown.
Skull tattoo meaning usually represents death, but it also symbolizes protection and optimism. It shows that you want to grow old with your love and want to continue with them even after death somewhere in the afterlife world. You can get this tattoo wherever you want. However, some best places include the forearm, shoulder, or wrist.
Small Couple Tattoos
Bigger is not always a good way to show you love when it comes to tattoos. You can also opt for small couple tattoos as they not only look cute but also make a strong style statement. While choosing the design of a small tattoo, make sure to opt for the one that suits your pain tolerance and style.
One best thing about small tattoos is that you can easily hide them. Some amazing small tattoo ideas include a small sun and moor. In order to make this tattoo, you can get waves near the design. Another popular design is getting the first letter of your partner inked in a small design.
Cute Couple Tattoos
When it comes to cute couple tattoos, there is a long list. Cute tattoos show that the kid inside you never dies. It allows you to show that your couple is cute and adorable.
Tattoos do not always have to be artistic or edgy to be meaningful. Types of tattoos reflect the nature of relationships. Many playful pairs love cute couple tattoos. Some popular designs include half avocado on each partner's hand. Fluffy animals, cartoons, and fruits make perfect tattoo designs.
Final Words
When it comes to couple tattoos, there is a long list of choices. You can get cute couple tattoos or small tattoos to show your love and deviation for each other. Make sure to choose the right design and tattoo spot so that you can showcase your couple tattoos. Do share your experience with us by dropping a comment.