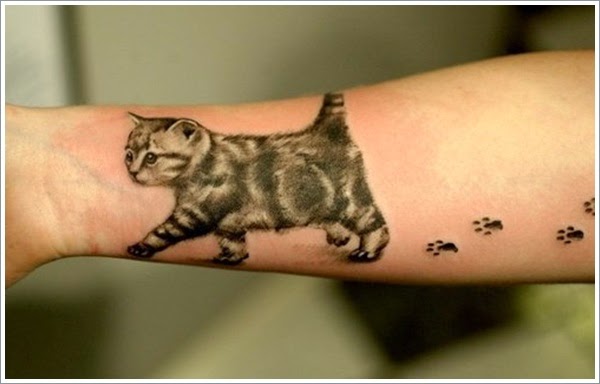 Are you looking for amazing and bold tattoo designs? If yes, then try some best cat tattoo designs that will look extremely catchy on your body. Nowadays, cat tattoos are in great trend, and people are getting inked these creative cat designs.
Cat tattoos are a symbol of boldness and power. Most people get these tattoos with meaning, and the tattoos also depict their personality. Cat tattoo designs for girls symbolize elegance, prosperity, protection, luck, and feminine power.
You must be thinking about tattoo designs. What design can you get inked? Here I am to help you out with the best cat tattoo designs.
This article will provide you the best tattoo designs of all time. So read the full article and get your perfect tattoo design. 
Cat Tattoo Designs
If you are a cat lover, nothing could be a better tattoo idea than a cat tattoo. Now, if you are wondering which are the best cat tattoo designs, then Relax! Here are some of the best and simple cat tattoos to help you find out the best one.
Simple Black Cat Tattoo
Are you confused about the cat designs? Why don't you try something decent and sweet tattoo design?
If you want a simple and attractive cat tattoo, you can try a small field in the black Cat. The tattoo is not so funky but will look very classy. They are best to make an amazing impression. 
ALSO READ: Tattoos to Fight Evil.
Ankle Cats
Ankles are also a good place to get cat tattoos. Even if you can get two different cats on both of your ankles, it will look glorious and superb.
You will surely love the curled and stretched cat designs on your ankle, and if you want, you can make the same designs on both of your ankles. A filled cat and a shaped cat is the perfect combination for the ankle cat tattoo design. 
The Ginger Dedication
Are you a fan of flowers and cats? Then why don't you get a fusion tattoo of both things? A cat face with added flowers below and some colorful shading covering the whole design will look amazing. You can try an excellent color fusion design on your arm.
A Witch With a Black Cat
Many people see witches as a dark and negative personality. However, witches look fascinating in tattoos. You can try a bold tattoo of a witch holding a cat in her arms.
Moreover, you can add some other dark colors to the cat tattoo to give your tattoo an outstanding view. 
Third Eye Snarls
You can try this third eye snarl if you are looking for a long tattoo or a full arm tattoo. This cat tattoo design is very popular among people because of an interesting reason. This big tattoo with three eye snarls can protect your arm from getting harm. The Cat crawling from the thunders is the impressive tattoo idea for men on their arms.
Sleeping Cat
If you are a cat lover and looking for a minimalist tattoo, this one is perfect for you. A small cat lying down sleeping is a very decent and peaceful design. It is the perfect choice for people who do not want to trip over designer tattoos. 
Lil Bub
Are you a fan of little kitties? These little creatures look very cute and innocent, so having a cat tattoo is a good idea. The lil bub cat design is very popular. Most of the people who bring small kitties at their home get inked with the small cat tattoo.
The dual face life
You all live in a physically growing society, where we find many dual-faced people.
Moreover, your life has also become a part of duality. Well, having a duality life cat tattoo can be a nice choice for a chill pill. The two cats with different expressions sitting on a moon is an amazon tattoo design for your arm. 
Setting Tongue Wave
If you are a wild person, then why don't you show it to the people. A small cat tattoo is a perfect design to showcase the wildness in you. A cat on its toes with the tongue out and two cute tails will be a great idea for a tattoo.
A Cat on the Moon
Crescent moon tattoos are in a great trend since a few years ago. This classic cat tattoo design is popular all over the world. A moon with a sitting black cat in the crook is an extremely cute tattoo design.
Moreover, you can also add some stars around the moon. You can get this tattoo on your ankle, wrist, neck, etc.  It is an amazing neck tattoo idea. 
Space Kitty
If you are a person who likes aeronautics, science, and space things, then this tattoo is for you. A small kitty inside a space helmet will look cute and pretty. 
A simple and small cat tattoo design is perfect for the people who do not want a designer tattoo. Moreover, the best part of this tattoo is the stylish shading and the arrangement of colors. 
Cat with a Rose
Another design for the fans of flower and Cat. A bold cat face with a dark red rose is the deadliest combination of tattoos.
Well, if you want an extremely bold tattoo on your body, then this design is the perfect choice for you. Including roses, you can also use some other flowers according to your preference. 
The Little Angel
A simple cat tattoo design is so fascinating, and you can do a lot with that design. If you are searching for a cute princess-like tattoo, then what can be better than this design?
The little angel kitty surrounded by some beautiful flowers and a moon upward is an amazing choice. This design is perfect without more colors, and an angel cat with decent colors looks good. 
Spiderman Kitty
If you are a superhuman comics fan like me, then you will love this tattoo design. This spiderman tattoo mashup with a little kitty looks super cool. You can get this tattoo by combining a small kitty with a spiderman costume. Try this cool design for a funky and interesting cat tattoo design.
The ancient Cat
If you know a little bit about the history, then you might know that the ancient Egyptians worship cats. The cats are very pure for the Egyptian people.
Getting a hundred-year-old cat with black color filled around will give you a traditional cat tattoo on your shoulder. You can also give some Egyptian touches to the cat like some ornaments, chains, etc. 
Singing in the Rain
Look, your cat is getting wet in the rain. Then why don't you do something interesting to protect your cat from the rain.
Well, a smiling standing cat holding an umbrella will look beautiful on your shoulder arm. This creative small cat tattoo can be inked with the black color or with the multi-colors. 
Fat Happy Cat
A happy cat is considered lucky in Asia. A large number of people see cats as a sign of luck.
You can get a cute smiling cat waving. Hope this lucky cat can bring fortune to your life after getting it inked. This is one of the most popular cat tattoos all over the world. This tattoo will look extremely amazing, and you will do proper shading and color it with four to five colors. 
Much Love
If you want to give a thanks or tribute to your friendship, this is the perfect choice for you. You and your best friend can celebrate their friendship by getting a much-loved cat tattoo on your body.
Many people like to ink their friendship in the form of a tattoo, so why not try the much-loved cat tattoo. Trying this tattoo will give a boost to your friendship. 
Final Words
Tattoos are a great way to showcase your personality in many interesting ways. Many, many bold tattoo designs look amazing on your body. Cat tattoos are one of the best and fascinating ideas nowadays. Now you know some of the best cat tattoo designs, so go and get the best tattoo for yourself. Moreover, comment on your favorite tattoo design after reading this article.